Living in Vancouver, there are so many wonderful destinations right on our doorstep, and Vancouver Island is one of my favourites.
Located to the west of Vancouver, the Island is just a hop, skip and ferry ride from the city and there are endless places to explore. The Island is huge - bigger than all of the Hawaiian Islands combined, in fact - and it's such a lovely part of British Columbia. You've got everything from cool cities like Victoria, to remote coastal communities and secluded surf towns like Tofino, as well as incredible trails like the Juan de Fuca and some of the best cold water diving in the world, so there's really something for everyone.
We've managed to hit quite a few spots on the Island in our 4 years of living on the West Coast, and it's somewhere that we like to explore and visit a lot. Because it's just a 2-hour ferry ride from Vancouver (and you can fly or heli there in under 30 minutes) it's a great place to visit for a weekend break. Vancouver Island has a similar climate to Vancouver, but whatever time of year you're travelling make sure you pack a rain jacket - it is the wet West Coast after all! Anyway, this year, I'm trying to focus more on 2 or 3-day getaways from Vancouver, and so I thought I'd kick things off by compiling some of the top places to visit on Vancouver Island and hopefully this will give you some inspiration! We've yet to explore more of the Northern parts of the Island, so I'll continue to add to this post as we discover more.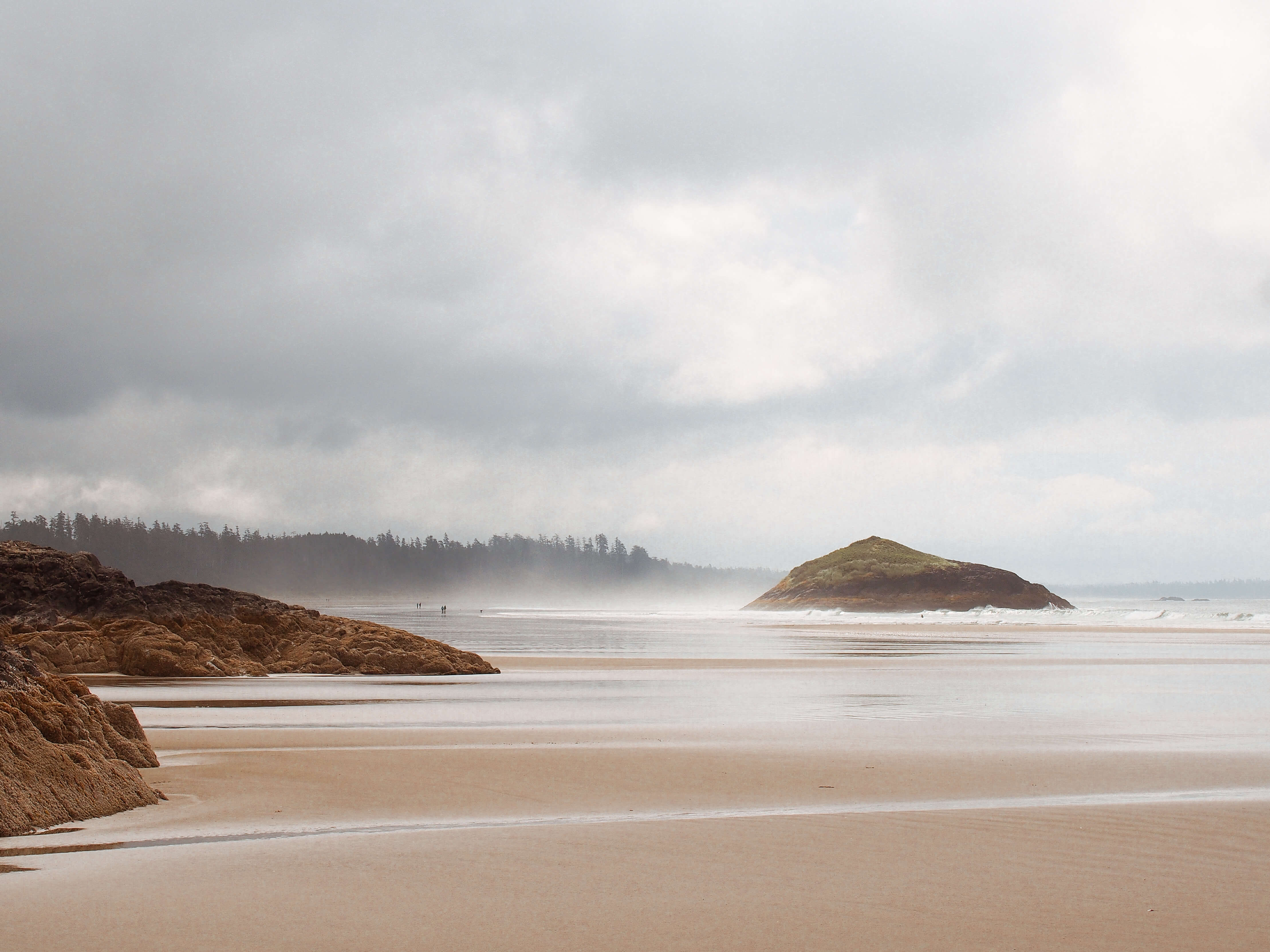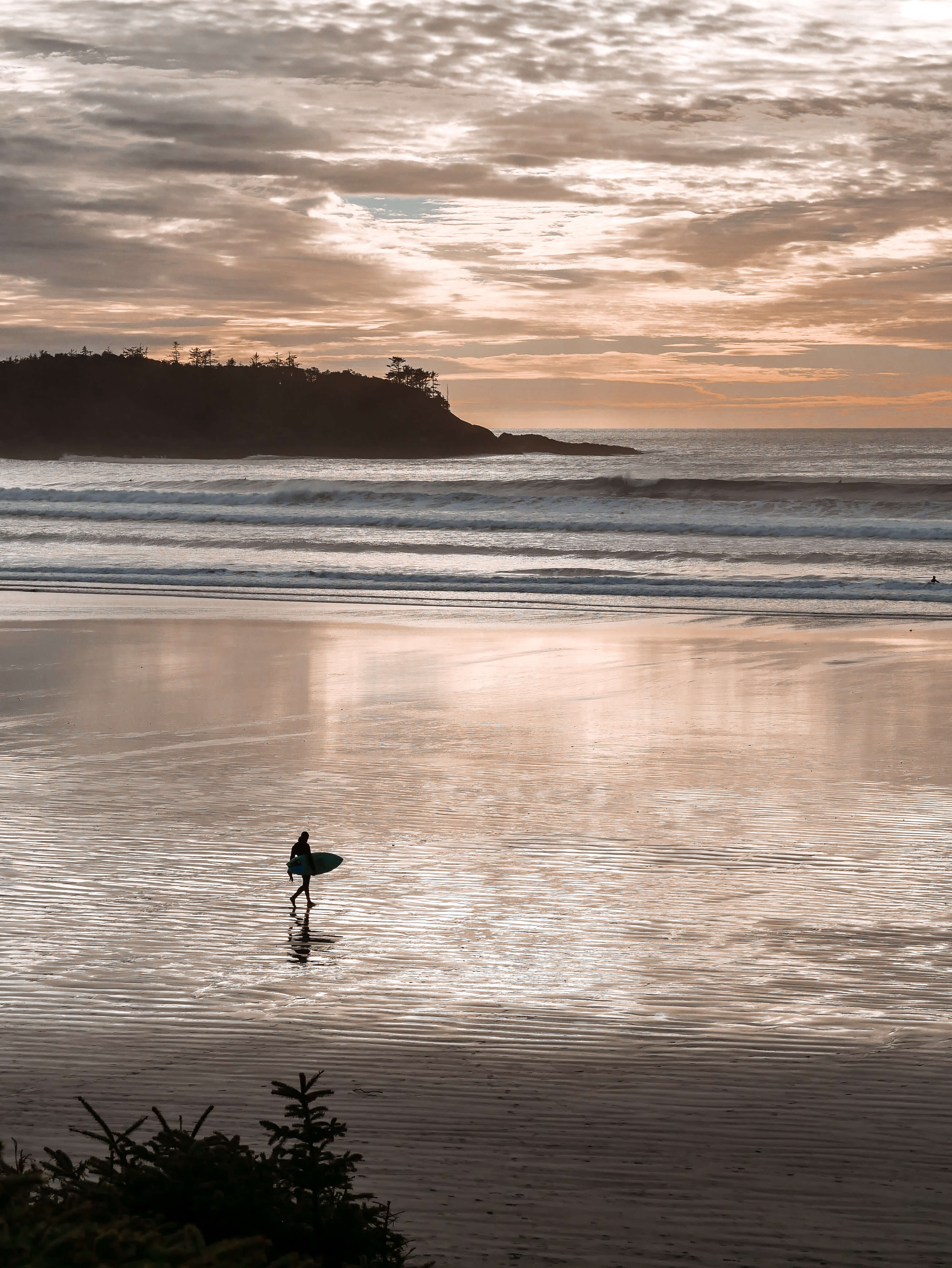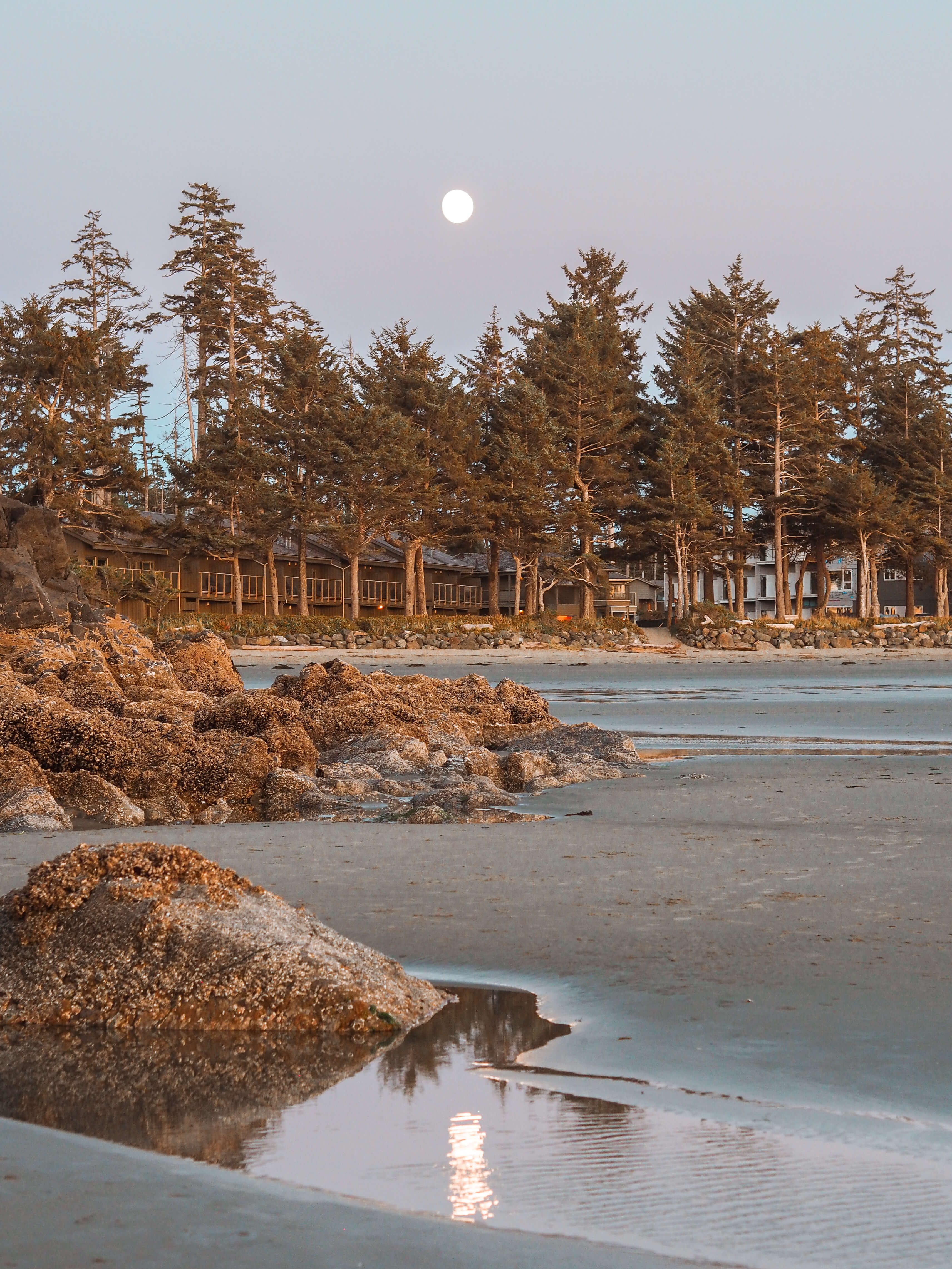 Tofino
Tofino is, without a doubt, one of my favourite places to visit in British Columbia. It's known for its raw, rugged beauty, never-ending beaches, amazing food, and laid-back surf vibe, as well as its incredible marine life, and it's one of the most unique spots in BC.
Tofino sits on the west coast of Vancouver Island perched on the edge of the continent, with beautiful beaches and old-growth forests that line the coast. It takes 6 hours total to get there from Vancouver - you take the ferry from Horseshoe Bay to Nanaimo, and it's a 3-hour drive from there. It's a prime destination for surfing, hiking, whale watching, kayaking, and exploring the outdoors and it's somewhere that is just as lovely in the winter as it is in the summer. The town only has around 2,000 permanent residents and with only one road that connects it to the rest of the Island, it feels pretty remote and secluded.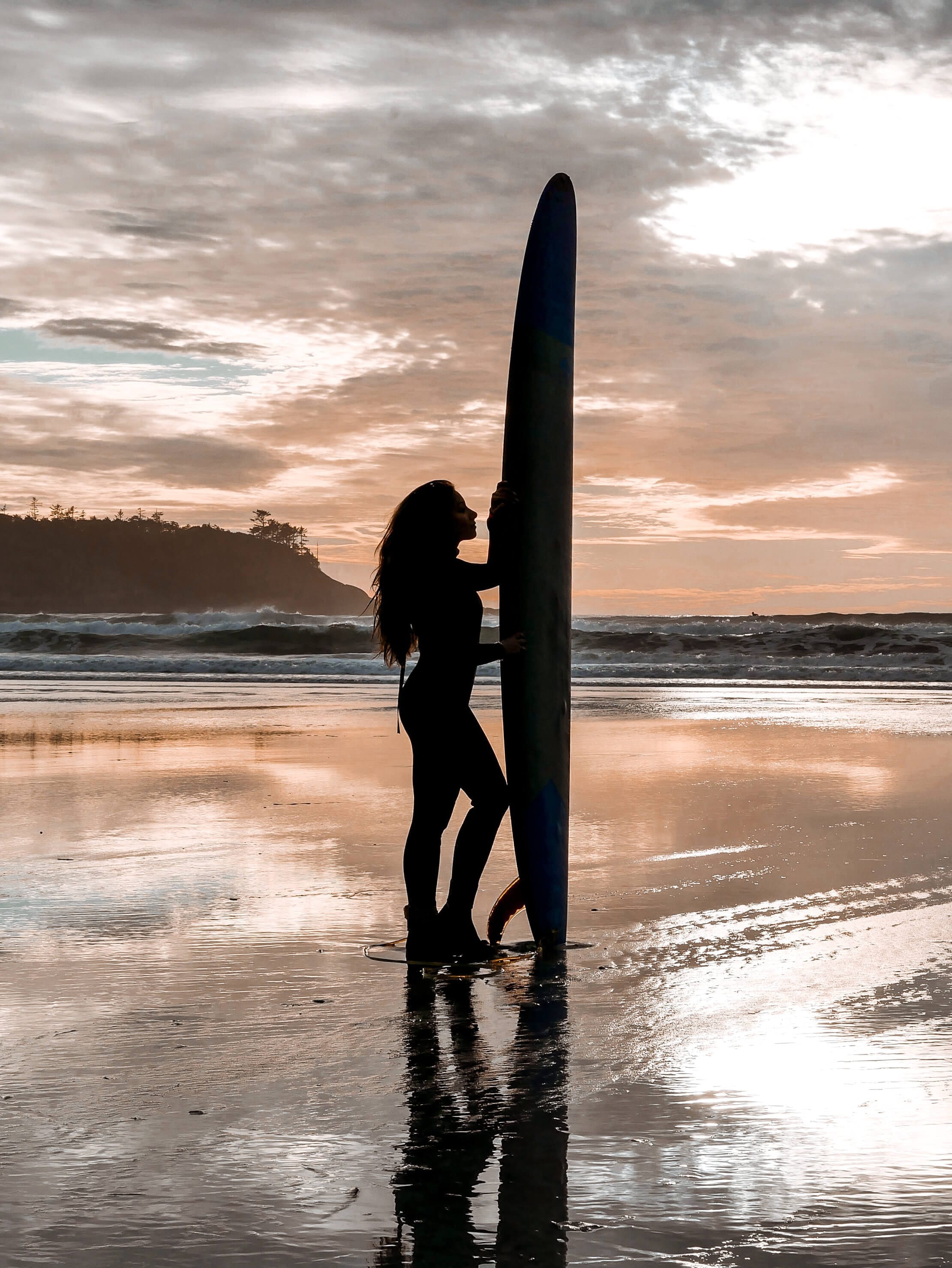 I love visiting in both the summer and winter time. The summers are warmer and there's an abundance of outdoor activities you can do, whereas the winter is obviously a lot colder, but also a lot quieter than the summer months. You can surf year-round (yep, even in the winter!) and the waves are actually a lot bigger in the winter time. Storm watching is huge in the winter too and there's nothing nicer than cosying up indoors by the fire after an afternoon of storm watching or surfing in the cold!
Whale watching tours run from March-October, and you'll find such an amazing variety of marine life, everything from orcas to humpbacks and sea lions, to sea otters and dolphins. Around 20,000 Gray whales pass by the coast every year too! You can do bear watching tours from April to October, and if you're lucky you might even catch sight of the coastal wolves on Vargas or Meares Island. You can also visit Hot Springs Cove in Maquinna Park (it's a full day trip and you get there by floatplane or boat).
Aside from its picturesque surroundings, it also has an amazing foodie scene and there are some gorgeous places to stay. My favourite resort is the Pacific Sands which is on Cox Bay Beach, and you can surf right on your doorstep. Their beach houses and the Edgewater Suite with the hot tub are very cool (pictured below) and they have a range of beachfront accommodations. Aside from more luxury beach resorts, there's also a range of cabins, campsites, smaller hotels and holiday homes. Check out my 3-day guide to Tofino for more info.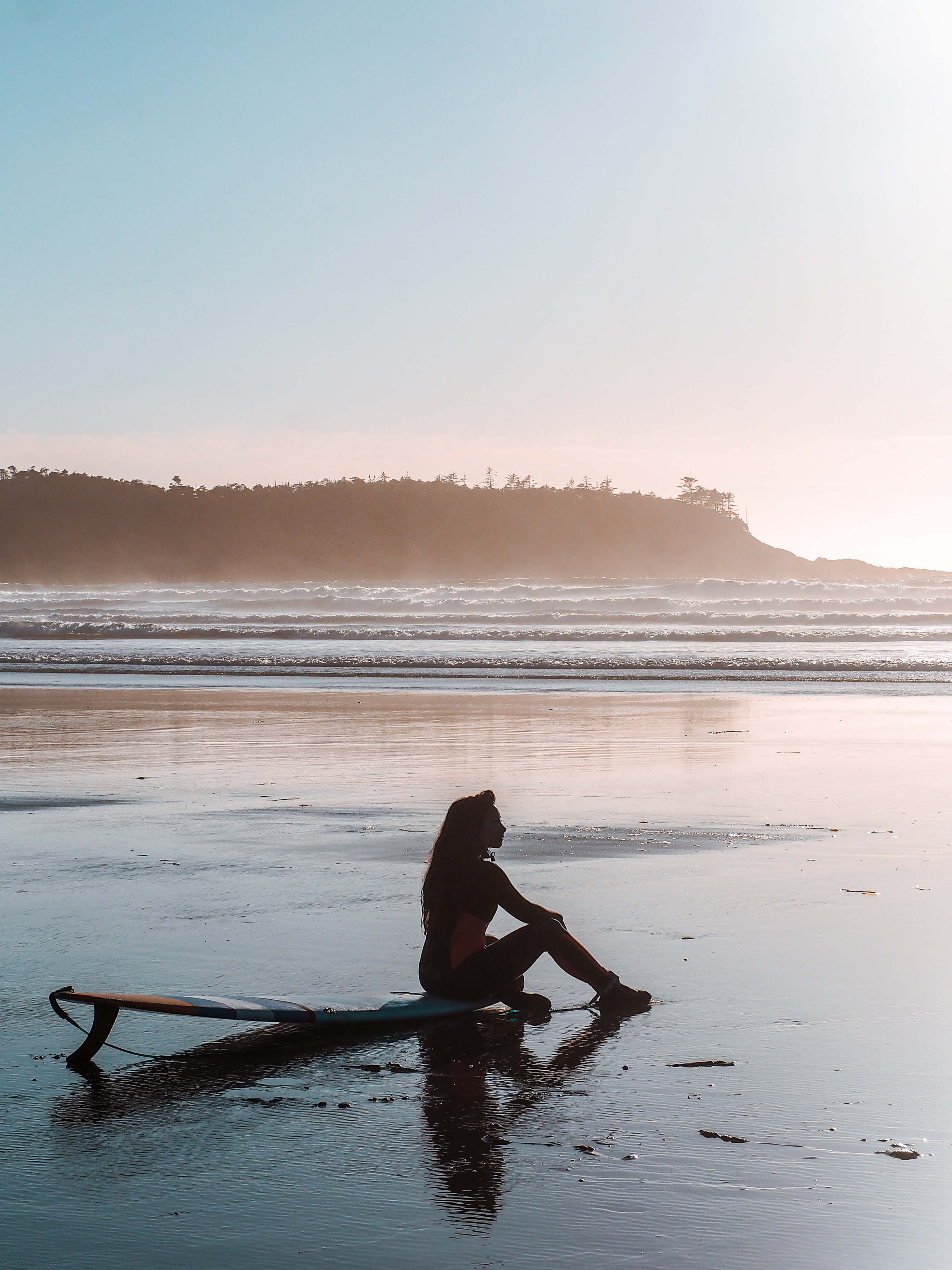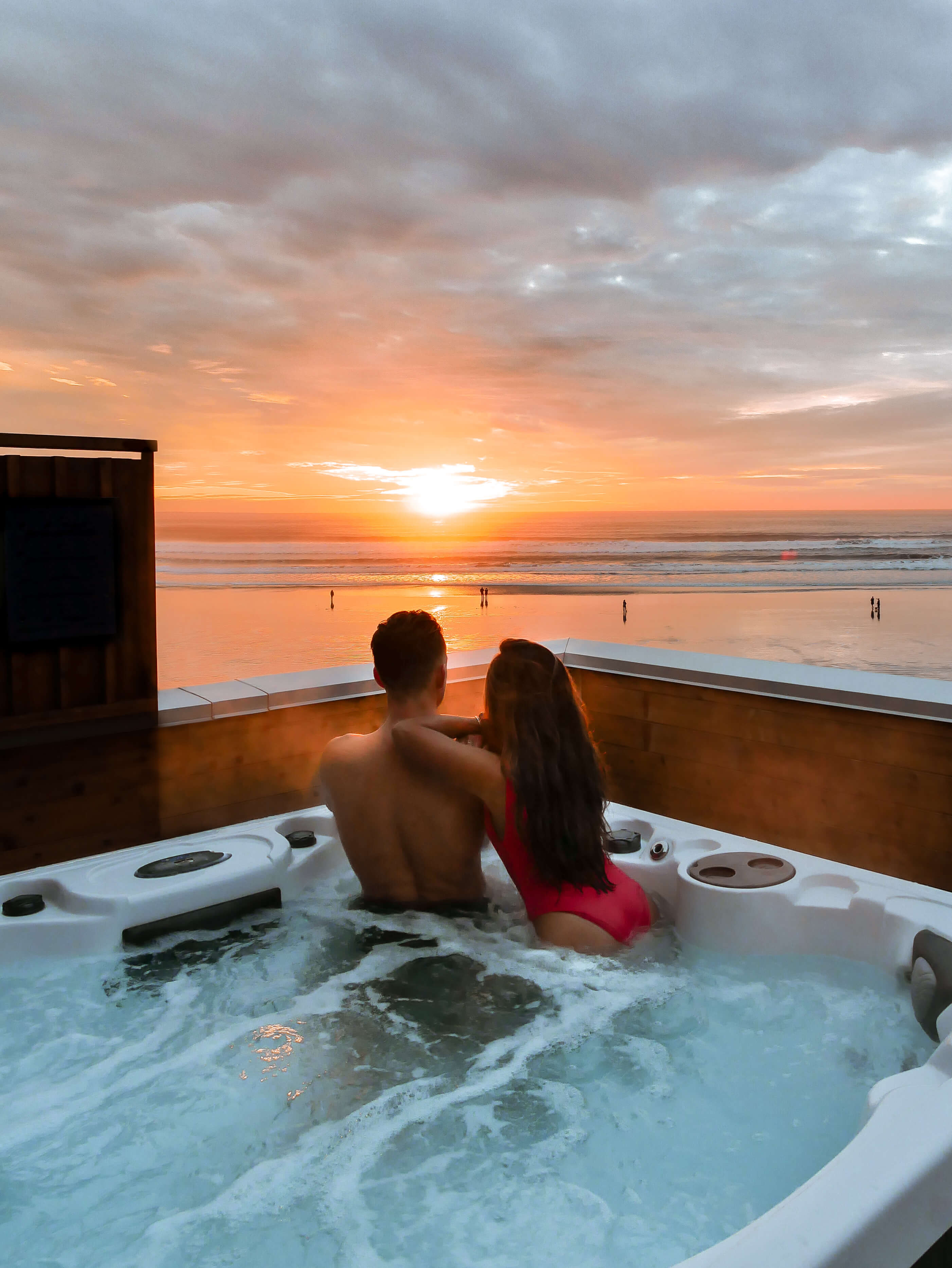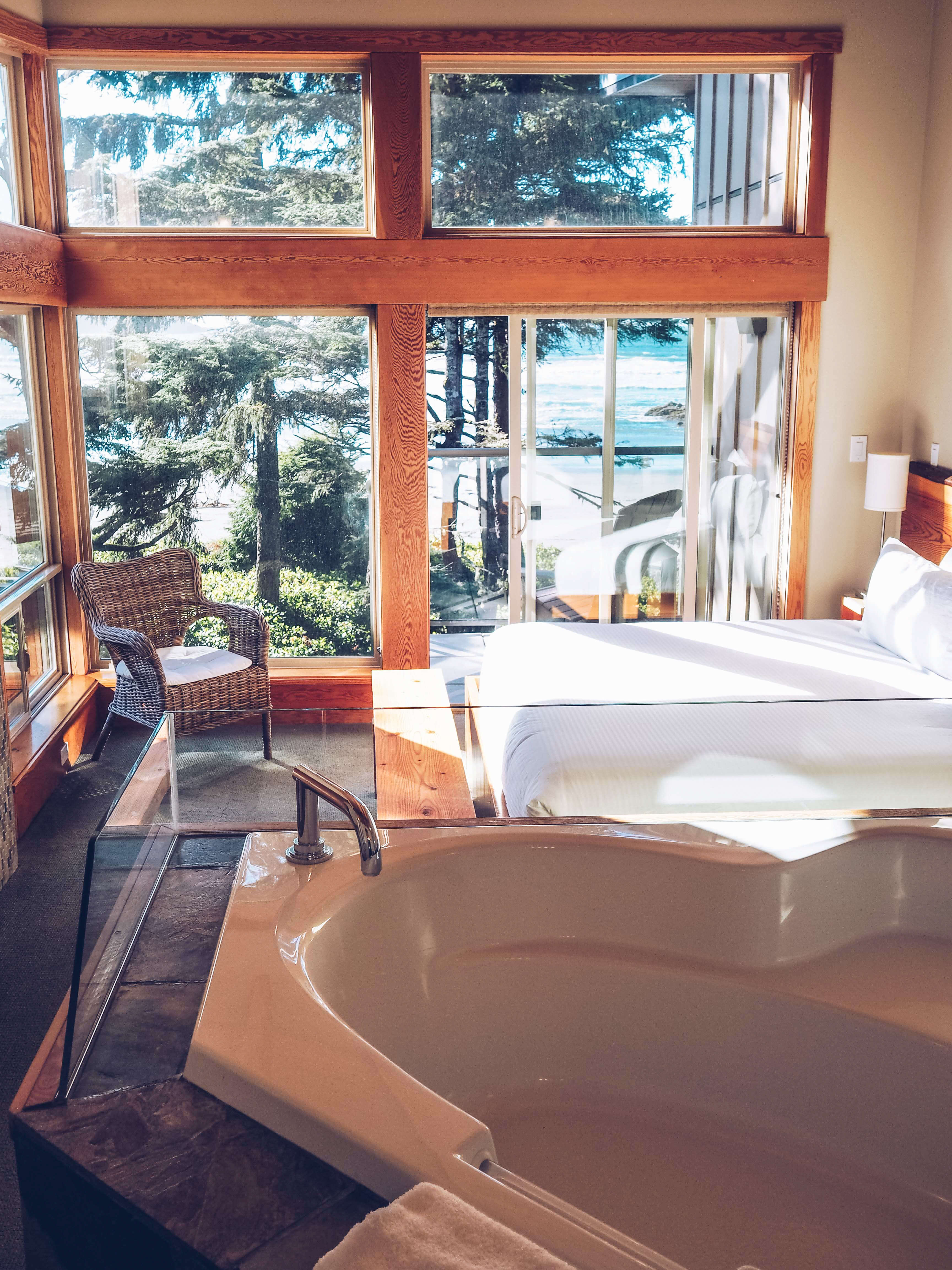 Port Renfrew
If you're looking to spend a couple of days completely cut off from the world, Port Renfrew is the place to go. Situated on the southwest coast of Vancouver Island, 2 hours from Victoria and 2 hours from Nanaimo, Port Renfrew is a beautiful escape.
With a population of around 200 people, the town is teeny tiny and it's kind of like a time warp. It has 1 pub, 1 small shop, 1 small gas station and a few cute cabin-style accommodations, and cellphone reception is pretty non-existent too. However, that's what makes this such an appealing place to explore. Very rarely do you come across places like this but it has everything you need for a quintessential West Coast getaway.
Port Renfrew is nestled between two of the most well-known and beautiful coastal trails in the world - the Juan de Fuca Marine Trail (47km) and the West Coast Trail (75km). It also has incredible beaches, forests, a range of hiking trails, rivers, lakes, camp spots, wildlife, and mountain views.
Must-visit spots include Avatar Grove, Botanical Beach and Pacheedaht Beach (which is where this pic was taken). We stayed at Soule Creek Lodge, which is perched on the San Juan Ridge with incredible views of the Pacific Ocean and mountains. They have cute wooden cabins and yurts and it's about a 10-minute drive from the town. If you want something right by the ocean, check out Wild Renfrew's seaside cottages. The Renfrew Pub is also a great lunch/dinner spot (and also one of the only food spots in the town too!). It closes early, around 7/8pm most nights, so keep that in mind.
Port Renfrew is also on the Pacific Marine Circle Route, which is a popular West Coast road trip route which takes you through all the key spots in the Southern part of Vancouver Island. Make sure to check out China Beach, Sandcut Beach, Sombrio Beach, Jordan River and French Beach on the drive to/from Victoria.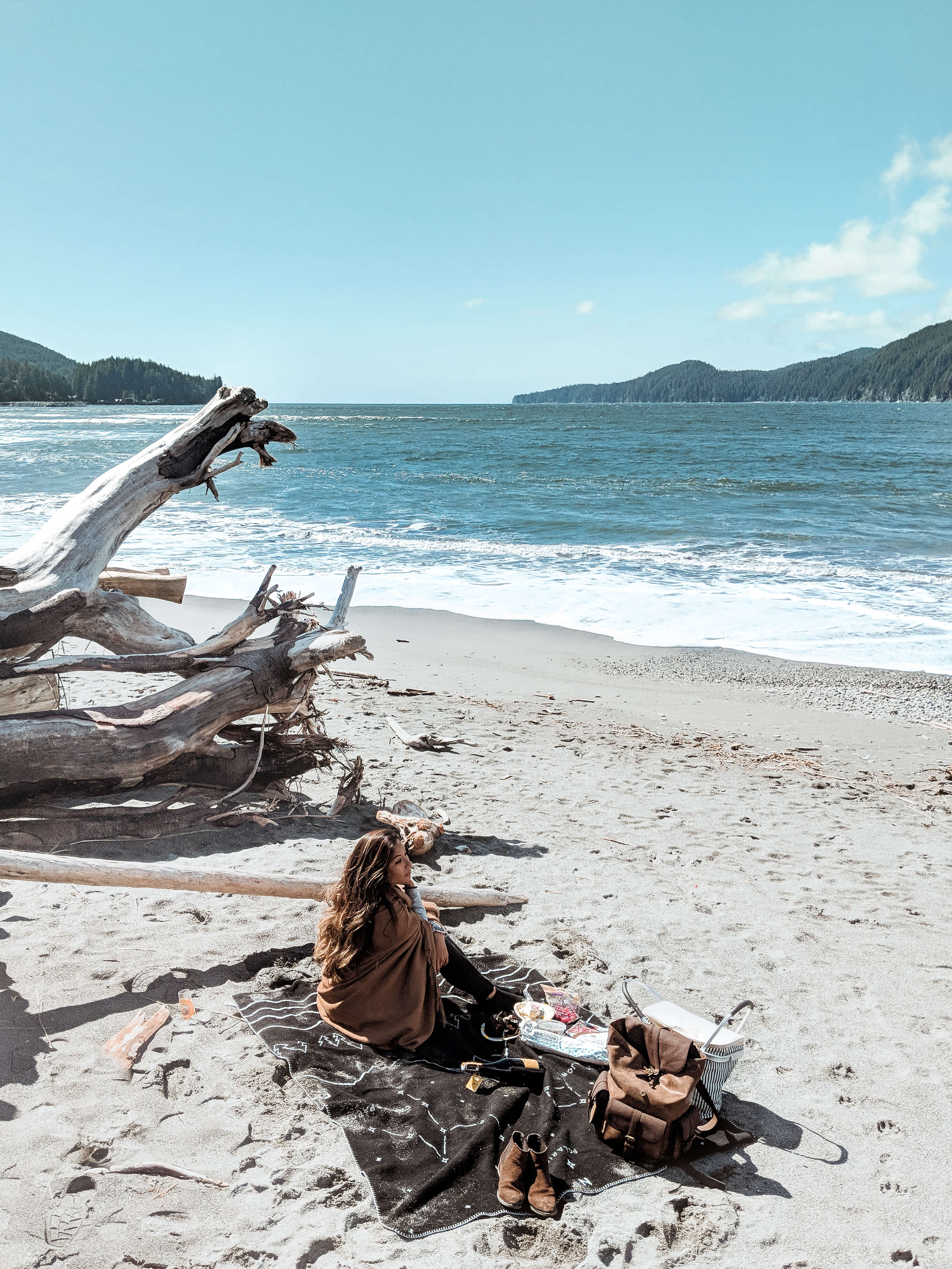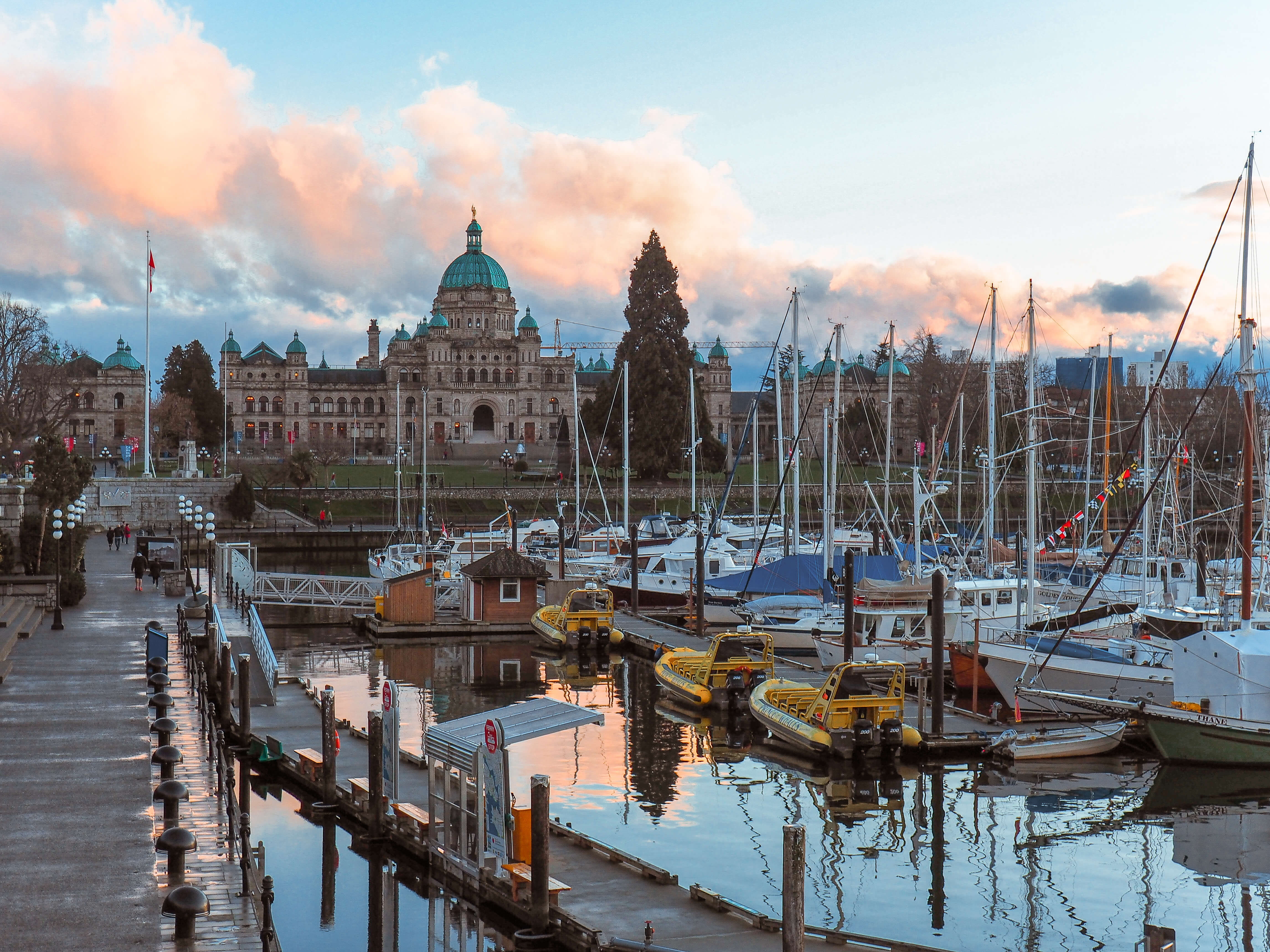 Victoria
Victoria is another one of my favourite places on Vancouver Island, partly because it's a beautiful city but also because it reminds me of home! The city blends old architecture with modern experiences and it's a really lovely getaway for a few days. The British influence is prominent, which I love, and the city is full of cool pubs and breweries, heritage buildings, oceanfront parks, museums, unique hotels, incredible food as well as an abundance of adventures and activities just a stone's throw from the city.
Whether you're more of a city lover or you're the outdoorsy type, Victoria has something for everyone. My favourite hotels to stay at are the iconic Fairmont Empress and Abigail's Hotel, and the nice thing about Victoria is that you can fly by Helijet or Harbour Air directly from Vancouver and land right in the city, so there's no need for a car. But, if you want the flexibility of a vehicle you can also take the ferry from Tsawwassen to Swartz Bay, and then it's just a 30-minute drive to the city.
It's nice to just wander around and you'll come across so many cute areas. One of my favourites is Fisherman's Wharf, where you'll find incredible fresh seafood, float homes, seals and sea lions and unique shops. You can also do Whale Watching tours from here - I highly recommend Eagle Wing Tours and they operate all year round.
You can also scuba dive at Ogden Point, which is about 10 minutes from the city close to the Helijet terminal, and the site is really cool. If you want to get outdoors, check out the stunning Niagara Falls waterfall in Goldstream Park as well as the Trestle Bridge. This is about a 30-minute drive from Victoria. Take a look at my 3 days in Victoria post for a detailed overview of what to do.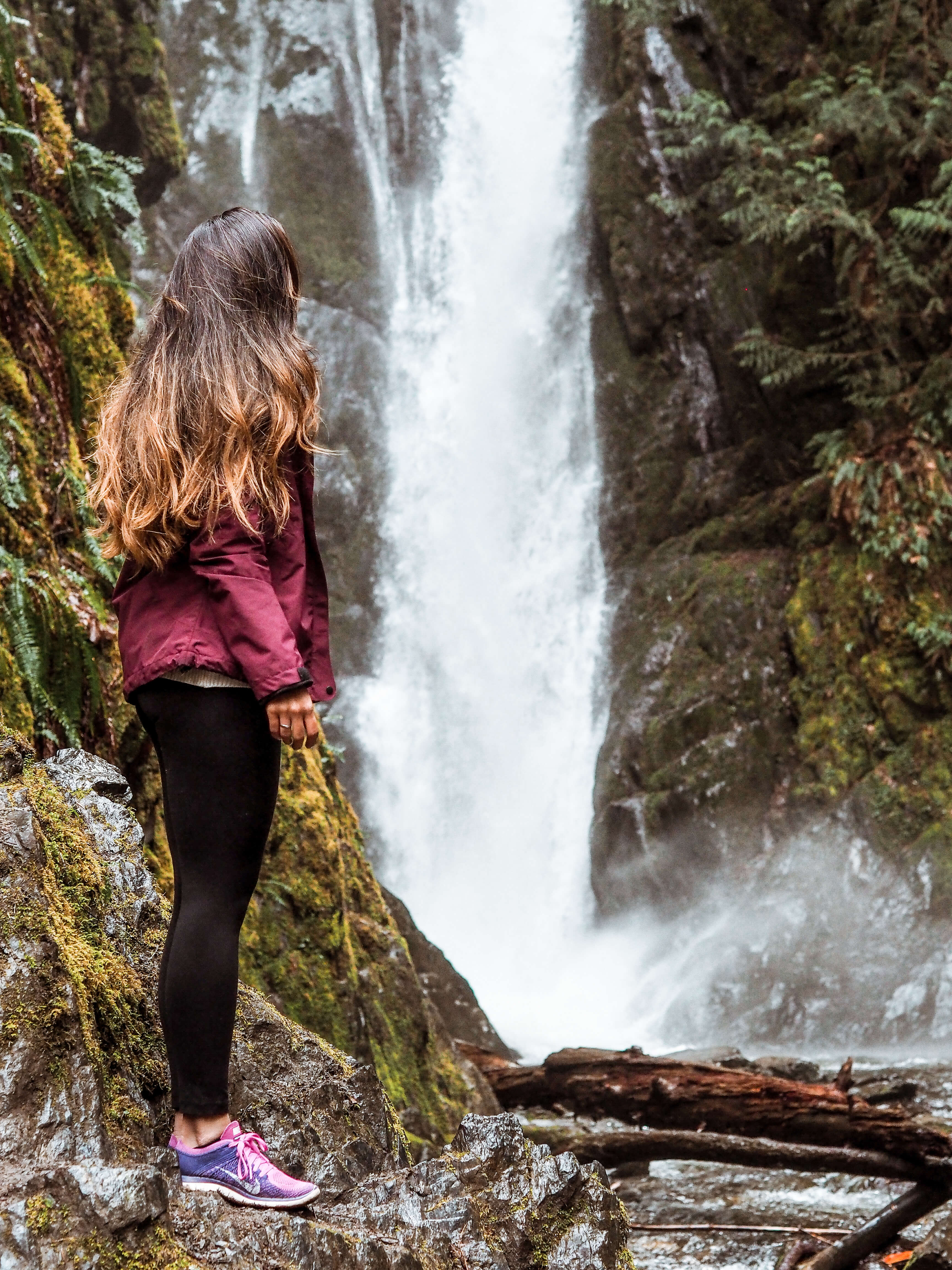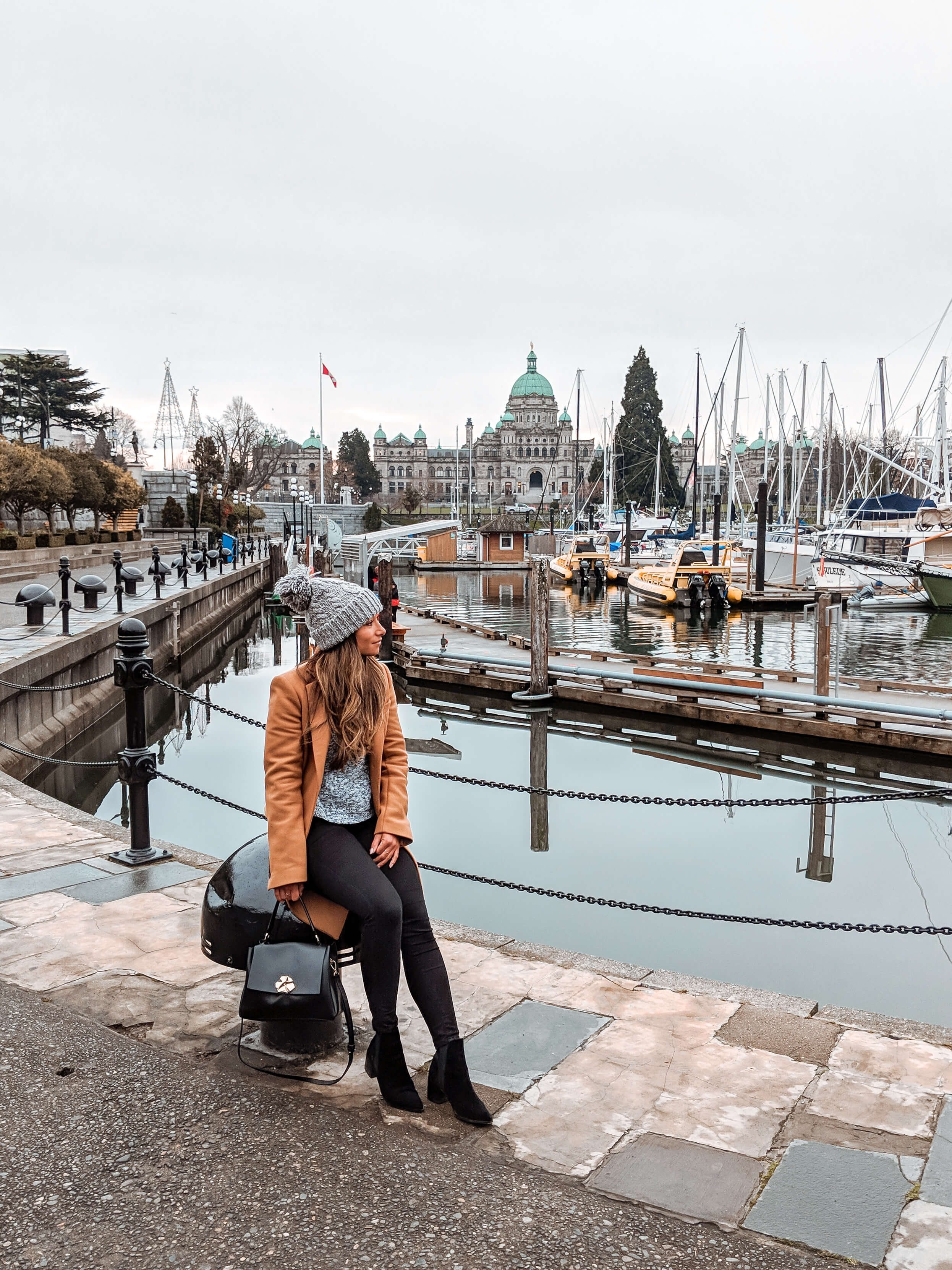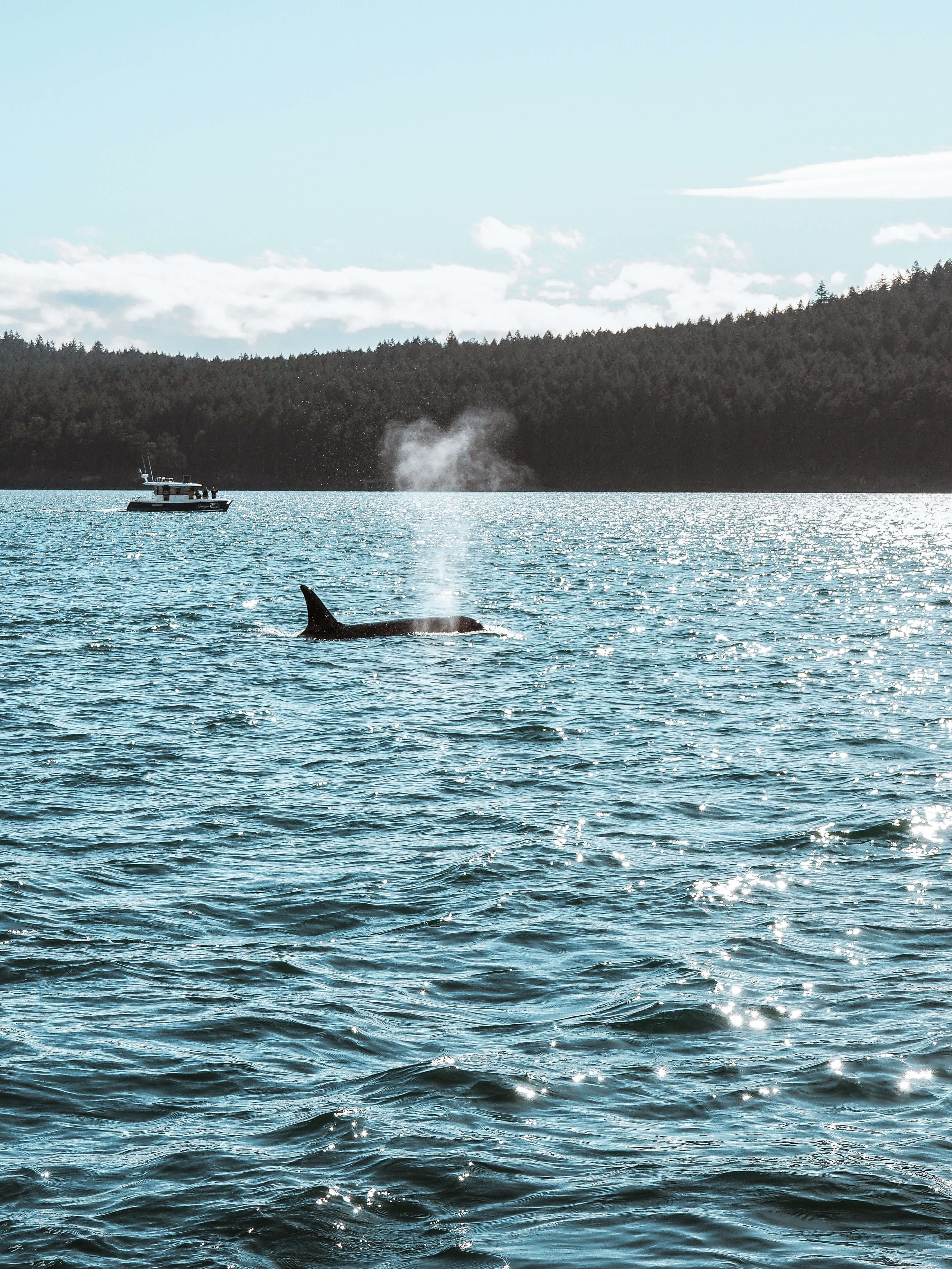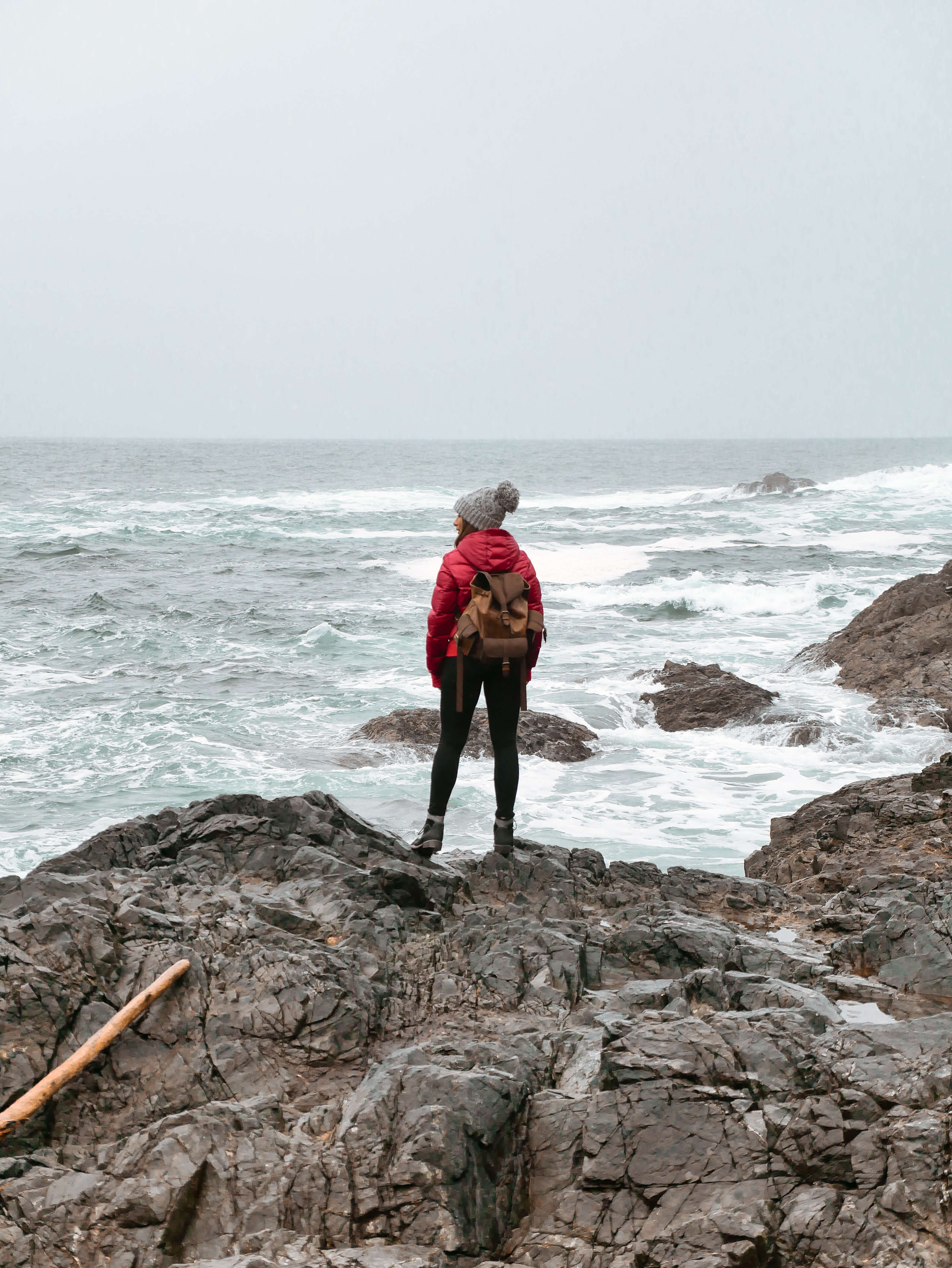 Ucluelet
Another very beautiful Island destination is Ucluelet. Located on the West Coast, Ucluelet sits 30-minutes south of Tofino and it's very similar in terms of the landscapes and rugged coastline but with its own unique charm and vibe. Ucluelet is home to the incredible Wild Pacific Trail (pictured below) and so much raw beauty, and the sunsets are unbelievable.
It has a number of cute coffee shops and restaurants (I love Zoe's Bakery!), as well as cabins and campgrounds, and during the winter months, storm-watching is very popular especially as Ucluelet experiences dramatic swells and storms.
If you're visiting Tofino, I'd highly recommend making a stop in Ucluelet for at least an afternoon to experience what it's like. It's definitely less well-known than Tofino, and there are pros and cons to staying here as opposed to staying in Tofino as well.
One huge pro is that it is more affordable than Tofino for accommodation, and a lot less busy especially in the summertime. However, Ucluelet doesn't have the same kind of sandy beaches (the beaches are more rugged and rocky), so you'll have to head up to Tofino for the beachy vibe and surfing, so it really depends what you're looking for. Either way, whether you stay here or explore for the day, Ucluelet is a stunning place and the setting is so picturesque.
Between Ucluelet and Tofino, you'll also find Long Beach, which is a sandy beach that stretches all the way up to Tofino and it's the longest beach on the west coast of the Island. You can surf, paddle board, kayak, swim, build sand castles, bring the dog, build a beach fire and do whatever else you love to do at the beach!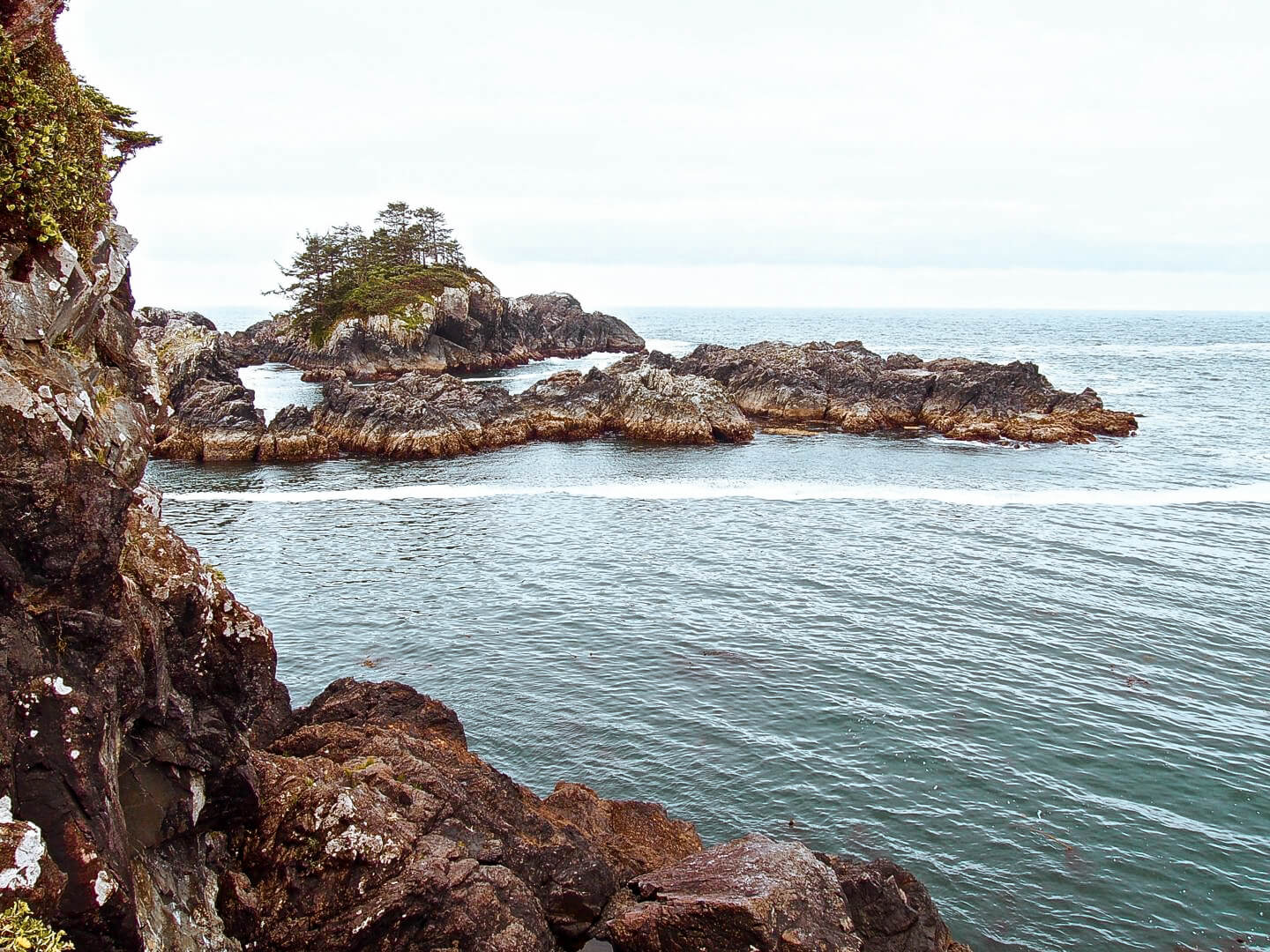 Sooke
Sooke is a lovely area on the southern coast of Vancouver Island that sits just 40 minutes from Victoria. It's the starting point for the West Coast Trail, and it has some of the most beautiful unspoiled beaches, hiking trails and views. If you're staying in Victoria and want to get out of the city for the day, or if you're looking for a quiet break with minimal travelling and great food, Sooke might just have everything you're looking for.
East Sooke Park is a must-visit, and you'll find lots of trails over the rocky coast and stunning beach areas. The Sooke Potholes are quite popular as is Roche Cove Park. If you fancy a little road trip, there are a number of gorgeous beaches that sit between Sooke and Port Renfrew along the Pacific Marine Circle Route, such as French Beach, China Beach, Mystic Beach and Jordan River. In Sooke, you'll find 3 microbreweries and a number of great food spots serving classic West Coast cuisine.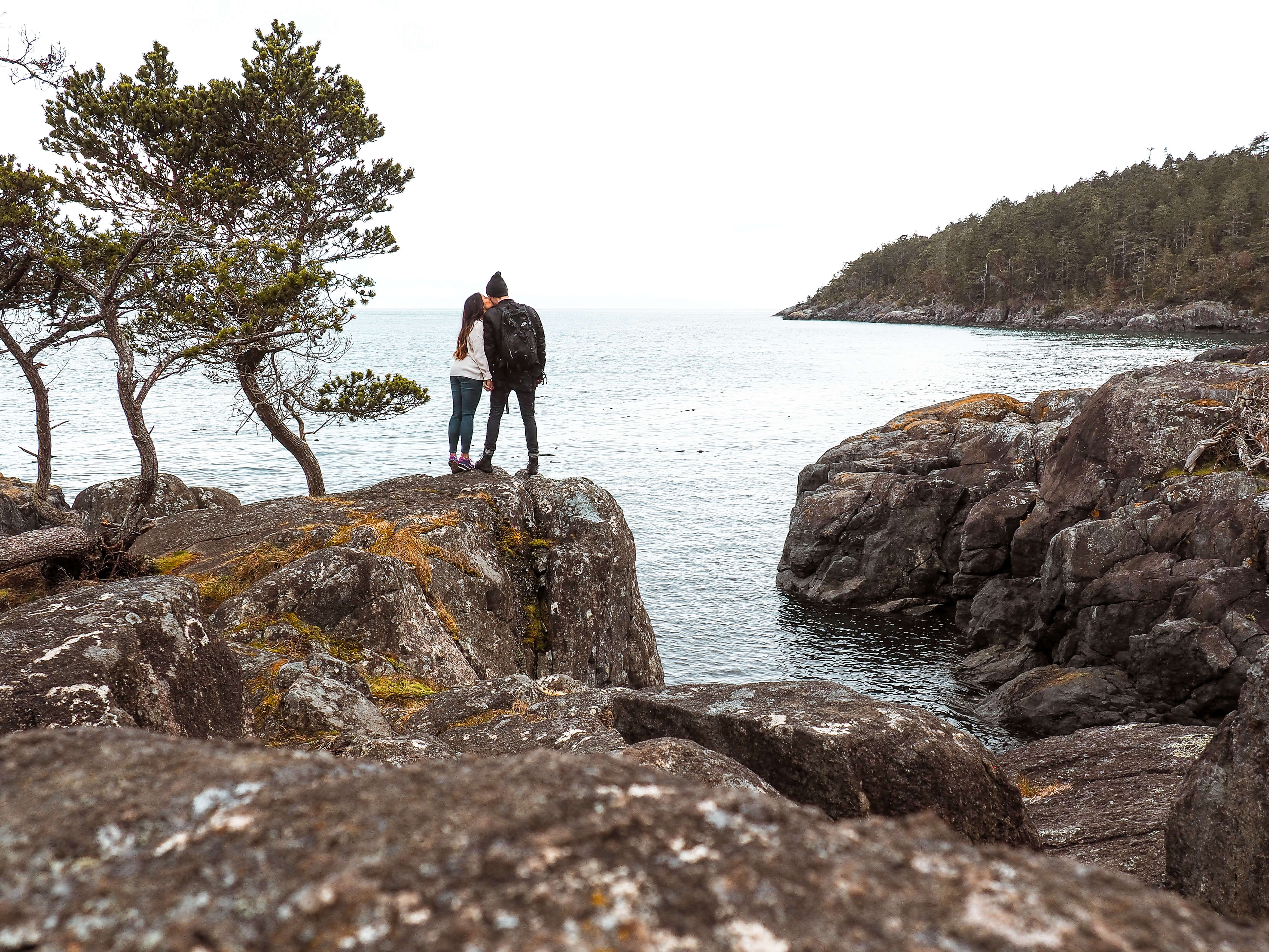 Cowichan
Cowichan is a gorgeous place to visit on Vancouver Island especially if you're looking for a relaxing escape with great food! See my guide to spending 3 days in Cowichan for more info.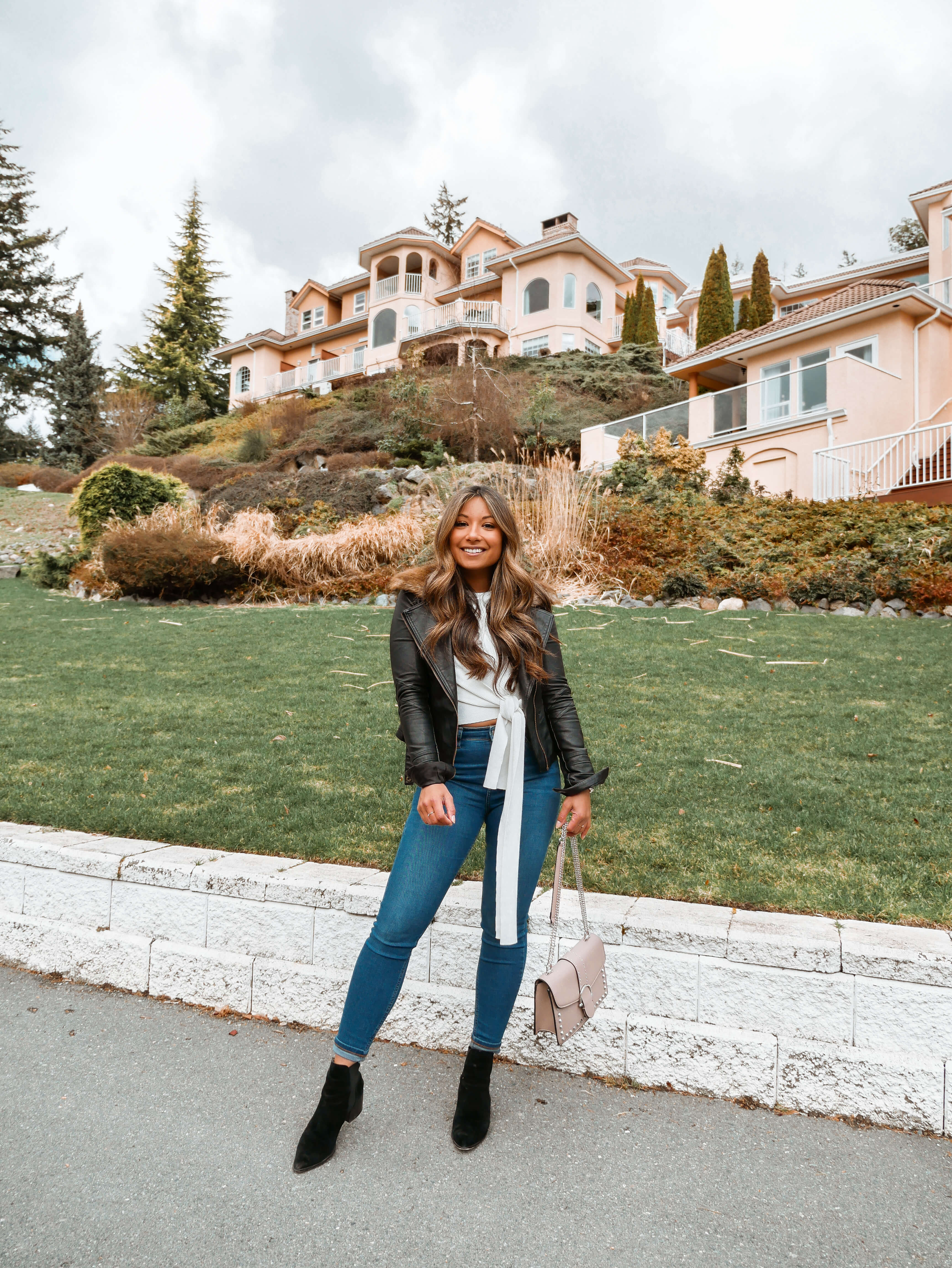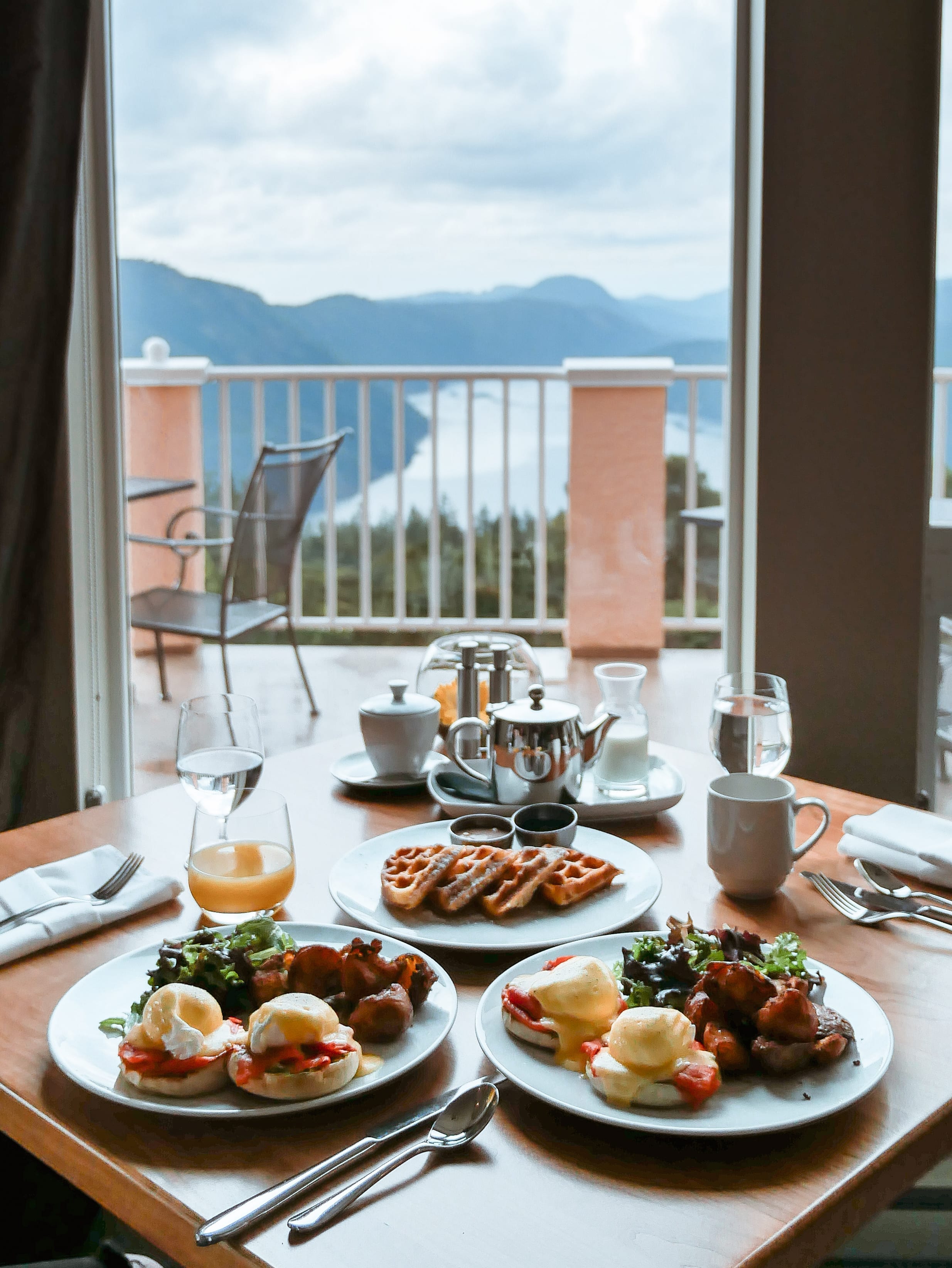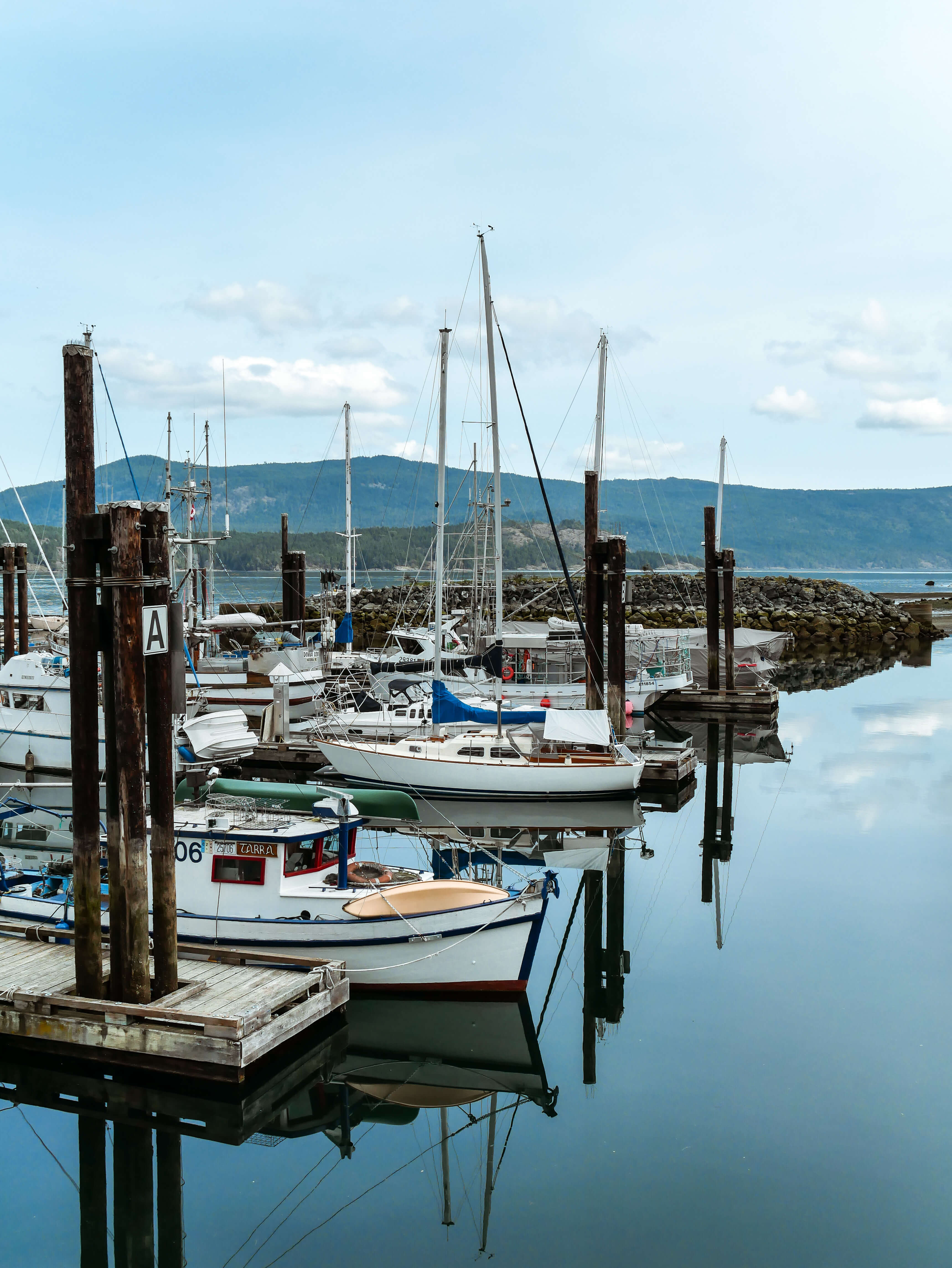 How To Get To Vancouver Island
One of the things I like most about Vancouver Island is that it's so easy to get there. The most affordable and flexible option is to take the BC Ferries ferry and you can go from either Horseshoe Bay in West Vancouver to Nanaimo (1h 40), or from Tsawwassen to Victoria (1h 35). The ferry is super easy and especially if you want the luxury of having your vehicle, it's a great option. It costs roughly $100 for 2 people and a vehicle, each way.
You don't necessarily have to have a reservation to travel on the ferry and you can purchase a ticket at the terminal. However, if you need to catch a specific ferry or if you're travelling on a long weekend or holiday, I would recommend making a reservation in advance, just to make sure that you do secure a spot. You also need to arrive at the terminal at least 30-minutes prior to your departure. Learn more about bookings here.
Since we don't own a car, we usually take a Modo carshare. I've used this service for about 3 years and it's brilliant, and we haven't had to buy a car of our own because of it. It's 2-way car sharing, so essentially you pick up and drop off the vehicle at the same location, and treat it as your own for the duration of the trip. Fuel and insurance are included in the daily/hourly cost too, as well as 250km included per booking.
Modo also has vehicles at the Nanaimo and Victoria ferry terminals, so this is a great option if you live close to the terminals and want to save yourself the car fee on the ferry. You simply travel as a foot passenger and then grab your Modo at the terminal on the other side. If you're new to Modo and want to try it out, you can use my code GOLIVEMODO when signing up and you'll get $50 in driving credit!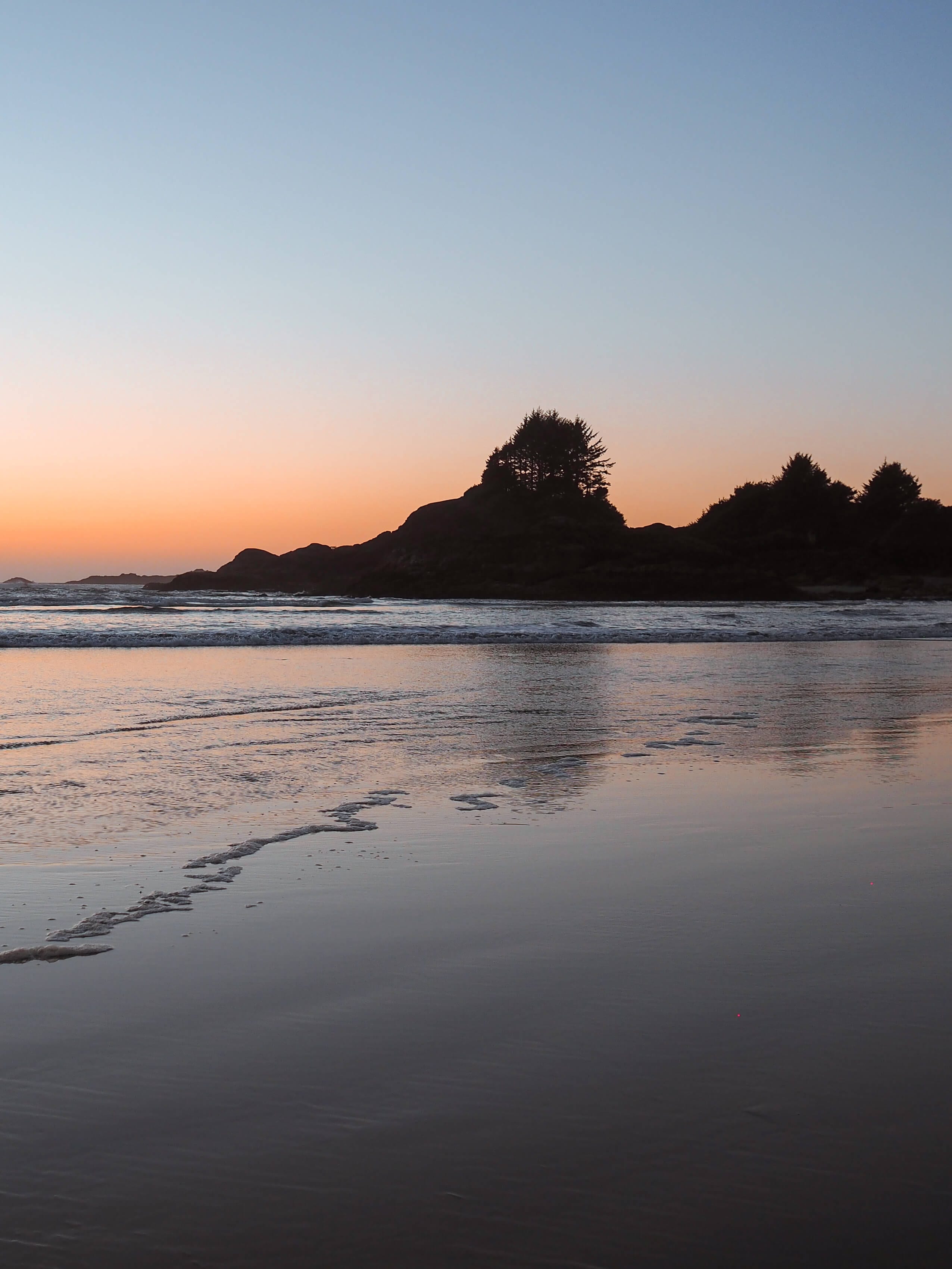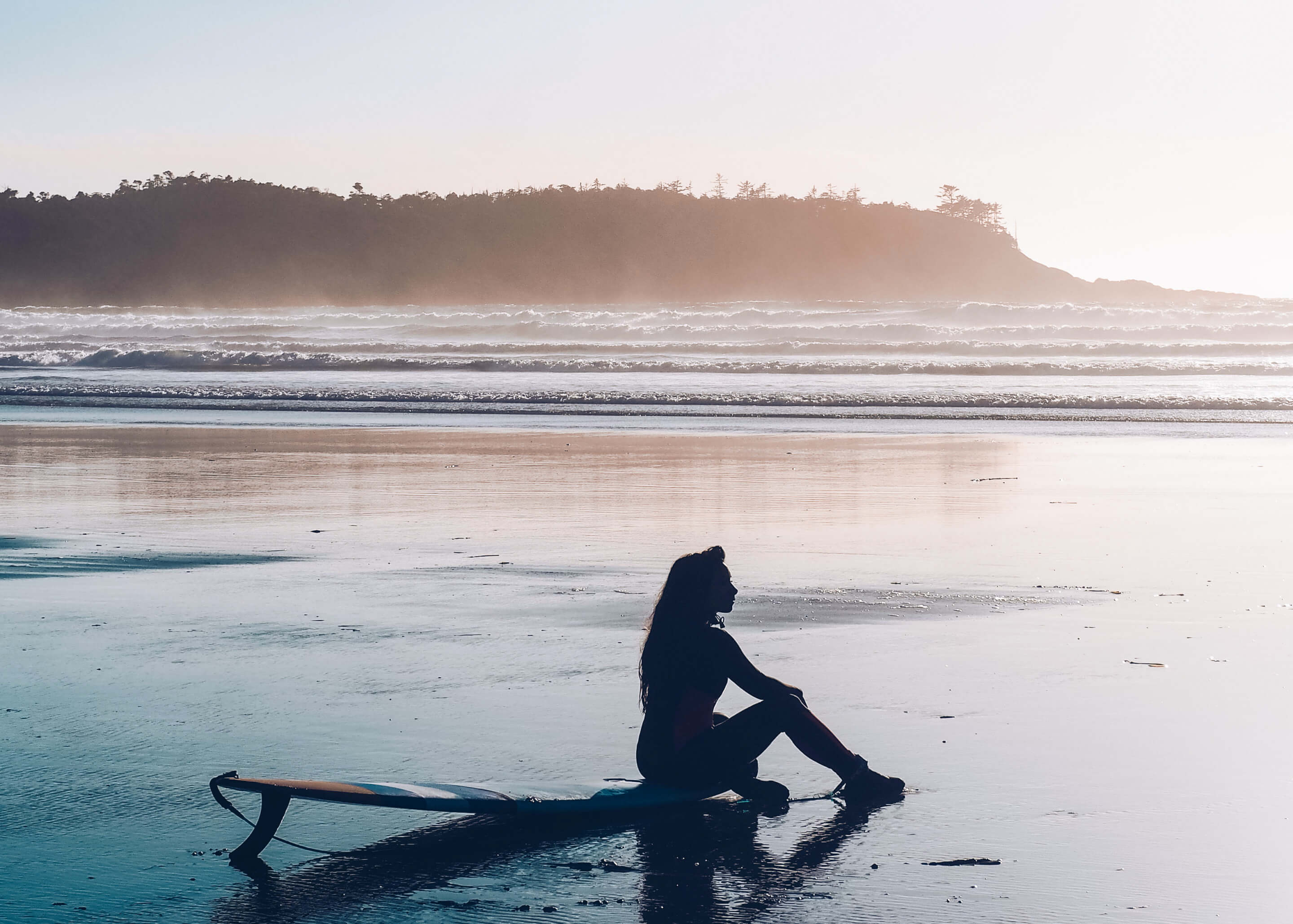 I hope you've found this post useful and it's given you a bit of inspiration if you're looking for the best places to visit on Vancouver Island! Where are some of your favourite places to visit? I'd love to know so we can add them to our list!