Tofino is one of those magical destinations that you want to go back to again, and again. If you've ever visited, you'll know what I'm talking about – the gorgeous never-ending beaches, super chilled vibe, and iconic West Coast views make it one of my favourite places we've visited in Canada. And if you've never been, it's definitely somewhere you ought to put on your travel list. It's the perfect place to completely switch off and if you live in Vancouver, the best part is you feel like you're on a proper vacation without having to venture too far from home.
Matt and I headed over to Tofino a few weeks ago for a romantic little getaway and to experience Tofino in the early days of winter. Our 3 days consisted of surfing, eating, napping, and enjoying the gorgeous beaches and sunsets, which is exactly how we wanted to spend it. The trips we do are often jam-packed with adventures, which i'm definitely not complaining about, but for this trip we just wanted to spend time together, surf all day long & make the most of our gorgeous beach house. We visited Tofino in the summer of last year so have already explored a lot of the beaches and done activities like whale watching, so it was nice to keep it a bit more chilled.
We stayed at the Pacific Sands Beach Resort, which is right on Cox Bay, in one of their amazing oceanfront beach houses which was seriously a dream come true. I can't tell you how wonderful it was to be able to wake up with the ocean right outside our bedroom window, roll out of bed into a wetsuit and enjoy an hour of surfing before breakfast. With it being November, it was obviously a bit chilly (it actually snowed a bit while we were there!) but that just made the post-surf warm up by with the fire that bit more rewarding!
Autumn & winter is such a lovely time to visit as it's much quieter than the summer, accommodation is more affordable and you can still enjoy a whole bunch of activities such as storm watching, surfing, and hiking. I sometimes feel guilty about staying inside rather than going out and doing stuff when i'm away on trips, but because it was a bit cold and stormy outside it was the perfect excuse to bundle up & enjoy our little house. Safe to say we loved it! So, if you're hoping to go on a cosy getaway & you're considering visiting Tofino in winter, here are a few ideas of what to do, where to eat & where to stay while you're there!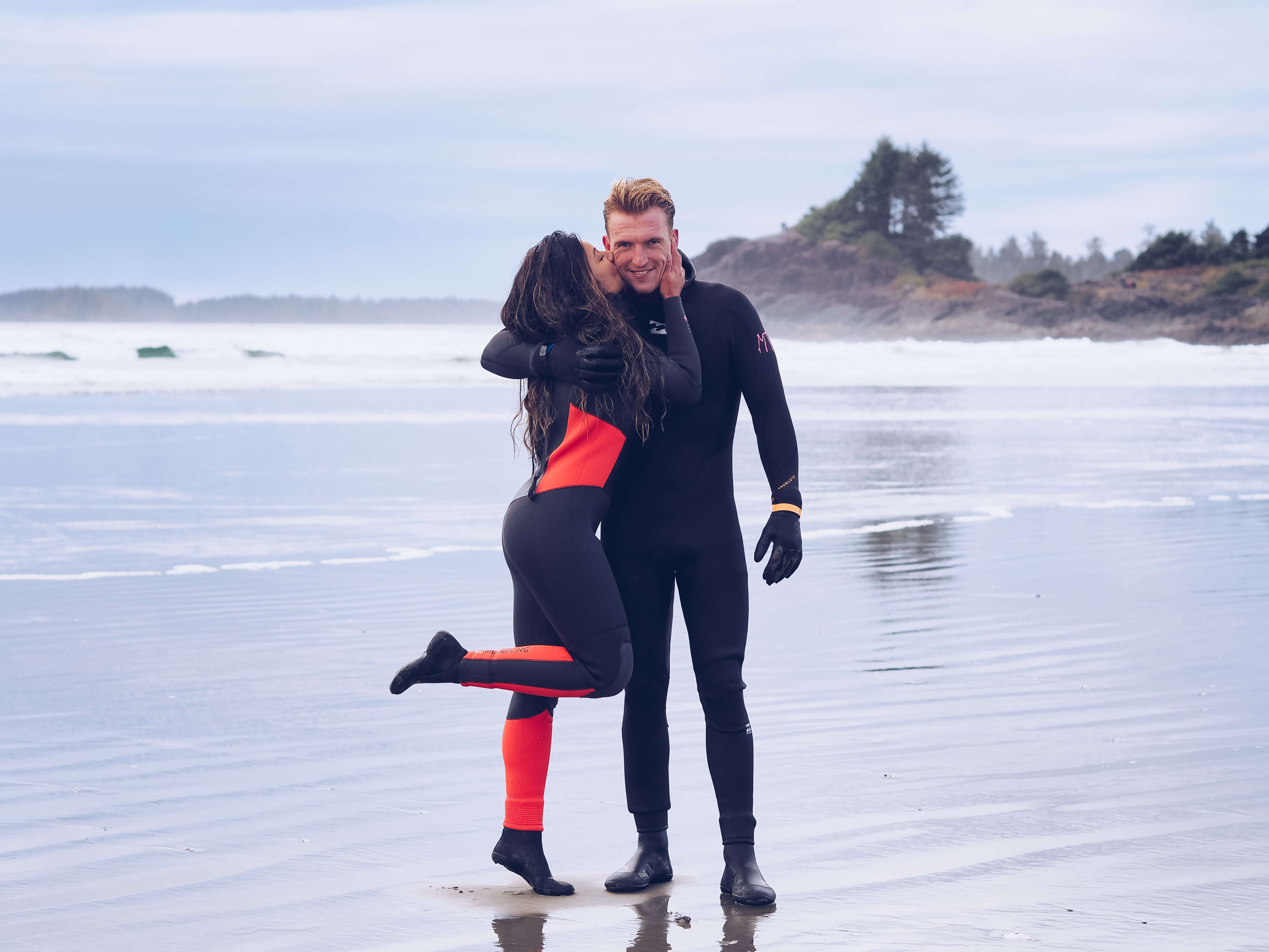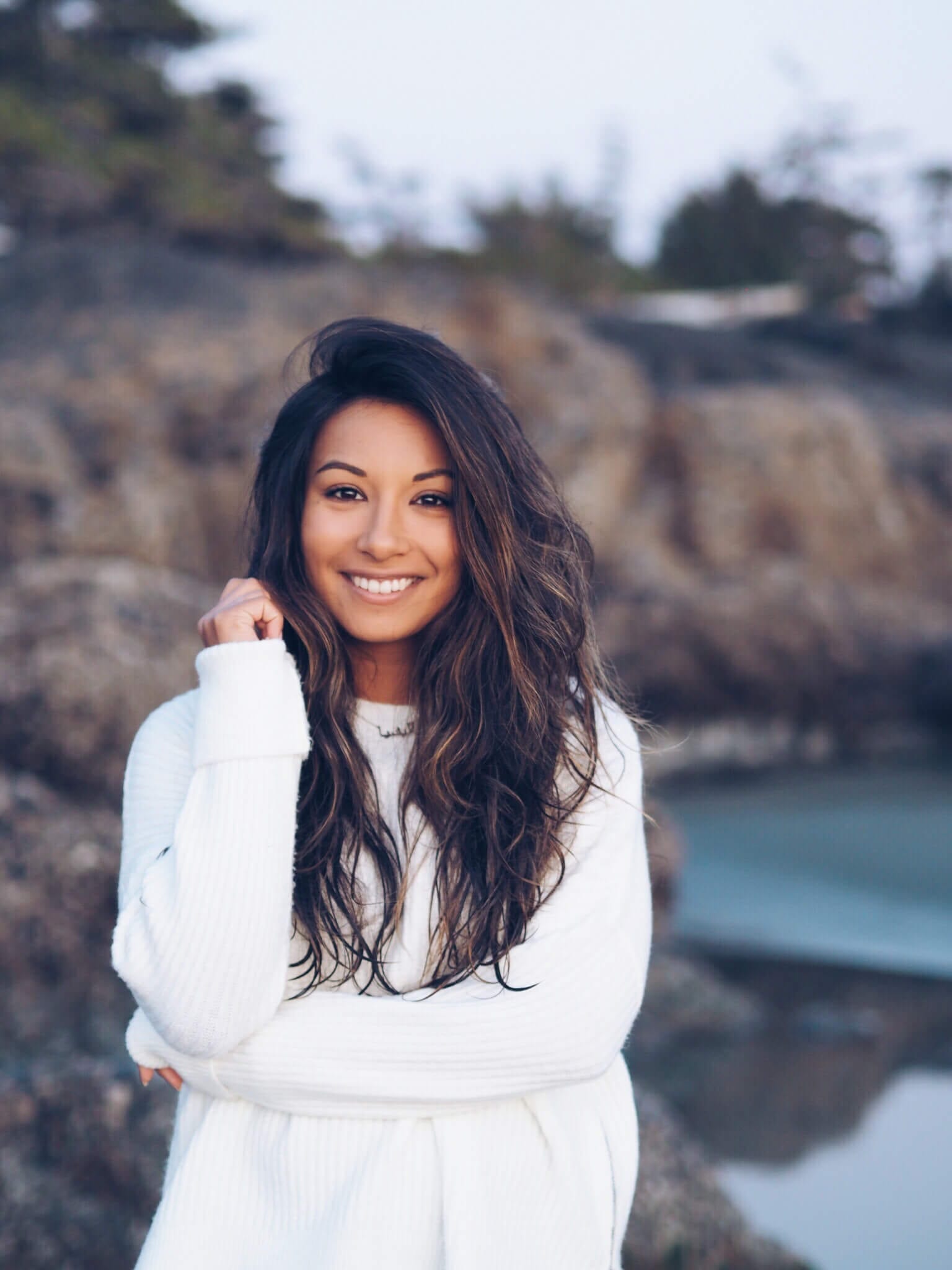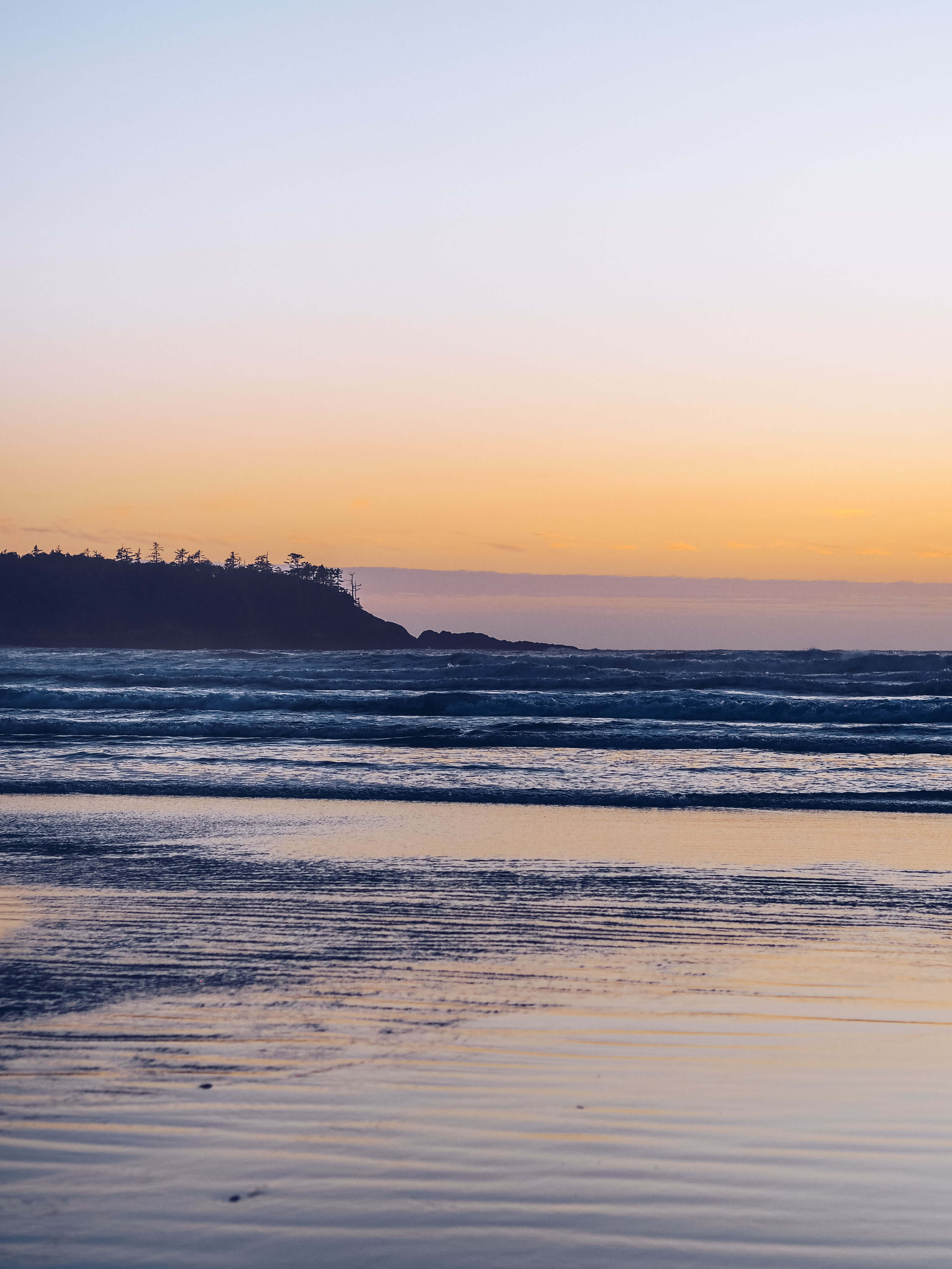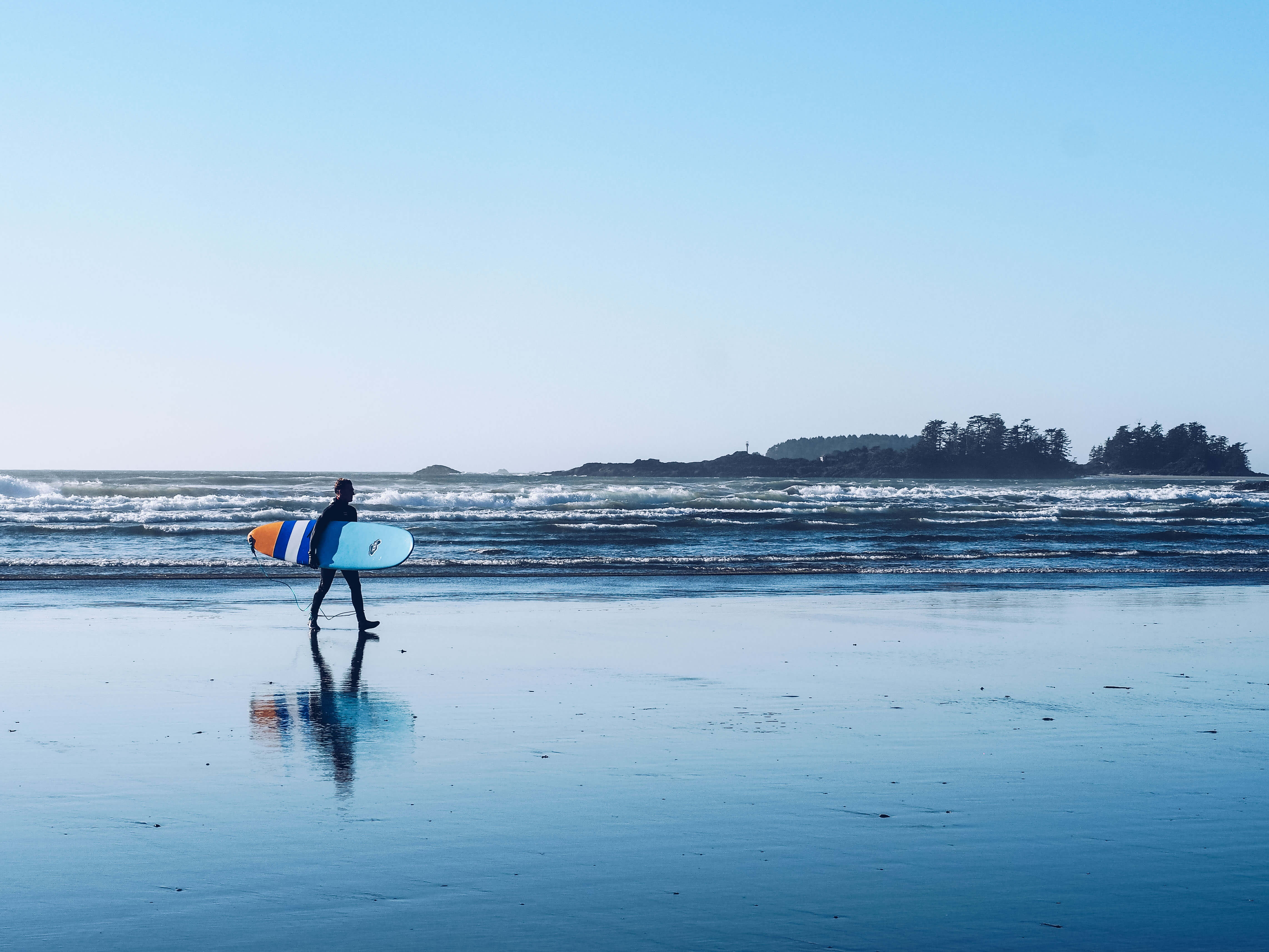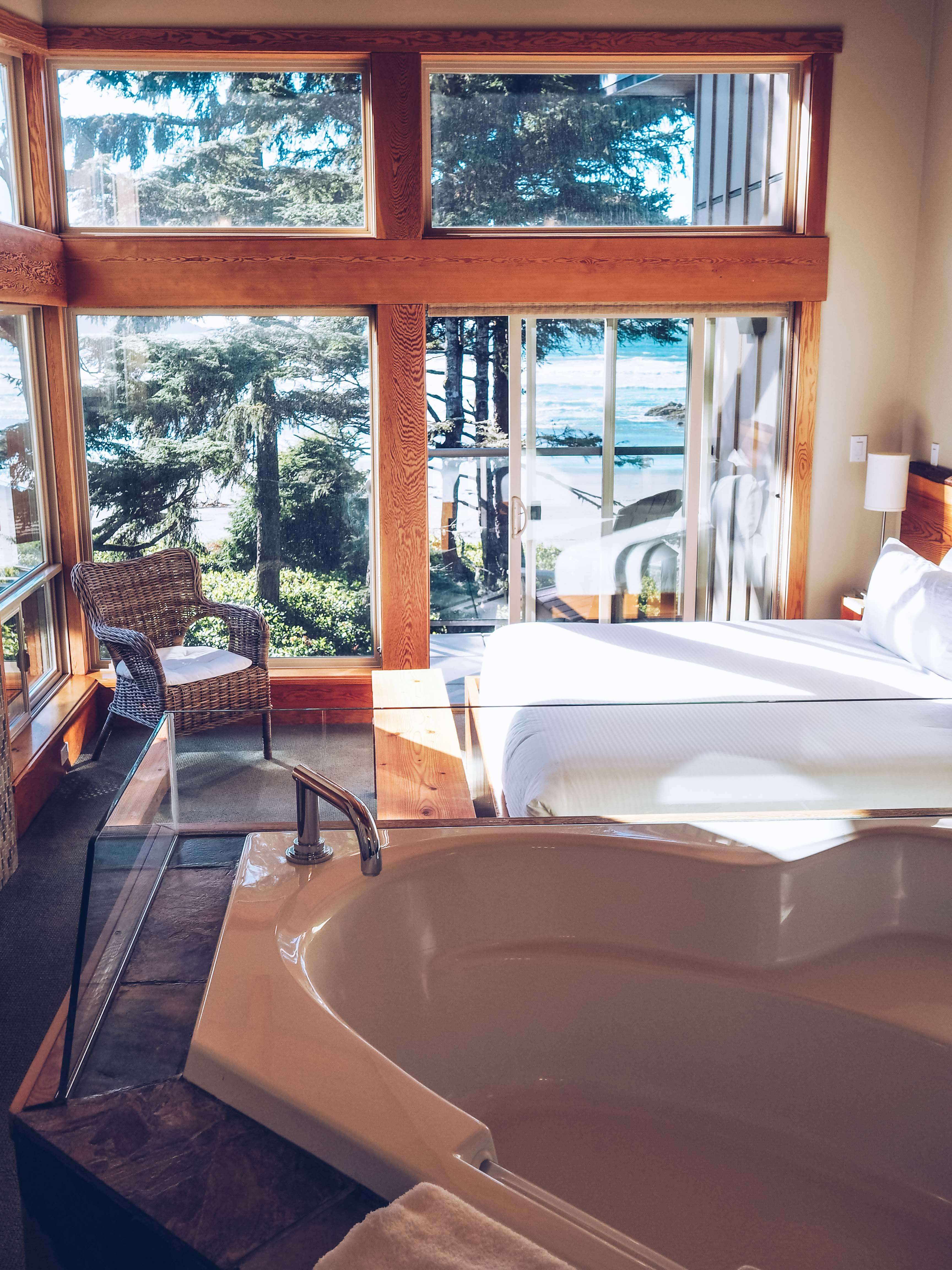 Staying At The Pacific Sands Beach Resort
Known as one of Tofino's most beautiful accommodations, the Pacific Sands Beach Resort definitely lived up to its reputation and it was hands down one of the loveliest places we've ever stayed. The resort put us up in one of their gorgeous 2-bedroom oceanfront beach houses, which was literally steps away from the beach. I loved that it was so luxurious yet also super relaxed, and it's the perfect place if you want some variety as you can just as easily spend the whole day surfing as you can chilling by the fire or on the balcony with a cup of tea and a book.
Not only was the master bedroom my dream come true, with floor-to-ceiling windows, a balcony overlooking the beach, fireplace and double soaker bathrub right in the bedroom, it also had a full kitchen, living/dining room, a second bedroom with 2 double beds, another balcony downstairs and 3 bathrooms. The 2-bedroom beach house can fit up to 6 people comfortably, so it's ideal whether you want a romantic couples getaway or a break for the whole family or group of friends.
The Pacific Sands is located on Cox Bay Beach, one of Tofino's best surfing beaches, so you can surf right off your doorstep. We rented our surf gear from Surf Sister, who have a rental shack on the property so you can rent your surf or paddle boards at the resort and get lessons at Cox Bay. The resort doesn't have a restaurant, but instead an open-air Surfside Grill which serves everything from tacos, to burgers to freshly caught fish & chips. I recommend the smoked salmon breakfast burger which was divine! The resort also has fire pits and outdoor BBQs if you want to fire up the grill or indulge in some beachside s'mores, as well as a huge library of DVDs for when you want a cosy night in with a movie. For a full overview of the Pacific Sands' accommodations, take a look at their website.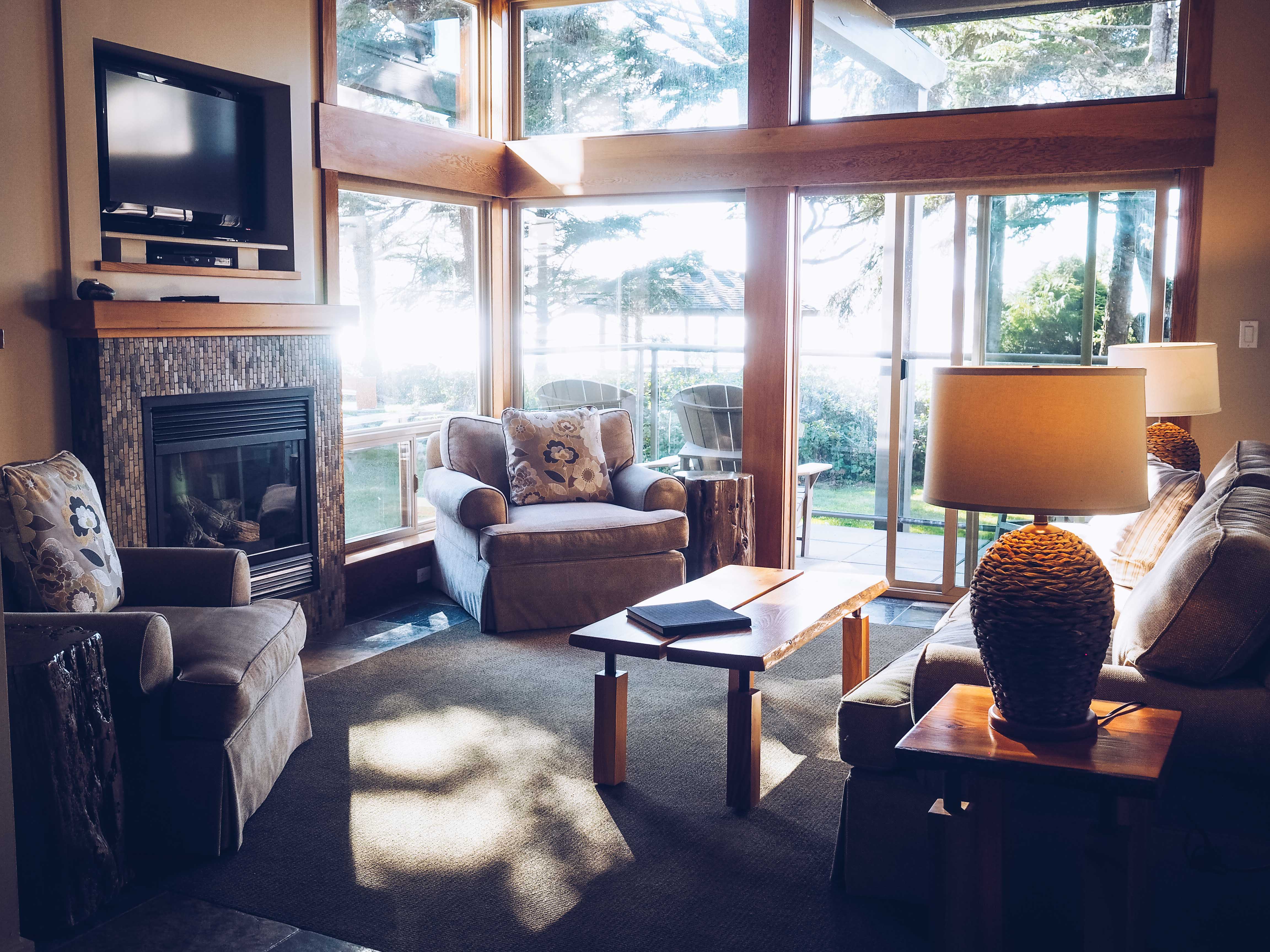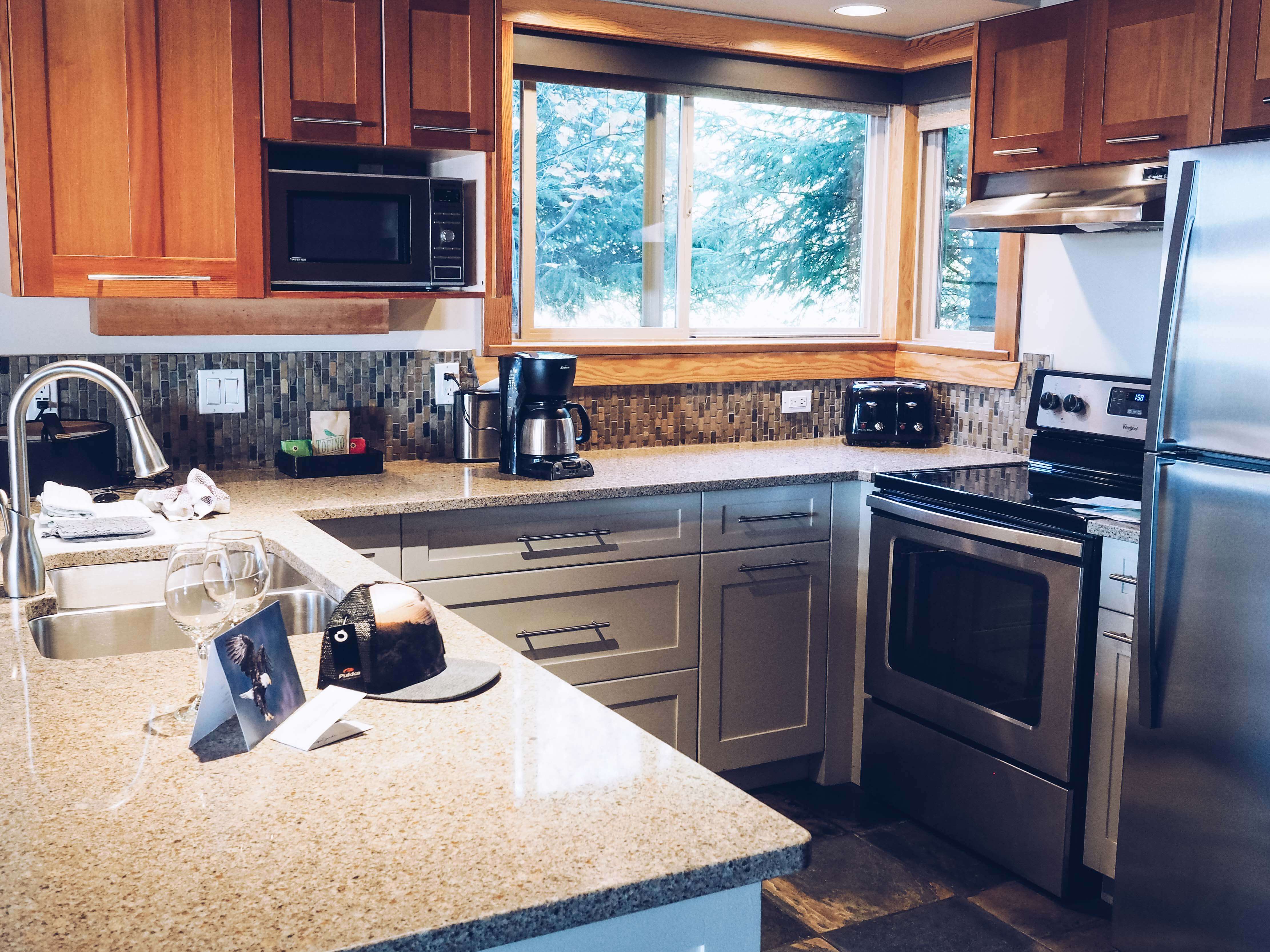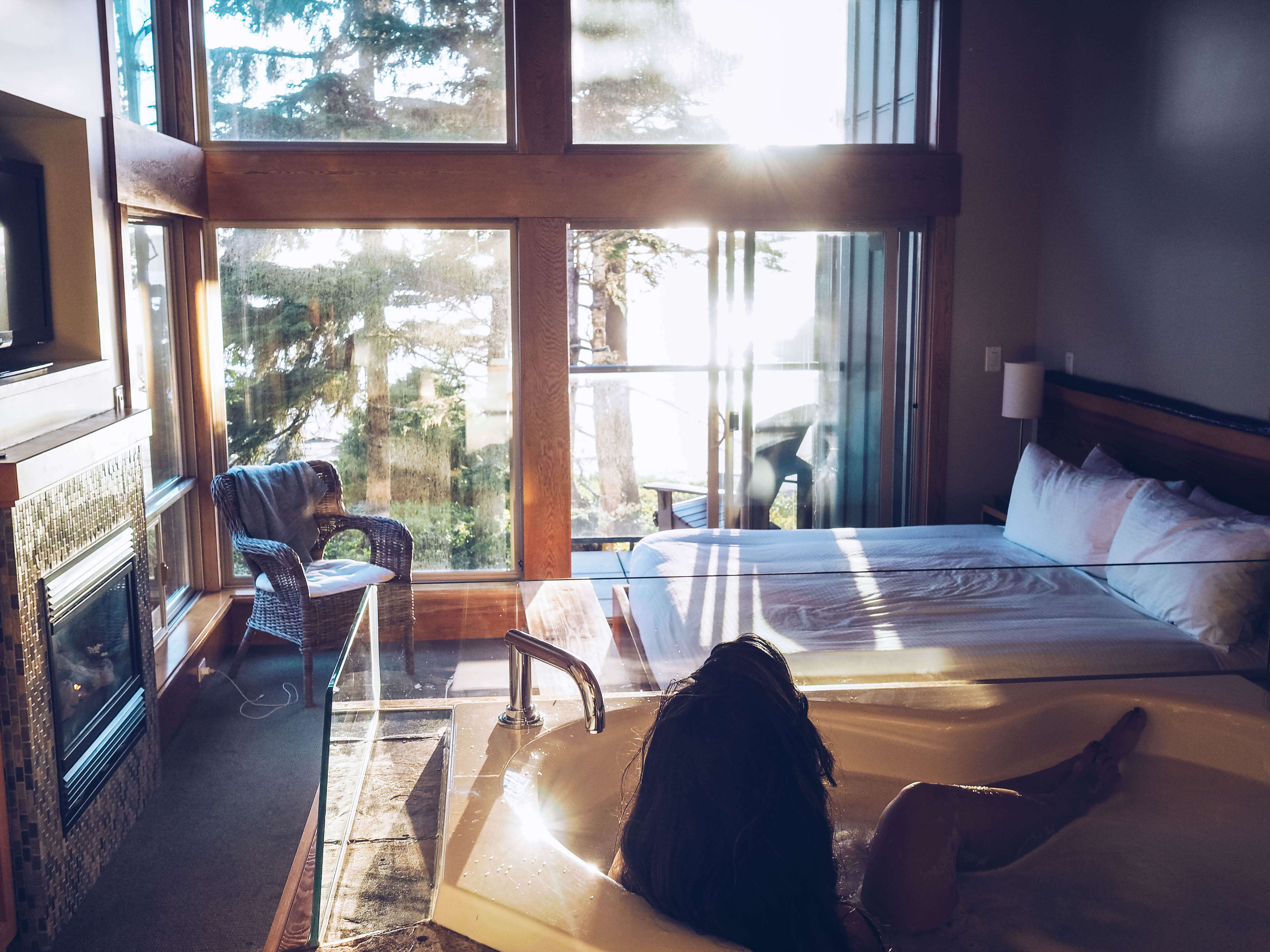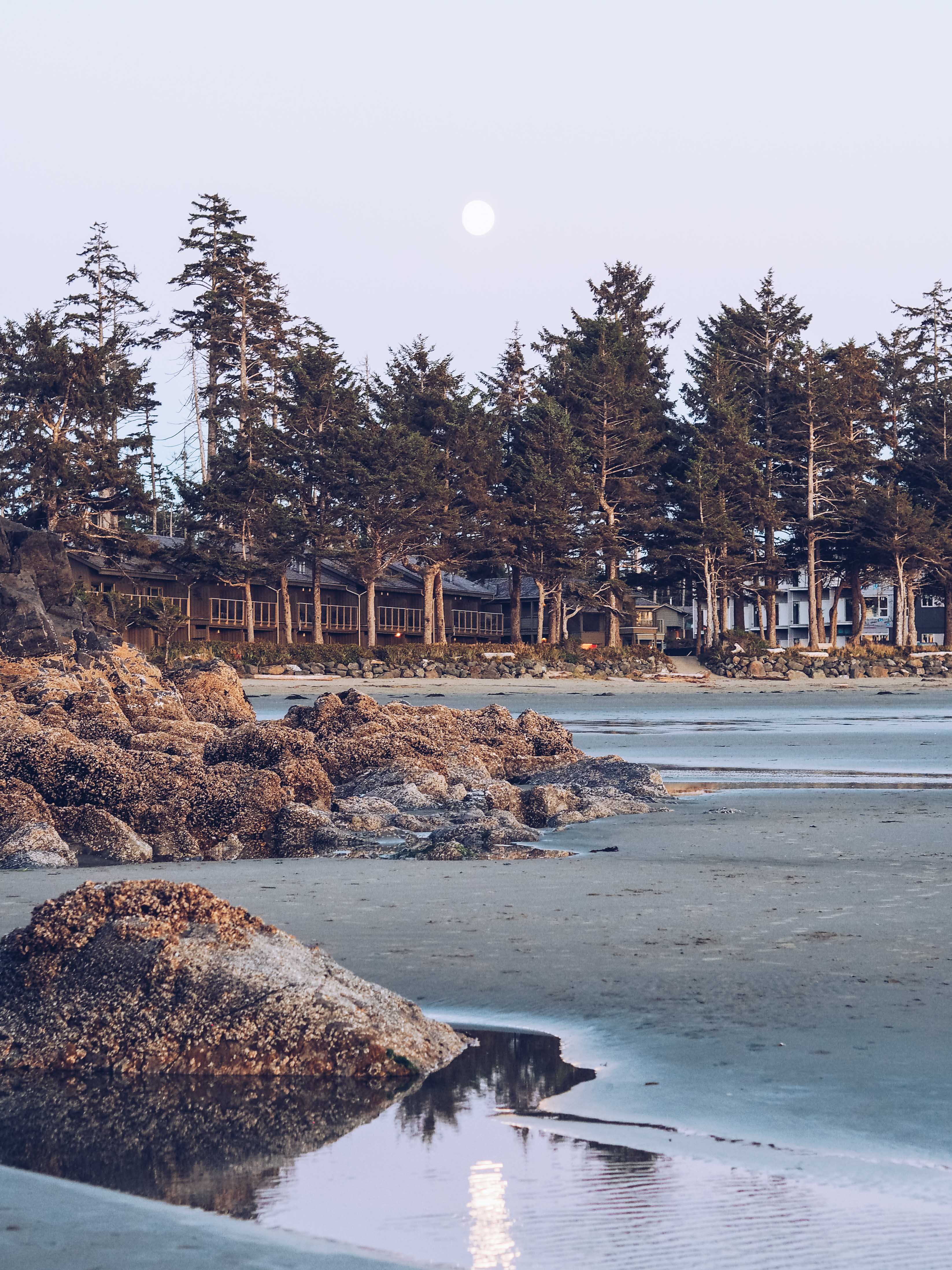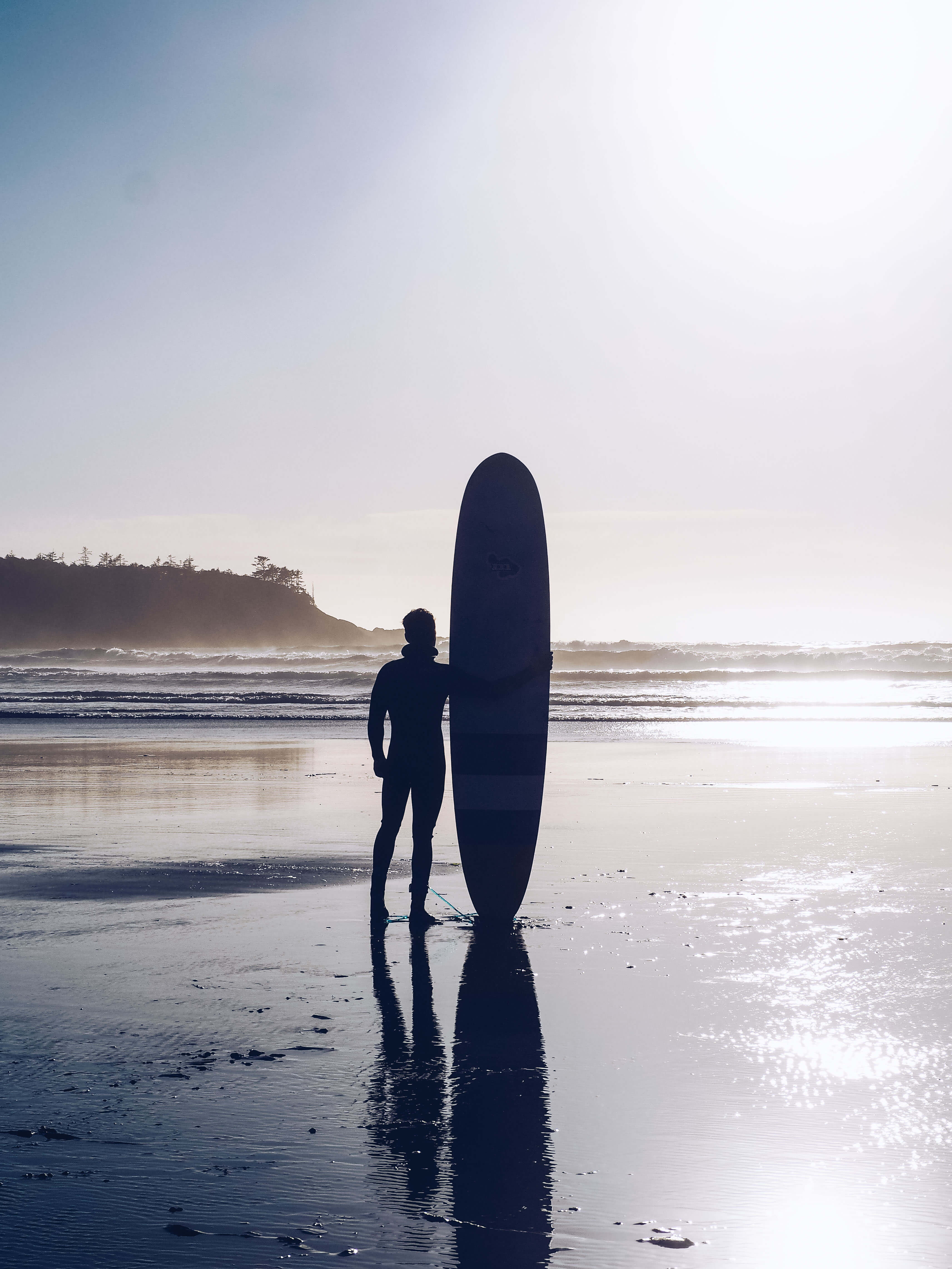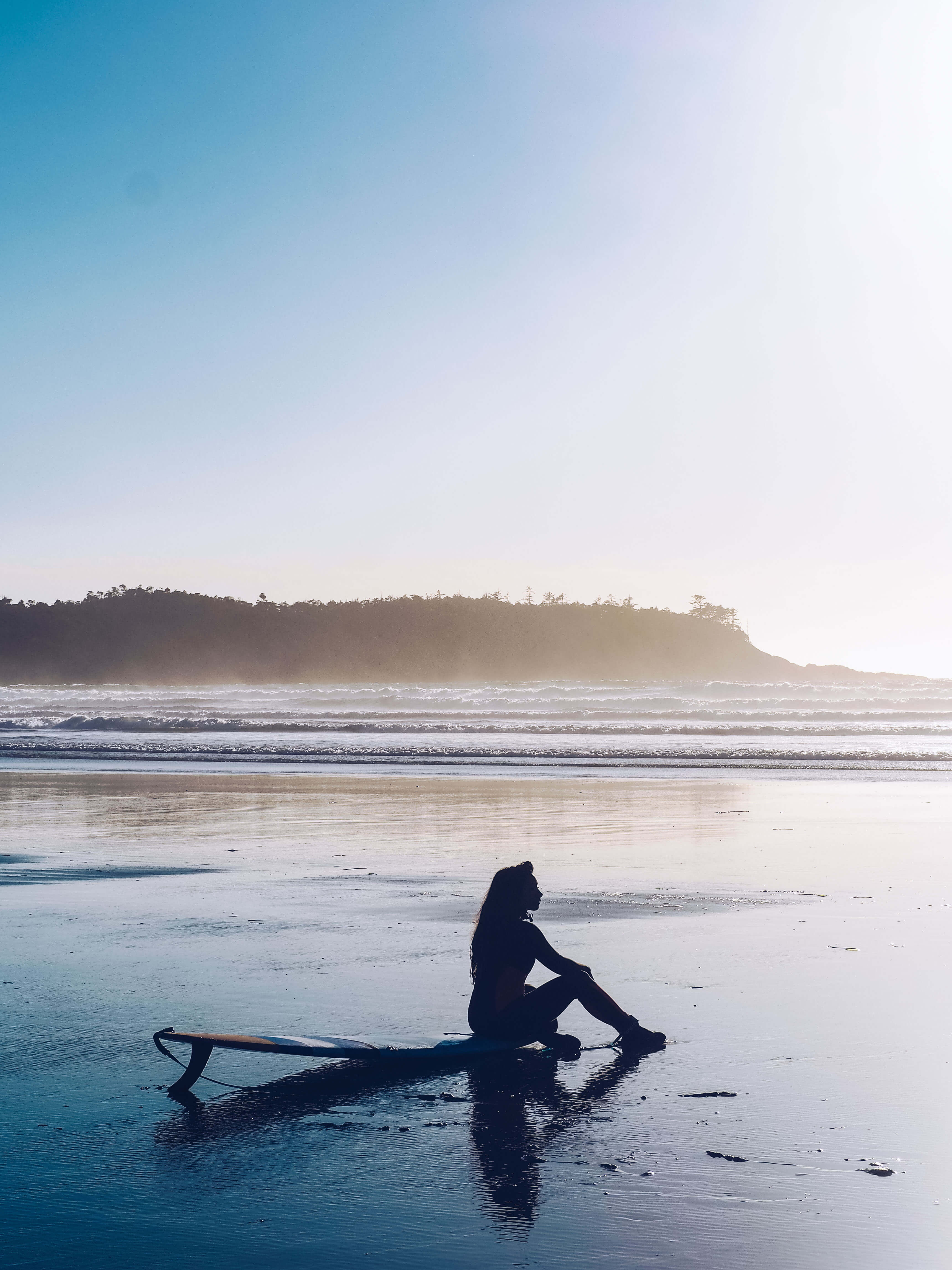 Things to do in Tofino in Winter
A lot of people consider Tofino as a summer destination, but in actual fact, a winter trip is just as special. Whether you want to take things easy or get adventurous and properly explore Tofino, there are so many things to do all year round. The best activities include:
Surfing
Tofino is known as Canada's surf capital, and fortunately, surfing isn't really that reliant on weather so come rain or shine you can easily spend a good few hours a day out in the water. The waves are quite a bit stronger in the winter so the surfing is great, and with a wetsuit, boots and hood, you manage to stay fairly warm even in winter. In fact, the water temperature is probably warmer than outside! Popular surfing spots are Cox Bay, Chesterman, and Mackenzie Beach. You can rent gear from Surf Sisters.
Storm Watching
Tofino sits on the Pacific Ocean on the West Coast of Vancouver Island, and so the weather and storms can get pretty powerful and dramatic. Whether you choose to venture outside in your rain jacket and wellies and brave the storm, or watch the giant swells from the comfort of your living room, storm watching is undoubtedly one of Tofino's coolest winter activities. The Pacific Sands has a great Winter Storm Watching package and you can save up to 25% off your stay.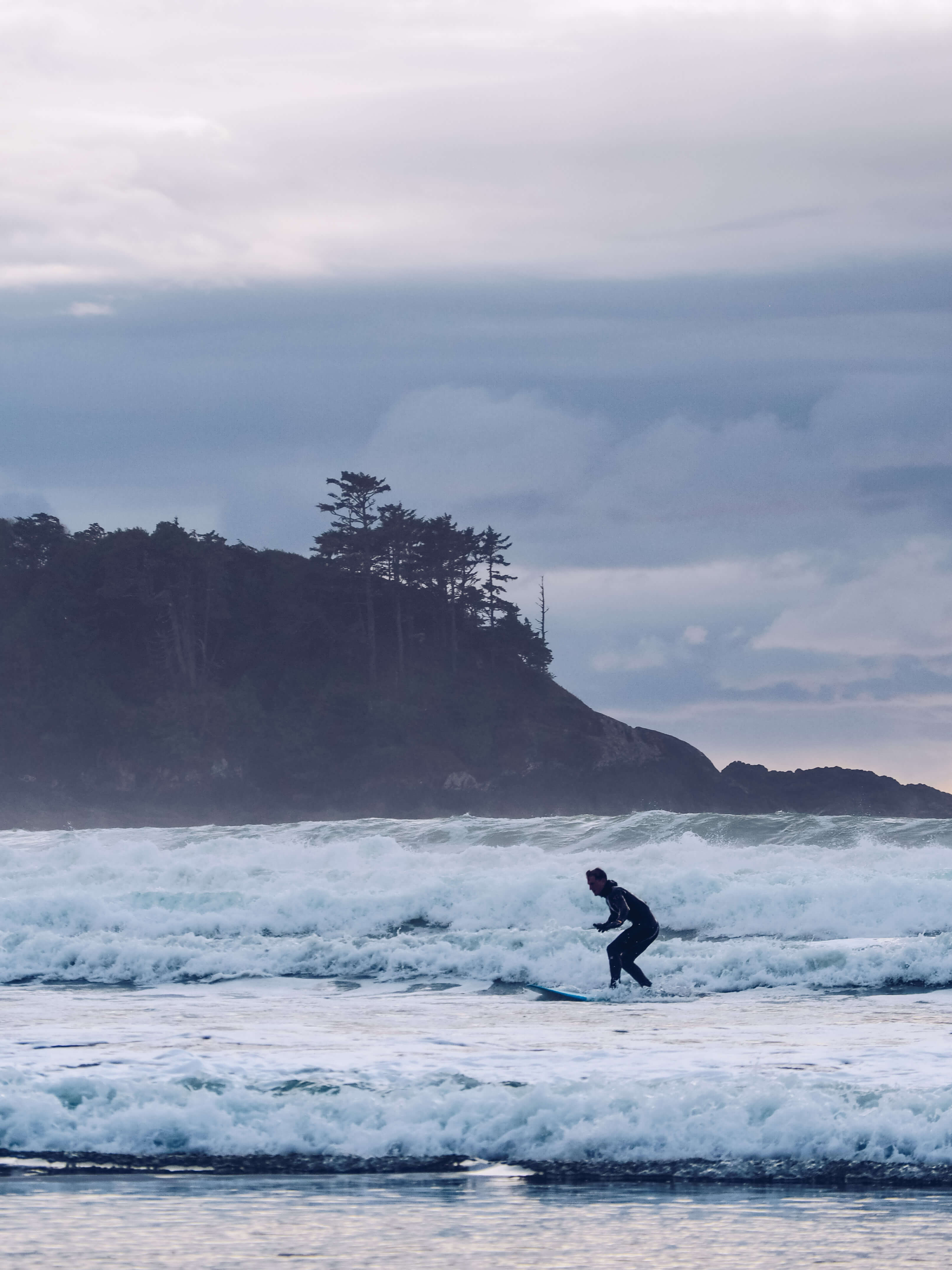 Explore The Beaches
Tofino in winter is stunning, and with the crashing waves and dramatic skies you have to allocate some time to explore the beaches. Chesterman Beach is one of the most well-known and it's so nice to bundle up and go for a stroll along the beach. Cox Bay is lovely and also popular for surfing, and the sunset from here is really beautiful. Mackenzie Beach is quite sheltered so great if you have young kids or want to paddle board, and Long Beach stretches between Tofino and Ucluelet for 16km so I highly recommend stopping off here either on your way in or way out of town.
Shopping
Shopping is the perfect rainy day activity and there are loads of locally-owned shops and galleries in Tofino where you'll find some beautiful handmade pieces and nautical-style decor. The main shopping areas are on Campbell Street & Main Street, as well as The Outside Break near Chesterman Beach, which has a bunch of surf shops, cafes, a chocolate shop & the Tacofino food truck.
Hot Springs Cove Tour
Whale watching tours don't run in winter (they operate between March to October), but if you're looking for an adventurous outdoor activity a Hot Springs Cove Tour might be up your alley. The tour involves either a seaplane or boat ride (or both) to Maquinna Provincial Park, a hike through the old growth forest, wildlife watching and seven natural geothermal rock pools to choose from. The tour lasts for about 6 hours and i've heard it's really amazing. We didn't get time to do it on this trip, but it's on our list for our next visit!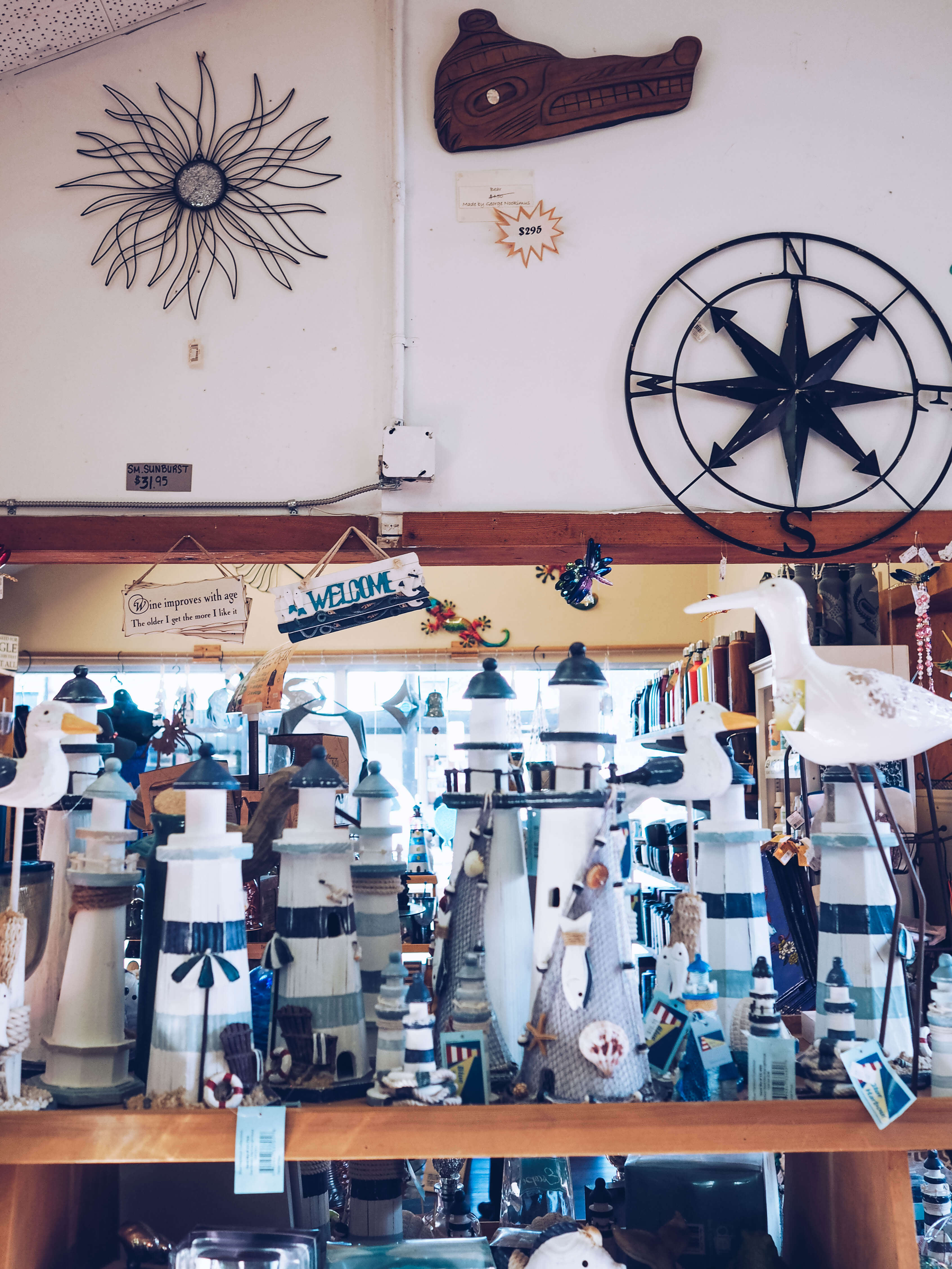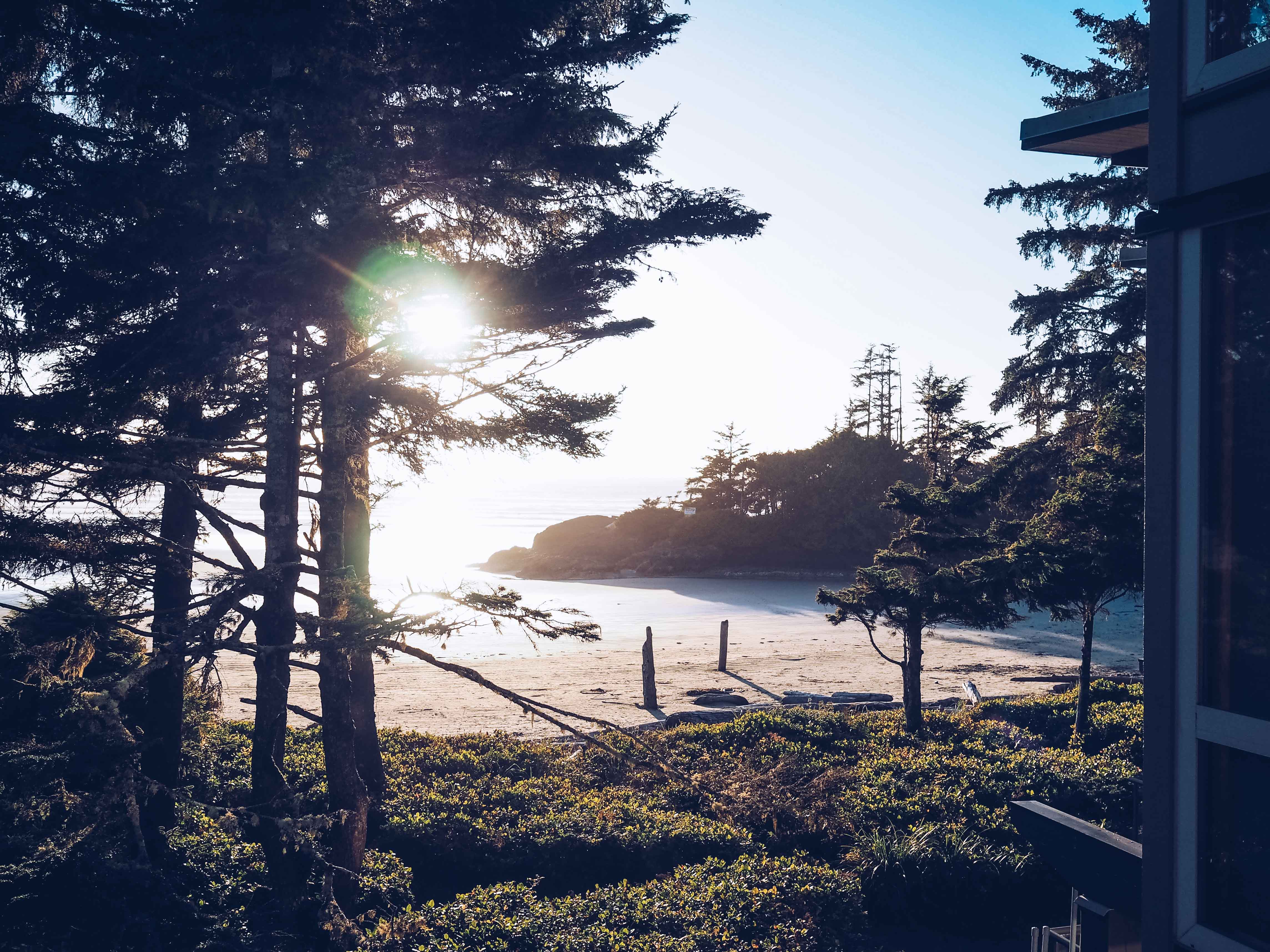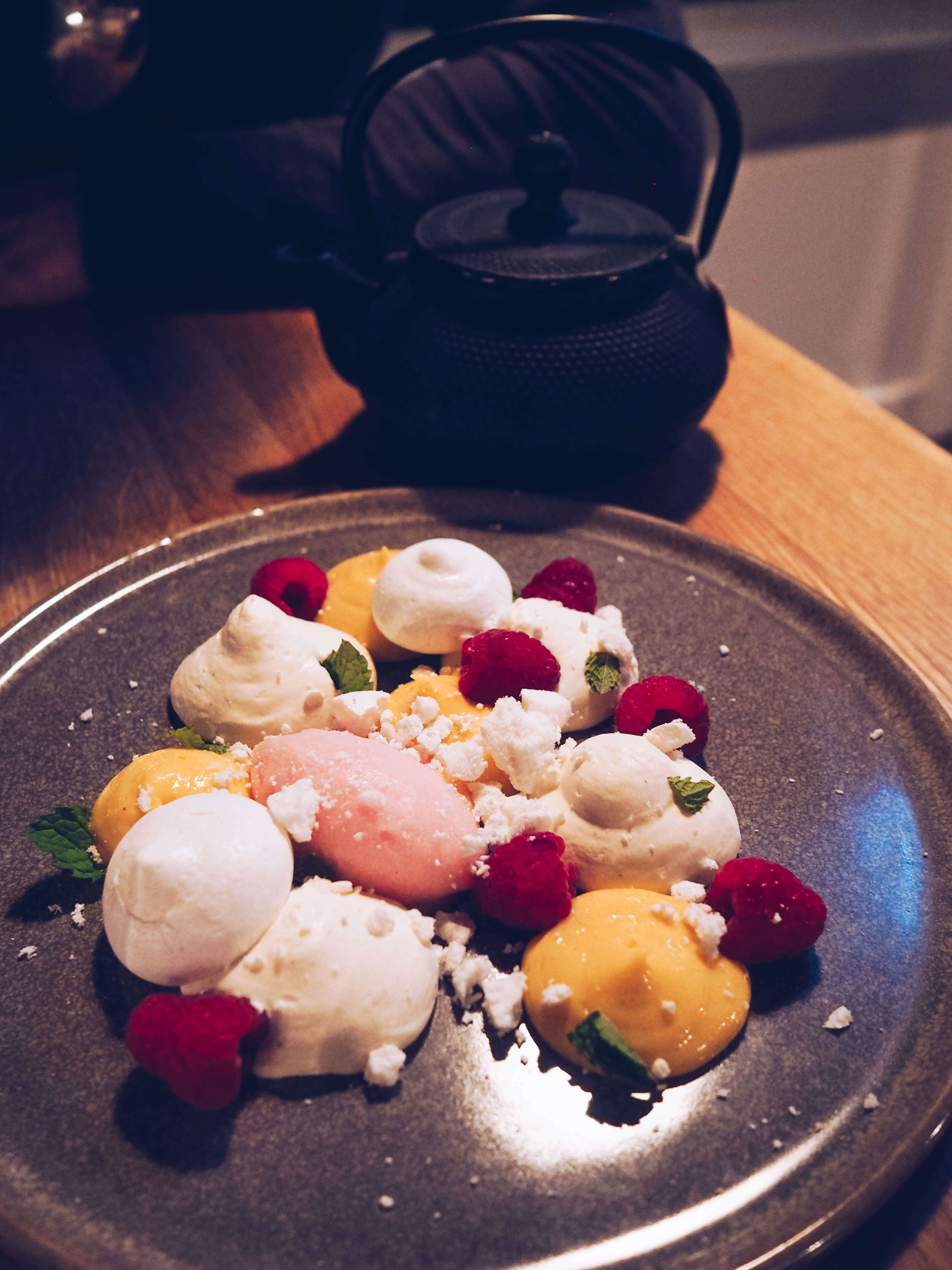 Where to Eat In Tofino
Tofino has some really awesome food spots, and you can expect high quality food whether you're grabbing a bite from a food truck or you want a full blown 3-course meal. Obviously, there are lots of great places to eat, but here are a couple of my recommended picks:
1909 Kitchen
1909 Kitchen is one of Tofino's newest eateries and I have a lot of great things to say about this place. The menu is very true to Tofino, with a focus on locally foraged ingredients, seafood platters, freshly landed catch, and dishes that vary depending on the season. We sampled the 4-course Wednesday Chef Menu, which was absolutely divine and just $29 per head which is super affordable. There's an Omnivore and Herbivore option, and both menus consisted of a wide range of seasonal veggies and carefully paired ingredients. We opted for the Omnivore menu (pictured), and the oysters & the Japanese Mignonette sauce were something else! If I'm completely honest, this was the first time i've ever actually enjoyed oysters so i'd go back even just for those!
The Chef, Paul Morgan, was so lovely and came out to explain each dish which was a really nice touch, and the quality of food was really incredible. I suggest dining in the daytime to make the most of the floor-to-ceiling windows and views of the marina, or at nighttime for an upscale yet cosy evening meal. Many items on the menu are cooked in the wood-fired oven, and the Chef does an amazing job of creating completely unique dishes, from roasted squash with a truffle cheese fondue, to whole rockfish, to wood-roasted cauliflower, to classic pizzas. The restaurant is located at Tofino Resort & Marina, and next door you'll find The Hatch Pub which is a bit more casual.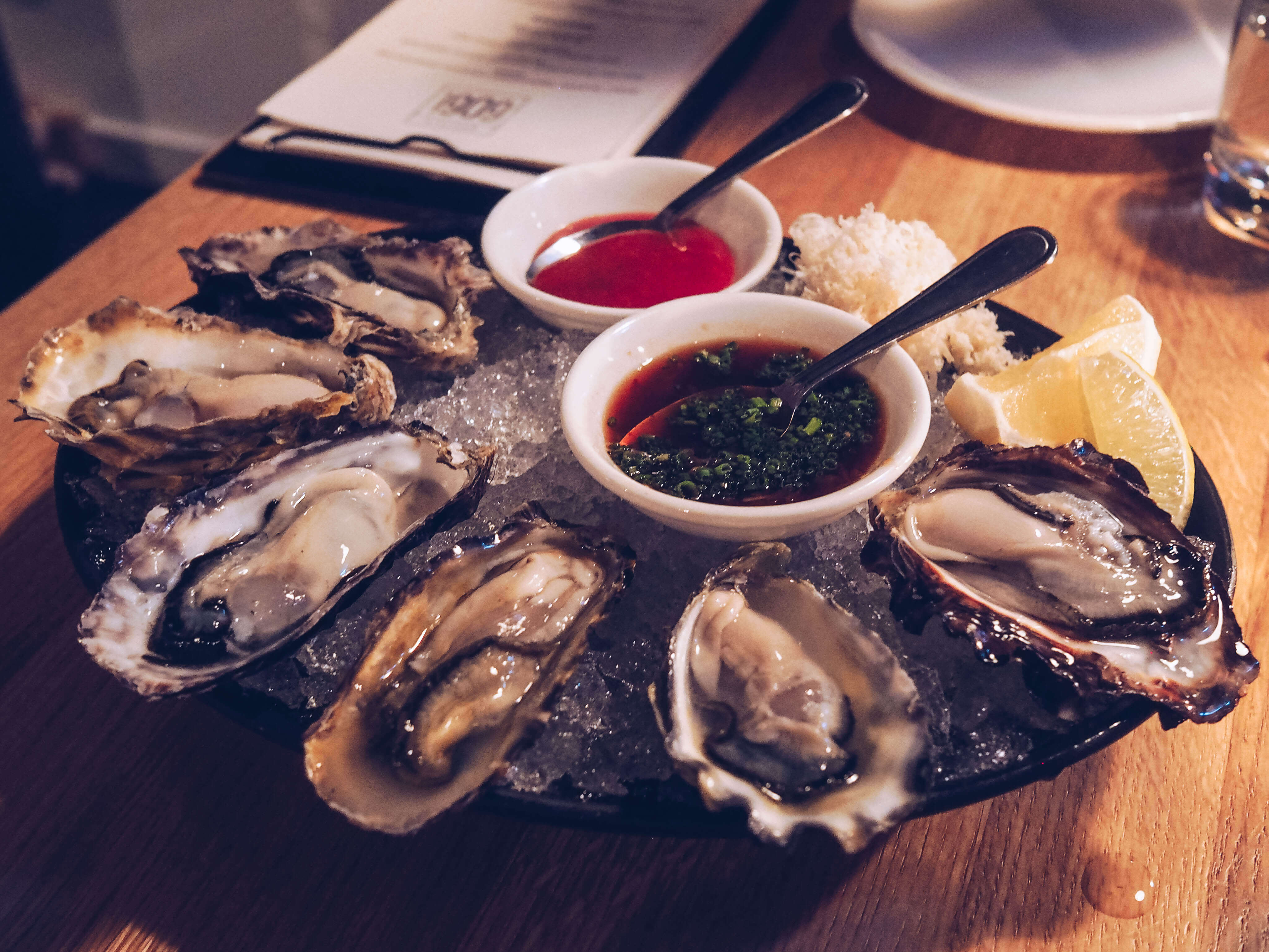 Shelter
Shelter is a really cool spot for lunch or dinner, and this was actually our second time dining here. The vibe is super relaxed but the food is very high quality, and the menu consists of everything from burgers, to freshly caught seafood, to light salads and wings to more hearty dishes. I opted for the Tofino Surf Bowl (pictured), which was a concoction of free run chicken, steamed veggies, sesame jasmine rice and teriyaki sauce - it was amazing. They really focus on local & organic ingredients, with the salmon, halibut & prawns caught in Tofino and the poultry farmed on the Island, and the menu covers all tastes. The sheltered patio area is lovely and if you do visit, try to sit by the fire pit as it makes the experience that bit more special! The restaurant is located on the way into the village, just across the road from Jamie's Whaling Station.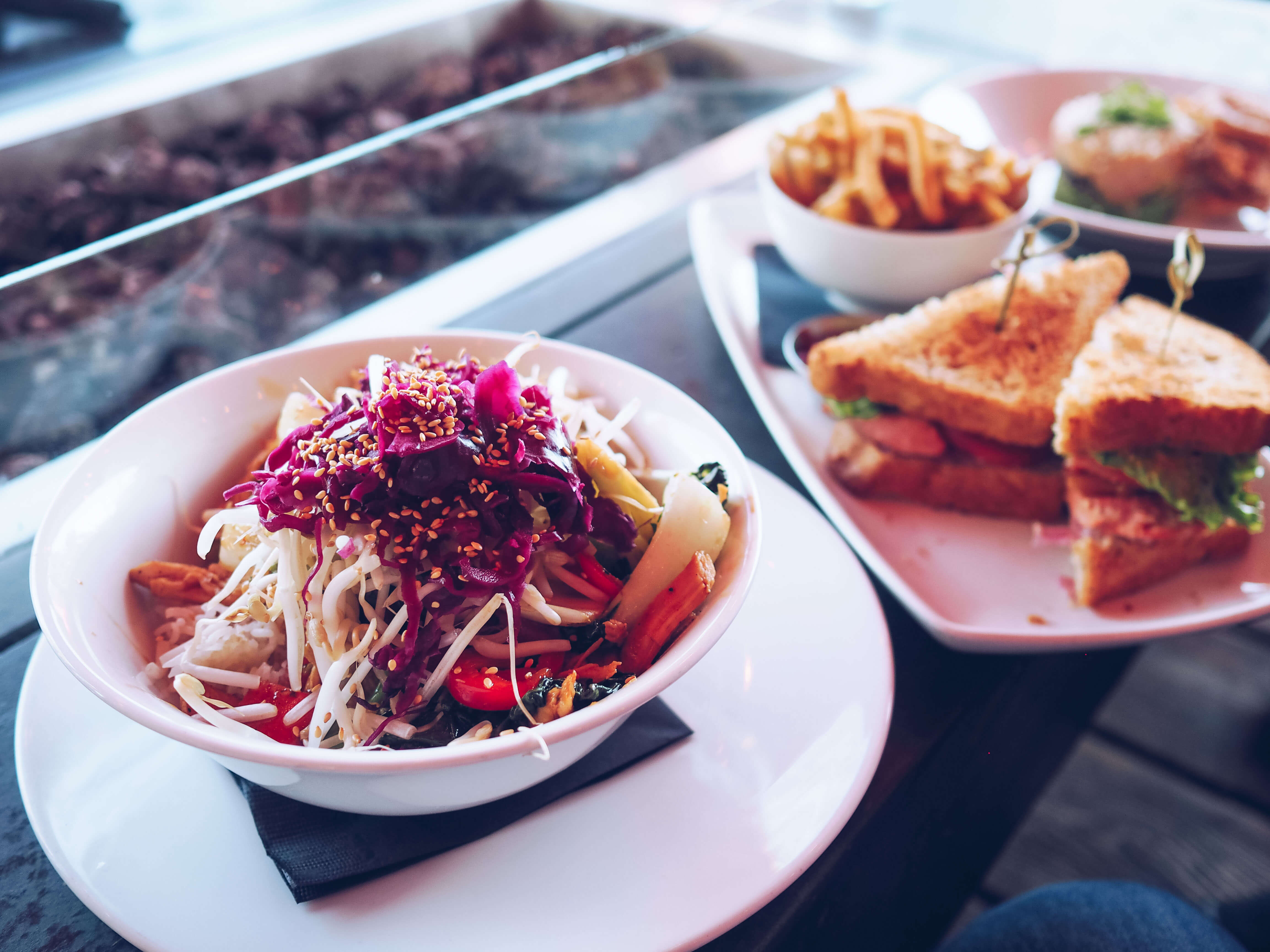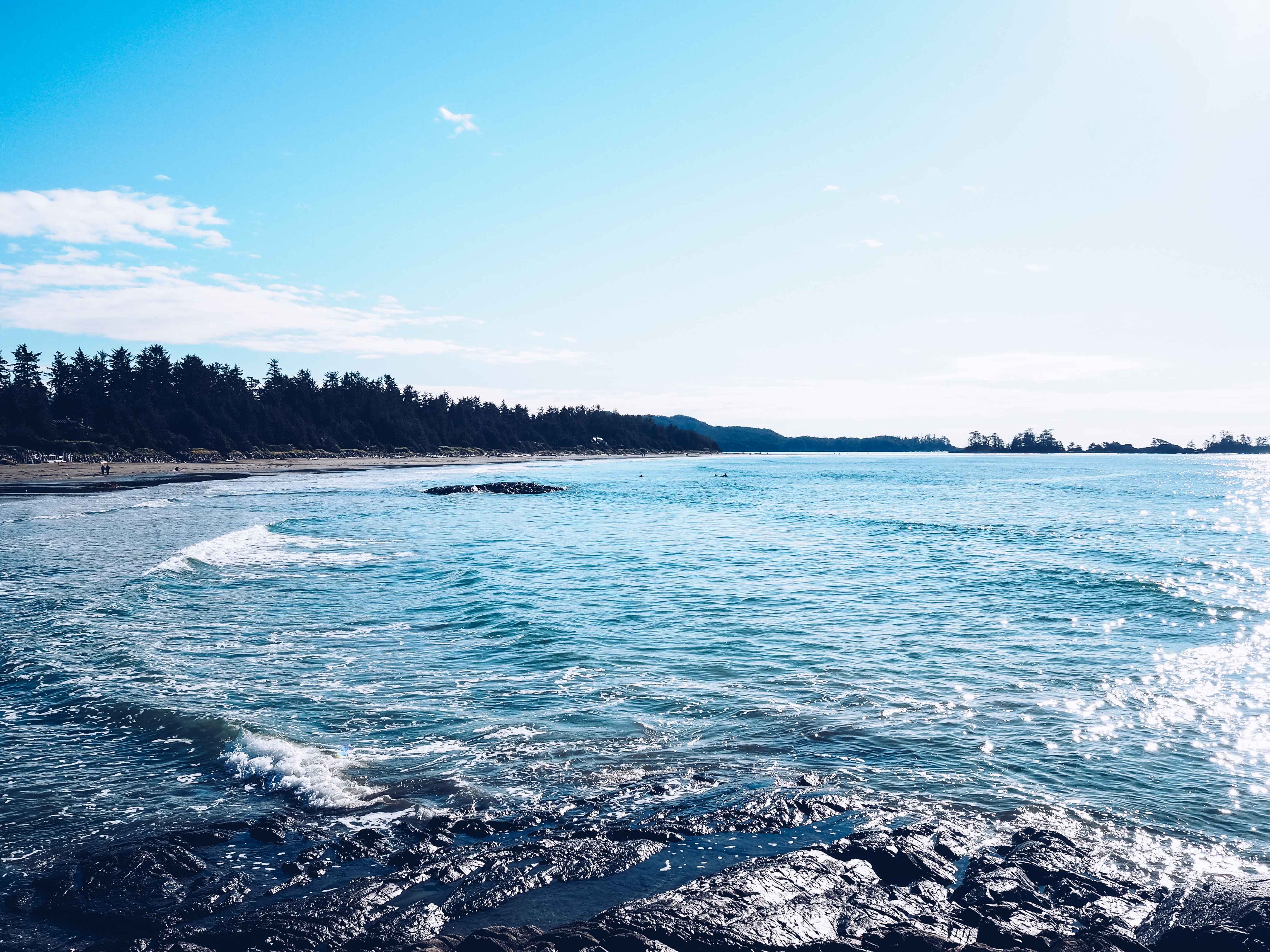 How to get from Vancouver to Tofino
There are only really 2 modes of transport you can take to get from Vancouver to Tofino - plane and ferry. To allow us to explore all of Tofino, we decided to drive & take the ferry which is the most affordable option and it allows you to bring as much stuff as you need and flexibility with timing.
BC Ferries provides a number of ferry routes from Vancouver to Vancouver Island. We took the ferry from Horseshoe Bay to Nanaimo (Departure Bay), which takes just 1h 40, and ferries run every couple of hours in winter. We caught the 6:30am crossing, which meant we were on our way by 8:30am and in Tofino by noon. The price is around $100 each way for 2 passengers & a standard vehicle.
From Nanaimo, it takes just under 3 hours to drive to Tofino, and the route is very straightforward. Follow BC-19 North to Exit 60, and then follow the BC-4 West all the way to Tofino. The drive is beautiful especially between Ucluelet and Tofino as the road hugs the coastline so there are plenty of gorgeous places and viewpoints to stop off at, especially along Long Beach.
For more info on ferry routes, see BC Ferries' website.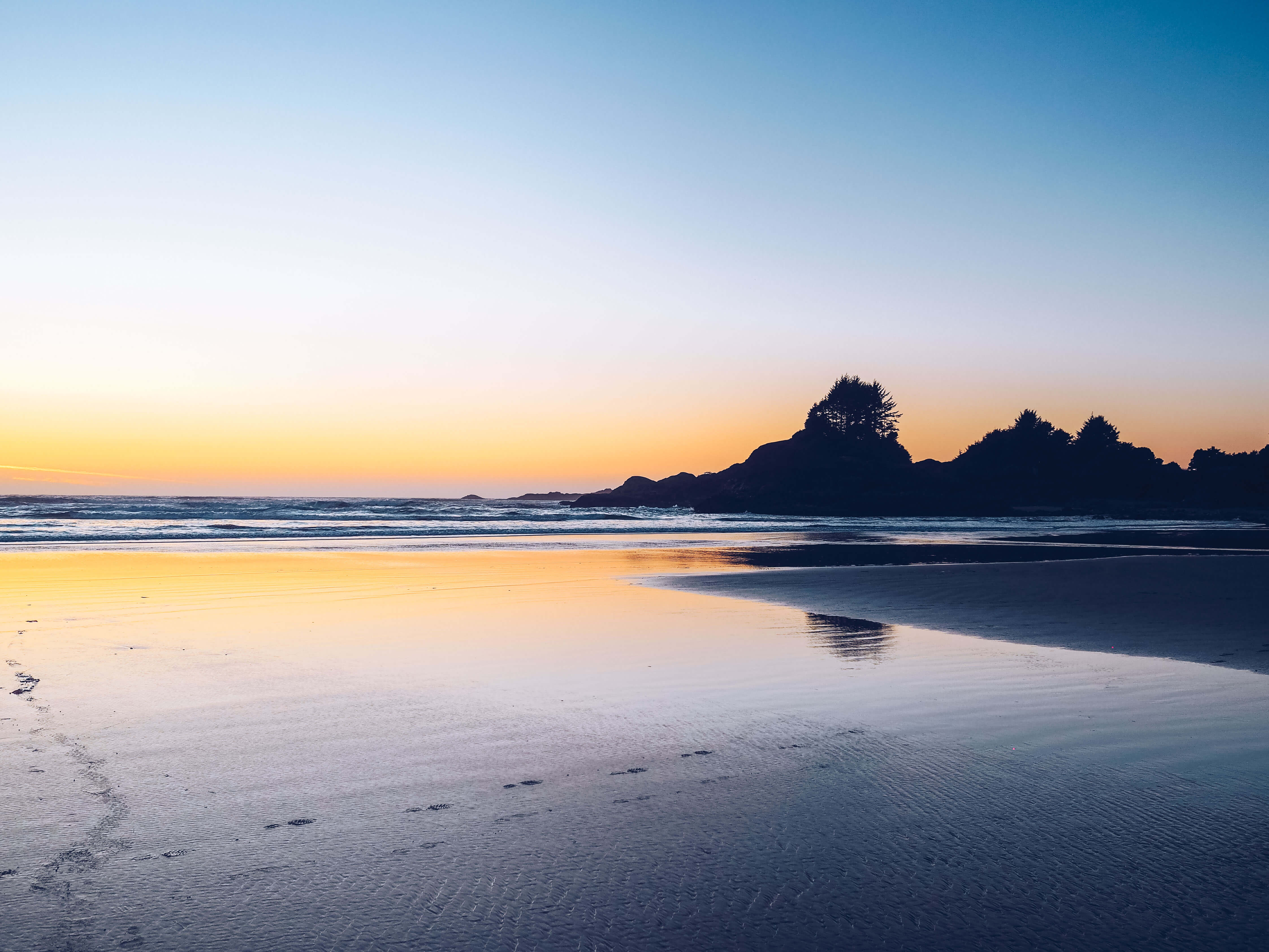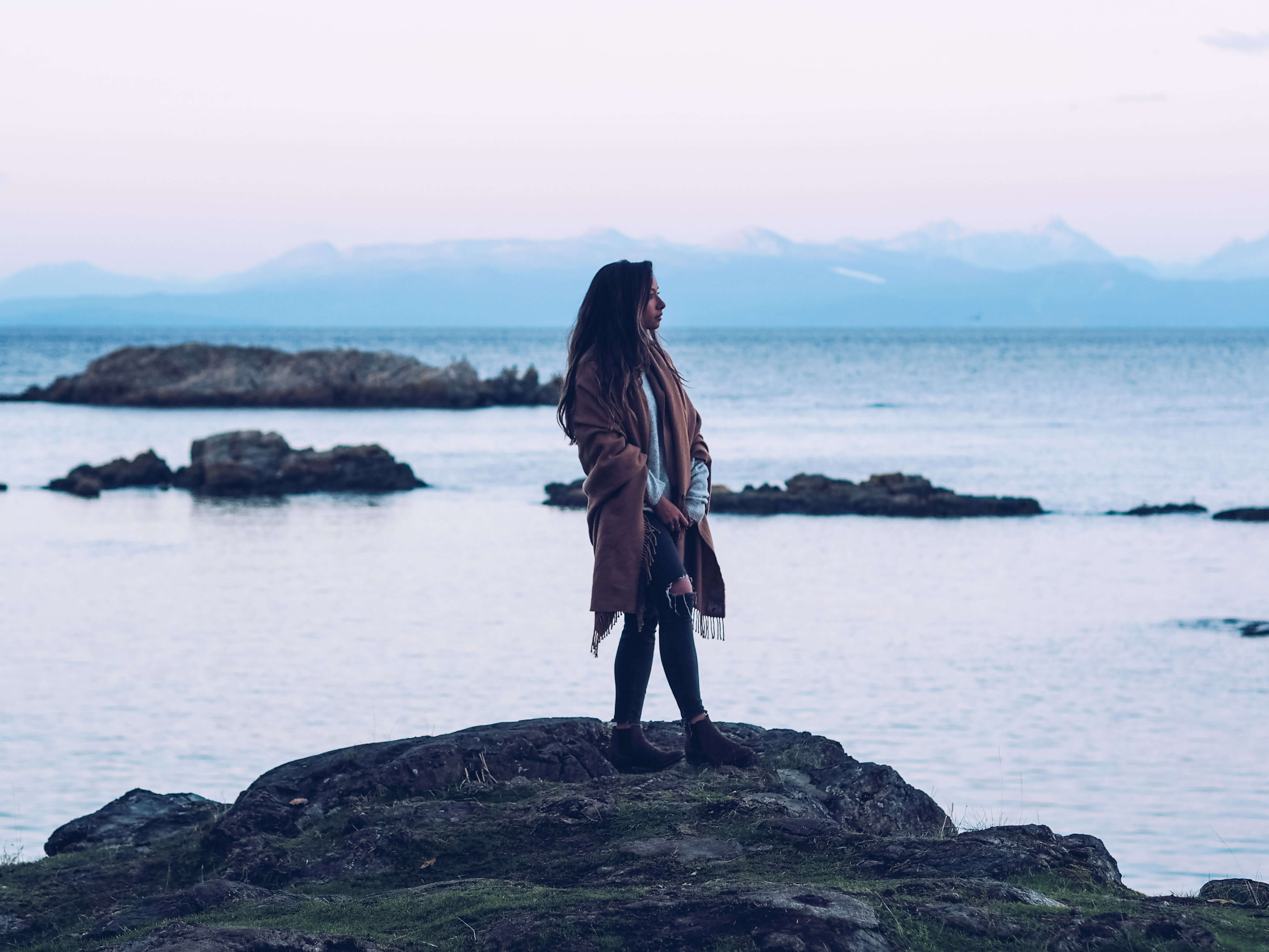 I I would go back to Tofino in a heartbeat and it's such a wonderful destination all-year round. I love how chilled it is, and that you can make your trip as jam-packed or as casual as you like. There are a number of lovely hikes and beach walks as well as ocean activities so you'll never get bored, and the views are stunning come rain or shine.
If you're planning on visiting Tofino in winter I hope you've found this useful, and please feel free to drop me a comment below if you have any questions or would like any more recommendations!
(Disclaimer: My partners for the trip were the Pacific Sands Beach Resort, BC Ferries, 1909 Kitchen & Shelter Restaurant who all very kindly hosted us. All opinions & recommendations are my own 🙂 )