You haven't properly seen Tofino until you've explored on both land and ocean. The area is populated with so much marine life, so it would be a shame not to get out on the water!
We recently did a whale watching tour on our 3-day trip to Tofino, and it was such an amazing experience. The whole tour was so much fun and it's incredibly exciting going out and not knowing what you'll find. Here's an overview of what it's like whale watching in Tofino, with a few tips on what to wear, which company to go with, and what to expect!
Who To Go With
There are a number of tour operators in Tofino, but we went with Jamie's Whaling Station which is Tofino's original whale watching company. Our tour lasted 3 hours and we went out in the open zodiac boat, but they also have a larger cruiser vessel that offers shelter and holds more people. The staff were all so friendly and knowledgeable and happy to answer any questions, and the boats were well looked after. The Captains know the area inside out, so they know the best spots to see the most wildlife, or where there have been recent sightings.
They also provide you with all the gear you need, as well as hats and gloves, which is a nice touch. After the tour, you can help yourself to a hot drink at the station to warm up, and they even have a dog watching service while you're out on the tour!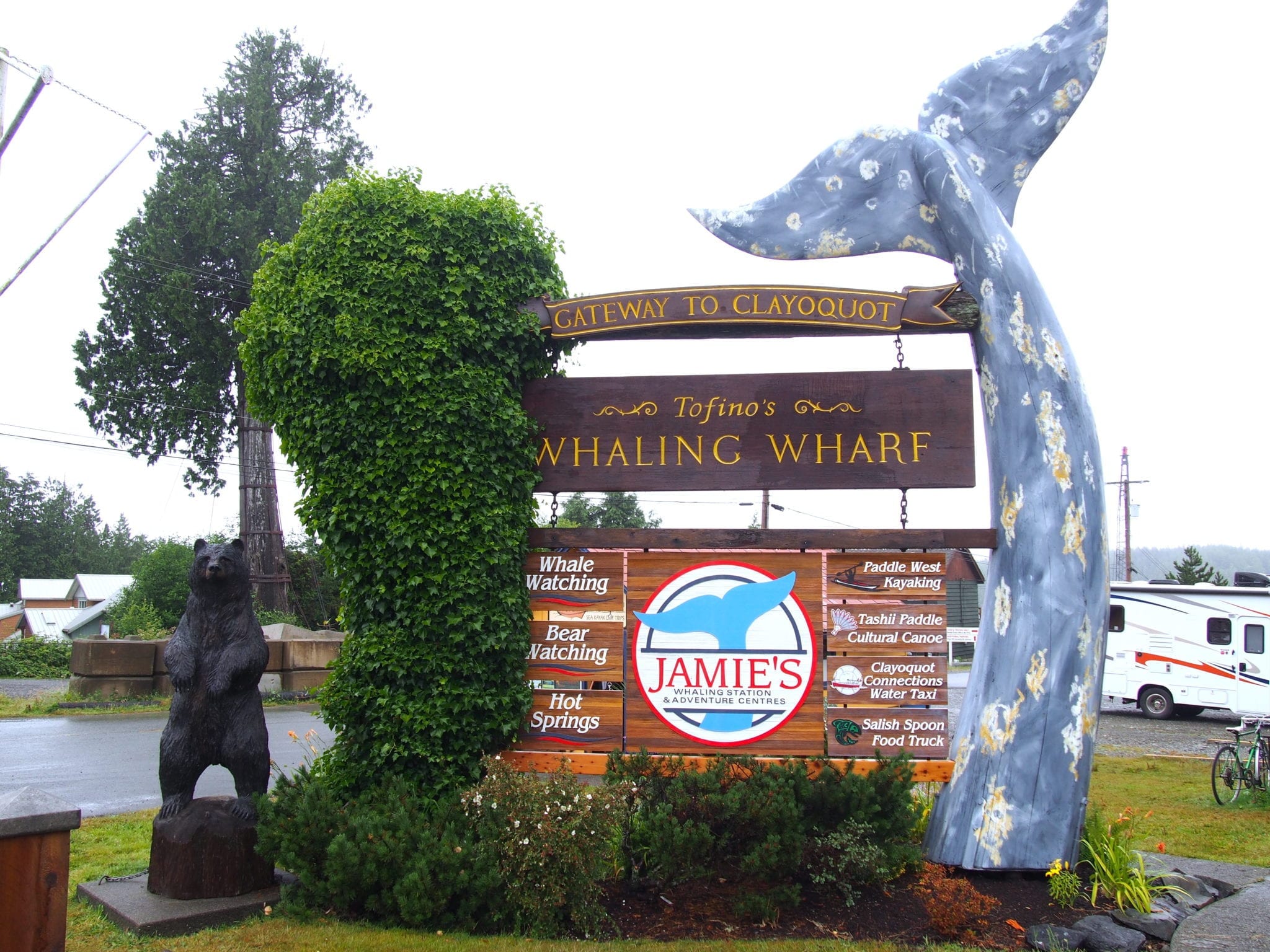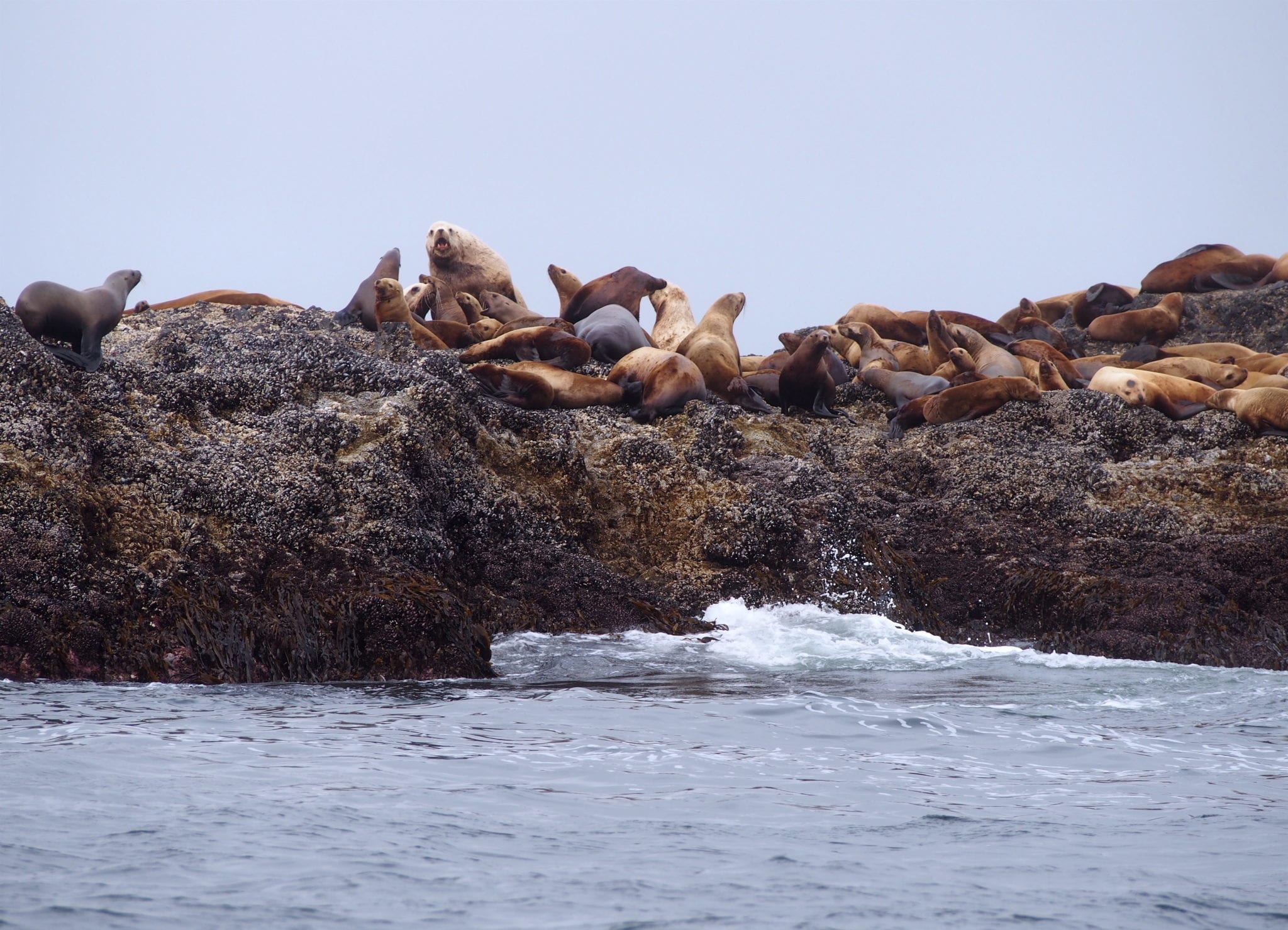 What You'll See
We saw Pacific Gray whales, sea otters, a whole colony of sea lions, seals, and bald eagles, which was so much more than I expected! The staff told me that they've experienced a few hat tricks recently, which doesn't just mean that they've seen 3 whales - more like 3 different TYPES of whales. They've been spotting orcas, humpbacks, and gray whales all in the same area, which is absolutely amazing.
Of course, every single trip is different as the marine life all exists in its natural habitat. It's better to go with little to no expectations as you don't know what you'll find or where. If in the off chance you don't see any whales, most companies will offer another tour free of charge.
When To Go
Spring to Fall are the best times to go whale watching. The season officially starts in March, and things wind down around the end of October when the whales migrate south for mating season.
What To Wear
Even if you're going out in the height of summer, I definitely recommend dressing warm! Jamie's kitted us out with these big (sexy) red jumpsuits, which provide warmth and flotation. Since the weather wasn't on our side, they also gave us waterproof rain jackets and hats and gloves too so we were nice and toasty.
We visited in June and unfortunately had a bit of bad weather, so it was a little windy and rainy out on the water. However, the waterproof jacket had a huge hood which was great, and after a while with the waves and the wind, you just succumb to the fact that you're probably going to get a bit wet! I recommend wearing closed-toe shoes, jeans/joggers, and a jumper, but if you're going in the colder months you'll probably want to tog up in knitwear. A pair of sunglasses is also a good idea to protect your eyes in both sunshine and bad weather. I wear contact lenses so my eyes weren't too happy after being battered by the wind and rain for 3 hours.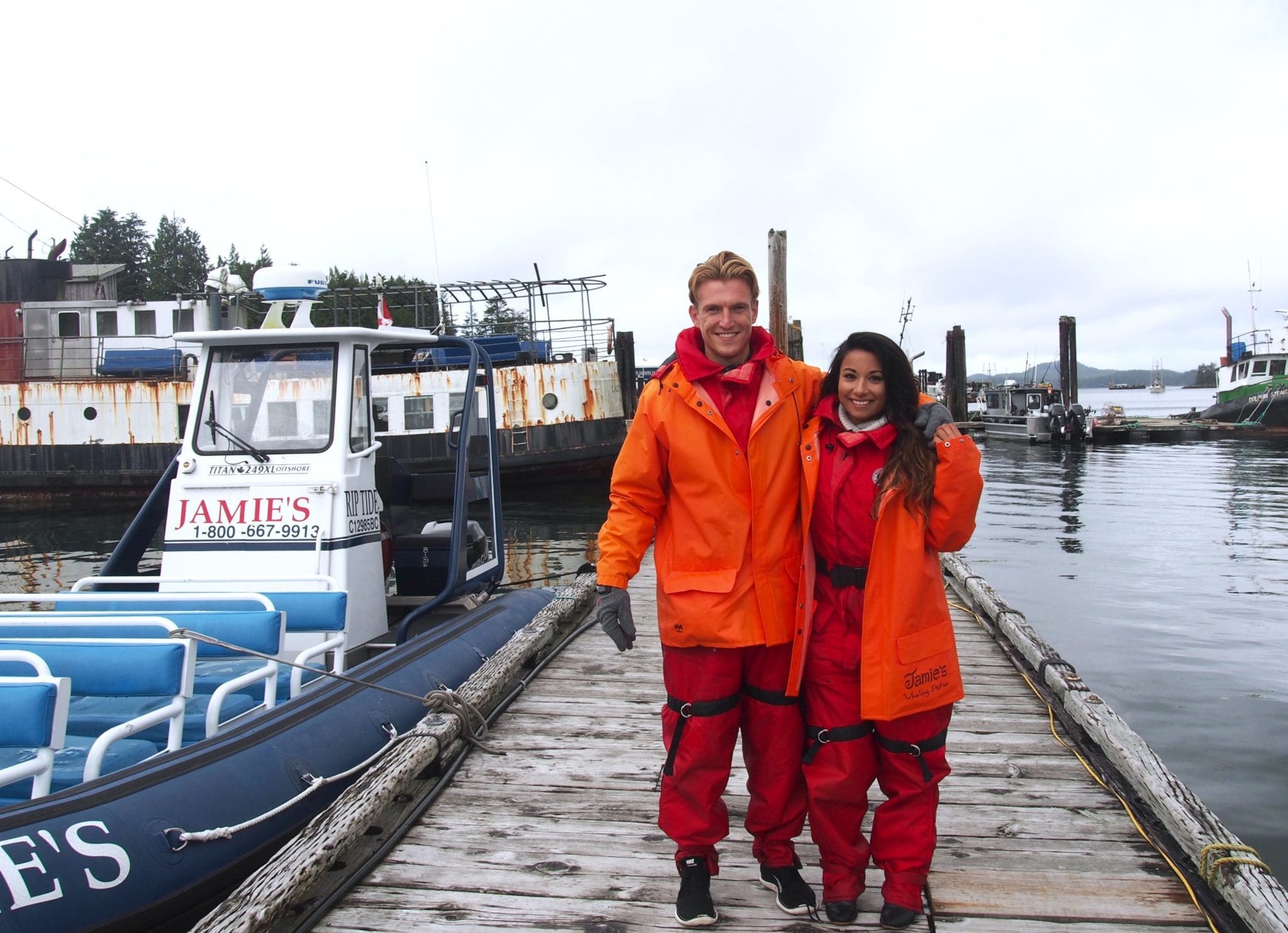 The Boats
We went out on an open zodiac which was so much fun. Zodiacs can get a little bumpy so they're not suitable for young kids, people with back problems, or those who are pregnant. The cruiser boat is much better for families as the boat is larger, providing a smoother ride. The downside of being on a larger boat is that you're not on level with the water, and because it's larger you may not be able to get those panoramic views as easily. I did feel a little seasick at times (especially when we smelt the whale breath...yuk!), so if you're prone to motion sickness, make sure to take some tablets with you just in case!
Overall, the whale watching in Tofino is incredible. It's definitely one of my recommended activities, and at $99 for a 3-hour tour, it's a pretty good price too. For more information on whaling tours, visit www.jamies.com.
If you want to read more about Tofino, make sure you check out my recent post which includes my suggestions for things to do, beaches to visit, where to stay, and recommended eats! As always, if you have any questions about the experience, shoot them my way in the comment box below and i'll be happy to help where I can! Don't forget to check out my Tofino travel vlog too!