Tofino is one of my favourite places to visit in British Columbia. Located on the West Coast of Vancouver Island, Tofino is a beautiful coastal town surrounded by ocean, rainforest, infinite wildlife and so much natural beauty. You can go surfing, hiking, whale watching, bear watching, storm watching, kayaking, camping or fishing. And if you're not feeling overly adventurous, you can simply stroll the beaches and catch sunsets instead. Tofino is one of those places where you can do as much or as little as you want, and whatever time of year you visit it's simply beautiful come rain or shine.
We've visited Tofino plenty of times since moving to Vancouver and we absolutely love it there. In fact, we love it so much that we actually got engaged there in 2019! Matt flew us from Vancouver to Tofino for the afternoon and proposed on Long Beach and so obviously it's somewhere that's even more special to us now.
Whatever season you choose to visit, Tofino is beautiful all year round. We've visited in January, June and November and to be honest, it's hard to choose a favourite. January is obviously quite cold, but winter in Tofino brings huge waves and it's a great time for surfing or storm watching plus it's much cheaper and quieter. Summer is gorgeous especially in the sunshine and you can camp, hike, have beach fires and go out on whale watching adventures, but the flip side is it's a lot busier.
We usually do 3 days in Tofino and always manage to explore so much in that time. Vancouver Island is so rich in wildlife too, both on land and in the ocean. There's every chance you'll spot whales, orcas, sea otters, cougars, and maybe even bears and wolves (if you're lucky) when you're exploring. So, if you're considering a trip to this West Coast gem, here's an overview of things to do, beaches to visit, where to stay, how to get there, and recommended eats for a 3 day trip to Tofino. Check out my Tofino vlog too!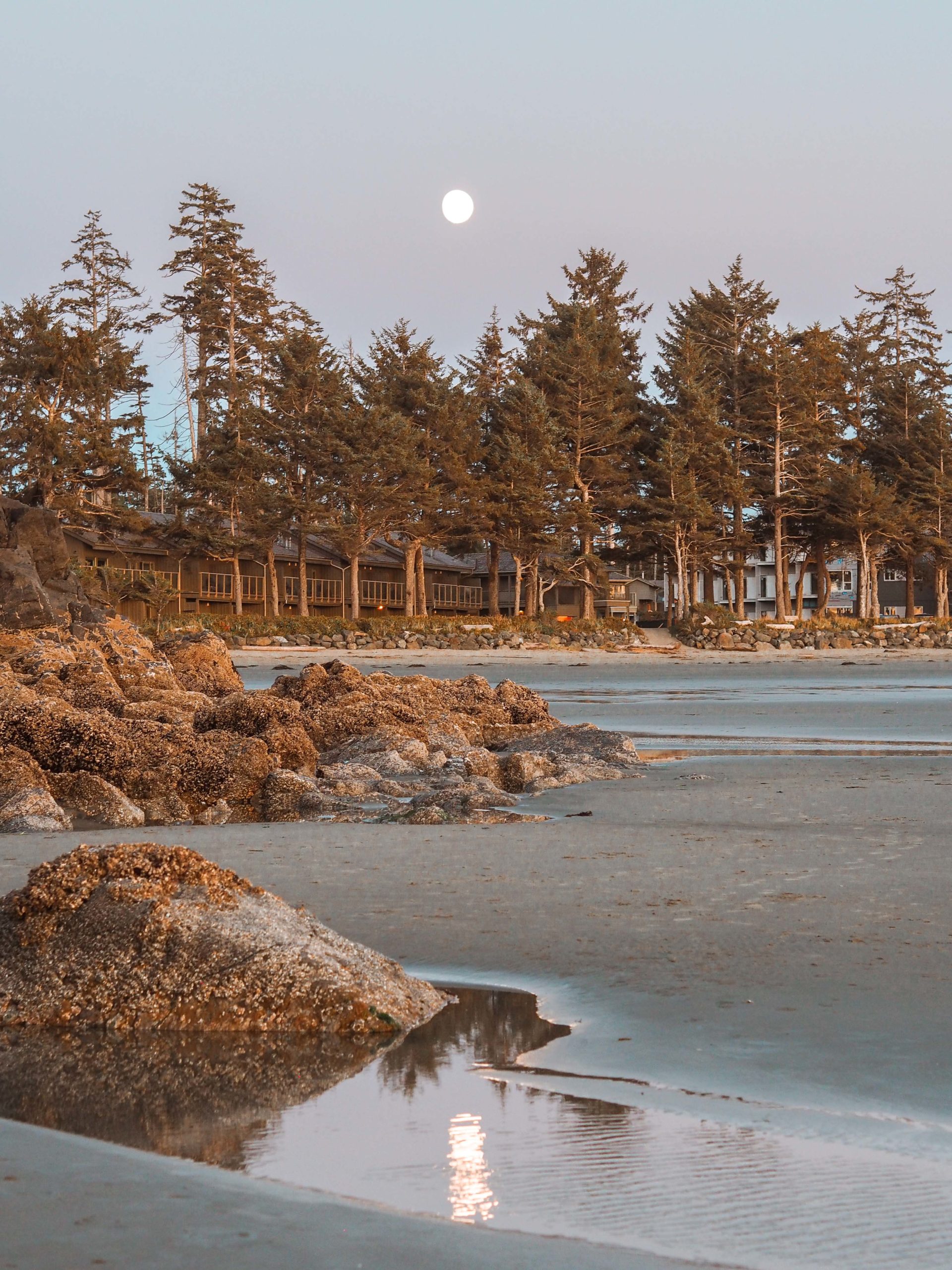 Top Things To Do
You're spoilt for choice when it comes to outdoor adventures. Even if you're only spending 3 days in Tofino, that's plenty of time to experience a range of epic activities.
Surfing
If you visit Tofino, surfing is a MUST! You can surf year-round (the waves are slightly bigger in winter though) and it's a great place for both beginners and pros. I recommend Pacific Surf Co as well as Surf Sisters. Both are great, but if you're staying at the Pacific Sands, Surf Sisters has a shack there so you don't need to transport the gear far and you can surf right outside the resort. You'll be given a thick wetsuit, booties and a hood which keeps you nice and toasty even in winter. You can opt for a surfing lesson (either private or group, private is more expensive) or just rent the board and the schools usually help you strap it safely to your vehicle.
You can surf at a number of beaches around Tofino, the best being Cox Bay, North Chesterman, Mckenzie Beach and Long Beach. Although water temperatures hover around 10 degrees, you don't feel the cold too much especially with a thick wetsuit. Read more about surfing in Tofino here and see this link for more info about surfing conditions at different times of year.
Hiking
You're spoilt for choice when it comes to hiking trails and places to explore around Tofino and Ucluelet. The Pacific Rim Park, which sits between the two coastal towns, is incredibly pretty with lush vegetation, rugged landscapes, and never-ending beaches. Most of the trails are fairly short (the longest is around 8km) but they do vary in elevation. There are also lots of hiking trails around Ucluelet, which sits about 30 minutes south of Tofino. We did the Wild Pacific Trail Lighthouse Loop in Ucluelet, and I can honestly say the landscapes were some of the most picturesque i've ever seen.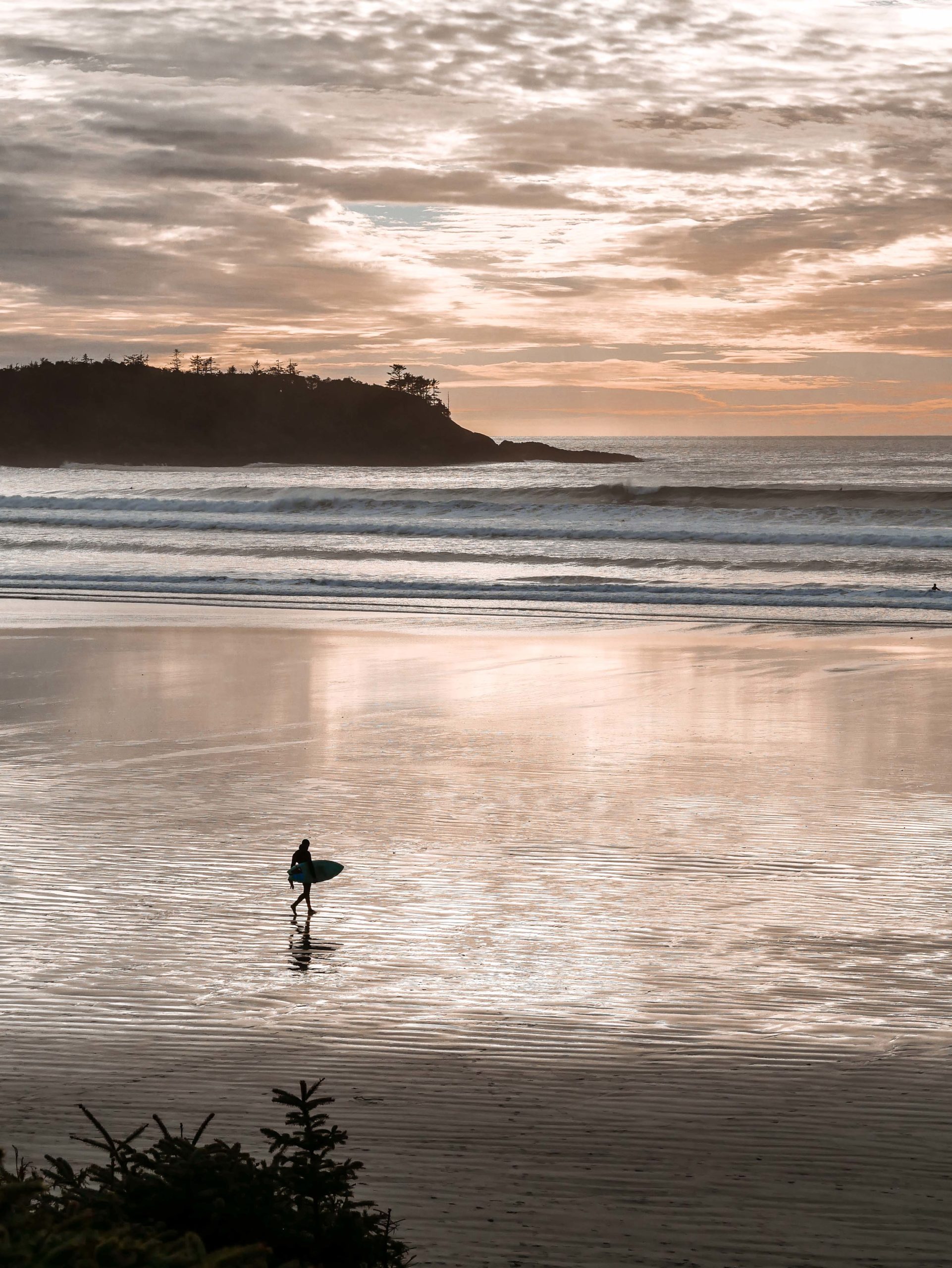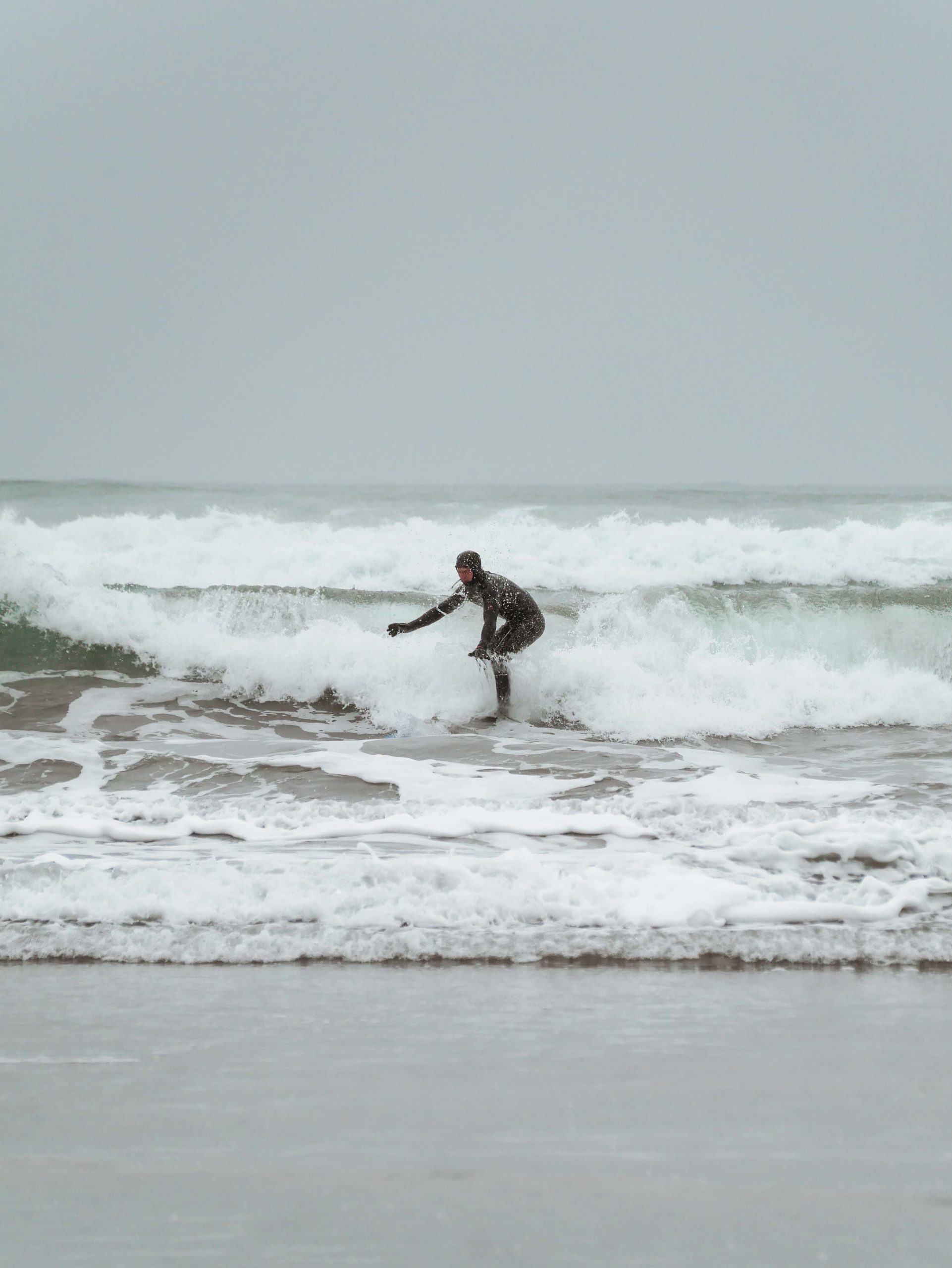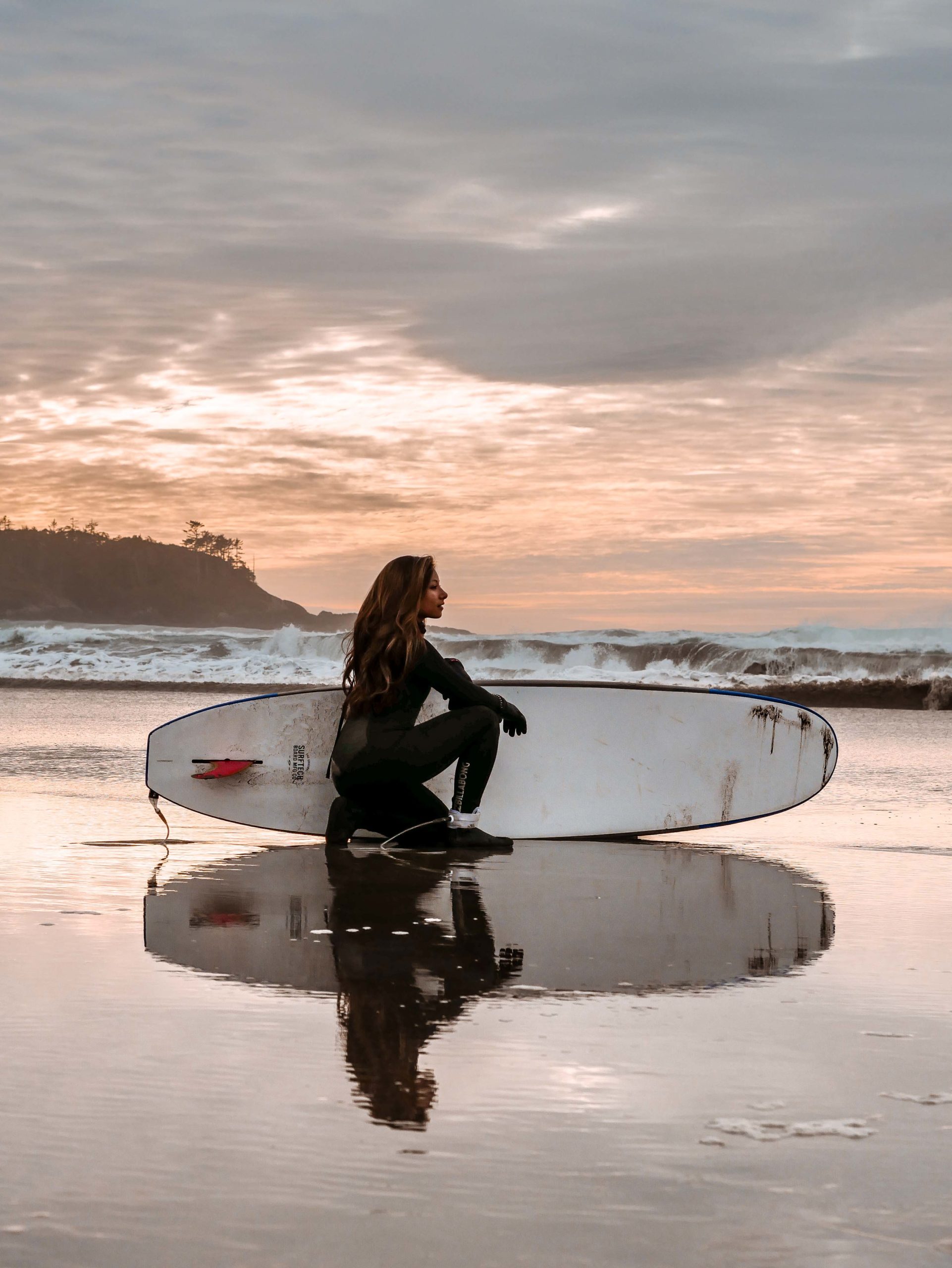 Whale Watching
You haven't properly experienced Tofino until you've explored the ocean! Whale watching is a very popular activity in Tofino and the oceanic wildlife around the coast is just amazing. Whale watching season runs from Feb/March to October and there are plenty of operators in town that you can go with. A couple of good ones are Jamie's Whaling Station and Tofino Resort & Marina. Although whale sightings aren't guaranteed, it's not uncommon to see grey whales, humpbacks, sea lions, seals, sea otters, and if you're lucky you might even spot wolves especially around places like Vargas Island. Read more about our whale watching experience here.
Bear Watching Tours
We have yet to do a bear watching tour but it's definitely at the top of our list for our next Tofino visit. Bear watching tours take you around the smaller islands off the coast of Tofino. They're scheduled during low tide so you have a great chance of spotting black bears foraging for food on the shoreline. Bear tours usually run from spring to October, as the bears hibernate over winter.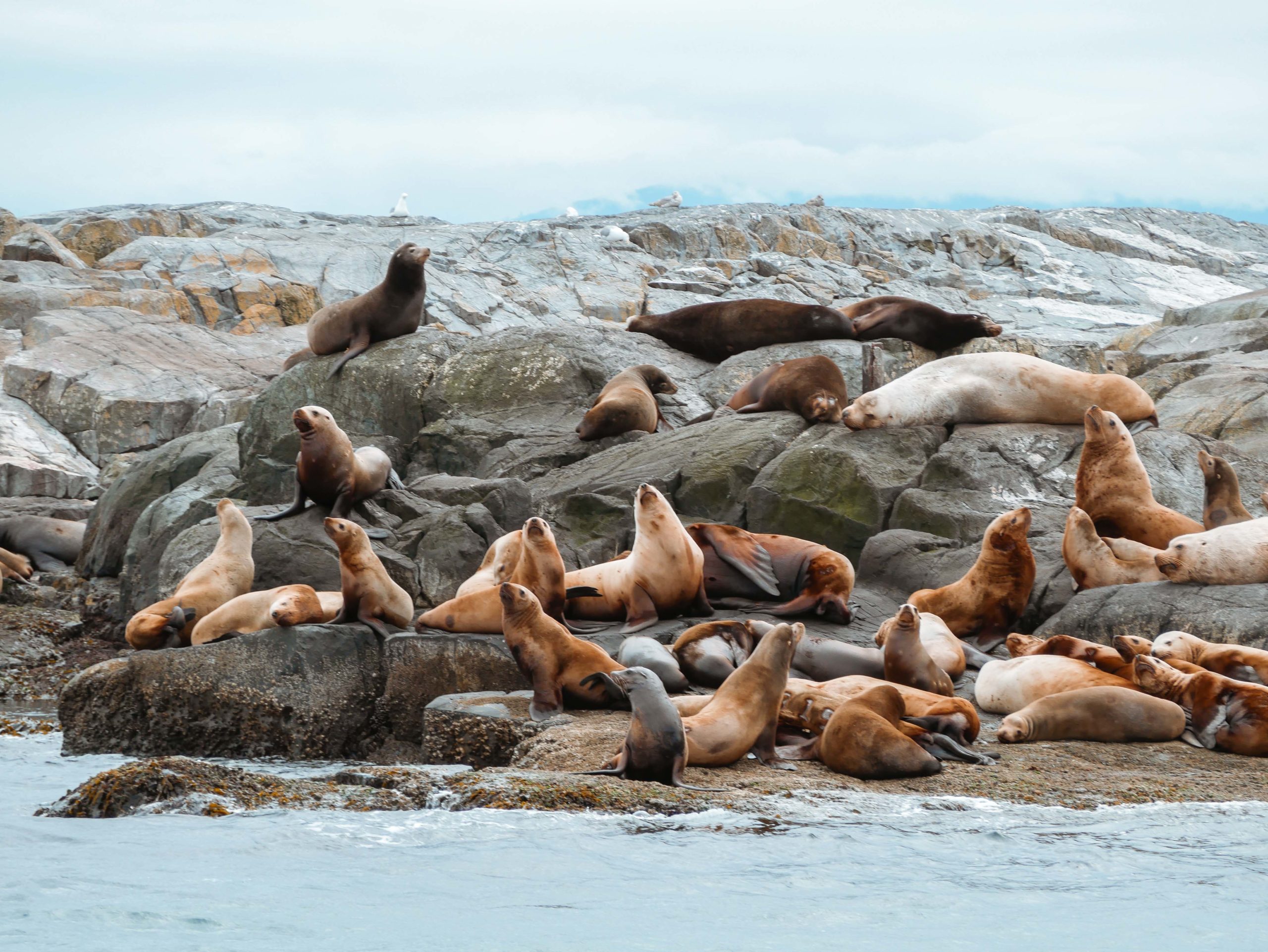 Sunset watching
I would happily go to Tofino just for the sunsets. Honestly, they're that good!! I've seen some of the most epic sunsets in Tofino, and I find the rainy days result in even more dramatic sunsets. All of the beaches are on the west coast so the sunsets will be amazing from any beach, but my favourites for sunset are Cox Bay and Long Beach.
Storm Watching
If you're planning on spending 3 days in Tofino in the winter, one of the coolest activities is storm watching. Tofino gets pretty rainy in winter so if you visit at this time of year, you have to just anticipate rain (it is the wet West Coast, after all). However, with the rain comes some pretty amazing storms and the swells can get pretty crazy, and if you're there during storm season it's something you have to experience! Get all bundled up in your wellies and waterproof jackets, feel the howling wind and the ocean spray on your face, and return to your hotel or cabin and get cosy as the rain comes down. It's really magic. My favourite hotel is the Pacific Sands Resort, it's located right on the beach and there's nothing cooler than sitting in the hot tub in the deck and watching the waves roll in down below.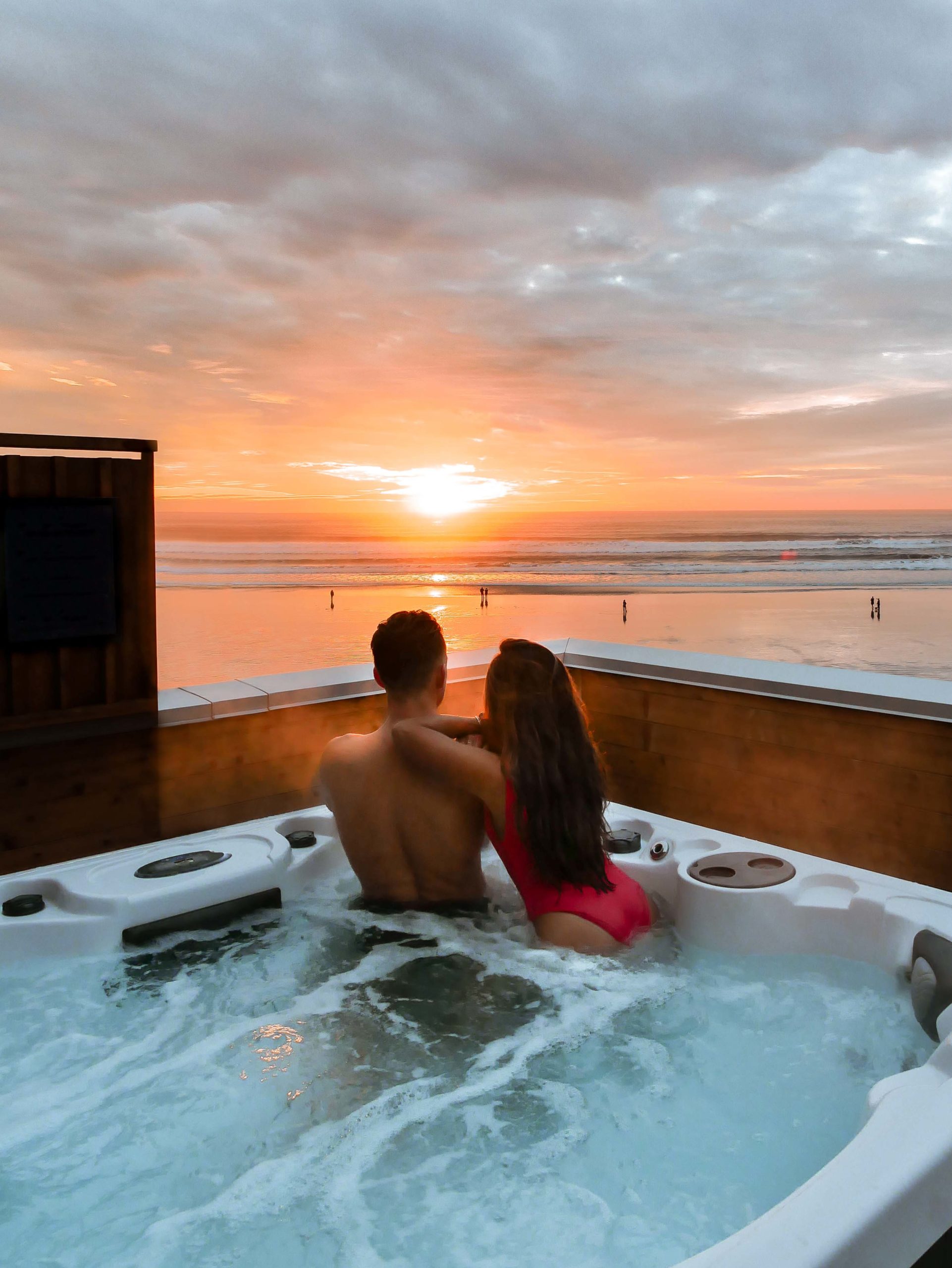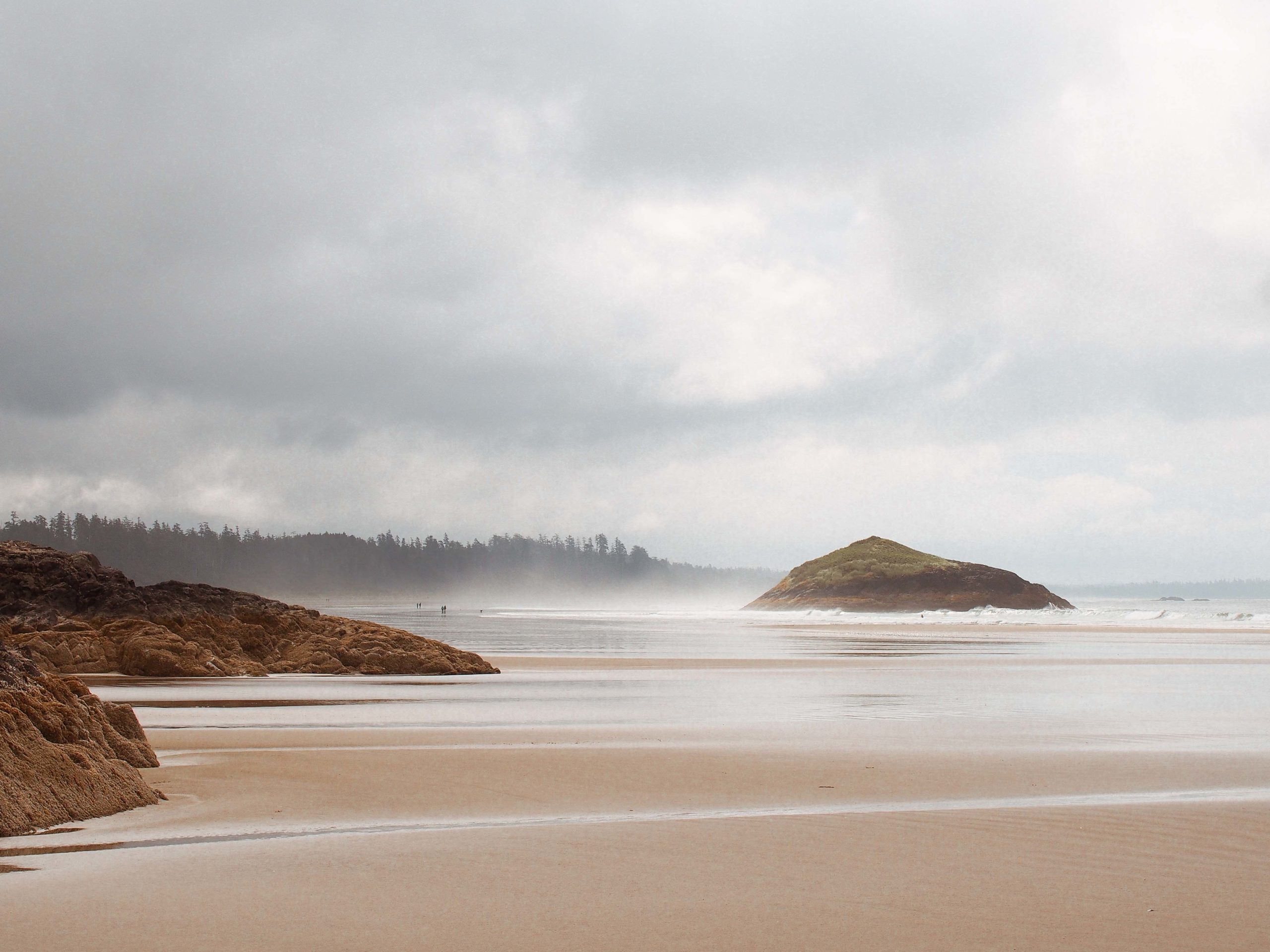 Beaches
Come rain or shine, Tofino's main attraction is undoubtedly its alluring beaches. Whether you're looking to surf, walk, run, picnic, chill, swim, storm watch, or catch sunset, you've got 5 gorgeous stretches of beach to choose from. Sunset is my favourite time of day when we're in Tofino so make sure you head down to the beach for golden hour.
Chesterman Beach
This is Tofino's most popular beach, and you can see why. The beach stretches for 2.7 km and is located off the Pacific Rim Highway. You'll often catch surfers here, as well as small marine life due to the low tides. The landscape is so beautiful and this was probably my favourite beach that we visited.
Wickaninnish Beach
Located along Long Beach, Wickaninnish Beach boasts endless stretches of ocean and sand and is dotted with huge, beached driftwood that's brought in by the West Coast's powerful waves. Head up to the observation deck for sweeping views, or go to the Kwisitis Visitor's Centre for more info.
Cox Bay
Stretching for 1.9km, Cox Bay is a stunning beach and a popular surfing spot due to its powerful waves and surf breaks. We had our surf lesson here and the ocean is beautiful and clean.
Mackenzie Beach
If you're looking to camp in Tofino, Mackenzie Beach is the place to be. Choose from oceanfront or forest campsites and the campground is equipped with hook-up sites for RVs and campervans. The vibe is calm and serene and the tidal rocks offer shelter to the beach, which makes it ideal for paddle boarding and families.
Long Beach
Situated within the Pacific Rim Park, Long Beach is exactly as the name suggests...long! Stretching 16km between Ucluelet and Tofino, Long Beach is a must-visit as the landscape is simply breathtaking. Powerful tides can easily flood the beach, so check out tidal guides before you venture out onto the rocks. Popular beaches along Long Beach include Incinerator Rock (pictured below), Combers and Schooner Cove, and Florencia Bay.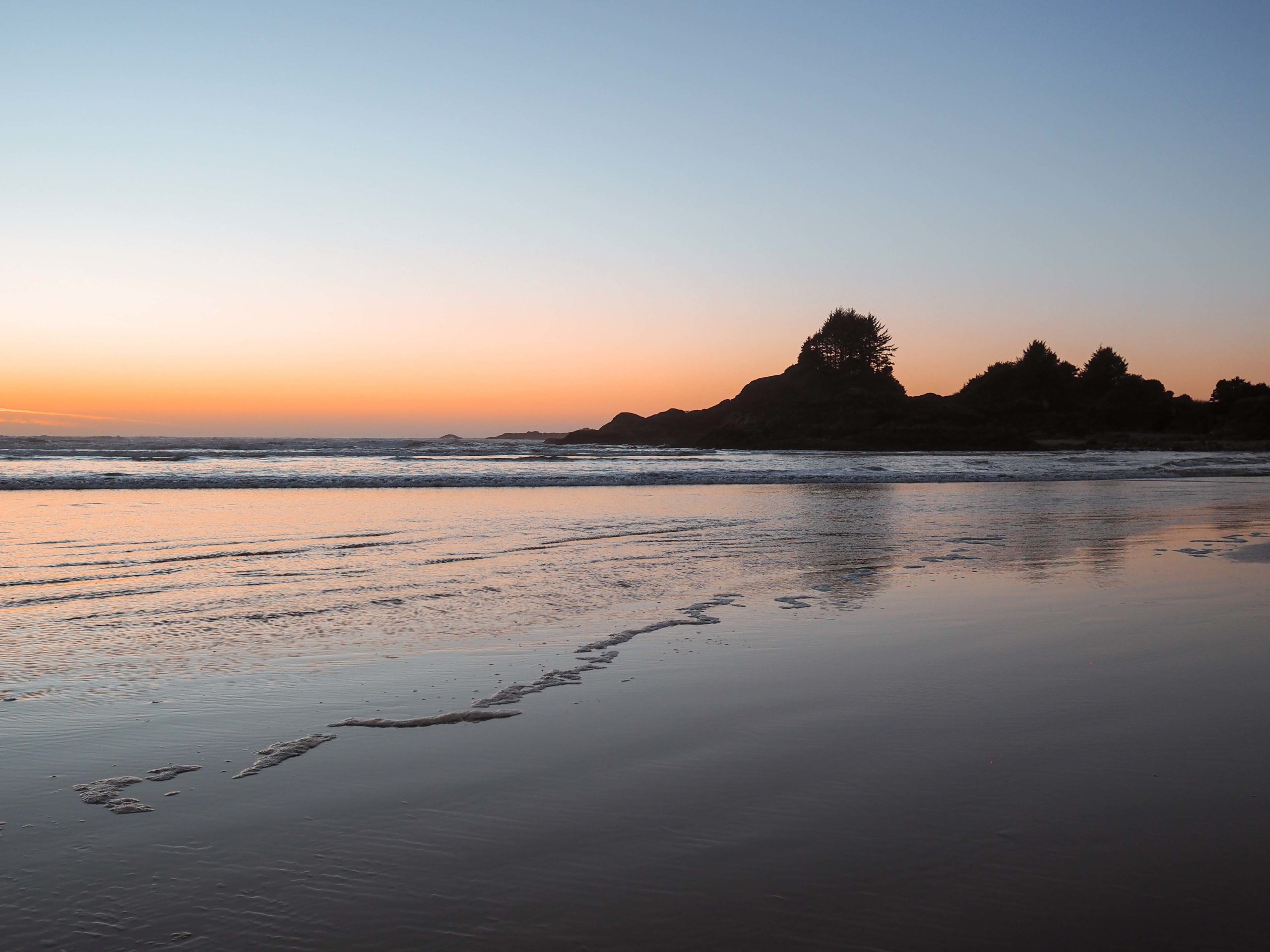 Recommended Eats
Tofino has a great selection of places to eat. Here are some of my favourites:
Rhino Cafe - Coffee/Breakfast
Located in the heart of the town opposite Pacific Surf Co., Rhino Cafe is a cute place to grab coffee, brekkie (or lunch), and a signature doughnut before your day of activities.
Tacofino Cantina - Lunch
You can't visit Tofino and not try Tacofino! This is the original Tacofino location and the food is ah-mazing. The truck is located at Outside Break (1184 Pacific Rim Highway), where you'll find a collection of businesses including chocolate shops, surf shops, and of course, Tacofino Cantina. There are a few benches outside so you can sit down while you indulge in some curbside Mexican food. The Baja-style Fish Tacos are to-die, and the Chicken Gringa are delicious too. They serve a different menu to the restaurant in Vancouver and there's a huge selection to choose from.
Shelter - Dinner
Shelter is one of Tofino's nicer restaurants and is located on the main road into the town. They serve a range foods, including seafood from local waters, burgers, and share plates. We had the lemon dill marinated Crispy Calamari which was absolutely delicious. The sheltered patio with fire pits creates a really nice setting, and the staff are super friendly. Take a look at their menu here.
The Hatch
If you want a casual pub dinner but you don't want to compromise on food, look no further than The Hatch. It's locatd by Tofino Resort + Marina and is such a lovely spot. The food is fab, it shares the same kitchen as 1909 Kitchen which is located next door and is slightly more fancy.
Wolf In The Fog - Dinner
If a restaurant has a cool name, i'm automatically a fan! Wolf In The Fog is another eatery that was recommended to me, and although we didn't get chance to eat here, the menu looks great. If locally-sourced, quality food, good wine and a coastal views are your thing, i'm sure you'll like this place.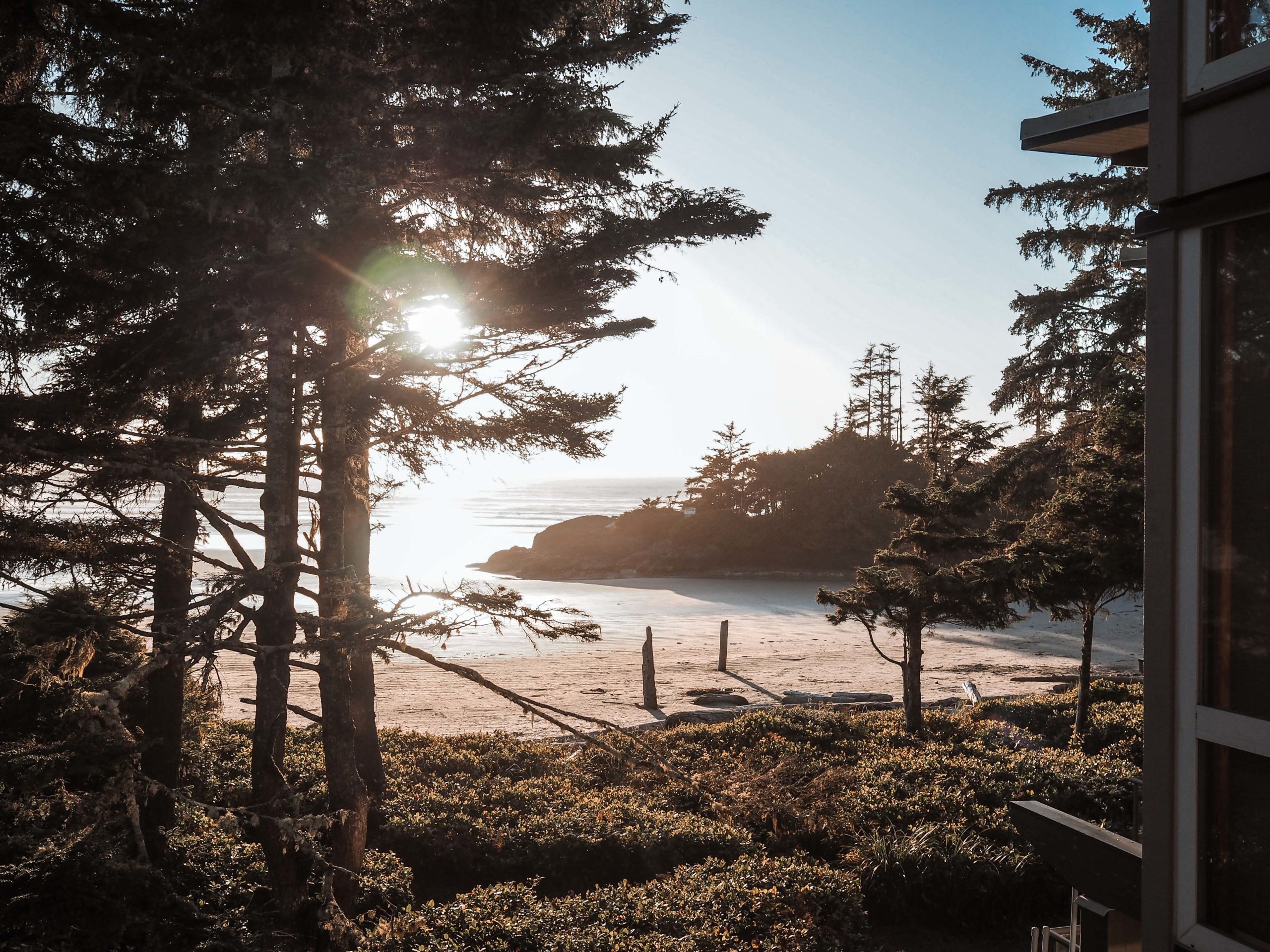 Directions
Door to door from Vancouver to Tofino, the drive takes around 6 hours. You get the ferry from West Vancouver (Horseshoe Bay) to Nanaimo on Vancouver Island and the ferry takes just under 2 hours. From there, the drive is around 3 hours from Nanaimo to Tofino. You cross over to the west coast of Vancouver Island and it's a beautiful drive.
From Nanaimo, travel North on Highway 19 for 43km. Take exit 60 onto Highway 4 (aka. Pacific Rim Highway), and travel West for 156km. When you get to the Tofino/Ucluelet junction take a right, and continue along the Pacific Rim Highway for 28km until you reach Tofino.
It's a fairly long road trip but the journey is broken up with the ferry and viewpoints so it's not too bad. There are a number of cool stops along the way, including Englishman Falls, the Cathedral Trail, and Qualicum Fall. You'll drive past Sprout and Kennedy Lakes and the pretty Sutton Pass too. On the way, I recommend stopping off at the Incinerator Rock parking lot at Long Beach for your first glimpse of Tofino's amazing scenery. You'll fall in love immediately!
You definitely won't regret making the trip out to Tofino, and it's one of those places that you never get bored of, regardless of how many times you visit. If you guys have any questions about Tofino or are wondering what to do, drop me a comment below and I'll be happy to answer any questions!