When you think of Canada, cute beach towns and surfing aren't usually the things that come to mind.
But Tofino, nestled on Vancouver Island's West Coast, has actually been voted as one of the best surf spots in the world, especially for beginners. With over 30km of surfable beaches, rolling waves, and some of the most picturesque landscapes you'll ever see, Tofino is Canada's undisputed surf capital. Competitions like Rip Curl Pro and O'Neill's Coldwater Classic are regularly hosted here, and the variety of beaches and conditions means that it's perfect for both amateurs and pros.
The waves break year-round, and surf conditions are as good, if not better, in the winter months. The water temperature can range between 7 - 12°C depending on season, but with a wetsuit (and in winter, a hood and gloves) to protect you from the chill, you don't feel too cold.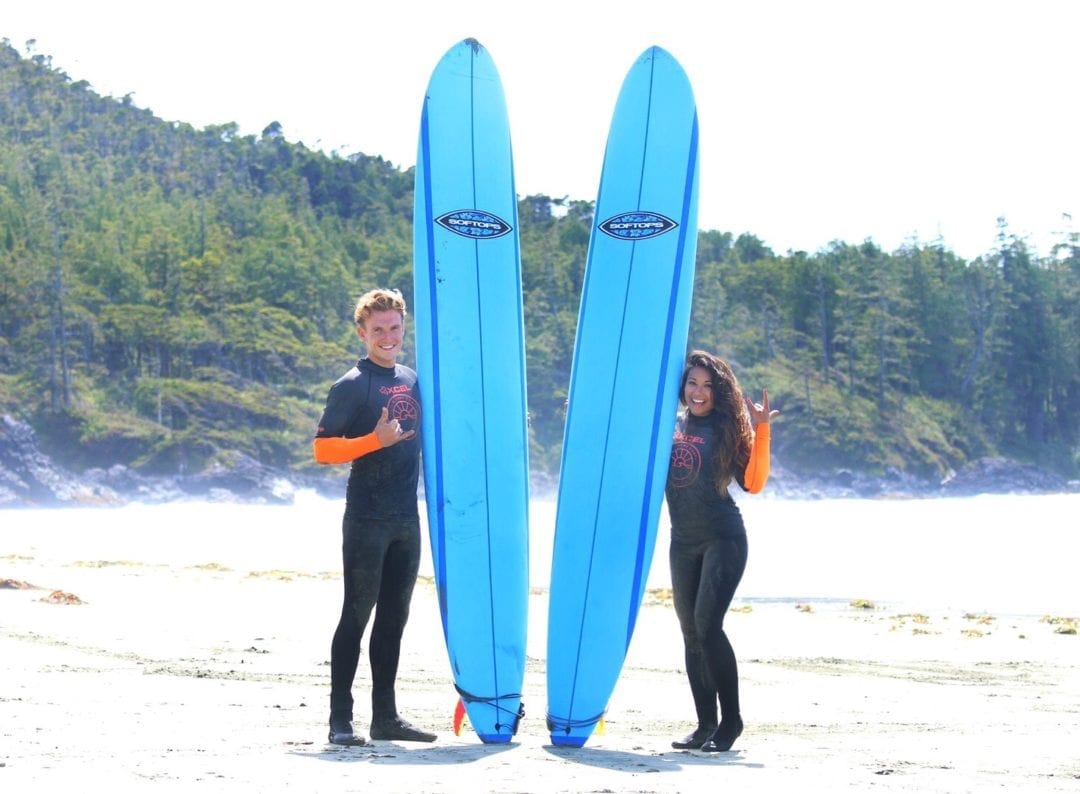 This wasn't my first time on a surfboard, but I can safely say I'm not exactly a pro surfer! My first lesson was in Hawaii a few years back, and Matt and I took a lesson in Bali when we travelled Asia in 2014. My skills were definitely rusty so it was nice to take things back to basics, and our lesson with Pacific Surf Co. made me realize just our bad our previous lessons really were.
We surfed at Cox Bay, which is a beautiful beach and a popular surf spot. I definitely thought the water would be much colder than it was, but I was pleasantly surprised as it was actually beautiful. The conditions were far nicer than the place where we last surfed in Kuta, Bali, as the ocean was littered with plastic bottles and rubbish due to the currents at that time of year.
The waves were pretty strong and impressive, and after I got the hang of things I managed to stay up quite a few times (yay). The lesson lasted for 3 hours, and was made up of 1.5 hours learning on the beach, and 1.5 hours putting it into practice in the ocean. We did a beginner's lesson and the instructors were great. We sat on the beach while we went over everything, including things like board stance, paddling, rip tides, and safety. We then went out on the water and the guys were really attentive in giving us feedback on how to improve. By the end of the lesson I was absolutely shattered, but it was so much fun and I can't wait to practice my skills and go out again!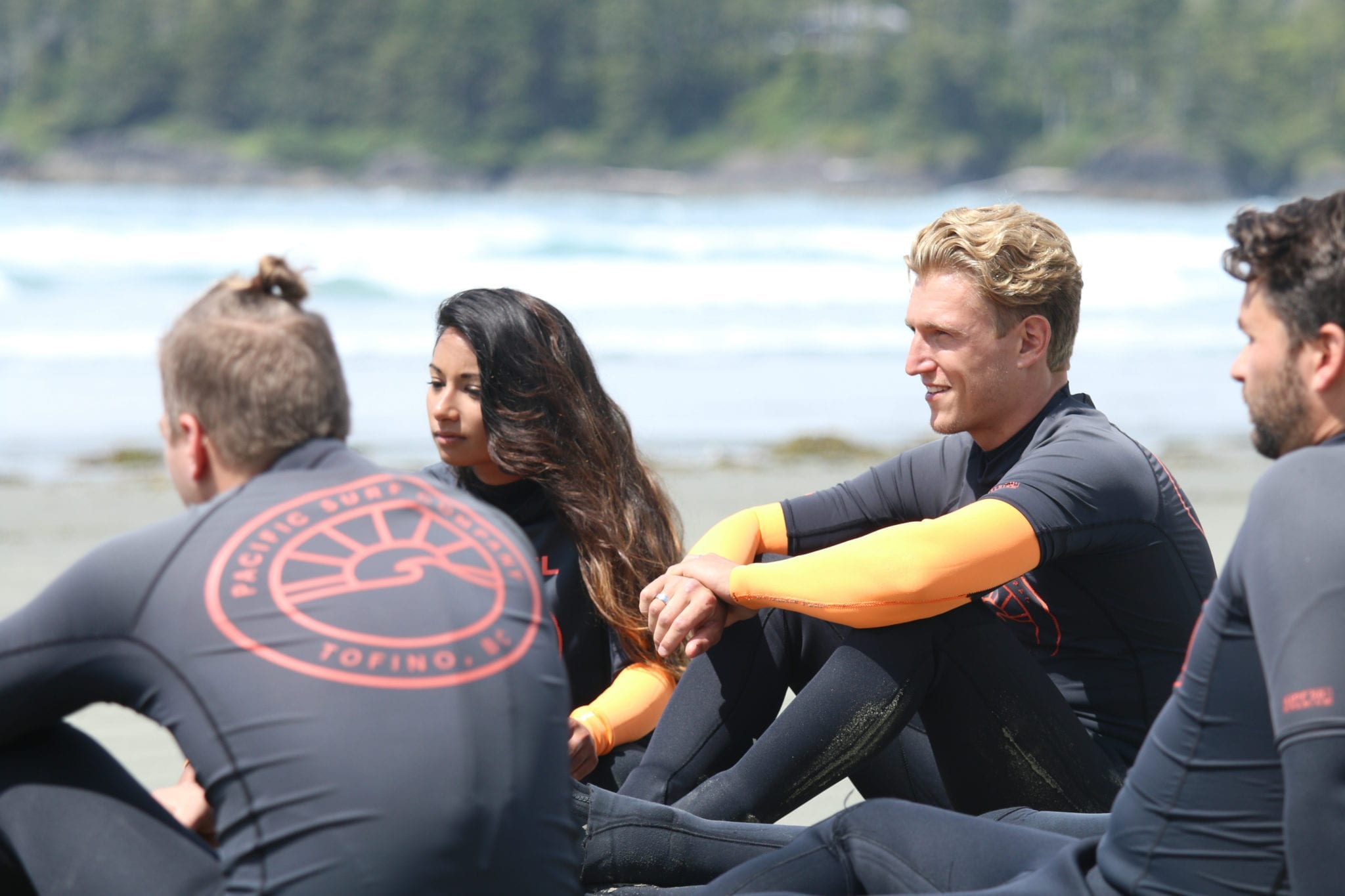 When To Surf
March to September offers warmer temperatures and slightly smaller waves, which makes it perfect for beginners. It's not uncommon for Tofino to experience quick changes in weather - it is on the West Coast & surrounded by rainforest after all - but whether rain or shine, summer is great time to check out the surf.
Conditions in winter are somewhat different, with freezing air temperatures and frequent storms. However, this makes for amazing surf conditions and huge waves, so if you don't mind bearing the wild weather, this is the place for you.
Water temperatures vary from around 7 - 12°C year-round, but with a wetsuit (thickness will vary depending on season), hood, booties and gloves, the gear should keep you fairly warm. We surfed in June and wore 4mm wetsuits (outside temperature was about 17°C) and I was amazed at how warm I felt. I didn't feel cold at any point, even after taking off my booties and going barefoot.
Where To Learn
We took a lesson with Pacific Surf Company, located on Campbell Street in the heart of Tofino. They've been around for almost 20 years and the staff are all lovely. Their instructors are great - the perfect mix of fun and helpful - and the store is really nice too. I definitely recommend learning with them, and they also send out a photographer to snap you in action on your board so you'll get some really great pics. You can rent boards from the shop if you want to go out on your own as well. I was told that they normally surf at Cox Bay (pictured below) and North Chesterman Beach, but it depends on the swells. Both are beautiful and great places to catch a few waves.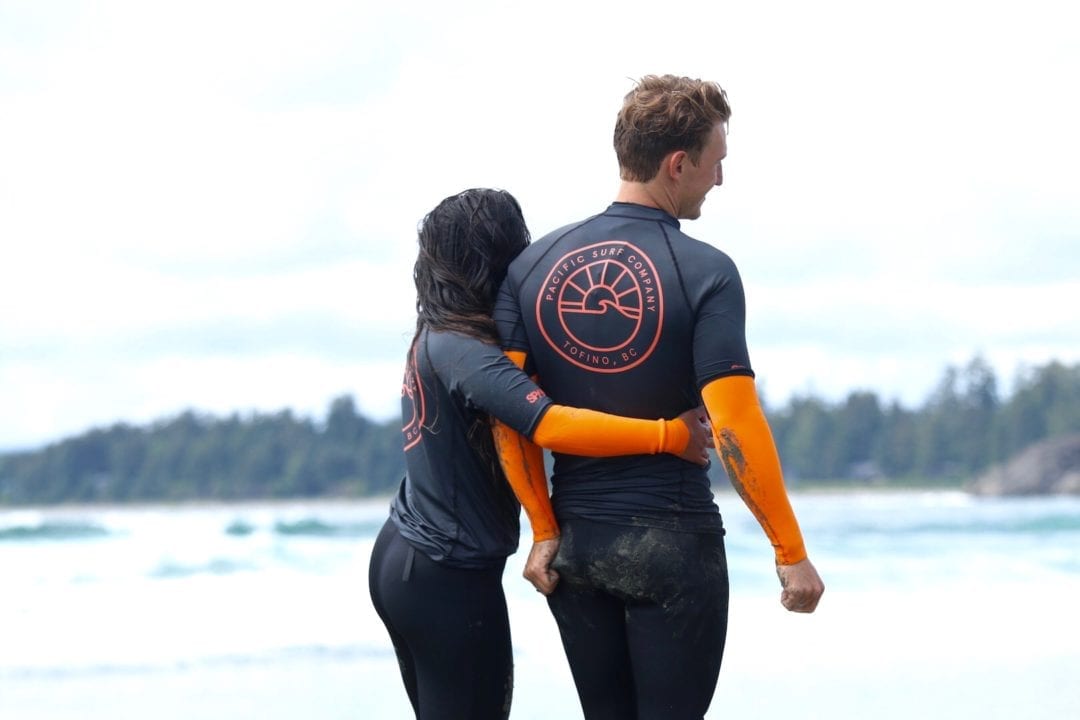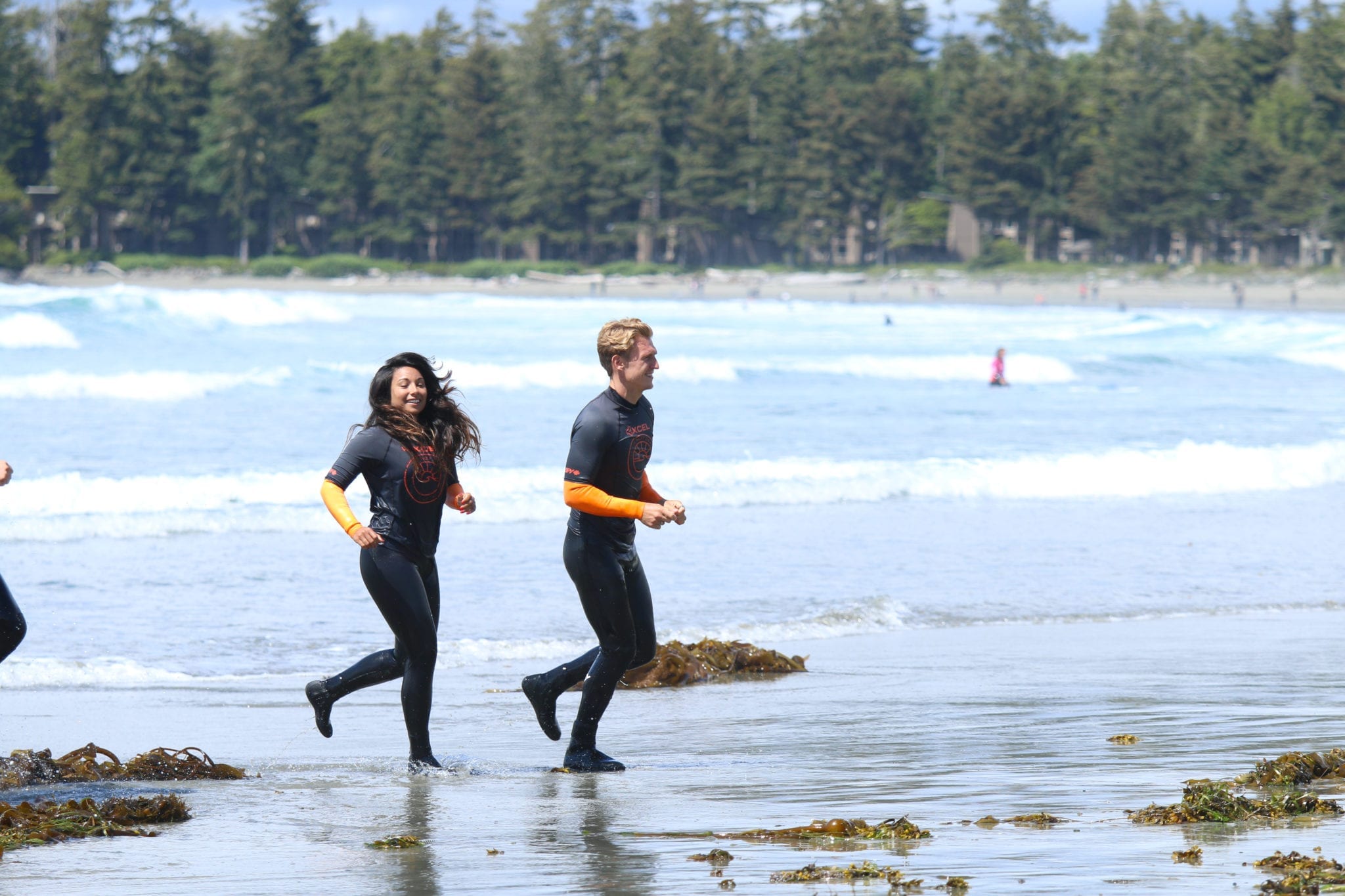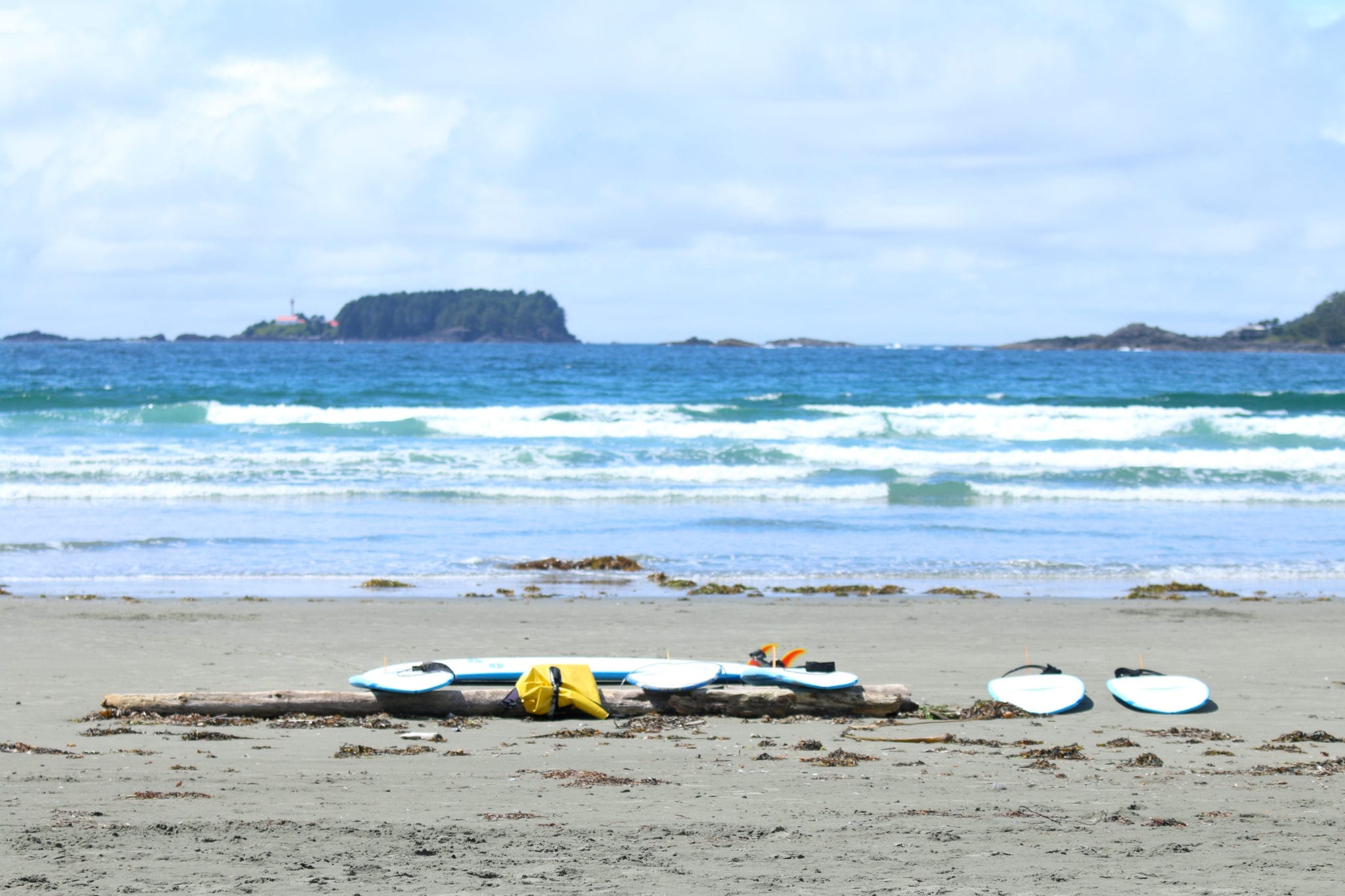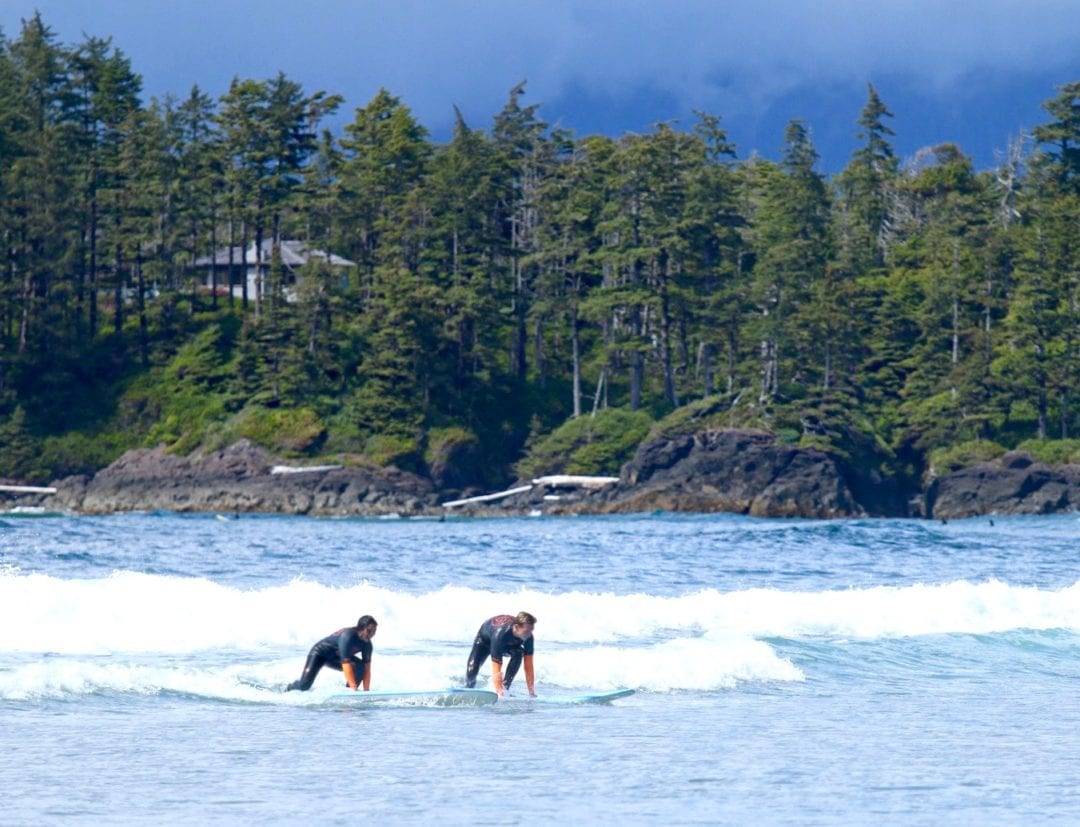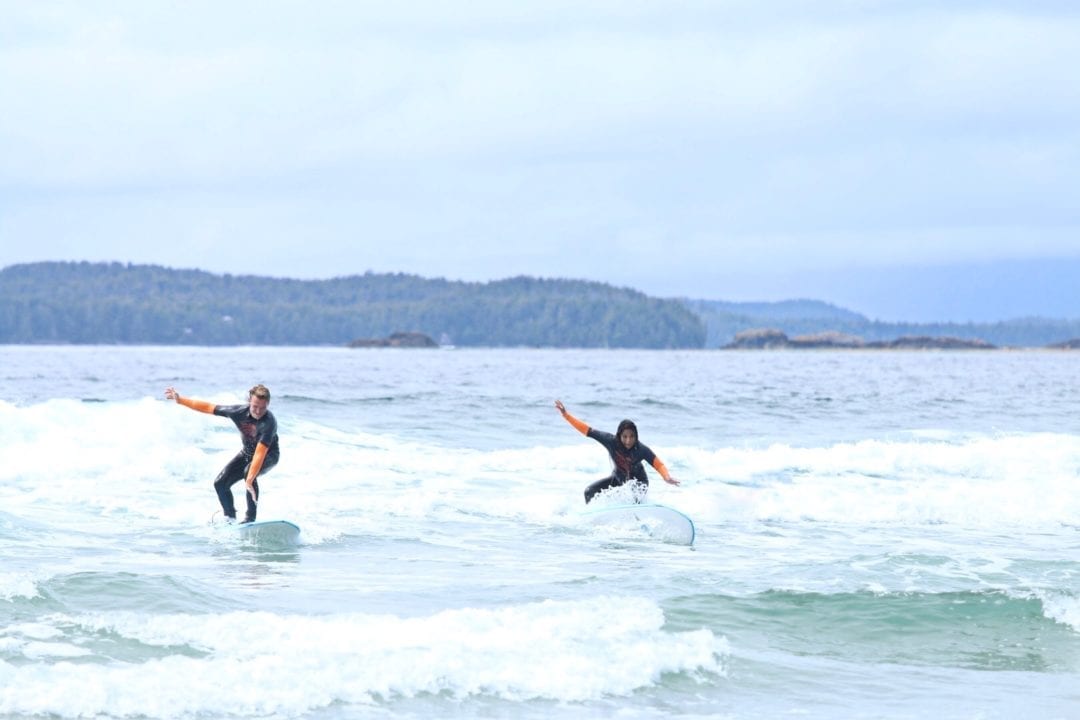 When in Tofino, it's kiiiiind of an unwritten rule that you have to try out surfing! It was such a fun experience and it's definitely one of my recommended activities. Don't let the fact that you've never surfed before put you off either - it's a great place for beginners!
As always, drop me a comment below if you have any questions, and check out my Tofino travel guide for more info.
Thank you Jillian Willcott from Pacific Surf Co. for the great photos!