There are two places in Canada that I'd happily visit time and time again...Tofino and the Rocky Mountains. And since we already visited Tofino a few months ago when we got engaged, when our tropical diving trip got cancelled last minute in September, the first place that sprung to mind for a spontaneous adventure was the one and only Banff.
Within 48 hours, we had booked a hire car, mapped out a route and packed up our gear ready to go. We also partnered with the Fairmont Banff Springs hotel which we were absolutely stoked about, not least because as you might know already, I adore the Fairmont brand and we stay there a lot, but also because the hotel is incredible and it's somewhere I've wanted to stay for years so it was lovely to be able to work them.
Visiting Banff in autumn is so beautiful, you might remember we did a big Rockies road trip 2 years ago and we absolutely loved it, so we were dying to go back. This was our 4th trip to the Rockies in 5 years, so safe to say we love it and every trip is totally different. The beauty of autumn is that you still get lovely sunshine and long days, but you skip the summer crowds and line ups and you can still see the turqouise lakes in all their glory. The leaves start to turn a golden yellow, you get those fresh crispy mornings and if you're lucky, you might even get a dusting of snow over the mountain peaks. The downside of visiting at this time of year is that certain attractions and lakes start to close, but I personally don't mind that if it means we get to experience places with fewer people.
So, if you're planning on visiting Banff in autumn, read on to find out more about the weather, what you can and can't do this time of year, what it was like staying at the Fairmont Banff Springs and my favourite places to visit! Take a look at my video from our trip too!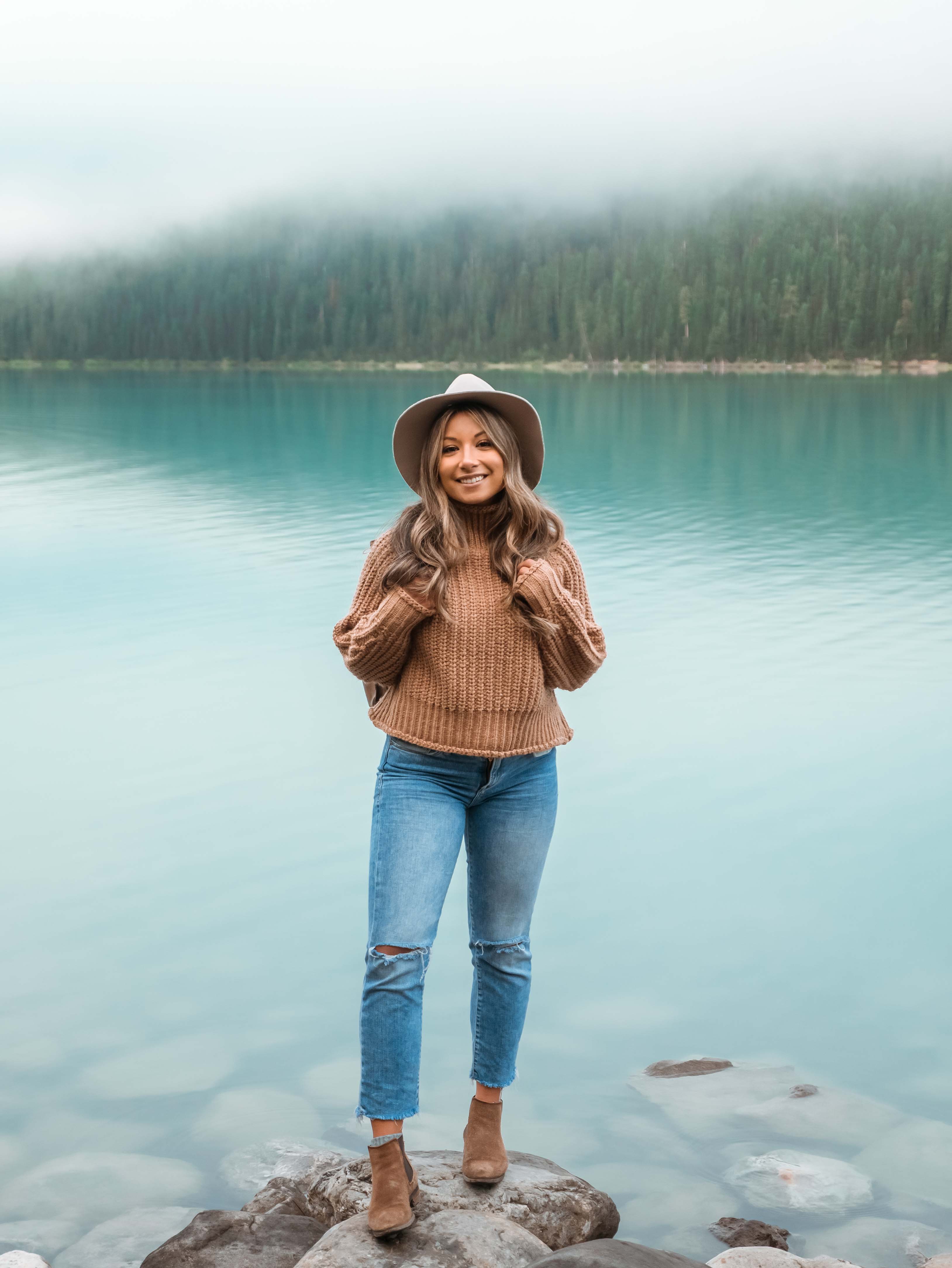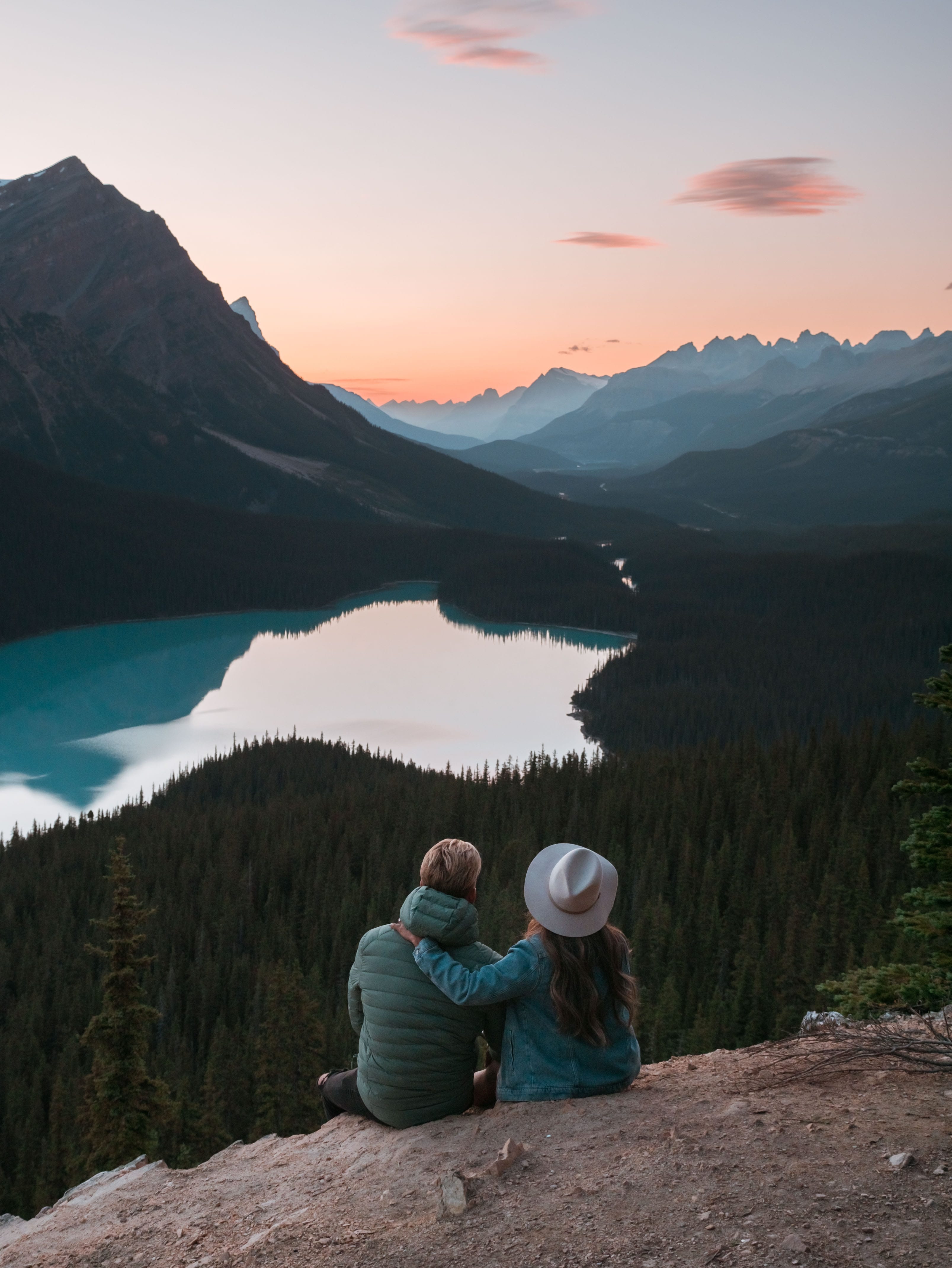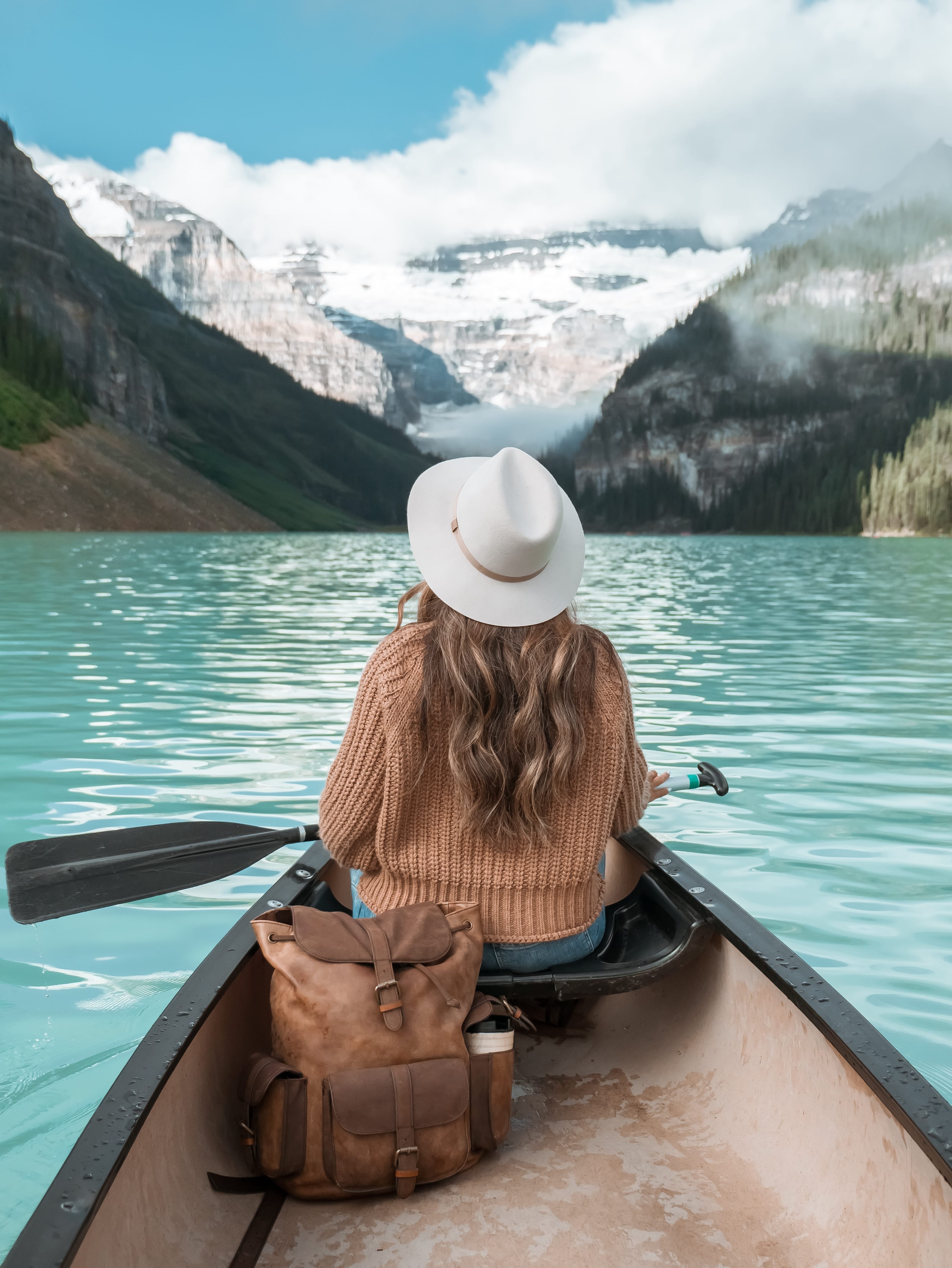 Why visit Banff in Autumn?
I get a lot of questions about my favourite time to visit Banff, and my answer is always September/October, for a number of reasons. The main reason is that it's much less busy than the summer time and since Banff is getting many more visitors each year, it's quite nice to dodge the crowds if you can. During this trip we visited at the very beginning of September, and to be honest it was still pretty busy, but the numbers do start to dwindle further into September and it doesn't feel as hectic.
My second reason is the weather and the changing seasons. I just love autumn when the trees start to turn yellow and orange, and mornings become crisp and there's a fresh chill in the air. You can bundle up in cosy knits but also enjoy the sunshine and you still get 12-14 hours of daylight. Further into September it's not uncommon to get a dusting of snow which makes the landscapes look that bit more breathtaking, but keep in mind that temperatures are a lot more variable so even though it might be 20°C in the day, it can still drop down to 0°C degrees at night.
Much of Banff's wildlife is starting to gear up for hibernation in autumn, but it's still prime time for seeing black bears, grizzlies, elk, deer, moose (if you're lucky!) and other amazing wildlife. Autumn is also a much more affordable time to visit. Fairmont Banff Spring's Secret Season begins in September and they offer a range of great offers and deals and up to 30% off (more on this later in the post), and things like car hire and flights are generally cheaper.
I love visiting the Rockies in spring time too (March/April) as it's an absolute winter wonderland and it's not as cold as the midst of winter. The downside is that the lakes are all still frozen, and they generally don't thaw out until June time, but it really is beautiful with very few people and it's a totally different experience compared to visiting in summer/autumn.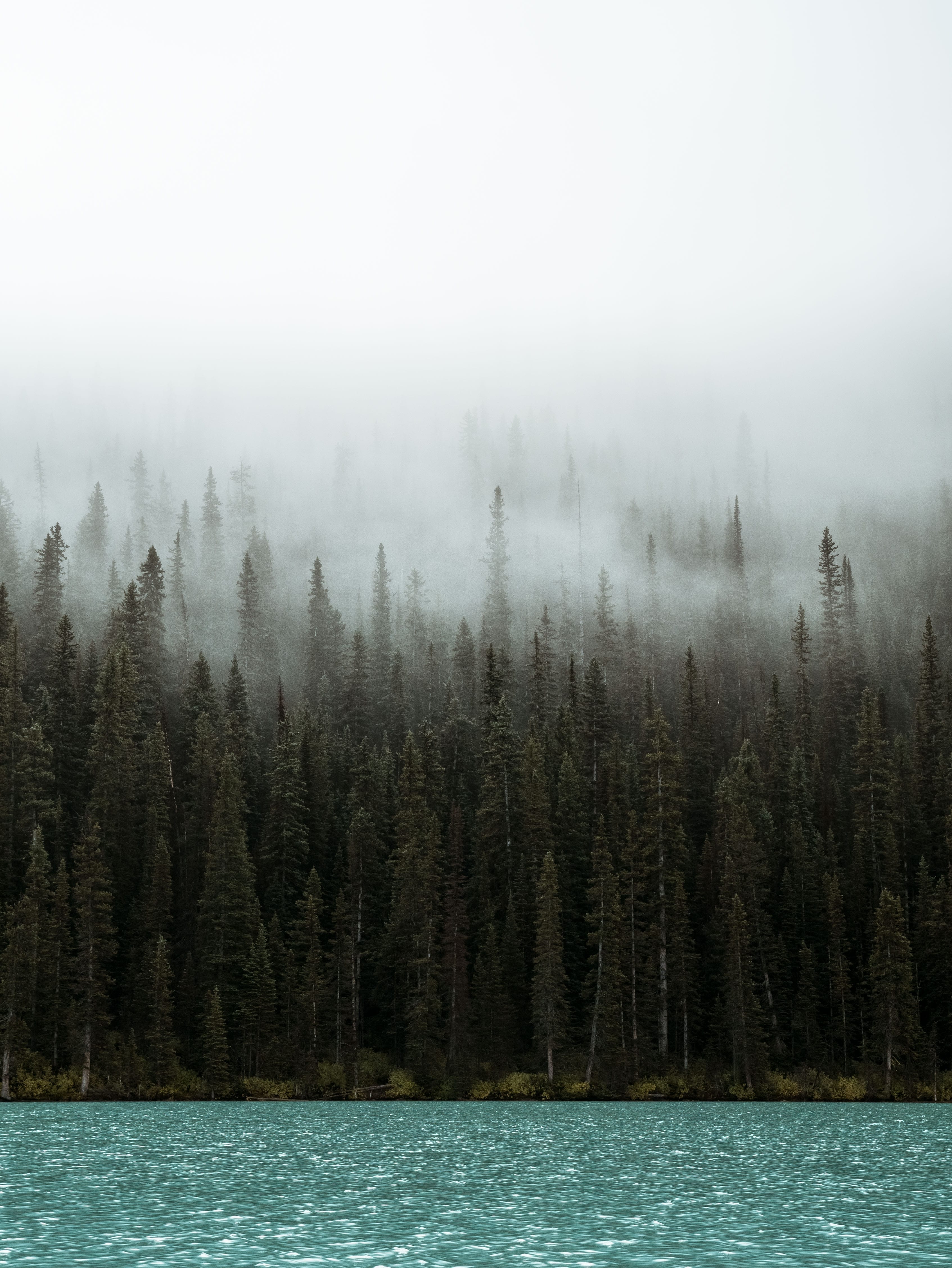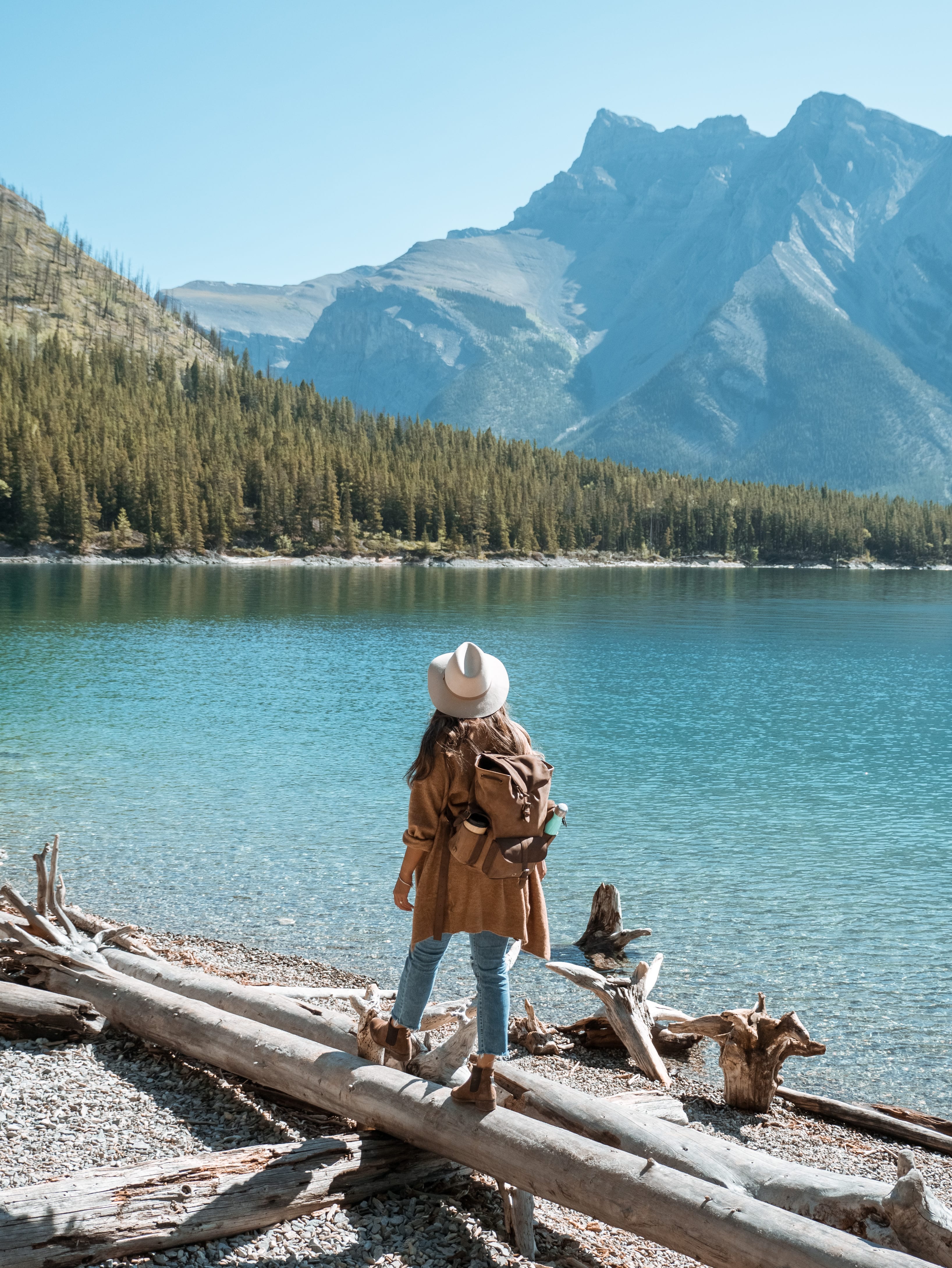 Cool places to visit in Banff
Lake Minnewanka - It's only 15 minutes from Banff centre and the lake is really nice. Follow the trail around the shoreline and you'll get some stunning views of the lake. You can do a boat tour up until mid-October. The lake is accessible year-round.
Two Jacks Lake - I love Two Jacks Lake and it's even prettier when there's a dusting of snow. This is a lovely spot for sunrise and sunset, and a very accessible place for taking night sky shots too as it's only 15 minutes from Banff town and there's very little light pollution. You can reach the lake year-round.
Banff Gondola - We didn't get to do this but I've heard so many great things. If you have time spare, a trip up the Gondola will treat you to some lovely panoramic views of the valley.
Johnston Canyon - This is a very popular attraction that can get super busy in summer, so autumn is a nice time to visit as it's a bit less crowded. It can be accessed year-round and the river will freeze up in winter. It's really pretty when it's snowy, however if there's a lot of snow you might want to get crampons for your shoes for extra grip.
Peyto Lake (now closed) - Peyto is one of my favourite places to visit in Banff and the views of the lake are just incredible. However, keep in mind the lake is now closed for rehabilitation for the next couple of years, so if you want to see it in summer, you'll unfortunately have to wait until 2021. However, it will be open in winter 2019 and winter 2020.
Bow Lake - Bow Lake is always a favourite of ours and it's accessible year-round. It's located right off the Icefields Parkway that takes you to Jasper and it's a 1 hour drive from Banff. The lake is so vast and the glaciers are absolutely beautiful. Follow the trail around the shoreline, check out the waterfall and there are a couple of hikes too. The lake freezes over in winter.
Lake Louise - I'm sure you don't need me to tell you about Lake Louise! Victoria Glacier towers over the lake, feeding it with glacial water that sparkles a rich emeraldy-turqouise blue. You can canoe on the lake until mid-October (closing dates vary each year) and the lake is accessible year-round. It costs $125 per hour for non-hotel guests. Word of warning - Lake Louise gets busy as it is such a popular attraction, so if you want to see it without the crowds I suggest going early moring or at sunset. I loved canoeing here as it allowed us to experience the lake in complete peace and in a totally different way. There are also quite a few hikes you can do from here.
Moraine Lake (closes October) - Along with Lake Louise, this is one of Banff's most iconic spots and it really lives up to its reputation as one of Canada's most beautiful lakes. The dramatic peaks line the lake and the water sparkles a rich turqouise blue, even more blue than Lake Louise. There are a number of hikes you can do from here. Similarly to Lake Louise, it does get busy and there is a shuttle that goes from the Park & Ride, from Lake Louise and from the Village for when the parking lot fills up. NOTE: The 13km road to Moraine Lake closes in October on the Tuesday after Canadian Thanksgiving, and it's inaccessible by vehicle until spring.
Cave & Basin - If you have a couple of hours to spare and you don't want to venture far from Banff town, head for a stroll at Cave & Basin. Learn about the history of Banff and check out some of the trails and short walks.
Road trip! - Perhaps my favourite thing to do in the Rocky Mountains...load up the car with snacks and great playlists, explore all the different lakes, cruise down the Icefields Parkway, look out for wildlife and just see what beautiful sights you come across!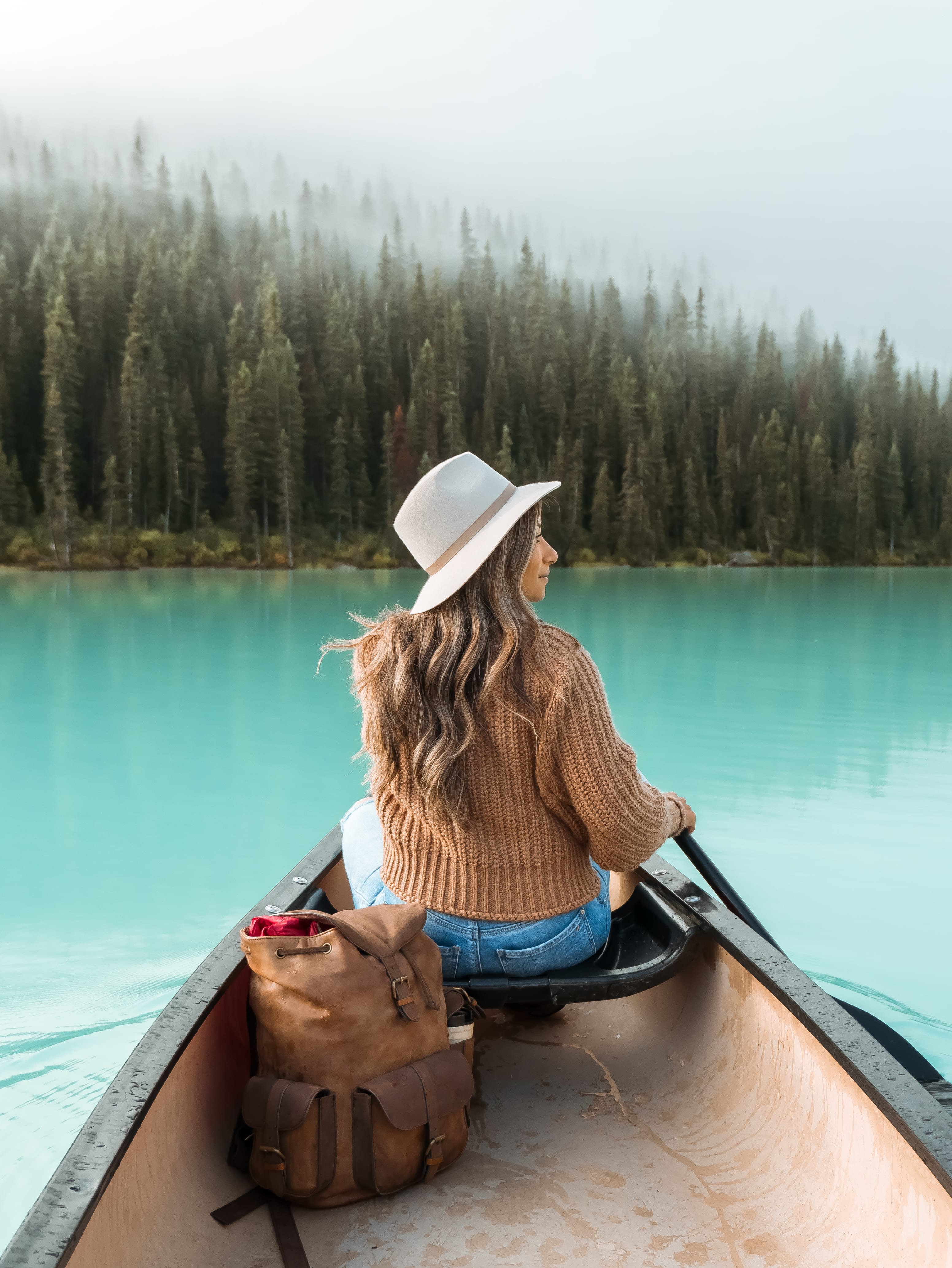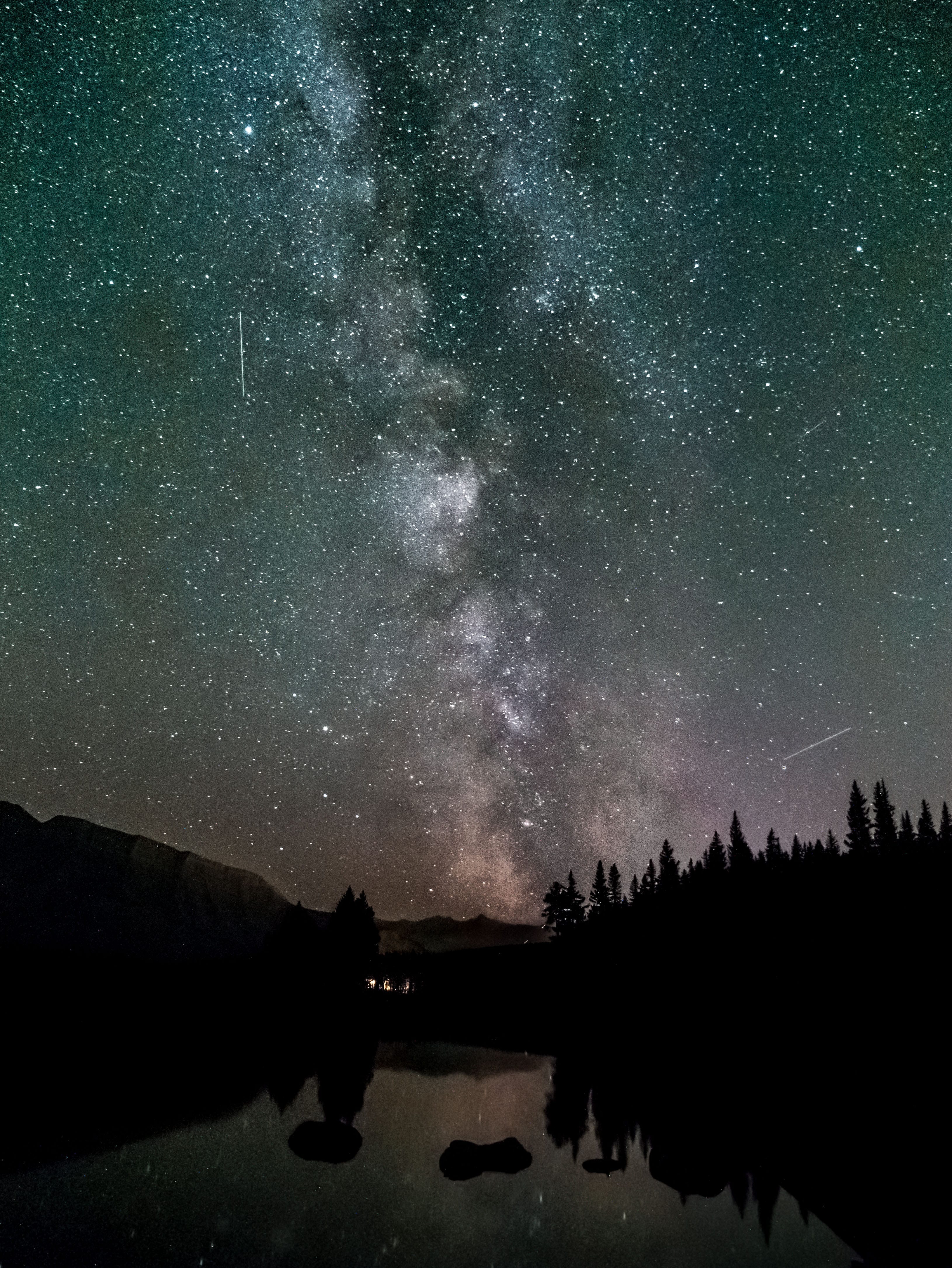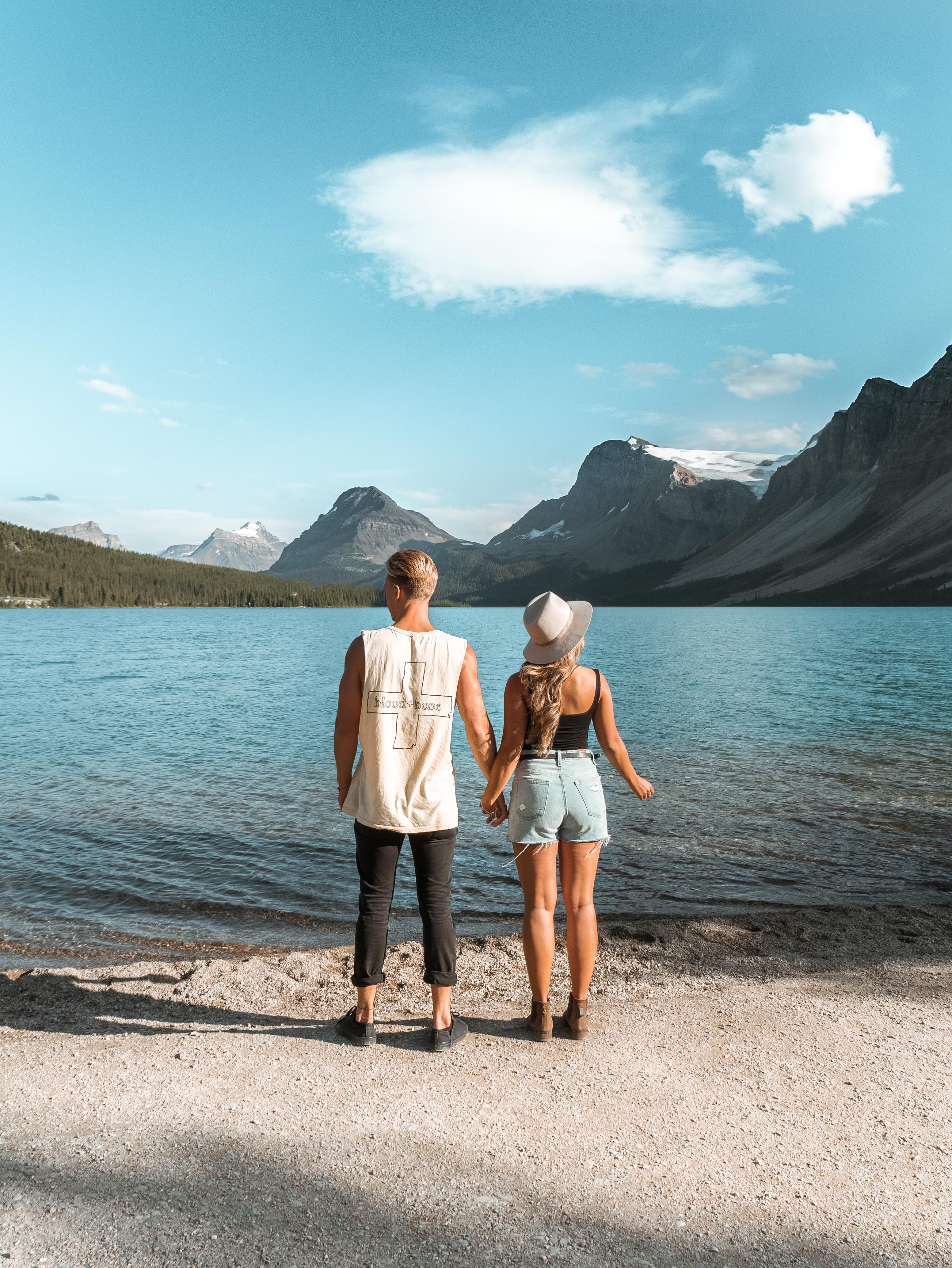 Staying At The Fairmont Banff Springs
AKA the "Castle in the Rockies", the Fairmont Banff Springs is no doubt Banff's most iconic hotel and it is such a beautiful and magical place to stay. Surrounded by alpine, mountains and rivers, the location is stunning and it really does feel like you've stepped into a fairytale. Honestly, the property blew me away and it's only when you stay there that you realise just how special it is. The hotel looks and feels every bit like a castle and although it's been renovated, most of the original features still remain and you can feel its 100+ year history. The decor is modern and luxurious, providing such a nice contrast to the rugged mountains and wilderness that surrounds the property.
We were so happy to have partnered with the hotel during our stay, we had 3 lovely nights there and it was the perfect place to return to after a day road tripping around the mountains or an evening out taking night sky shots. Their beds are like clouds - which made those 5am sunrise get ups SO difficult because all we wanted to do was hit snooze!! We had a King View room, the room was actually quite compact compared to other Fairmonts we've stayed at but it was really cosy. The view from our room was unreal too, and being able to watch the sky light up in a morning as the sun rose from behind the mountains was so memorable.
We only went into Banff town once during our stay as the hotel has everything you need - there's casual and upmarket dining options, a cafe in the lobby, a bowling alley on the property, tennis courts, a world-class golf course, and of course the always-beautiful Willow Stream Spa. I didn't have time to visit the spa (which I was a bit sad about!), however I've experienced the Willow Stream Spa in Vancouver and Whistler and it's without a doubt my favourite spa and the treatments are very unique and luxurious. The spa also has an outdoor hot tub which is the perfect way to unwind after a day in the mountains.
At the bottom of the property you'll find the Spray River and waterfall (which is gorgeous in the morning as it's so quiet) and the Banff Golf Course Road Loop which takes you all around the golf course and it's worth it for the landscapes and views. We spent so much time looking out for wildlife on our trip and had little luck...then on the final day, we spotted a herd of elk on the property right outside the Waldhaus pub. It's also quite common to find bears on the golf course too...so evidently it's not just humans that love the hotel! Nightly prices range from $359 CAD (low season) - $699 CAD (high season). The hotel is also pet friendly.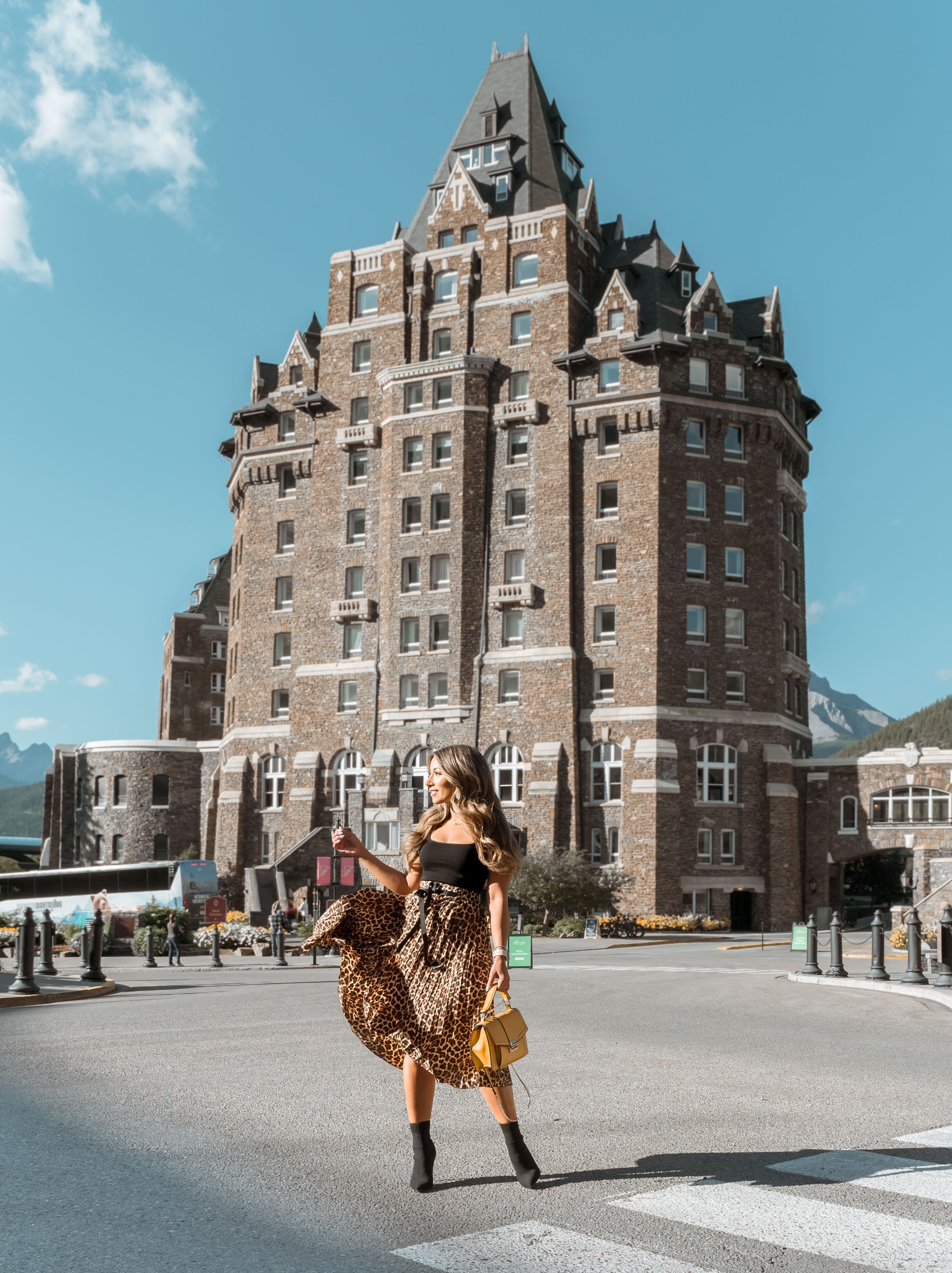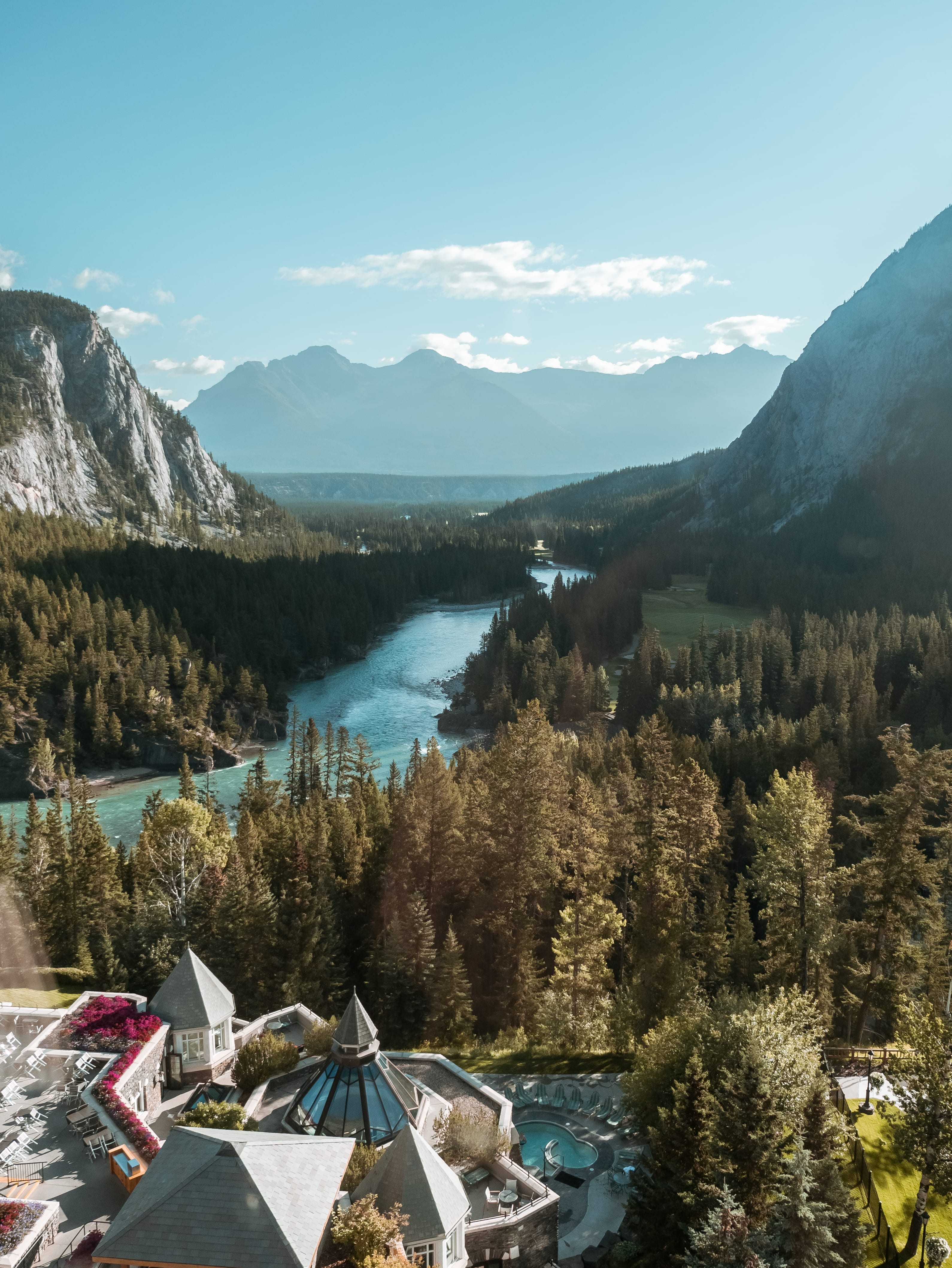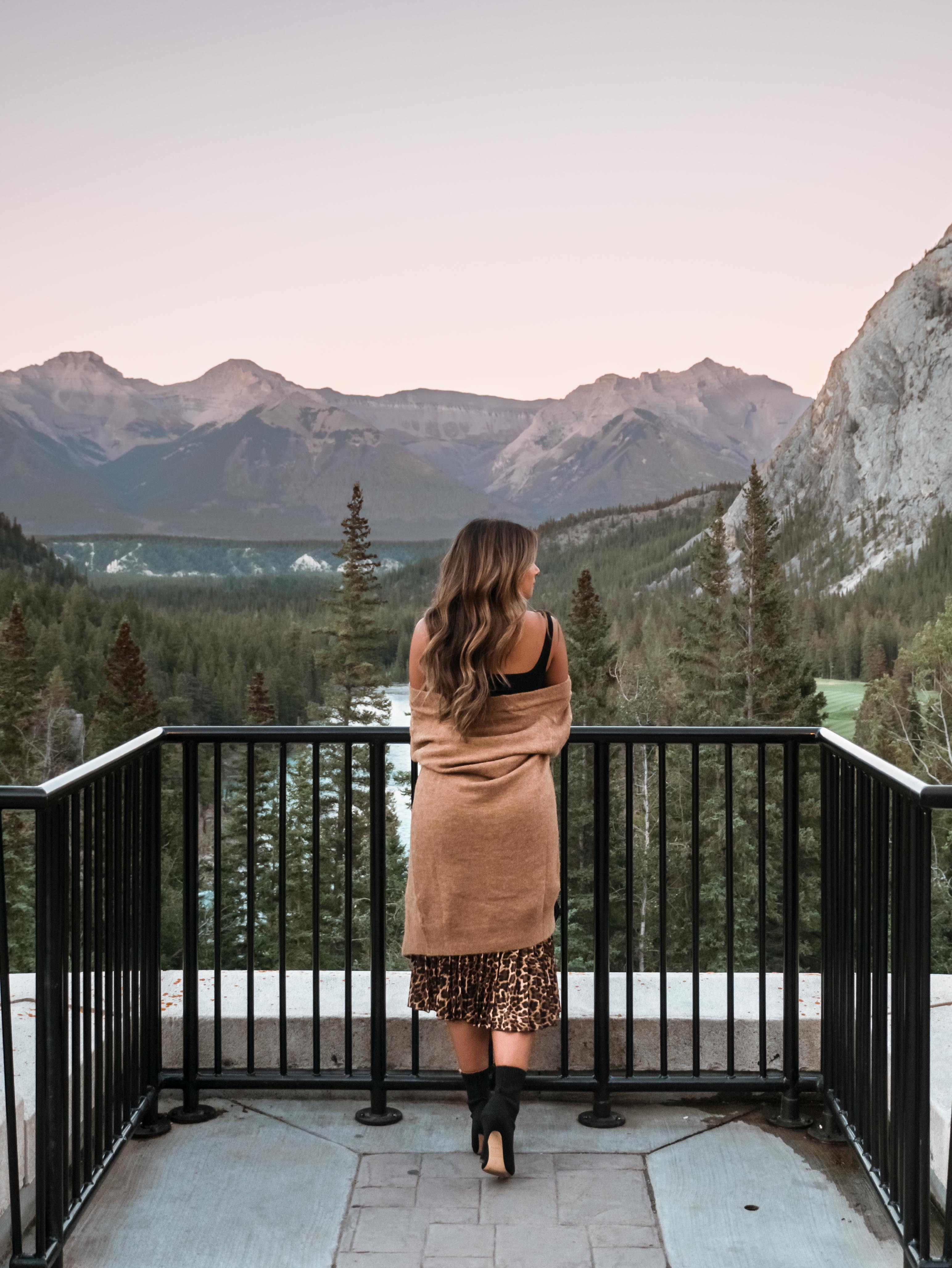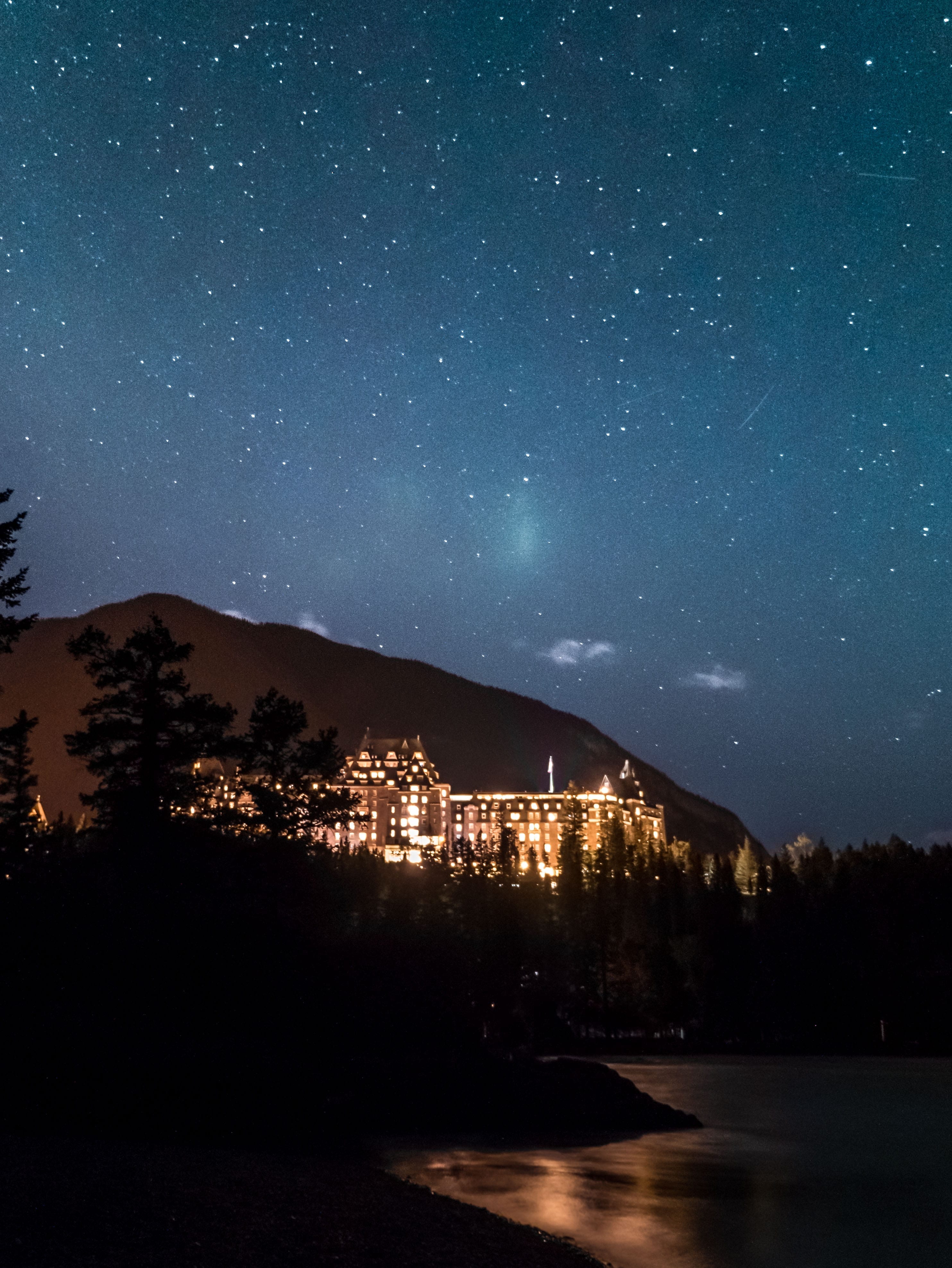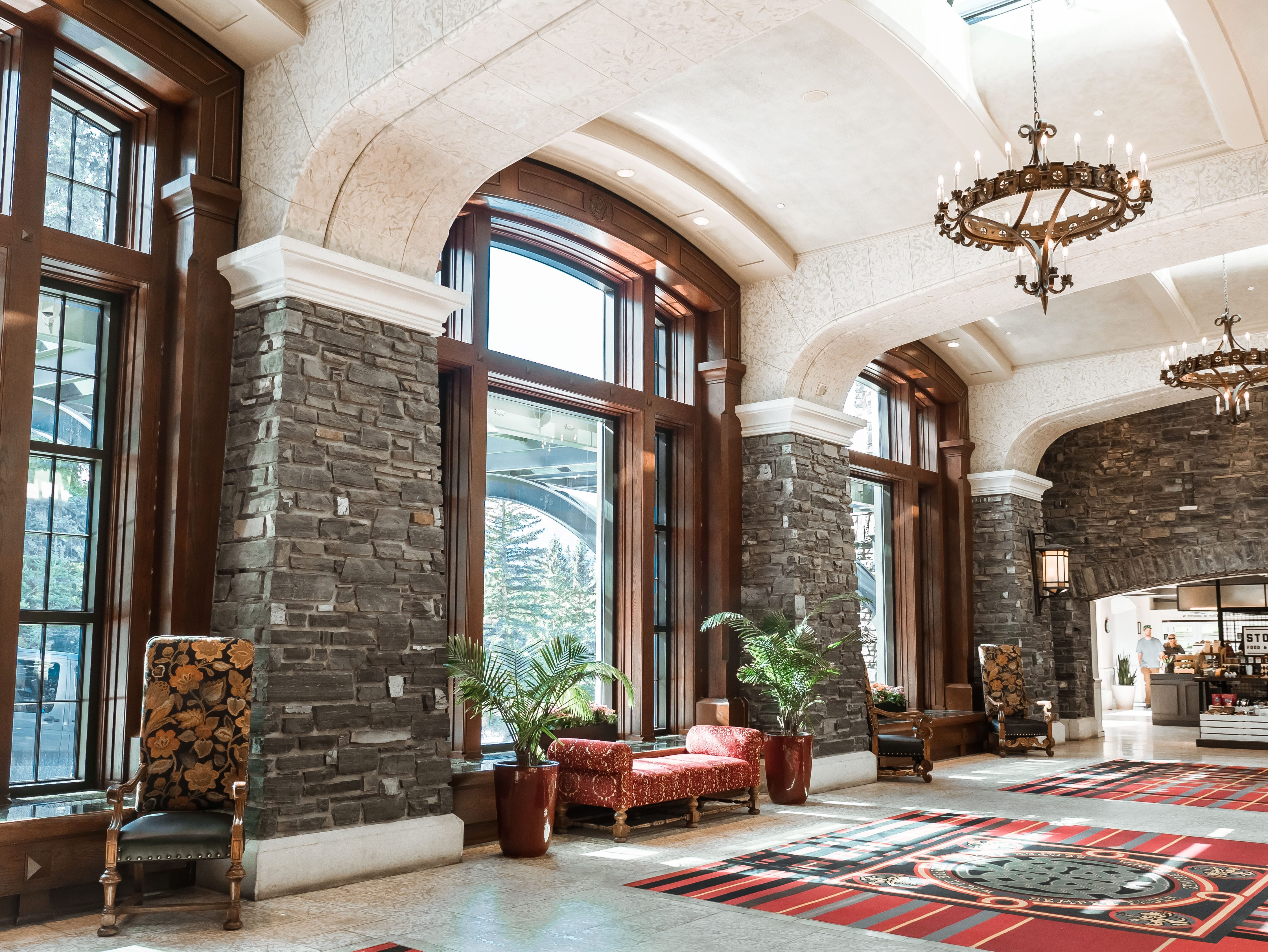 Dining at the Fairmont
Whether you're staying at the Fairmont or not, I highly recommend dining there and they have a range of wonderful options for food and drinks. If you want a more intimate, upmarket dinner, The Castello Italiana restaurant is a beautiful spot with rustic Italian food and elegant decor. Their seafood is phenomenal and all of their pasta is handmade, and they use local and sustainable produce. Reservations are recommended.
Next door to Castello you'll find the Ramsay Lounge, a cosy and informal spot for post-hike cocktails or a pre-dinner drink.
For something more casual, The Waldhaus pub is the place to go. Nestled in the alpine across the road from the Spray River at the bottom of the Fairmont grounds, The Waldhaus is German-inspired and offers a range of German specialties from steins to schnitzel to cheesy fondue and burgers. Sit inside for a more cosy experience, or dine alfresco on the deck and watch the sun go down. We were lucky to have been joined by a herd of elk who settled for the evening on the grass below too which was so cool!
The Vermillion Room is another lovely option for dinner and the decor is very charming following a French brassierie style. This is also where you'll have breakfast if you stay at the Fairmont - the breakfast buffet is unreal!
So, whether you're looking to indulge in a special Afternoon Tea, a BBQ feast at Stanley's Smokehouse, or charcuterie, cheese and wine pairing at Grapes, there's something for all tastes. See the full list of dining options here.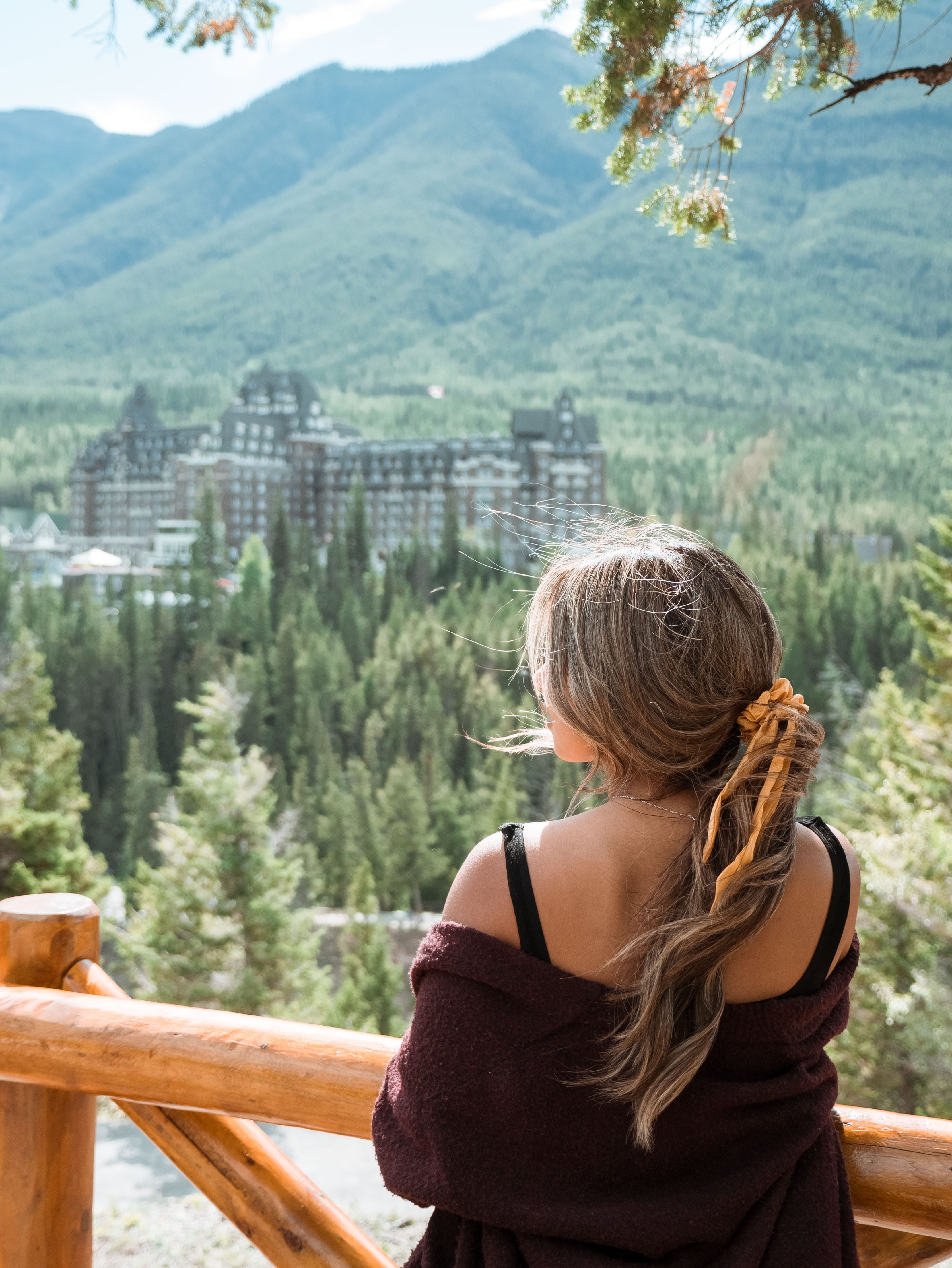 View from Surprise Corner
Fairmont's Secret Season
It's not just me that thinks autumn is the best kept secret when it comes to travel - the Fairmont does too. They call this their Secret Season and not only is it a great time for fewer crowds and incredible photogenic scenery, it's also one of the best times to visit for lower rates.
In September, October and November, Fairmont Banff Springs, Jasper Park Lodge, Chateau Lake Louise and Chateau Whistler all offer a range of discounts to enhance your stay and save you a bit of money. Take advantage of the October Bed and Breakfast offer, which includes daily breakfast, free parking and gratuities, or make the most of their discounts and save up to 30% off your stay in September and November. Ski season begins at the end of November too in Whistler, Jasper and Banff and lift passes are usually lower early in the season too so savings all around.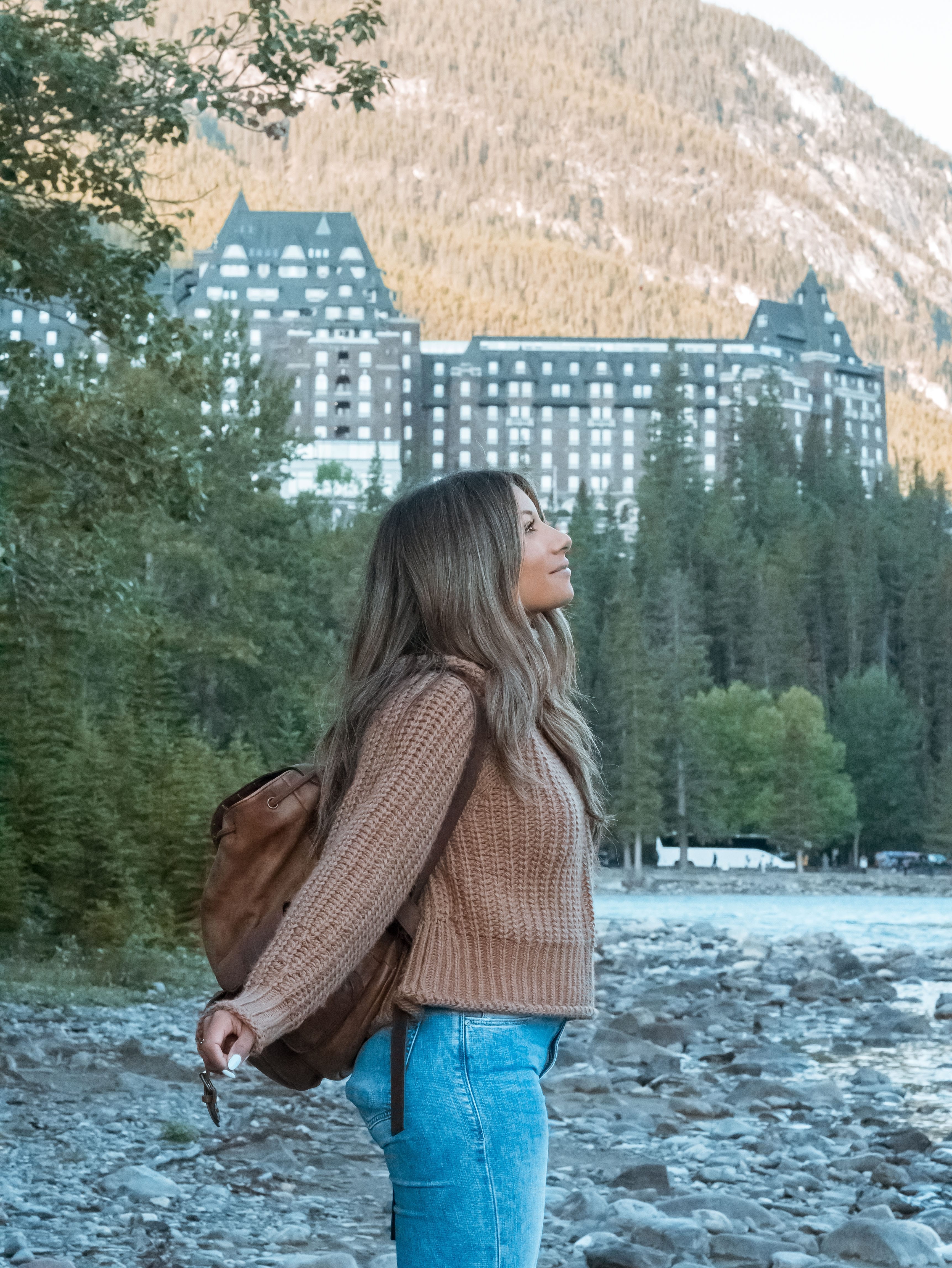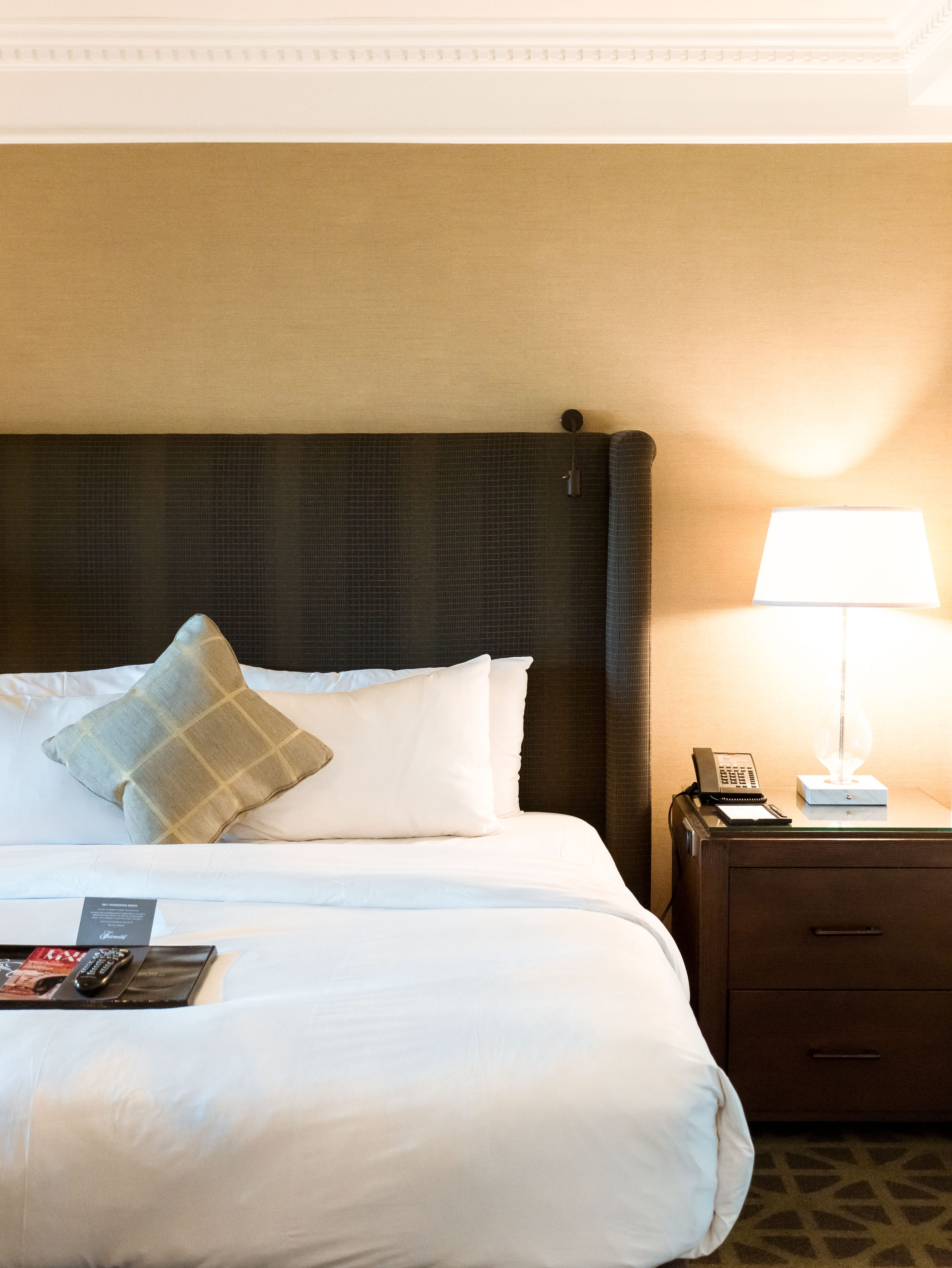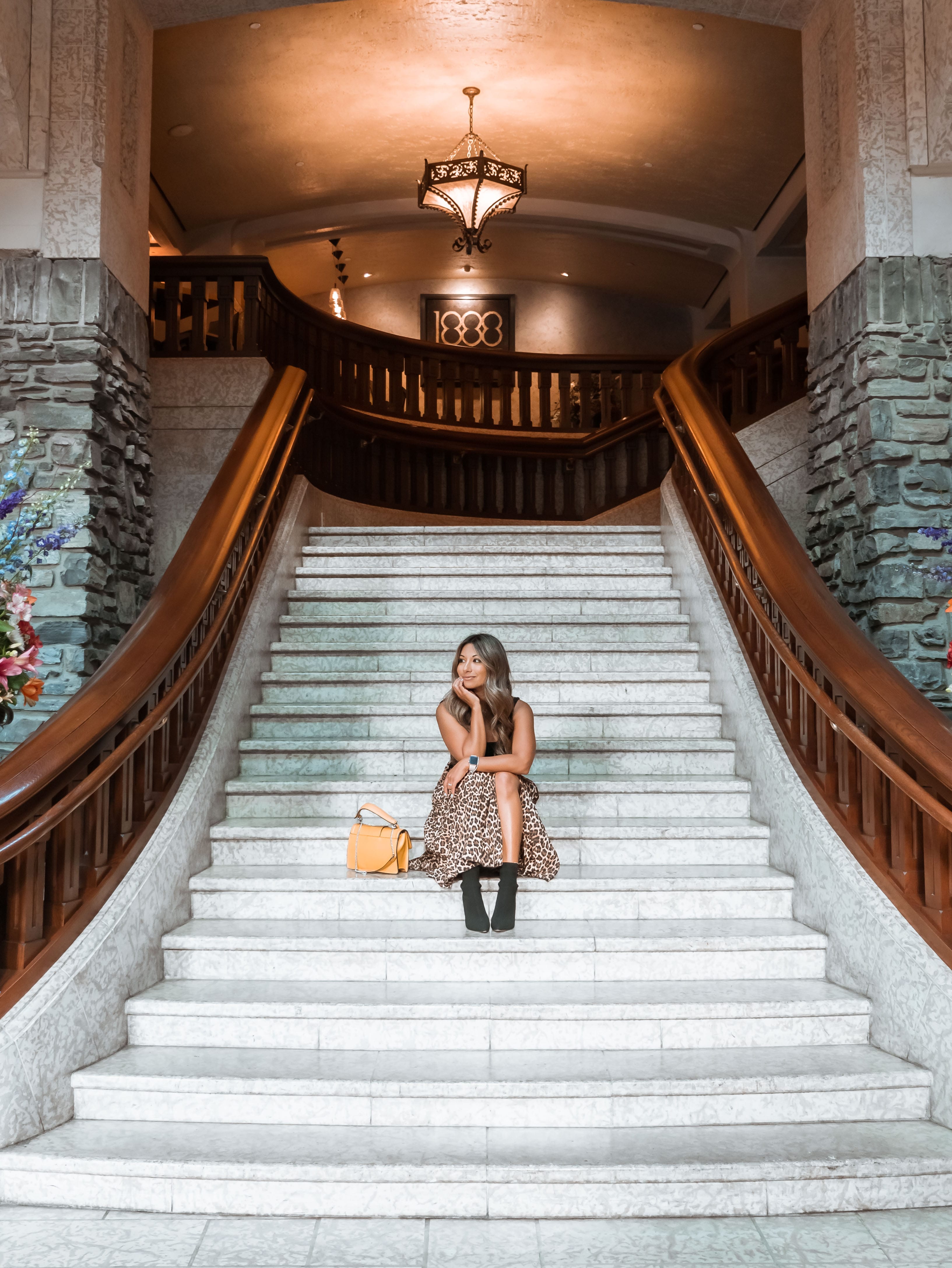 What's the weather like in Autumn?
SEPTEMBER
Early September temperatures are similar to August (nice and warm), but by mid-September is starts to cool down a little and you feel it more in the mornings. Average temperature in the day is around 12-17°C and around 2-4°C at night. Some very early snowfall is possible too, so a winter jacket is recommended especially if you're camping. The range of temperatures is quite large in September. On our 2017 trip, it went from 25°C and sunshine on Monday, to -10°C and snowfall by Friday...so a good reminder to pack for all weather! September is a great time to hike with cooler temperatures and beautiful fall colours.
OCTOBER
October is a lovely time too. Snowfall and rain are more likely as you get further into October and the average temperature in the day is around 5-10°C and around -2°C at night. Expect snowfall at higher elevations. Pack for colder temperatures, bring your winter jacket, decent shoes and socks, and layers are recommended especially if you're hiking. Don't forget a decent puffer and waterproof jacket.
NOVEMBER
Weather in November can be unpredictable and you usually experience a mix of rain and snow. Average temperatures sit around 3°C in the day and -8°C at night and is not uncommon for there to be cold snaps especially towards the end of the month. Pack for winter weather and definitely take proper boots if you plan on hiking. In places like Lake Louise which are much higher in elevation, snowfall is likely. November is considered as shoulder season and a lot of summer activities have finished while winter activities haven't yet begun. However, it's a lot quieter, much cheaper and there's still loads you can do. If there's quite a bit of snowfall, allow extra time to drive to Calgary or Edmonton airport in case of delays.
LAKE LOUISE
Keep in mind that Lake Louise is generally colder than Banff or Jasper. The average temperature in July is only around 13°C so take an extra layer or a blanket if you plan to canoe around the Lake, especially in the morning. I was surprised by how much more brisk it was than Banff when we visited in August.
I have written a post about what to wear in Banff in autumn so take a look at that too if you're wondering what to take!
What can't you do in Autumn?
Access to Moraine Lake is limited in autumn/winter. The 13km road to Moraine Lake opens in mid-May and closes the Tuesday after Canadian Thanksgiving in mid-October. You can hike or ski to the lake, however car access is prohibited.
The road to Takakkaw Falls (Yoho Valley Road) in Yoho National Park closes from October 15th to June.
One cool thing to do if you're heading to Jasper is a tour of the Athabasca Glacier (you actually get to walk on the glacier) however this closes mid-October and opens again in April.
Lake Minnewanka is accessible year-round, but boat tours finish in October.
2019 Banff Closures
Peyto Lake will be closed for rehabilitation from September 16th 2019 until summer 2021. It will open in winter 2019 and winter 2020, but will be closed at all other times and will reopen fully for summer use in spring 2021.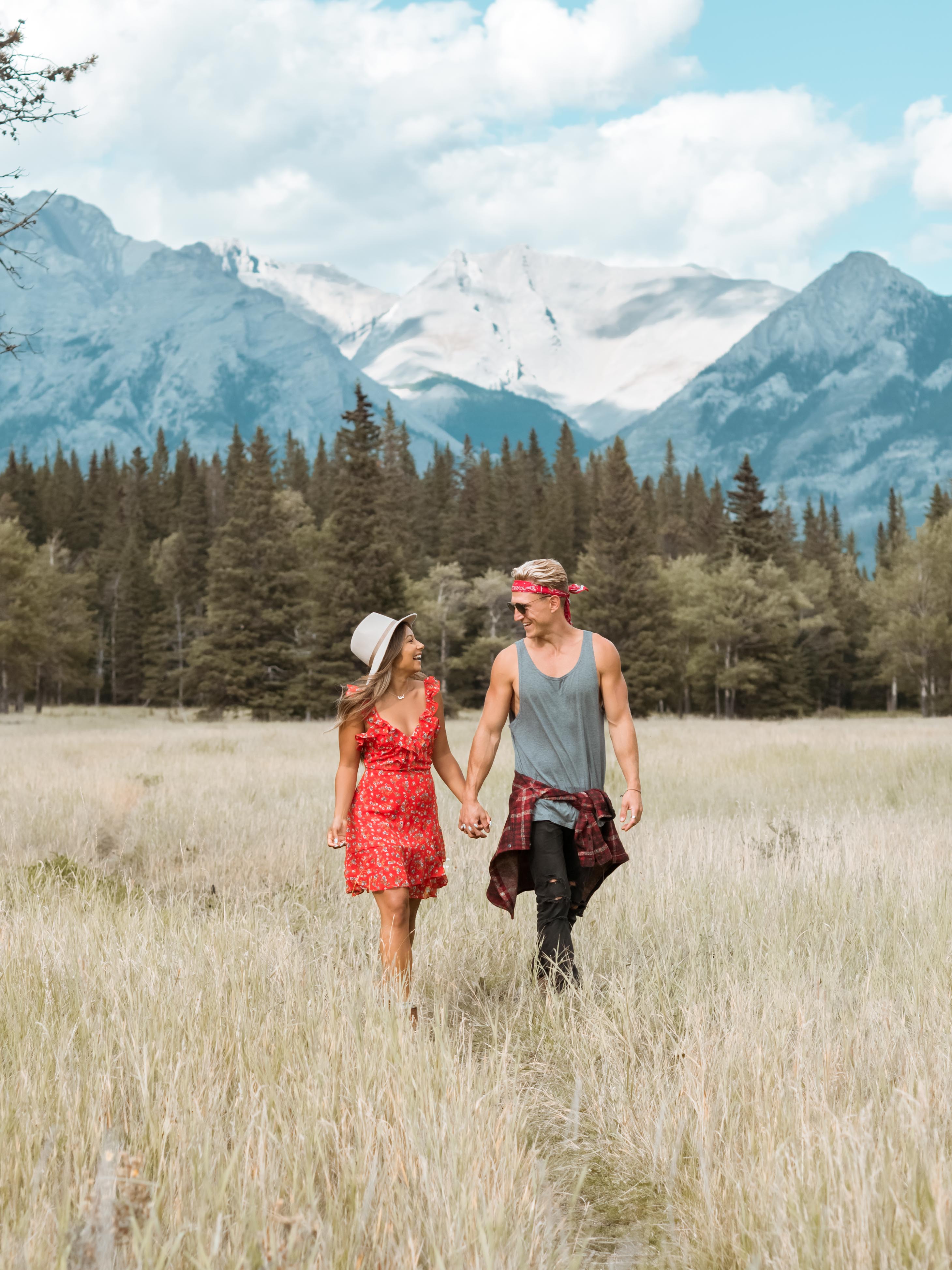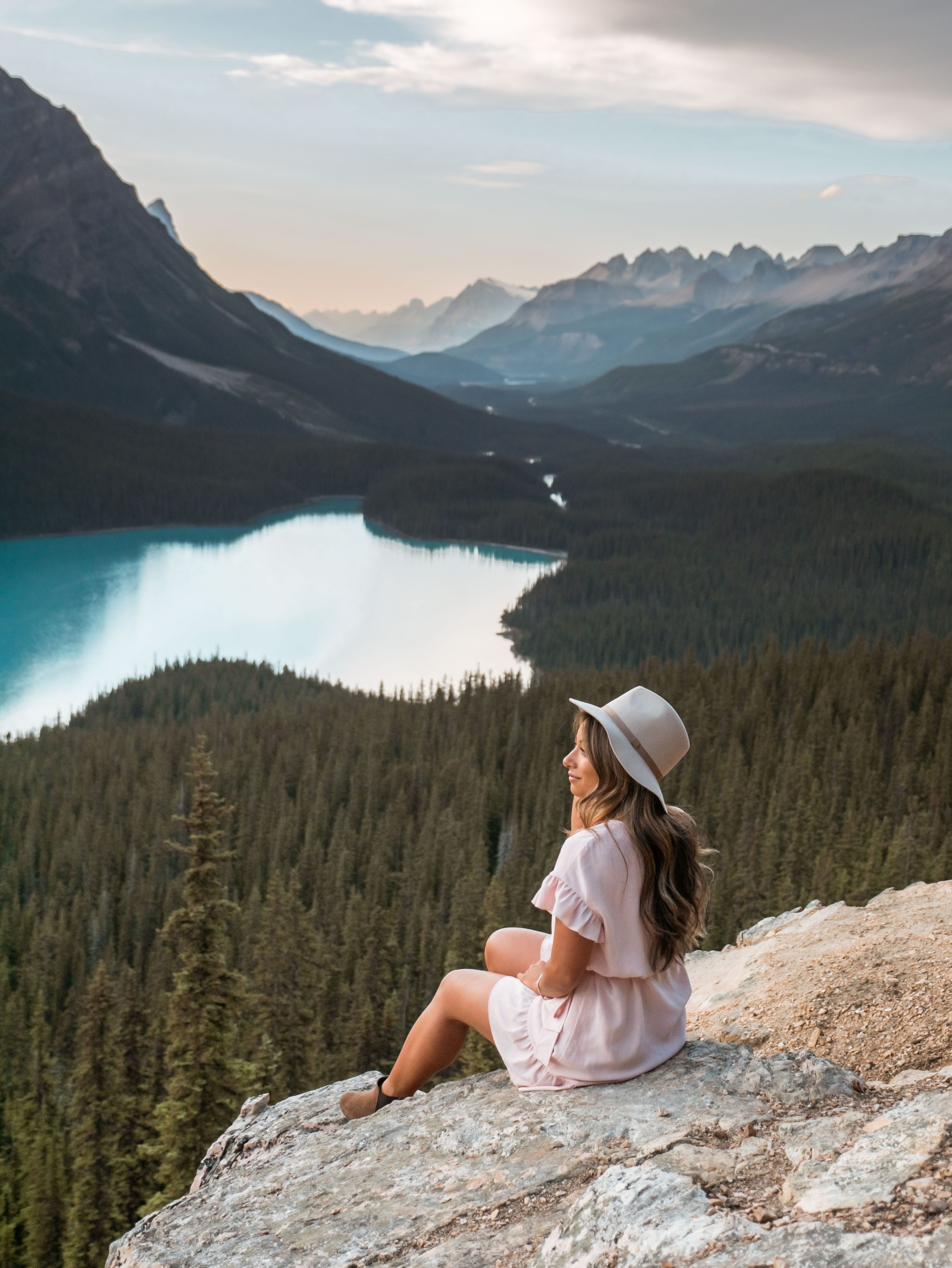 Hopefully this gives you a bit of insight into what it's like visiting Banff in autumn! Let me know if you have any questions in the comments, and enjoy your trip!!
[Disclosure: We partnered with the Fairmont Banff Springs Hotel for our stay and we provided with accommodation in exchange for content and an honest review. All thoughts and opinions expressed are my own.]