Road tripping from Vancouver to the Rockies is something we've been wanting to do since we arrived in Canada. The Rockies have some of the most beautiful, iconic and dramatic landscapes in the whole of Canada, not to mention the gorgeous turquoise blue lakes and wildlife. Matt and I love road tripping, so this September we partnered up with Jeep who loaned us a gorgeous White Grand Cherokee Trailhawk and spent 7 days adventuring around the amazing Yoho, Banff, and Jasper National Park.
The trip consisted of road tripping, camping, canoeing, walking on glaciers, hiking, and of course taking tons of photos, and it was honestly one of the best trips we've ever done. I'm usually happy to come home to Vancouver after travelling but for the first time ever I really did not want to come back!
We decided to go in September to try avoid the summer crowds but also enjoy it before winter kicked in. It was still fairly busy (more so in Banff than Jasper), so we were at the lakes by 6:30am most mornings to enjoy it in peace as the coaches of people would begin to arrive by 9am.
We experienced all seasons when we were in Yoho & Banf and it went from scorching sunshine to -5°C & snow in the space of 3 days. However, the weather in Jasper was amazing which meant we got to experience the famous night skies and we even caught the Northern Lights (!!!) unexpectedly, for the first time ever, which was incredible.
Our Jeep, which we decided to name JuJubes, was the perfect travel companion and I've definitely found my new dream car (scroll down to read about it). I've fallen in love with camping and in hindsight, I would have happily camped for the whole week as I didn't realize the campsite facilities would be so good, and since the car had a plug socket we basically had everything we needed.
Road tripping from Vancouver to the Rockies was unbelievable and the trip was everything I dreamed it to be. It was a bucket list experience and we're already planning to go back, especially to Jasper as it's such a magical place. So, if you're thinking of embarking on this trip yourself, I've compiled a 7-day itinerary to help you plan your trip and figure out where to stay & where to go on your road trip in one of the most beautiful places in the world!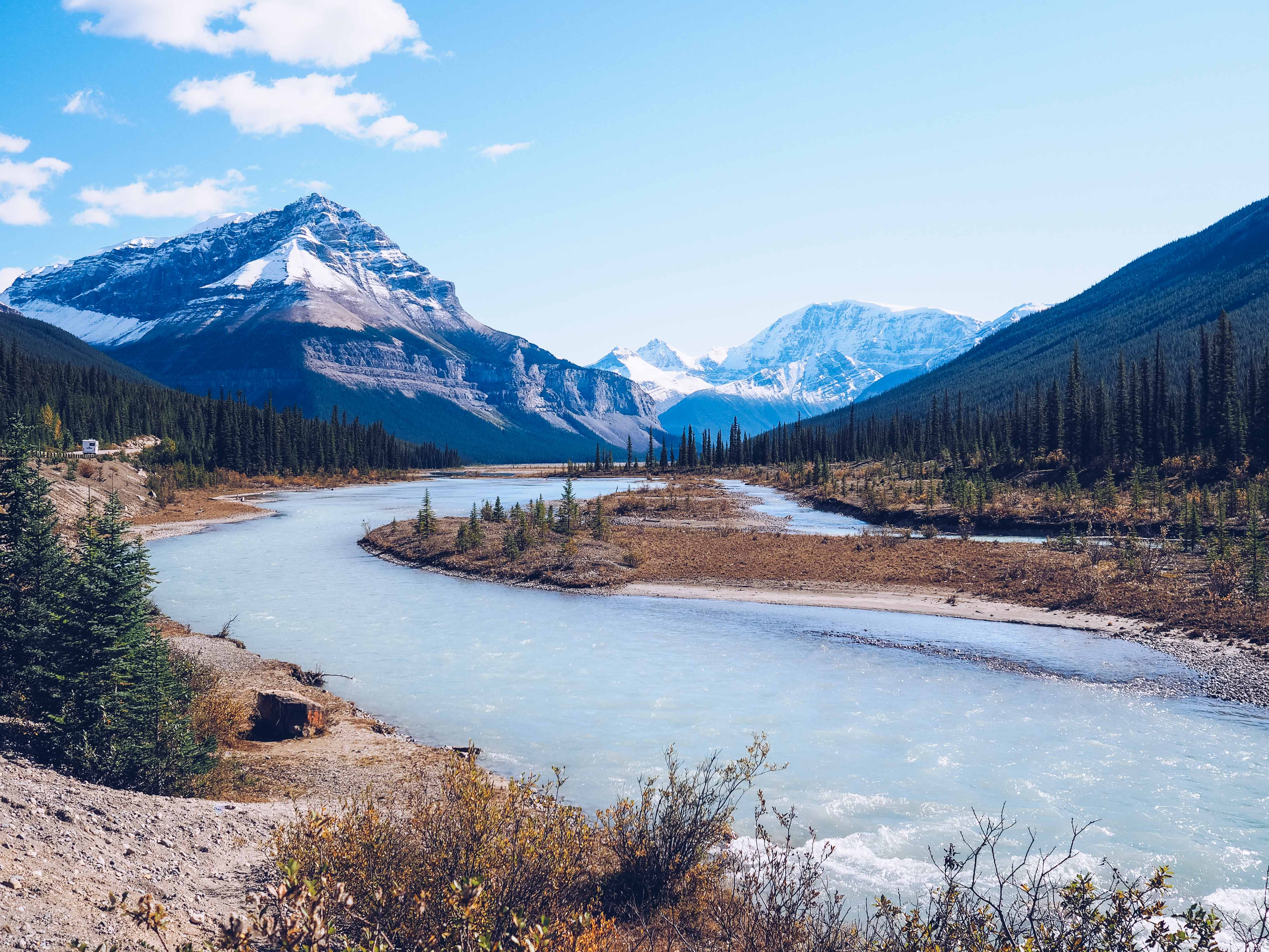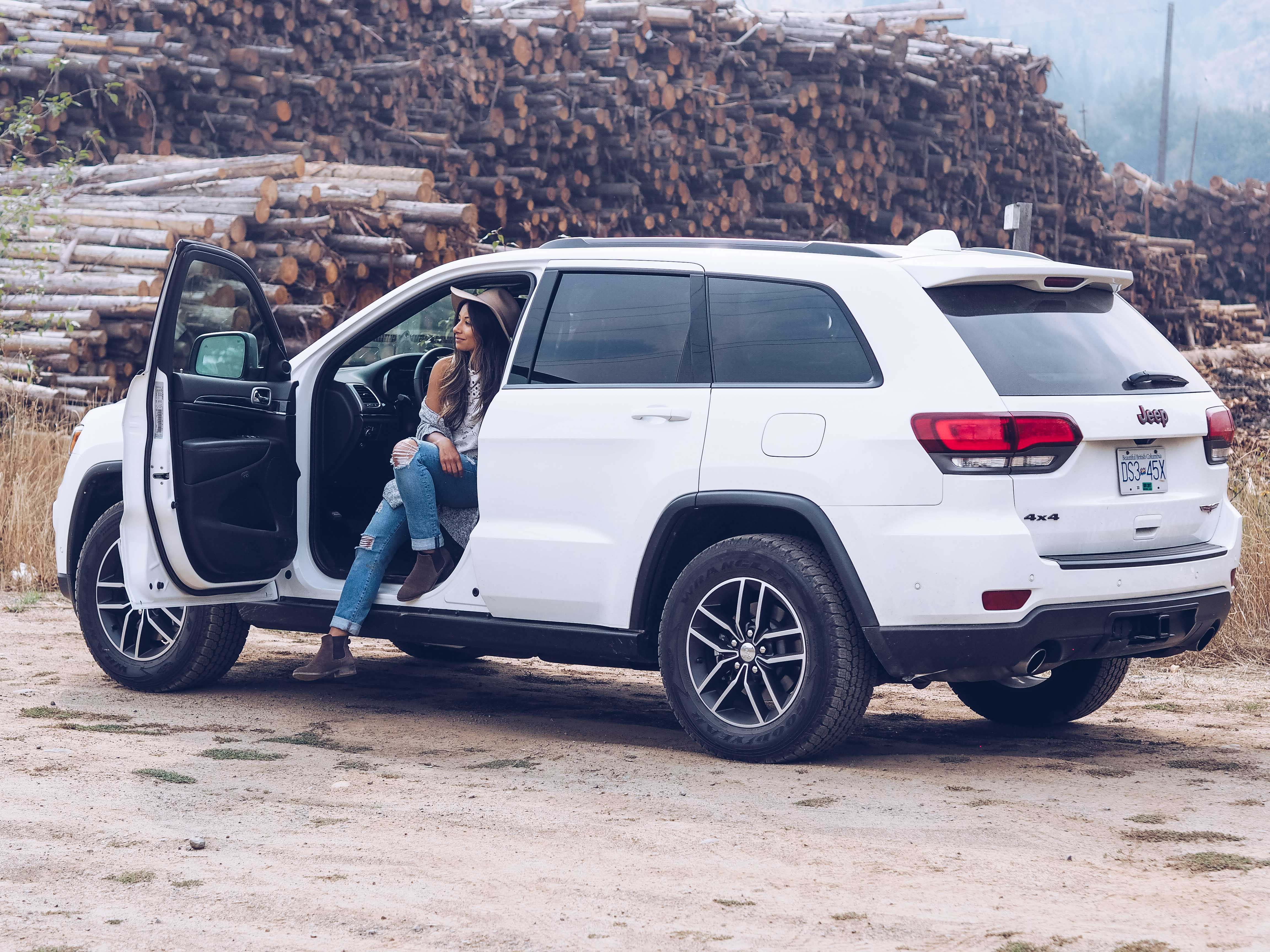 Day 1
Road tripping from Vancouver to Yoho
The first leg of our journey was driving from Vancouver to Yoho. The distance is 740km if you go via Kamloops, the route is pretty straightforward, and the landscapes on the way are lovely. We stayed in Kamloops on Sunday night to break up the journey so that on Monday we'd be halfway there already. We stopped in Sicamous for breakfast and found a cute little café called Blondies (their Acai bowls are delish), Revelstoke is beautiful and there are some great hikes there plus a ski resort, and the drive through Glacier National Park is stunning. The final destination was Yoho National Park – the main town is Field – and one of the most notable places in Yoho is the famous Emerald Lake. You can hike around the lake and there are many small & big hikes that start from here too, such as Emerald Basin (9km), Hamilton Lake (11km) & Yoho Pass (12.8km).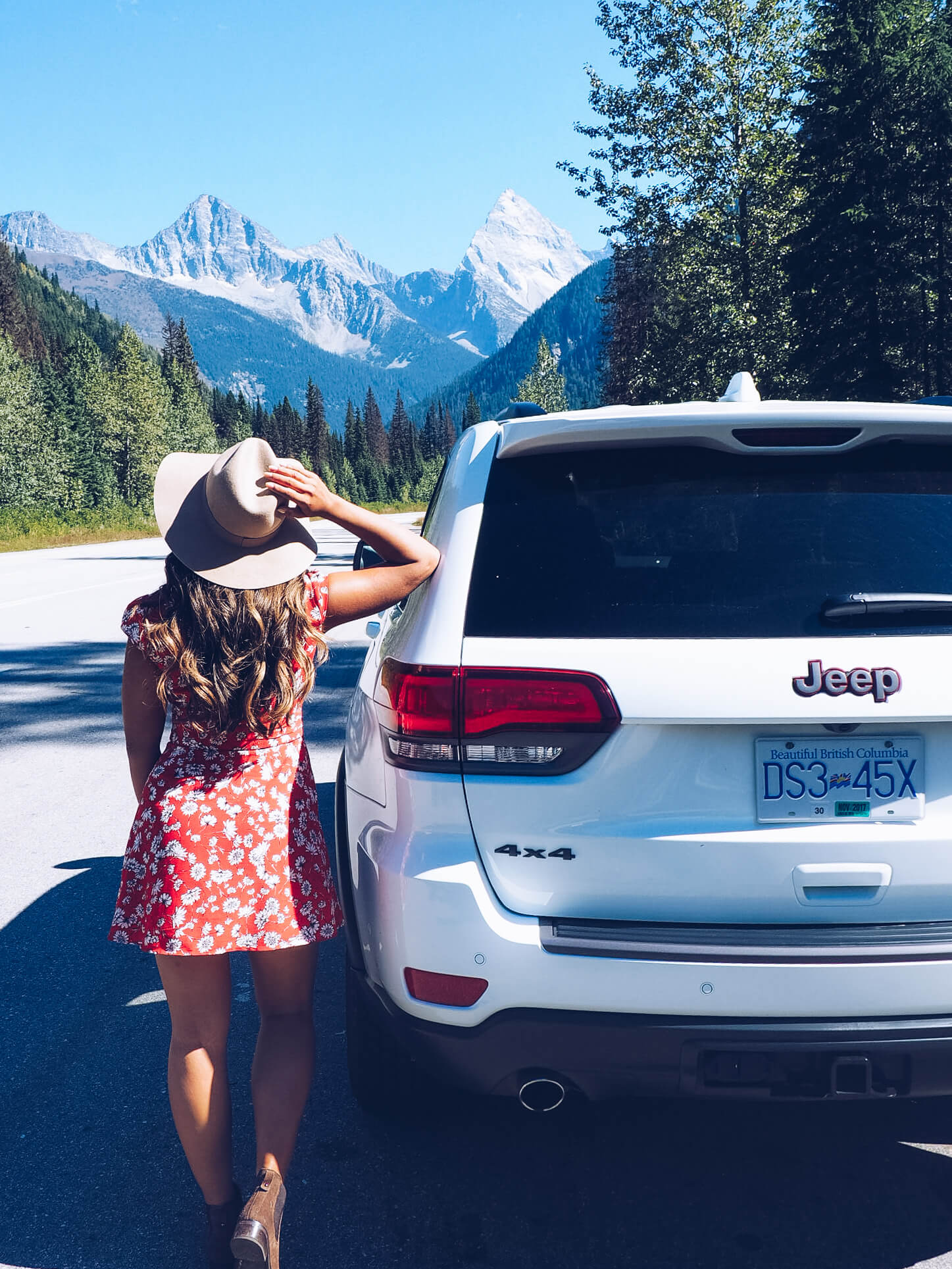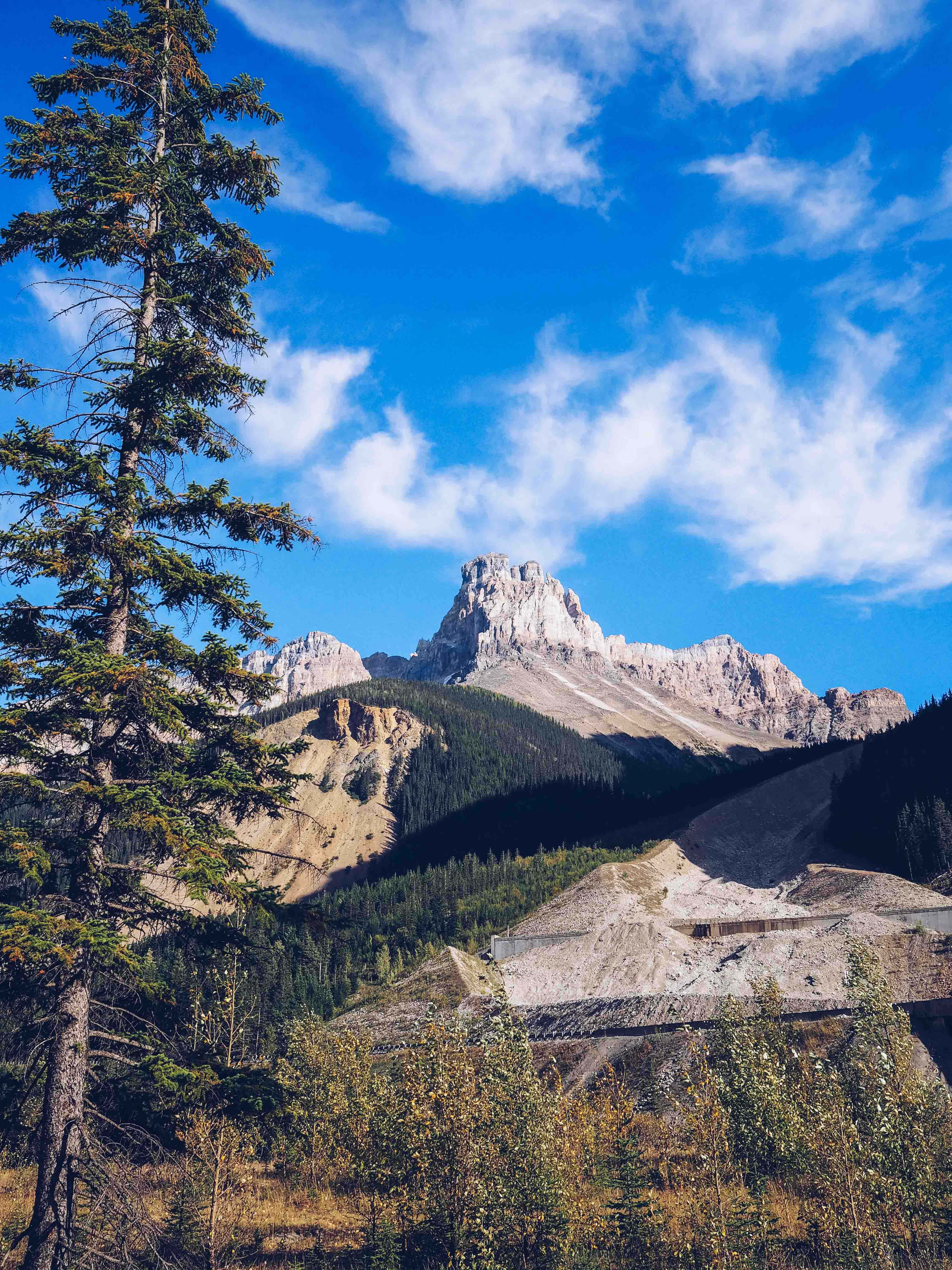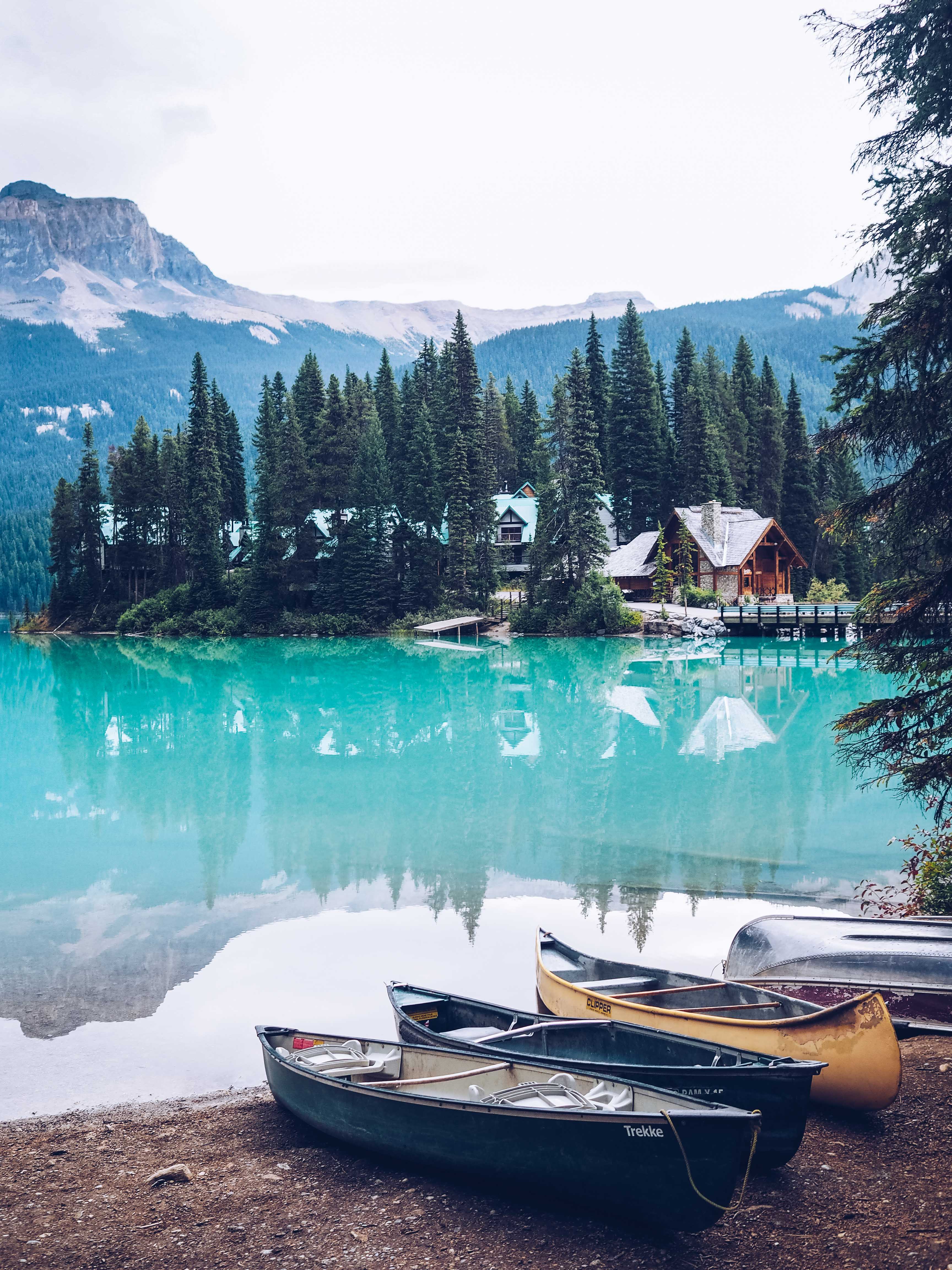 Day 2
Yoho to Lake Louise
We headed to Emerald Lake for sunrise and were met with one of the calmest, most peaceful views I've ever seen. It was really special to experience it with only a few other people around, and while I spent an hour or so taking photos and enjoying the quiet, Matt whipped us up some brekkie on the stove. It was definitely one of the most picturesque places I've ever had breakfast, that's for sure. The name "Yoho" comes from the Cree word for awe and wonder, and you can see why as it's absolutely breathtaking.
After we packed up our campsite (we stayed at the Kicking Horse site) we headed to Takakkaw Falls, a majestic waterfall about 30 minutes (13km) from Emerald Lake. It's a pretty steep and windy drive but it's worth it as the waterfall is ginormous and the gushing water and dramatic landscape are really mesmerising. It's only a 10-minute walk from the car park too which is nice, but there are hikes to do from there such as Twin Falls (16.5km), Laughing Falls (9km) and Yoho Pass (13km). Find more on Yoho's hikes here.
The next stop was Lake Louise town, where we were staying that night. We attempted to visit Moraine & Lake Louise in the day but it was crazy busy and very rainy, so we decided just to road trip around and head down the Bow Valley Parkway and take in the scenic views.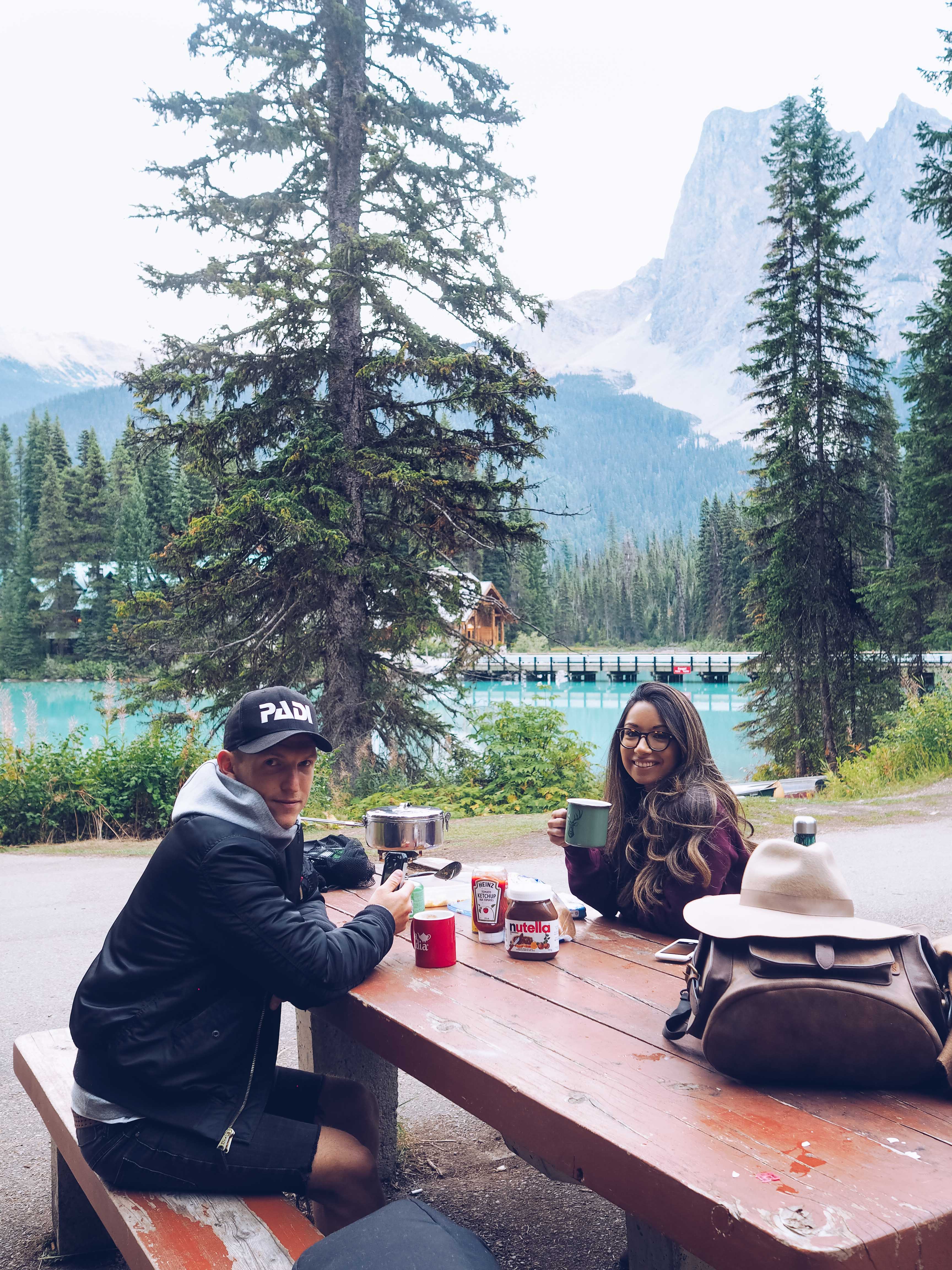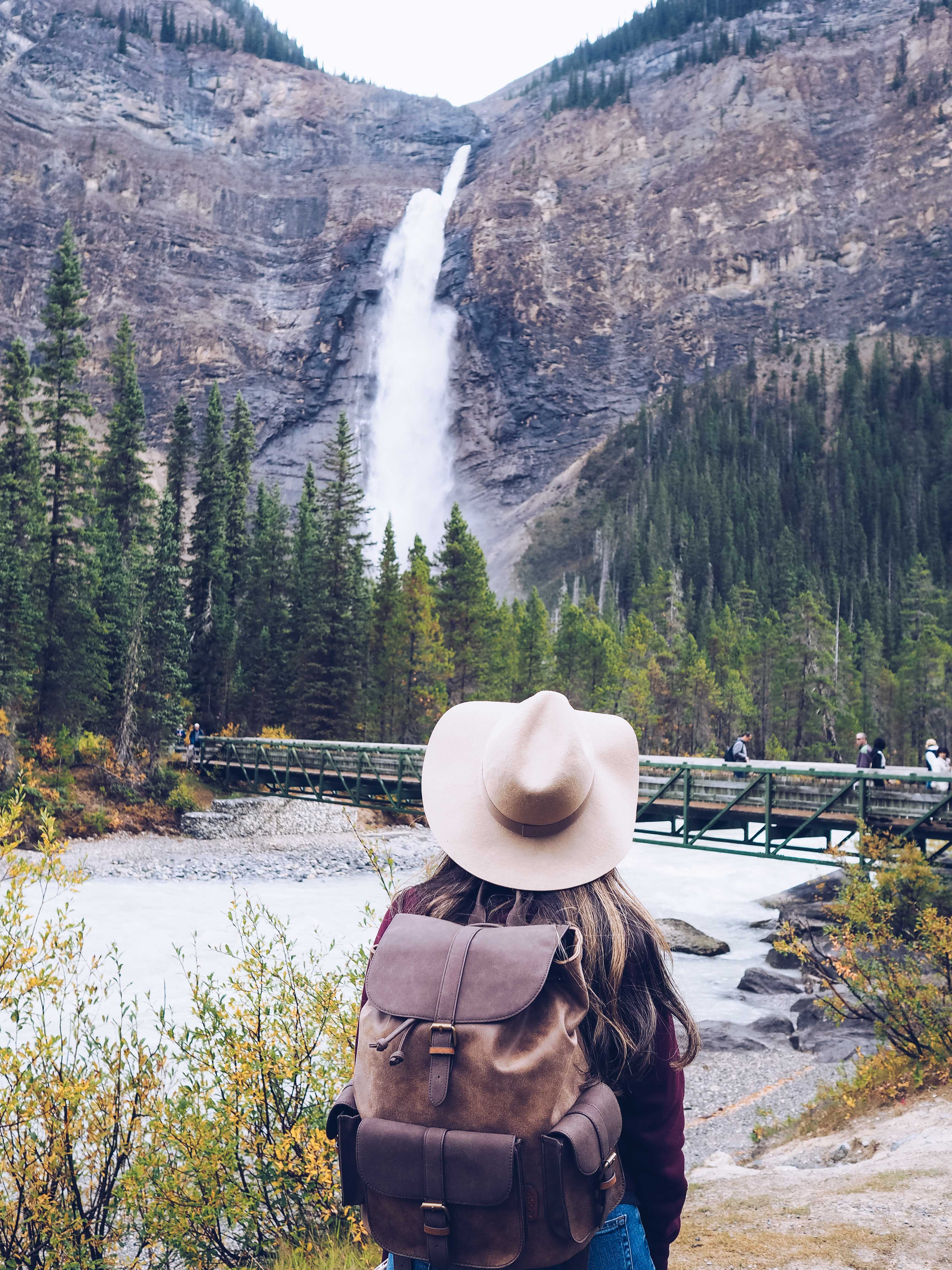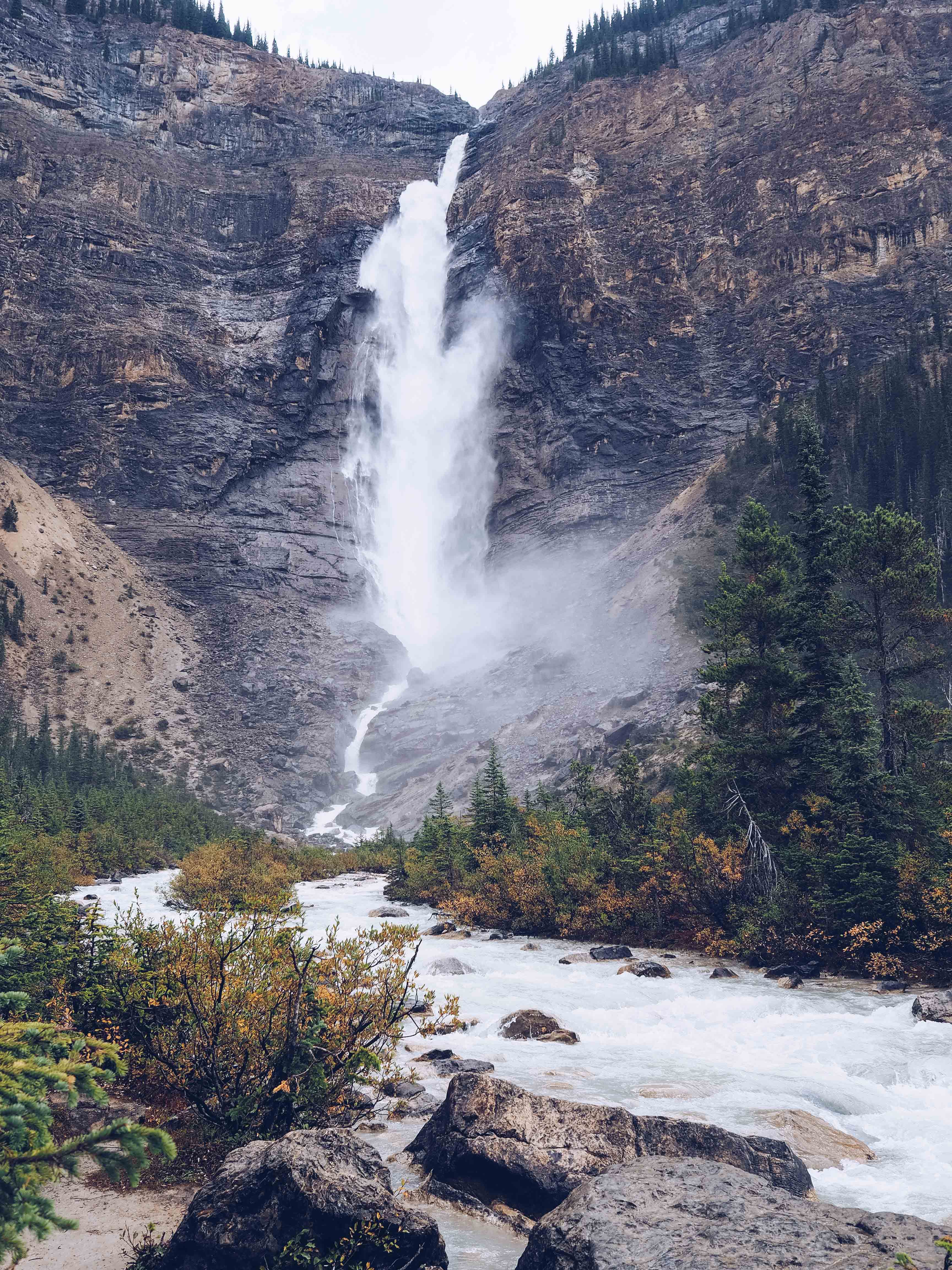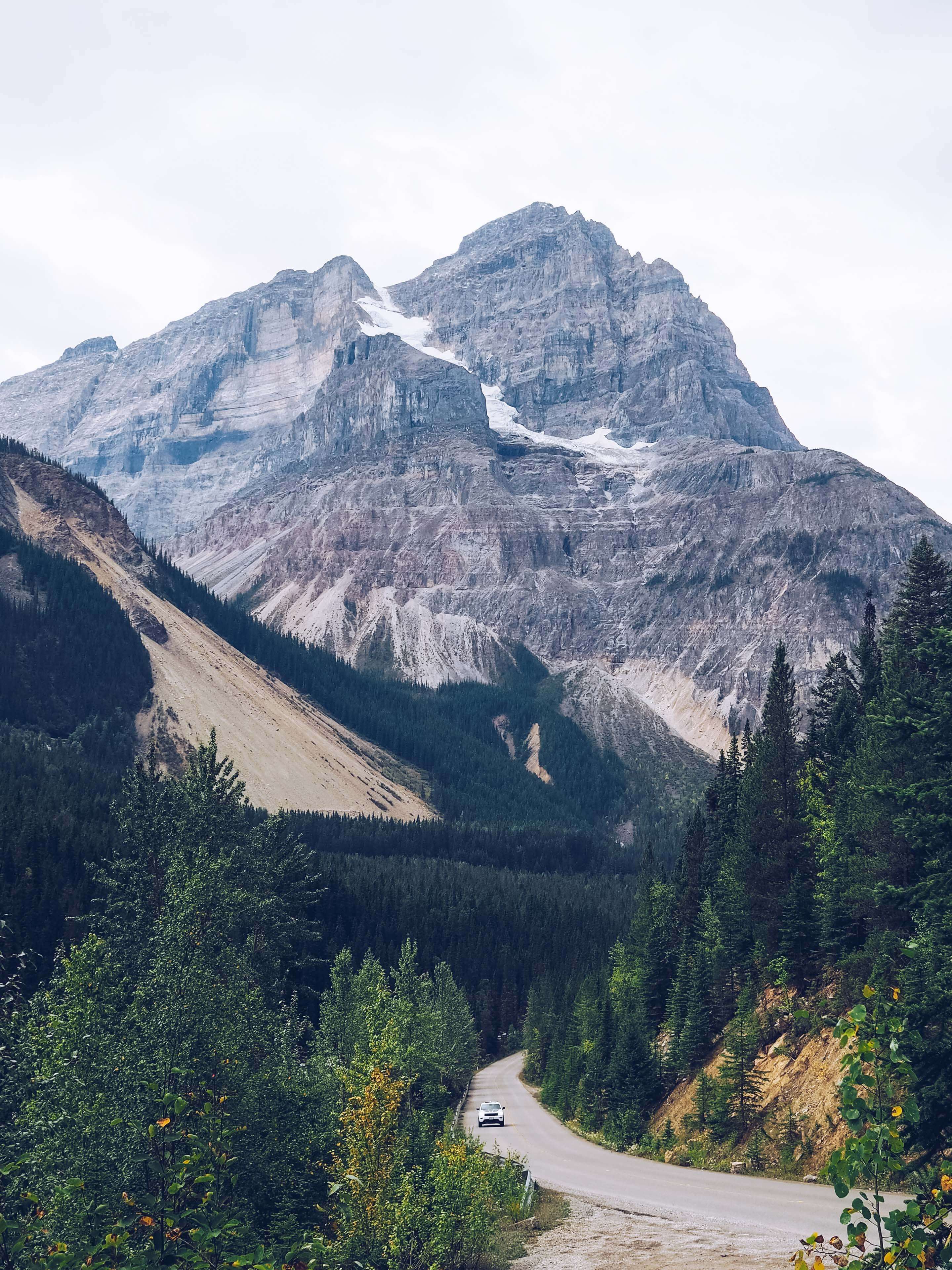 Day 3
Exploring Banff's Lakes!
On day #3, we road tripped to around some of Banff's most iconic turquoise lakes and they really are as stunning as they look in photos! We actually visited Banff in Spring a couple of years ago, but it was a winter wonderland and everything was frozen over so we didn't get to see the lakes in all their glory. We started off at Moraine and Lake Louise, then headed up to Peyto and Bow Lake, and camped out at Mosquito Creek on the Icefields Parkway which was a really lovely campsite.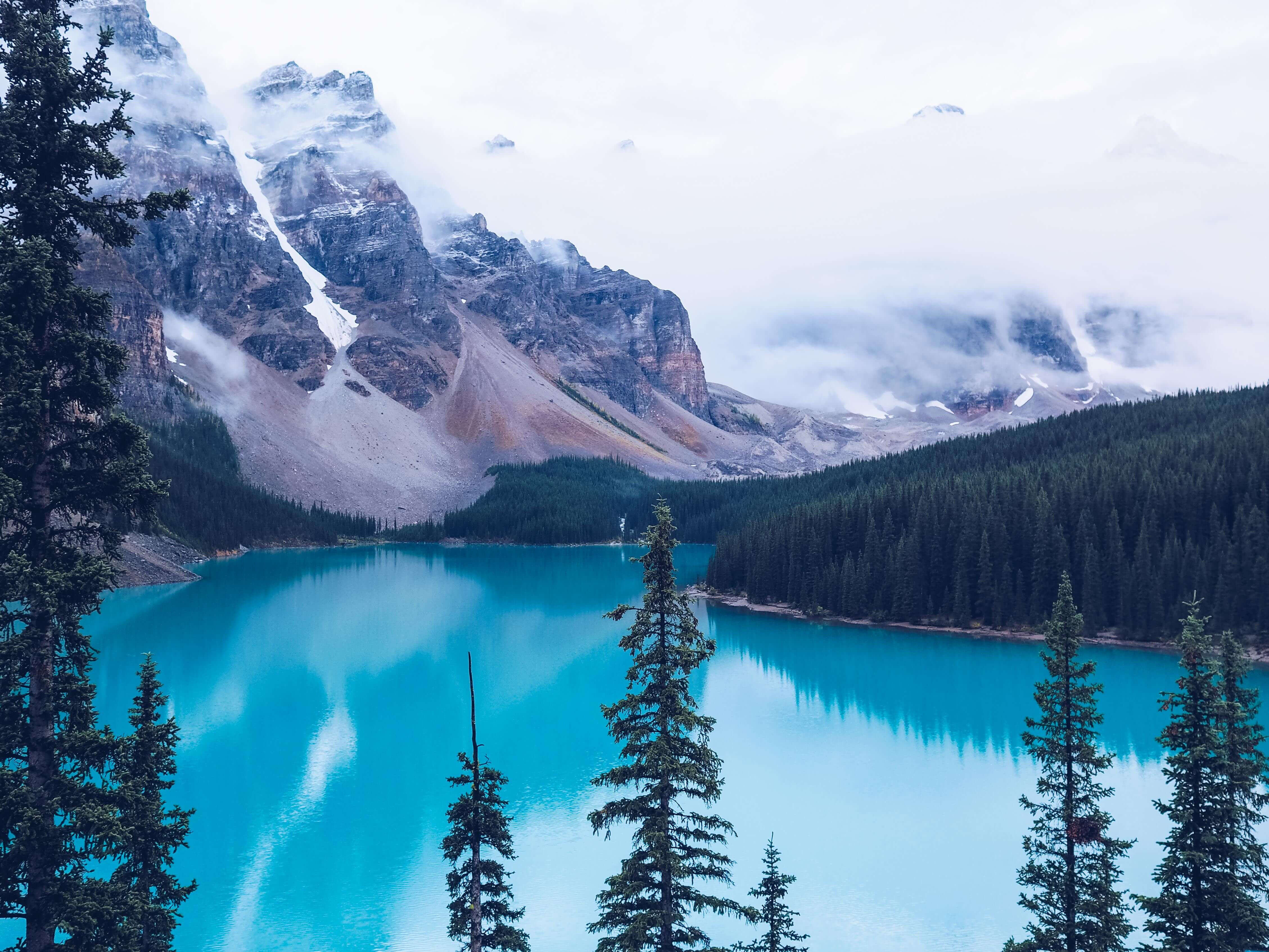 Lake Moraine
Moraine Lake is so gorgeous and the view is insane. The parking lot is right next to the lake, and you can admire the view either from the foot of the lake or at the top of the big rockpile to the left of the viewing point. Keep in mind that Moraine Lake Road is closed from October to early June as the road becomes inaccessible. You can rent canoes here in summer & follow the trail around the lake.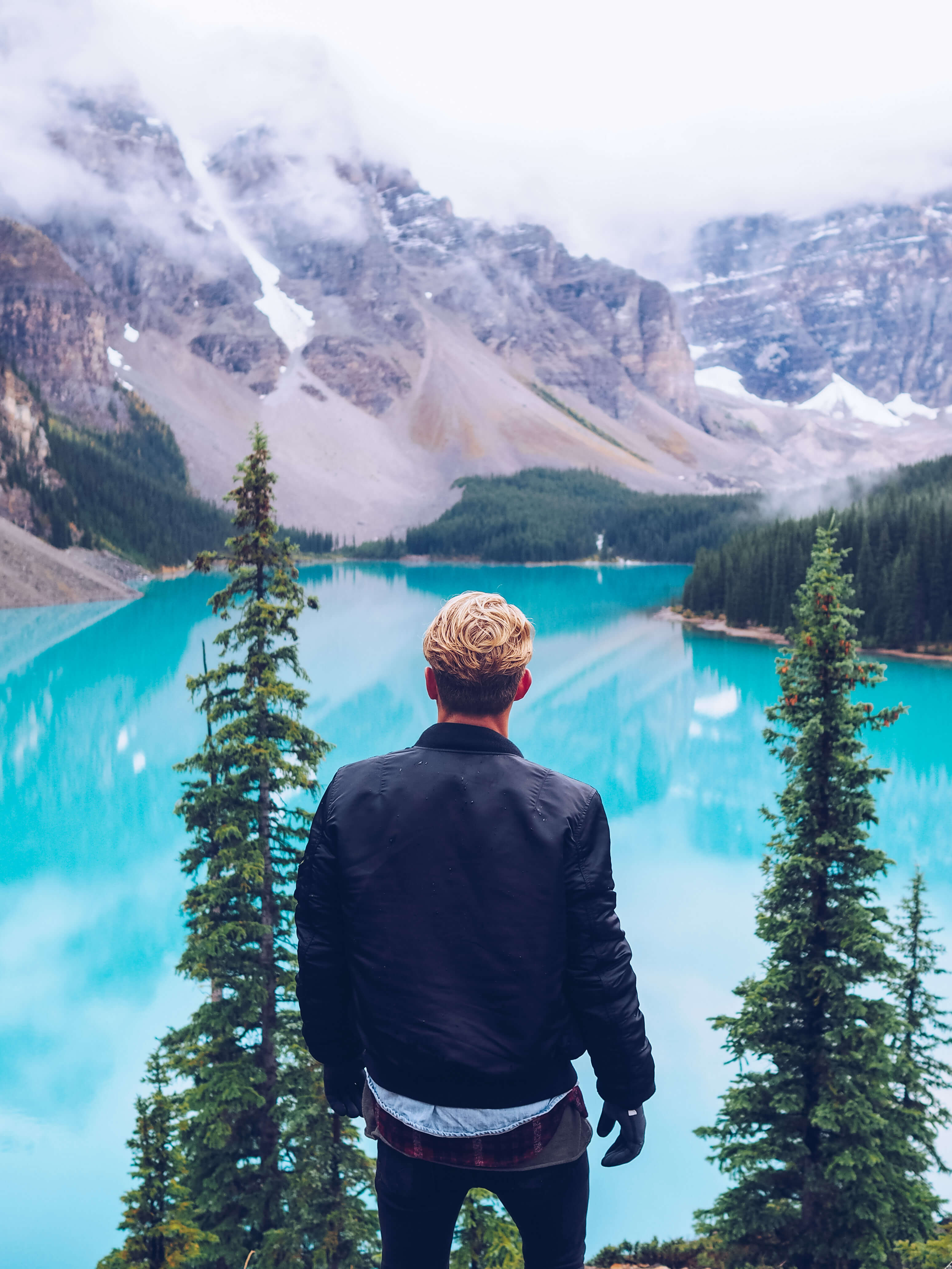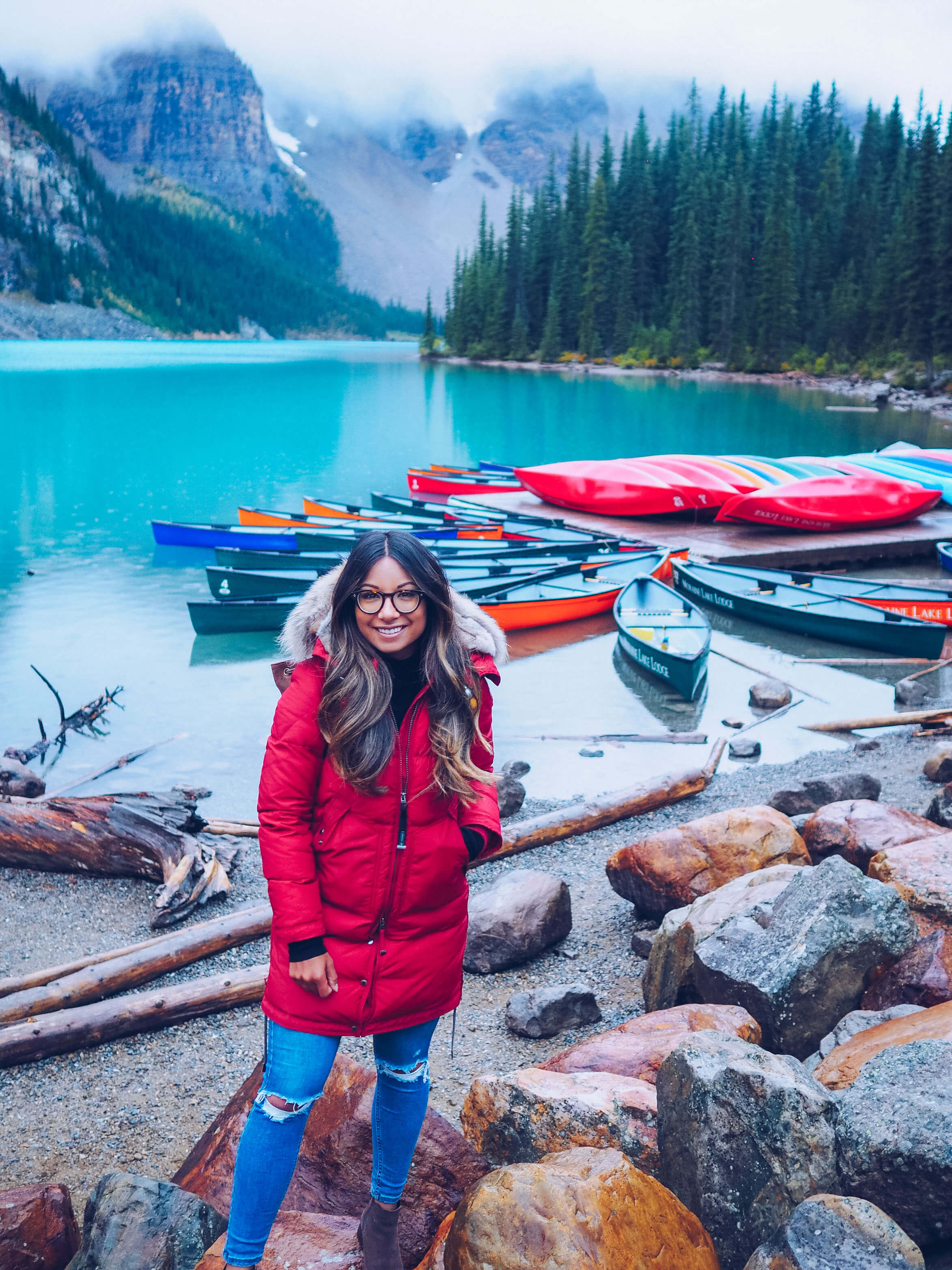 Lake Louise
Lake Louise is one of Canada's most famous lakes, and it's known for its vibrant blue colour and beautiful mountain backdrop. If I'm honest, Lake Louise wasn't my favourite place – there were thousands of people which did kill the experience a little. However, it's an iconic spot so we didn't want to miss it, but if you do plan to visit I recommend going very early (before 9am). After 10/11am, the parking lot fills up so you have to get a shuttle from Lake Louise village up to the lake. There are many hikes you can do from the lake, and I've heard great things about the Plain of Six Glaciers trail.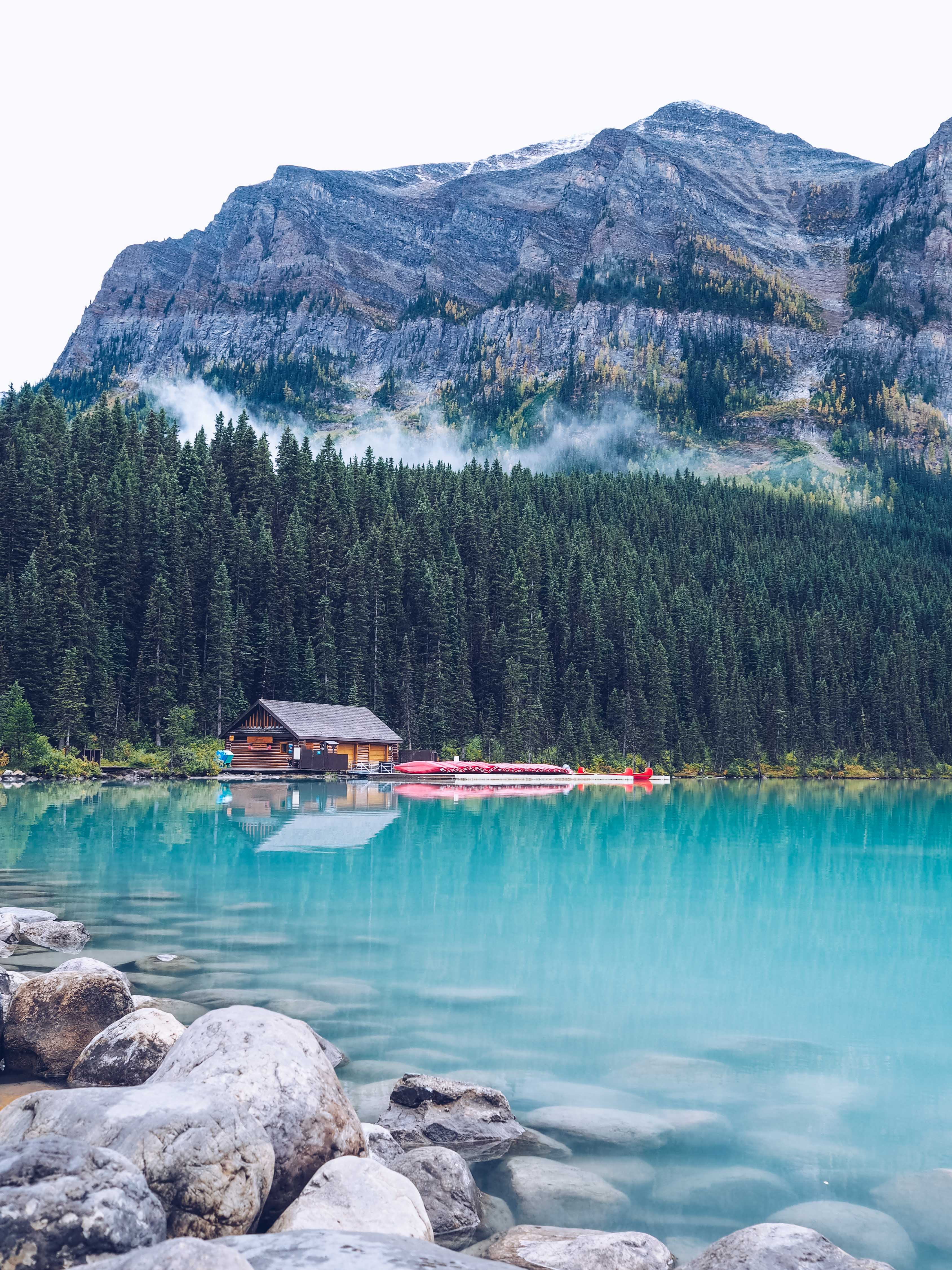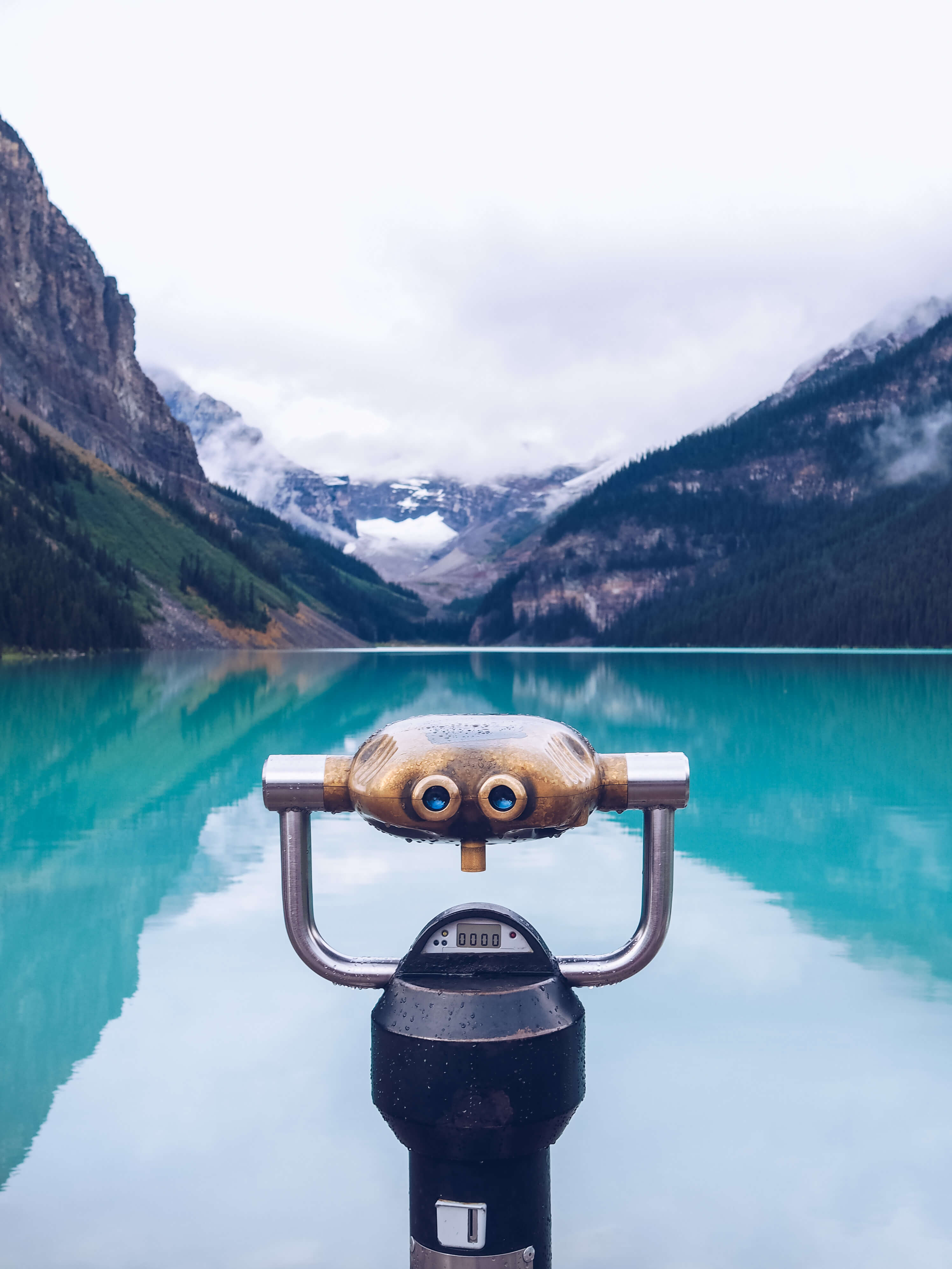 Peyto Lake
Peyto Lake can be found just off the Icefields Parkway, about 1 hour from Banff. This is one of my favourite places as the view is phenomenal and the lake shines a beautiful turquoise blue. The lookout point is about a 10/15 minute walk from the parking lot but you can hike from here too. It actually snowed when we were here in September which was crazy!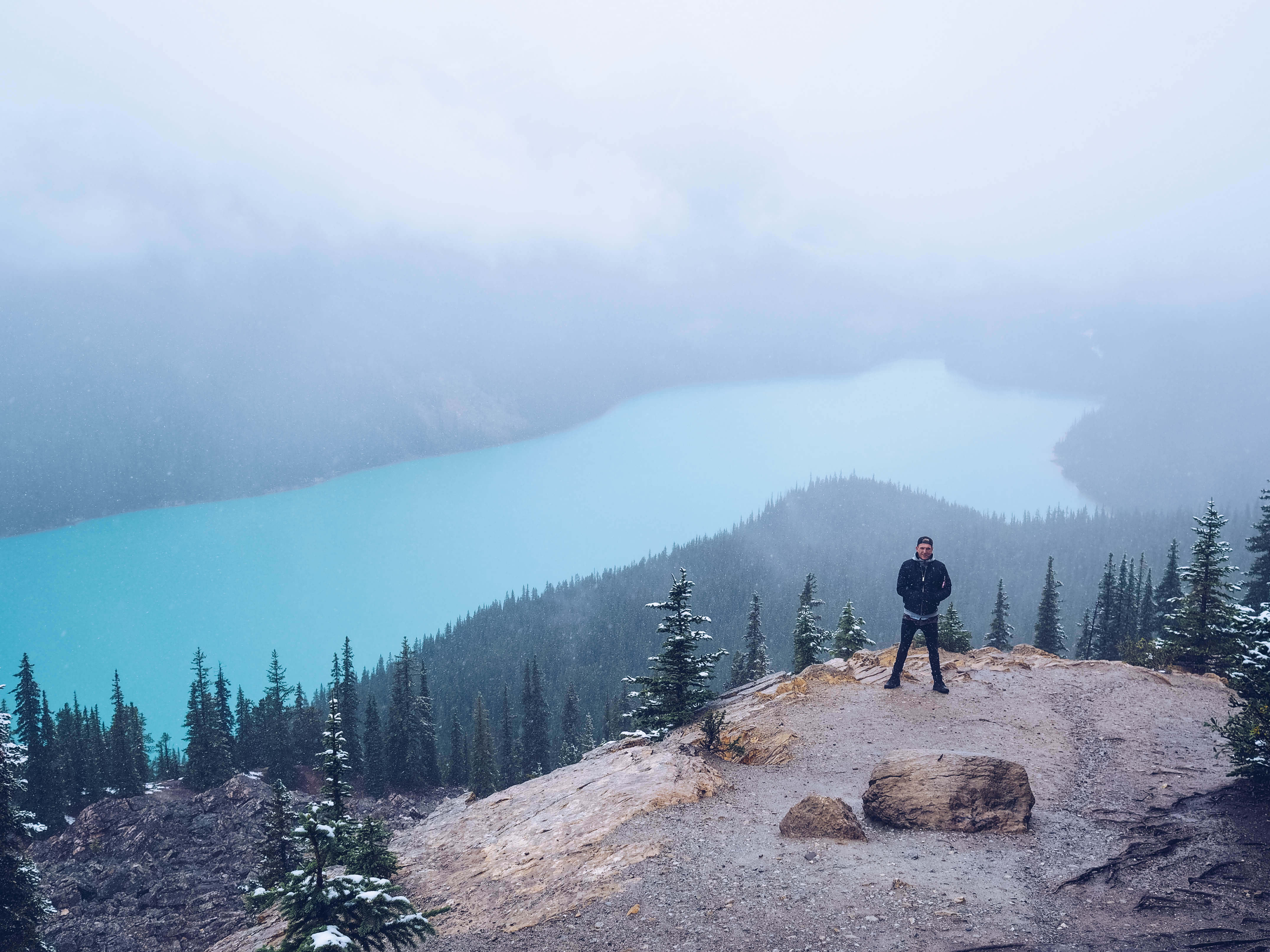 Bow Lake
Another great spot on the Icefields Parkway, about 30 minutes from Lake Louise / 1 hour from Banff, is Bow Lake. The views of the lake and the glacier are stunning and it's actually one of my favourite spots to visit in winter/spring when the lake is frozen over. The Bow Glacier Falls hike is supposedly lovely & the Num-Ti-Jah Lodge is a great place to grab a coffee & warm up, and you can stay here too (it's closed in winter though).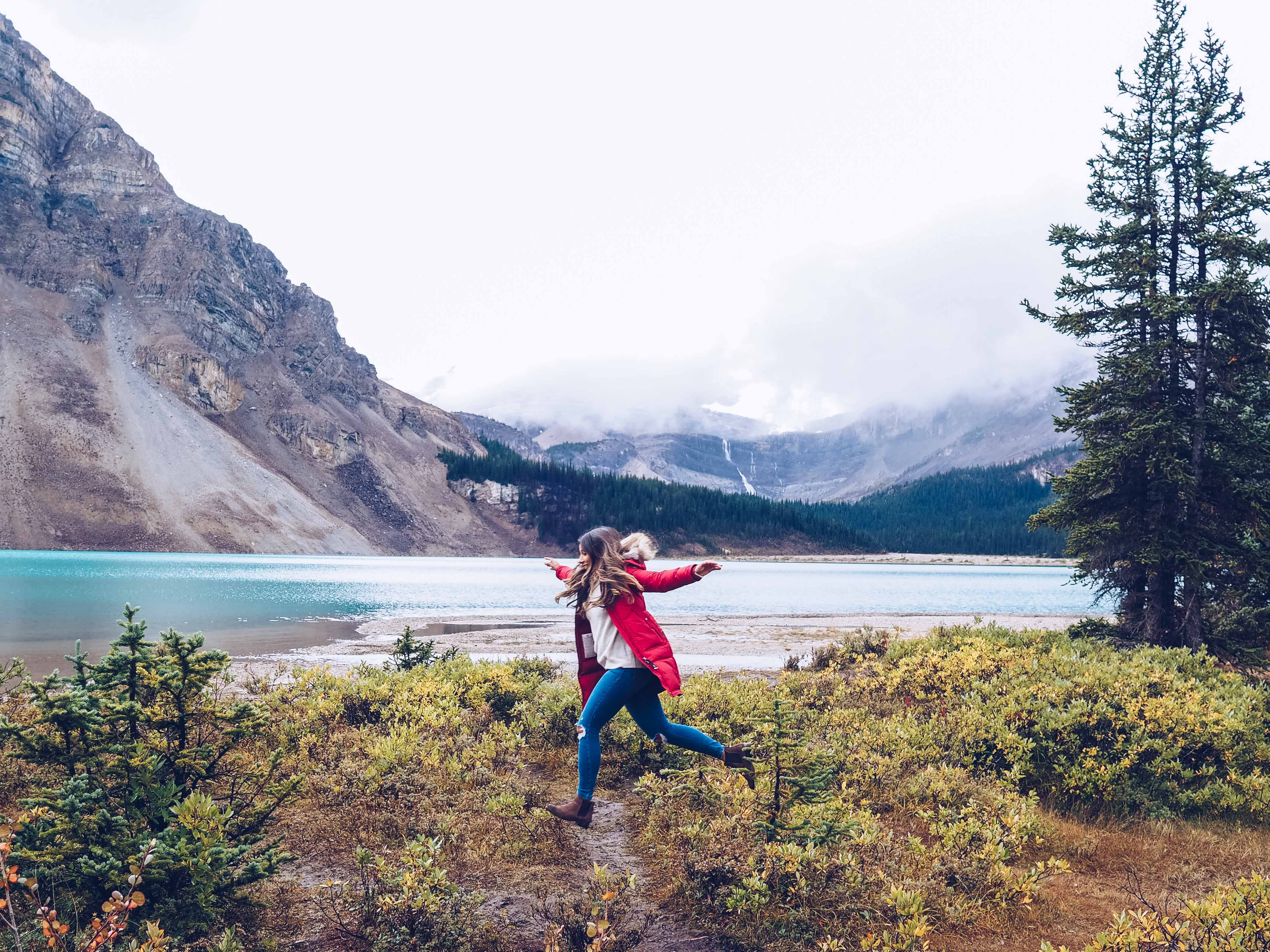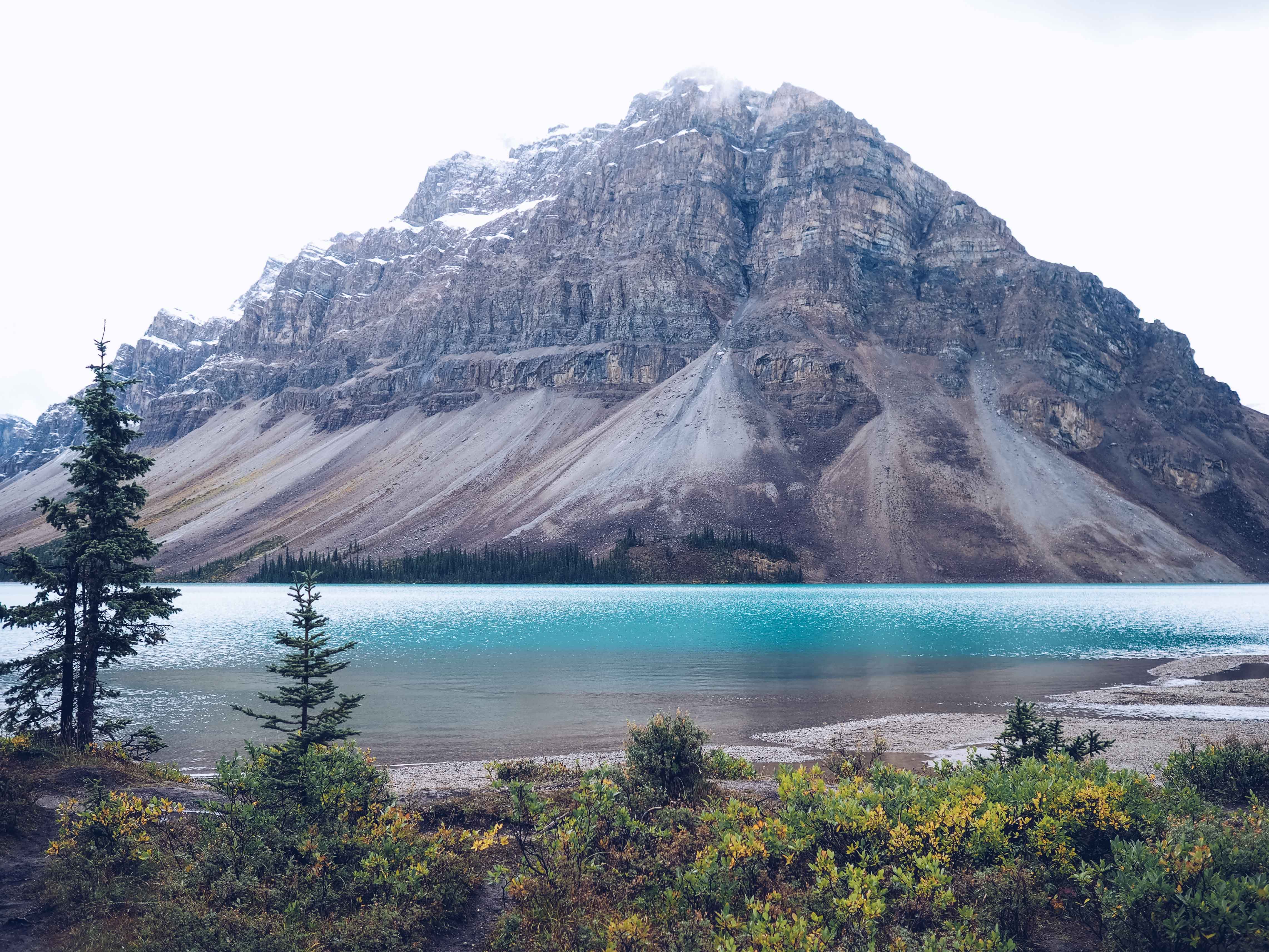 Day 4
Johnston Canyon & Banff Town
We started day #4 with a sunrise walk around our campsite and then made our way down the Bow Valley Parkway and then on to Banff. The Bow Valley Parkway is one of my favourite roads as it's so picturesque and it's the perfect place to spot wildlife. Bears, elk, moose, deer, and even wolves are often seen along here, so it's a really exciting drive as you don't know what you'll find.
We then headed to Johnston Canyon, where we found some beautiful waterfalls and canyons. It's very well maintained and it was pretty busy, but it's a nice walk and it takes only 45 minutes to get to the Upper Falls. We managed to find the secret rock & cave that i'd seen in a few photos - we had to clamber down some rocks to get to it - but it was gorgeous and very impressive.
The next stop was Banff town and on the way, we made a quick stop off at Lake Minnewanka and Two Jack Lake, which are both really close to the town. We were both absolutely shattered so we grabbed a bit of food at Toque, a really cool Canadian bar/pub, and then settled into the Elk + Avenue Hotel which was in the best location and just a few steps away from all the shops & restaurants in town.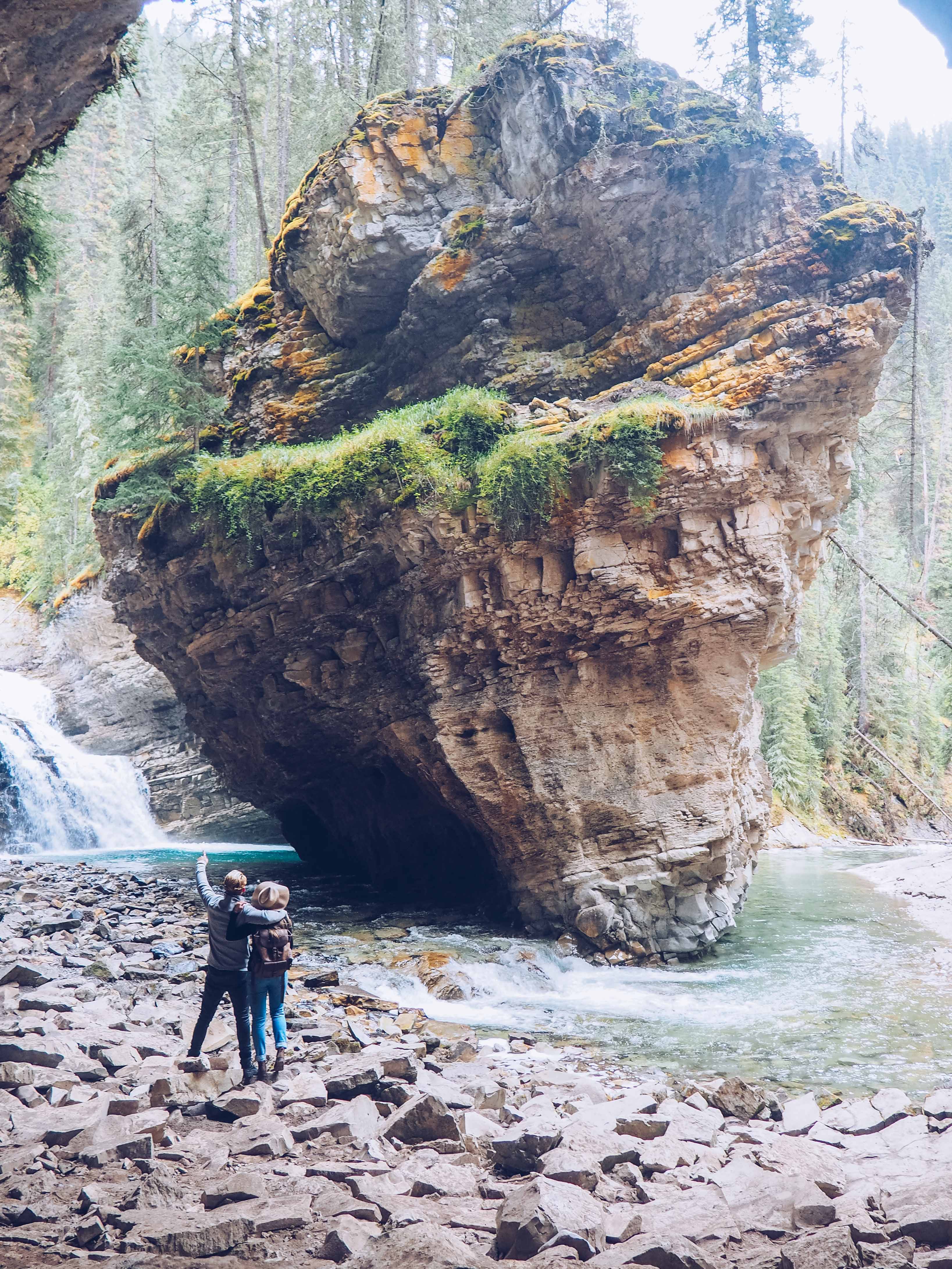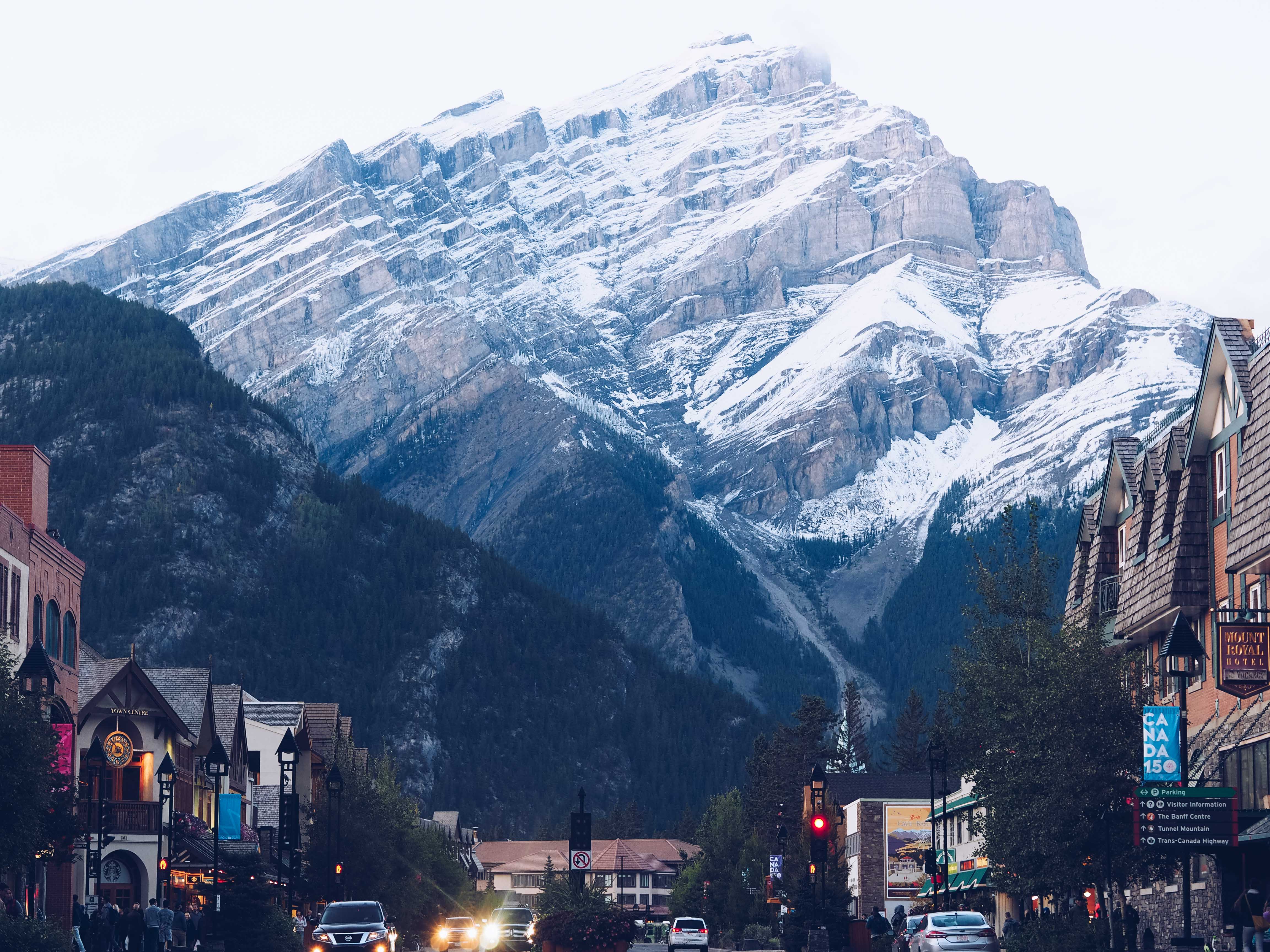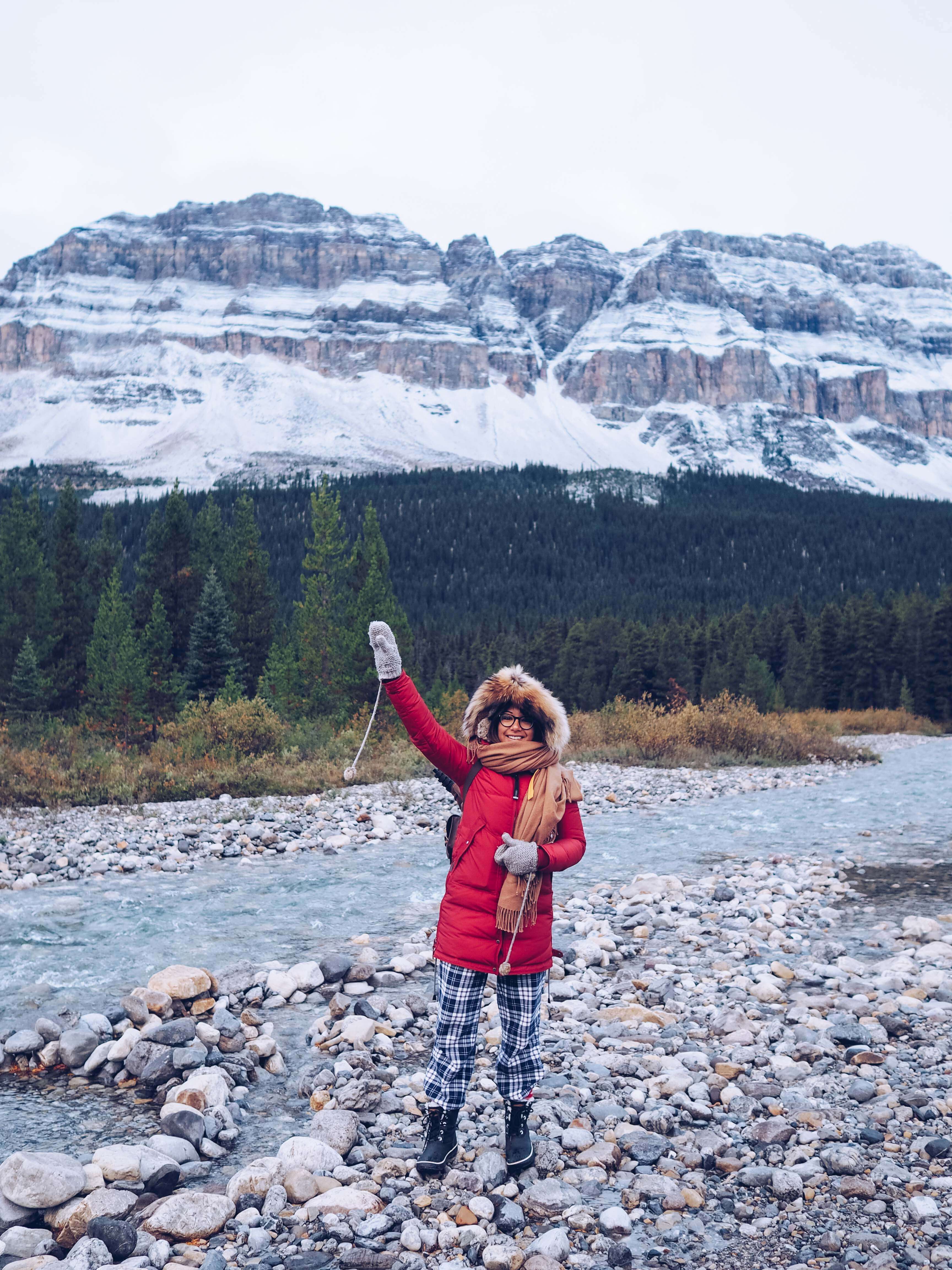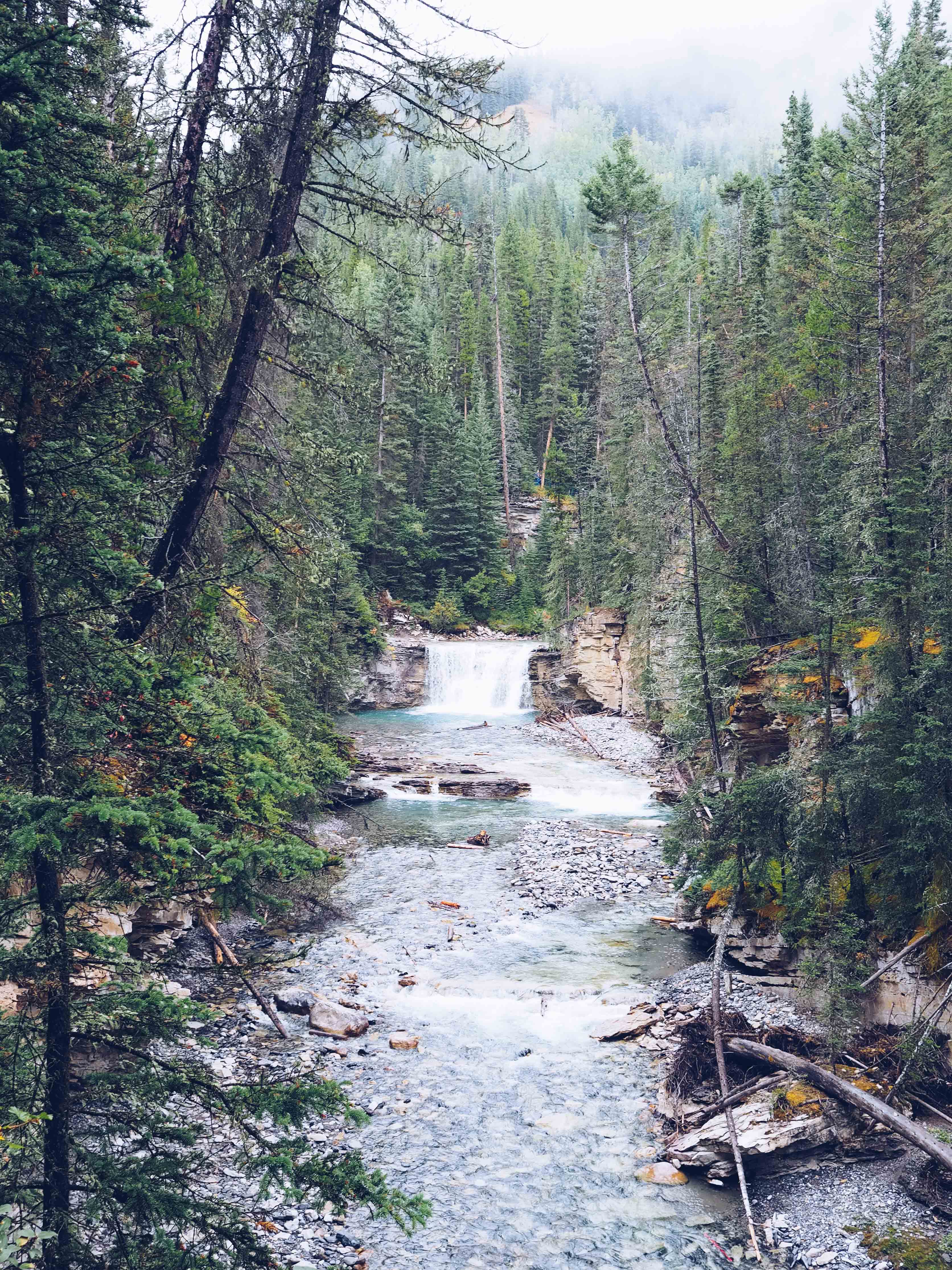 Day 5
Banff to Jasper & The Icefields Parkway
The road that takes you from Banff to Jasper is one of the most breathtaking drives in the world. The Icefields Parkway stretches 232km and winds along the Continental Divide, taking you past over 100 ancient glaciers and through some of the most stunning valleys you'll ever see. You'll drive by cascading waterfalls, turquoise lakes, forests, and dramatic rock formations, as well as the famous Athabasca Glacier and Columbia Icefield.
This was one of my favourite days, and we were so excited to discover Jasper as it was completely new to us. Jasper town is lovely - it's fairly small, but it's very charming and the vibe is so laid back & relaxed. We stayed at the Wapiti campsite, which I highly recommend. That night we also happened to catch the Northern Lights putting on a show, which was phenomenal and it was the first time we've ever seen the Aurora! It was completely unexpected and lit up the whole sky, and we could see it from the campsite which was even more amazing!!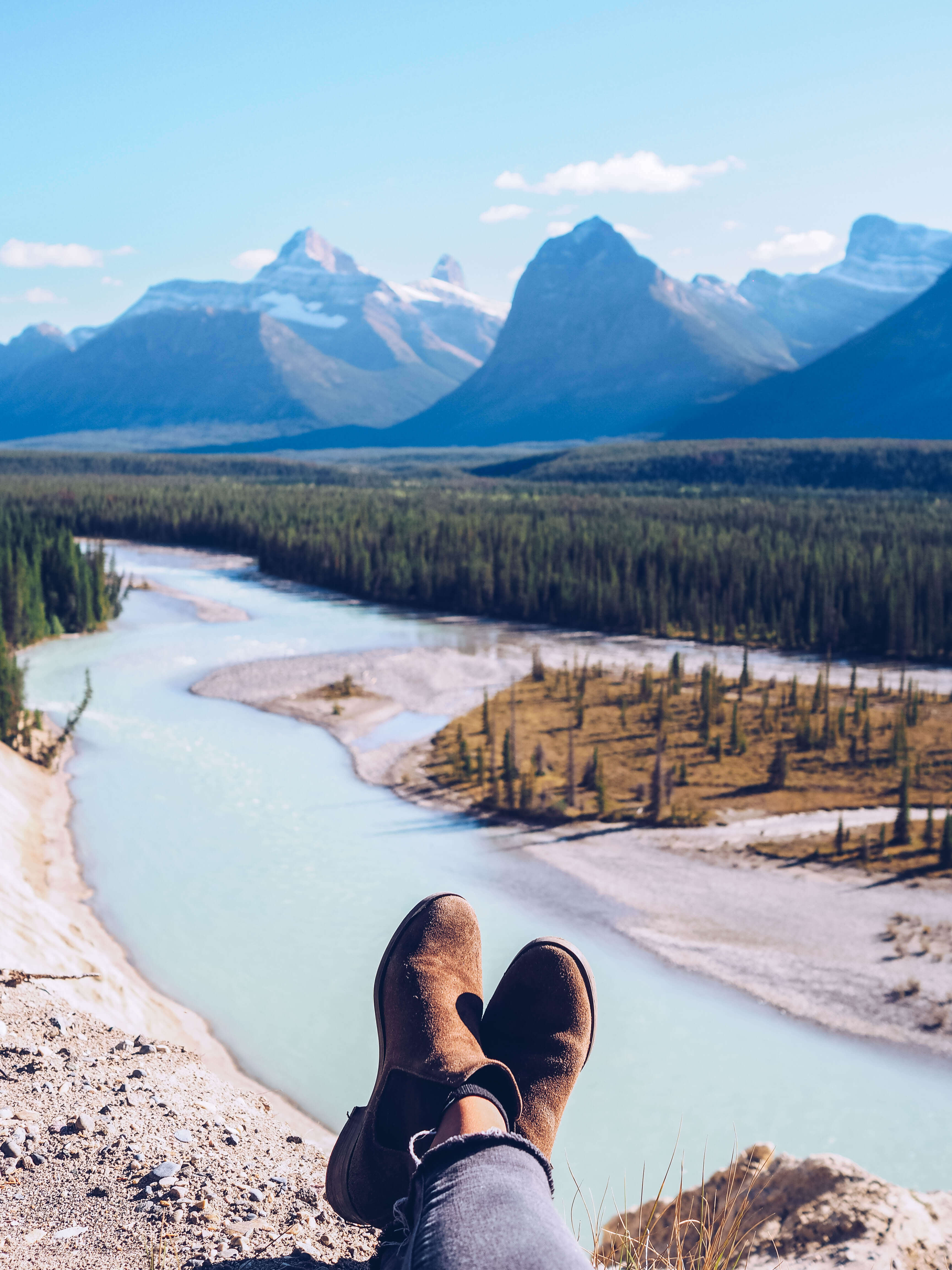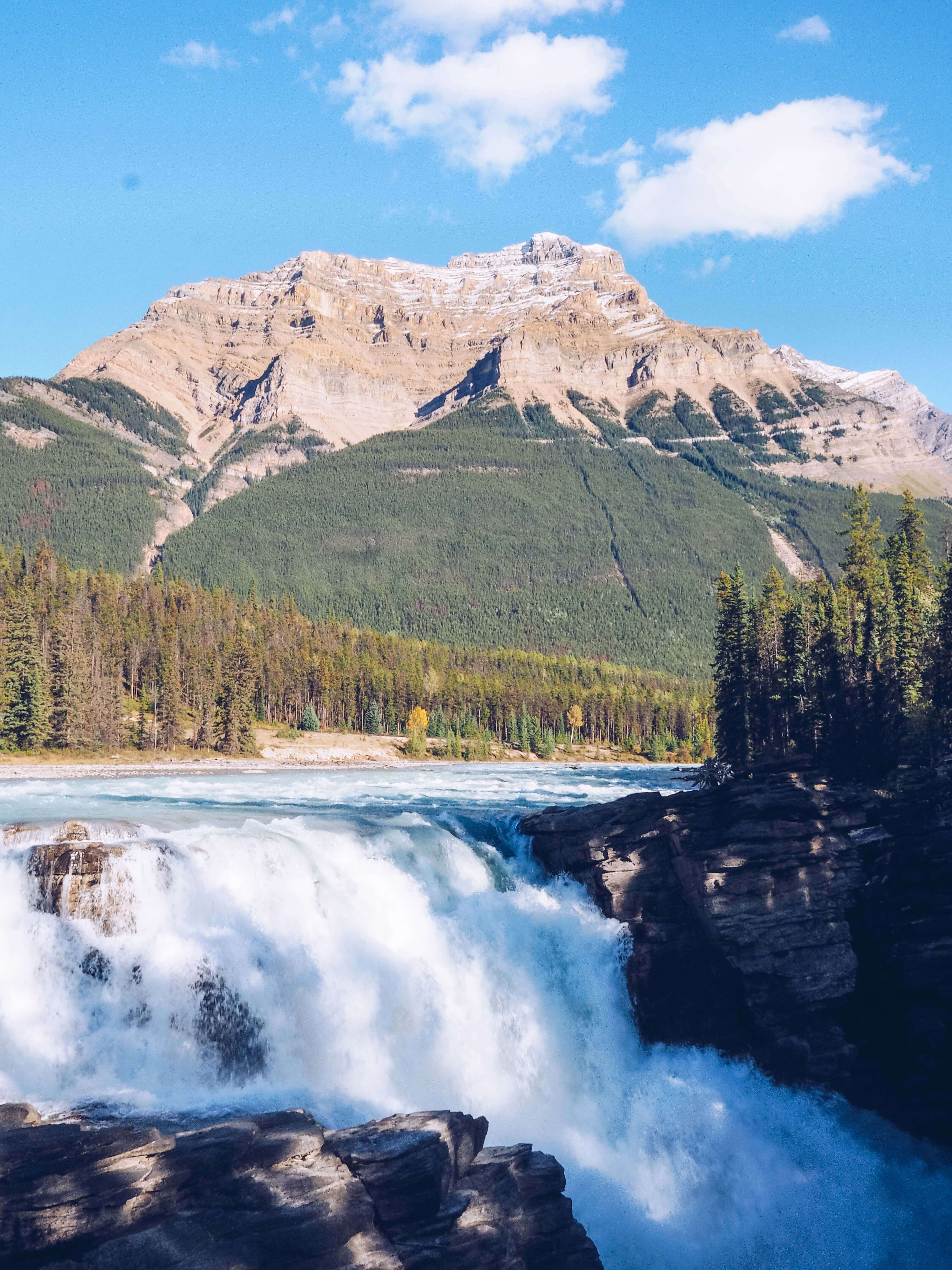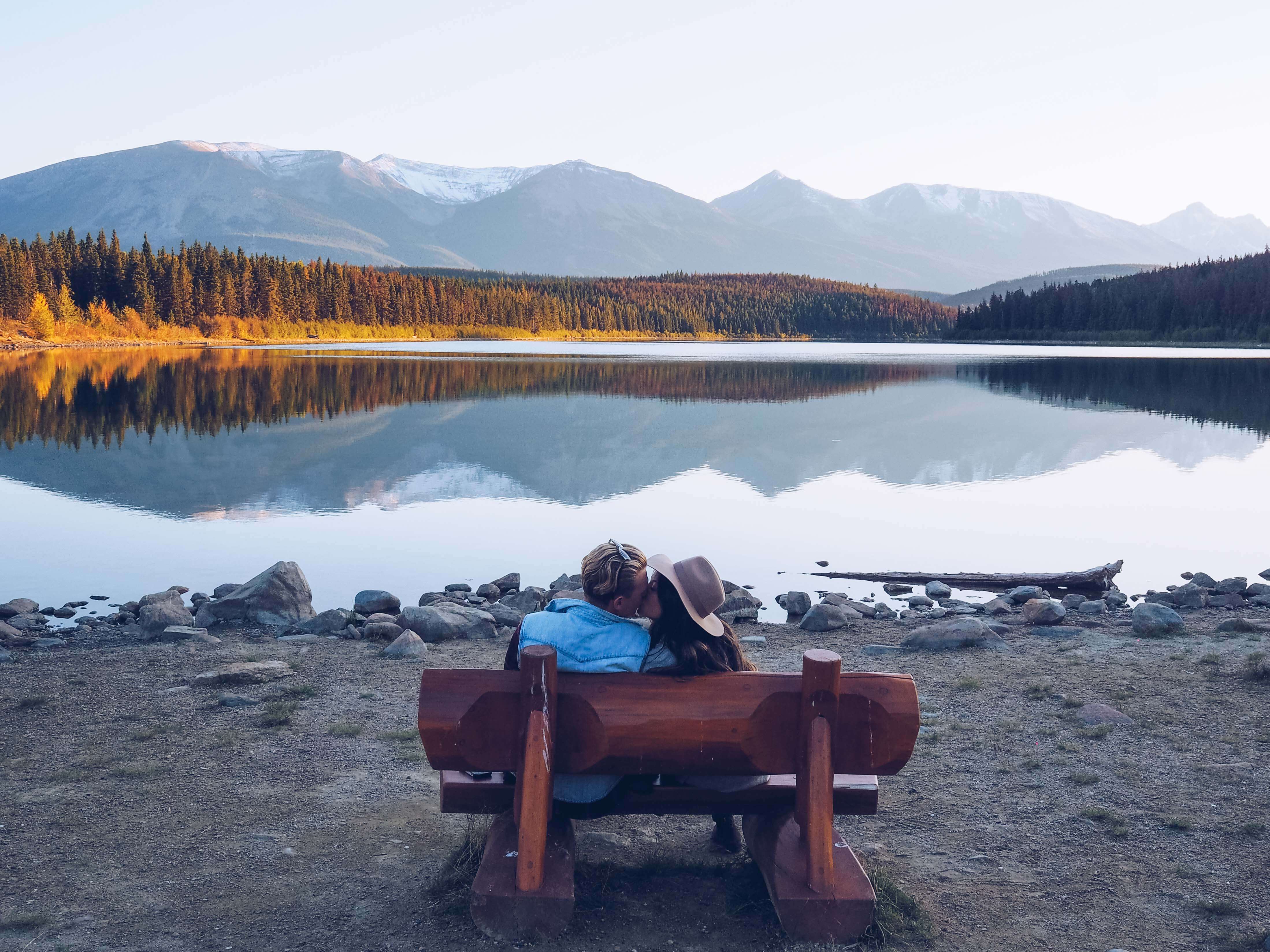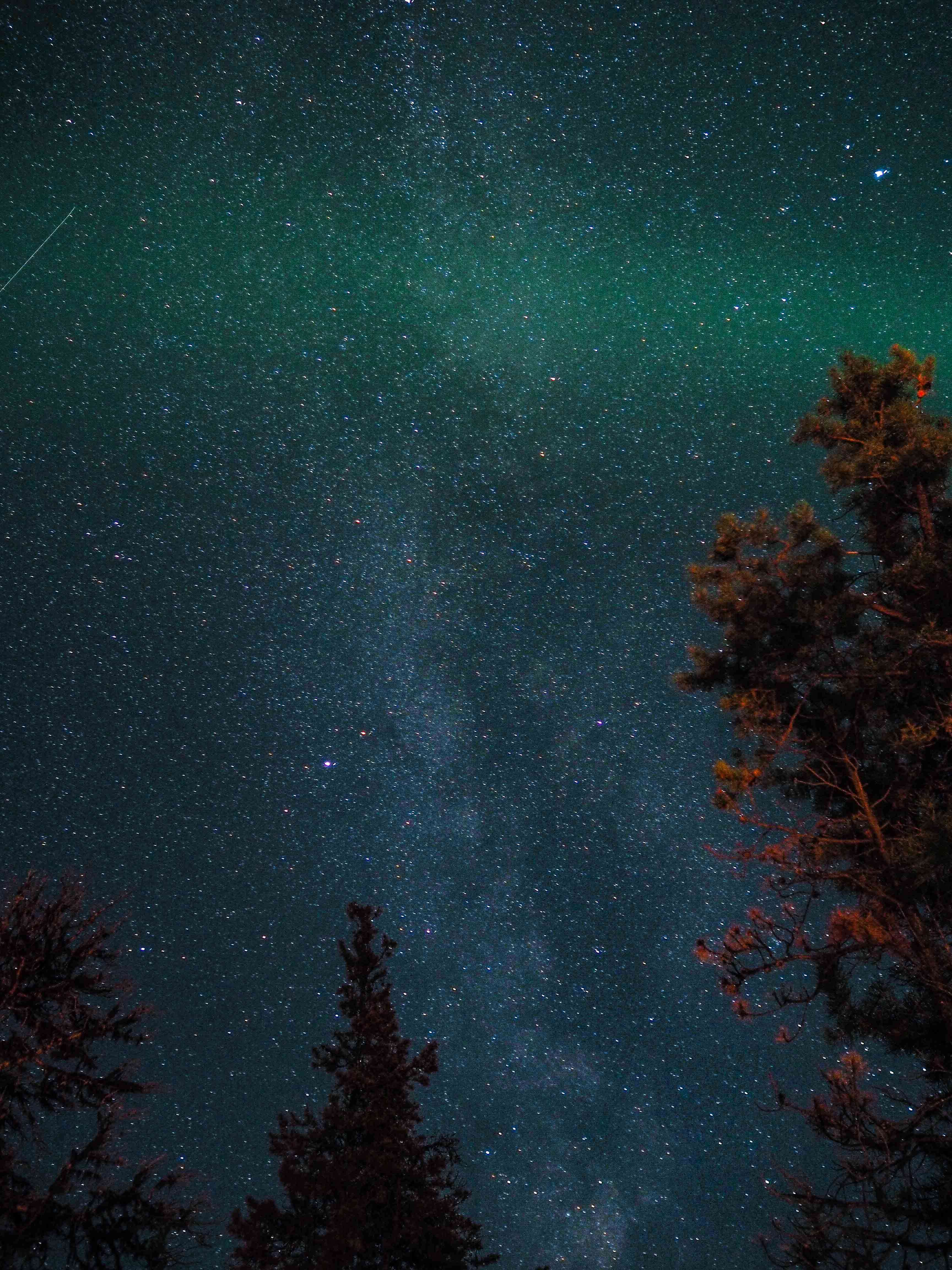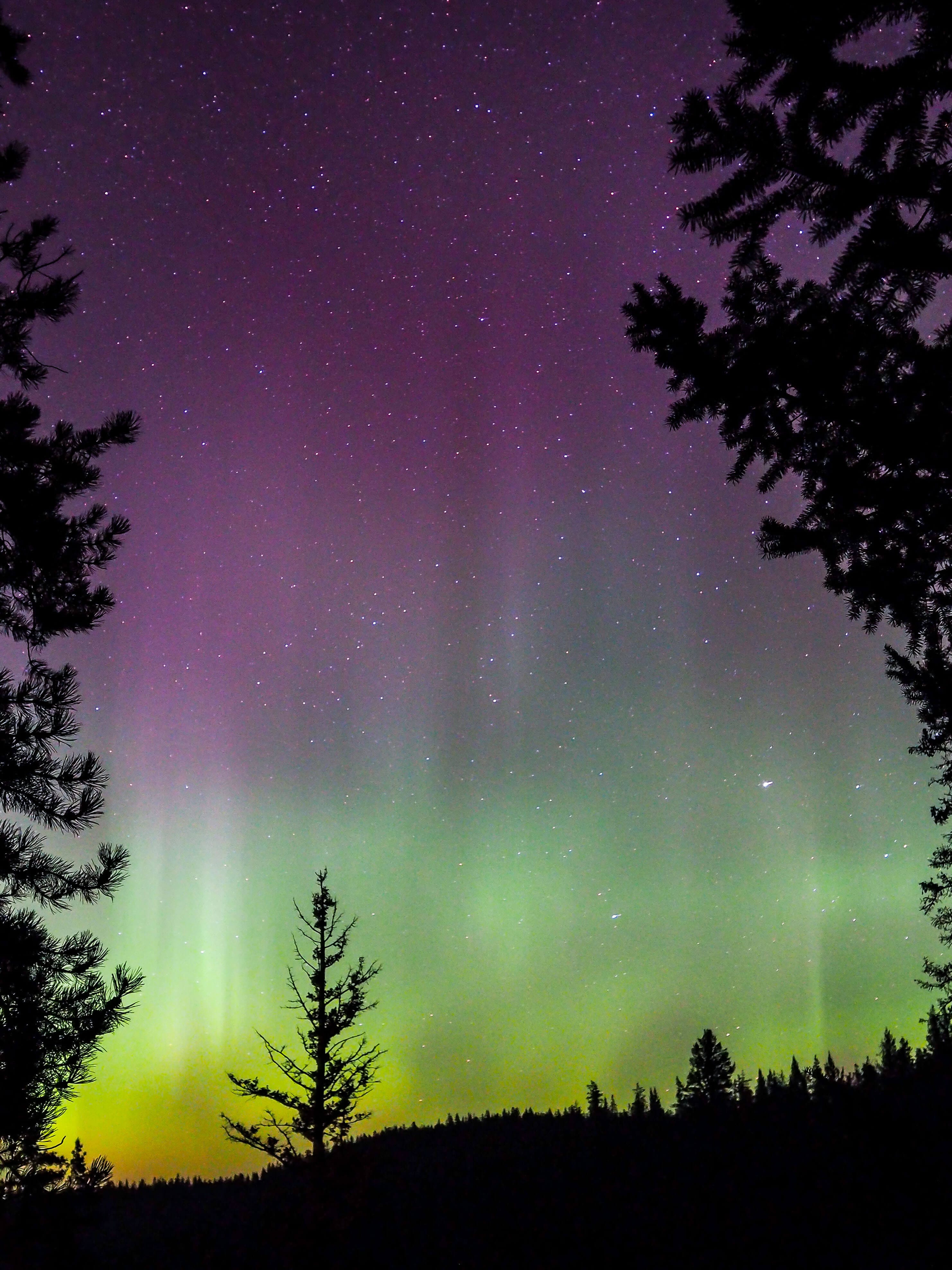 The Athabasca Glacier
If you're travelling up the Icefields Parkway, a visit to the Athabasca Glacier is a must. The Athabasca Glacier is one of the most accessible glaciers in the world and it's one of the toes of the Columbia Icefield. Like many other glaciers, it is retreating by roughly 10-15m per year, and it's thought that in 100 years time it will unfortunately no longer exist. The Glacier Adventure tour with Brewster Travel is awesome as you get to walk on the glacier and you head up in one of the huge Ice Explorers which isn't something you get to do every day! The tour is about 3-hours long and it includes the Glacier Skywalk, and tours run from May to October.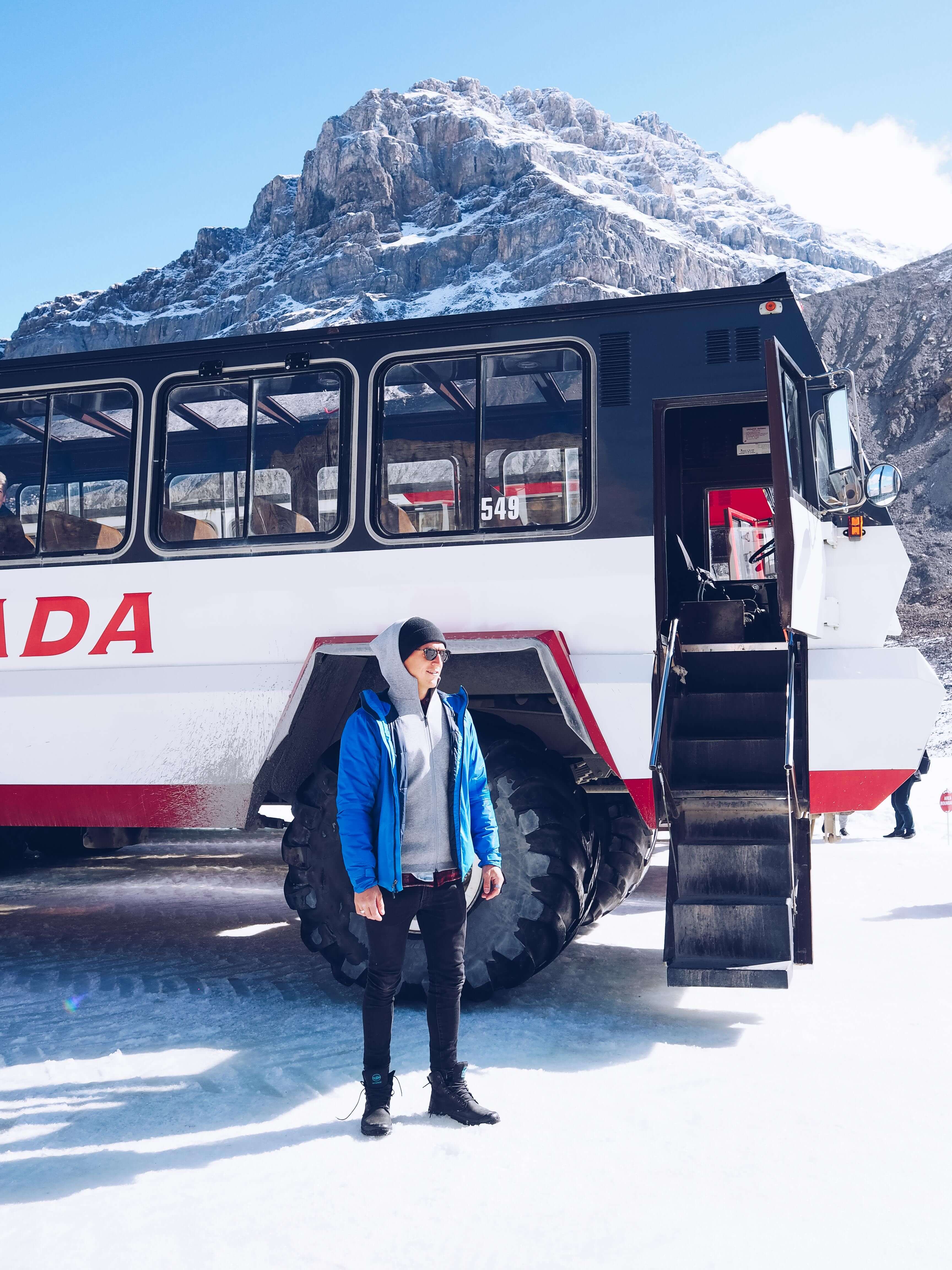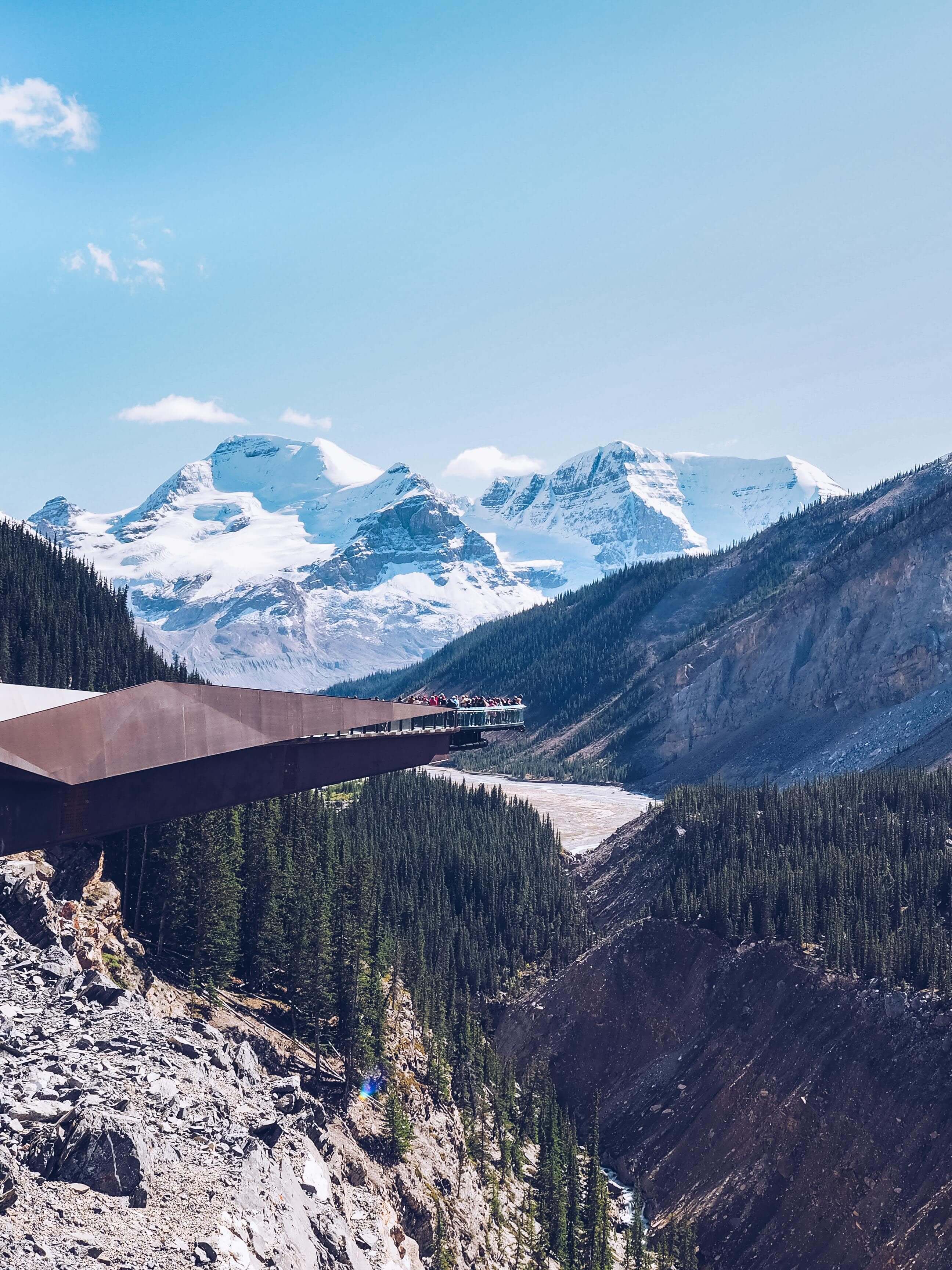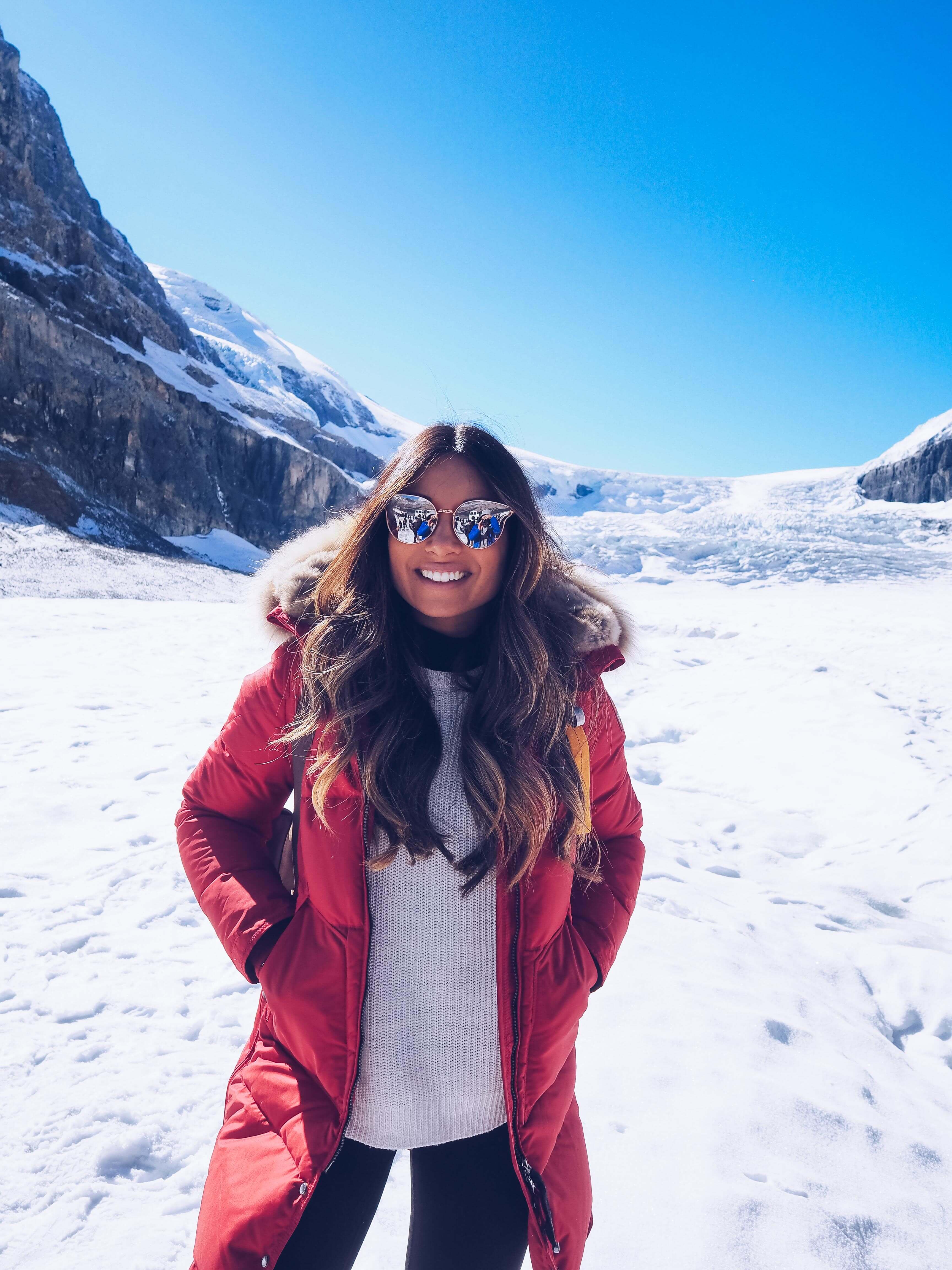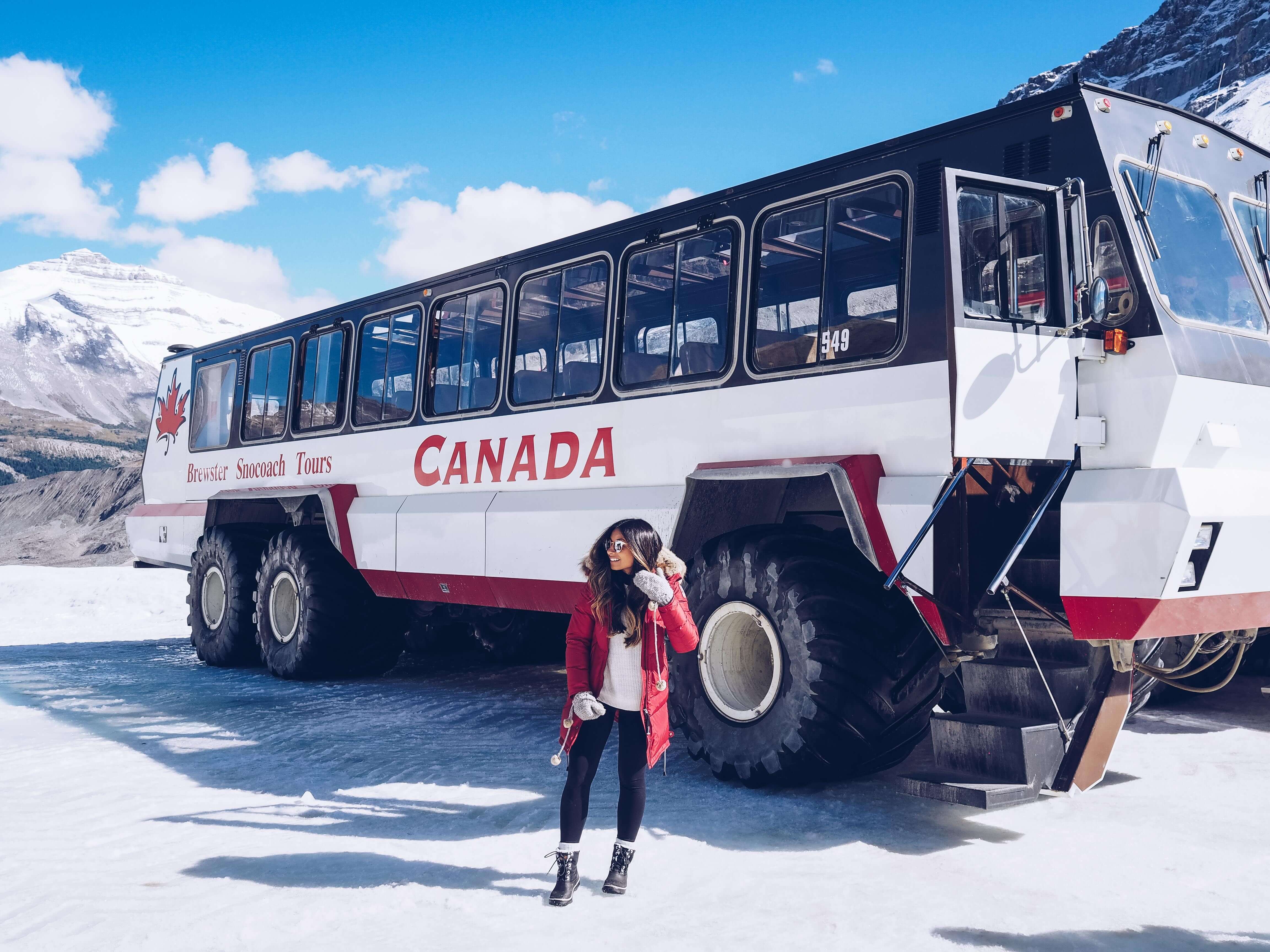 Day 6
Exploring Jasper & Maligne Lake
We set off early and made our way up to Maligne Lake, which is about 1 hour from Jasper. On the way, we stumbled across a herd of Elk at the side of the road and amazingly managed to catch two young bucks practising rutting. Elk can be pretty dangerous, especially around fall time, so if you come across Elk on your journey make sure to stay in your car & don't get too close!
We grabbed a canoe from the boathouse at Maligne Lake and headed out on the water for a couple of hours. A beautiful mist was rising up from the lake creating the most stunning setting, and as we paddled out further we discovered two Moose grazing on the shoreline which was the coolest experience ever!
The views of the lake are wonderful especially with the surrounding snow-capped mountains, and if we had more time we would have done the Maligne Lake Cruise which takes you to Spirit Island, and everyone we spoke to recommended it. We spent the rest of the day checking out other spots around Jasper, such as Lake Edith and Lake Annette, as well as the Athabasca River which is a great place for spotting Elk.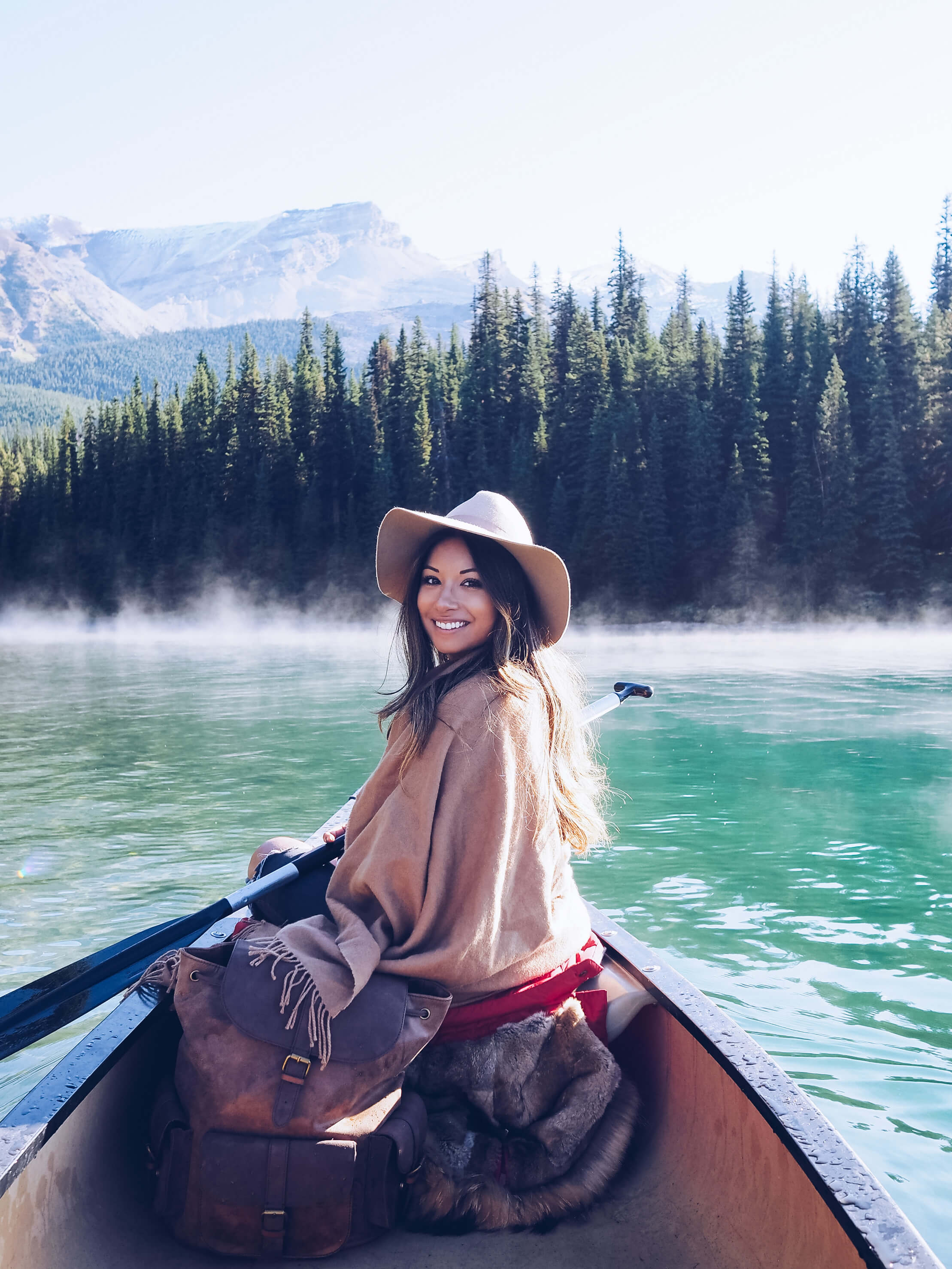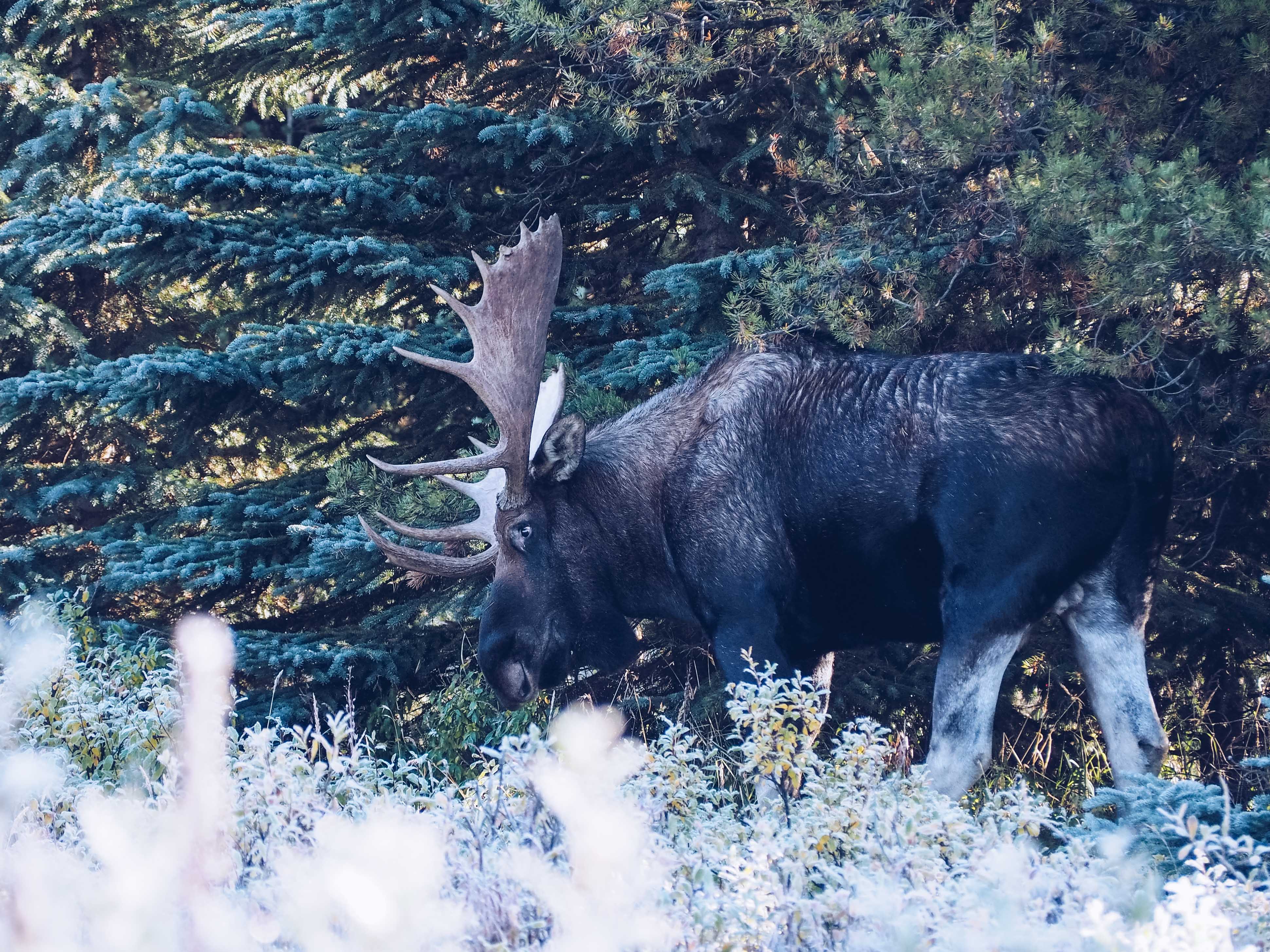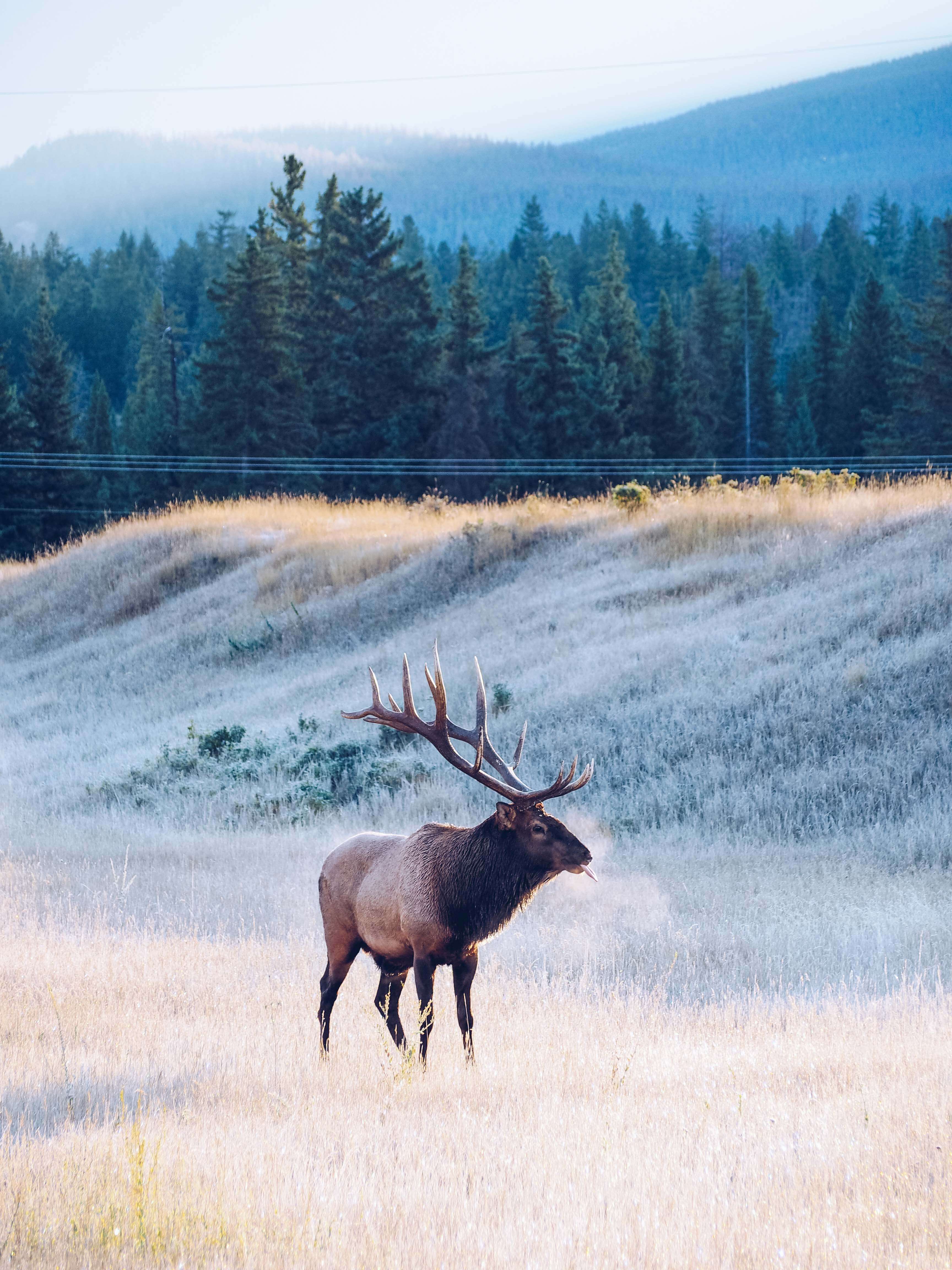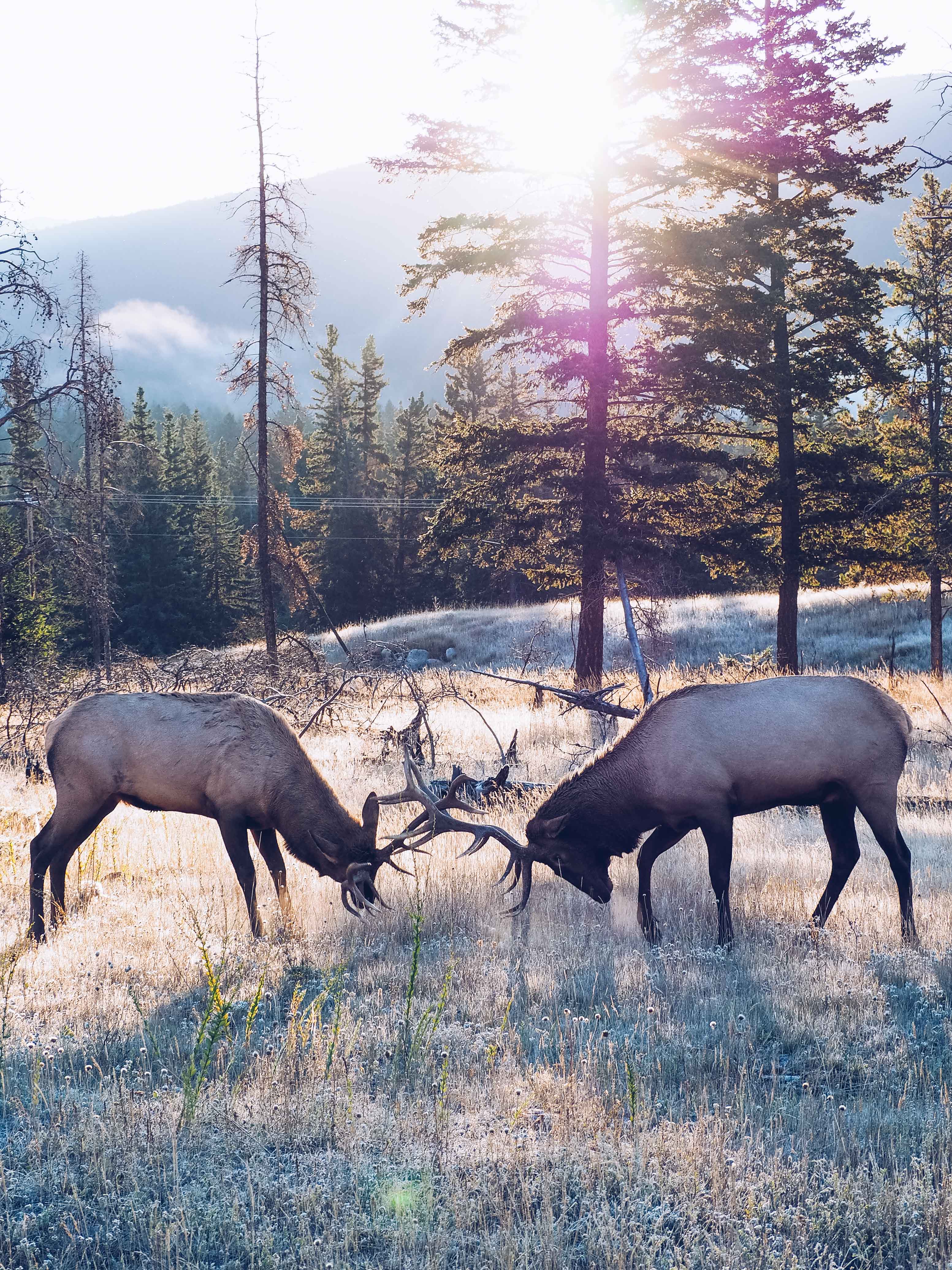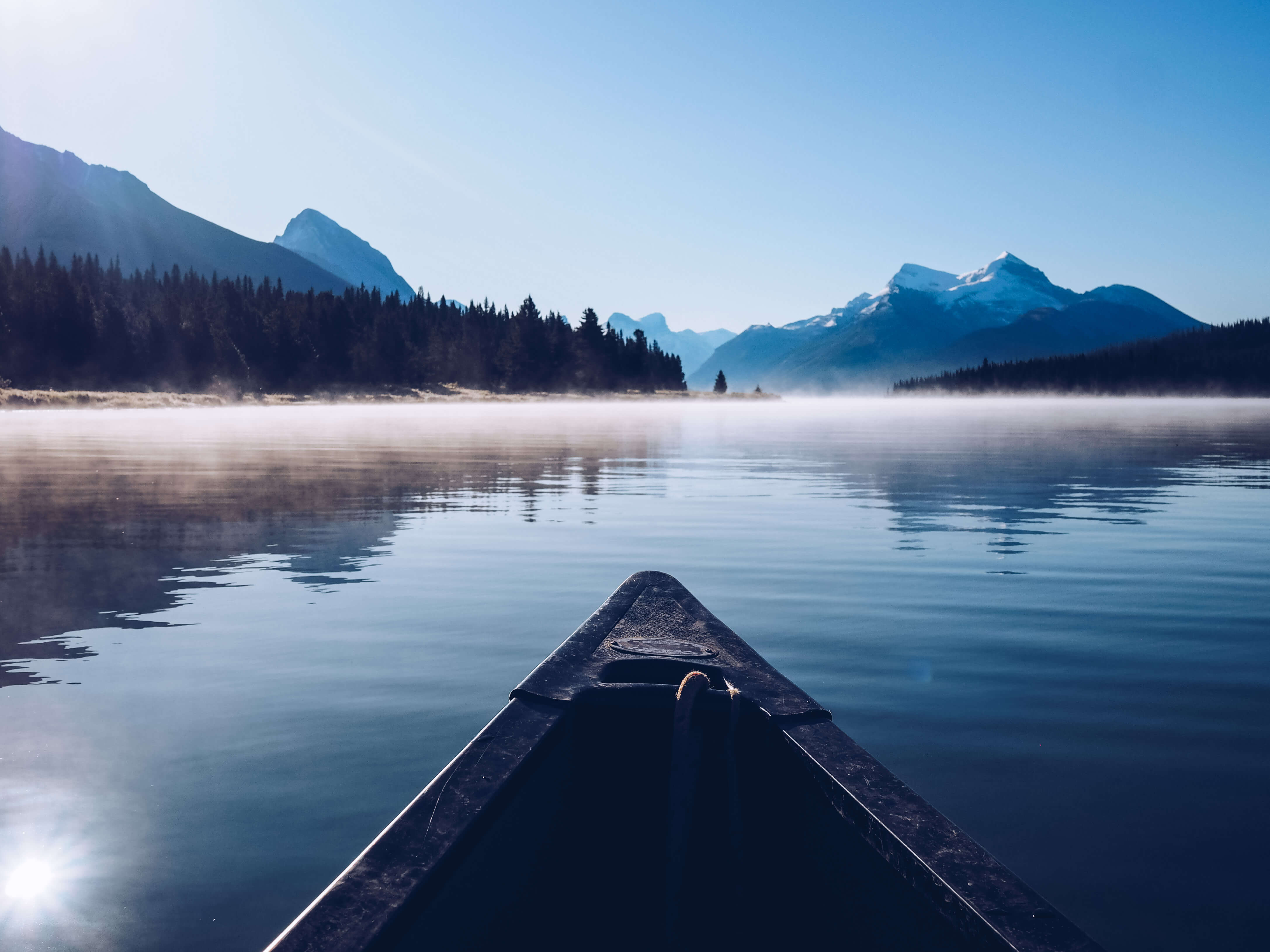 Day 7
Mount Robson, Wells Gray & the Journey Home
We spent the final day of our road trip making our way back to Vancouver. There aren't tons of places to stop on the way, but Mount Robson is a nice place to check out and grab breakfast (there are some amazing hikes from here, many are quite long), and the view of the mountain peak is stunning. Wells Gray Provincial Park near Clearwater is another awesome stop off, and here you'll find 38 waterfalls to discover. The most well-known are Helmcken Falls, Dawson Falls, and Spahats Falls (which is the closest to the highway). The journey home took 12 hours overall, but with quite a few stops on the way.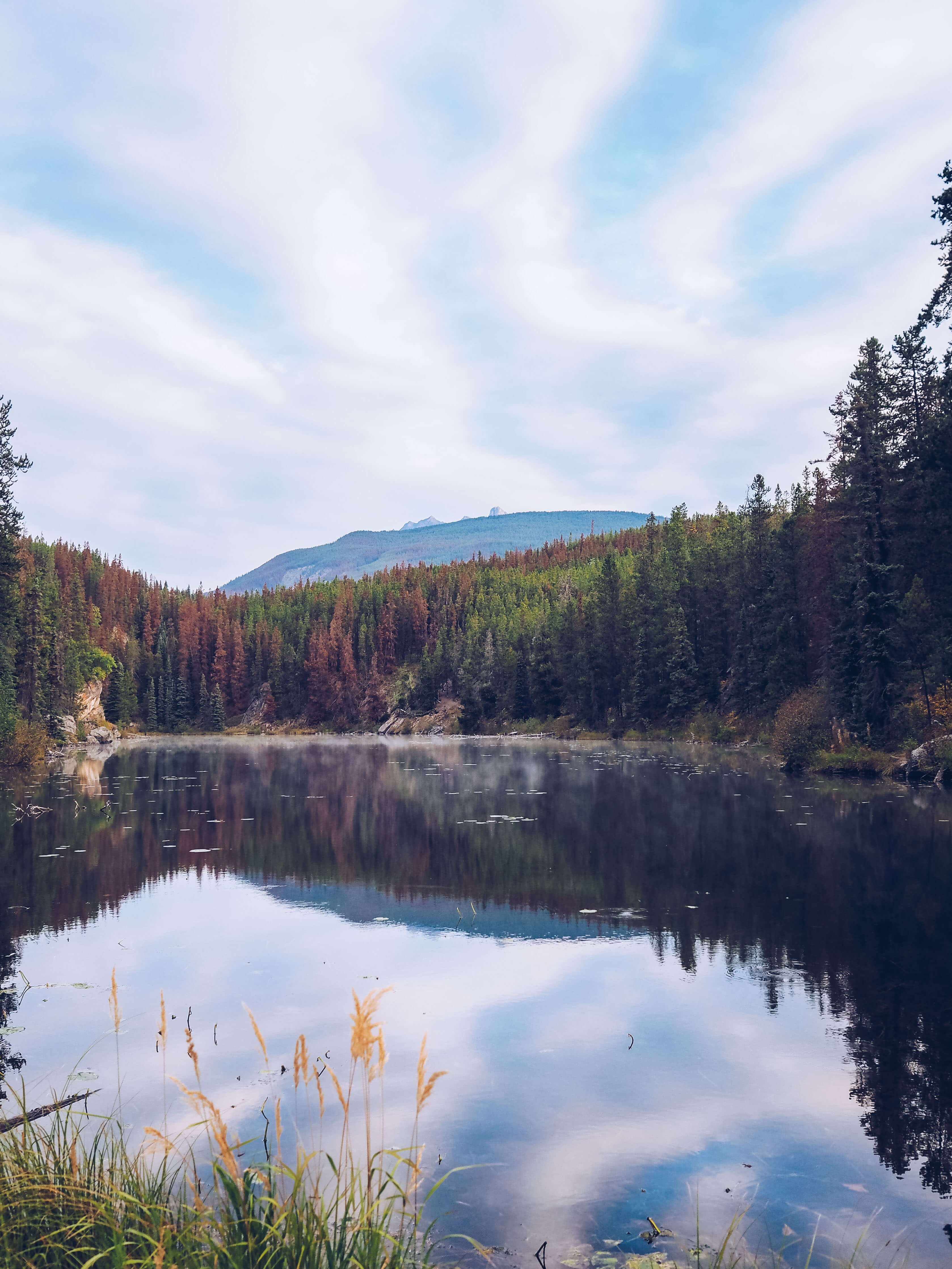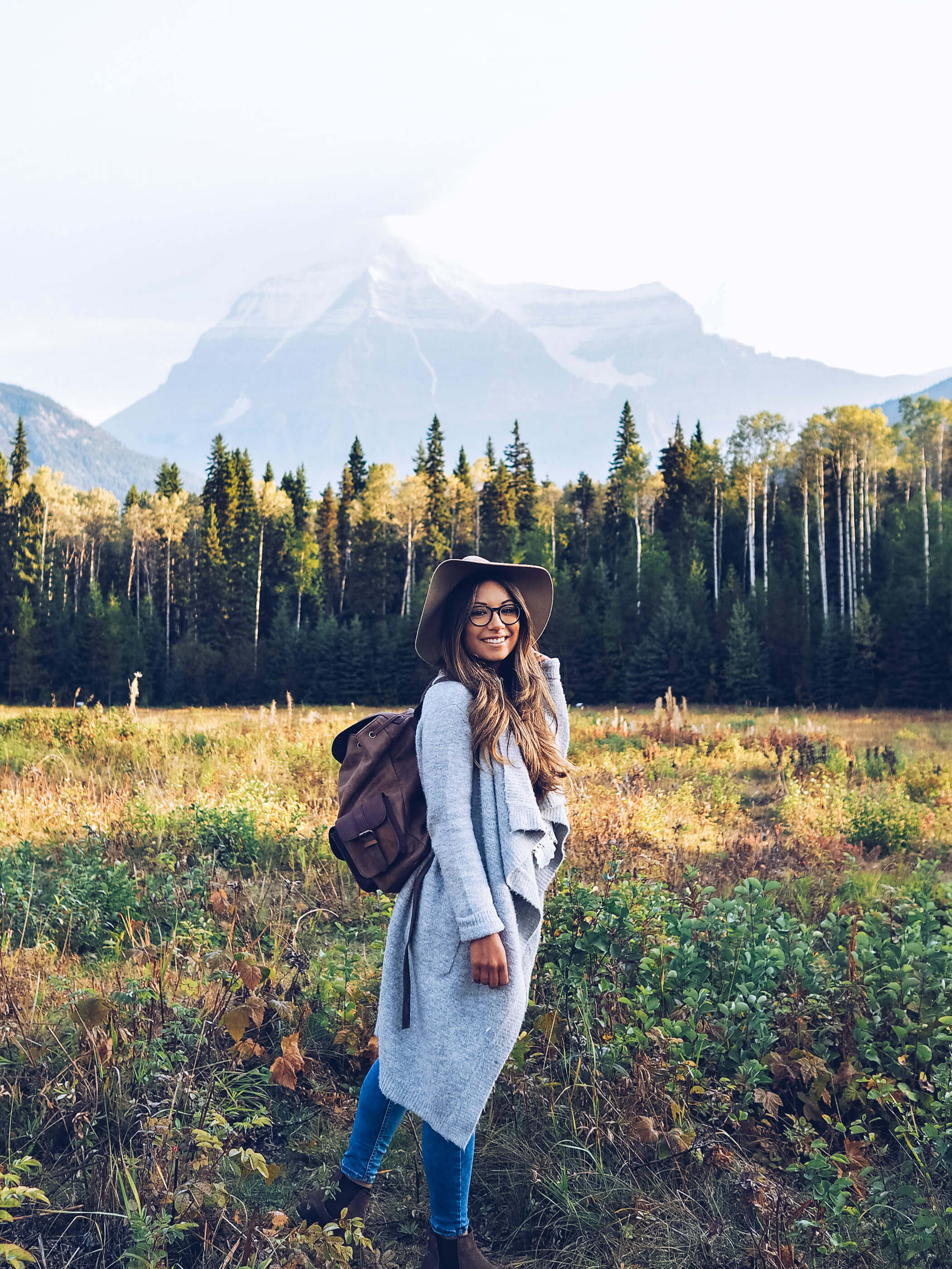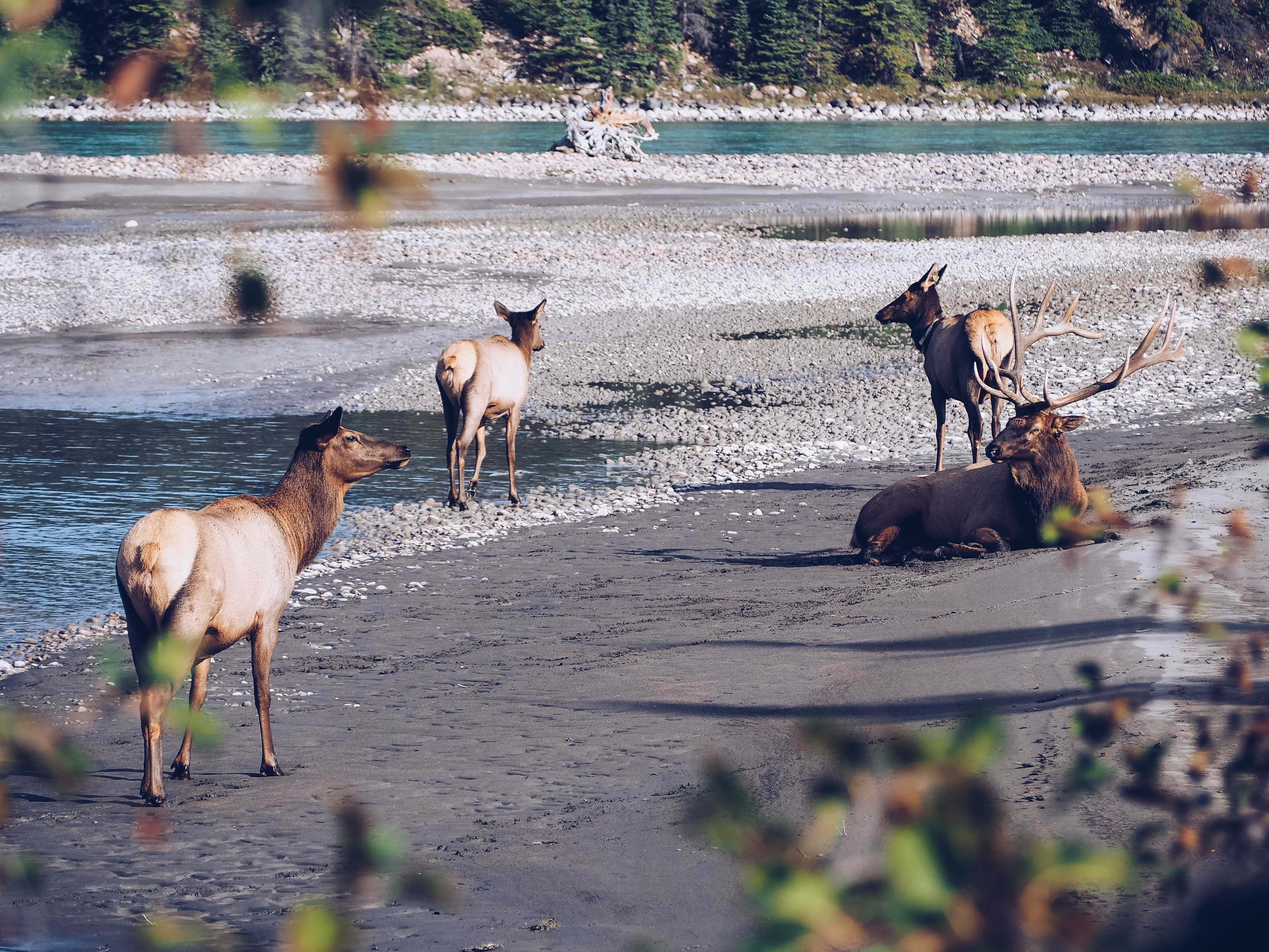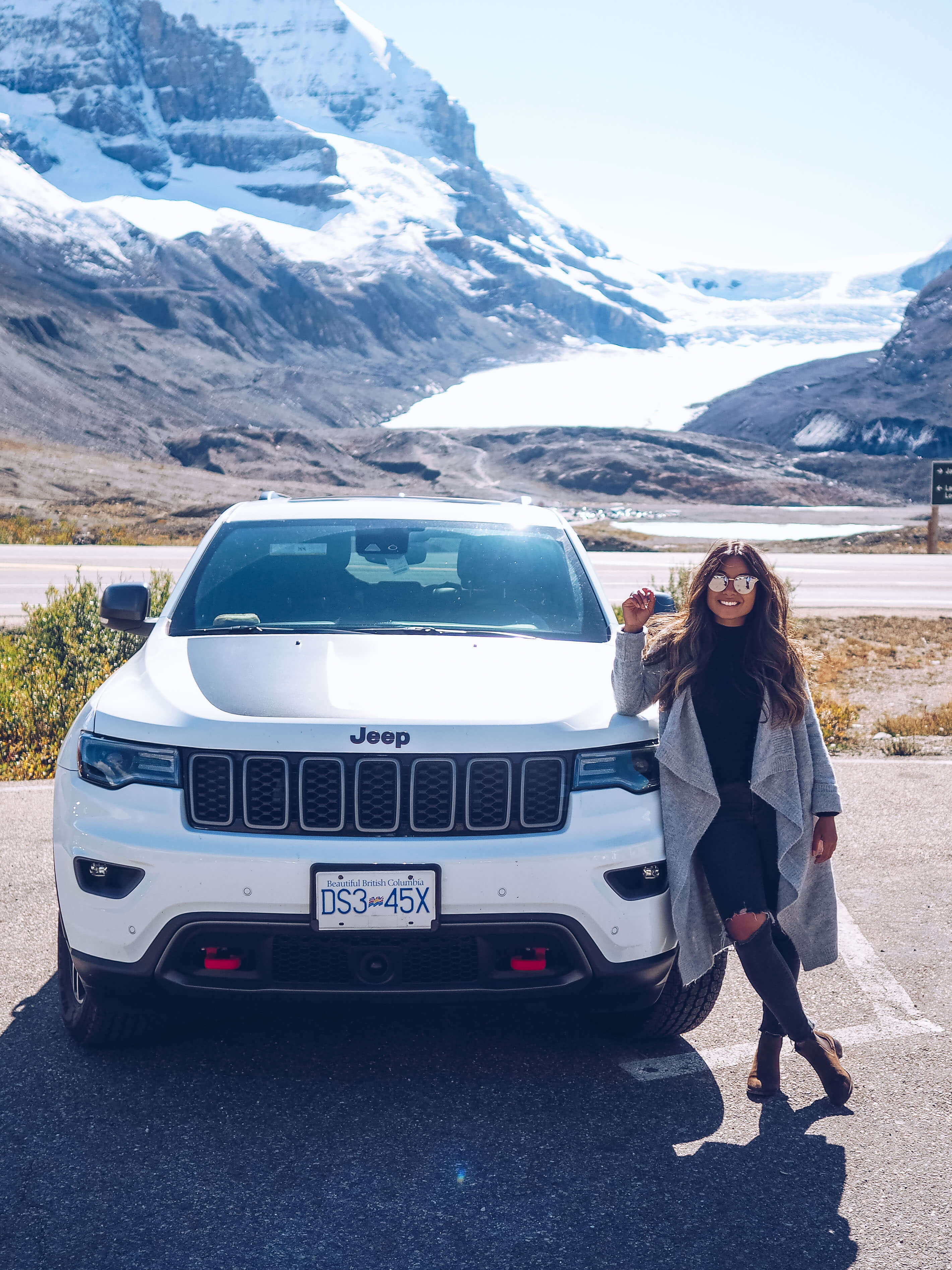 On the road with our Jeep Grand Cherokee Trailhawk
When you're spending hours on the road, you want to travel in something that's both practical and stylish. Our Jeep Grand Cherokee Trailhawk (aka Jujubes!) was the perfect car for this trip and honestly everything I could ask for in a vehicle. It was gorgeous to look at with the white finish and matte black vinyl on the hood, and Ruby Red tow hooks on the front (iconic of the Trailhawk model). The interior felt luxurious, with black Napa leather & suede seats and red stitching around the steering wheel, and the panoramic sunroof was wonderful and ideal for wildlife watching! It also had a plug socket in the back which was such a lifesaver when we were camping and the camera needed charging.
The car was a dream to drive and it's the perfect combination of rugged & tough, and sleek & stylish. The Trailhawk model is designed for comfort in the city as well as serious off-road adventures, and it comes with the Quadra-Drive II four-wheel-drive system so it can handle all terrains (snow, mud, rock, sand, etc) with ease. The car was unbelievably spacious which meant we were able to bring everything we needed - and a little bit more - and features like the Lane Assist (my fave), Blind Spot Detection, Park Assist & the Back-Up Camera made it so easy to drive despite its size.
We got around 700km out of a full tank, and it averaged around 20/mpg, which meant we didn't have to fill up too much during the trip. It was amazingly powerful which was most noticeable when accelerating at higher speeds, it has a very tight turning radius considering its size and I was very impressed by how well it handled. Safe to say we loved every minute of it & I can't recommend it enough!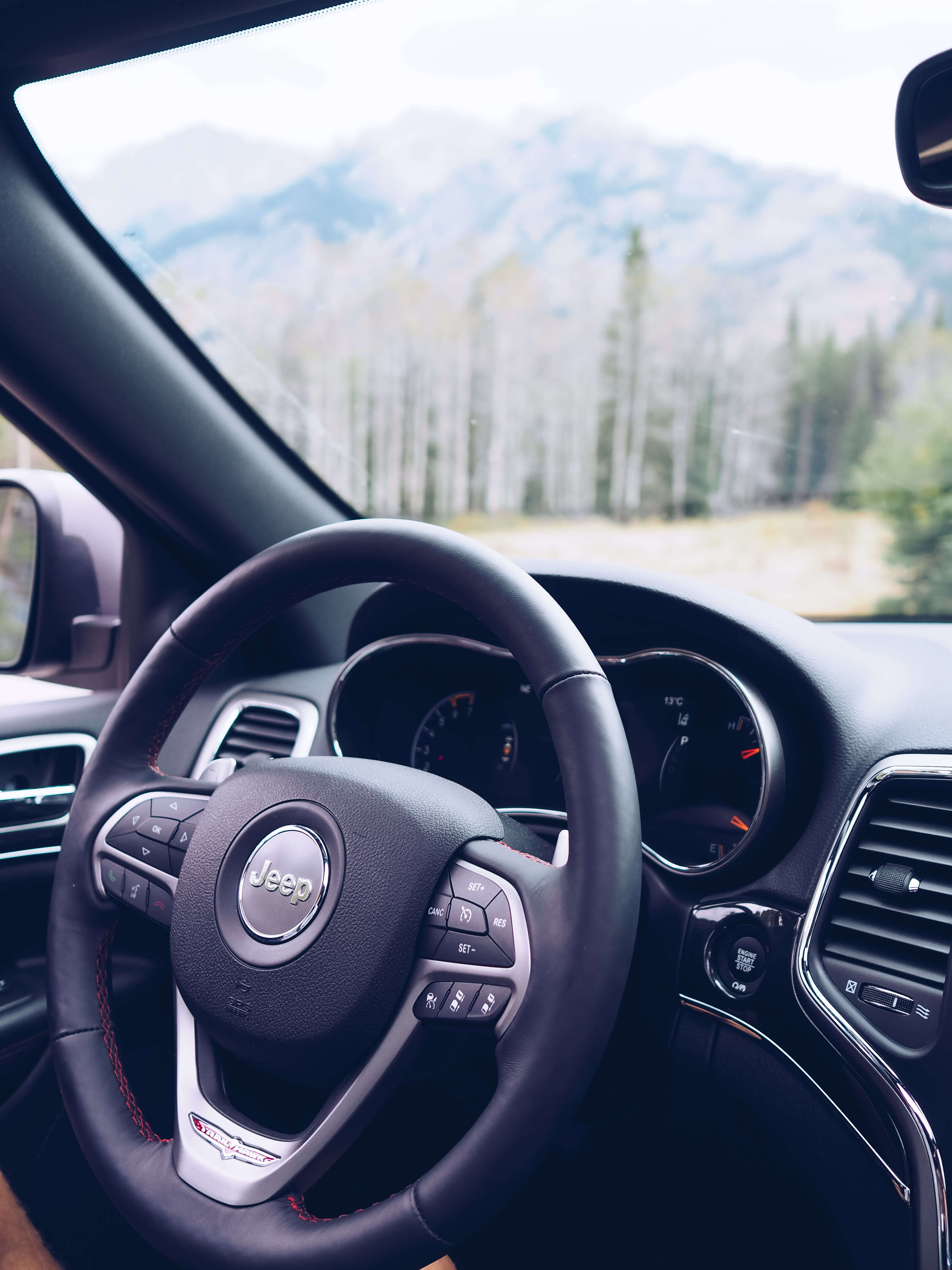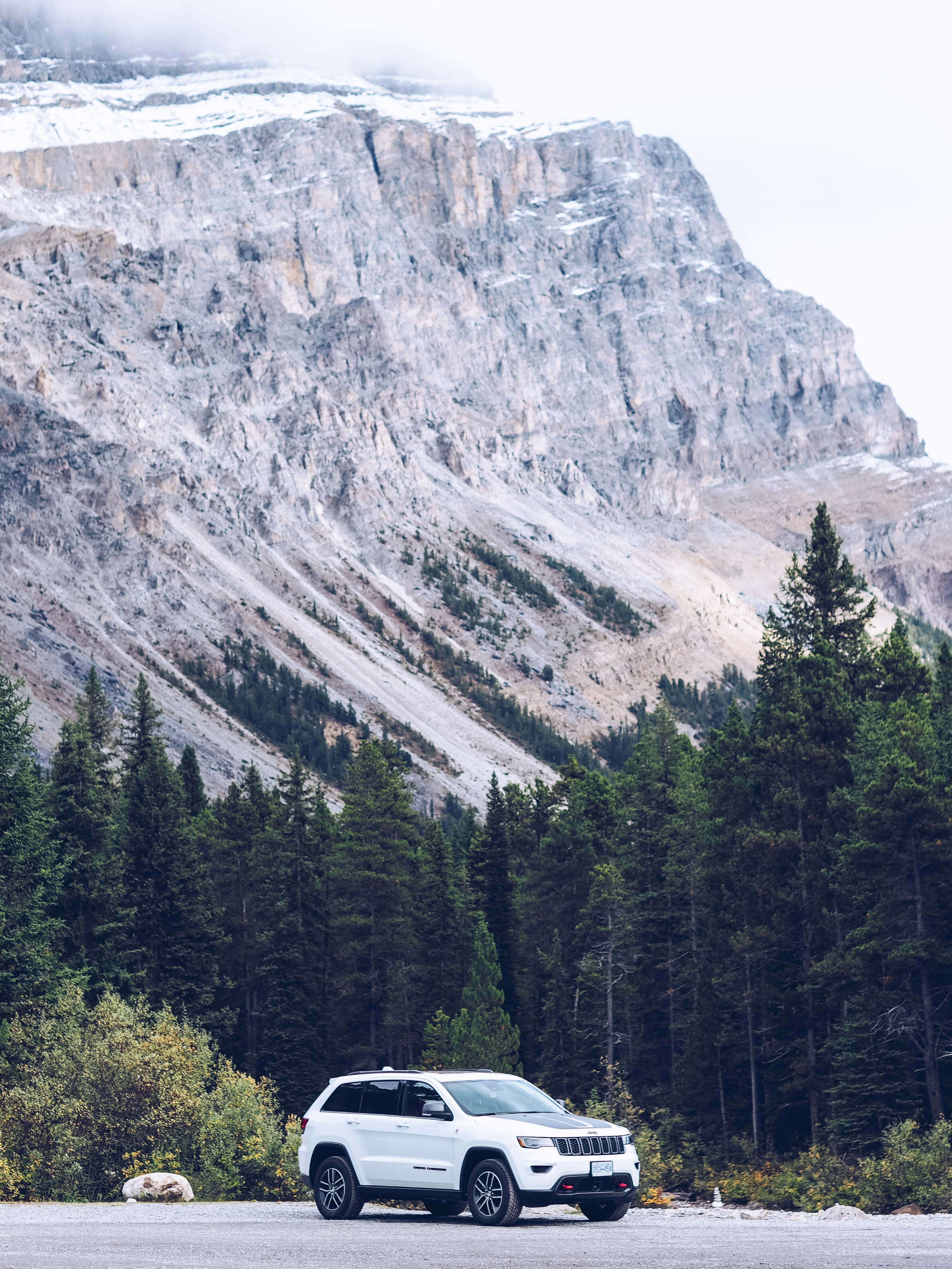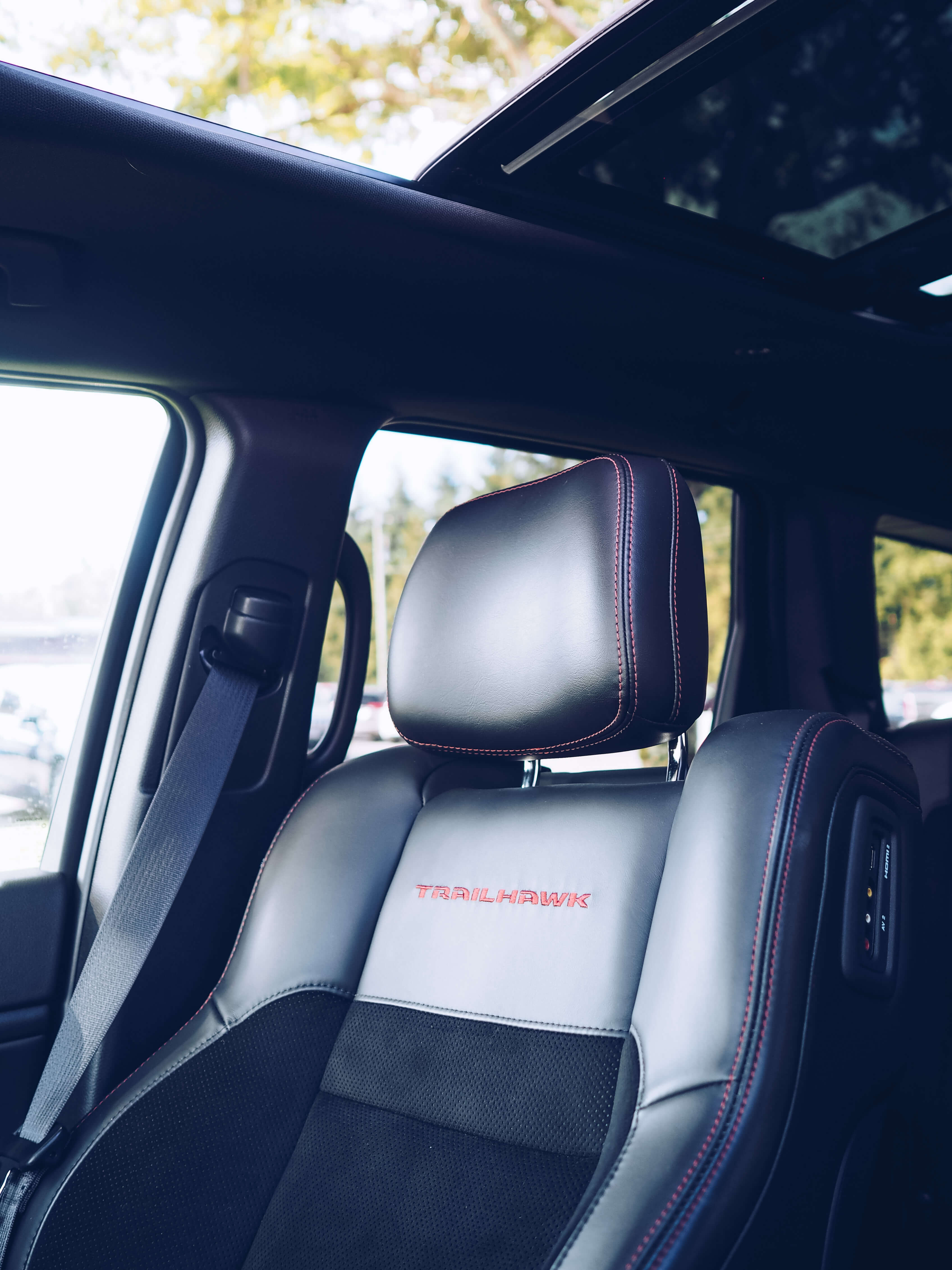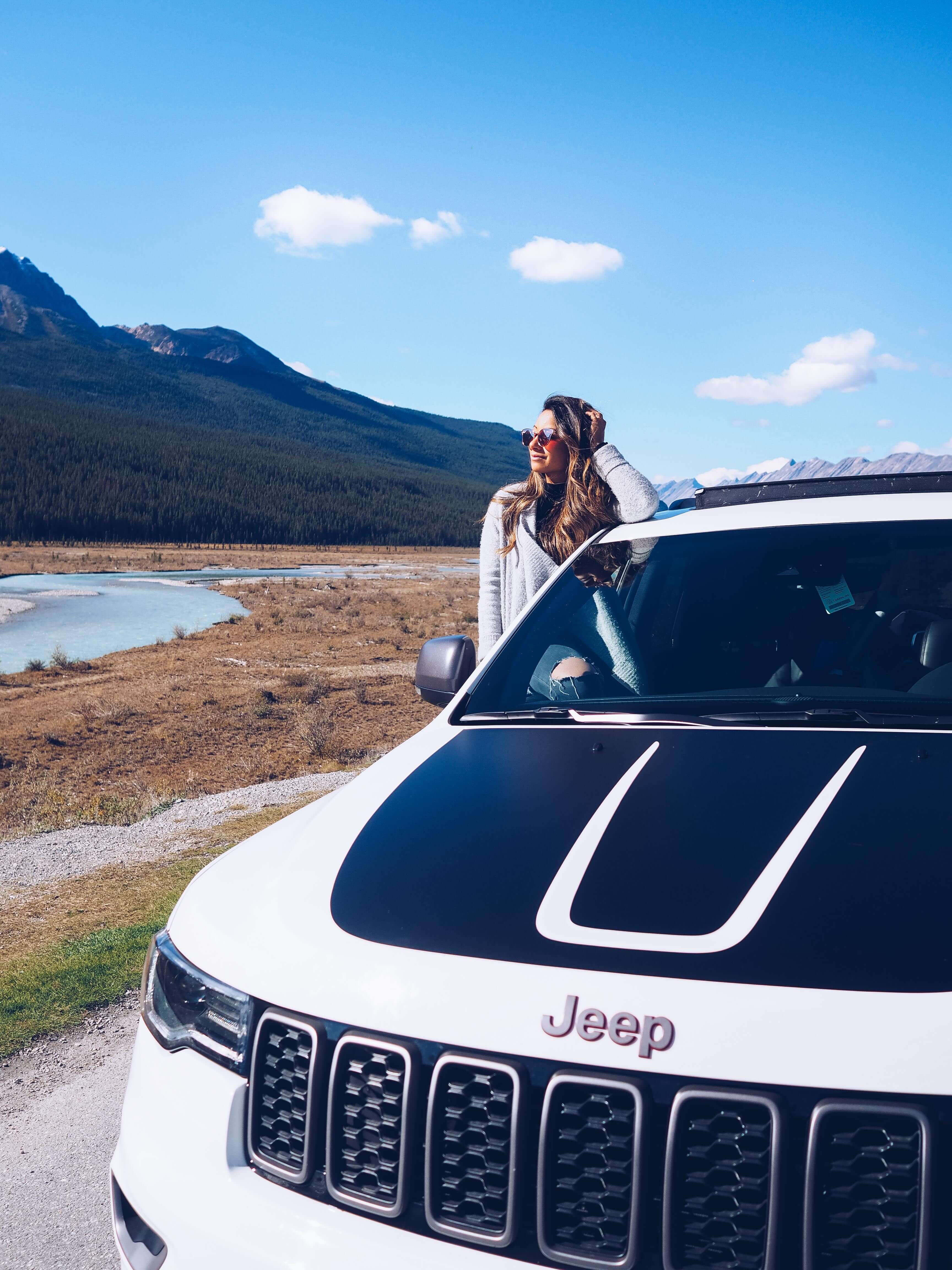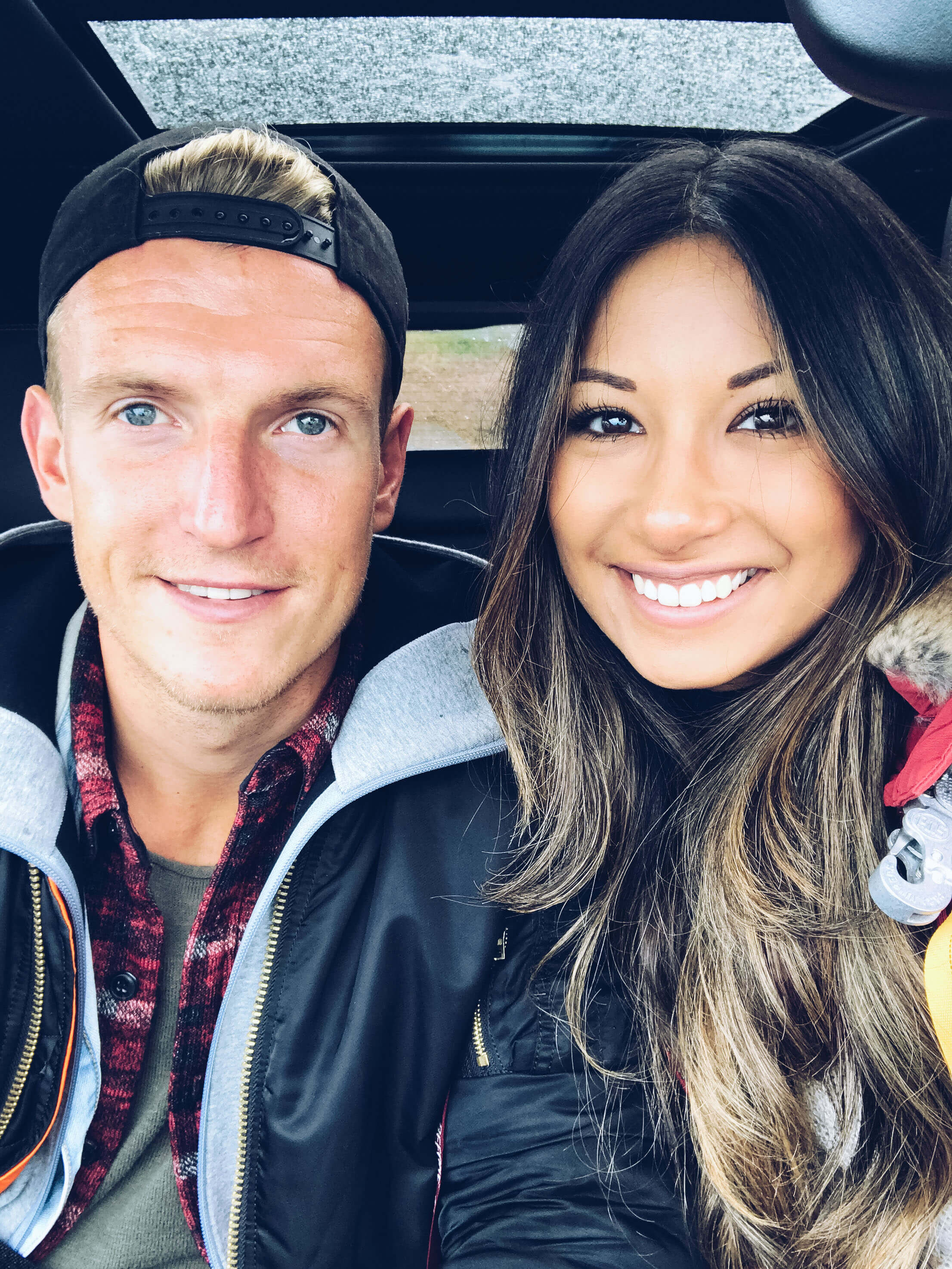 How to get from Vancouver to the Rockies
Road tripping from Vancouver to the Rockies is very straight-forward and there are only a few roads to follow. Remember to check road conditions especially if you're travelling between October and April, and make sure your car is prepared for the weather.
From Vancouver, take Highway 1 (East), and follow the highway to Hope. Then, take Highway 5 (Coquihalla) up to Kamloops, then rejoin Highway 1 (East) & follow all the way to Banff, passing through Revelstoke, Golden, Field on the way. This is the quickest route, but keep in mind that Highway 5 goes over the mountains so is very exposed. In summer it's usually fine, but in winter the conditions can be extreme & very snowy & icy.
If the Coquihalla is closed or really snowy, the alternative is to follow Highway 1 all the way from Hope up to Kamloops. This is the scenic route and it takes a bit longer, but the elevation is lower so the weather doesn't get as extreme. From Kamloops, follow Highway 1 (East) all the way to Banff.
From Banff to Jasper, there's only one road you can take which is the Icefields Parkway, and the journey takes 3.5 hours (288km). The drive from Jasper to Vancouver took us around 12 hours (with stop offs), but it can be done in as little as 9 hours if you go straight. From Jasper, follow Highway 16 West (Yellowhead Highway), and then continue onto Highway 5 towards Kamloops. From there, take either Highway 5 and then Highway 1 (West) to Vancouver, or Highway 1 all the way to Vancouver, depending on weather and time of year.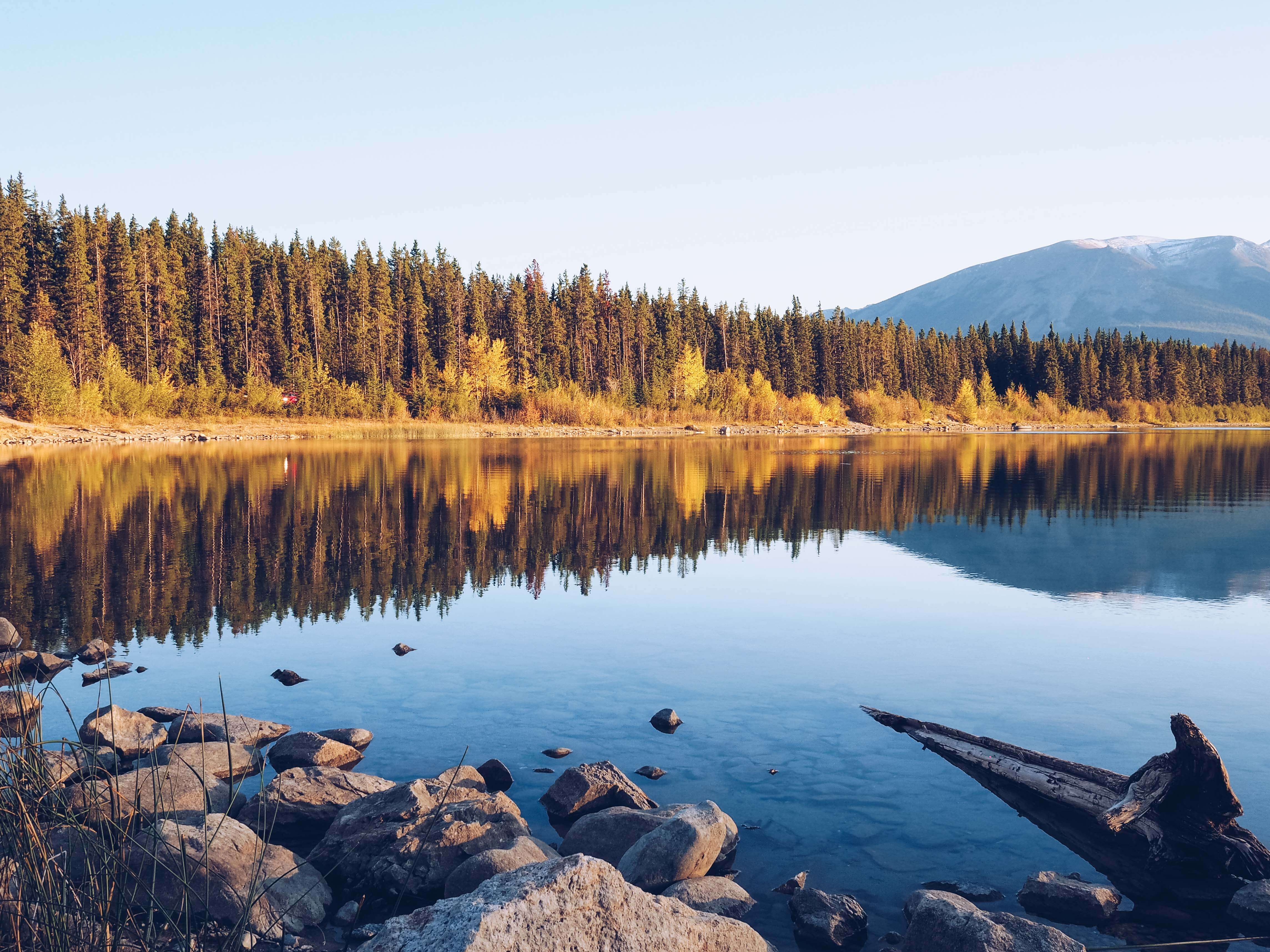 Overall , our trip was amazing and I'm already planning our next trip back. If you're thinking about road tripping from Vancouver to the Rockies, I really hope you found this useful & if you have any questions about the trip or if you have any recommendations, drop me a comment in the box below as i'd love to hear from you!