Wow ...what a few weeks!
On June 18th, in one of our favourite places in the world, Matt got down on one knee and asked me to be his wifey. And of course, I said YES!! It was one of the happiest and most emotional days of my life and I was well and truly speechless. Matt planned the whole day so amazingly and I can't believe the lengths he went to to make the whole day perfect. And the ring!! Oh my gosh - the ring is honestly my dream and even now, 3 weeks later, I still can't stop looking at it. It's just beautiful.
It's crazy when I think back to when we met over 8 years ago. Never did I think that the guy I made eyes at outside that club in Sheffield would one day be my husband, and we'd be living in Vancouver and creating a life together that we adore. The odds were against us from the start and we faced long-distance immediately after we met, and I just never envisioned that we'd get to where we are now. It's really amazing how life works out and diverts you in different directions when you least expect it, and I can't wait to spend the rest of our days navigating through this life together.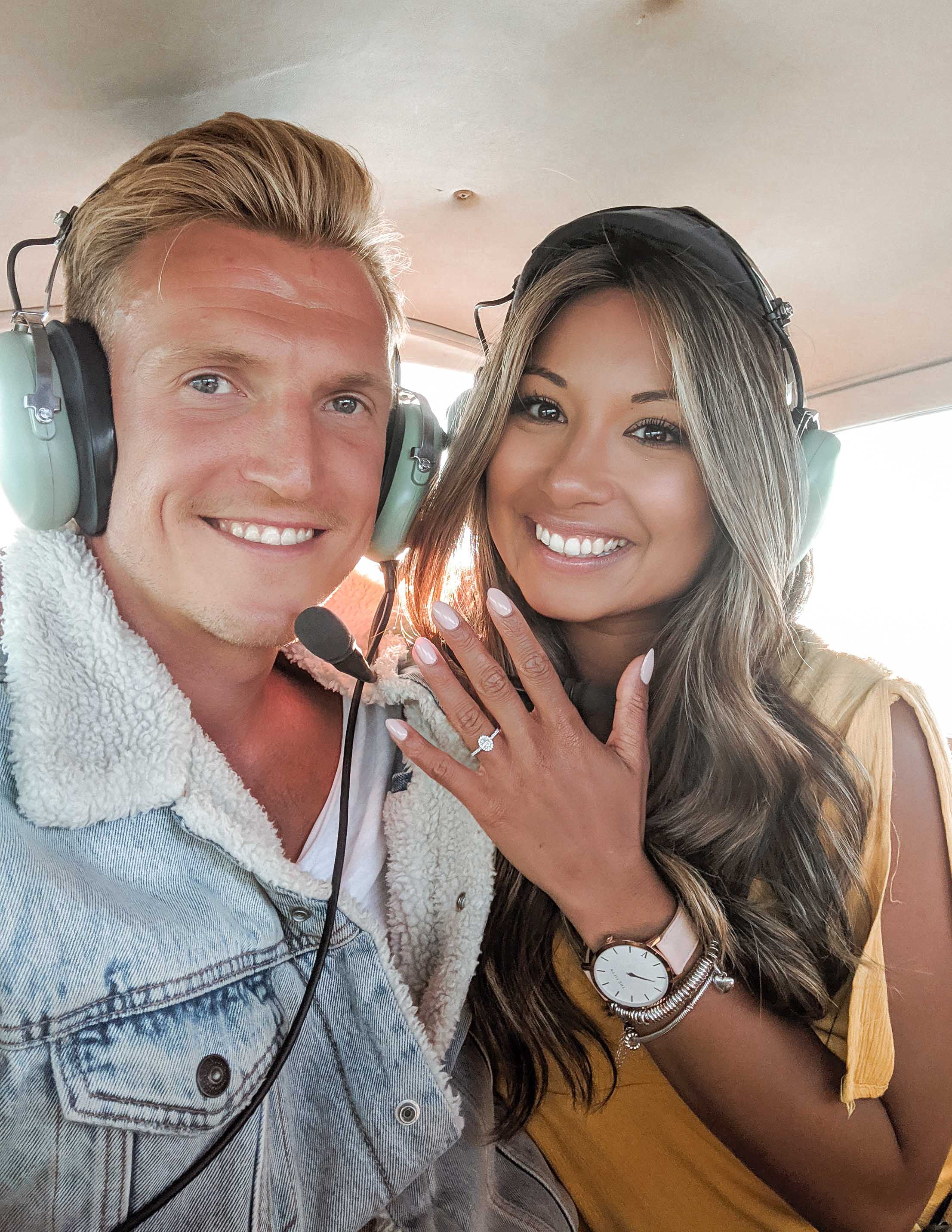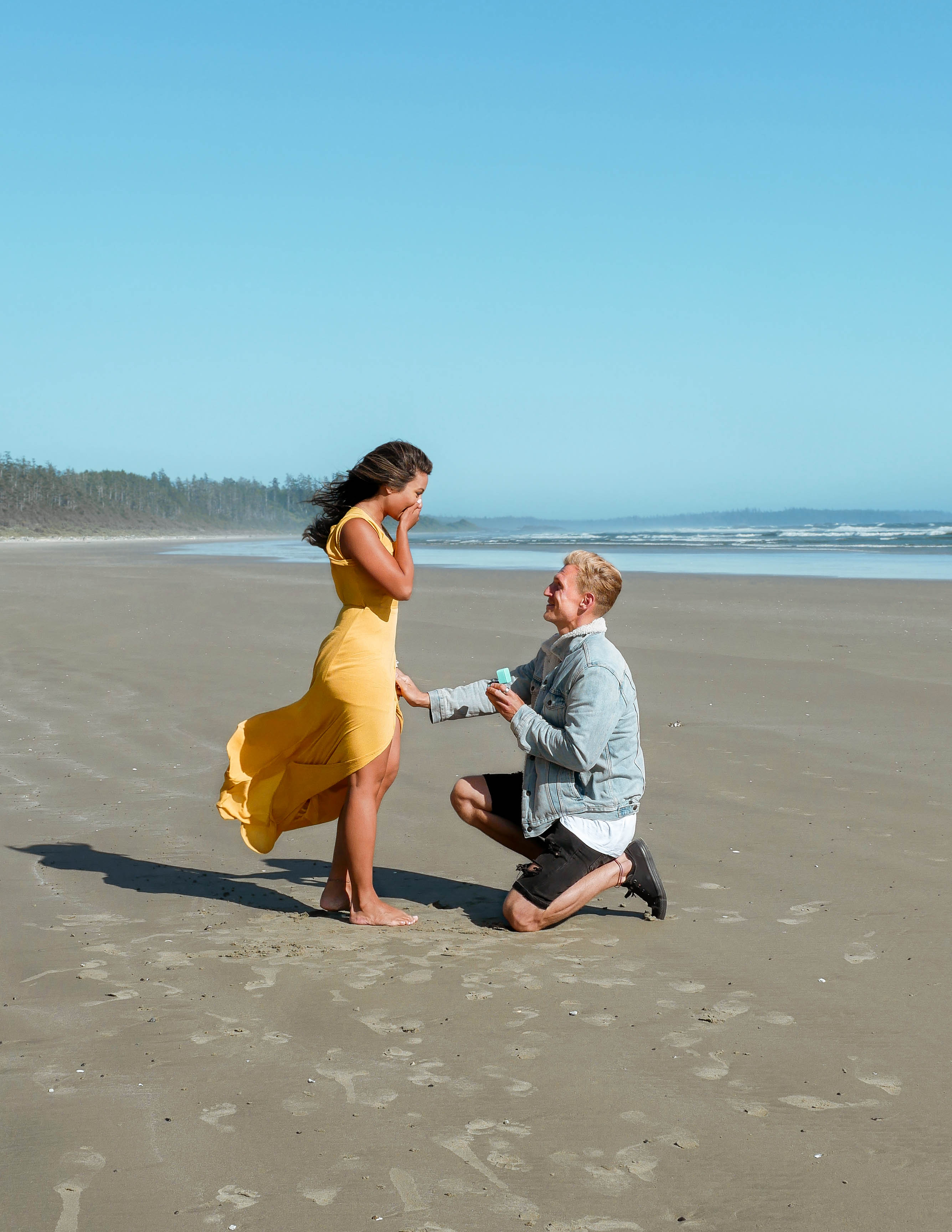 SO....a bit about the proposal! Matt well and truly outdid himself and couldn't believe it when I learned how long this had been in the works. Matt chartered a plane to fly us to Tofino, which is a cute beach town on Vancouver Island and somewhere we both love so much. After a beautiful scenic flight over the Island, we landed in Tofino, walked from the runway over to Long Beach, and as we were taking a tripod picture, Matt got down on one knee and asked me to marry him. I smile every time I think about it and I honestly could not have asked for a more special day. Boy did good!!
I've gotta admit though...I was not as cool as I thought I'd be. The first thing I thought was that he was joking...but then as he pulled out the ring box I realised, THIS WAS NOT A DRILL!! This was the real deal.
It took me by surprise SO much and my immediate reaction was just to turn around and hide in my hands while I processed the fact that he was proposing (lol!). I feel like time stood still for a moment as I was trying to find words and comprehend what was going on. When I turned back around, Matt was sat there, still on one knee, waiting so patiently and as cool as a cucumber before he officially asked the magic question.
I was completely speechless, very emotional and I'm pretty sure I had to ask Matt afterwards if I actually said yes because it was all a bit of a blur. After he proposed, we gathered our stuff and found a little spot hidden from the wind, toasted with some Prosecco on the beach (Matt had slyly packed bubbly in his bag), and a short while after we headed back to the plane and flew home to Vancouver. I'm SO glad I decided to vlog our flight too as it's really lovely having it all on video so we can relive the whole day (watch it here).
It's so funny because my version of events in the run up to the proposal is very different to Matt's. I thought our day was a media trip - Sea to Sky Air emailed me a month prior and asked if we wanted to join them in testing out their new flight tour to Tofino. Nothing seemed amiss as we'd worked with them before and I was really excited as we love Tofino. But I soon learned it wasn't actually a media trip...it's something that Matt had been planning for months and the media invite was just one big cover story (sneaky sneaky)!!
While I knew that we'd get engaged at some point, I never anticipated it would be now and I think I always thought that I'd have some sort of inkling that a proposal was imminent. But no...I was completely oblivious and I've never been so surprised in my life. Matt planned everything so so perfectly and with the help of Vicki and Dave at Sea to Sky, he pulled off the most amazing day.
The proposal was also timed to coincide with our England trip, and the day after we flew home and were able to celebrate with all our family and friends which was really special. We've felt so overwhelmed with love and I want to say a massive thank you to every single person who has congratulated us and sent lovely comments and messages - we appreciate you all and it truly means the world. I'm still spontaneously crying even 3 weeks after and this newly-engaged feeling is truly amazing, I never want it to end!
So...now I guess it's time to start planning a wedding. EEEEEK - I'm very excited for this next chapter and to see what new and amazing adventures it brings. And I can't believe I'm gonna be a wife, whaaaat!!