Summer is literally around the corner (actually, it's pretty much here) so i'm sure i'm not the only one freaking out about getting my body into top shape for bikini season!
I don't know about you, but my body tends to fluctuate throughout the year. From November to March, I kind of go into hibernation mode and I'll usually gain a few lbs throughout winter. This is from cosy nights at home, Christmas, and generally not having that extra motivation of having to be seen in a bikini. Then when April creeps around, I get a kick up the backside when I suddenly realize "Oh my goodness, i've got to be in a hot pants/dresses etc within the next few months and I feel like a whale." Am I the only one? Or does this happen to you too?
I've never been one of those people who can eat whatever they want – I have to work hard to keep my body in shape, and if I have a couple of cheat days, boy, do I feel it. The flip side, though, is that when I do go hard, my body bounces back fairly quickly, so I guess it works both ways. I don't deny myself of treats, as I love food too much, but i'll try to strike a 80/20 ratio of healthy and bad food. I've also learned over the years that a mix of high-interval circuits and strength training is most effective for my body. I know I rave about it all the time, but I LOVE Shaun T's Insanity workout. I do curse my TV screen throughout the whole workout, but the results are amazing as they're great for shedding fat, so I mix it in with weight training to keep my bum and arms toned and strong.
Getting back into fitness isn't easy, and it takes some willpower to form a fitness routine that you'll stick to. But it's SO worth it when you feel strong and confident and ready for those summer days! Read on for my best tips on getting fit this summer & sticking to your workout routine!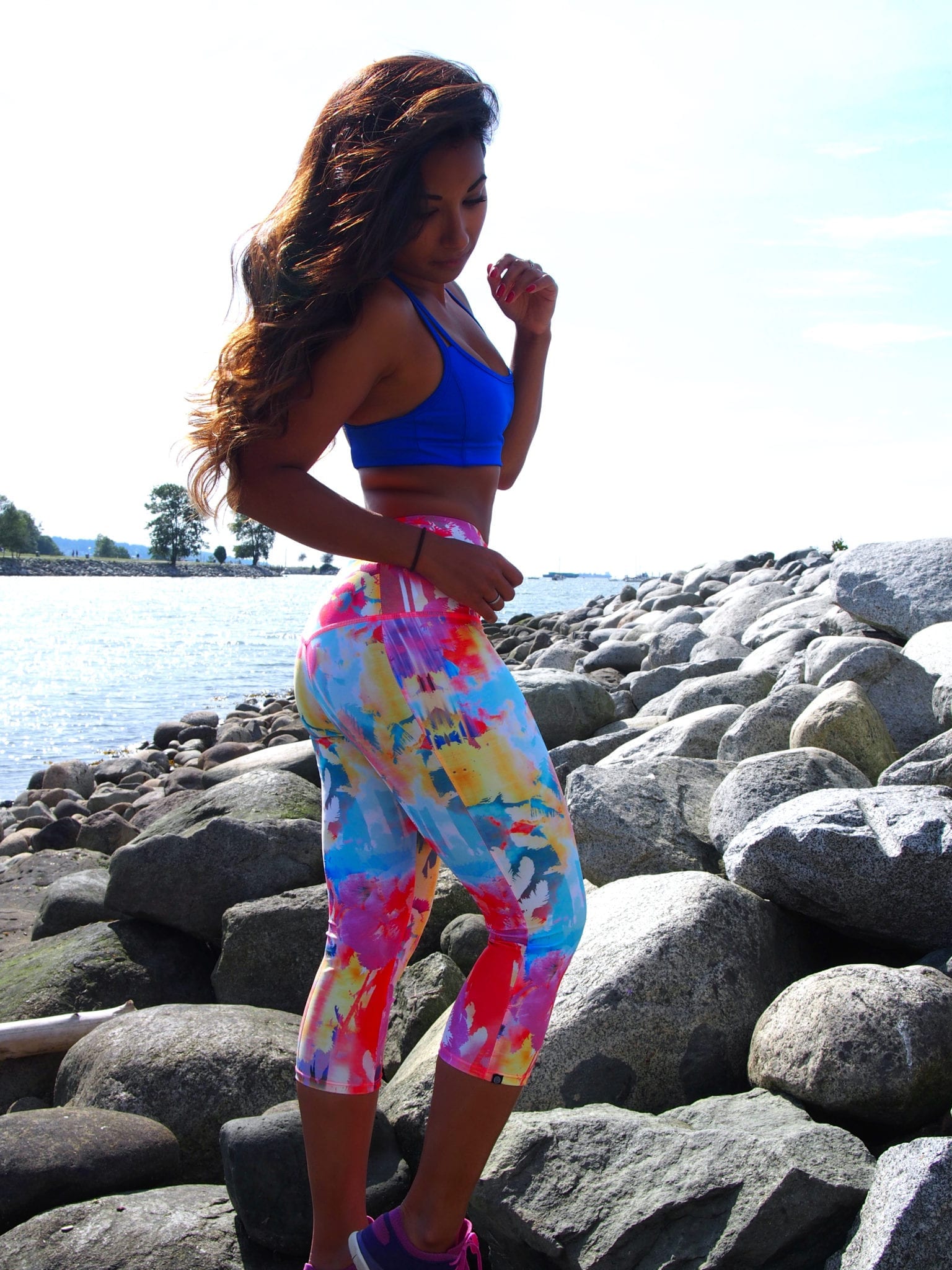 Stay Hydrated
Water is such a critical nutrient for our body – our brain, heart, lungs, blood, and muscles all rely on us having an adequate amount of water in our system, which is why it's so important to stay hydrated. I always find that my skin, hair, and digestive system feels so much better when i'm drinking a lot of water too. Dehydration can make us feel lethargic as well, which is exactly what you don't want when you're trying to stay on top of your fitness game.
Get Kitted Out
I'm always more inclined to get hit the gym when i'm kitted out in great workout gear. I recently received a gorgeous activewear outfit from Onzie (pictured in this post), a yoga/activewear brand based in Canada.
Their designs are so lovely and colourful and available in all sorts of different shapes and styles. I love mixing up my workout gear and injecting bright colours into the mix, so I fell in love with this outfit. The top is the Circle Bra in Deep Royal, and the leggings are High Rise Capri in Hawaiian Tropic (they're no longer on the website, but they have loads of similar designs).
Create A Kickass Playlist
If you haven't got Spotify on your phone, get it! It's free to sign up and play on all of your devices, but you have to pay if you want to access songs offline (I do this as there's no signal in our gym). Spotify offers you access to thousands of songs as well as a mix of ready-made playlists to choose from. I tend to get bored of songs quite quickly, so Spotify is great because you can just look at what's trending/recent in the charts and add that to your playlist, or explore what's already there.
For you runners, if you type "running" into the search bar, you'll find a bunch of playlists and you can opt for the songs to match your running tempo! I discovered this feature recently and I absolutely love it as it mixes up my playlist and changes the song depending on how fast i'm running.
Make Your Own Snacks
If you're trying to stay healthy, making your own snacks is a great idea. I have a MAJOR sweet tooth so I only end up miserable when I deprive myself of treats. I love making Raw Energy Bars, Granola Bars, and healthy desserts like Avocado Chocolate Mousse and Chia Pudding. I always find it really rewarding when I can eat my own creations, plus it's nice to know exactly what's going into your food. A lot of the time, especially with granola bars and energy bars, we're under the impression that they're healthy but they're actually loaded with sugar. You can take your snacks with you when you're on the go or at work, so you're less inclined to buy junk throughout the day.
Get A Buddy Involved
If you're trying to stay fit this summer, why not rope a buddy into getting fit too! Sharing your fitness goals with someone else is a great way to keep motivated, plus you can make it really fun by working out together or going to new classes. I find it much easier to eat healthily when Matt's being strict with his diet too, as there's less temptation (aka. chocolate hobnobs) lying around the house and we encourage each other to stay on track.
If getting fit this summer is one of your goals, follow these 6 steps to make your fitness journey that bit easier. Strive for progress, rather than perfection (because what is perfection anyway?!). We're all unique so remember that your body is beautiful, whatever your shape or size!
What are your best fitness tips for staying motivated? Let me know in the comment box below!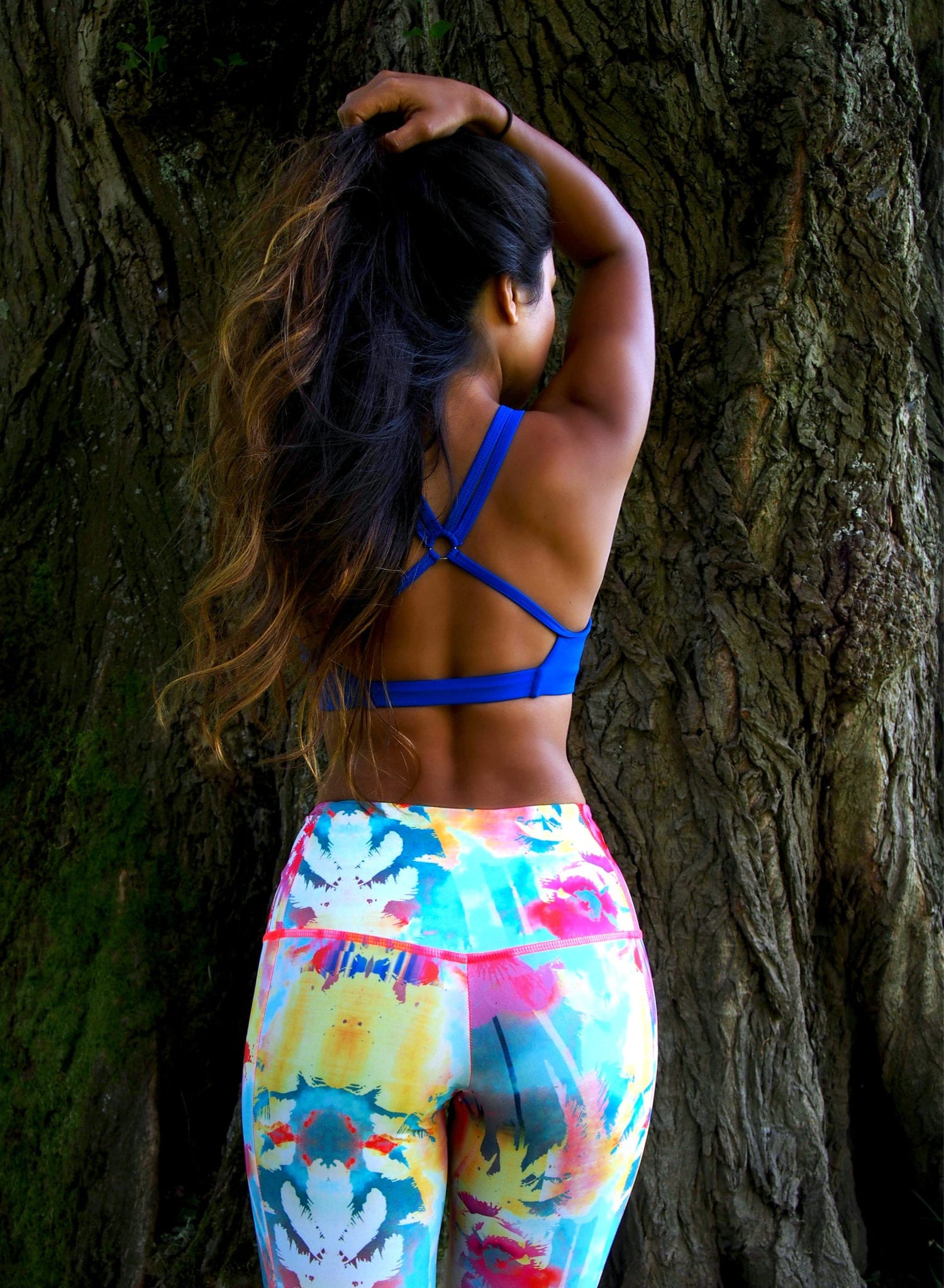 ---
This post was created in collaboration with Onzie Activewear.
---