If you're a chia lover, I promise you're gonna be a fan of this one.
Did anyone else eat rice pudding as a kid? With a little bit of jam on top, it used to be one of my favourite treats. This chia delight tastes somewhat similar, only this is a whole lot better and a WHOLE lot healthier!
Chia seeds are ultra-nutritious and packed with healthy omega-3 fats (one of the most important nutrients for brain health), and fiber (one serving contains 1/3 of your recommended intake). They greatly benefit your heart health, plus they also help to slow digestion, keeping you fuller for longer and preventing huge sugar spikes. If that's not enough, chia seeds are packed with protein, potassium, and tons of other nutrients, which essentially makes it a superfood.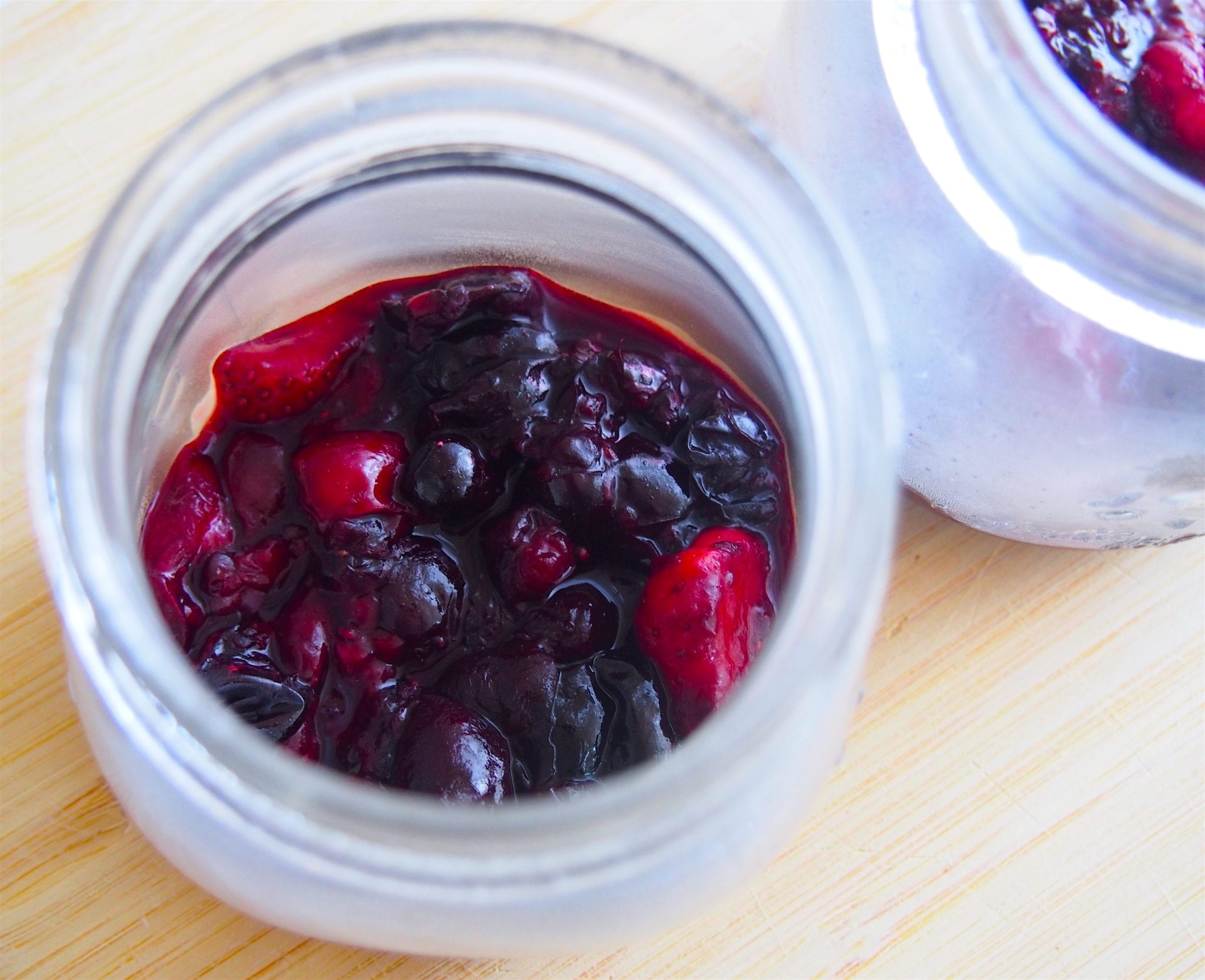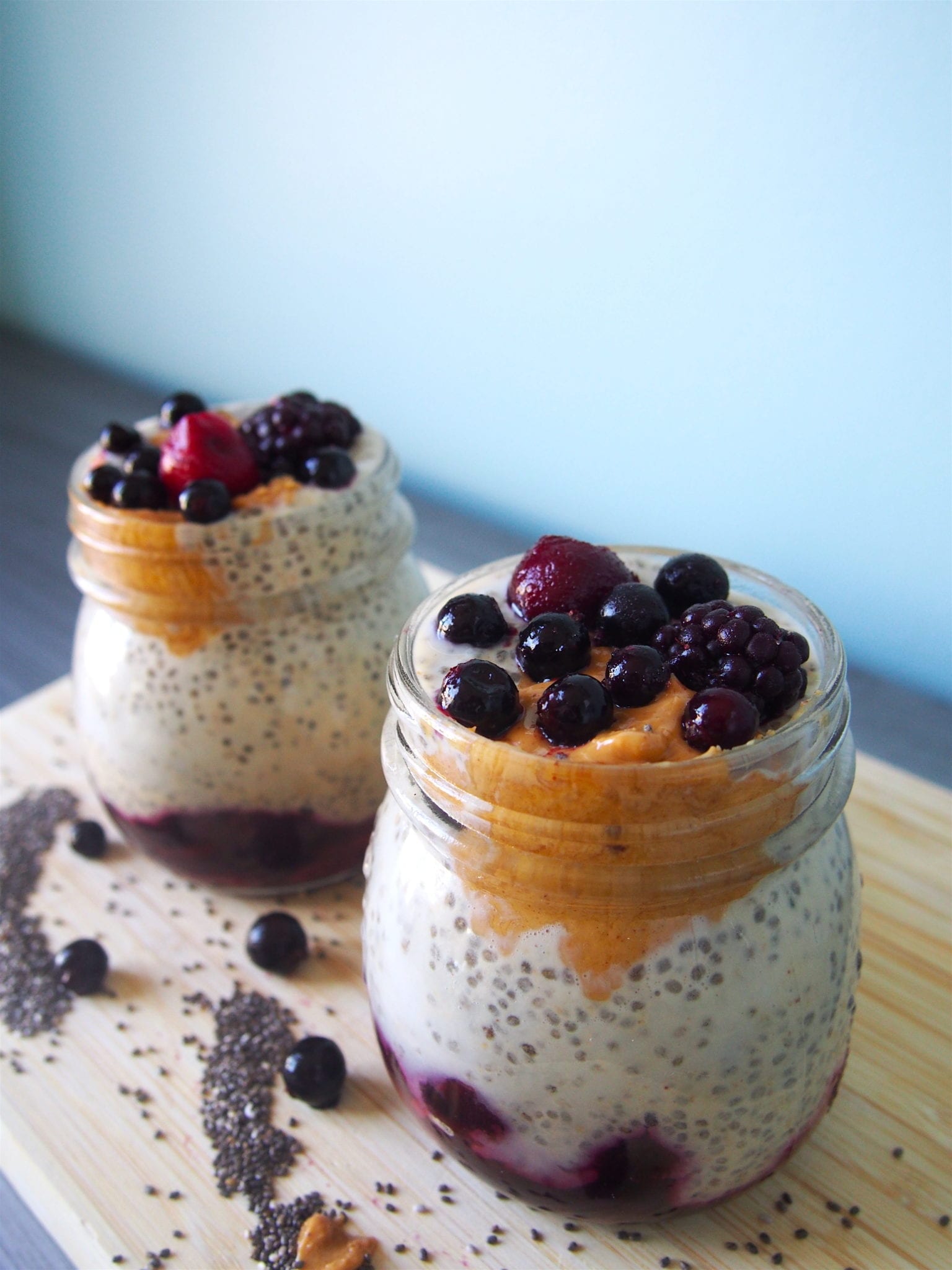 So, you can imagine how happy (and hungry) I was when I realized you can transform those crunchy chia seeds into a deliciously creamy, sweet and HEALTHY dessert. And for someone who has a crazy sweet tooth (with, unfortunately, a metabolism that doesn't quite match my cravings), I was pretty excited to try out chia seeds in a whole new way. I might be a few years late to the chia pudding party, but better late than never, right?!
If you follow along on Snapchat (my username is golivexplore), you'll know that I went a little mad making a bunch of desserts this weekend, and this one is definitely a winner.
This Peanut Butter Berry Chia Pudding is super clean, it's easy to make and it tastes so good! And did I mention you need only 5 ingredients to whip it up? It's a fairly versatile recipe too so you can substitute the almond milk for soy, regular milk or coconut milk (or whatever else you like), and mix up your fruits if you don't fancy berries.
I think a mango, peach or rhubarb compote could work well, but you may have to sweeten it up slightly with some honey or chopped dates (berries are naturally sweet enough as they are). Let the taste test guide you on that one!
These pots of goodness take less than 30 minutes to pull together, and then alllll the magic happens in the fridge. The chia seeds absorb the liquid and transform into a thick, filling pudding. It's a great breakfast dish too, and a perfect alternative to oats if you're looking to lower your carb intake. And if you're wondering, it's also vegan and gluten free!
This recipe yields 2 servings (medium-sized pots), or you could split it into 4 small pots if you have kids or want smaller portions. If you give it a try, let me know what you think in the comment box below and rate the recipe. Oh and don't forget to tag me on Instagram (@alicia_haque) if you take a photo! Enjoy!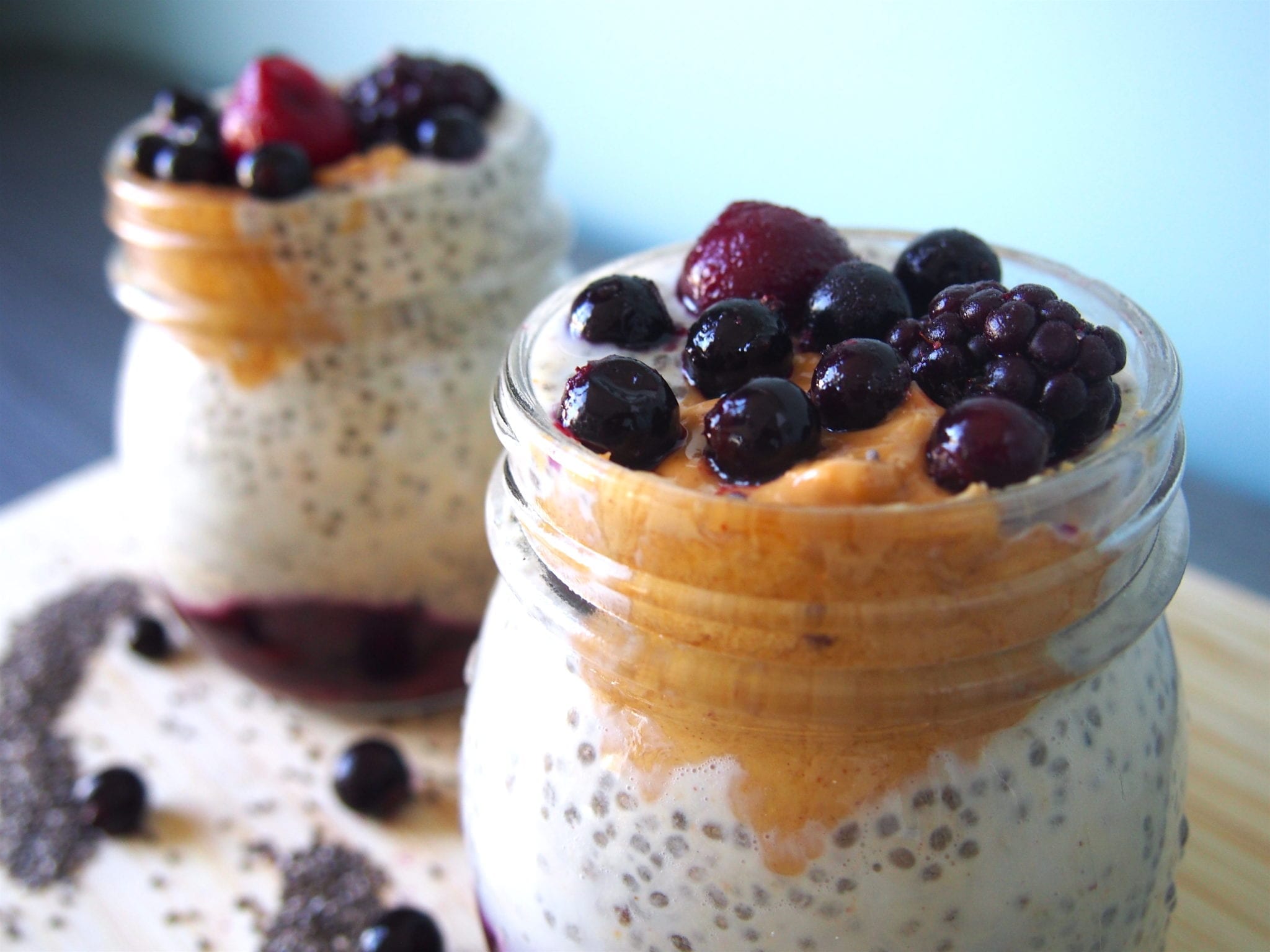 Print Recipe
Peanut Butter Berry Chia Pudding
A delicious, healthy and creamy Peanut Butter Berry Chia Pudding. It's easy to make with only 5 ingredients, and makes a seriously tasty breakfast of dessert.
Ingredients
Compote
2

cups

mixed frozen berries

300g and a handful extra for topping
Pudding
1

cup

almond milk

250ml

1

tbsp

honey

2

tbsp

peanut butter

and extra for topping

1/4

cup

chia seeds

40g
Instructions
Warm the mixed berries in a saucepan on a medium-high heat for 4-5 minutes until it starts to bubble, then cook for a further 3 minutes on a low heat (or until it goes mushy).

Evenly divide the berry compote into the pots and refrigerate for 15 minutes.

In the meantime, add the almond milk, honey and peanut butter to a blender or food processor and mix until smooth. Add the chia seeds and blend for a further 5 seconds, being careful not to blend the seeds too much.

Transfer the chia mix to a jar and refrigerate (or put the blender jar in the fridge).

When the compote is cool, give the chia mix a stir and pour it on top of the compote, then refrigerate for 2-3 hours.

To serve, add a spoon of peanut butter and some berries and enjoy!
Notes
Leave the pot in the fridge overnight if you can, but if not, 2-3 hours is fine. Substitute peanut butter for any other nut/non-nut butter.