If there's one thing that the Bahamas is famed for other than its white sandy beaches and stunning crystal blue water, it's the four-legged, water-babe celebrities also known as the swimming pigs! In the middle of the Exuma Islands located about 50 miles off the coast of Nassau, you'll find an idyllic little island called Big Major Cay, or more familiarly, Pig Island. This is just one of the 365 islands around The Exumas, but it's where you'll find the famous swimming pigs, hanging out on the island, soaking in the sunshine and swimming in the ocean.
Last month in November, we spent a couple of weeks in the Bahamas and paying a visit to the famous swimming pigs was at the top of our to-do list. We were in the Bahamas primarily for Matt's scuba diving liveaboard trip which he runs from Vancouver, but we decided to extend our trip by a week and spend some time in Nassau getting to know the area a little and fully making the most of our time there.
There are quite a lot of tour operators that run day trips to see the swimming pigs, but one that really stood out to me was Coastline Adventures. The tour not only includes a trip to see the swimming pigs, but it also includes stops at Compass Cay to see the nurse sharks as well as a visit to an Iguana island which was exactly what we wanted. We were fortunate enough to partner up with them to experience the tour, and we absolutely loved it. We were staying in Nassau, so we hopped on a plane over to the Exuma Islands and were met by the tour reps, and then began our adventure day out on the boat, hopping around some of the most gorgeous islands in the Bahamas.
It was such a fun day and so great to tick off our must-sees all in one day. I've received a lot of questions about the tour and logistics, so I thought i'd share a bit more about the experience in case you're also interested in swimming with pigs in the Bahamas and checking out the tour for yourself!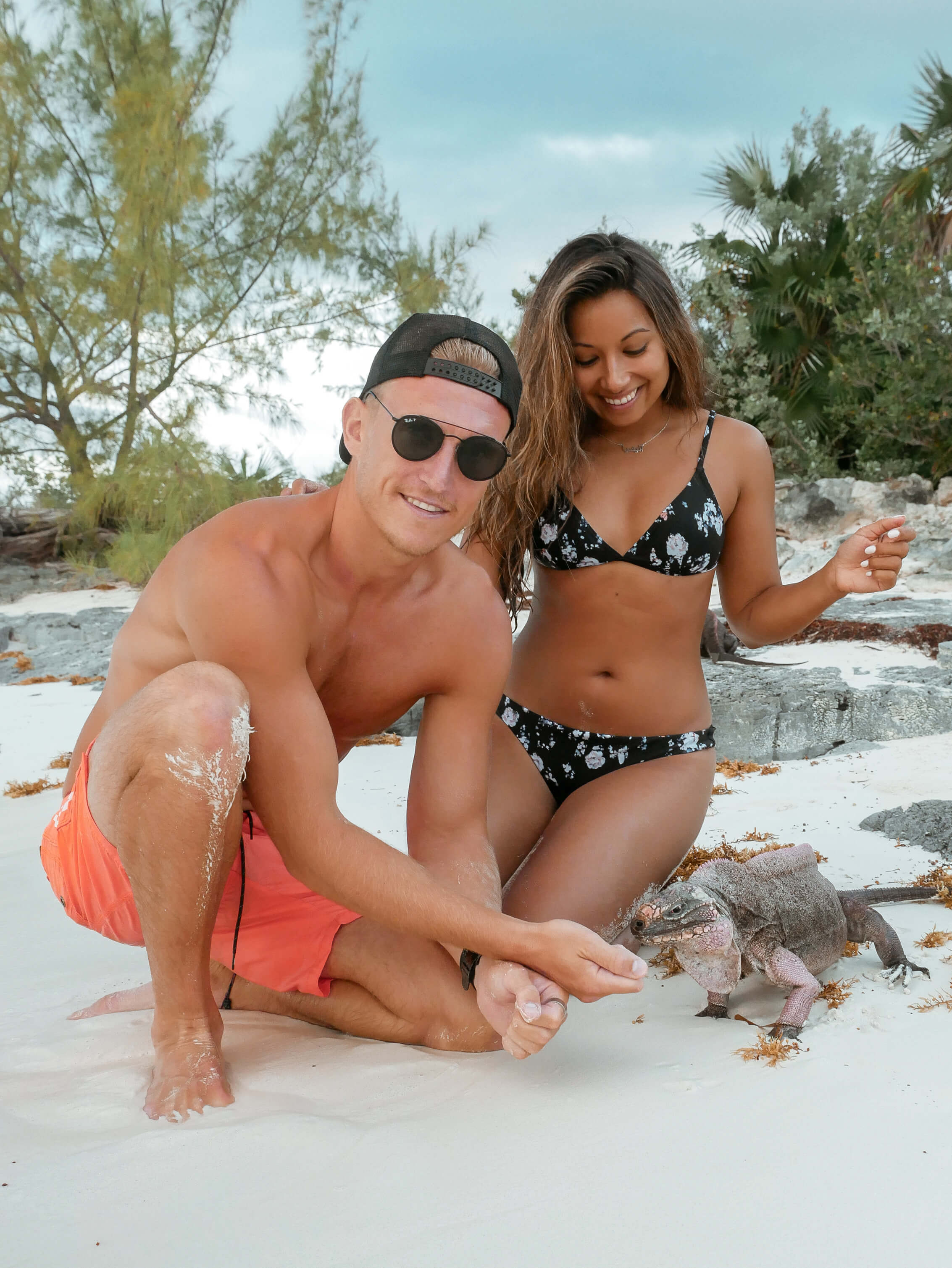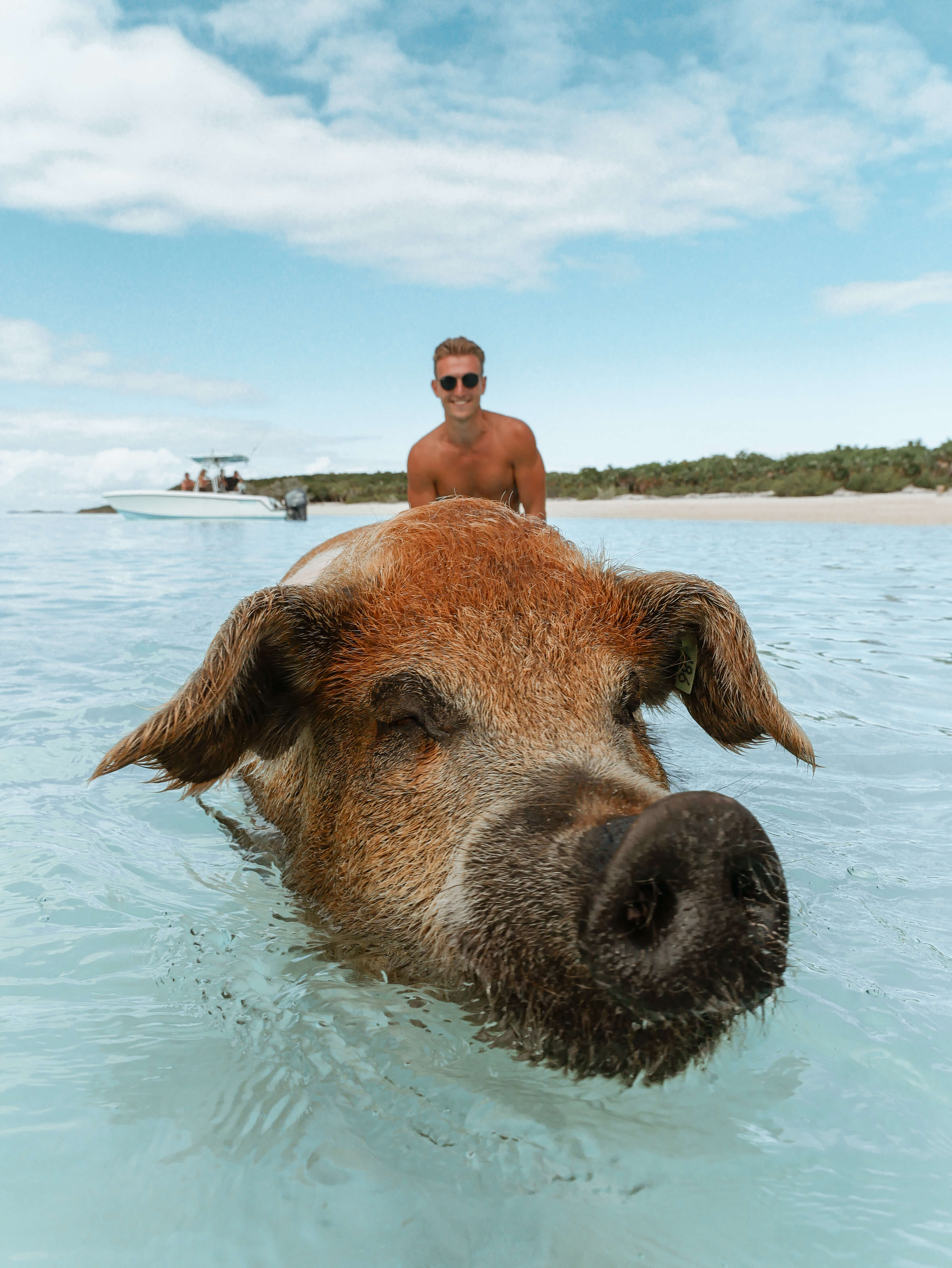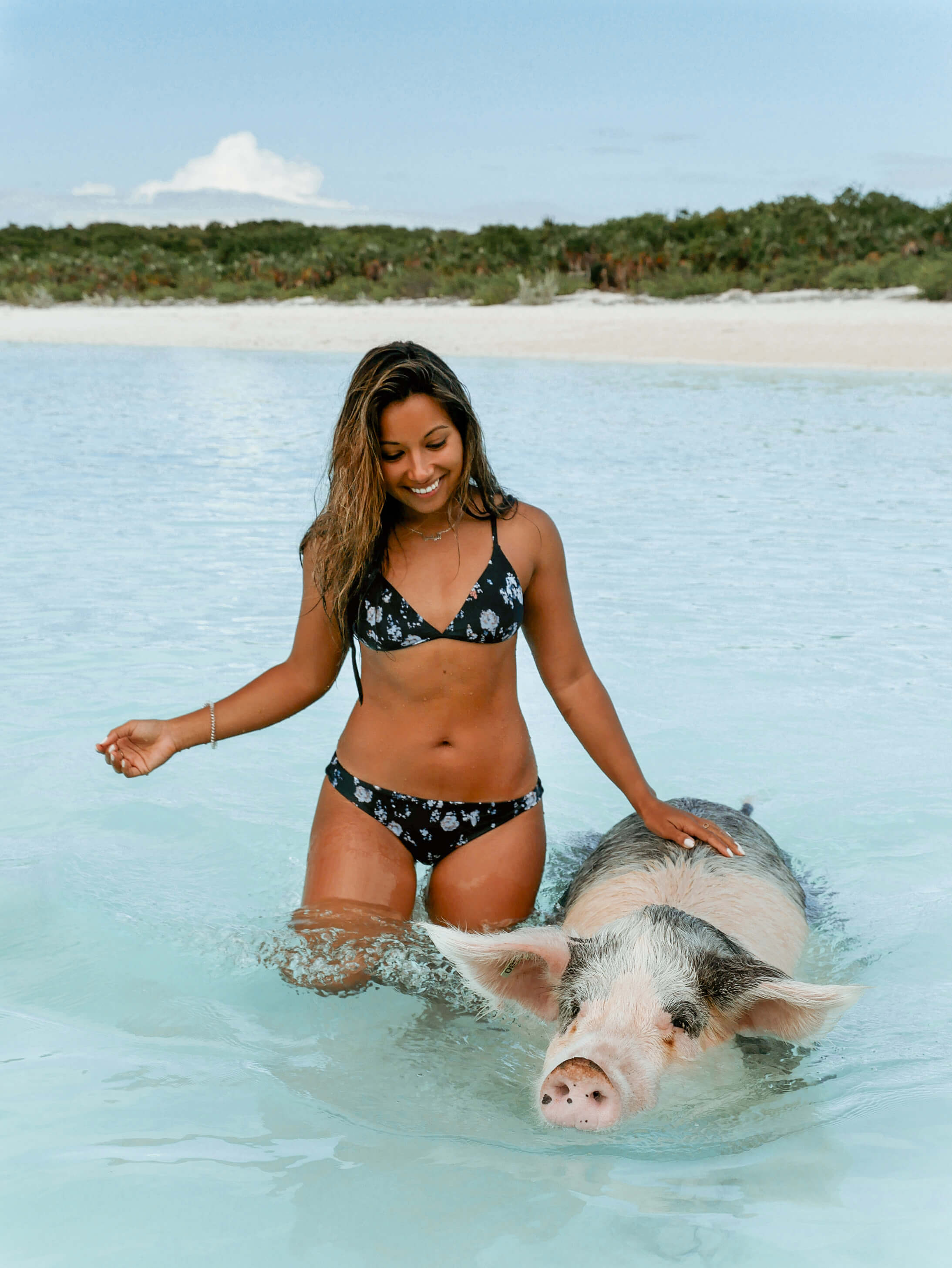 Can you visit the swimming pigs on a day trip from Nassau?
Yes, you most definitely can! There are a very small number of tour/boat operators that go directly from Nassau to the Exuma Islands, however, you'll find that the majority of tour companies are based in the Exuma Islands, Coastline Adventures included.
The most common thing to do is to fly to the Exuma Islands, and then begin the boat tour from there. I was advised by a few companies (and have also experienced this myself on our liveaboard trips) that the 50-mile crossing to the Exumas can be quite choppy and uncomfortable, especially if you're in a small speedboat. So, if you're limited for time or if the weather's not great, then it's sometimes better to fly to the Exumas and do the tour from there so you're not as reliant on weather and wind and there's less risk of cancellation.
However, if you don't want to fly over for whatever reason, you do have the option of going direct from Nassau, just make sure you have a back-up day just in case.
How do you get to the swimming pigs?
The swimming pigs are located at Big Major Cay in the Exuma Islands. While the key attraction is the swimming pigs, most tours will also fill the day with other really fun activities as well. After we got picked up by our tour operator, we then drove to the port, hopped on the boat, and then made our way around the islands and later on towards the end of the day made a trip to see the swimming pigs!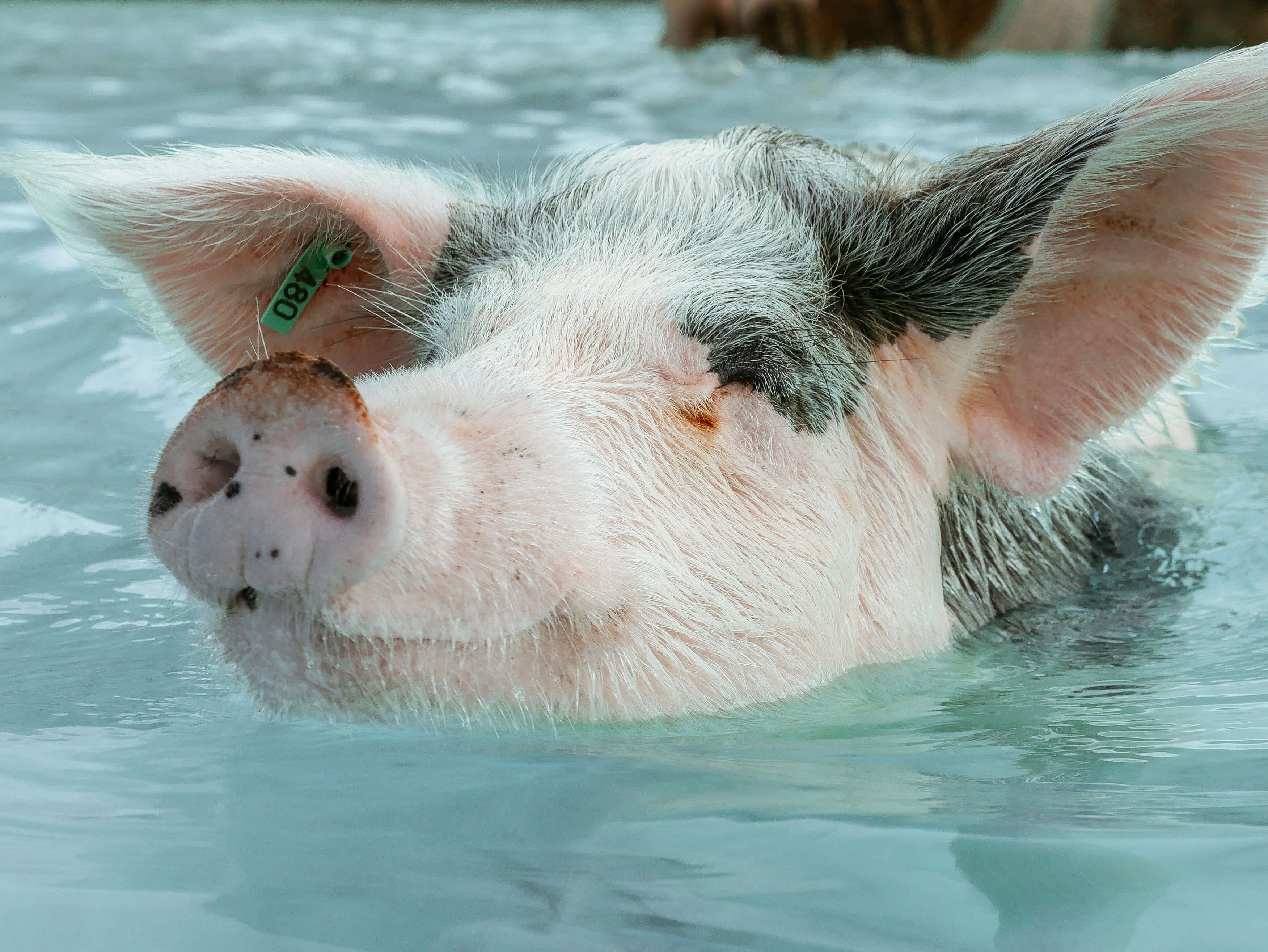 How do you get from Nassau to the Exumas?
The best way to get from Nassau to the Exumas is to fly. We flew with Bahamas Air, and went from Nassau Airport to Georgetown Airport in the Exuma Islands. The flight takes around 30 minutes and is only a small plane, and it costs roughly $150 each for a return trip. You can also fly with Sky Bahamas who operate on a slightly different schedule.
We flew out in the morning at around 8:30am and flew back around 7pm, so it was a full day. When we booked our tour, our guide recommended the flight times that would work best with the tour timings so everything would line up.
What's included in the Coastline Adventures tour?
I was so impressed with the whole tour that Coastline Adventures put together and it was such a fun and adventure-filled day. They picked us up from the airport in George Town in the Exumas, then drove us to the port where we received our brief for the day and then hopped on the boat to explore the islands.
The nice thing about the tour is that while it does focus on the swimming pigs, you also get to do and see a huge amount of other fun attractions as well. The tour guides were super friendly, really funny and knowledgable, and they made us feel very welcome from the minute we stepped on the boat. We had unlimited water and soft drinks/beers on the boat and I liked that the boat wasn't too packed so it didn't feel crowded or too busy. When it rained, they handed out waterproof jackets and the boat was lovely.
What was also nice was that they went and picked up our boarding passes while we were out on the boat, and so when we returned to the dock we already had our boarding passes printed out. That meant we could go straight through to the gate at the airport and it was a really lovely touch.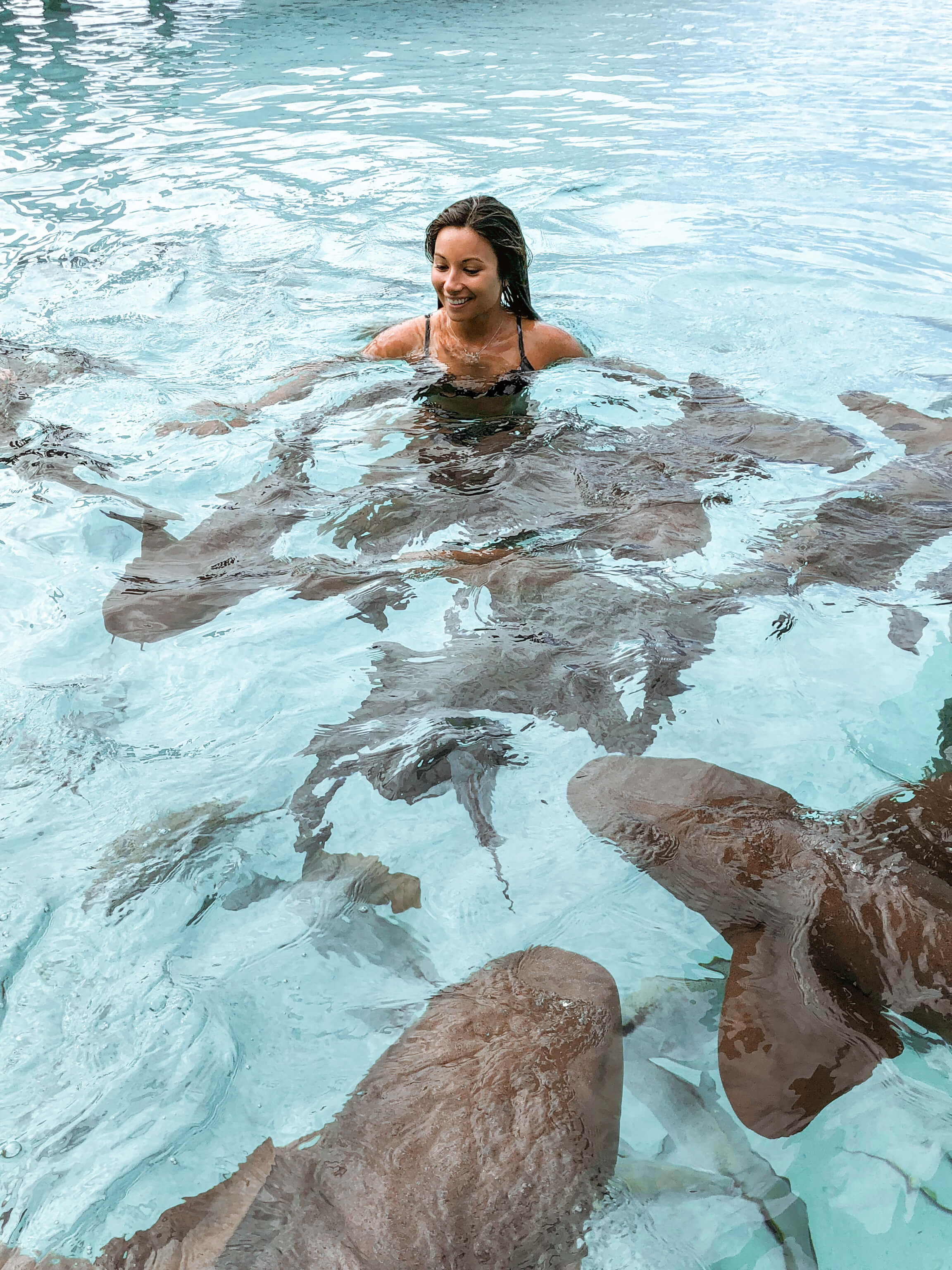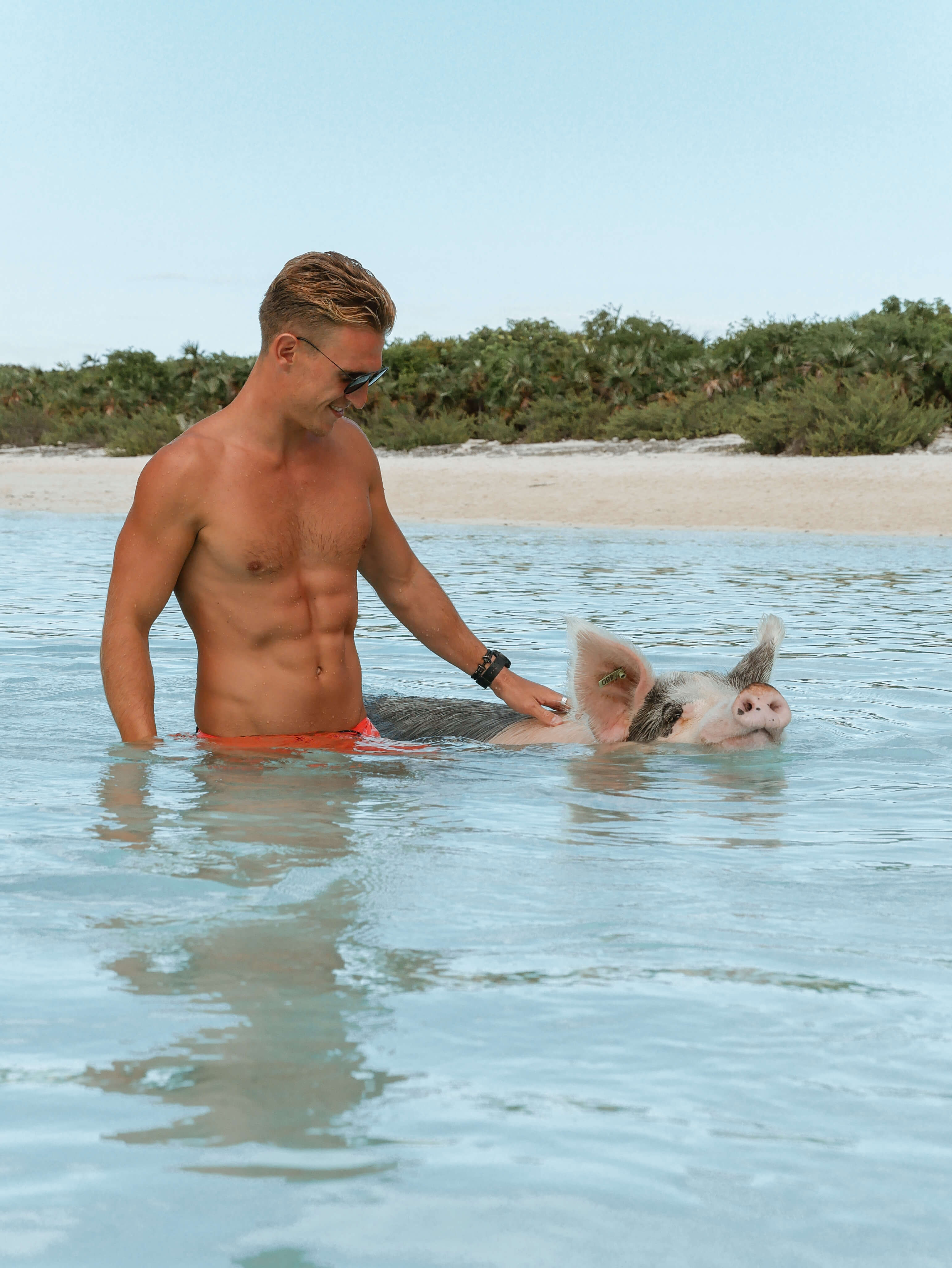 My main highlight was, of course, the swimming pigs, and it was so surreal to see such big huge pigs wading and swimming in the water on a white sandy beach in the Bahamas. Definitely not something you see every day! As we approached the beach, the pigs were hanging out in the water so we jumped in as we got close and spent quite a bit of time playing and enjoying their company. Some of the babies were a bit more timid, but the older pigs were very confident and incredibly cute. They're actually super fast in the water which you wouldn't expect!
We also visited Nicolas Cage's Iguana island which is basically an island FULL of iguanas!! They're all over the beach and they're actually very friendly and gentle. You can feed them a little bit of lettuce and if you sit still, they slowly crawl up your arms and legs and chill out with you which is really cool. I loved hanging out with the iguanas and it was amazing as there were so many all in one spot.
Another highlight was our visit to Compass Cay where you'll find dozens of nurse sharks. You can get in and swim with them which is a lot of fun, however, one thing I will say is that it was very busy.
The sharks naturally congregate around the Cay and this area, however, they are pretty famous so a lot of boats were there and it was very crowded, more so than any other place we visited that day. We were also told by the supervisors at the Cay that we weren't able to use our professional camera and they were very adamant about that (no idea why), so just a heads up if you're planning to take your camera gear.
We went to an incredible Sand Bar, which is essentially a stretch of pure white sand that emerges in low tide. There, our tour guides prepared a fresh conch salad for us and we had quite a bit of time to chill out and relax. We visited Thunderball Grotto (it featured in one of the 007 movies which is very cool!) for some snorkelling, as well as another island for a spot of lunch. Lunch was about $20 USD each (not included in the tour), but it was amazing so very worth it.
Overall, we had such a great experience and it was a wicked tour, actually far better than I expected. I definitely recommend it and it's great that you're able to fit so much into one day. The Coastline Adventures tour is $225 USD pp, and return flights to the Exumas are roughly $150 USD each.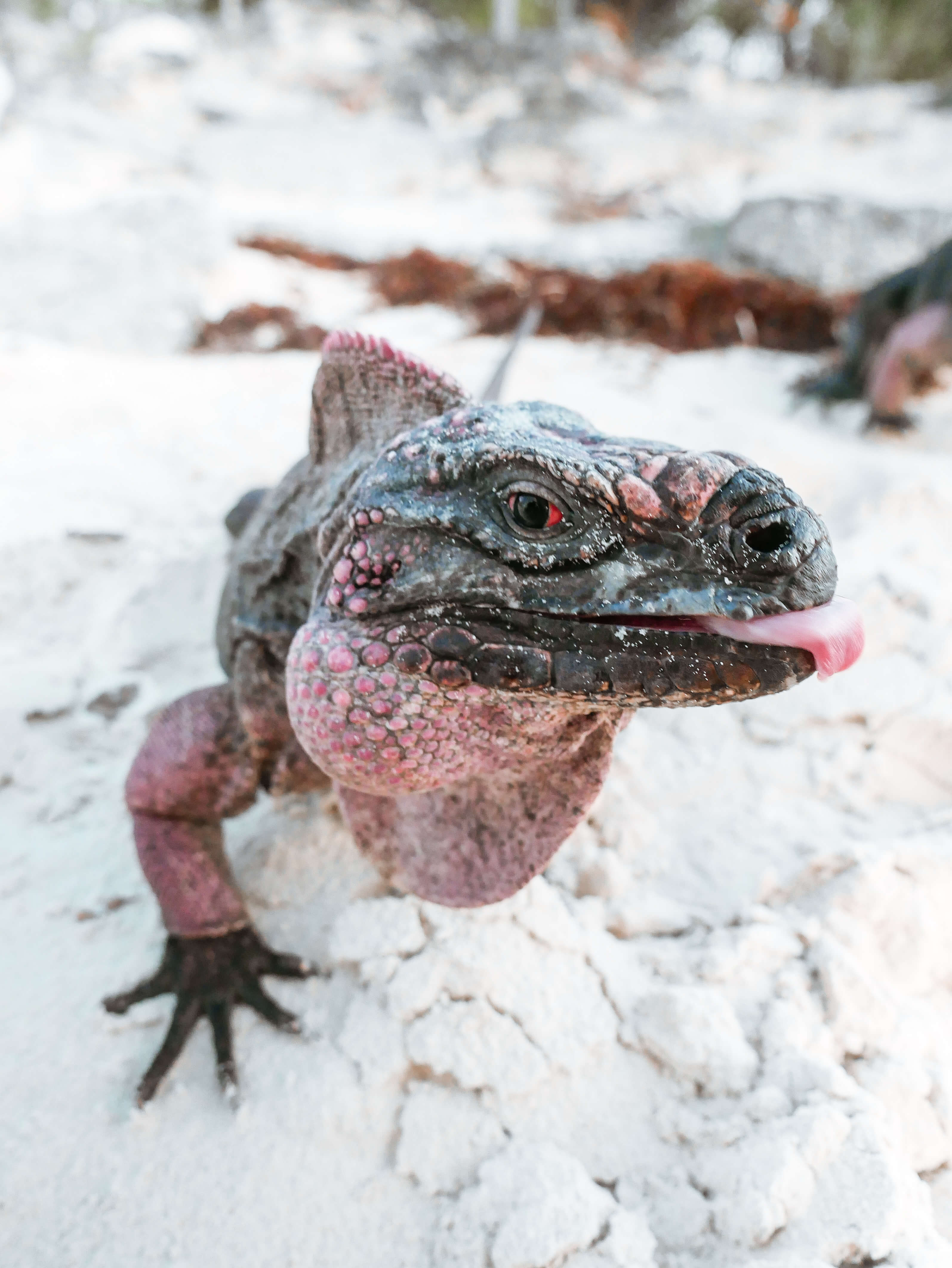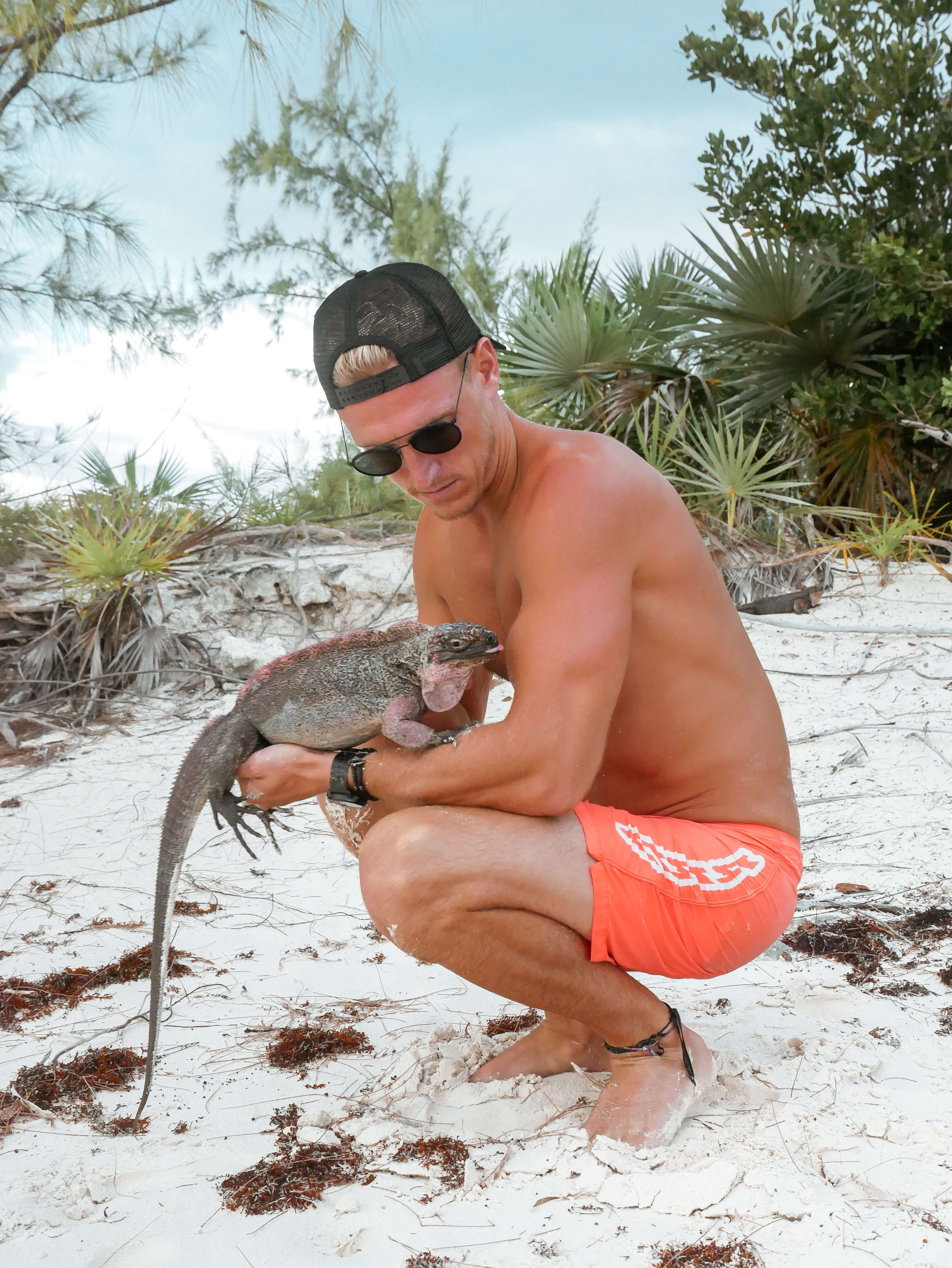 What to take with you on the tour
I also wanted to mention a few things that are useful to take with you on the tour. Whether you fly or go directly from Nassau, it does end up being a long day so it's important you pack the right things. Here are a few essentials i'd recommend:
Towel
Suncream, sunglasses, sunhat etc
Bikini/swimming gear
Change of warmer clothes for the journey home (v important!)
Phone charger / battery pack
Go Pro / Camera
Cash for lunch + Compass Cay $10 fee
Waterproof phone case (if you have one) - quite useful as you will be in and out of the sea
Plastic bag for your phone or camera - in case it rains or you experience some splashes on the boat
Snacks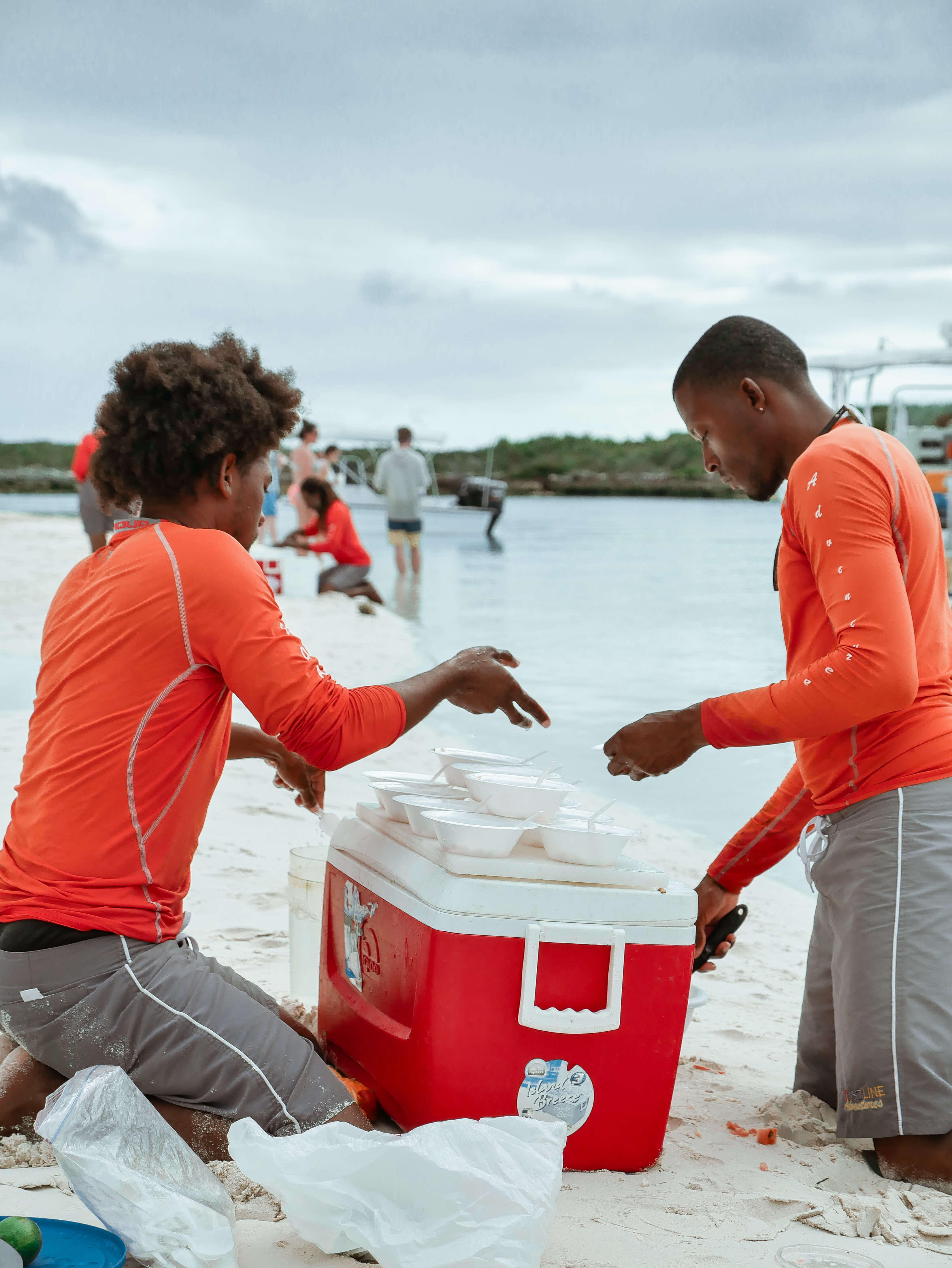 I hope you've found this useful if you're also thinking about doing a swimming pigs tour in the Bahamas! Let me know if you have any questions or if there's anything specific you'd like to know!