Winter is a magical time of year here in Vancouver. This season we've experienced a massively generous serving of snow which has made way for endless adventures both close to downtown and out in the mountains. I love escaping the city and hitting the snow (which i'm sure you all probably know), whether it's to ski, hike, or snowshoe, and we're really lucky to have so many amazing hiking spots within arm's reach.
A couple of weeks ago we experienced 4 extreme weather conditions in one afternoon - a blizzard in the mountains, rain in the city, gale force winds by the coast, and a stormy sunset at the beach. Fortunately, we were prepared with Modo's Jeep Renegade which is kitted out with winter tires, snow mode, and 4wd, so we had no trouble driving up the snowy roads of Mt Seymour, but it just highlighted how easily the weather can change in an instant especially when you head further north.
Although spring is coming, winter is far from over and there are plenty of snowy hikes and trails you can enjoy for at least the next couple of months. Personally, I think the period between winter and spring is the perfect time to get out into the wilderness and see more of the area. The days are longer and the sunshine's a little bit warmer, but you still get to enjoy snowy conditions, which is the perfect combination. Here's a list of some of my favourite winter/spring hikes around Vancouver if you're heading out this weekend.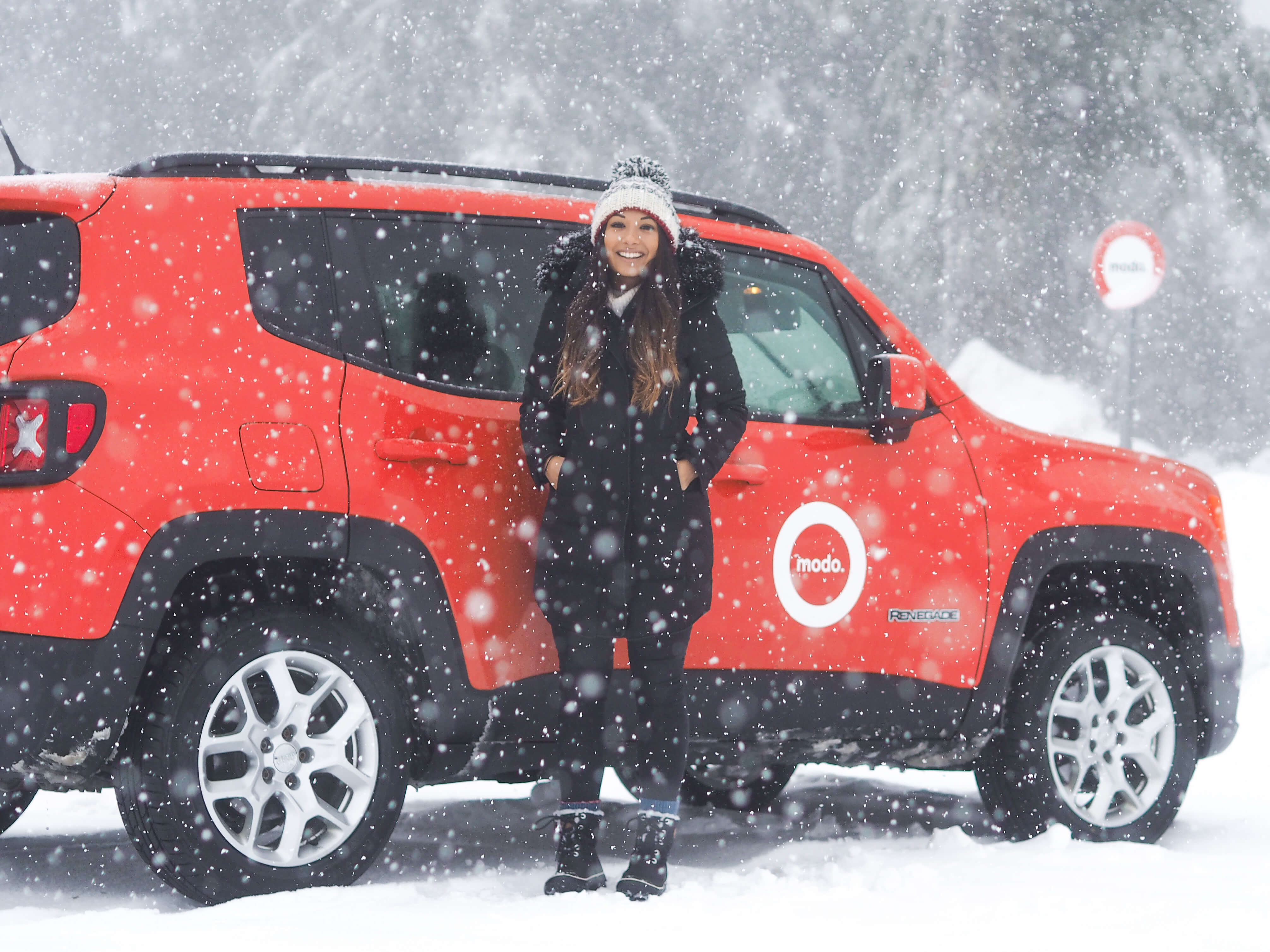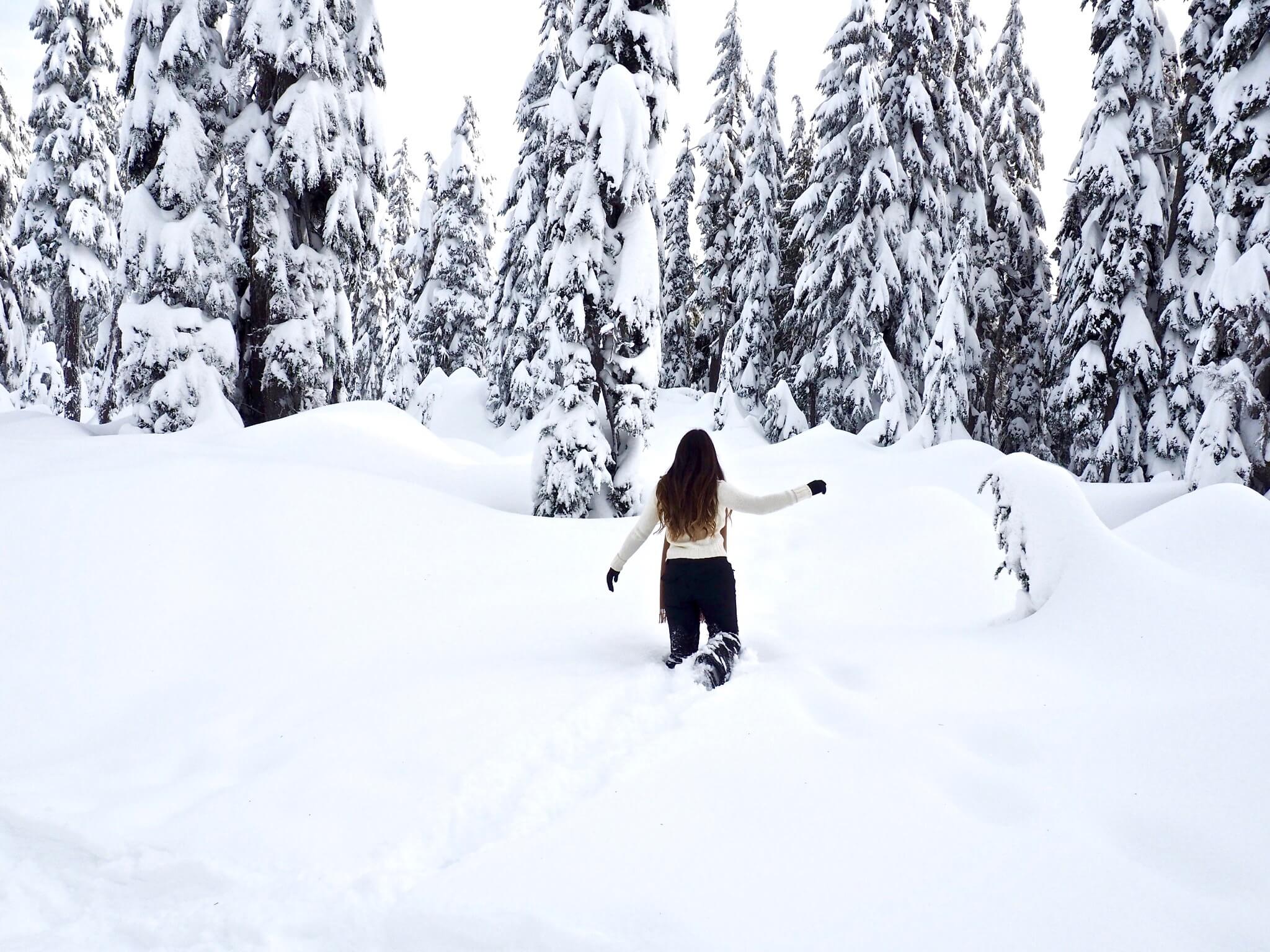 Hollyburn Mountain, Cypress Mtn;
Distance: 7km round-trip
Difficulty: Easy to Moderate
The best hikes aren't always the furthest away, and Hollyburn Ridge at Cypress is the perfect example. You can access the trailhead within 30 minutes of downtown and the views from the top are absolutely beautiful. Snowshoeing here is really popular, but you can also hike as the trail is pretty well marked out and packed down. Many people opt to do this after dark for an even more magical view of the city lights, and the trail can be completed within a few hours. There's no charge for parking and dogs are welcome.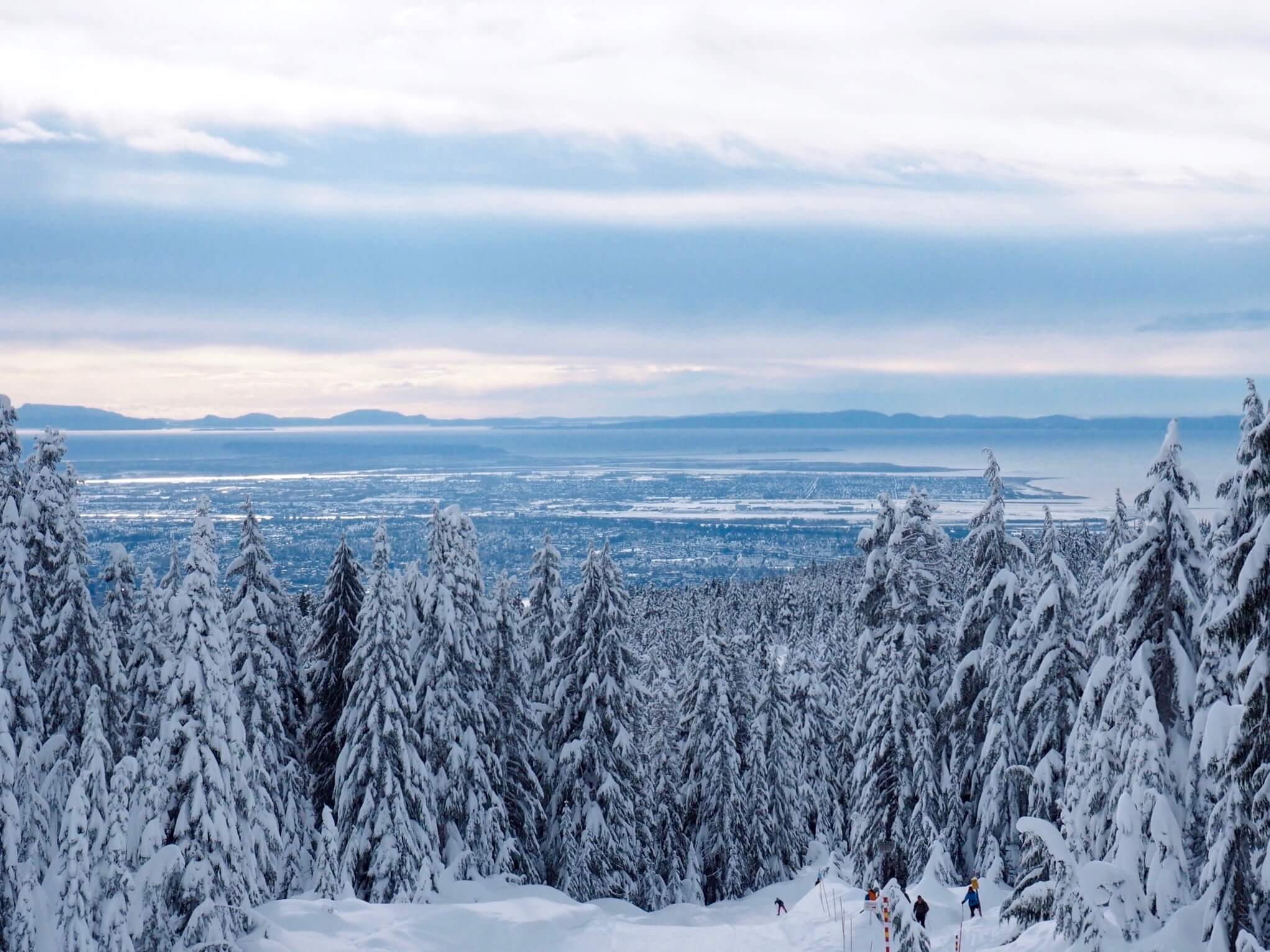 Joffre Lakes, Pemberton
Distance: 11km
Difficulty: Moderate
Although Joffre Lakes is a pretty popular spot nowadays, it's still one of my favourite hikes around Vancouver and it's beautiful in winter. It's quite far north, about a 2h 45 drive from the city, and you can expect snowy conditions from November through to March/April. The lake freezes over in the colder months and the trail will be blanketed in snow until late spring. Most of the hike is at a gradient, but it's very enjoyable and the views are absolutely beautiful. If you're planning to carshare, I suggest taking one of Modo's winter vehicles as the roads up there are often covered with snow. Read my post about winter hiking at Joffre Lakes for more info.
Rainbow Trail, Whistler
Distance: 2km
Difficulty: Easy
A quick ride away from Whistler Village you'll find the Rainbow Trail which can be accessed from Alta Lake Road. The hike is relatively short and easy, but it's covered in snow in winter so it's a great place to test out your snowshoes on a fairly easy trail. The trail carries on around the lake and joins up with the Flank Trail and Rainbow Falls, so you can make it as easy or difficult as you like. The terrain is pretty flat and the trailhead can be accessed from the parking lot.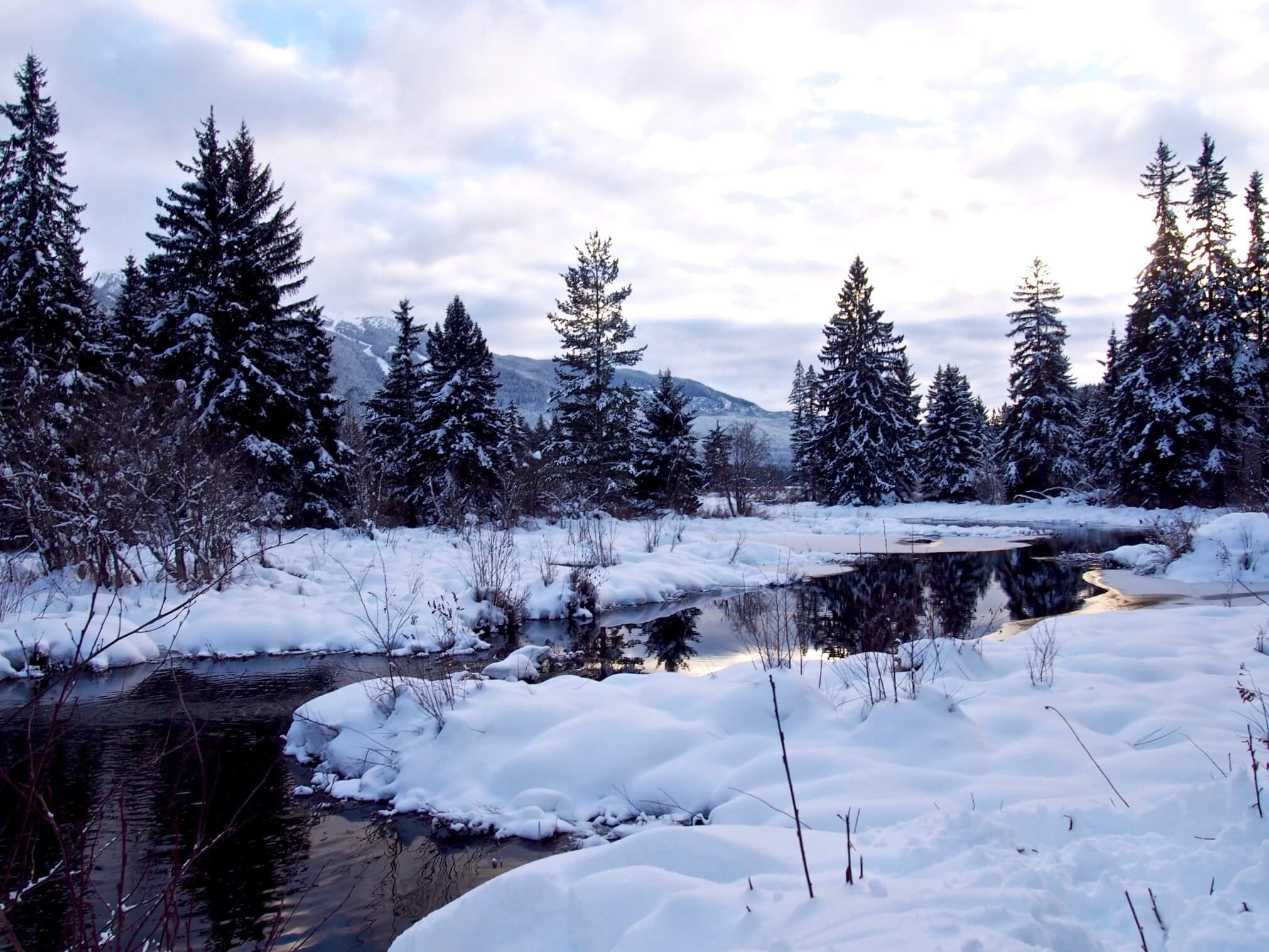 Elfin Lakes, Garibaldi Park
Distance: 22km
Difficulty: Moderate to Difficult
The Garibaldi area is home to some of the most incredible hikes, Elfin Lakes being one of them. One of the more challenging hikes around Vancouver due to its distance, Elfin Lakes is magical in the winter and is one of the best snowshoeing routes around. The trail is well marked out and leads to the Elfin Lakes hut, a solar powered hut where you can stay overnight. It only sleeps 33 but you can book a place online. The trail is usually covered in snow from November until June, and dogs are not allowed. See this post for more detailed info.
Whytecliffe Park, West Vancouver
Distance: 2km
Difficulty: Very Easy
If you're looking for something a little lighter, Whytecliffe Park is a lovely stop off with scenic views of the ocean and rugged coastline. This is a great picnic spot, the sunset is gorgeous and you'll often catch seals hanging around on the rocky outcrops. Stroll along the beach or follow the trail up through the trees and up to the viewpoint. The car park is located right next to the path and has a public washroom.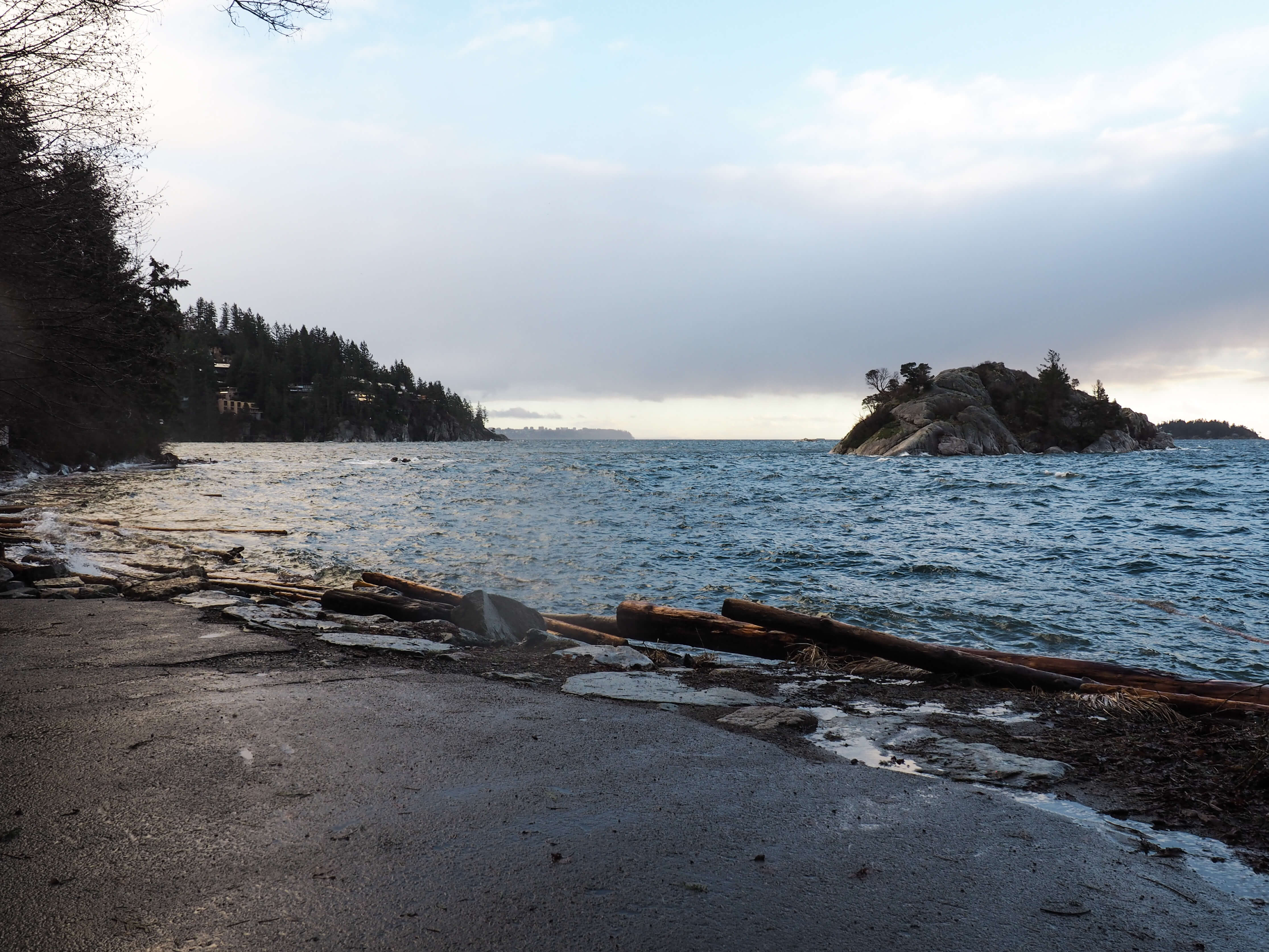 Dog Mountain, Mt Seymour
Distance: 4.4km round-trip
Difficulty: Easy to Moderate
Dog Mountain is such a lovely hike and offers beautiful sweeping views of the city and ocean. Mount Seymour can be reached within 30 minutes of Downtown, and at 4.4km it's not too arduous with very rewarding views from the top. The snow is usually packed down on the trail so you can do it with just hiking boots or snowshoes. Dogs are welcome and it's a free snowshoe trail. The trailhead can be accessed at the foot of the slopes at the far end of the car park, and you'll also find two allocated Modo spots here.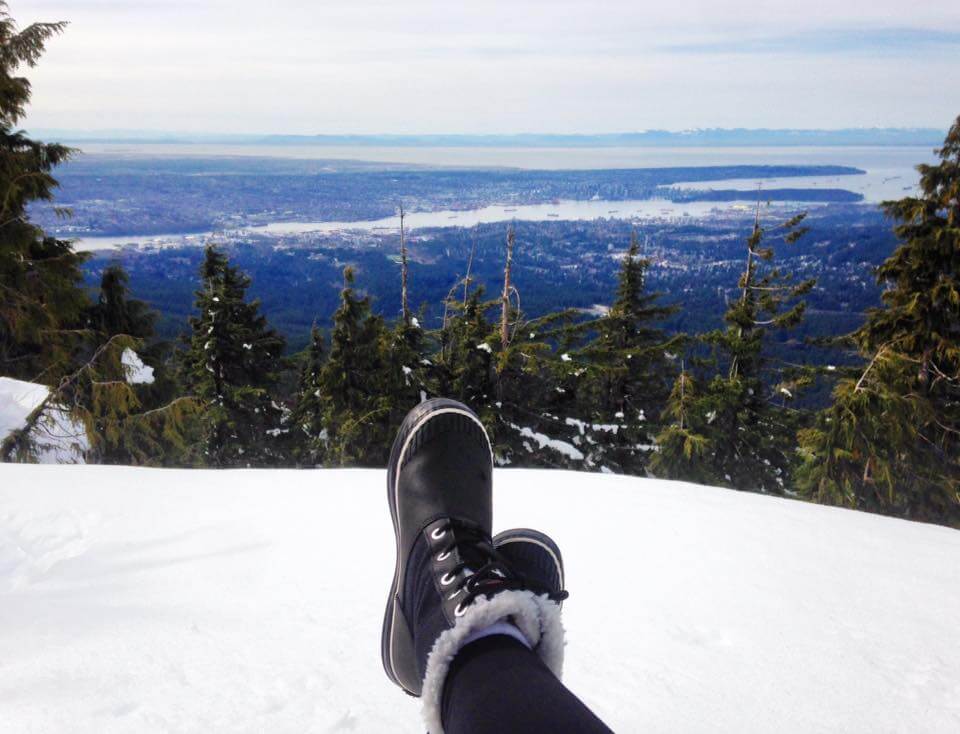 Taylor Meadows, Garibaldi Park
Distance: 25km, round-trip
Difficulty: Very Difficult
The whole Garibaldi area is absolutely beautiful, and it's a proper winter wonderland in the snow. The trail to the meadows and foot of Garibaldi Lake is very well marked out, but it's a very long hike so it's not to be taken lightly. If you plan to do this in one day, expect it to take between 7-10 hours and make sure to leave early enough in the morning to get down before sunset. There is a campsite at Taylor Meadows if you decide to stay overnight. Panorama Ridge and Black Tusk are accessible but difficult (click here to read my post about hiking Panorama Ridge in summer) but the views from the top are sensational. The parking lot often isn't ploughed in winter, so you may have to hike up from the road to the trailhead. Although the trail is normally pretty well marked, if there's been fresh snowfall it's worth taking a GPS just in case. Dogs aren't welcome on this trail. For more information click here.
Second Beach, Stanley Park
Difficulty: Very Easy
Although Second Beach isn't exactly a hike, it's the perfect place to stop off for sunset on your way back into Downtown. Park up in the parking lot by the beach, and head down to grab a few snaps of the sun setting into the horizon. Being able to spend the day in the mountains and then enjoy sunset on the beach always makes me appreciate Vancouver that bit more, and it's a beautiful way to end a day out.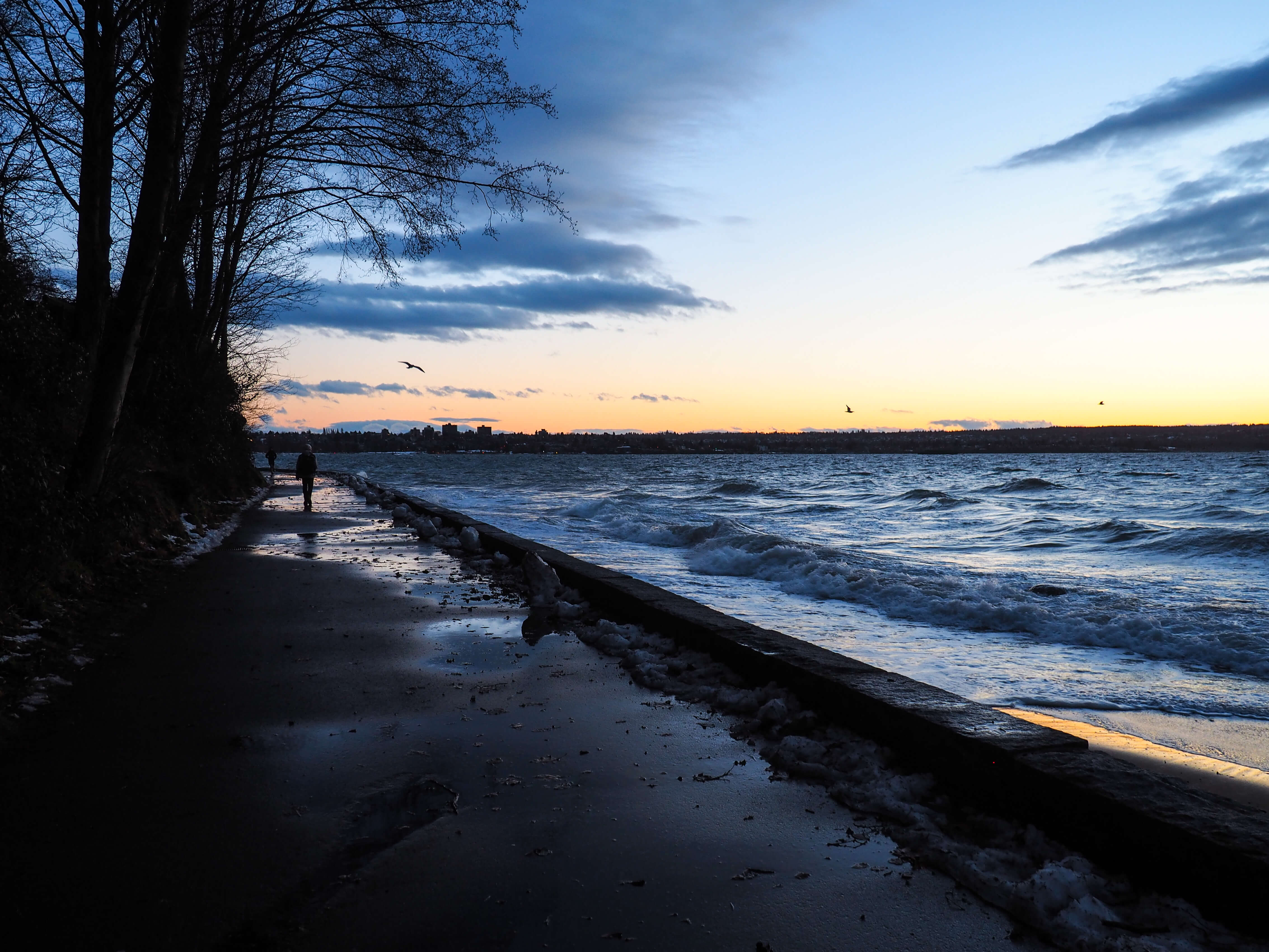 What are your favourite winter/spring hikes around Vancouver? Drop me a comment below and let me know where you love to go!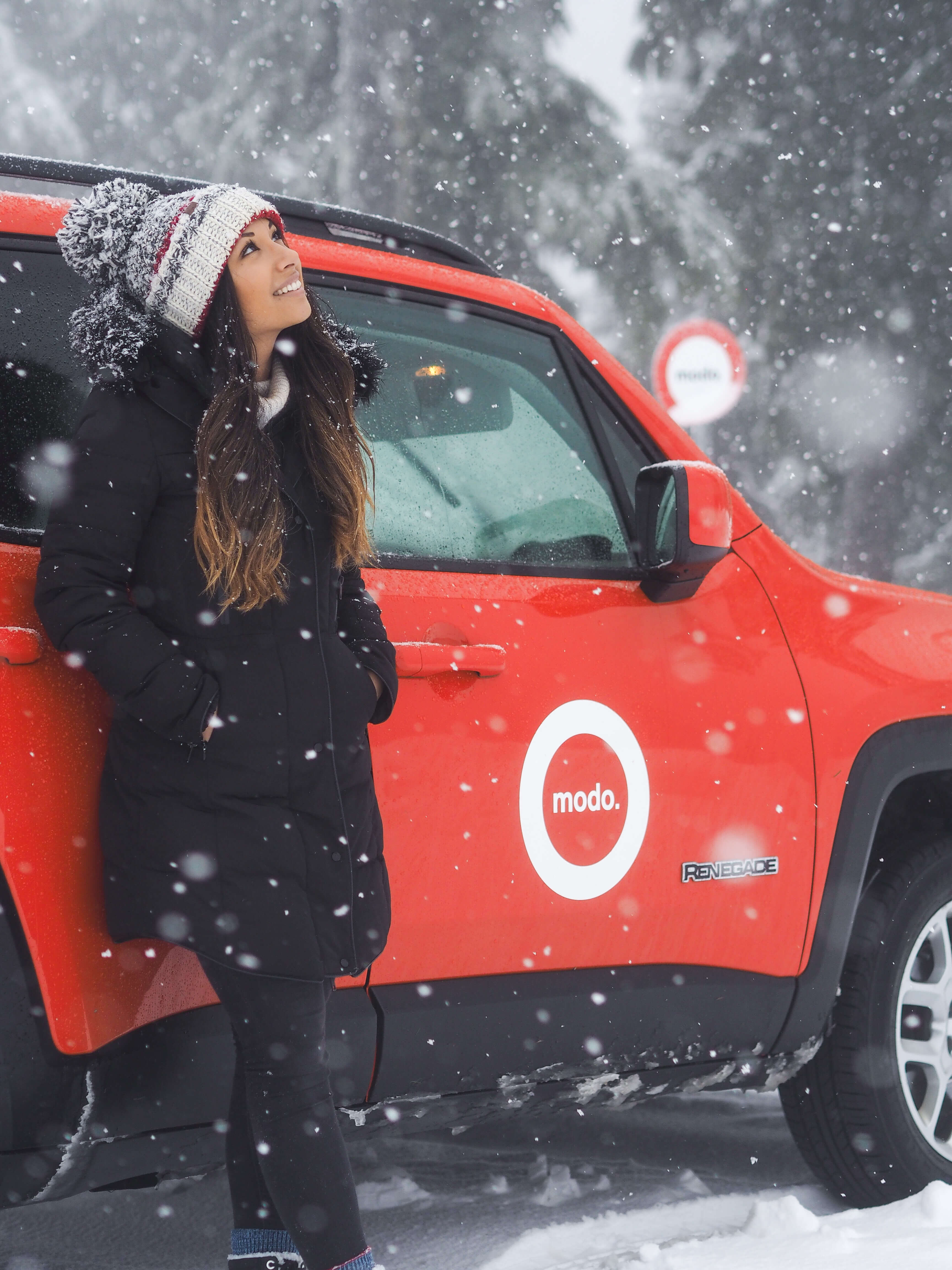 Getting There
Modo is always our first point of call for our adventures and I'm a huge advocate for their carsharing service. We actually don't need to own a car since there are so many Modo's around us, and at roughly $75 a day including gas and insurance, it's a small price to pay for having a car that feels like your own.
Over 60 of their vehicles are equipped with winter tires for when you're driving in heavier snow (such as the Orange Jeep Renegade), however, all of their other vehicles carry all-season tires as well, the only exception being those with sport tires.
Modo is two-way carsharing which means you return it to where you found it, and you'll find allocated Modo parking spots at places like Seymour which is great for when it's busy.
Learn more at Modo.coop.