The view from Panorama Ridge in Garibaldi Provincial Park is undoubtedly one of the best in British Columbia. Sitting at 2100m, Panorama Ridge towers over Garibaldi Lake and offers a spectacular landscape of snow-capped mountains, and of course, the picture-perfect turquoise glacier lake.
At 30km long (round-trip) with a 1500m climb, this is one of the hardest hikes in the area. It's definitely one of the most arduous treks we've done here in Canada, but the reward makes the blood, sweat, and blisters totally worthwhile. As I look back through the photos, it's hard to believe that a view like this actually exists!
Although most people prefer to camp overnight and tackle this hike in 2 days, we decided to challenge ourselves to hike Panorama Ridge in one day. I want to point out now that this is not an easy hike and not one that you embark upon unprepared. It's definitely one for the more experienced hikers, simply because it's so long and the terrain and incline are somewhat challenging.
But if you are ready to take on the challenge, prepare yourself for one of the most beautiful hikes you'll ever do. Here's everything you need to know about hiking Panorama Ridge in a day, including what to take with you, when to go, camping out, and what to expect when you get up there!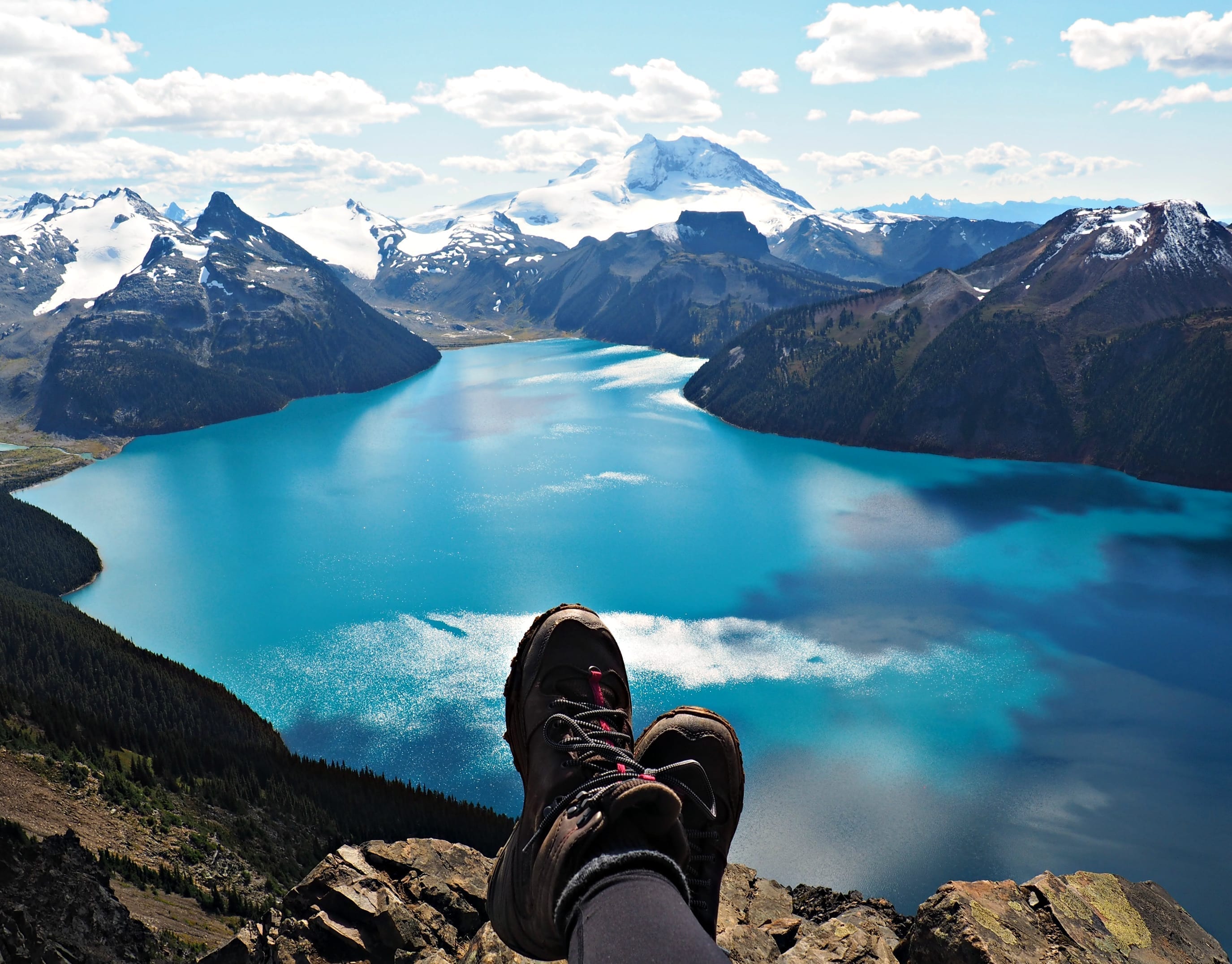 Hiking Panorama Ridge in a day
Since we didn't have the right gear to camp overnight, we decided to hike Panorama Ridge in a day. It's definitely doable but you need to make sure you get an early enough start so you're back at the car for sunset.
We left Vancouver at 5:30am and were on the trail by 7:30am. Including 2 hours stopping time, it took us 10 hours overall and we were back at the car by 5:30pm, with plenty of time to spare before sunset. Most websites recommend allocating around 11 hours, so I think this is a good estimate to go by if you want to keep it chilled and spend time taking photos, and depending on your pace. You'll lose light in the forest much earlier than you will in the open air, so take this into account and have a torch or headlamp with you just in case.
The hike up to Panorama Ridge is 15km. You'll climb around 900m in 9km getting to Garibaldi Lake, then a further 600m in 6km getting up to Panorama Ridge.
The trail is well marked, and there are a number of large maps on the way giving direction. The first 2.5-3 hours are spent hiking in the alpine, then the landscape opens up and you'll meander through the beautiful Taylor Meadows. This is where we spotted grizzly bears, so keep your eyes peeled and make lots of noise!
We decided to go straight up to Panorama Ridge and skip the lake, so we followed signs for Taylor Meadows and then up to the Ridge. If you want to stop off at the lake, the trail is well sign posted, but make sure to account a bit of extra time for this.
The trail up to the Ridge is beautiful. You're surrounded by a landscape of sprawling snowy mountains, lush green meadows, and the towering Black Tusk peak. The climb up to Panorama Ridge is a bit of a scramble and a little hard on the legs, but the view from the top is the best reward. For more information about the trail and directions, take a look at this post which gives a more in-depth overview.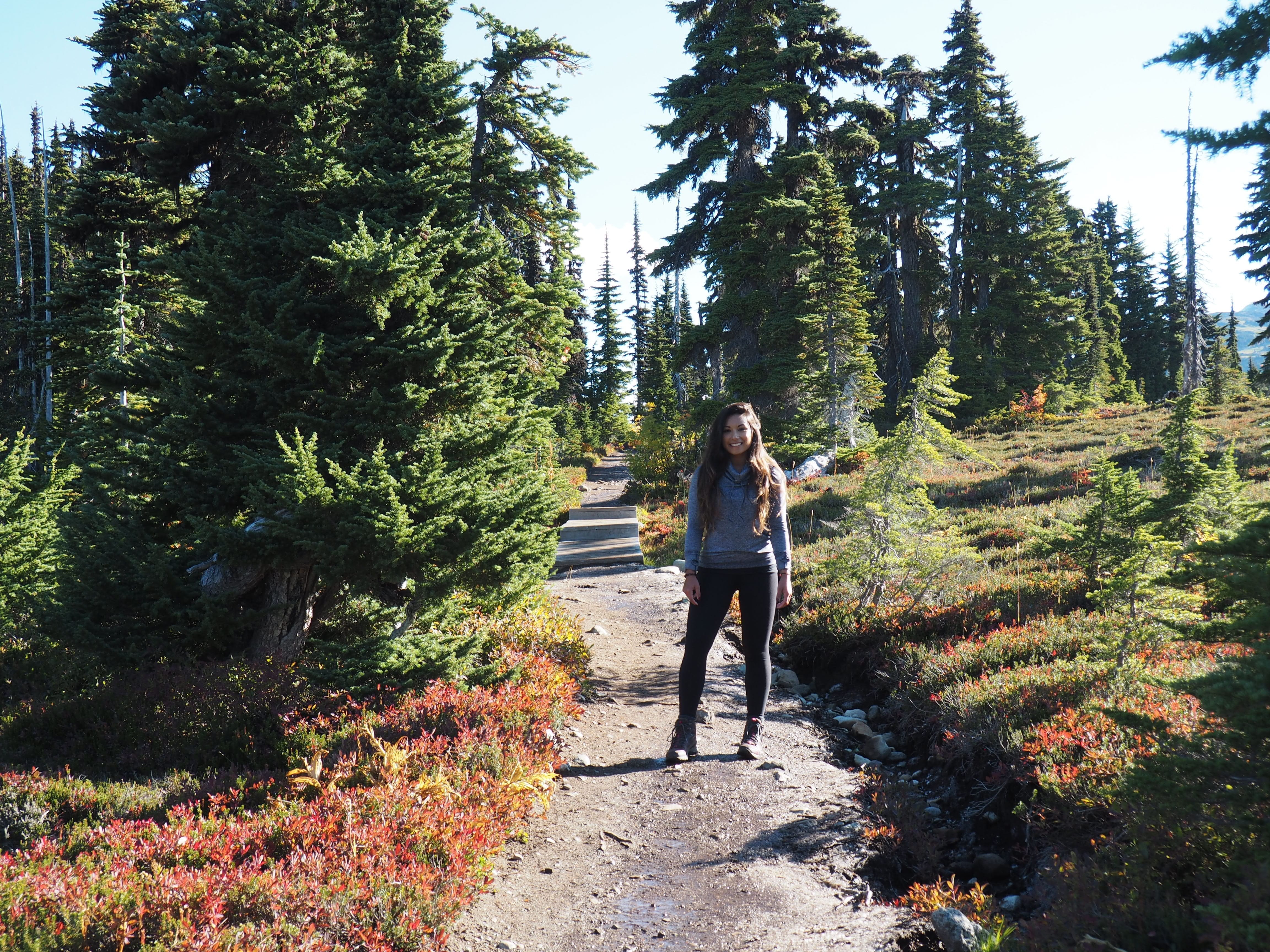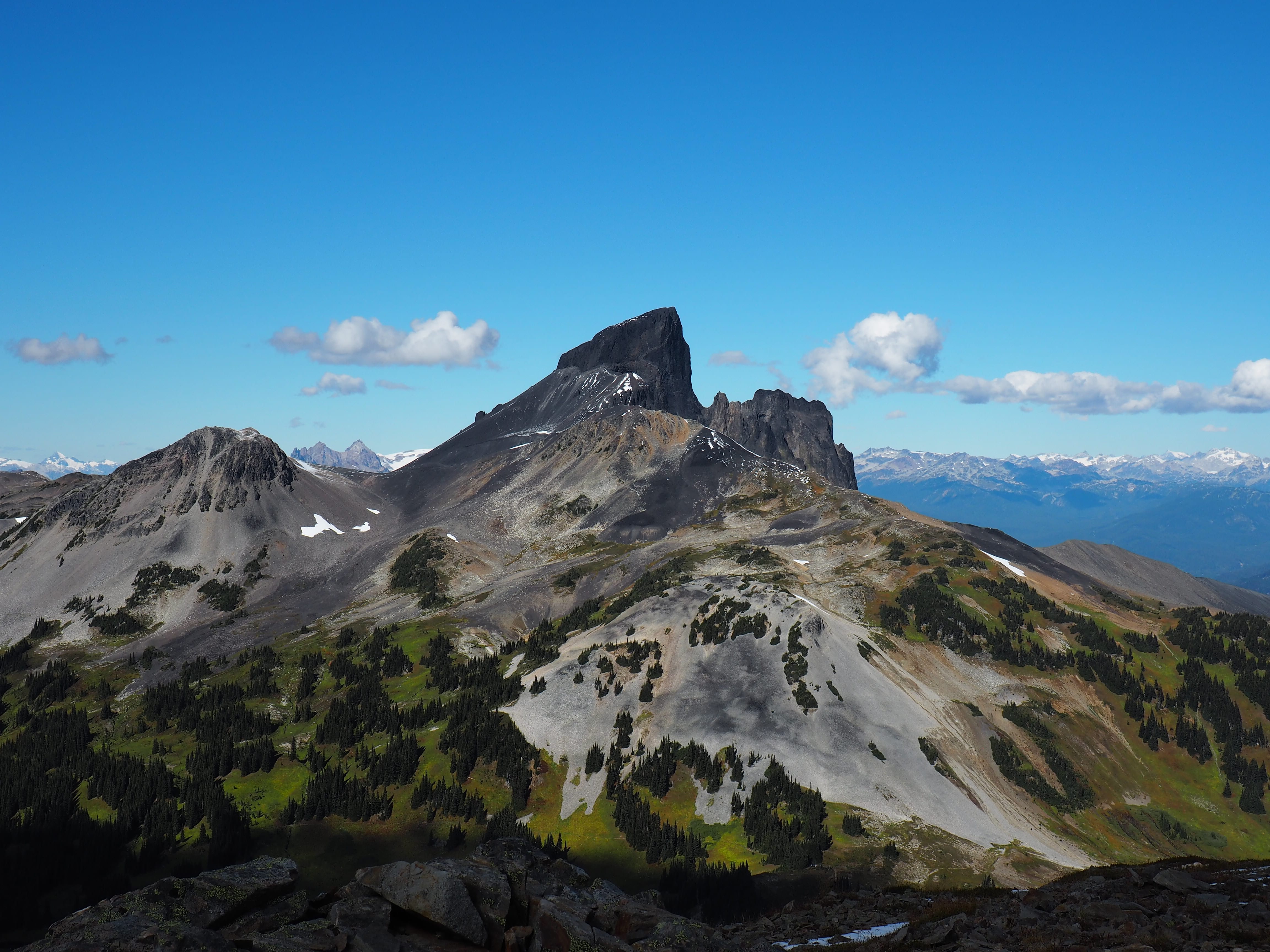 When to hike
The best hiking conditions are between July and October when temperatures are pleasant and the trails are free of snow. Many people do snowshoe the trail in winter, however, you need to be extra cautious of shorter daylight hours and be wary that the trails may not be well marked especially if you're visiting after heavy snowfall.
We hiked last week (mid-September) and the conditions were perfect. I love hiking in autumn as the colours are beautiful and the temperature is perfect for an arduous hike. There was a little bit of snow as we approached Panorama Ridge, but nothing too crazy.
What to take with you
I can't stress enough how important it is to be prepared. We saw a few hikers who had nothing but the clothes on their backs and a small bottle of water, and for this kind of hike, that really isn't enough.
Whether you're hiking the 18km round-trip trail to Garibaldi Lake, or going the full 30km up to Panorama Ridge and doing it in one day, it's vital that you have enough supplies, clothes, water, and emergency items. The weather can change in an instant, and even if it's warm around the lake and in the meadows, as soon as you start climbing up to Panorama Ridge the temperature drops dramatically. The wind chill can be icy cold at the top so a pair of gloves and a windproof jacket are useful to have, as well as thin layers that you can build up and take off when you need to.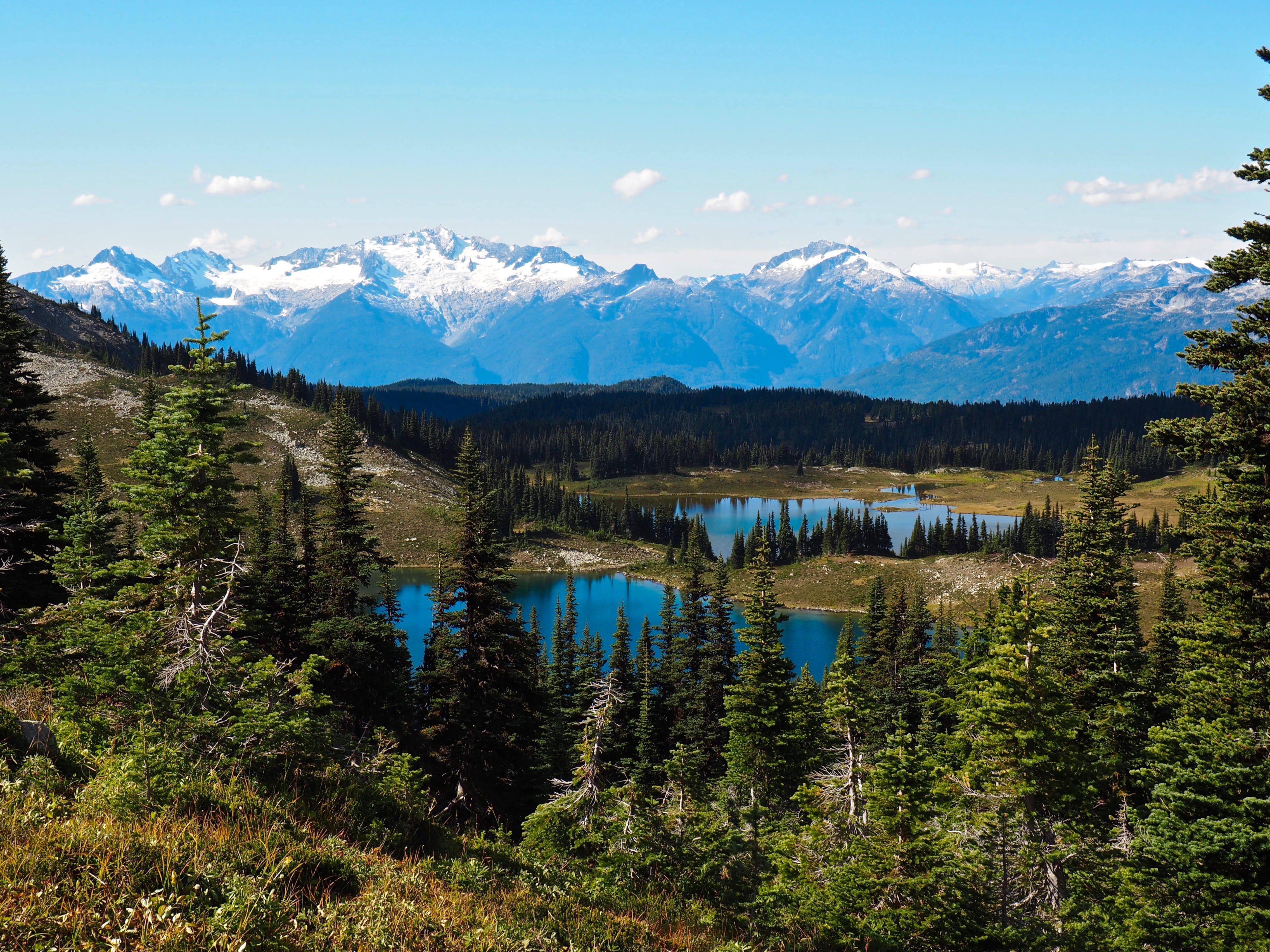 Phone & Battery Pack
Knife
Compass (or a GPS device)
Bear Spray, Bear Bell
Torch / Headlamp
Sunscreen
Food (& lots of it)
Bug Spray
First Aid Kit (Plasters, Blister Plasters, Antiseptic, etc)
Water Purification Tablets
Camera, of course!
You also need to be conscious that there are black bears and grizzly bears in the area (we saw both grizzlies & black bears), so a bear bell and bear spray is recommended. You can buy a cannister of bear spray at MEC for $35. While it's unlikely that you'll need it, you never know and it's always better to be prepared than to be caught without, especially if you're faced with an aggressive bear.
Be sure to take enough food with you to last the whole day. You'll be burning a lot of calories so it's important that you keep your energy levels up. We took sandwiches, pasta, bananas, energy bars, cookies, and some GU energy gels, which were actually really nice and gave us a good boost. Take a few litres of water as well. There aren't any taps at the campground, but you can treat the water from the creek, lake, or streams with a purification tablet.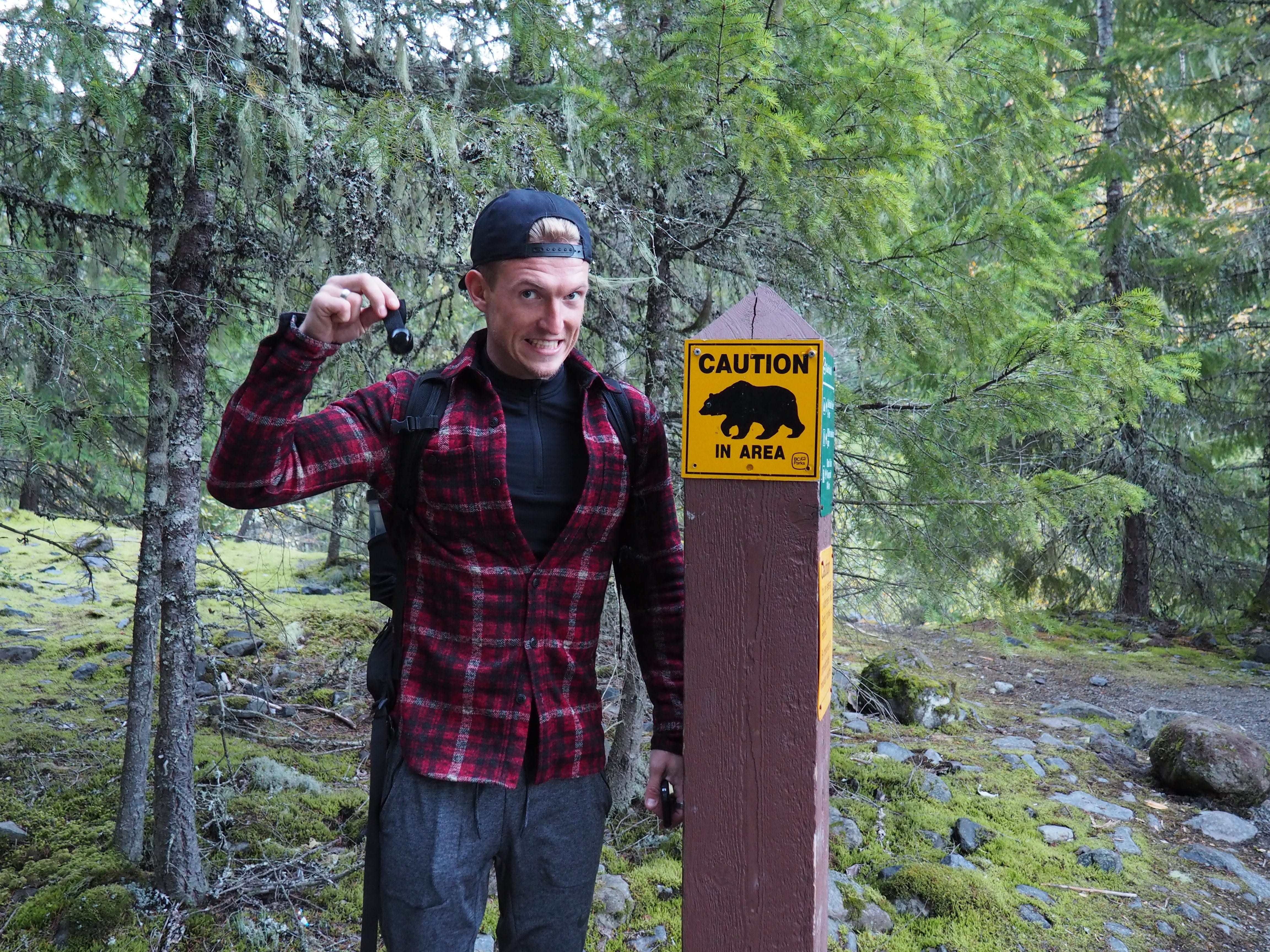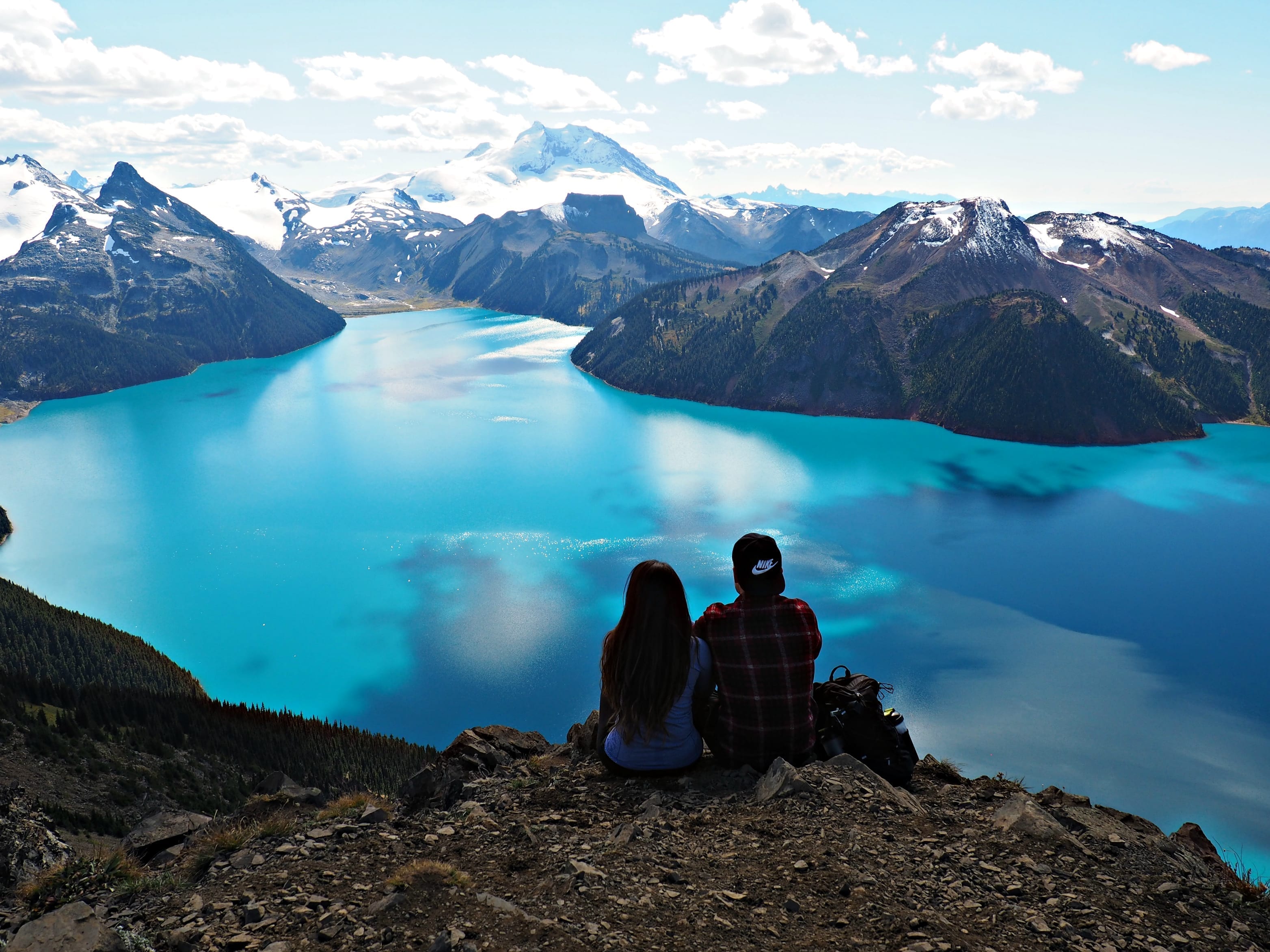 What not to take with you
Unfortunately, dogs are not allowed in Garibaldi Provincial Park or on this trail, simply because of the wildlife that frequents the park. If you're keen to take your dog hiking, Joffre Lakes is dog-friendly, as are many of the hikes around Whistler.
You will see plenty of wildlife though - notably chipmunks, marmots, mountain goats, deer, and maybe even black bears and grizzlies (we saw 3!!!).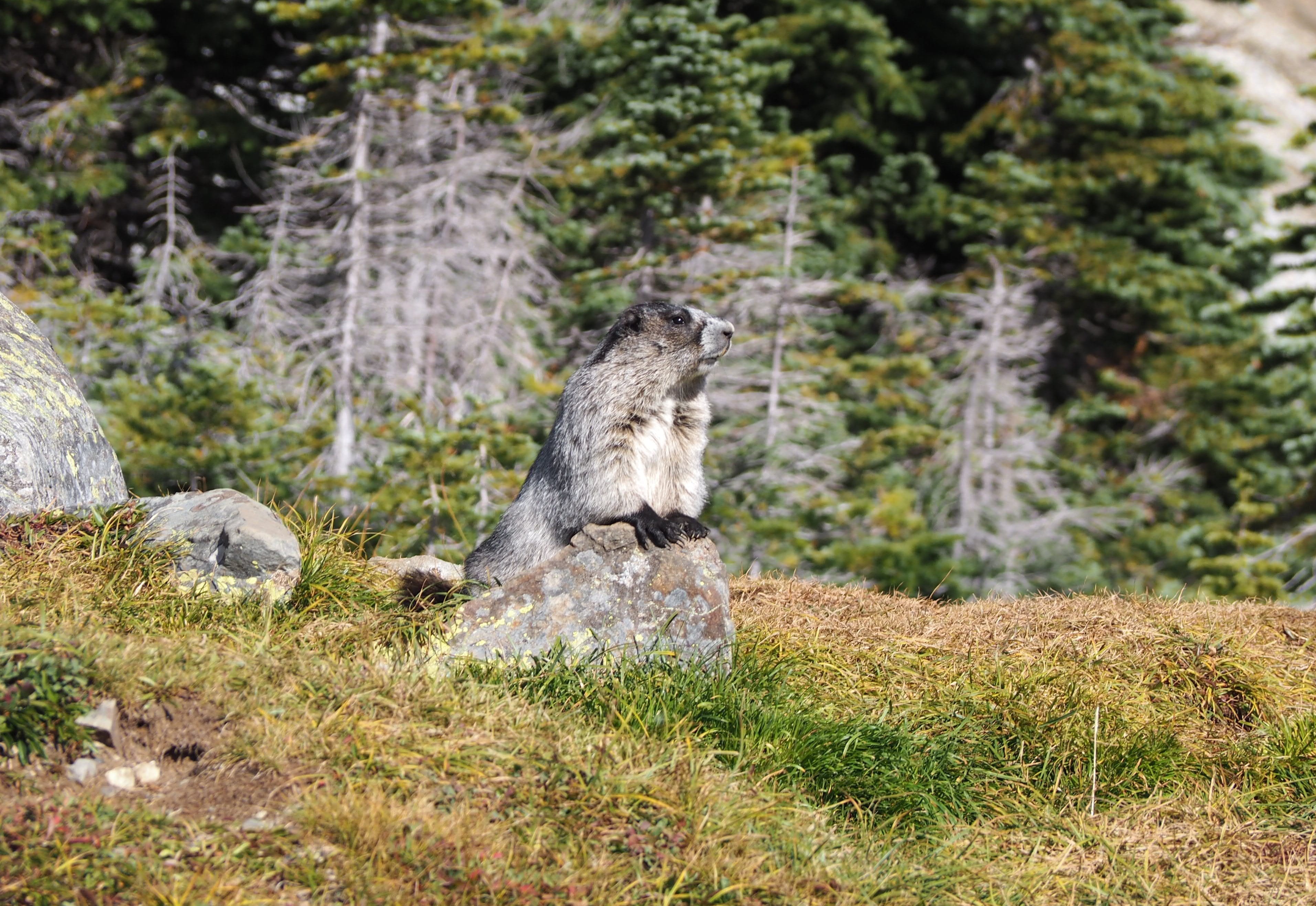 What to wear
As with any hike, it's better to wear thin, breathable layers than it is to wear one heavy jacket or sweater. Opt for activewear that won't hold sweat and leave you feeling cold, and pack a few long-sleeved layers to protect you from the chill. Breathable socks are great too as they'll allow your feet to breathe and will prevent friction. Even if the forecast predicts clear skies, pack waterproof clothing as the weather can instantly change. The wind is strong and cold at the top of Panorama Ridge, so you'll be grateful for a windproof jacket and pair of gloves/hat, even on the warmer days.
I wore a sports top as a base layer, 2 long-sleeved sports tops, leggings, hiking socks, and hiking boots. I also took a pair of gloves, a spare base layer top, a waterproof jacket, waterproof trousers, and spare socks with me too. It's always better to have a few too many layers than it is to have too little. Check the forecast before you leave, and pack according to the time of year and weather.
I highly recommend wearing proper hiking boots for this trail, especially if you're heading up to Panorama Ridge as the rocky area can be slippery and is very uneven. The rocks are loose so you need a decent pair of shoes to protect your ankles and give you a proper footing in the snow. Don't forget blister plasters too, as the 30km is pretty hard on your feet!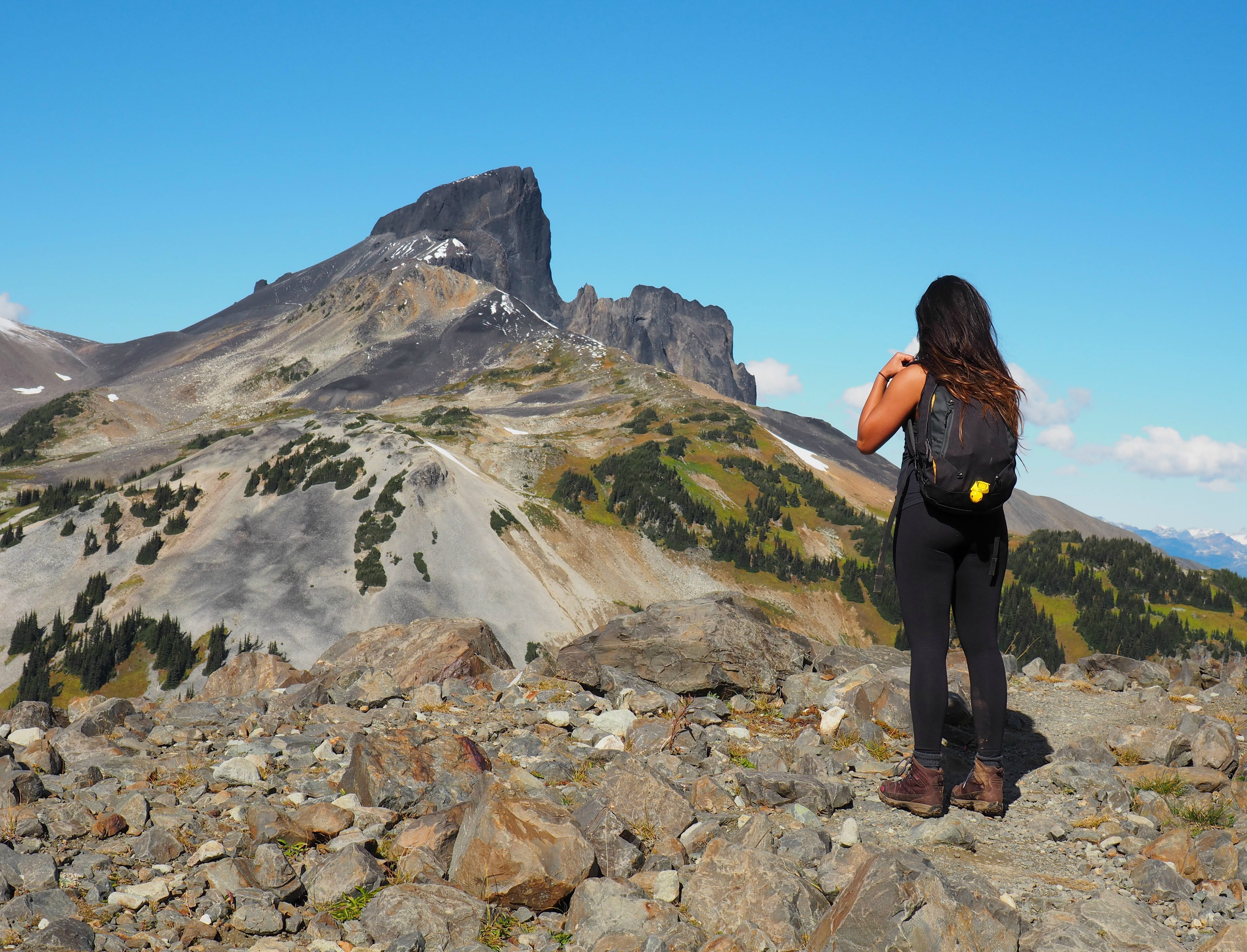 Where to camp
If you do decide to split your Panorama Ridge hike into 2 days, you can camp out at the Garibaldi Lake or Taylor Meadows campground. Both fill up fast, especially on the weekends and holidays, so make sure you get there early so you find a spot. Both campsites have pit toilets, however there is no running water so you'll need to get your water from the creek and treat it with tablets/filtration.
We walked past the Taylor Meadows campground and it's a lovely, picturesque area in the meadows a short walk from the foot of the lake. If you're camping overnight and plan to explore Black Tusk or Panorama Ridge, it's recommended that you set up camp first before you head up to the top, to reduce your load and guarantee a camping spot.
You now have to make a campsite reservation if you're planning to camp in peak season (between June & October). You can find more information about camping at Garibaldi here.
How to get there
It takes around 1h 30 to drive from Vancouver to Rubble Creek parking lot, which is the best place to park if you're hiking up to Panorama Ridge. If you're heading north, continue past Squamish and look out for signs for Garibaldi Provincial Park. Turn right onto Daisy Lake Road, and follow the road for about 5 minutes until you reach the parking lot. If you go past Daisy Lake Reservoir and the large dam, you've gone too far and you'll have to turn around. Google Maps might not pick up the location, so it's best to find it manually on your maps and drop a pin, so you know where to turn.
We booked one of Modo's new hybrid Toyota RAV4's to get us there, and we were so impressed with the car. Not only was the colour beautiful (and it matched the lake), it was so easy to drive and had a really cool blind-spot mirror feature that flashes orange when someone's in your blind spot. I love cars that are both stylish and practical and roomy enough for our adventures, so this one was perfect. In actual fact, 1 in 5 Modo's are either an EV or hybrid vehicle which is great for the environment, and there's so much selection so there's something for everyone.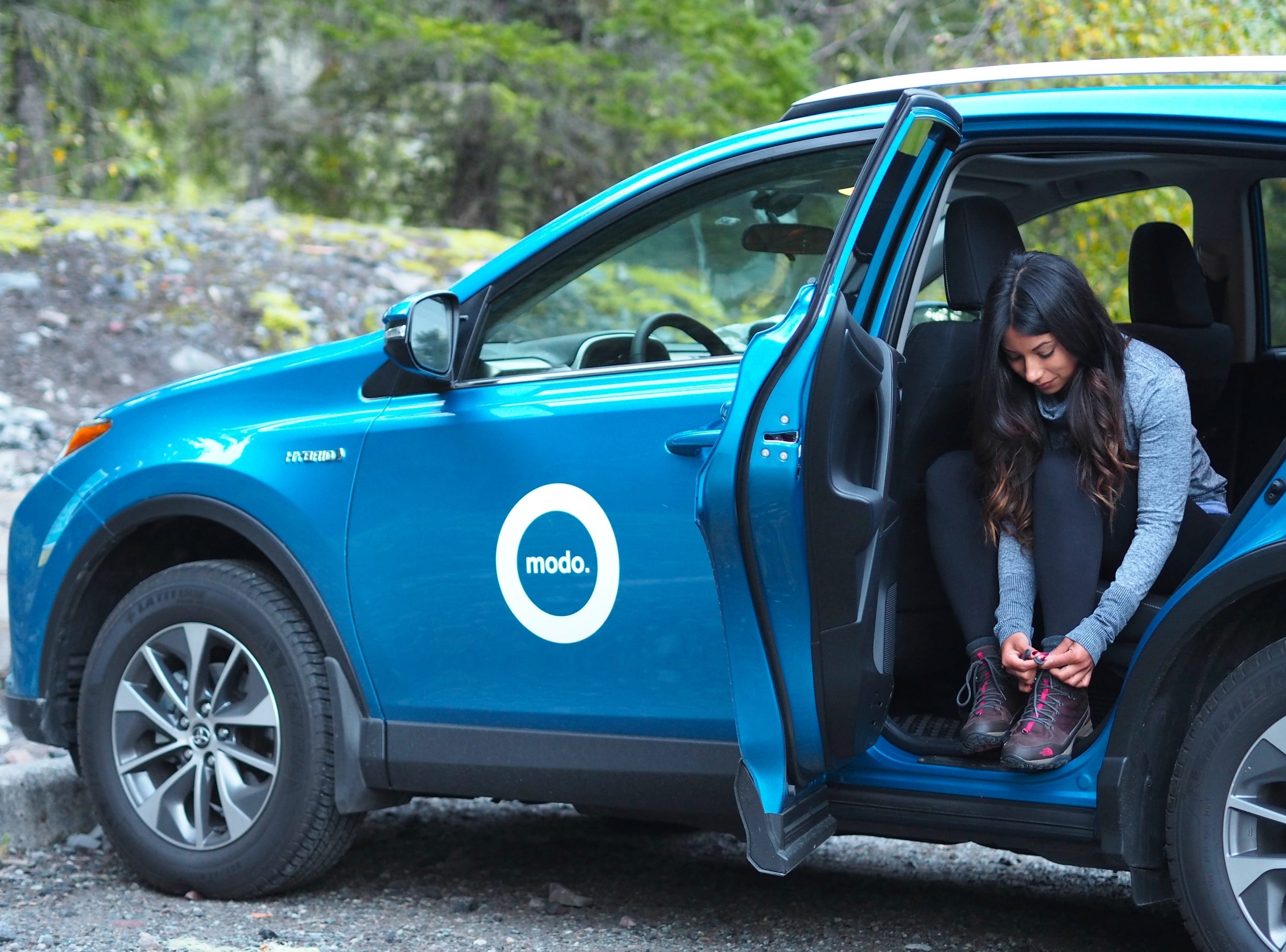 See it for yourself...
If you want to get an idea of what it's like up there, take a look at my recent YouTube vlog below, and don't forget to Subscribe to my channel if you want to see more of my videos!
Have you hiked Panorama Ridge in one day? Or are you hoping to get up here? Drop me a comment in the box below and let me know about your experience/if you found this post useful!
(If you wish to use any of the images displayed on golivexplore.com, please request permission first.)