I love making snack bars, and these are no exception. Especially for hikes, road trips, or days when you're generally on the go, it's nice to have something to snack on that's both delicious and healthy and that will keep you full until your next meal. These chewy superfood hemp protein bars are my favourite snack bar at the moment, and I always find it super satisfying when I can eat something that i've made myself!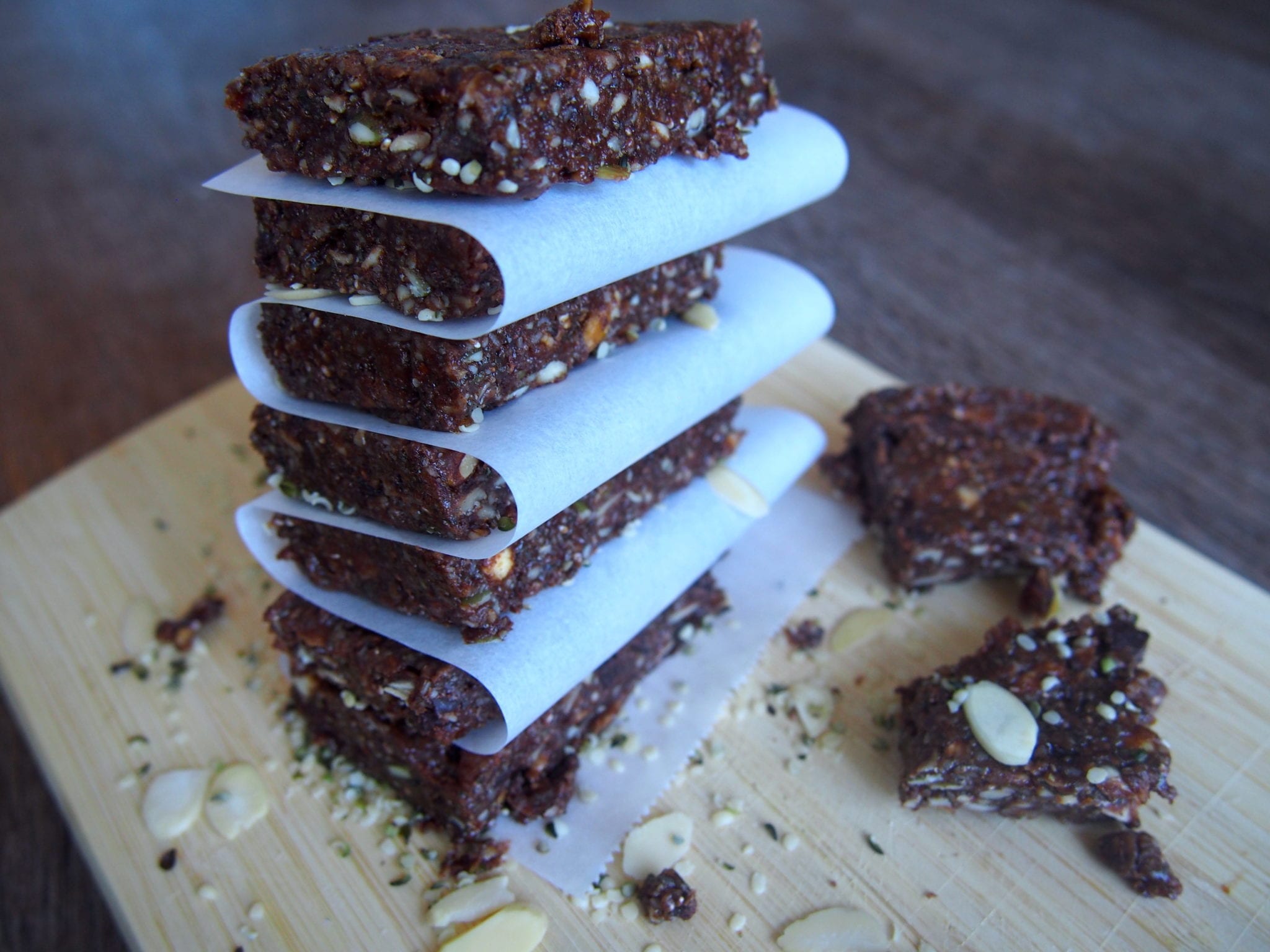 While there are usually a ton of snack options at the grocery store, buying healthy snacks all the time can get very expensive. You often don't get that much in the pack, and being branded as 'healthy' normally comes with an inflated price tag. I find it crazy that it's SO much cheaper to buy processed and crappy foods, so there's almost no incentive monetary-wise to feed our bodies better. With this recipe, all you need are the ingredients that you probably already have in your pantry and there's no oven-baking required either!
These bars are really simple to create, and they last up to a week (probably less though if you have a boyfriend who eats as much as mine does)! The combination of dates, nuts, coconut oil, and seeds gives the bars a really nice chewy texture and they're sweet enough to satisfy your sugar cravings.
I've also been reading up on the benefits of hemp seeds, and there are SO many. Hemp seeds are a plant-based protein and come from a hemp plant. They have a mild and nutty flavour, they're nutrient-rich, and are a great addition to so many recipes. They're rich in omega-3 and omega-6 - two essential fatty acids - and 2-3 tbsp of seeds contains around 11g of protein. Hemp seeds are also considered a complete protein source, which basically means that they provide all of the amino acids that our body needs (which we can't produce ourselves).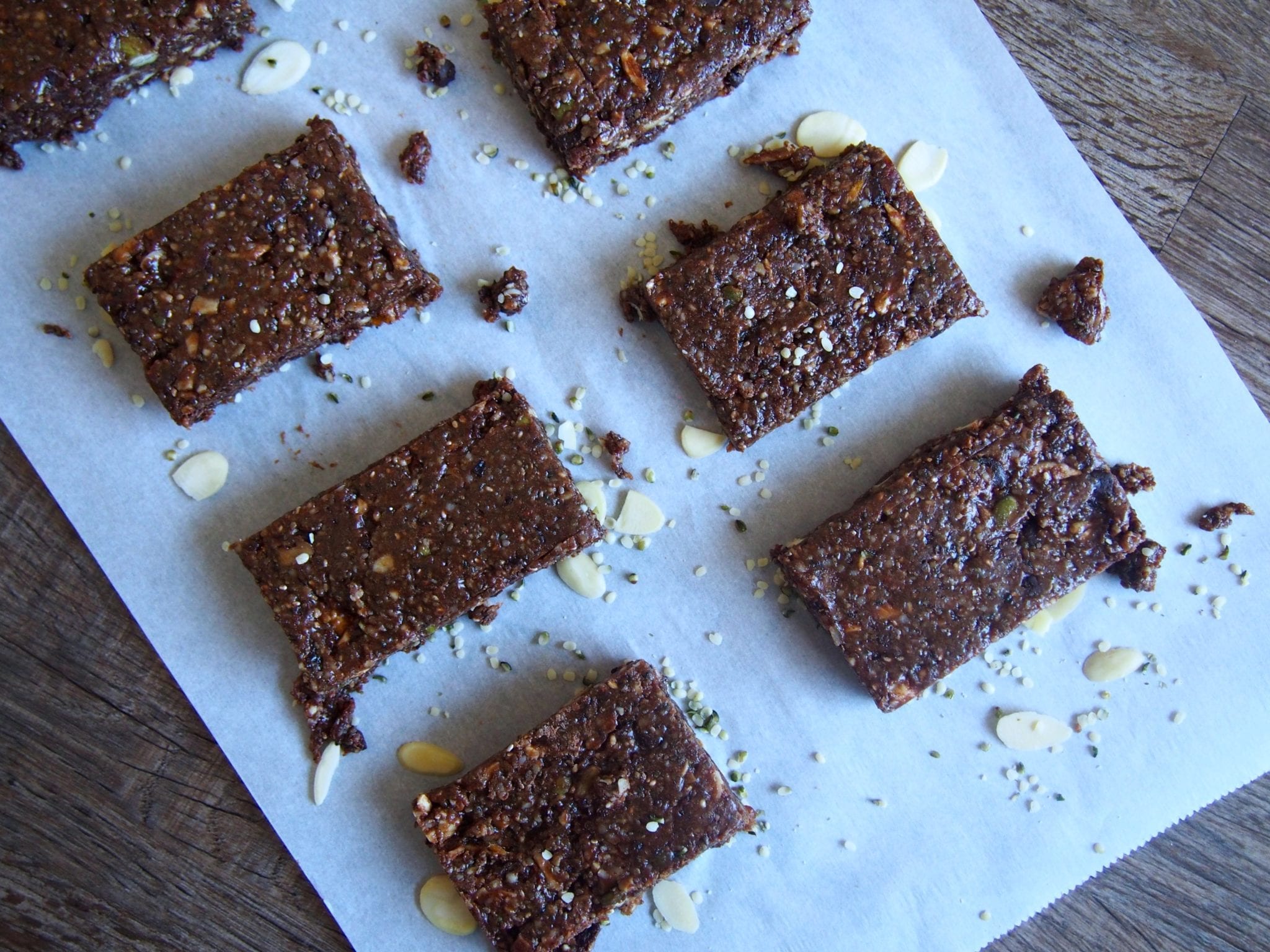 I've also added some protein powder to these bars, which makes them perfect as a post-workout snack. Many shop-bought protein bars contain a ton of additional ingredients - like refined sugars, artificial flavours, and preservatives - that you probably want to avoid, so these bars are a great alternative as you know exactly what's going into them.
You can use whatever nuts or seeds you like, and any nut butter would work (my preference is almond or peanut, but that's up to you). If the mix is a little dry, gradually add a little bit more water. To store the bars, slide some baking paper in between each bar to stop them from sticking together and wrap them in cling film or store in a tupperware box in the fridge so they stay fresh.
As always, drop me a comment below if you give this recipe a go and make sure to tag me on Instagram if you upload a pic - I want to see what you come up with! 🙂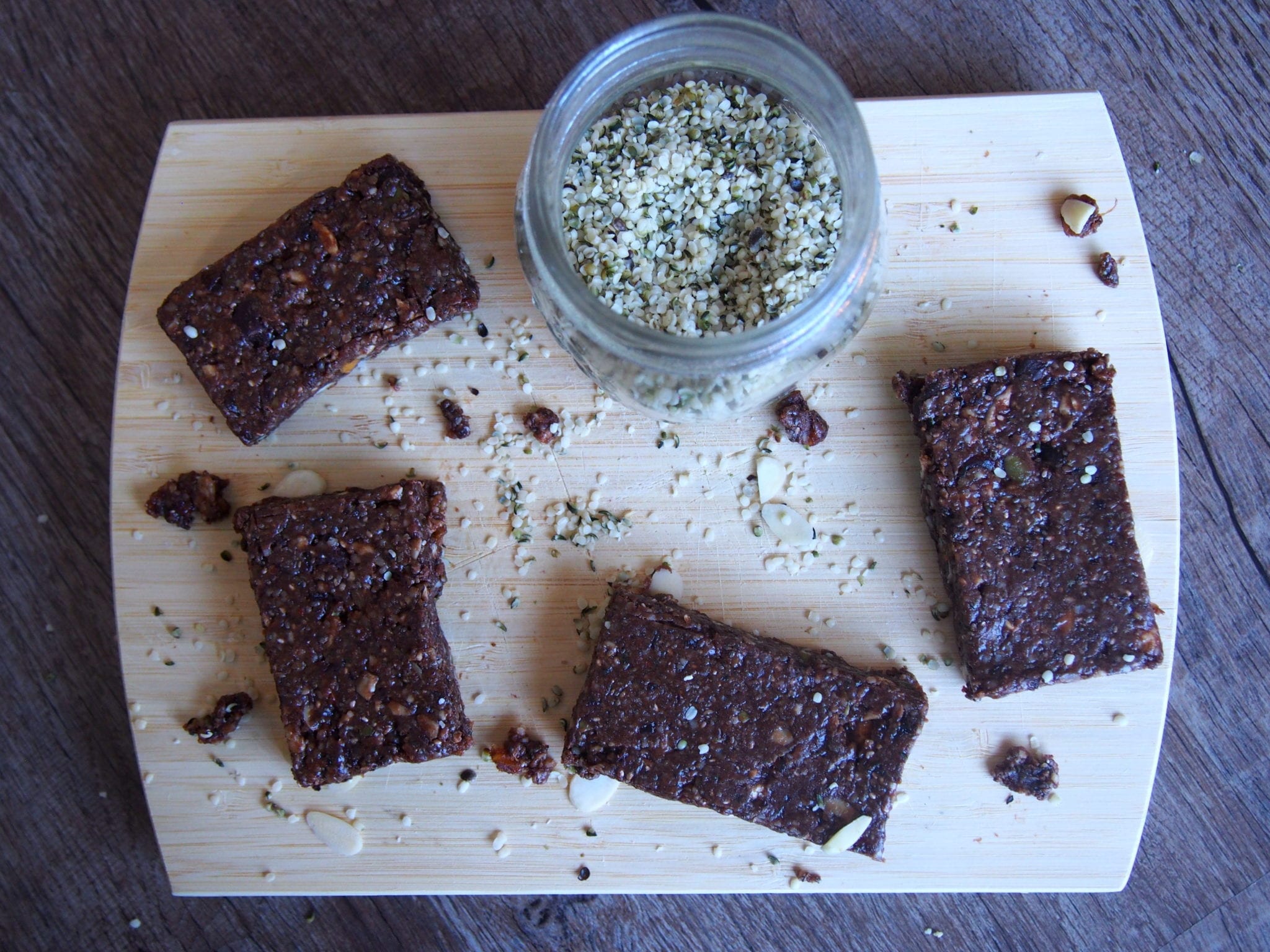 Superfood Hemp Protein Bars
Raw, superfood hemp protein bars made with nuts, seeds, coconut oil and protein powder. These make a great afternoon or post-workout snack, and they're packed with nutrients and goodness!
Ingredients
Dry Mix
1

cup

chocolate protein powder

or plain protein and substitute some cocoa powder

1/2

cup

hemp seeds

1

cup

mixed nuts & seeds

or a selection of your favourite nuts

1/4

cup

chia seeds

1/4

tsp

cinnamon

25

g

/ 4 squares dark choc

chopped
Wet Mix
20

dates

chopped

4

tbsp

coconut oil

1

tbsp

nut butter

1/4

cup

water

gradually add more if needed
Instructions
Line a small, square or rectangular dish with greaseproof paper.

Combine the dry mix in a blender/food processor and mix for 10 seconds. You want the dry mix to still be a little crunchy so don't blend it for too long.

Then, set the dry mix aside, and add the wet mix to the blender. Mix until everything is combined. If your blender isn't that powerful, I recommend chopping the dates so they blend a little easier. If the mixture is too stiff, gradually add a couple of tbsp of water to help liquify it. The dates may not completely smoothen out, but as long as everything is mixed well then it's fine.

Put the dry mix and wet mix together in a large bowl, and combine well. You may need to use your fingers.

Place the mix into your dish and spread it evenly. The mixture won't rise or change in size, so it's up to you how thick you want the bars to be. Use a flat cooking utensil, such as a turner, to gently press down the mix so it's evenly distributed and flat. Then, refrigerate for 2-3 hours, chop into bars, and enjoy!