Hiking is definitely one of my favourite outdoor things to do. I love exploring and it's a great way to stay fit, escape the city, and refresh your mind.
It's also so exciting as you never know what you'll discover. We were playing with the cutest chipmunks on our last hike, and the time before that we saw a black bear for the first time! I honestly couldn't believe it. We kept our distance as he/she was only small so we figured that mama bear wouldn't be too far, but it was pretty amazing.
While we've yet to camp out on a hike (we did just receive our first tent, so I can't wait to try it out), day hikes are something that we frequently do and there are a few must-have items that you should carry in your pack. Here are some of my top day hiking essentials to keep you happy & safe on your outdoor adventure!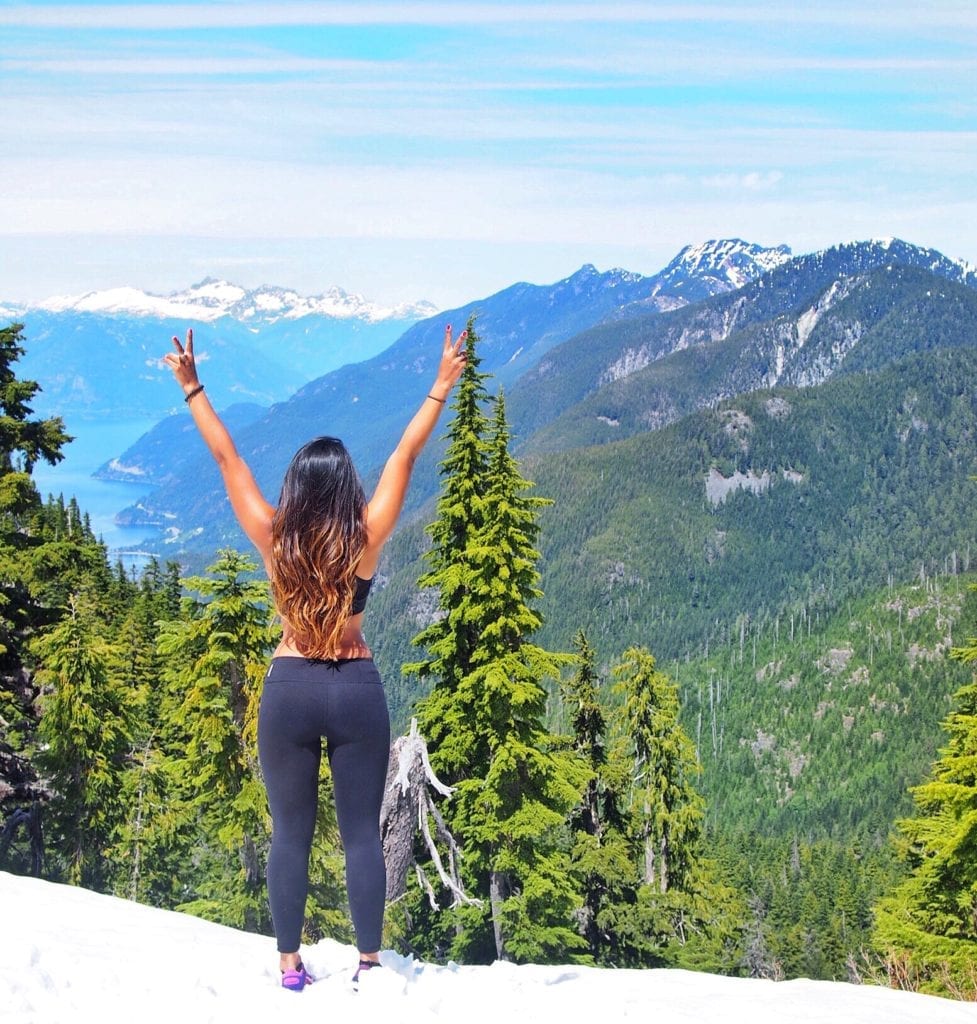 Day Hiking Essentials Checklist
1) Snacks
Especially if you're going to be walking for a few hours, snacks are a must! Pack things like nuts, granola or energy bars, sandwiches, and whatever else that will give you energy and that's easy to carry. Take a plastic bag with you so you can take away your trash, and make sure to pack a little more than you need just in case you get lost/your hike takes longer than expected.
2) Backpack
A decent backpack is a must-have when you're day hiking. I use a small Berghaus backpack, but Matt has a great North Face one that has plenty of compartments and places to store drinks, food, and all your other bits and bobs. Live Out There has a great selection of backpacks for all uses, and I recommend getting one one that has fairly thick and adjustable straps so it's comfortable on your shoulders, especially if you're going to be carrying quite a few things. It's also good to get one with chest/hip straps so it doesn't strain your back.
3) Sunblock
When you're hiking in summertime, it's easy to get burnt especially when you're out in the open. Carry some cream with you and a pair of sunglasses to protect your eyes from the sun.
4) Layers
Especially if you're hiking in the mountains, the weather can change incredibly quickly so it's important that you're prepared. Clouds can roll in instantly and it's easy to feel a chill once you stop walking. Wear thin but breathable layers such as sports tops, which are designed to keep you cool and not retain sweat. Carry a waterproof jacket, spare socks, a spare t-shirt, and maybe even gloves as well, depending where you're going. We've been on hikes where it's been 25 degrees at the trailhead, but snowy and cold at the top of the mountain. It's better to be prepared, just in case. Plus, there's nothing worse than driving home in soggy socks and wet clothes so it's good to have extras!
5) Tissues
It doesn't hurt to carry a pack of tissues with you, especially if you're hiking in the backcountry. Many trails will have a toilet/pit stop at the trailhead, but if you're in the middle of nowhere and nature calls, it's nice to be prepared with a bit of loo roll!
6) Torch
While hiking is a lot of fun, you also need to think about worst case scenarios. Carry a torch with you just in case you get caught out after dark. Although your phone will probably have a light, torches are much more reliable and you can use it to signal help if ever you need to.
7) Shoes
For easier trails that are well laid out, you can generally get away with wearing trainers/sneakers. However, I do recommend wearing hiking boots if you can. They'll help to protect your ankles if you're on rocky trails or out in the backcountry, plus they'll provide a lot more grip if it's raining or snowy. Conditions can change really quickly too - we hiked up to Cypress Mountain in May and even though it was super hot, there was still loads of snow at the top. This meant we had very wet feet coming down, and my Nikes didn't really provide much grip in the snow!
8) Water
It goes without saying that you should carry water with you. Dehydration is so common for hikers in summer, & in some places (like Joffre lakes) there are even water pipes that feed out of the side of the mountain so you can get mountain fresh water & it's free!
9) Camera / iPhone
I don't know about you, but I love taking plenty of photos when we hike. Remember to pack your camera and iPhone, and GoPros are always great for capturing videos and wide-angle shots of the view. If your smartphone battery doesn't last long and you're heading out into the backcountry, it's a good idea to pack a battery pack & cable as well so you have some extra juice in case of an emergency.
10) Map
Even though trails are generally well marked out, it's worthwhile carrying a map with you just in case so you have a better idea of your bearings and direction. I'll usually screenshot trail details beforehand, but a map is much more reliable and will save you if you ever get lost! If you're going deep into the backcountry, a compass and GPS will be incredibly useful as you'll likely lose phone signal.
11) A cute hiking buddy
This is the one essential that we haven't managed to get yet! A cute hiking buddy is definitely a must-have for your adventures. It's my dream to hike with my dog (one day it'll happen), but in the meantime, i'm just going to have to borrow my friend's dog and pretend he's mine 😉
This obviously isn't a comprehensive list, and there are plenty of other items (such as a fire starting kit, first aid, trekking poles, etc.) that may come in handy too. Make sure you plan your hike properly and look at sites like Vancouver Trails for useful trail details.
What are your must-have day hiking essentials?
Leave me a comment below if you have any other suggestions!