I've been dreaming of visiting Quebec since we first moved to Canada, and last week I finally made it over there on an adventure with Ford Canada. They flew a bunch of us influencers out to Montreal for a couple of days of adventuring around Quebec and to put some of their newest SUVs to the test in typically Canadian winter conditions. The trip combined some of my favourite loves - snow, exploration, nice big cars, lots of food, and great company - so naturally, I was in my element and we had such a fab few days. My friend Bella was also selected for the trip so we ventured over together, equipped with our big puffy jackets and snow boots, ready to explore Quebec for the first time.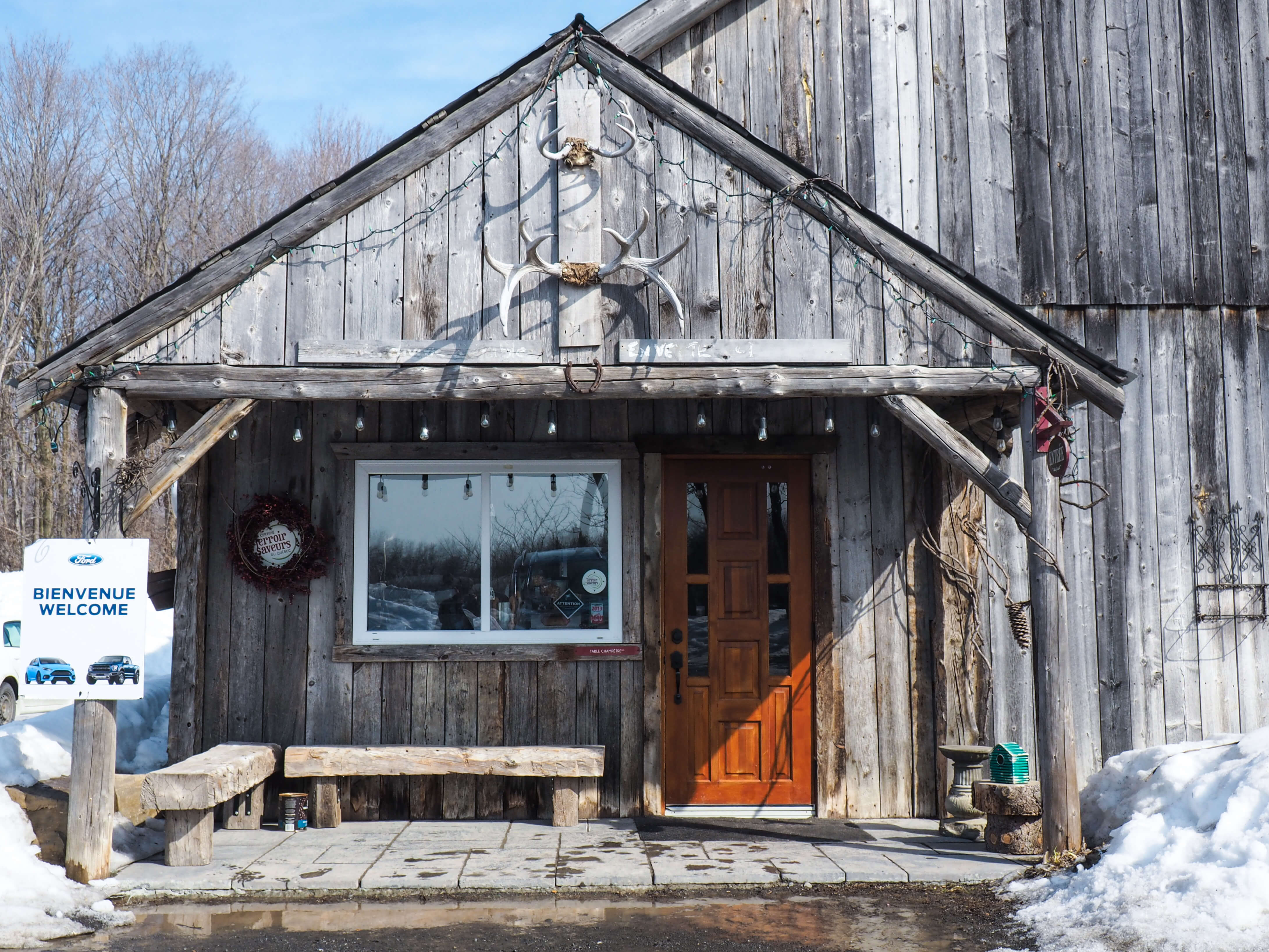 The Adventure
The trip was short and sweet but we managed to pack so much into that time. After picking up our first car of the day, the Ford Explorer, Chad, my driving partner, and I headed off to our first stop, a cute Sugar Shack in Mirabel. For those of you who don't know, a Sugar Shack is exactly as the name suggests - it's basically a small cabin where syrup collected from maple trees is boiled down into, you guessed it, maple syrup. It was oh so beautifully French, and we indulged in typical French-Canadian cuisine. After stuffing our faces and a few photo sessions, we hopped back on the road - this time in the Ford Escape, which is another favourite of mine, and headed up to the beautiful Estérel Resort in the Laurentians (read more about the resort below).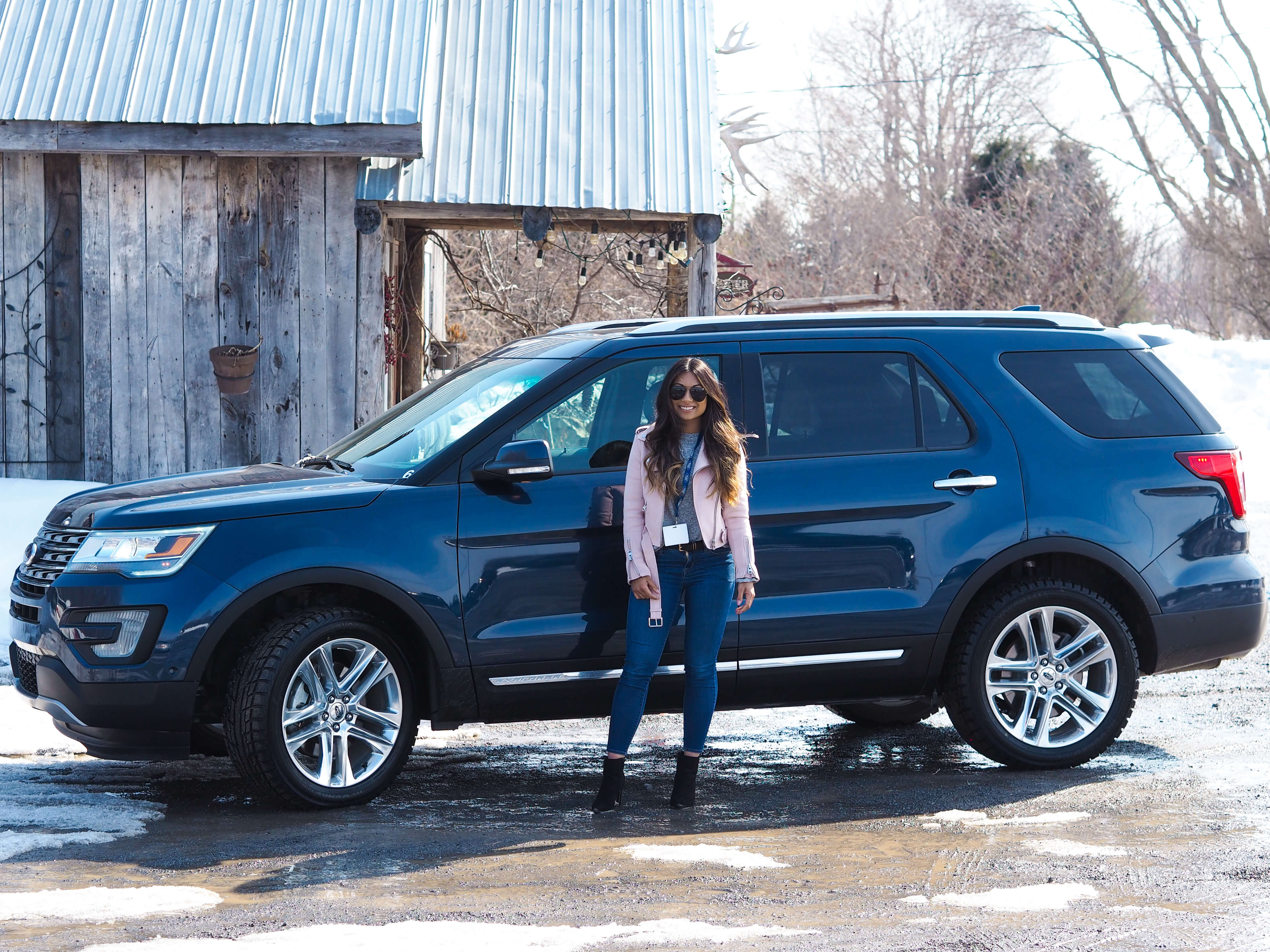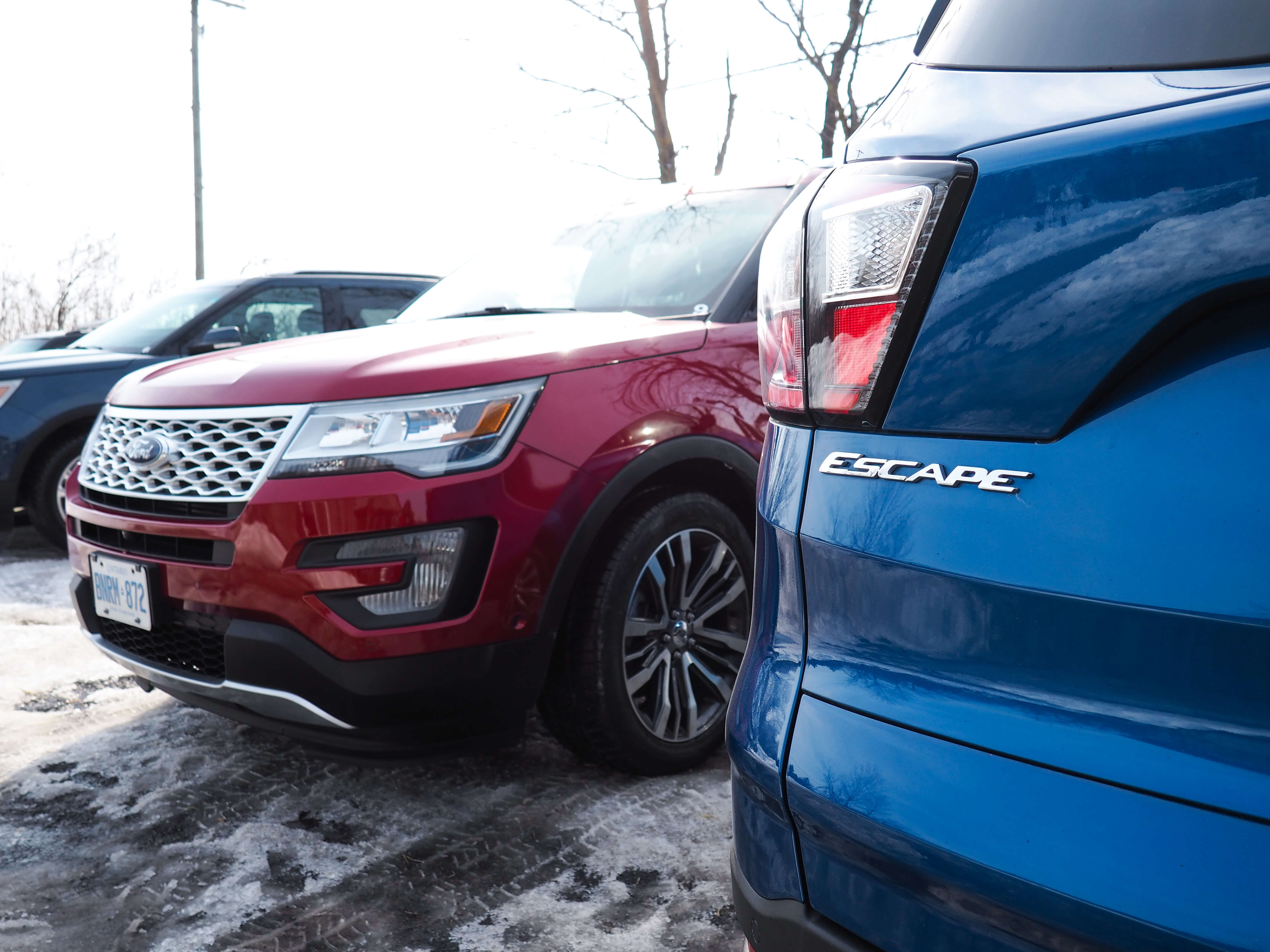 As soon as we got to the resort we had a quick 10 minutes to check out the room and change into something a little more weather appropriate for an afternoon of snowy fun. A few different activities were on the cards, but I was stoked when I found out we were doing snowmobiling!! It's such a nice feeling with the wind in your face as you cruise around the alpine and let's face it, snowmobiling is pretty badass, and whenever I do activities like this it really makes me love winter even more.
After our snowmobile session, it was then time to do something i've never ever done before...ice carving. After watching one of the guys work his magic on a huge block of ice and ever-so-effortlessly carve out a reindeer with a chainsaw and blow torch (it was insane!), we tried it for ourselves. He made it look easy, and so we hit the ice, chisel in hand, with an aim to carve out our own little masterpiece. We were tasked with making something a little easier (although a heart is still hard, FYI), and although mine didn't turn out quite as amazing as the reindeer, I was still proud of my little creation. Ice carving is definitely harder than it looks and I'm pretty sure I won't be taking up ice sculpturing as a profession, but it was still really fun and a nice thing to do with the whole team.
The evening consisted of a beautiful dinner & cocktails/wine at the in-house restaurant, followed by a late-night bonfire with everyone which was really magical. I also tried s'mores for the FIRST TIME and they are absolutely amazing - I can't believe i've been missing out on them all this time! Canada definitely trumps England on this one. Bella and I then checked out the outdoor Nordic spa which was the perfect way to end the night, and then we hit the hay in preparation for another day of adventures.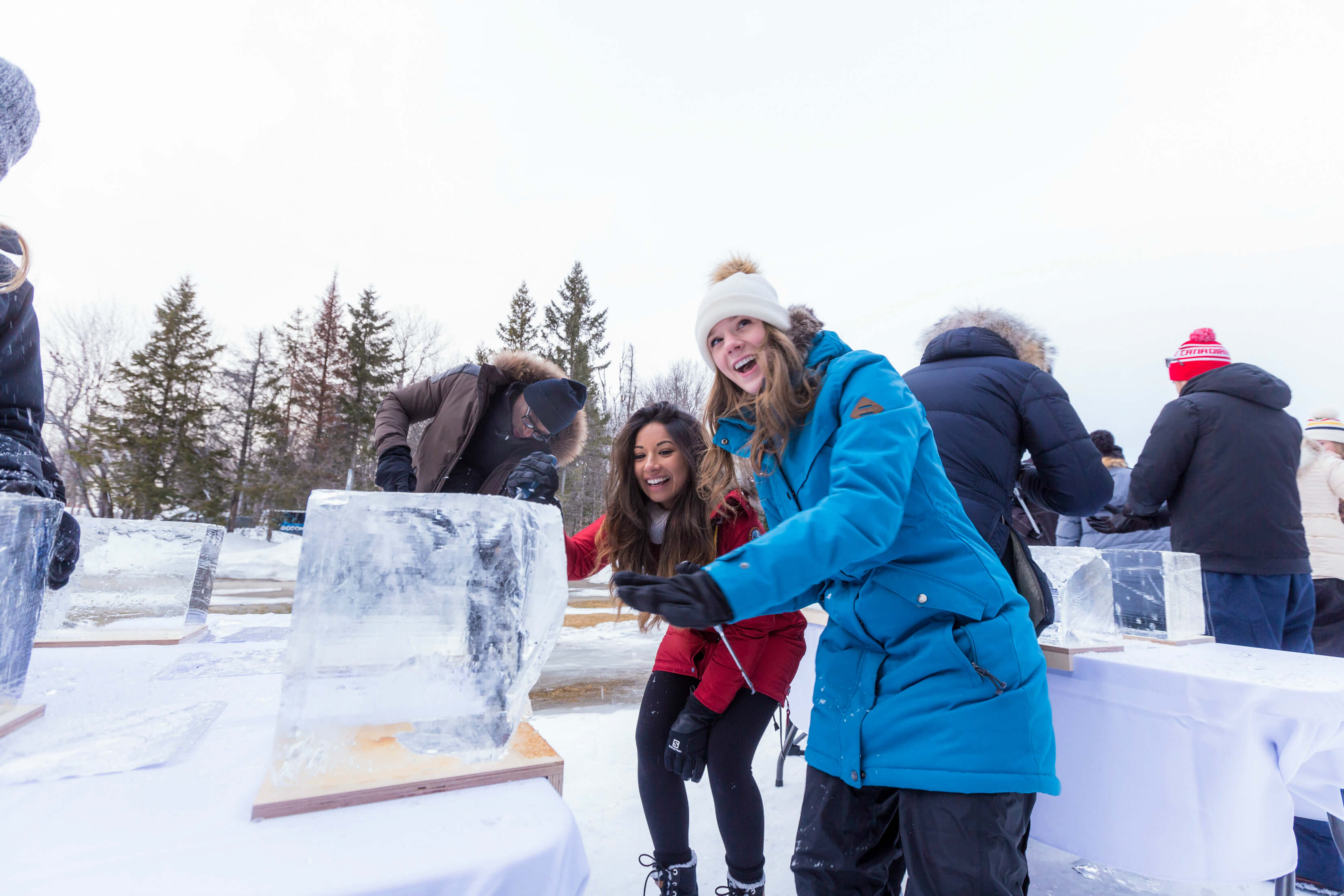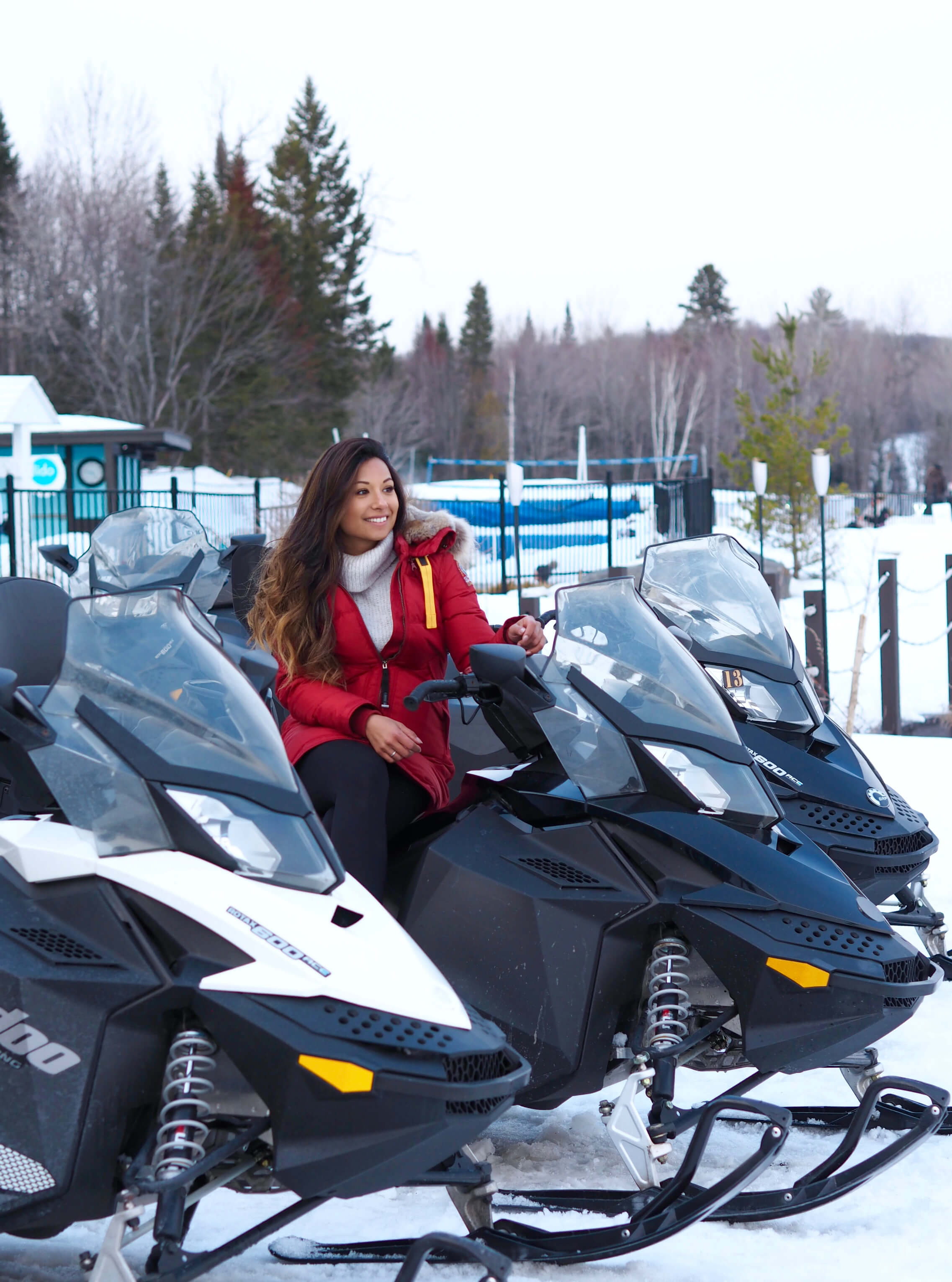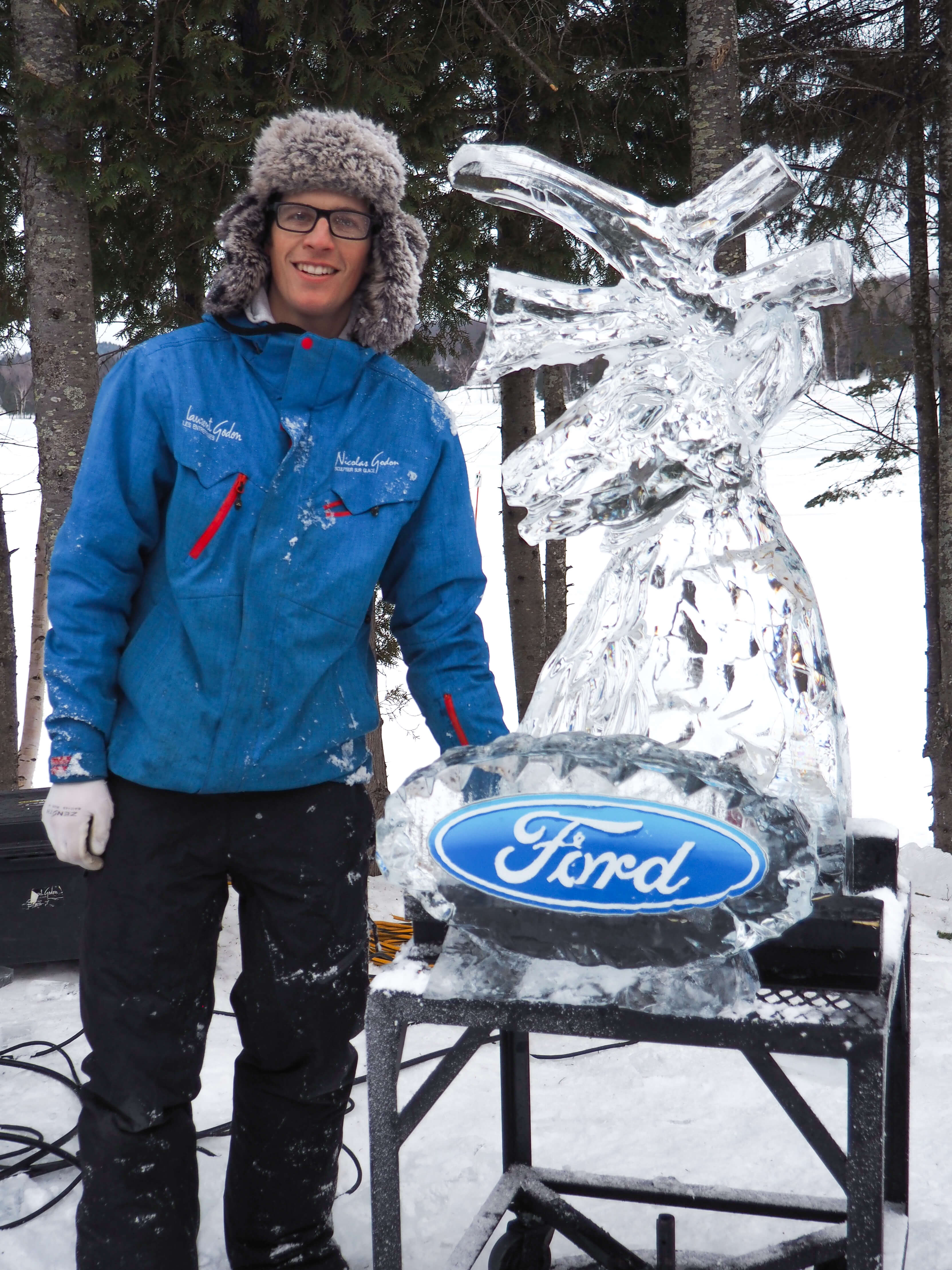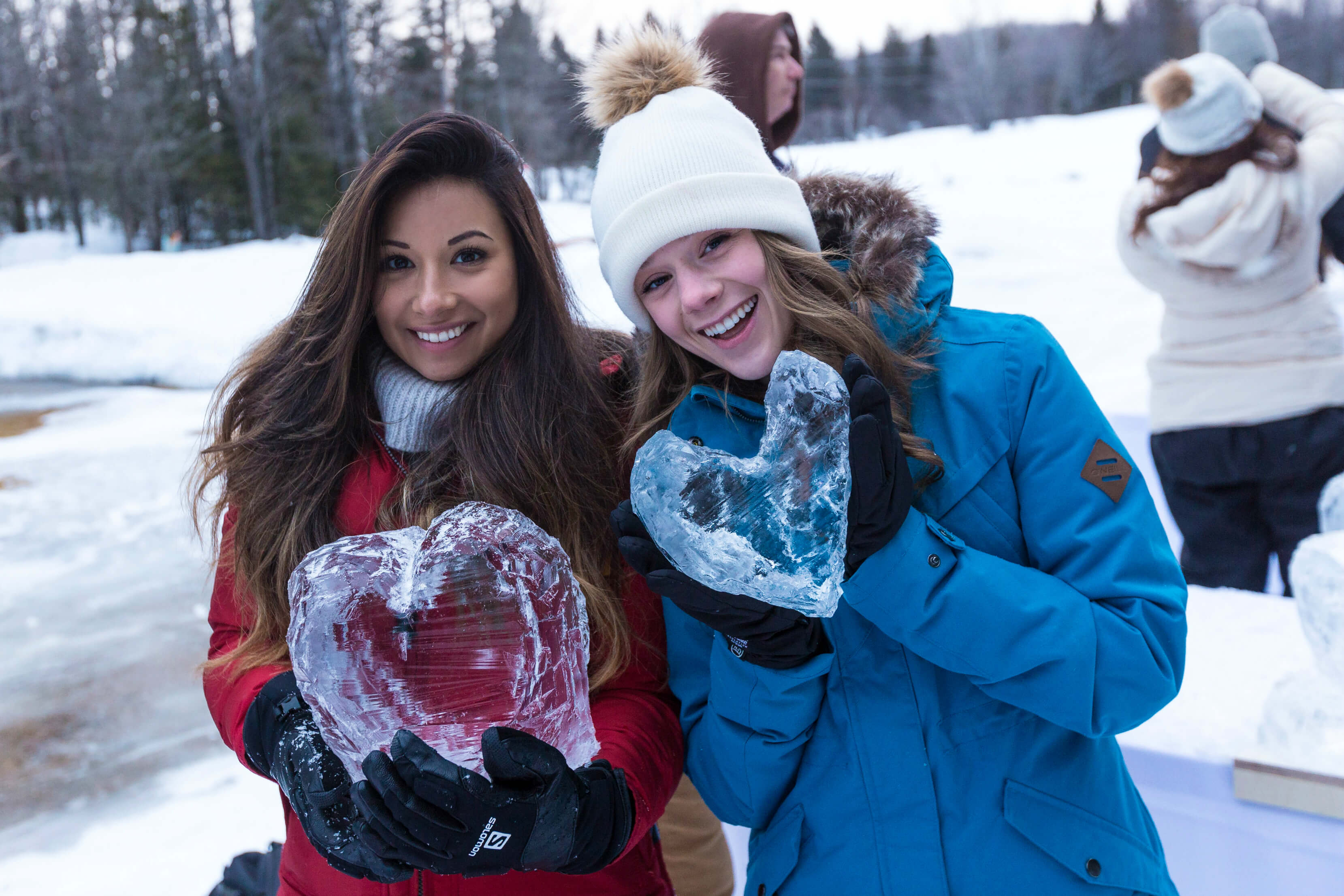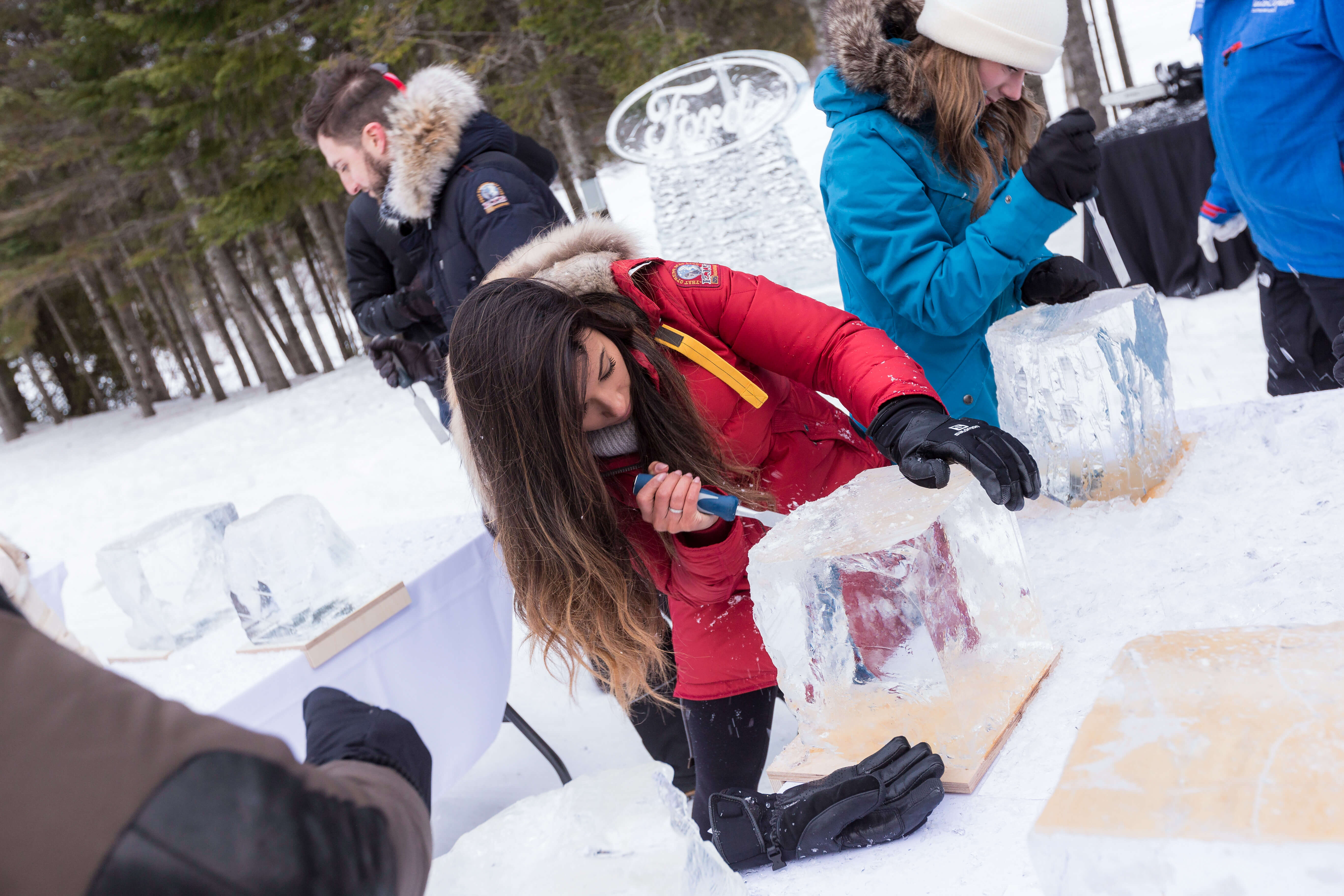 The next morning we hopped back in the Explorer and headed along the winding mountain roads of the Laurentians and made it to the Mecaglisse Motorsport Complex. We were introduced to our team of performance and professional race drivers, and off we went in our SUVs for a lesson in how to navigate safely in wintery and icy conditions. We did an obstacle course, emergency stops, and learned what to do when your car begins to skid (which actually happened to me as the track was so slick and slippy). After that, we hopped into one of Ford's most badass models - a F-150 Raptor truck - popped on a huge helmet and sped around the snowy alpine race track with our NASCAR race driver. The ride was pretty insane and if you watch the vlog from the trip you'll probably hear me nervously giggling/squealing in the background as we zoomed around the track and I hung onto the car door for dear life, but we were in safe hands and it was definitely cool to see what the Raptor could do.
After our crazy race track experience, we then switched modes of transport and headed around the course led by something a little cuter...a pack of Alaskan Huskies!! As you'll probably know i'm so obsessed with dogs so it was a really nice way to round off the trip and obviously I was in my element getting to play with dozens of dogs. It may have been pouring with rain and we may have got soaked, but I really didn't care and it was so much fun speeding around in our little sleigh.
We then wrapped everything up, and after saying a sad goodbye to our adventure family we set off on our way back to the city. The Explorer was so spacious and fit all of our luggage with ease, and equipped with winter tires it was the perfect travel companion as we drove through the snowy villages and towns of Quebec. Bella and I decided to extend our trip so we could make the most of our time there and explore Montreal (keep an eye out for my 24-hour city guide), and it was really fun to be able to experience somewhere new and the Francophone side of Canada.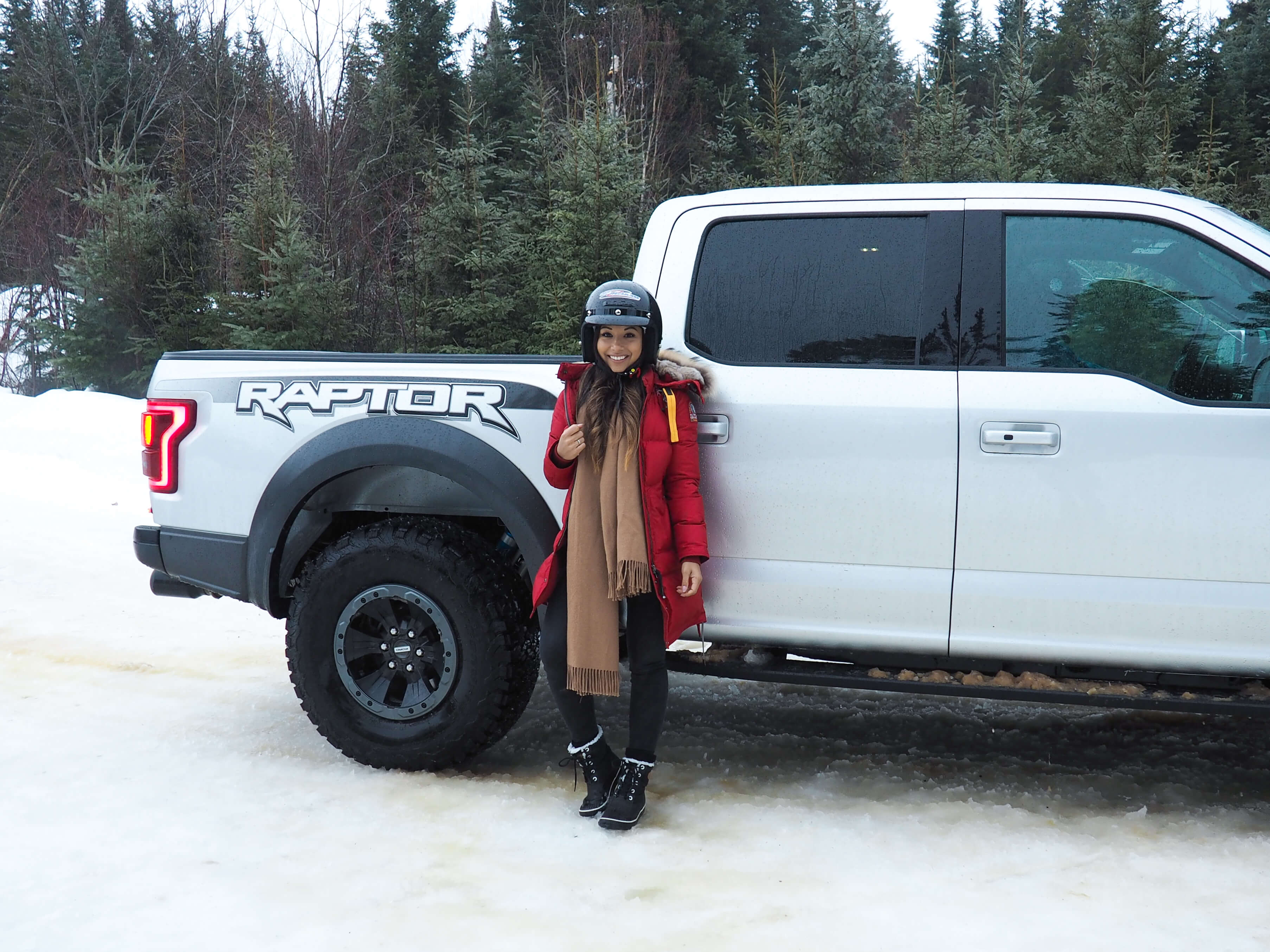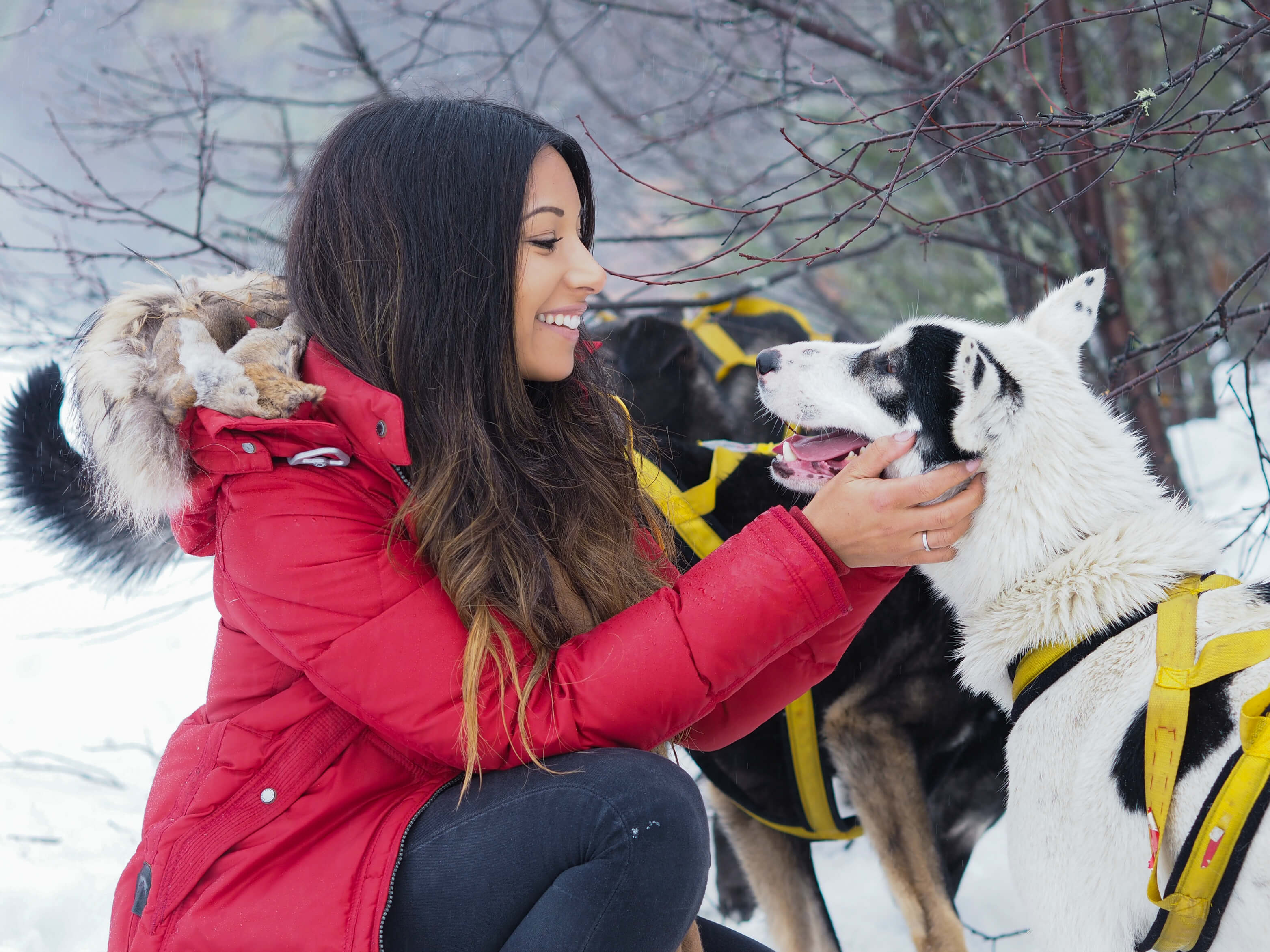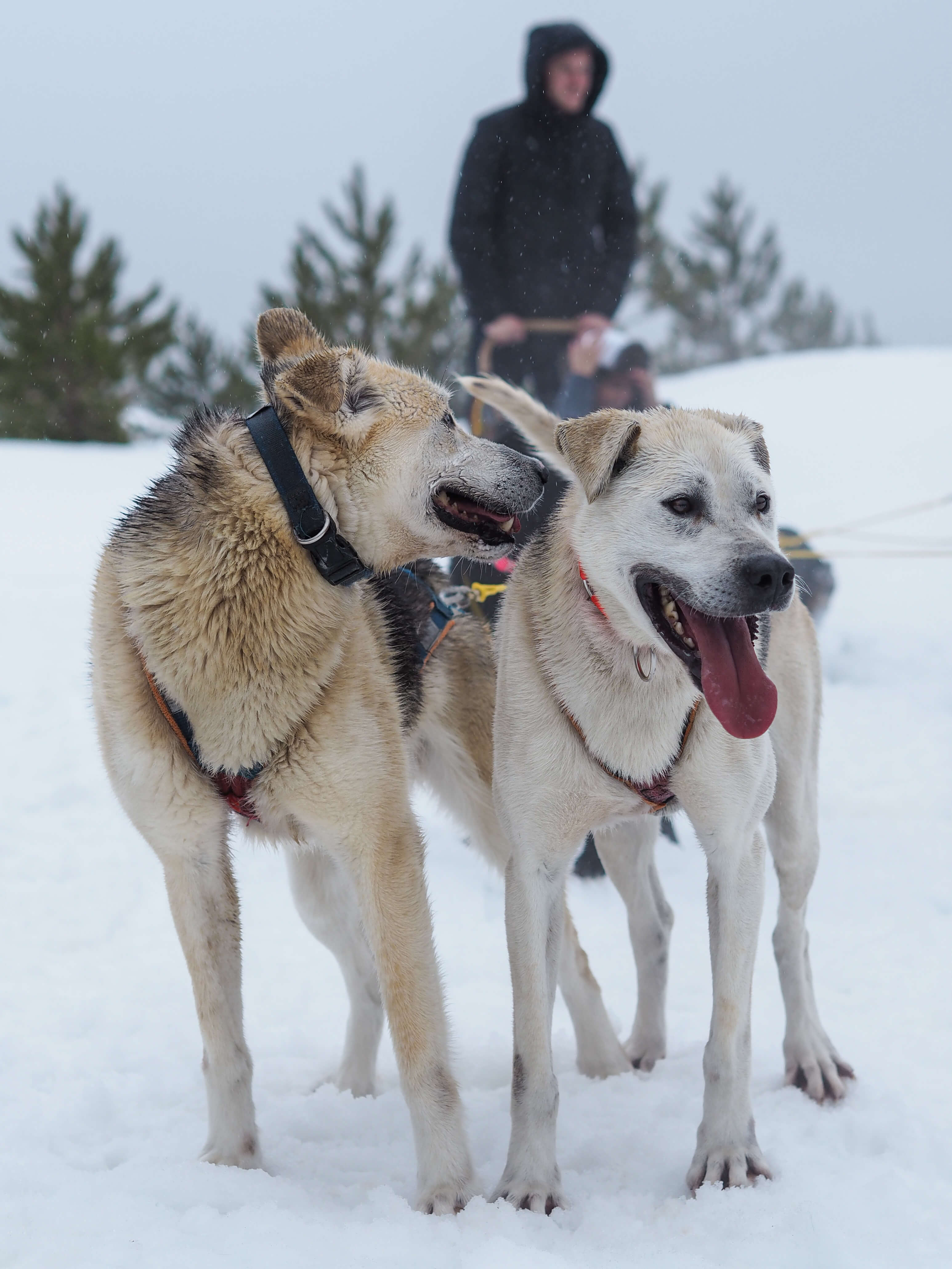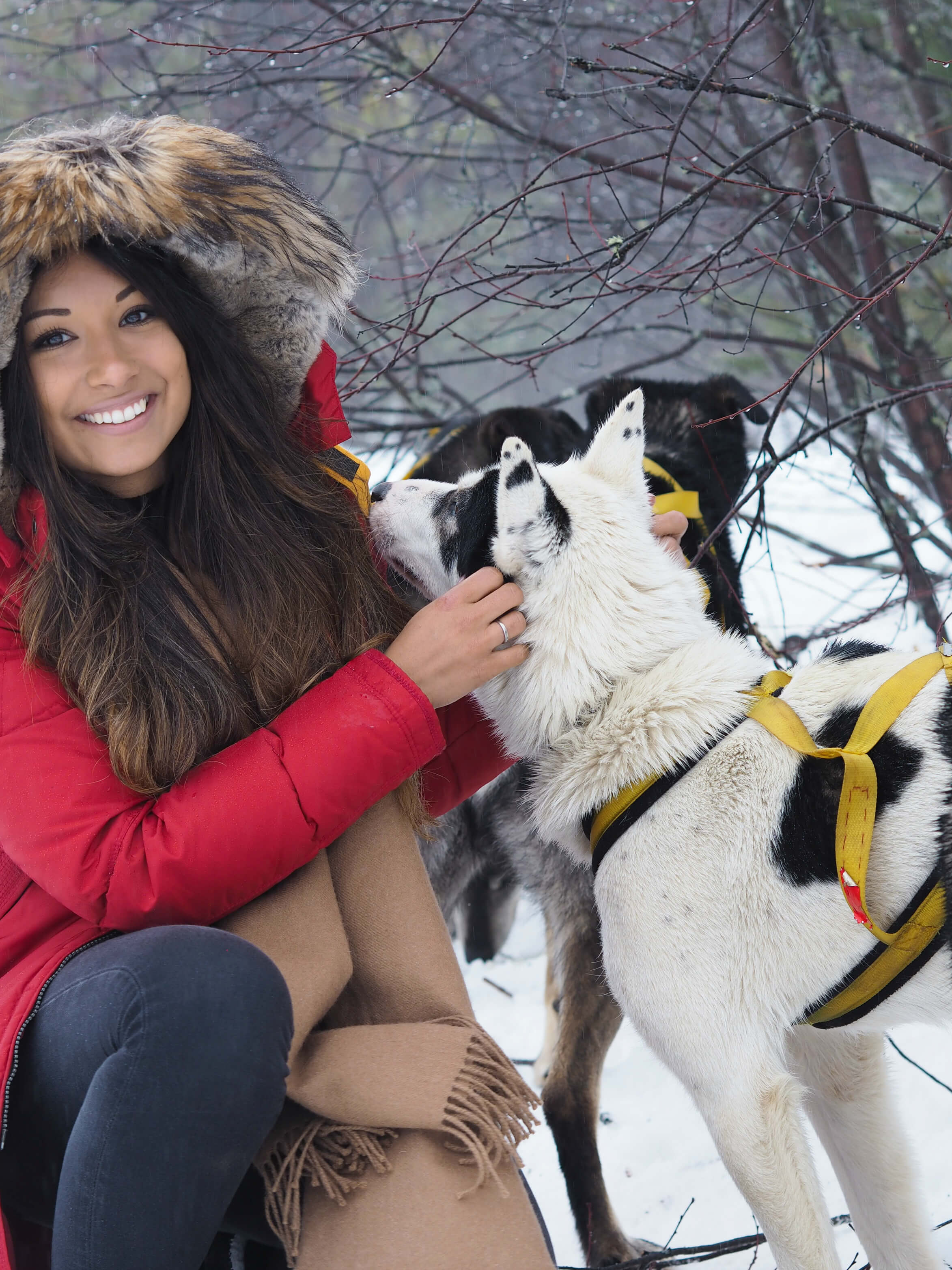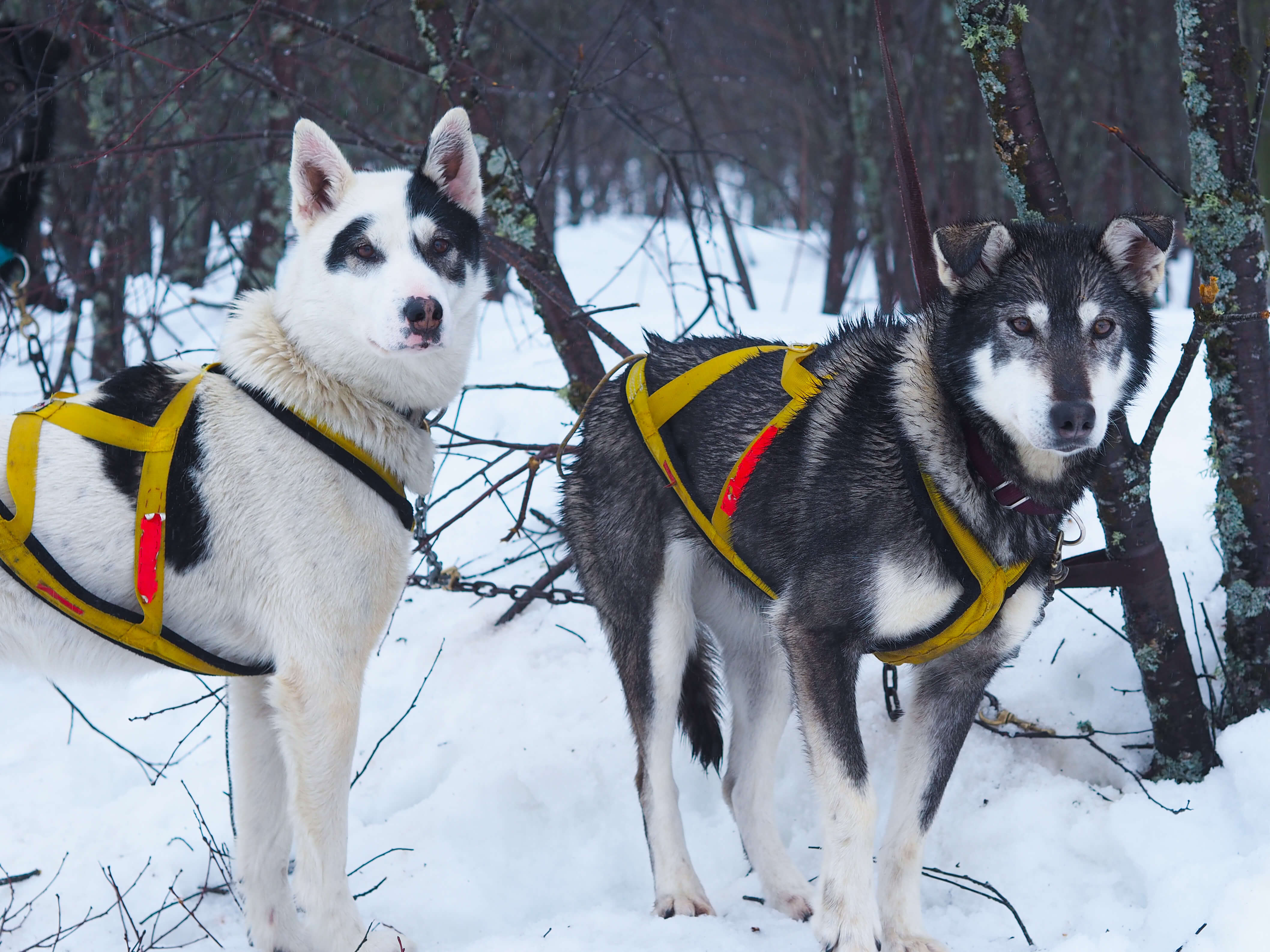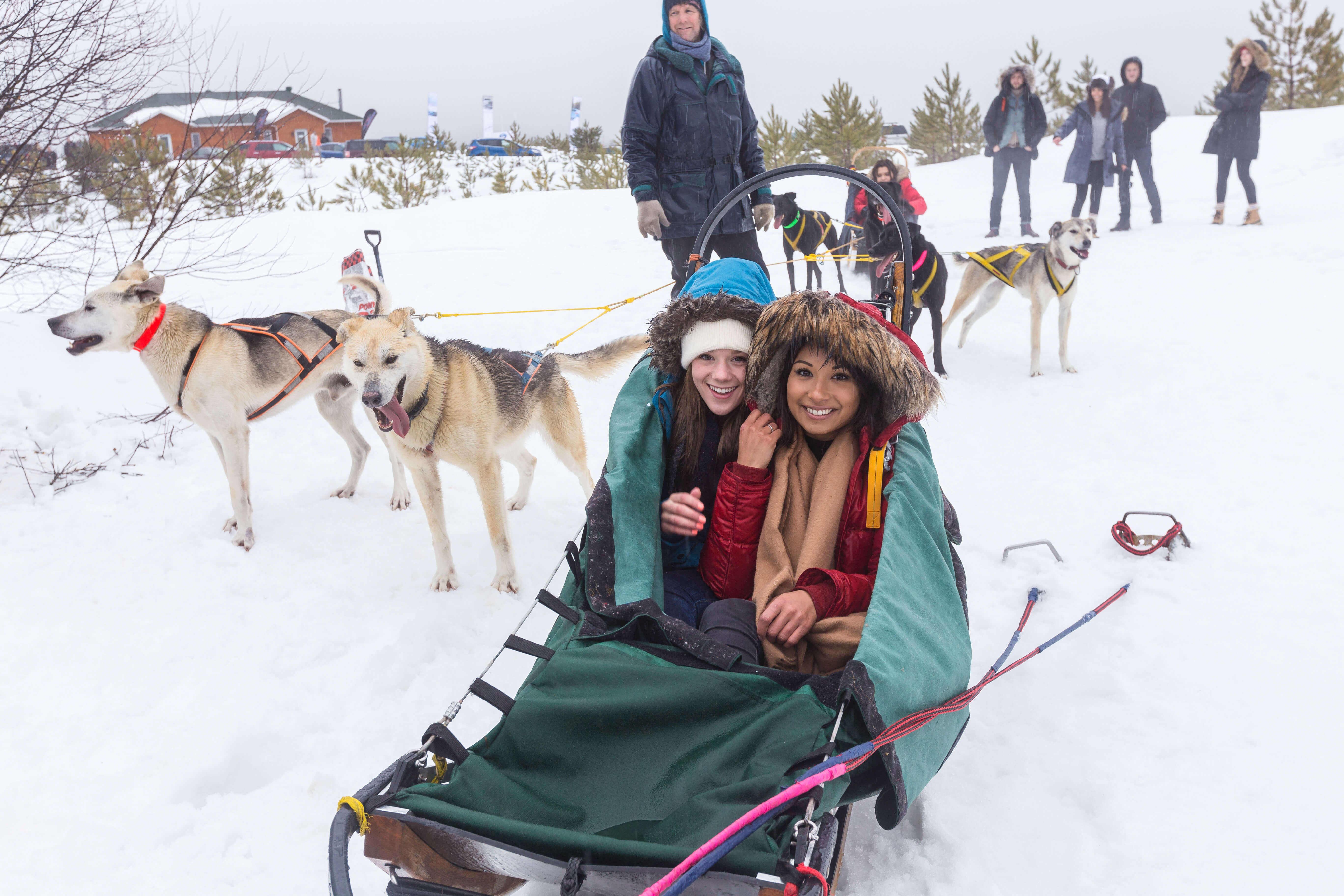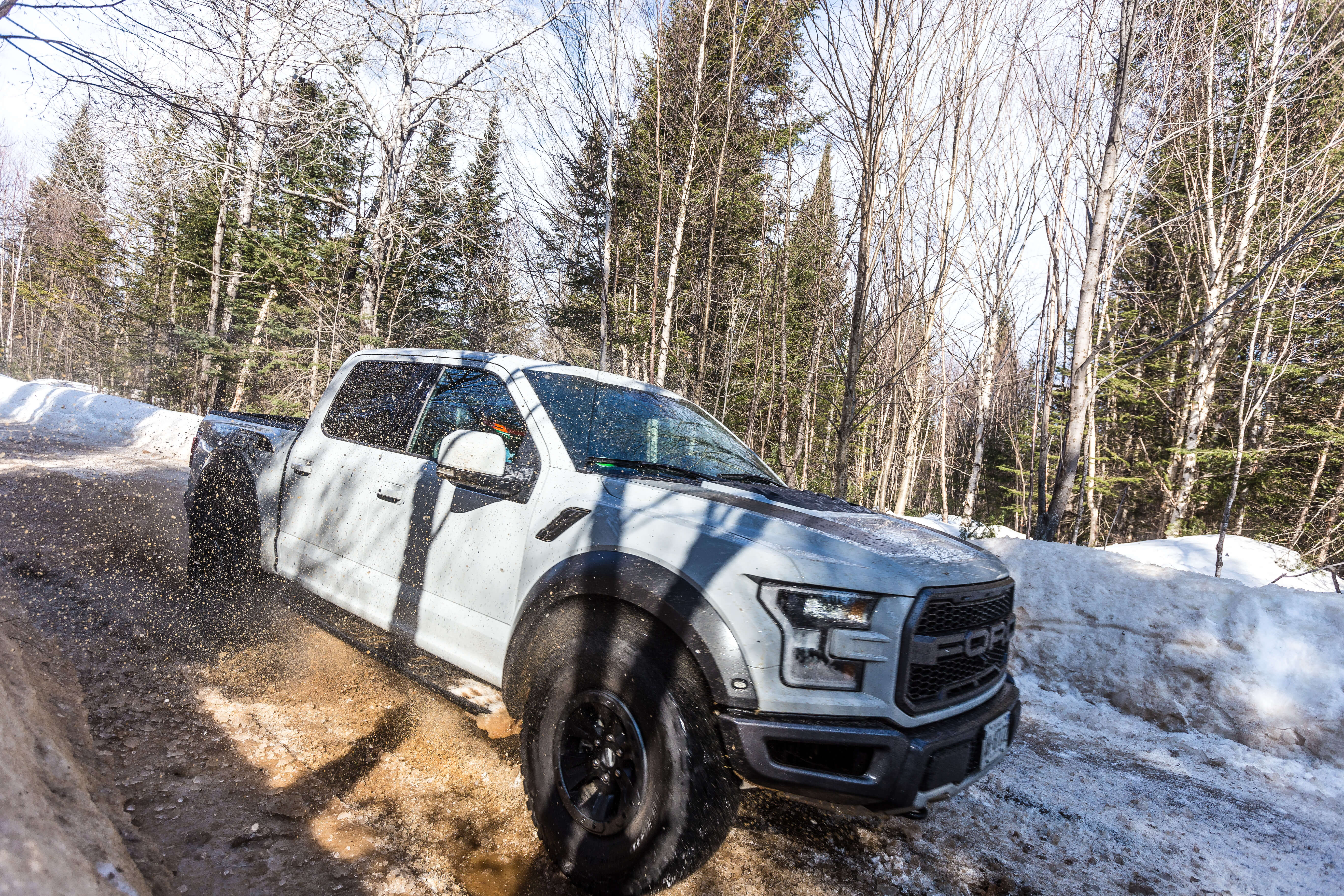 Ford's Safe Winter Driving Tips
Coming from England, proper winter driving isn't something i've ever had to experience until moving here. I'm a pretty good driver anyway and fortunately haven't had any accidents in my 8 years driving (knock on wood!), but winter driving can be really challenging in certain conditions, especially if you don't have the right car or tires.
We learned a number of winter driving safety tips from NASCAR drivers and professional racers - so you could say the best of the best - and they highlighted the following:
Be gentle with the steering & gas
Hitting the gas and making sharp turns can cause you to slide when it's slippery and icy. Rather, gentle turns and accelerations will help you to stay in control.
Clear your vehicle before you drive
This is kind of a no-brainer, but i've lost count of the number of cars i've seen this winter that have been completely covered in snow while on the road. Make sure you clear snow and ice from your windscreen, as well as roof, as sharp braking can cause the snow to suddenly land on your windscreen and impair your vision.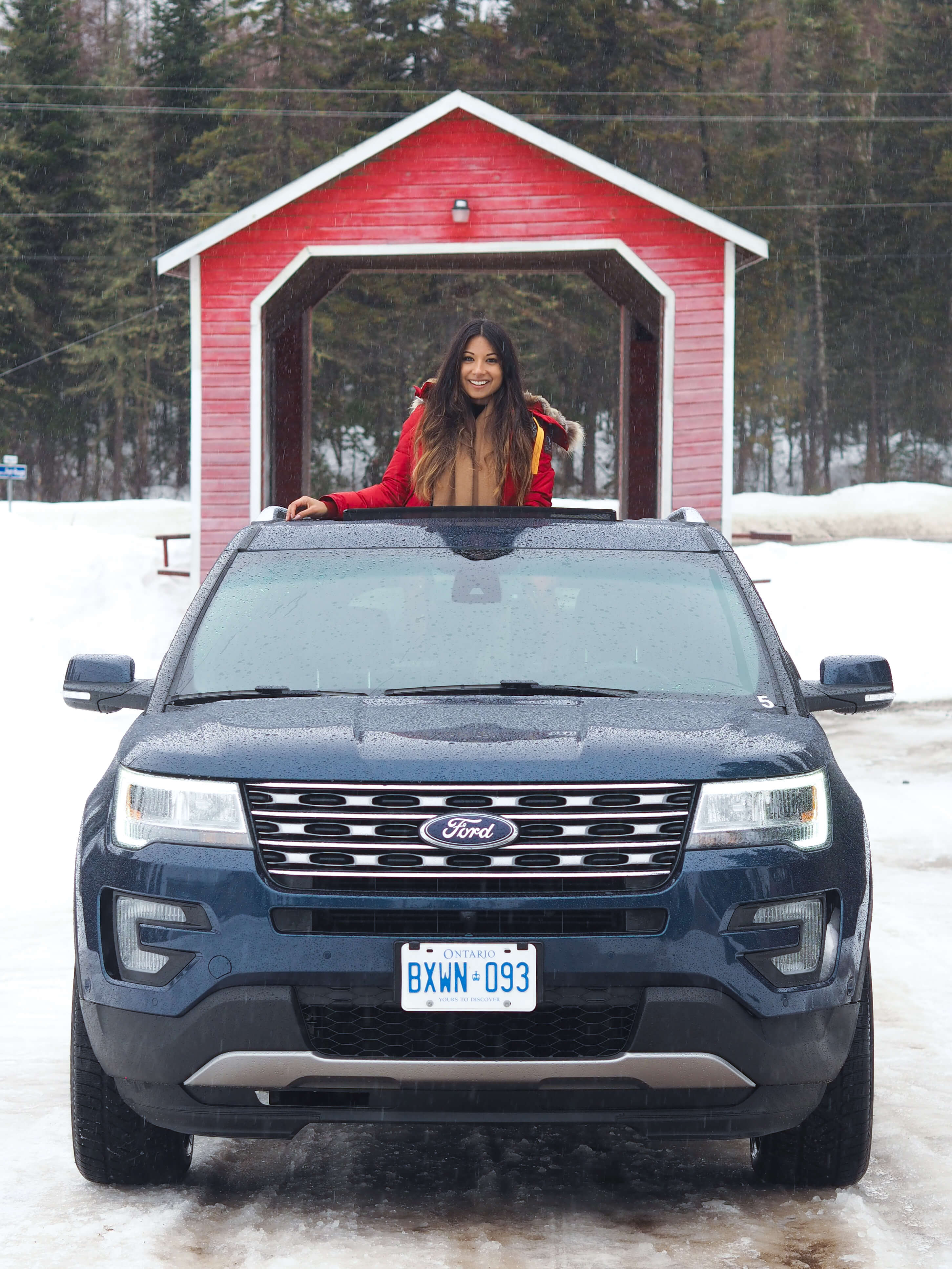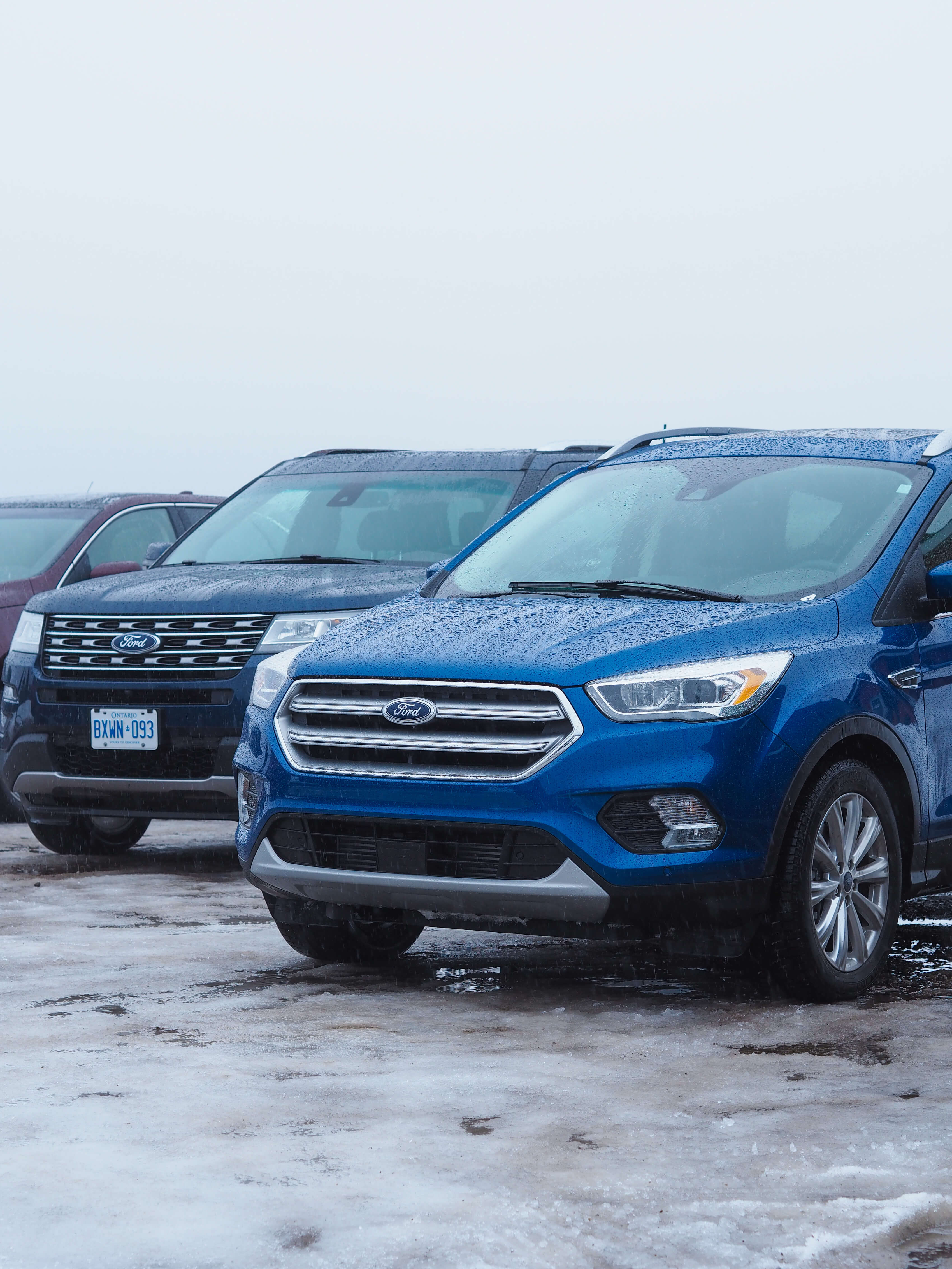 When you need to stop suddenly...
Fully press on the brake pedal and keep it pressed down. Nowadays, most modern cars are equipped with an Anti-Lock Brake system which stops your brakes from locking up.
Whatever you do, don't pump the brakes (which many people think you should do), as this will interfere with the ABS. Remember that braking distances are longer too when it's snowy/icy.
If you get stuck, turn off the traction control
Spinning the tires should help you to dig your car out of deep snow, so switch off traction control if you find yourself stuck. Remember to switch it on again when you're back on the road.
Be prepared
Winter conditions can be really unpredictable, especially in Canada and at higher elevation. If you're going on a long trip or travelling outside of the city, be prepared with a full tank of gas, warm clothes and a blanket, a car phone charger / battery pack, a shovel, a torch, and spare food, just in case you get stuck and have to sleep in the car overnight.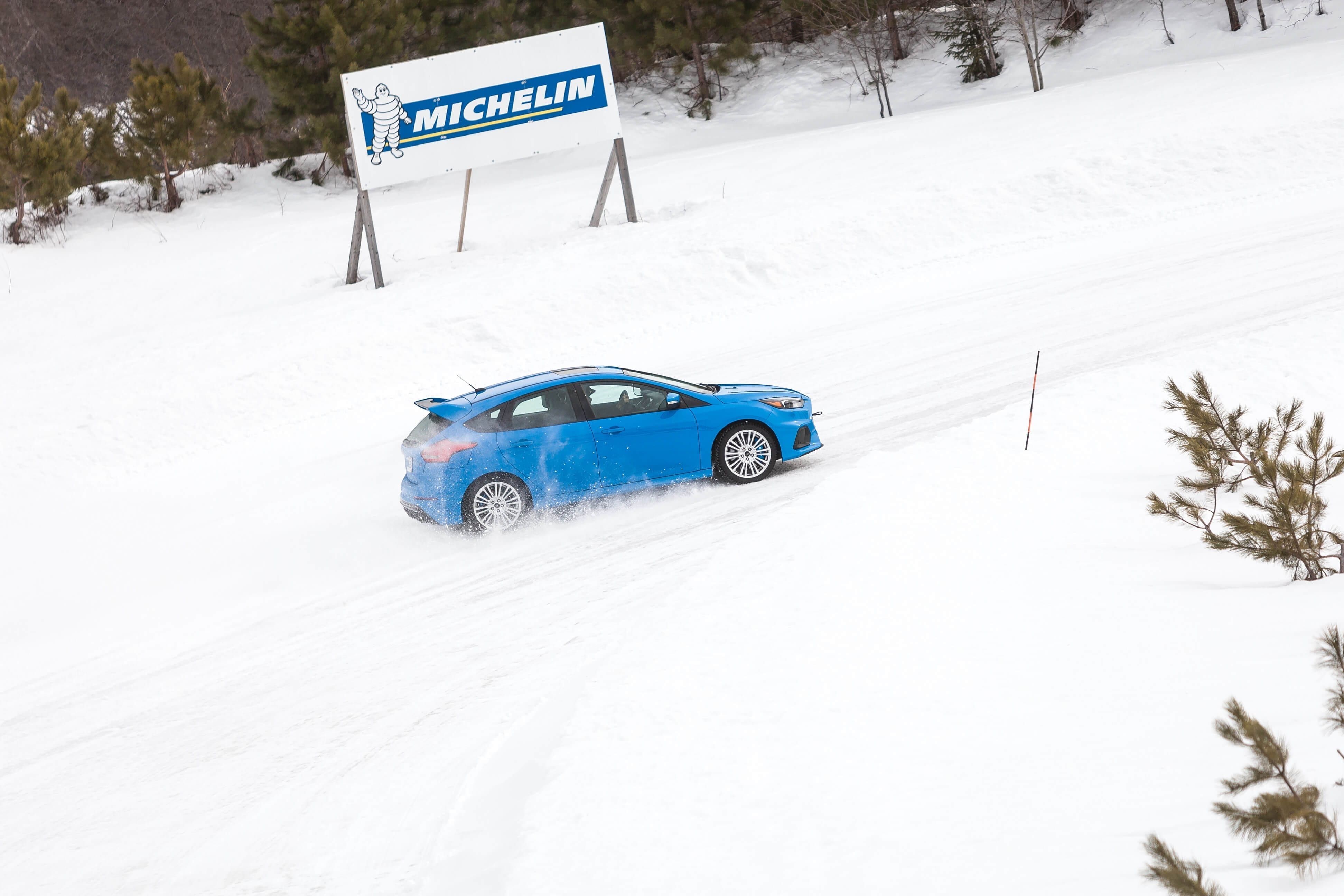 My Favourite Ford
We had the opportunity to drive some of Ford's latest SUV models, and out of the Explorer, Escape and Edge, my favourite was definitely the Explorer. Aesthetically I think the Explorer looks so sleek an I'm a real lover of big cars. I found the Explorer super comfortable, sturdy yet very quick on the gas considering its size, fuel efficient, and really spacious inside. Ford have really stepped up their game in recent years and their cars are now equipped with more features than you'll often find in even the higher-level BMWs and Mercedes.
As I mentioned in my post last year about our trip to Whistler in the Ford Escape, the Park Assist is one feature that really blows my mind and I can't quite believe it's possible for the car to park itself. Another feature which I love, and I find really really useful, is the Blind Spot feature which basically alerts you with an orange indicator in your wing mirror if there's a vehicle in your blind spot. Especially with a big car it is so useful and it makes you realize just how invisible cars can be when they're in your blind spot, so it can potentially save you from some bad accidents.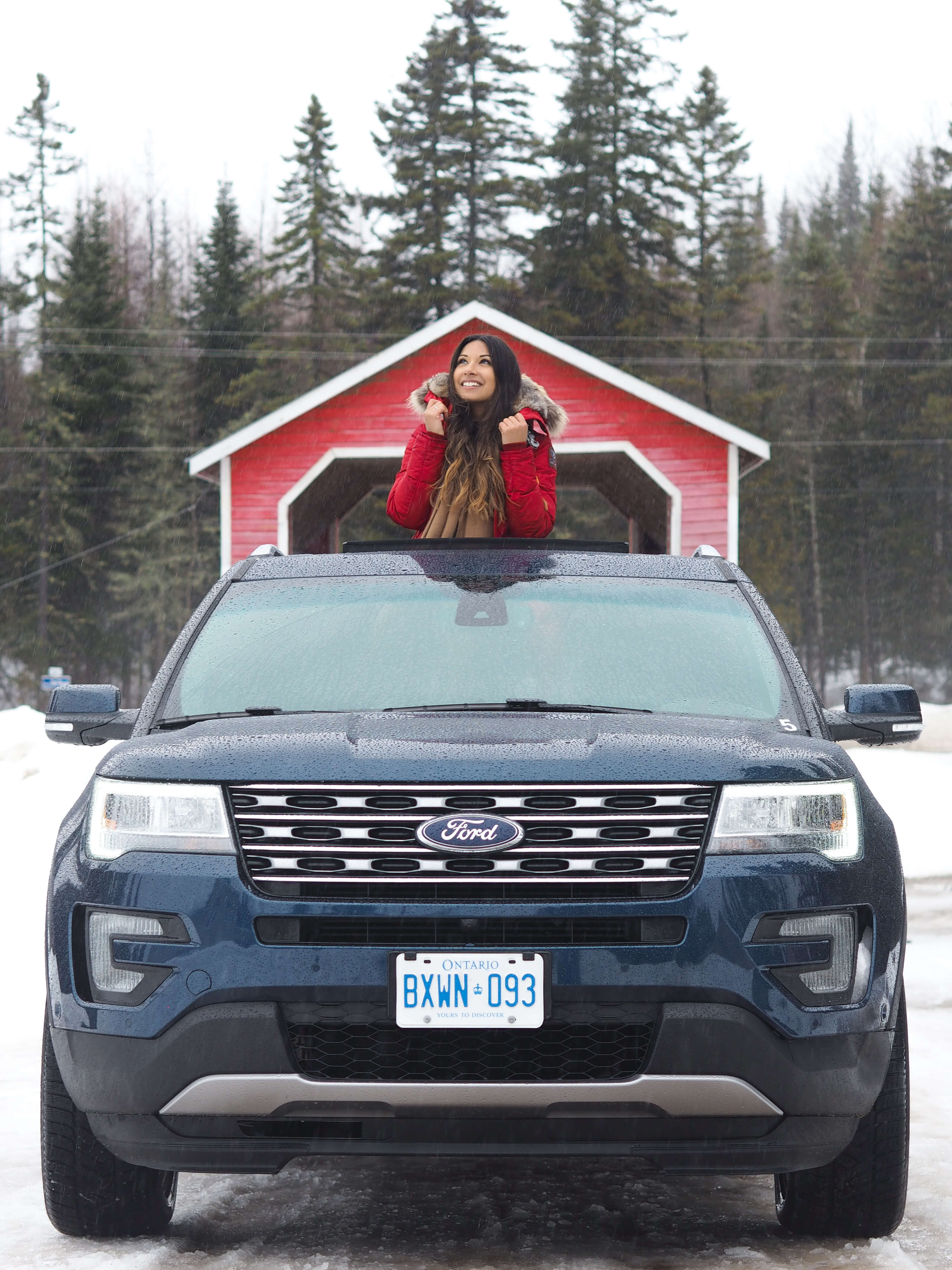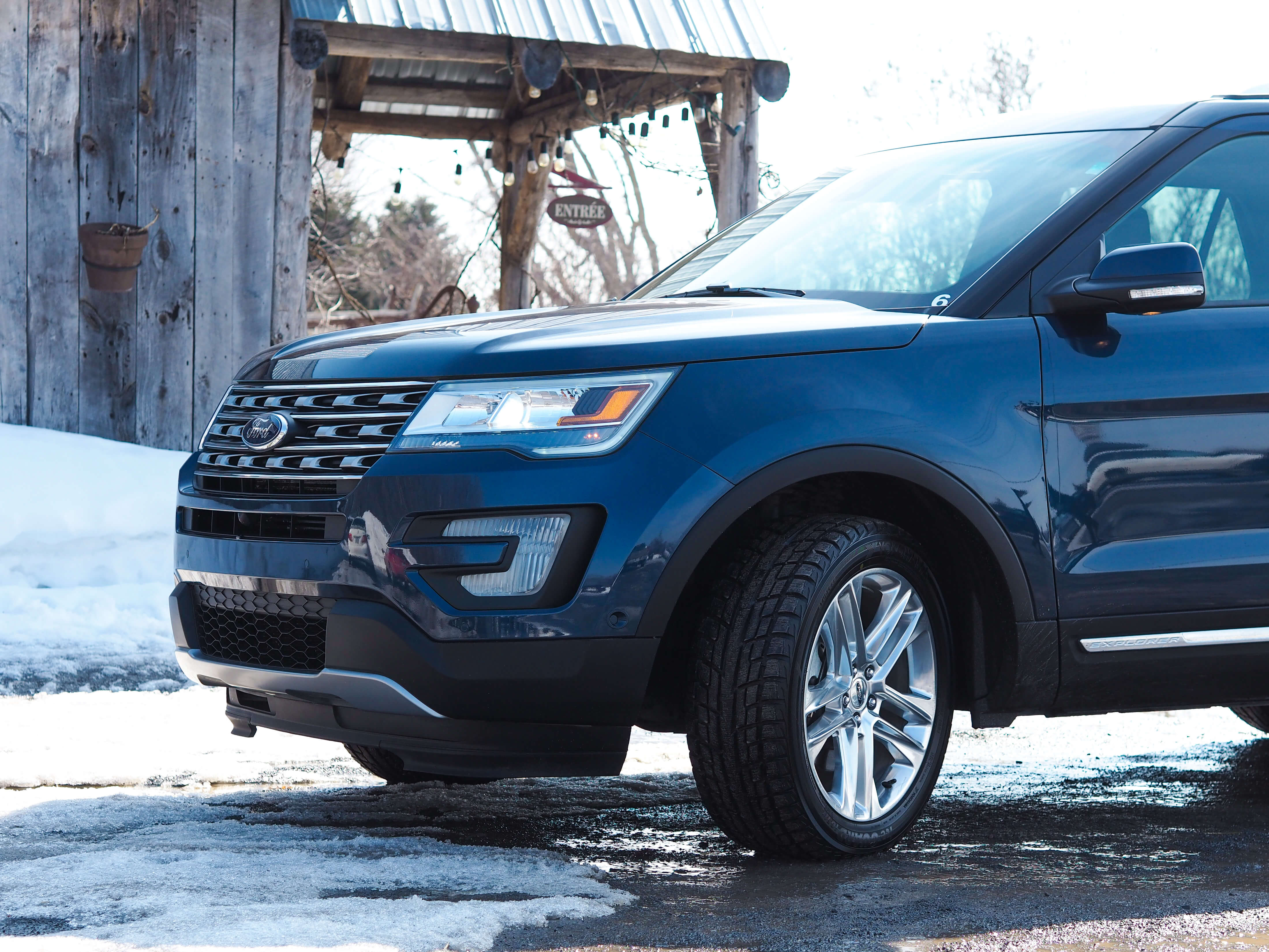 The Estérel Resort
The adventure was made even more amazing with our stay at The Estérel Resort, a beautiful resort nestled in the Laurentians which was truly a winter wonderland. The grounds are picturesque, the rooms are so cool and spacious, and the Nordic spa made it feel extra special and luxurious. It's the ideal place for both adventure and romance and it has everything you need for a getaway - from great food (there are 3 restaurants), to gorgeous landscapes, to activities like snowmobiling and snowshoeing and a number of trails to explore.
The room was one of the most spacious rooms i've ever stayed in, with a huge open-plan bathroom, luxurious bath and shower, living area and corner sofa, kitchen equipped with everything you need (kettle, alcohol, plates, the works), and to top it all off, a beautiful enclosed fire in the middle of the room to warm you up after a day of venturing in the snow. In addition to that, the rooms have a huge balcony with a seating area and a view overlooking the lake (which is frozen over in winter). It's the perfect place to relax, adventure, and surround yourself with nature, and it definitely made our trip that bit more magical. I wish we could have stayed for longer and I definitely recommend a stay there whether you're looking for activities or relaxation (or a mix of both)!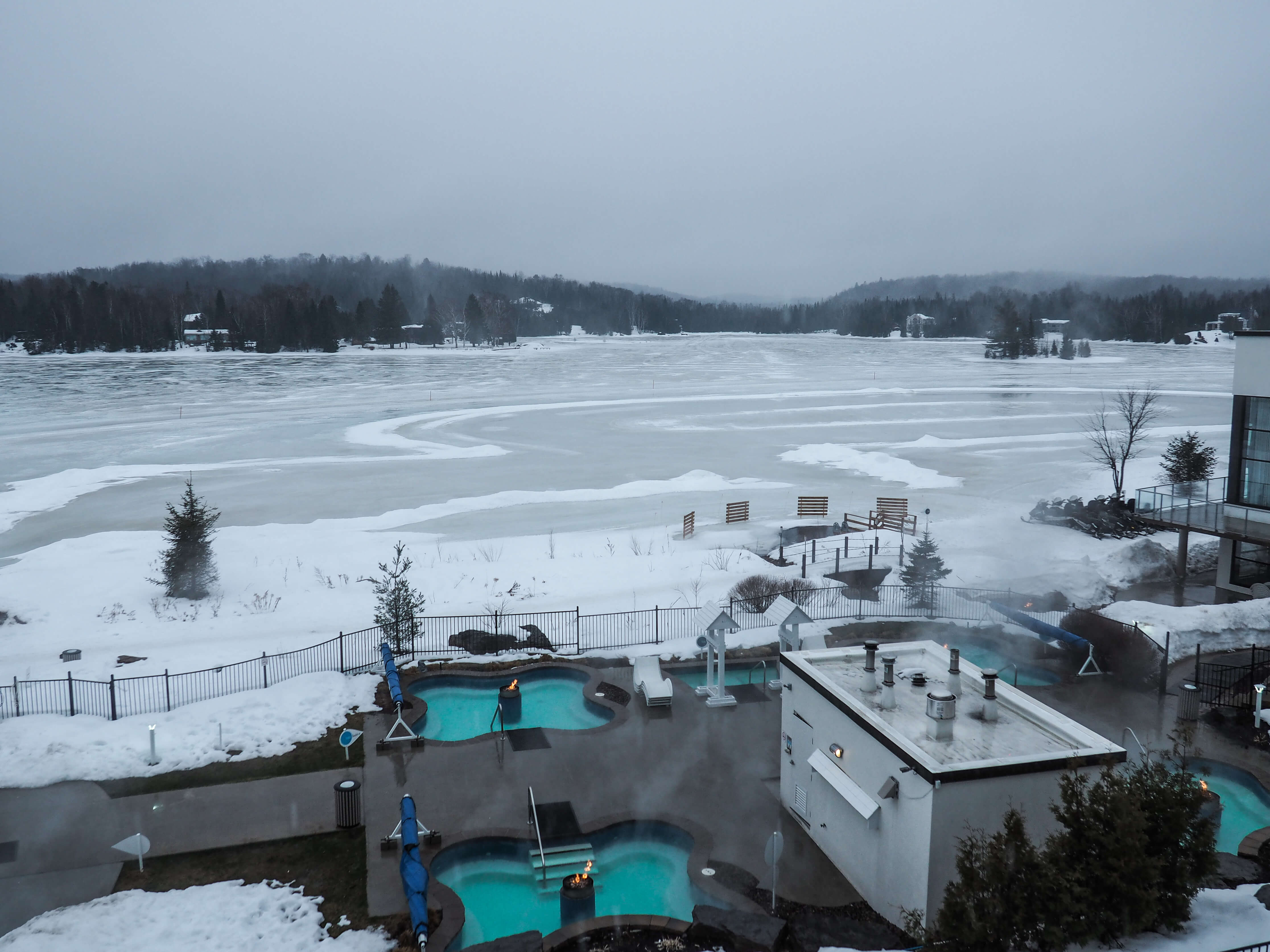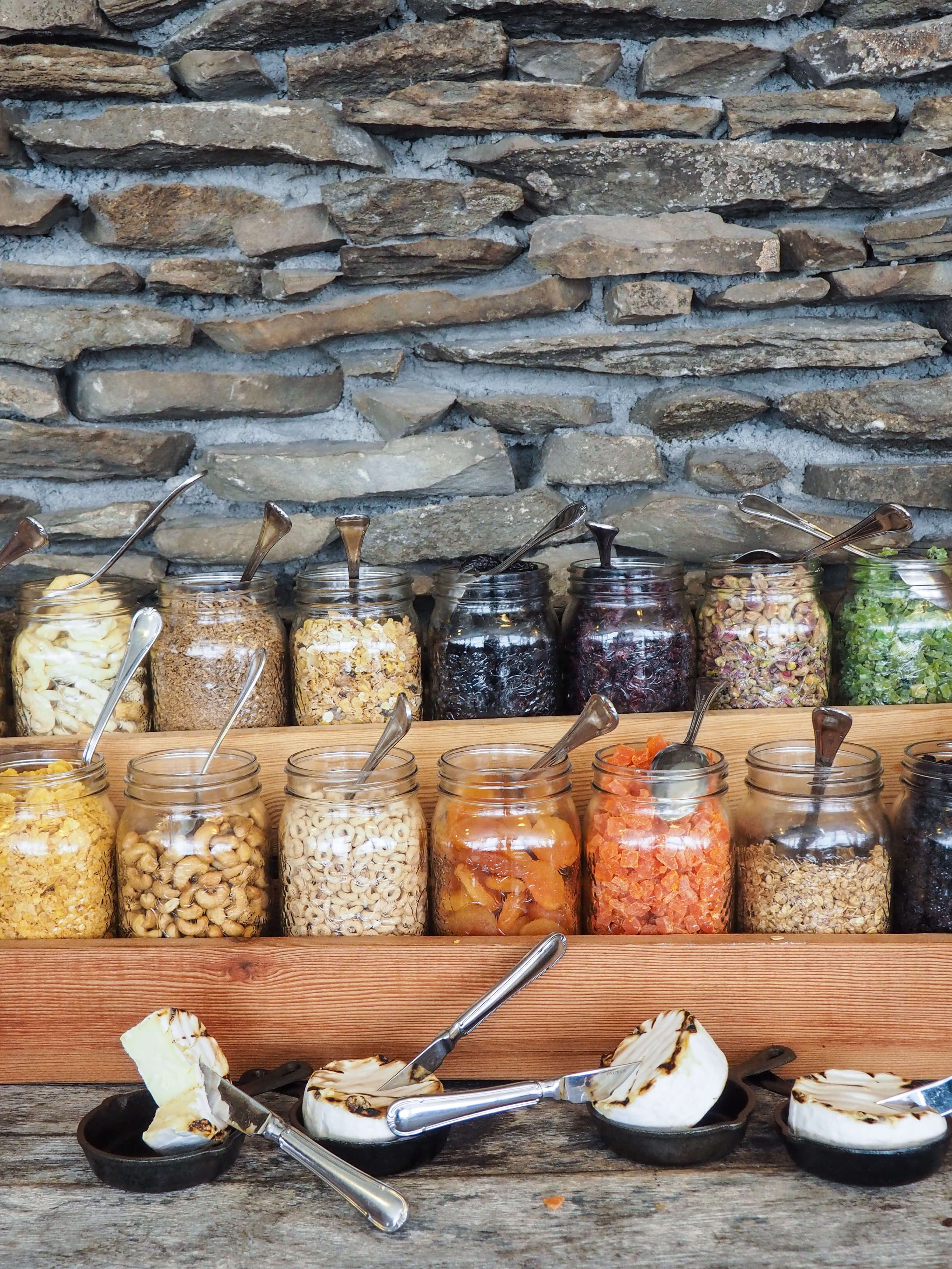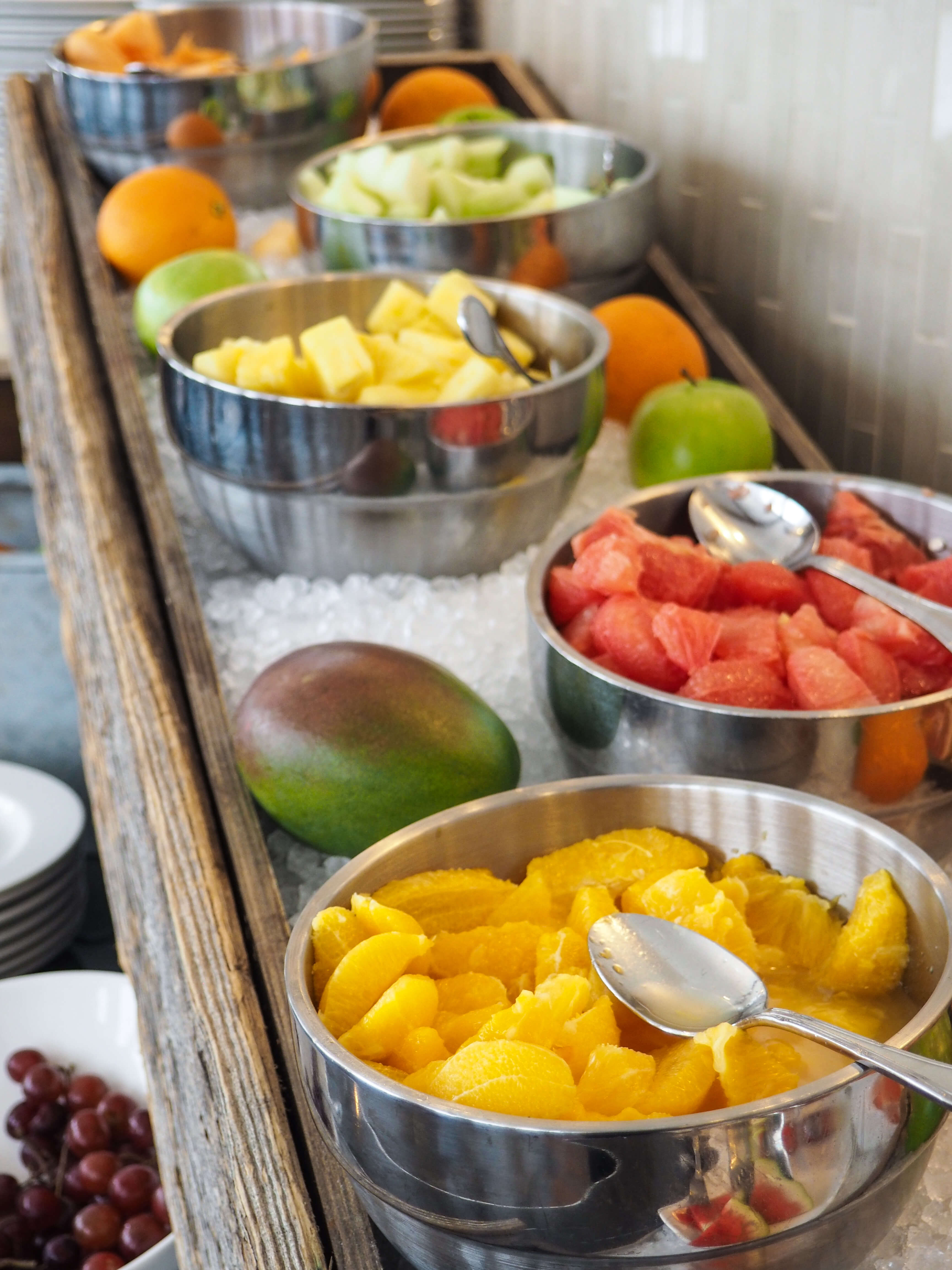 We had such a fun couple of days and it really couldn't have been any more amazing. The trip definitely surpassed all expectations and I want to say a huge thank you to the Ford team who invited us on the trip and made it so magical. We had such a great adventure, met some fab and inspiring people, and had the best rides to accompany our travels!
You can learn more about Ford's new SUV models on their website and don't forget to check out my Instagram pics and the vlog from the trip if you want to see it in action 🙂