I've been feeling so positive and happy lately. It's partly because summer's almost in full swing and summer in Vancouver is one of my favourite things, but it's mostly because I really feel content within myself and how things are going at the moment.
I've formed quite a few daily habits and routines in the last six months which have really helped to keep me balanced, consistent and generally pretty happy. Of course, I do go through slumpy periods when i'm not feeling my best or things aren't really progressing how I want, but on the whole, the small changes i've been making in my daily life have had a really positive impact on my mindset and productivity.
I'm one of those people who thrives on productivity. Sometimes it can work against me, and my burning need to always be productive means that I feel guilty for simply doing nothing or having a whole weekend without opening my laptop. But in general, I'd say wanting to be productive isn't always a bad thing and it's contributed a lot to my success so far. One thing I've realised though, is that productivity doesn't always come easily, and you do need to make a conscious effort every day to make sure your time is being used wisely and you're getting everything done.
This is especially true if you're self-employed. Since much of my work is done from home and on my own clock, being productive and having a routine is that bit more important. For me, positivity and productivity are very much intertwined, so I try to keep both as consistent as possible and I achieve that by incorporating a few simple habits into my lifestyle.
I wanted to share a few of these with you in case you're looking to adopt a few positive habits to make your days more productive. I've also partnered up with Sport Chek for this post to show you guys some of New Balance's newest activewear styles and my favourite picks. I'm sure you know by now that i'm a huge Sport Chek fan and I've worked with them numerous times in the last year, and since fitness is one of my best and most important habits I figured they were the perfect match for this topic.
Hopefully you find this useful if you're in need of a boost, and remember that even the smallest of changes can make a huge difference to your mindset. It may be something as simple as deep breathing exercises once a day or buying new workout gear, but sometimes that's all you need to make a positive change and really boost your productivity and mood.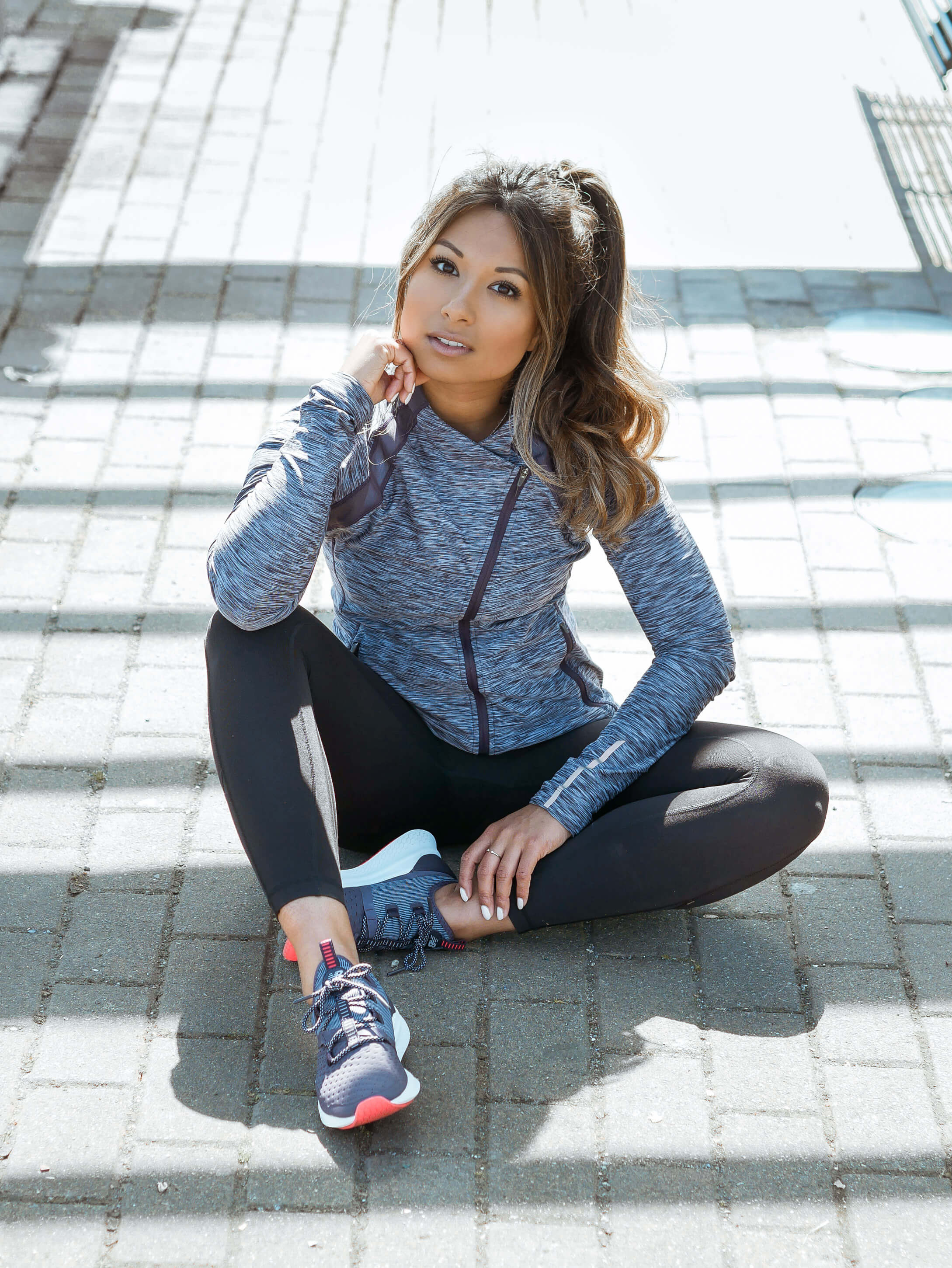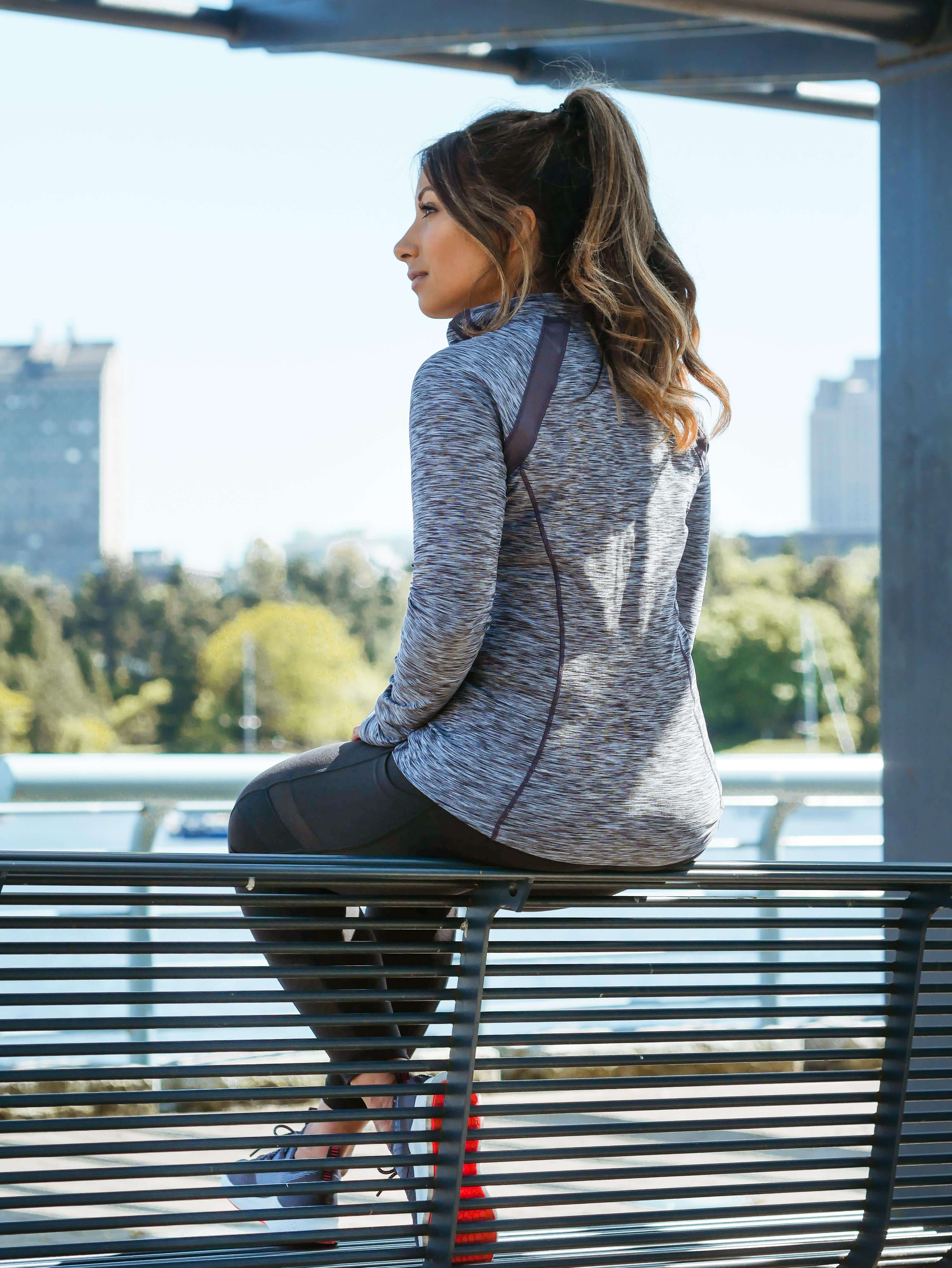 Meditate
I started meditating at the beginning of this year and it's incredible how much it can shift your mindset and set a positive tone for the day.
If ever I wake up feeling stressed, i've had a night of crazy dreams or I'm simply feeling a bit down, meditation makes such a difference to my mood. Everyone's way of practising meditation is different and you have to find what works for you, but the great thing is that it doesn't require any tools so you can meditate anywhere.
For me, I simply lie down on the floor, put on a meditation playlist from YouTube or Spotify, and breathe in and out allowing my body to sink into the floor. I do this for 10-15 minutes, or as long as I need to feel calmer and more level-headed.
I can literally feel the tension in my body flowing out of me, and by focusing on the music and my breathing, negative thoughts and stress leave my mind and I feel so much more refreshed, awake and positive by the end of it. For me, it's the best way to turn a crappy day into a good one which inevitably makes my day more productive and positive.
We all wake up on the wrong side of the bed sometimes or feel sluggish and grumpy in a morning, but I think the key is to recognise how you're feeling, and know that simple actions like meditation can make the world of difference in boosting your mood and your mindset.
Start your day with a workout
I'm sure you know by now how much I love working out, and it's honestly my favourite way to start the day. I used to always be an evening workout person, but ever since I started going to Soul Cycle last year I've switched my workouts to the morning time and I LOVE it so much.
Having my workout done and dusted before 9am makes me feel so good and SO productive, and whether it's a spin class, a run, gym training or just going for a walk, starting my day with activity makes the world of difference to my mood.
If ever i'm feeling off my workout game or I'm trying to motivate myself, the first thing i'll do is invest in some new activewear. When I have nice, flattering gear that fits me well and makes me feel good, my workouts are always so much better and it encourages me to work harder.
I've been working with Sport Chek for about 1 year now, and they have the best selection of activewear as well as tech items (my Apple Watch is from there, read more about that here), ski + snowboard gear and tons of sports equipment. This whole outfit is New Balance, and I am loving every single piece.
The jacket is ideal to throw on in a morning when I'm going to Soul Cycle or going for a run, and the leggings are super comfortable and flattering. This is actually my first experience with New Balance's activewear and trainers, but I'm loving everything and i'm really impressed by the fit and comfort.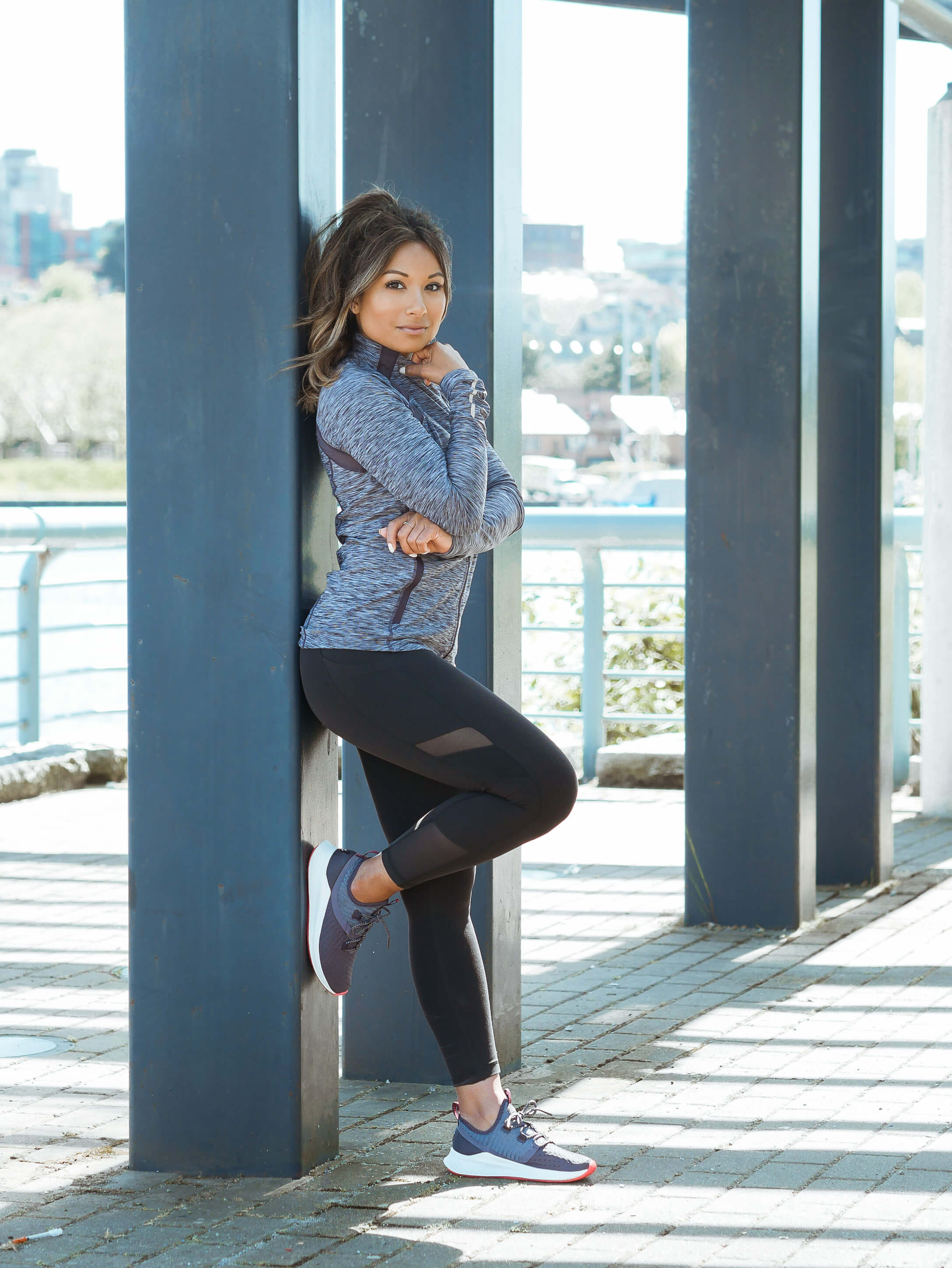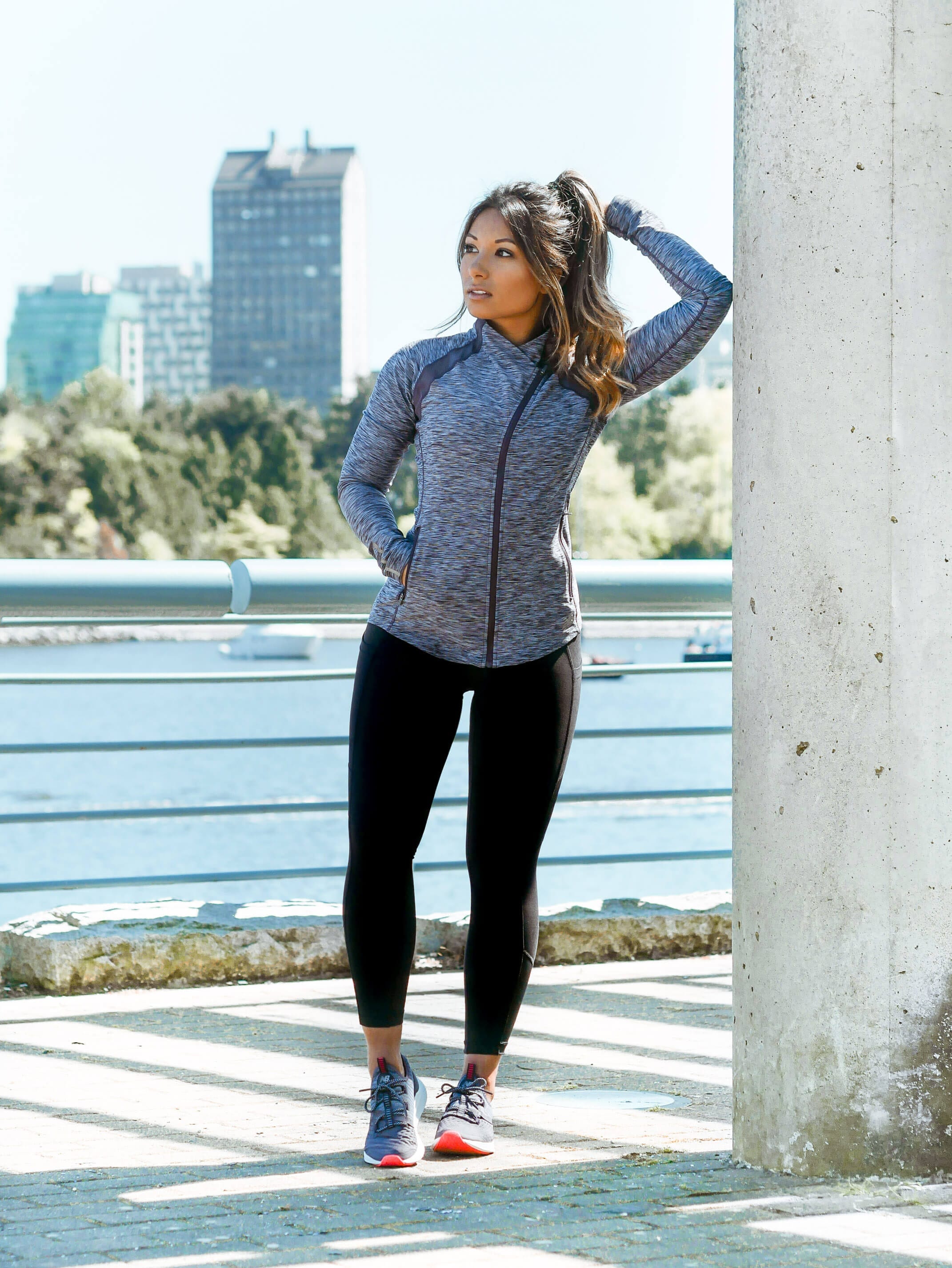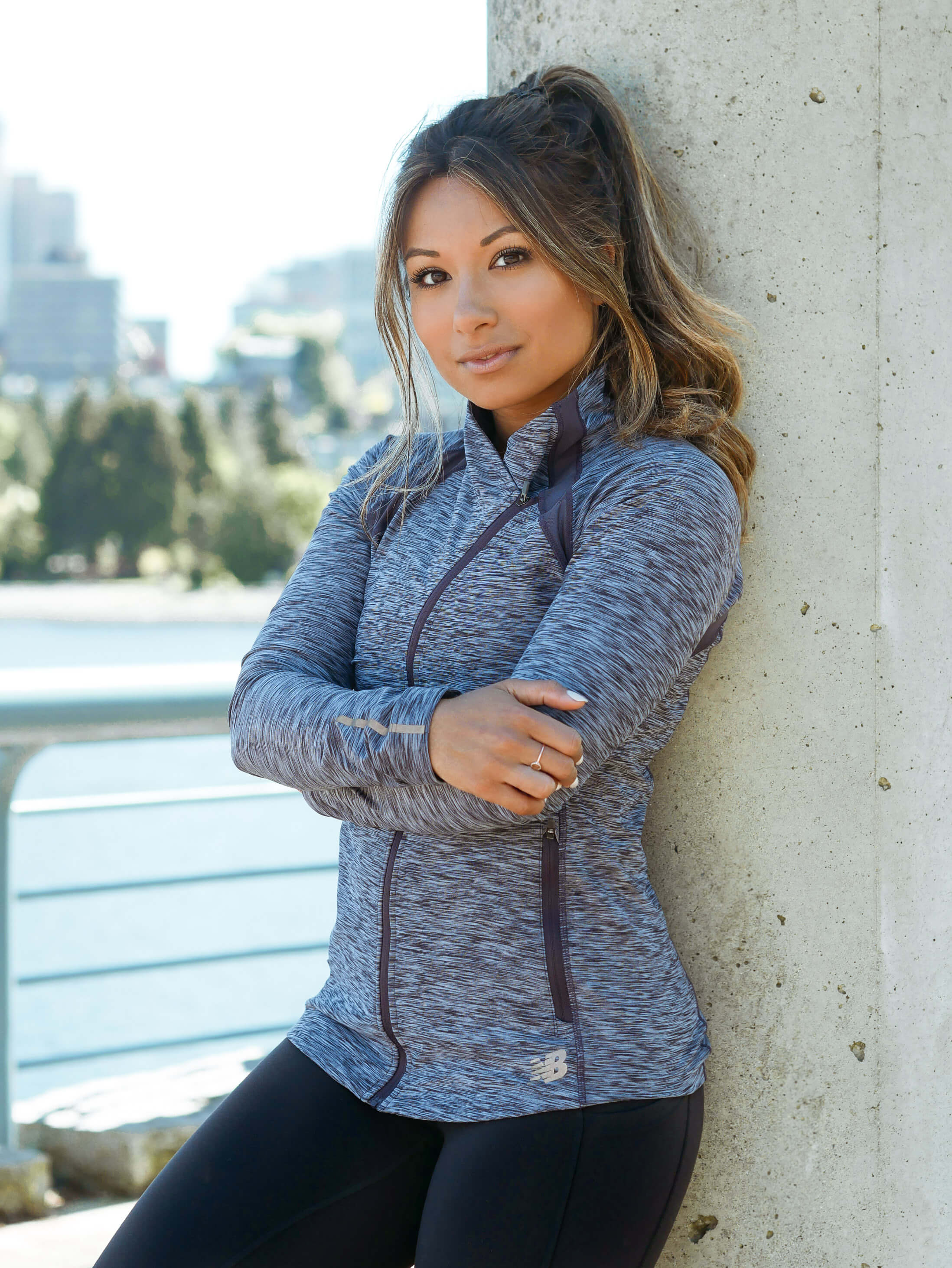 The Outfit
This is my go-to workout outfit at the moment, and I love the fit of both the jacket and the leggings. The jacket is lightweight and stretchy, yet it provides a good amount of warmth for cooler mornings. It also has a slightly higher collar to shield against the wind and hidden thumbholes. It features mesh panelling around the underarms and back for breathability, as well as zip pockets which are really useful for your cards and essentials.
I'm very picky when it comes to leggings, but these honestly tick every box for me. They're mid-rise, so not super high-waisted but not low rise either, which is always my preferred fit. They're super flattering on your legs and they definitely compress a little to keep everything in place when you're doing high-impact sports. They also have really handy side pockets which are perfect for holding your phone or keys when you're running. Both the jacket and leggings have reflective features so you're that bit more visible in the dark. I've included a few more details about the trainers further down the post!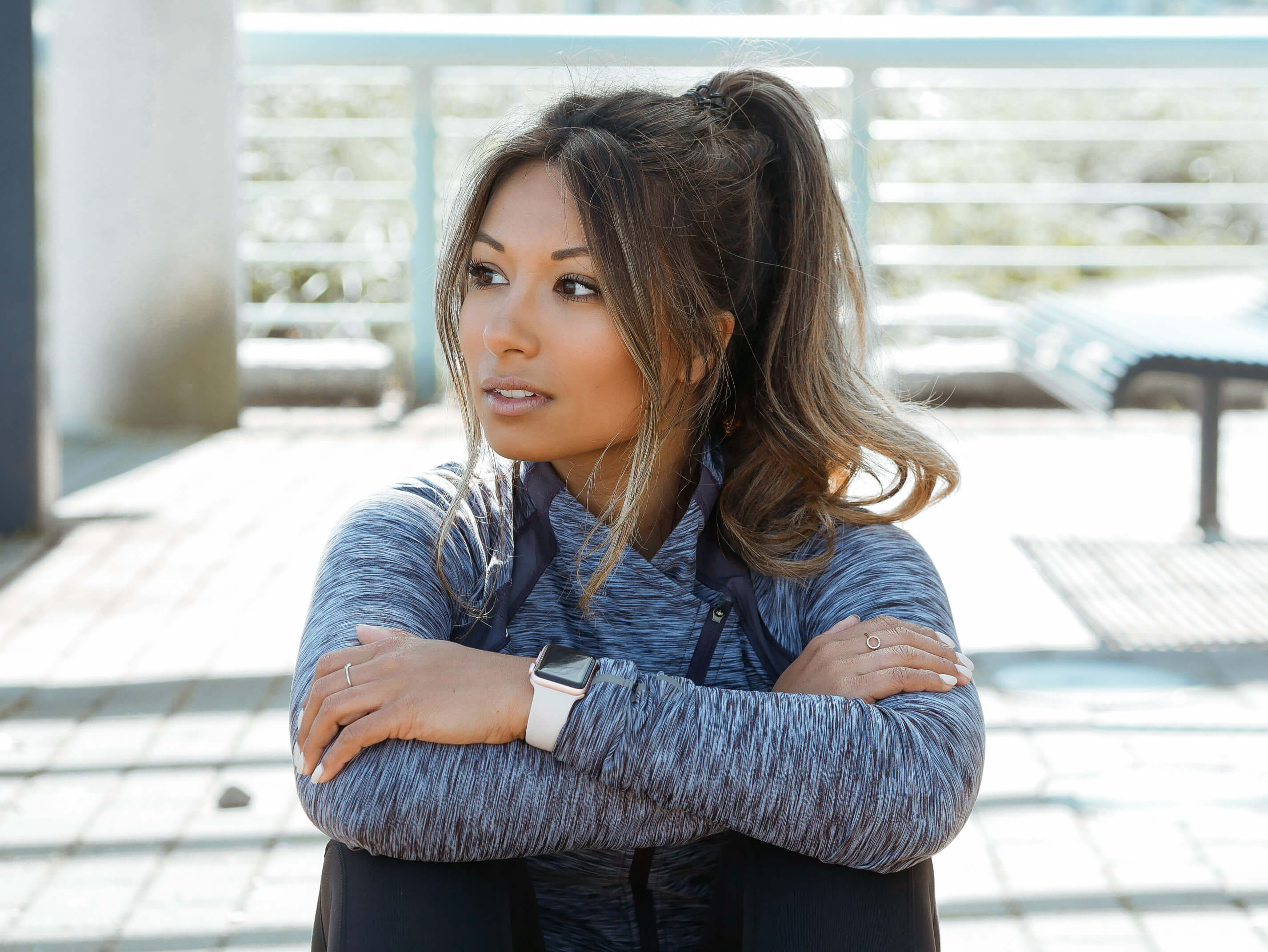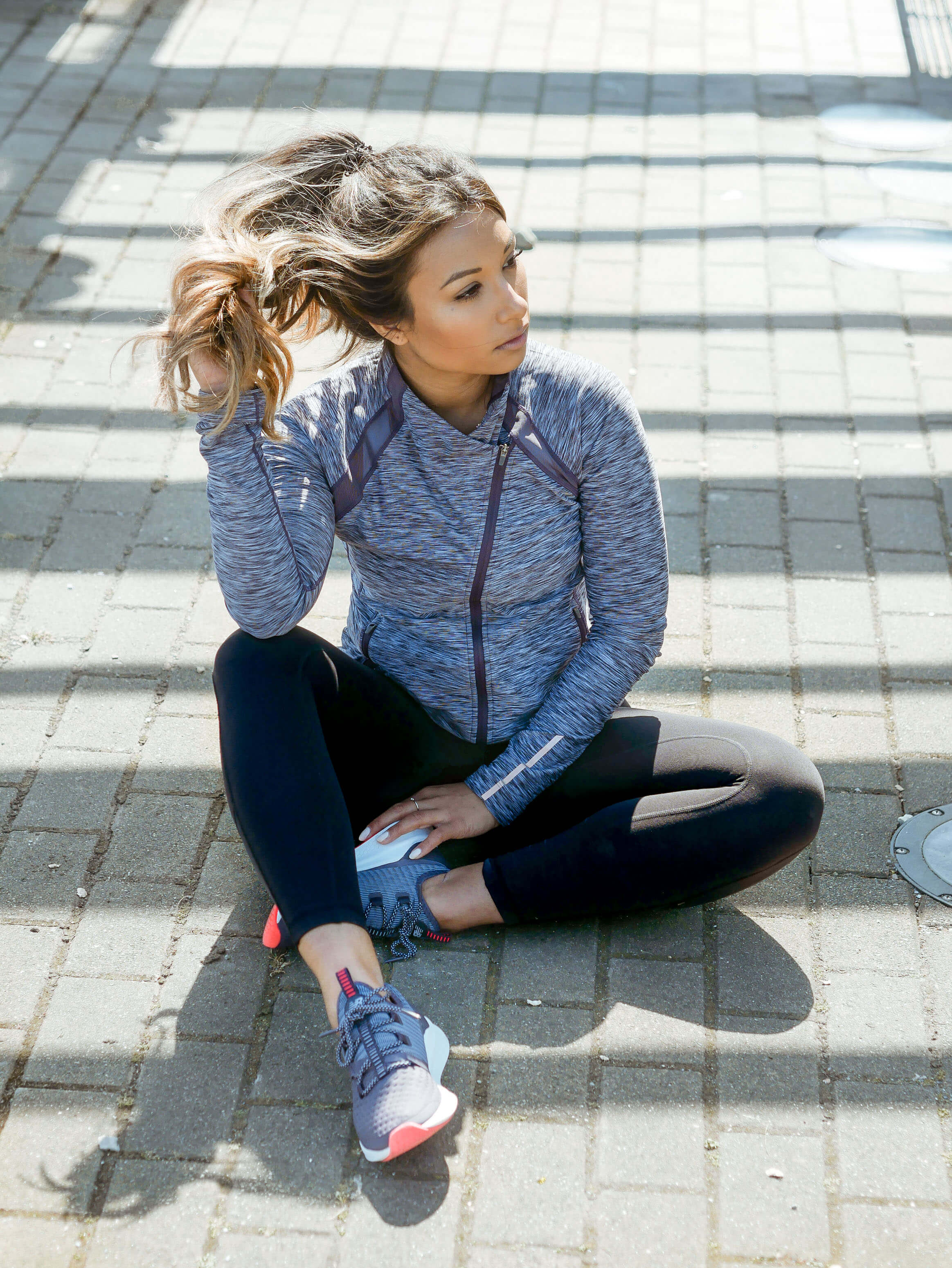 Stick to a routine
Everyone operates differently, but for me, routine is the thing that keeps my days productive. It's especially important for me as most days I work from home, and because I set my own working hours and I don't necessarily have to be at work for a certain time, it's tempting to wake up late or work until late at night.
When I'm in the habit of waking up early, exercising, and sitting down to work at 9am, I'm so much more in the zone compared to when my routine is all over the place. Even though i'm self-employed, I try to set clear working hours for myself and stop working at 8pm, at the latest.
Gone are the days of working until the early hours - I used to be a night owl and I could continue working until 4am, but that actually wore me down in the end and nowadays I try to be in bed before midnight, get a good 7 hours of sleep, and set boundaries with my working hours. Doing this has actually made me much more productive, i'm a lot healthier and happier, my workouts are more effective and my sleeping patterns are a lot more consistent.
I'm someone who thrives off having a routine as I find it makes me a lot more clear-headed and I'm way more productive when i'm in a routine. I also think it's about control. When my days are structured, I feel way more in control of what i'm doing, I get more done, and in turn I feel a lot happier.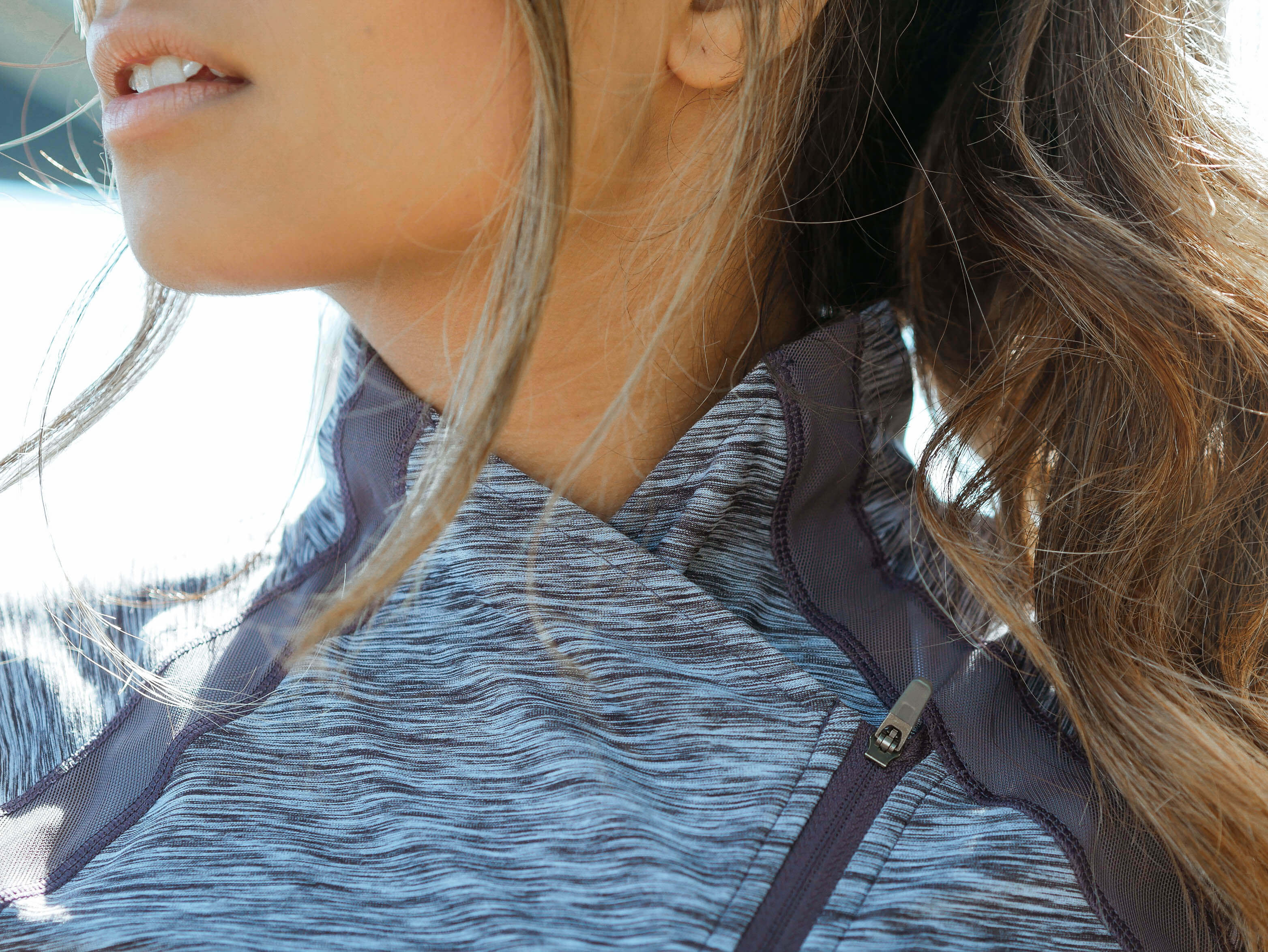 Inhale negativity, exhale positivity
One of my favourite quotes from one of my Soul Cycle instructors is, "Inhale Negativity, Exhale Positivity". I think it's a great one to keep at the back of your mind, as ultimately no day is ever perfect and 100% optimistic and there will always be things getting in the way and messing up your positive flow!
Whenever I experience negativity, whether it's feeling grumpy in a morning or a project not working out like i'd hoped, I always say to myself:
1) What can I do to change my situation? If there's action that can be taken, then do it, and turn that negativity into a positive outcome.
2) If I can't do anything and this is out of my control, take a deep breath, let it out, accept it, and move on. Use that energy and inject it into the things that I can change.
Learning not to dwell on things you can't change is so important as honestly, it's not productive in any way (and obviously you've gathered this post is all about being productive!) and it really doesn't do you any good. I think there is always good to be found in a bad situation and there is always a silver lining that comes through in the end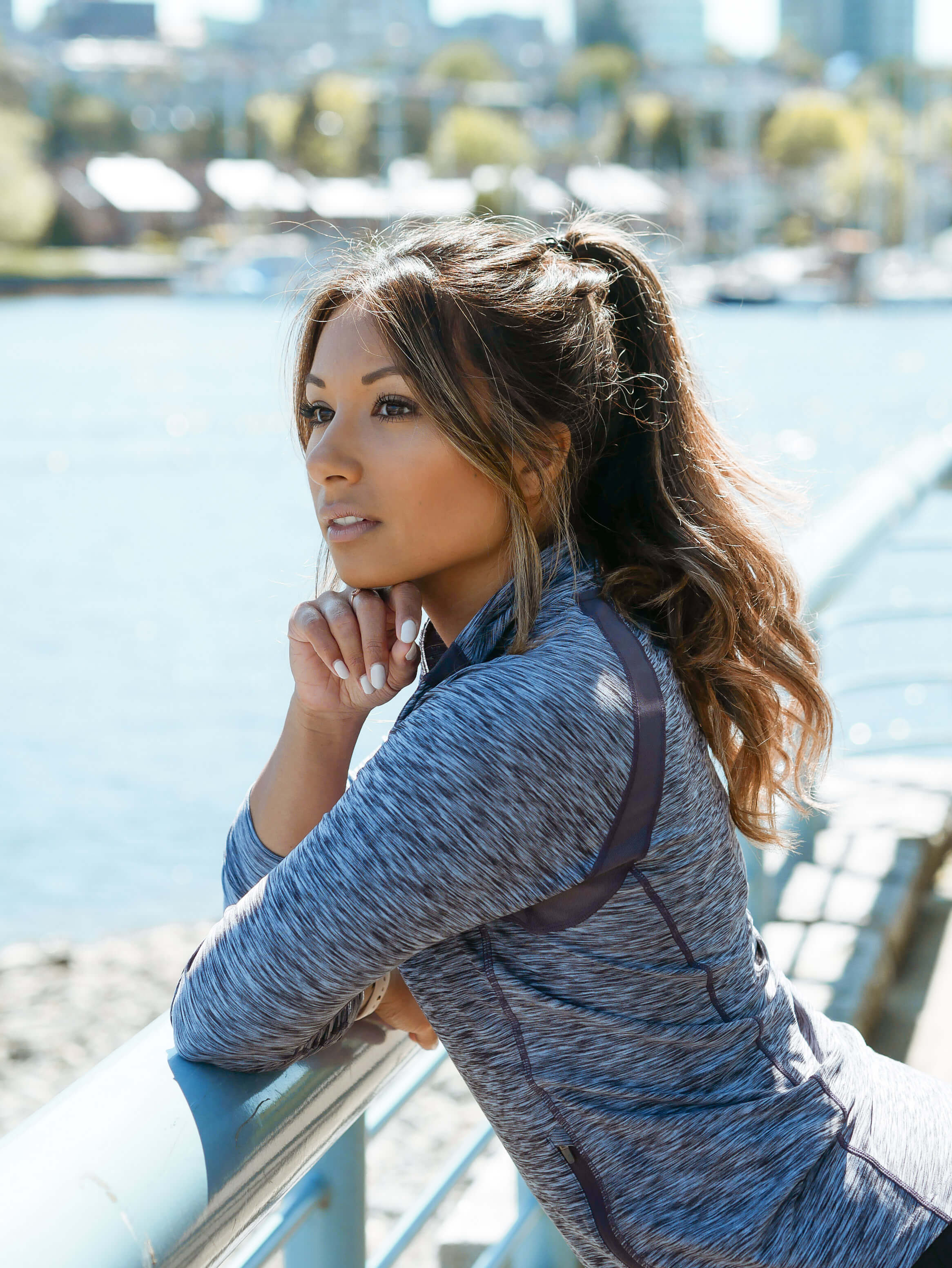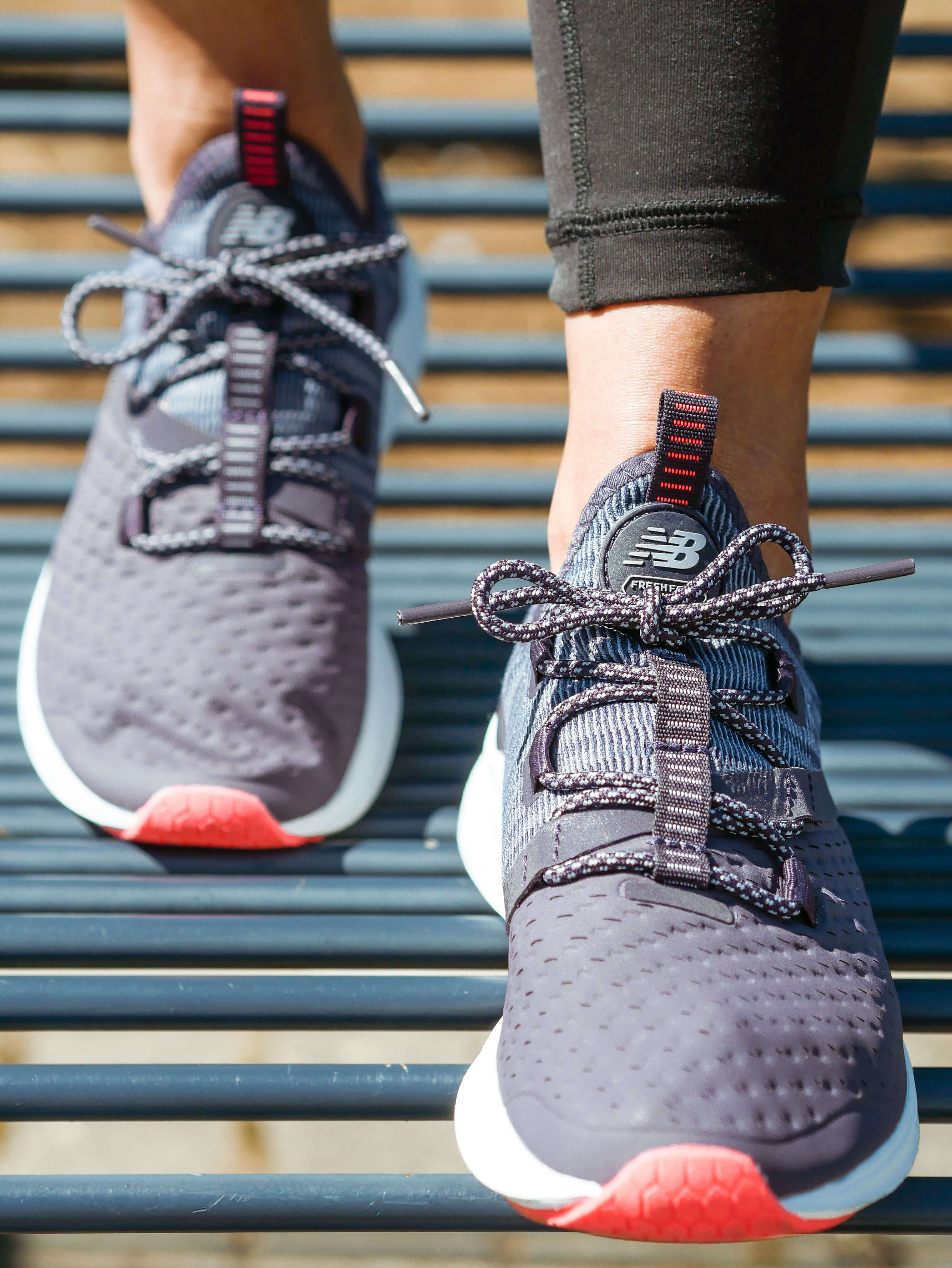 The Shoes
I am in love with these New Balance Fresh Foam Lazr trainers and i'm so impressed with how they fit as well as the design. They're really sleek and stylish, yet supportive enough for all different kinds of workouts. They're super lightweight, and they've been engineered to provide comfort and support, with a Foam midsole for added cushioning. Personally, I need extra cushioning especially for high-impact exercises like running, otherwise I feel it in my knees, but i've done a few runs in these already and they're really comfortable while also adding bounce to my step. The sole offers a lot of grip since it has a full rubber outsole, which is important for those rainy days or indoor training.
In terms of the design, I love the low cut sides and how the shoe moulds to your ankle, which I find very flattering. They're not at all clumpy, and the combination of Hyposkin and mesh means that the shoe moulds to your foot but it's also very breathable, so perfect for those hot summer days. I got the Elderberry with Daybreak + White style, but there is a range of other colours to choose from depending on your style.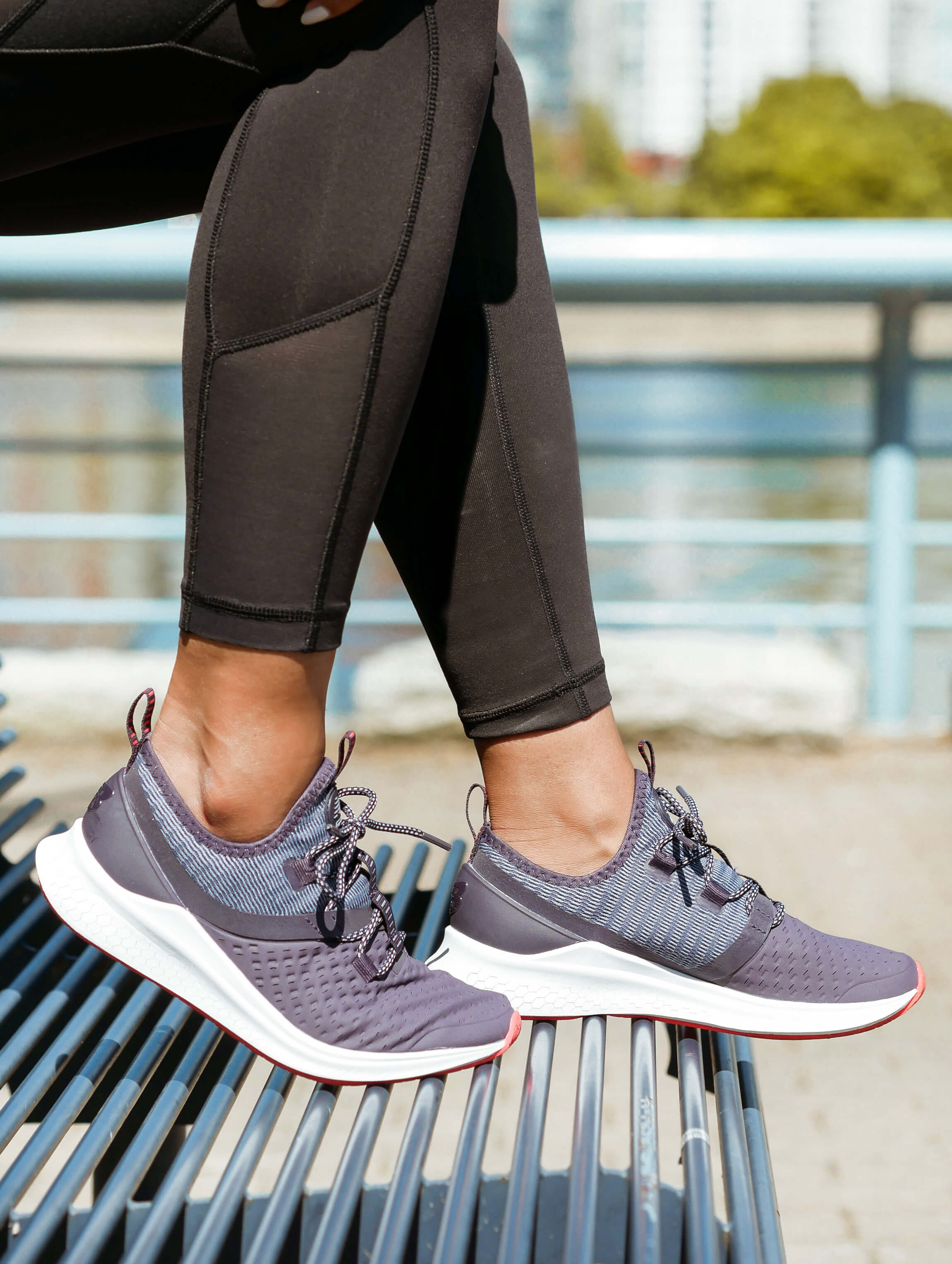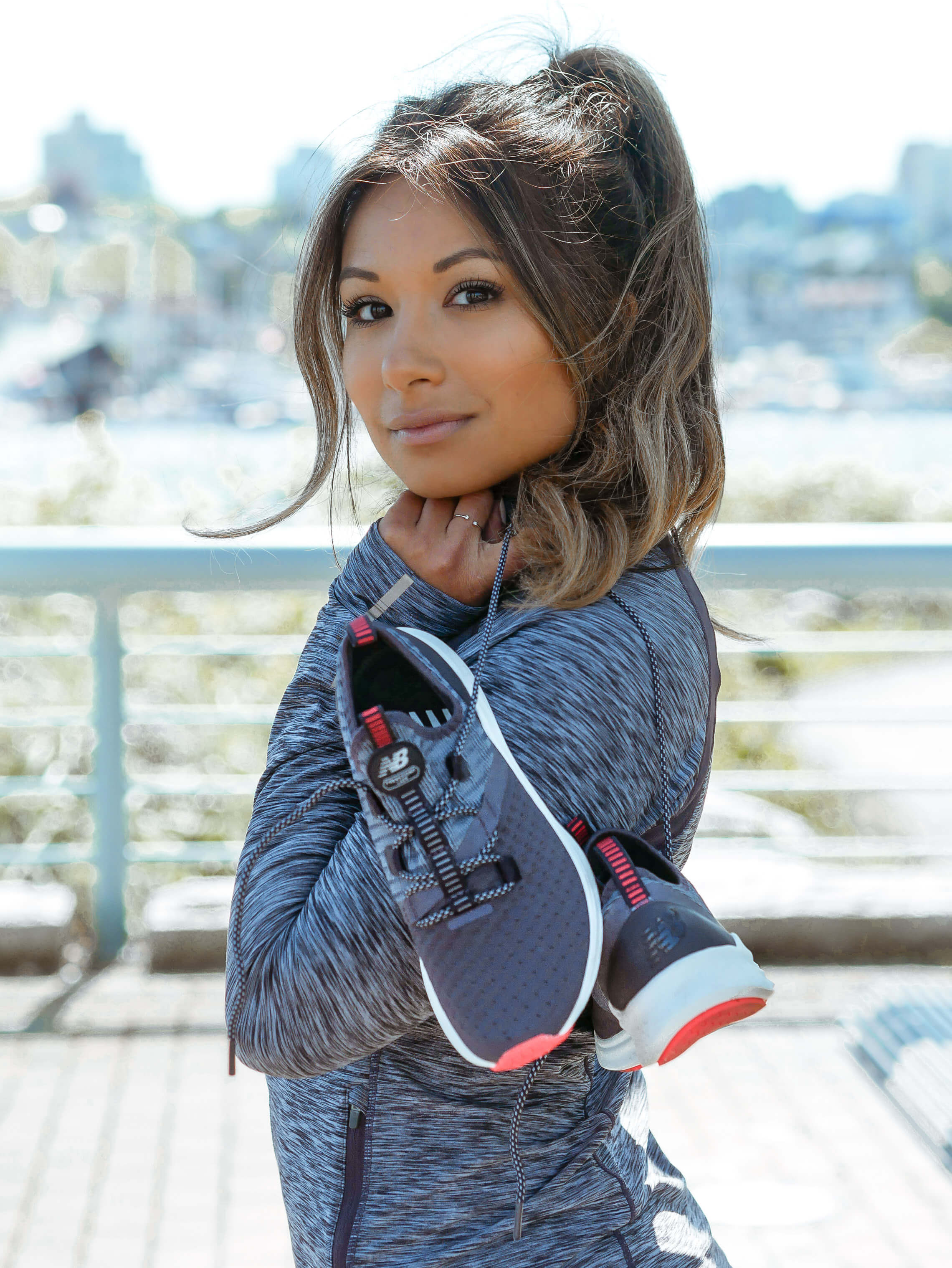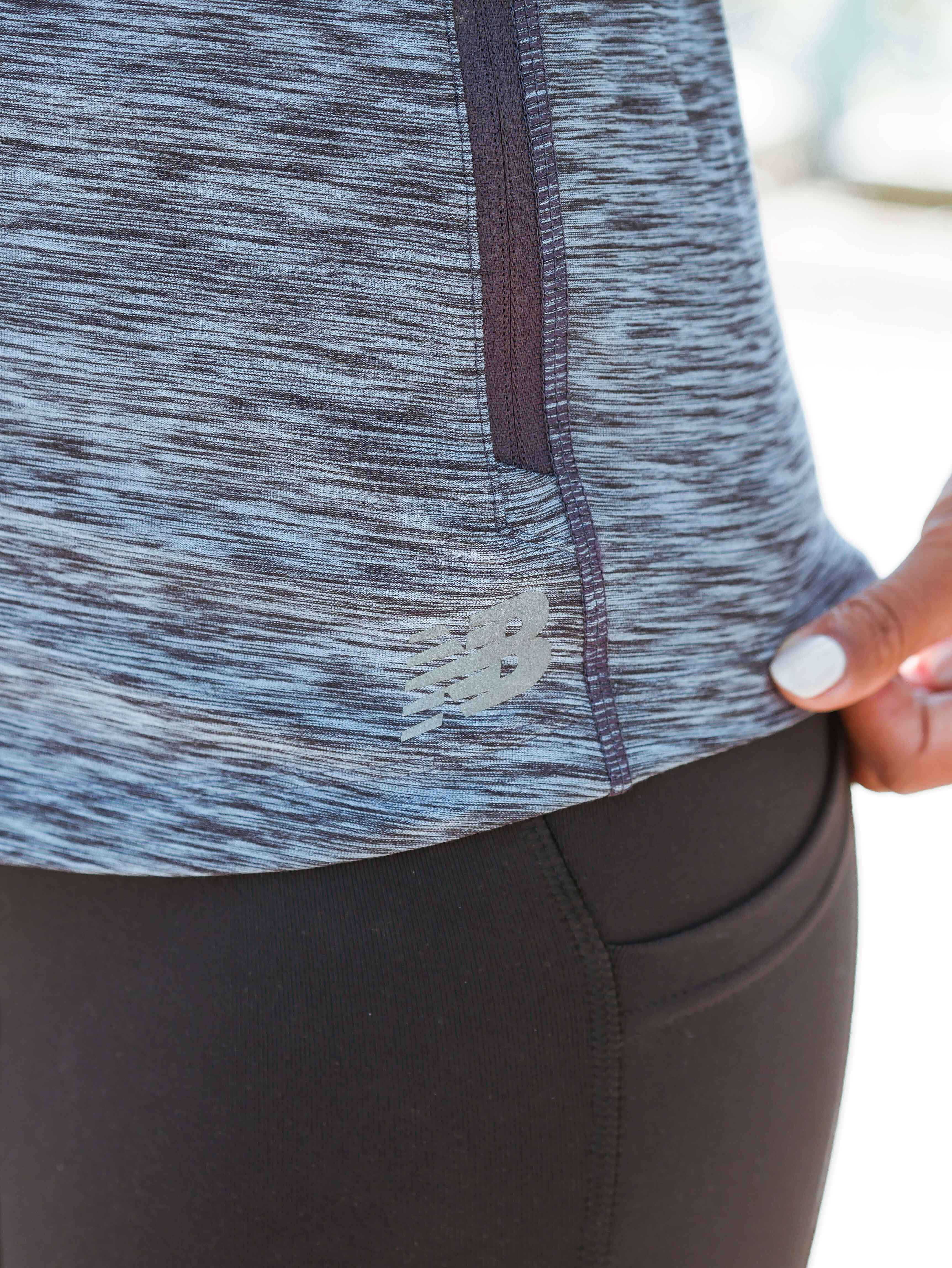 What daily habits do you practice to make your days more productive and positive? Let me know in the comments, i'd love to know!
This post was created in partnership with Sport Chek and Reward Style. All thoughts and opinions are completely my own, as always! 🙂
(Photography by Matt Hutchinson)