When it comes to dessert, i'm a sucker for anything with chocolate. I'll usually reach for a chocolate cake or chocolate brownie over anything else, which means that I often neglect some of the other amazing dessert choices out there.
Fruit crumbles are one of those warming, homely desserts that I always seem to forget about, but always hits the sweet spot whenever I have it. You can pack a crumble with delicious seasonal fruits and top it with ice cream, yoghurt or custard, and it makes the perfect after-dinner sweet treat.
While traditional crumble recipes usually use flour, sugar and butter (and a lot of it), I decided to create a healthy berry crumble that's wholesome and sweet but doesn't contain any refined sugar or naughty ingredients. The filling is made up of a medley of blackberries, blueberries, strawberries & raspberries (I used a frozen berry mix), and the topping is similar to my classic oat and nut granola. With a sprinkle of cinnamon and some dates and honey to sweeten it up, it's pretty clean and simple but still tastes amazing.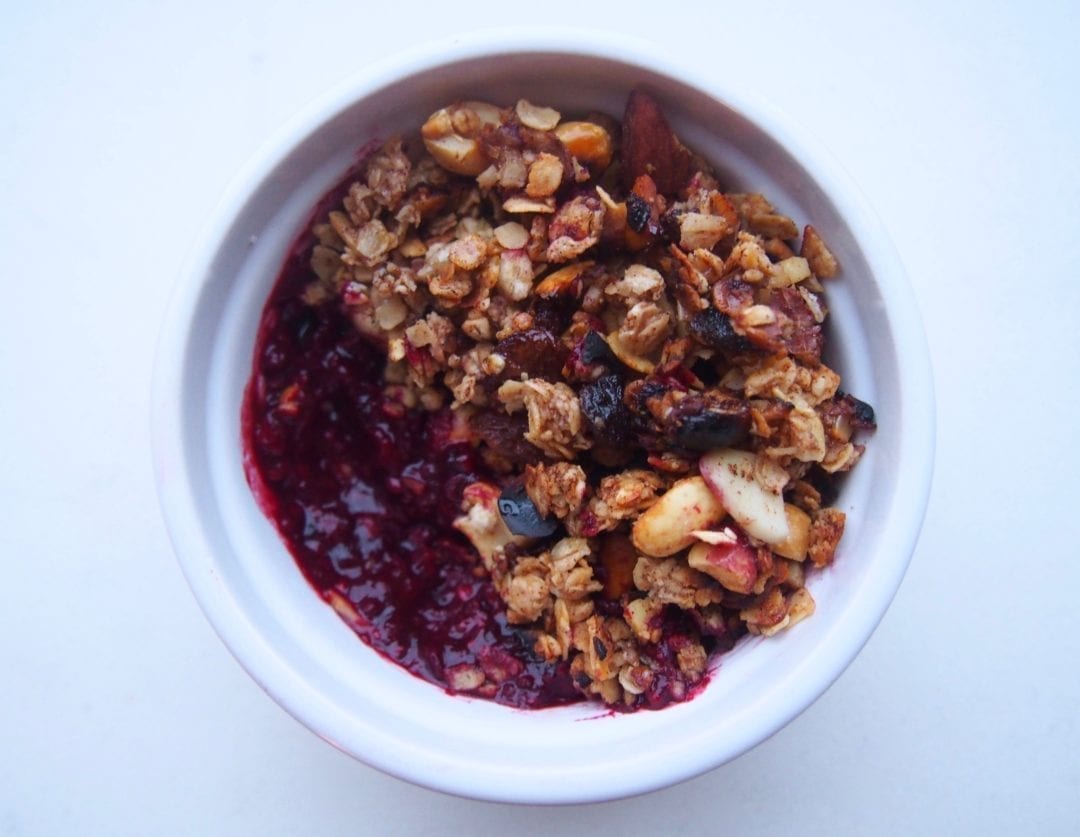 The recipe is budget-friendly (fresh berries are costly when out of season, so I used frozen instead), it's easy to make and you can tweak it however you want. If you're not a huge berry fan, you could make an apple or rhubarb filling instead, and you can always remove the nuts if you have an allergy or don't like them.
As long as you have the basic ingredients - oats, fruit & honey - you can make creative substitutions with whatever ingredients you find in your cupboards. I usually try to make my recipes fairly simple and with minimal ingredients for two reasons: 1) because I often can't be bothered to make a special trip to the store (lazy, I know!), and 2) because it's always nice to pull something delicious together with minimal effort (adding to the laziness, but i'm sure you guys agree).
If you give it a go make sure to drop me a comment below and let me know what you create - i'd love to get inspiration from your take on the recipe!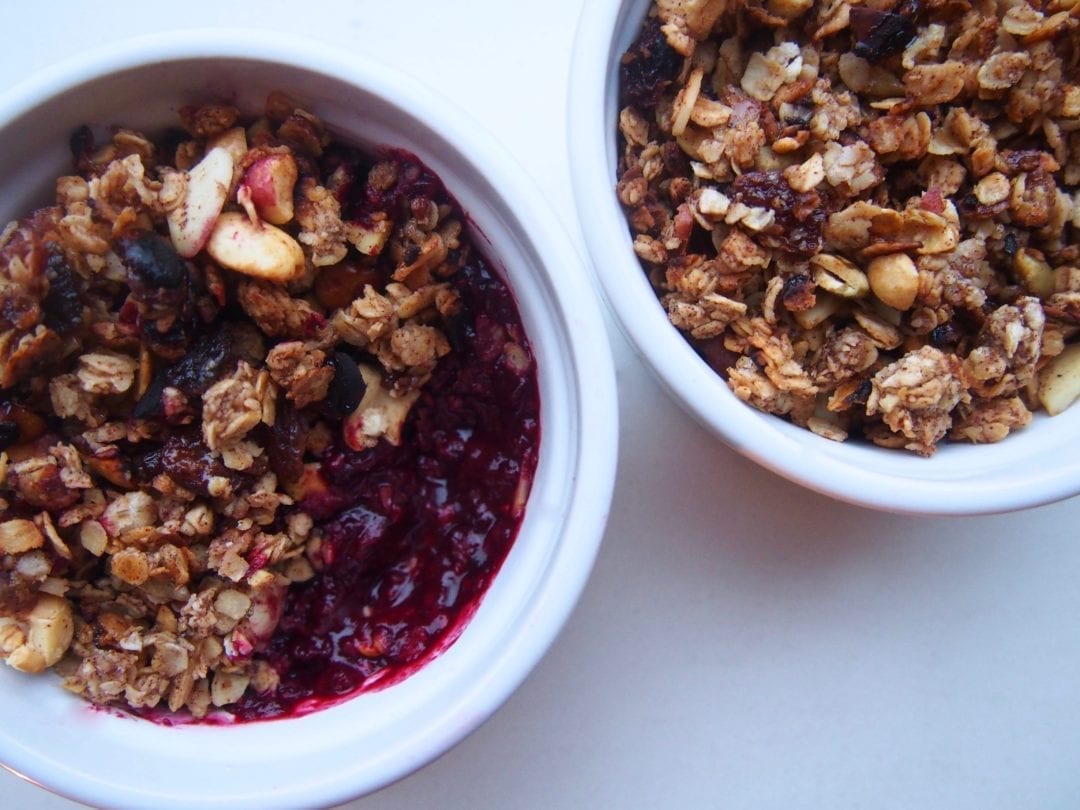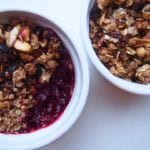 Print Recipe
Healthy Oat and Nut Berry Crumble
A wholesome and delicious healthy berry crumble recipe.
Ingredients
Fruit Filling
2

cups

frozen mixed berries

5

dates

chopped

1/2

tsp

cinnamon
Oat and Nut Topping
1

cup

oats

1

tsp

cinnamon

1/2

cup

mixed nuts

chopped

1

tbsp

coconut oil

3

tbsp

honey
Instructions
Begin by mixing the berries, chopped dates and cinnamon in a small saucepan and cook on a low-heat for 20 minutes.

At the same time, prepare the topping by combining the oats, mixed nuts and cinnamon in a bowl. Heat a medium-sized frying pan and melt the coconut oil and 2 tbsp honey. Add the oat and nuts and mix properly. Fry on a low heat for 10 minutes.

When the berries are mushy, evenly spoon the mixture between 4 small pots, followed by the oat and nut topping.

Add a drizzle of honey to the top of each pot, and bake in the oven on 350°C for 30 minutes.

Allow to cool for 15 minutes before serving, and top with some yoghurt, ice cream, or custard for a delicious accompaniment.
Notes
- If you're using hard honey, melt 1 tbsp in the microwave in a small mug and drizzle on the topping for extra crunch. - If you want to make the crumble in a large dish, I suggest doubling the quantities.