I'm a firm believer that food should not only taste good but look good too. And that's especially important when it comes to breakfast.
While they say it's the most important meal of the day, it's often the most overlooked - we're so busy rushing around in a morning that a nice breakfast is the last thing on our minds. However, all it takes is an extra 7 or 8 minutes first thing and you can craft something that's beautiful, delicious and full of goodness.
If you don't know exactly what they are, smoothie bowls are those tastefully-crafted colourful things that crowd your Instagram every morning and make food look so good. They're the new breakfast phenomenon that you can eat with a spoon rather than a straw (waaa!) and fill with all the super-antioxidant-green-healthy-hipster foods under the sun, whilst still tasting deliciously amazing.
It's not hard to master the art of smoothie bowls - you just need a few tips to get you going. If you're reading this post, you have probably either:
A) Tried a smoothie bowl once before and epically failed and all of your toppings sank to the bottom so now you're too scared to try again and risk epically failing once more...
or B) Just too scared to try it as you've no bloody idea where to start.
Sound at all familiar? Well, hopefully this post will teach you how to master the art of smoothie bowls so you can join in on this delicious breakfast adventure. Oh, and remember - this is one of those things that takes a bit of practice. It's trial and error. I know that because it took me a while to master it too. Ok. Are you ready? Let's go.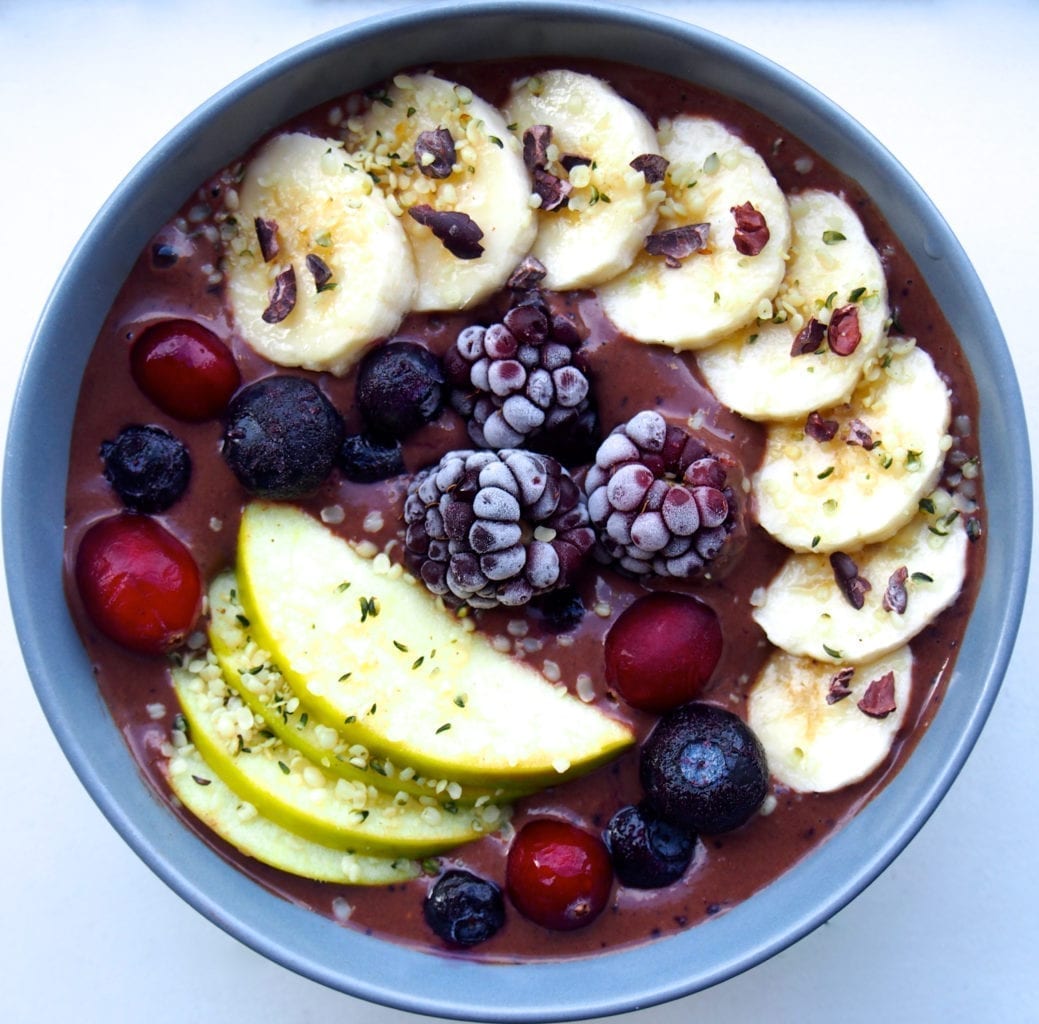 Tip #1 - Use A Banana Base
Banana is the key to making your smoothie bowl nice and creamy, as few other fruits give it that thick consistency that you're looking for. If you want it to be really thick, use frozen banana instead. This will give it a 'whipped' consistency, almost like frozen yoghurt. Peel the banana before you freeze it, and if your blender is struggling to chop it, run it under warm water for 10 seconds so it softens up. I particularly love using banana when I make my cacao smoothie bowls, as it's almost like a healthy chocolate ice cream.
Tip #2 - Go Easy On The Liquid
In most of my smoothie bowl recipes, I recommend using only a 'splash' of milk (dairy or non-dairy). It's always better to use too little than too much, as you can always add more if you need it. Once your smoothie bowl becomes too liquidy or thin, it's hard to thicken it up again. If your mixture is too thin, but you want to try and save it, a handful of frozen berries, half a banana, some yoghurt and/or nut butter might do the trick.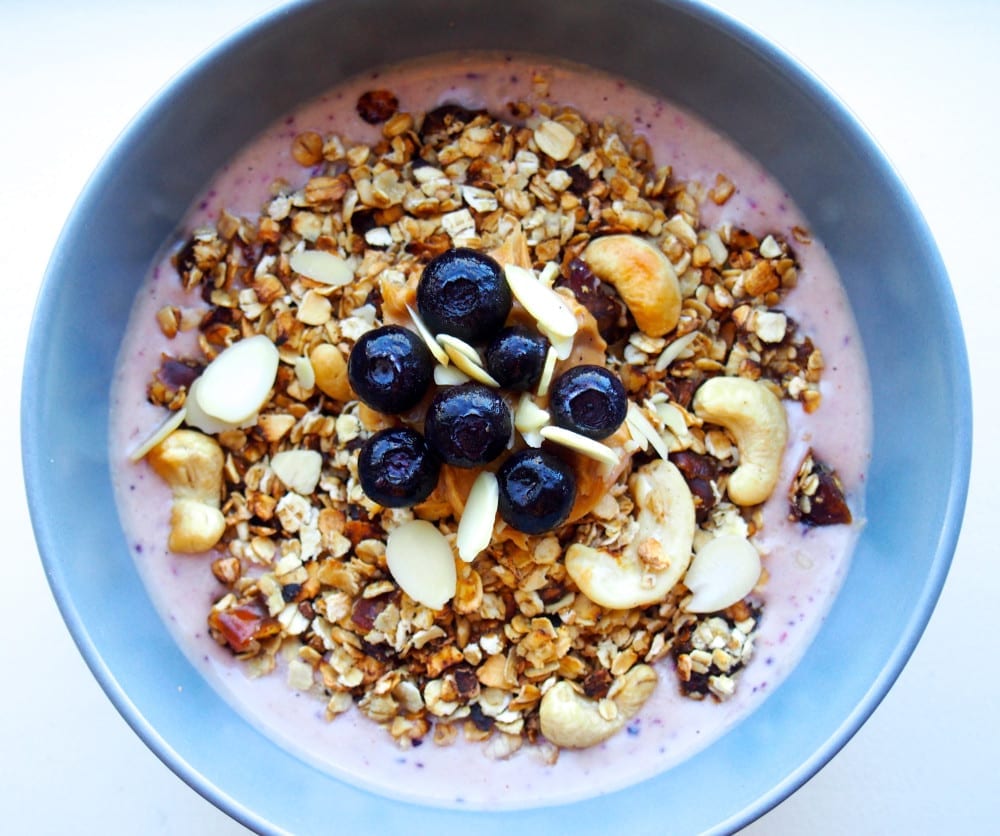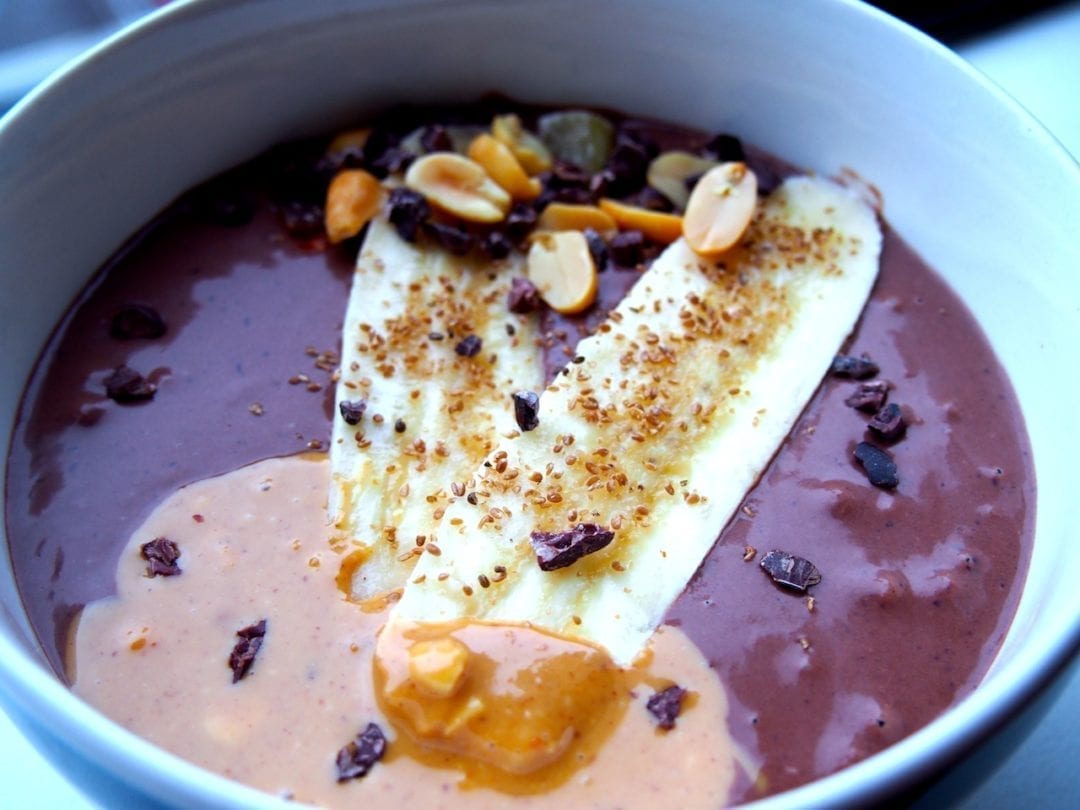 Tip #3 - Let It Sit
When you pour the smoothie mix into your bowl, leave it to sit for a couple of minutes. Doing this allows the mixture to settle a little bit, so the toppings will hold up and sit much better.
Tip #4 - Be Gentle With Toppings
Smoothie bowl preparation requires a bit of tender love and care. In other words, you can't just throw on the toppings and expect them to sit right. You've gotta be gentle! Chop your toppings as small or thin as possible, as anything heavy (like big chunks of apple or large blackberries) will likely sink. I find that kiwi, banana, blueberries, cranberries and other lighter fruits sit really well, and the colours are lovely and vibrant too. Hemp seeds, chia, nuts, cacao nibs and coconut flakes all make delicious additions to sprinkle on top.

Tip #5 - Don't Be Scared To Experiment!
Finally, don't be scared to experiment with different ingredients and smoothie bowls. While the presentation might not always go the way you planned, if you're using the right ingredients it'll always taste delicious anyway! It might not be Instagram-worthy but it'll still be a yummy start to the day.
Test out different ingredients and toppings and see what you like best.
If you need a little inspiration, there are tons of recipes on the smoothie bowl section of my blog and on my Instagram, so don't forget to check them out. I tend to just use similar base recipes and mix up the toppings to keep it fresh.
Enjoy and let me know how you get on!