We recently road tripped from Vancouver to Jasper and took Fino to the Rockies for the first time and it was the most amazing trip! We love including him in our travels and Jasper is an amazing place to explore with your pet. In fact, we even saw a dog & cat duo hiking one of the local trails which was so cool to see, and there's really no reason why you can't explore epic destinations like Jasper with your furry friend. We visited at the end of February/early March, which is a lovely time of year to come for winter experiences. Temperatures are usually a little warmer, it's not too crowded and there are lots of cool winter activities to make the most of. Here's a guide to dog friendly travel in Jasper, and top things to do with your pup especially in the winter!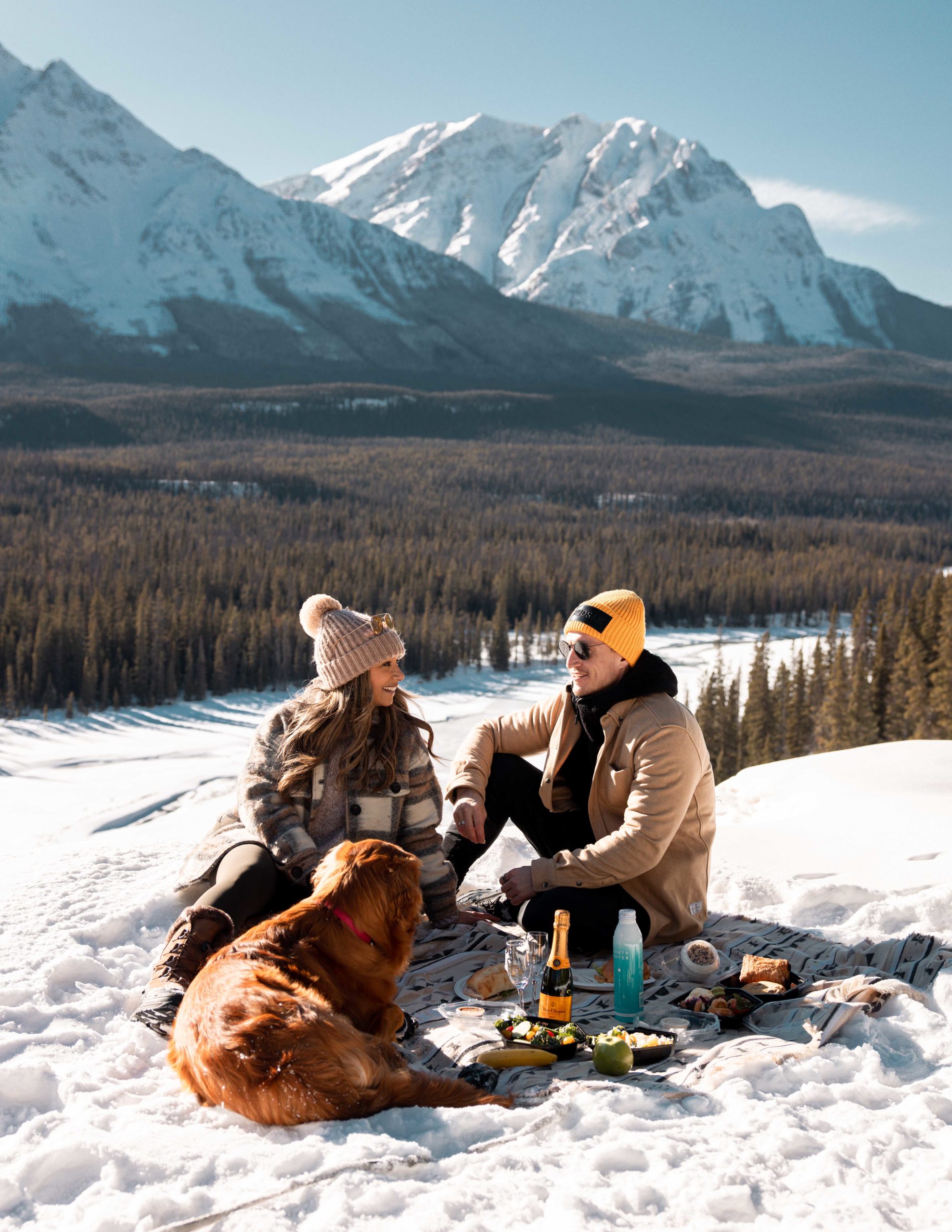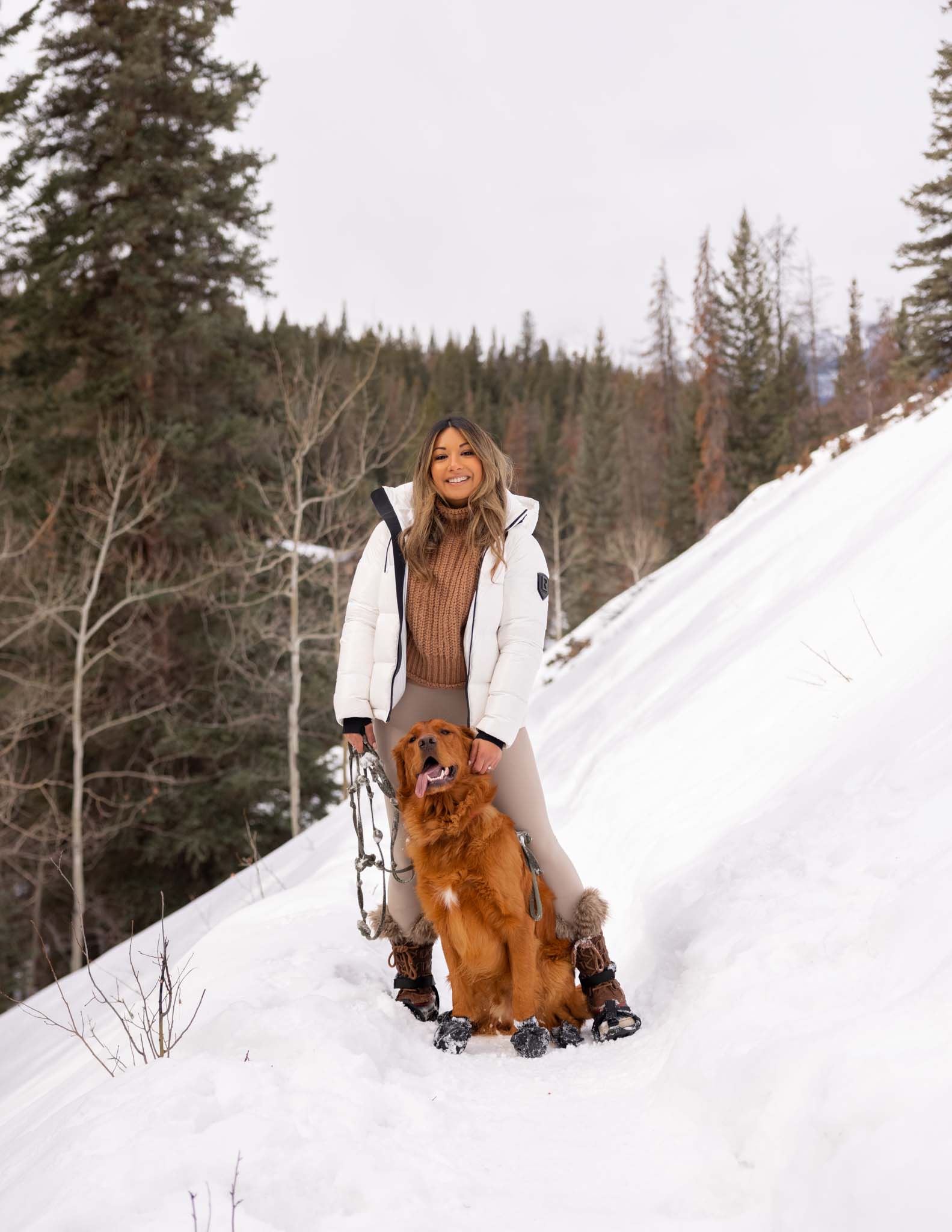 The best pet-friendly accommodation in Jasper
The first consideration when travelling with pup is of course finding a pet-friendly hotel. We love staying at the Fairmont hotels as they absolutely love and welcome dogs, and Fairmont Jasper Park Lodge is no exception. I'd say it's probably the most pet-friendly Fairmont we've stayed at, simply because you're so integrated into nature and there are many activities and places to explore around the property that your pup will love. We've stayed here once before but this trip was extra special experiencing it all with Fino, and he loved it!!
The Lodge overlooks Lac Beauvert and sits on a 700-acre property, with forests, 2 lakes, an ice skating rink in winter, hiking trails, a golf course, and deer and elk which wander freely around the property. We stayed in one of the Estate Cabins which overlooks the lake and it's ideal with a dog as you can so easily go outside for bathroom breaks or walks. Dogs are also welcome on the restaurant patio in the summer and in the Great Hall Lounge year-round. This is also a great place if you're travelling with a young puppy, as you can easily dash outside while you're potty training which I know from experience makes life much easier. Waiting in our cabin was a very cute doggie kit for Fino with a bowl, treats and a dog bed, and they even have a pet-friendly food menu which I've never seen in a hotel before! Fino was the first pup to try the dog menu and it's full of very delicious and clean food and available in the Lounge or for in-room dining. All in all, it's definitely the best hotel if you're looking for dog friendly travel in Jasper and it's nice having peace of mind that you're staying somewhere that's so welcoming to dogs.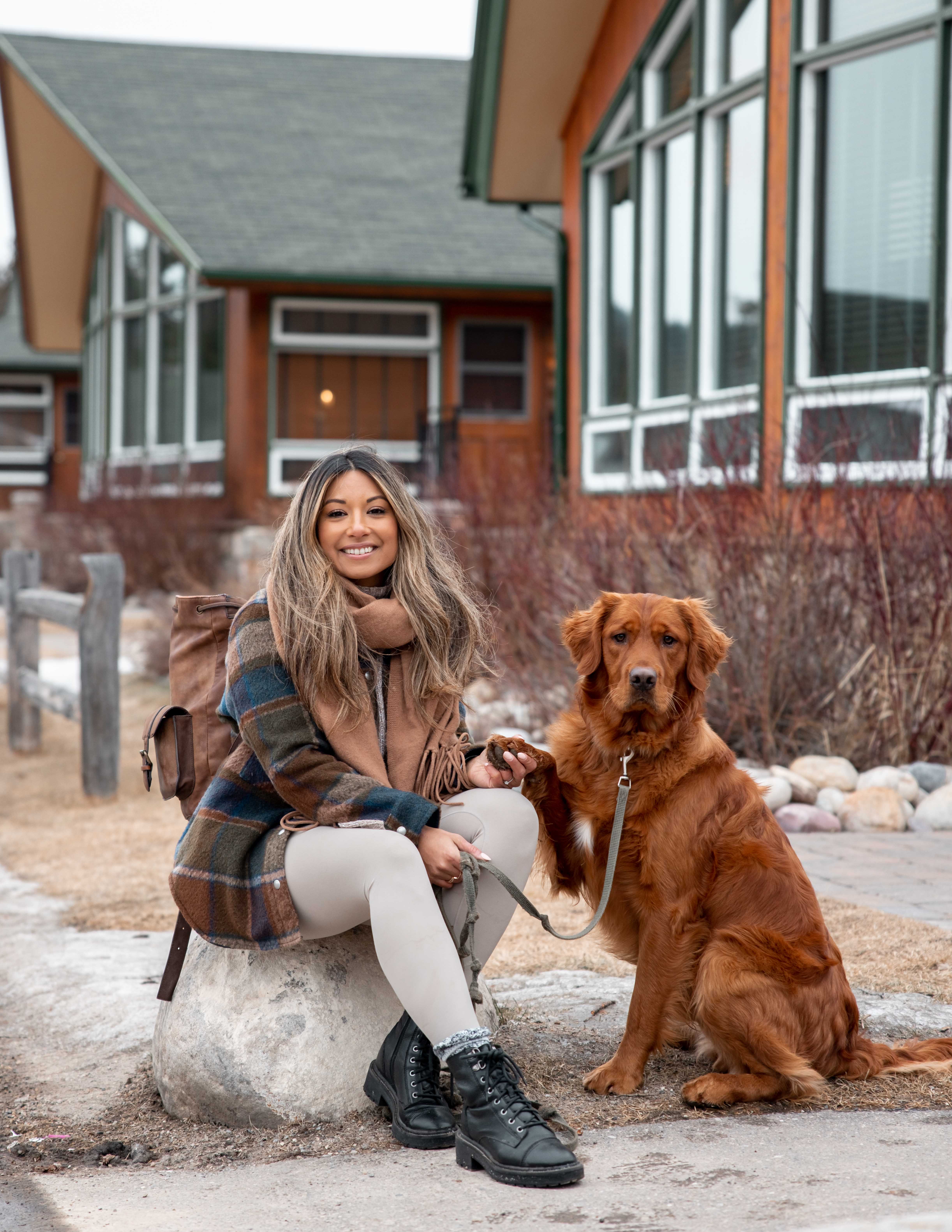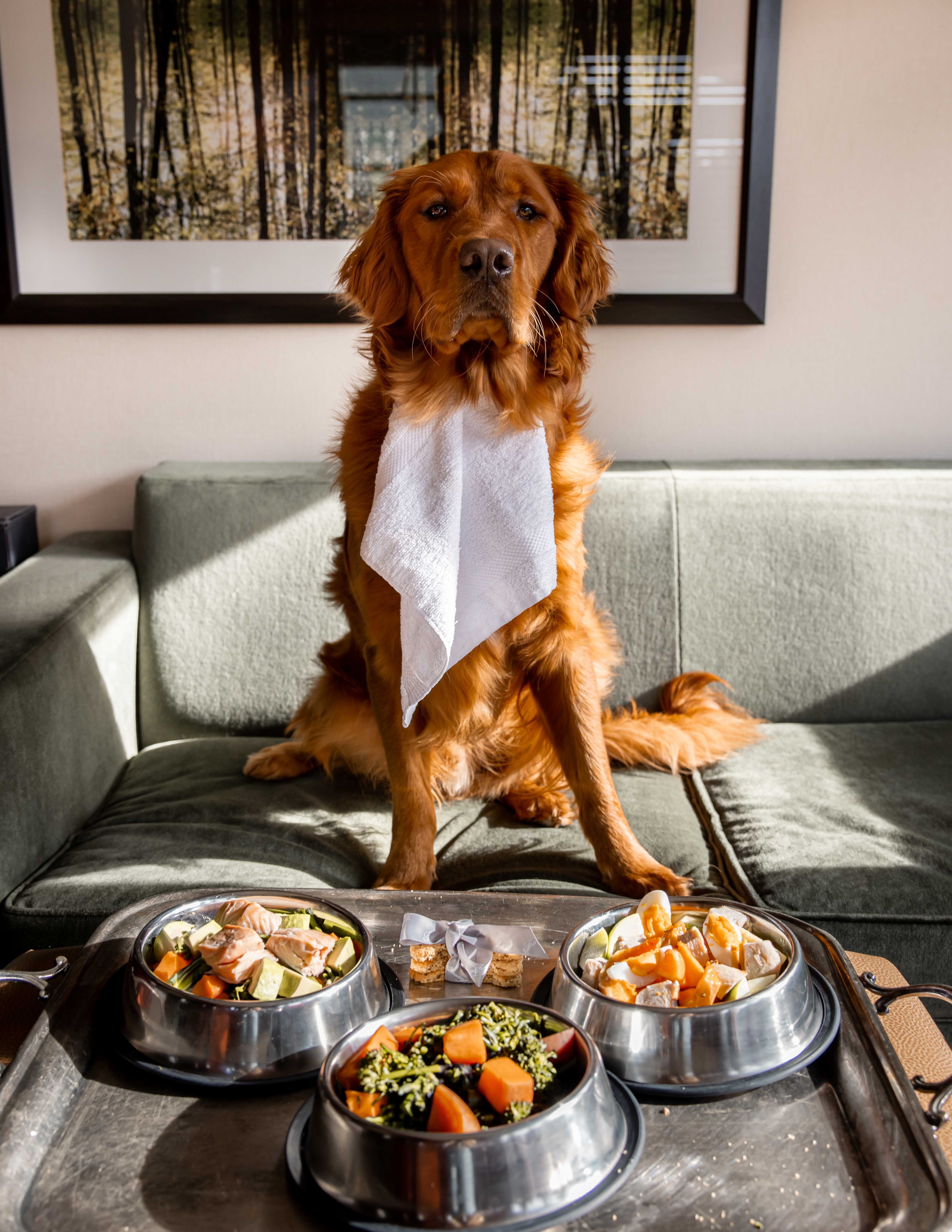 Dog friendly things to do in Jasper in winter
Jasper offers so many amazing winter activities, and many of them you can enjoy with your dog. We spent our time in Jasper road tripping around & exploring the waterfalls, hiking trails, lakes, and viewpoints, and Fino had an absolute blast!! I really want to come back with Fino in the summer, as it would be so fun to go out on the lakes & make the most of the hiking trails. Here are some great dog friendly things to do:
Maligne Canyon trail, which is close to Jasper town
Athabasca Falls (we wandered down to the river & it was lovely)
Sunwapta Falls
Maligne Lake (in summer, you can canoe on the lake with pup)
Cross-country skiing
Snowshoeing
Jasper SkyTram
Off-leash dog park (at the intersection of Sleepy Hollow Rd. and Hazel Ave.)
Outdoor picnic (we grabbed a champagne picnic from Fairmont JPL and it was amazing!)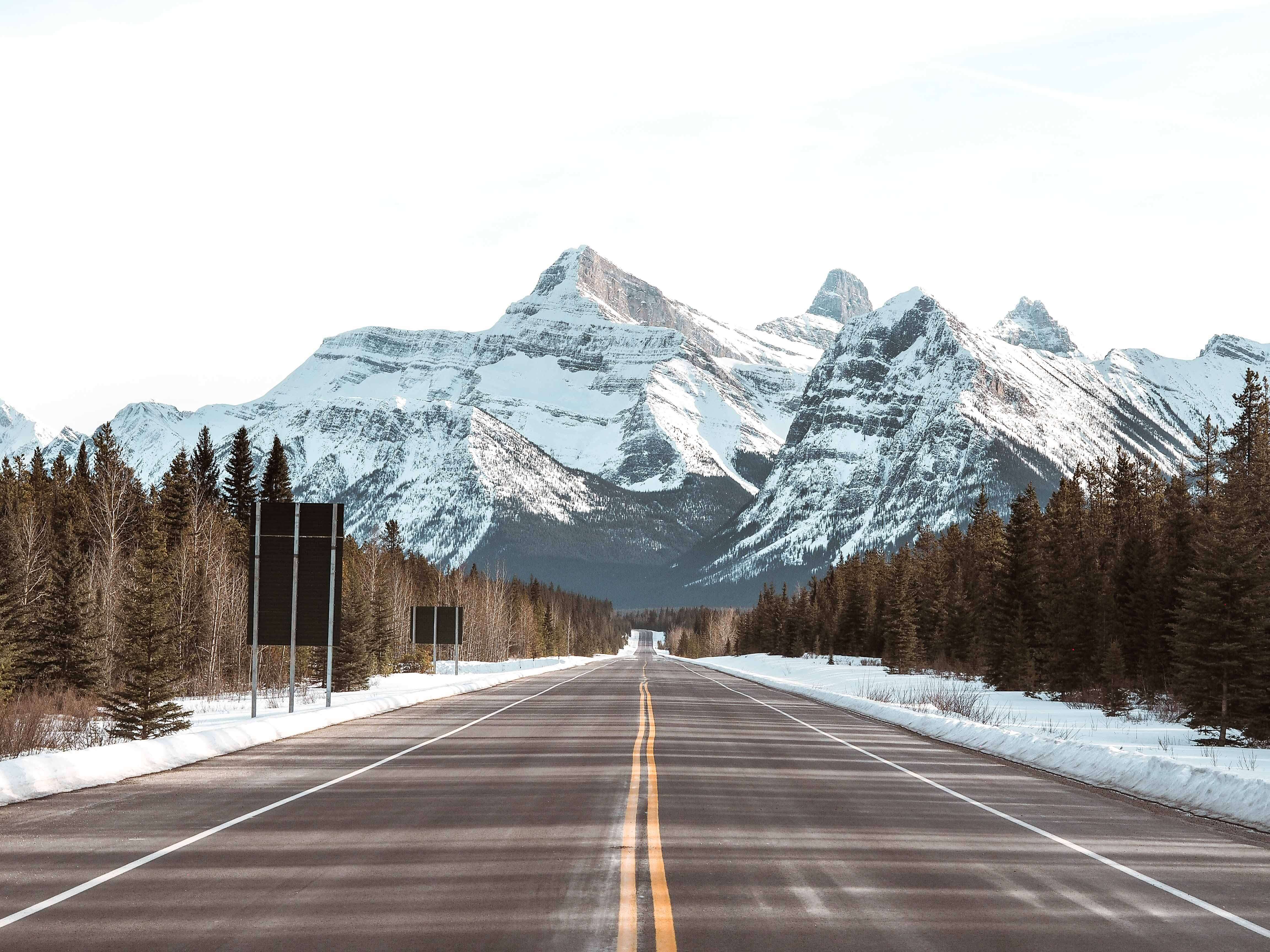 Exploring Maligne Canyon with a dog
Maligne Canyon is an incredibly cool spot especially in winter and we loved exploring with Fino. The river freezes and the canyon walls are lined with frozen waterfalls and icicles, creating the most unique winter setting. The trail is beautiful and follows the upper rim of the canyon, and then at the 4th bridge you can descend into the canyon. There are also some short cuts you can take to get down into the canyon but it's often slippy and quite steep. You can explore on either a guided or self-guided tour and it is dog friendly, and there is no fee to enter the canyon. It is very slippery on the ice, especially in February/March when the ice begins to thaw, so ice cleats or crampons are necessary and you can get these from the rental stores in Jasper town, or from the activity centre at Jasper Park Lodge.
For dogs, winter boots are a great idea for the canyon, especially when it's super cold. While we were in Banff, the temperature dropped to -30 degrees and the snow & ice was burning Fino's paws. We bought a pair of dog socks & rubber boots from the local pet shop which helped to protect his paws and he was so much happier with them. One thing to keep an eye out for is ice balls forming around their paws which can be painful & cut their skin, so boots help to prevent this especially when in icy water and paw balm helps with this too.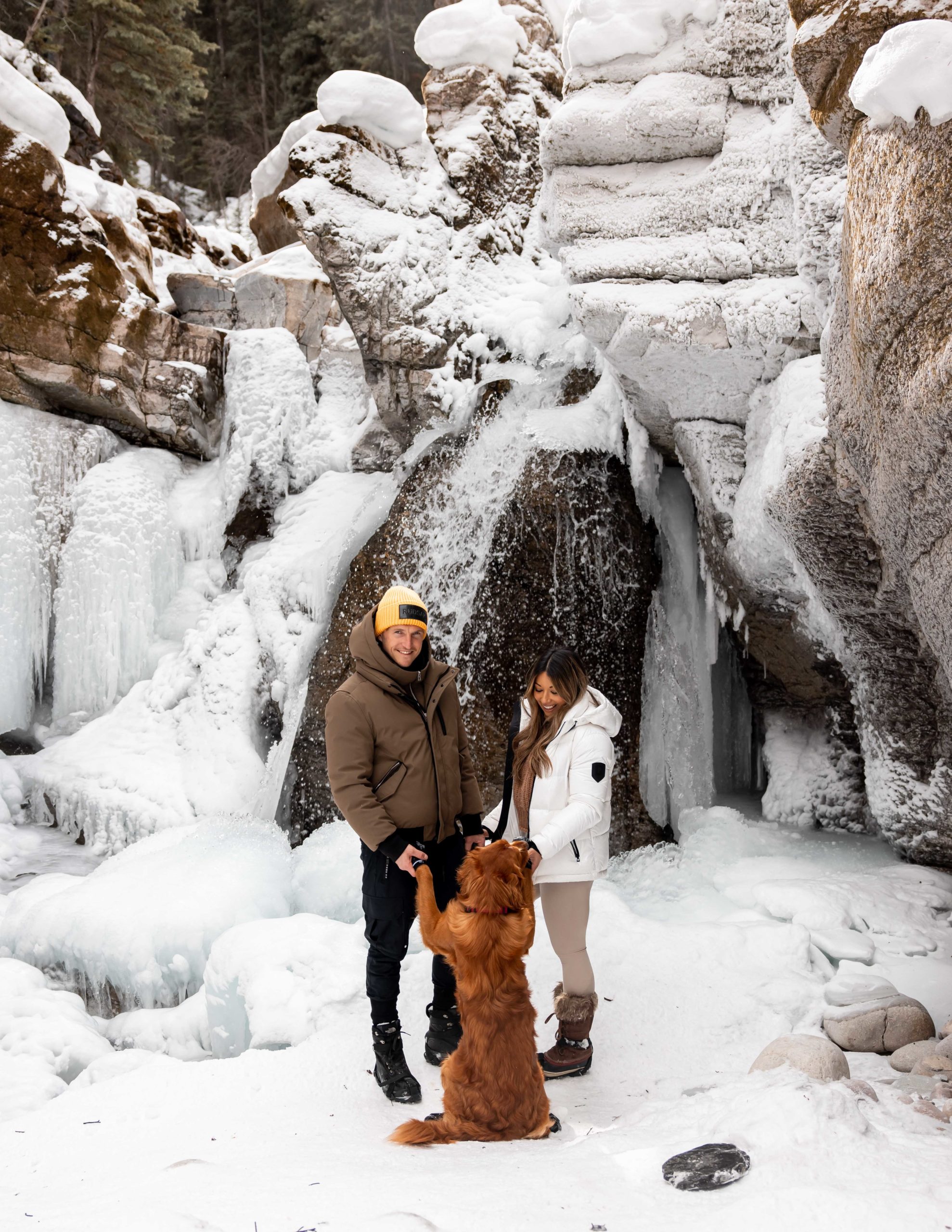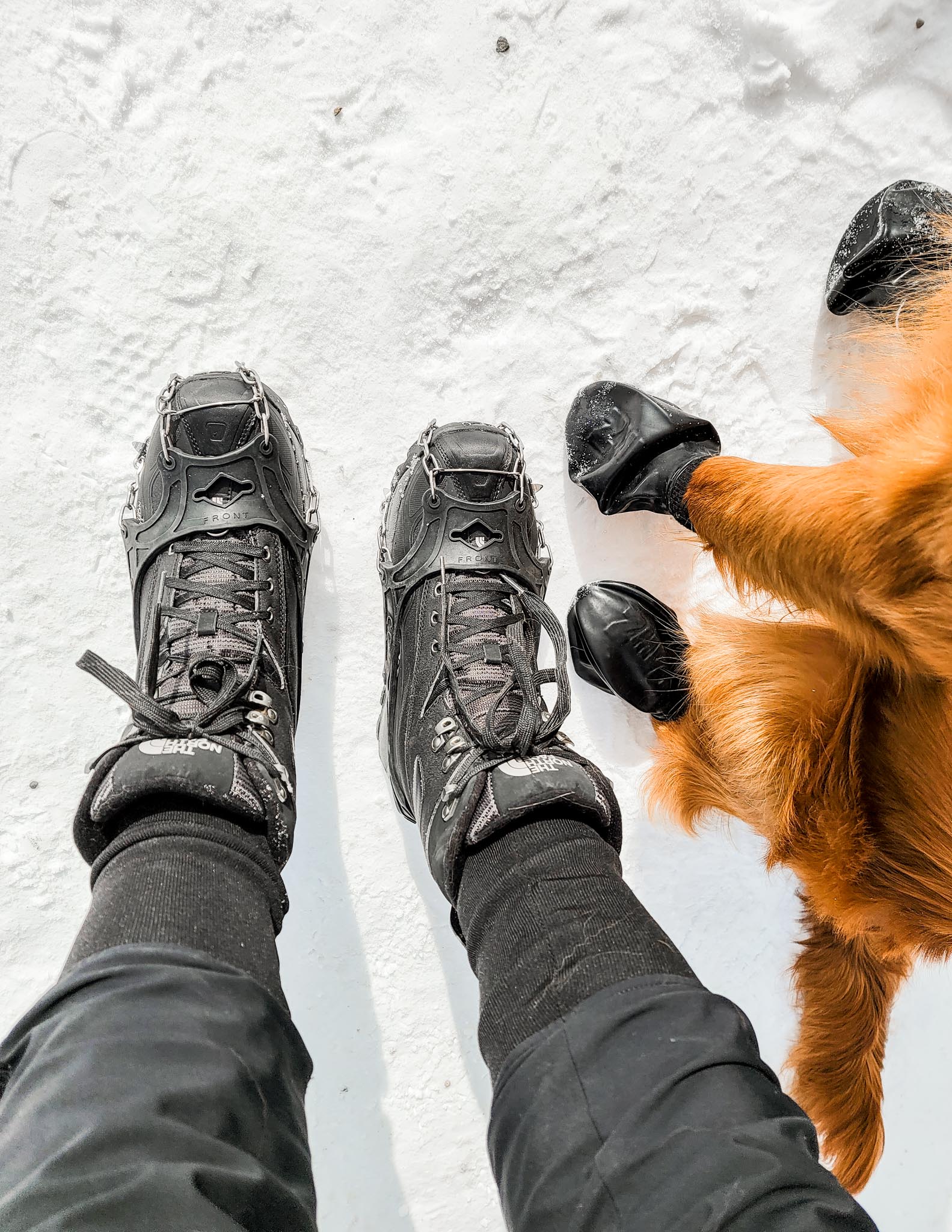 Dog Friendly Trails in Jasper
There are plenty of dog friendly trails around Jasper to explore and it's an amazing place for hiking. Most trails do require your dog to be leashed and be mindful that there is wildlife everywhere. Even in Jasper town, deer and elk often hang out around the hotels so keep an eye out when with your pup.
Dog friendly walks/trails:
Maligne Canyon trail
Pyramid Lake loop
Valley of the Five Lakes
Wilcox Viewpoint
Old Fort Point
Athabasca Falls
Sunwapta Falls
Trails that are NOT dog friendly include:
Leach lake cross-country ski trail
Skyline trail
Tonquin Valley trail
Cavell Meadows Trail
Bald Hills
Opal Hills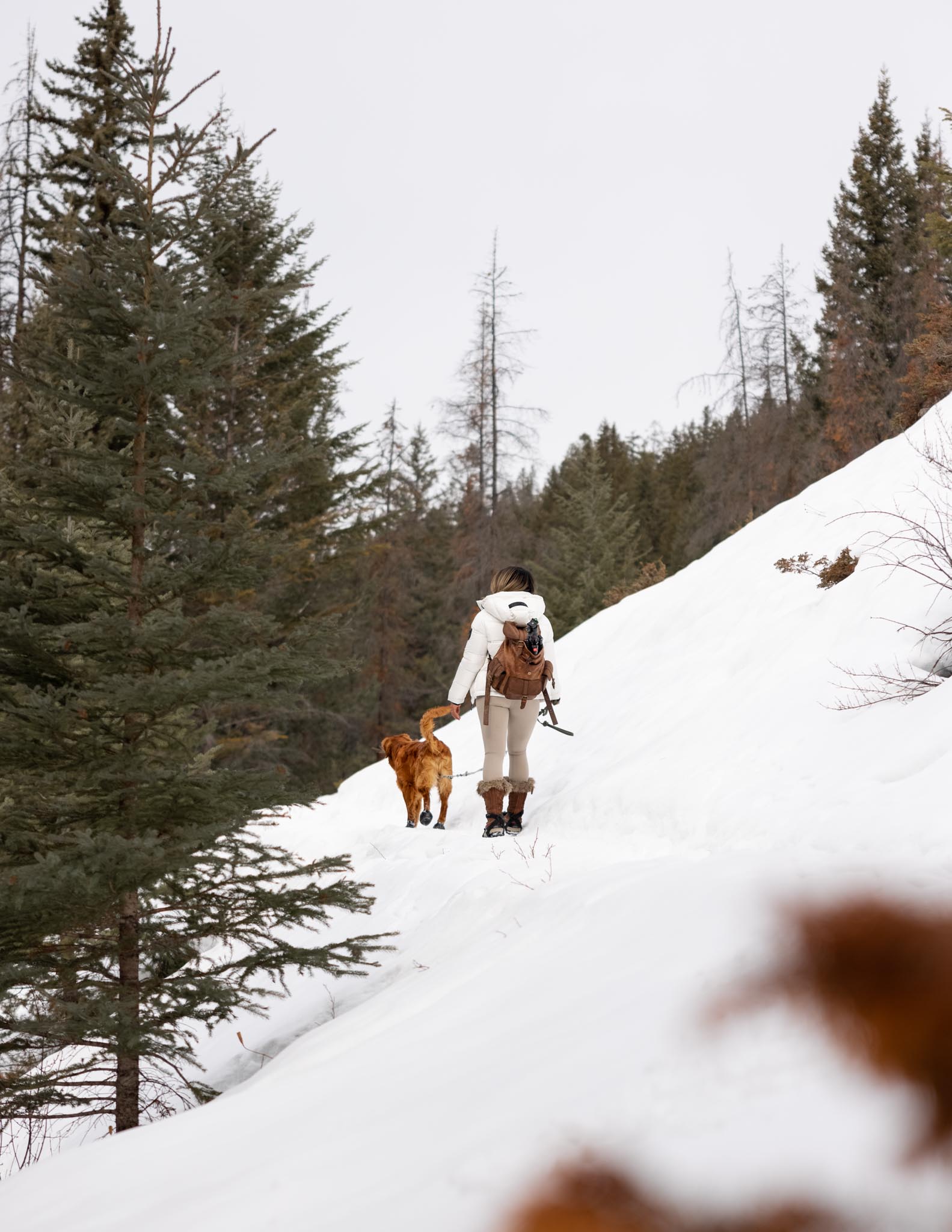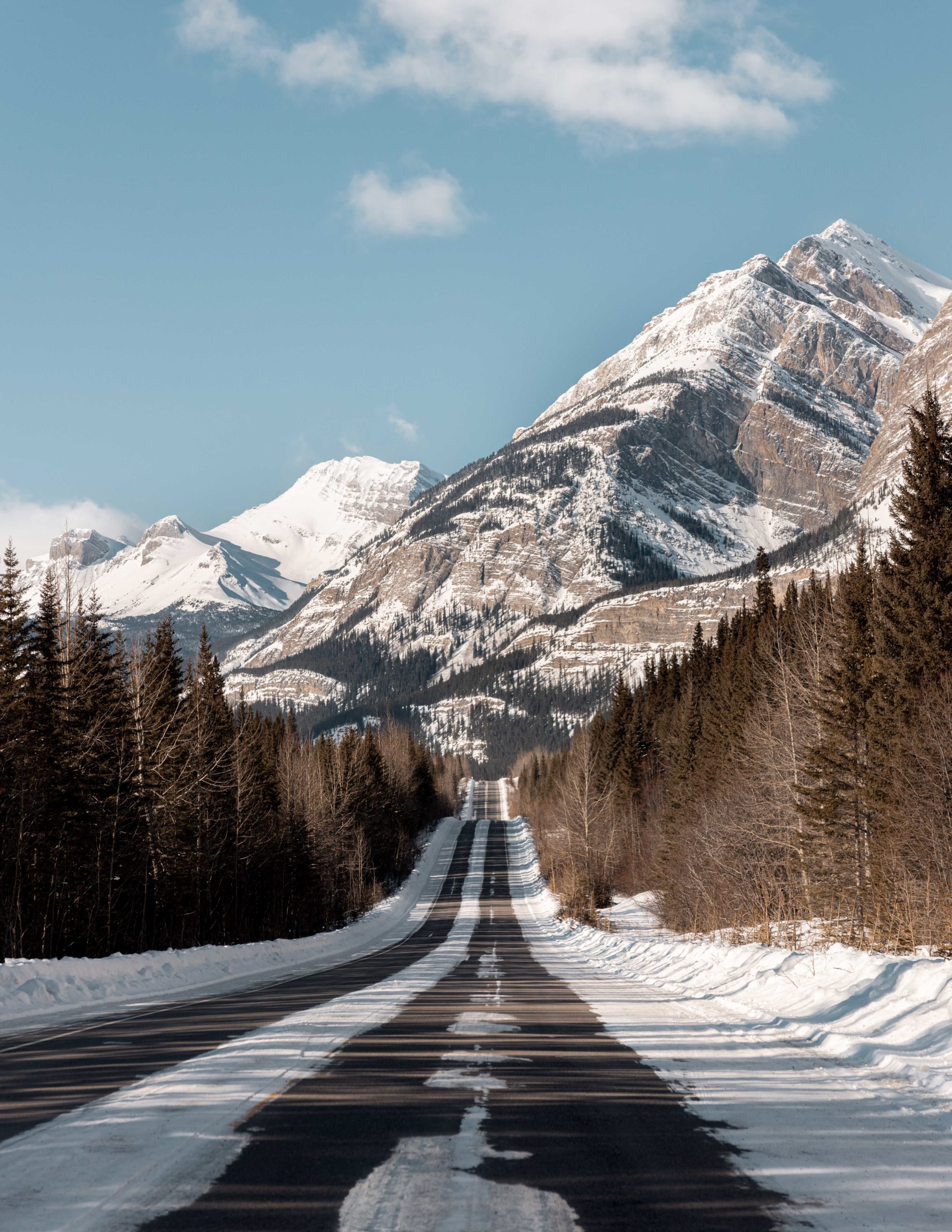 Useful accessories for travelling with your dog
Blankets & towels for the car
Ginger Gravol for car sickness (+ a cloth and spray in case they're sick)
Food & treats
Paw balm
Poop bags
Snow boots/socks
Dog bowl (the retractable ones are handy)
Short & long leash
Spare leash and collar
Large jugs of water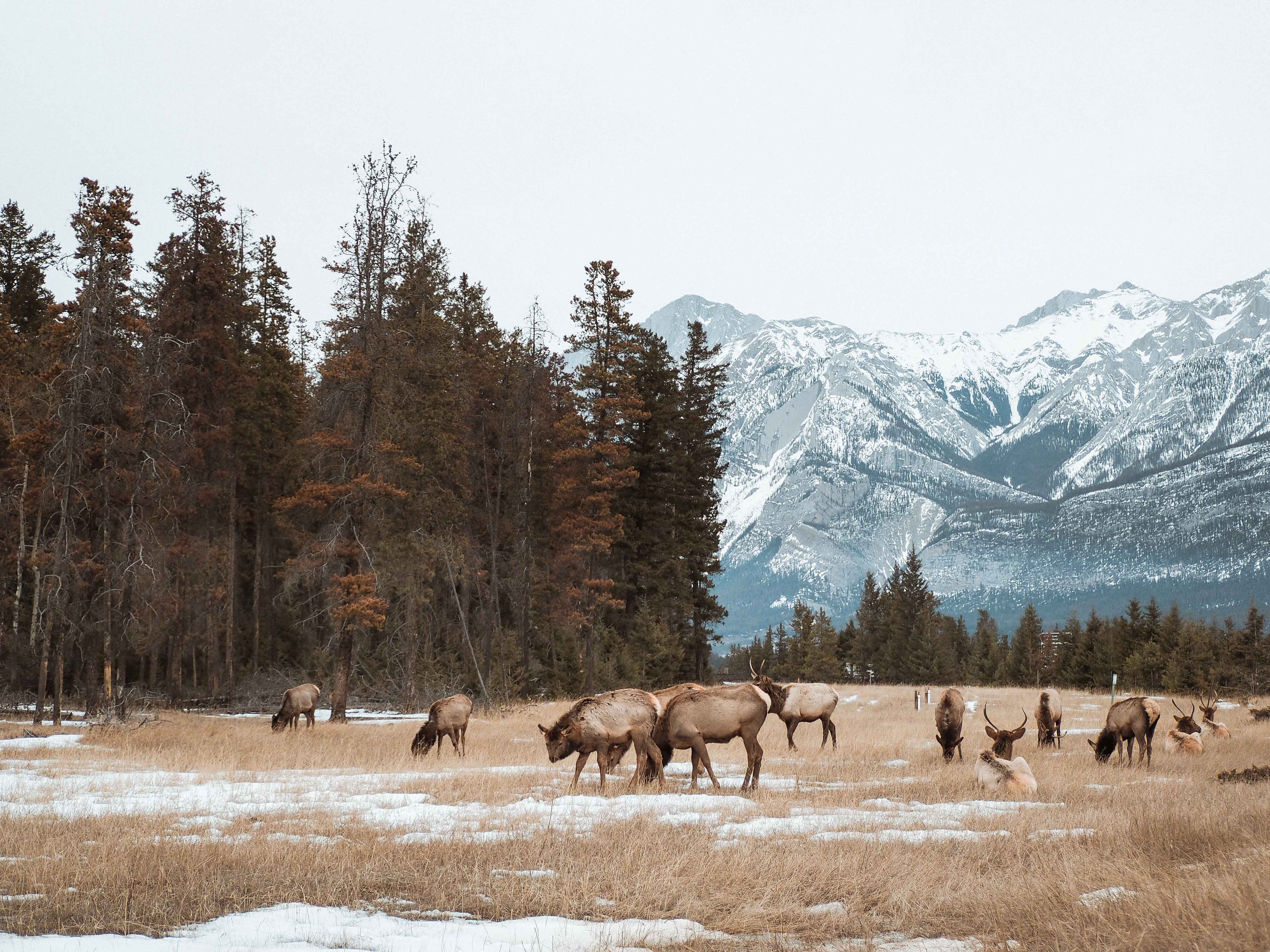 Driving from Vancouver to Jasper
The route from Vancouver to Jasper is actually really straightforward, and it's a beautiful drive. It takes around 8-9 hours, depending on how much you stop, traffic and weather conditions. The total km from Vancouver to Jasper is 800km. For our 3 days in Jasper, our total mileage was around 2,000km.
I absolutely love the journey and there are so many nice places to stop, stretch your legs and take in the view. We set off at 7am, and managed to reach Jasper by 4pm so we got there in time for sunset. You do lose 1 hour too when you cross the Alberta border so take this into account.
Make sure you check weather conditions before you go. Drive BC is a good site when you're in BC, and 511 Alberta when you cross the provincial border after Mount Robson. It's a requirement to travel with winter tires between October and April, and make sure your car is prepared for the weather as it can change so quickly!
DIRECTIONS: From Vancouver, take Highway 1 (East), and follow the highway to Hope. Then, take Highway 5 (Coquihalla) all the way to Tete Jaune Cache. Here, the road will split off, and you continue onto Highway 16 East / Yellowhead Highway to Jasper. You'll pass towns like Merrit, Kamloops, Cleawater, Valemount, and Mount Robson on your way.
If it's very snowy, i'd suggest taking Highway 1 from Hope to Kamloops, instead of the Coquihalla Highway 5. Highway 5 is the fastest, but the elevation is higher so it experiences more severe weather conditions and road closures are common. Highway 1 is a lot lower and isn't as exposed, so this is a good alternative.
I highly recommend stopping off at Mount Robson if you have time. The mountain is really beautiful and there's a parking lot to pull in and take pictures. There are also some amazing hikes from here.
Travelling with your dog is so much fun and if you're looking for a destination that's catered to dog-friendly travel, Jasper is a great place for it! If you're looking for more tips for travelling & staying in a hotel with your pup, take a look at my recent video. And check out my 3 Days in Jasper blog post for more general travel tips!