Jasper is without a doubt my favourite place in the Canadian Rockies. It's one of those insanely gorgeous destinations with so much natural and untouched beauty, the most spectacular night skies and wildlife at every turn. It's exactly what I envisioned Canada to be like before we moved here 3 years ago and I think "magical" is the only word that really explains what it's like there.
You might remember our road trip to Yoho, Banff & Jasper that we embarked on last September. It was the most amazing trip and we managed to fit so much into 7 days, but the only regret was that we didn't get to spend enough time in Jasper. Truth be told, we didn't expect to fall in love with it as much as we did, but when we managed to capture the Aurora Borealis, explore Maligne Lake by canoe, stumble across moose and rutting elk and explore glaciers all in less than 36 hours, we knew it was somewhere we had to return to. This February, we were brainstorming trip ideas for a wintery getaway and Jasper was the first place that sprung to mind. I'd always wanted to explore in winter, so we decided to head back in March for round 2. We also partnered with Ford Canada, one of my favourite car partners, and they loaned us a gorgeous navy blue Explorer which was the ideal vehicle for a trip like this.
One of the most incredible things about the Rockies is that the seasonal changes are so prominent. In the winter time, gushing rivers stand still. Flowing waterfalls simply stop flowing. The immense lakes completely freeze over. Wildlife burrows into the warmth of the ground and the Rocky Mountains are blanketed in white. It's almost as though everything just stops for a while, and it's honestly the most beautiful things to see. Jasper becomes a brand new destination and so many different activities become available.
If you're planning to experience Jasper in winter, March is definitely one of the best times to visit. You get to enjoy the stunning snowy landscapes and winter activities, yet the temperatures aren't as biting as in December/January, accommodation is cheaper and it's much less busy.
The Icefields Parkway was closed between Banff & Jasper when we were there for avalanche work (which is common at that time of year), so there were even fewer people there than normal which was amazing. In fact, we had the lakes completely to ourselves a lot of the time, which made it feel that bit more magical.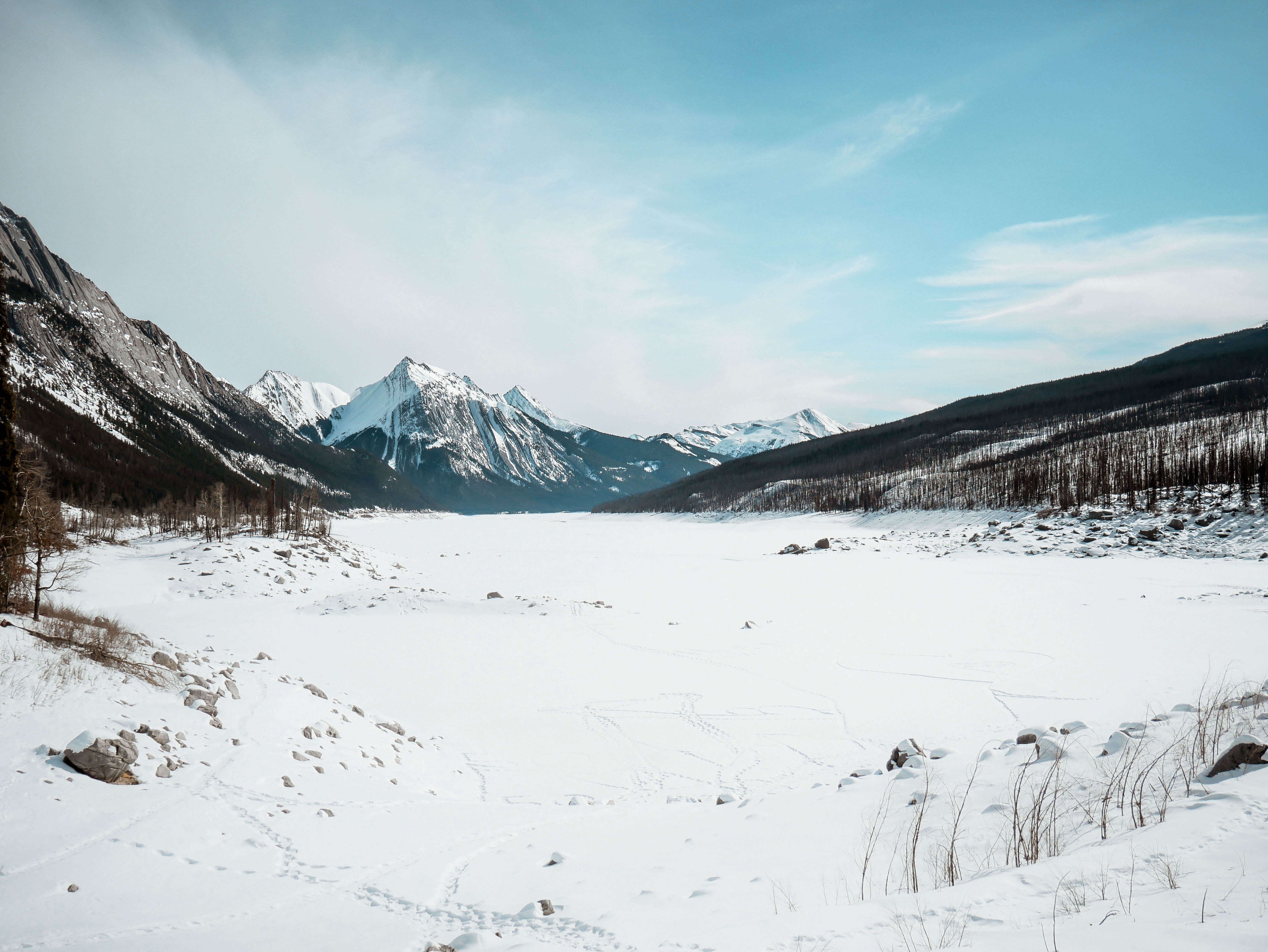 Overall, the trip was so wonderful and it was exactly what we wanted - 5 days of road tripping, exploration, discovering new places, and just enjoying the wilderness. Our trip did take an unexpected turn when we hit a small rock slide and burst our tire (more on that later!), which did mean that we lost out on our 3rd day as we had to travel to Hinton to get a new tire fitted. It was slightly eerie, as it happened on Maligne Lake road which is very secluded and there wasn't any cell reception there either, but fortunately, it wasn't anything more serious. The car handled amazingly even though the tire had completely split, but it was a stark reminder of how important it is to be prepared for occurrences like this especially when travelling in remote places. Make sure you have enough food + water, as well as blankets and warm clothes in case you need to spend the night in your car. It's also useful to know your way around your car as well as how to change a tire, as rock slides and unmaintained roads are common in the Rockies.
So, if you're planning on spending 3 days in Jasper in winter or spring, here's the lowdown on what there is to do, best places to see, how to get there and where to stay. Hope you find this useful and let me know your favourite spots at the bottom of the post!!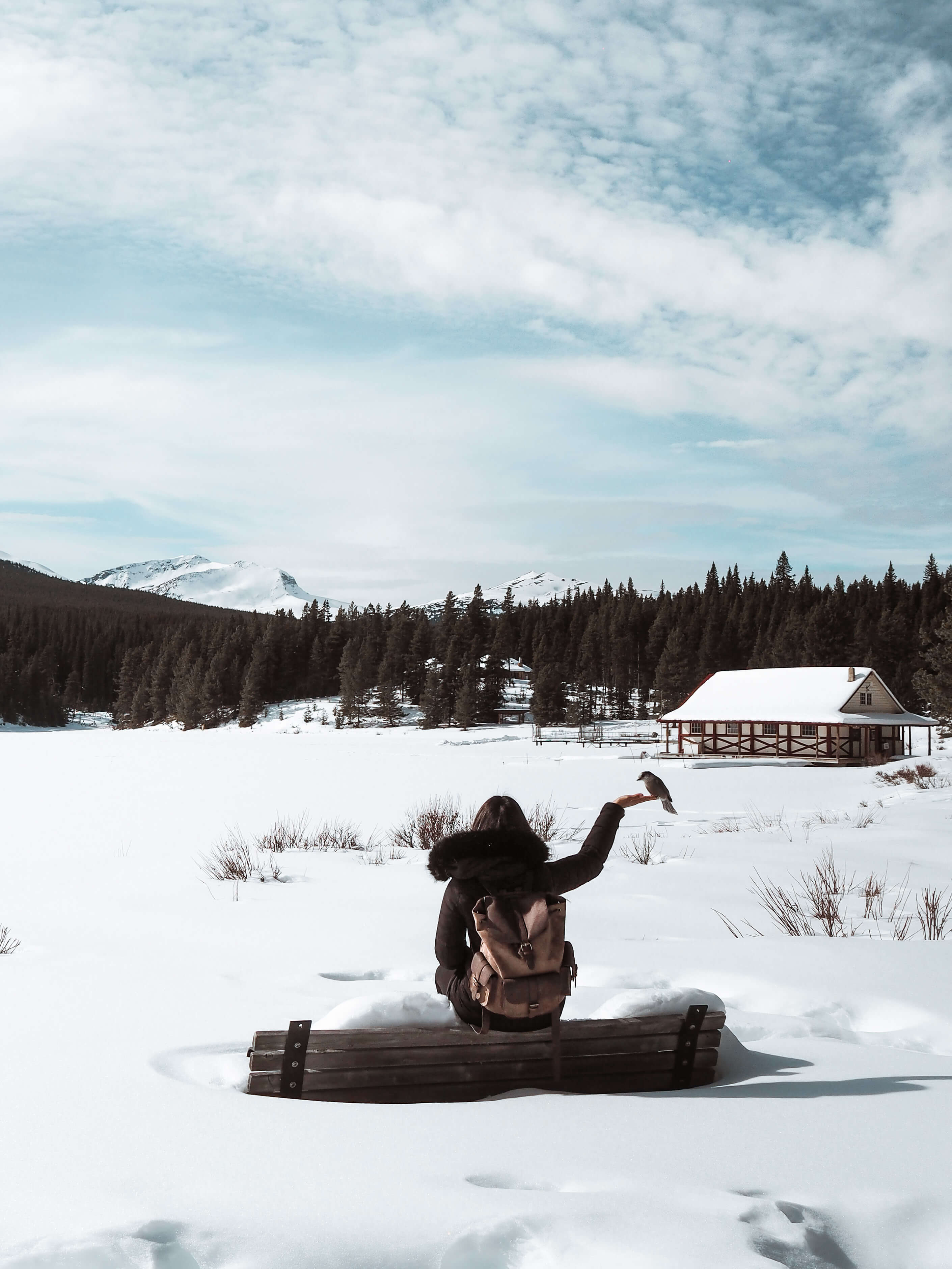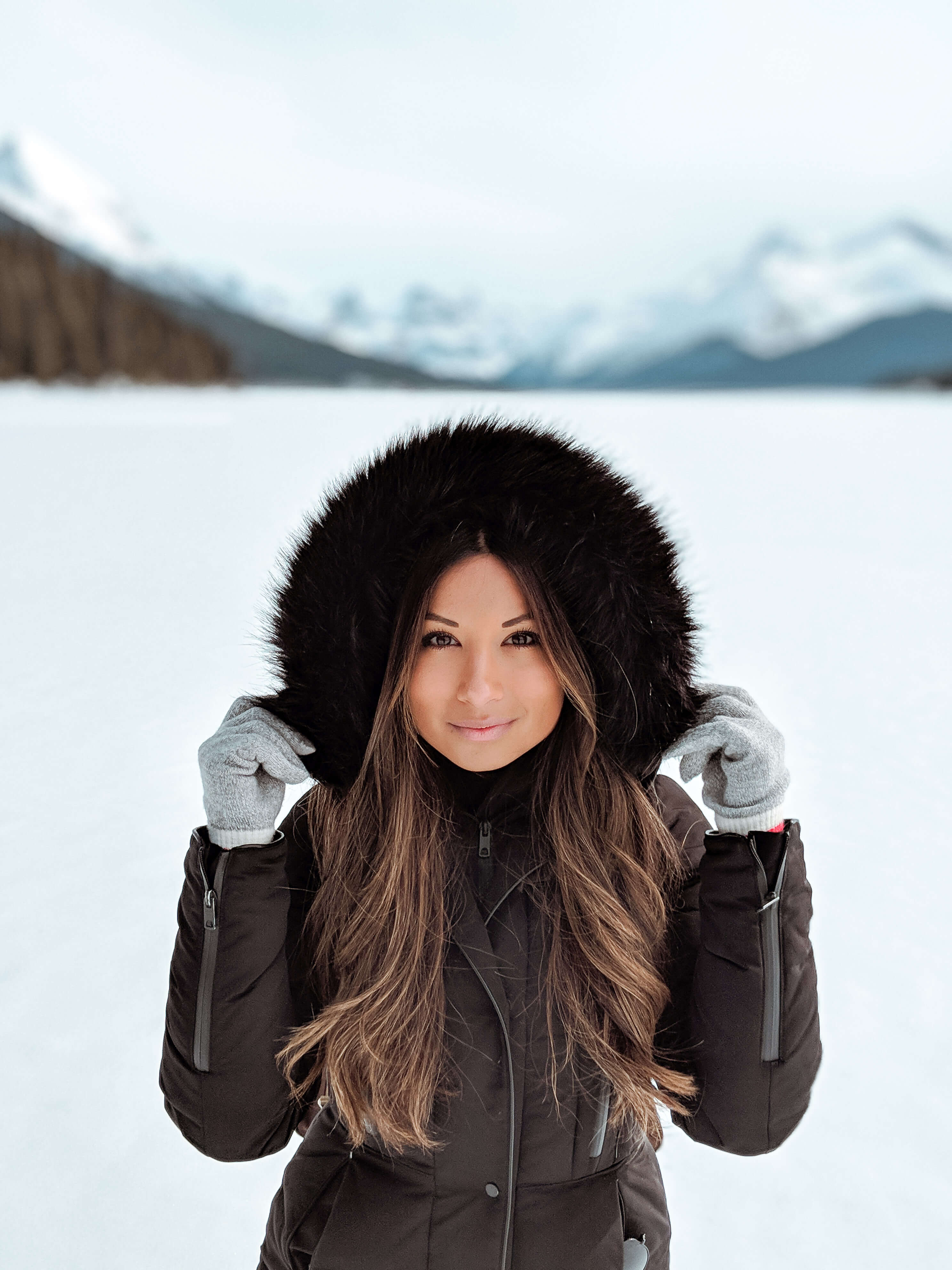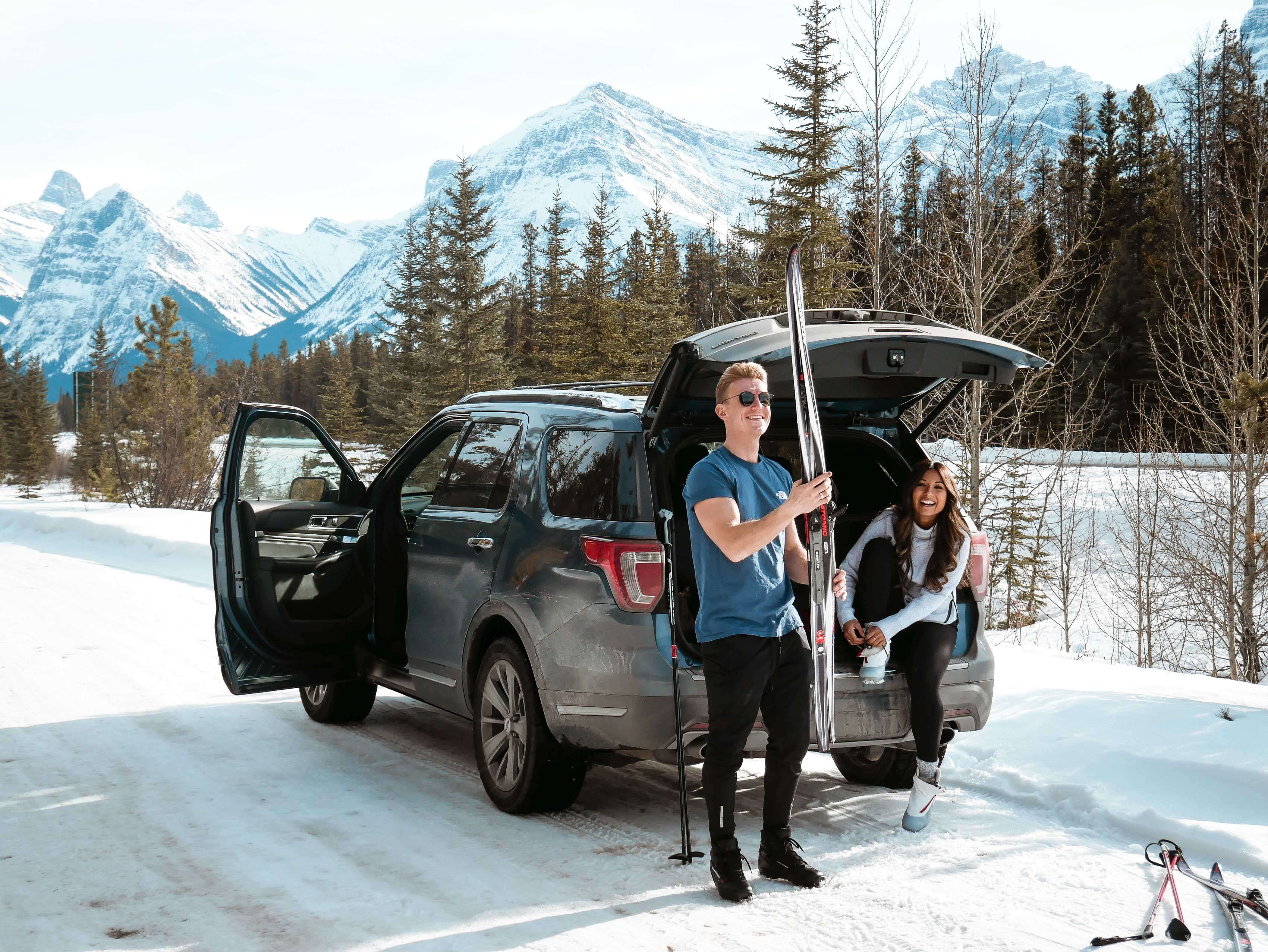 Things To Do In Jasper In Winter
One of the best things about the Rocky Mountains is that activities are so seasonal. While you have the incredible lakes and hiking trails and canoeing in the warmer months, you have skiing, snowshoeing, northern lights watching, fat biking, wildlife watching and ice climbing in winter. If you're planning to spend 3 days in Jasper in winter or spring, here are a few of my favourite things to do while you're there!
(I also recommend checking the 511 Alberta road report while you're there, as road conditions can very quickly change and that will let you know whether there are any closures or issues).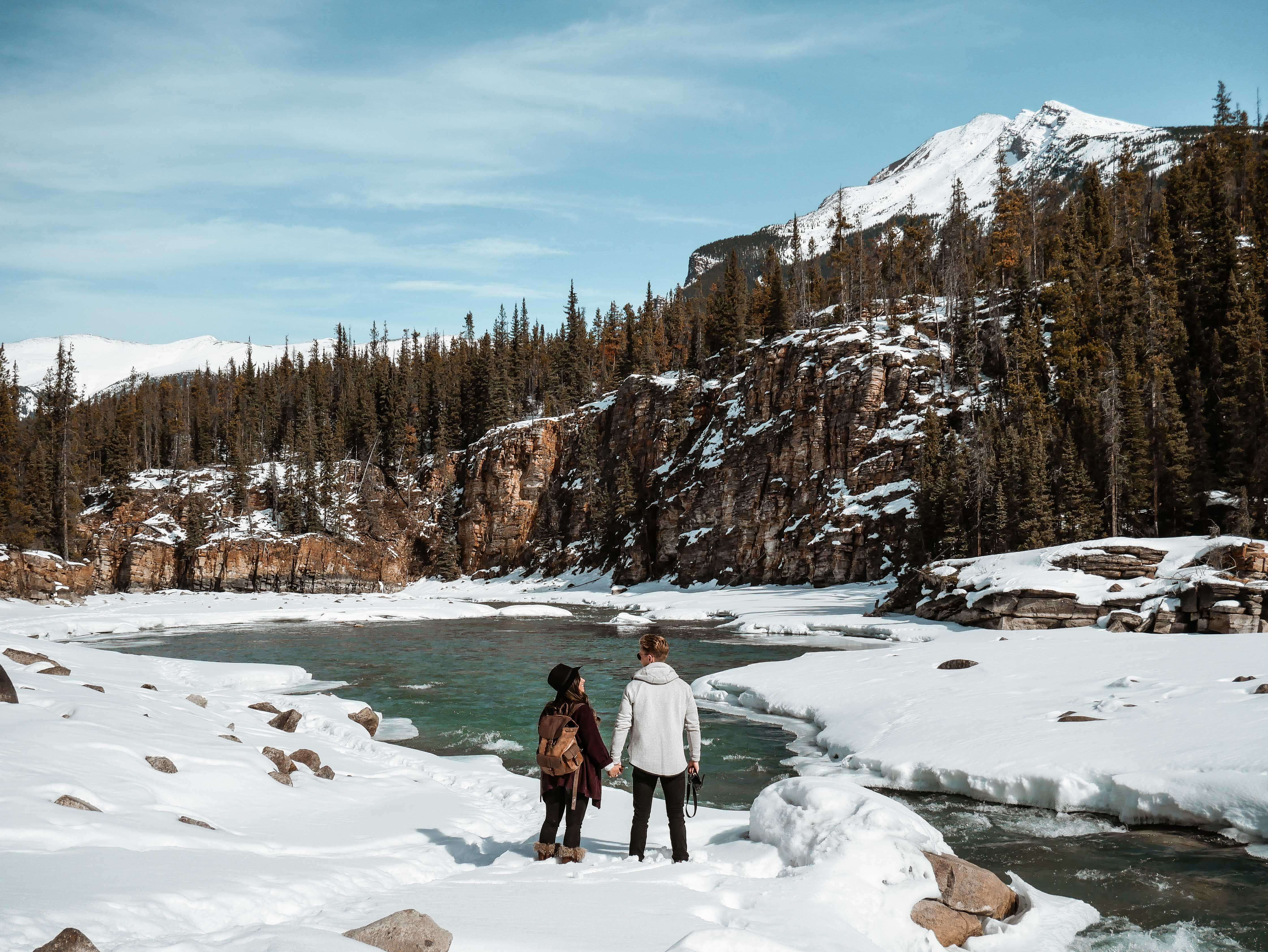 Explore The Frozen Lakes
One of the coolest things about winter in Canada is the incredible frozen lakes. While the lakes are really majestic in summer and you can kayak and canoe and even swim, the winter landscape is so magical. The lakes and rivers transform into a sea of white and the views look completely different in summer than in winter.
You can walk across the frozen lakes which is such a cool experience, and snow somehow makes an already-beautiful landscape that bit more incredible.
You do have to be cautious especially later in the season in March/April, as the lakes and rivers start to thaw out as temperatures get warmer. Be sensible and make sure you're super careful as the last thing you want is to fall through, which really would not be ideal! Sometimes it's hard to know whether there's a river or lake under the snow either, so be cautious.
My favourite frozen lakes and rivers to visit in Jasper are Maligne Lake, Medicine Lake, Pyramid Lake, Patricia Lake, the Athabasca River (by Athabasca Falls), Edith Lake + Annette Lake.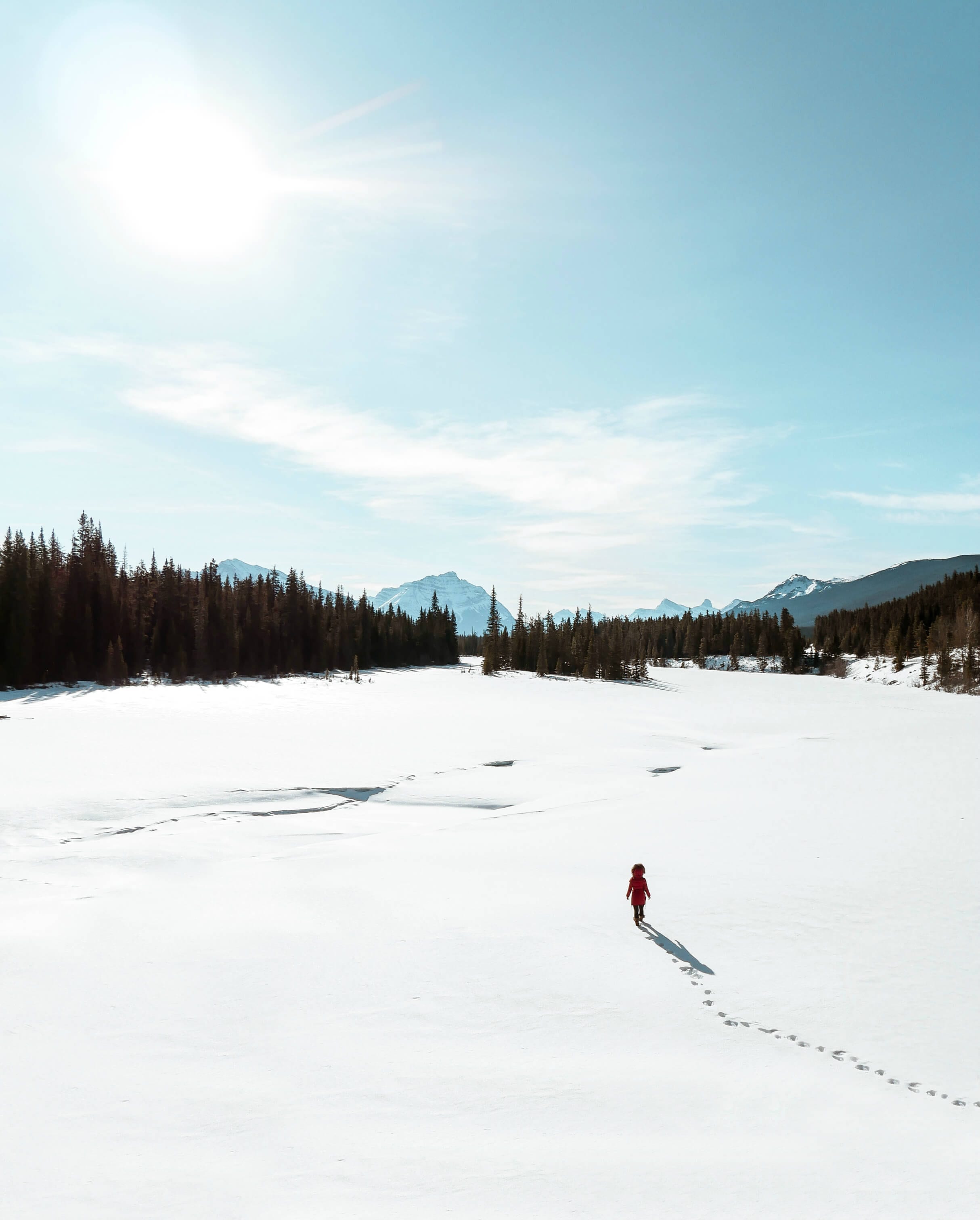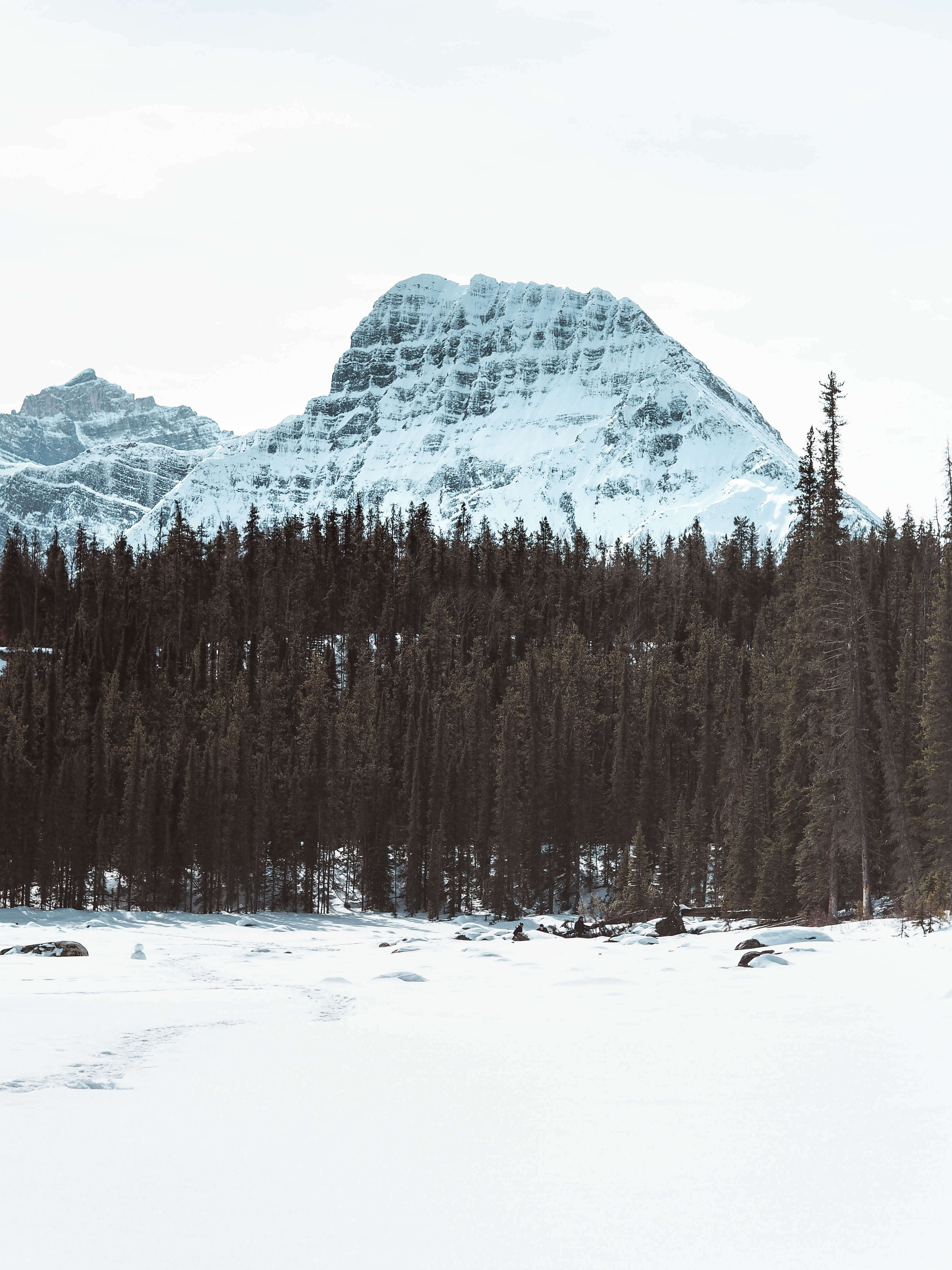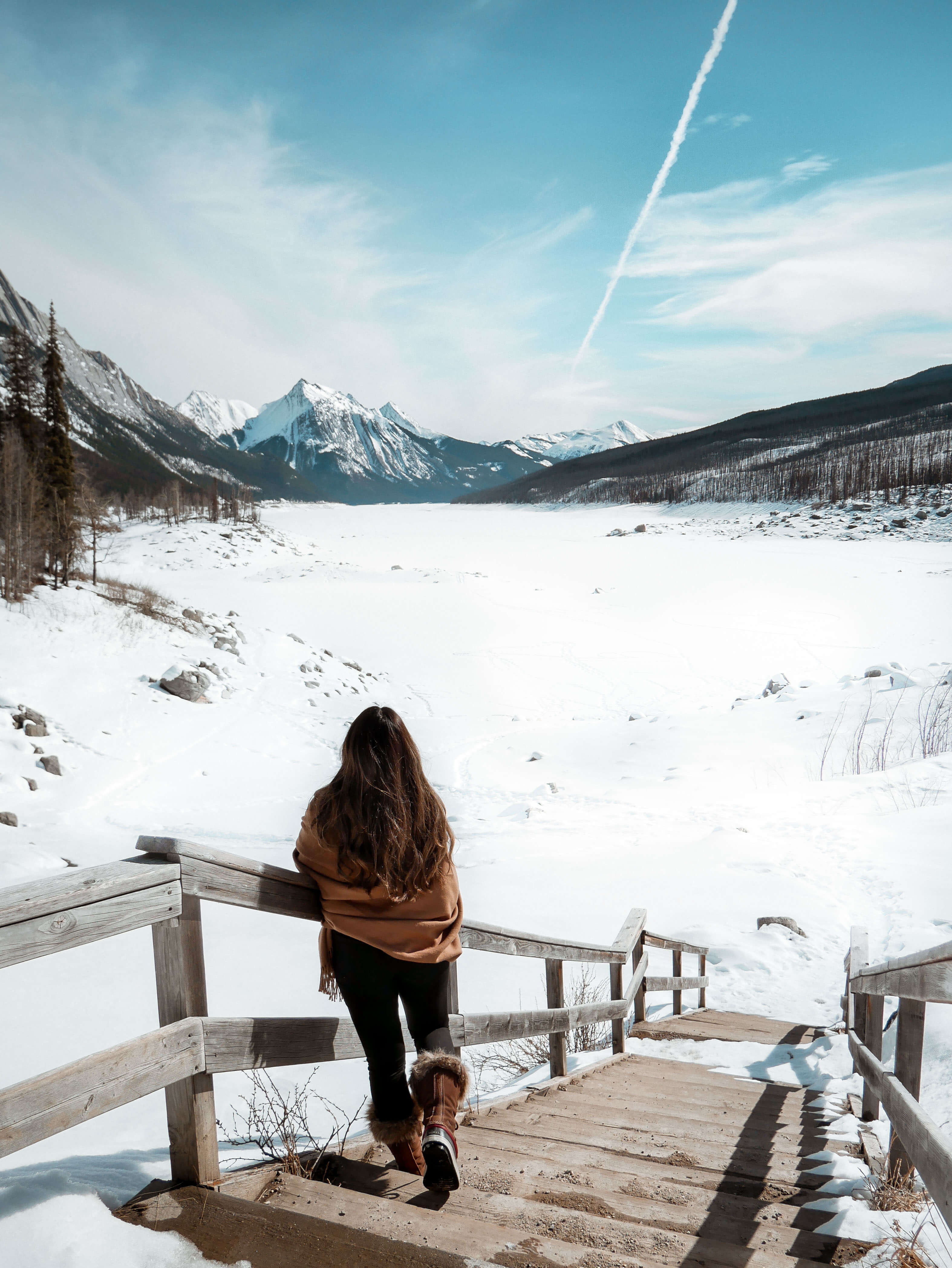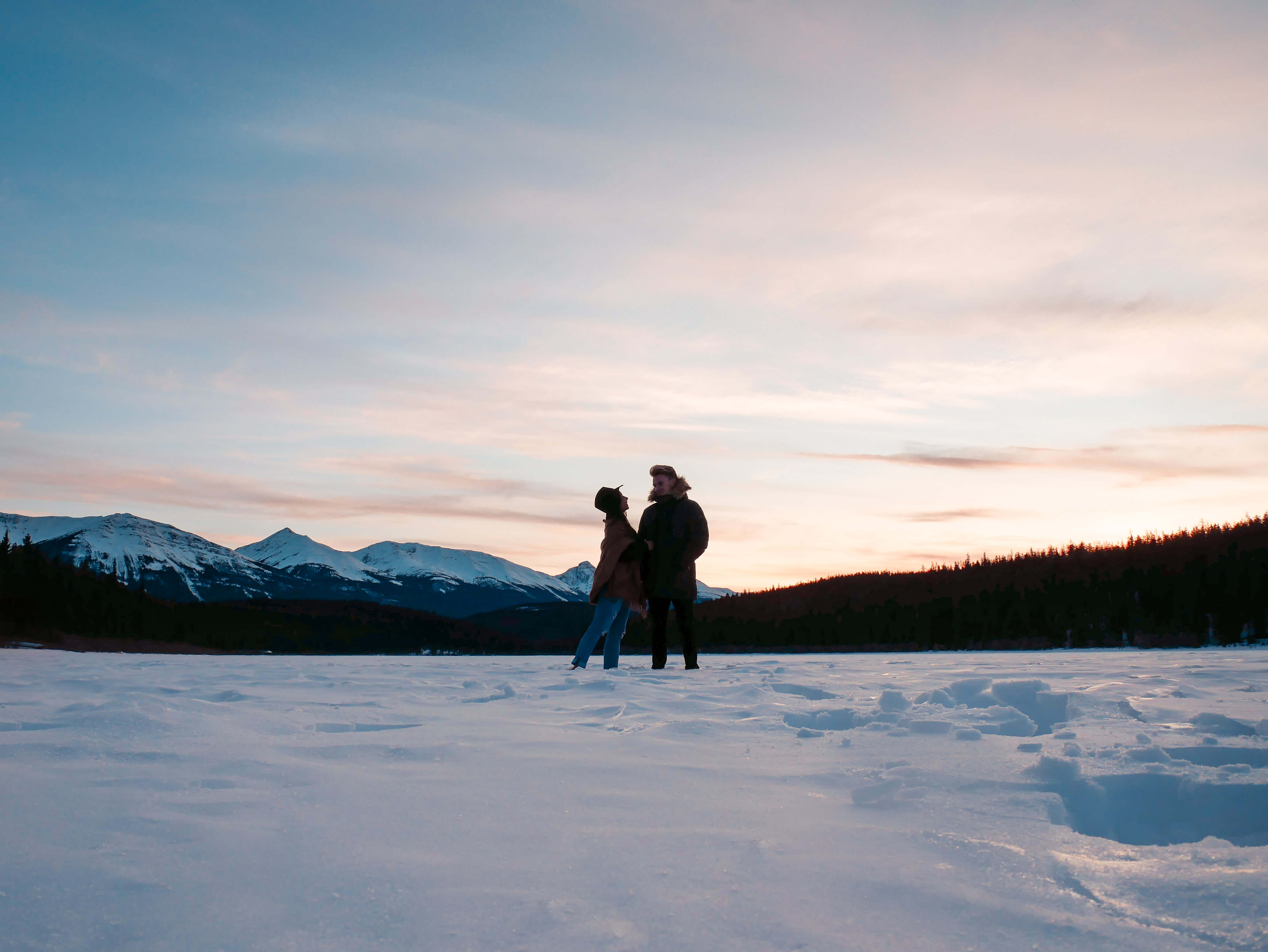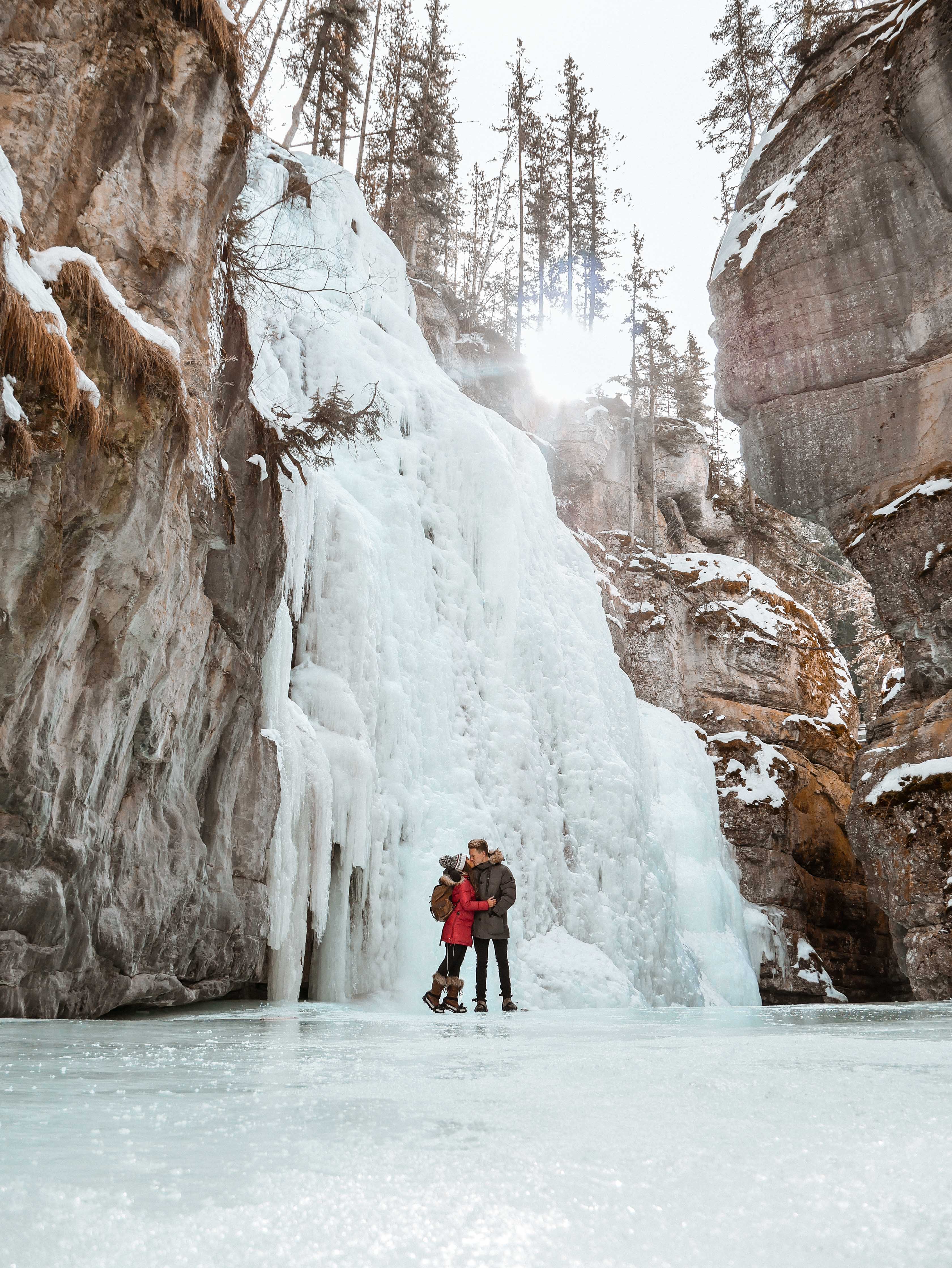 Maligne Canyon Ice Walk + Climbing
Winter opens up a whole other frozen world in Jasper. While Maligne Canyon is usually inaccessible in summer due to the flowing river, in the winter time it completely freezes over which means you can explore by foot. Grab yourselves some ice cleats from one of the adventure stores in Jasper (you can rent them for around $8 daily) and meander through the incredible canyons, past the towering frozen waterfalls and incredible ice formations.
Maligne Canyon is an absolute must-see and i've never experienced anything like it. You can do a guided Ice Walk tour with either Sun Dog Tours or Maligne Adventures, and during that they'll tell you about the formations and history. We decided to go solo so we had more flexibility with time, but if you do that I 100% recommend hiring ice cleats for your shoes as the ice is incredibly slippery and you'll struggle without them. It's also advised to wear a helmet in case any ice breaks off above, and make sure you wear super warm clothing and fully waterproof snow boots or shoes. If you visit in March or on a warm day, I recommend going early in the morning. When we were there, the ice was melting in places so the midday sun meant our feet were falling through the ice in places.
Ice climbing is something we unfortunately weren't able to do, as there weren't any guides available, but it is SUCH a cool winter activity and one of Jasper's popular ice climbing spots is here at Maligne Canyon. It's definitely on my list for the next time we visit as it's something i've never done before and would love to do. It can be customized to all skill levels, and you can learn more about it here.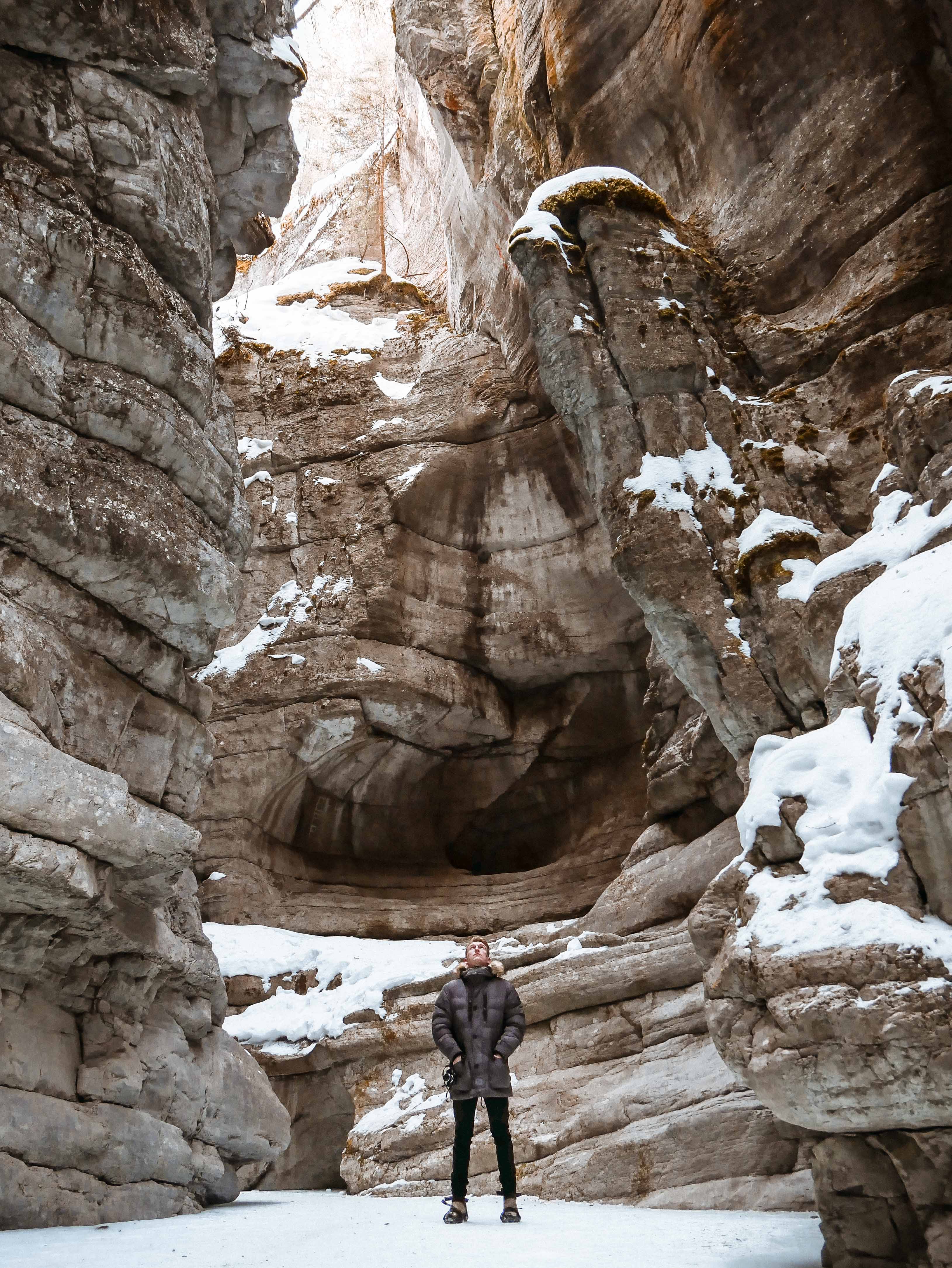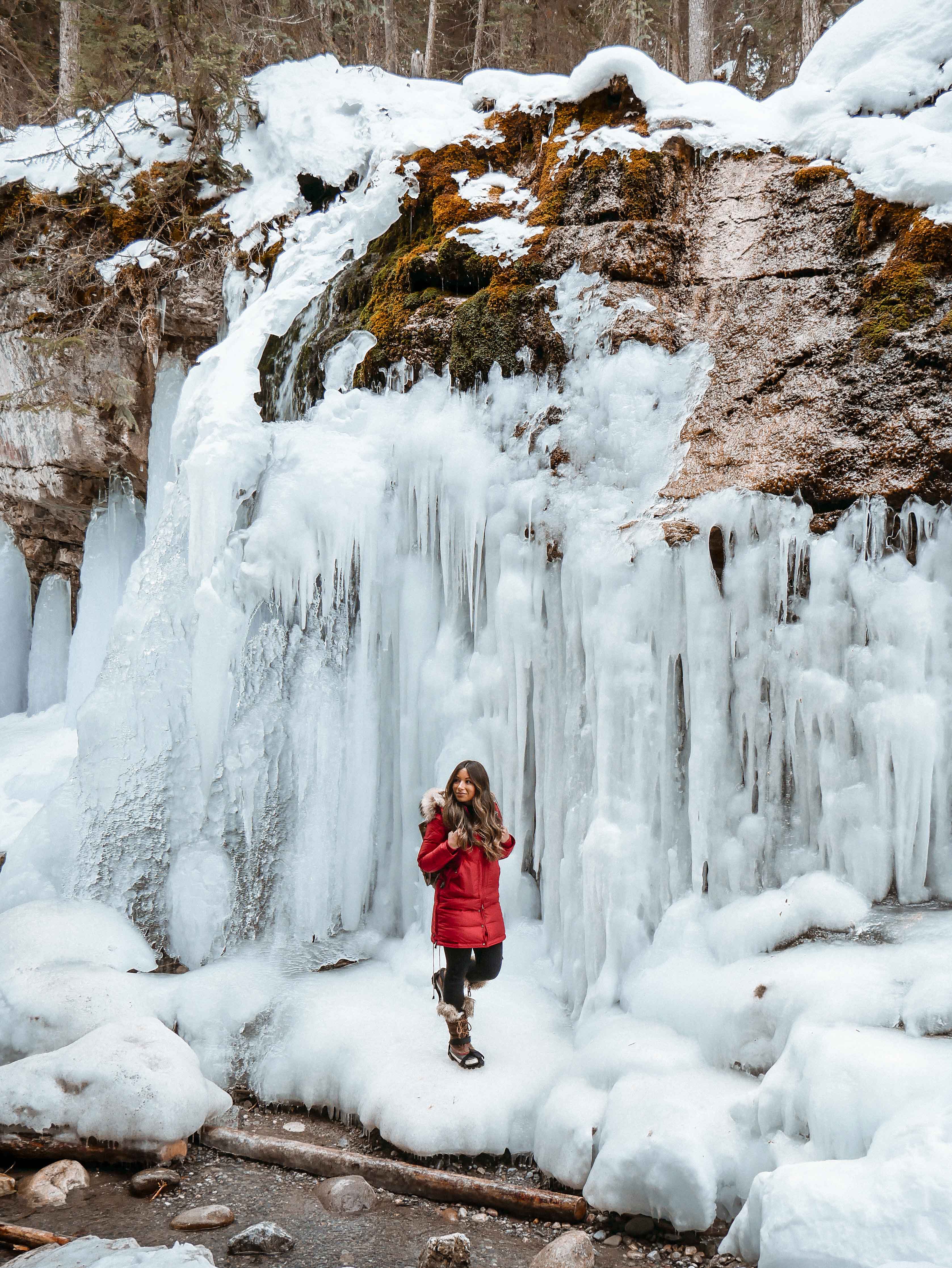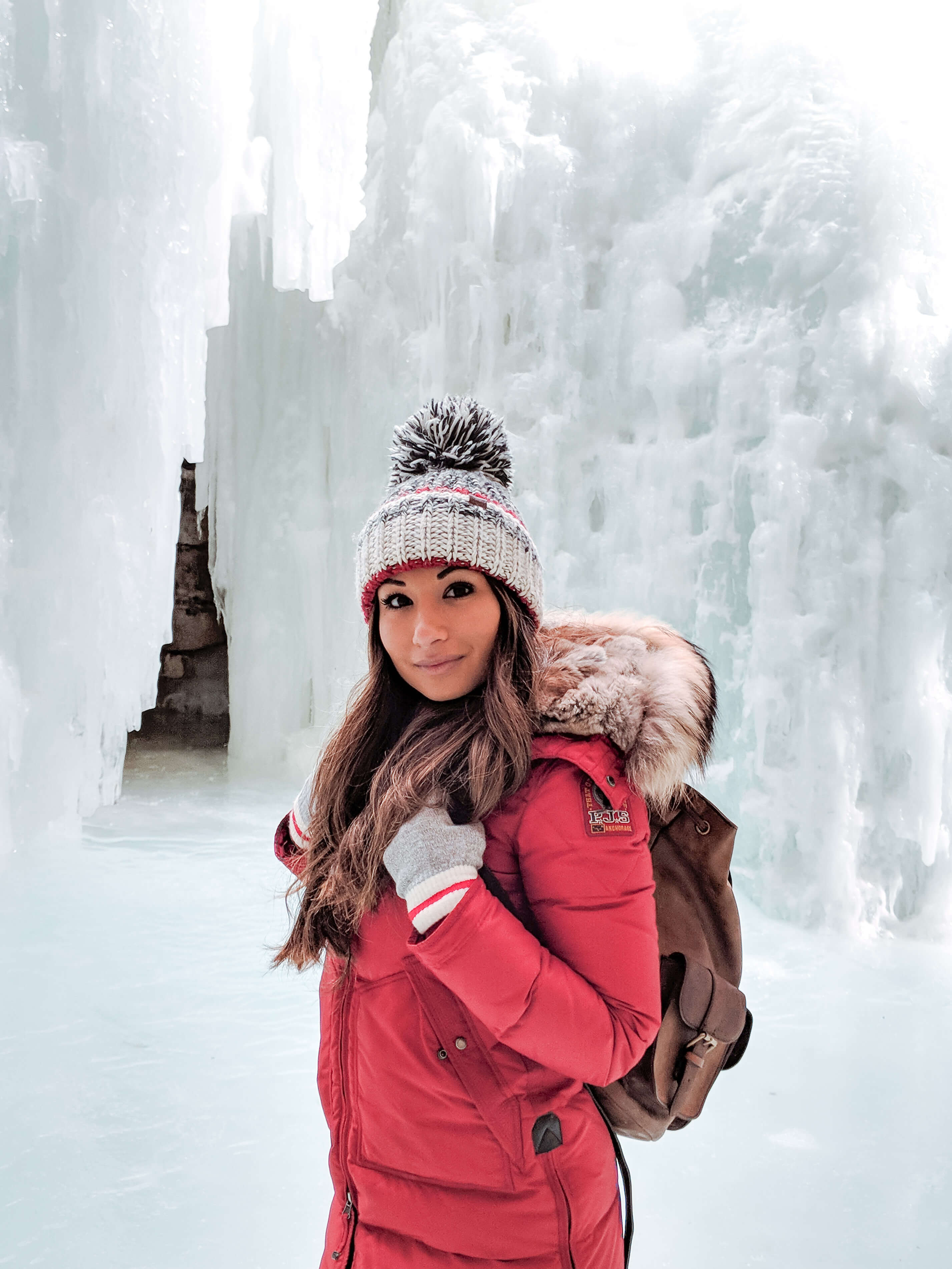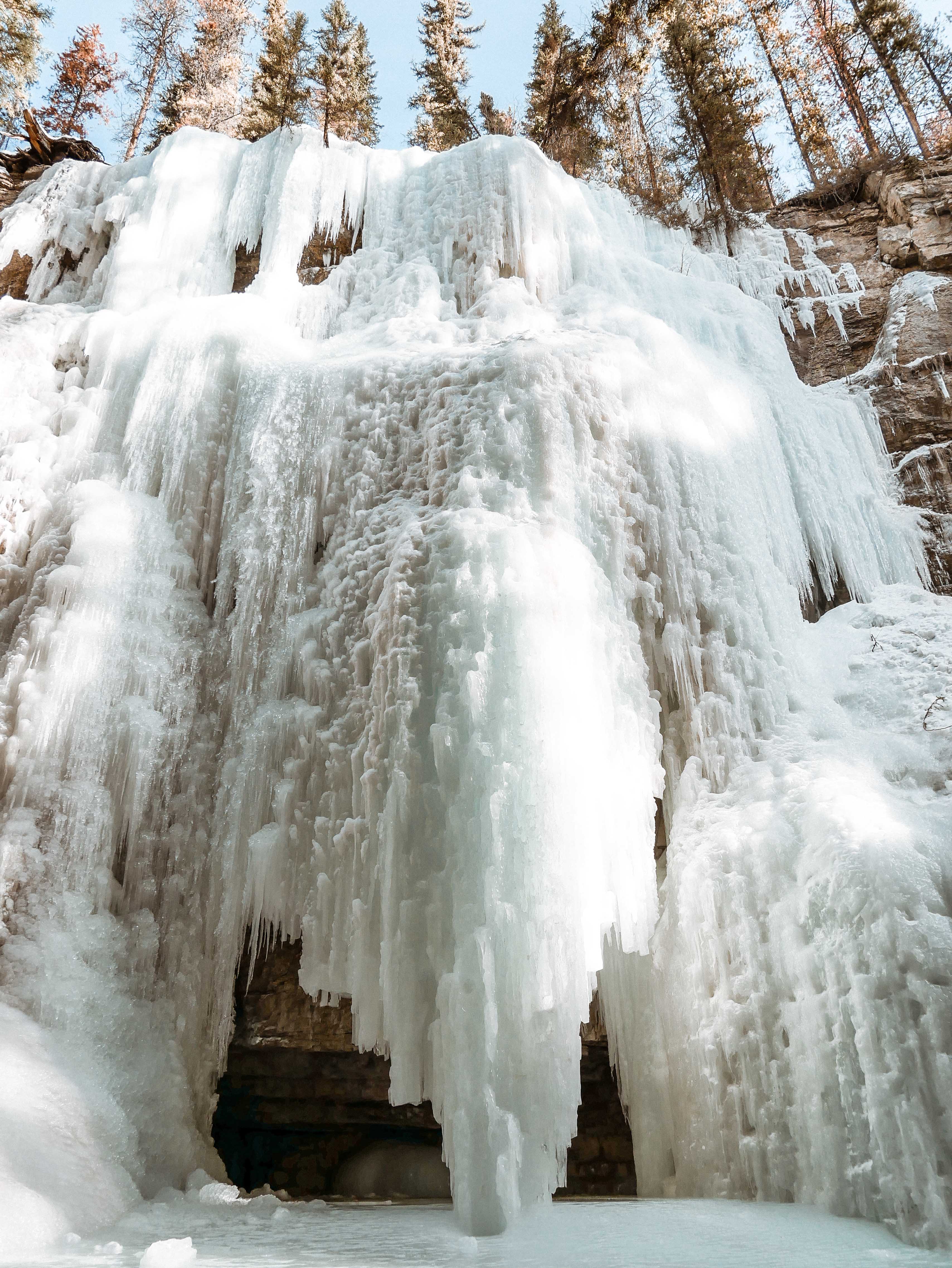 Just Road Trip + Explore!
One of the things I enjoy the most about our road trips is that we have so much freedom to road trip and explore. Most of the time when we do these kinds of trips, we have a rough plan of places to visit and the days we want to visit them, but we leave so much room to be flexible.
It's so nice to hit the road in the early morning and just see where the day takes us. We find so many new and hidden spots by doing this, and a lot of the time they're not even big famous lakes - they're just beautiful viewpoints or new areas we come across by the side of the road while we're exploring.
The amazing thing about Jasper and Rockies is that even the view from the roads is incredible! We were super lucky in that the Highway from Banff to Jasper was closed, so we went down to the road closure line and came across this insanely beautiful view of the open road. Obviously, we couldn't resist taking a few pics especially as it was completely safe with no cars on the road and the mountains looked so majestic.
I also want to note that in many areas of Jasper (especially around Medicine + Maligne Lake), you won't have any phone signal. It's worth having a printed map with you just in case you can't rely on your phone for directions, but most of the lakes and places are well sign-posted and easy to find.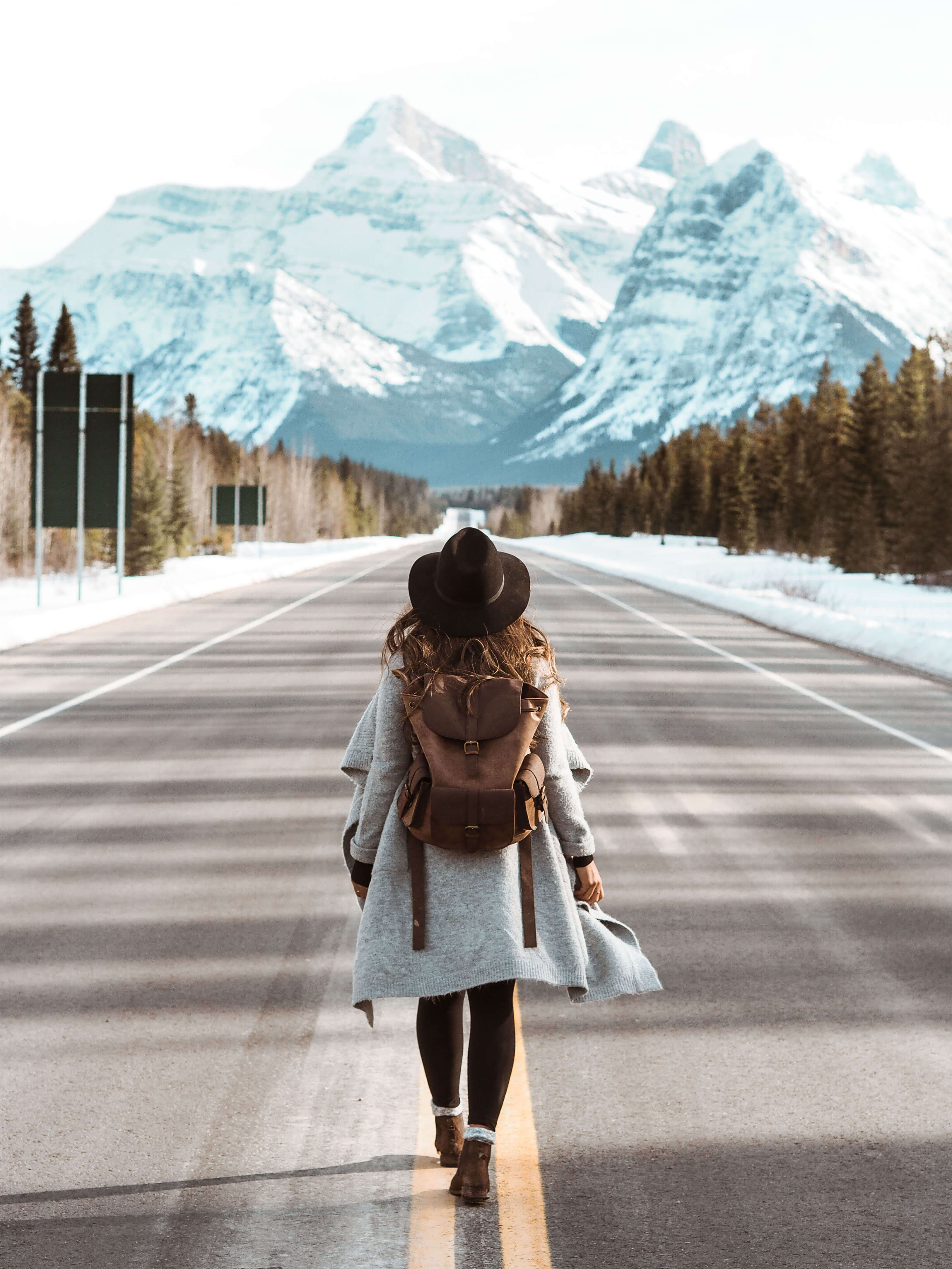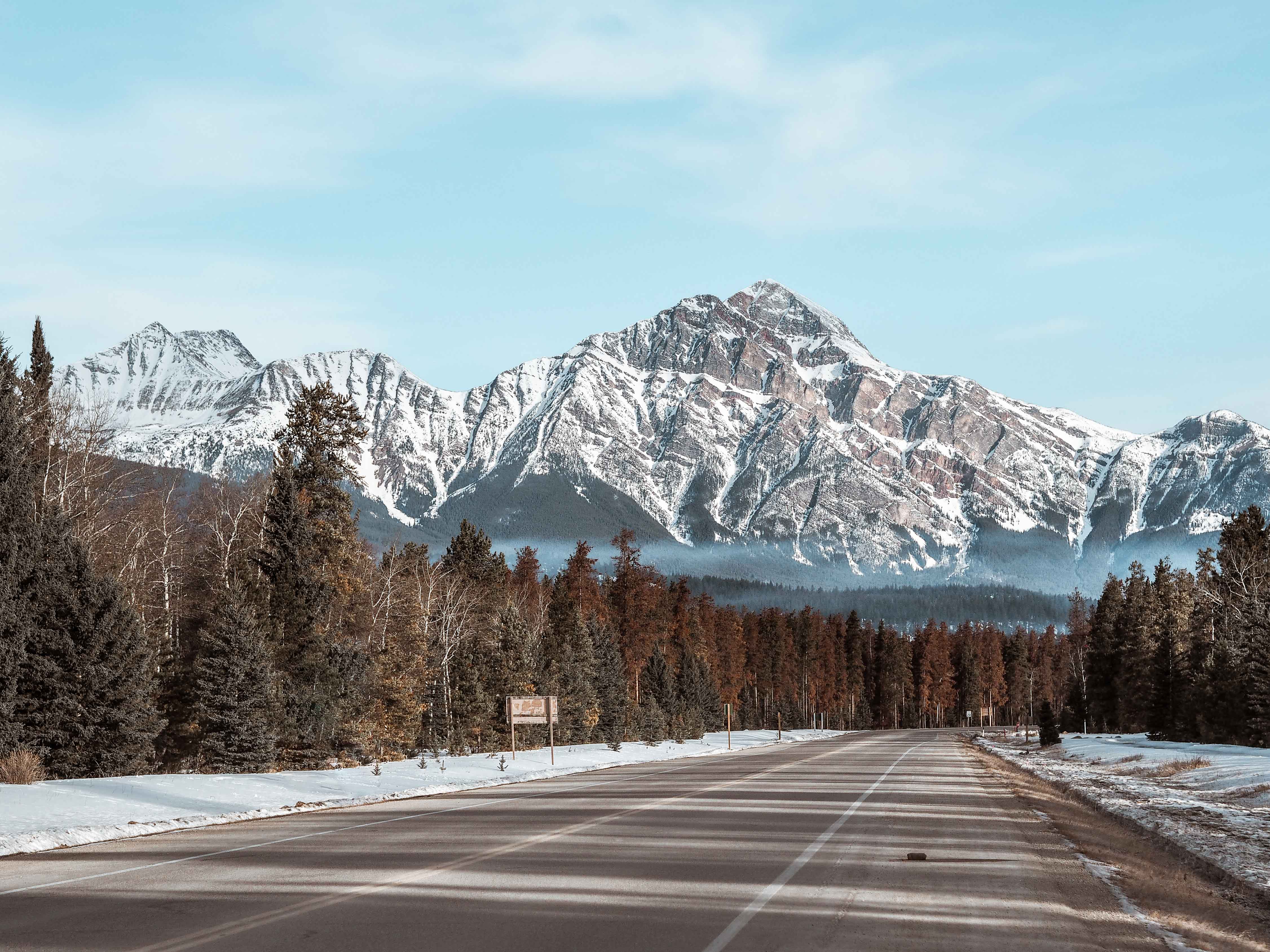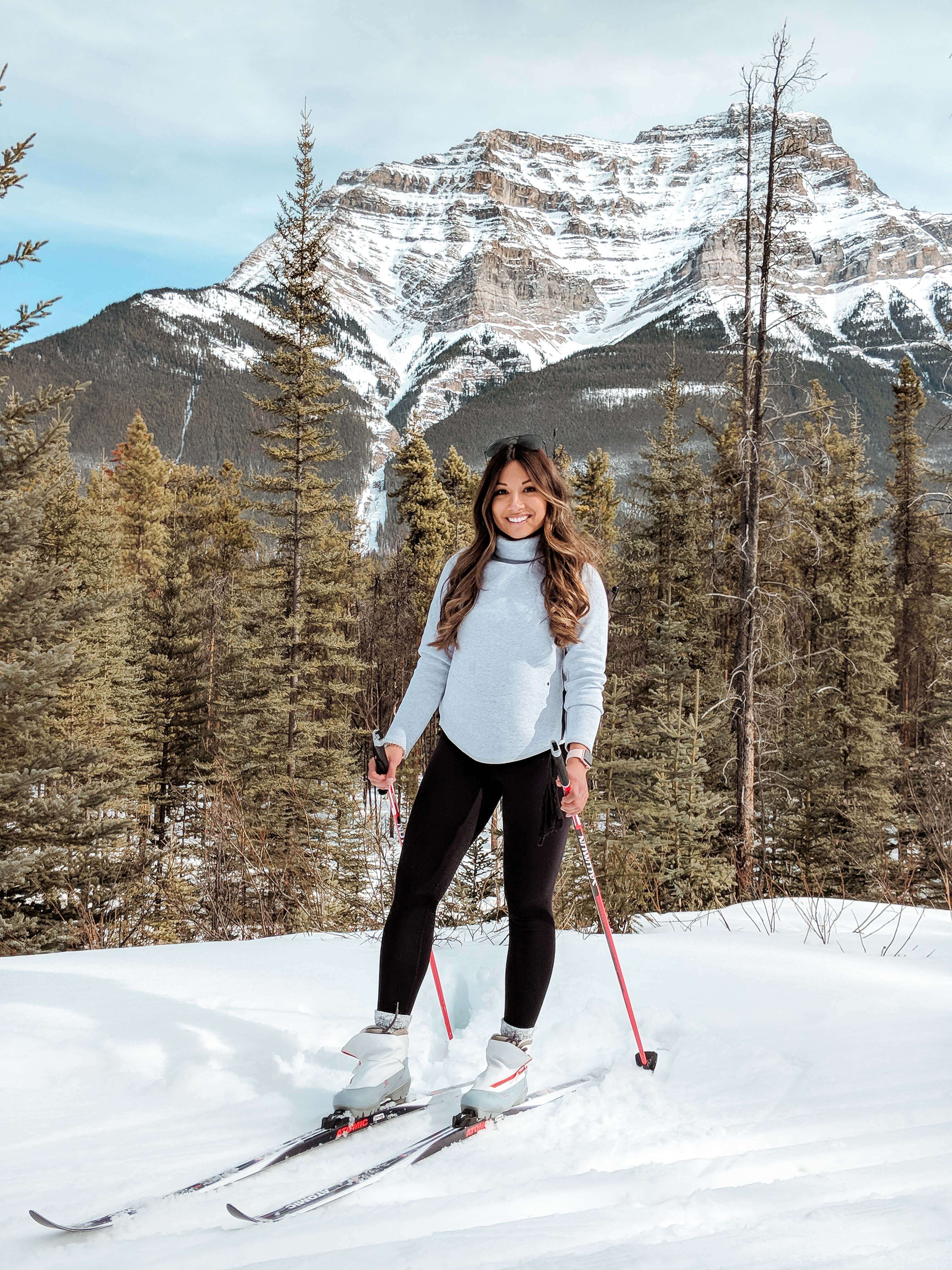 Cross-Country Skiing
I'd wanted to try cross-country skiing for so long, and since Jasper has so many great nordic trails it seemed like the perfect place to do it. It's such a fun way to explore and a nice alternative to snowshoeing or hiking in the snow. Whatever your ability level, there is a range of trails both on flat terrain as well as steep fire roads (see the trail overview here).
We hired our skis from Pure Outdoors, which is located on Connaught Drive. You can rent skis (cross country + downhill), snowboards, snowshoes, as well as ski pants and jackets, helmets, boots and poles, and their daily rate is very affordable. They also do summer canoe and kayak rentals.
While we downhill ski all the time, cross-country skiing was new to us so it was a really fun experience but also quite challenging!! I found it quite hard to get to grips with the foot movements (I put it down to me just being an amazing downhill skier so I was adopting the wrong technique, although it's probably just because I am a rubbish nordic skier!) but after watching a few YouTube videos I managed to eventually get the hang of it. We headed up the Leach Lake trail which starts next to Athabasca Falls, which was really pretty with sweeping views of the valley.
The 5 starting points for most of the trails are Whirlpool Winter Hub campground, Athabasca Falls (just before the parking lot), Cavell Road, Pyramid Fire Road and Pipeline Trail. You can find the trail condition report here. If Nordic skiing isn't for you, you can also downhill ski at the Marmot Basin!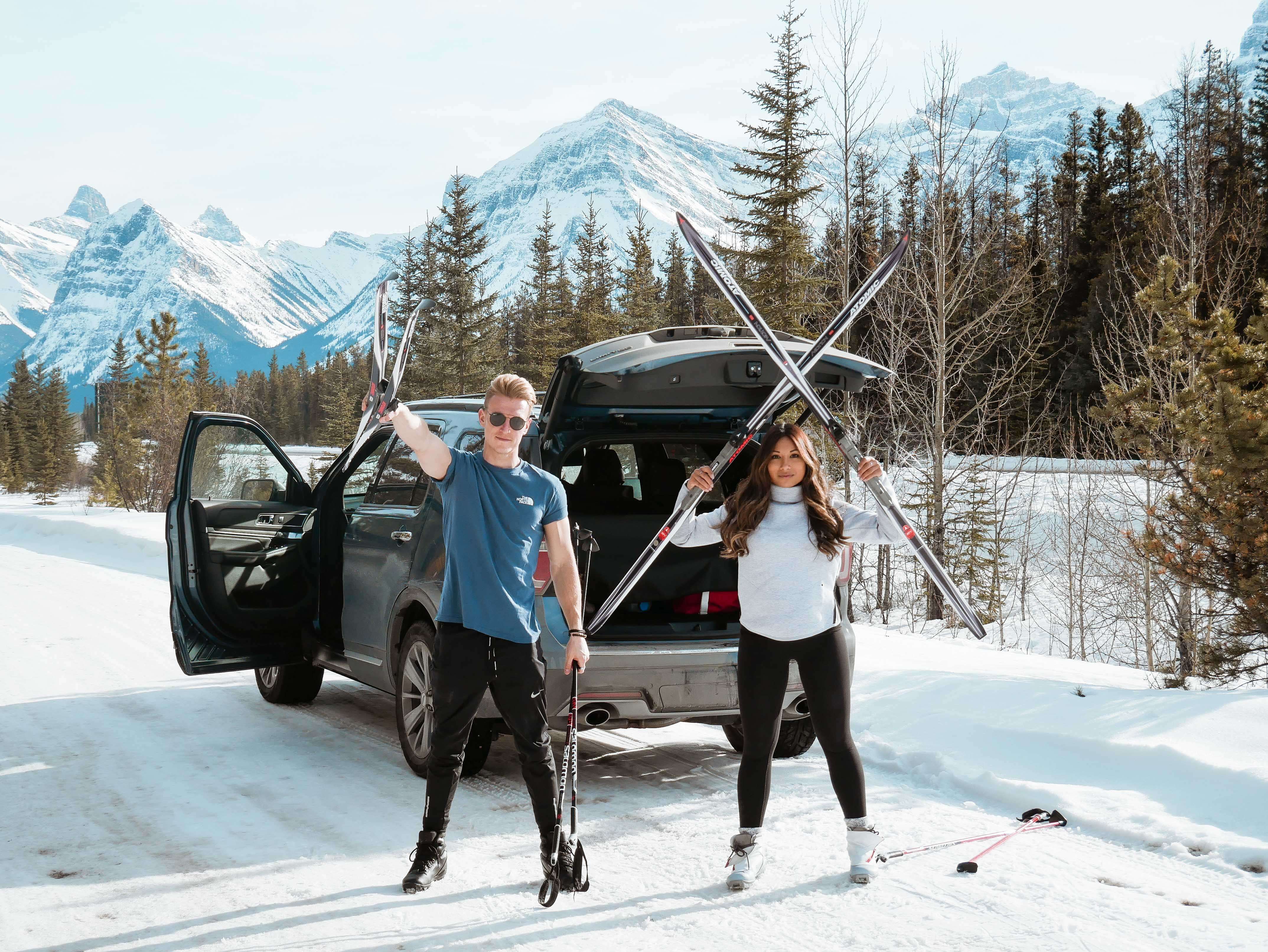 Athabasca Falls
Another really cool spot to visit in Jasper in winter is Athabasca Falls. It's really stunning in summer and the volume of water that gushes down the falls is incredible. In the winter months, the river and waterfall completely freezes over, which creates the most beautiful and dramatic landscape, with ginormous ice and icicle formations that simply don't look real.
There are a few trails that take you around the falls and down to the canyon. In winter time, people do venture into the canyon and to the base of the frozen waterfall, but it was too unsafe when we were there as the river had thawed out too much. We did go for a walk around the area though and the views were so stunning. The falls are located right next to the Highway about 20 minutes south of Jasper, so it's definitely worth visiting.
Sunwapta Falls is another popular spot in winter, which is further down the Highway towards Banff. Because the road was closed we didn't get chance to go here, but it looks so beautiful and it's definitely on my list for next time.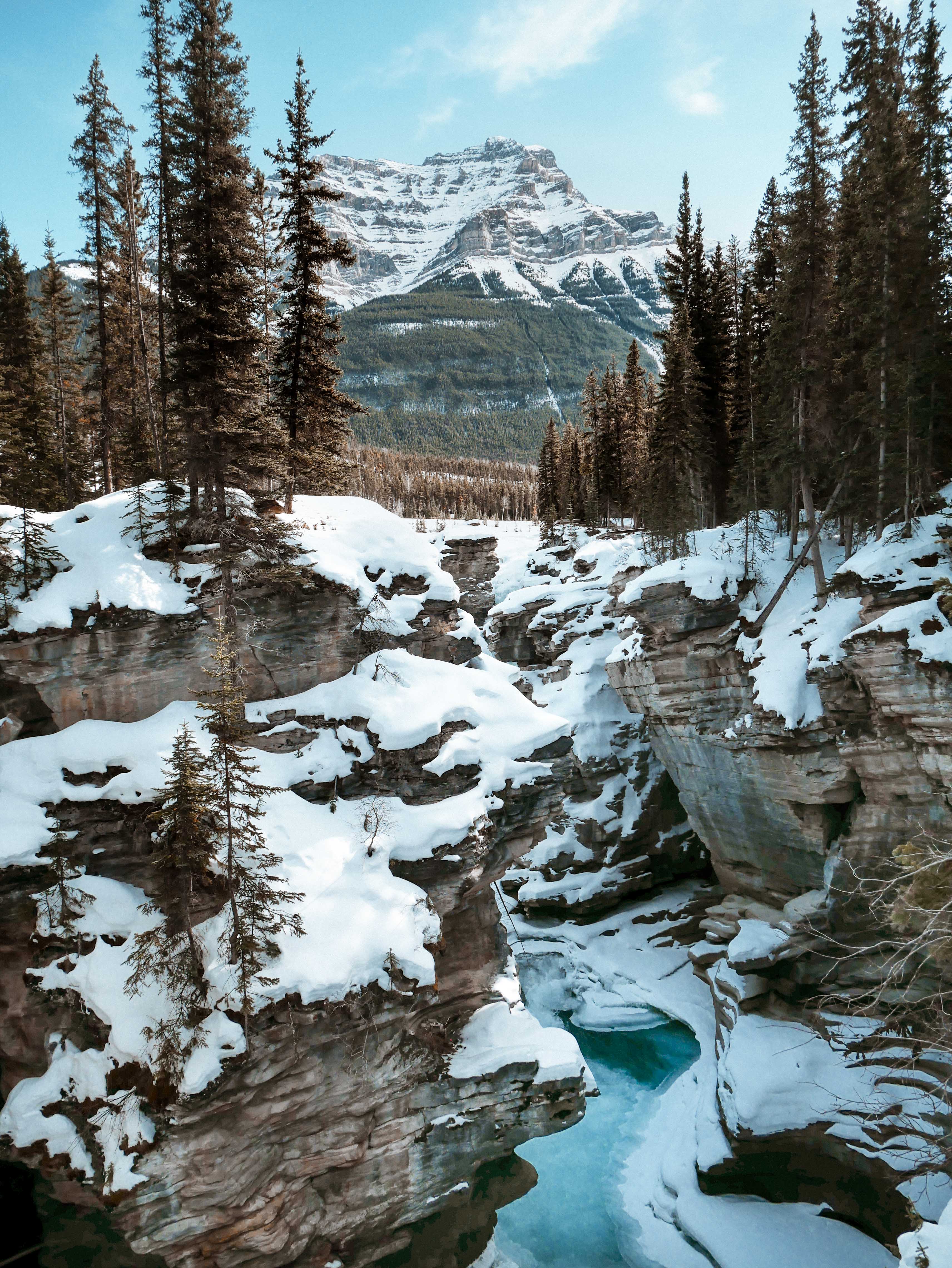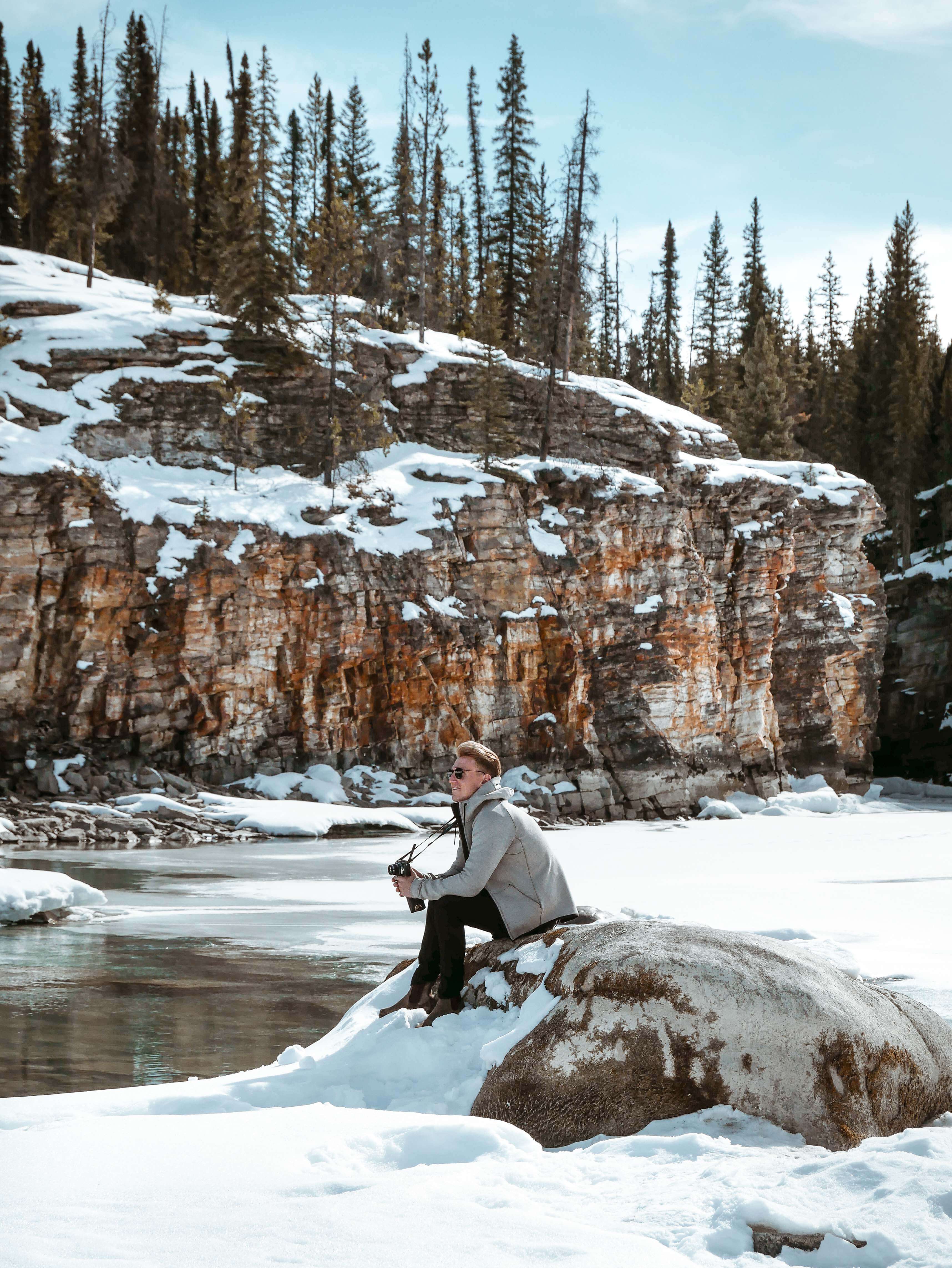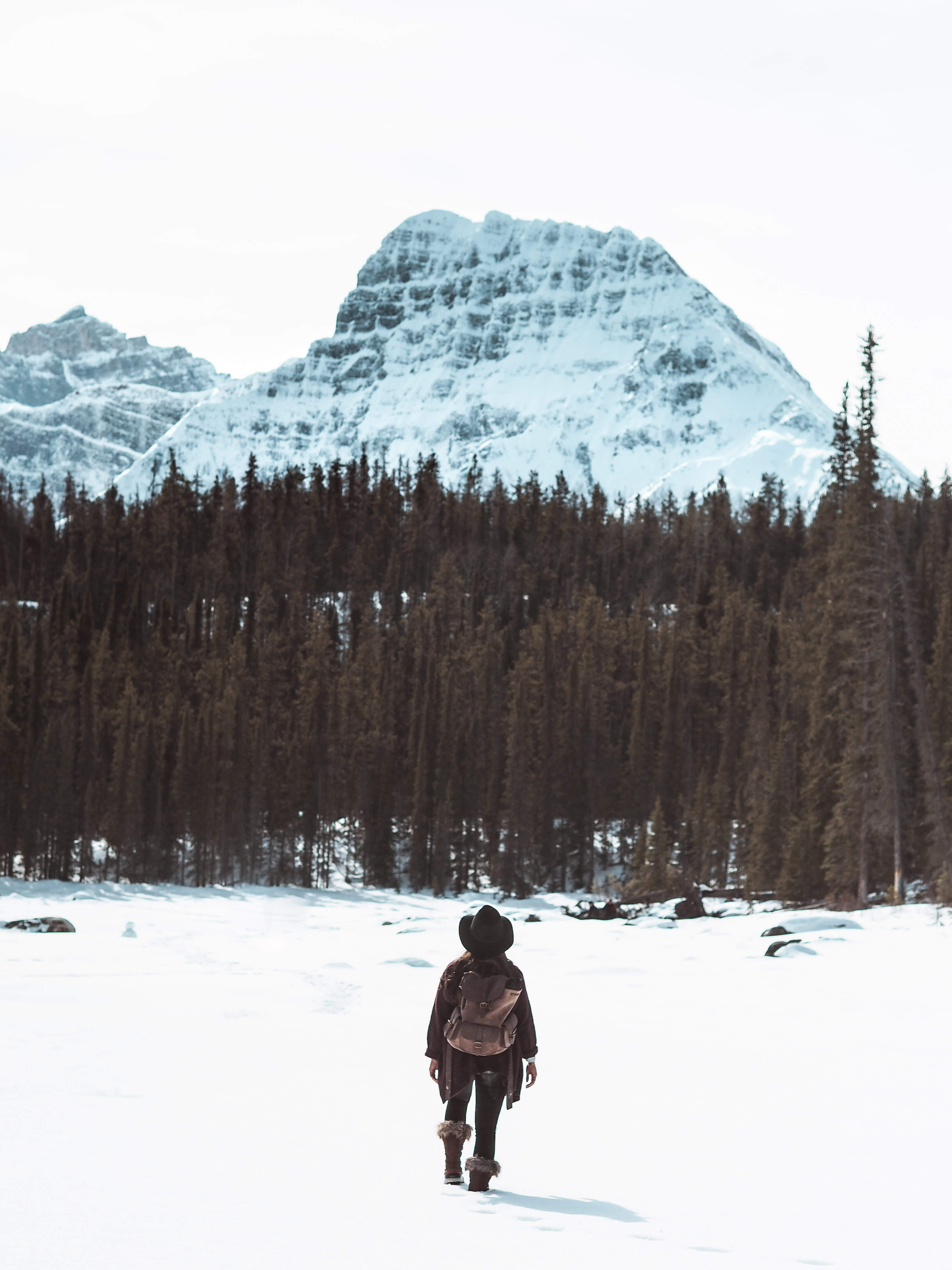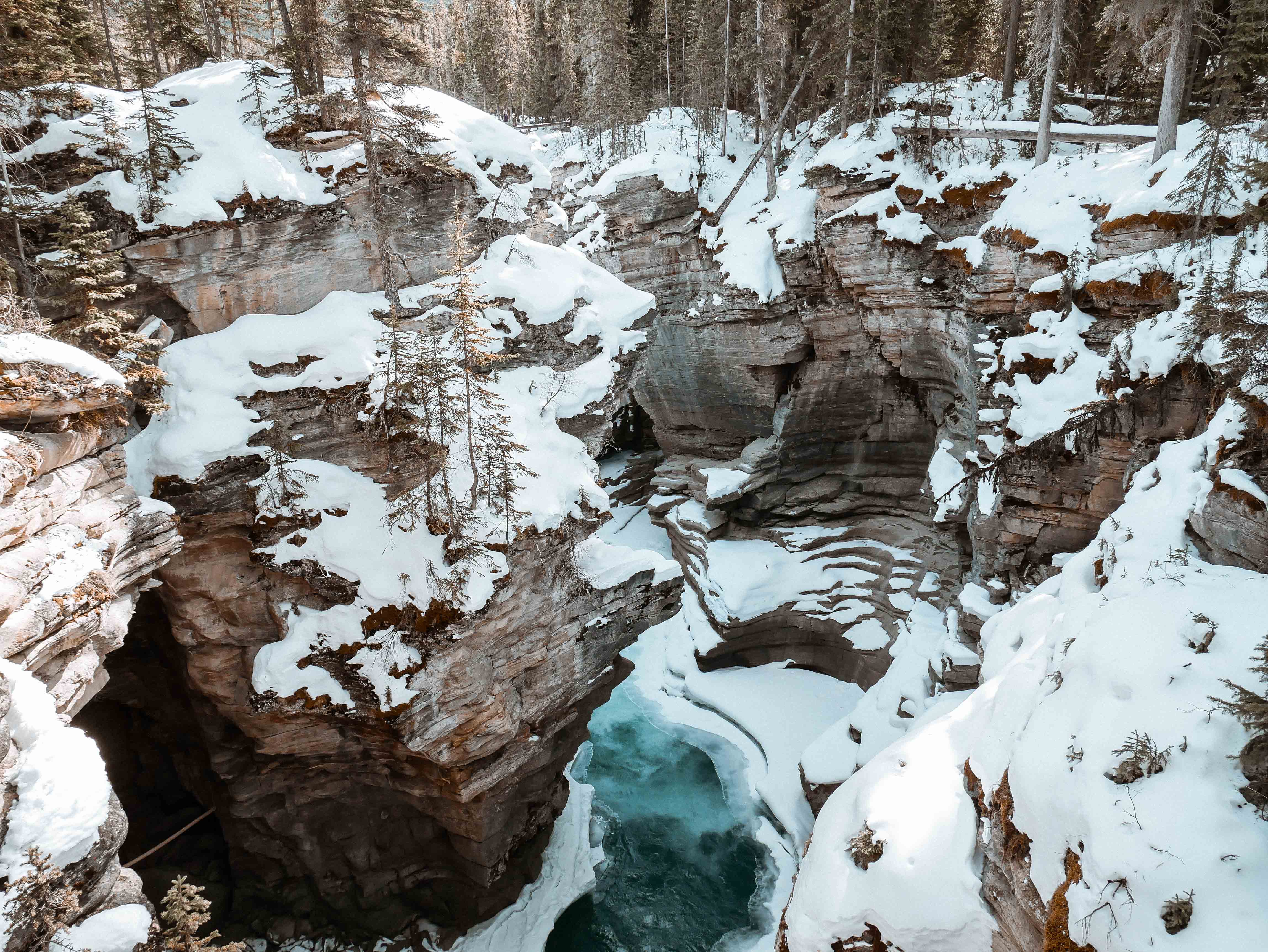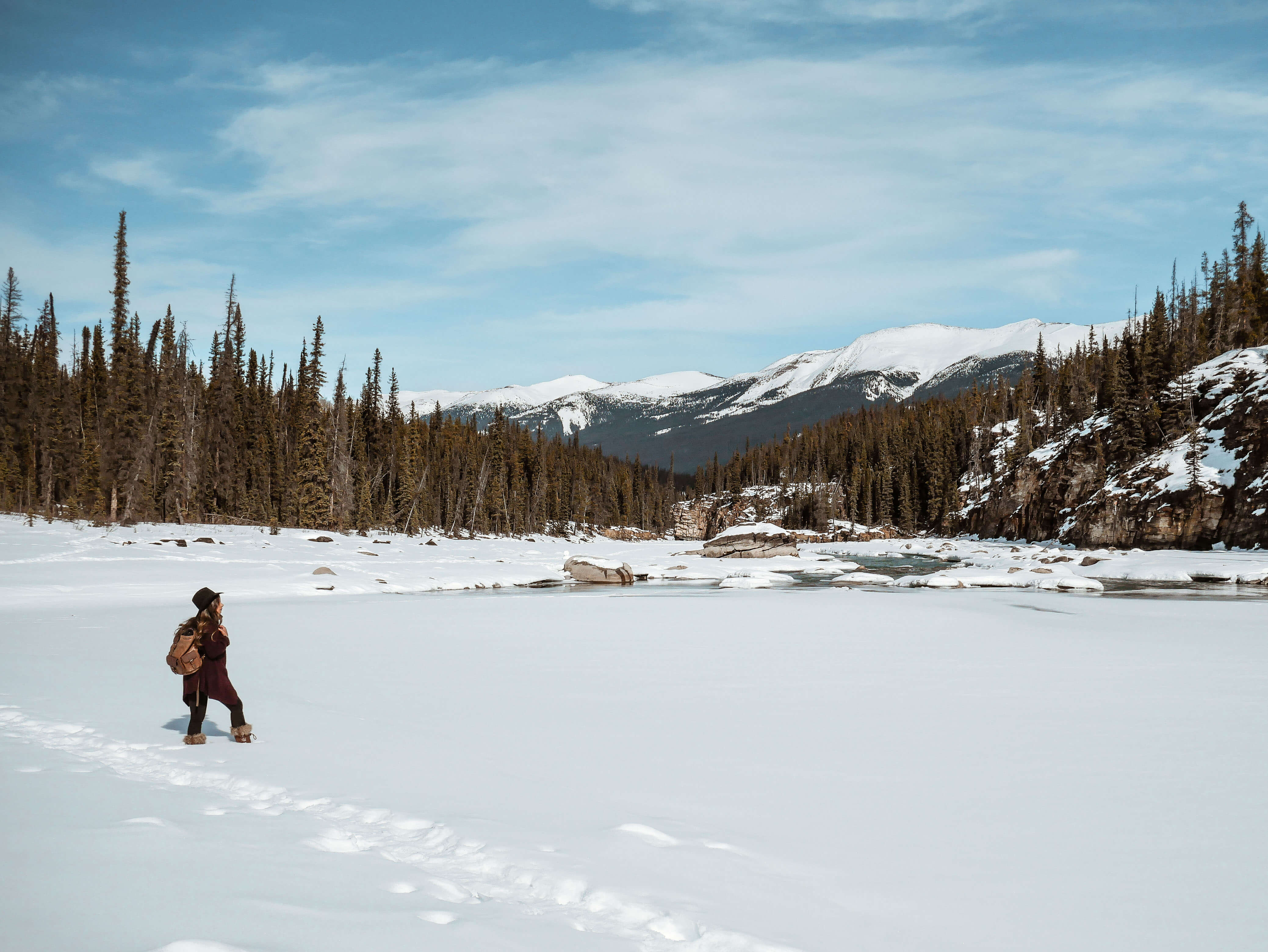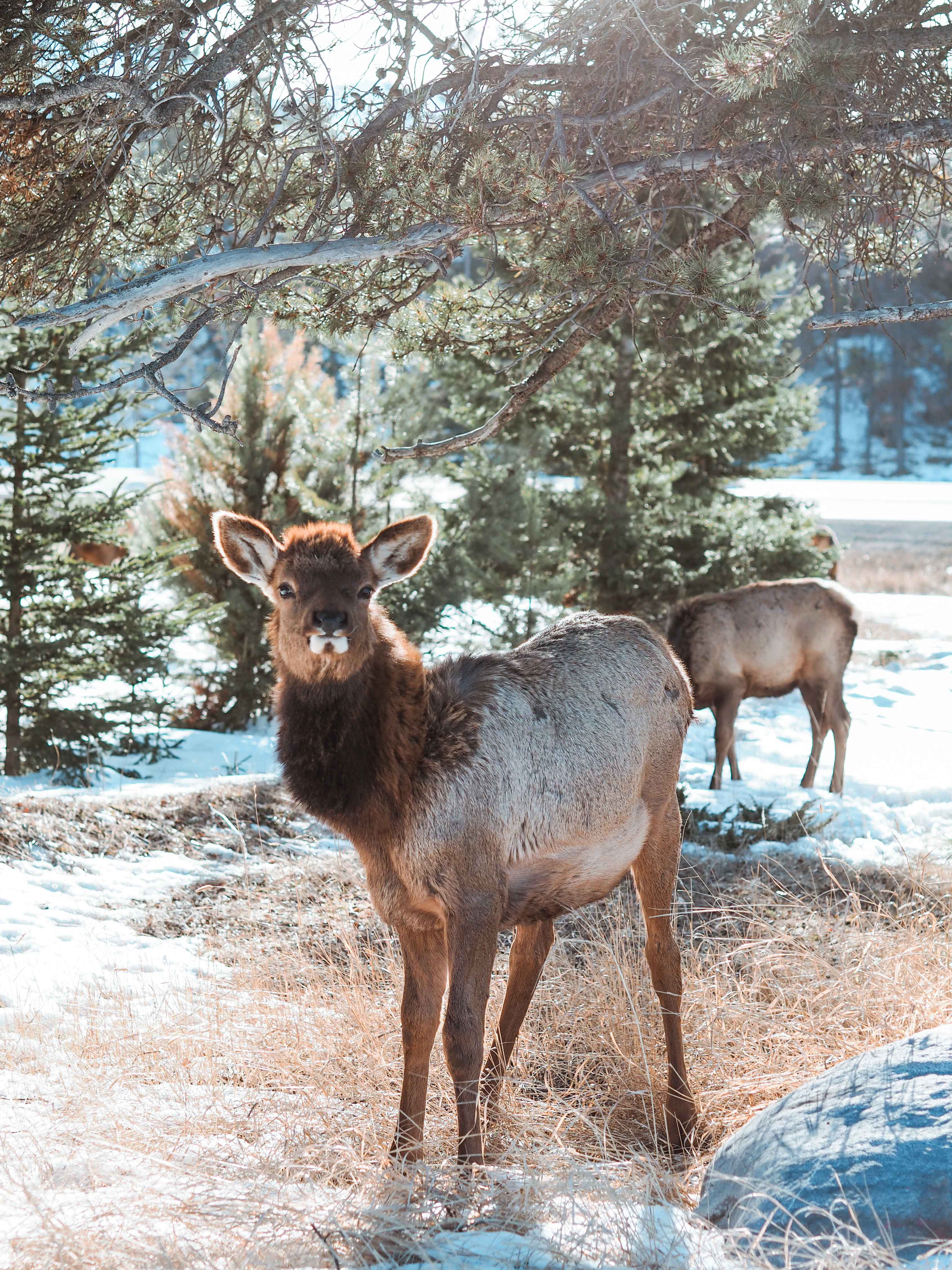 Wildlife Watching
One of my favourite things about Jasper is that there is wildlife everywhere. You'll find elk at every turn, and it's not uncommon to find moose, black bears and grizzlies, cougars, wolves, deer, bighorn sheep, caribou, marmots, and more. A lot of wildlife does hibernate in winter (including bears), so summer is definitely the best time for seeing the biggest range of wildlife. However, there is still a lot of life around and it's always exciting to know that you might bump into a moose on your way!
We saw moose last summer while we were canoeing around Maligne Lake which was incredible - they're such majestic animals. Maligne Lake is actually one of the best places for spotting moose, especially the Moose Lake Loop. We also, amazingly, woke up to elk outside our hotel room every morning too! The elk would all come into Jasper town and hang out on the grassy areas by the side of the road, presumably for shelter and protection. On our first day, we caught a cougar stalking a herd of young elk which was really cool to see and not something you catch every day!
You also have to be respectful of wildlife, and never approach the animals or attempt to feed them. Use common sense and get clued up on what to do if you come across a bear, for example, so you don't put yourself or the animal in any danger.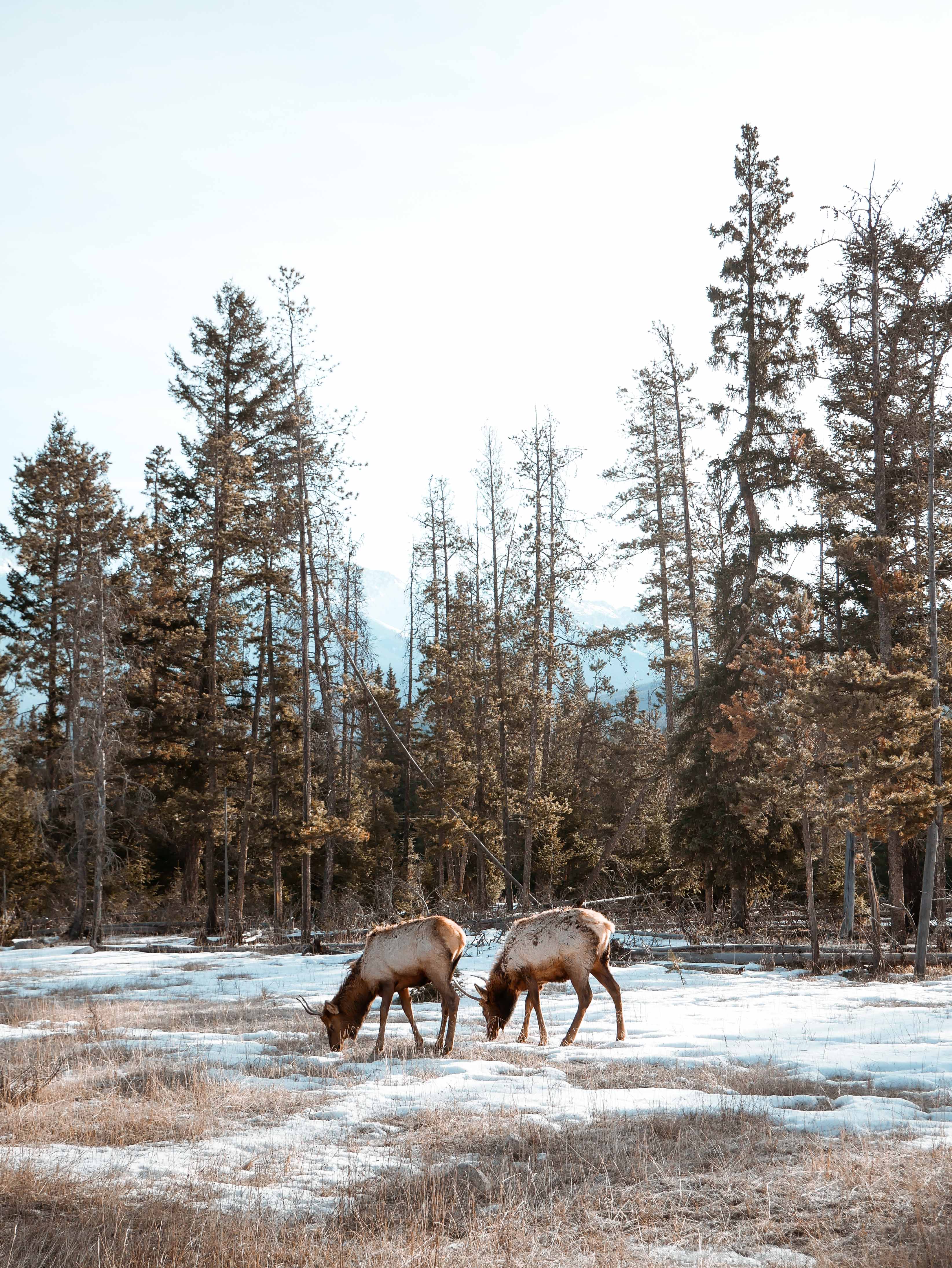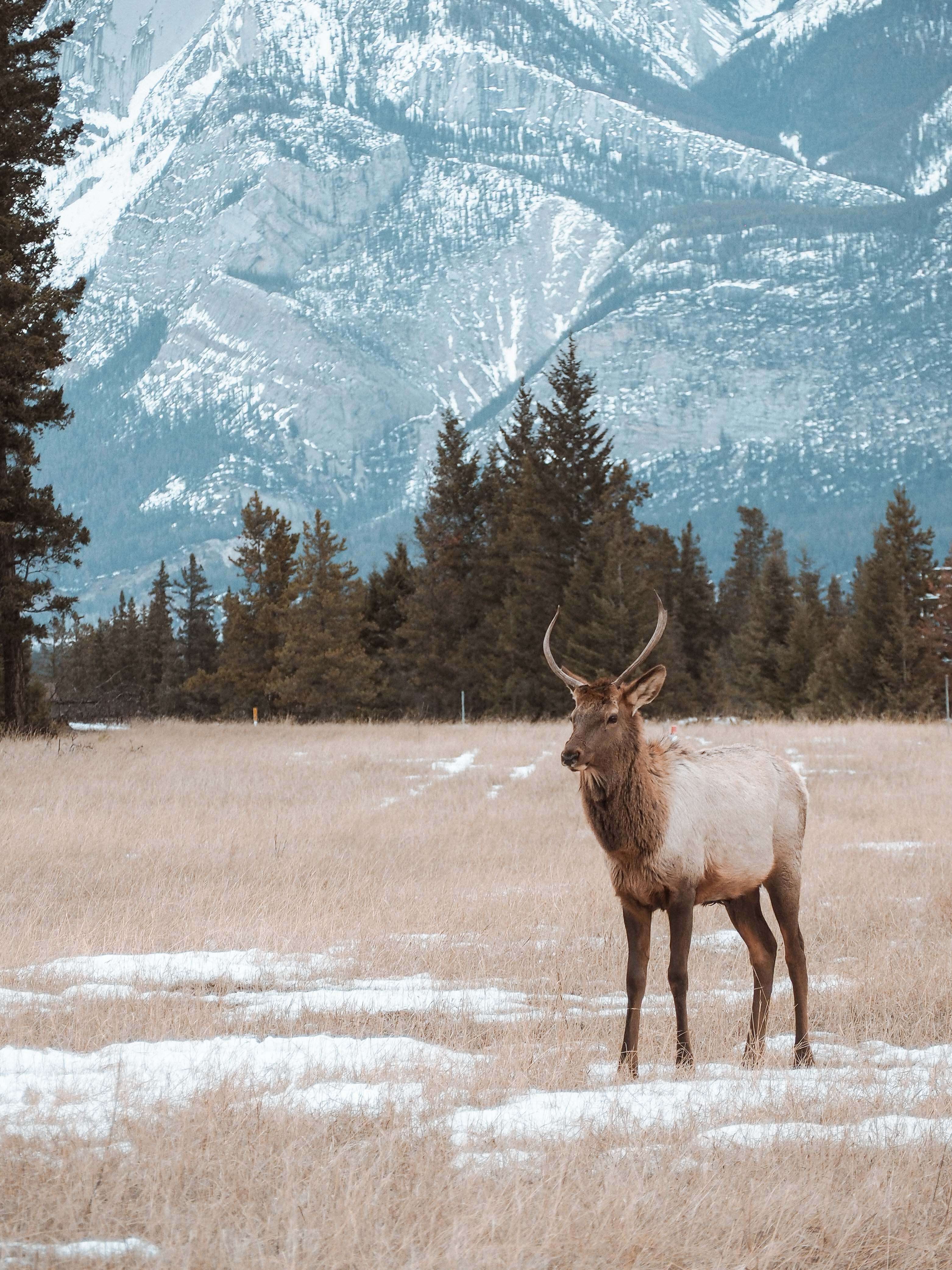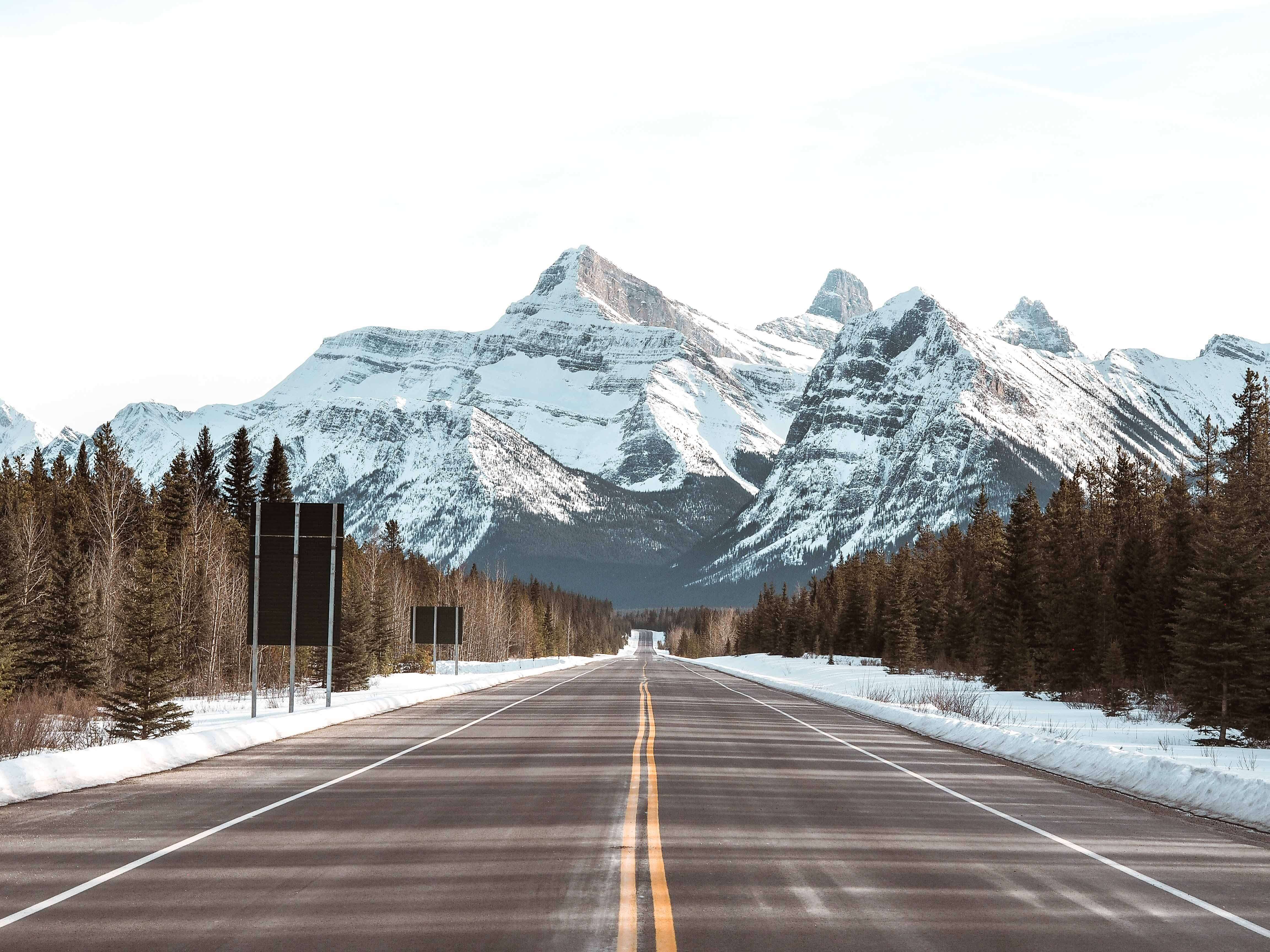 Discovering Jasper with the Ford Explorer
It was so great to partner with Ford again for the trip, and i'm sure you'll know by now how much I love their vehicles. We had the Ford Explorer, which is hands down my favourite Ford SUV, and it was the perfect vehicle for the trip considering the distance and the extreme weather. It's also incredibly spacious and the boot is ginormous, which I think is a must-have for road trips since you always end up taking so much stuff (we do, anyway)!
My favourite features of the Ford Explorer, other than its beautiful exterior, include the heated massaging seats, which are amazing after a day of hiking or when you're sat in the car for hours on end. The Explorer also has great safety features, such as blind-spot monitoring (which I find really useful), adaptive cruise control, lane-keeping assist, parking assist and forward collision warning, so the driving experience is so easy and safe. These are all standard on the Platinum models, and additional on other models. There is a plug socket in the back which is great if you're camping or taking lots of photos, so you can charge your camera on the go. There are 2 additional seats in the trunk to make it a 7-seater, and a handy button that automatically folds the seats up and down so you don't have to do the work!
We did have an incident with the tire - a rock slide happened in front of us and before we could stop, we hit a big rock and busted the tire. Although this was an inconvenience as we had to get a replacement tire fitted, we were INCREDIBLY impressed with how well the vehicle handled when the tire split. The dash informed us immediately that the tire pressure was down, the steering didn't jolt at all when it happened and we were able to come to a stop with ease. This is exactly the peace of mind you want in a vehicle, especially when you're travelling at high speeds or with kids in the car, as you want to know you're safe even when things like a split tire occur.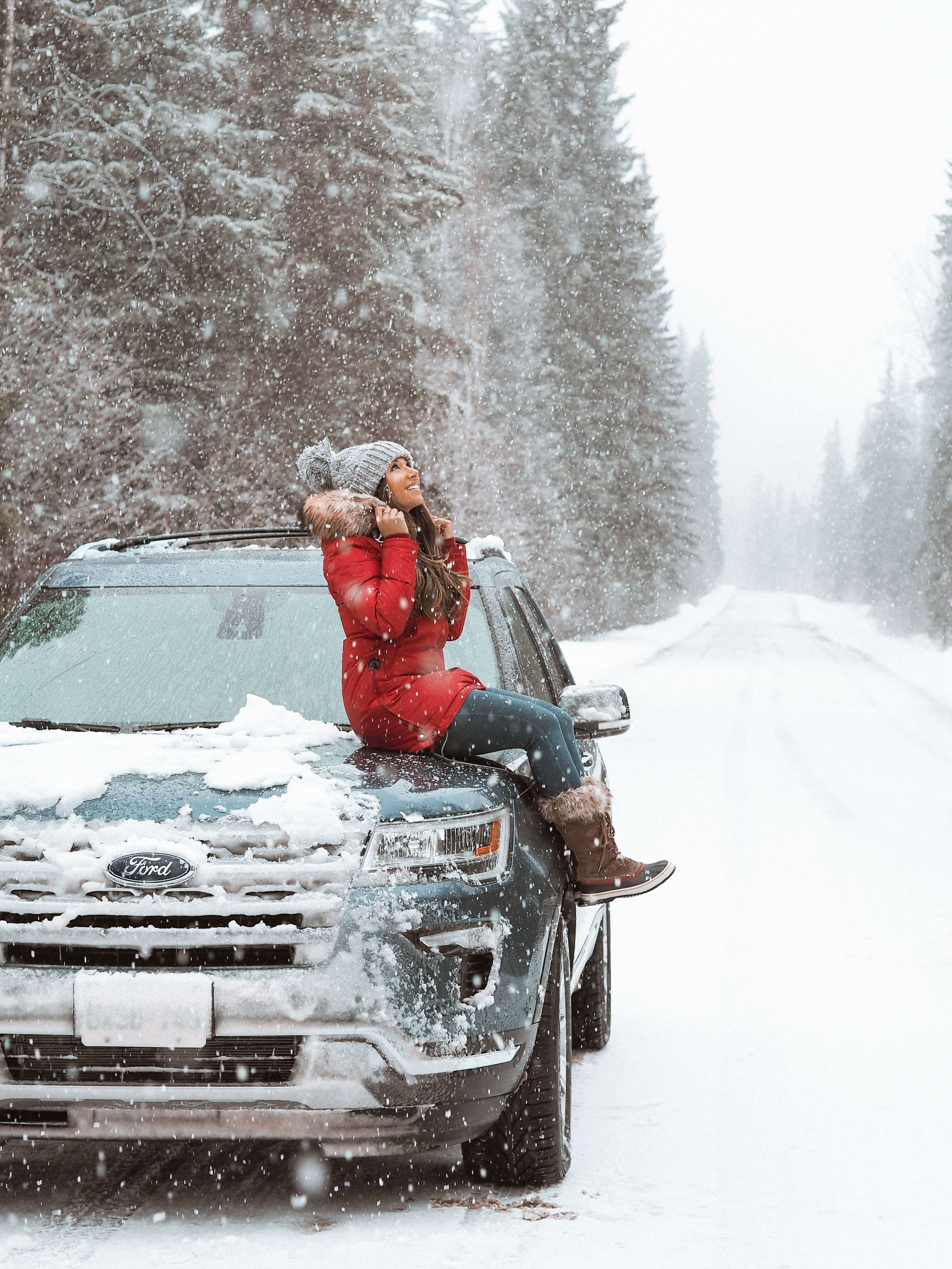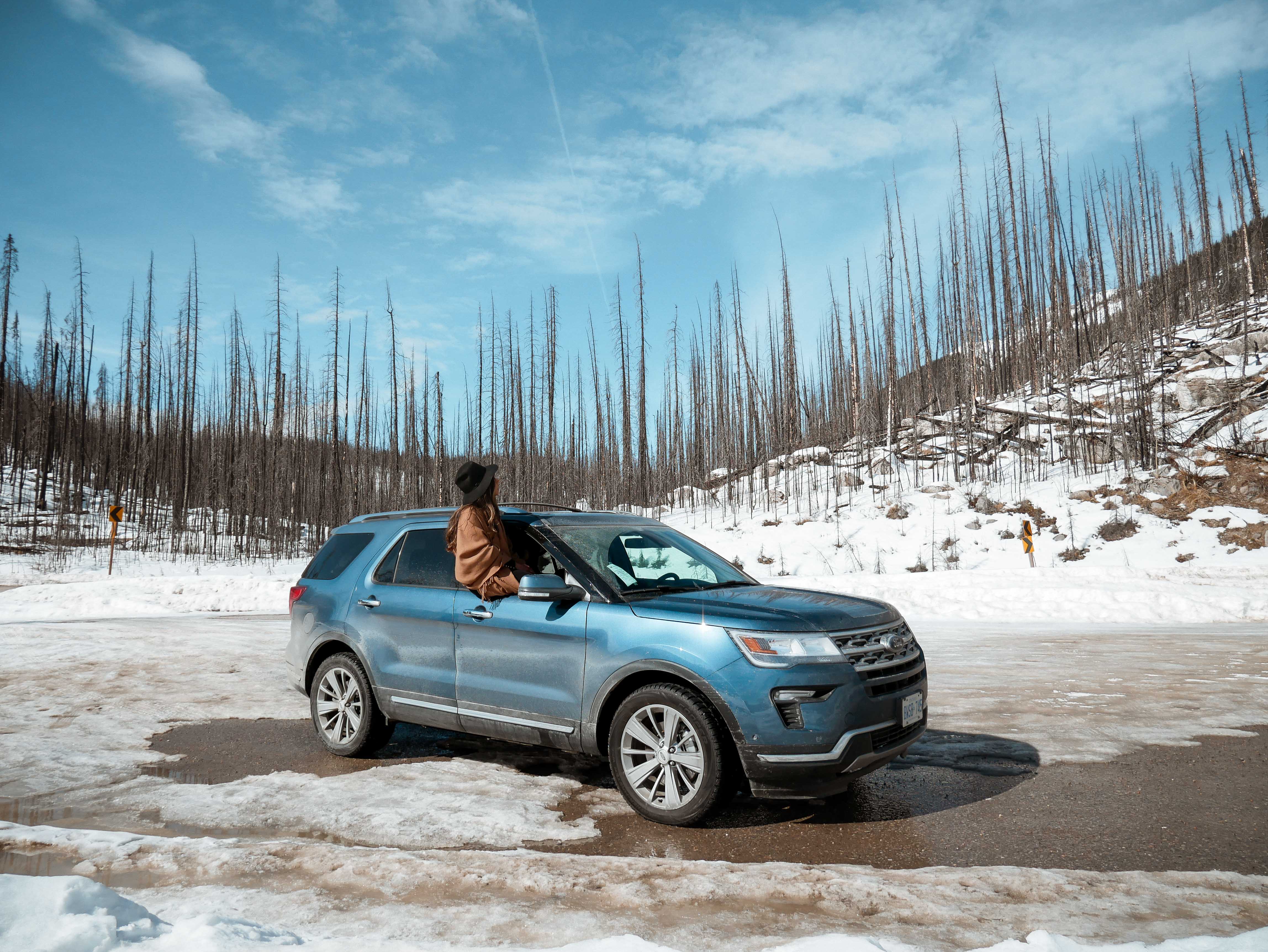 How to get from Vancouver to Jasper
The route from Vancouver to Jasper is actually really straightforward, and it's a beautiful drive. It takes around 8-9 hours, depending on how much you stop, traffic and weather conditions. The total km from Vancouver to Jasper is 800km. For our 3 days in Jasper, our total mileage was around 2,000km.
I absolutely love the journey and there are so many nice places to stop, stretch your legs and take in the view. We set off at 7am, and managed to reach Jasper by 4pm so we got there in time for sunset. You do lose 1 hour too when you cross the Alberta border so take this into account.
Make sure you check weather conditions before you go. Drive BC is a good site when you're in BC, and 511 Alberta when you cross the provincial border after Mount Robson. It's a requirement to travel with winter tires between October and April, and make sure your car is prepared for the weather as it can change so quickly!
DIRECTIONS: From Vancouver, take Highway 1 (East), and follow the highway to Hope. Then, take Highway 5 (Coquihalla) all the way to Tete Jaune Cache. Here, the road will split off, and you continue onto Highway 16 East / Yellowhead Highway to Jasper. You'll pass towns like Merrit, Kamloops, Cleawater, Valemount, and Mount Robson on your way.
If it's very snowy, i'd suggest taking Highway 1 from Hope to Kamloops, instead of the Coquihalla Highway 5. Highway 5 is the fastest, but the elevation is higher so it experiences more severe weather conditions and road closures are common. Highway 1 is a lot lower and isn't as exposed, so this is a good alternative.
I highly recommend stopping off at Mount Robson if you have time. The mountain is really beautiful and there's a parking lot to pull in and take pictures. There are also some amazing hikes from here.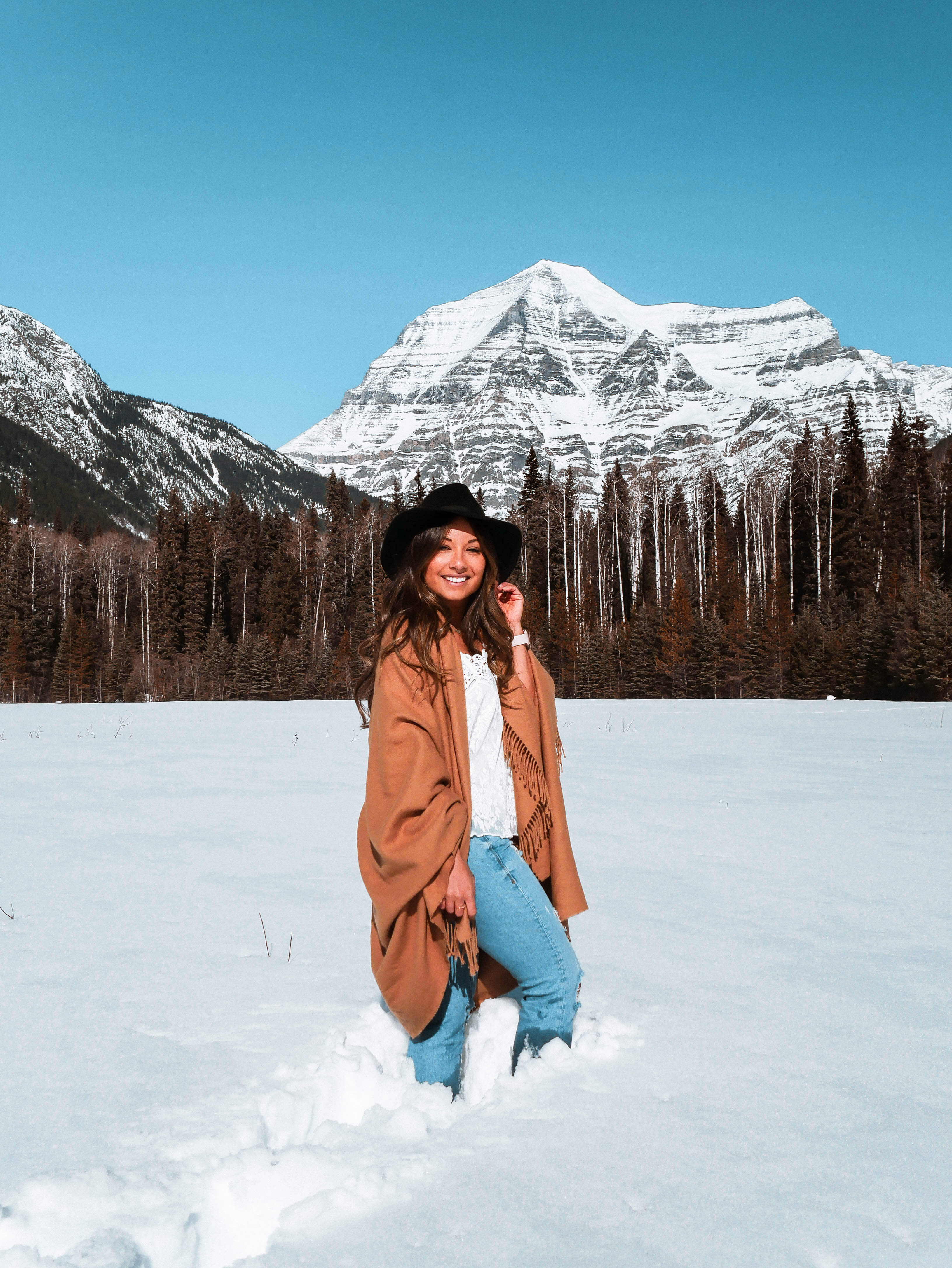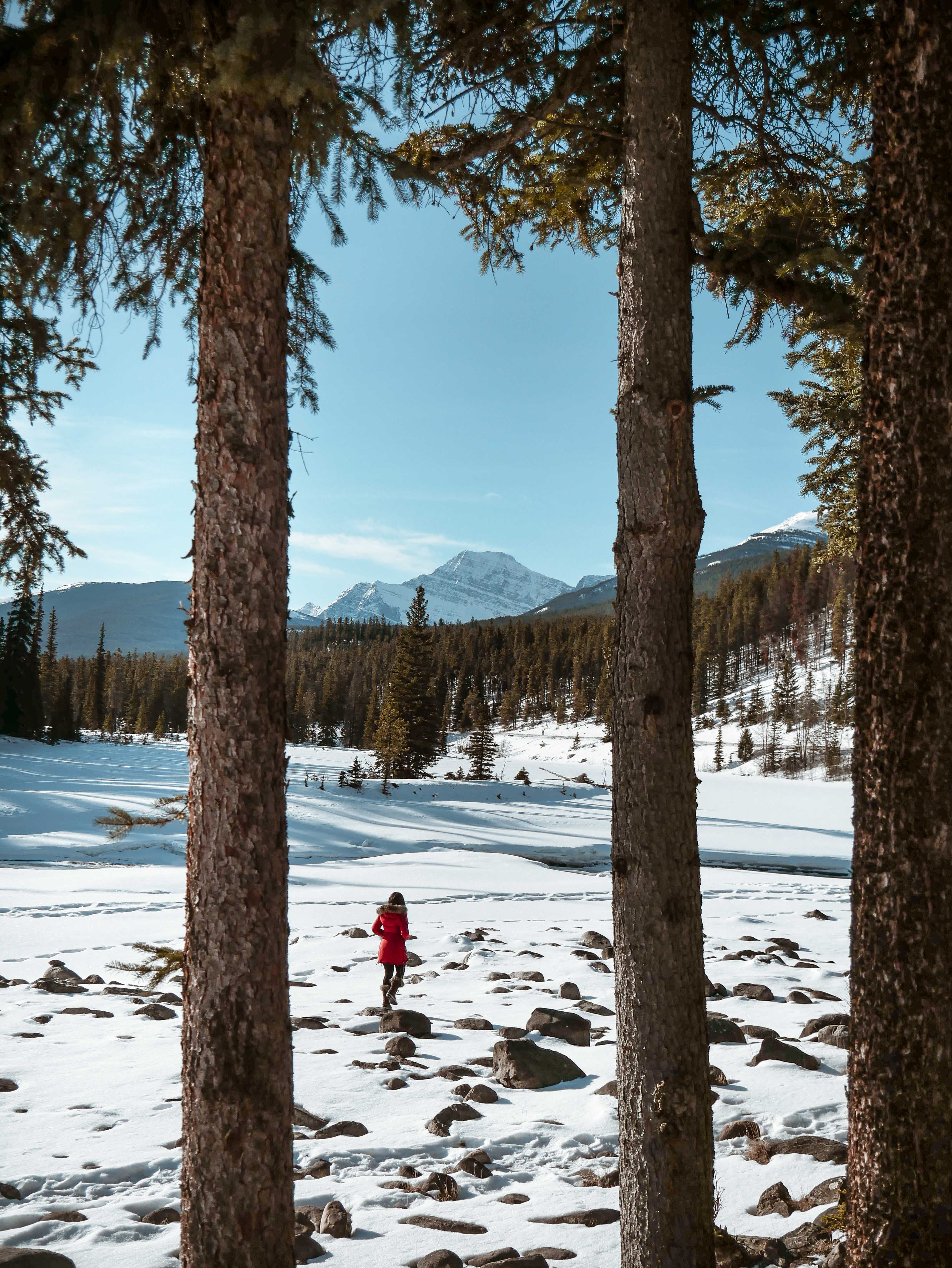 Where to stay in Jasper
There are a number of hotels and lodges in Jasper to choose from. The main accommodations are all in the town, however, there are a few places a bit further out of town as well as campgrounds to choose from. There is also a Hostel in town too for more budget accommodation.
Hotels
Hotels are much cheaper in the winter/spring time than in summer, which is peak season. Most of the accommodations are quite rustic and characterful, and some more old-fashioned than others, but they're all pretty nice. We stayed at the Marmot Lodge, which is right on Connaught Drive and had everything we needed. I've also heard wonderful things about the Fairmont Jasper Park Lodge.
Campgrounds
There are a few campgrounds in the Jasper area, and although most of them are closed during the winter season, Wapiti and the Whirlpool Winter site remain open. It might be a little cold to camp with a tent, but with an RV it would be very doable. We stayed at the Wapiti campground last Autumn as we wanted to experience camping in the Rockies, and it was such a great site. It had electricity, showers, proper toilets, firepits + firewood, and drinking water. It's right by the river and we actually caught the most amazing Northern Lights show right from our camp spot. The Whirlpool Winter site doesn't have electricity or showers but it is lower in price. Find more info on winter camping here.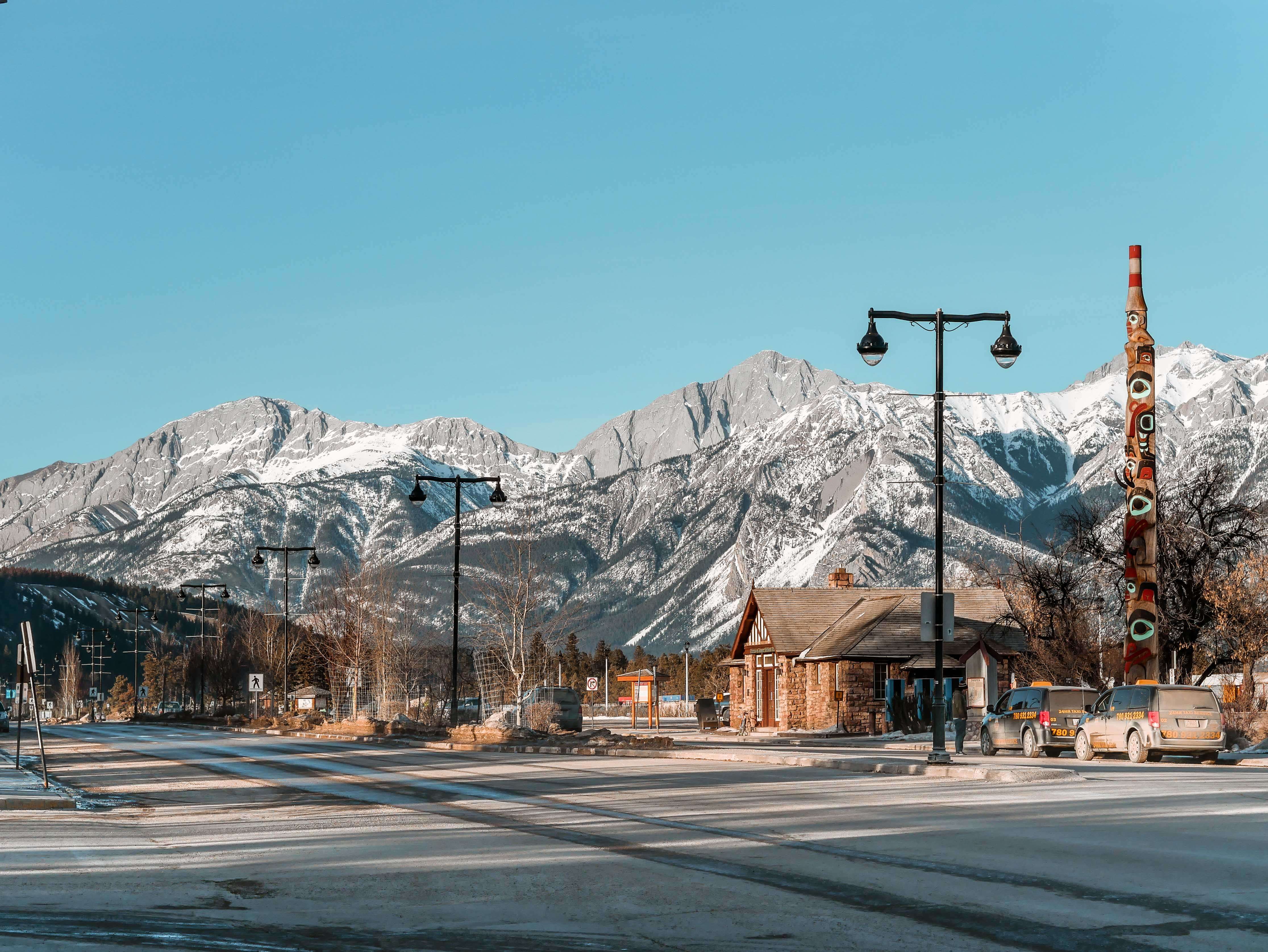 If you're searching for a snowy getaway, I highly recommend spending 3 days in Jasper in winter or spring. The Rocky Mountains are such a beautiful part of Canada and road trips are always so much fun! And if you're planning a summer trip to the Rockies, don't forget to check out my 7-day road trip guide that I created last year that covered Yoho, Banff & Jasper. Hope you guys enjoyed this post and let me know if you have any must see's/do's for a Jasper trip!!