If you know me, you'll know that I have a massive sweet tooth and chocolate is always my weakness. I've developed such a love for dark chocolate in the last couple of years, partly because the milk chocolate here in Canada is so rubbish, but also because i've found that dark chocolate is much less moreish which means I eat a lot less of it but still don't feel like i'm being deprived.
Matt and I started a massive health kick a couple of weeks ago as we realized that over-indulging and polishing off a big bar of chocolate over Netflix was becoming a far too regular occurrence. We've been super disciplined so far and I feel great for doing it, but my sugar cravings have been so real it's ridiculous! I also never like to cut something out completely, especially if it makes me miserable (and cutting out chocolate definitely does), and I think there's nothing wrong with the occasional treat especially if it's in moderation.
I used to make healthy sweet snacks quite regularly, but i've been slacking recently so it was nice to start making recipes again! I wanted to make a snack that's small enough to satisfy my sweet tooth, light enough that it won't completely cancel out how well i've been eating, and simple enough to put together with minimal ingredients. The recipe for these dark chocolate snack bites is super easy but they're so satisfying and you can adapt the ingredients depending on whatever you have in your pantry. I used a mix of cashews, almonds, coconut flakes, pumpkin seeds, banana chips, and dried berries, but you can get creative and add whatever you like.
I recommend using a 70% or 80% dark chocolate, and you can make the chocolate disks as small or as large as you like. Dark chocolate is much healthier than the milk or white kind, and we've all heard about its great health benefits (as well as the fact that it helps to release feel-good endorphins), so a little bit of dark chocolate in your diet really isn't all that bad.
Next time I think I might try using a flavoured dark chocolate - such as sea salt or mint - to mix things up a bit, and maybe even sprinkle a tiny bit of granola on top for some extra crunch. This is a great treat for after dinner as it's not too much of an indulgence but it'll still curb any sweet cravings you have, plus, they taste amazing! I hope you enjoy this recipe as much as I did, and if you give it a go let me know how you get on in the comment box below 🙂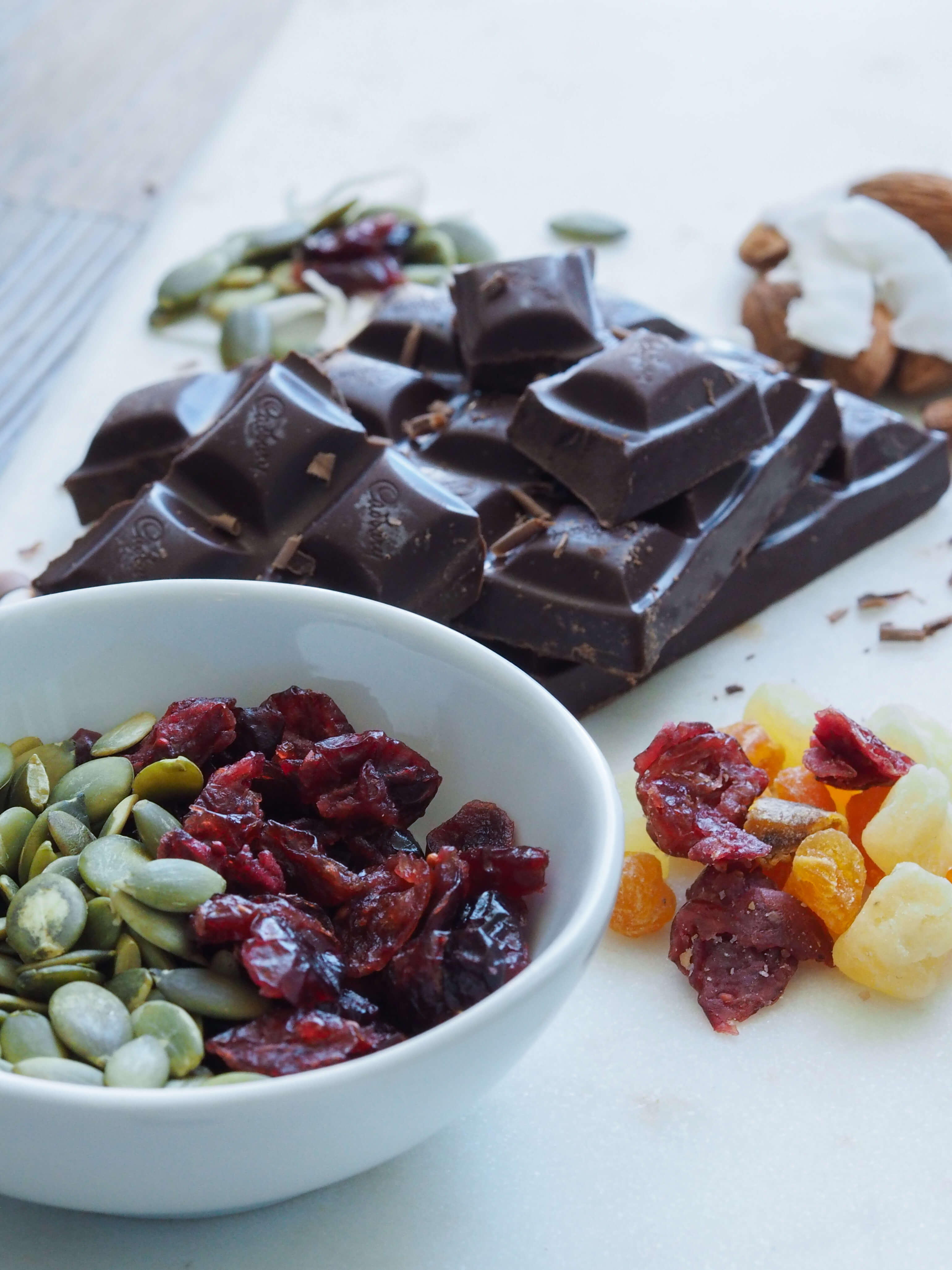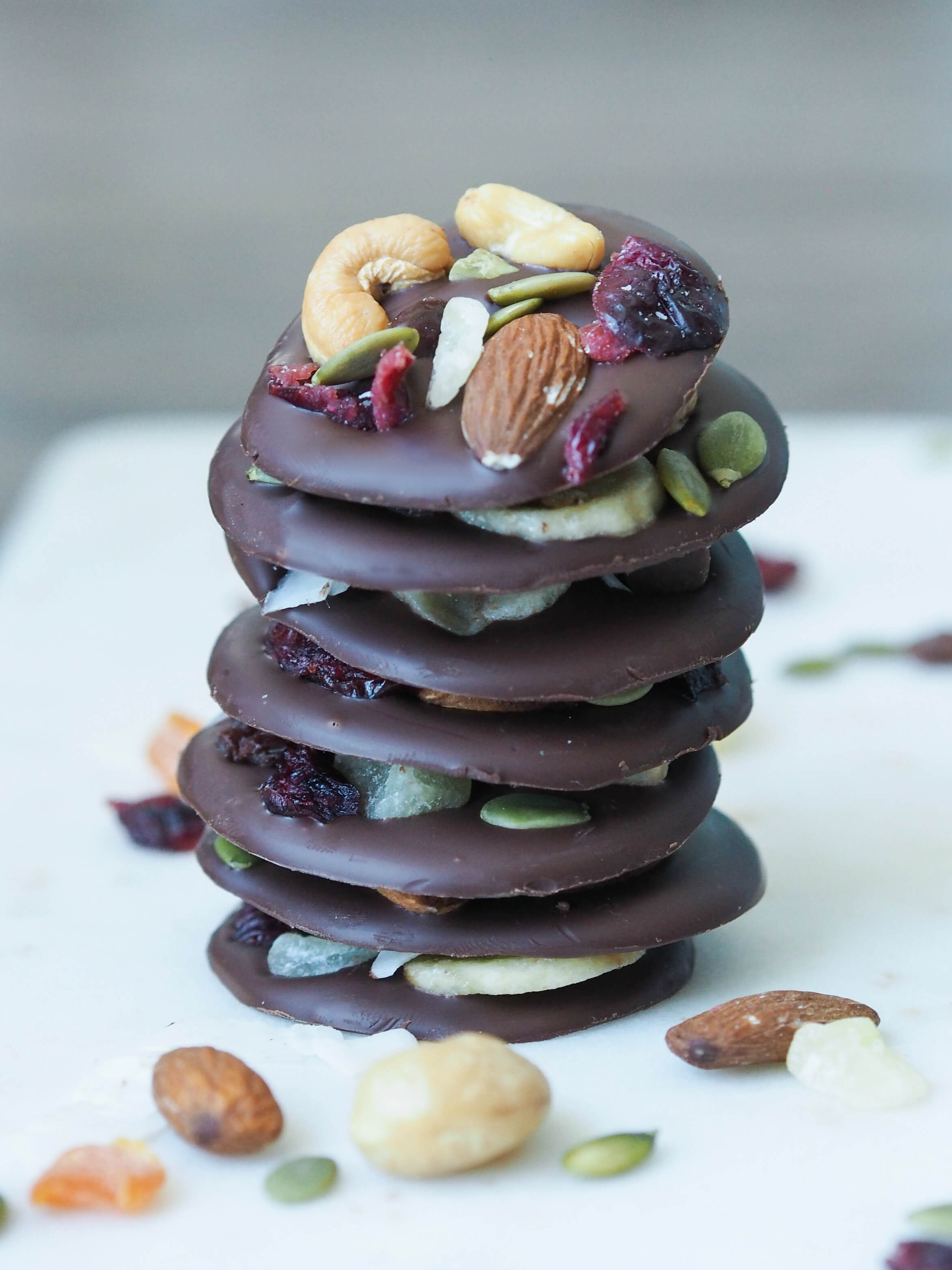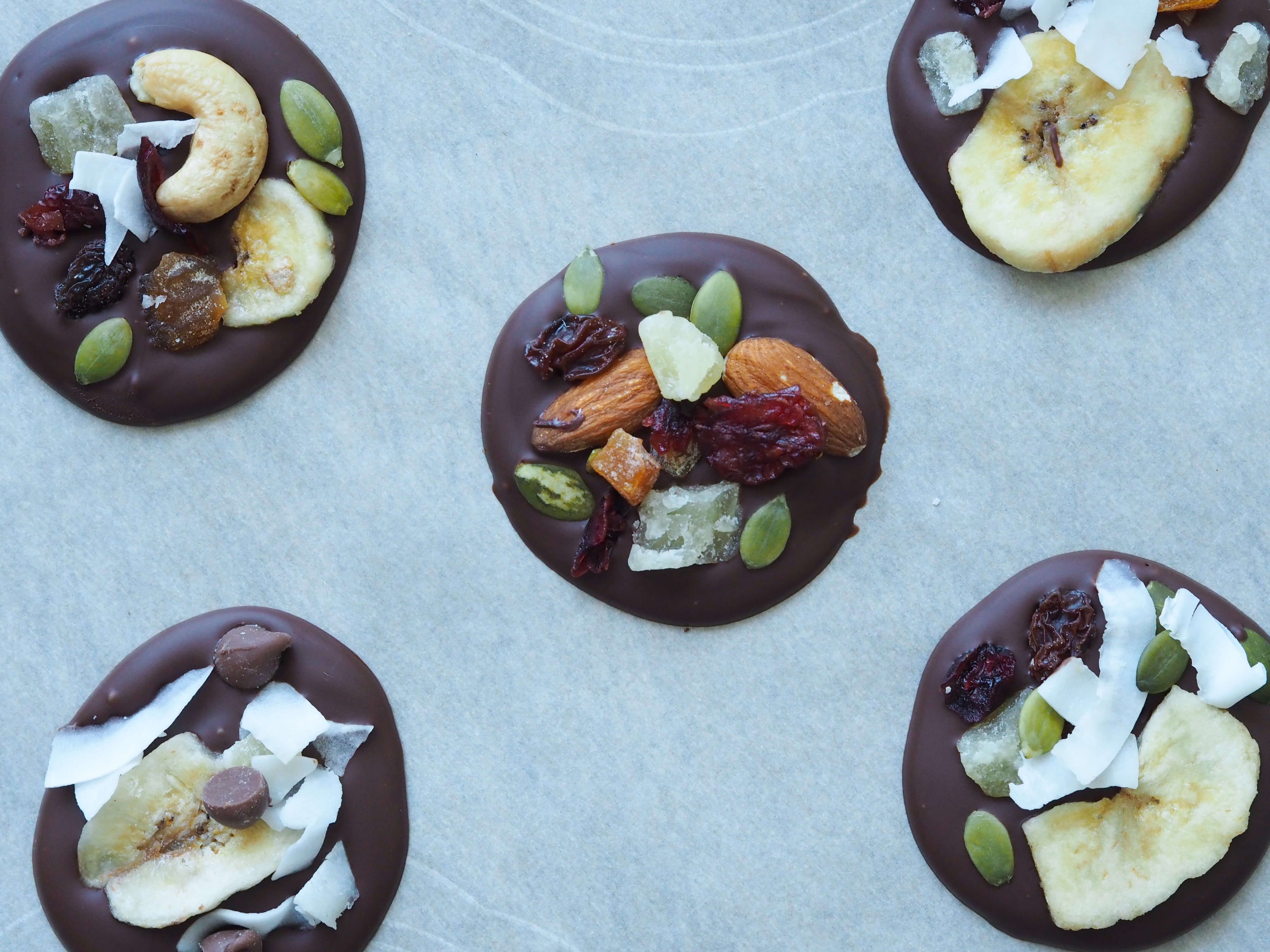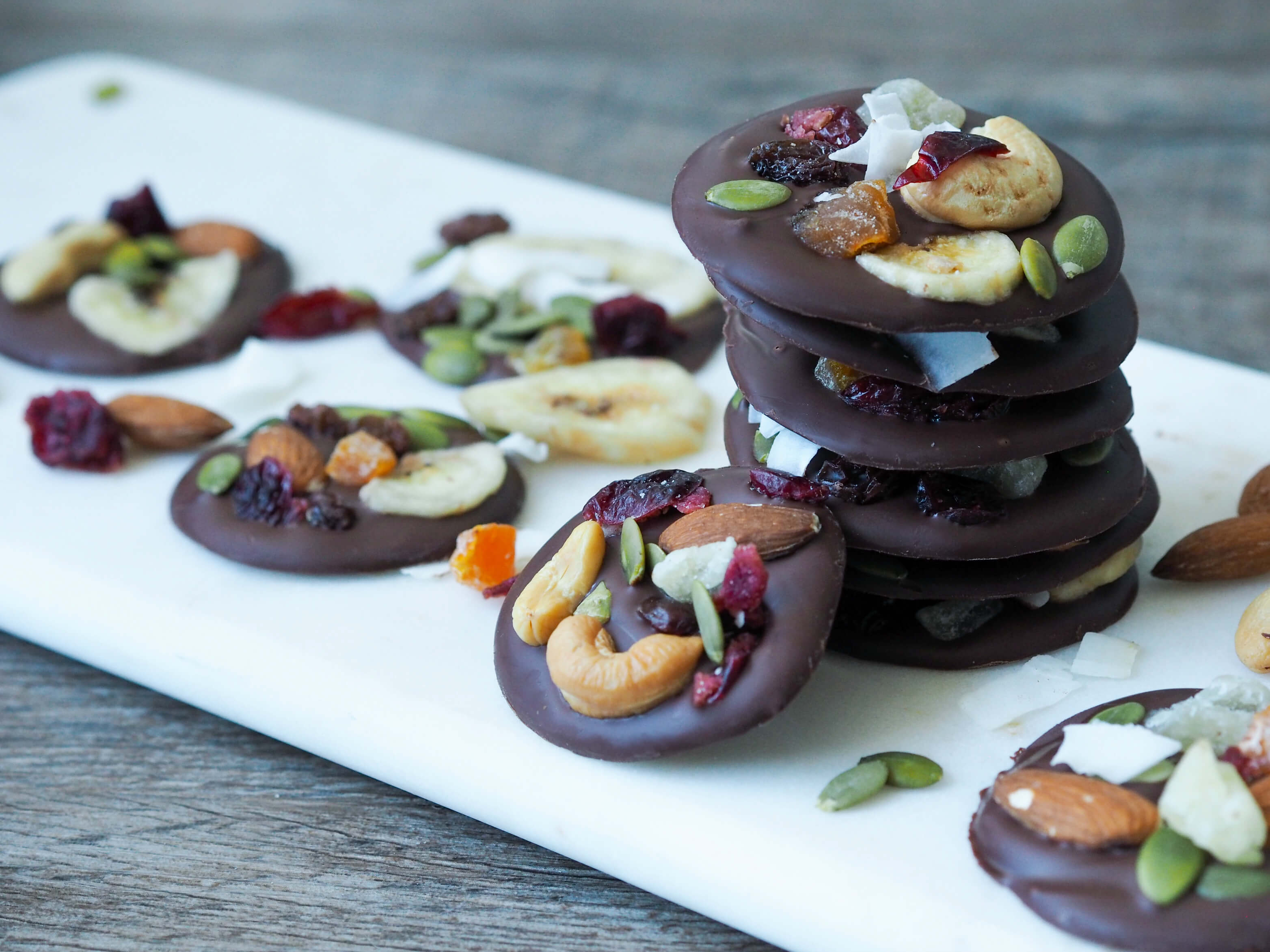 Dark Chocolate Snack Bites
Ingredients
Ingredients
150

g

dark chocolate

70%

Assorted dried fruit & nuts
Instructions
Break up the chocolate into small pieces and put in a microwave-safe bowl, and microwave for 60 seconds. Stir, and microwave for another 30 seconds, or until the chocolate has completely melted.

In the meantime, lay out a sheet of baking/parchment paper on a baking tray.

Scoop out spoonfuls of chocolate onto the baking paper, making a small disk shape. Make the bites as thick or thin as you like.

Decorate with an assortment of dried fruit, nuts, coconut flakes, pumpkin seeds, or whatever else you fancy.

Place in the fridge for 15 minutes or until the chocolate has set.
Notes
Use flavoured dark chocolate (like mint, orange, or sea-salt) to mix things up a bit.