When I'm packing for a trip, one of the things I find most difficult is deciding on which toiletries and beauty products to take with me. I'm constantly experimenting with different skincare, haircare and beauty products and I like mixing up my potions depending on the condition of my skin and how I'm feeling.
However, that just means it's hard to decide on a select few products to take with me when I go away. I also love my toiletries in general, but unfortunately, luggage limits exist which means you can't take your entire cupboard of products with you (if only), so you've got to be selective and choose wisely.
One of my best hacks is to buy small, travel-sized tubs and fill them with my favourite products. Doing that means you're not lugging around lots of heavy bottles and you don't risk breaking them, and I find it helps to save a lot of space and weight. But with that said, you still have to be selective and choose products that are going to work for your skin in the particular climate and place that you're travelling to. For our Bali trip, I mostly went au naturel with my make-up but I did try to stick to a solid beauty routine while we were there to keep my skin in the best condition possible.
I focused on products that would deeply hydrate, as even though you tend to sweat a lot on a tropical holiday, your skin also gets severely dehydrated from sun exposure and constantly being in the sea. I also opted for lighter products - i.e., not my thick, heavy hydrating creams that I wear at night in the winter - as I wanted to hydrate but equally I didn't want it to feel too heavy in the heat or clog my skin and break out.
For my hair, since it's colour-treated I focused on products that would really hydrate and keep it as tangle-free as possible. I love beachy waves, but they only look good when they're semi-tamed so I tried to keep my mane as smooth as possible. I took a really great combination of products with me which I found really kept my skin and hair under control, so I wanted to share a few of my go-to beauty essentials for a tropical holiday and some of the key products that I used while we were in Bali.
Obviously, every skin type is different and what might work for my skin may not work for yours, but hopefully this might provide a bit of guidance if you're looking to freshen up your beauty bag or you're wondering what to take with you on a tropical trip!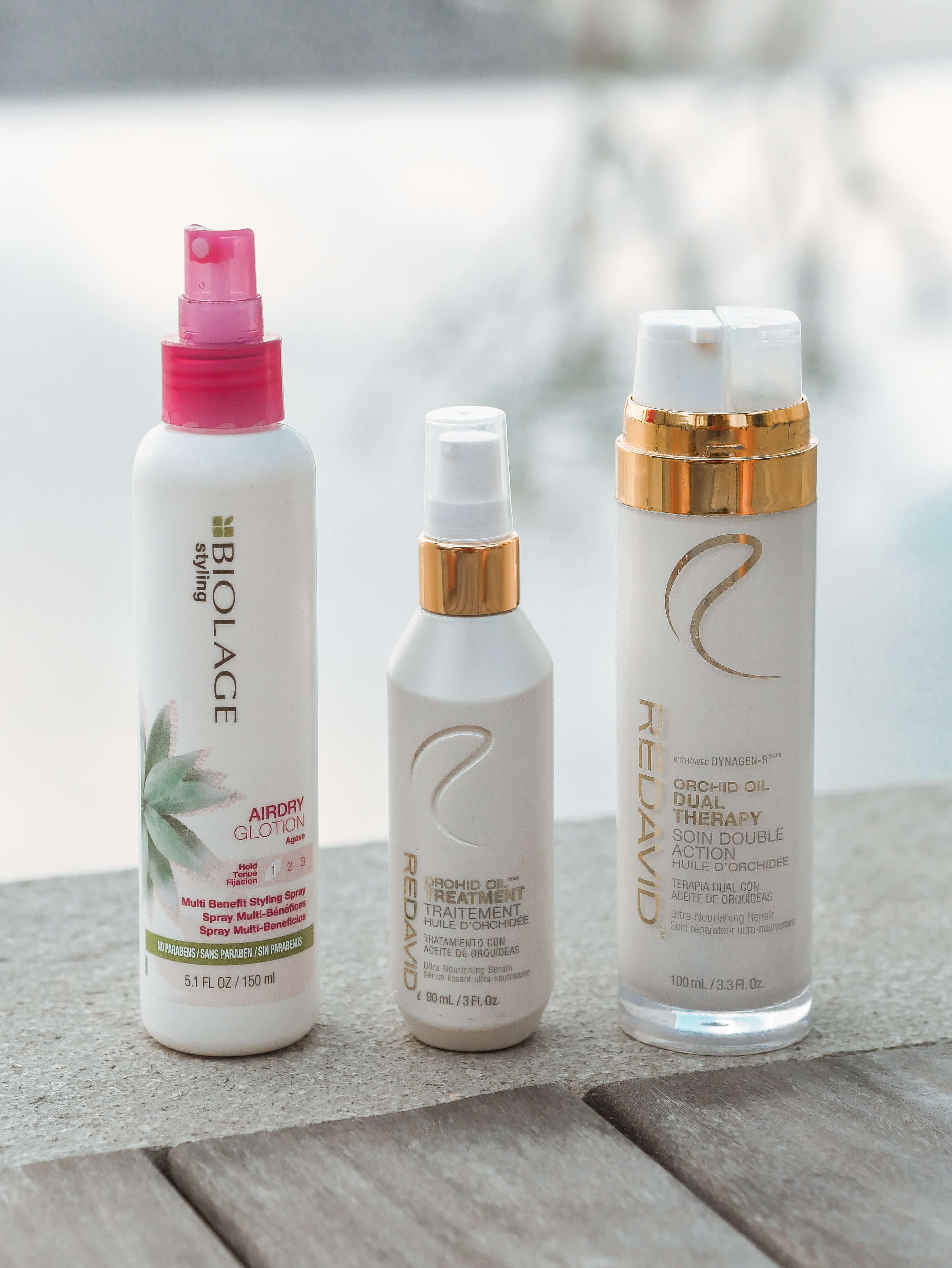 My Go-To Holiday Hair Products
Biolage AirDry Glotion
I used the Biolage AirDry Glotion for the first time when we were in Bali and it quickly became a daily essential for me. It's a styling spray that you use on wet hair, designed for when you leave your hair to air-dry, and it helps to fight frizz and keeps your hair nice and glossy. It smells lovely and fruity and works well to detangle, and I ended up using it all the time after i'd been in the pool or ocean and it really helped to control my mane! It's also Paraben and Mineral Oil-free which is great.
REDAVID Orchid Oil Treatment
If you follow me on Instagram, no doubt you'll have heard me talk about a brand called REDAVID. It's a local Vancouver haircare brand and i've been using their products for over a year and I love them. My favourite product and daily go-to is the Orchid Oil, this is one of their most popular products and it's the best smoothing oil i've ever come across. I use it on both wet and dry hair, it's great whether you're blowdrying or air drying and it works great to reduce frizz and smooth out any style. Smells lovely too!
REDAVID Orchid Oil Dual Therapy
Another REDAVID product, the Dual Therapy is fantastic for repairing hair and keeping frizz at ease. It has 2 pumps - one with a repairing cream, the other with the Orchid Oil. Use them both together and it helps to repair dry and damaged hair, mend your ends, detangle and boost shine. It's a must-have if you have brittle or coloured treated hair, and it's great for when you're blowdrying. I usually take both REDAVID products with me when I travel. The standalone Orchid Oil is great as it's in a small bottle and it's very portable, while the Dual Therapy is fantastic with the 2-in-1 cream and oil, so I tend to keep that in my cosmetics bag as the bottle is a bit bigger.
Daily Beauty Essentials
Swiss Line Force Vitale Aqua-Pure Clarifying Serum
I was introduced to Swiss Line earlier in the year for the first time and their products are fantastic. One of my favourite products is the Aqua-Pure Clarifying Serum, it's my go-to whenever any blemishes appear and it contains antibacterial agents to help battle skin impurities. I use it on any problem areas or blemishes and it helps to exfoliate, unclog pores and calm any irritation/redness. Travelling can really throw your skin off balance and when it's hot and sweaty that doesn't help, so I like to apply this at night and it helps to keep impurities under control. It's on the more expensive side but you only need a tiny amount and it works really well, so it's well worth it.
La Roche-Posay Hyalu B5 Serum
I've spoken about the
La Roche-Posay Hyalu B5 Serum
a lot on my blog and Instagram (read my full
blog post on it here
) and I swear by it. It's super refreshing and lightweight and it's packed with Hyaluronic Acid so it's super duper hydrating. Sun exposure always dries my skin out so I like using the Hyalu B5 as it's soothing and gentle but really helps to rehydrate. It also feels amazing on your face after a day of being in the ocean or diving, and it's suitable for sensitive skin. I apply it at night time or when my skin feels a bit sensitive.
La Mer "The Moisturising Soft Cream"
If I had to pick an all-time favourite moisturiser, it would probably be this one. The Moisturising Soft Cream by La Mer is an absolute dream and it makes your face look so hydrated, radiant and smooth. Having learned more about the history of the brand and the cell-supporting Miracle Broth™, i'm even more obsessed with La Mer, as their products all focus on bringing your skin back to its healthiest state, which is essential when you're travelling and your skin's being exposed to the sun, sea and salt. It's definitely more of a splurge product, but, if you ever want to treat yourself to an incredible beauty product, this would be one of my top recommendations.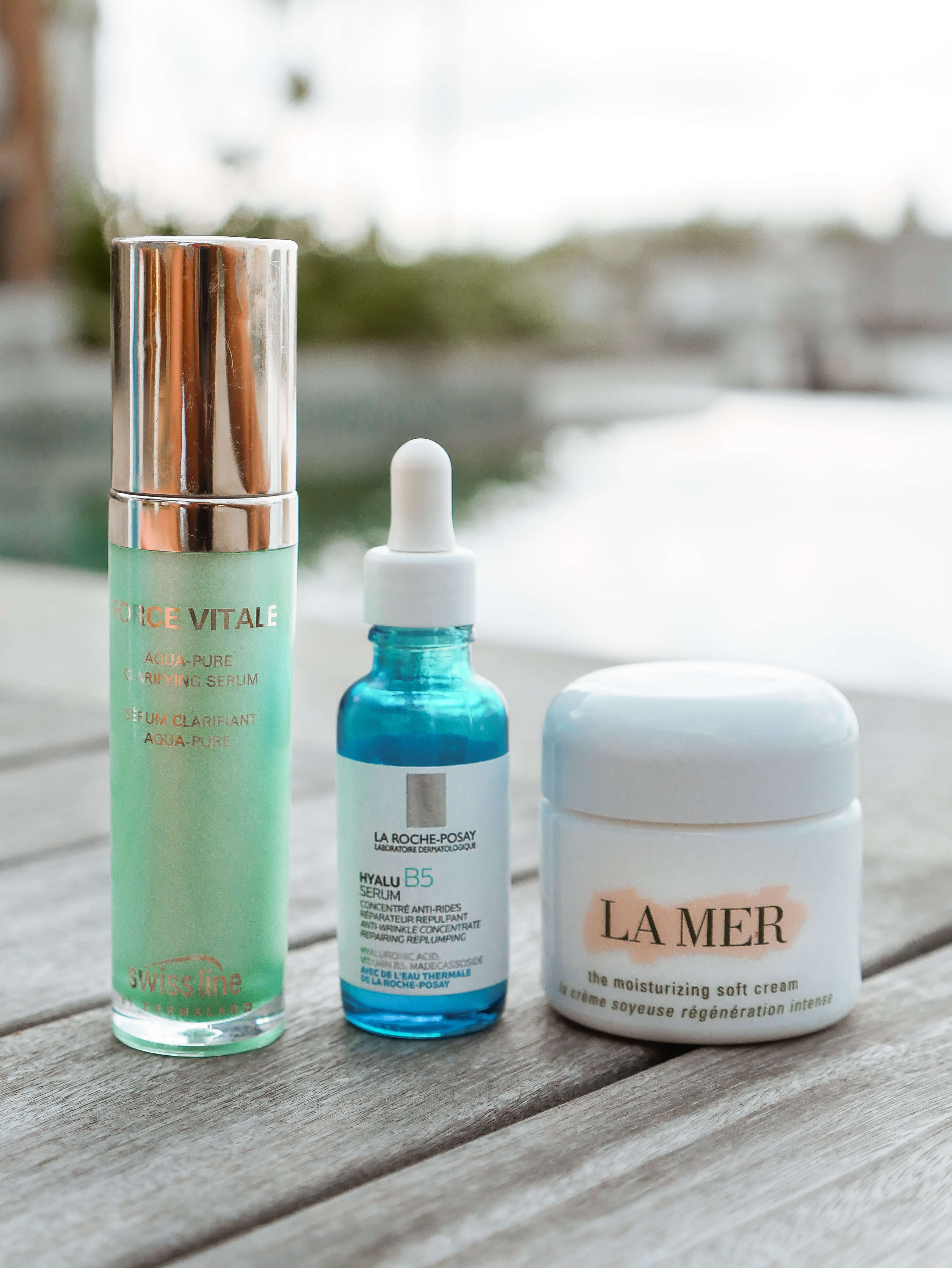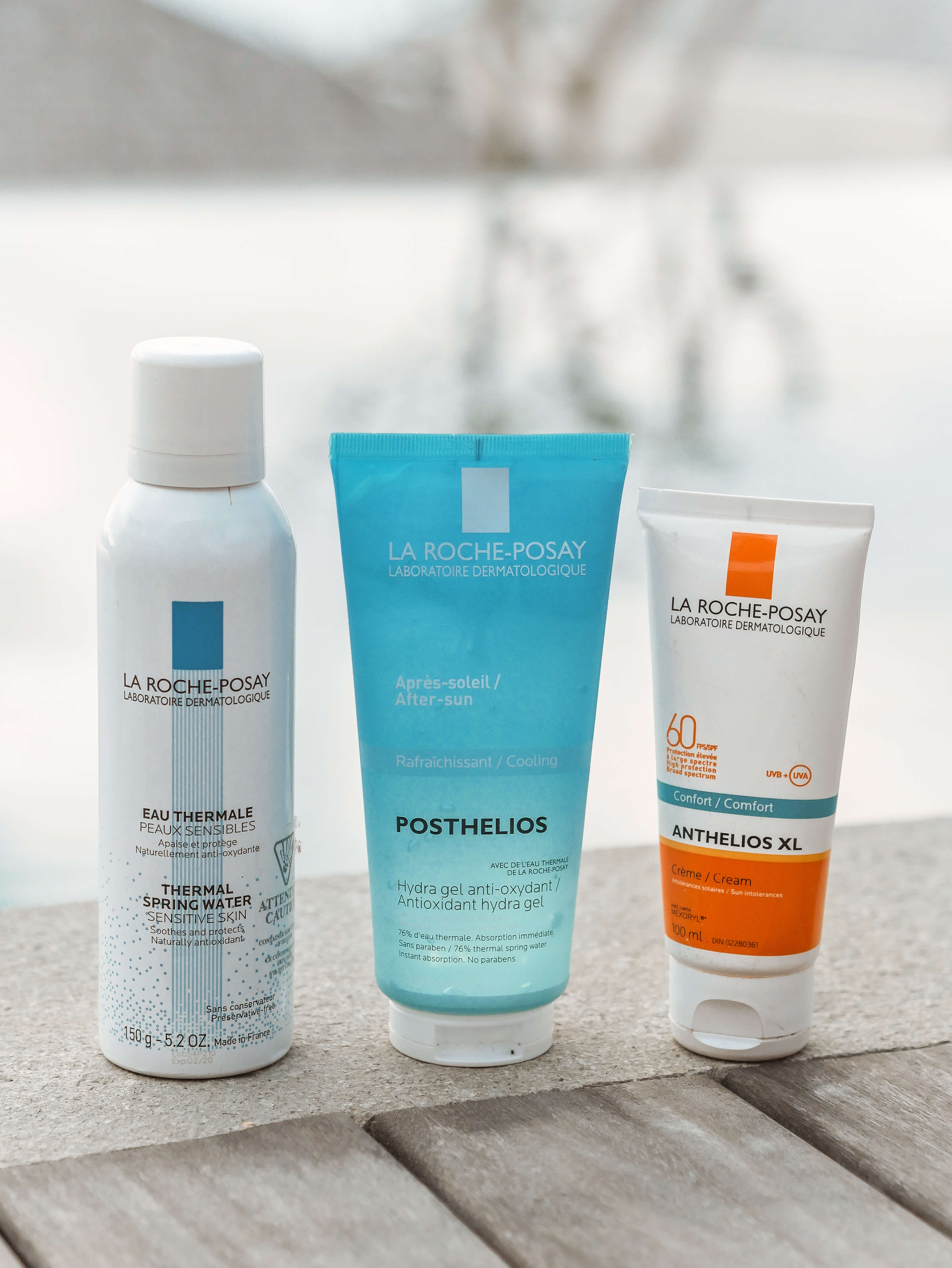 Sun Protection + My Favourite Skin Soother
La Roche-Posay Thermal Spring Water
I've always wondered when and where you'd use a Thermal Spring Water spray like this, and when we were in Bali, I found its purpose. I used this every day after we'd been in the ocean and I can't tell you how lovely and soothing it is. Especially after diving, my skin always feels a bit sensitive and dry, so the La Roche-Posay Thermal Spring Water spray feels so nice and refreshing. It's suitable for sensitive skin and it's now an absolute holiday essential for me. I also sometimes get eczema on my hands, and I find it really helps to calm it down if my skin is a bit irritated from salt water.
La Roche-Posay Anthelios XL Factor 60 Sun Cream
Sun cream is, of course, one of the most important beauty essentials for a tropical holiday. After years of slacking with sun protection, it's now at the top of my priority list as I want to look after my skin in the best possible way. I really like the La Roche-Posay Anthelios Sun Creams, especially the XL Factor 60, which is fast-absorbing and water-resistant. It stays on really well even when you're in and out of the ocean and a little goes a long way, and it's non-greasy so I find it doesn't clog my skin, unlike many other sun creams. It protects against UVA + UVB rays and it's also reef safe which is great.
La Roche-Posay Hydra Gel After Sun
Even if you use sun cream religiously, sometimes, the sun can get the better of you and you end up feeling a little bit tender and crispy. For those occasions, I love the La Roche-Posay Hydra Gel After Sun (can you tell I love this brand?!). It's really light and cooling and it works wonders in calming down the skin for when you need it. I sometimes find that if I go in the ocean straight after i've shaved my legs, they can get slightly irritated, so this is really soothing and it's nice and light.
Other products I love
Skinceuticals Physical Fusion UV Defence SPF 50 Face Cream
One product that I absolutely love that I forgot to include in the photos is the Skinceuticals Physical Fusion UV Defence Face Cream. Face sun cream is so important as sun damage is one of the biggest causes of premature aging and wrinkles, so I wear this every day in summer and when i'm away, and it provides a high level of protection against UVA + UVB rays. It's super lightweight and you only need a tiny bit, and it's not at all thick so make-up glides on over the top and you don't realise you're wearing it. It's also slightly tinted which I love (a lot of face SPFs have a white-tint to them which looks ridiculous on my skin) and it's suitable for sensitive skin.
Kerastase Discipline Maskeratine Smoothing Masque
The Kerastase Discipline Maskeratine hair mask is such a miracle product for dry hair. I use it once a week normally and twice a week when I'm in the ocean all the time, and it works wonders in taming frizzy hair and leaves your hair so smooth and soft. The results are instant and it's one of my holy grail hair care products. The sea always dries my hair out (and we were scootering around Bali so that also made my hair a little crazy!) so this was a lifesaver. I've used it for a year now and it's brilliant, you only need a small amount and I usually leave it on for 5-10 minutes.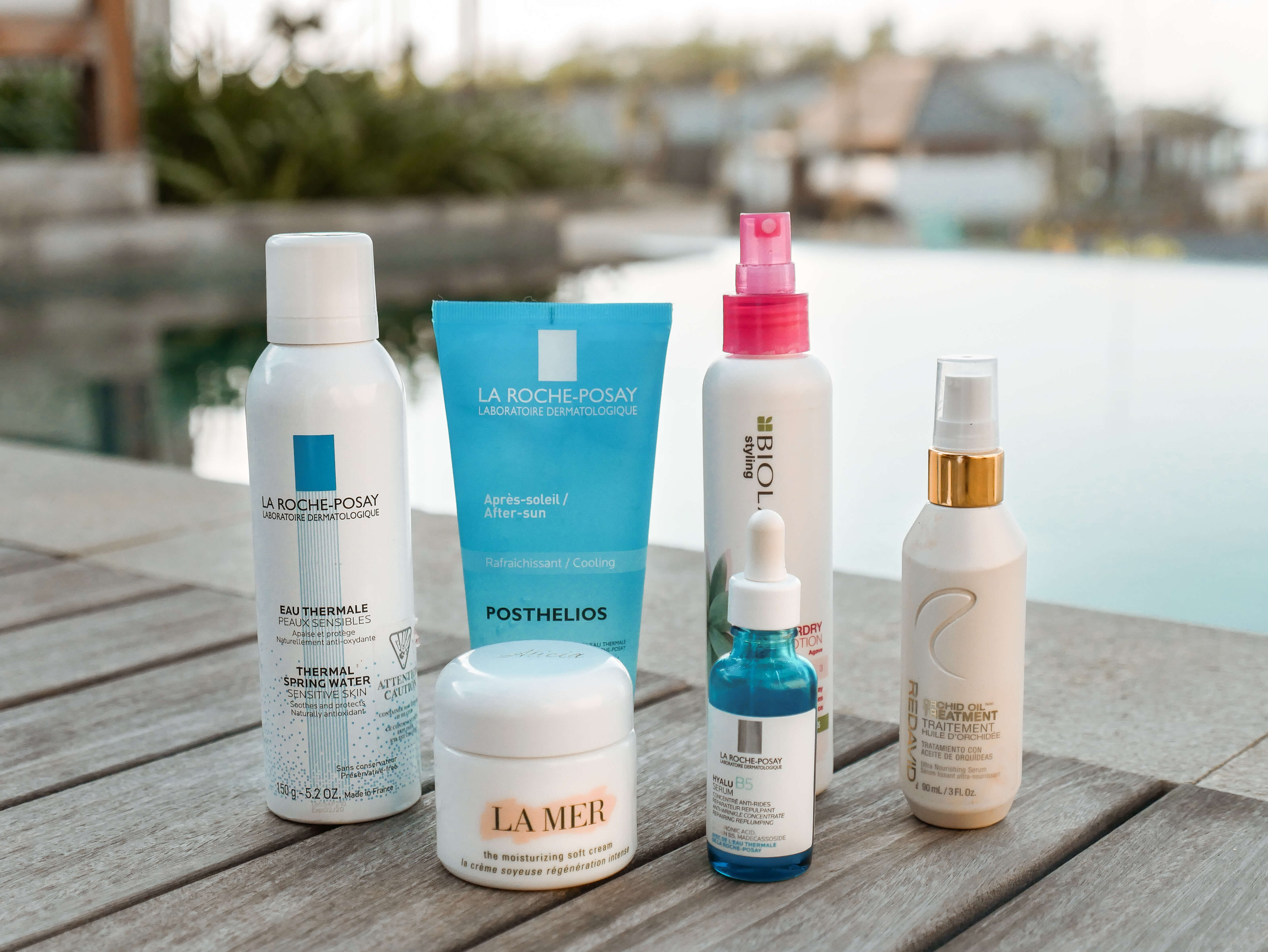 What are your favourite beauty essentials for a tropical holiday? Would love to hear your suggestions - drop me a comment below and i'll check them out!