Summer has arrived and it's without a doubt my favourite time of year, especially in Vancouver. I live for beach days and beautiful hikes and my cute summer wardrobe, and I feel like everyone is always extra happy and care-free when the sun is shining.
However, if there's one thing that we need to pay extra attention to in the summertime, it's our skin. Many of us assume that our skin only requires extra hydration in the winter months, but in actual fact, hydration is something that we really need to focus on in summer too.
While I love basking in the sunshine and working on my tan, I find the sun is extremely drying and you can easily end up with tired, dull looking skin rather than that beautiful summer glow. Over the last few years, I've really invested a lot into my skincare routine, and I've got to know some brilliant products and habits that help to keep my skin in a healthy condition. I've also partnered with La Roche-Posay for this post, and so I wanted to share some of my favourite products I've been using lately and my best tips to keep your skin hydrated and glowing in summer!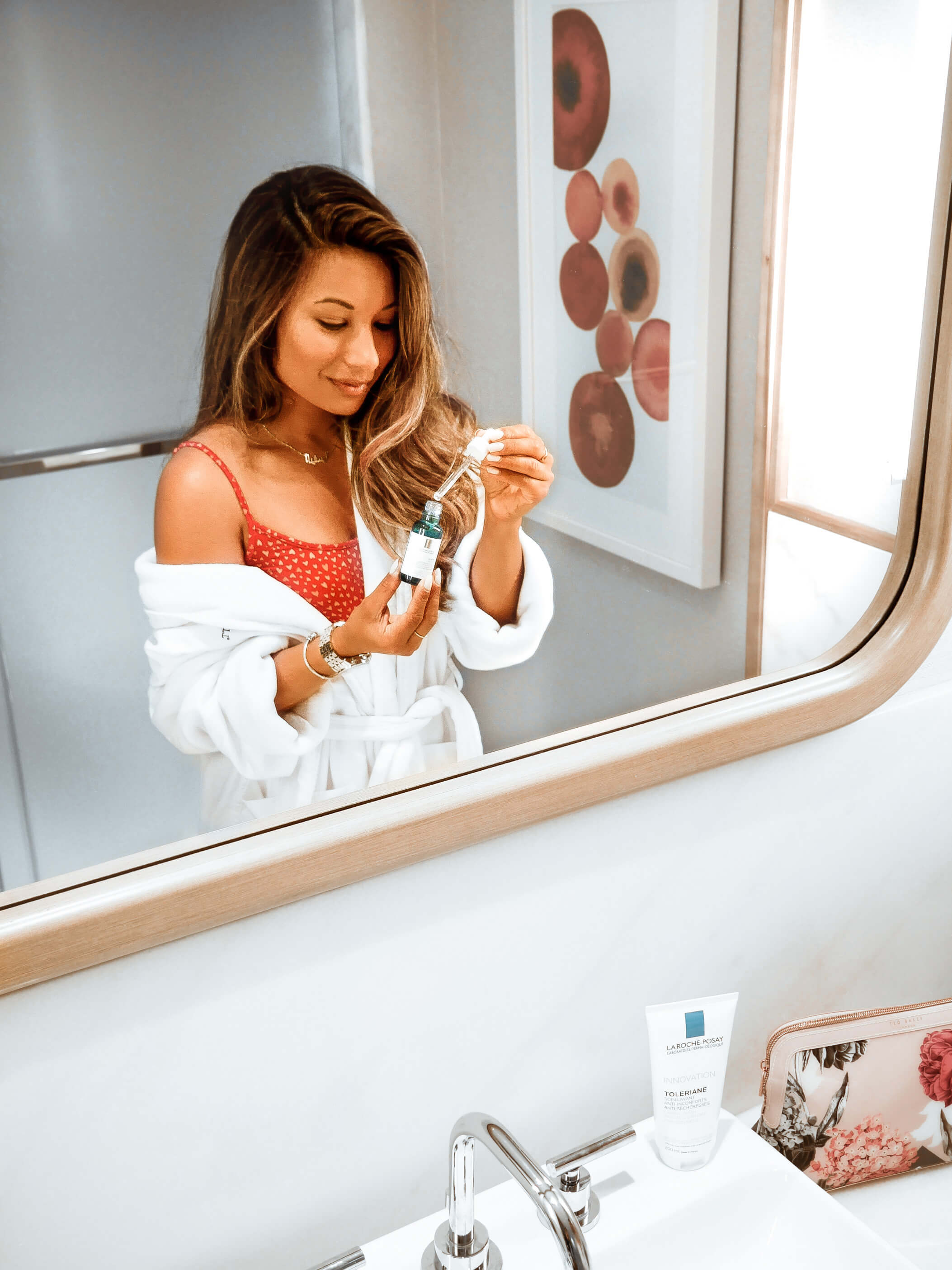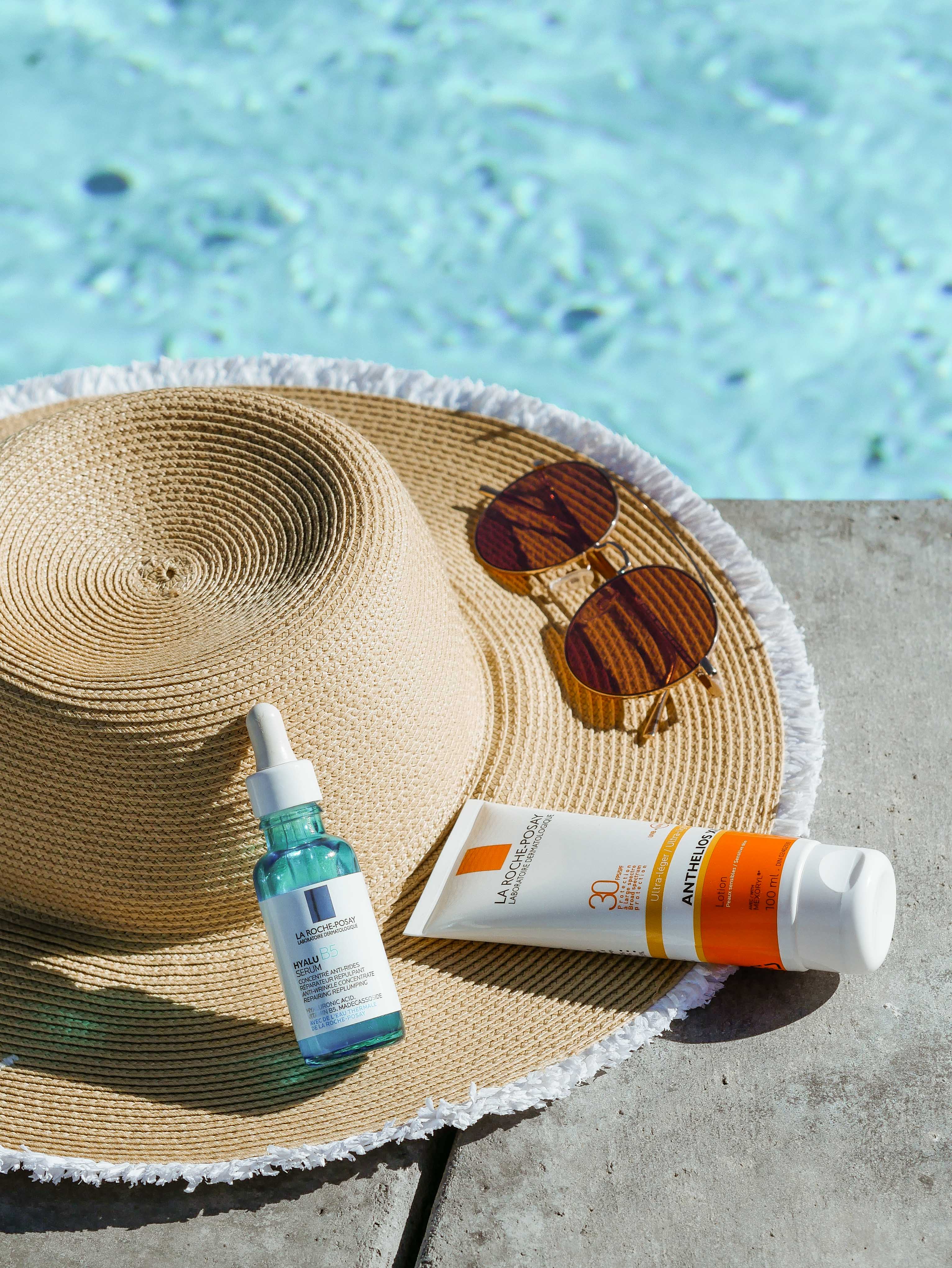 Eat well, sleep + hydrate
We often underestimate just how important nourishment, sleep and water are for our skin. The condition of our skin on the outside is usually a reflection of what's going on on the inside, so if you aren't feeding your body well with good food, you're not drinking enough water and you're not getting enough sleep, that will show in your skin.
I try to drink as much water as possible throughout the day and keep a big reusable bottle at my desk as a reminder. When I travel, I make a conscious effort to drink at least twice my normal daily amount, especially when I fly, and I find that when I'm dehydrated it shows in my skin almost instantly. That's because when we don't have enough water in our system, our skin begins to lose elasticity and dries out as the skin cells become depleted of water, which then gives the appearance of fine lines.
I also want to stress just how valuable sleep is for your skin. About 3 years ago I suddenly developed adult-acne, something I never experienced as a teenager and it really came as a surprise. I tried so many different products and finally a concoction of products that work for me, but one thing that made a huge impact was simply getting more sleep.
My acne came at a time when I was working myself to the ground and getting just 3-4 hours of sleep a night, and it was my skin that paid the price. My optimum now is 7 hours, and ever since I started prioritising sleep and going to bed at a reasonable time my skin has improved dramatically. The skincare products you use will always be far more effective if you're taking care of your body and you're healthy on the inside!
Get to know Hyaluronic Acid
One of my best tips to keep your skin hydrated and glowing this summer is to get acquainted with Hyaluronic Acid. Hyaluronic Acid is a powerhouse ingredient, and it plays a crucial role in skin health as it helps our cells to retain water. Hyaluronic Acid is actually produced naturally in our bodies, however, as we age, our body's natural levels decrease, which means our skin cells can't retain as much water. This then causes our skin to sag and fine lines and wrinkles to appear. When you use products containing HA, it penetrates the skin and helps your cells to stay more hydrated, it boosts skin elasticity, aids with tissue repair and provides a protective barrier over your skin to lock in moisture and maintain that healthy glow.
I've tried numerous Hyaluronic Acid products over the years, and it's only recently that I discovered one that I really love. It's the La Roche-Posay Hyalu B5 Serum, which I've been using for about 4 weeks now, and I can truthfully say it's my favourite HA product to date. I've always found others to be too tacky and sticky, too expensive or too thick, but the Hyalu B5 is perfect and I've noticed a huge difference in my skin. Since using the Serum, my skin has felt plump and nourished, and I love waking up in the morning with a natural glow to my face. I was noticing a few very fine lines appearing on my forehead and they'd be more prominent after sun exposure or when I was dehydrated, but they've smoothed out a lot since I started using the product. I apply the Hyalu B5 in a morning and at night, usually after my eye cream and before my moisturiser or night serum.
The product has a gel consistency, and while it feels slightly sticky at first, as soon as you distribute it around your face that stickiness disappears and the serum melts into your skin. It's not greasy or thick yet it's deeply nourishing, and it leaves your face feeling refreshed and smooth. It's also specifically designed for sensitive skin.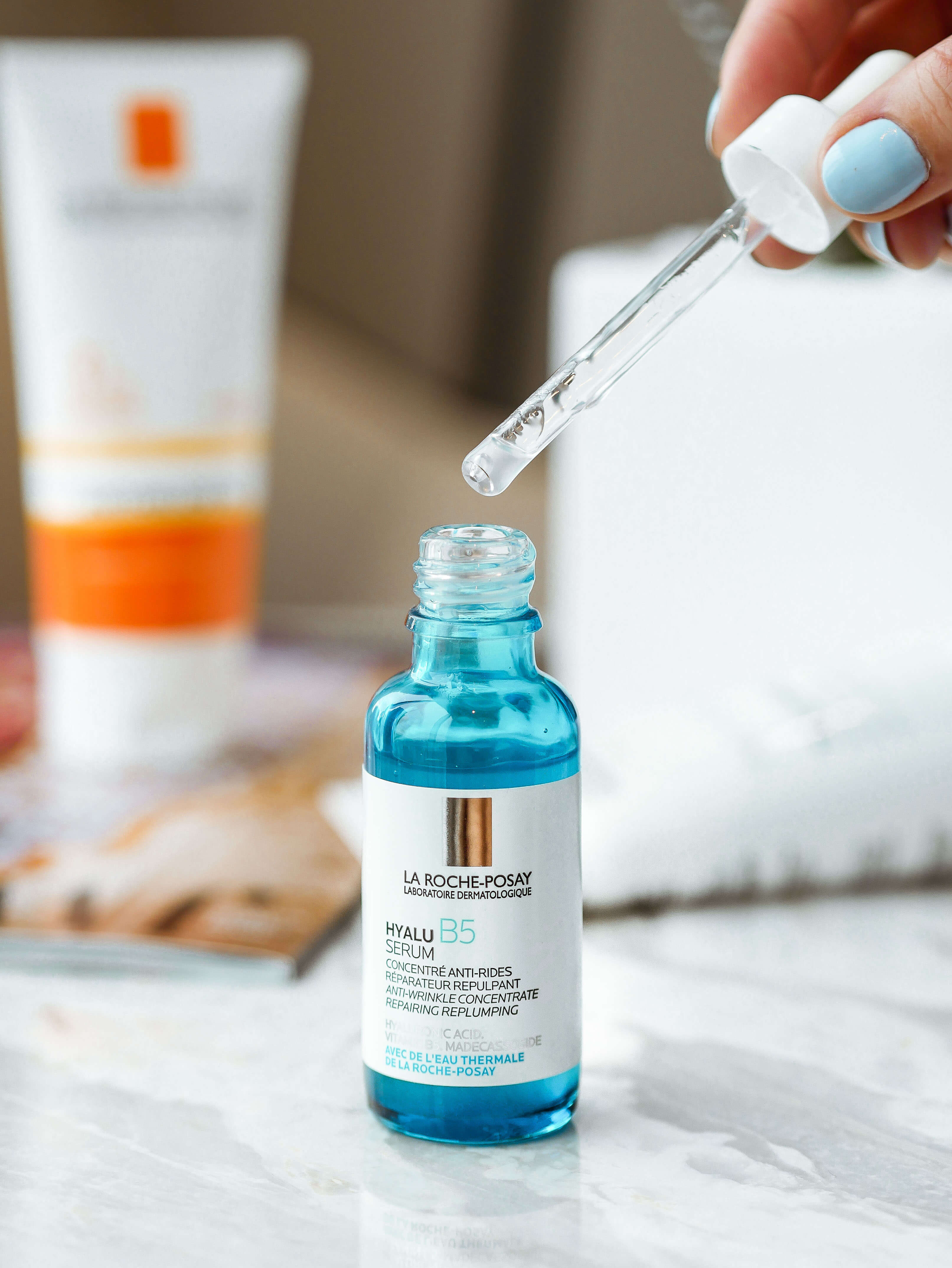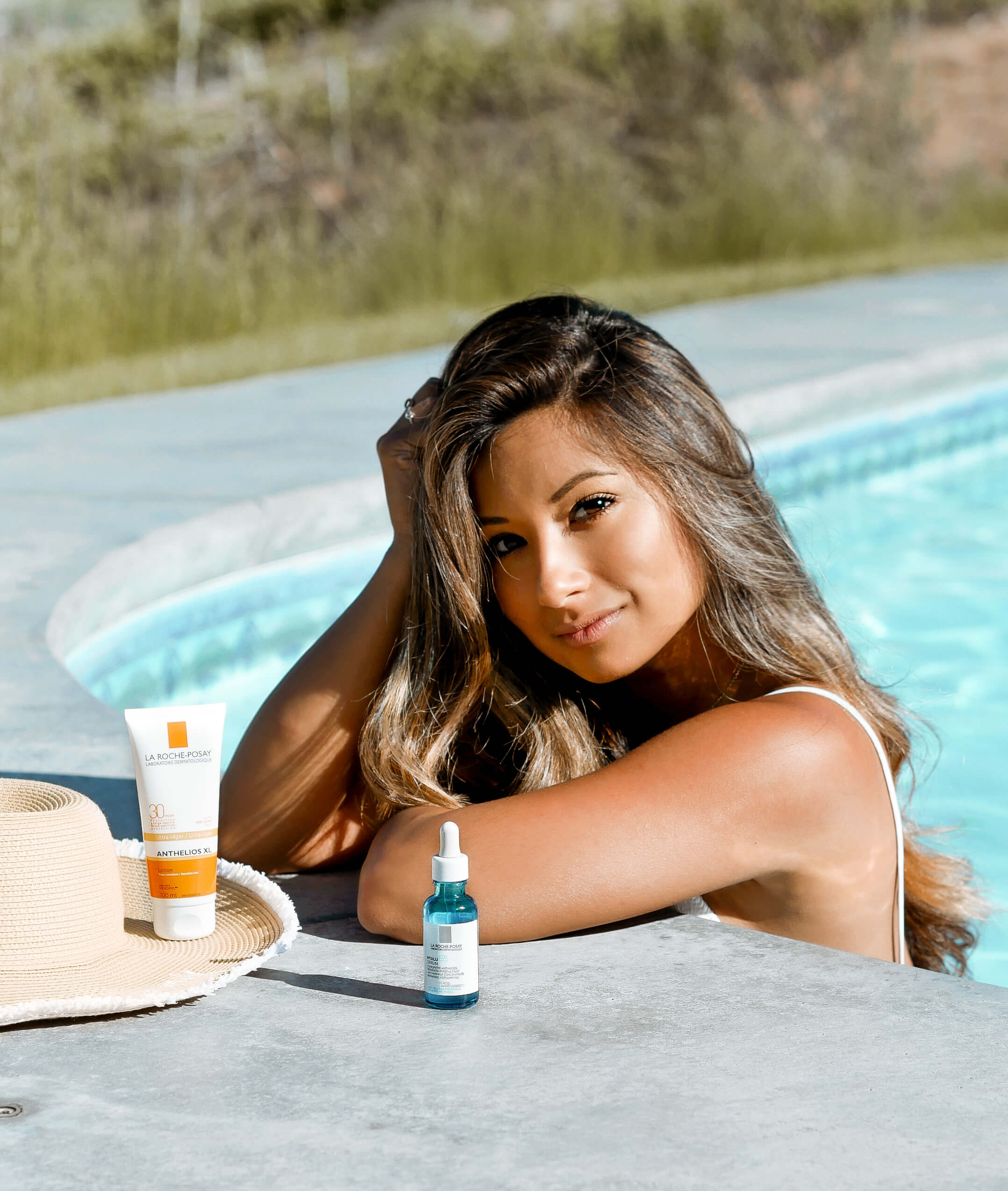 Use a good face SPF
If I'm completely honest with you, I never prioritised using an SPF until about a year and a half ago. Because i'm fairly dark skinned, it's rare that I ever burn, and so I'd simply forget to use SPF on a daily basis (bad, I know!).
However, after learning just how damaging UV rays can be for your skin and of course, the risk of skin cancer from not providing your skin with any protection, I decided it was time to get a bit more sensible with SPF and it's now a key part of my skincare routine.
According to the La Roche-Posay experts, it's been proven that UV exposure is responsible for 80% of visible signs of ageing on the face, which is huge. By wearing a good SPF (factor 30 or higher), you're almost 25% less likely to show signs of ageing and it helps to prevent pigmentation and sun spots, so it's well worth adding an SPF product into your routine.
I've been using the La Roche-Posay Anthelios XL SPF 30+, which is designed for face and body, and I've really liked using it so far. I used it generously on my recent trip to Oliver where the sun was super strong, and I found it light enough to wear under make up and it didn't leave any white streaks or a white tint to my skin (which often face SPFs do). It's suitable for sensitive skin and offers UVA + UVB protection which is very important.
My Favourite La Roche-Posay Products
I'm a huge fan of La Roche-Posay's skincare products (if you hadn't guessed already!) and the great thing about them is that they're recommended by dermatologists and are suitable for sensitive skin. I used to suffer a lot with eczema on my hands and arms, and I'd use products in the Lipikar range to calm down my skin so it's a brand I've used and loved for a long time.
As you might have gathered, the Hyalu B5 Serum is definitely one of my favourites, and I love how you can see results pretty much instantly. As I write this blog post, I'm actually sat on a plane and I have the Hyalu B5 Serum slathered all over my face, so it's something that I truly love and am happy to carry to the other side of the world with me!
The serum is actually made up of two types of Hyaluronic Acid, as well as Vitamin B5 which helps to stimulate the repair of damaged skin. Madecassoside is also a key ingredient, and it stimulates collagen production which is responsible for giving the skin its firmness and elastic quality. The Hyalu B5 is pretty affordable for a HA serum and costs $49. It's also recommended that you pair the Hyalu B5 Serum with the Hyalu B5 Anti-Wrinkle Repair Cream for the best results.
Aside from the Hyalu B5, I've been using the Toleriane Caring Wash every morning and night. The Toleriane line is designed for extra-sensitive skin, and I find it super gentle yet it lathers up nicely and leaves my skin feeling clean and fresh but not at all dry.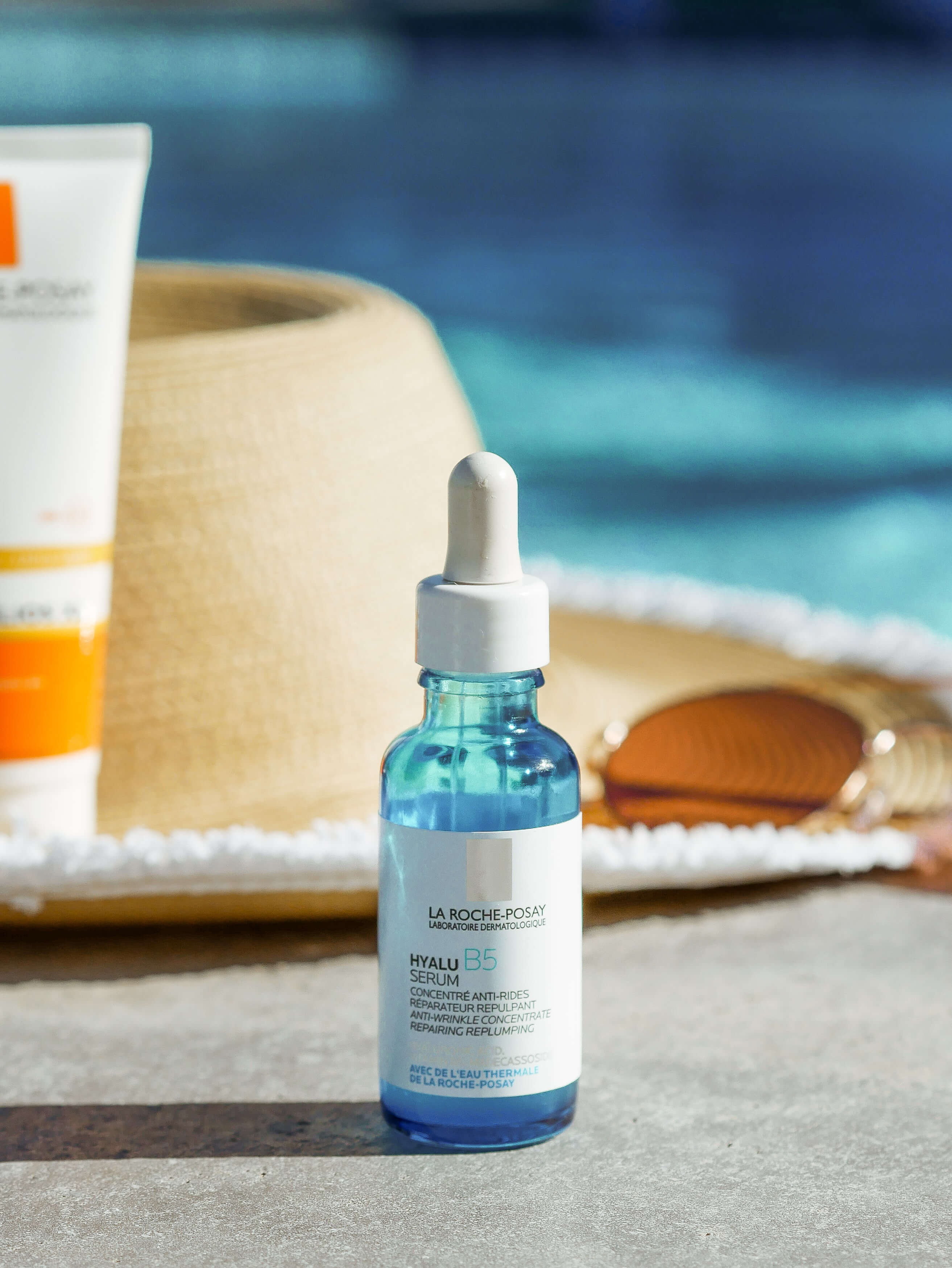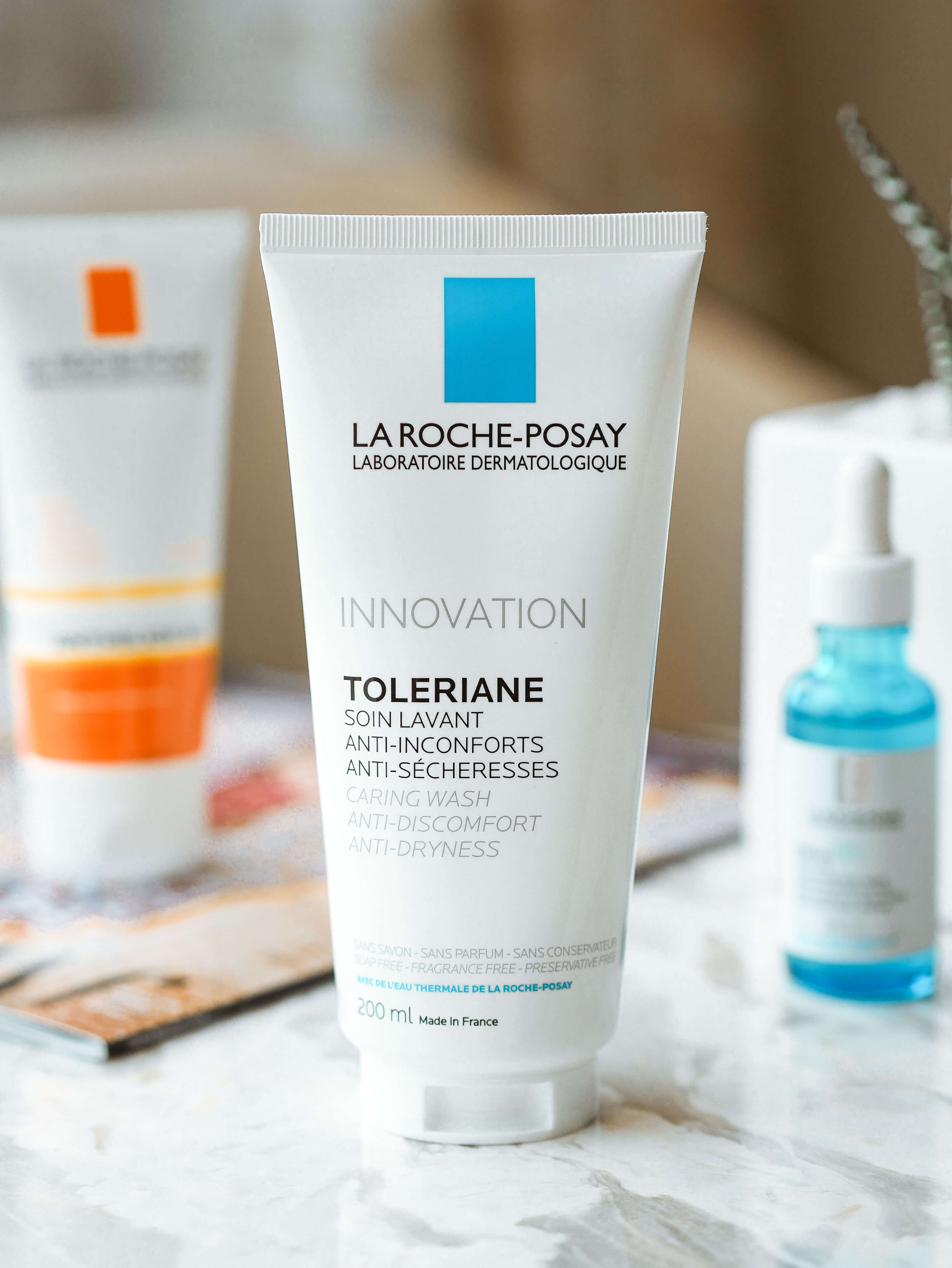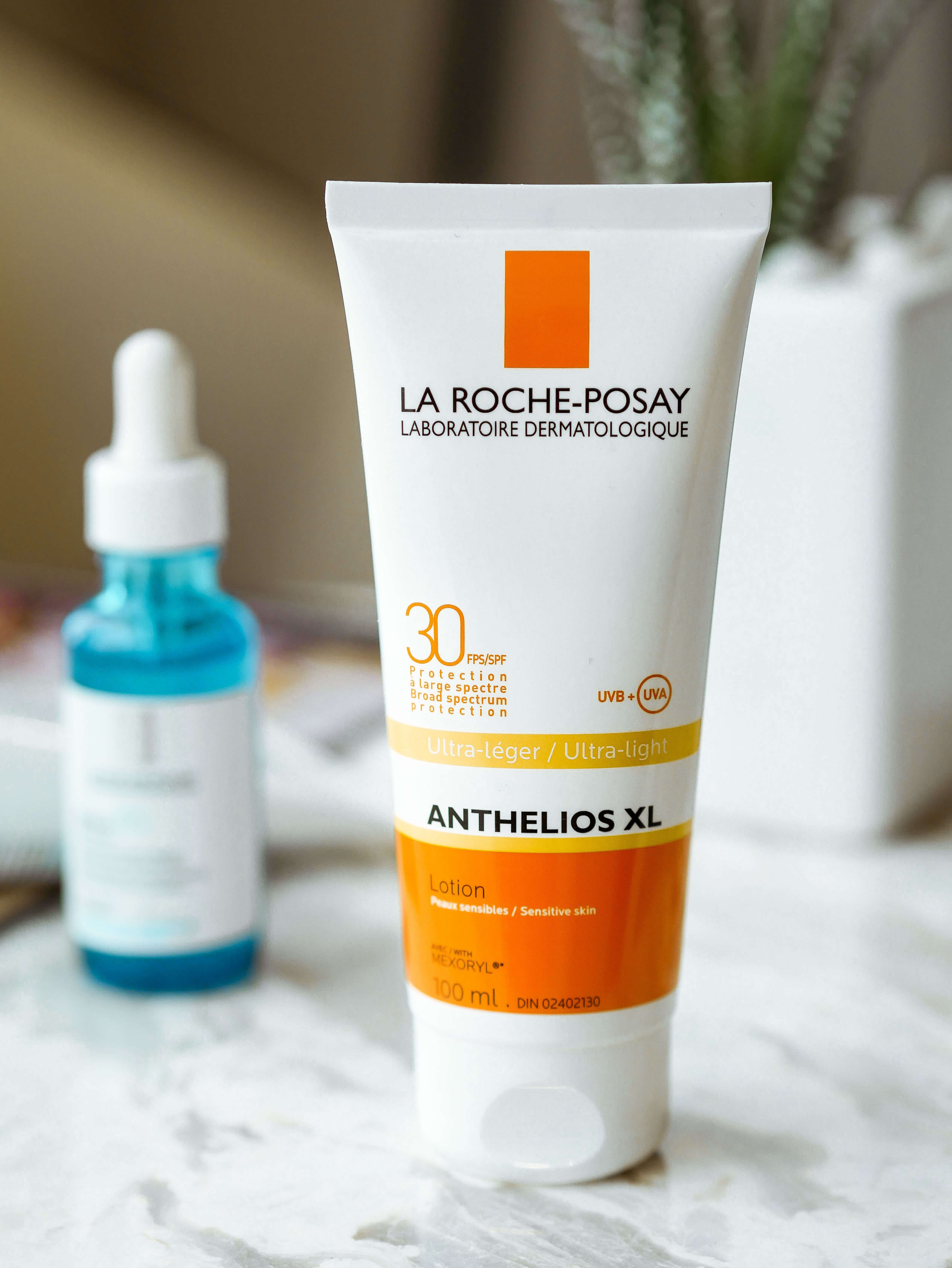 When should you start with anti-ageing products?
Skincare specialists often say the best age to start using anti-ageing products is around 25, but really I think it's up to you as everyone is different. I consider myself to be quite fortunate in that I don't have any deep-set wrinkles yet, however, I have definitely noticed my skin starting to change in the last year so i'd rather start using anti-ageing products early on to prevent premature ageing and look after my skin. I also want to highlight that there is nothing wrong with ageing or your skin developing fine lines. It's a personal thing and whether you choose to make anti-ageing a priority is completely up to you, but for me, I'd like to maintain my youthful skin for as long as possible.
I recently learned that the area around the eye is the thinnest and most fragile part of the face, which is why the eye contour is one of the first areas to notice signs of ageing. It lacks elastin fibres and the motion of blinking 10,000 times a day puts strain on the muscles and skin, which is why skincare specialists recommend that we start an eye care routine at the age of 25. Someone once told me years ago that eye cream is one of the most important steps of your skincare routine, and I guess that explains why!
Ultimately, everyone is different and your skin may age faster or slower than friends your age. But the important thing is to use high-quality products that are targeted to your skin type and that will help to nourish, hydrate and care for your skin to keep it in the best condition possible.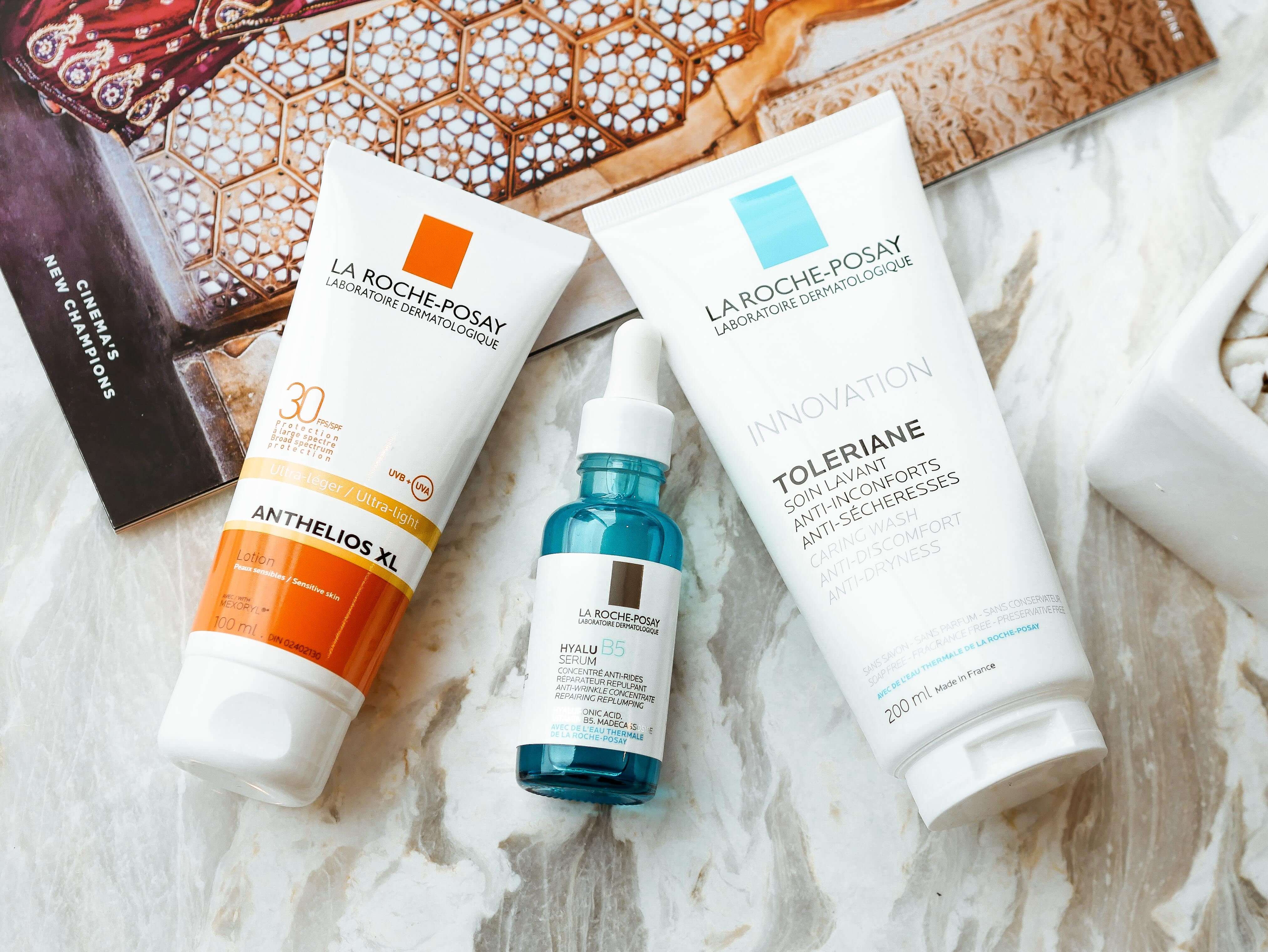 What lifestyle habits and skincare products do you swear by to keep your skin hydrated and glowing? I'd love to know your tips, and also let me know whether you've used the La Roche-Posay Hyalu B5 and if so, what you think to it!
(Disclaimer: This is a paid post created in partnership with La Roche-Posay, however, all thoughts and recommendations expressed are my own.)