Hoi An is a definitely must-see if you're travelling around Vietnam. A beautiful, ancient town that still remains fairly untouched, and it's in fact recognised as a UNESCO World Heritage Site. The
food is amazing, the people are so friendly, and the town is utterly beautiful. Expect a little hassle as you make your way through the street markets, but this is all part of the fun, and make sure you haggle down your prices as they often start quite high.
Danang Airport to Hoi An
A taxi from the airport on the meter costs around 500,000VD, however guide books have told us slightly cheaper. Try to agree a price of 3-400,000VD before you travel, or alternatively get your hotel to arrange transport. Our hotel organised a taxi for our return journey to the airport, and this cost only 300,000VD, so it's worth being organised and asking when you book a hotel.
Things to Do
Enjoy a stroll through the town's street markets and check out the food, jewellery, clothing and souvenirs.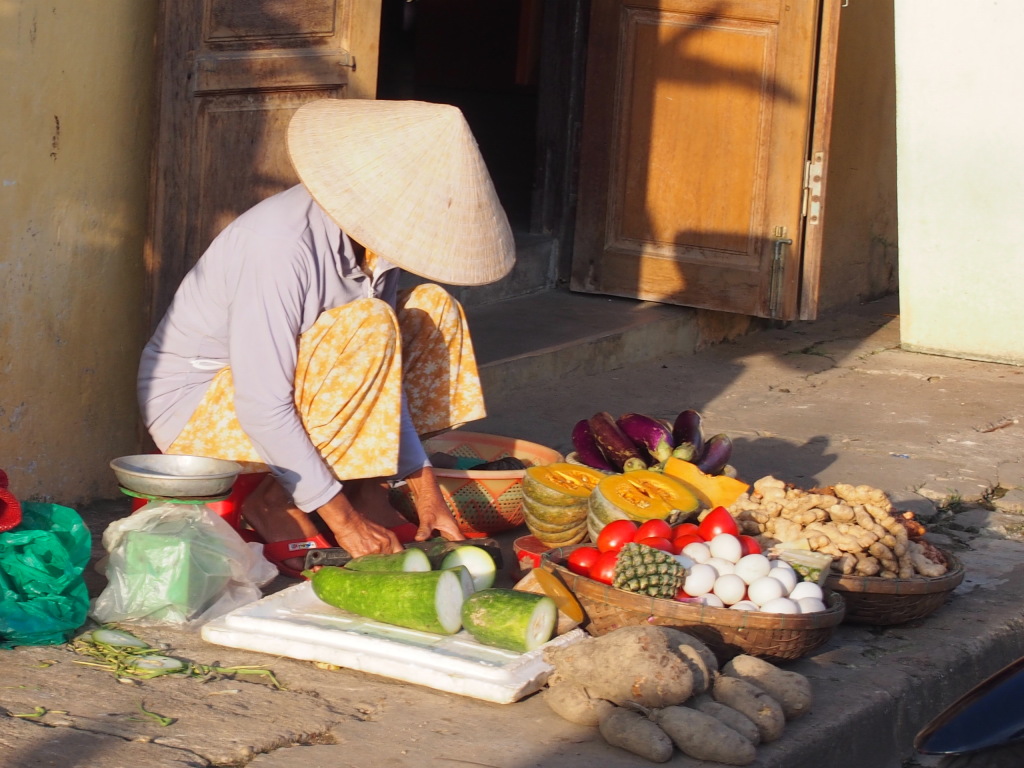 Rent a bicycle and cycle down to An Bang beach, which is a 15m ride away. The sand is clean, the water is fresh, and there are a number of beach-side Vietnamese restaurants to grab a quick bite. Take a little extra money for bicycle or motorbike parking (10,000VD each), and sun loungers cost around 30,000VD each. Tip: If you agree to eat at a particular restaurant, you may be able to get your sun loungers for free.
Grab a bus or taxi up to the Marble Mountains or Monkey Mountain in Danang, about a 20 minute drive from Hoi An.
Dine on the river-front at night and watch the floating lanterns pass by.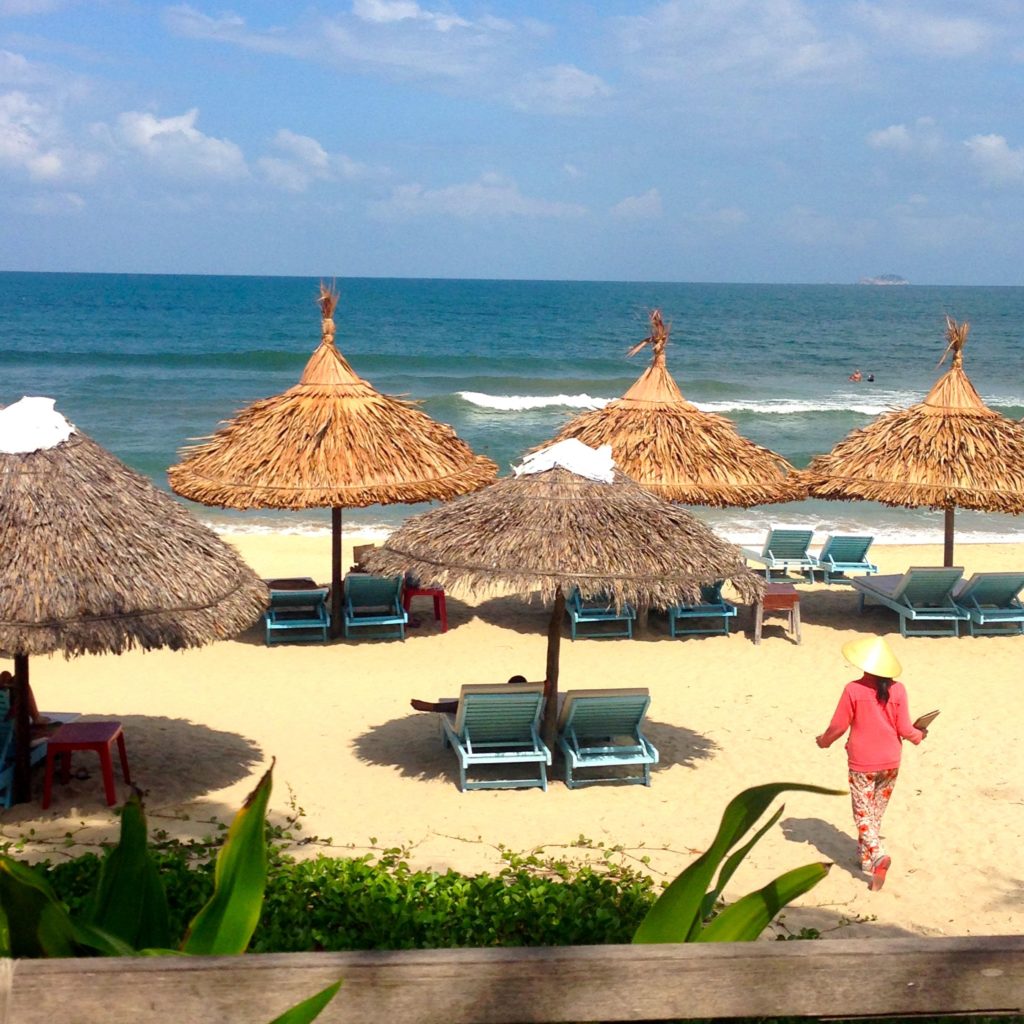 Book a day tour with Easy Riders, a reputable tour company in Vietnam who allow you to tailor your package to suit you. With them you can hire a motorbike and explore the surrounding areas, or even hire a guide for a few days and make your way down to the south.
Accommodation
You won't find any hotels in the centre of Hoi An, however you will find hotels surrounding the area that are just a short walk or bicycle ride away. I'd recommend staying in An Hoi – it's classed as a different area, but it's just across the bridge from Hoi An. Here you'll find a number of hotels, hostels and plenty of restaurants, cafes and beauty salons.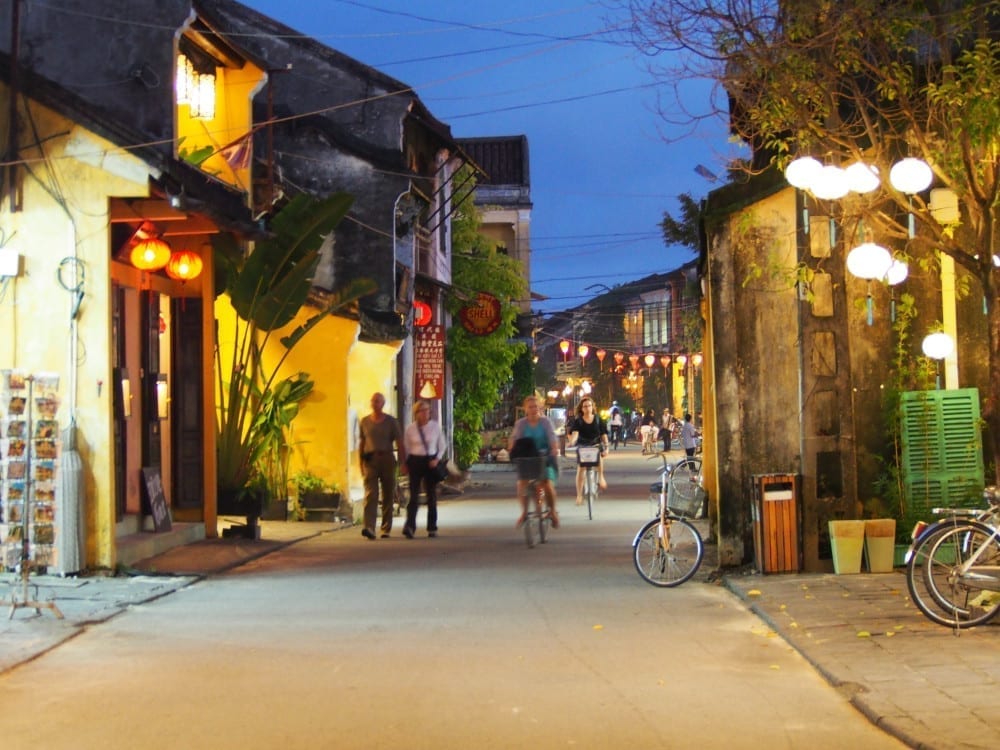 Transport
Bicycle: This is one of the easiest ways to get around, as bicycles are welcomed in the Old Town and you can easily cycle to the beach which is around 2km away. Rental for the day costs around $1-$1.50 (20-30,000 VD) each.
Motorbike: You'll see motorbike rentals everywhere, perfect if you want to explore the surrounding area. Note that motorbikes aren't allowed in Hoi An Old Town.
Little Gem
While there are dozens of great restaurants dotted around Hoi An, there's one that we absolutely loved. Búp Restaurant & Cafe located on the waterfront has amazing, authentic Vietnamese food and the best service around.
Tip
Find out in advance which date the Fall Moon will fall on, and if you can, make your way to Hoi An for the monthly celebration. The town becomes traffic-free between the hours of 1830-2130, and all street lights are switched off to make way for the hundreds of floating lanterns that float along and light up the River. A tradition long practiced to signify good luck and fortune.