Uluwatu is a gorgeous area on the southern tip of Bali island and if you're planning a trip to Indonesia, I highly recommend exploring what it has to offer for at least a couple of days.
Known for its dramatic cliffs that tower over the Indian Ocean, hidden beaches, luxury cliff-top resorts, world-class surfing and a chilled vibe, Uluwatu is the perfect place if you want to escape the hustle of places like Kuta or Seminyak and just have a few days of calm.
When we visited Bali last year, we managed to spend 2 days in Uluwatu and it was the perfect way to end off our trip. We stayed at the incredible Six Senses Resort, hired a scooter for the weekend and had an amazing couple of days of exploring secluded beaches and generally just soaking in the laid-back Uluwatu vibe.
I've been getting lots of questions about our trip, so I've put together this Uluwatu travel guide to help you plan your own Uluwatu adventure. It includes an overview of some of the top things to do, best beaches, cool beach bars, our experience at the Six Senses as well as travel tips that might come in handy. I hope this is useful and let me know in the comments if there's anything specific you'd like to know!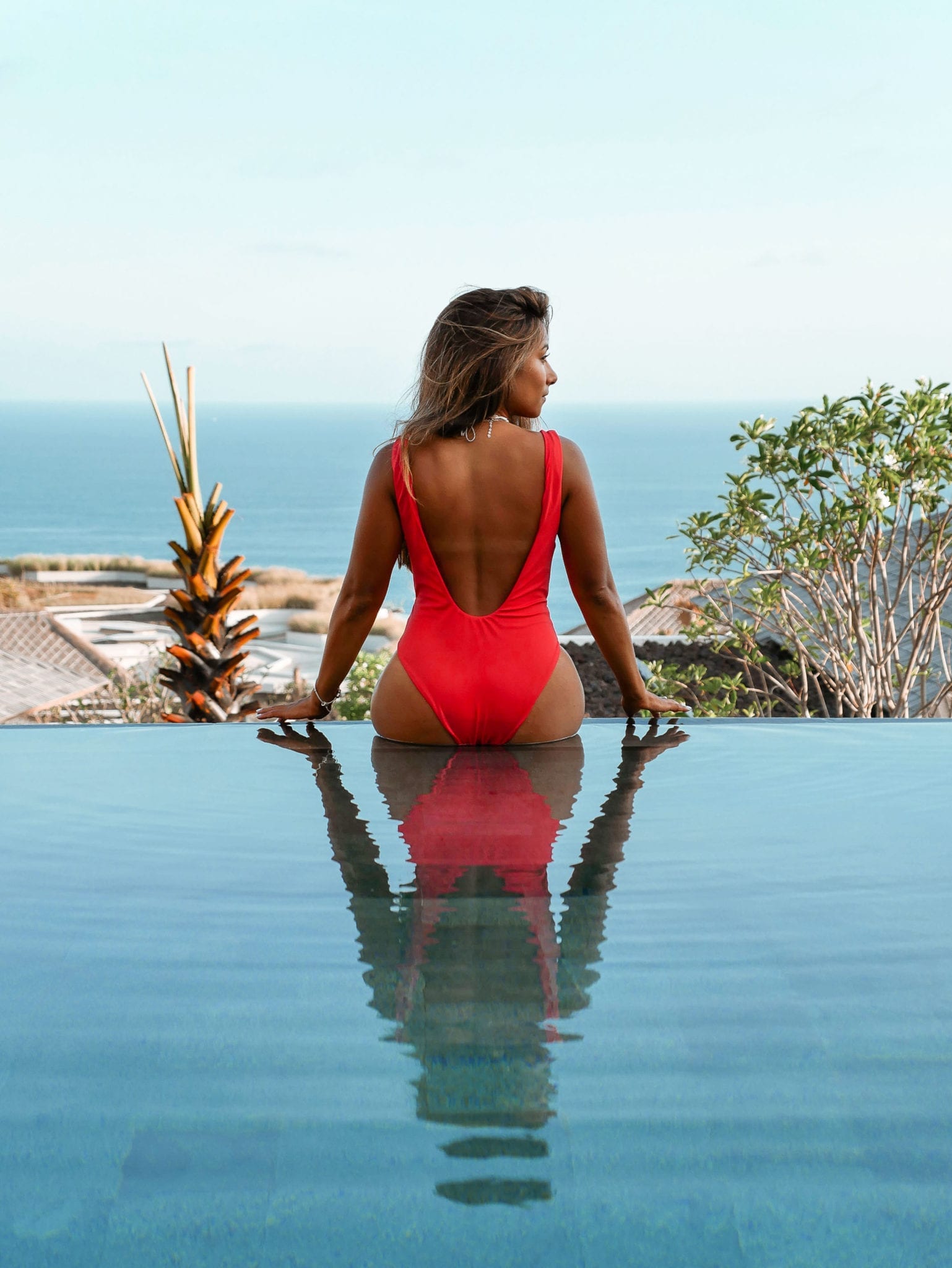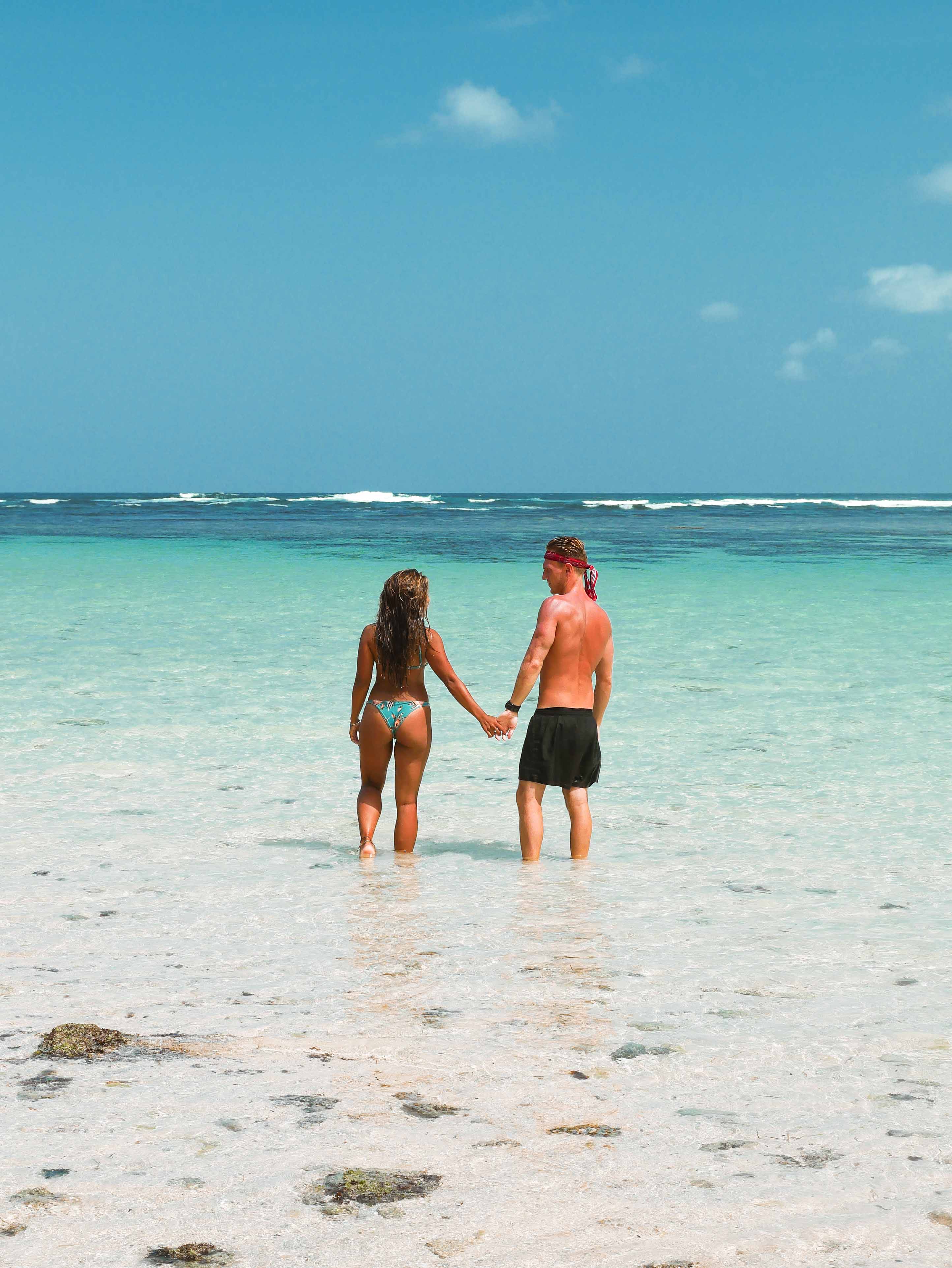 What's Uluwatu Like?
I thought I'd start off my Uluwatu travel guide by sharing a bit more about what Uluwatu is like. Uluwatu sits on the southern coast of Bali, and it's about a 40-minute drive from Denpasar airport or a 1-hour drive from Kuta.
I personally love Uluwatu - the cliffs are so picturesque, the beaches are lovely, there are loads of cool restaurants and clothing stores, and it's pretty quiet compared to places like Kuta which can get a bit crazy. It's also a surf hotspot and even if you don't surf, places like Padang Padang beach are great spots for watching the pros riding the most incredible waves.
There are a lot of stunning high-end hotels too, many of which are right on the coast and overlook the endless ocean vistas. Some also have their own private beaches as well as beach clubs, which are really cool places to chill out for the afternoon. Uluwatu is known by most for its amazing temple - Pura Luhur Uluwatu - which sits on top of a huge cliff on the southern coast.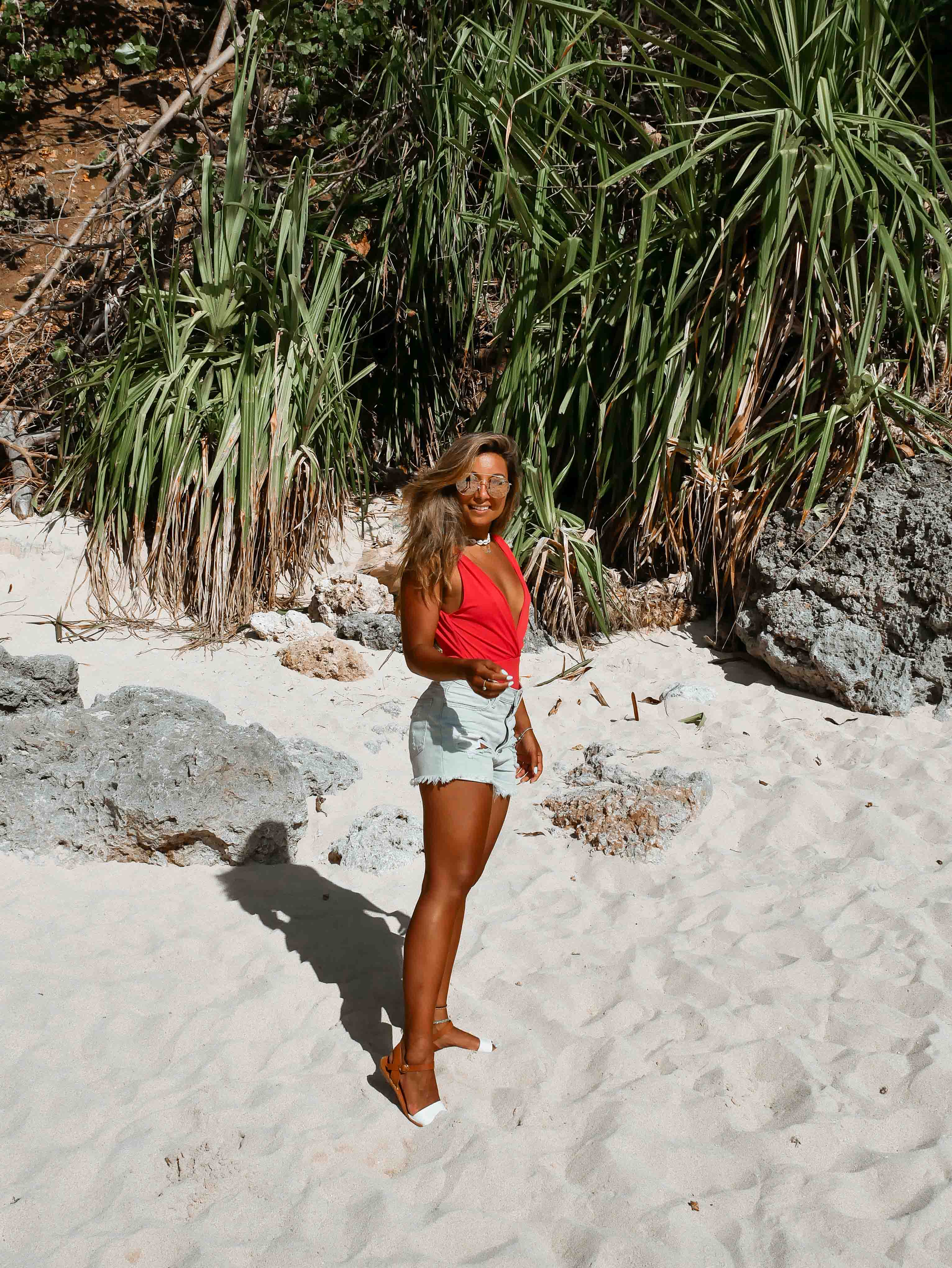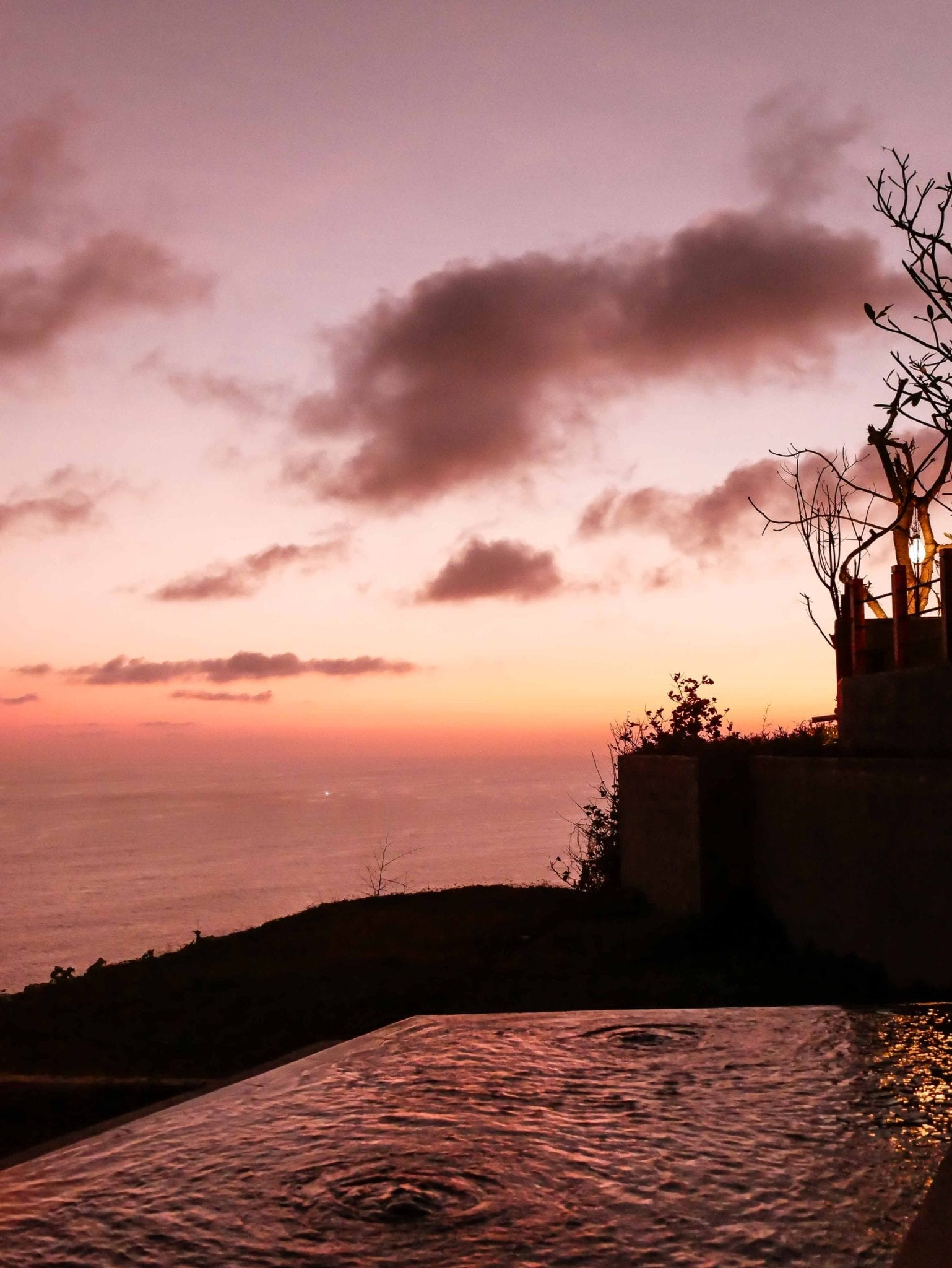 Explore the beaches
If you're looking for beautiful, secluded sandy beaches, Uluwatu is the spot. You've got crystal-clear blue water, white sand, huge dramatic cliffs and the coolest Bali vibe. It's the perfect place for beach hangs and there are loads of beach bars and clubs. The beaches are pretty spread out, so I recommend hiring a scooter (or a private car) so you can hop around and explore them for yourself.
Uluwatu Temple
One thing that Uluwatu is famous for is its beautiful temple and for good reason. Also known as Pura Luhur Uluwatu, it's a Hindu sea temple perched at the edge of a cliff sitting 70 meters above sea level. It's 1 of the 6 holiest places on Bali and because of its location, it's thought to bring spiritual balance to the island. Expect to find hundreds of macaque monkeys (which will steal anything they can get their hands on, so beware!), incredible sunsets and beautiful views from the top of the cliff.
Shopping
Bali in general has a huge Australian influence, and you'll notice it a lot in Uluwatu. There are loads of cool Australian surf shops and cute clothing stores, especially near Padang Padang beach, so if you love Australian fashion it's definitely worth checking them out.
Kecak Fire Dance at Uluwatu Temple
Another thing to do at Uluwatu Temple is experience the Kecak Fire Dance. Also known as the "Monkey Dance", it's one of Bali's most iconic dance-drama performances that involves singing, chanting, incredible costumes, dancing and amazing fire performances. It's located in the cliff-top amphitheater at Uluwatu Temple and it happens every day at sunset. If you have time, I highly recommend catching a show as it's such a unique and cool performance. It costs around 100K during high season to watch the performance. Tip: After the fire dance, try to leave as soon as possible to avoid getting stuck in crazy traffic.
Surf!
Uluwatu is a surfer's paradise and it's one of the best places in the world to catch a few waves. There are loads of surf shacks where you can rent boards and surf camps where you can learn, and some of the best surfing beaches include Padang Padang, Balangan, Suluban Beach and Nyang Nyang Beach.
Watch sunset
I'm a sucker for a beautiful sunset and Uluwatu really does have some of the best stunning sunsets I've ever seen. Hang out at one of the many clifftop bars or sandy beaches and watch the sun drop into the Indian Ocean - it's pretty special! Another great place to watch the sunset is Uluwatu Temple.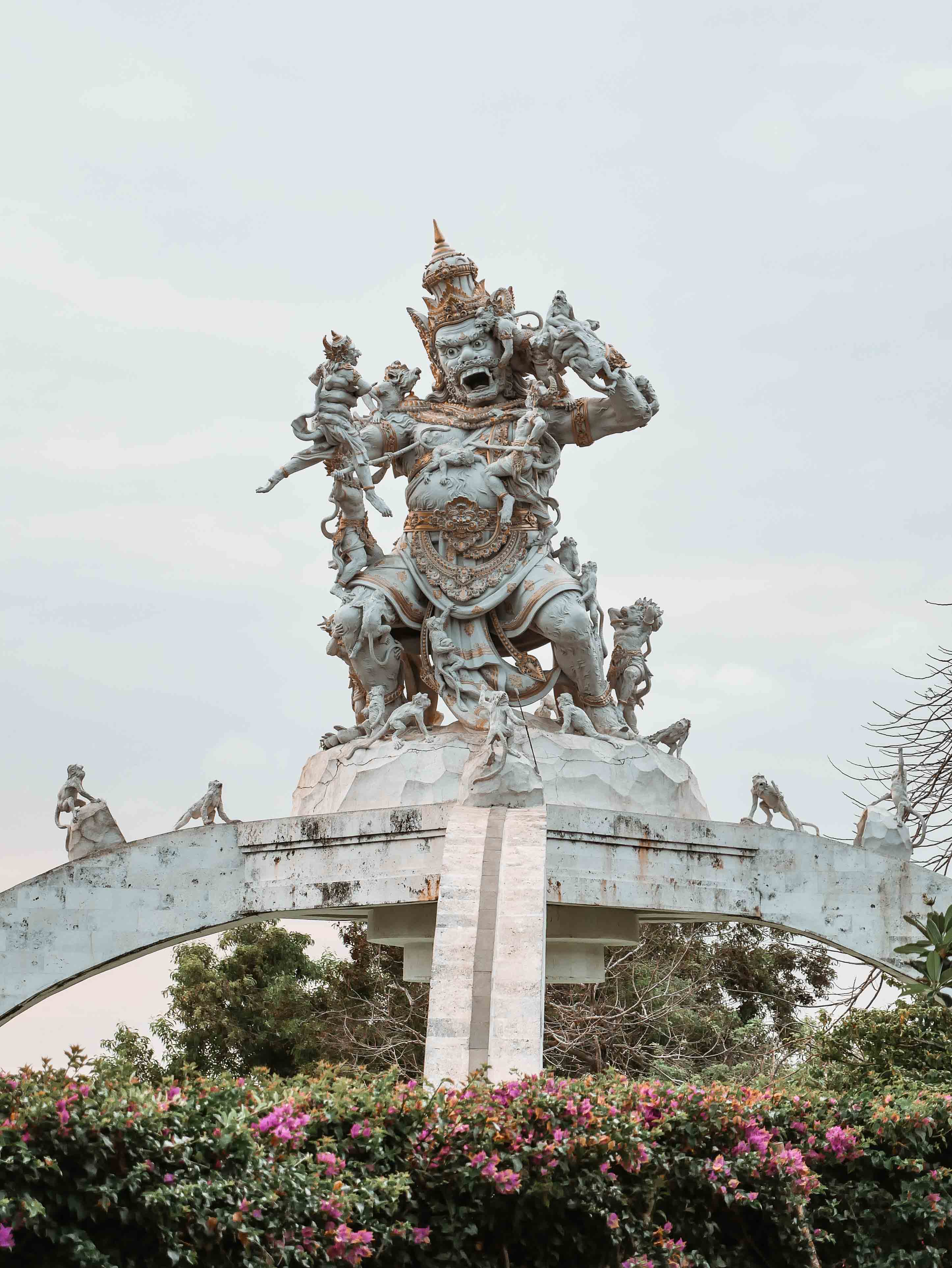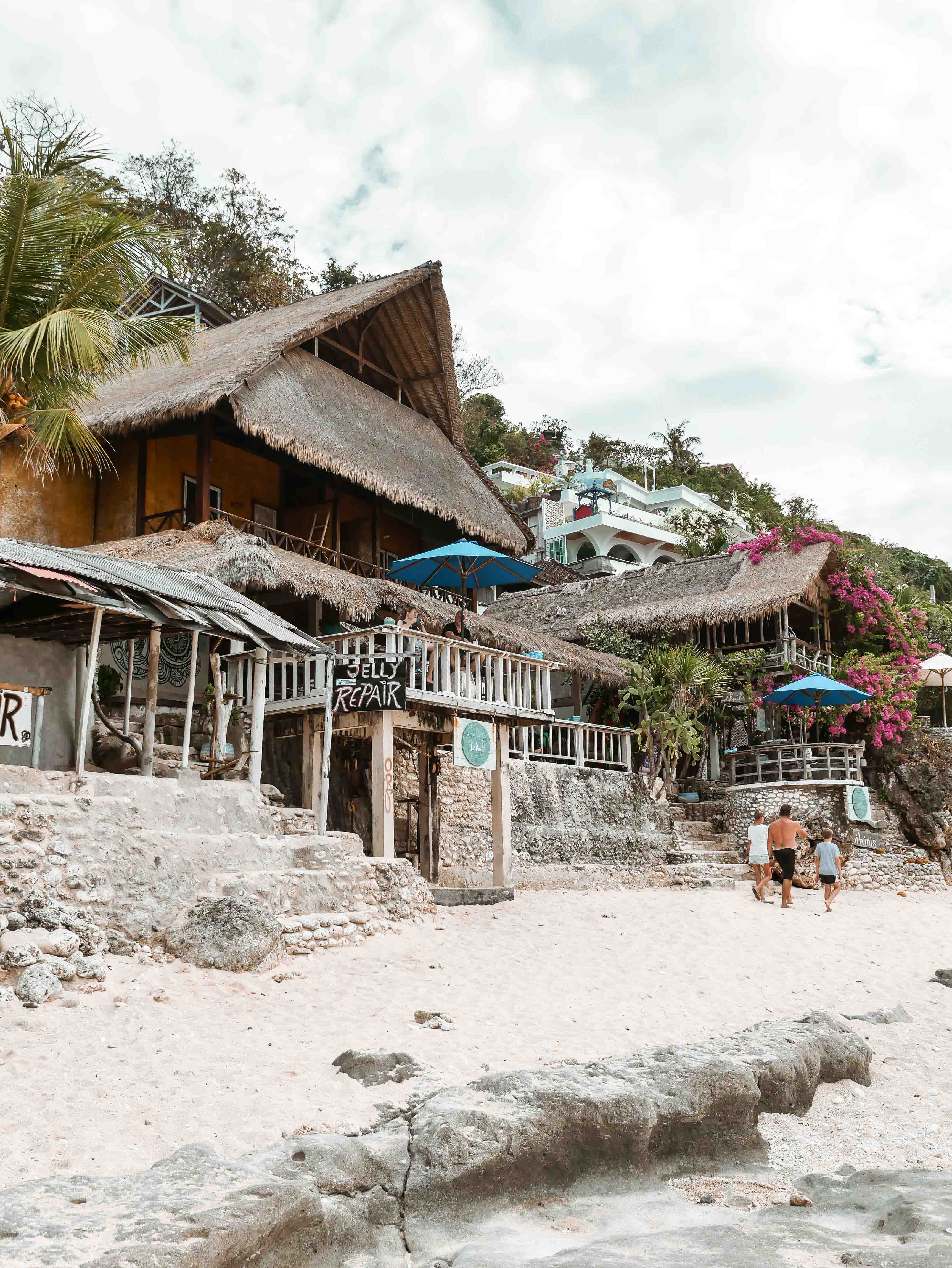 Amazing beaches in Uluwatu
There are so many incredible beaches around Uluwatu, you're spoilt for choice! We managed to hit quite a few spots and I loved every single one. Each beach offers something different - some are more secluded than others and don't have any stalls or bars, some are big surf spots, and some are a bit more happening, so it really depends what kinda vibe you want. Here are some of the amazing beaches in Uluwatu that we visited.
Green Bowl Beach
Located on the southern coast of Uluwatu, Green Bowl Beach is a bit more secluded and less well-known, but it's gorgeous and the beach is stunning (where this pic was shot). You have to walk down a big set of stairs to get to it, but it's really lovely and perfect if you want to chill out for a bit. There's not a lot going on here and there aren't any stalls, which is what makes is a little slice of paradise. There's also a large cave where you can catch some shade.
Padang Padang Beach
One of Uluwatu's most famous beach spots! It's a prime spot for surfing (or surfer watching) and it's really lovely. At the top of the cliff, you have a small temple, and after walking through a hollow rock crevice and down a big set of stairs, you reach the beautiful beach. You'll find snacks and stalls, cold drinks, souvenirs and usually lots of monkeys! It can get pretty busy as it's a popular spot, so I'd recommend going in the morning if you want some quiet.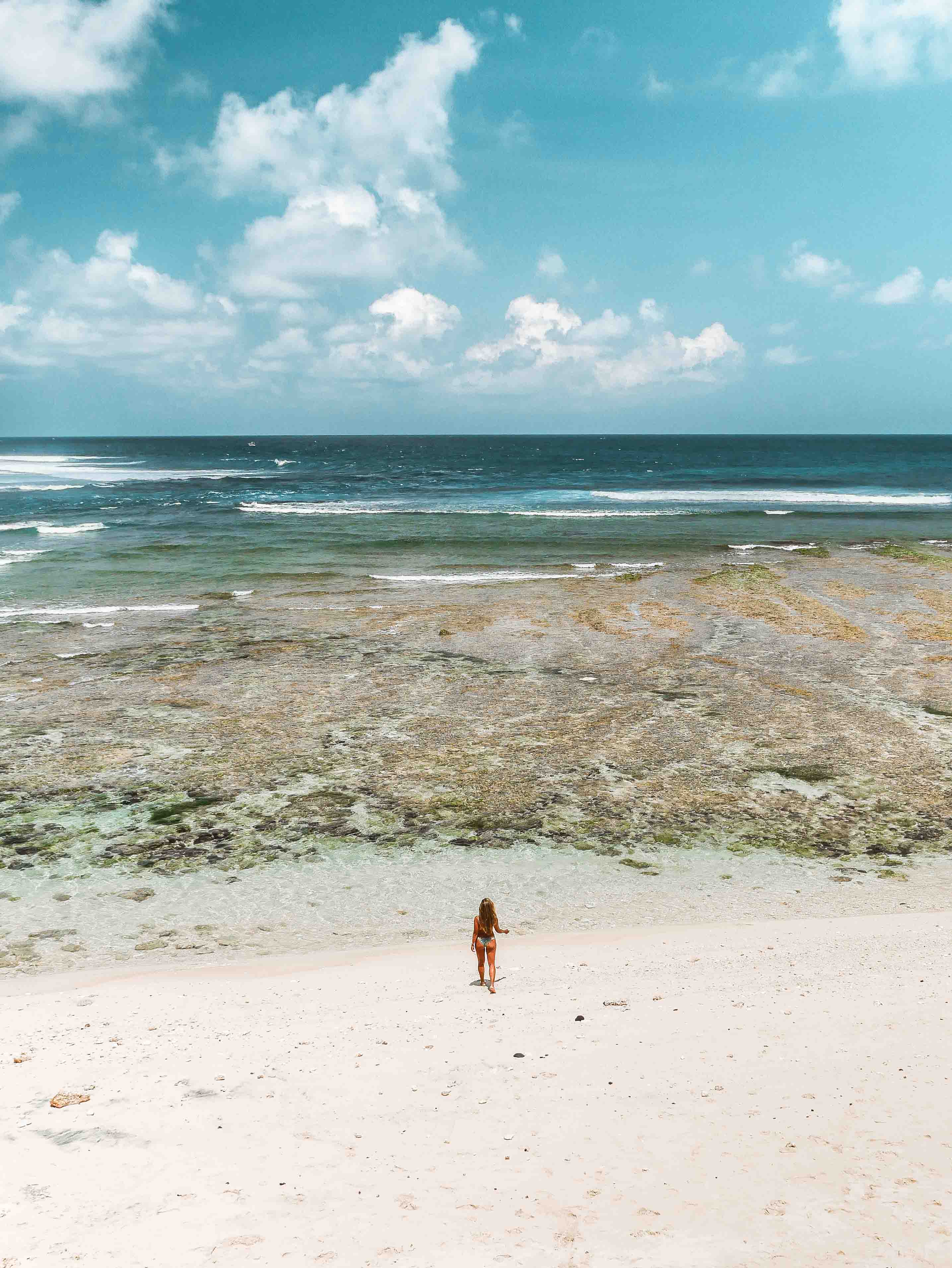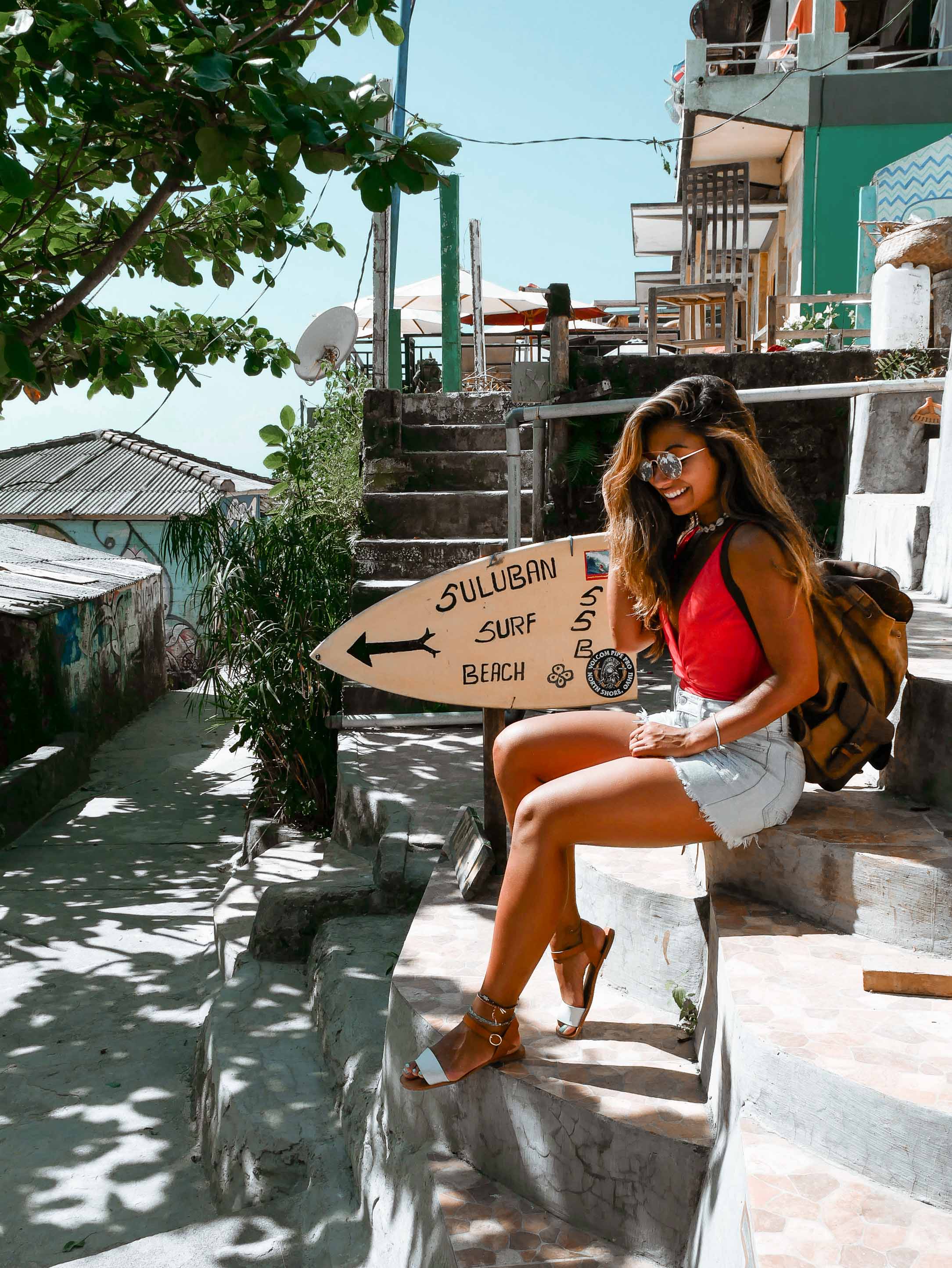 Suluban Beach
One of my favourite beaches was Suluban beach, also known as Blue Point Beach. It's a pro surfer spot because of its powerful and consistent swells, and there's a small cluster of stalls and bars at the top of the cliff (including Single Fin) where you can hang, grab a drink and watch the waves. To get to the beach, you have to descend down a fairly steep staircase and over a few rocks, but it's well worth it as the beach is beautiful and fringes Uluwatu's iconic steep cliffs.
Pandawa Beach
Located further east along the south coast, you'll find Pandawa Beach. It's pretty big with a number of local restaurants and bars, but the ocean and beach are absolutely gorgeous. The sandy beach stretches for a kilometer and the water is crystal clear. It's a bit more built up than other beaches around Uluwatu, but the limestone cliffs are really picturesque and dramatic and it's a lovely spot to spend the afternoon.
Bingin Beach
Bingin Beach is beautiful. You've got cute thatched-roof restaurants and accommodations dotted along the side of the cliff, pure white sand, and beautiful blue water. Like a lot of the other Uluwatu beaches, it's very tidal so depending on what time of day you visit it can look a lot different if the tide is in or out.
Balangan Beach
Balangan is a great spot for sunset, and you can perch on the cliff and watch the sun fall into the horizon. It's a popular surf spot and the beach is beautiful and pretty quiet.
Uluwatu's Best Beaches On A Map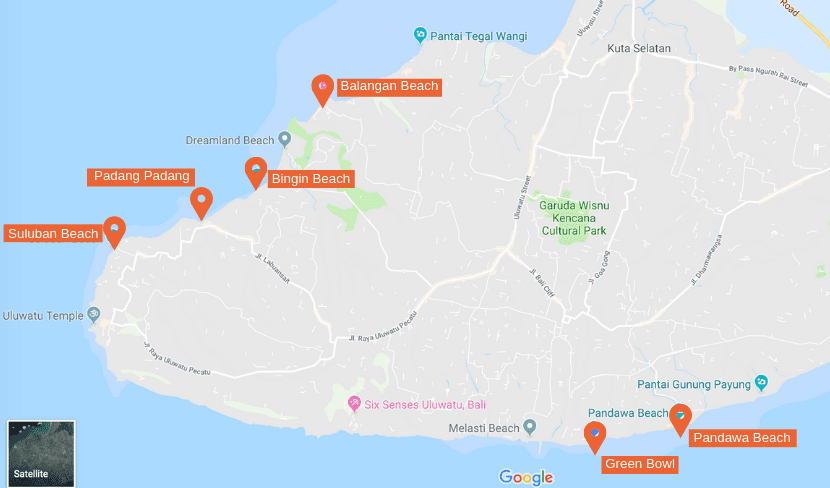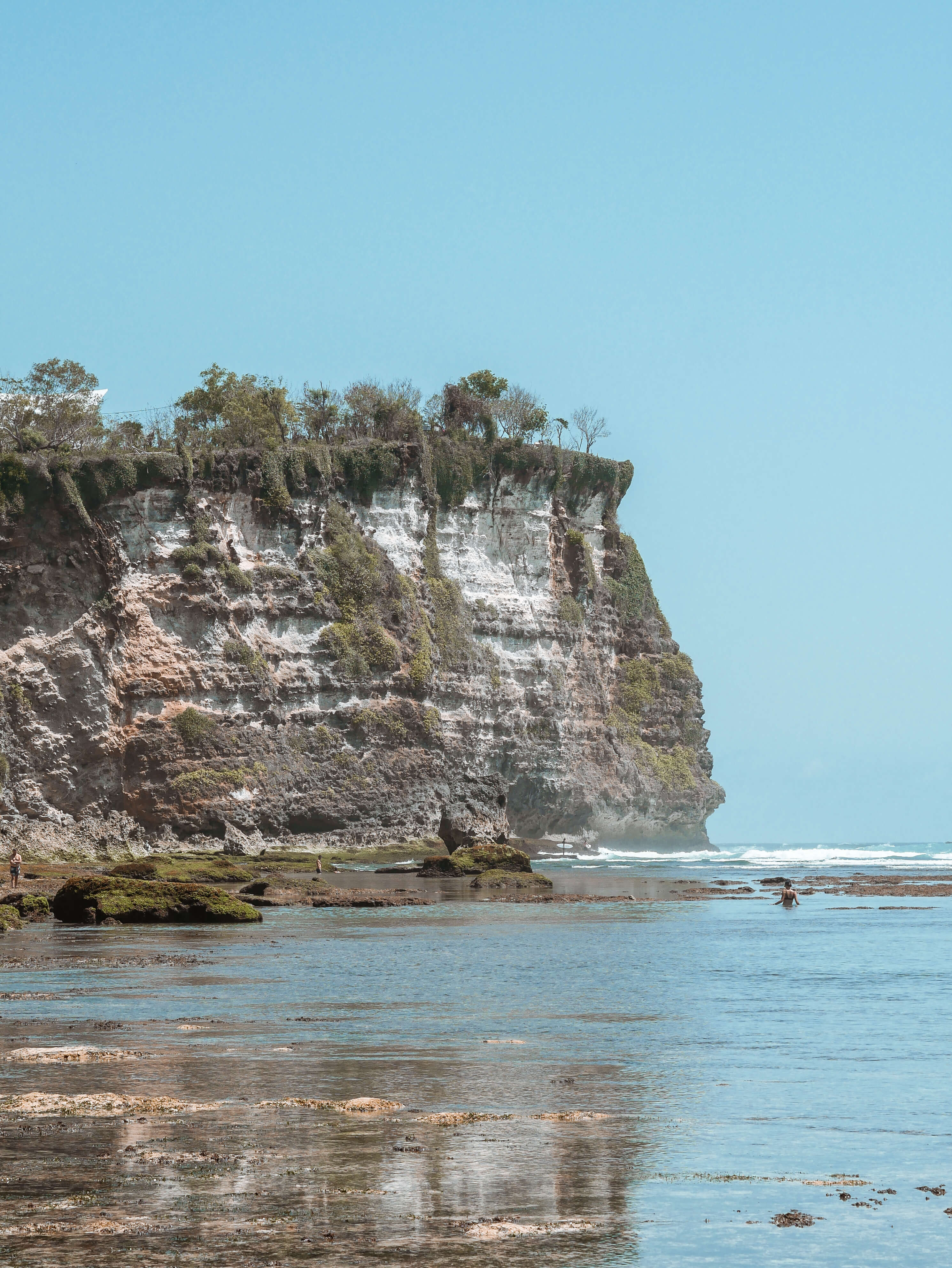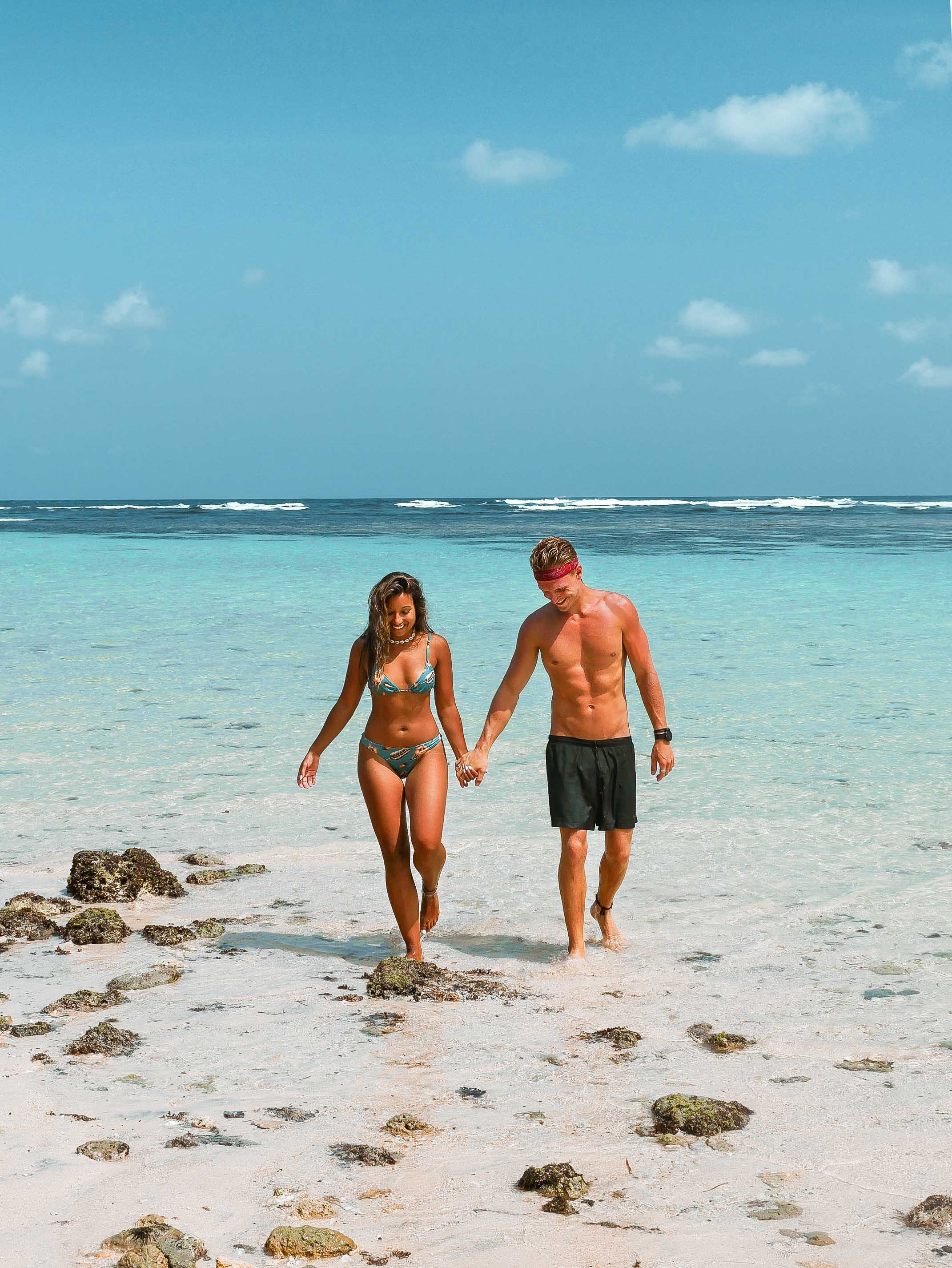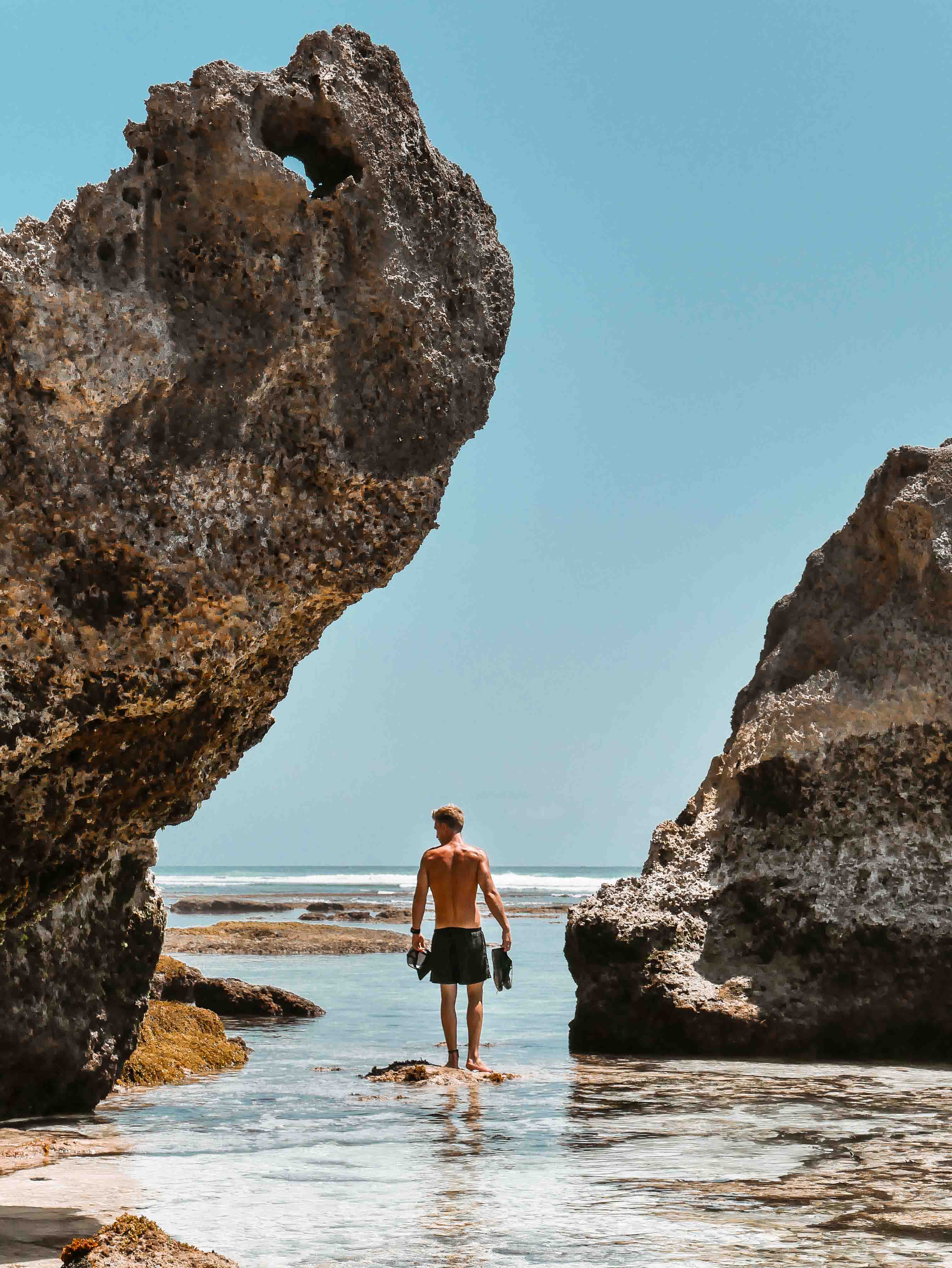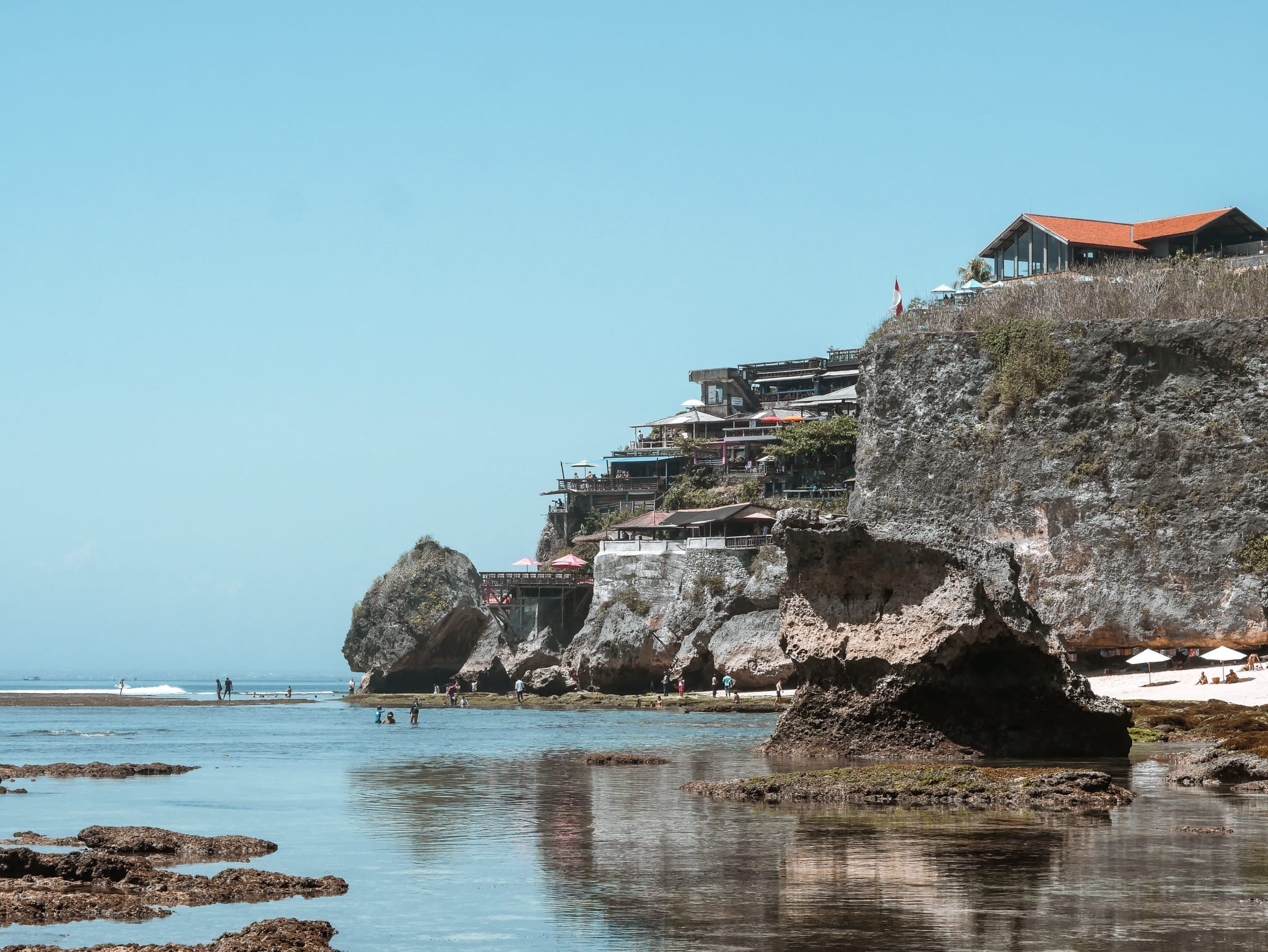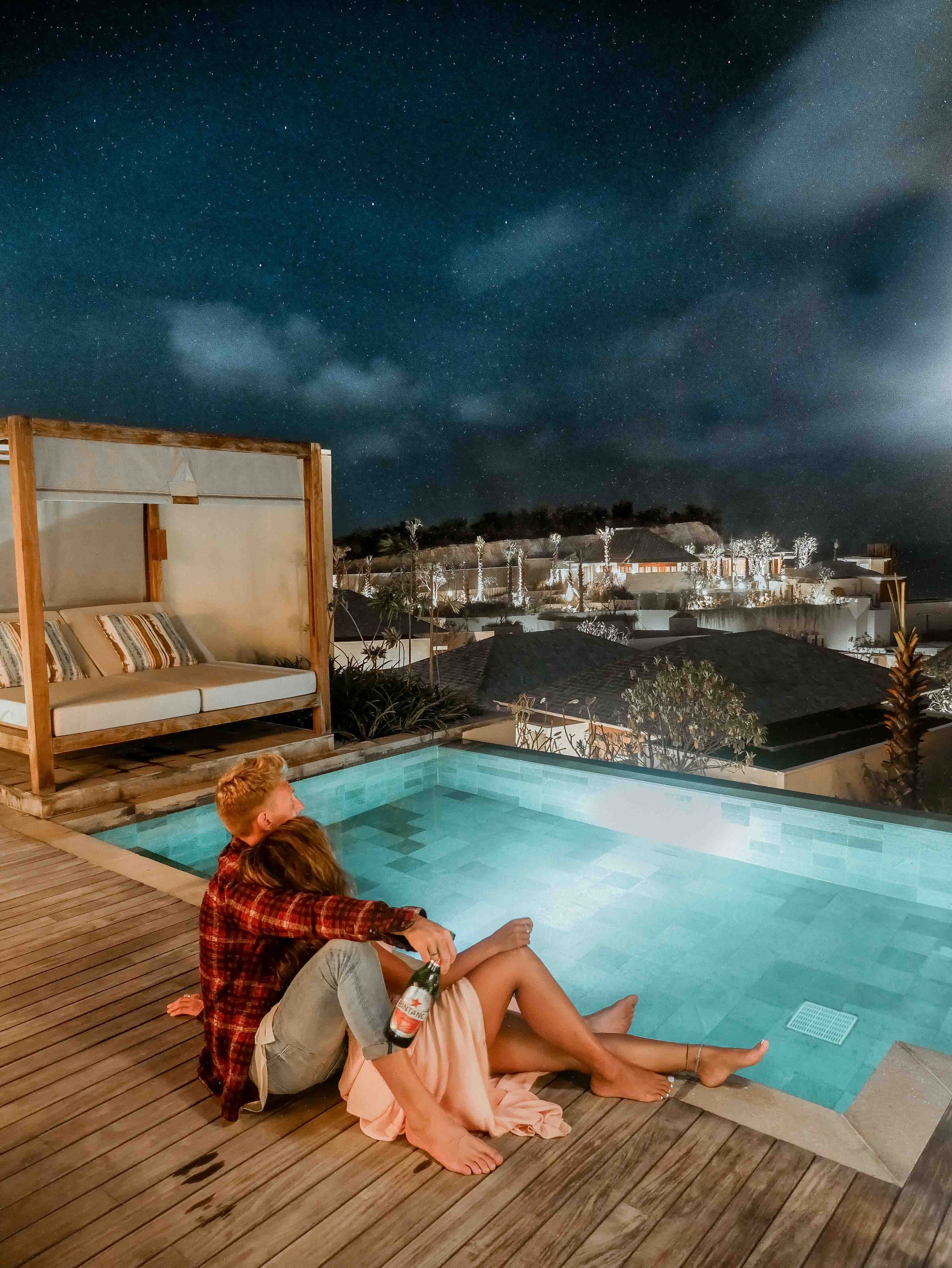 The Six Senses Resort Uluwatu
There are a lot of luxe resorts in Uluwatu, and if you're looking for those iconic, cliff-side pool villas, then this is the place to find them. One resort that really stood out to me was the Six Senses Resort, and we were fortunate to have partnered with them during our time in Uluwatu.
The resort itself is stunning. The property is fairly new and only opened in 2018, and the decor follows a contemporary style with authentic Balinese touches and woodwork. All of the accommodations are villas or suites, and the suites are staggered on the side of the hill to offer complete privacy and an unobstructed view of the ocean. The resort has a number of amazing restaurants, a communal pool area with 2 pools (one is an infinity pool), an outdoor lounge area, a cliffside bar, a yoga pavilion and gym, as well as wellness programs and a beautiful spa.
We stayed in one of the One-Bedroom Cliff Pool Villas which was absolutely gorgeous. It had a huge bedroom with a living area, both an indoor and outdoor shower, a big bathtub with ocean views, as well as a gorgeous deck area with a double daybed and private infinity pool. The sunrise and sunset were just amazing and I could have taken pictures all day at the resort alone! It was very picturesque.
Breakfast at the Rocka restaurant was amazing - it's buffet style, but the quality was exceptional and the views from the restaurant are like no other. At the time when we visited, the resort didn't have their own scooters, but they did go and collect scooters for us and organise the rental which was great.
What I think really makes the Six Senses unique is their proactive approach to sustainability. They have a bottling water plant on site, where they mineralise and purify water in order to eliminate plastic bottle usage and their carbon footprint. Food waste goes into compost, they have an organic garden and edible garden, and they've made a huge effort to eliminate single-use plastics in the rooms and in general operations which is amazing.
Overall, I absolutely loved the resort and I'd go back in a heartbeat. They've mastered luxury and the experience you get at the resort is wonderful, you really get treated like royalty and the fact that they advocate sustainability just makes the Six Senses that bit more unique. I would highly recommend a stay if you're looking for somewhere beautiful and luxurious for your Uluwatu escape!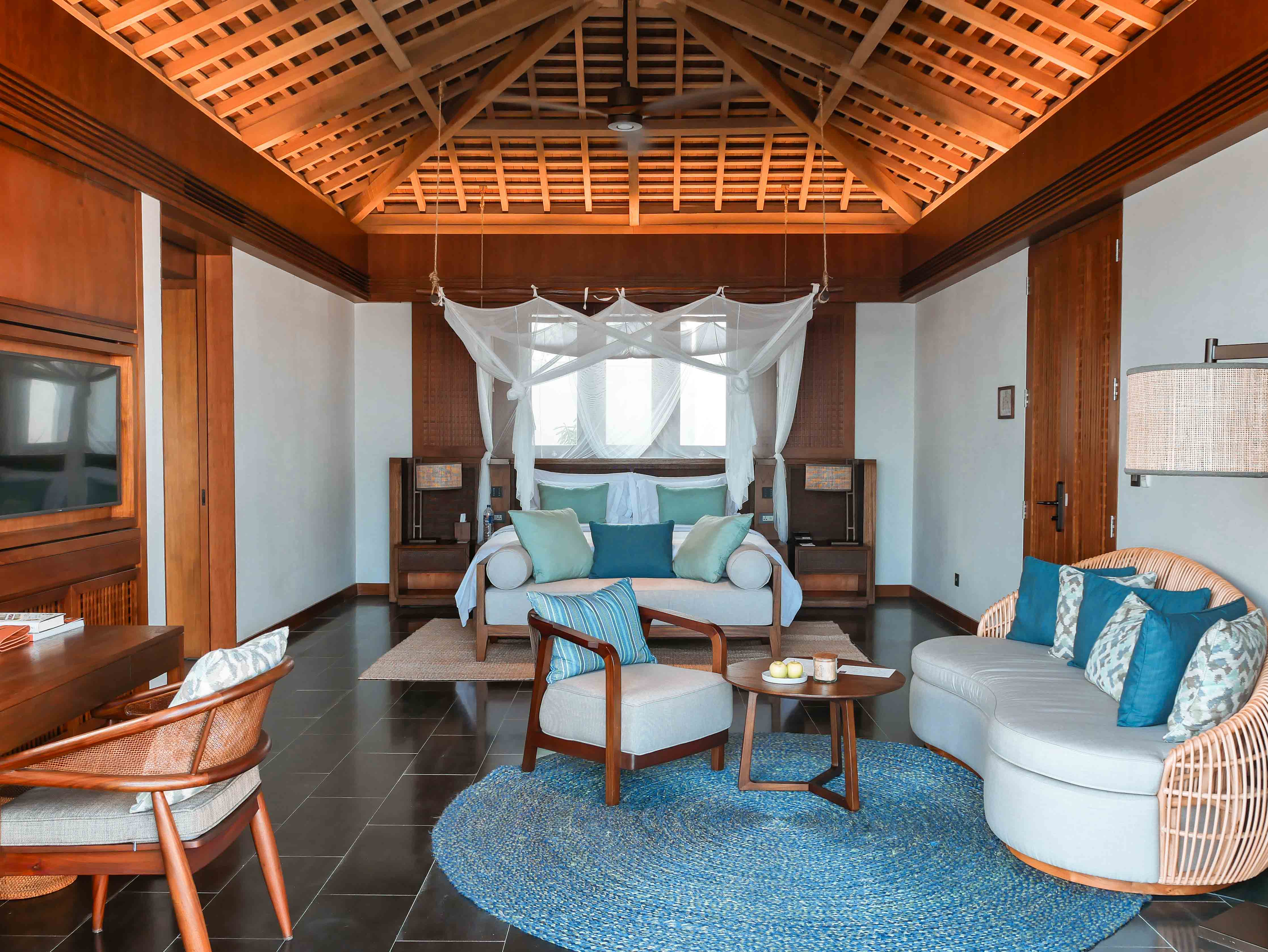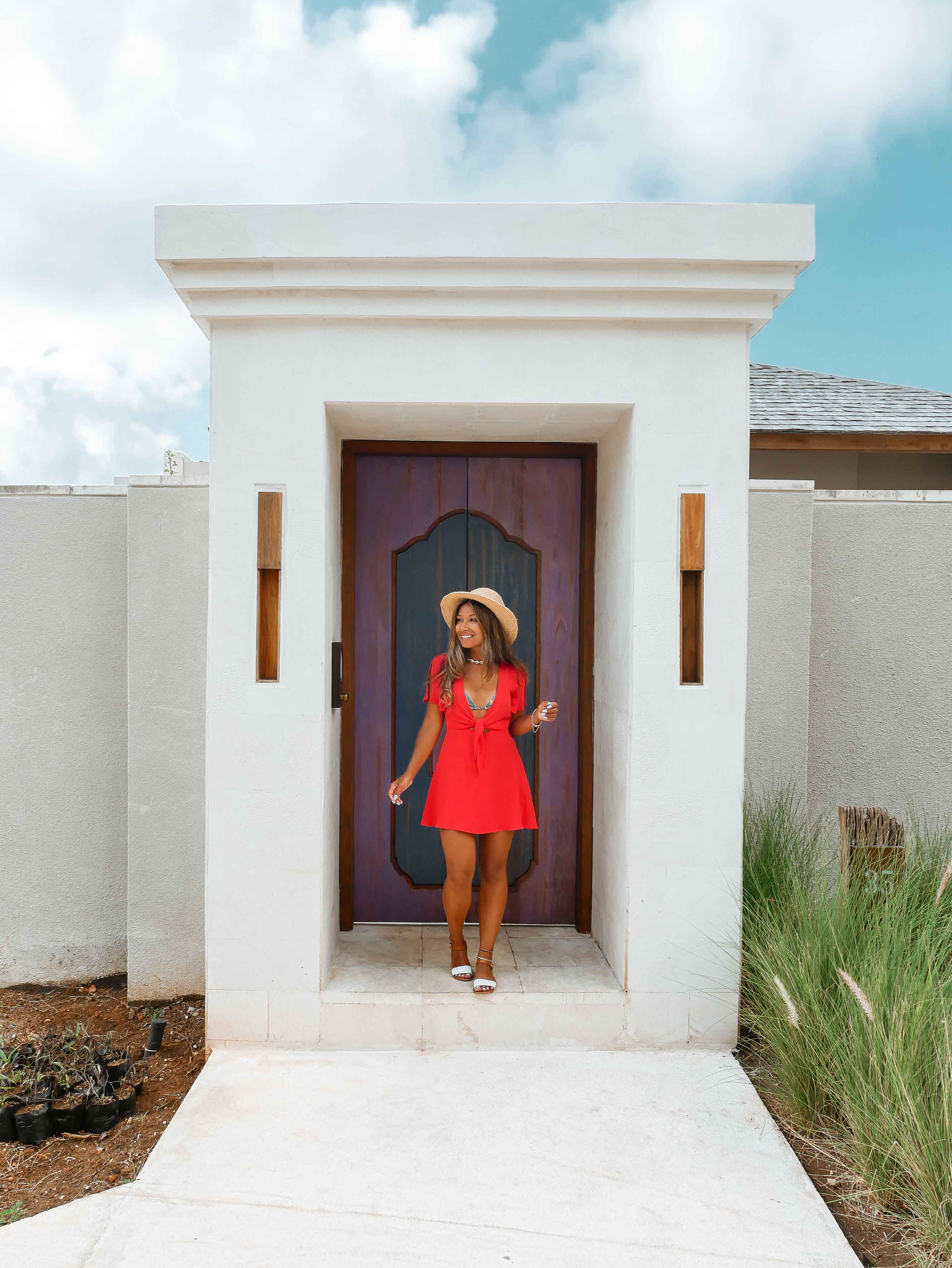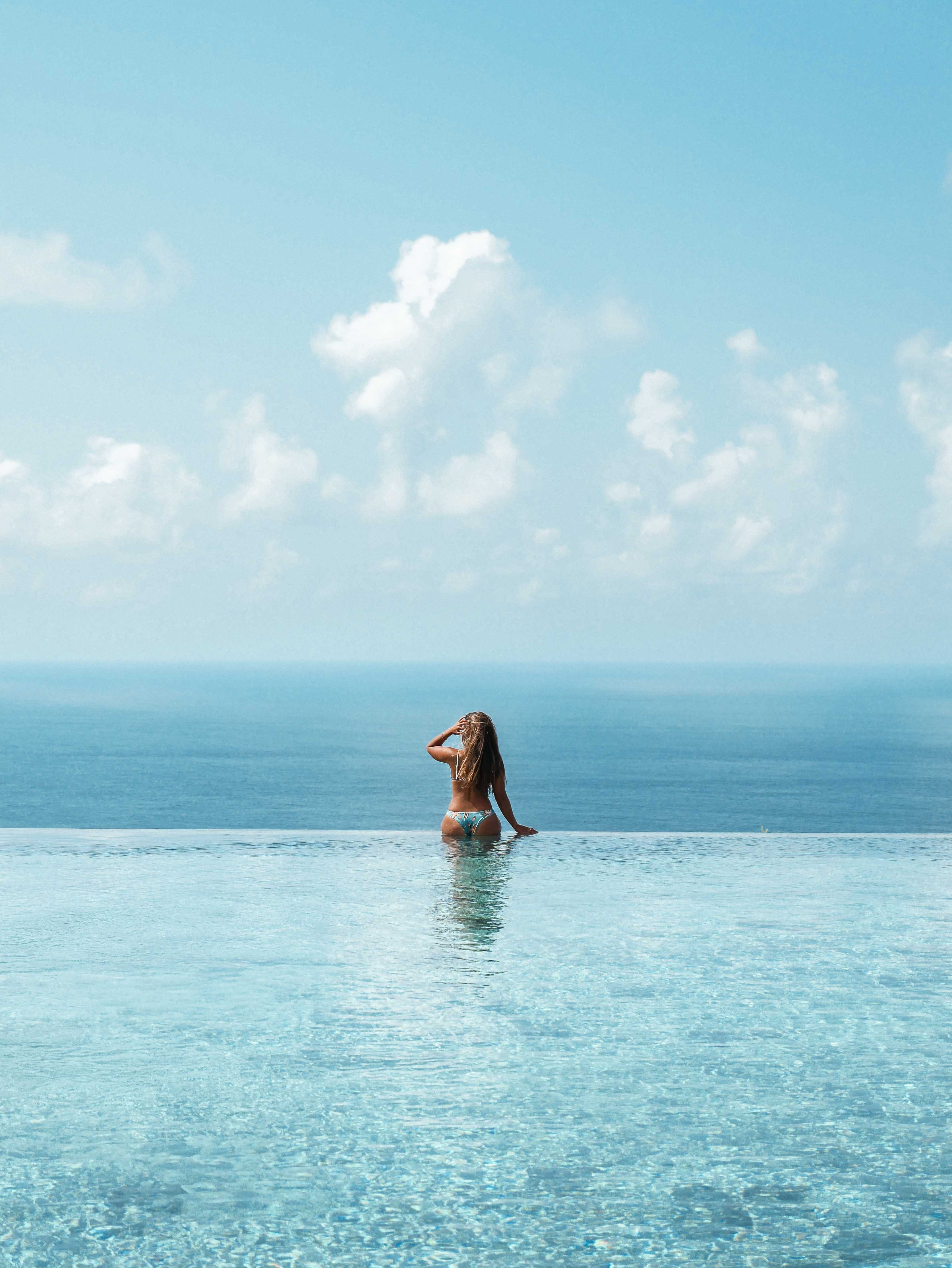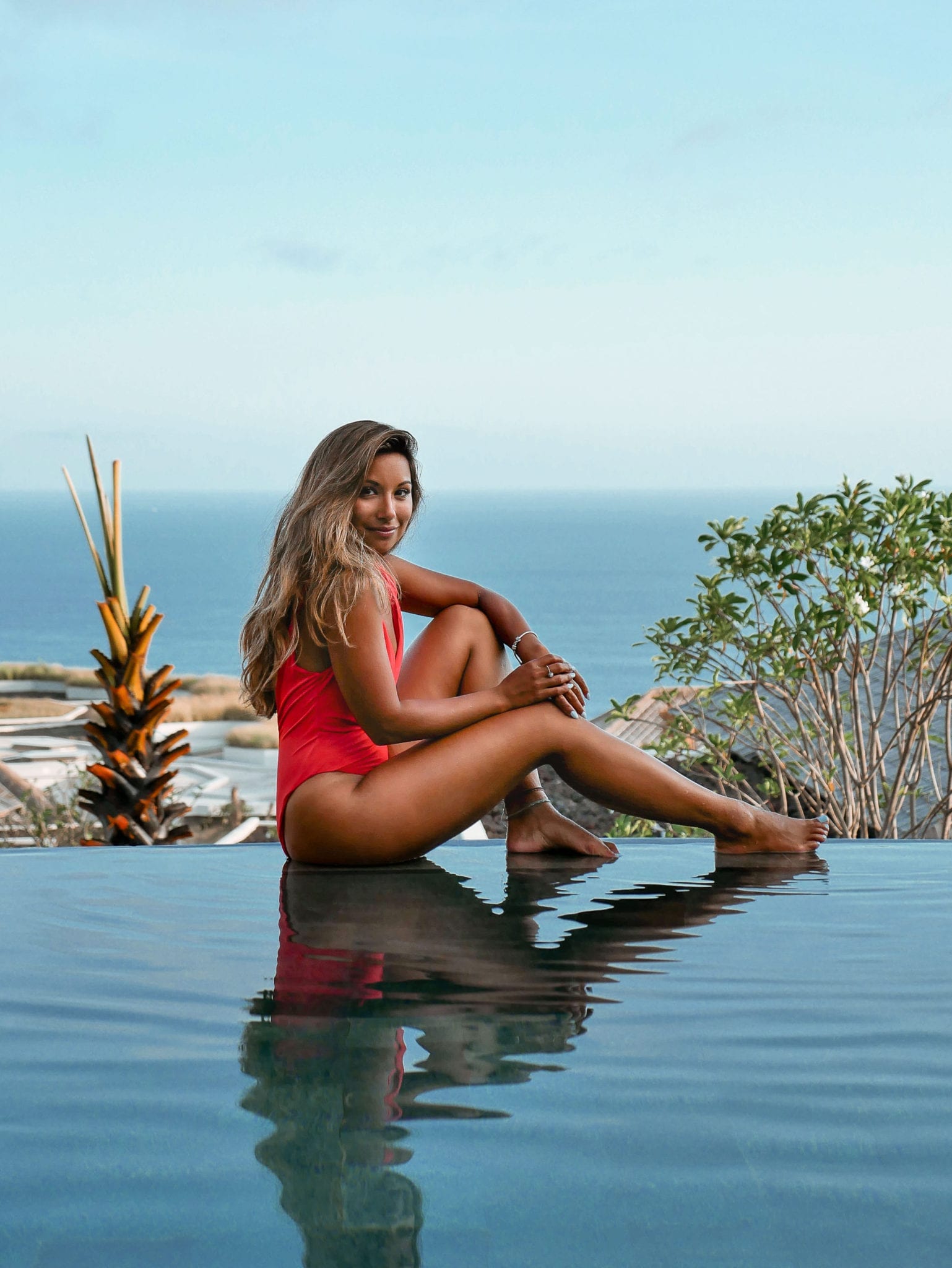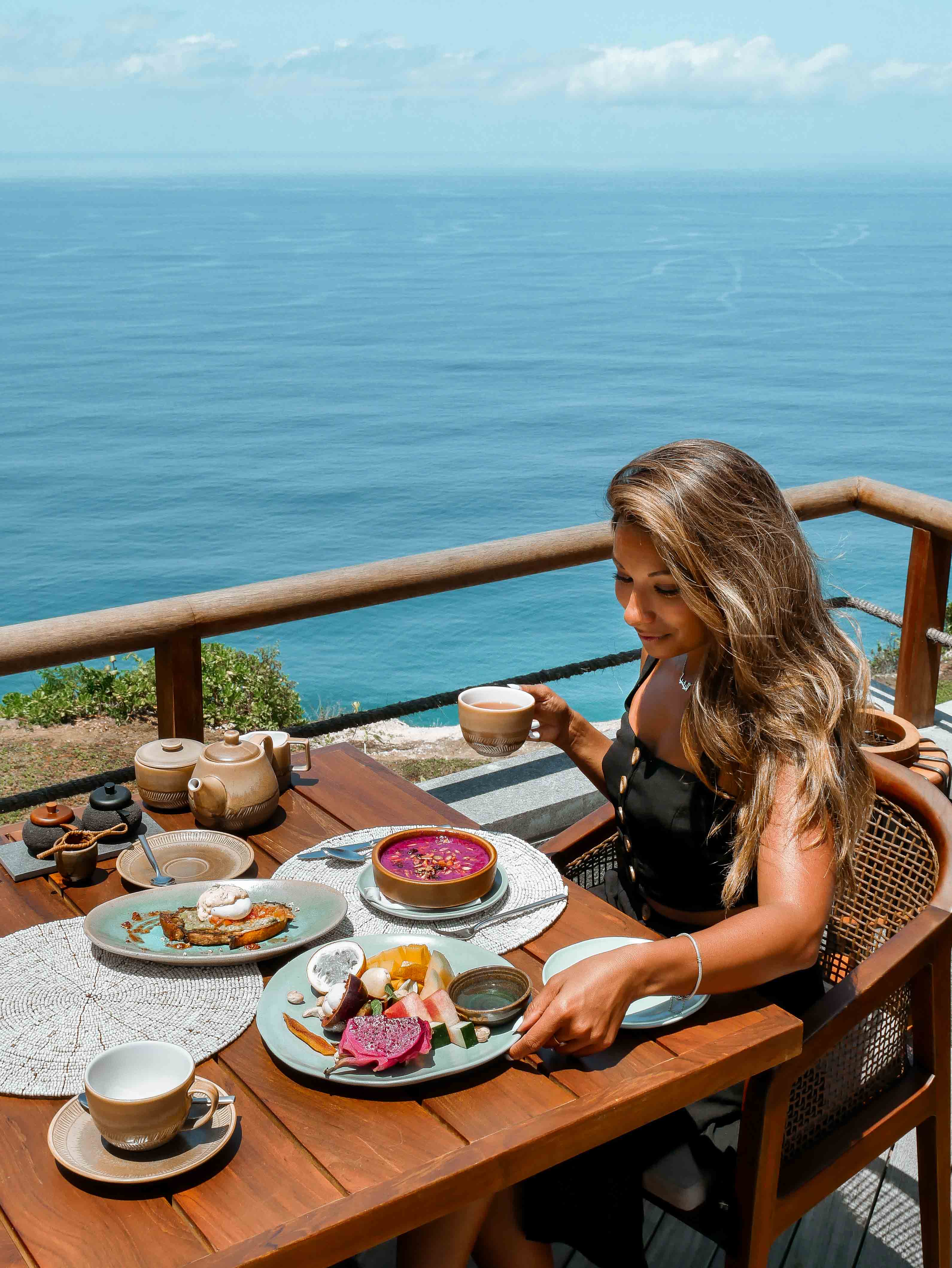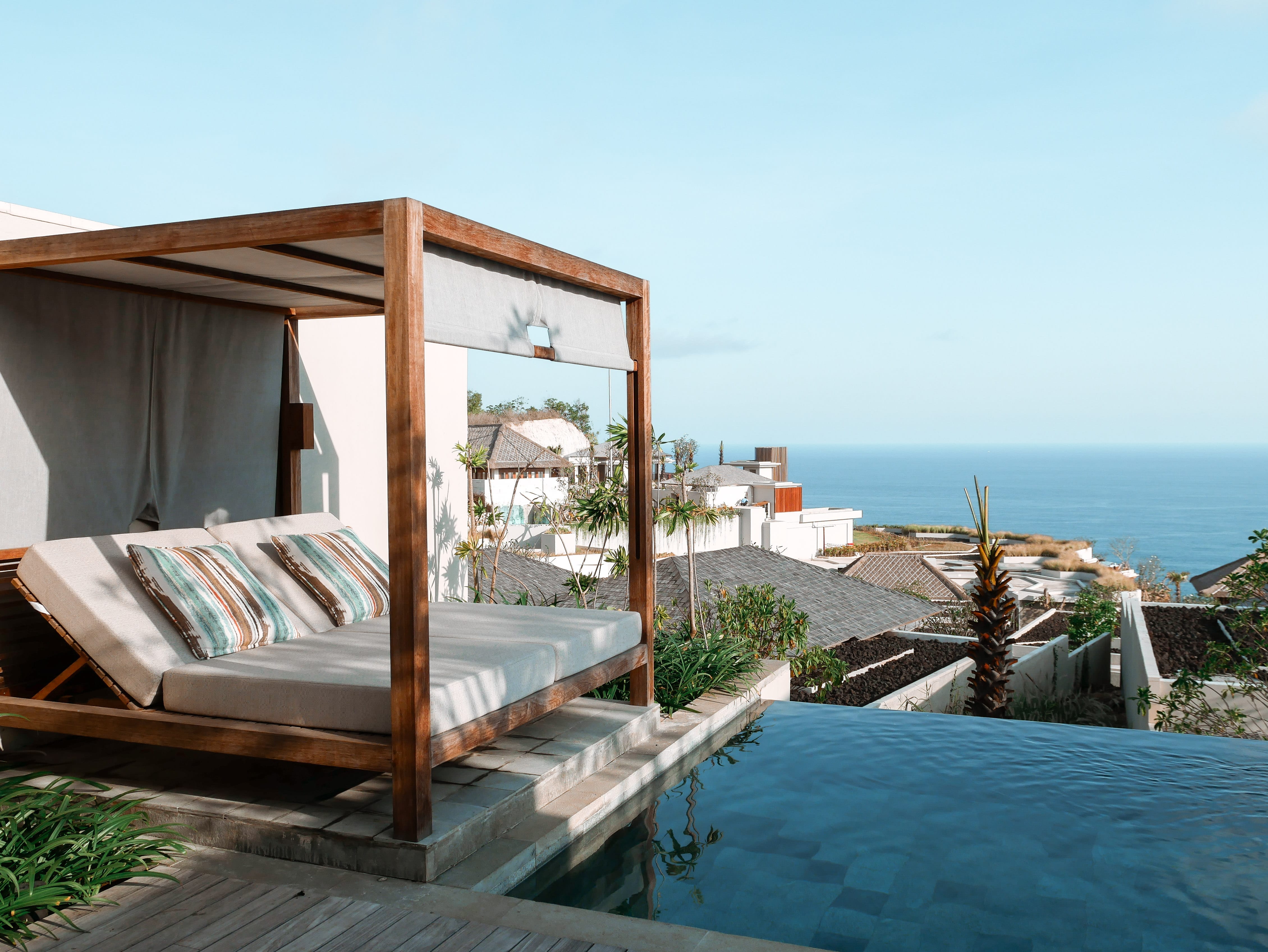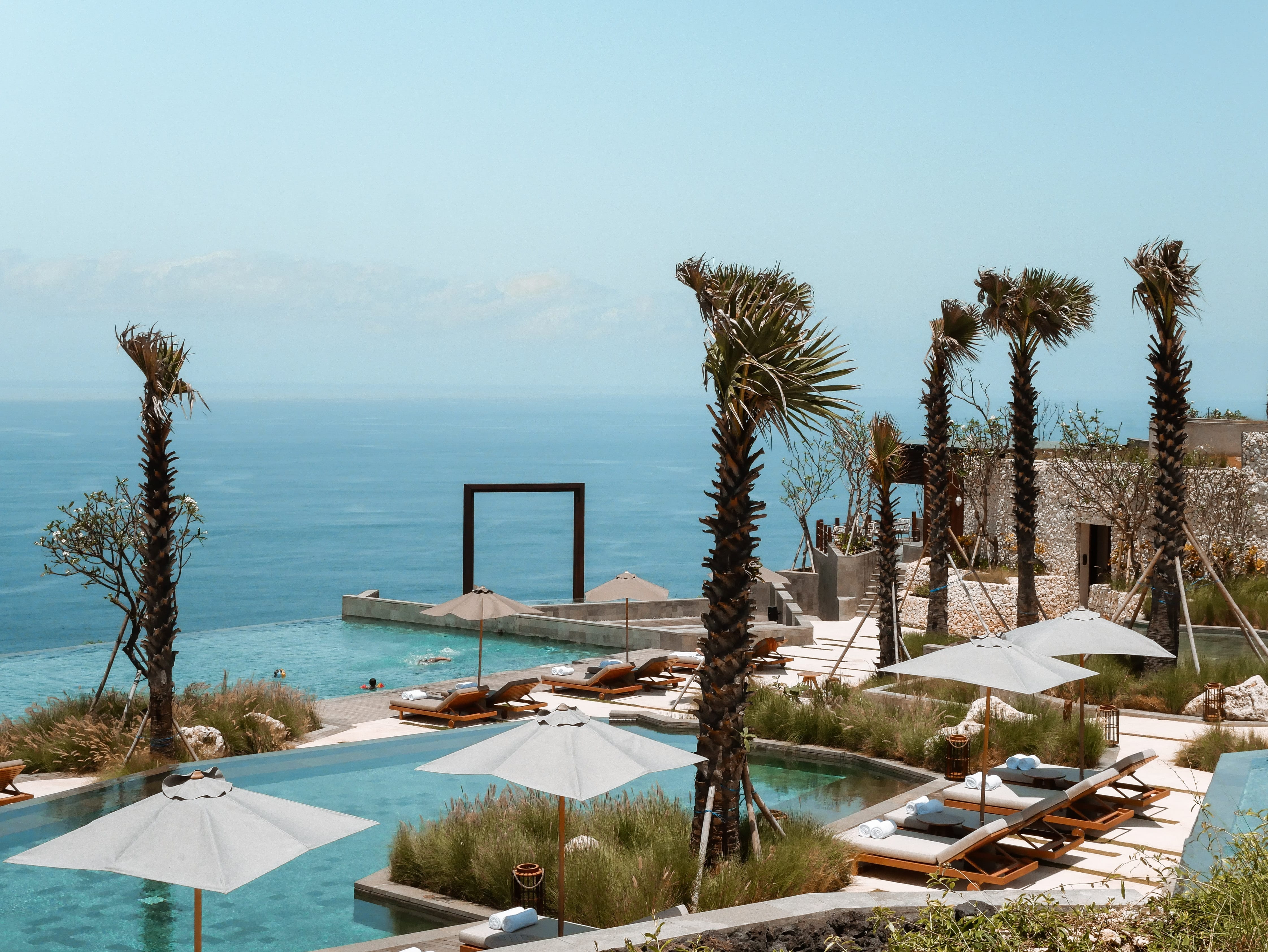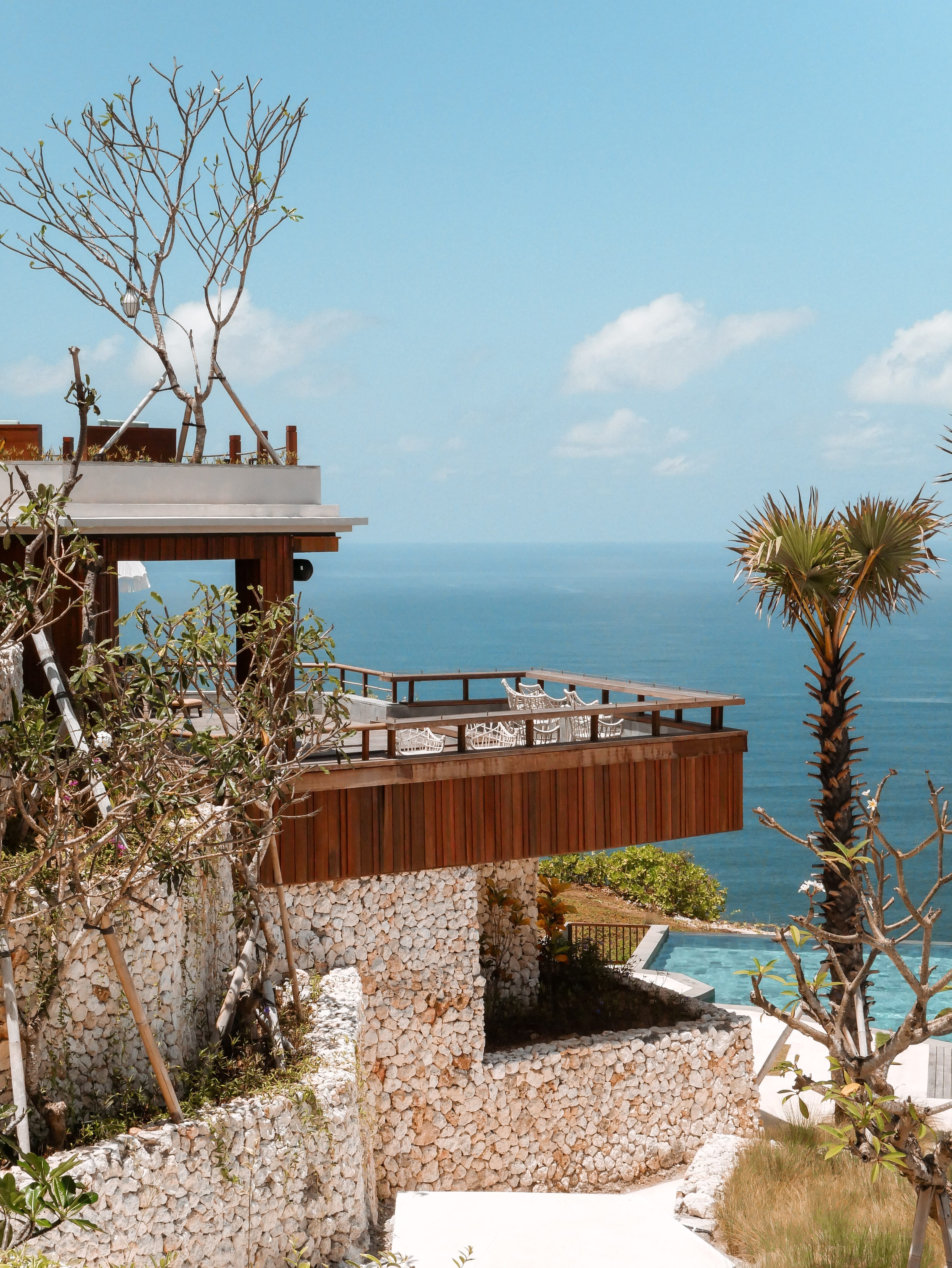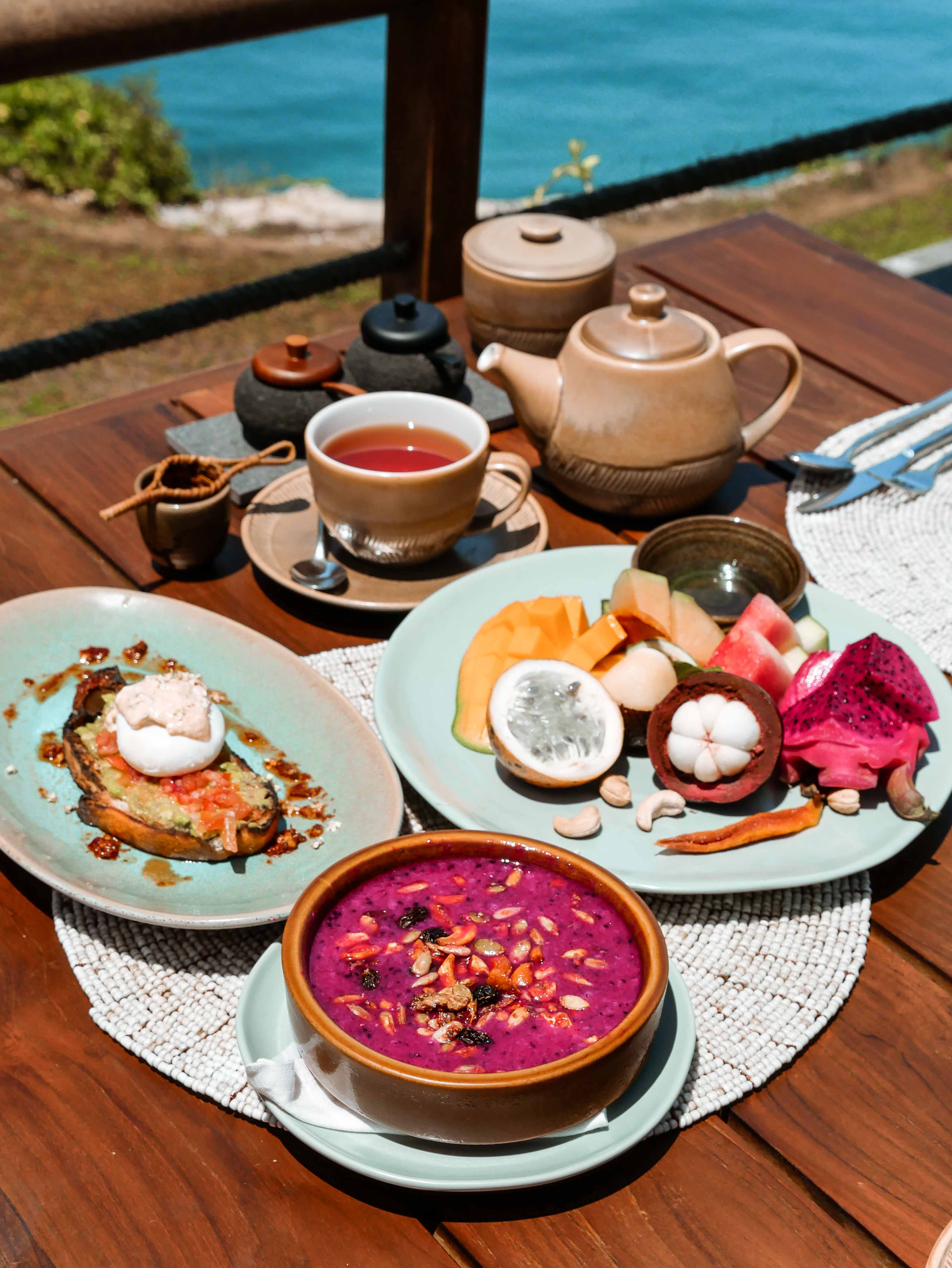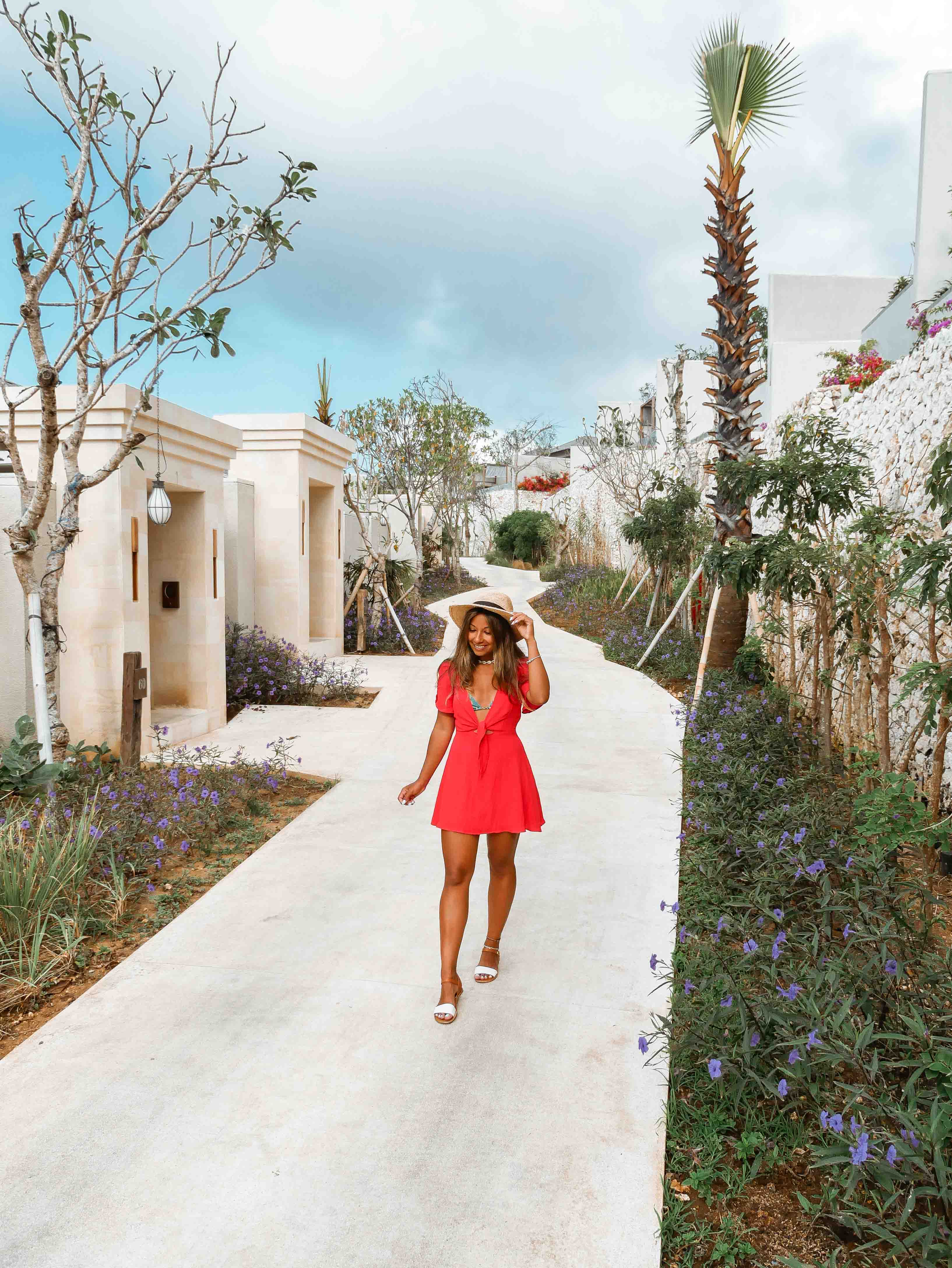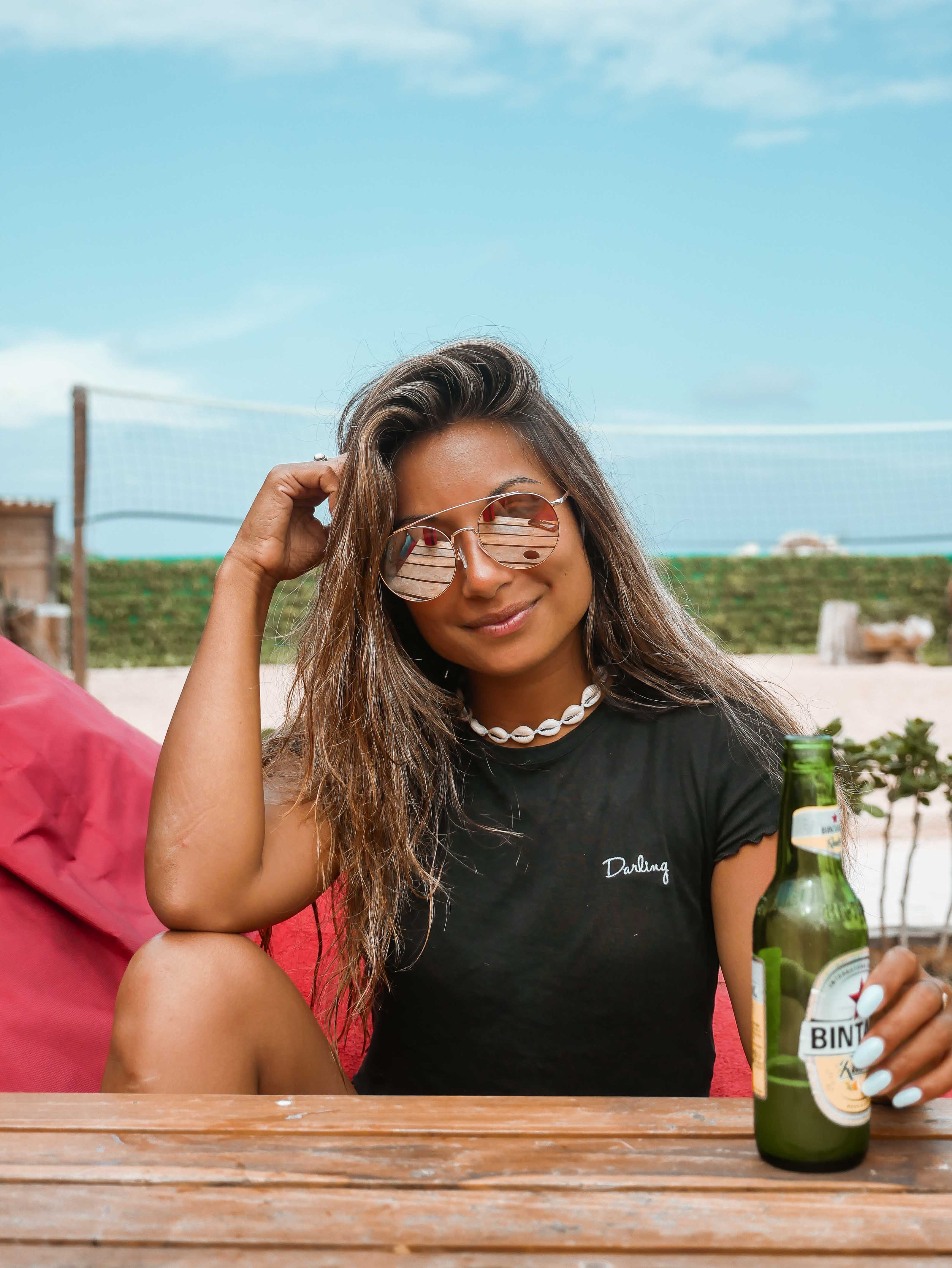 Cool Beach Bars/Clubs
There are loads of cool beach bars in Uluwatu to choose from. Some are part of the resorts, and others are standalone beach bars on the beach. I wish we had longer in Uluwatu as I'd have loved to have experienced more of the beach bars, but here are a few that seem worth checking out.
Roosterfish Beach Club, Pandawa Beach: We stopped here for lunch and it's a cool restaurant/beach club with great food and drinks. There's a really nice pool that you can hang out in too, and it's right on Pandawa Beach. There isn't an admission fee.
Sundays Beach Club: This looks wicked and if you want a relaxing day at the beach with amazing food and drinks, paddleboarding/kayaking, beanbags, bonfires and a chilled vibe, Sundays Beach Club looks like the spot to be. It costs 400-450K per adult per day (weekends are 50K more expensive).
Karma Beach Club: Voted one of the best beach clubs in Bali, Karma Beach Club looks beautiful. They've got DJs, drinks, food, daybeds, facials and massages, watersports and a beautiful beach. It's family-friendly too and costs 650k per person which includes food credits.
Omnia Dayclub: If you're looking for a swanky place to lounge by the pool, dance and hang out, Omnia looks like the place to be. The property is stunning and ultra-modern and hangs high over the clifftops. It's 21+ and regular admission is 200k pp. (Note, unlike the others, this is more pool-based rather than beachy)
Single Fin: Whether you want to chill out to acoustic music, sip on a coffee, grab a quick Bintang or let your hair down, Single Fin has it all. It's located at Suluban beach and it's a wicked place to watch sunset, surfers and generally just hang out. There is no admission fee.
Uluwatu Travel Tips
Hire a scooter
If you want complete flexibility with getting around, I'd highly recommend hiring a scooter. From the small scooter shacks it costs about $8 a day for rental, but resorts generally charge a bit more. The beaches and resorts around Uluwatu are pretty spread out so you can't really walk from place to place. There are taxis and Uber is allowed (but only in certain places, and in the popular spots they don't allow Uber pick up and they're pretty strict on that). Both can be pretty unreliable and expensive and traffic is often crazy in certain areas, so a scooter is a lot quicker as you can bypass the traffic.
Private vehicles
You can also hire a private vehicle if you're not so keen on getting a scooter. It costs around $40/$50 a day and is a more comfortable way to travel if you're travelling with the family or with a big group. However, it can end up being quite expensive if you hire a private vehicle every day depending on how many people you're with, so keep that in mind.
Plan a beach route
If you only have a couple of days to spend in Uluwatu, you want to be a bit organised so that you hit all the spots you want to visit. Some of the beaches are quite far apart, so it helps to plan out a route in advance. While the beaches might look close together on a map, there's often only 1 road that connects the main road to the beach, so you end up backtracking quite a lot.
Make Google maps available offline
Most places in Bali have wifi, but it always helps to have a map available when you need it. On Google Maps, you can select a location and make the area available offline, which means that you'll be able to access the map and get directions to places without having to use your mobile data. This is super useful especially as a lot of the roads don't have names or aren't signposted.
Haggle your taxi fare
Especially when you're travelling from the airport, always haggle! They will usually add a couple of hundred thousand Rupiah onto the fare to begin with, so don't be afraid to negotiate a better price. We paid 200,000 IDR to get from Denpasar airport to Uluwatu, which is about standard. Always agree on the price before you set off too.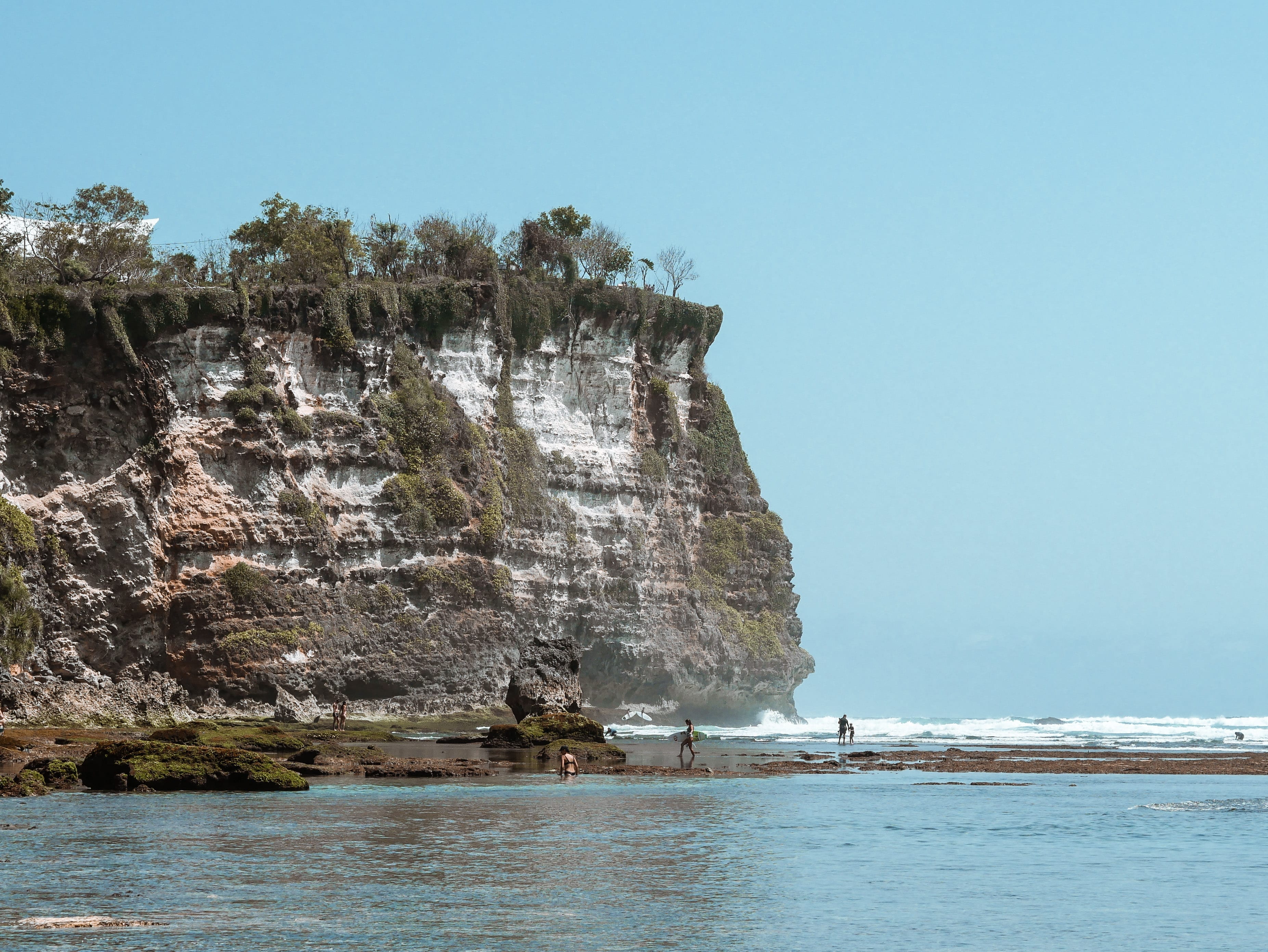 I really hope you've found this Uluwatu travel guide useful and it's given you a bit more insight into what it's like travelling this beautiful part of Bali!