Travel is one of my biggest joys in life and I always get so excited about discovering a new destination. My desire to explore new places has grown immensely in the last few years, and I feel very fortunate to be able to travel as much as we do.
One destination that we recently visited was Indonesia - hands down, one of my favourite countries in the world. When we travelled Southeast Asia 4 years ago, we spent a month in and around Bali and I completely fell in love with the culture, the people, the spirituality, and of course the amazing landscapes and marine life, and it's somewhere we've been wanting to go back to ever since. So, when a wonderful opportunity came up to partner with Hong Kong Airlines last year, I was over the moon as it allowed us to return to one of our top places and explore a little more.
In terms of its positioning, Hong Kong is Vancouver's gateway to Asia. A flight to Hong Kong takes just 13-hours direct, so it's easy enough to reach Asia and unlock a whole continent of destinations. From Hong Kong, you can get to places like Bangkok, Manila and Ho Chi Minh in less than 3 hours, and places like Bali, Maldives, Tokyo and Kuala Lumpur in less than 6.
You can't fly direct to Bali from Vancouver (since it's too far), so our journey took us via Hong Kong and it was honestly the best long haul trip I've had to date. Hong Kong Airlines also very kindly covered our tickets and flew us Business Class, which was every bit as wonderful as I imagined. I can't say I've ever walked away from a long haul journey feeling that refreshed and fresh-faced and we felt like absolute VIPs throughout.
However, whatever way you choose to fly whether it's Business Class or Economy, long haul travel can still feel a little stressful and 13+ hours on a plane can be a daunting prospect. You want to reach your destination feeling as organised and chilled as possible, and that's always helped by a stress-free and smooth journey.
Over the years, I've developed a bit of a travel routine especially with long haul flights, and I find that a few simple habits and organisational tips can really help to make the journey that bit easier, especially if it's your first time travelling long distance. So, here are some of my best tips for travelling long haul to help you survive your journey, as well as an overview of our experience flying Business Class with Hong Kong Airlines for the first time. Click here to watch the video too!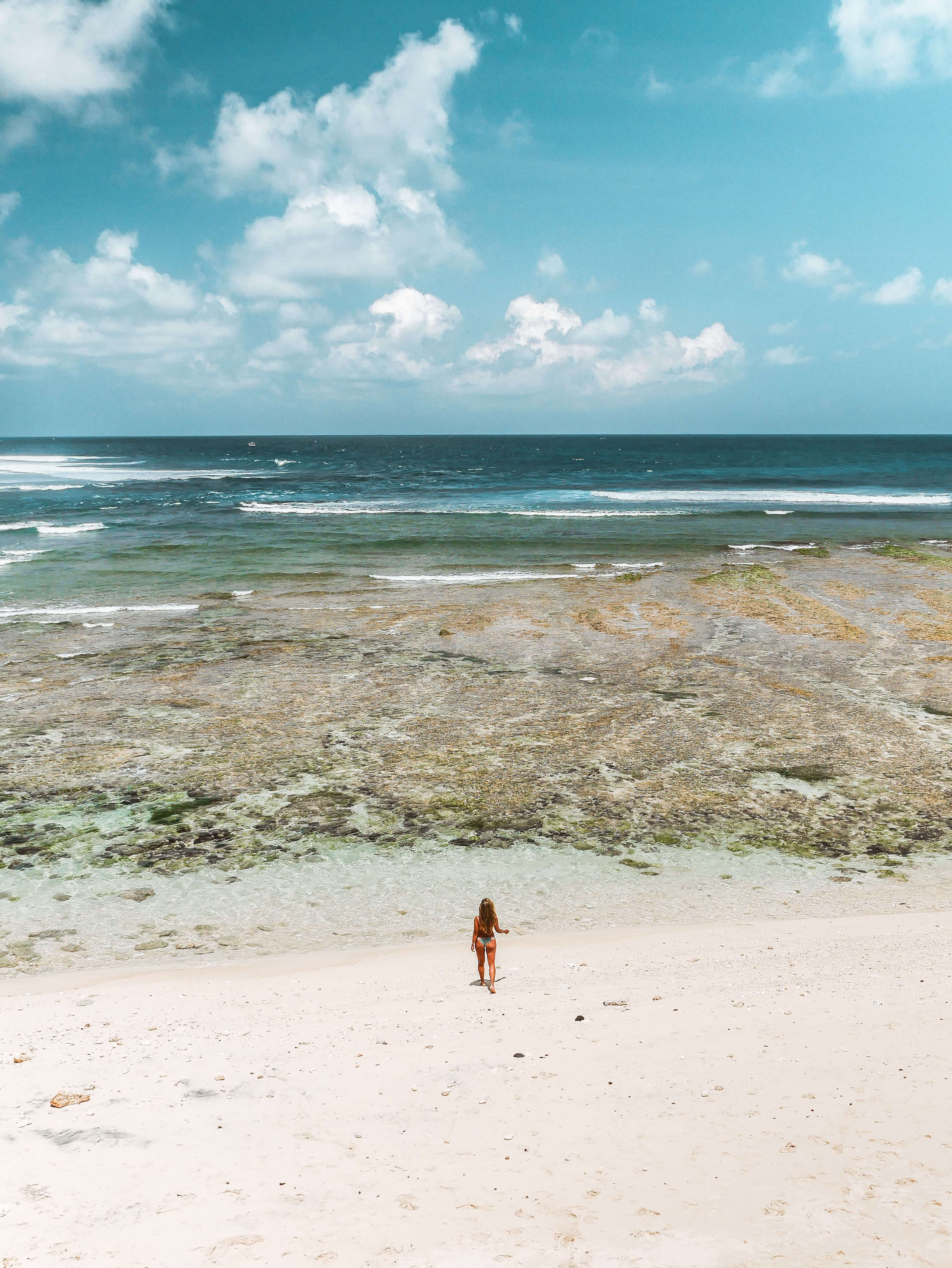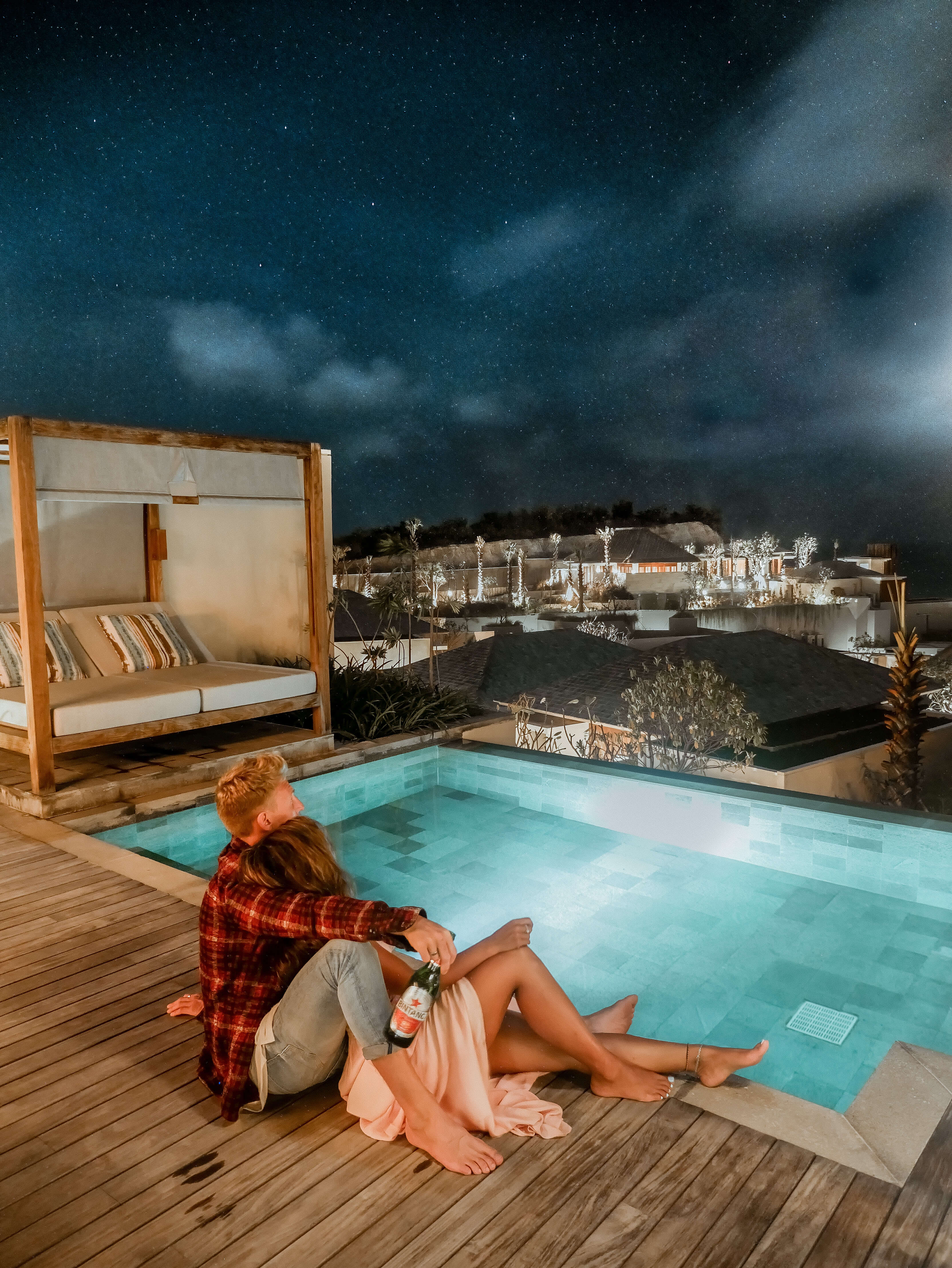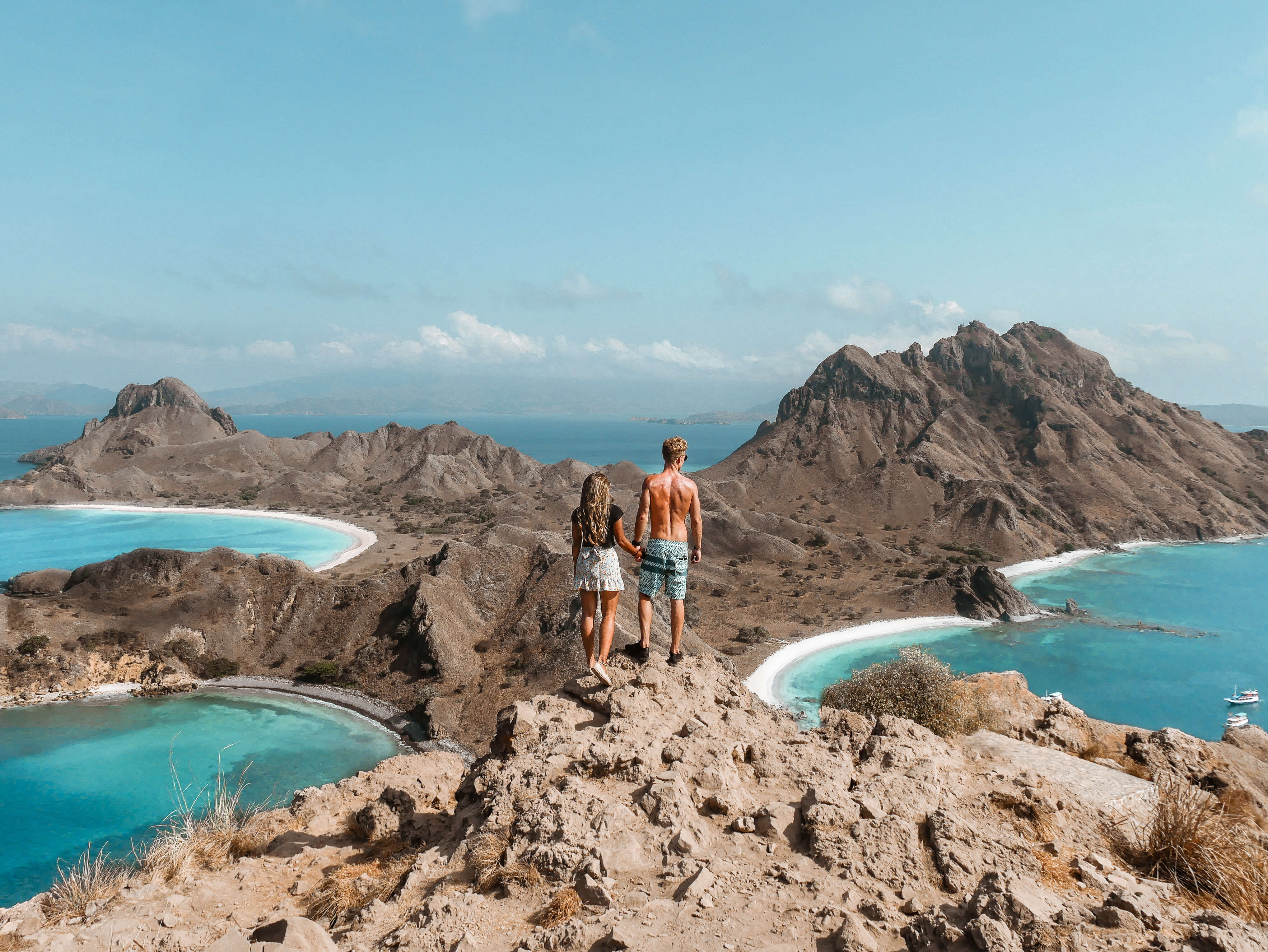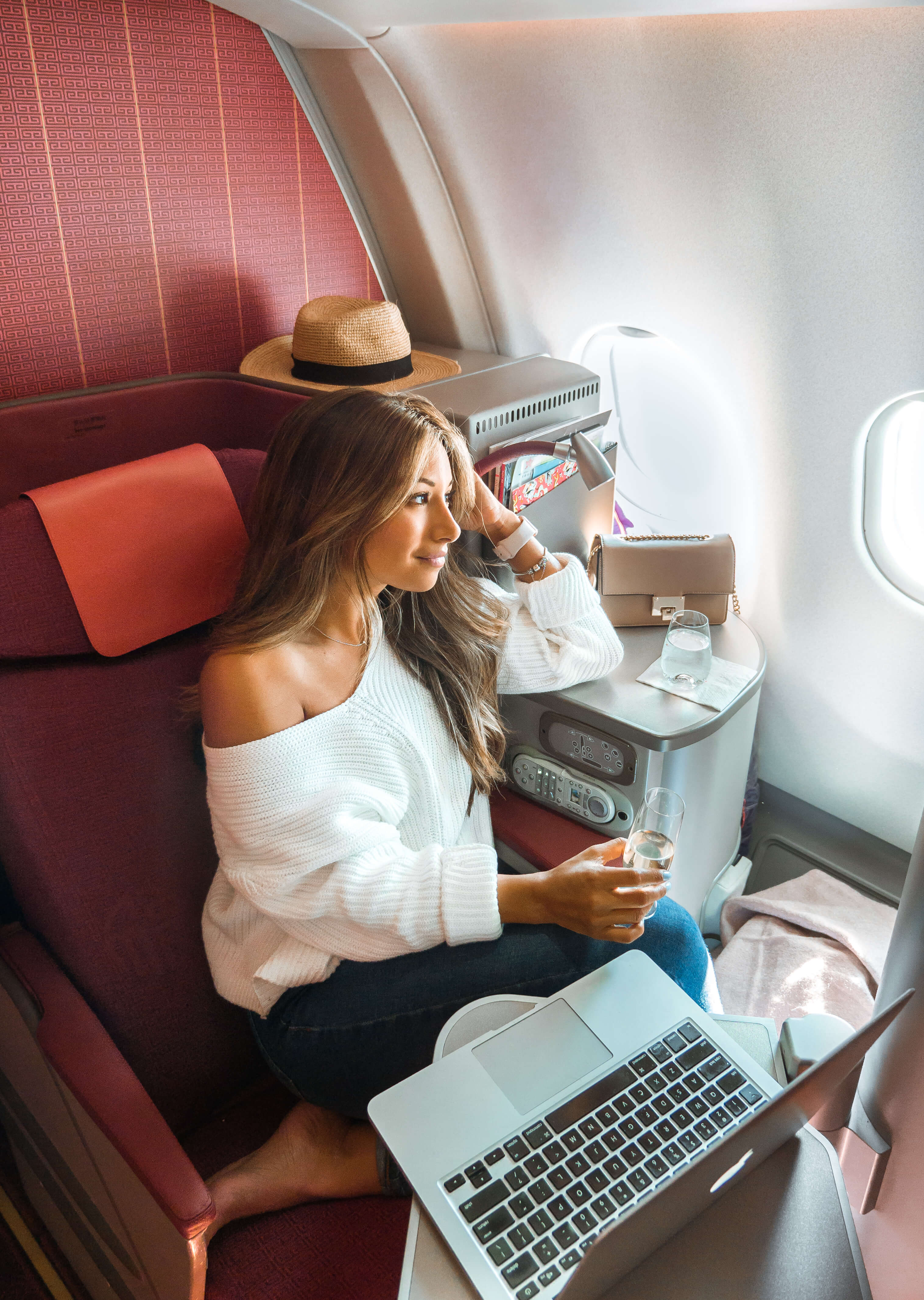 Travel in Comfort
When I was 16, I visited New York and in a bid to look as stylish and chic and SJP-esque as possible, I decided to wear a pair of stilettos for the flight there. To this day I still don't quite understand why I did that as it was the most uncomfortable journey ever (especially squeezing into them with post-flight swollen feet, eek), but it taught me a very valuable lesson - always travel in comfort when you're travelling long haul!
Nowadays, there won't be a pair of heels in sight and you'll usually catch me in a comfy jumper, a pair of leggings, my converse or boots, very minimal makeup, and a big pair of socks and a blanket scarf. Comfort is key especially when you're going to be sitting for 10+ hours and you want to be as cosy as possible. I also like to wear layers, so you can strip down when you're running through the airport and layer up when you get chilly on the flight.
Get in the time zone
If you're travelling long-haul, chances are you're heading into a different time zone. I find it always helps to get ahead on adjusting to the time difference so the flight is the perfect time to start. I find it easiest to work backwards - I think about what time I'm going to land in my destination, and then figure out my sleep pattern from there.
For example, if you're going to be landing at 7am local time, then it makes sense to sleep for the last 6 hours of the flight so you feel fresh and you manage to stay awake all day. However, if you're landing at midnight, try to stay awake for the majority of the flight so that you're tired when you arrive, and you should hopefully sleep through the night. A little planning makes the world of difference. When you get to the destination, I find that eating at regular meal times (and eating even when you're not hungry) is also a good way to get adjusted to the local time zone, and make sure you drink plenty of water to stay hydrated.
Keep everything organised
If there's one thing that makes life so much easier when you're travelling, it's being organised. It makes the whole journey much less stressful and reduces your chances of losing something or leaving an important essential behind. Gather all your travel documents in a small folder so that you have everything you need in one place. If I'm travelling with a backpack, I usually wear a small cross-body bag too so that my phone, money and passport are easily accessible when I need them and I don't have to take off my backpack to grab them. It also gives a little peace of mind knowing that my important documents are close to my body and out of reach of potential pick pockets
Organise your travel documents in the order in which you'll be needing them, separate your liquids out in advance so you don't have to do that at the airport, and try to keep your travel bags in order. I like everything to have a home so that I always know where it is, and that helps to avoid any mad "Oh my god have I forgotten my visa?!" panics! I usually run 5-10 minutes late in daily life, but when it comes to travel I like to be super early just in case unexpected delays arise, as having that 20 minutes extra can sometimes mean the difference between boarding your plane and missing it!
Charge up all your tech
Although nowadays planes often have USB ports and even plug sockets, I like to charge up my laptop, my camera, my kindle, my headphones and all my other tech essentials the day before I travel, so that everything full and ready to go. Sometimes, those USB ports and plugs don't work too which can be a major annoyance if you're relying on that power. When you get to your destination, the last thing you want to be doing is hanging out in your hotel room waiting for your camera or your phone to charge, so do that all before you fly. I also like to carry a battery pack with me, as I find that constantly using Google maps and your camera drains your phone juice, so it's great to have a back-up.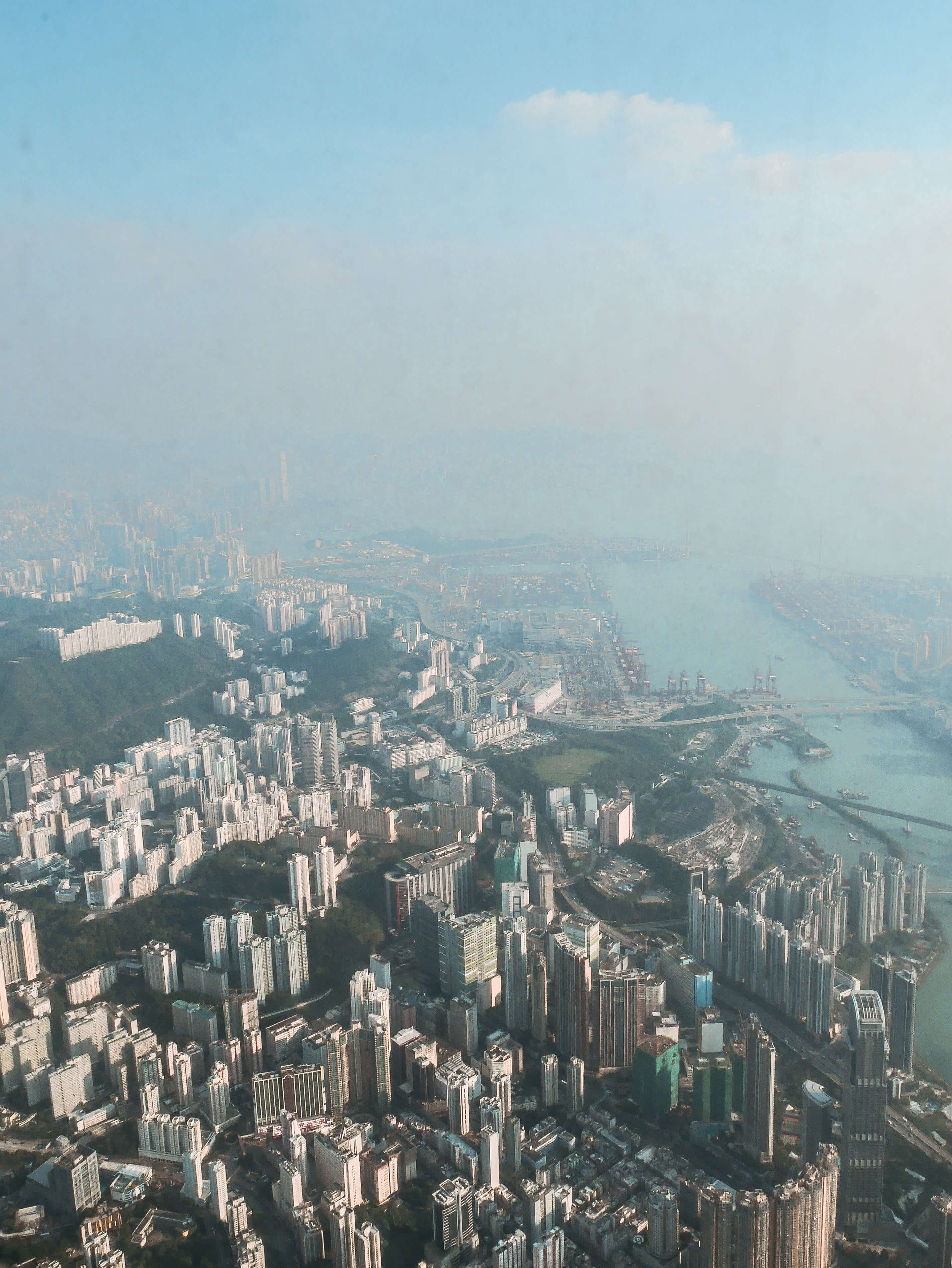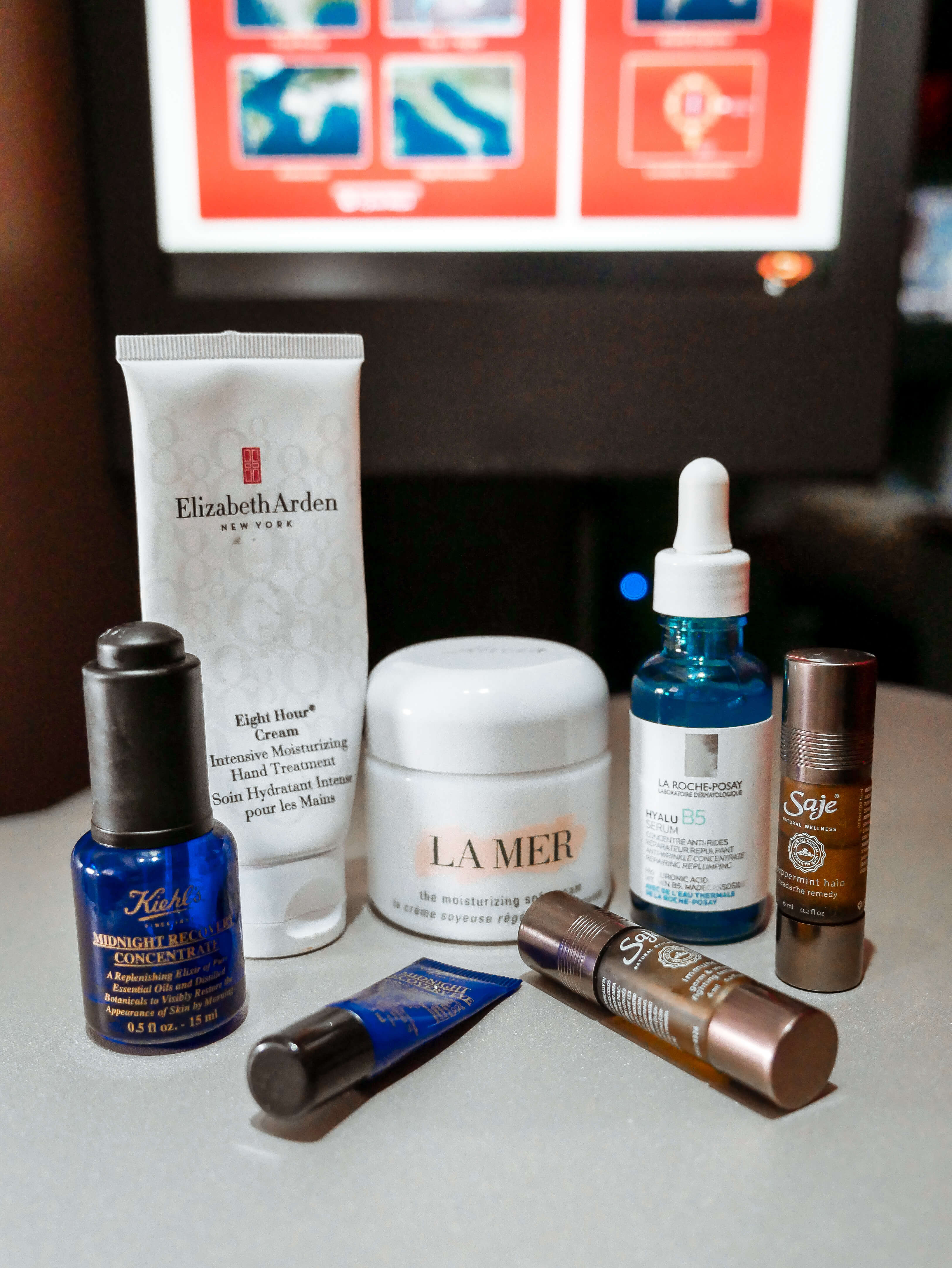 Have a mid-flight pamper
I actually really enjoy flying and it's so nice to have some quiet time where I can really indulge in a movie or get into the zone with my work. However, the one thing I don't like is how it can mess with my skin, and the last thing you want is for your skin to start playing up right before your holiday begins!
I highly recommend having a mid-flight pamper to give your skin some extra love, hydration, and a boost before you hit your destination. Planes can be ridiculously dehydrating for both your skin and your body - in fact, studies have shown that women can lose as much as 1.6 litres of water on a 10-hour flight, and up to 2 litres for men, which is a huge amount. Cabin humidity levels are extremely low so that draws moisture away from your skin, so all the more reason to bring a few skincare products on board and stock up on the H20.
Either invest in a few miniatures of your regular products or, transfer a small amount of product into a small travel container to take with you on board. I find this is a great solution even for the jars that are within the 100ml limit, as those jars can be heavy and breakable so this will minimize extra weight. I also advise sticking to your regular skincare products. Your skin will already be a little sensitive from the change in pressure and humidity, so you don't want to throw it out of balance by introducing brand new products that you've picked up at duty-free. My go-to pamper products in flight are:
La Roche-Posay Hyalu B5 Serum | Kiehl's Midnight Recovery Concentrate
La Mer Soft Moisturising Cream | Elizabeth Arden Eight Hour Hand Cream
I also love the Kiehl's Avocado Eye Cream, the Skinceuticals C E Ferulic Acid and the La Roche-Posay Hyalu B5 Cream which are all super hydrating, and the Saje Essential Oil roll-ons are really great to pop on the back of your neck, temples or wrists to help calm you down and soothe any in-flight ailments.
Long-Haul Flight Checklist
Passport
Mobile phone + charger
Laptop/Ipad + charger
Book/Kindle
Earphones - remember to download your Spotify songs!
Netflix - download to the phone or iPad app
Sleep eye mask
Makeup wipes
Skincare products
Hand cream
Lip balm
Eye drops
Contact lenses / glasses
Mini hairbrush
Travel toothbrush
Cosy socks
Pillow
Big scarf
Comfy clothing
Flying Business Class With Hong Kong Airlines
For our trip, we had the pleasure of partnering with Hong Kong Airlines and experiencing their Business Class service from Vancouver to Hong Kong and then onto to Bali. Our journeys both ways were completely smooth and stress-free, and I was so impressed by the level of service right from when we checked in until the minute we stepped off the plane. The crew members were so so welcoming and friendly throughout the flight and I can honestly say I've never experienced such gourmet food at 30,000 ft!
The Business Class section follows a 1-2-1 configuration so you can sit solo with privacy by the window, or in the middle aisle seat if you want to be close to your neighbour. The seats were very comfortable and fully recline into a flat position, and there's a generous amount of room around your seat and on the side tables for your belongings. There's also a universal plug socket and USB port. The complimentary amenity kit is actually the most useful and usable kit I've ever seen in-flight (it features socks, an eye mask, L'Occitane cream, a dental kit and a few other essentials). You're personally greeted by a crew member as soon as you sit down which was a really nice touch and the crew are so attentive throughout the flight.
Their key market is the younger, millennial traveller who seeks both experiences as well as luxury, and they've really mastered that. Flights are very affordable - a Business Class return trip from Vancouver to Bali can cost just $4,000, which is very reasonable considering the luxe standard and the distance, while you can find Economy tickets for around $800 return. They've hit the "affordable luxury" nail on the head perfectly, while still, maintain their commitment to delivering a great experience and service so it's the perfect blend. There's also a Sky Bar on board for both Business and Economy passengers which is very cool for when you need to get up and stretch your legs!
I love their fun, modern approach and the fact that although they're a large brand, they also partner with small, independent people and businesses. For the launch of the Vancouver - Hong Kong flight route, they partnered with Dynasty Seafood, an award-winning Vancouver restaurant, to design their incredible culinary in-flight menu, as well as with the Botanist to create their signature in-flight Bauhinia cocktail. They've also teamed up with local Hong Kong artists to design things like their menu covers and Lunar New Year Lai See packets which is really cool to see.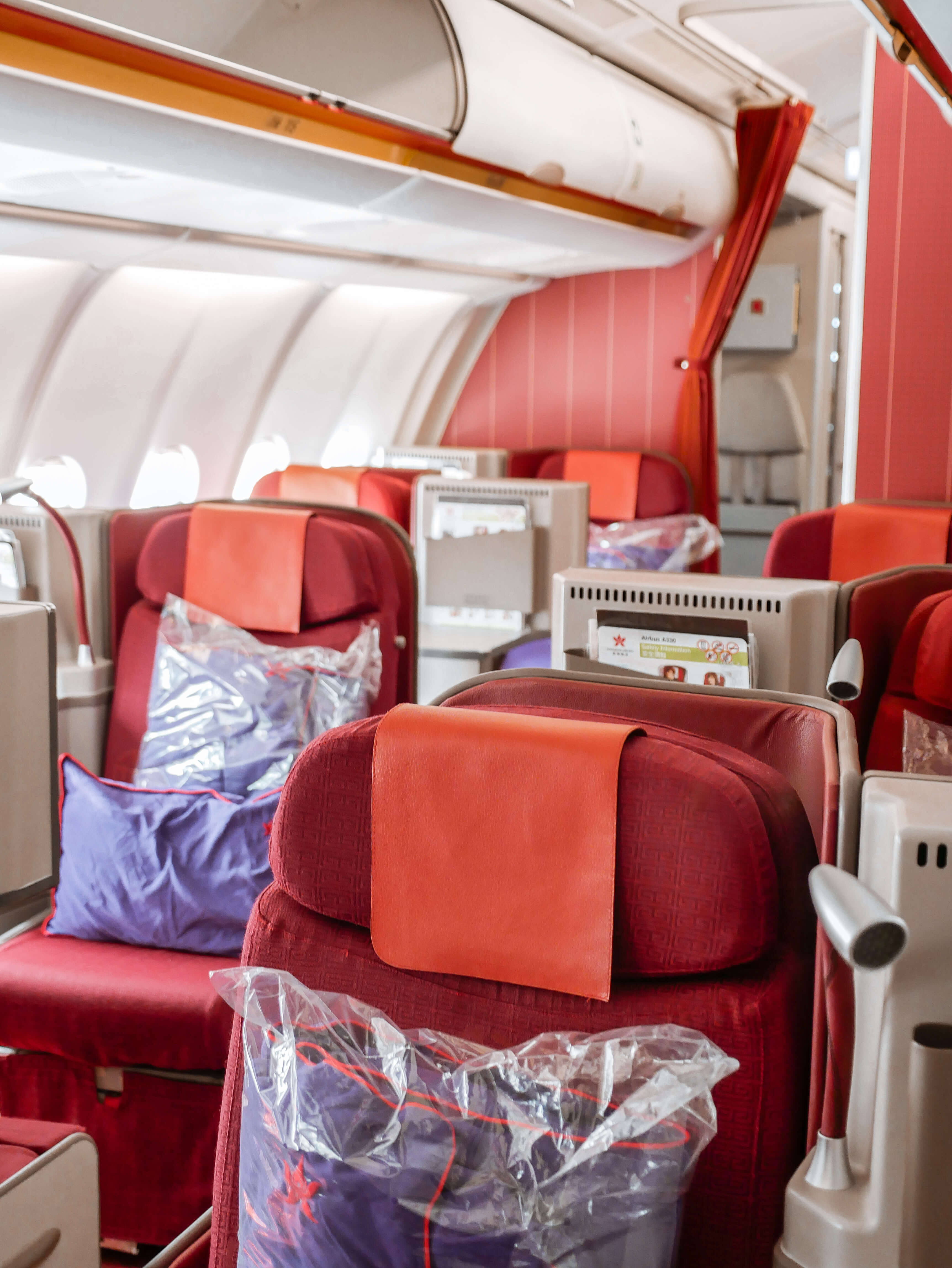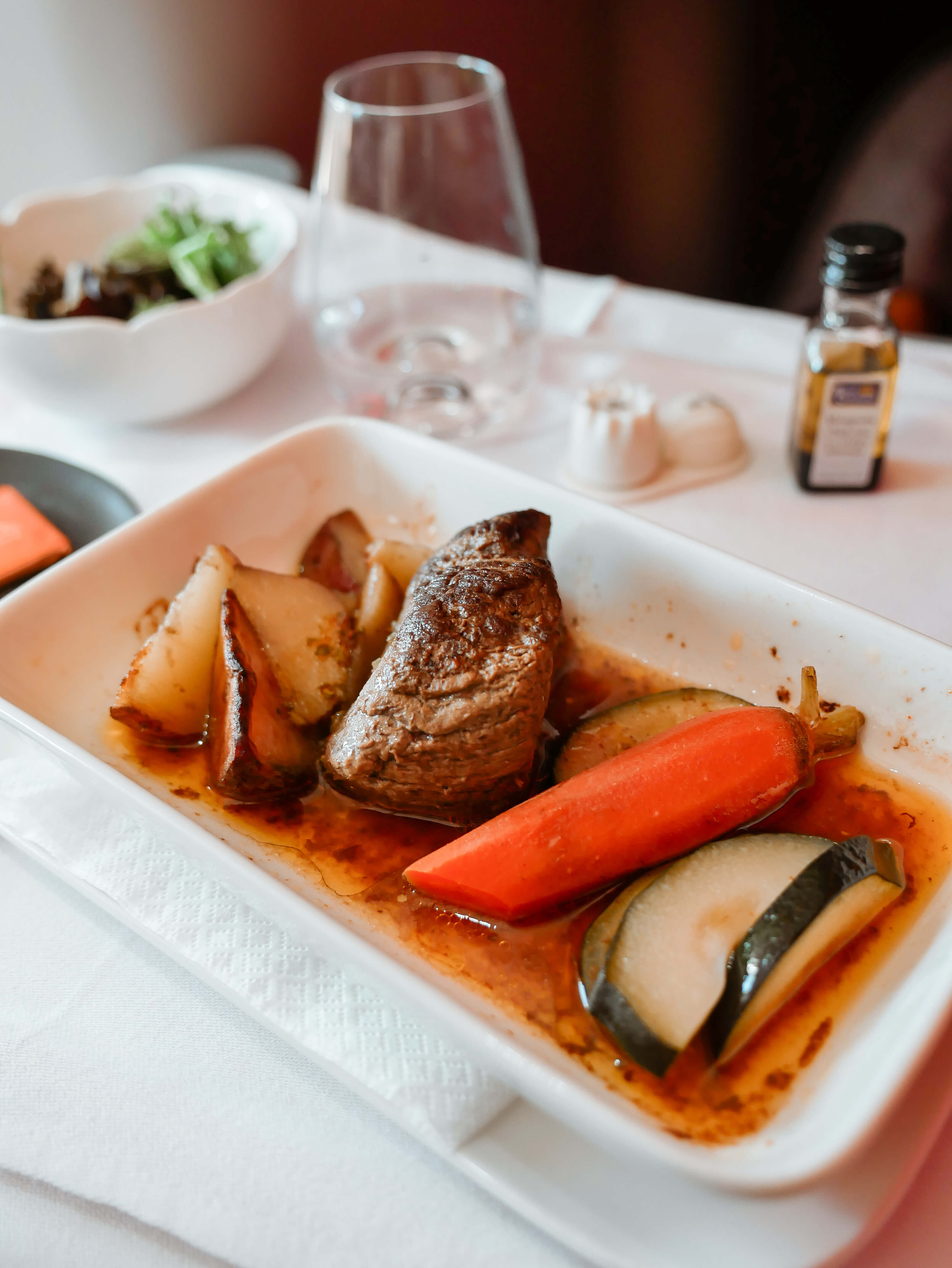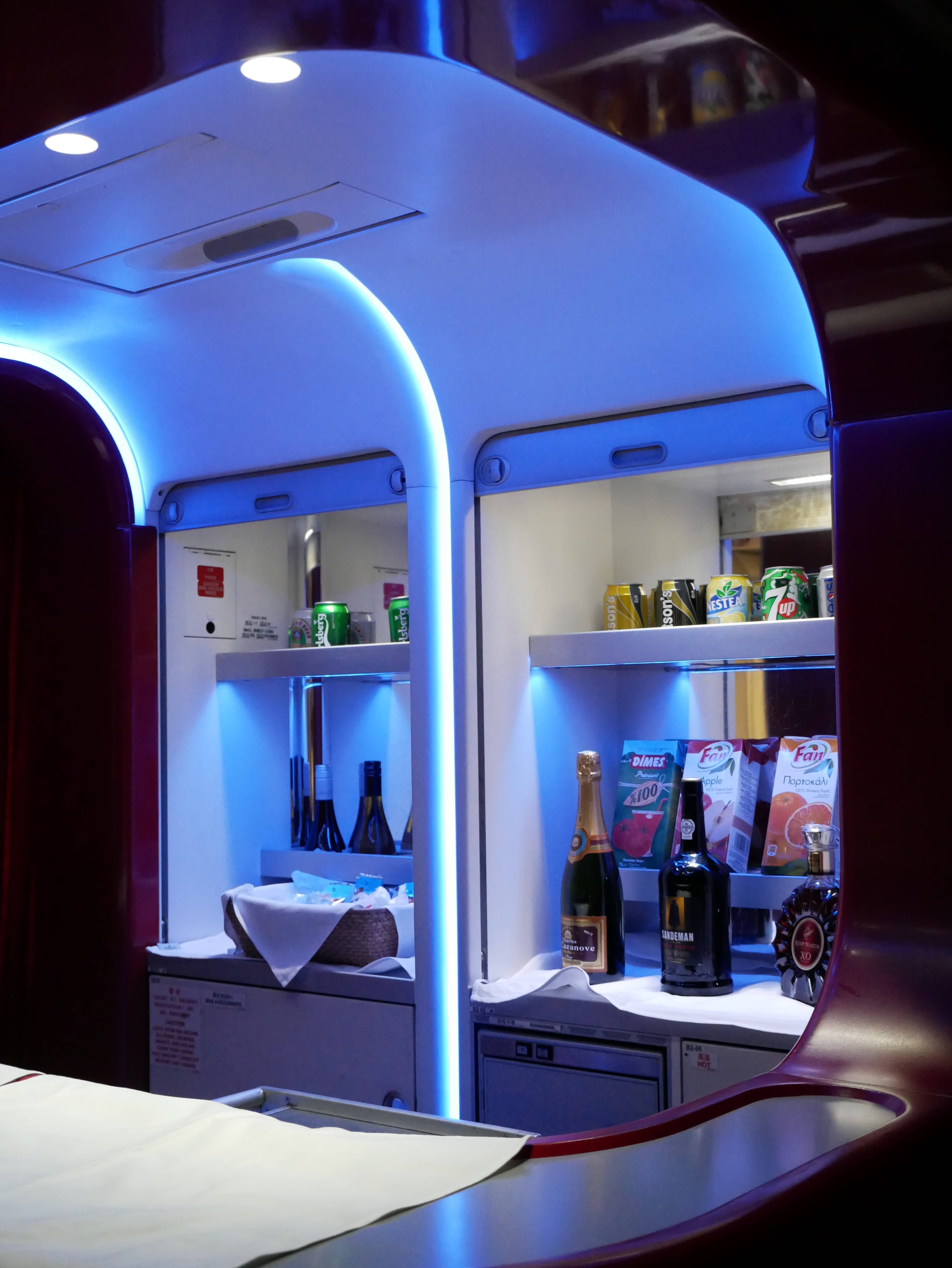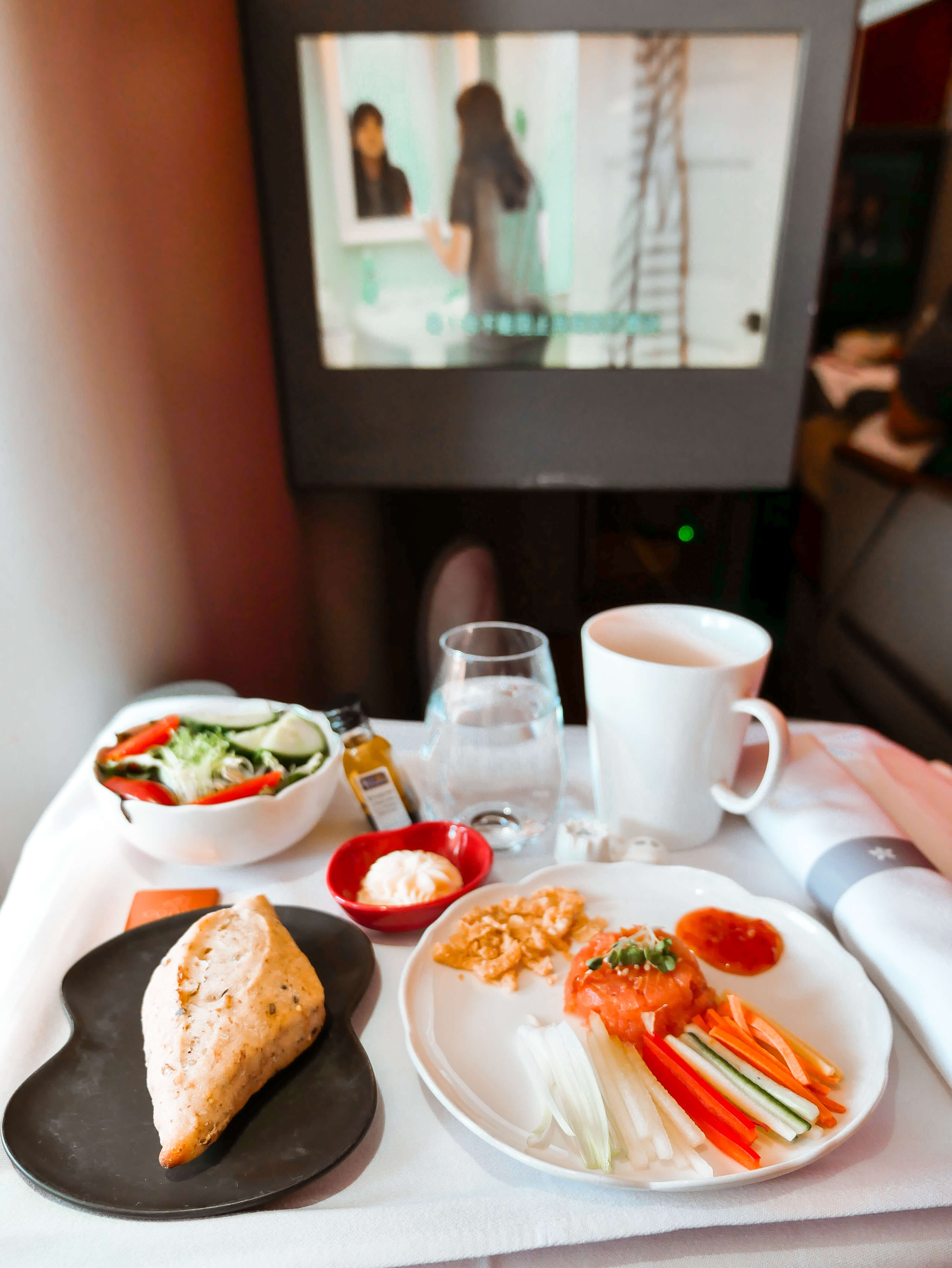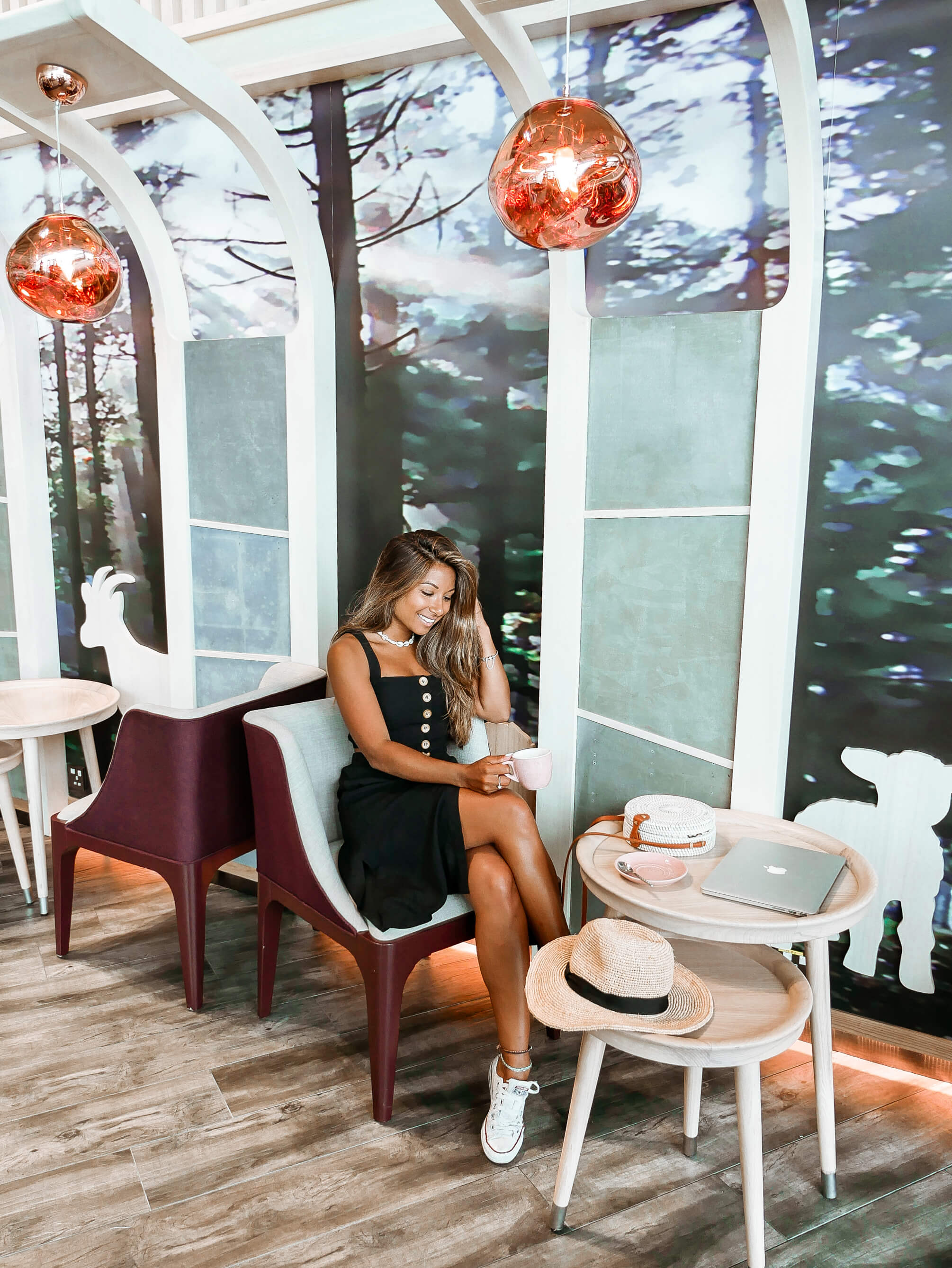 The Club Autus Lounge At Hong Kong Airport
We also managed to spend some time in the Hong Kong Airlines Club Autus Lounge in Hong Kong Airport and it's pretty fantastic. It opened in 2017 so everything's fairly new and modern, and it's a lovely place to chill out before or between flights. The lounge is also conveniently located close to the Hong Kong Airlines and Virgin Australia gates.
Aesthetically, the Club Autus Lounge is beautiful - the design is modern yet cosy with an abundance of natural light, and it's divided into different zones all with a slightly different vibe. You'll find comfy lounge chairs, workstations, long communal tables and dining tables so there's a huge range of seating options, and the lounge sits a floor up from the departure gates so you have a great view of the tarmac as well as the terminal. There's also free wifi.
I was very impressed by again, the standard of service, and we received a very warm welcome upon arrival. The amenities are great and include private showers and private day beds. The food is fantastic - we received a welcome cocktail as we sat down and the buffet is extensive. You'll find everything from sandwiches and snacks, to croissants, beans, eggs, and yoghurts, and lunch/dinner options like rice noodles, spring rolls, dumplings, miso soup, pork in black bean sauce, and plenty more. There's a blend of local and Western food and the option of cooked-to-order dining, as well as coffee machines, juices and a full bar with wine and spirits.
We also experienced the Plaza Premium Lounge at YVR Airport (Hong Kong Airlines doesn't have a dedicated lounge, but Business Class travellers have access) as well as the Premium Lounge in Bali Airport. Honestly, I found the YVR Plaza Lounge to be a little underwhelming and the food options were limited, similar with the Bali Airport Lounge. Out of the 3, the Club Autus Lounge was definitely the winner and it was such a nice, chilled environment to relax in before our flight. Hong Kong Airlines Business Class passengers have complimentary access to the lounge, and all other HK Airlines passengers can purchase a single-access pass for HKD $350 ($60 CAD). See here for more info.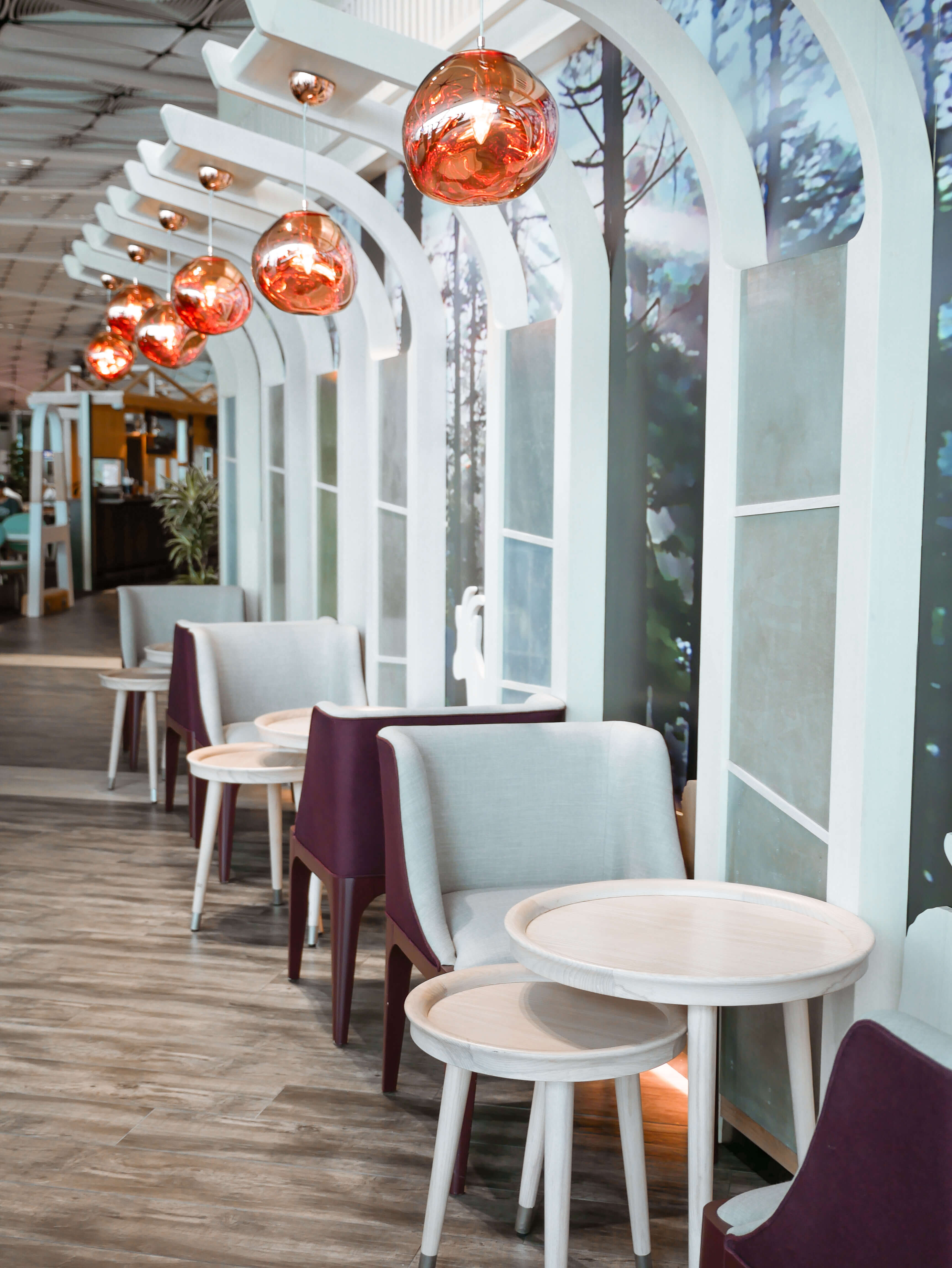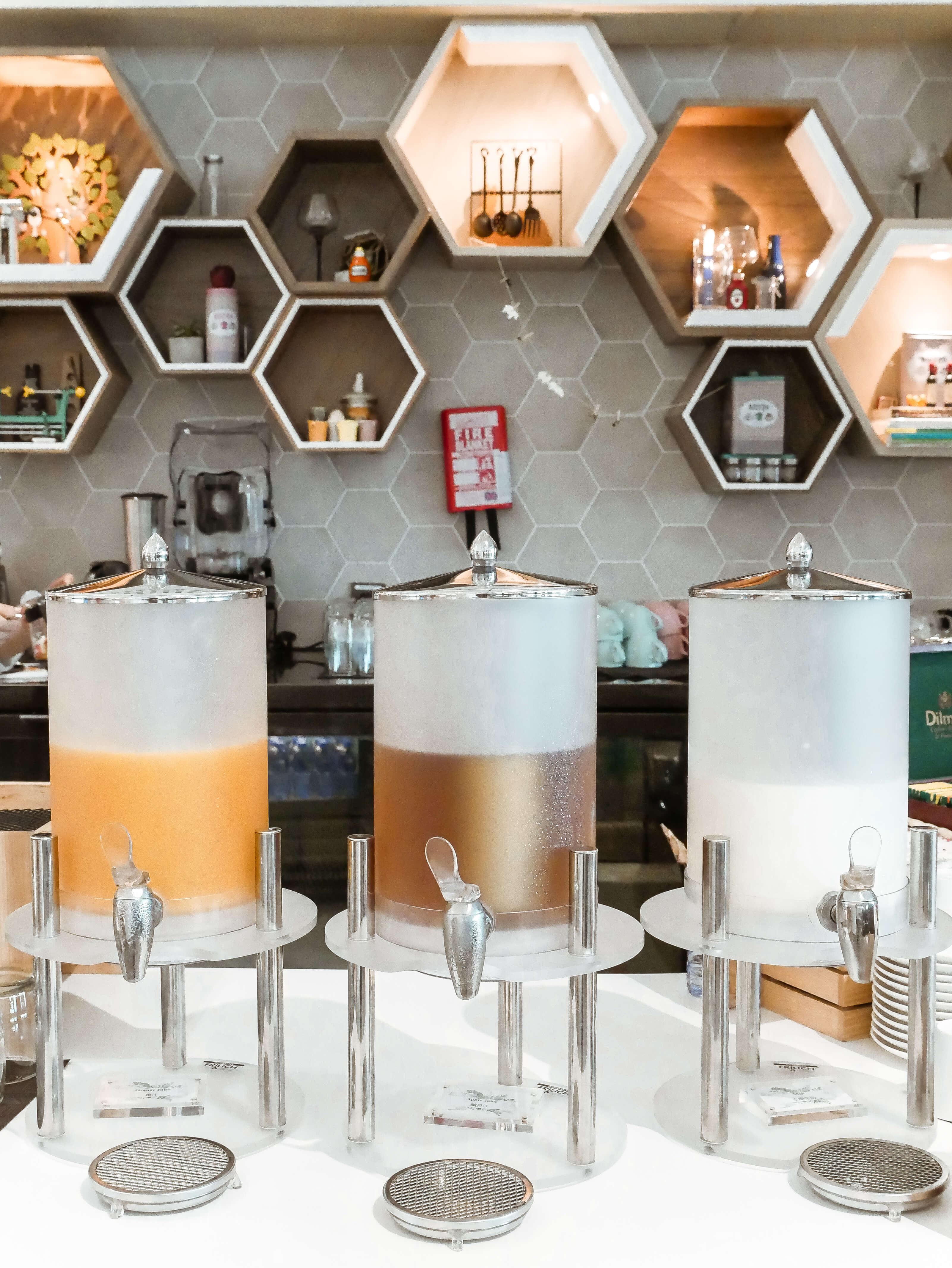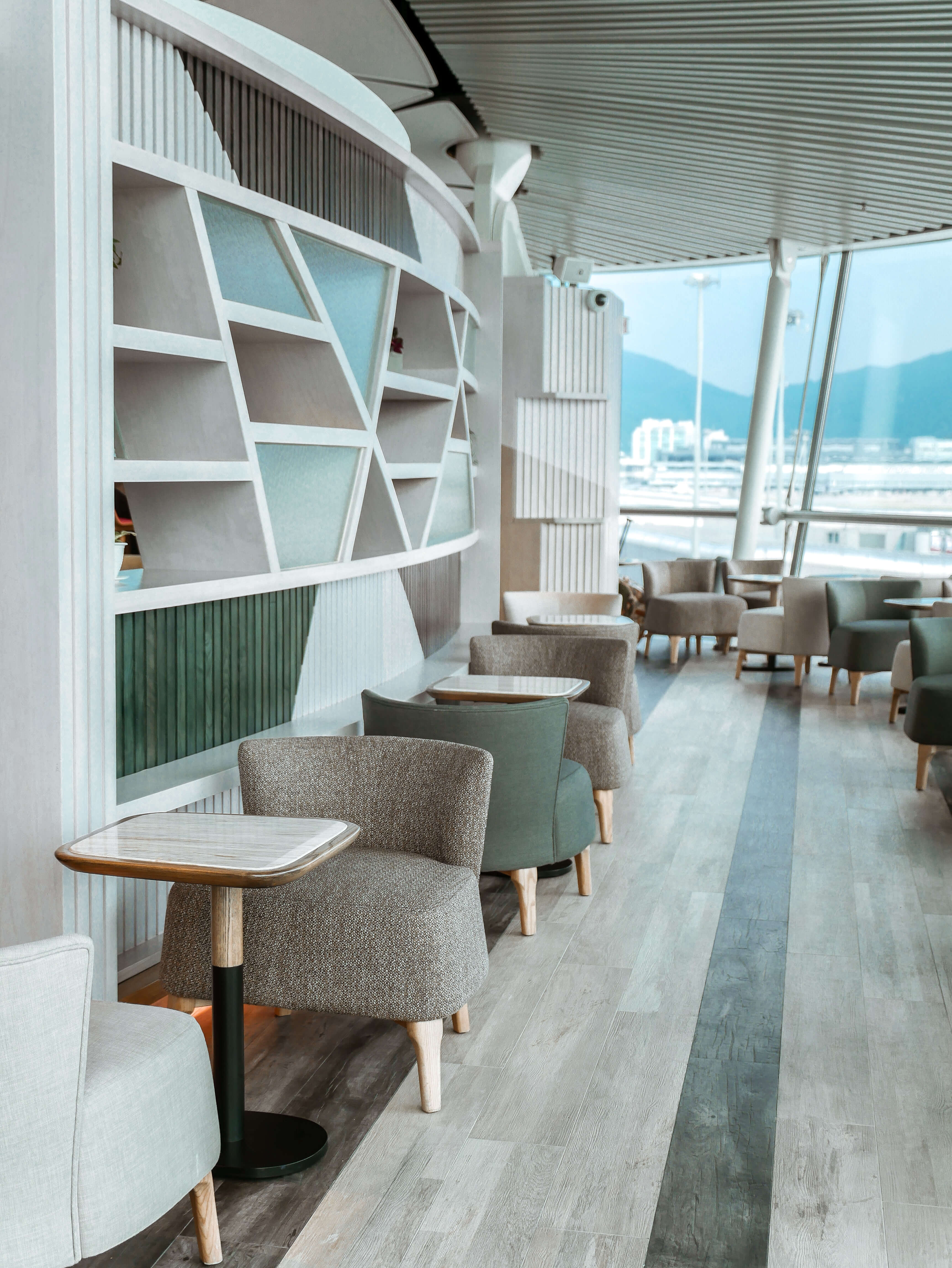 I hope you've enjoyed this post and it's provided you with a few useful tips for travelling long haul, as well as some insight into Hong Kong Airlines if you're considering flying with them. What do you like to do to prepare yourself for a long flight? Would love to hear more about your routine!
While Hong Kong Airlines was a travel partner for our trip, all thoughts and opinions expressed about our experience are my own.