I love simple, classic pieces and I think a white shirt is a staple for all wardrobes. I'd been on the hunt for the perfect oversized shirt for quite some time, so I was really happy when I finally came across one that I loved on my recent trip back to England.
It was so much fun being home especially as I hadn't spent my birthday with my family or my girls for a couple of years. But other than celebrating my birthday, one thing that I did was a lot of shopping, and I picked up so many amazing spring/summer pieces.
Having lived in both England and Paris, I think i've always been quite spoiled when it comes to shopping, and it wasn't until I moved to Canada that I realized just how amazing European style and shops are. Although we have a lot of the same shops in Vancouver, it's never quite the same and shopping in the UK is always a million times better.
I managed to find the perfect white shirt in River Island (one of my fave British stores) and with its cute cuff ties, gold buttons, and high-low hem, it's exactly what i've been looking for. I think you do have to be careful with shirts as you don't want them looking too work-esque (unless you're actually looking for a work shirt!), and you definitely don't want it looking like you're trying to rock an old school shirt. But, as long as you team it with the right pieces and accessories, it's pretty easy to create a really cool, off-duty look.
We shot these photos in Kensington when I was in London at the end of my trip, and I don't know about you but I just love how beautiful the backdrop is! This outfit is ideal for spring and I love how you can dress it up or down depending on your accessories and the weather. Read on for a few of my best tips for styling an oversized shirt and some of my favourite ways to wear it this season!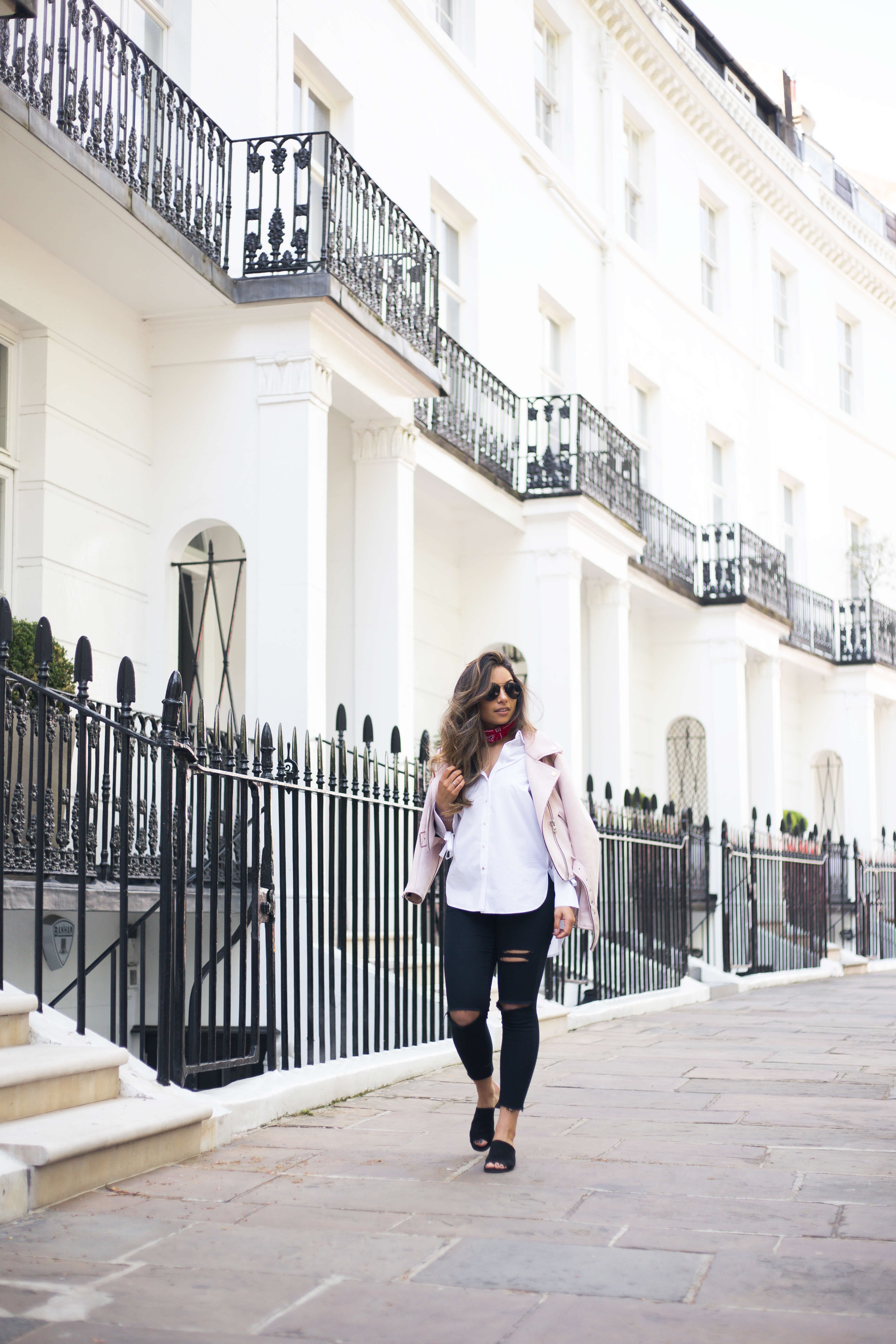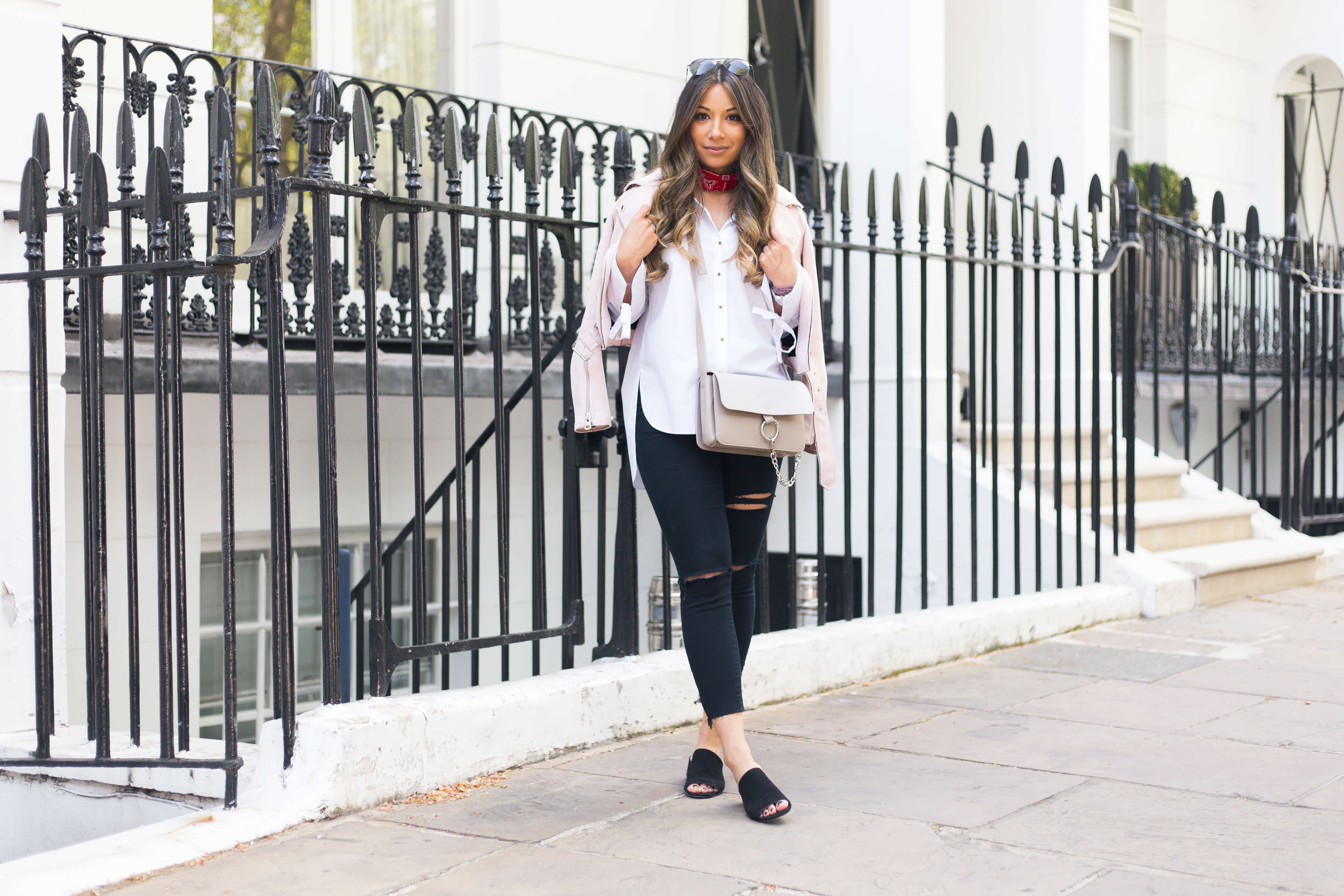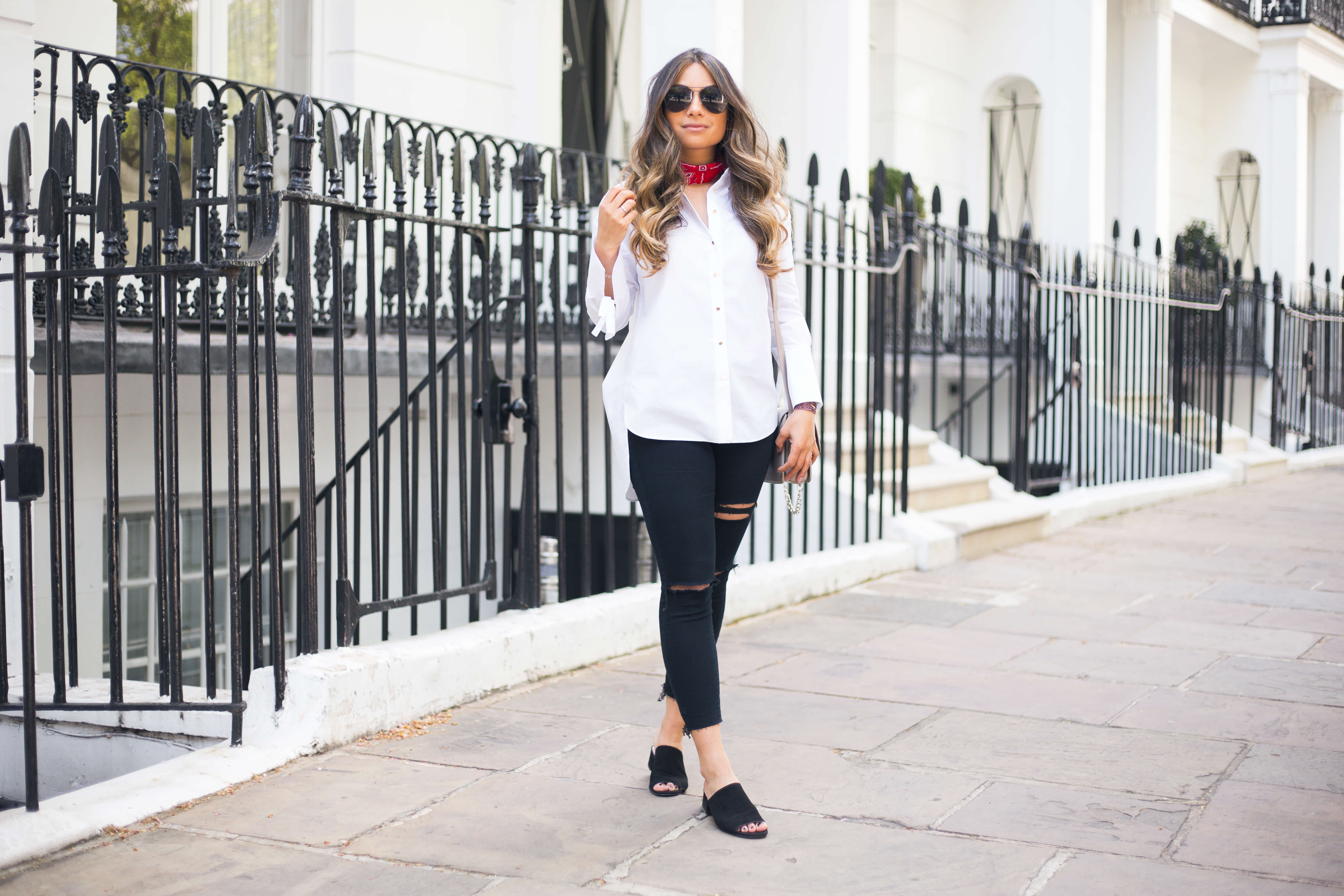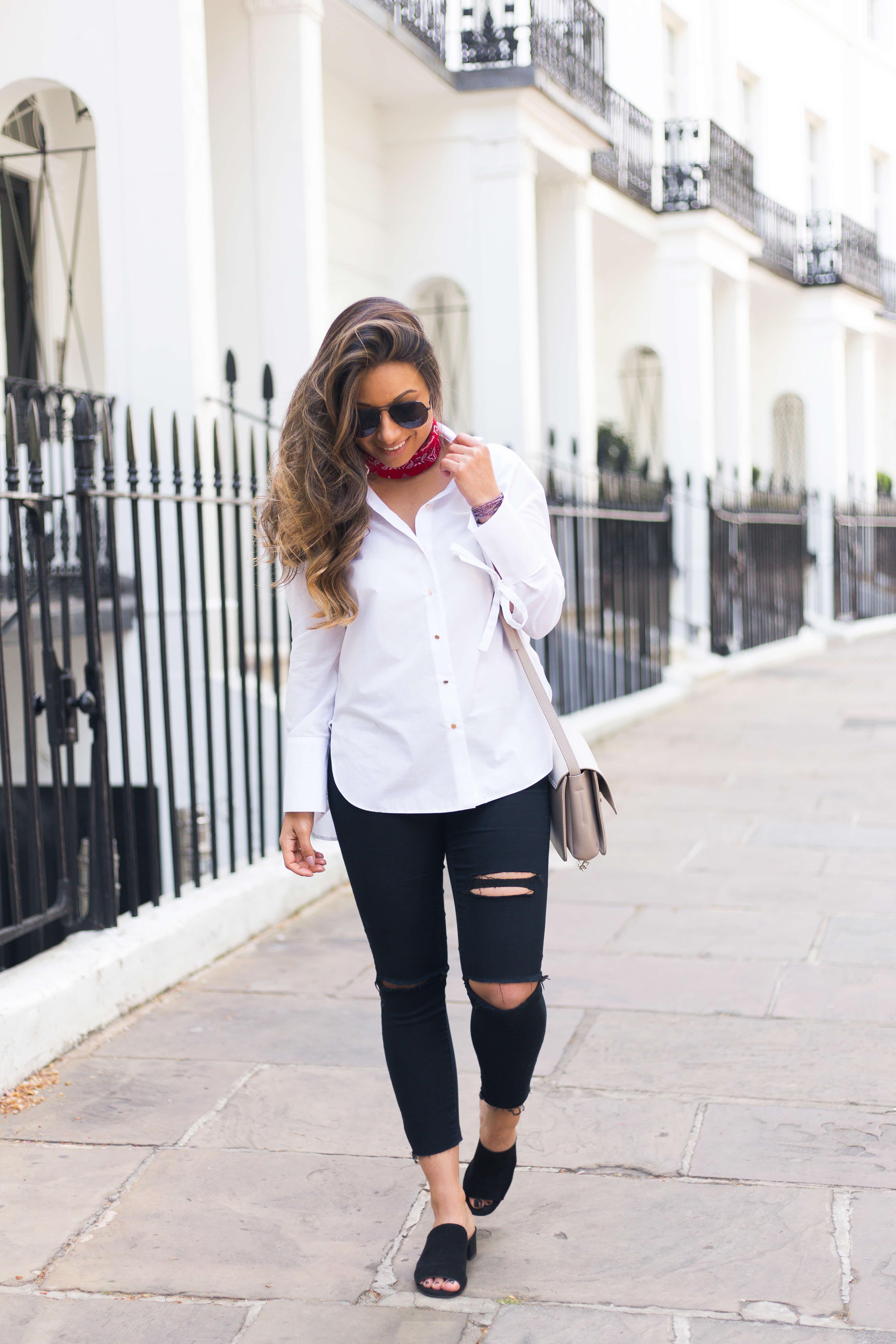 Slip on a pair of ripped jeans
Unless you're going for more of a tailored look, ripped jeans are a great way to keep a simple white shirt nice and casual. I got these black skinnies from ASOS a couple of years back and I love how form-fitting and flattering they are, and it also helps to balanced out the oversized fit.
Slip on a pair of black or navy jeans for a more contrasting look, or opt for a boyfriend-fit for something a bit more relaxed. Wear it tucked-in with a belt, or leave it out for a more casual look. This shirt also looks really cute with a denim skirt or pair of shorts, especially in summer.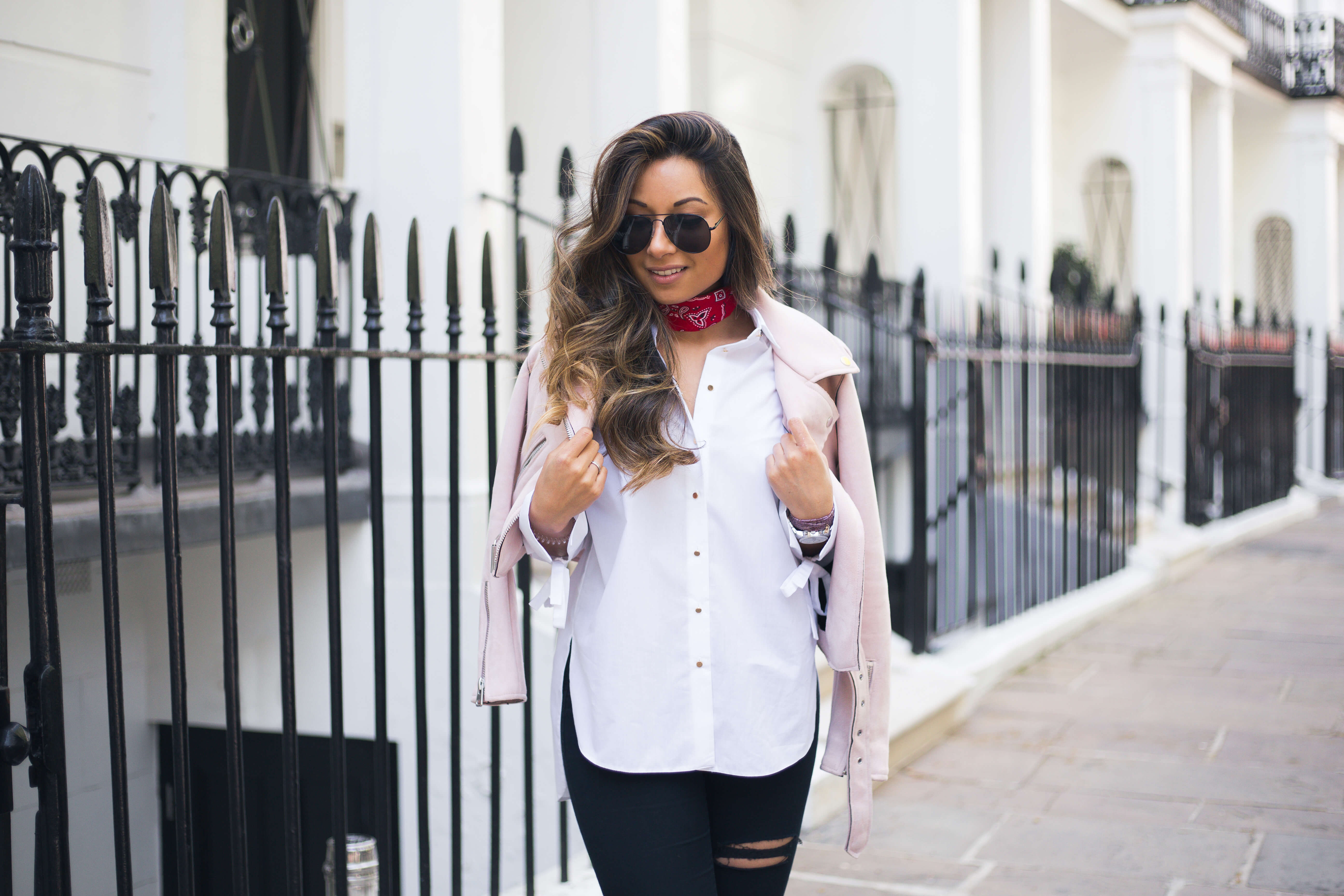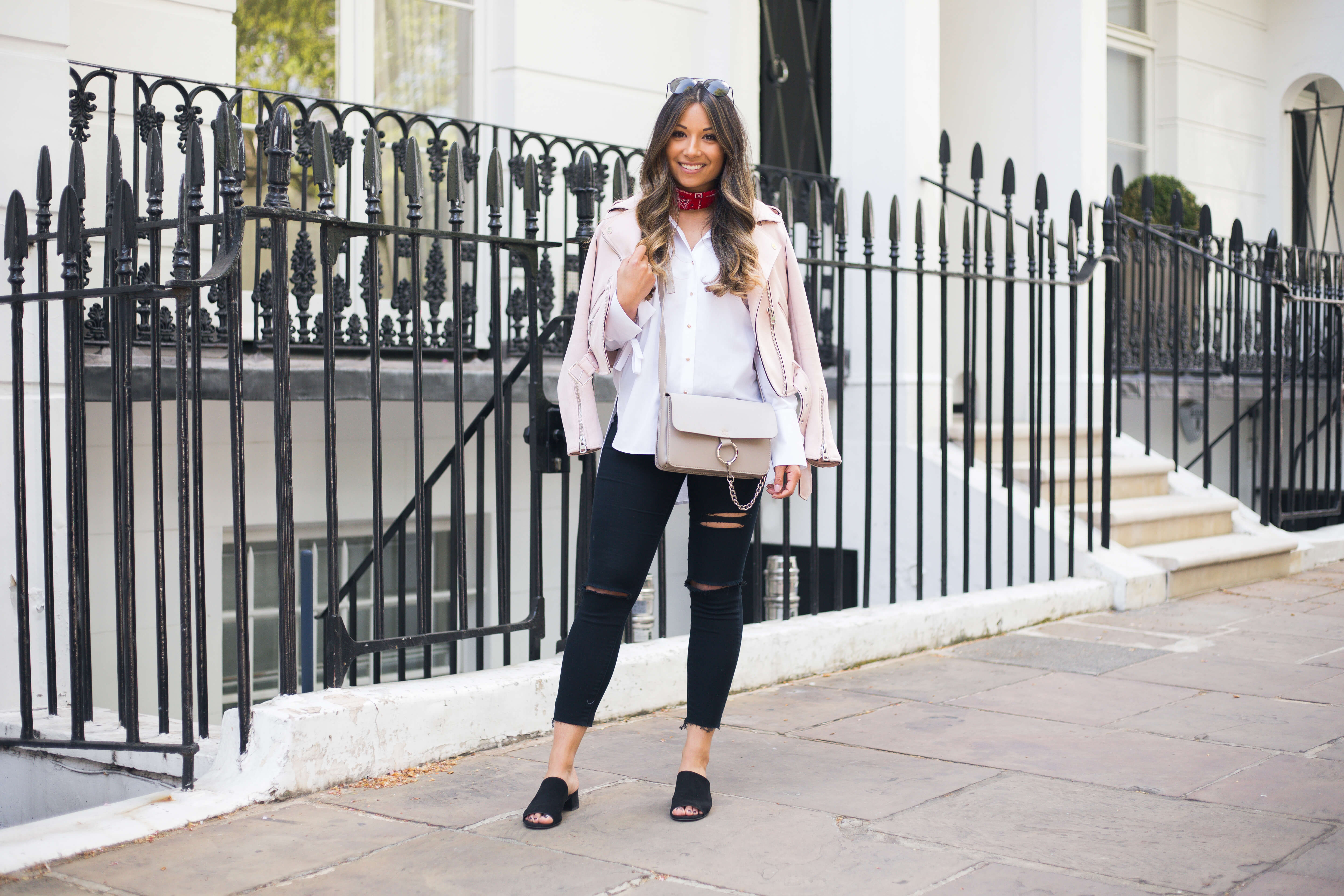 Style With A Suede Jacket
I am so in love with suede jackets, especially this one that I picked up from Zara a couple of months ago. The dusty pink colour and bold zip accents are beautiful and perfect for spring/summer, and it's nice thrown over a white shirt to give it a little colour, as well as coverage for chillier days.
Add Accessories
Shirts can easily look a little plain and if you're not careful, a little too work-like, so style it up with some simple accessories like a pair of shades or a bandana. I think bandanas are such a cute addition in summer and they give a neutral outfit a really cool edge, and I'm pretty sure this cost less than $5 last summer so they're not expensive at all.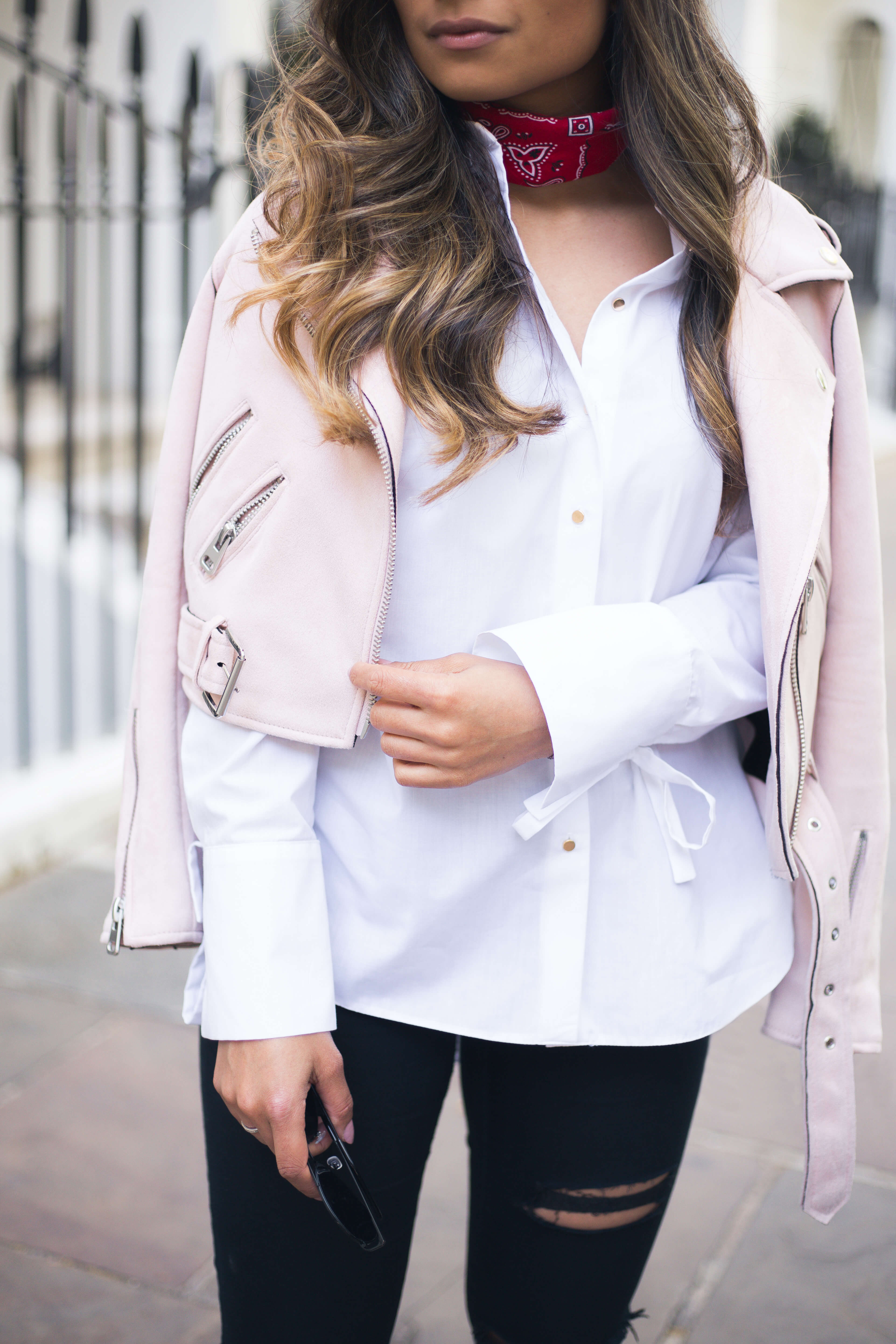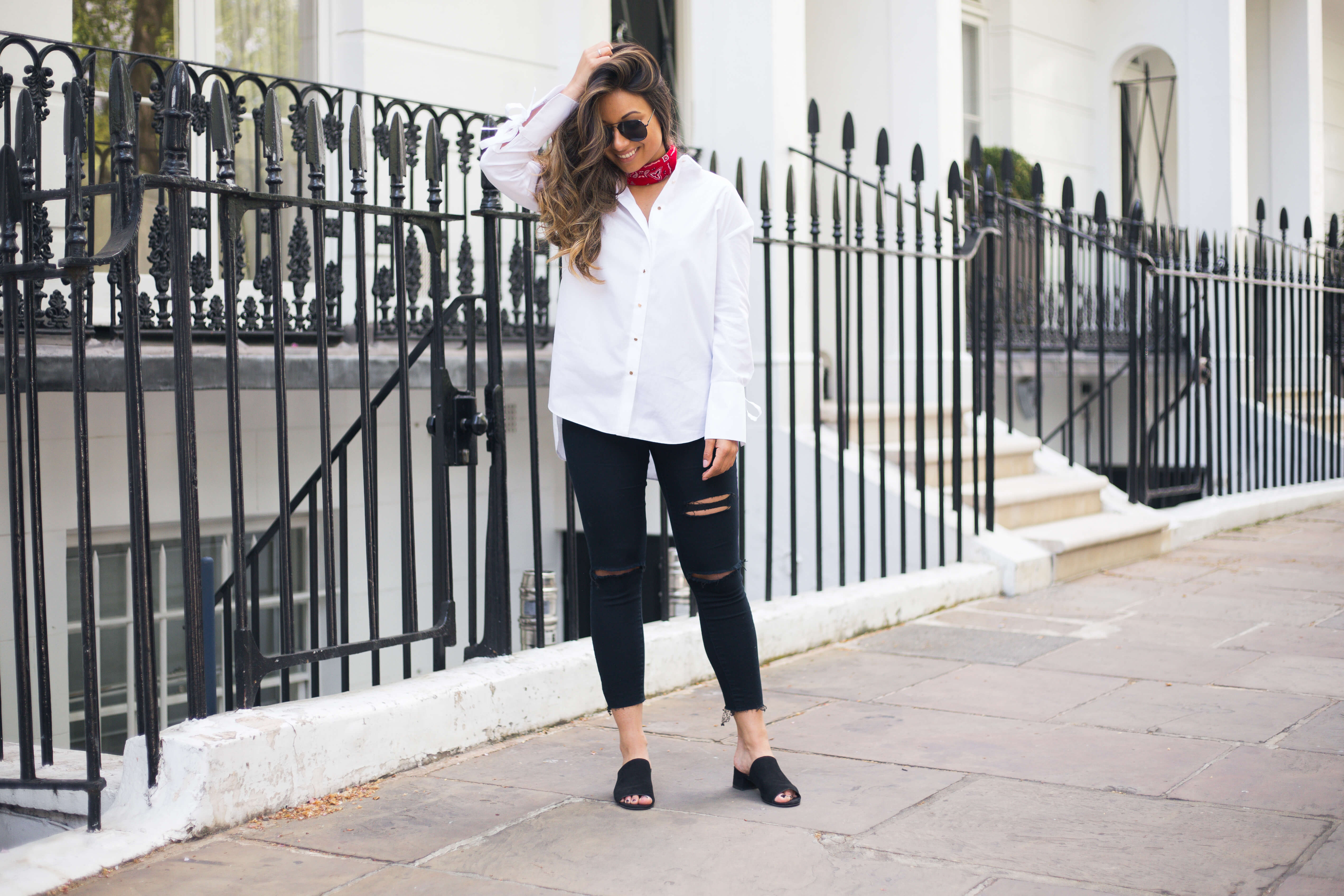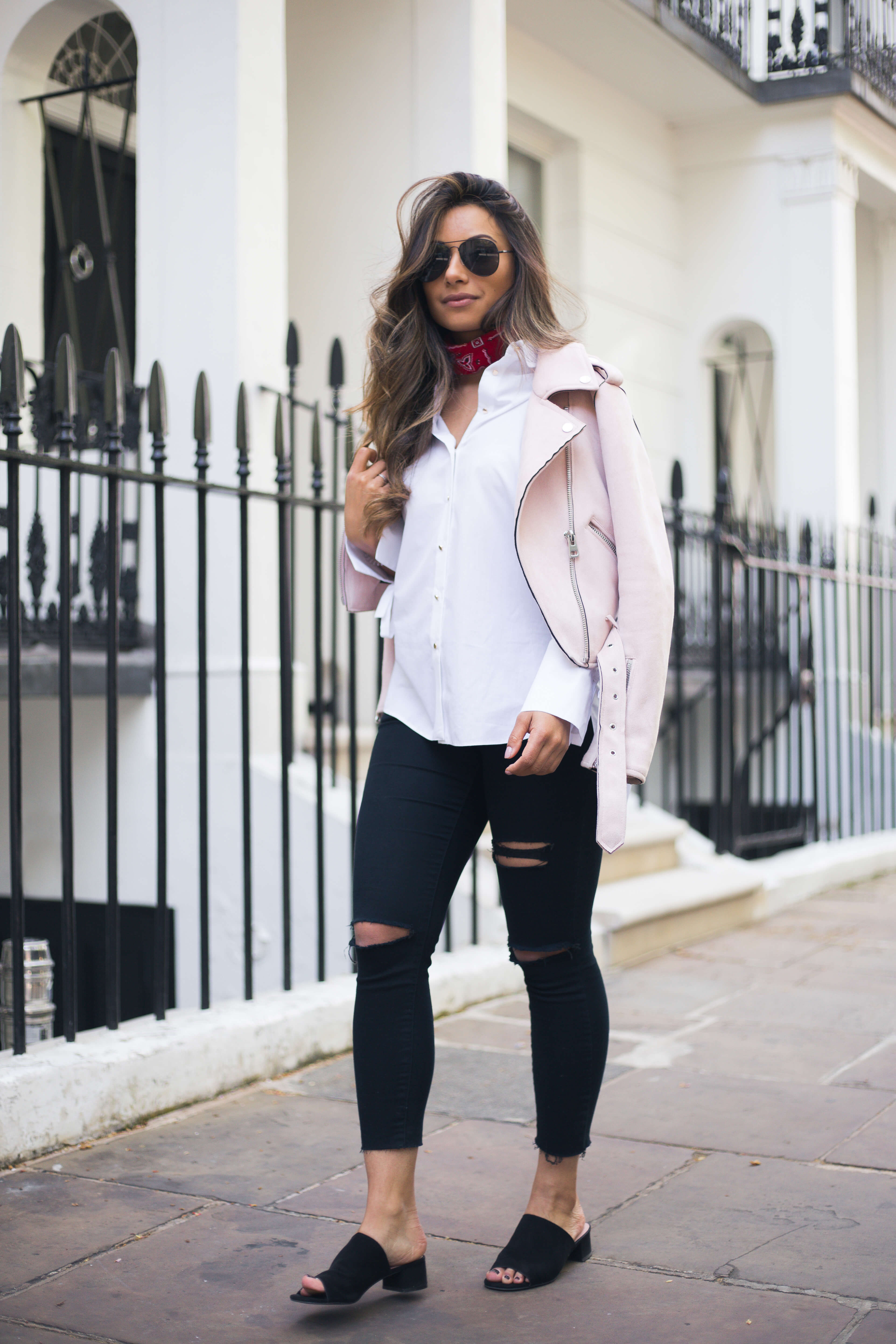 Casual shoes
Mules and backless shoes have gone full circle and are back in style and they're so cute for summer. I picked up this pair from Topshop and I love how they go with pretty much everything in my wardrobe, plus they're super comfy and I even managed a whole day in them walking around London!
Make a statement with a pretty embroidered print, or keep it minimalistic with a simple black pair.
Pull it off the shoulder
One of my favourite trends that I've seen to revamp the classic white shirt is to pull it off the shoulder. This is seriously sexy and it's such a nice way to take a simple oversized shirt from day to night, especially when paired with a smoky eye or red lippy and some strappy sandals.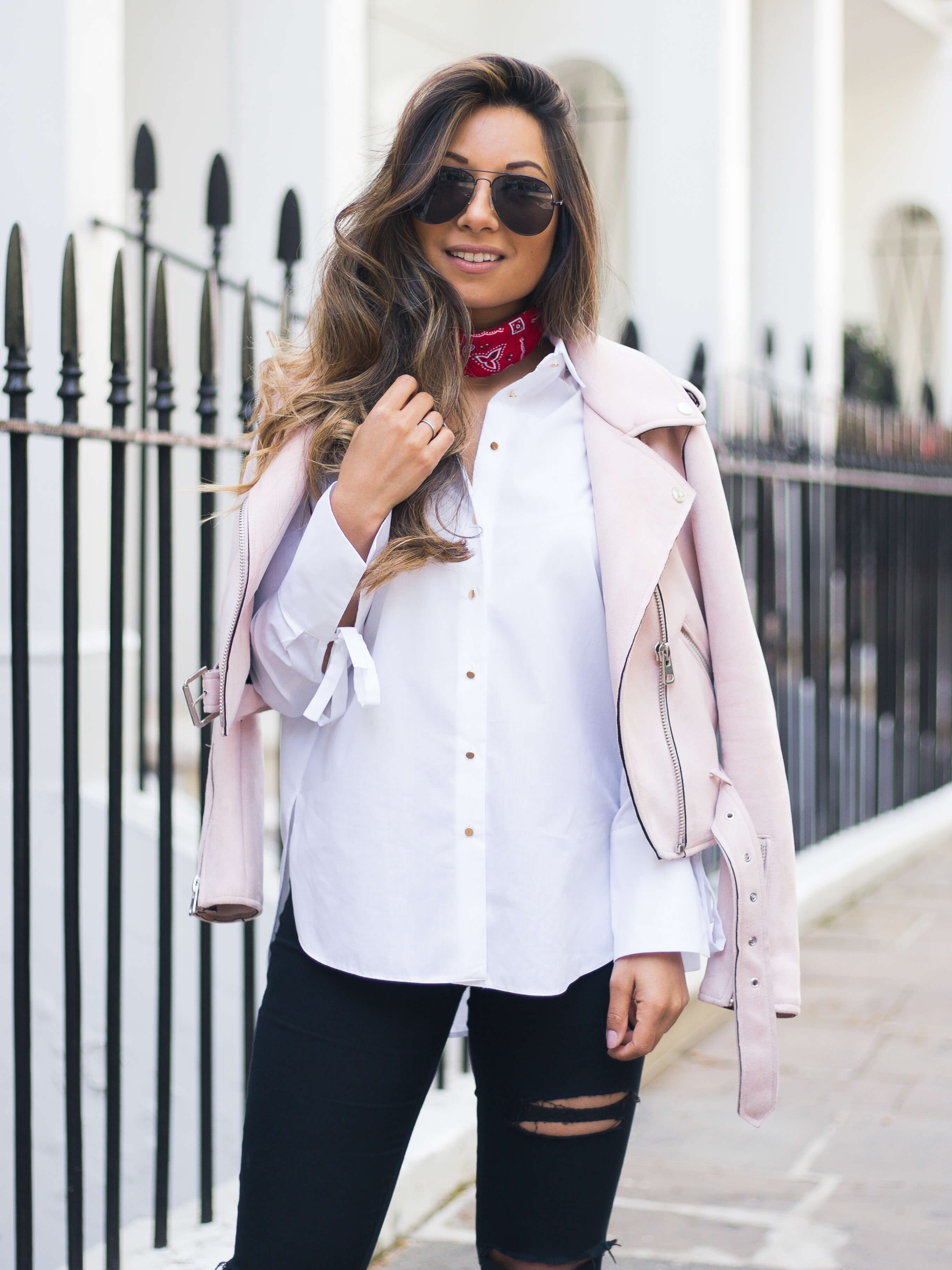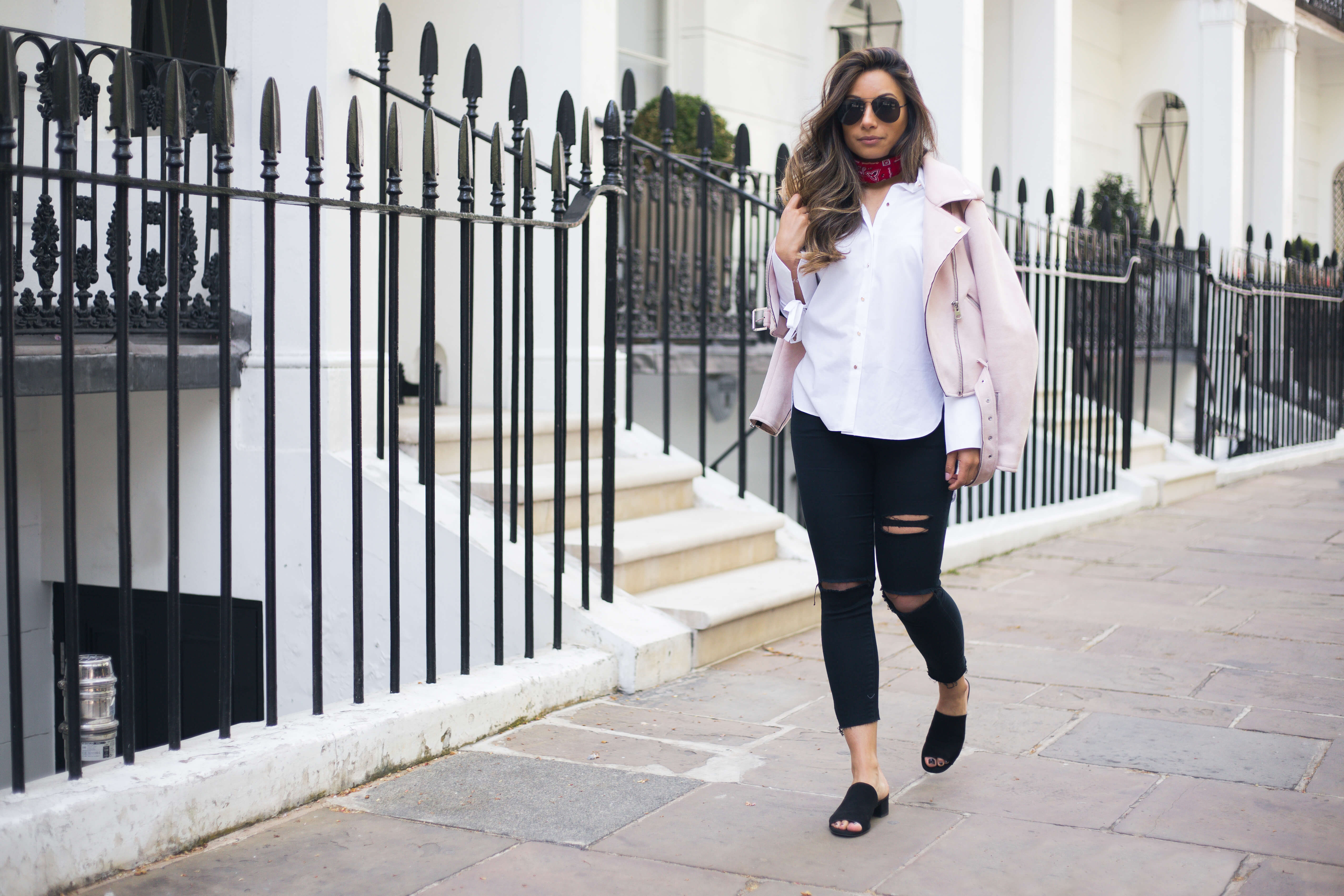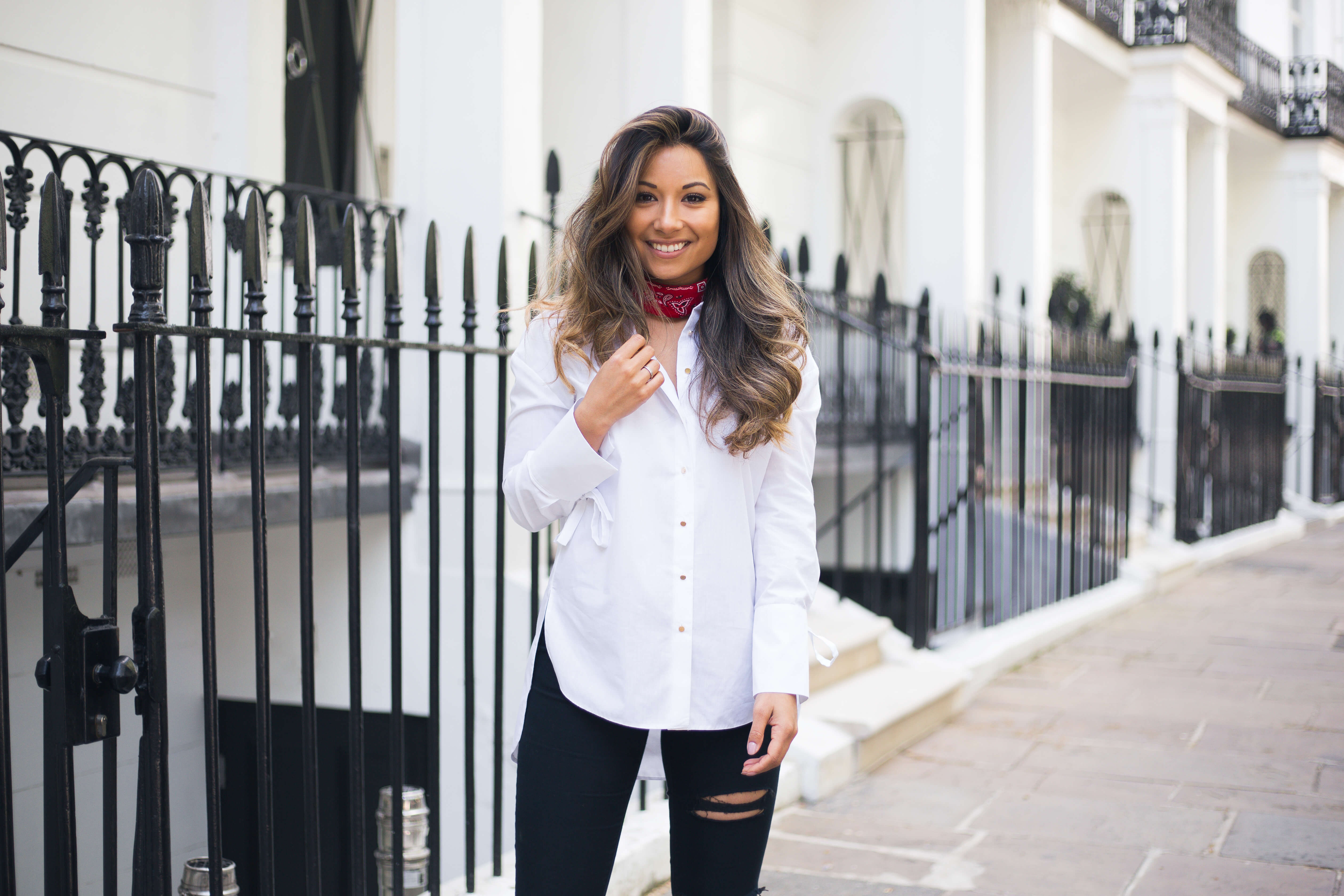 What's your favourite way to style an oversized white shirt? Have you invested in one this season?
Images shot and edited by Reece Chapman.