This is a sponsored post written in partnership with Silk'n. All opinions expressed are 100% my own.
Over the last 2 years, my skin has changed dramatically and I'm now more invested in my skincare routine than ever before.
My bathroom cupboard is filled with numerous skincare products that I've tried and tested in a bid to clear up my skin and tackle what I now realize to be adult acne. Fortunately, I've found a skincare combination that works, so my goal is now revitalizing my skin to help it go back to what it was before.
Although I'm managing to tackle the acne, scarring and dry skin is what I'm currently dealing with. When Silk'n reached out and offered to send me a ReVit at-home microdermabrasion device to try out, I was intrigued to learn how it worked and whether it could help my skin. I've read a lot about microdermabrasion treatments, however, I haven't got around to having one and the sessions aren't exactly cheap. I approached the ReVit tool with caution, as I'd never used anything like this on my face before, but I was SO impressed with the results.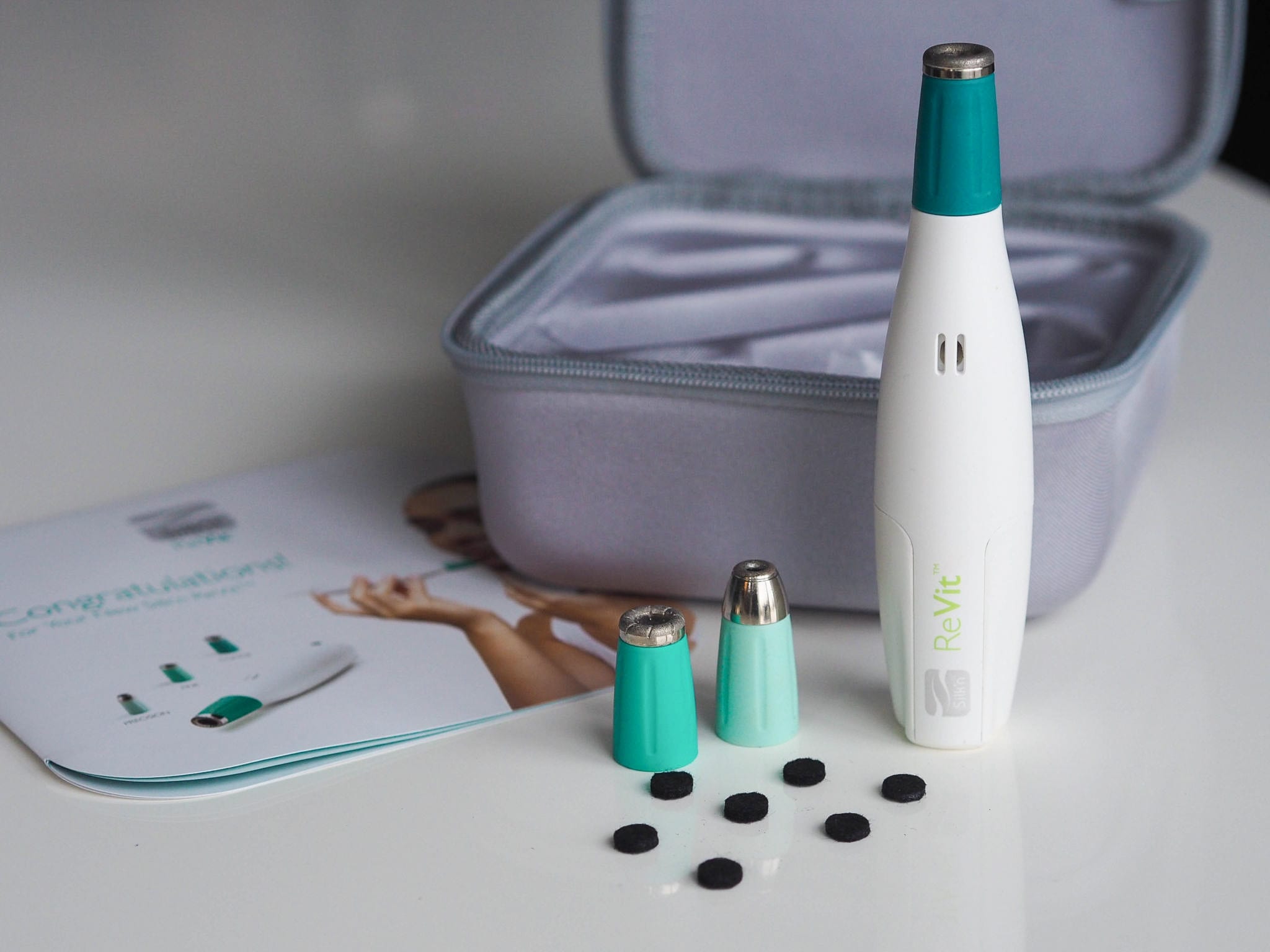 How the ReVit at-home microdermabrasion works
The ReVit tool works by exfoliating the skin with vacuum stimulation to reduce the appearance of scarring, fine lines, and acne scars. It's 100% crystal free, which means it doesn't aggravate the skin like many microdermabrasion treatments can, and it uses a suction technique to remove old, dead skin cells and leave you with silky smooth skin.
The device has 3 different sized detachable tips - so you can customize your treatment with the fine, precision, and course tip depending on where you want to target - and there are two intensity settings. You'd use the larger head for more blanket precision, whereas the smaller tip is good for around the nose and eyes.
It's super easy to use, and you just run the end across your face and the device works its magic. You should use it on dry, freshly-washed skin for maximum impact (otherwise, it'll just remove your makeup and not dead skin), but take it easy on your first try so you don't overdo it. I'll spend about 1 minute on each part of my face (nose, cheek, etc), as I find that's enough without making my skin sensitive. If you do overdo it, your skin doesn't flare up, but it just feels like you've been out in the sun for too long.
The suction technique lifts off dead and old skin, and it gets collected in a little disposable filter that you place inside the device. It's recommended that you change the filter after every use (you get tons of filters with it), and it's really gross to check it after use as you can see all the dead skin that's come off!
How does it make your skin feel?
Honestly, my skin feels amazing.
I haven't had skin this soft in a long time and it feels like it did back in the day when I had zero skin issues to worry about. Because the acne-fighting skincare products I use are quite drying, this means that my skin needs regular exfoliation to get rid of dead skin cells and promote new cell growth. However, I hate using scrubs on my face, as I find it just aggravates my skin & causes me to break out, so this tool is great as it's more targeted and I can avoid certain areas (like if I have a blemish).
I've used it a dozen times now and my skin feels super soft so my make-up glides on and sits really well. Exfoliation is essential if you suffer from acne as dead skin only clogs your pores and can aggravate the problem, and since using it my acne scars on my cheeks have almost gone and the skin is much smoother. It's effective in lifting off any dead skin that's lingering around spots that have recently healed, so it means my face looks so much fresher and brighter.
Tips when using it
To use it, you simply glide it over your skin, hold it like a pen, and let the tip suction do all of the work. The device comes with a face map which shows you the direction to move the device over different areas. It's recommended that you use it every 3-4 days.
Try to avoid any new spots or pimples, as you don't want to aggravate it and the suction may cause further sensitivity and redness.
It's important to take it easy the first time you use the tool. Use the lowest setting, and be gentle on your face being careful not to focus on one area for too long. Because you can't see instant results, it's easy to overdo it and your skin can end up feeling a bit sensitive. I made this mistake the first time I used it, and although it didn't flare up / turn red, it was just a little sensitive for a couple of days.
I recommend changing the little filter after every use so you don't get a build-up of dead skin (yuk!) inside the device. It's gross but also quite satisfying when you look at the filter, as you can see the gunk that's come off your face.
Use it on clean, freshly washed skin, and make sure to moisturize after with a good, thick cream.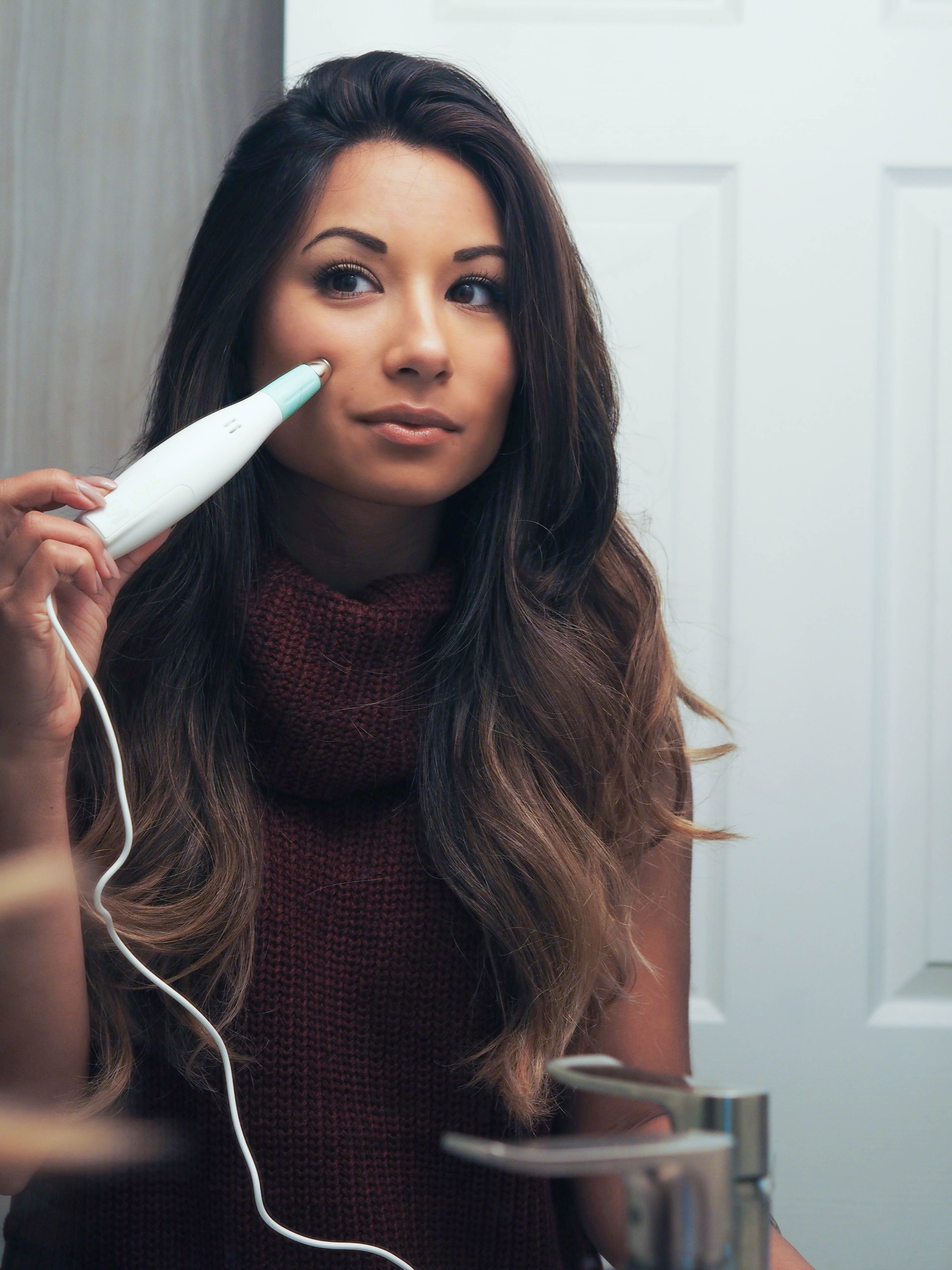 Overall, my verdict is very very positive. It only takes 5 minutes to use (I do it while watching TV), and my skin feels remarkably better after every use. If you're dealing with acne scarring, dead skin, or rough skin, I definitely recommend this as it'll transform your skin texture and leave your face with a fresh, healthy glow.
You can buy the device online at Silk'n.ca or it's available at many drug stores. It costs $110 CAD and is a very worthwhile investment 🙂