I always find it incredibly hard to find clean, healthy snacks at the supermarket so i'm so happy that i've mastered this quinoa bars recipe!
I've been a huge fan of quinoa for quite some time now as it's fully loaded with fibre, antioxidants and essential amino acids. In fact, the UN named 2013 "International Quinoa Year" in recognition of quinoa's high nutritional content. The other great thing about this superfood is that it works well with pretty much any accompaniment – It's great to bulk up salads, stir fries and as you'll soon find out, it works great as a sweet snack too!
After searching through a number of different recipes i've come up with a combination that's quick, easy and requires few complex ingredients. One thing I find with a lot of healthy recipes out there is that I rarely have any of the ingredients in my cupboard! As much as I love experimenting with new foods, it can get extremely costly especially when you're splashing out on specialist ingredients that you'll barely ever use.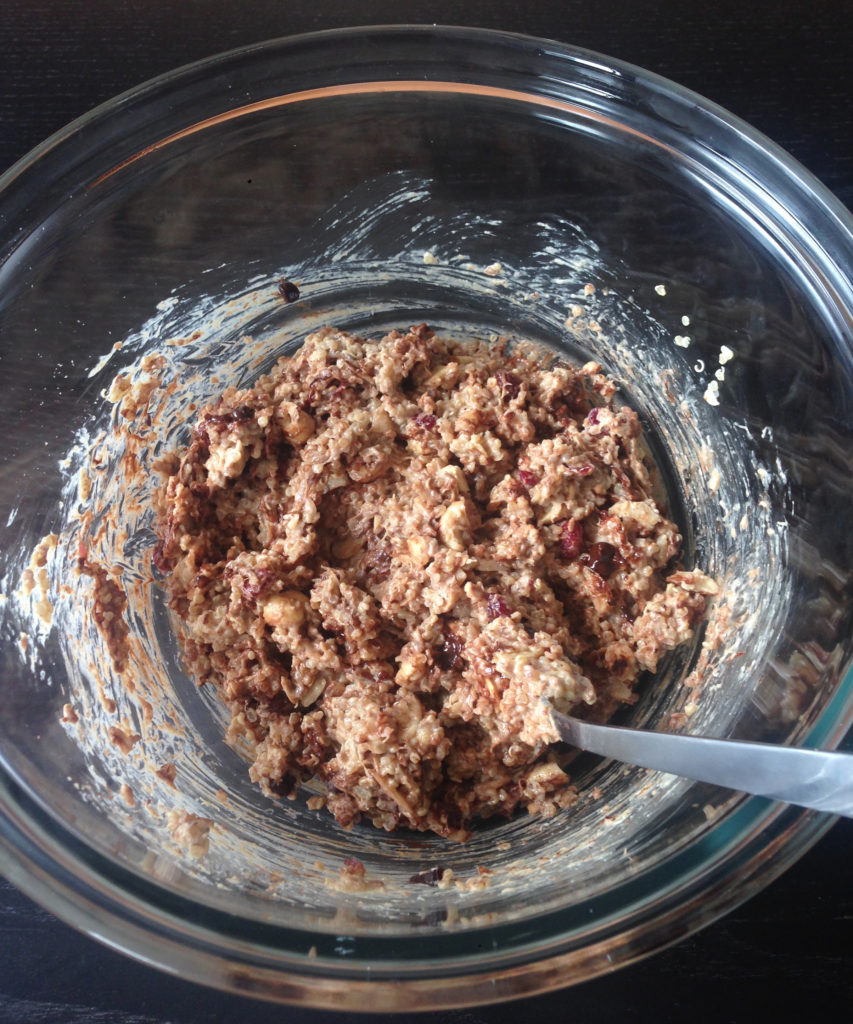 I must admit, these sweet snack bars turned out so well – they lasted all of about 2 days in our fridge so I think that's enough proof that they were a success!
These delights are perfect as a post-workout snack if you're on the move or simply a healthy treat to curb your mid-afternoon sweet cravings. The great thing about this recipe is that you can change the ingredients so easily – go crazy with an extensive dried fruit & nut combination, or keep it simple with some raisins, cashews and dark choc chunks.
These quinoa snack bars have a soft flapjack-like consistency which makes them perfect for crumbling onto some greek yoghurt and fruit for a delicious breakfast or dessert! Get creative with this great recipe and let me know what works for you!
Quinoa Fruit and Nut Bars
---
Prep time: 20 mins Cook time: 20 mins Makes: 6-8 bars
---
Ingredients:
1 cup cooked Quinoa (around ½ cup dried quinoa)
3 tbs ground flaxseed
½ tsp cinnamon
¼ tsp salt
1 banana
3 tbsp nut butter
2 tbsp pure maple syrup / raw honey
Nuts of your choice – I used a handful of almonds and cashews.
Handful of dried fruit – I used cranberries, raisins would also work well.
2 squares 85% dark chocolate
Note: This recipe as great as you can substitute ingredients according to your liking. These Quinoa bars would also taste great with goji berries, walnuts, sesame seeds, pecans, macadamias…the list is endless!
Directions:
1) Preheat oven to 175 °C / 350°F.
2) Bring the the quinoa to the boil in approximately 1-cup water for around 15 minutes, or until the seed becomes translucent and the white spiral becomes visible.
3) Line a medium-sized baking tray with baking paper or grease with some oil.
4) In the meantime, chop the nuts, chocolate and raisins into small pieces and place in a large mixing bowl.
5) Combine the banana, nut butter, syrup/honey, cinnamon, salt and flaxseed in a blender and pulse until smooth. If the mixture is too thick, add a splash of milk.
6) When the quinoa is cooked, add to the mixing bowl and combine with the liquid mixture using a spoon or spatula to mix everything together.
7) When properly combined, spoon the mixture onto a baking tray. Create square-shaped bars or alternatively cover the baking tray with an even layer of mixture that you can later cut into squares.
8) Bake for around 20 minutes or until the bars begin to brown.
9) When baked, allow to cool at room temperature before indulging. Store in an air-tight contained for up to a week for the perfect healthy snack! Enjoy!