Winter is on its way, and if there's one thing i'm paying particular attention to this year, it's my skin. Harsh air, lower humidity levels, and central heating can all wreak havoc on your skin, so it's important that you start prepping your skin for winter early on to help keep it healthy, hydrated, and radiant this season.
I've partnered with Vichy to bring you some of my best skincare tips and recommended products to help you revamp your skincare routine and take extra care of your skin this winter. I've been using a number of Vichy products this year to help fight my skin issues, so i'm a huge advocate for the brand already particularly the Normaderm and Aqualia Thermal range.
It's also my blog's 2 year anniversary this month, so to celebrate & introduce the skincare category to my blog, I'm running an Instagram giveaway with Vichy which is all outlined in the bottom of this post! I hope you find these winter skincare prep tips useful, and if you have any can't-live-without products, let me know what they are in the comment box below!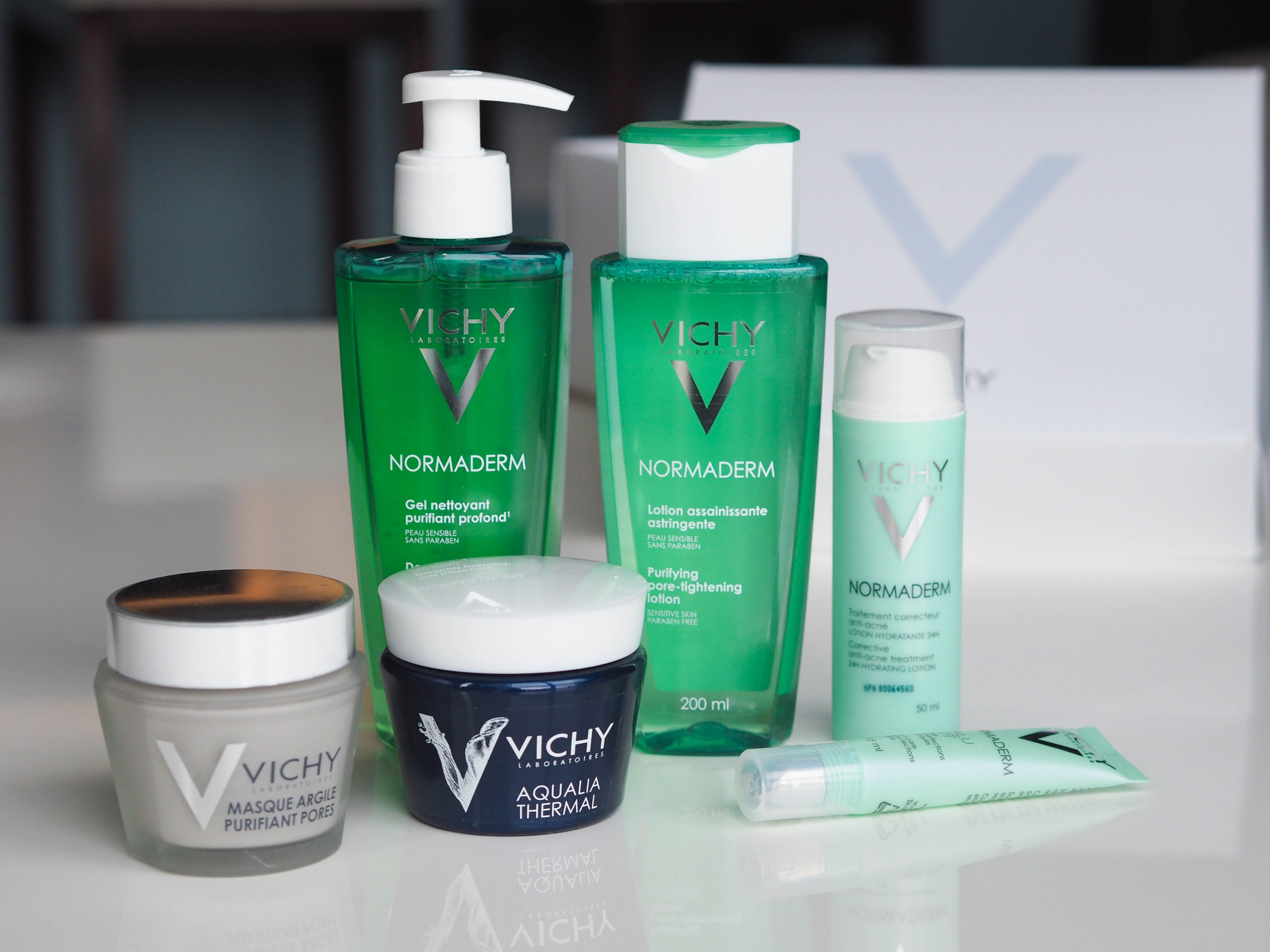 Treat
When prepping your skin for winter, it's important not to ignore any existing skin conditions you may have. Seasonal changes and extreme temperatures can cause imbalances in your skin, which may cause flare-ups, blemishes, and make any skin issues you have much worse.
For me, I've been struggling with acne and blemishes for the last year (there's a post on this coming soon!), so this winter i'm combining my anti-acne and hydrating products to keep things under control. In fact, I find that when my face is drier, i'm more likely to breakout, especially with under-the-skin spots. When your skin is dehydrated, your skin overcompensates and produces more oil and sebum, which further blocks your pores. I learned this lesson over the summer when I started using a hydrating cream at night on my forehead as a test, and rather than clogging my pores which I thought it would, it actually worked wonders for clearing up my skin.
I've been using Vichy's Normaderm 24h anti-acne hydration cream for about 4 months and I LOVE it. It contains a small amount of Salicylic Acid, so it keeps my skin under control and helps to prevent breakouts whilst also providing a good level of hydration on a daily basis. The Normaderm Hyaluspot spot treatment gel is great too, as it creates a bandage over the spot and isolates it so it disappears quicker.
Hydrate
Windburn, dry air, and cold temperatures will only do one thing - dry out your skin. Hydration is absolutely essential in winter, so switch up your light, summer cream and opt for something richer that will shield your skin and lock in moisture. Moisturise with a day cream in the morning, and a thicker night cream in the evening to keep your skin well hydrated.
I'm a huge fan of Vichy's Aqualia Thermal line as it's concentrated but still light so it doesn't clog your skin. Throughout summer I was using the Aqualia Thermal Light cream, which is really nourishing and doesn't cause any irritation for sensitive skin. I'd use this either at night or after being in the ocean/sun.
Recently, i've switched to the Aqualia Thermal Night cream, which is even more hydrating due to its mineral properties and hyaluronic acid content. Your skin is most receptive to treatments at nighttime, and a good night cream will leave your skin feeling plump, soft, and radiant when you wake up in the morning. Another key thing to keep your skin hydrated in winter is to drink lots of water, as this helps keep your skin, lips, and hair lovely and nourished.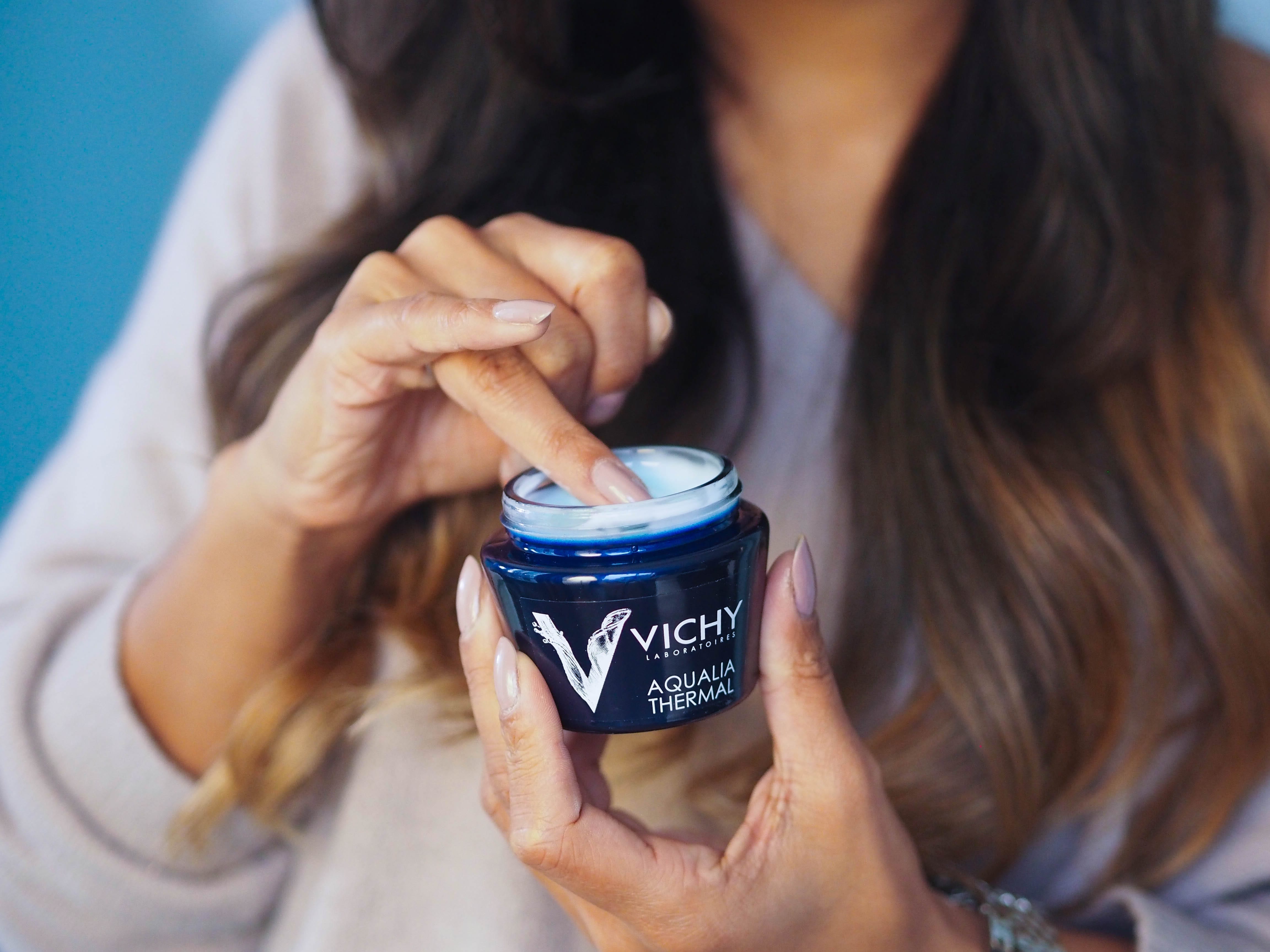 Exfoliate
No matter how dry your skin may feel, it'll only get drier and flakier if you don't exfoliate. Exfoliation helps your skin to shed any dead skin cells and provides a nice, smooth texture for make-up application. Exfoliation also helps your moisturiser and skincare products to sink in, and it'll generally make your skin look more radiant and energized.
Personally, I find exfoliating scrubs to be a little harsh and irritating, so instead I prefer to use liquid products or pads containing glycolic acid. I know that any skincare product with the word "Acid" in it sounds scary, but glycolic acid is actually a great exfoliant as it helps to remove dead skin cells thus preventing flaky skin, and encouraging new skin cell growth which helps to get rid of scarring or discolouration. For spot-prone skin, it's great as it prevents your pores from getting blocked and has antibacterial properties.
Vichy's Normaderm Purifying Toner and Deep Cleansing Gel are both great for exfoliation and contain glycolic and salicylic acid which encourages gentle peeling of dead skin cells whilst cleansing pores. The two products smell amazing and fresh too and they're not too drying on your skin. Always follow on from exfoliation with a good, hydrating face cream to prevent any dryness, and make sure to wear SPF (minimum 35) as glycolic and salicylic acid do make your skin more sensitive to the sun.
Purify
Another essential step in prepping your skin for winter - and for looking after your skin in general - is to regularly purify and cleanse the skin with a good old face mask. I tried out Vichy's Pore Purifying Clay Mask, and it is SO good! This particular mask helps to detox your skin and draw out toxins and blocked pores, without dehydrating.
Clay works amazingly in controlling the overproduction of sebum, which is what blocks the pores and causes spots & acne. The mask is included in my Instagram giveaway too!
Winter very quickly takes its toll on your skin if you don't look after it properly. As i've learned over the last year, investing in good quality skincare products and ones to match your skin type is well worth it and it'll leave your skin with a beautiful and healthy glow.
What are your favourite skincare products, and what are your best tips for winter skin prep?
Vichy Blogiversary Giveaway!
To celebrate my 2-year blogiversary, as well as the new skincare category on my blog, I'm running an Instagram giveaway whereby you can win the following:
The giveaway will begin on Sunday 13th November 2016 (9:45pm, PST) on Instagram and end Wednesday 16th November at midnight so don't forget to enter! The winner must live in Canada and will be randomly selected. The winner will be announced on Thursday 17th via Instagram. Good luck!
[Disclaimer: This post was created in partnership with Vichy Canada.
All opinions expressed about my experience using the product & results are completely my own 🙂 ]