Seeing wild Orangutans in Borneo is something that has been high on the bucket list for a very long time. Native to only Borneo and Sumatra, Orangutans are an animal that you don't come across every day. Unfortunately, this wonderful species has experienced a rapid decline in population over the past few decades due to deforestation and hunting, and many poachers continue to hunt baby Orangutans which often means their mothers are killed during the process or sold on the black market.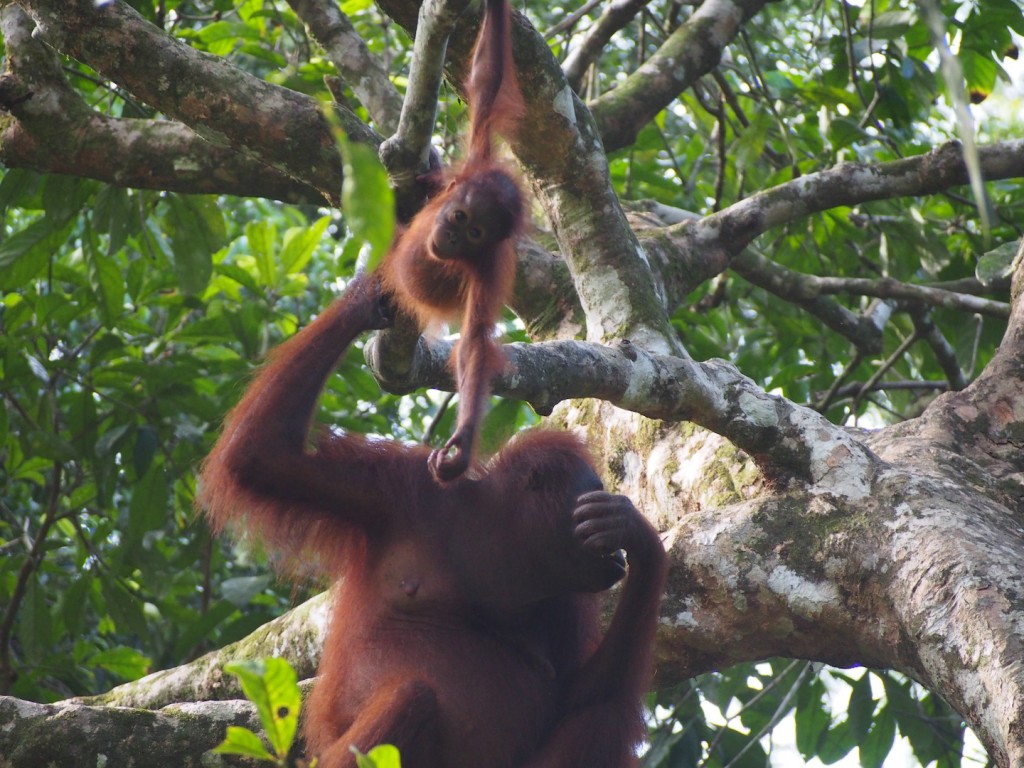 We headed over to the Orangutan Rehabilitation Centre in Sepilok, Borneo, a huge site of 43sq km dedicated to rehabilitating orphan Orangutans and providing a safe yet natural environment for those both wild and rescued. The beauty of this place is that the Orangutans are still wild – they have the jungle as their playground and it's at the Orangutans discretion whether or not they make an appearance at the viewing platform for a free meal.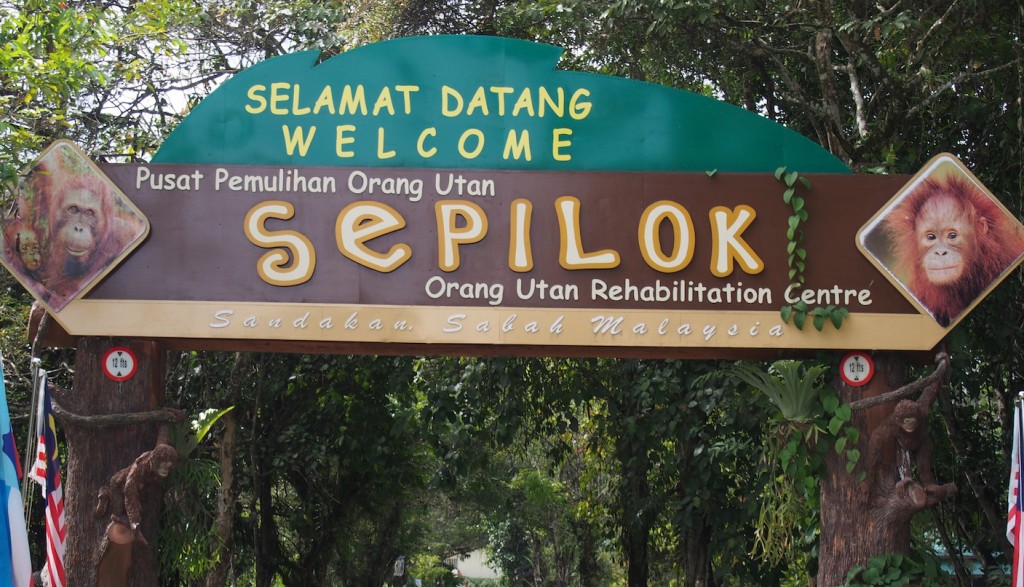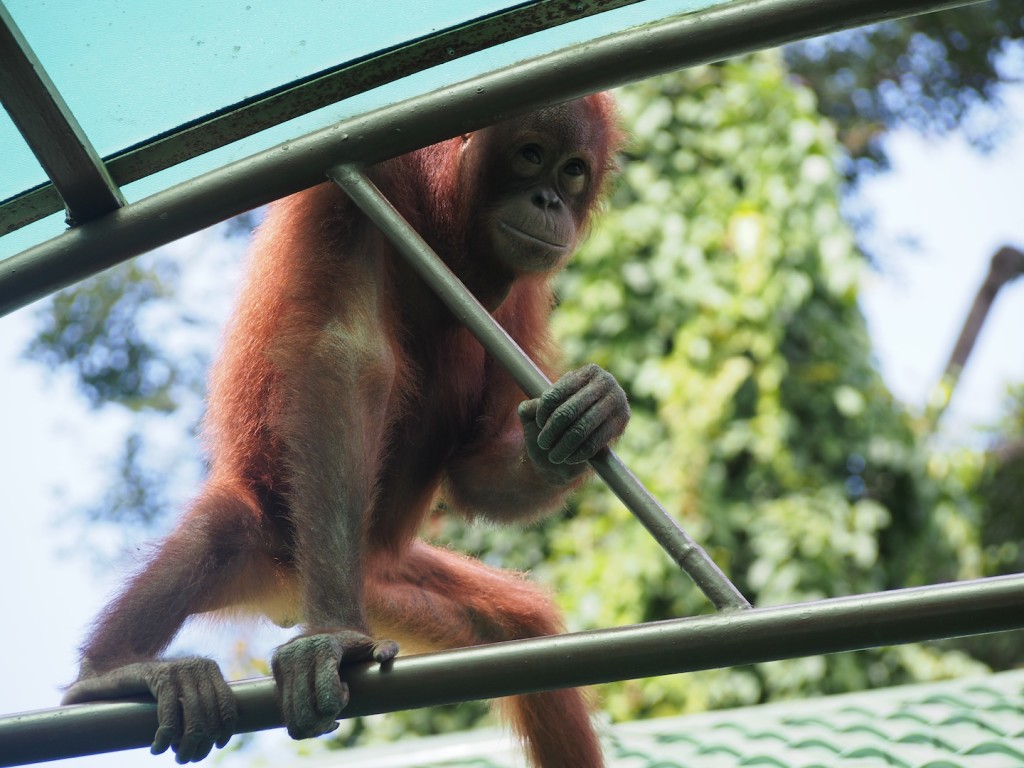 After making our way into the jungle early on, we caught the first morning feeding session. We only spotted 2 Orangutans at this point, but considering they're completely wild we were grateful to get a mere sighting. A few cheeky macaques slowly crept into the picture and snuck over to the fruit baskets, and we watched in awe as the Orangutans swung down to catch a few bananas and papaya chunks for their buffet breakfast.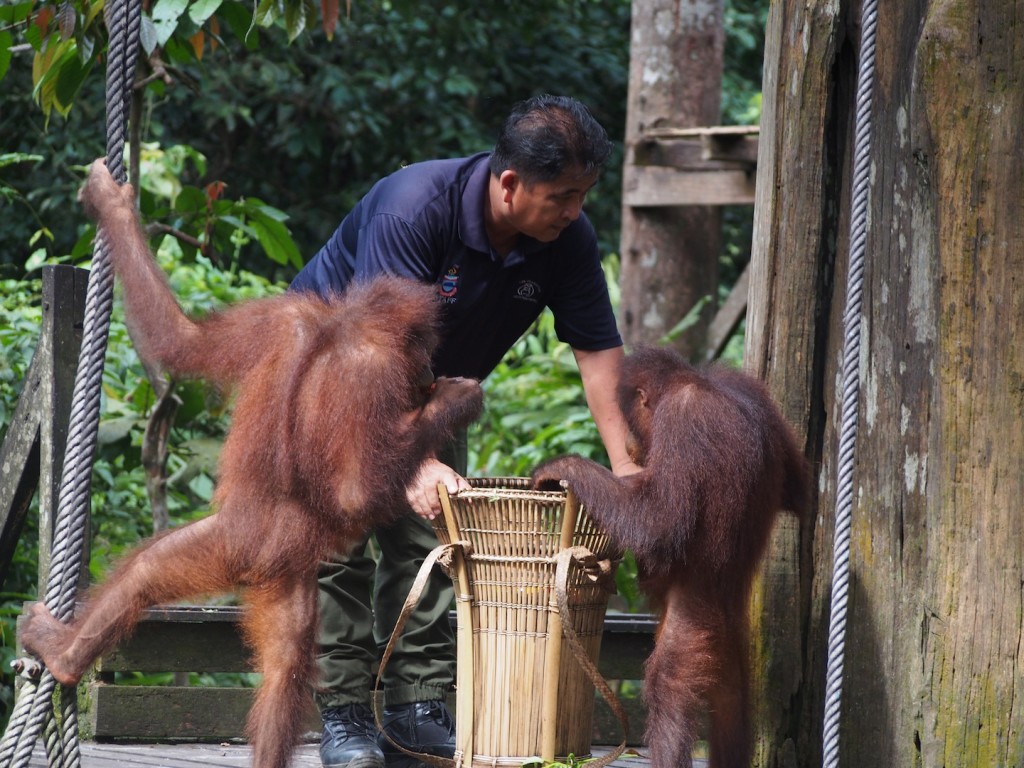 With a few hours to kill, we wandered into the jungle surrounded by dense flora, insects and the possibility of an Orangutan swinging up ahead. At every turn the jungle was diverse, intricate and bursting with life; we spotted skinks, giant forest ants and Bornean pit vipers, apparently the second most dangerous snake in Borneo. We weren't at all prepared for a jungle hike, as flip-flops and vest tops offered zero protection against the bugs and the mosquitos that overwhelmed the forest. After 45 minutes battling through the jungle, we headed back to the safety of the centre; 1 leech bite and 101 mosquito bites were enough to make us realise that sensible gear is essential in the Bornean jungle.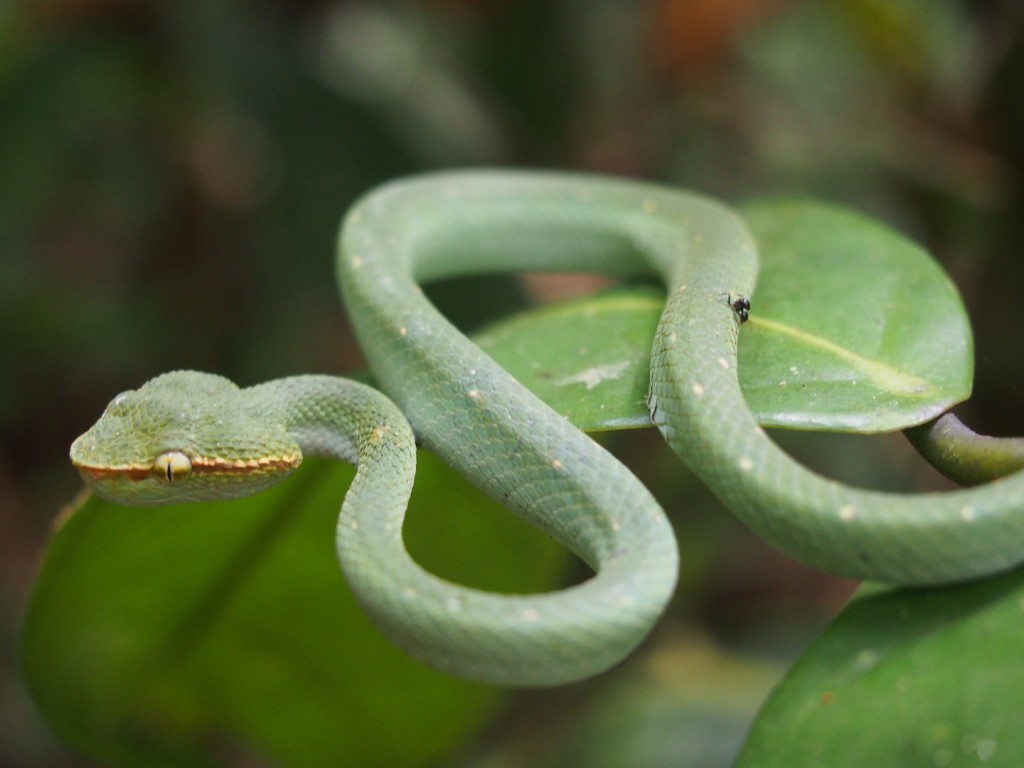 2pm soon arrived and we made our way back through the jungle to the feeding platform. The air was still, and despite the abundance of life thriving throughout the rainforest, there was utter silence. We suddenly spotted a flash of vibrant orange and a scattering of leaves floating down to the ground. A flanged adult male swung into view, being careful to maintain constant eye contact with us whilst he made his way closer.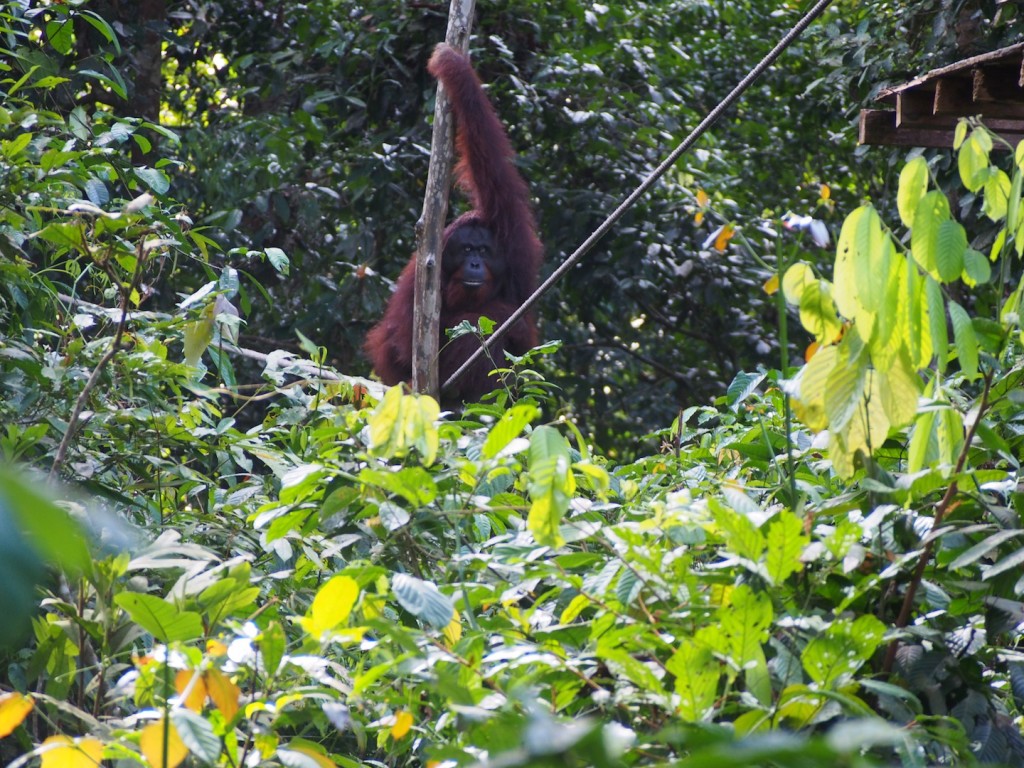 Matt and I glanced at each other in wonderment, being careful not to make any sudden movements and scare him away, but trying to contain our excitement that we were the only people around to witness this amazing creature.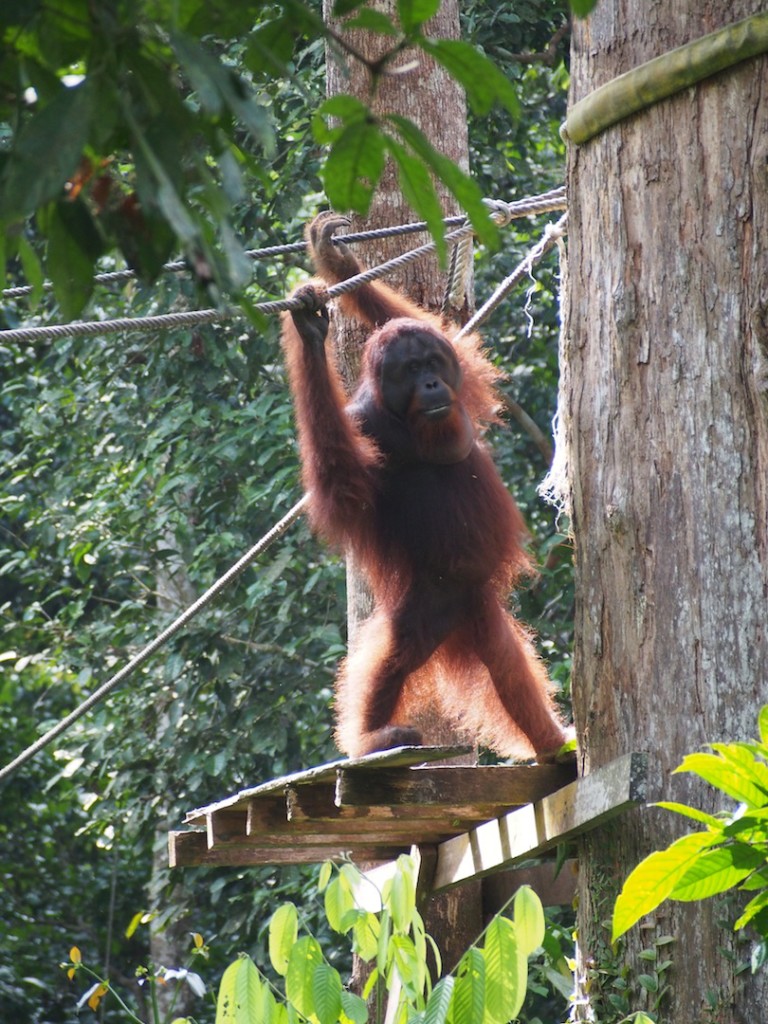 Out of the corner of my eye I spotted a flicker of red jump across into the trees above. A small Orangutan hung from the branches, striking a number of picture-perfect yoga poses for the camera. We were mere 2 metres away, astounded by how human like she was as she gazed into the distance. Her fur was a deep auburn, perfectly preened and glistening in the sunlight. It was truly a magical moment witnessing such a beautiful creature at such close distance, knowing that there is only one other place in the world that she could be found in the wild.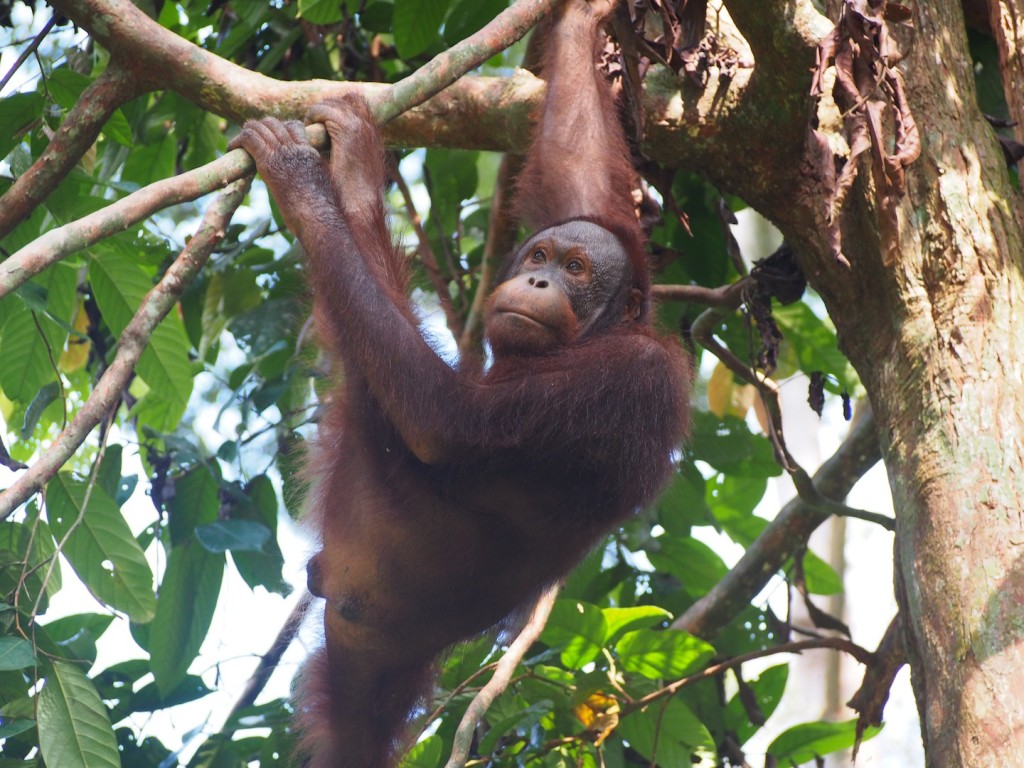 We passed the next half hour admiring yet more Orangutans: mothers, babies, the dominant male and a few cheeky macaques that finally plucked up the courage collect leftovers from the man of the jungle.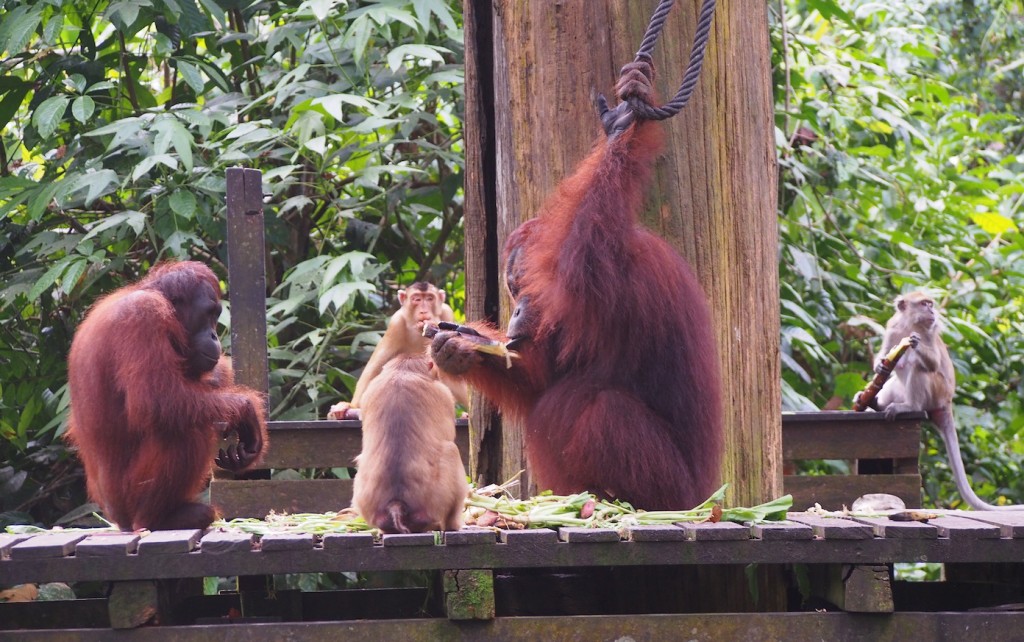 Seeing wild Orangutans in Borneo has definitely been one of my most memorable day of this trip so far, and I truly hope that with the help of conservation and rehabilitation, we can protect these wonderful creatures so that their species and habitats live on for the years to come.