Aside from a coastline fringed with coral-crushed sands and the crystal-blue waters of the Caribbean Sea, Mexico's Yucatán Peninsula is a stunning destination. With everything from bustling tourist hotspots, to mind-blowing ancient ruins, to the second largest coral reef in the world, the area has so much to offer.
But resting inland you'll find something completely unique and spectacular to the region – the world famous Cenotes. There are thousands of Cenotes scattered around the peninsula – over 6,000, to be exact – and they were believed by the Mayan people to be the portal to the Gods.
What are Cenotes?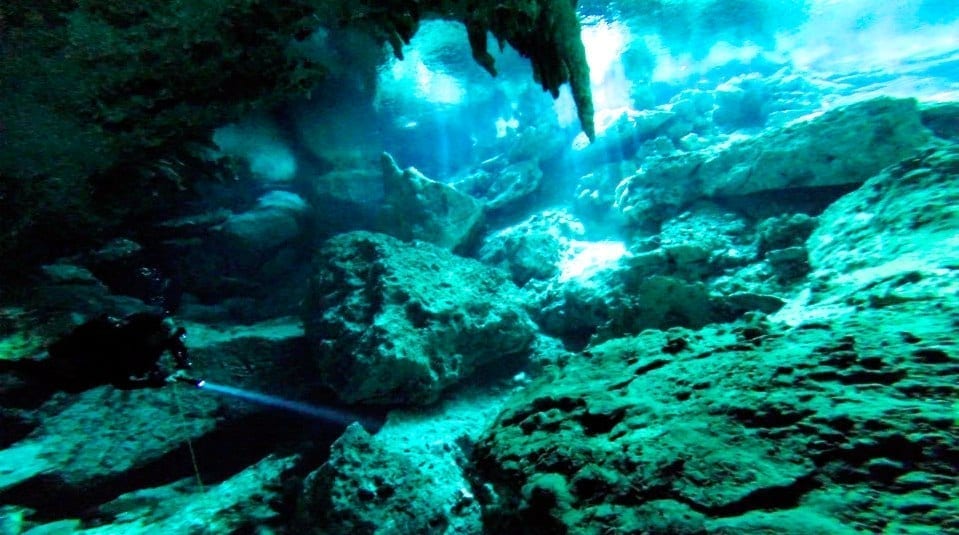 In strict terms, Cenotes are natural sinkholes that form when the roof of a cavern collapses. In my terms, Cenotes are the entrance to a magical underground world of caverns and caves. They're truly amazing. The water is so pure that you can see as far as the light will travel, and the tropical jungle and vines that hang from above make you feel like you're exploring a whole other world.
While snorkelling allows you to swim around the surface and view things from above, scuba diving allows you to delve deep into the underwater system of caves, stalagmites and stalactites. I was fortunate enough to try both – I snorkelled in the Cenote Azul and the Gran Cenote, and dived around the cave systems of Dos Ojos.
All three Cenotes are completely unique in their own right, and the experience was so different as both a snorkeller and diver. The Cenote Azul is, as its name suggests, a beautiful vibrant blue colour that's perfect for swimming, sunbathing and cliff jumping. The Gran Cenote is ideal for snorkelling, as you only need to drop your head into the water to see the huge underwater rock formations. Cenote Dos Ojos is one of the most famous Cenotes in the world, and the cave systems stretch for well over 50 miles underground which makes it a playground for scuba divers.
Snorkel or Scuba in the Cenotes…?
If you're on a time budget, you may be wondering whether you can soak in the Cenotes from the surface, or whether you need to dive down deep to get the full picture. After trying both, I was able to make a few key comparisons and experience both sides of the underworld.
Snorkelling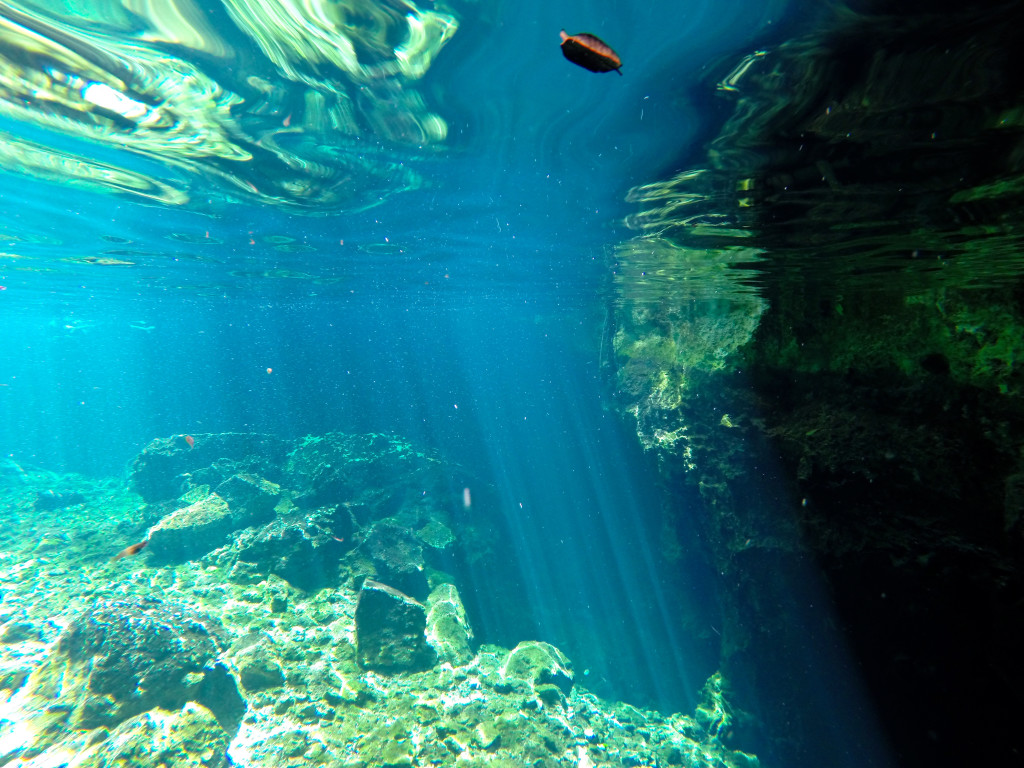 Without a doubt, snorkelling is much easier. There are absolutely no currents as the Cenotes are inland, and the fresh water means you don't have the problem of salt water stinging your eyes. The water is a little bit chilly so you may want to wear a shortie wetsuit if you have one, but you'll be perfectly fine without it. The drawback to snorkelling is that there's only so far you can explore as with some Cenotes (such as Dos Ojos) the open pool isn't that large. It can also get pretty crowded at some of the more iconic Cenotes, so it's worth going early in the morning or later in the day if you want a bit of peace and quiet whilst you snorkel around.
Scuba Diving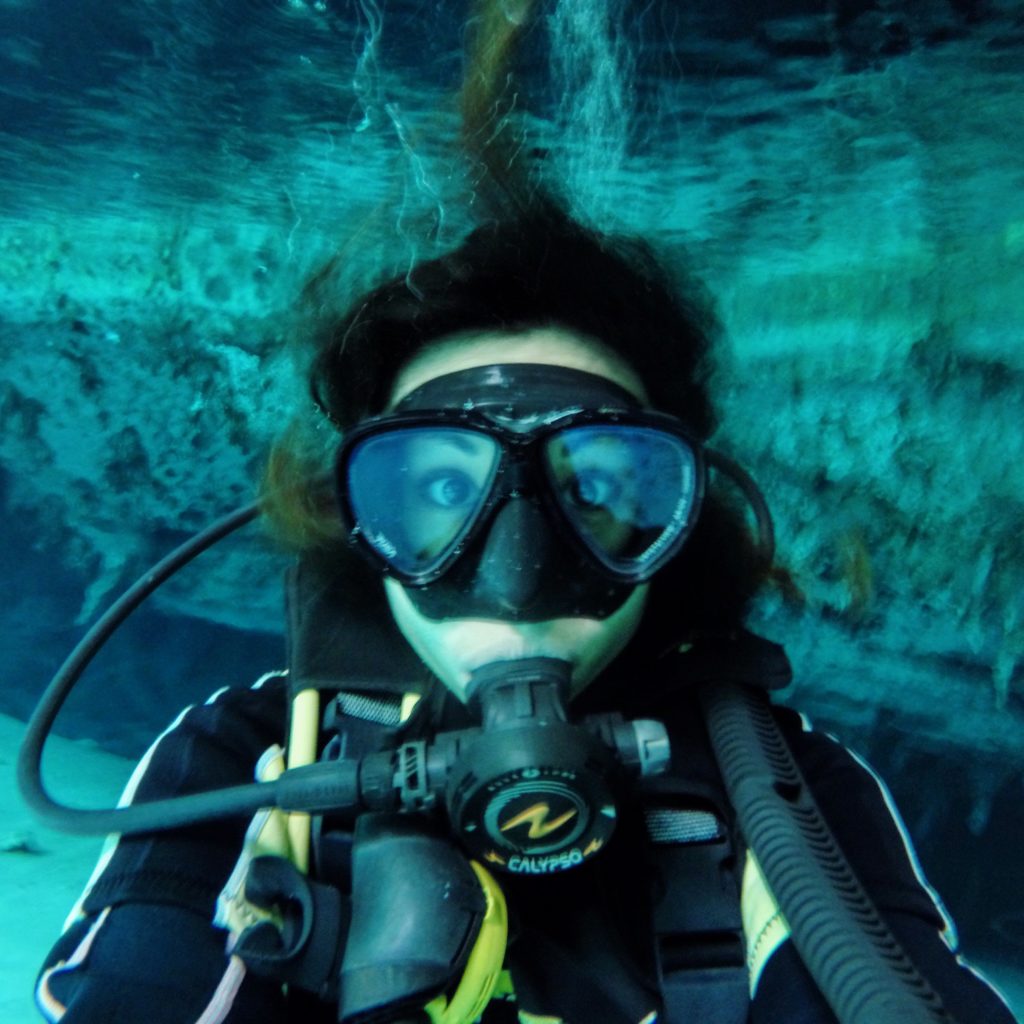 Although I said that the snorkelling is much easier, that doesn't mean that the diving is difficult. It takes a little bit to get used to buoyancy for those who have never dived in fresh water before, but it's no more challenging than what you'll already have experienced in the ocean. The great thing about diving the Cenotes is that you can really explore deep into the systems. You'll discover secret bat caves that snorkellers can't get to, ginormous stalagmites and stalactites and a diving experience that you won't get elsewhere. What the diving lacks in wildlife, it makes up for in the sense of adventure. Admittedly, it can be a little scary heading into the complete darkness, but it's definitely all worth it as it's completely unlike anywhere else you'll ever dive.
Which is better?
If I had to choose whether to snorkel or scuba in the Cenotes, then….I'd probably choose both! They both offer a completely different experience so it's really hard to decide which is 'better'.
In many ways, I preferred the diving as I felt much less restricted as to where I could explore. However, the snorkelling was beautiful too and the views from above were really stunning. If you're a certified diver, I highly recommend that you dive the Cenotes, not least because it's one of the only places in the world to do it, but simply because it's just so COOL!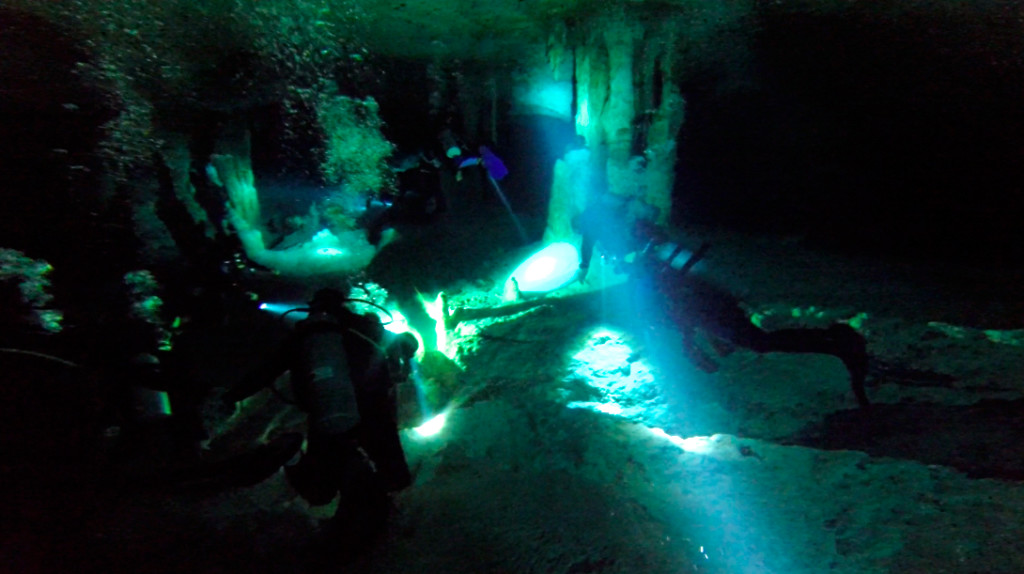 For you GoPro junkies, don't expect your diving videos to be anything spectacular unless you've got all the lighting gear. For photos and videos, you'll definitely get the best footage from snorkelling around the surface where there's still a good amount of natural light. Although, I definitely feel that a camera really can't capture how vast the Cenotes really are, so your mental footage may just be the best kind…
Have you snorkelled or dived in the Cenotes? If so, which did you prefer? I'd love to hear your thoughts – drop me a comment in the box below!