I strongly believe that if you start your day with a good, healthy breakfast, you're more likely to stay on track throughout the day. It's like early morning workouts – don't you find you're much more disciplined if you start your day by breaking a sweat?
So this mango banana smoothie bowl became something by accident. I woke up wanting granola, so I started making that. Then I changed my mind and decided I wanted a smoothie bowl, so I emptied our fridge and started making that.
I then realized we didn't have enough fruit going to make two colourful smoothie bowls (I couldn't let Matt draw the short straw, and well, I didn't want a rubbish breakfast either) so I combined the two and came up with this. Oh, and what's with the heart? Well, what can I say – I just woke up feeling happy.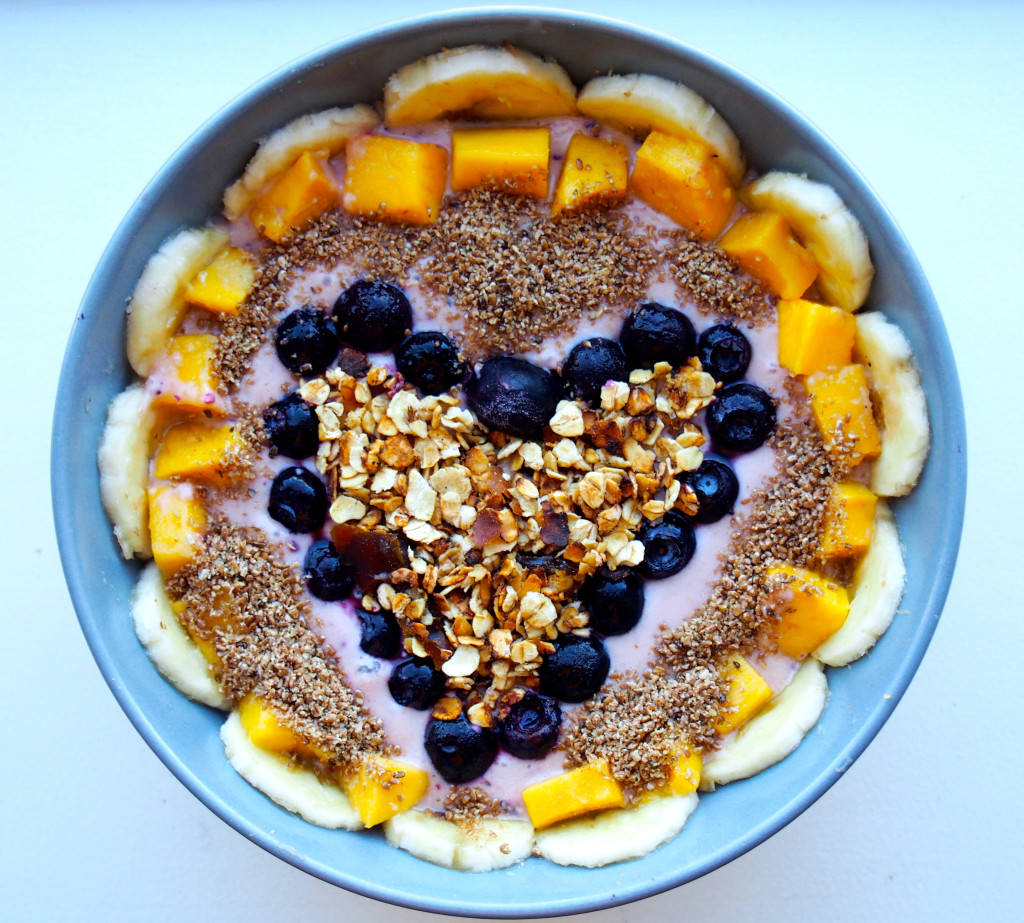 One of the things I love most about working from home (other than not having to leave my living room to work) is that I can invest time into my breakfasts. I always hate having to scoff down a meal because i'm running late, so it's nice to have the time to appreciate what I put together (i've made other smoothie bowls too – take a look).
There's not much more to say about this one, except it's delicious and it's a great way to add extra fruit to your diet. I love adding a handful of spinach into my smoothies too – it's an easy way to pack in some extra nutrients. The nut butter adds in around 7g of protein, but if this is a post-workout smoothie you may want to add a scoop of vanilla powder too.
You'll notice that there are two stages to this recipe – if you haven't got time / can't be bothered to make the granola, it tastes great without it. Let me know if you give this a go & drop me a comment below! If you've got Instagram, tag me @alicia_haque – i'd love to see your version!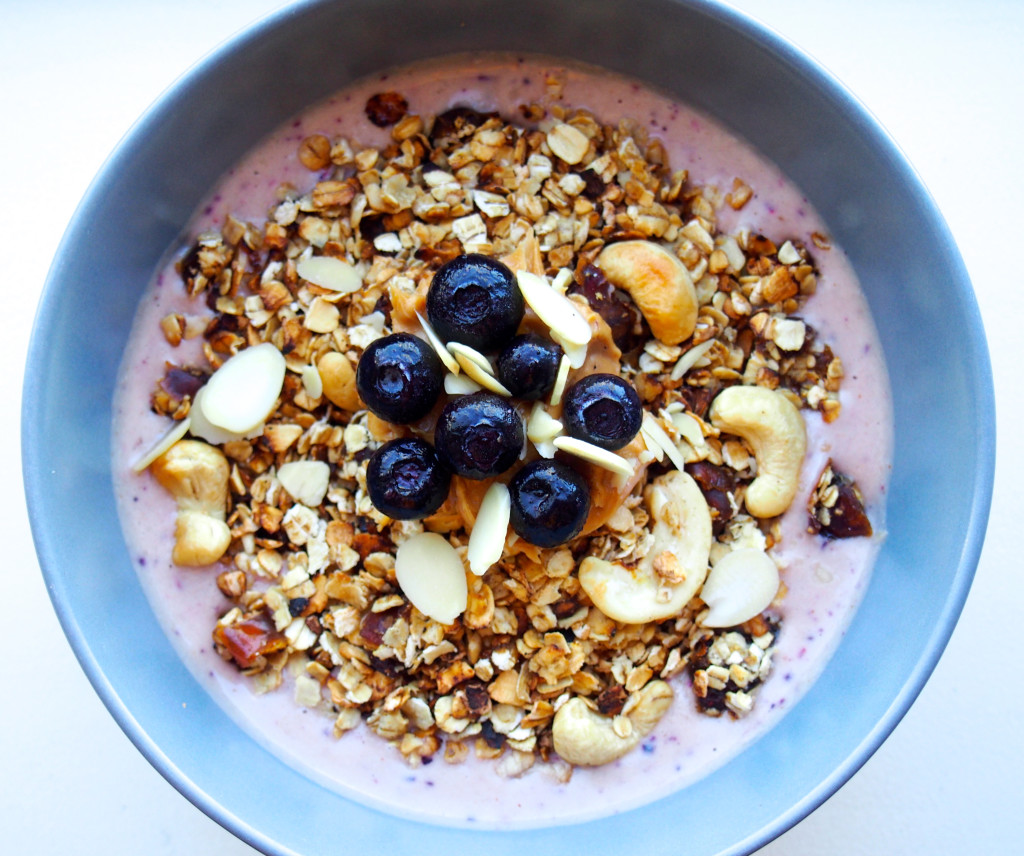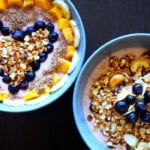 Print Recipe
Mango Banana Smoothie Bowl With Homemade Granola
Ingredients
Granola
1

cup

rolled oats

5

pitted dates

chopped

Small handful mixed nuts

1

tsp

honey

1

tsp

coconut oil

Sprinkle sea salt
Smoothie
1 1/2

banana

save 1/2 for topping

1

mango

save 1/2 for topping

1/2

cup

frozen cranberries

2

tbsp

nut butter

Splash milk / almond milk
Topping
1/2

banana

chopped

1/2

mango

chopped

Handful fresh / frozen blueberries

1

tsp

chia seeds
Instructions
Heat a small saucepan over a medium heat and add the coconut oil and honey. After 2 minutes, add the rolled oats and stir continuously until the oats are coated. Add in the chopped dates, nuts and sprinkle of sea salt, and continue to stir for 5 minutes until the oats begin to brown. Then, set to one side.

In the meantime, add the banana, mango, frozen cranberries, nut butter, and milk to a blender, and mix until smooth. Go easy on the milk as you don't want the mix to be too runny, so add it in gradually depending how thick you want the smoothie to be.

Leave the smoothie to sit for 3 minutes, and prepare your toppings.

Pour the smoothie into a bowl and allow to sit for another minute. This will ensure that the toppings sit properly and don't sink into the smoothie. Add your fruit toppings & granola on top, make it look pretty and you have a lovely granola smoothie bowl!
Notes
PS. You'll probably have some leftover granola, depending how much you use in your bowl. Why not enjoy it with some greek yoghurt and honey?