Skincare is something I've invested a lot of time and effort into over the last couple of years, and I love testing out new products and seeing the effects they have on my skin. That's why when Bioré® skincare reached out with a partnership idea last month, I was really excited to get on board and try out their new Baking Soda Acne and Charcoal Acne collections, especially as they're designed for acne-prone skin and acne is something I've dealt with for the last couple of years. They sent over the products and I've been using them religiously for the last little while, and I've been really impressed with how it's made my skin look and feel.
As a teen, I was incredibly fortunate to not have to worry about any skincare concerns, and acne wasn't something I had to deal with. In fact, I don't think I realized just how fortunate I was until it caught up with me a couple of years ago at the age of 23. I experienced what a lot of people refer to as "adult acne", which commonly occurs in your mid-20s.
I saw a complete shift in my skin which resulted in blocked pores and very frequent breakouts on my forehead and cheeks. Ever since then, I've been committed to my skincare regimen and finding products that keep my skin healthy and happy.
Thankfully, after a lot of trial and error, my skin is now pretty constant, but that's not to say my acne doesn't reappear! Whenever I'm stressed, I travel or it's girl time of the month, my skin tends to go off balance and acne flare ups often happen, so that's why I like to use an acne-specific cleanser to keep my skin as clear and healthy as possible. Of course, in the grand scheme of things a bad breakout isn't the end of the world, but when my skin looks good I instantly feel more confident so it's something I try to maintain.
I've focused my attention on the Bioré® Baking Soda Acne Clearing Cleanser and Scrub as it's most suited to my skin type (combination) and I've really enjoyed using the products. Before this project, I'd never tried out Bioré® skincare, but I feel like I've been missing out all this time as it's so good and SO inexpensive, and you can easily try out a range of their products without breaking the bank.
I'm sure I'm not alone in dealing with acne, and since it's something that can truly affect you at any age (teen or adult), I wanted to share my thoughts on the new Bioré® Baking Soda Acne & Charcoal Acne Collections, what skin types they're suited for, and how I've been keeping my skin clear with new Bioré® products!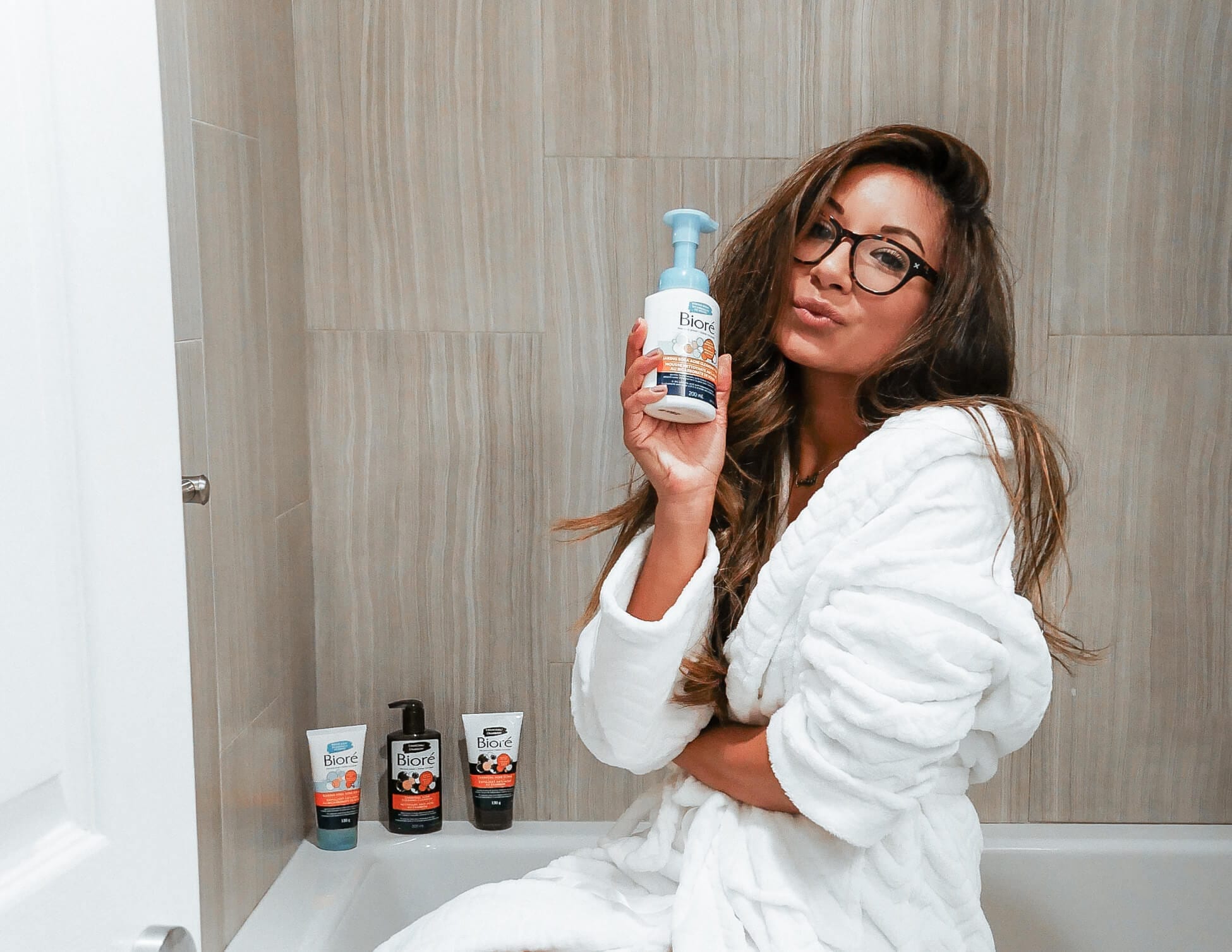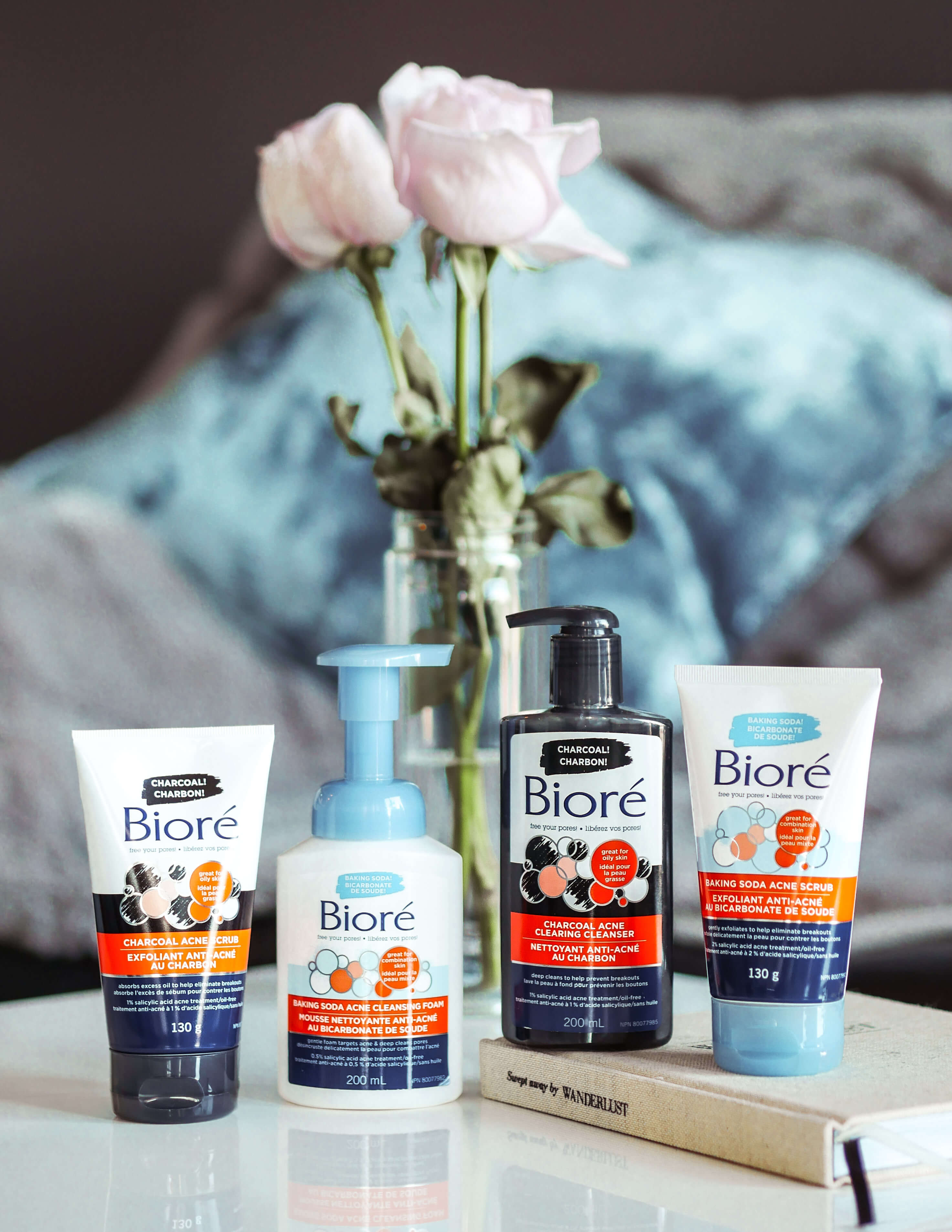 Bioré® Baking Soda Acne Collection
I have normal-dry skin, so I've been focusing on the Bioré® Baking Soda Acne Collection as it's ideal for combination skin, whereas their Bioré® Charcoal Acne Collection is better for oily skin.
My favourite product is the Baking Soda Acne Clearing Cleansing Foam and it's now my go-to cleanser every morning and evening. It has a really light & foamy consistency and leaves your skin feeling clear and fresh, and although it contains salicylic acid, it doesn't leave your skin feeling too dry or too tight yet it's still tough on fighting acne.
I'm finding that since using the cleanser, my skin is noticeably softer and I haven't had any major breakouts despite being stressed and not getting a lot of sleep, which almost always triggers an acne flare up.
I really like the Baking Soda Acne Scrub, and I use it 1 – 2 times per week. When I first used the product, I was impressed by how fresh and soft it made my skin feel and it offered a really deep clean.
It has a zesty orange scent so it's very refreshing, and the spherical beads aren't too gritty so it does a great job in keeping my skin smooth yet it's still gentle and doesn't aggravate my skin.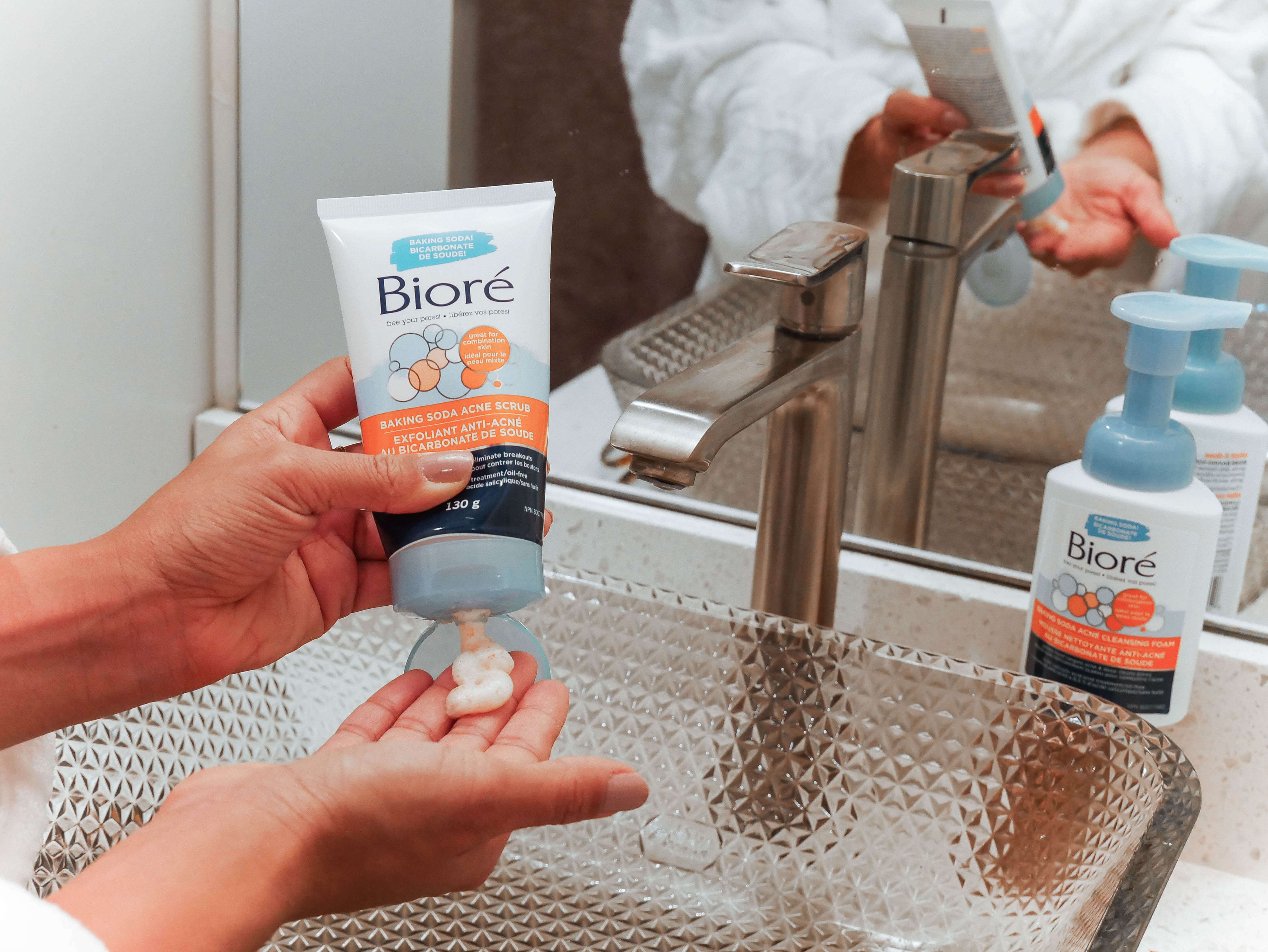 Bioré® Charcoal Acne Collection
I also want to mention about the Charcoal Acne Collection, which is more suitable for oily skin types. There are 2 products in this line - the Charcoal Acne Clearing Cleanser & the Charcoal Acne Scrub - and they both help to absorb excess oil in the skin to eliminate breakouts and deep clean the pores.
Charcoal products have blown up recently as charcoal acts as a magnet and draws dirt out of the pores to purify the skin. Bioré® Charcoal Acne products contain natural charcoal as well as salicylic acid.
On first impression, I really liked the consistency of the Charcoal Acne Clearing Cleanser as it's very light and didn't completely dry my skin out, like I've experienced with other charcoal cleansers.
It also tingles when you put it on (which is normal) and left my skin feeling super fresh. If you have oily skin the Charcoal Acne Clearing Cleanser or Scrub may be a good match for you.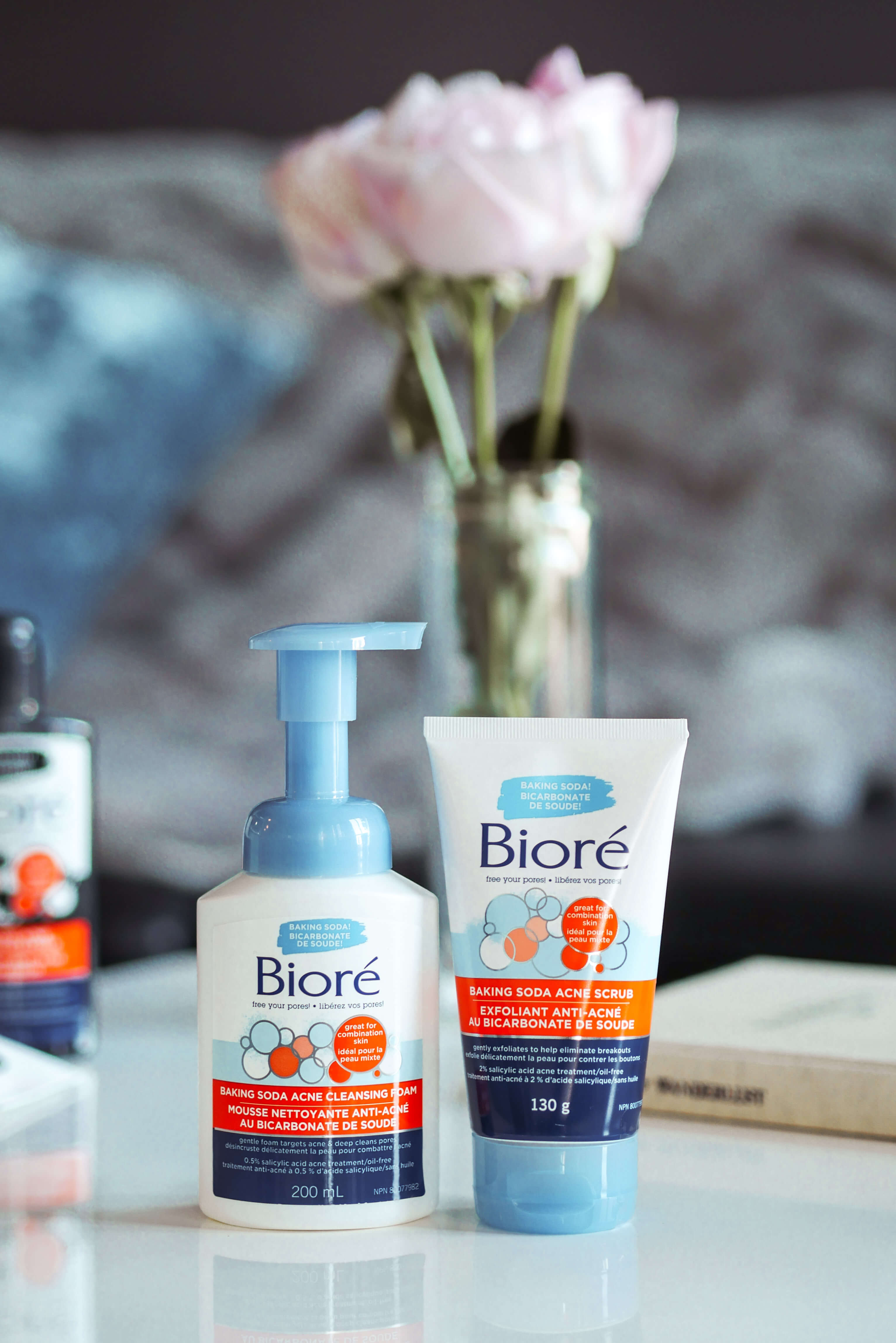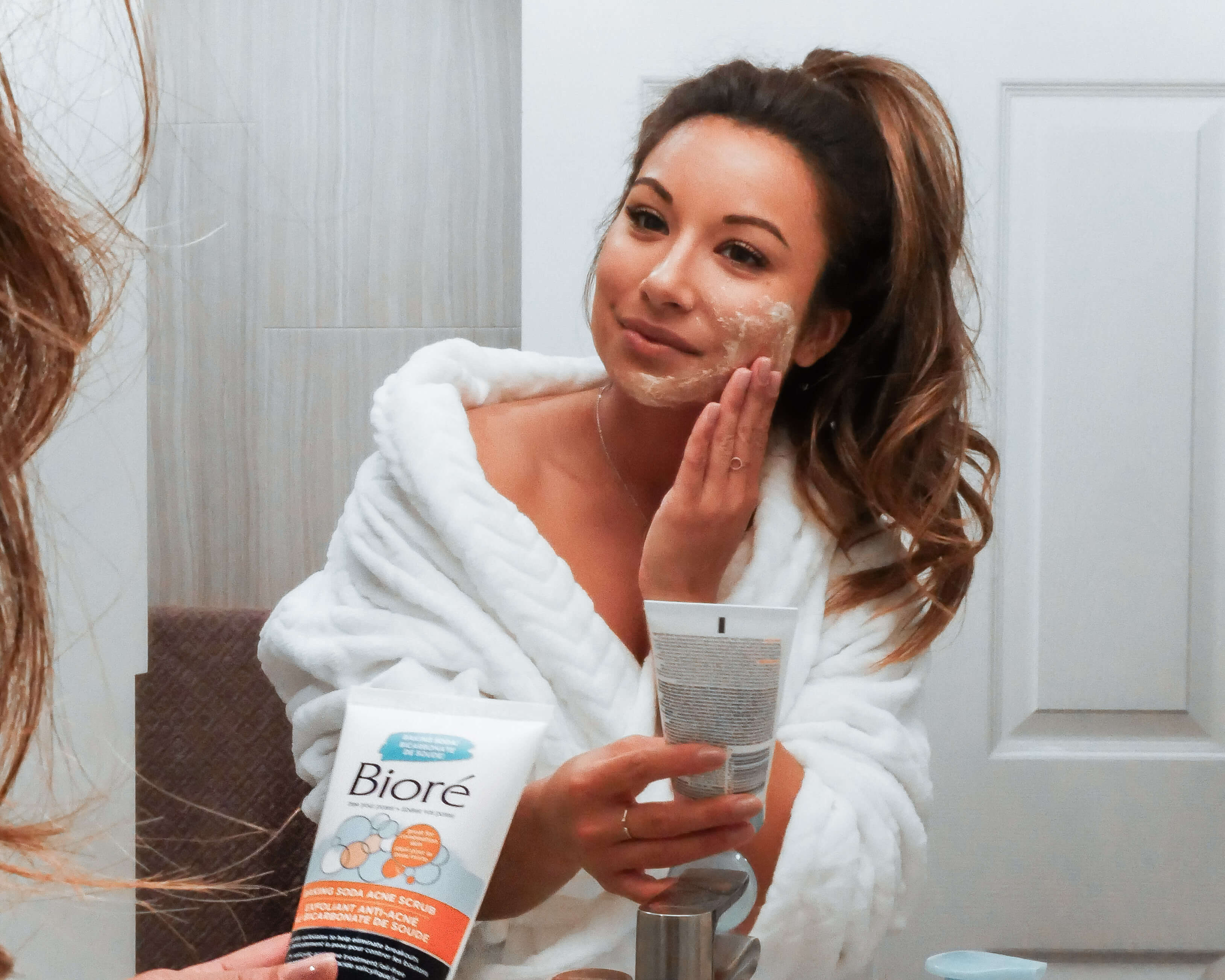 A few final thoughts about the new Bioré® Acne products
Overall, I've been so happy with the new Bioré® Acne products and the winning product for me has to be the Baking Soda Acne Clearing Cleansing Foam. I've got on with it so well and it's gentle enough to use every day yet really keeps my skin looking and feeling fresh. Not everyone dealing with acne has oily skin - my skin is more on the dry side but I still experience breakouts - so I like that Bioré® skincare have provided products for both combination and oily skin so there's more choice.
So,if you're struggling to keep your skin balanced and you're looking for an affordable acne treatment to try out, I can't recommend the Bioré® Baking Soda Acne & Charcoal Acne Collections enough. Let me know if you have any questions about the products in the comment box and I'd love to hear your thoughts if you do try them out!
{Disclosure: This is a sponsored post created in partnership with Bioré®. All thoughts expressed are my own.}