California is somewhere I've wanted to visit for a long time, so when my Mum came to visit from England, I figured San Diego would be the perfect escape for a weekend away. Being only a 2.5-hour flight from Vancouver, it's close enough to visit for just a few days and it has a great mix of city attractions as well as beautiful beaches and outdoorsy activities.
It reminded me of Vancouver in a lot of ways (only a lot more tropical with millions of palm trees!) but I loved the city and the rugged coastlines are absolutely beautiful. You can explore Downtown, head for a hike, chill at the beach and surf all in the space of a day, so there's something for everyone.
The climate is lovely so if you're a sun worshipper it's a great little getaway and I loved the relaxed West Coast vibe as well as the food scene, and the Mexican influence in the cuisine and architecture is really cool too.
Since I was there with my Mum, the trip was pretty chilled and I feel like we only scratched the surface of the city. However, we did still manage to explore quite a few places while we were there, and I also got tons of amazing recommendations for things to do, places to visit, beaches and food spots from my lovely people on Instagram, so I wanted to put this post together and share my insight in case you're also planning a weekend in San Diego and you're searching for things to do!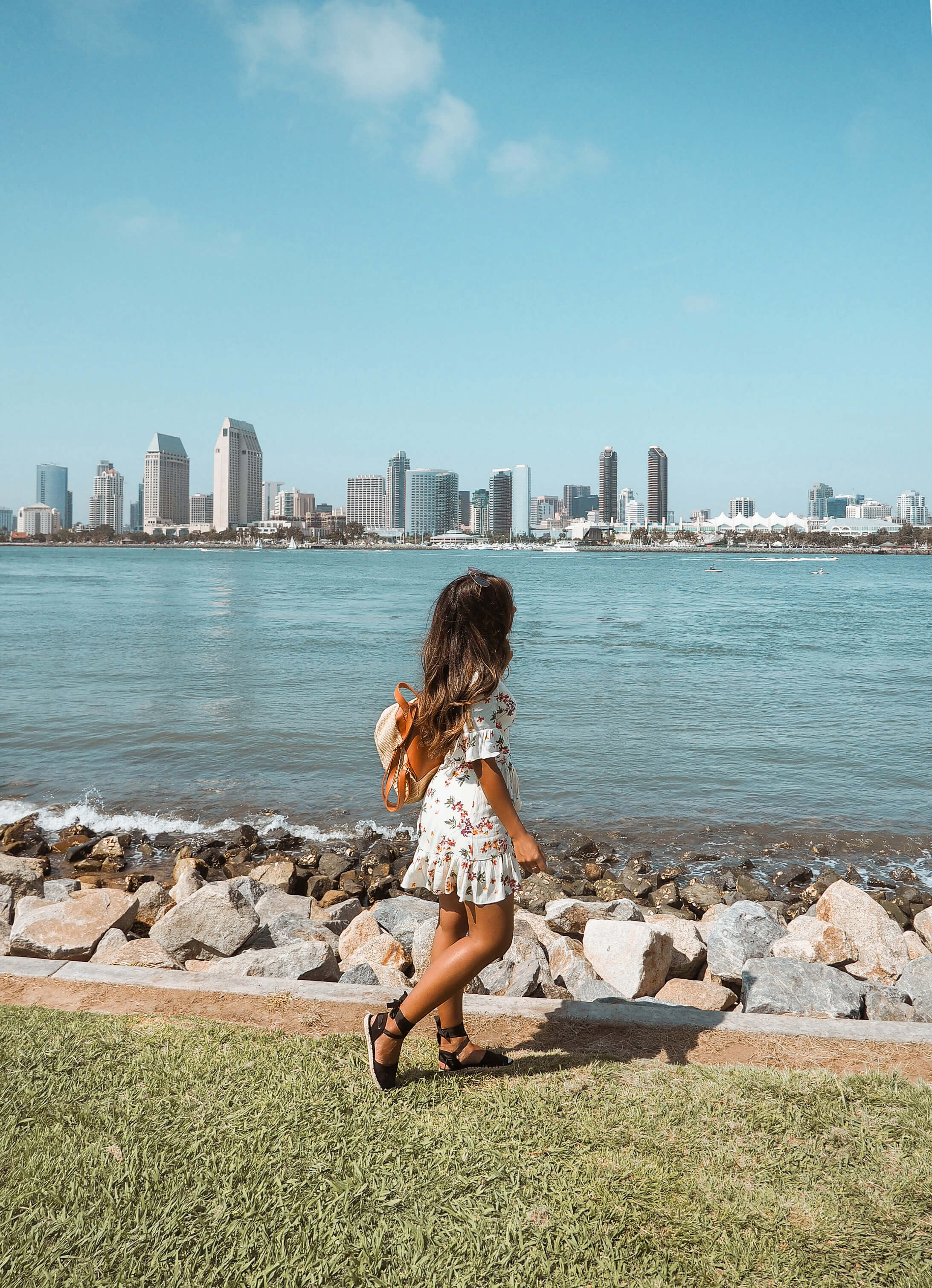 Top places to explore
There's a lot to explore both in the city and further afar. Some of the most popular areas include Coronado Island, Downtown, the Gaslamp Quarter, La Jolla, Old Town, Little Italy, Mission Bay (and more), and the nice thing is that every area offers a completely different feel and experience. Here's an overview of some of the top places to visit in San Diego to add to your list:
Gaslamp Quarter
This is one of San Diego's most popular city areas and here you'll find tons of hotels, restaurants and bars, cultural attractions and museums as well as Victorian and modern architecture. The Gaslamp Quarter is located in Downtown. Some of the restaurant recommendations I received include Searsucker (good eats + cocktails) and Oscar's Mexican Seafood (for tacos).
Little Italy
Little Italy is a really cute area in Downtown filled with Italian cafés, restaurants, wineries, craft beer places and cute shops.
Embarcadero
Home to the cruise terminal, Seaport Village and the Navy Pier, the waterfront Embarcadero sits on the edge of Downtown by the water. Here you'll find the very famous USS Midway Museum, and you can also hop on a harbour cruise or catch the ferry over to Coronado Island from here.
Balboa Park
Balboa Park was recommended to me by many people and it's a cultural oasis with huge gardens, museums, architecture, as well as the San Diego Zoo. There's everything from hikes to restaurants to arts and performances and it's San Diego's biggest cultural destination.
La Jolla
Anyone you speak to who has visited San Diego will likely recommend La Jolla, and for good reason. Pronounced "La Hoya", La Jolla is a gorgeous area with a stunning rugged coastline and dramatic cliffs. It's a fairly upmarket area, with plenty of restaurants and nice hotels, and the beaches are really lovely. It's about 20 minutes by car from Downtown.
Old Town
Old Town is the site of the first Spanish settlement on the West Coast and is a really beautiful area to explore. Here you'll find Mexican heritage and historical sites, restaurants, independent stores, quaint streets, museums, and very beautiful Spanish architecture. Many of the historic buildings have been preserved so it feels like a step back in time. It's located around 10 minutes from Downtown. (pictured below)
Food Spots that we tried / were recommended:
Juniper & Ivy - Harborview
Breakfast Republic - Pacific Beach
Devine Pastabilities - Midway
Cody's - La Jolla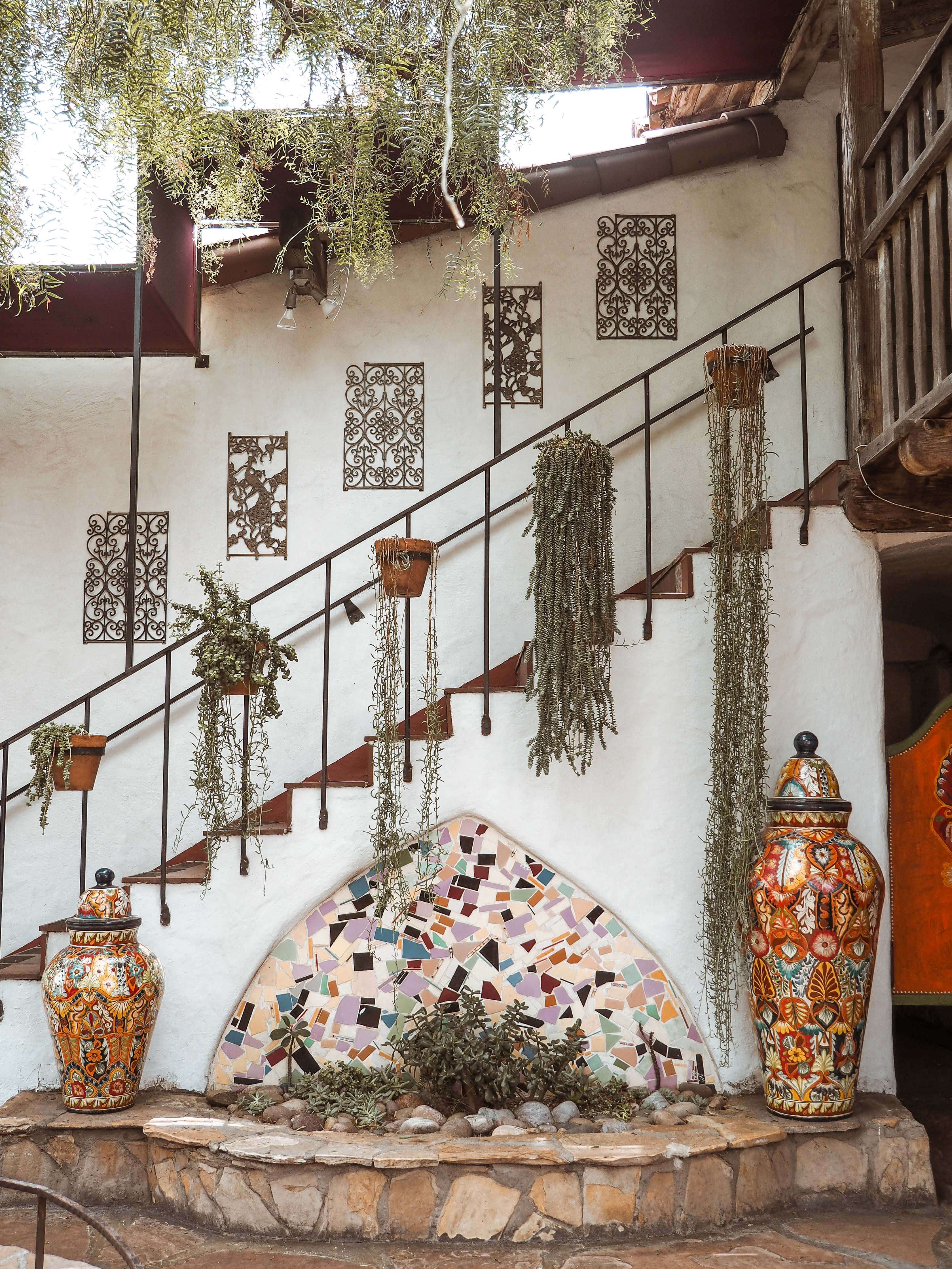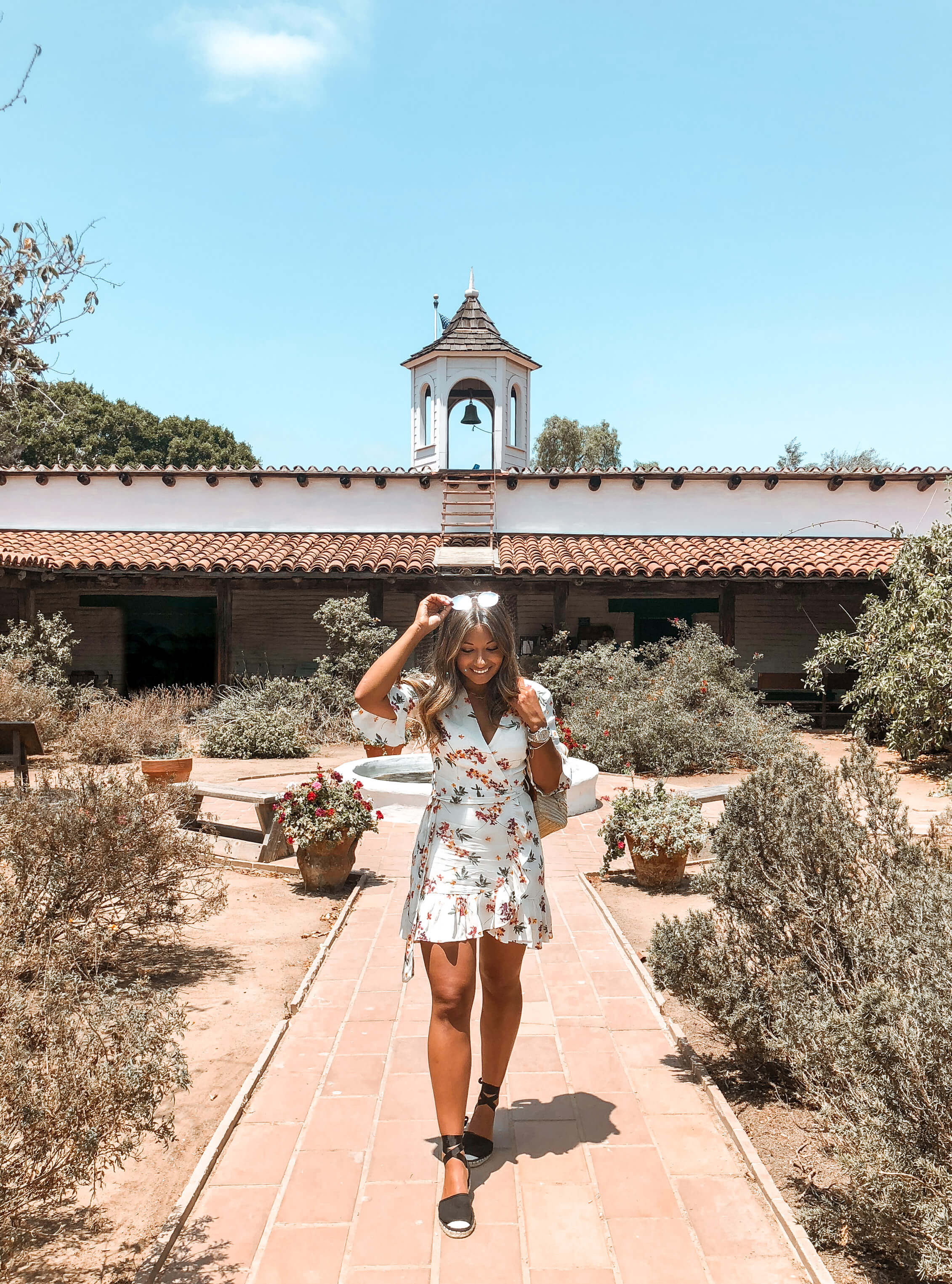 Coronado Island
Coronado Island is one of San Diego's most iconic destinations. Located across the bridge from Downtown, Coronado Island boasts everything from beautiful beaches, to hotels (including the very famous Coronado Hotel), to restaurants and beach-side spots, to shops and theatres, to surfing and kayaking, as well as pretty residential areas and of course, the Navy Base.
You can catch the ferry from waterfront Embarcadero in Downtown over to Coronado Island, or grab a taxi or Uber across the bridge. I highly recommend taking the ferry as it's a great way to see a panoramic view of the whole city and skyline and it only takes about 15 minutes.
At the ferry landing you'll find many nice restaurants and cafes as well as shops, and the view of Downtown is beautiful too. If you head over to the other side of the Island to the Coronado Hotel (it takes 30 minutes to walk, or 5 mins by taxi/Uber), you'll discover the most gorgeous beaches and restaurants.
We grabbed a bite to eat at the Sun Deck Grill at the Coronado Hotel, which is very casual dining but it overlooks Coronado Beach and the ocean so it's lovely. We grabbed a drink at the hotel's beach bar at sunset and the vibe is really cool and laid back, and the sandy beaches are really nice.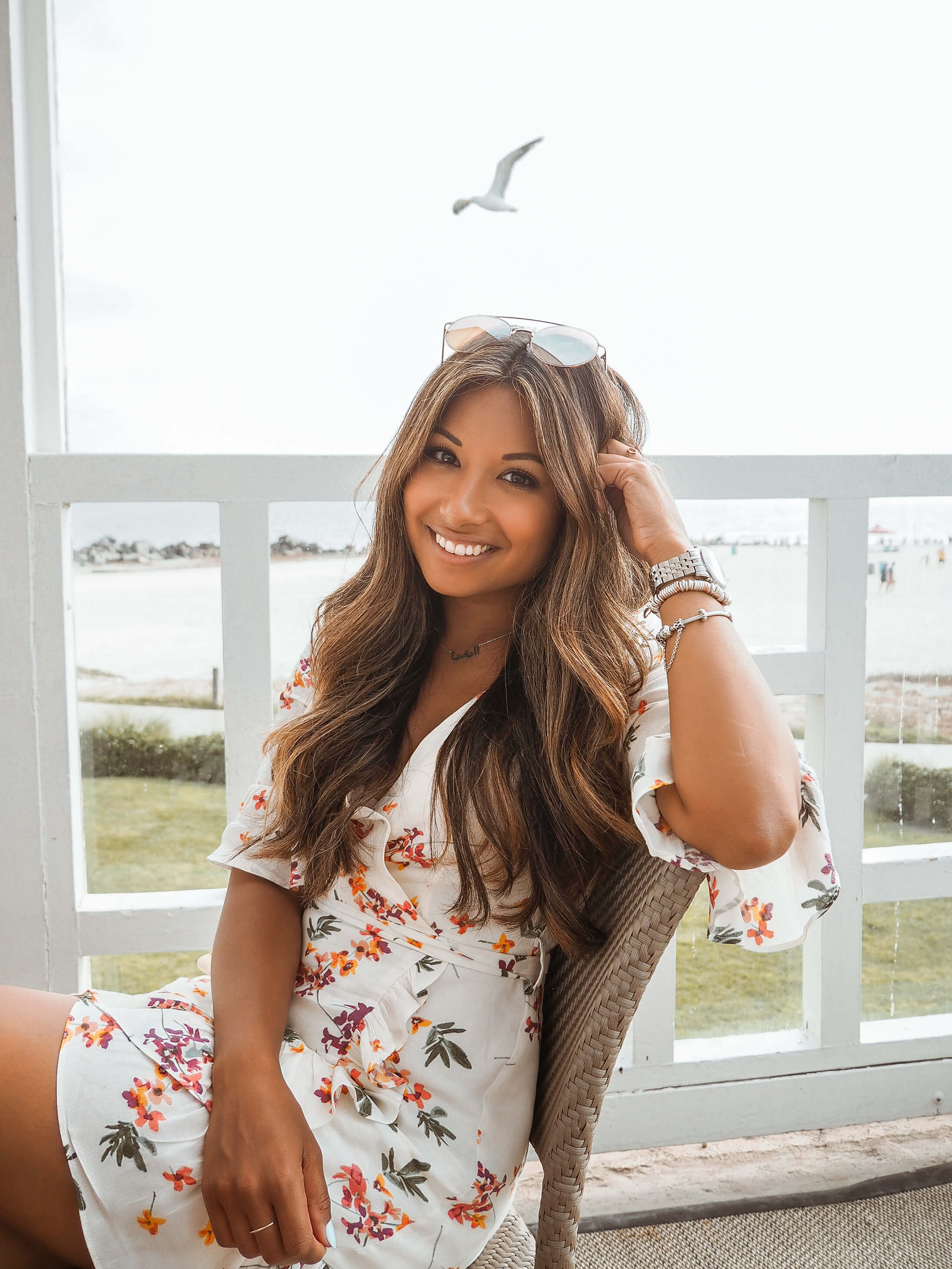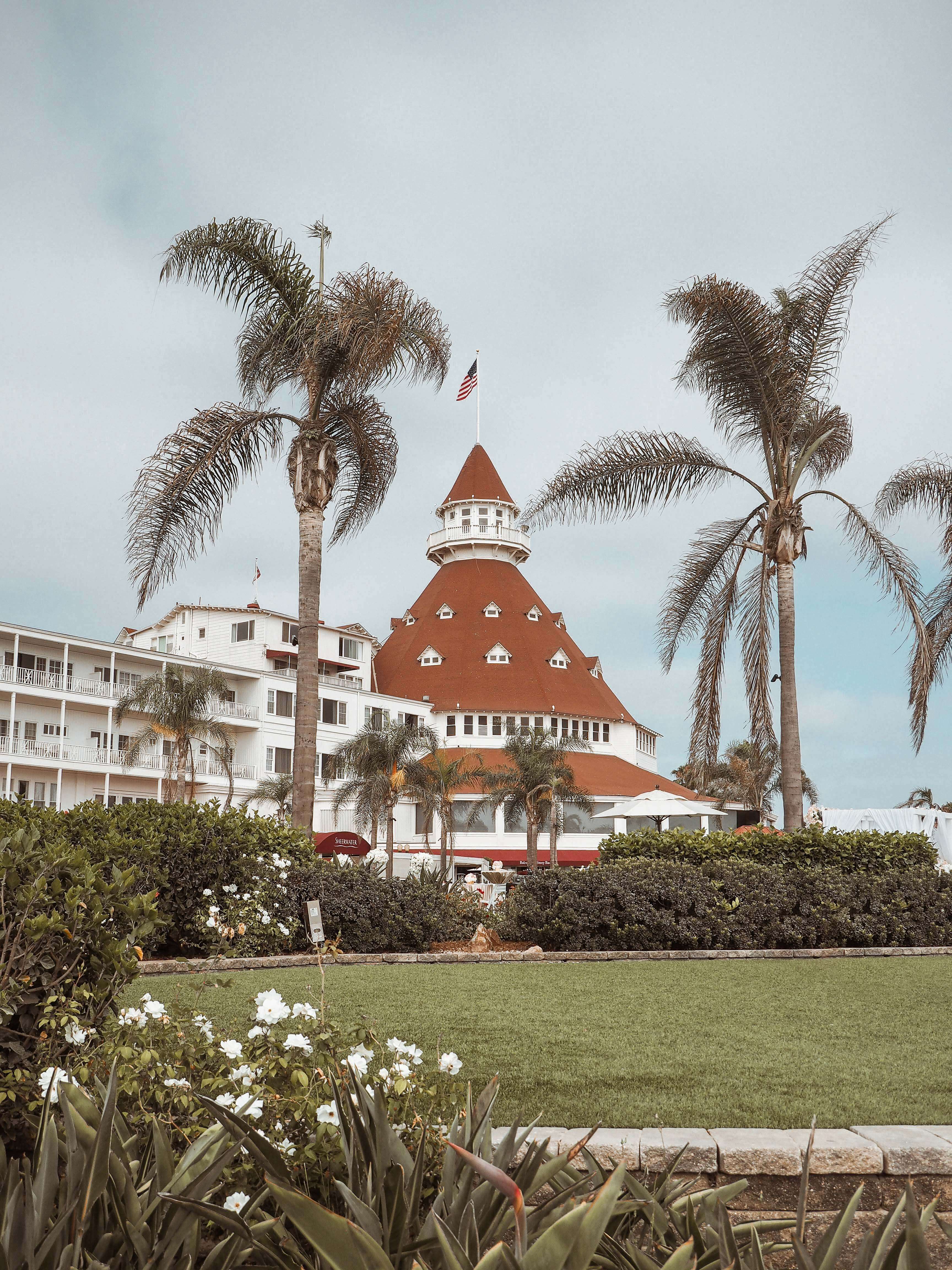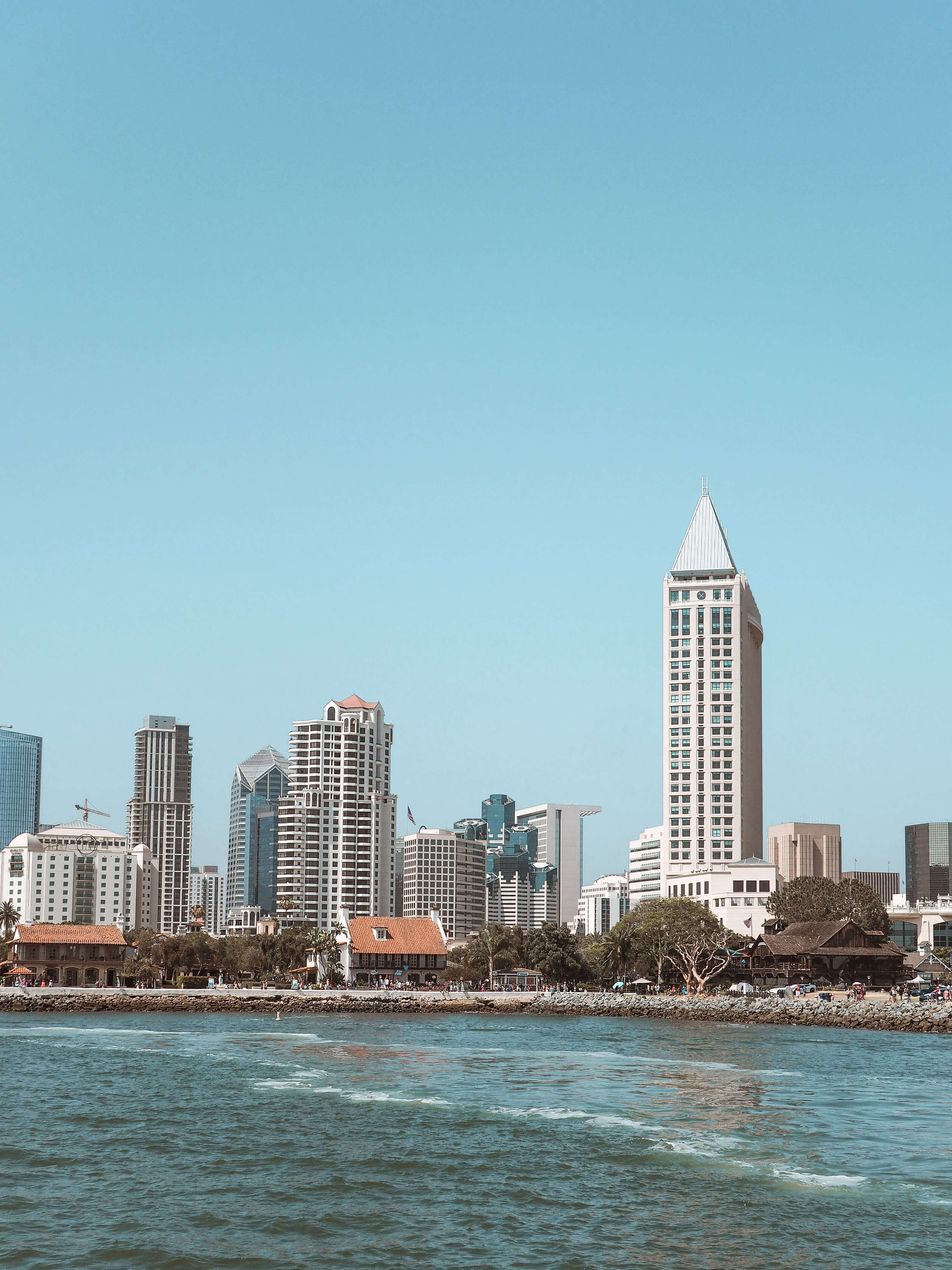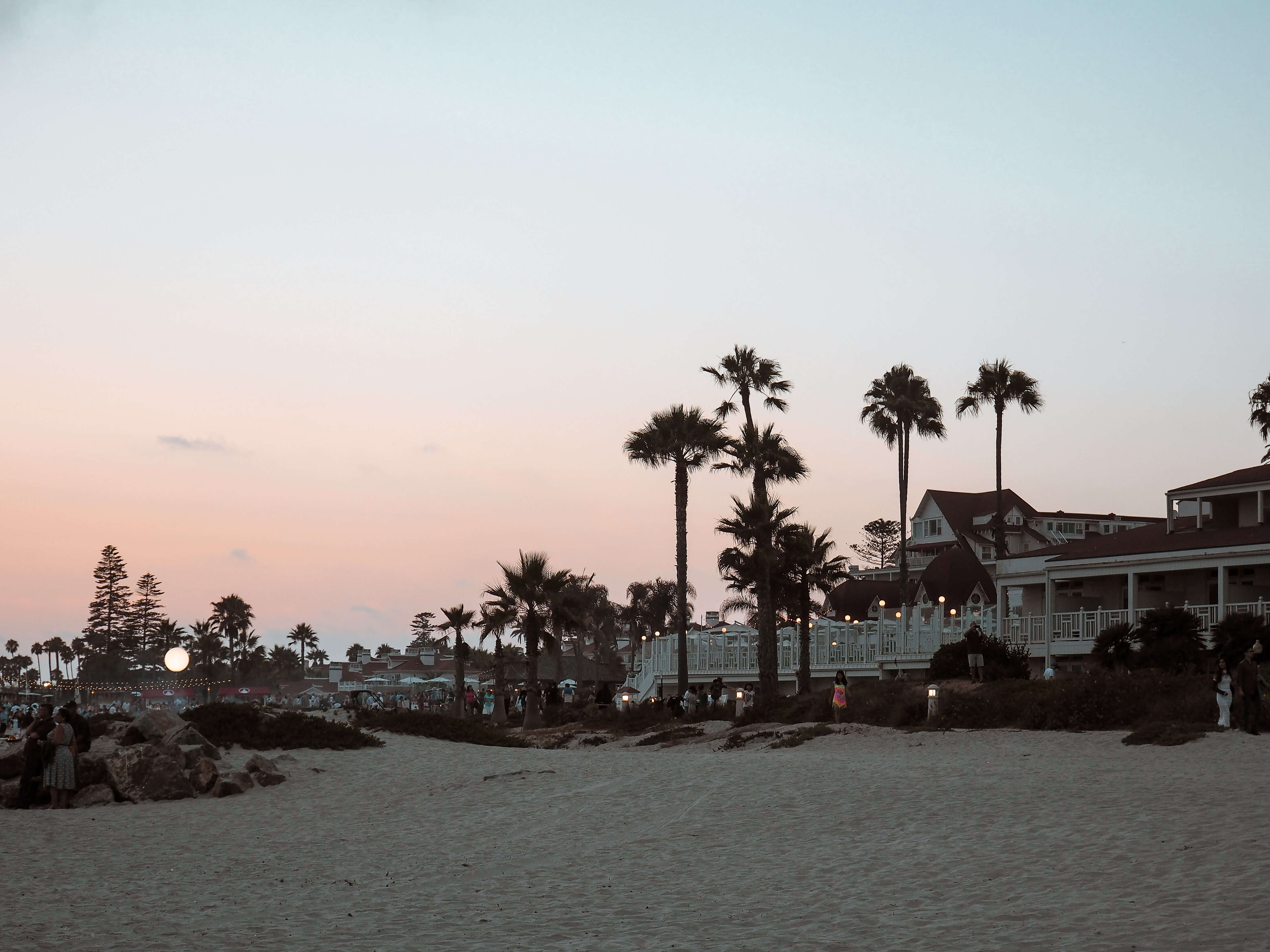 Best Beach Spots
The beaches around San Diego are absolutely beautiful and you have to squeeze in some beach time if you're visiting for a weekend. Some of the best beach spots to check out are:
Mission Beach and Pacific Beach
Mission Beach is a really cool beach spot. It's pretty laid back with quite a few beach bars and here you'll also find Belmont Park, a big amusement park right next to the ocean.
Sunset Cliffs
At Sunset Cliffs you'll find dramatic cliff formations and beautiful sunsets. It's located between Ocean Beach and Point Loma, about 15 minutes from Downtown. We didn't have time to go here but I definitely will next time.
Coronado Island Beaches
There are a few different beaches located on Coronado Island. We visited Coronado Beach, which is located right by the famous Coronado Hotel, and it was very beautiful. The beach bar is a great spot at sunset and there are also fire pits with s'mores on the beach that you can rent.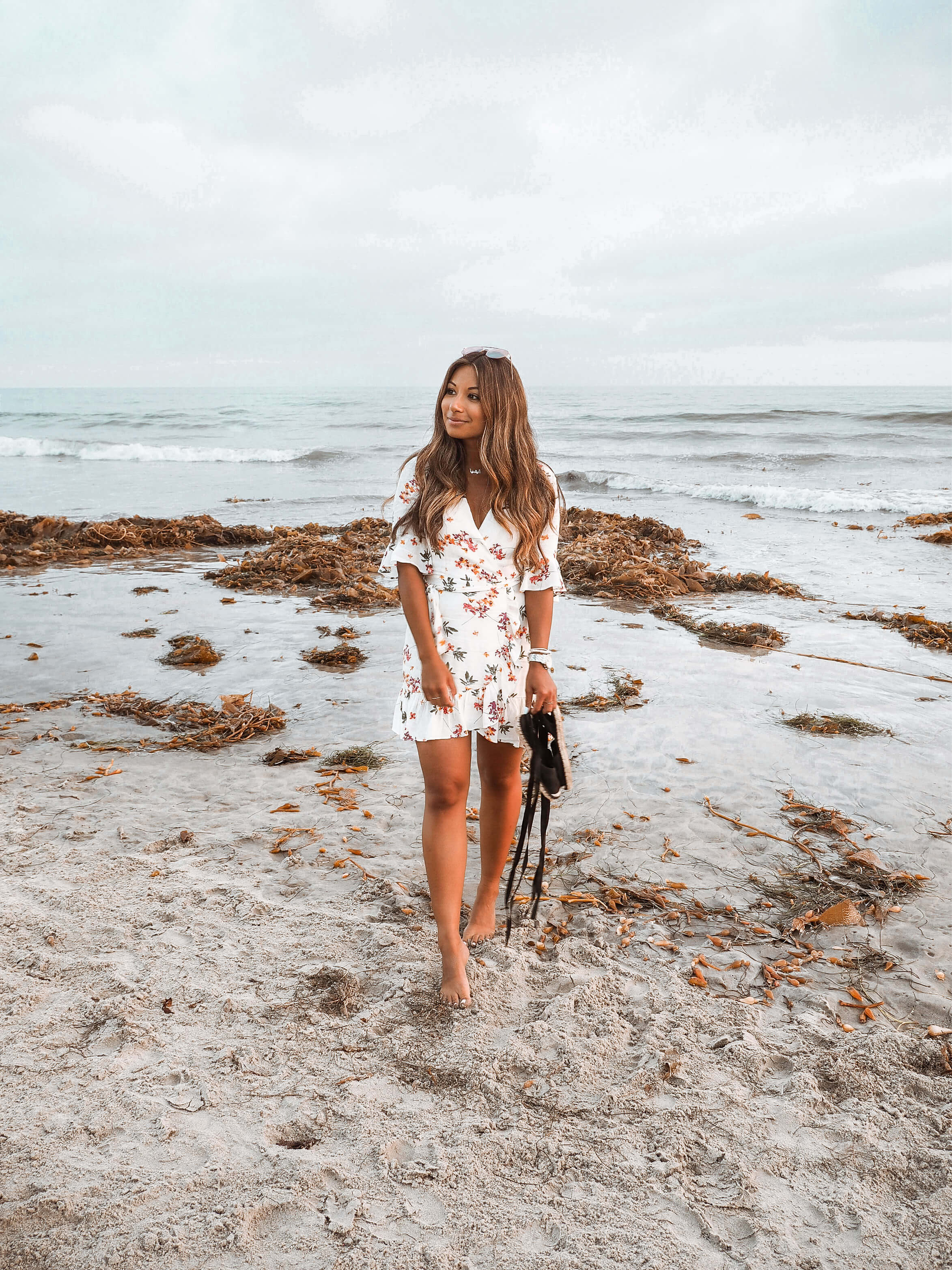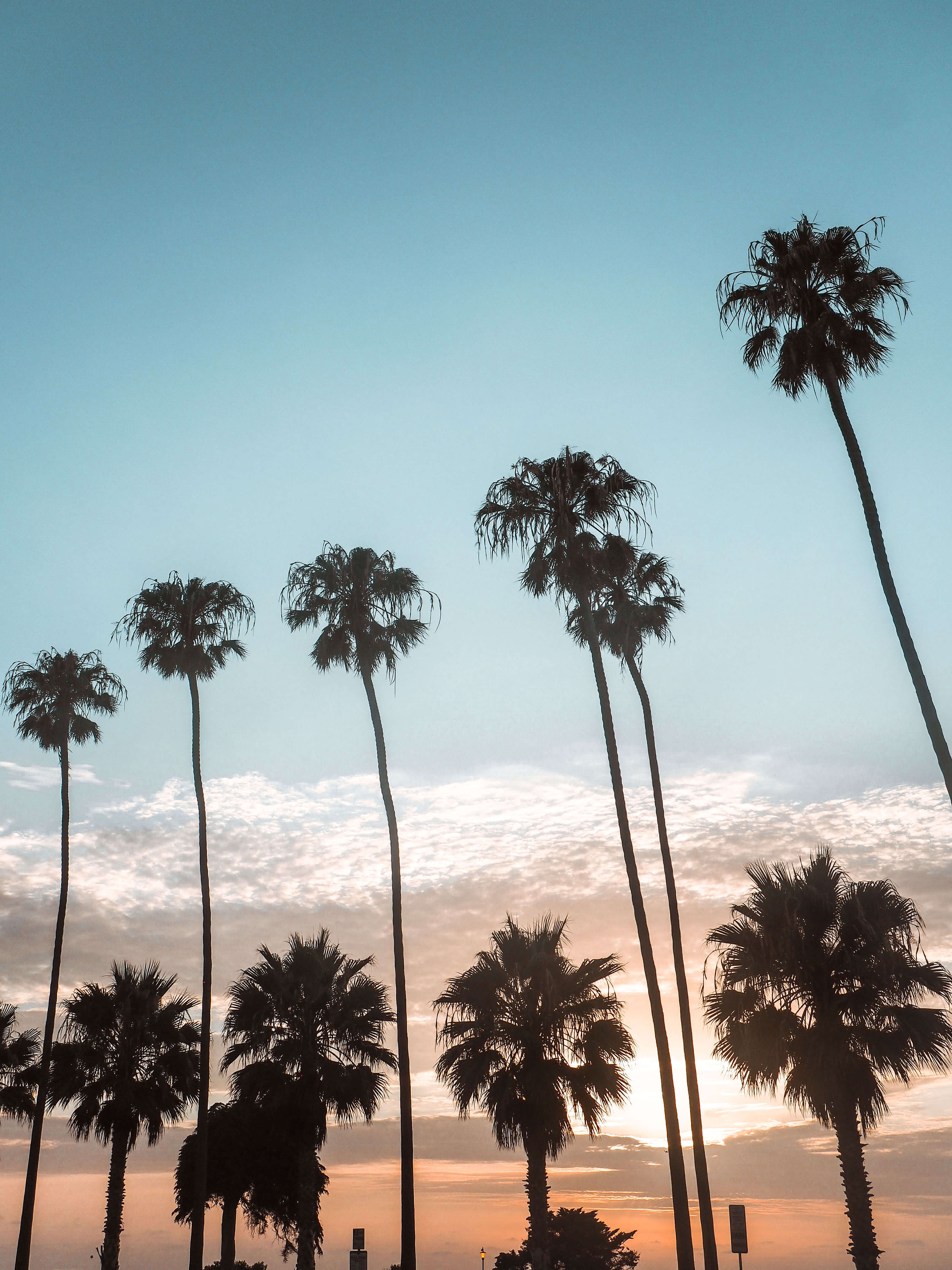 La Jolla Beaches
La Jolla is a gorgeous area and there are 10 different beaches to choose from so you won't be short of options. You may also catch California Sea Lions chilling on the beach as this is a very popular hangout spot for basking in the sun and snoozing. There were about 50 Sea Lions dotted around the beach and rocks when we were there which was really amazing to see!! It takes around 25 minutes to get to La Jolla from Downtown San Diego. Some of the most popular beaches are:
Windansea Beach + Black Beach - great for surfing
La Jolla Shores + Children's Pool - great for kids
Shell Beach + Wipeout Beach - great for tidepools
La Jolla Cove - great for snorkelling, sunbathing and spotting sea lions!
Torrey Pines State Beach
Located 20-minutes north of La Jolla, Torrey Pines is another very beautiful area with dramatic red cliffs as well as pine forests and sandstone canyons to explore. It's a very popular surf spot and there are some great hikes to do too.
I really wanted to visit, however, we ended up loving La Jolla so much we didn't quite make it there. However, you can see the rugged cliffs from La Jolla beach and it looks stunning so I would love to visit when I'm there next.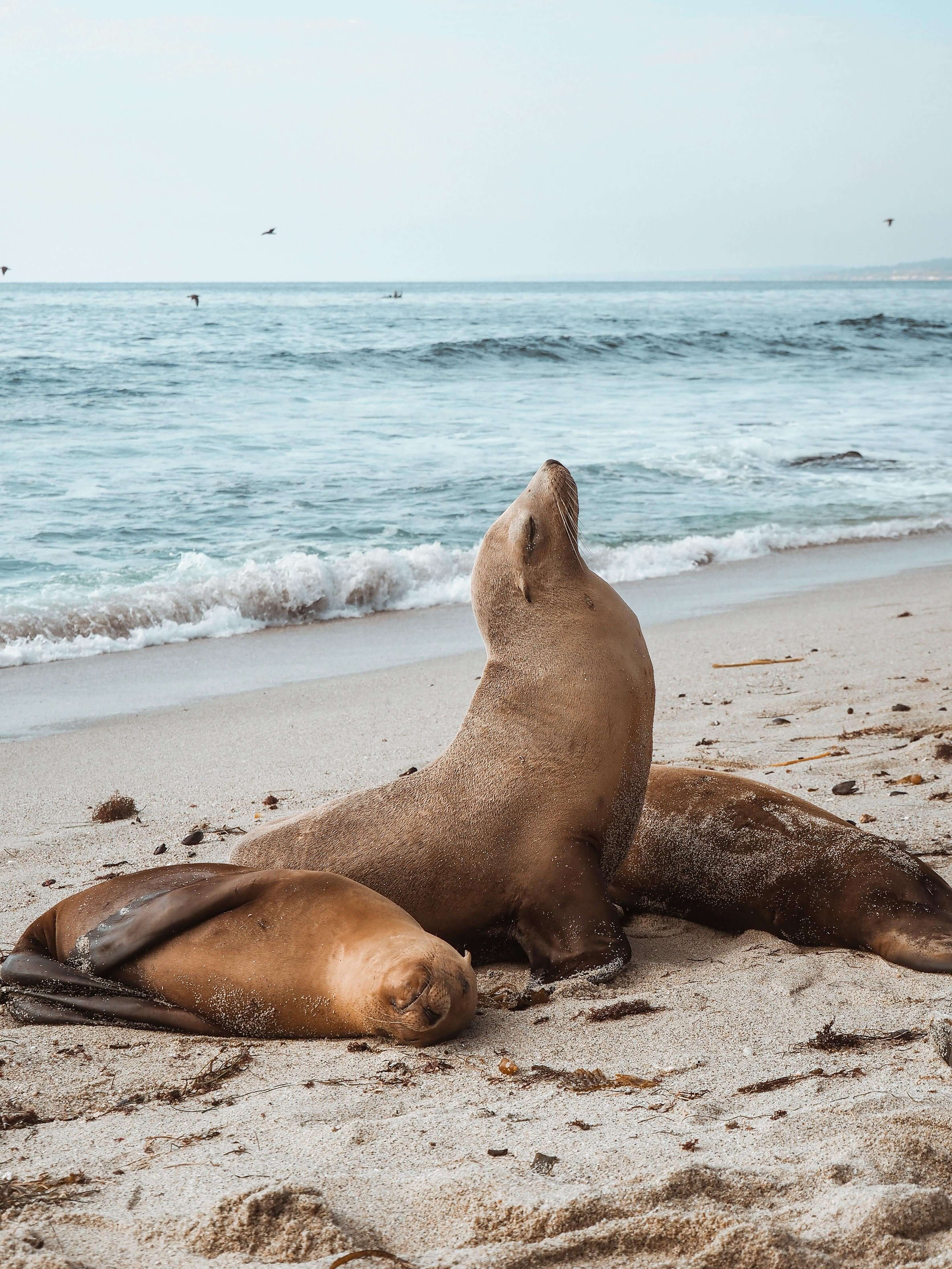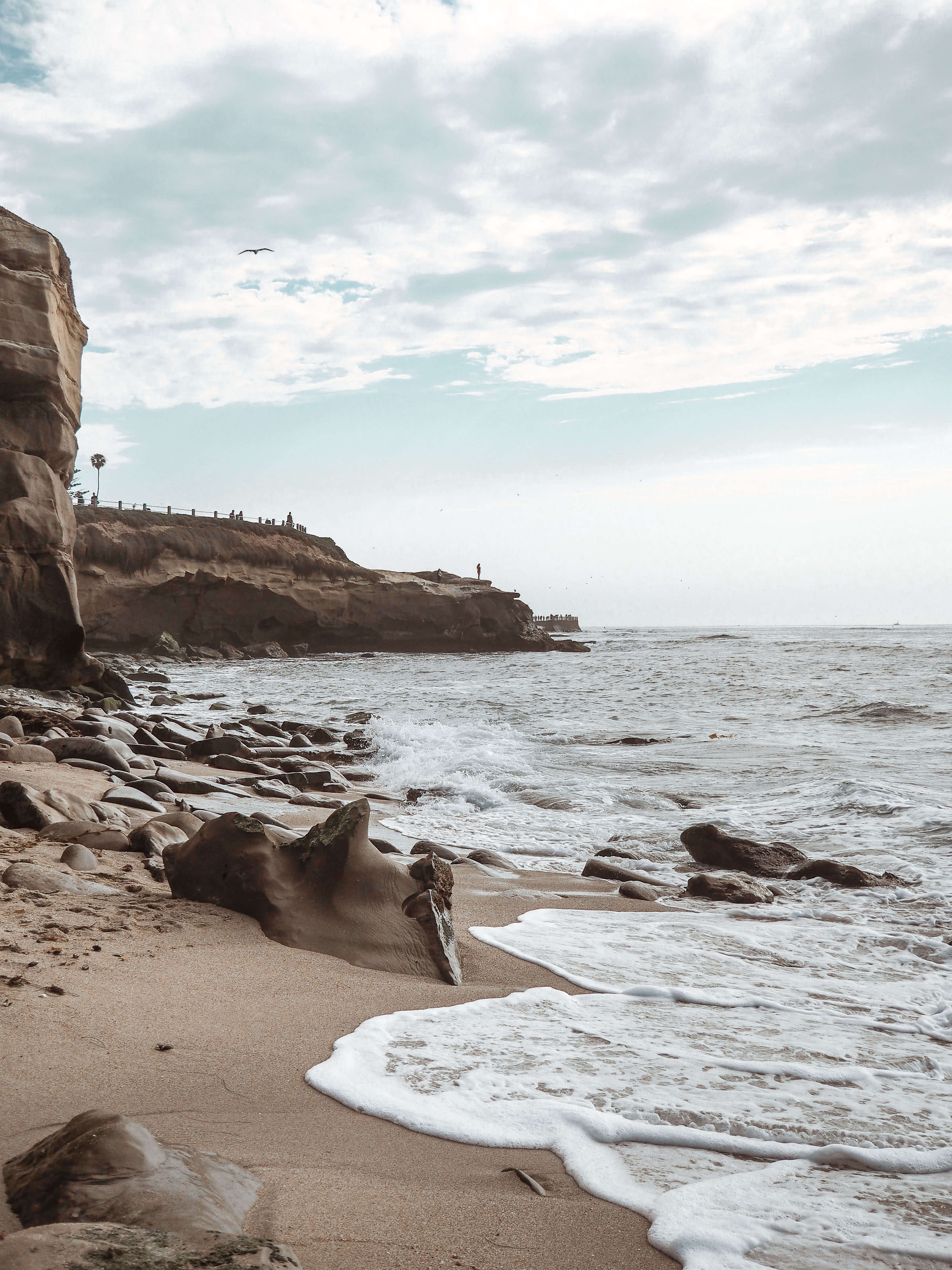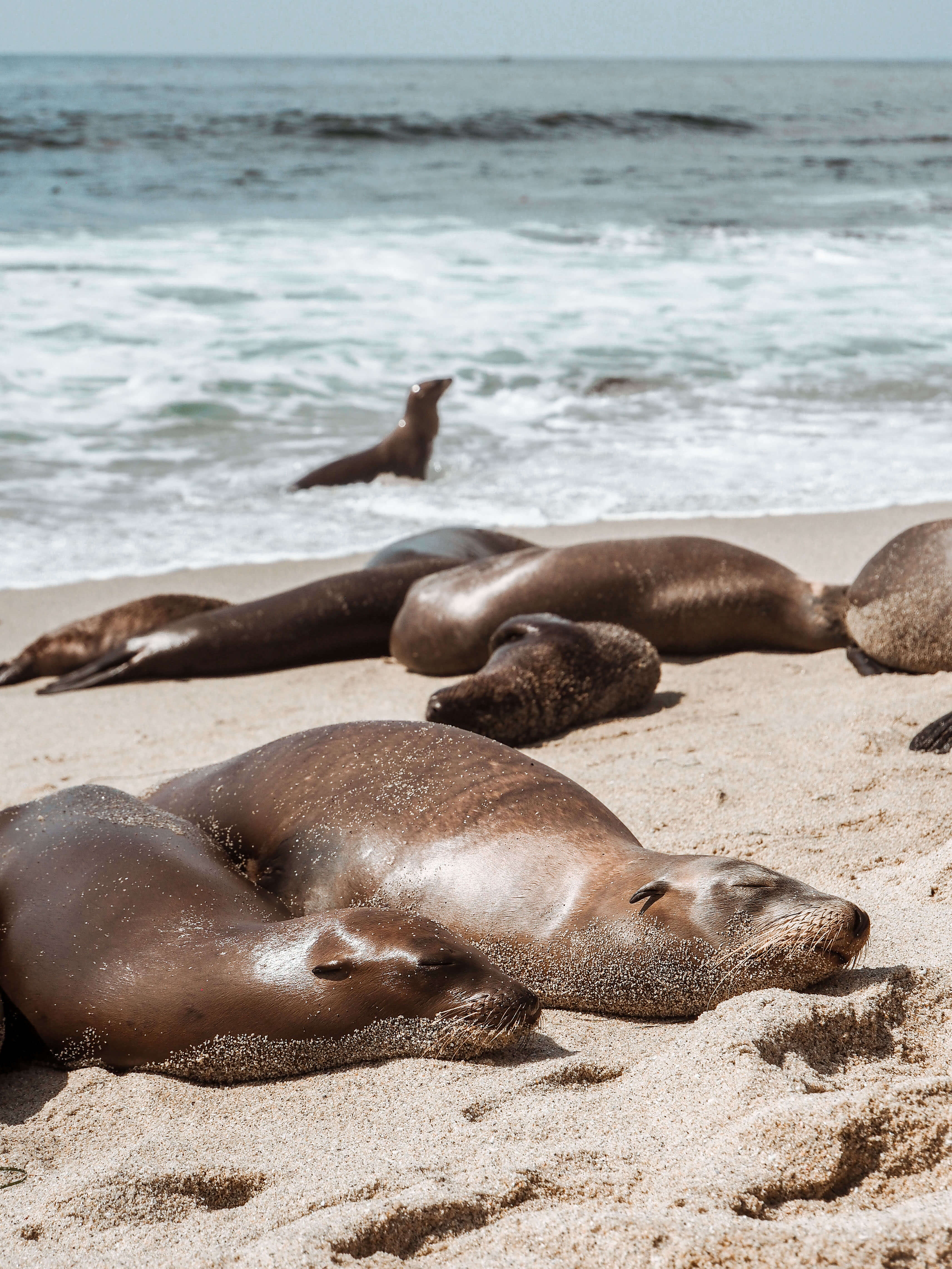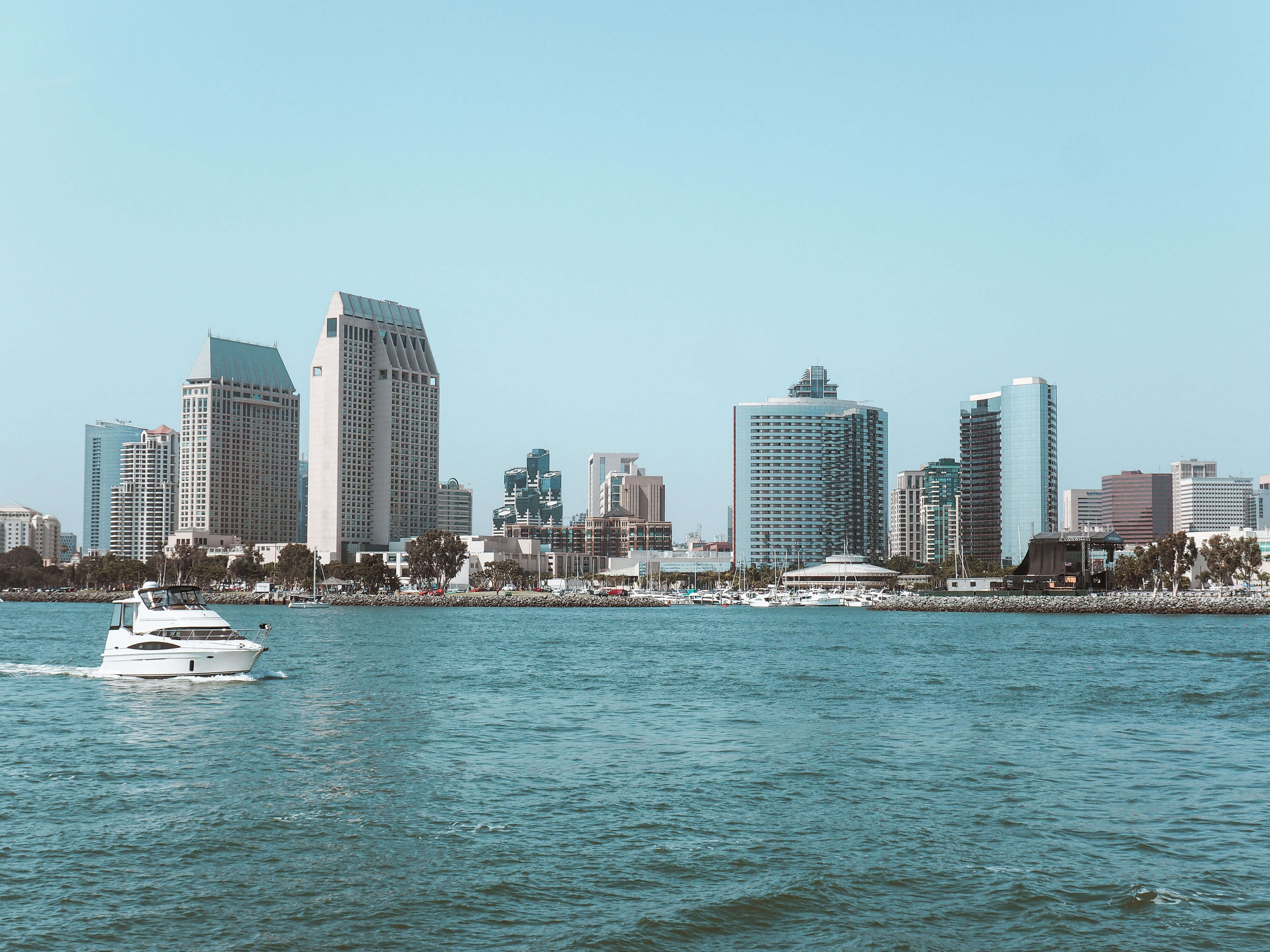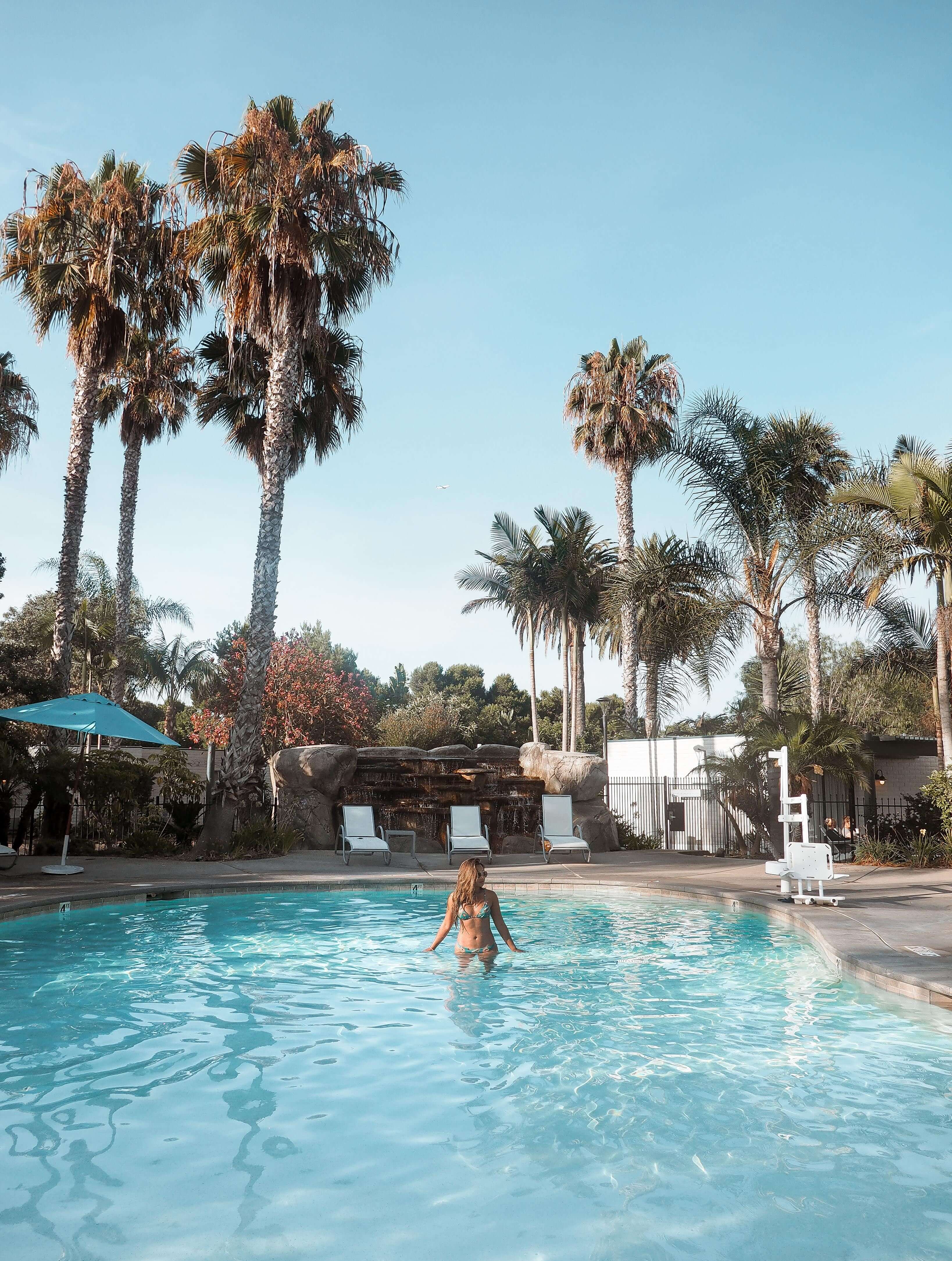 Where to stay
We stayed at a place called Paradise Point Resort, which is located about 20 minutes from the city in the Mission Bay area. The resort is lovely with plenty of cute bungalows with outdoor patio areas, some backing onto gardens and others backing onto the beach and ocean. There are also restaurants and a spa in the resort, as well as pools and activities.
Although the resort was really gorgeous and we had a great stay, in hindsight, I think it could have been better to stay in the Downtown area. The resort is perfect if you're looking for a weekend of chilling and relaxing and you want to chill out, use the pool, eat in the resort and not travel too far. The location is great too as you're bang in-between the city and places like La Jolla beach.
However, for us, we wanted to explore San Diego so we didn't actually spend a lot of time in the room or using the facilities. Each room is subject to a $35 daily resort fee, which quickly adds up depending on the length of your stay. It's justifiable if you're spending a lot of time at the resort, but if you're not, it can feel like a wasted expense. Equally, the in-resort restaurants are fairly pricey, and there aren't really any other restaurants within walking distance of the resort so you're reliant on Ubering.
Ultimately, it depends what kind of getaway you're looking for, but if I were to visit again and I wanted to explore San Diego for the weekend (rather than sit by the pool and chill), I would likely stay in a different location, perhaps Downtown or elsewhere. However, if you want a chilled weekend where you can lounge around and soak up the sun then the resort is a great spot.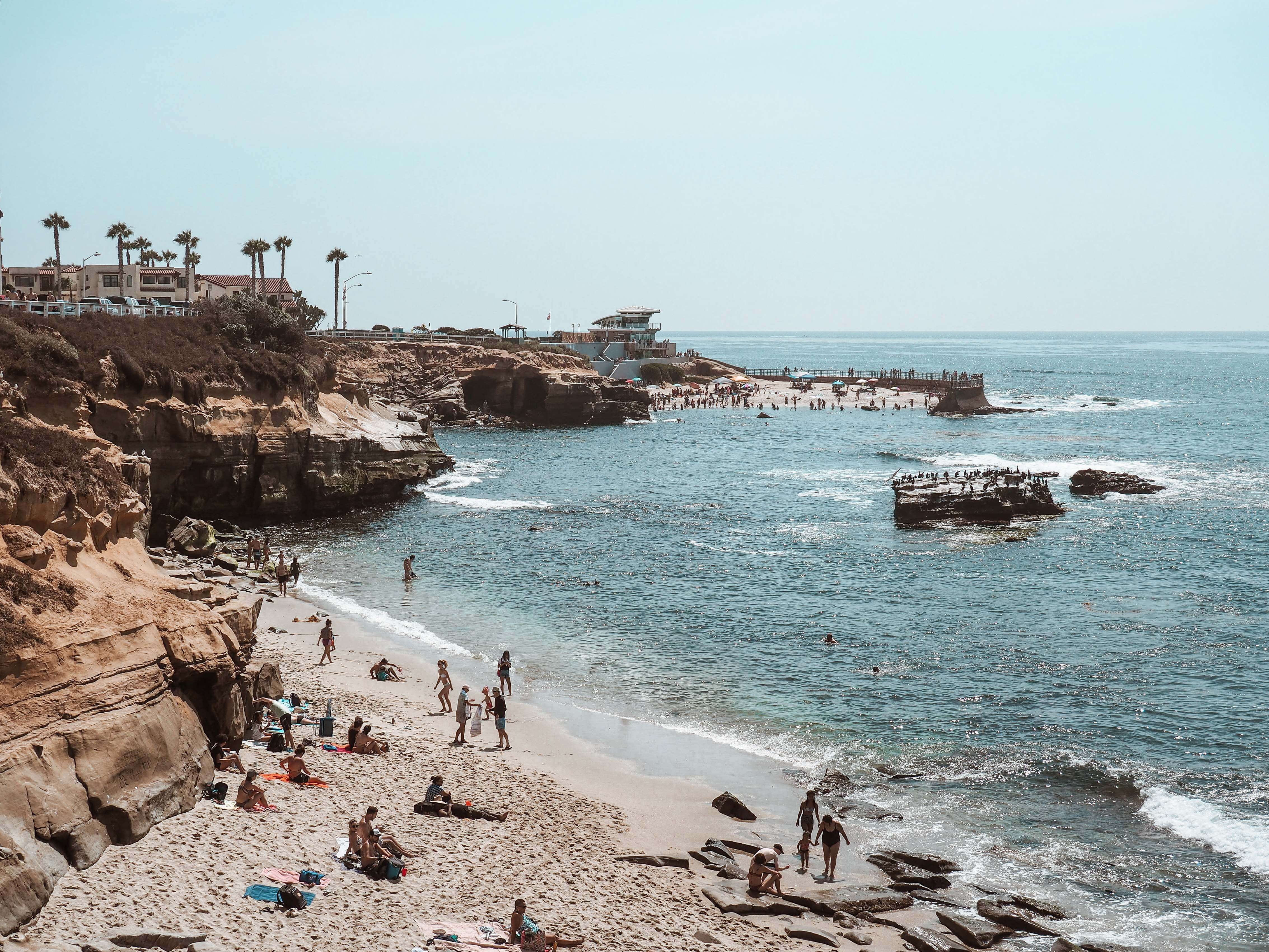 Getting Around
Uber is widely used in San Diego and it's actually around half the price of a taxi on a normal day, so if you're looking to stay local there's really no need to hire a car. We spent around $100 on Uber over 4 days, which is amazing considering we Ubered everywhere and sometimes 3-4 times a day.
We had a great experience with every driver and they were all so eager to tell us about San Diego, plus it's a lot quicker than using public transport if you want to hop to different areas of the city. It was also really nice not having to worry about parking, especially in busier areas like La Jolla.
If you want to venture further out of the city and do a little road trip up the coast, it may be worth hiring a car if you want more freedom. When I visit again, I would likely hire a car for a couple of days and Uber the rest of the time.
Getting from the Airport
The Airport is very centrally and conveniently located and is just 10-minutes from Downtown San Diego. There are free Airport shuttles to the city, or your other option is a taxi or Uber. Our taxi from the Airport to our hotel in Mission Bay was around $25, whereas the return journey back to the Airport with an Uber was just $14, so Uber is definitely a cheaper option.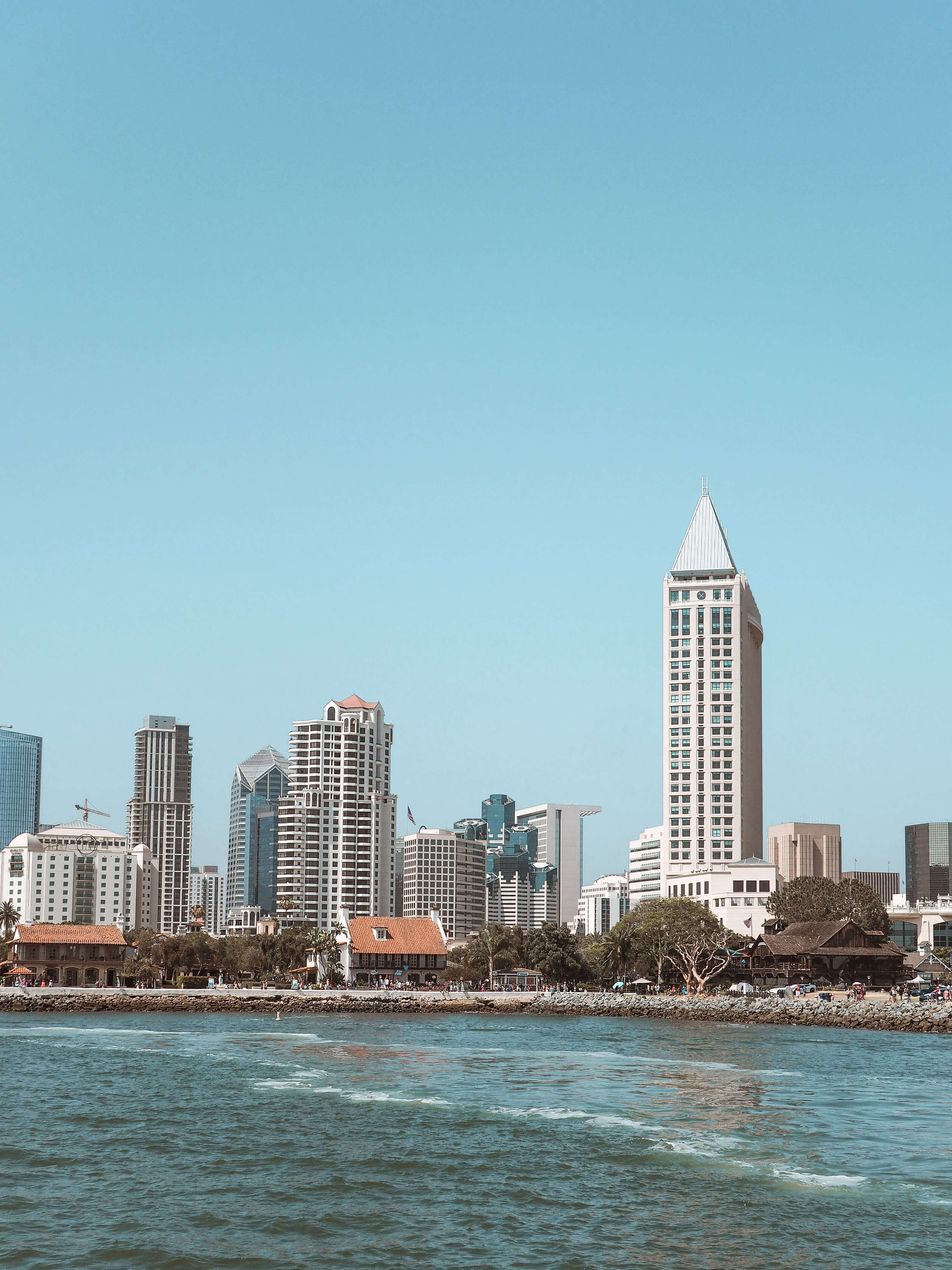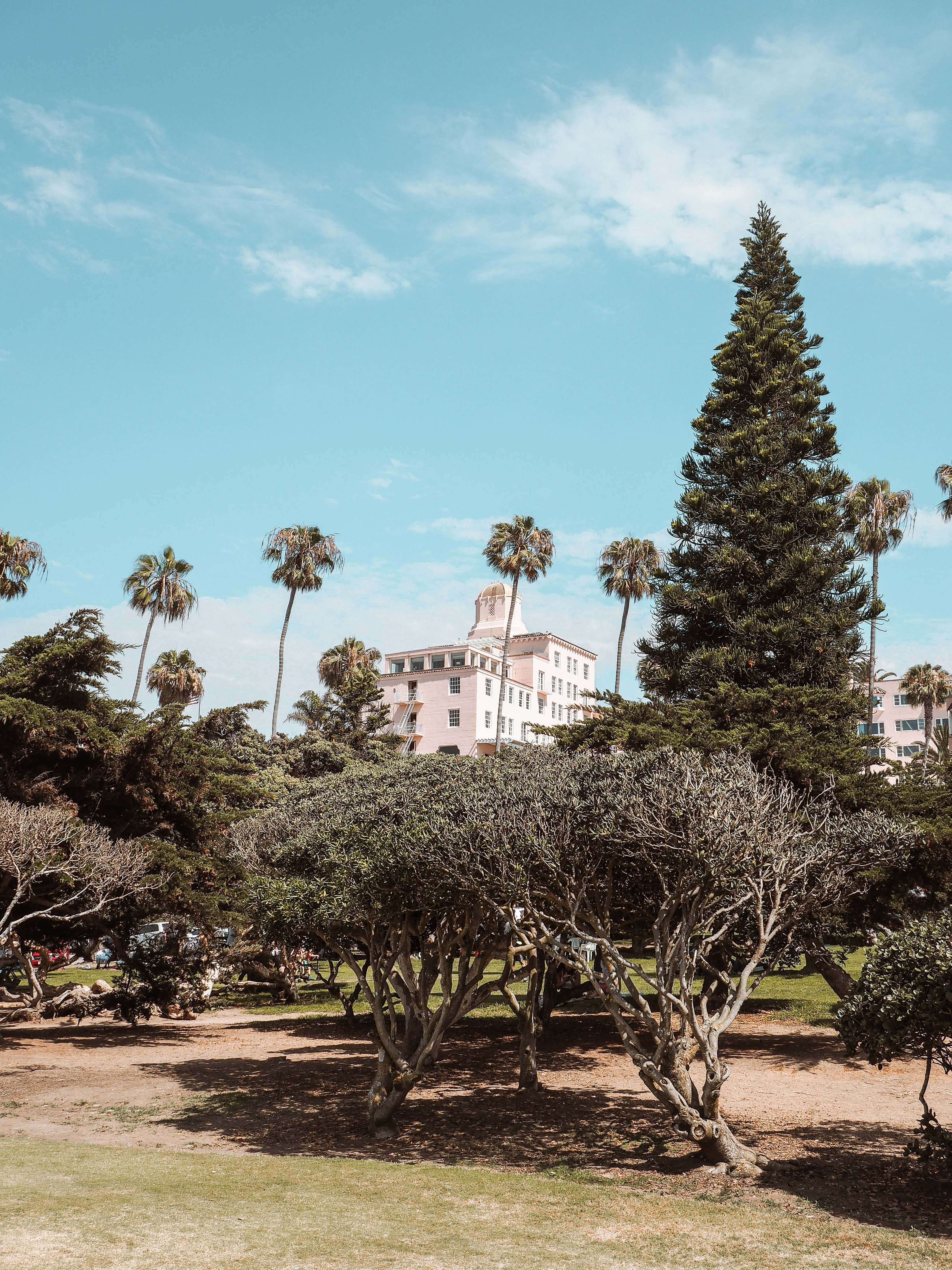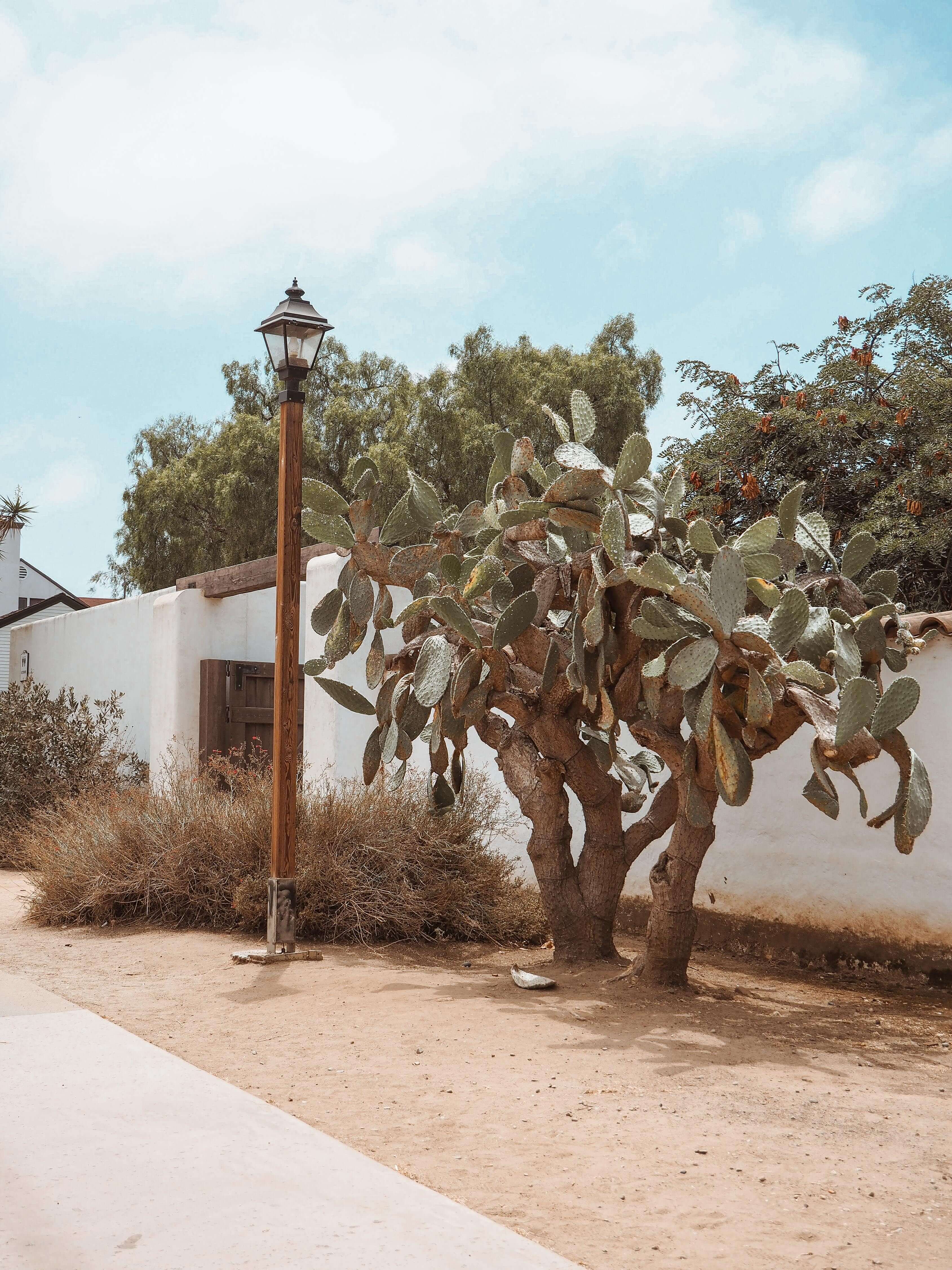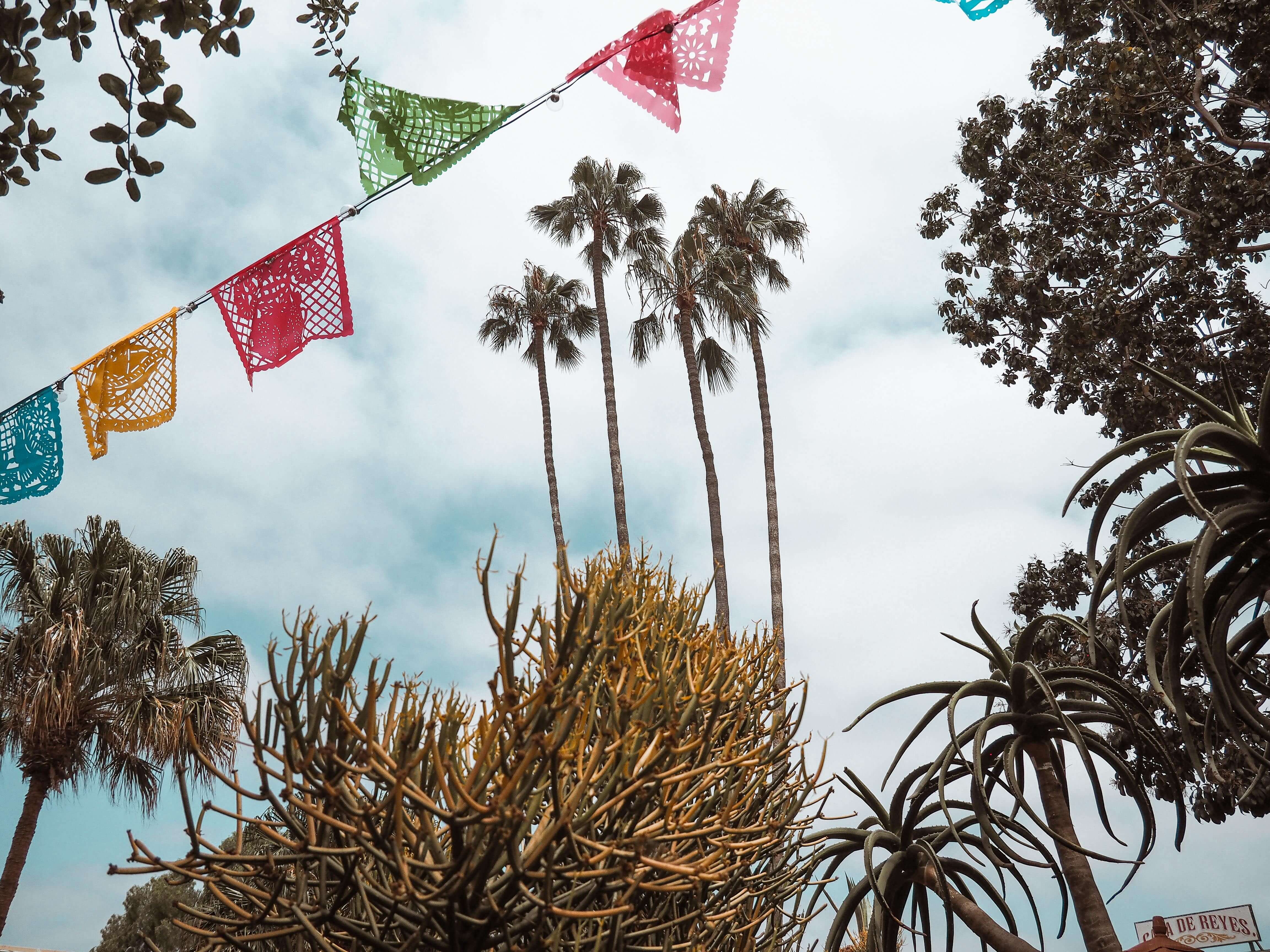 I hope you've found this little guide useful if you're planning a weekend in San Diego. If you have any recommendations please drop me a comment below - I'd love to go back next year to explore more so i'm open to suggestions on where to go / where to eat etc!