If there's one thing that I've been focusing on more in the last 6 months, it's my skincare routine. My skin has changed dramatically in the last year, so I've invested much more time and effort into finding skincare products that work in balancing my skin and reducing irritation and breakouts. As i've touched on in recent months, i've been struggling with adult acne and have dedicated a lot of time into finding products that work to help reduce inflammation and get rid of acne-causing bacteria.
I am planning to write a whole post about my skincare journey in the next few weeks (keep an eye out for that!) but for now, I want to offer my two cents on how to repair your skin post acne and share some of the key products i've been using. I can now safely say that my skin is under control (with the exception of the odd blemish which usually comes with lack of sleep and stress), but my skin is in a much better condition than it was.
While fighting acne and finding products that work is one thing, repairing your skin afterwards is another, and it's taken a few months for my skin to recover, for scars to heal, and for the general texture to improve.
The two main issues I was dealing with were painful and consistent acne breakouts on my cheekbones and forehead, as well as scarring, pigmentation and generally dull-looking skin. I was producing excess sebum in certain areas which was contributing to the development of deep spots alongside bacteria in the skin, and then old blemishes were leaving dark spots and surface scars.
It was really chipping away at my confidence, and although I managed to hide the breakouts in photos with my hair and makeup, in real life, it was very very visible and neither me - or my skin - were happy at all.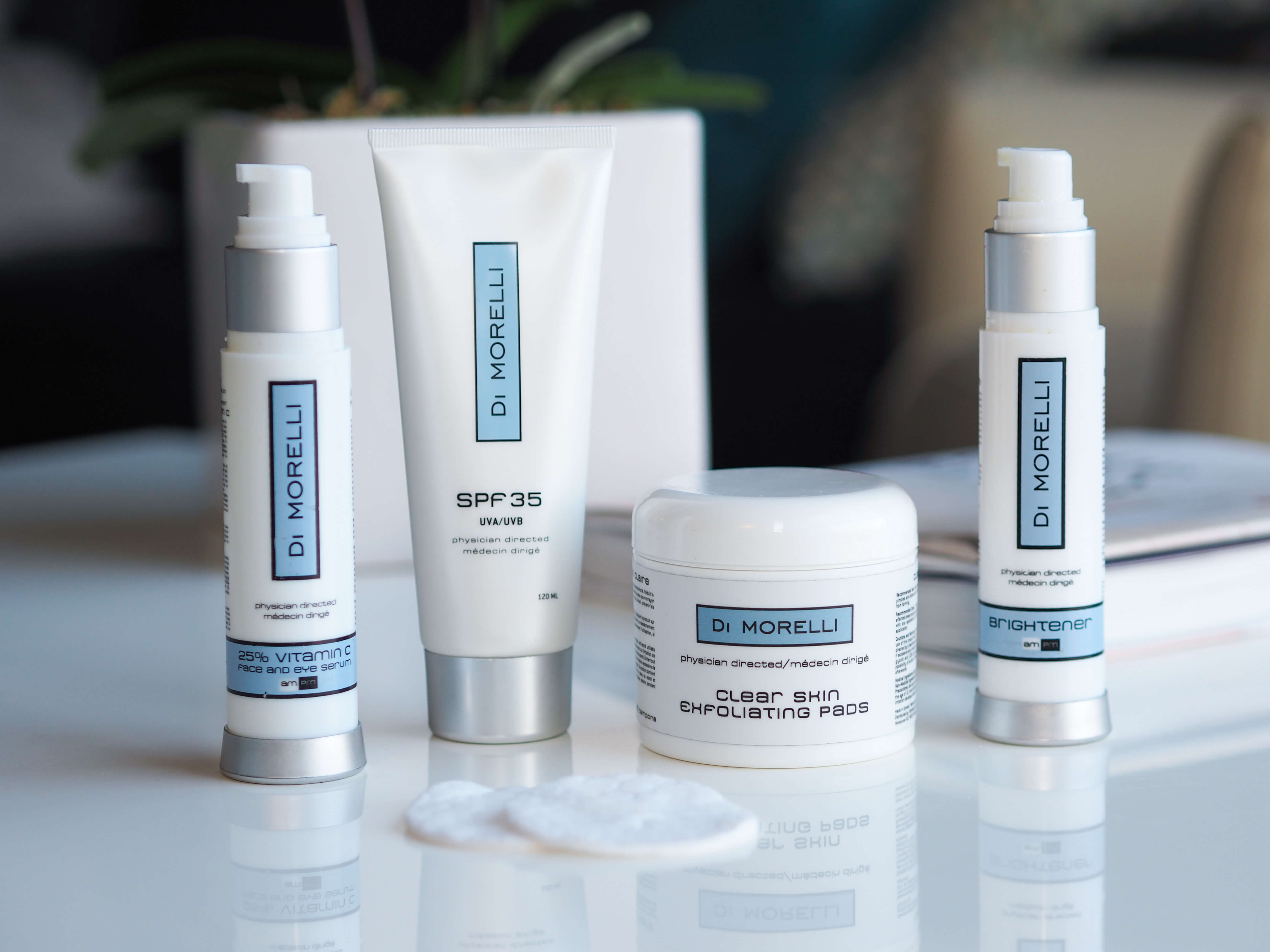 One brand that I recommend all day long is Di Morelli, who specialize in medical grade skincare that contains a high concentration of active ingredients to visibly improve your skin. I was first introduced to Di Morelli's skincare line back in September at their launch event, and at this time and the summer prior, I was struggling massively with bad acne. After learning more about the brand and the way that the products were formulated, I decided to take a chance and try out their products and a couple of treatments, and my skin has come on leaps and bounds ever since.
I think education is vital when it comes to skincare, and i've learned so much in recent months about different ingredients in skincare and what's needed to help fight acne and replenish your skin. Of course, everyone's skin is completely different, and something that works for one person may not work for another, but I personally have found great relief with a number of specific products and ingredients. So, whether you're dealing with or you've dealt with acne, or you just want to heal and improve the appearance of your skin, here's my take on how to repair your skin post acne and key ingredients to look out for.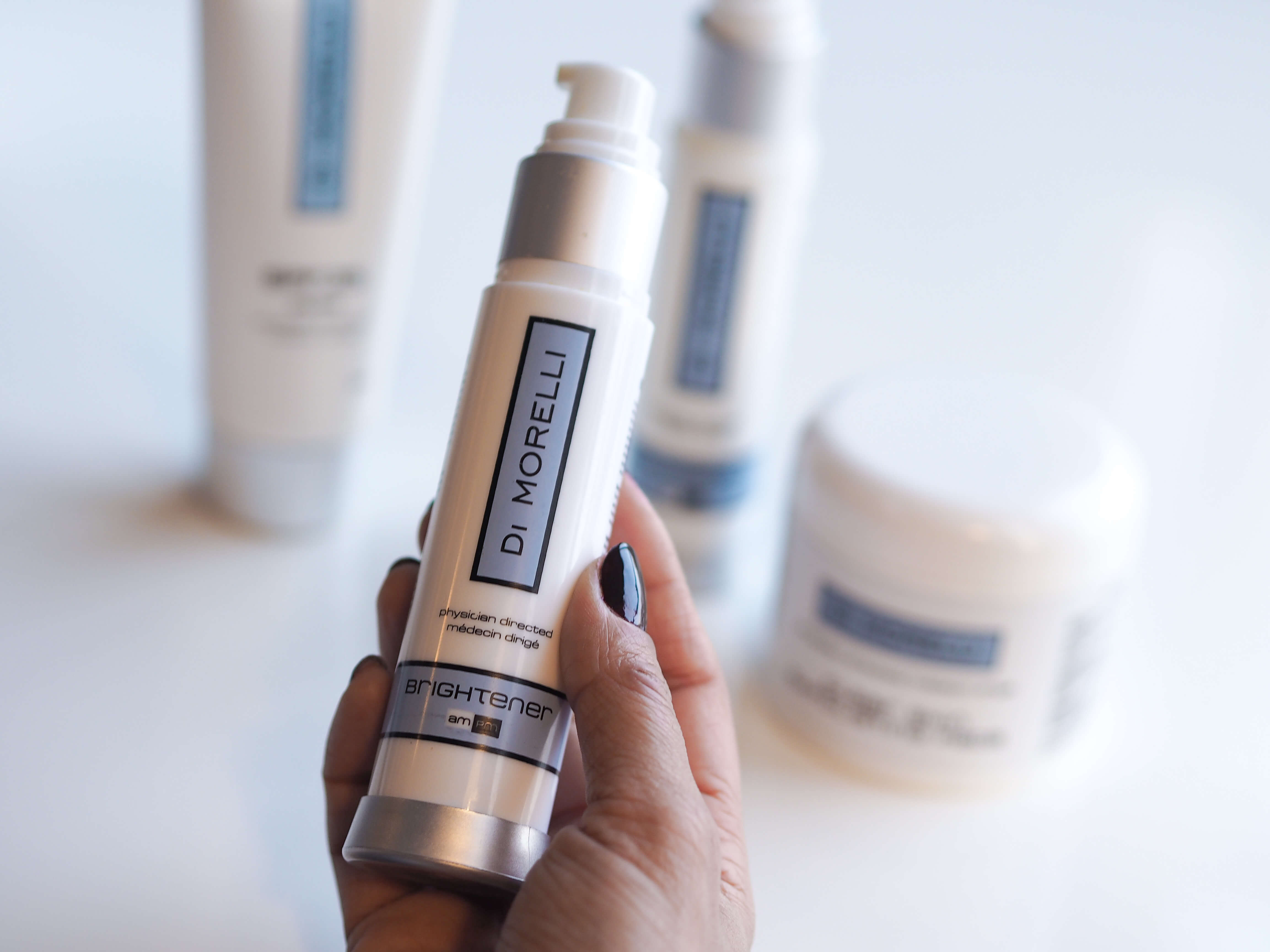 Lactic Acid & Azelaic Acid: To Improve Skin Tone & Fight Acne
One ingredient that helps to improve skin tone is lactic acid, which falls under the Alpha-hydroxy Acids (AHA) umbrella, along with ingredients such as Vitamin C, retinol, salicylic acid, and glycolic acid. AHA's are widely used to help improve uneven skin tone, fight wrinkles and signs of ageing, and reduce dryness in skin. It's extracted from milk, and works to improve skin tone by hydrating and helping your skin to retain moisture, and exfoliates the skin's surface by allowing it to shed naturally and loosen up old and dead skin.
This is essential to eliminate clogged pores that are caused by dead skin cells, and to reveal brighter and fresher looking skin. Another very effective ingredient to fight acne is azelaic acid, which works to treat acne by killing bacteria in the pores and decreasing swelling and redness.
Both lactic acid and azelaic acid are key ingredients in the Di Morelli Brightener, which is my holy grail product and one that I absolutely swear by. If you're currently dealing with acne or you're looking to maintain your skin post-acne, the Brightener is incredible for keeping oil production under control, killing bacteria, and generally just improving the texture of your skin. I find that scrubbing my skin with exfoliators and beads only causes irritation, so the Brightener helps to exfoliate without aggravating my skin and is HIGHLY effective.
When you apply the brightener it does tingle a little, especially the first few times you put it on, but it's supposed to do that and it leaves your skin feeling nice and fresh. I tend to use the Brightener only at night, simply because I find it can make any blemishes slightly red upon application (but by the morning redness has completely gone down), and then I use moisturizer on top. I also use the Brightener as a targeted spot treatment.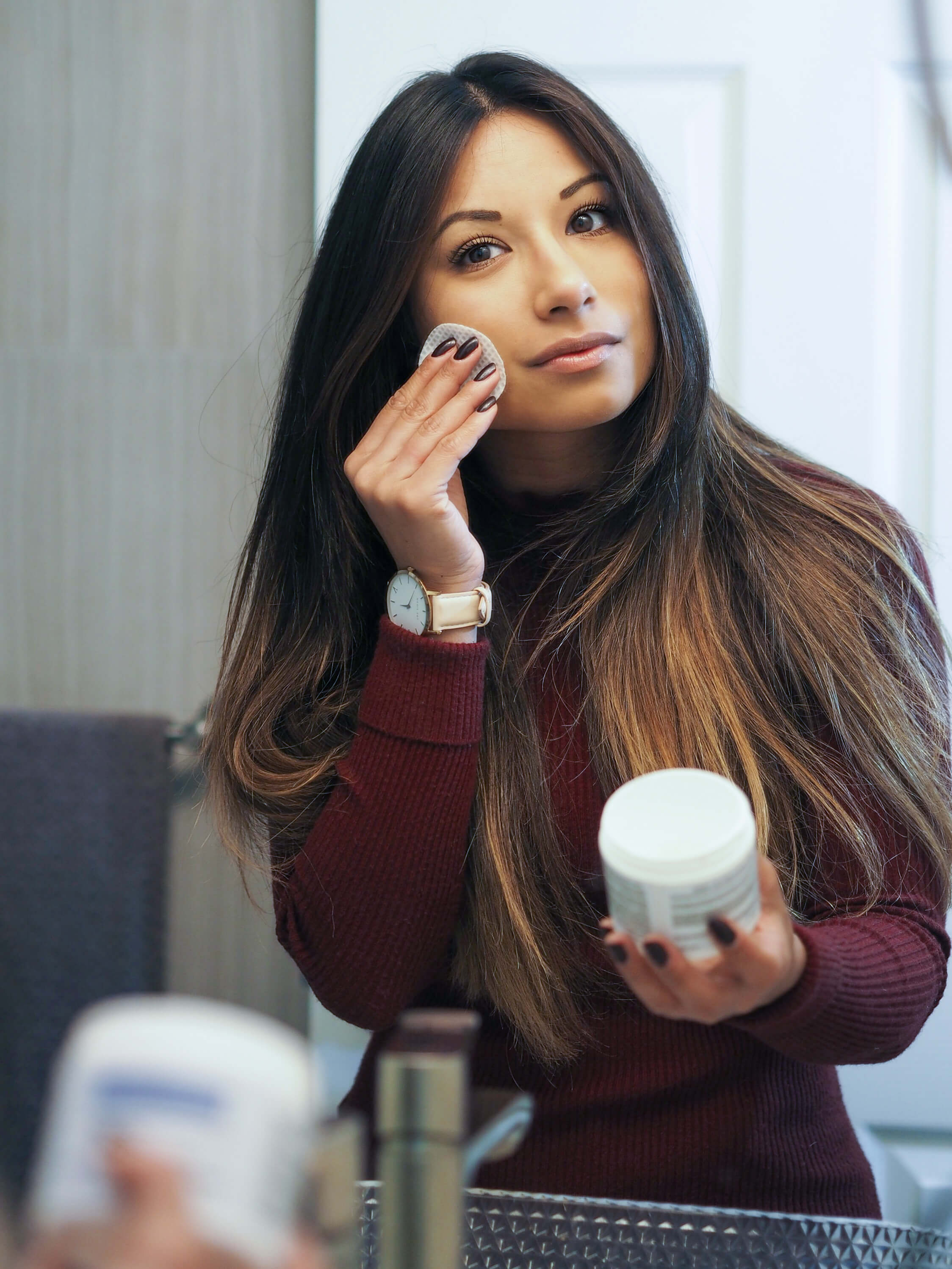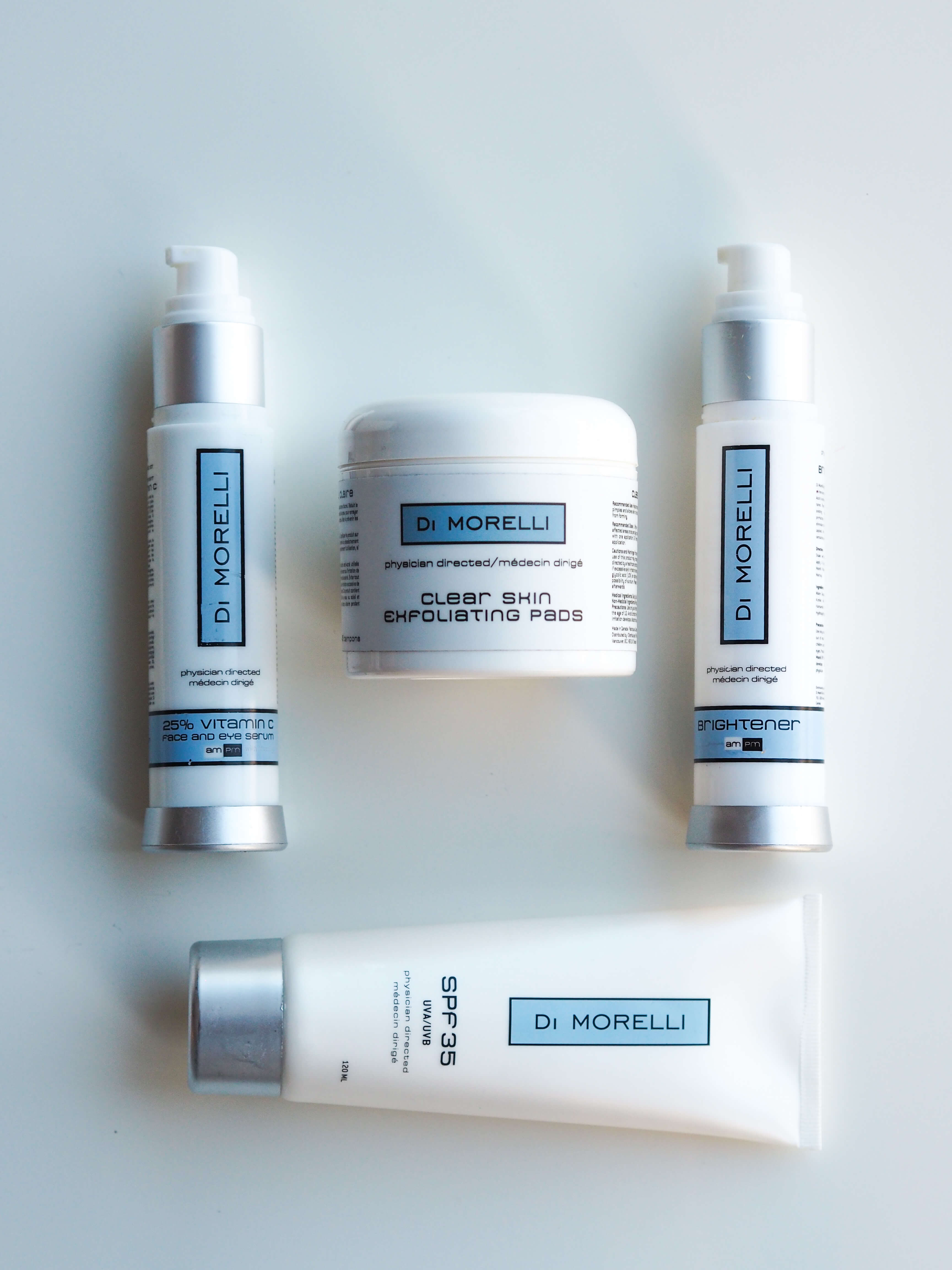 Vitamin C: To Brighten & Regenerate
Vitamin C products are pretty hot right now, and for good reason. Products with a high concentration of Vitamin C contain powerful antioxidants that help to limit UV-induced damage caused by free radicals, increase collagen production which is essential for repairing damaged skin, and noticeably help to decrease the appearance of wrinkles. Especially for repairing your skin post acne, Vitamin C products work wonders and generally improve your skin's texture and tone. I find that because acne-fighting cleansers are quite harsh on your skin, it really helps to use Vitamin C to brighten your skin and leave it with a healthy glow.
I've been using the Di Morelli Vitamin C Serum for 4 months now and I absolutely love it - it's suitable for both the face and eye area, smells uh-mazing, and is great for all skin types. The noticeable difference I saw when I first started using it was that my skin felt a lot plumper (likely due to collagen production), plus, it smells amazing! This Serum contains glycerin, which helps your skin to retain more moisture, and peptides and amino acids which help to stimulate collagen production and increase elastin in your skin. I've tried other Vitamin C products as well, and although others are fairly good, they don't work half as well as this one. I use the Serum both day and night, before I apply moisturizer and makeup, on a daily basis.
Something To Note...
I also want to stress that with any strong exfoliant and acne-fighting product, especially those with ingredients like lactic acid, glycolic acid, and salicylic acid, you NEED to be wearing a good sunscreen. This is because when you're shedding the top layer of your skin through exfoliation, you expose new and fresh skin cells which are more sensitive to sun damage and sunburn. Even with my skin tone, which typically doesn't burn, I felt really sensitive to the sun especially when I first started using acne cleansers and lotions. Always use a product with SPF 30 or higher and use one that protects your skin from UV damage as well.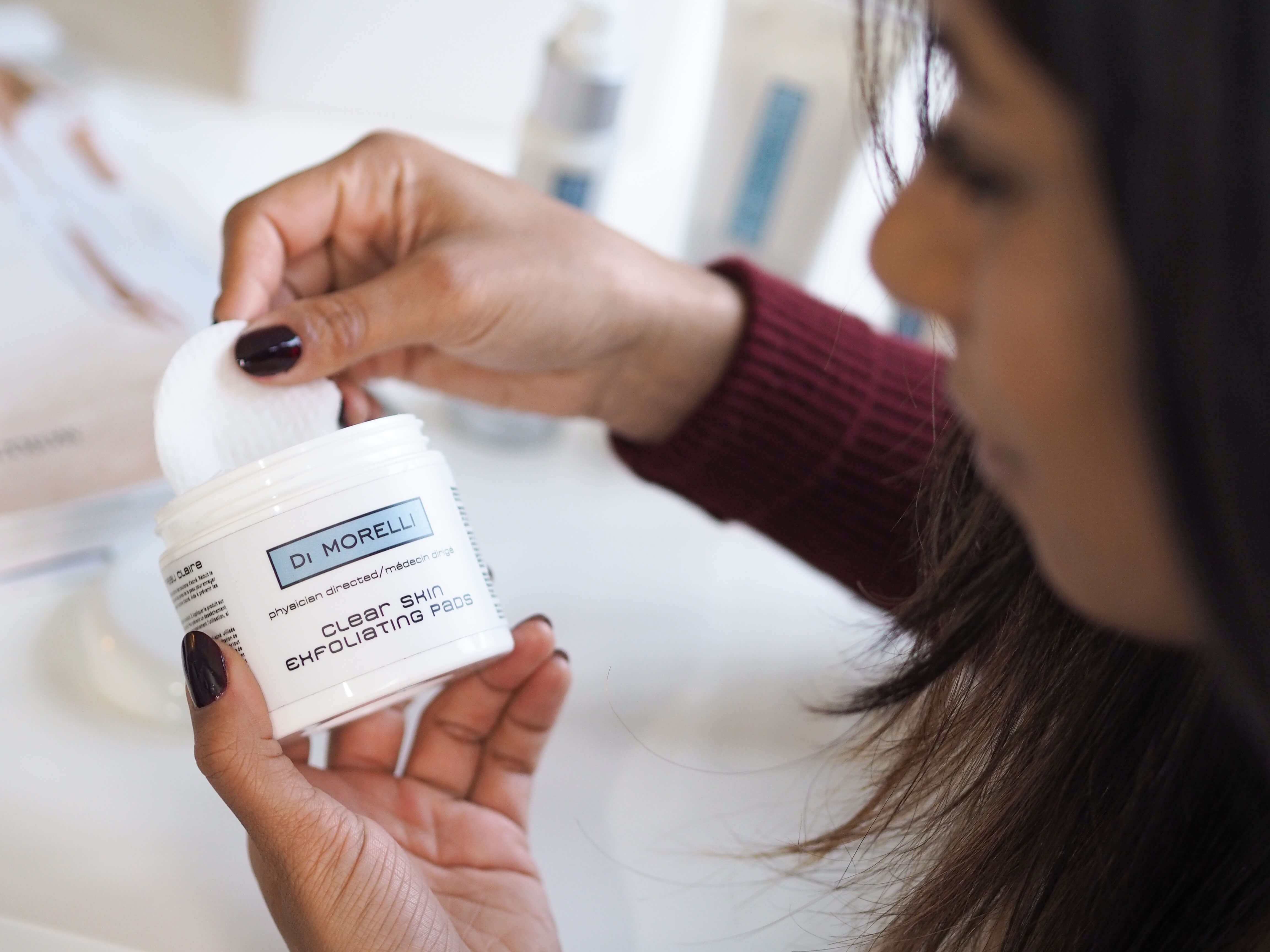 Glycolic & Salicylic Acid: To Exfoliate & Fight Acne-Causing Bacteria
If you're dealing with acne, glycolic acid and salicylic acid are two ingredients to look out for. Both of these ingredients work by exfoliating your skin and allowing dead skin cells to come off more easily. Dead skin results in clogged and congested pores, which can result in spots, pigmentation, and acne, so exfoliation is essential if you're dealing with breakouts. Even if you're not, exfoliation is vital as it helps to uncover fresh skin cells and leave your skin looking bright and healthy. Glycolic acid unglues the outer dead skin layer of your skin and increases cell turnover, while also retaining moisture, while salicylic acid has bacteria-fighting properties so can penetrate oil-filled pores and sebum and loosens dry and scaly skin.
I use the Di Morelli Glycolic Acid Peel Pads, which contain both glycolic acid (10%) and salicylic acid (2%), and they're really effective in cleansing your pores and exfoliating your skin. The pads are highly concentrated (I've never seen any products with more than 2% salicylic acid), and I recommend using them once or twice a week to begin with to see how your skin reacts. I use this at night before bed, and i'll apply the Vitamin C serum and moisturiser on top (I'll use the Peel Pads instead of the Brightener), and the next day my skin feels noticeably brighter and clearer.
SPF: To Protect From UV Rays
If there was one thing I learned from the Di Morelli event, it's about the importance of SPF. I am the first to admit that i'm really bad with wearing SPF, especially because I don't burn, but I didn't realize how harmful UV rays can be even if you're not getting direct exposure to the sun. While exposure to the sun is good as we need it to produce Vitamin D, extensive exposure to the sun and Ultra Violet (UV) rays can accelerate skin ageing, wrinkles, trigger age spots and pigmentation changes, cause DNA damage, and more seriously, is one of the primary causes of skin cancer. UV rays are especially harmful as they can pass through windows (like car and office windows), reflect off surfaces, and travel through clothes, so you don't even need to be directly in the sun.
A good SPF should form a key part of your daily skincare routine - yes, even in winter - and you must opt for SPF 30 or more. Anything less, and you may as well not be wearing anything at all. You also can't add up the SPF in your products - a foundation with SPF 10 and moisturiser with SPF 20 won't result in SPF 30 coverage. The Di Morelli SPF cream is fantastic and provides protection against UVA rays (UV rays that cause ageing) and UVB rays (UV rays that cause burning). It's light and non-greasy, and even better, is suitable for acne-prone, sensitive, and oily skin. I use it after i've applied the Vitamin C Serum in a morning and before makeup.
Treatments: Chemical Peel & Blue Light
The two treatments that i've had at Di Morelli's Clinic have been the Blue Light Treatment and Chemical Peel and I've found both to be very effective.
The Blue Light Treatment is one that I highly highly recommend if you're dealing with acne. I've had two treatments in 4 months and I think they've played an integral role in the improvement of my skin. The Blue Light treatment is fantastic as it specifically targets and kills the bacteria that's deep inside your skin follicles and that causes acne and inflammation. I noticed a difference within a week of each treatment, and you can opt for single treatments or a full course, depending on the severity of your acne. Each treatment lasts for about 15/20 minutes and doesn't cause any kind of irritation or reaction.
The Chemical Peel helps to brighten, tighten, and rejuvenate your skin and remove the top layer of your skin so that a smoother and more youthful layer can appear. Although the words "chemical" and "peel" are very scary, and I was sceptical at first, it was actually very effective in regenerating my skin and caused zero reaction or irritation at all. These types of Peels are great if you have surface acne scarring, dead skin, and if your skin generally looks a bit tired and dull. There are different types of peels at the clinic and it only takes about 15 minutes, and my skin felt fresh without any irritation afterwards. I've had this treatment once and really liked the results.
About Di Morelli
As the skincare specialist explained to me, Di Morelli's products are classed as Cosmeceuticals, which is basically a combination of cosmetics and pharmaceuticals. Cosmeceuticals have a scientific origin so they're formulated by a physician to treat specific skincare conditions, such as ageing and wrinkles, acne, dry skin, and a number of others. Their products are slightly pricier than generic drug store products (the Brightener and Vitamin C serum are $99 each), BUT, having tried a whole range of cheap products, it's well worth the investment especially knowing that they work so well.
There is a LOT of information to digest here, but I wanted to share some of the knowledge that i've acquired over the last year and hopefully, it'll help you to nurture your skin back to good health. If you've used these products, you have any questions, or you have any tips to help repair your skin post acne, leave me a comment in the box below as i'd love to hear your thoughts!
This post was created in partnership with Di Morelli, but all opinions expressed are my own 🙂 You can buy their products online or at their clinic on West Georgia in Vancouver.