Confidence is one of the most empowering feelings, and it's something I've worked on a lot over the years.
If I could go back in time and give my teenage self a bit of advice, it would be to own my body and embrace everything I have. I spent a lot of time in my teenage years feeling self-conscious and constantly trying to change myself (I'm sure I'm not the only one) but it really wasn't the best feeling.
However, over the years I've come to realize that confidence isn't something you get just from hitting the gym or changing the way you look. It comes from owning and embracing your body - flaws and stretch marks included! I also think it comes from really getting to know yourself, and understanding what makes you feel most confident and sexy so that you feel comfortable in your skin.
On our recent trip to Bali, one thing I loved was how confident I felt. Sure, those extra spin classes definitely helped, but it was more the fact that I've come to appreciate my body so much more and everything it allows me to do. I've also learned what makes me feel most confident and sexy, and to be quite honest it's usually the smallest things that can make the world of difference.
Things like what I wear and how it fits, whether I've fit in a workout that day, whether I got a good sleep the night before, and whether or not my hair's washed and my legs are shaved are just a few of the simple things that really impact how I feel on a day to day basis but especially when I'm travelling and in a bikini.
During our trip and for most of this year, I've been working with Philips and testing out their SatinShave Prestige Wet & Dry Electric Shaver along with 2 other hair removal tools. I've been using the electric shaver for about 5 months, and if I had to pick 2 words to explain how it makes me feel, I'd pick comfortable and confident. Hair removal is something that has always impacted my confidence levels and being dark haired, it's not something I can easily hide. I remember just how amazing and liberating it felt to shave my legs for the first time when I was a teenager, and that feeling of confidence is still one that I get to this day.
So, that has inspired the topic of this blog post. I want to share a few of my best tips on how to feel more confident on a beach break (and the answer isn't simply to go crazy at the gym or go on a tea detox, rest assured!)! I'm also sharing more on the simple things that help me feel more confident in my skin and a bit of self-love encouragement so you can also feel as fabulous and confident as possible when you're strutting your stuff on the beach.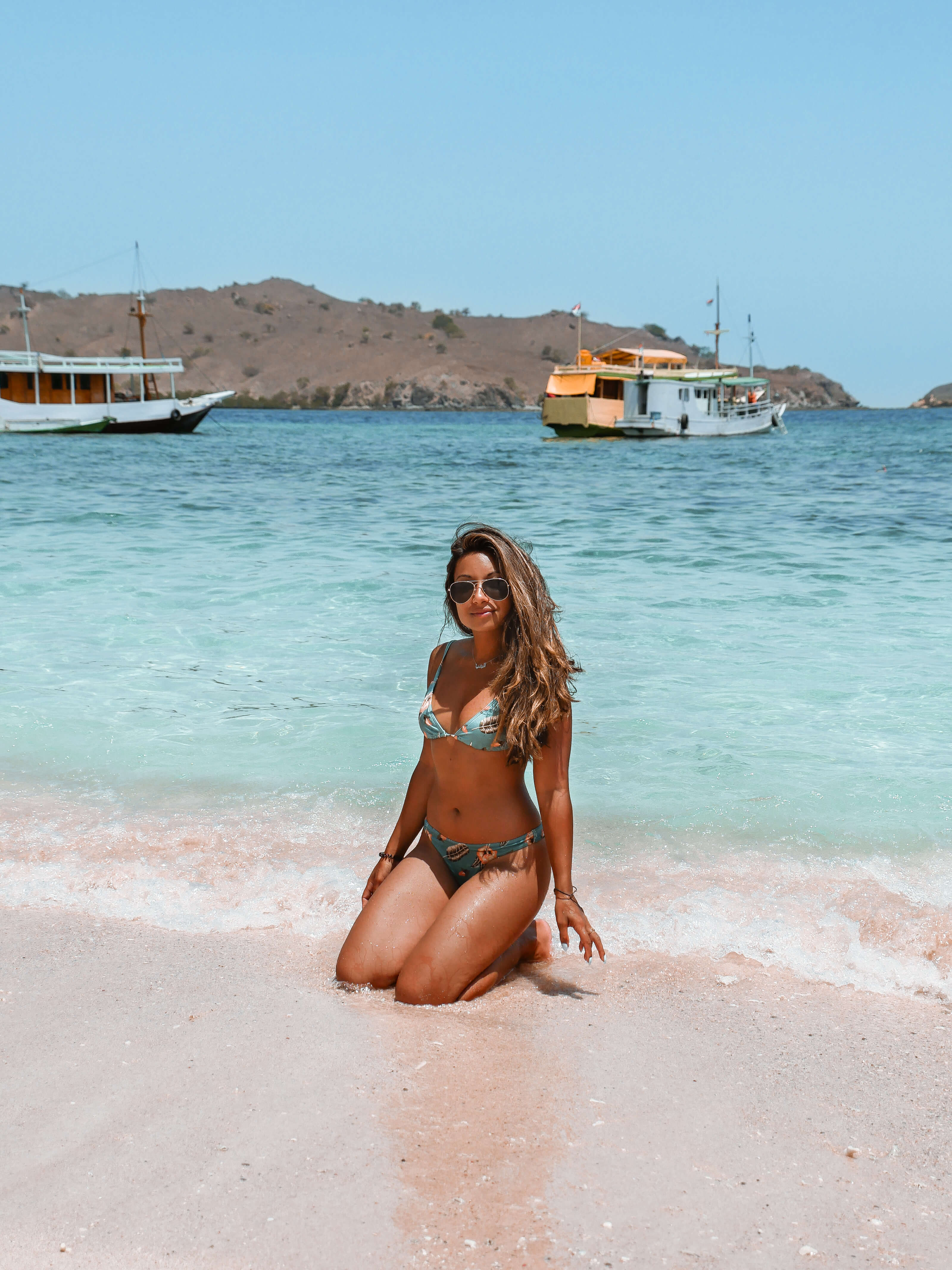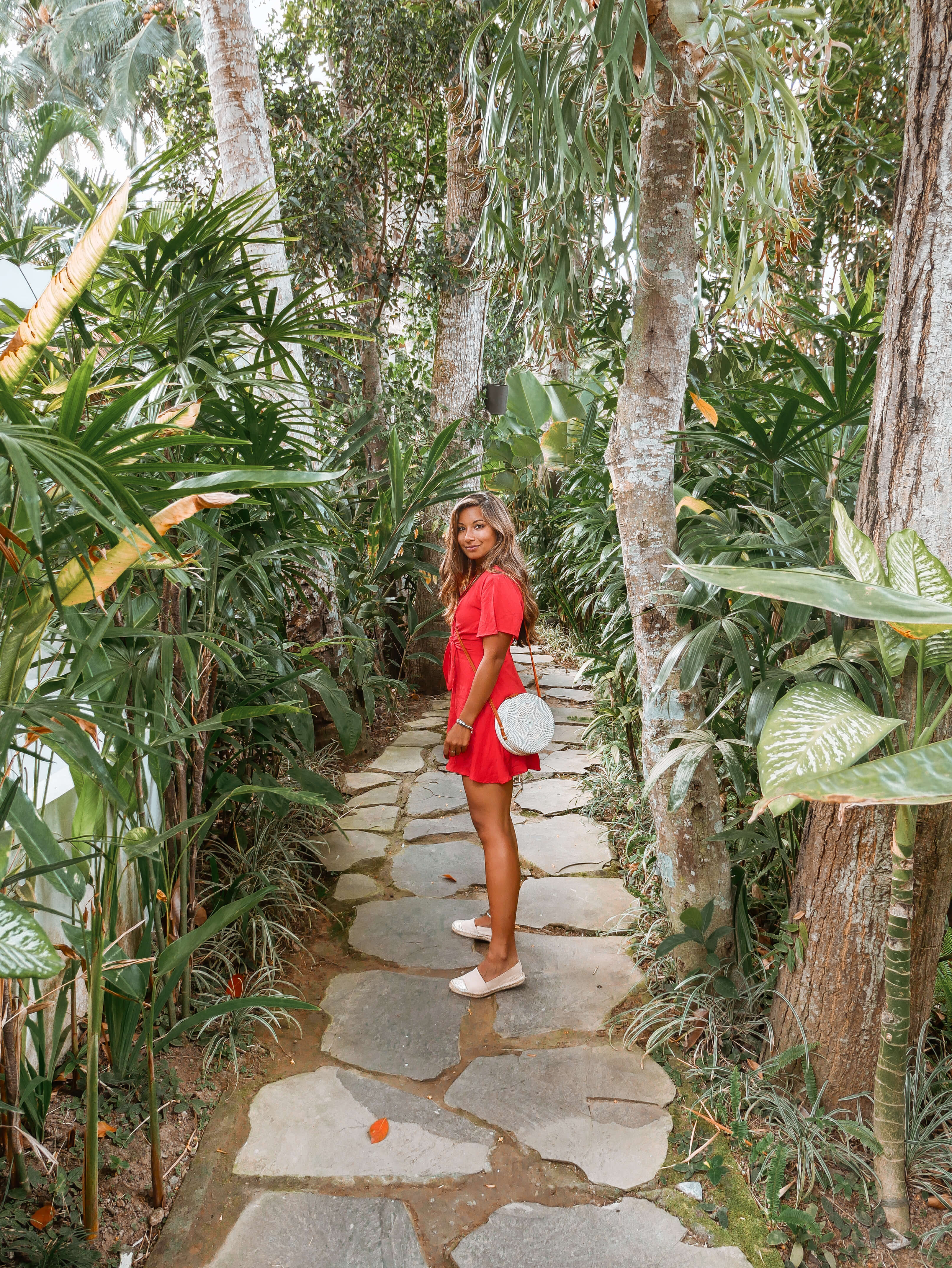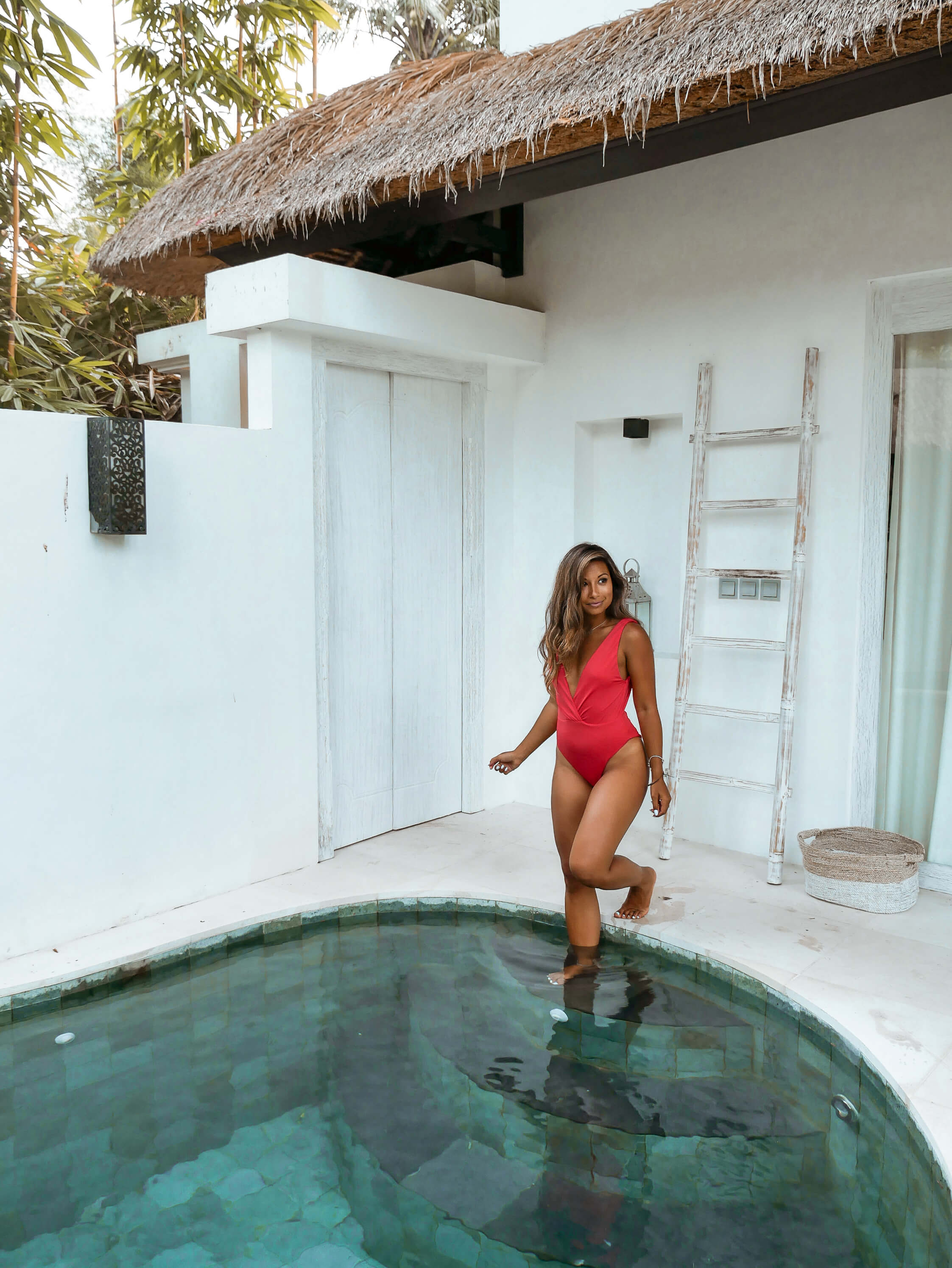 Wear What Makes You Feel Amazing
If you want to feel more confident on a beach break, what you wear is really important. And I don't mean that you should go out and completely overhaul your wardrobe with the latest trends or grab the itty bittiest bikinis you can find. Rather, what I mean is that you should wear the things that make your confidence go through the roof.
Perhaps it is that itty bitty bikini, maybe it's your special one piece that pulls you in in all the right places or it could be your favourite cover-up that makes you feel like a million dollars. But whatever it is, it has to be something that makes you feel your best. It doesn't matter about the cut, the colour, the style or whether it's on trend - as long as it makes you feel great, that's what's important. Your inner confidence will shine through and you'll automatically feel more confident if you feel comfortable in what you're wearing.
For me, my red one-piece makes me feel amazing. When I wear it, I instantly feel fab. It elongates my legs, flatters my bum and I adore the colour. I tend to save it for when I don't feel like wearing a bikini OR for when I just want to feel extra sassy and Baywatch-esque (because we all have those days!) and the cut, colour and fit combined makes me feel super sexy and confident and proud of my body, which is a wonderful feeling.
You also have to remember that every single person is different. What looks amazing on your best friend or a girl you see on Instagram might not work for you, simply because our shapes and sizes are unique. I love how high-waisted bikini bottoms look on other women, but honestly, they don't do my short body any favours. Rather than trying to force it like I used to, I opt for styles that make me feel supported in the right places, that elongate my legs and make me feel super confident. I know the styles that flatter my body type and I stick to those. Because as much as I want to rock those cute high-waisted styles, feeling confident is far more important to me and I like to wear the things that make me feel as amazing as possible. Pick the styles that you love, wear what makes you feel comfortable and fabulous and remember - own it!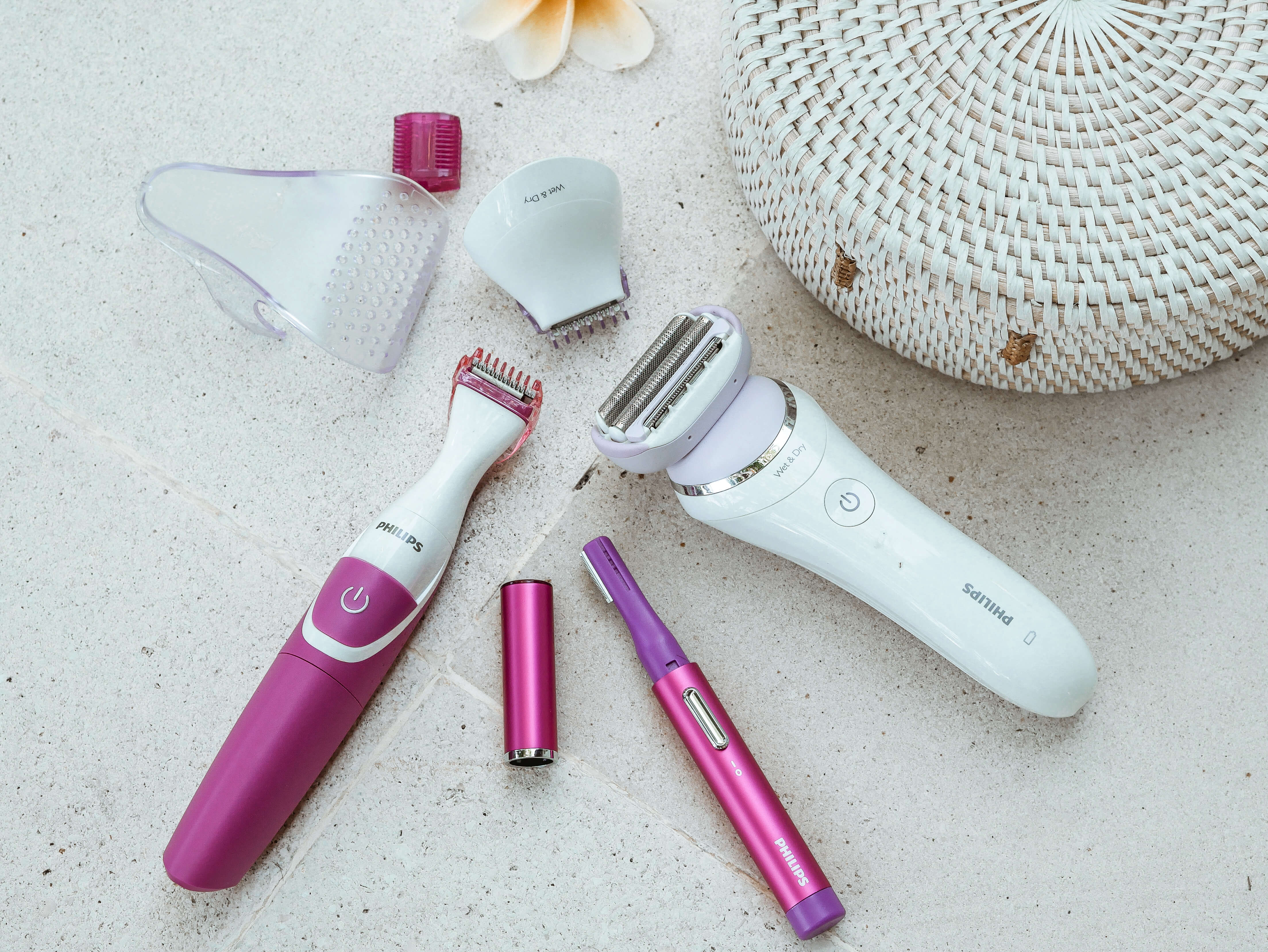 Get Smooth
If there's one thing that instantly makes me feel more confident on a beach break, it's being smooth and fuzz-free. Being dark-haired, grooming is something that's always been essential to me from a young age. When my legs are silky soft, my bikini line is neat and tidy and my underarms are smooth, I always feel so much more confident and liberated especially in a bikini as I just feel more put together. Anyone else feel like that too?
My go-to beauty tool when we were in Bali was the Philips SatinShave Prestige Wet & Dry Electric Shaver. It has an advanced shaving system that provides a flawless and extremely close shave, and the best part is your skin doesn't get irritated as it does with razors. The combination of salty water and shaving with a standard razor often leaves me with shaving bumps and irritation, so I was actually really impressed with the Philips electric shaver as I didn't experience irritation at all, despite shaving daily. It has a multiflex head so it moves with the contours of your body to ensure the closest shave. I also like the fact that I don't have to worry about getting any nicks and cuts or carrying shaving gels while travelling.
The other thing I love about the Philips electric shaver is how convenient it is. It's wet and dry which means you can use it in the shower or bath as well as on dry skin. It has an anti-slip grip so it stays firmly in your hand when wet. I like having the option to use it on dry skin, because I can just jump out of bed, quickly touch up my legs or underarms and then get started with my daily adventures. Also, I'm pretty blind without my glasses and contacts, so I am usually prone to missing a patch (or two!) when I shave in the shower, so it's nice to be able to touch up when my skin is dry if I do happen to miss an area!
I want to note that grooming is a completely personal thing and everyone's preference is different, and what works and feels good for me may not feel good for you. But, that's just another reason why I really love the range of Philips' Beauty tools - there's something for everyone and all grooming styles (more on the other devices further down the post)!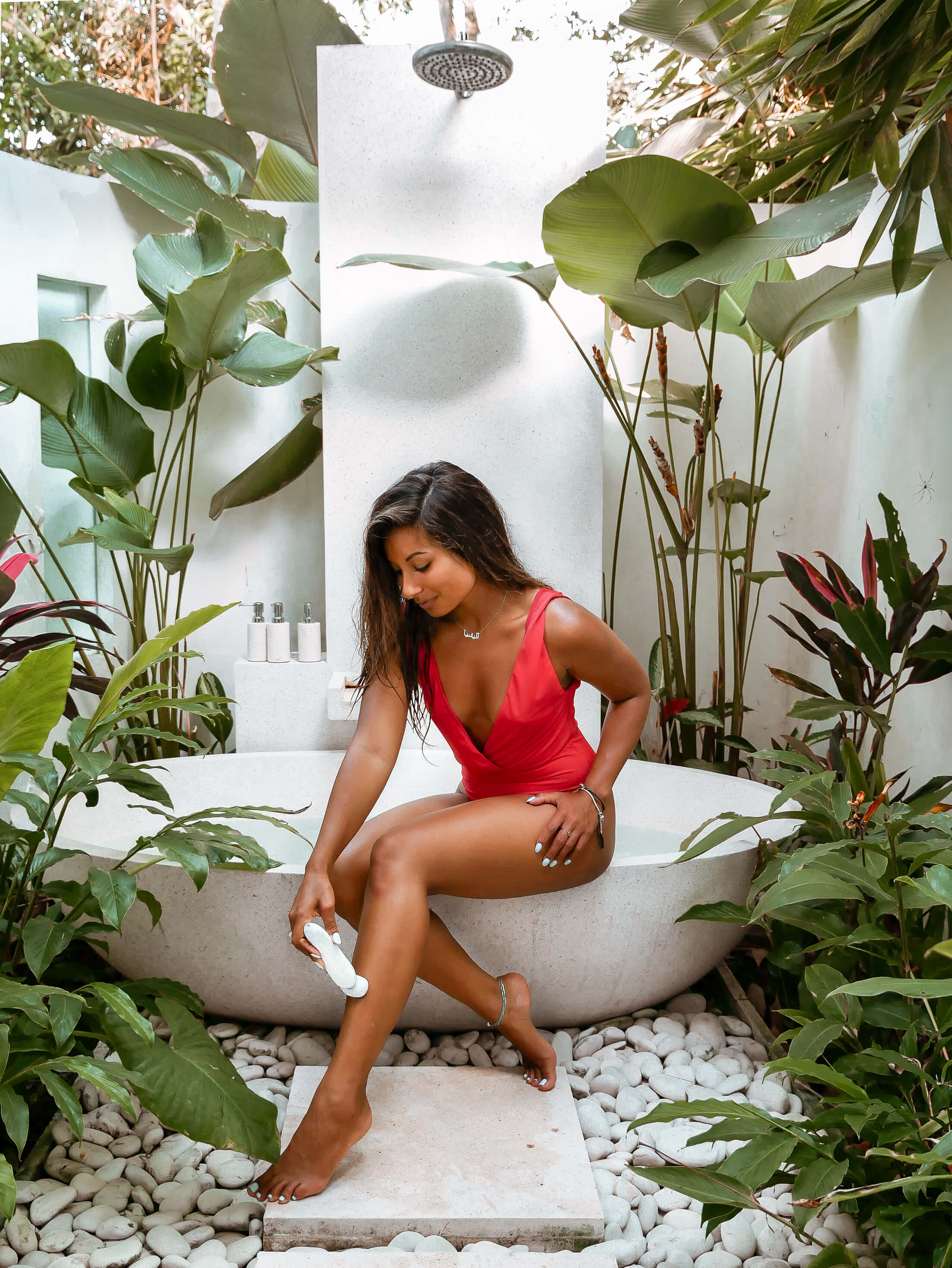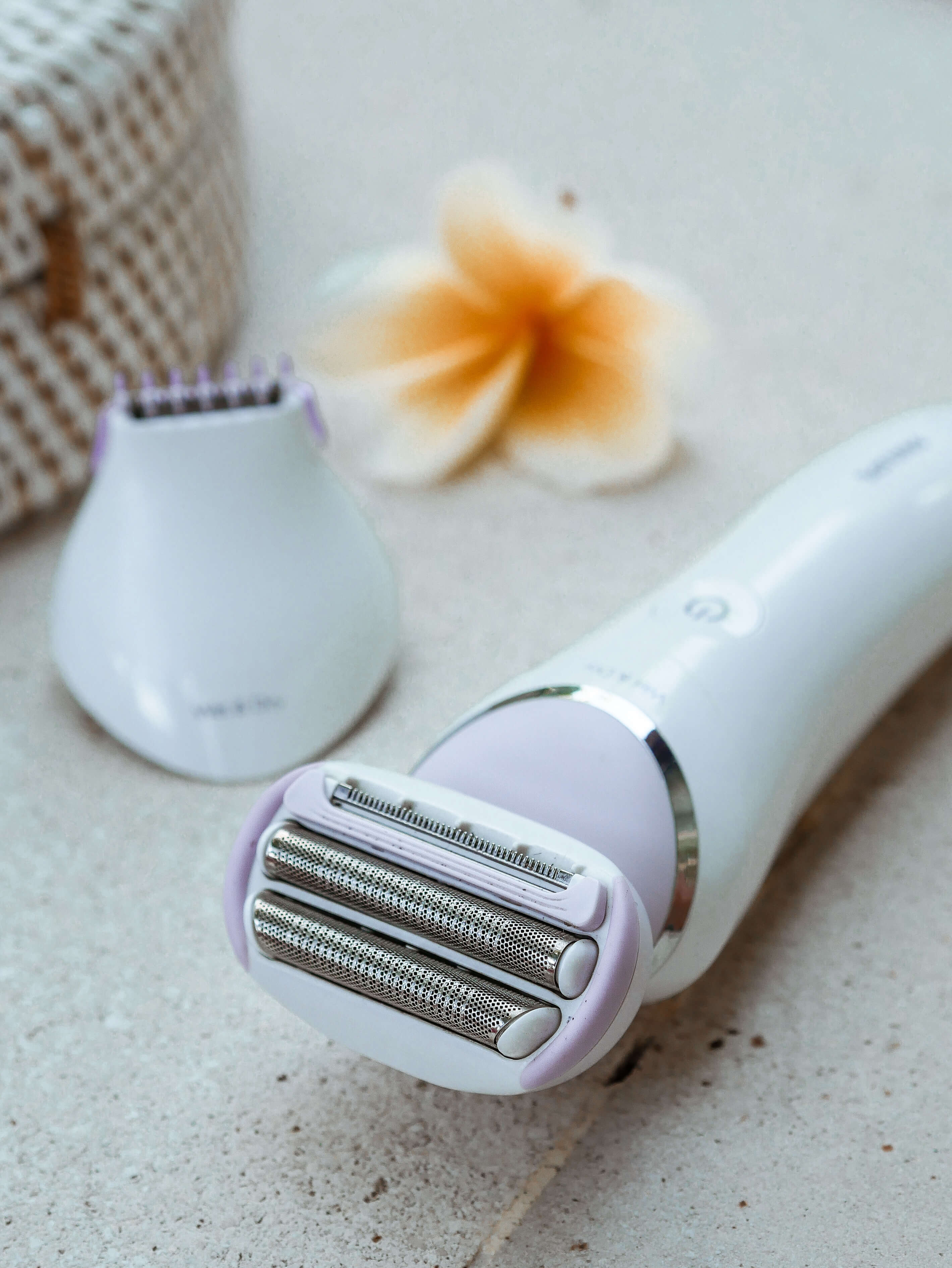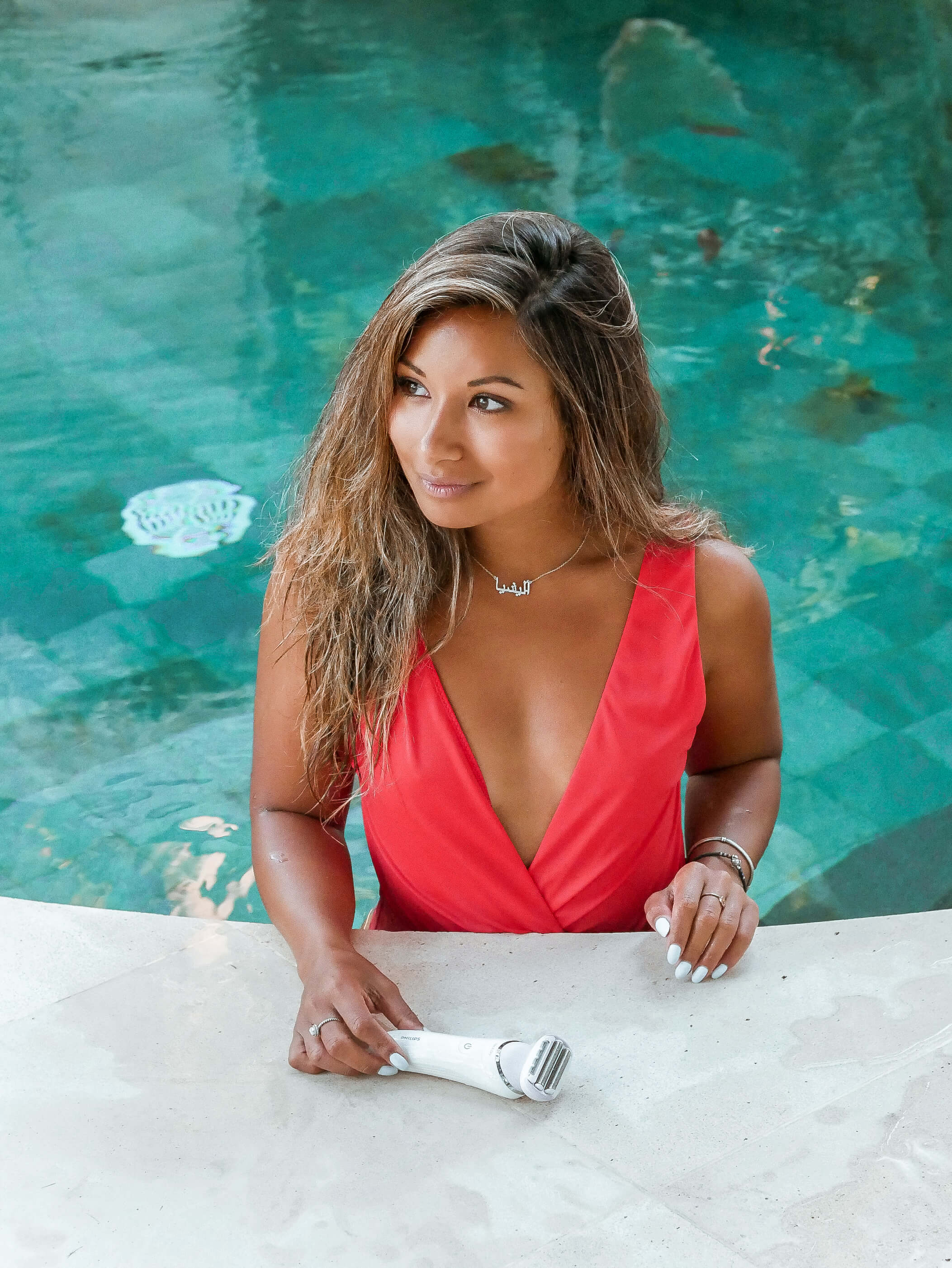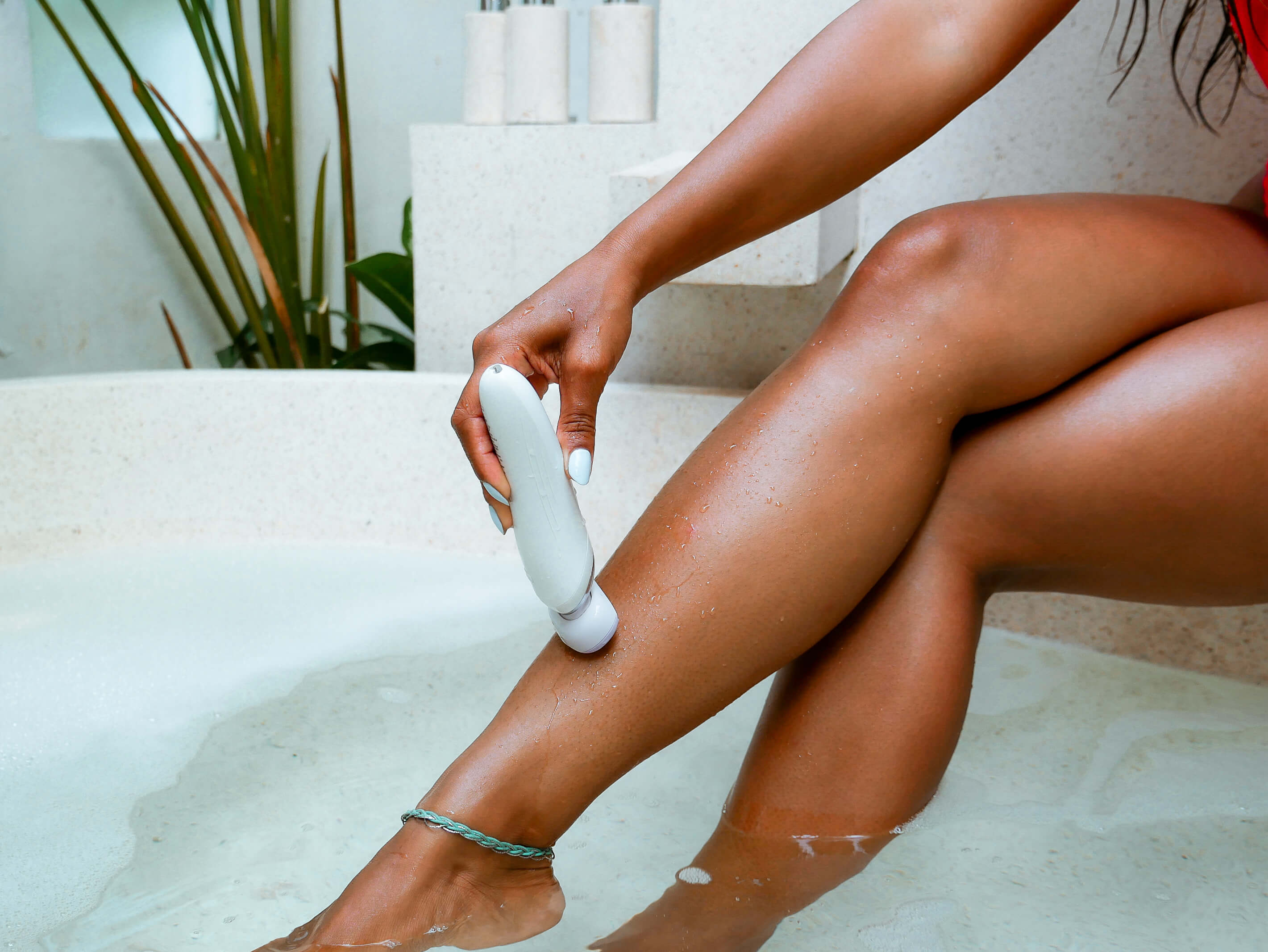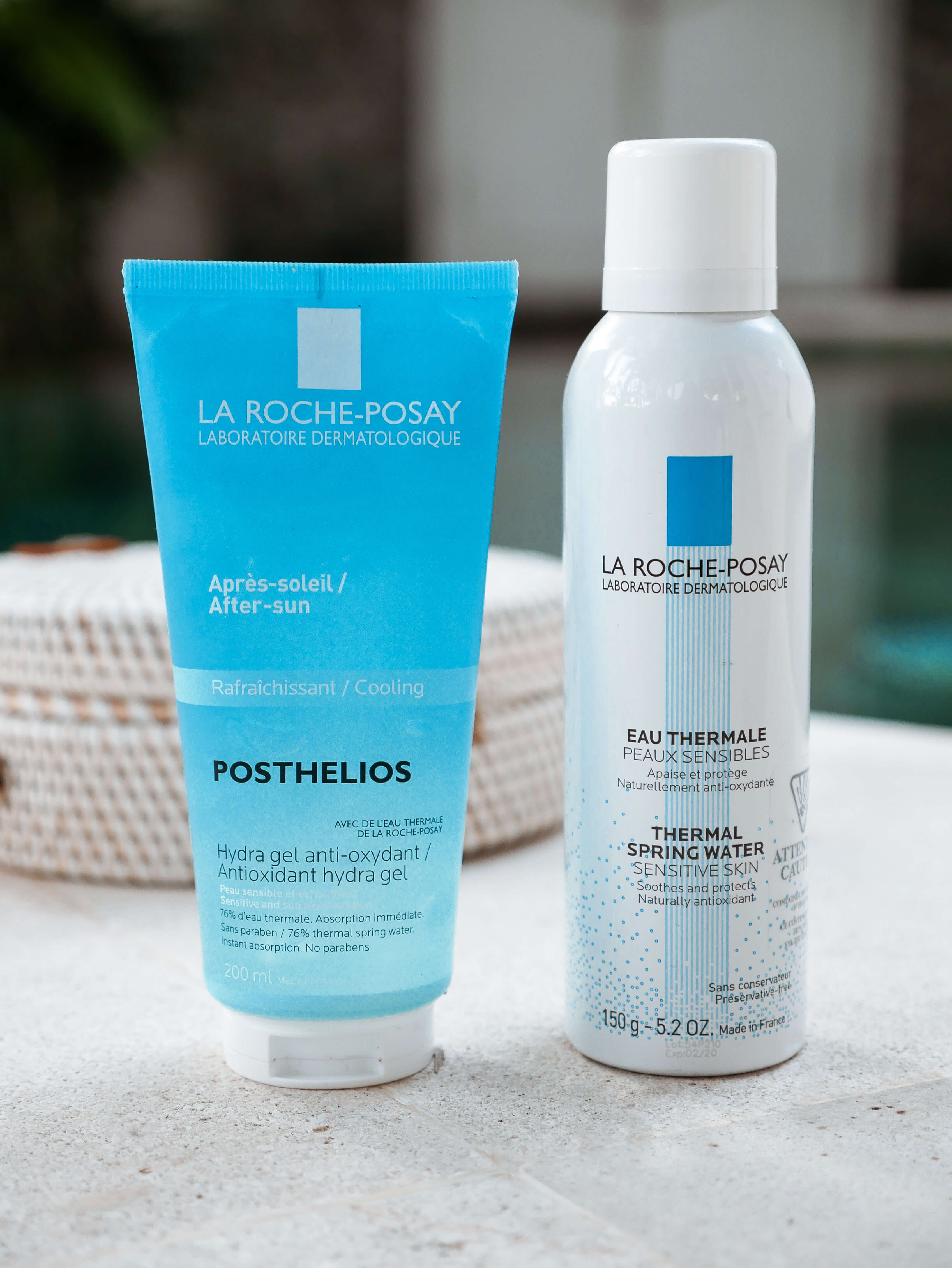 Get Active
When you're travelling, jetlag and time difference, different foods and lack of sleep can all leave you feeling a bit blah and sluggish. My favourite fix for when I'm feeling crappy is to simply get active and break a sweat. It might be a short run, a 20-minute HIIT session on the beach or maybe some yoga to wake me up, but it's honestly the best thing for my physical and mental being.
Not only does a quick sweat session make you feel tighter and more toned, more importantly, it boosts your mood and energy levels. Personally, my mood always dictates how I feel about myself (i.e. if I'm feeling rubbish, any clothes automatically look rubbish on me too - who can relate?!) so getting those endorphins flowing helps shift my mindset and puts me in a more positive mood, instantly making me feel more confident. Don't forget to drink plenty of water to reduce bloating and stay hydrated, especially when you're in a hot climate.
Look after your skin
I try to look after my skin as much as possible when I'm travelling, especially as I want to keep it in the best condition possible and go make-up free. Sun exposure, sweat and salt water can all throw your skin off balance, so it's important that you're using products that help protect and nourish your skin. Make sure you're applying SPF 30+ to your face and body, and look for a sunscreen that protects against UVA + UVB rays. Again, don't forget to hydrate, as although you might be hot and sweaty, the sun can really dry out your skin. Use a hydrating moisturizer at night after you've been in the sun to replenish any moisture that's been lost.
I love using the La Roche-Posay Thermal Spring Water Spray on my face and body after I've been scuba diving or when my body needs a refresh after being in the sun all day. The After-Sun Hydra-Gel is great too as it's super hydrating, and it works wonders if your skin is feeling a bit sensitive or if you simply want to use a light moisturizer on your body after shaving.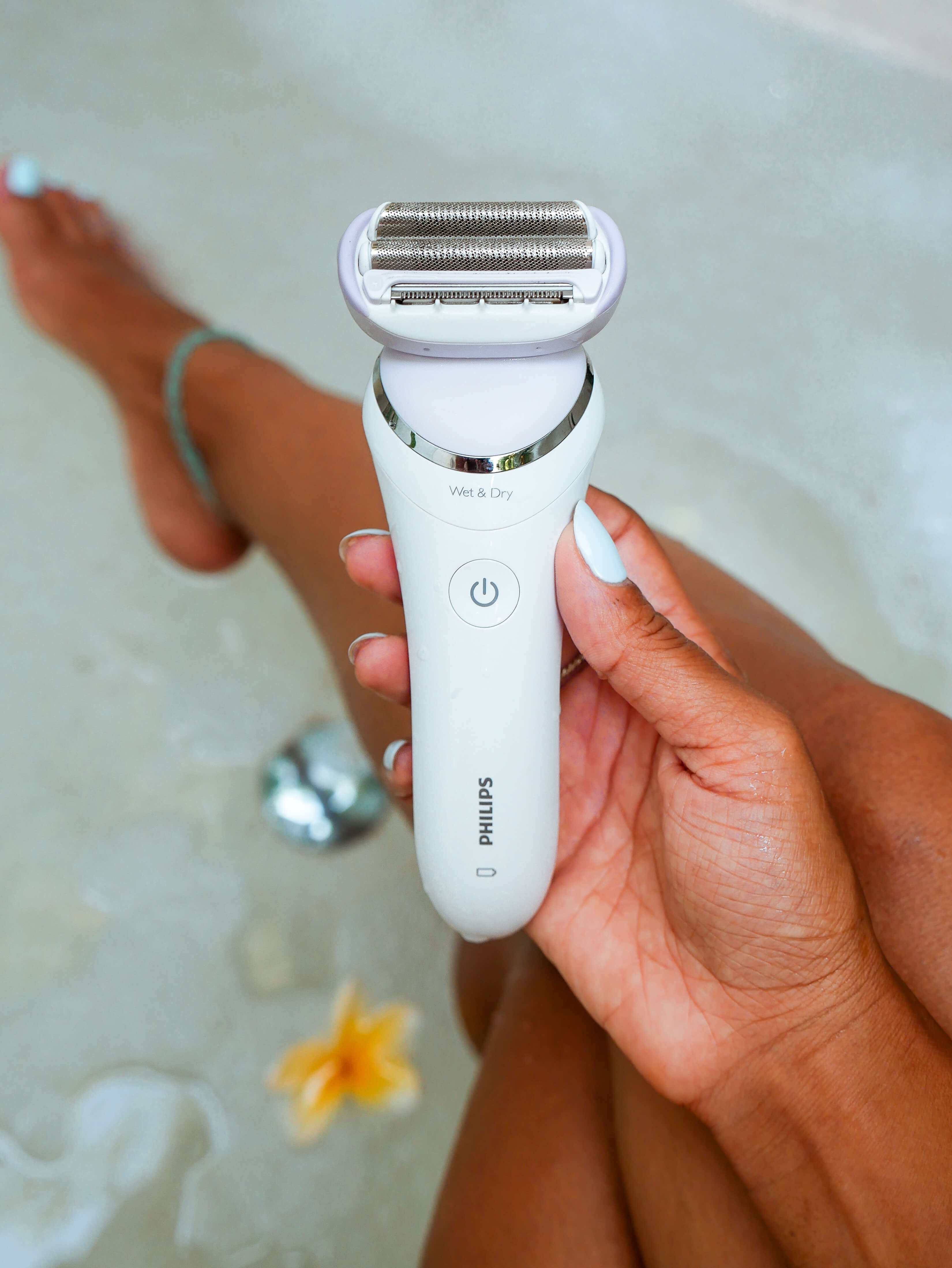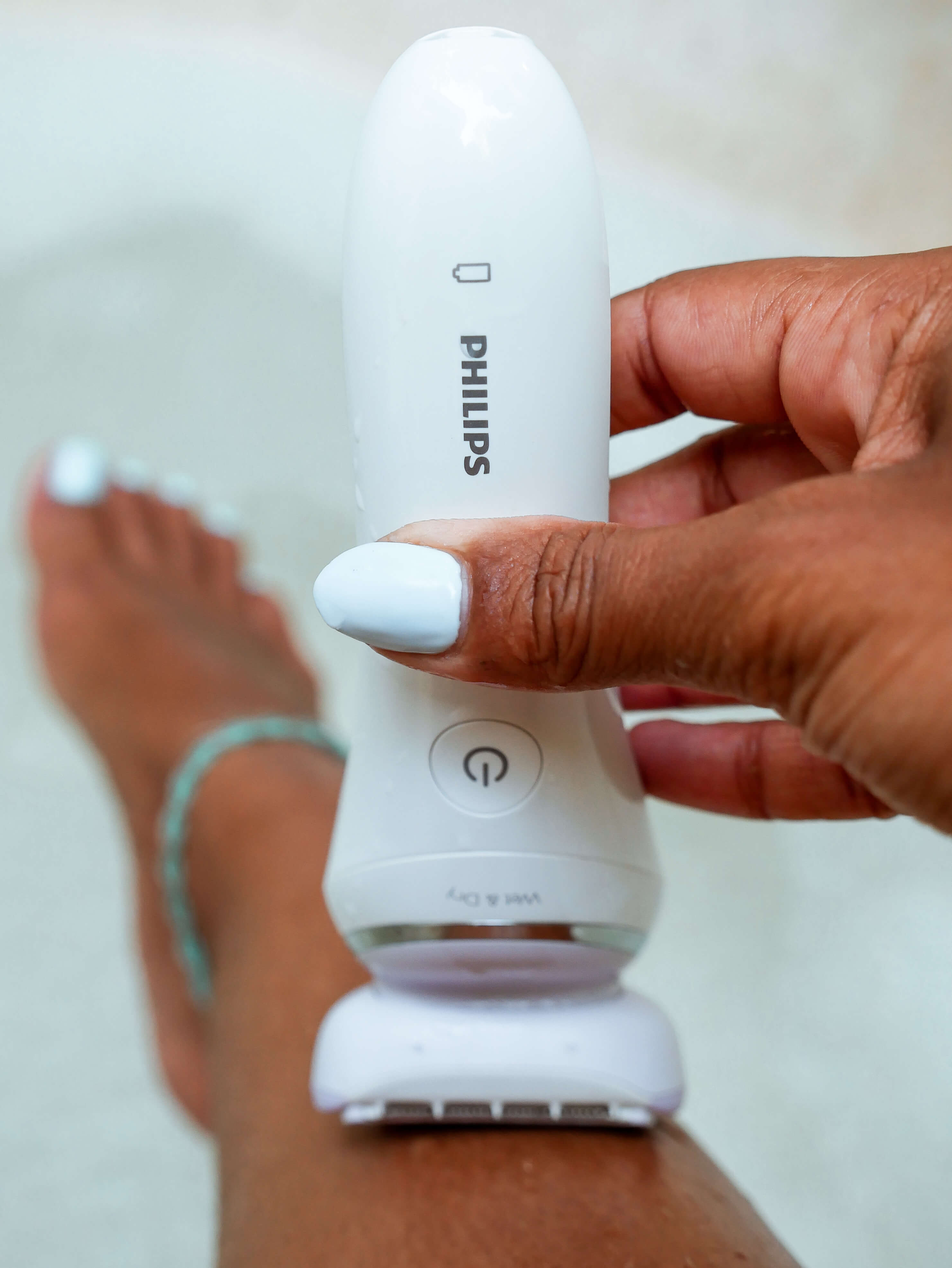 A Closer Look At The Philips Beauty Tools
I've been testing out 3 different Philips Beauty tools over the last 6 months - the SatinShave Prestige Wet & Dry Electric Shaver, the PrecisionPerfect Trimmer, as well as the BikiniGenie Bikini Trimmer, which are all part of the extensive line up of Philips' hair removal products.
The SatinShave Prestige Wet & Dry Electric Shaver
The star tool for me and the one I've found myself using the most is the Philips electric shaver and I love it. I used an electric shaver years and years ago, back when the shave was never that close, you'd have to plug it into a wall and you couldn't get it wet, so I switched to standard razors and never looked back. That is, until, Philips sent me their electric shaver earlier this year and I realized just how far the technology has come and how much more cost-effective and easier electric shavers can be in comparison.
The thing I like most about the electric shaver is that you can use it both wet and dry. There's nothing more annoying than having a shower, getting out, and realizing you've forgotten to shave your legs (something that I do all the time). I love that in these instances you can easily and comfortably remove unwanted hair without having to hop back in the shower, and since it's cordless and waterproof, you also have the option to use it in the bath and shower too.
I've been really impressed with how close of a shave you get with the device and I like that from a cost perspective, it's cheaper than buying standard razors. While the up-front cost may be more (you can find it on Amazon for $79.99), over the course of a few months the cost evens out especially as razor refills are quite expensive. The 5-minute quick charge is really handy, although it only takes 1 hour to fully charge. It also comes with a protective travel cap and travel pouch, as well as another trimming attachment. My best tip to achieve the closest shave is to stretch out your skin and slowly move the device in the direction of hair growth, at a 90-degree angle. You want to make sure the device has full contact with your skin, and stretching out the skin, especially on your underarms, really helps.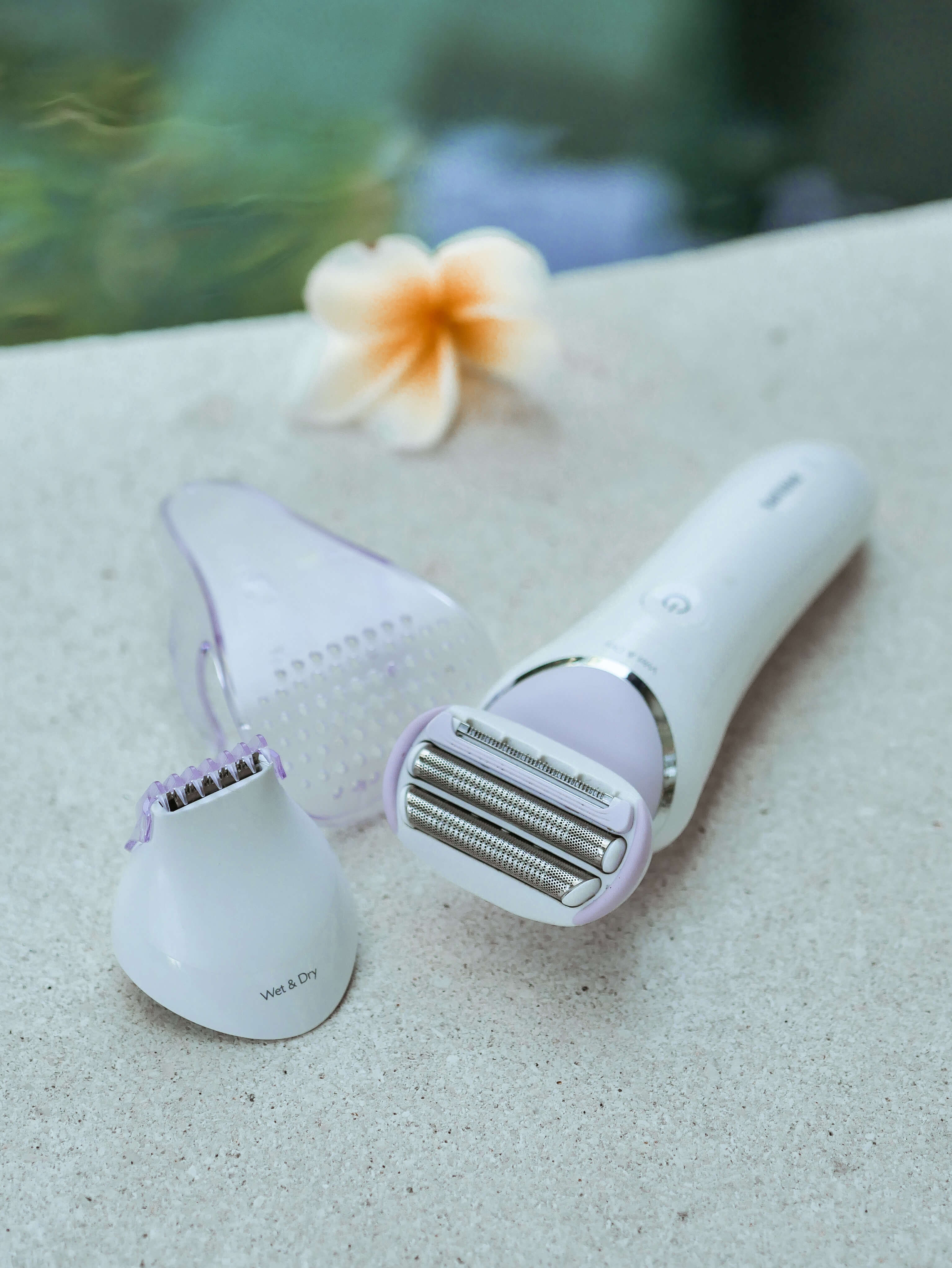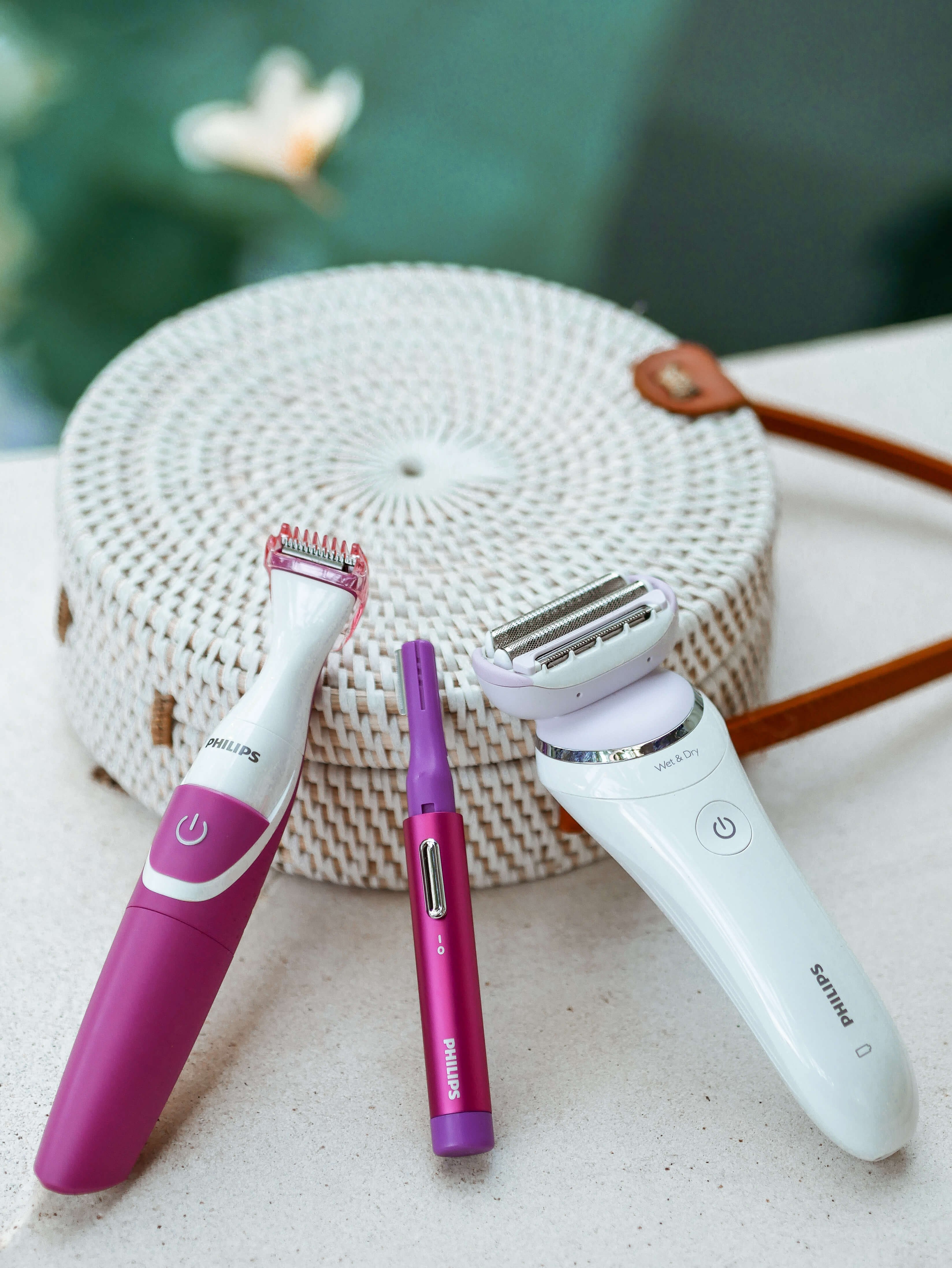 The PrecisionPerfect Trimmer
I've also been using the PrecisionPerfect Trimmer, which is an instant hair removal solution for your face (pictured in the middle). It's a cute, compact trimmer that's perfect for any area of your face that you want to keep hair-free. Personally, I like using it to tidy up my eyebrows, but you can also use it on your chin, upper lip, cheeks - basically anywhere you want to remove hair! The head is really precise so it's great for shaping your eyebrows and small areas. It comes with a trimming comb so you can choose a 2mm or 4mm trimming length.
It takes AAA batteries and it's tiny, making it easy to take with you when you're travelling or to pop in your handbag. It's also very well priced - $14.99 on Amazon to be exact - so it's brilliant value for money. If you do try it out, I recommend testing it on other areas of your body first (i.e. don't just go straight in on the eyebrows). It's a powerful trimmer so get to know how it works first so you don't have any accidents!
The BikiniGenie Bikini Trimmer
The other device I've been trying out is the BikiniGenie Bikini Trimmer. This was actually my first time using a bikini trimmer and I really like it. The design is very feminine and the head is precise and small making it easier to navigate around difficult areas, and similar to Electric Shaver it can also be used wet or dry. I've always typically used razors for my bikini line, so the nicest thing is not having to worry about nicks or cuts down there, as ladies (and gents!) you'll know that is never nice!! It also has a click-on comb so you can choose different trimming lengths depending on your grooming style.
Price wise, it's very affordable and can be found for $19.99 on Amazon. Funnily enough, Matt also used the Bikini Trimmer to touch up his beard when we were in Bali as he lost his trimming attachment and he really liked it! I've used it to tidy up his neck hairline too, so I like how versatile it is.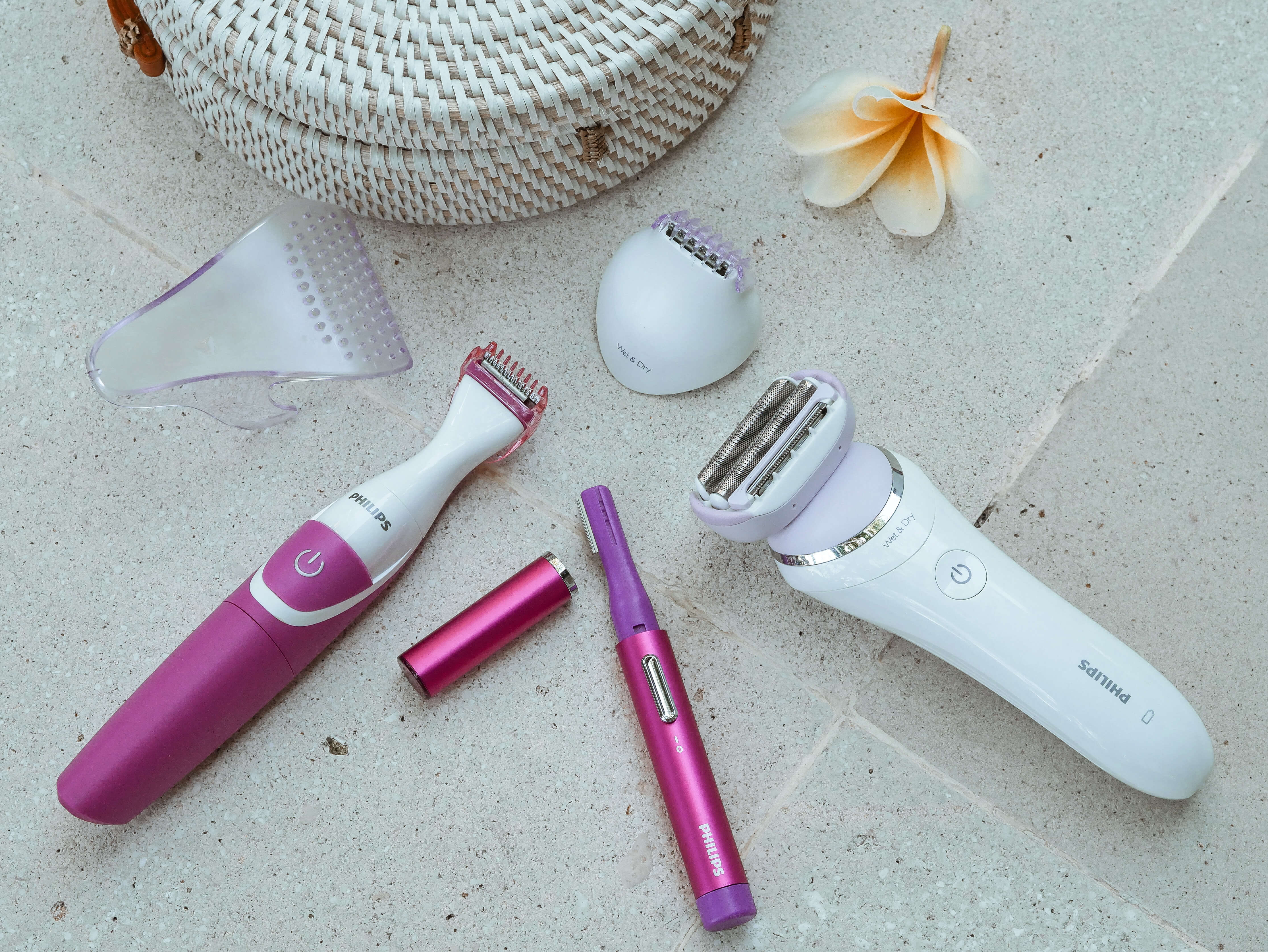 So if you're wondering how to feel more confident on a beach break, my best piece of advice is to just do you. Wear what makes you feel amazing, do the things that make you feel the most confident and own your body!! Your confidence will no doubt inspire other people too which is such a powerful thing.
What are your best tips to feel more confident on a beach break? Would love to hear them!
Disclaimer: This is a paid post created in partnership with Philips Beauty. All thoughts and opinions expressed are my own 🙂