I've always been a huge fan of Triangl Bikinis - the designs are unique, the colours are bold, and the neoprene adds a cool edge.
You can imagine how stoked I was when I received an email from Triangl asking if i'd like a free bikini as part of their blogger gifting program. I had to think about it for all of 2 seconds...OF COURSE I WANTED A FREE TRIANGL BIKINI! Who would say no to that. After 3 days of staring at the website, I finally opted for Farrah - Sunset Dreams, a gorgeous mis-matched bikini from their new collection, and I couldn't be happier with my choice. While we don't have an exotic beach trip planned just yet, I have been strutting around the house in my new bikini.
The crochet detailing and bold colours won me over straight away. The bottoms fit much better than the other styles too - I never wear the bottoms from my other Triangls (I have Winnie & Malibu Blue), as I find the bum cuts in too much and it's not particularly flattering. However, the Farrah bottoms fit perfectly - they don't dig into the butt cheek, and the side is cut slightly higher so it fits juuuuust right.
Triangl bikinis aren't cheap, so unless you don't mind spending your money on a replacement bikini every month (nothing wrong with that though...I dream of Tasha Oakley's collection) you'll probably want to know how you can care for your neoprene and get your value for money. Here are a few things to keep in mind to ensure a long, happy life with your new gorgeous bikini.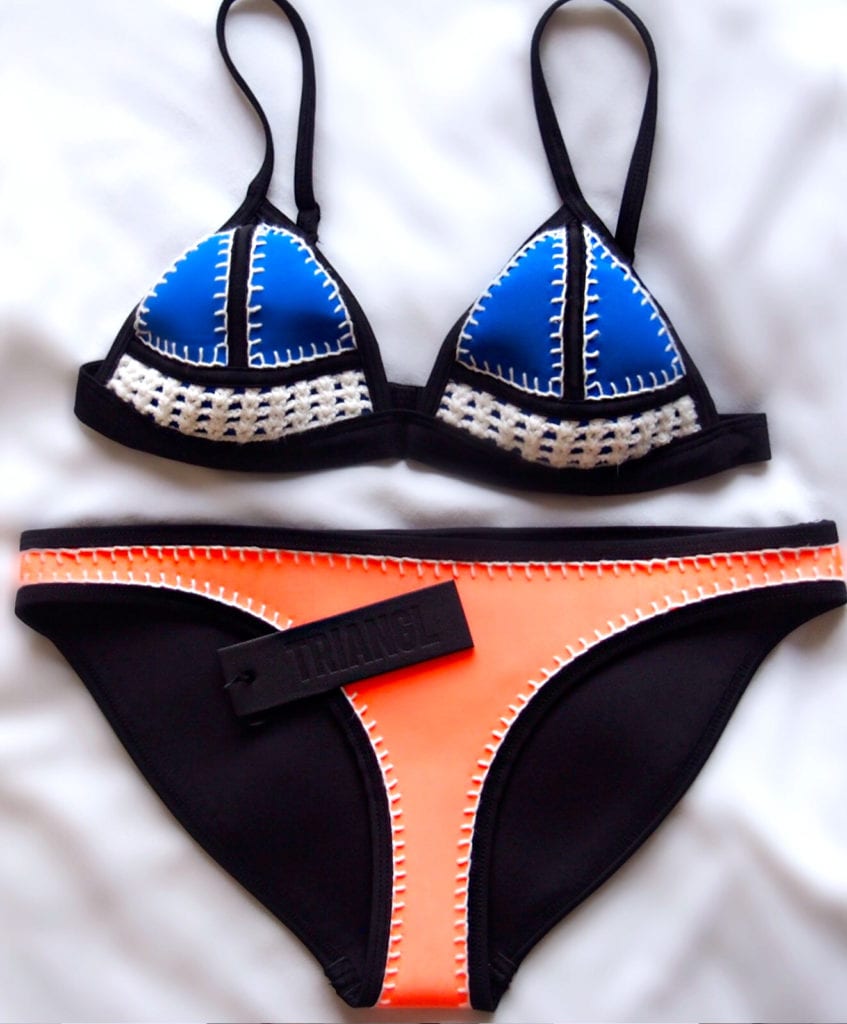 Caring for your Triangl
1) Take care when storing
While you might scrunch up your other bikinis and throw them into your closet, you don't want to do this with your Triangl. Neoprene creases very easily, so it's advised to store your suit flat, in a dark place, preferably in the drawstring bag that you receive with your bikini.
2) Be careful when sitting
I know this sounds a bit ridiculous, but hear me out. Grit and dirt can easily get stuck inside the fibres and make your bottoms look dirty. This happened with my first Triangl bikini, and while I didn't completely ruin them, they do now look kinda dirty and worn so I tend not to wear them.
3) Rinse it out
Neoprene is sensitive, so make sure you rinse your suit after contact with salt water or chlorine. Avoid rinsing in hot water - it damages the fibres & makes it lose flexibility. This is important as one of the best things about a neoprene bikini (especially the strapless ones) is that it stays up and doesn't fall down when you're surfing or swimming. Don't leave it to dry in the sun either - direct sunlight is neoprene's worst enemy as it causes the material to crack and dry out.
4) Don't machine wash it
Washing machines + Triangl = no no no! If your washer is anything like mine, it will probably shred your neoprene to pieces. That, or shrink it, or ruin it, which is the last thing you want for your $100 bikini. If it really needs a good clean, hand wash it in cold, soapy water & dry away from direct sunlight.
I hope you found this useful, and if you've got any great tips on how to care for your Triangl, drop me a comment below!