As far as adventures go, flying up to a secret glacial ice cave in a helicopter is definitely one of a kind.
Last week, to celebrate my blog's 2 year anniversary, I ticked a helicopter tour off my bucket list and unlocked yet another beautiful area of B.C. My new friend Nick, pilot & owner of Compass Heli Tours, took me out on an adventure to the mountains and it was truly the most magical experience.
I think the word of the trip was definitely "WOW" - I lost count of the number of wows that day! The scenery was just breathtaking at every turn. It was amazing to glide above the mountains and watch the dramatic landscape of lush greenery, lakes and rivers, jagged rock faces, and snow-capped mountains fuse together, and even more amazing that all of this sits within just 45-minutes of Abbotsford.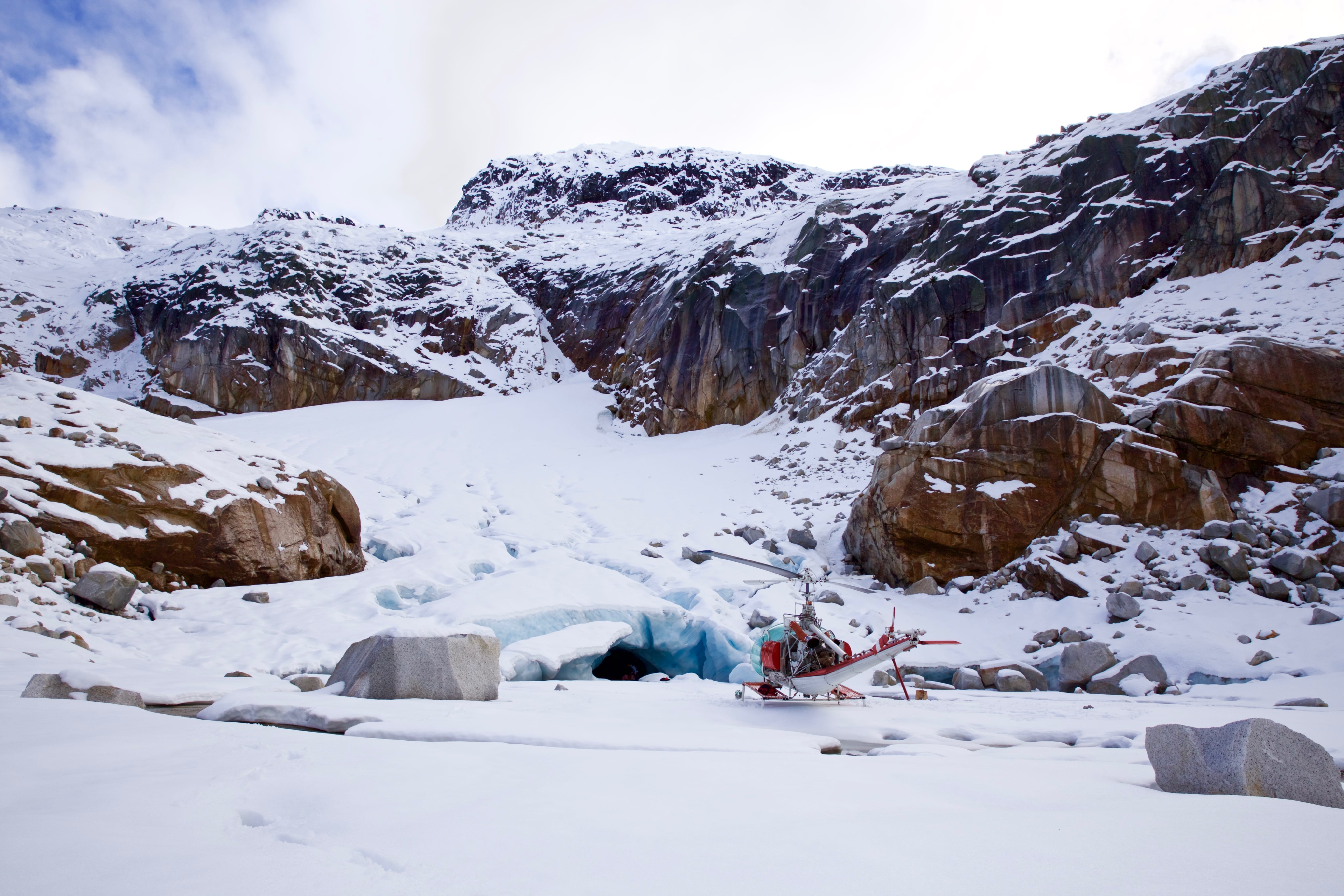 The ice cave we visited was beautiful - not to mention unmarked and unnamed - which means you can guarantee you won't run into another soul up there. Nick discovered the ice cave this summer while exploring the area, but it's pretty well hidden so very few - if any - other people go up there or know it exists.
We set off from Compass Heli Tours' base in Abbotsford about midday, and the ride to the ice cave took about 45 minutes. The views on the journey up there were phenomenal - we glided at around 5,000 ft and flew over the Fraser River, Alouette Lake and the enormous Stave Lake, and I could spot Vancouver's faint skyline out in the distance.
This was my first time in a helicopter, and the ride wasn't at all as I expected. Unlike a plane, there isn't any kind of force when you take off - you simply lift off the ground and for the first few seconds, you don't even realize that you're mid-air!
I was amazed by how agile yet sturdy the chopper was, and for the most part it didn't even feel like we were moving. The ride was so smooth it almost felt as though we were floating, and the nice thing is that you can pretty much land anywhere.
We took the Hiller, one of Nick's smaller helicopters since it was just the two of us, but usually the tours are conducted with the larger 5-passenger or 7-passenger heli. I loved it, and because the chopper was completely glass-fronted, we had pretty much panoramic views of the whole area.
It was beautiful.
Our surroundings were so raw, untouched, and of course, uninhabited, and as we headed further north a thick blanket of snow began to cascade further down the mountains.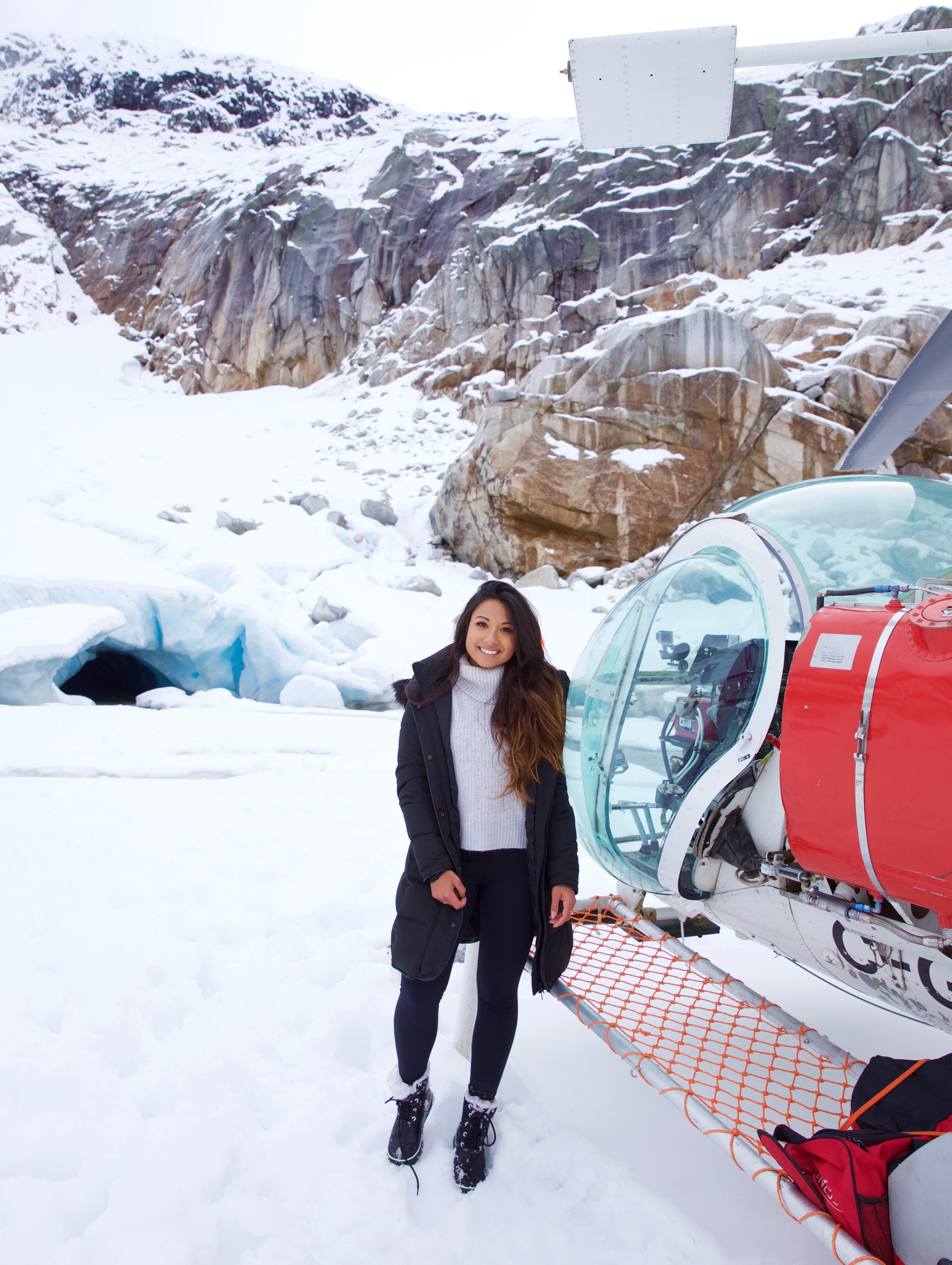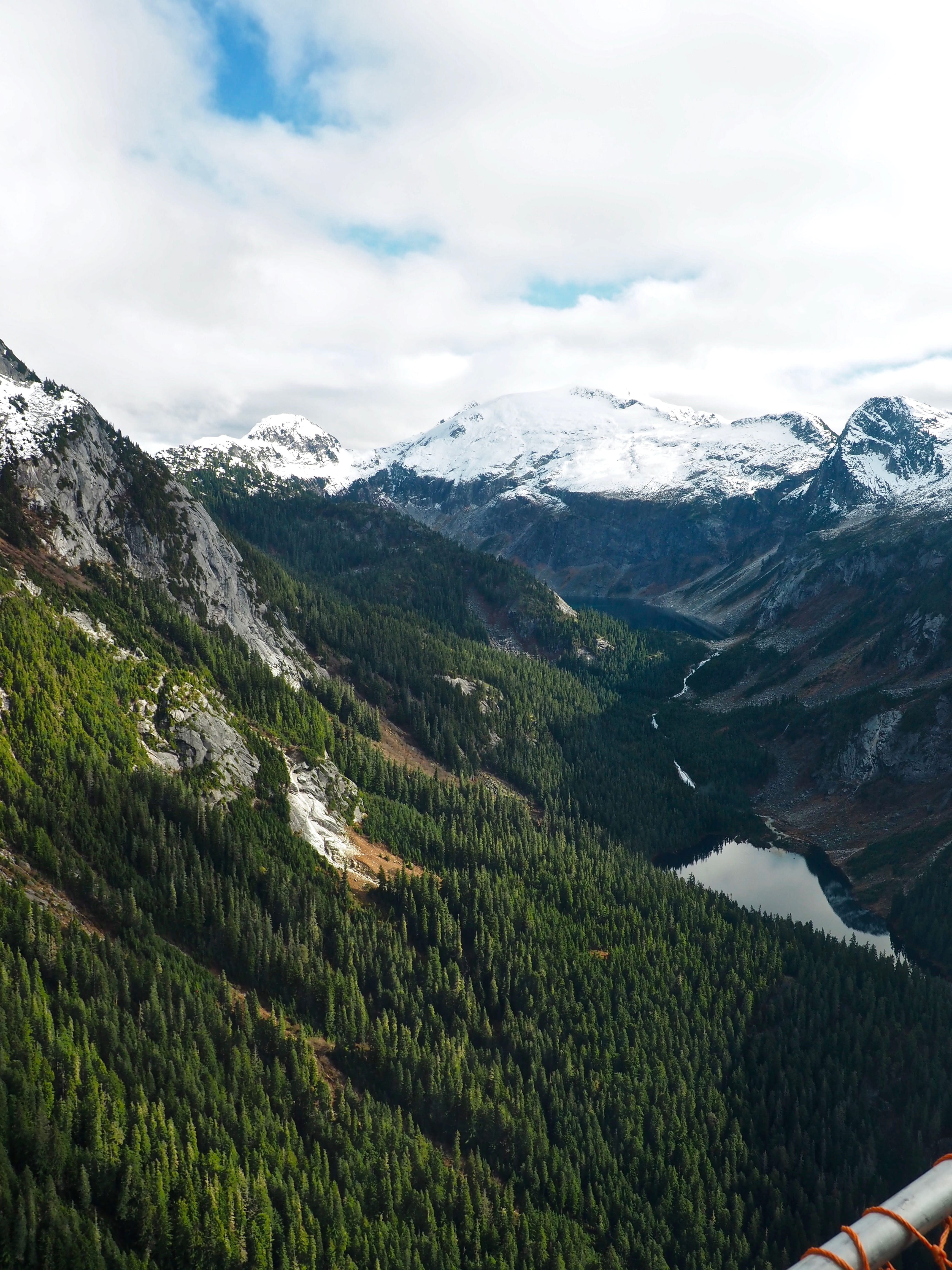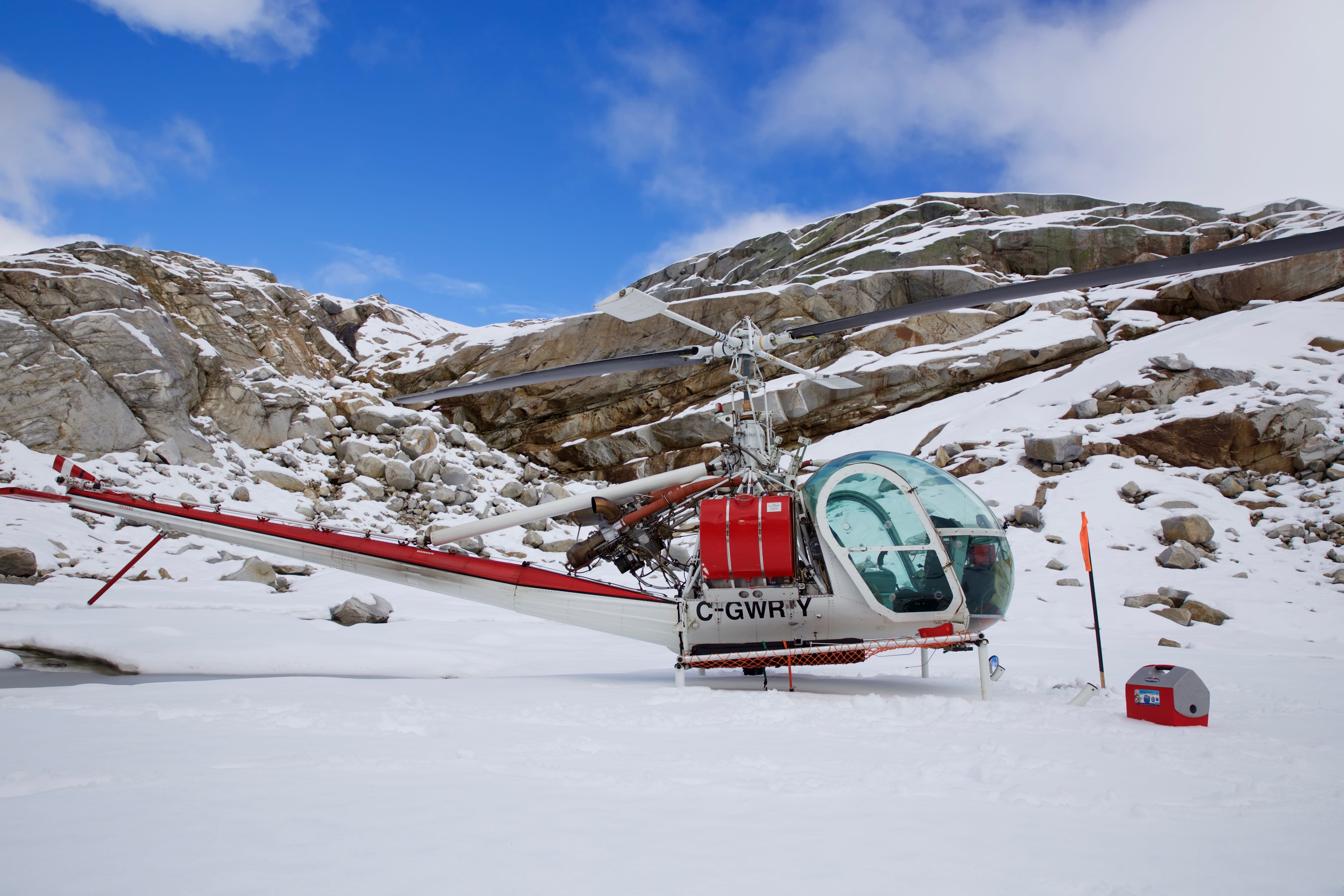 As we approached the glacier, the snowscape was nothing short of incredible and the contrast of the sheer rock faces and the snow was gorgeous. We set the chopper down in front of the ice cave and I couldn't believe how much snow there was!
As my luck had it, as soon as I stepped out the helicopter my SD card decided to fail and wouldn't write any photos or video. Nick kindly let me use his Canon DSLR, which is what these shots were taken with, so I was still able to run around and snap this picture-perfect spot in all its glory. I honestly didn't know where to start, and I think the photos almost don't do it justice because it's one of those places that you have to see with your own eyes to appreciate just how stunning it is.
After a bit of shooting, Nick passed me a hard hat and we made our way into the ice cave. The ice formation and colour was so beautiful. He estimates that the cave stretches for around 400m, and it will have been carved out by a river flowing through the glacier.
Here's a little geography lesson for you - glaciers are formed due to the accumulation of snow in the same area over hundreds of years. The snow gets compressed and compacted and gradually transforms into a mass of ice. The vibrant, turquoise blue colour you see comes from the density of the ice, and as the snow compresses, the air bubbles get smaller which allows light to penetrate through. The ice acts as a filter to the human eye so it absorbs red and yellow light, but reflects blue light creating the bright turquoise hue.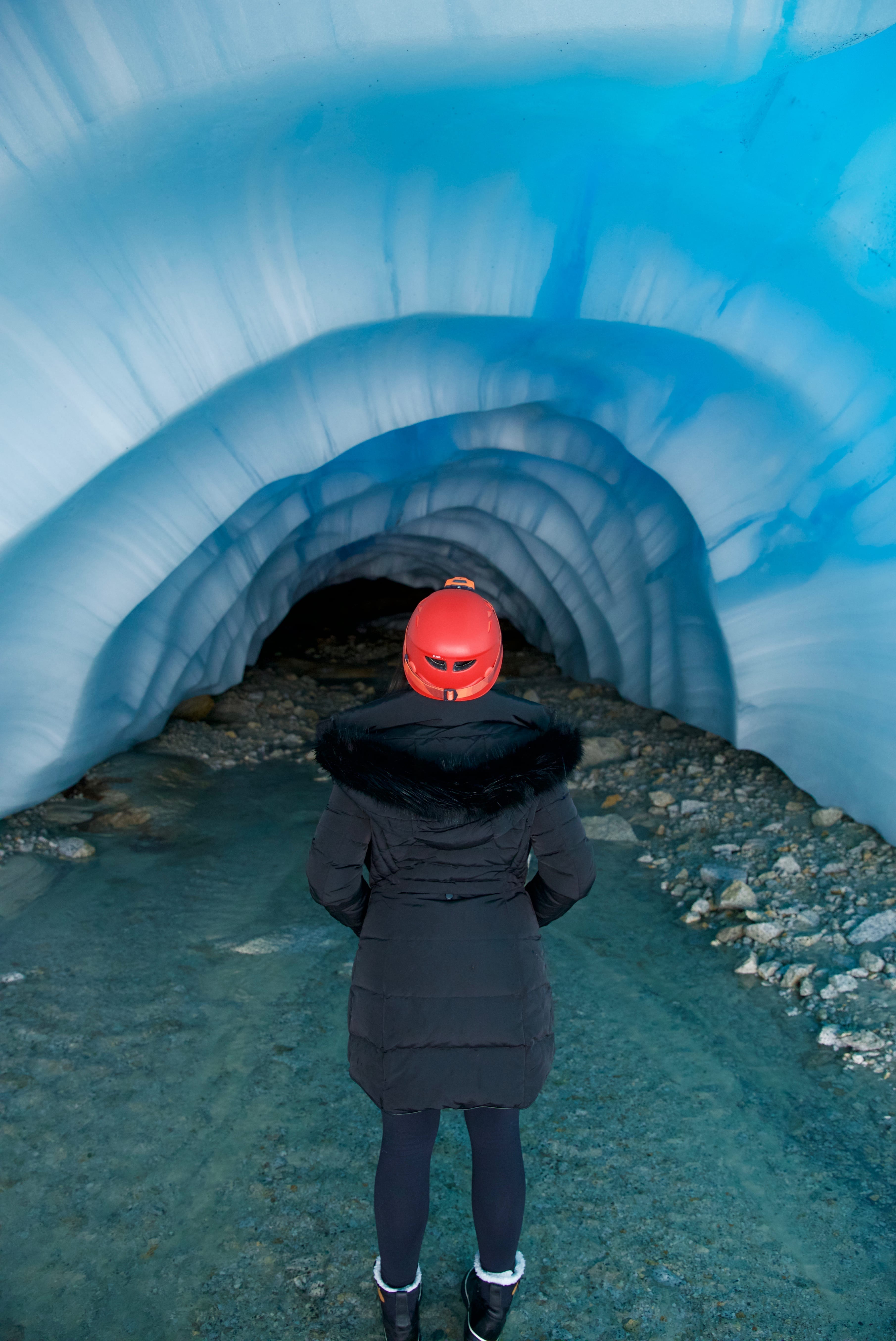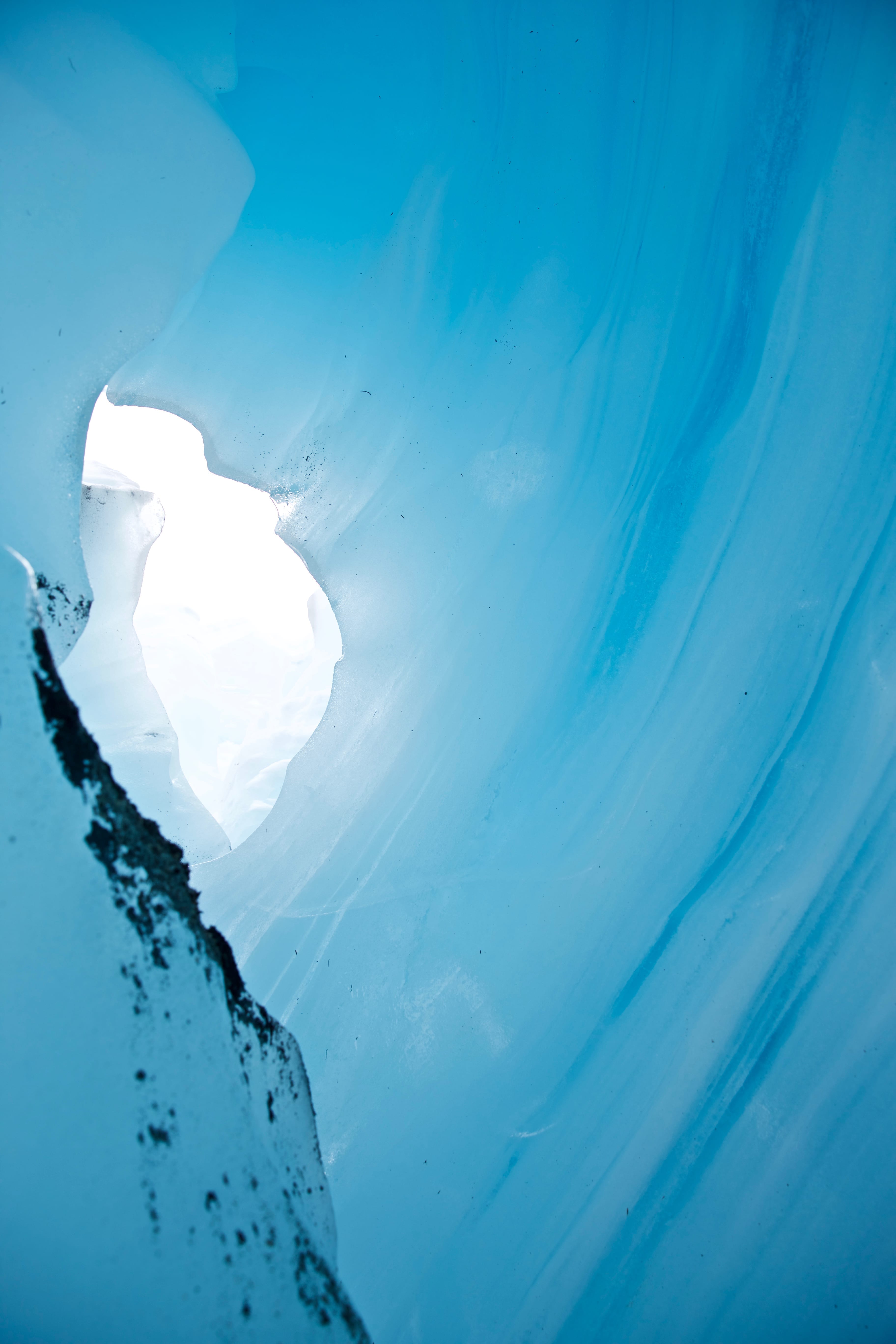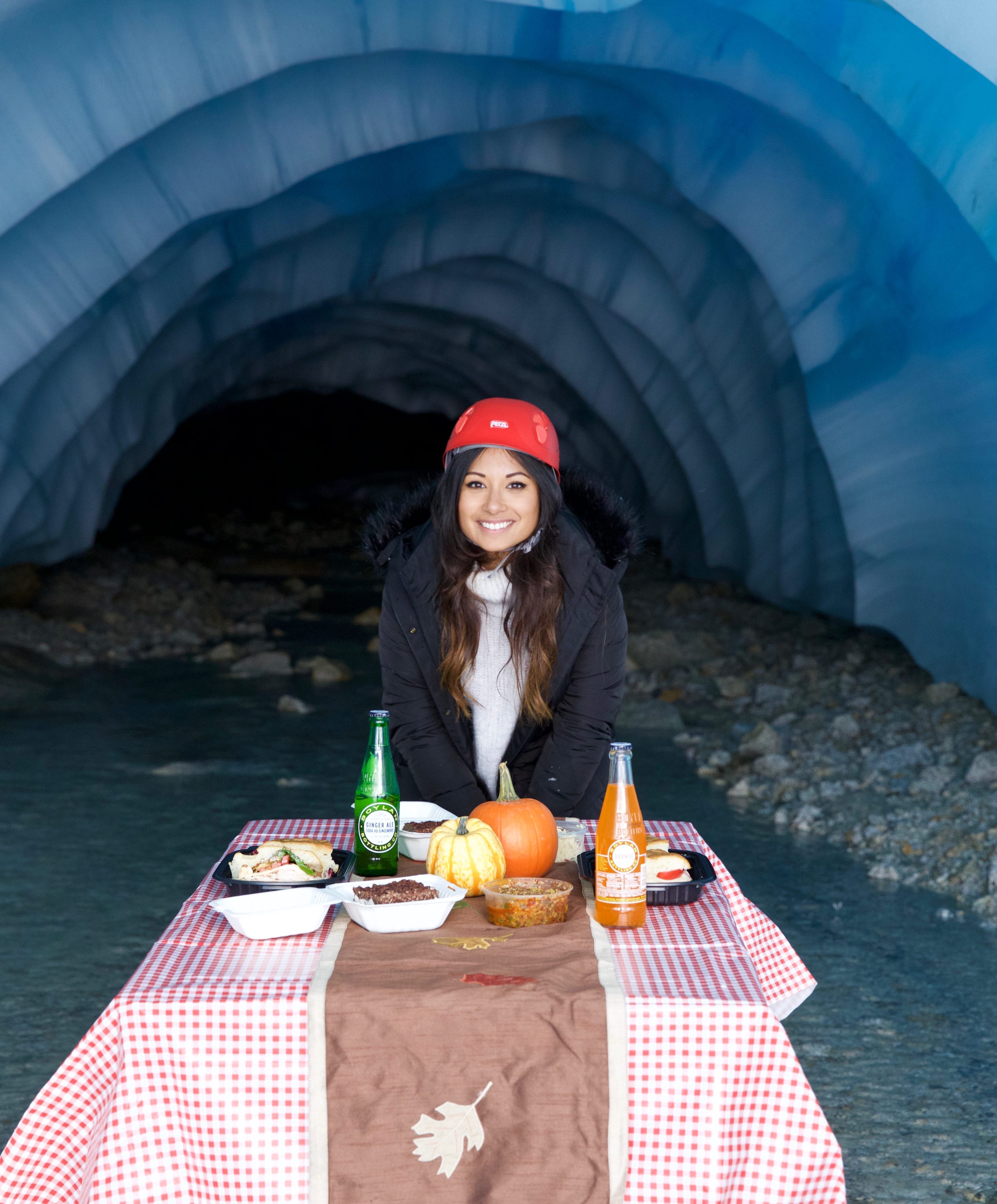 Aside from its physical beauty, the other beauty of this ice cave is that it is unnamed and pretty much undiscovered. Nick spotted it while flying earlier this year, but it sits at the top of a mountain and is only accessible by helicopter, so needless to say it's pretty exclusive.
You can venture for around 100m into the cave until it gets too low to stand, and the hard hats are essential as the glacier is constantly shifting so it provides protection in case any ice breaks off. It was was eerie to hear the glacier creaking and groaning, but Nick assured me that this is completely normal as glaciers constantly shift.
After exploring & taking endless shots of the ice cave (obviously), Nick set up a table & we enjoyed a gourmet picnic lunch from Lepp Farm Market. Lunch consisted of a hearty sandwich, salad, dessert, and drink (lunch is included in the tours), which I picked out beforehand. I think this is probably one of the most picturesque spots i've ever eaten lunch, and the food was delicious as well so it was just what we needed to fuel our adventure.
After a few hours at the ice cave, it was time to head back to civilization. Not that I thought it was even possible, but the journey back to Abbotsford was even more scenic than the way there. The mountains were covered with a thick layer of fresh snow and the vistas were insane.
I couldn't really shoot photos of the view that well because of the glass glare, but the footage from Nick's GoPro which he attached to the front of the chopper is unbelievable, so don't forget to check out my YouTube video!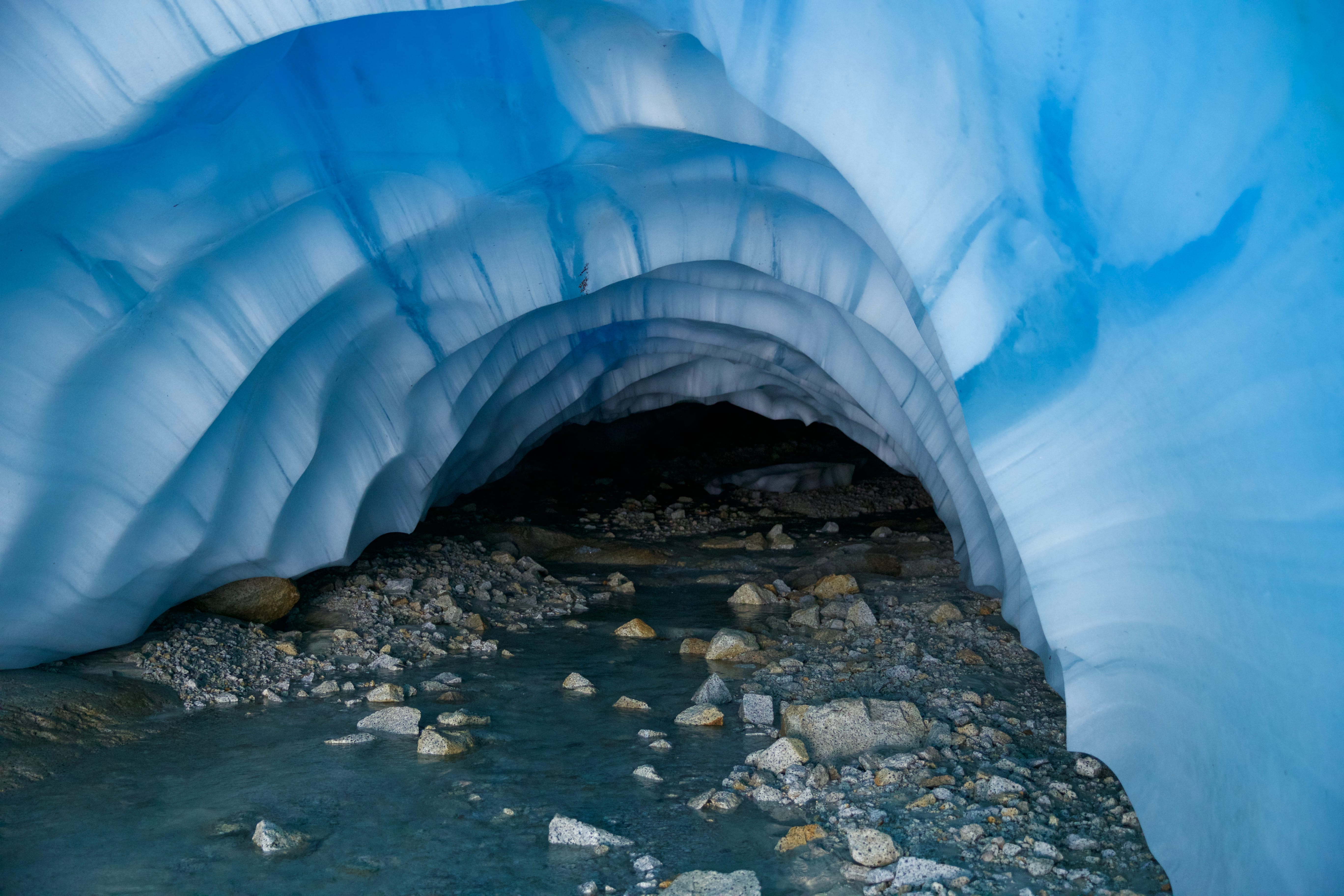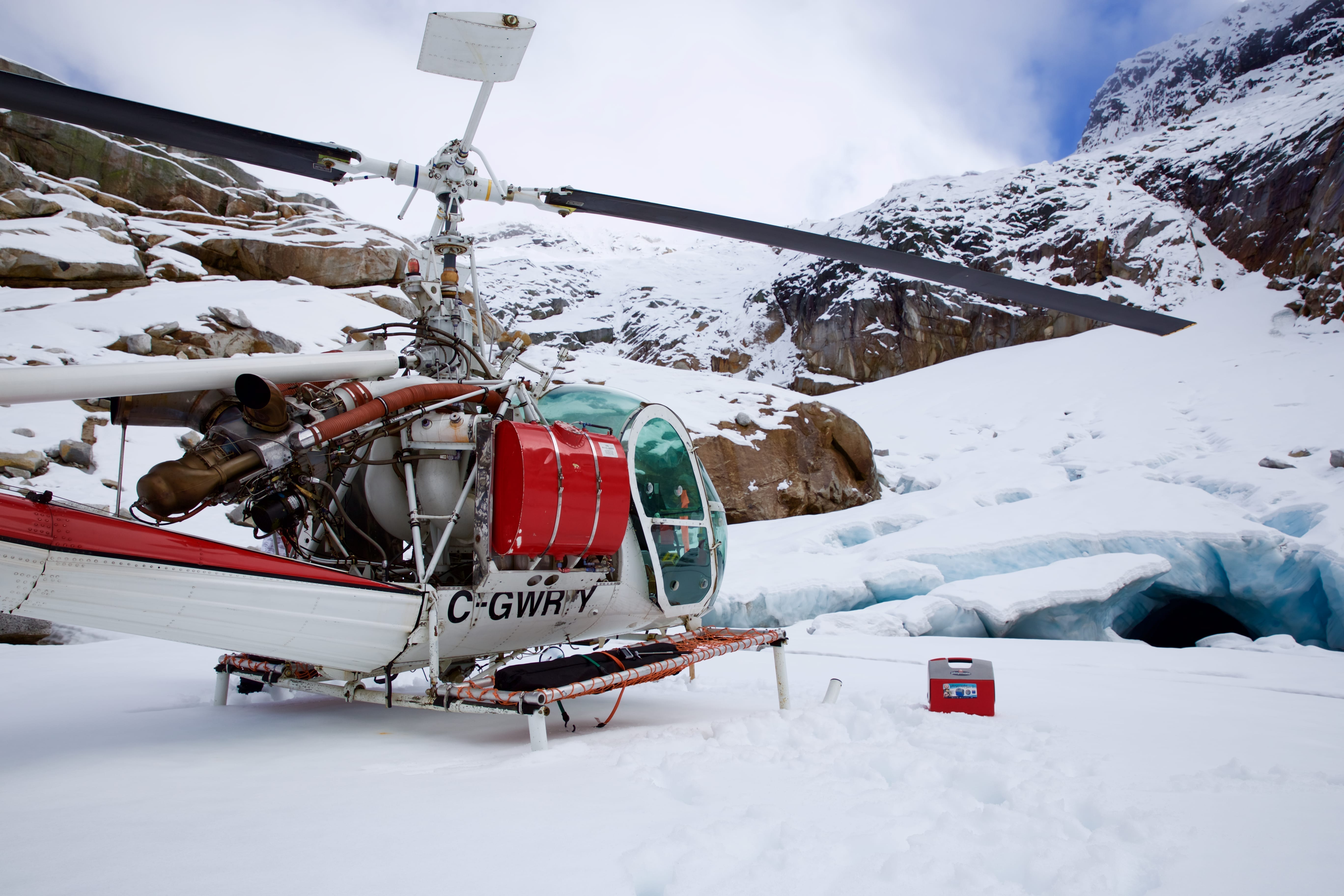 Compass Heli Tours
If you're looking for an adventurous escape, Compass Heli Tours offer a whole range of different trips and experiences. The tours start at $200/pp, and there's everything from Heli Camping and Fishing, to Volcano Tours, to Wilderness Spa Experiences, and even Paddleboard Yoga. This tour was the Speciality Glacier Ice Cave Tour, which includes the flight, up to 4 hours on location at the ice cave, a picnic lunch, photos, a guided ice tour, and safety gear.
Nick, the pilot, has over 10 years of flying experience and made me feel really comfortable throughout the tour. He's such a nice guy and is quite the photographer too, and he's super knowledgeable so answered any questions I had. My experience was so positive and special, and it was thrilling to explore beautiful B.C. in this way. What an amazing way to celebrate 2 years of Go Live Explore!
If you want to check out these tours, head to www.compasshelitours.com, go follow them on Instagram, and don't forget to check out my vlog from the trip too!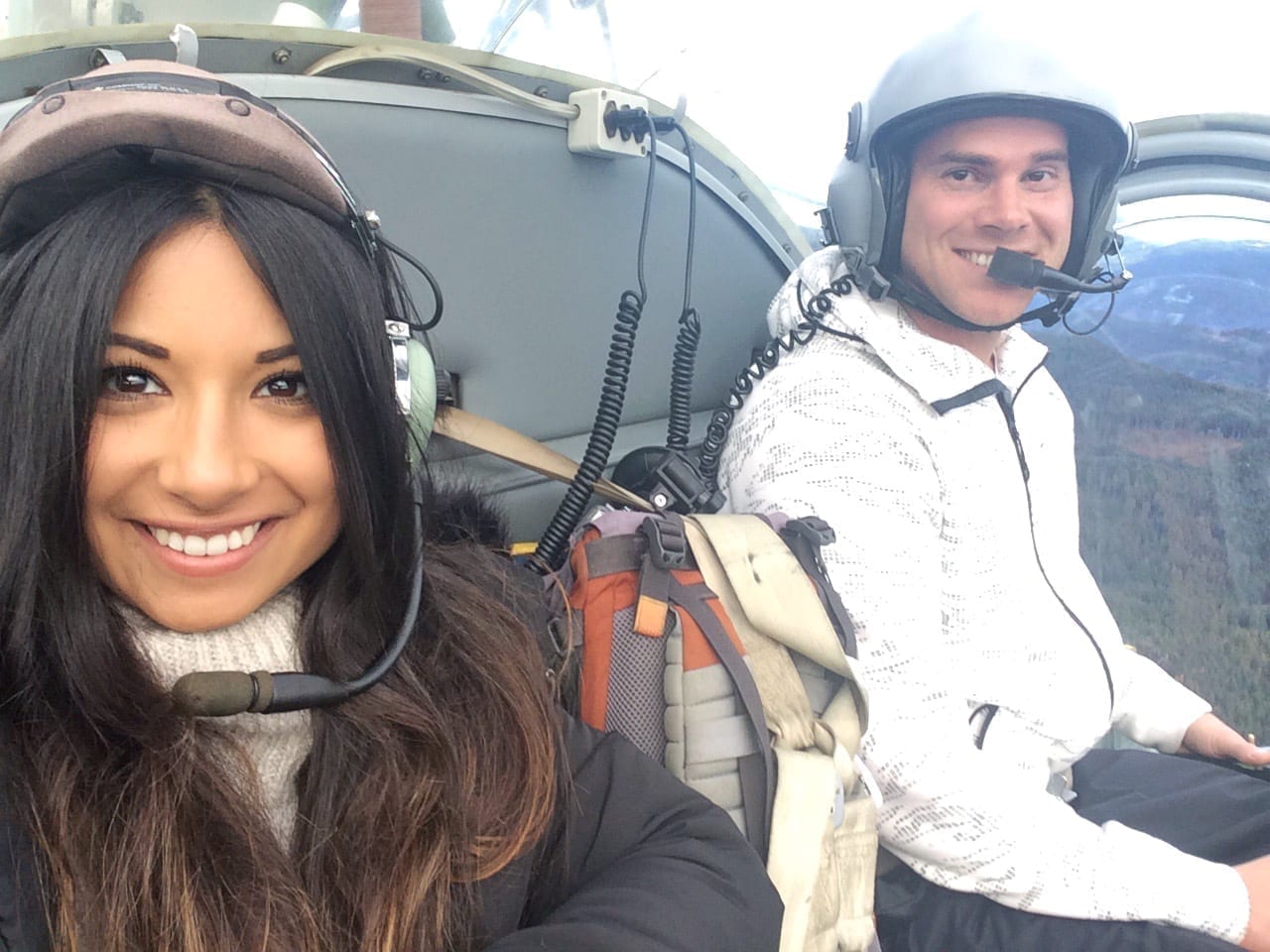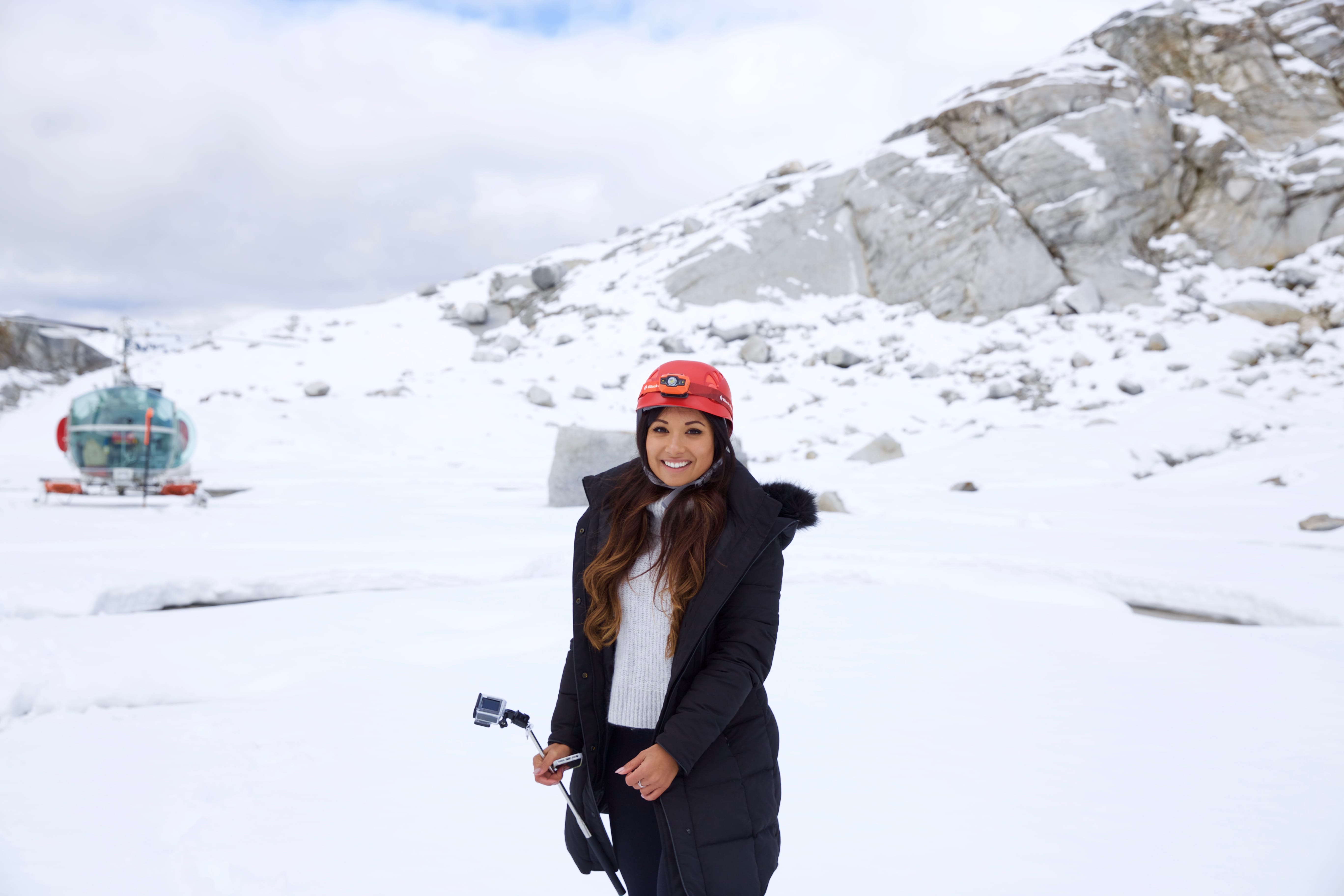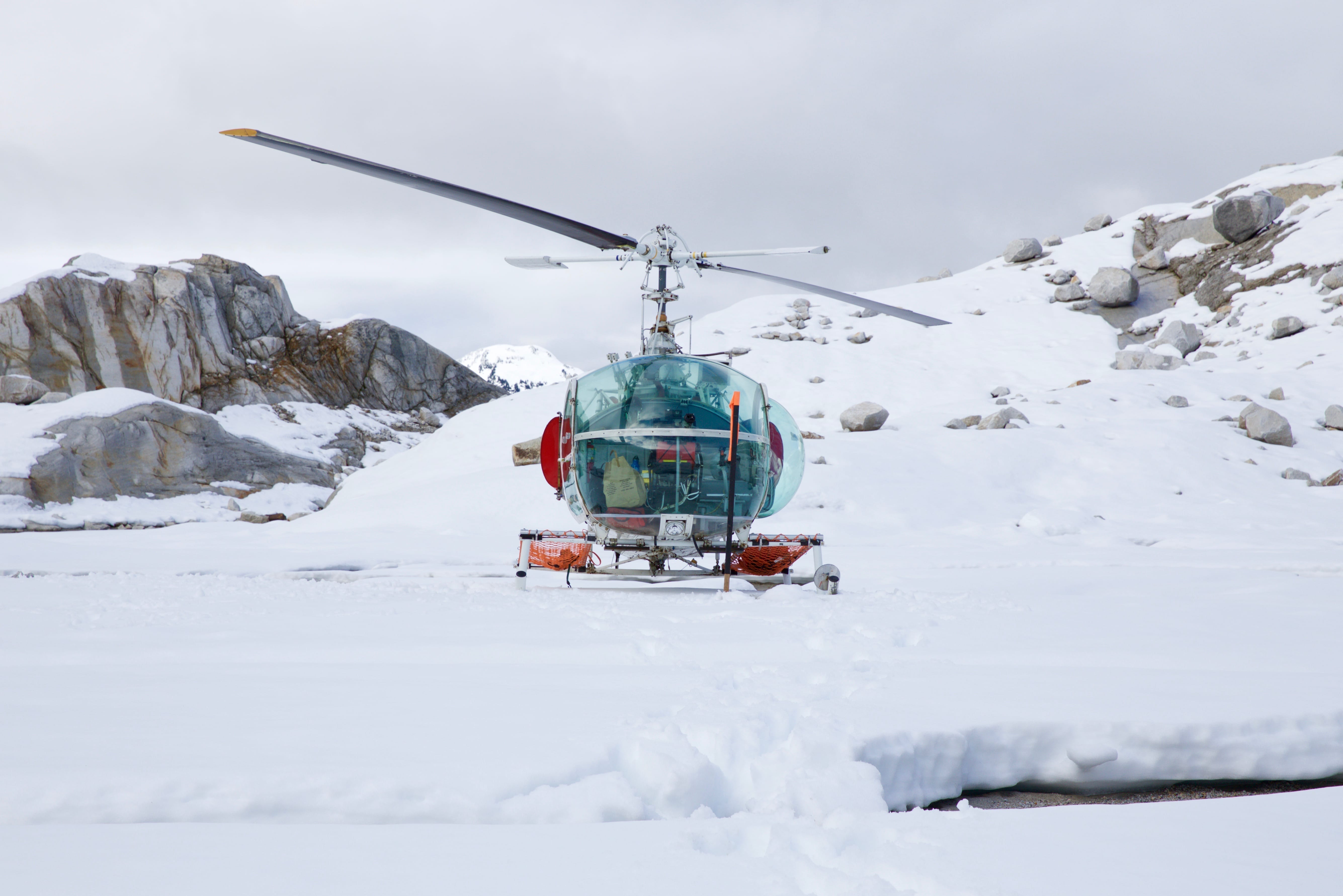 PARTNER
This trip was in partnership with Compass Heli Tours.
All opinions & thoughts expressed are my own 🙂