When the heat gets a little too much, it's always nice to cut your cooking time and whip up something simple and nutritious in just a few minutes.
I love nothing more than a healthy & hearty summer salad that's packed with greens, lean protein, and fresh flavours. I'm definitely a salad girl and I think there are plenty of ways that you can easily beef up a salad – either with or without meat – so you feel full and satisfied.
In summer, I always crave light, healthy meals that won't leave me feeling bloated and that I can pull together at short notice. I originally created this salad out of leftovers from the day before, and it's quickly become one of my favourite recipes as it's versatile and tastes so damn good!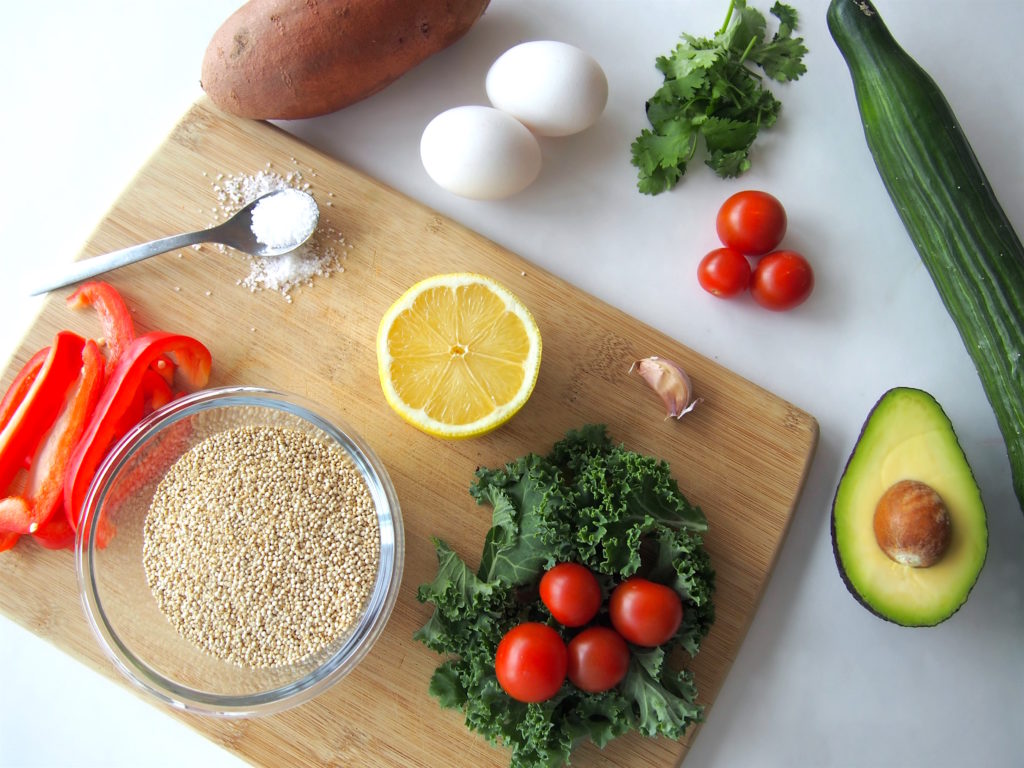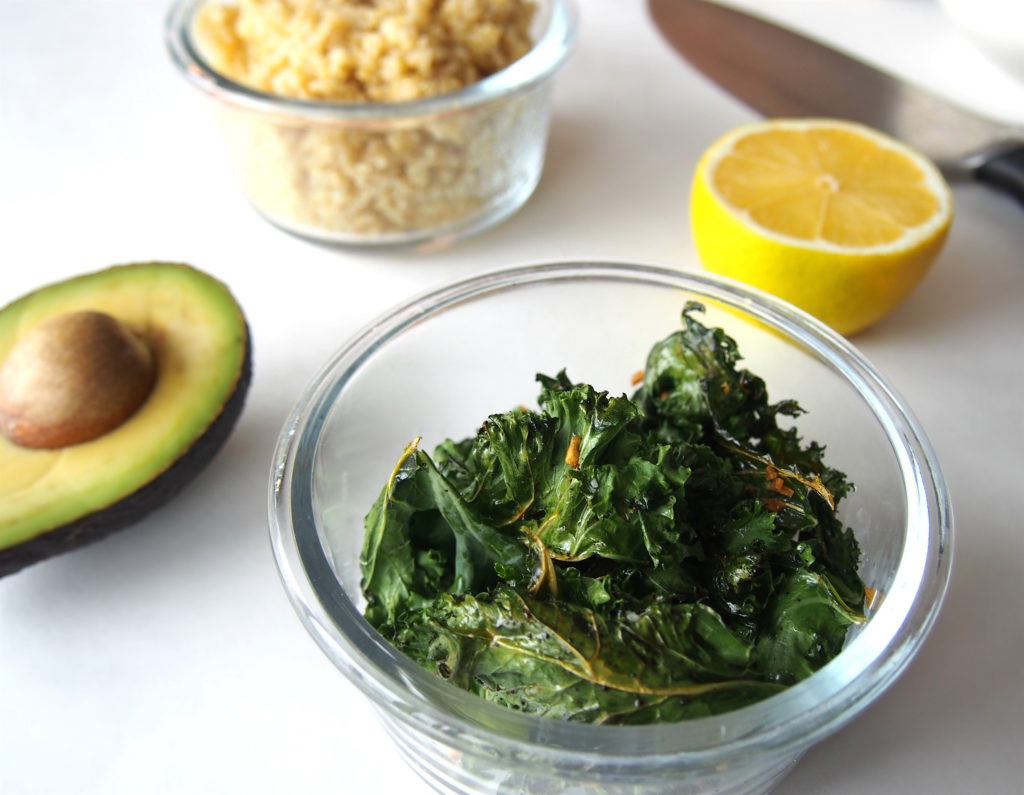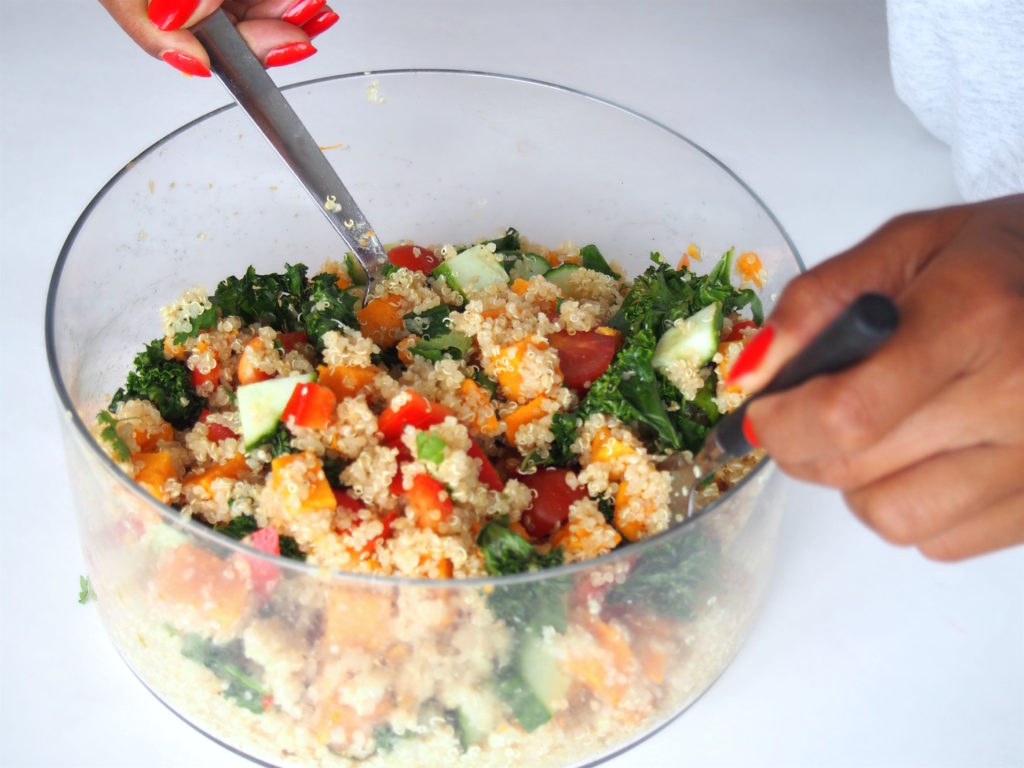 My favourite side dish at the moment is definitely garlic kale – I haaate raw kale, so pan-frying it with a bit of olive oil and garlic gives it such a nice flavour and is a nice addition to the salad. With the sweet potato, greens, avocado and quinoa, the salad is super nutritious and filling, and has a good balance of healthy fats, carbs, and protein.
Either serve up the salad with some grilled chicken or fish, or just enjoy it on its own as it's pretty filling. If you want to skip the meat but boost the protein content, soft-boiled eggs work perfectly. Additions like raisins, peanuts, pecans, pomegranate, berries, feta, mozzarella (or other cheeses), and chopped apple work amazingly in salads like this too!
I hope you enjoy this hearty summer salad recipe and that it's given you some lunch/dinner inspiration. Let me know in the comment section below if you give it a try and tag me on Instagram if you upload a pic!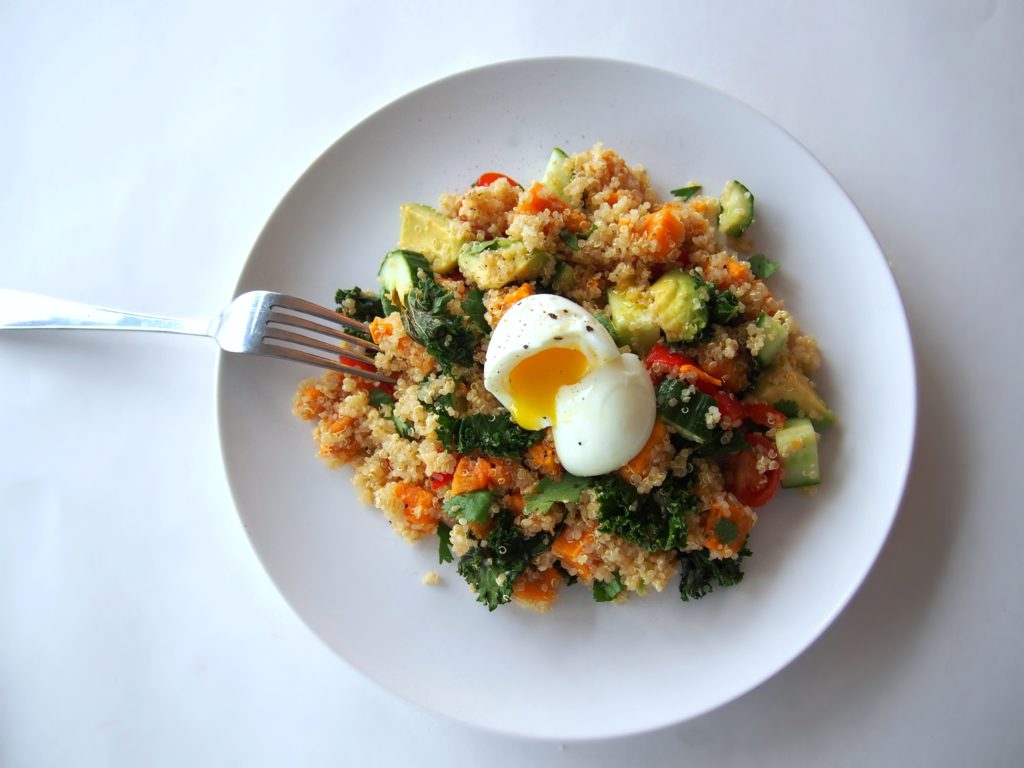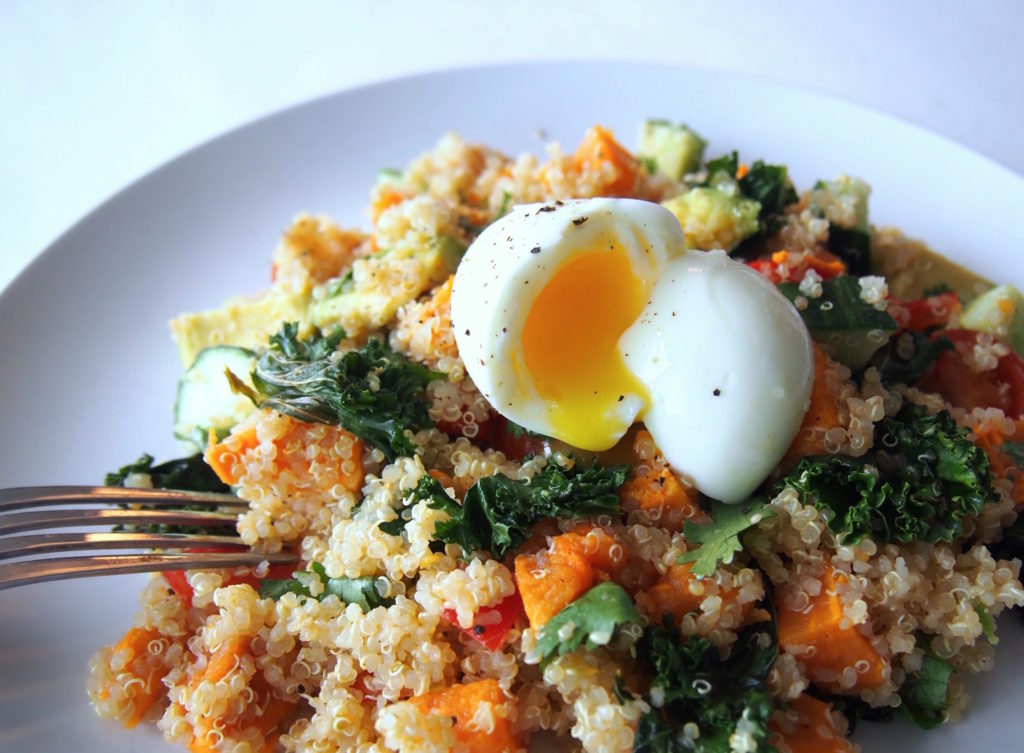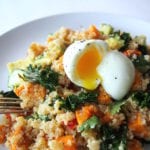 Print Recipe
Hearty Summer Salad
A delicious recipe for a hearty summer salad.
Ingredients
1

cup

quinoa

cooked

2

soft boiled eggs

1

sweet potato

chopped into squares

1/2

avocado

1/4

cucumber

chopped

2

handfuls kale

chopped

1/2

pepper

chopped

handful cherry tomatoes

1

garlic clove

handful fresh cilantro

chopped
Seasoning:
sea salt

pepper

1/2

whole lemon

olive oil
Notes
1. Begin by cooking the quinoa in a small saucepan on a medium heat. Cook for 10-15 minutes or until the quinoa becomes light and fluffy.
2. Peel and chop the sweet potato into small square chunks, and boil in a small saucepan on a medium/high heat. Cook for 10-15 minutes or until soft.
3. To cook the kale, heat a small frying pan and add a drizzle of olive oil and the chopped garlic. When the pan is hot, add the chopped kale and fry for 3-4 minutes, or until the kale begins to darken, then set aside.
4. Fill a small pan with water and bring to the boil. Add the eggs and cook for 5 minutes to ensure the eggs are runny in the middle, then peel.
5. While everything is cooking, prepare the raw ingredients. Add the chopped cucumber, avocado, tomato, pepper and cilantro to a large serving bowl, and when the quinoa and sweet potato are cooked, drain and add to the bowl.
6. Season with lemon, a sprinkle of salt and pepper, and a drizzle of olive oil, and mix.
7. Serve up with the soft-boiled eggs on top and enjoy!
---
Pin me!