If you have a blog, no doubt you're continually trying to find ways to grow and increase your reach.
For me, I constantly try to make my blog better and produce content that you guys will enjoy, and I love sharing any new bits of information or things that I think you'll benefit from. Although my blog has been consistently growing since I launched back in 2014, i've seen a huge amount of growth over the last few months, and that's all down to Pinterest. I always knew that Pinterest was a great traffic driver for blogs, but it's only recently that I decided to invest time into it properly and i've since seen great results. I know i'm jumping on the Pinterest bandwagon late, but after speaking to a few other bloggers about it, I now know i'm not the only one who underestimated how beneficial it can be.
In this post, I want to share some of the key things i've learned, along with how I use the platform now, how to drive traffic to your blog, and a few tips, tools, and tactics i've used to help with growing my Pinterest.
How I used Pinterest before
I used to use Pinterest before, but very sporadically. Every few weeks i'd decide to go mad with pinning, then i'd forget about it. I'd probably get about 100-150 views a month from Pinterest, so it wasn't a lot at all.
So, at the beginning of May, I made it my mission to pin more. I used the Pinterest app on my phone, and I was going through pins one by one, giving myself thumb ache as I scrolled, tapped, pinned, and moved onto the next.
After about 3 weeks, I thought, "Surely, surely there's a more convenient way to do this?" Obviously, I couldn't just sit on Pinterest throughout the day, so posting was sporadic and I was missing out on half my audience due to the time difference. Not to mention, pinning manually got pretty time-consuming.
At the end of the month, I checked my stats, and the results from my manual pinning weren't actually too bad.
On May 1st, I had 10,608 daily Pinterest viewers.
On May 31st, I had 50,917 daily Pinterest viewers.
FYI: According to Pinterest, viewers consist of "People who see your Pins and people who act on your Pins."
Although this was decent growth, I figured there must be a better way than manual pinning. So, I consulted Google and discovered a bunch of scheduling tools that work in the same way as Hootsuite. Essentially, they allow you to schedule pins to your boards, and the platform posts the pins automatically for you.
How I use Pinterest now
I tried out a few scheduling tools and the one I gelled with most was Viraltag. Viraltag is a platform that allows you to automate & schedule pins and re-pins, pin directly from websites with the browser extension, and track analytics.
I started pinning properly at the beginning of June, and I've since noticed huge - and I mean HUGE - growth.
On June 1st, I spent a couple of hours scheduling for pretty much the whole month, and I committed to growing my key boards to at least 1,000 pins. I did that again in July, and I also made sure to schedule any posts that I'd recently published as well.
On June 1st, I had 51,550 viewers.
On July 27th, I had 515,883 viewers.
The analytics speak for themselves when it comes to account growth. My reach has significantly increased, and I've gained around 500 followers in the last month.

How does Viraltag work?
Viraltag is great as it allows you to bulk schedule pins directly from existing boards to other boards, and set a posting schedule so it will automatically pin for you. You can pin to multiple boards at once (including group boards), and you can choose to schedule the posts at timed intervals (like every hour, for example), or you can create a posting schedule.
All you need to do is install the Chrome extension to get the browser button, and you can pin either from Pinterest, or any other website. This is so handy if you want to pin multiple images as it saves you so much time and effort. If you don't want to pin every single image, you can also unselect images very easily.
Once you've scheduled your pins, you can see them in a content calendar in either a weekly or daily overview. New users can take advantage of their free 14-day trial which gives you unlimited use of the platform before you commit to a package. I actually wanted to try it out for a bit longer so I could measure the results, and the agents were super nice and gave me another 14 days to help me decide. After that it's $29.99 if you pay monthly, which is very reasonable considering the results and how much time you save.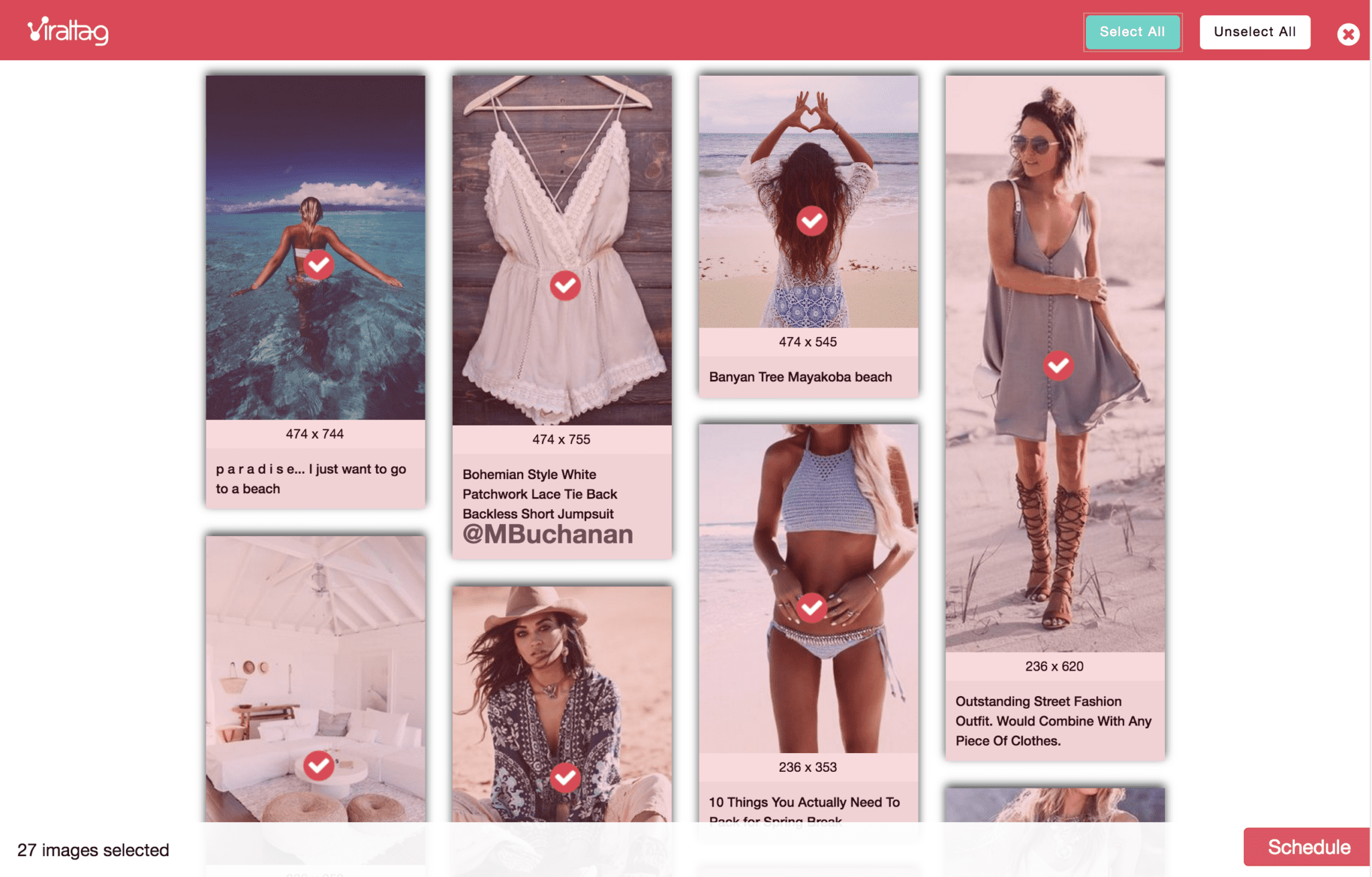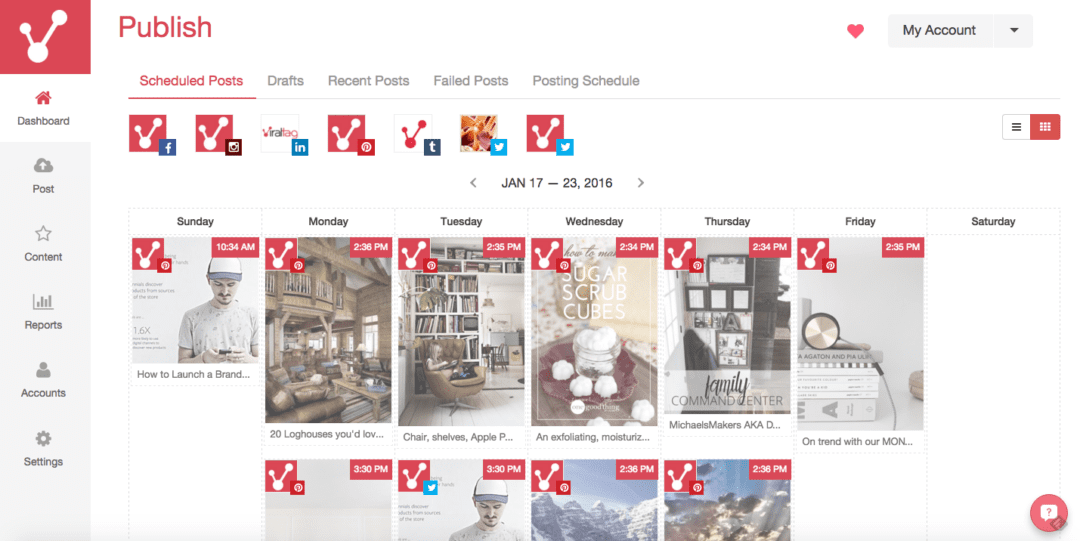 How Pinterest can boost blog traffic
Pinterest is a great way to refer traffic to your website. When your pins gain traction, they're seen/clicked on by more people which drives traffic to your site. Visually appealing and useful pins are vital in order to stand out and get re-pinned. Some categories do better than others, but on the whole, topics like food, fashion, interior design, blogging, travel, hair, and beauty do incredibly well.
Here's how many blog views i've received in the past 3 months that have come directly from Pinterest:
May: 417
June: 718
July: 1,702
In 3 months, i've quadrupled my Pinterest traffic with minimal effort and investment.
I don't know about you, but I want my blog to continue to grow so Pinterest is a great way to help that along. It's also a great way to gain new email subscribers and blog and social media followers, plus, it's another platform where you can share your content with the world. I'll always resort to Pinterest if i'm looking for inspiration so there's no reason not to share what you're creating!
Pin from your blog
Make it super easy for people to share content from your blog with a "Pin It" button. This will allow people to pin directly from your blog which will get your content out there and increase referral traffic to your site. It's important that when you pin, the pins lead to your blog post, so if you're uploading pins manually through Pinterest, remember to edit the pin and include the blog URL. Make sure that your pins and boards include keywords and inspiring descriptions to increase your visibility and help your pins get found.
Join group boards
One great way to increase your pin reach is to join group boards. By joining boards with a large following, more people will see your pins and will be more likely to re-pin you, which leads to account growth and likely more blog traffic. I use PinGroupie which allows you to search through group boards and find one that suits you. You can filter it by category or keyword, and how many contributors, followers, or pins they have. There are usually instructions on the board on how to join - it's usually by email or by commenting on the picture.
Get rich pins
If you haven't heard of "rich pins", this should be your next step. The difference between a "rich" pin and a regular pin is that a rich pin will also display your website name and web icon on the pin. This makes it easier for users to be directed to your website and it helps pins to gain more traction and get re-pinned. If your pin links to a recipe, the ingredients will show up at the bottom of the pin. If your pin links to a product, it will list the price and where to buy it. Rich pins are great for both bloggers and businesses, especially if you're looking to grow your account. Melyssa Griffin has written a really easy guide on rich pinning that I found useful. I also recommend that you change your Pinterest to a business account, so you can track analytics & promote pins if you want to.
Showcase your best boards
Just like on Instagram, your account needs to look appealing. Showcase the boards that best represent your brand or blog at the top of your profile so people know what you're about. On my Pinterest profile, the boards at the top relate to style, travel, and food, which reflects my branding well.
Create pretty pins
People are more likely to re-pin you if the image stands out and looks pretty, right? Vertical images work better than horizontal on Pinterest, and sites like Canva are great for creating text overlays and attractive pins. Canva even has a Pinterest Graphic template with a bunch of themes and ideas for your images so you can create the most eye-catching pins.
If you're wanting to try it out...
I always like to be transparent with my readers, so I will disclose that in exchange for this post, i've received a free 6-month Viraltag subscription. I'm so happy with the platform and the results i've seen, so writing this post was really a no-brainer as I wanted to share my findings with you all anyway.
If you're a blogger and you want to try out the platform, subscribe to Viraltag using my special link for a free trial (I will receive a small commission), and if you like it, you can opt to write a post about using Viraltag and get 6 months free too!
We use so many tools already to enhance and supplement our blogs (many of which aren't free either) so every little saving helps 😉
What are your best Pinterest tips, and how has it helped your blog to grow? Let me know in the comment box below, and don't forget to pin this image below if you found this post useful!