It's been a summer full of local adventures and we've been trying to make the most of beautiful British Columbia and all it has to offer. I know I say this a lot, but we're truly lucky to have so many lovely escapes close to Vancouver and the Fraser Valley is one of them.
To be honest, we don't tend to venture out to the Fraser Valley all that often. So when a project came up to explore some of the Indigenous-owned businesses and experiences in the Chilliwack/Langley/Hope area in partnership with Indigenous Tourism BC & Destination BC, we jumped at the chance. We stayed in the coolest teepee and had an amazing experience sturgeon fishing on the Fraser River. We also got to learn so much about Indigenous culture and history and the Stó:lō people who once lived and continue to live in the lower Fraser River area.
There are plenty of wonderful Indigenous-owned businesses in BC and I wanted to share a small snippet of those that we experienced. I've received many questions about our trip, so I've outlined exactly what we got up to while exploring the Fraser Valley in case you fancy re-creating it. We had such a fun time, everything we did completely exceeded expectations and it reminded me that just when you think you've done it all...there's always something cool and unique that you've yet to experience. Hopefully, this might inspire you to take a similar trip & explore these Indigenous activities & support local. You can find my vlog from the trip here too!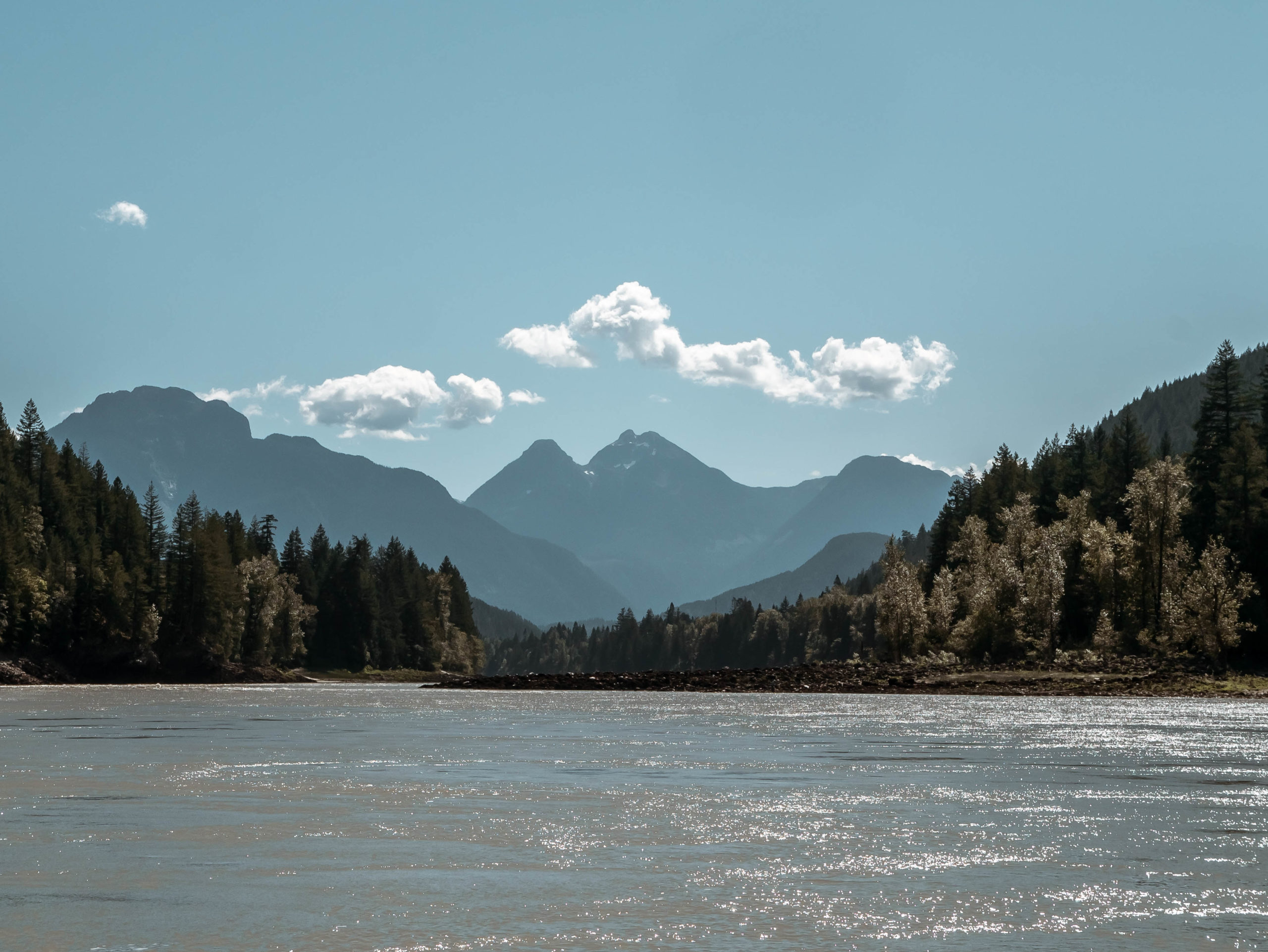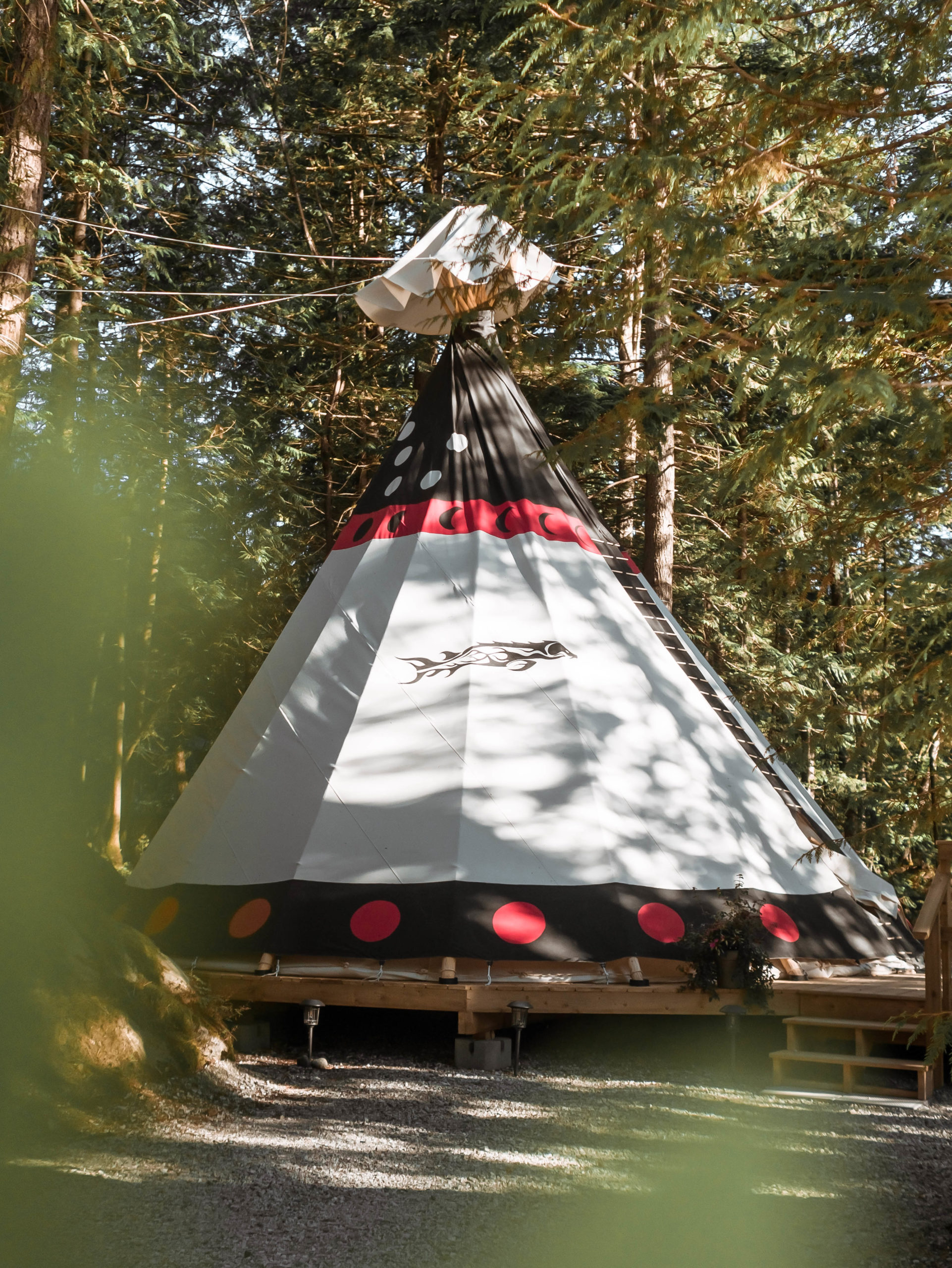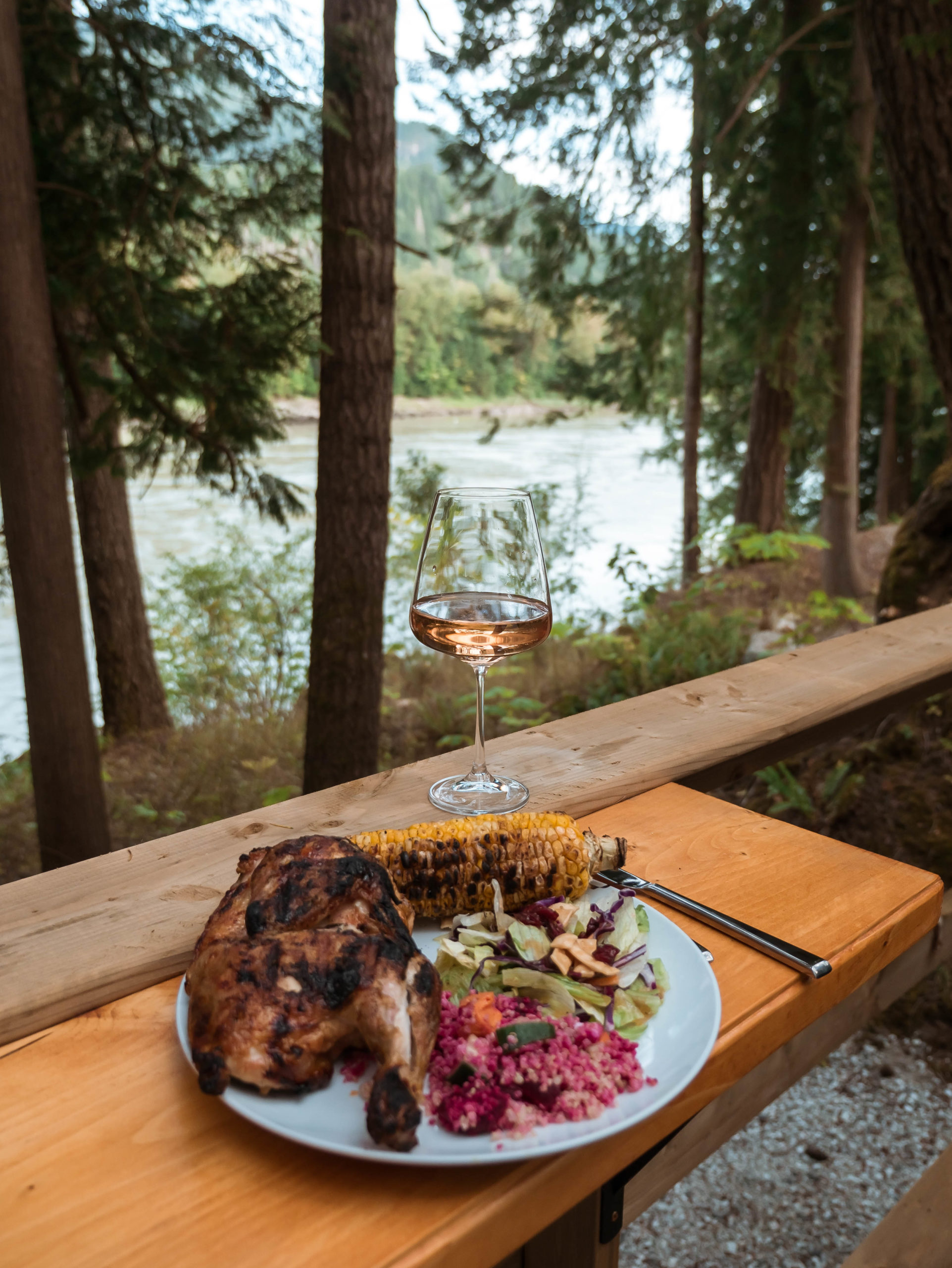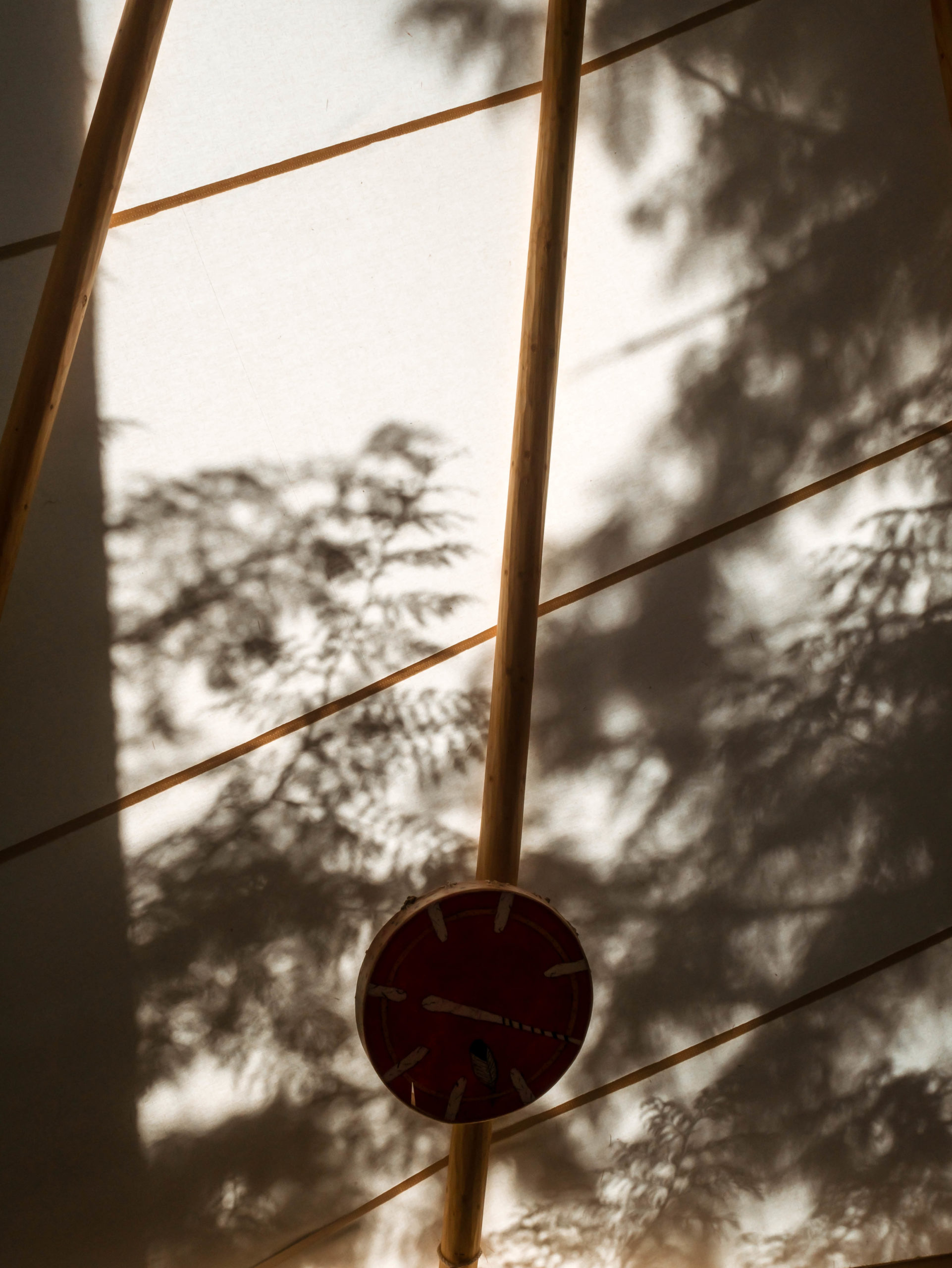 Day 1: Head to Hope
We set off from Vancouver in the morning and slowly made our way up to Hope, making a few stops around the Fraser Valley on the way. We first stopped at Fresh Street Market in Vancouver to pick up some groceries for the BBQ as the teepee is self-catered. We usually try to shop as local as possible anyway, but we made an extra effort to find foods from local farms and sustainably-sourced produce.
We then headed over to Lelem' Arts & Cultural Cafe in Fort Langley. It's Indigenous-owned and operated and they specialise in making bannock tacos, which is a favourite in the Indigenous communities. This was a new experience for me as I've never tried bannock before and Lelem offers a range of tacos & bannock treats, all made in-house daily. They were sooo good!
We also had a bit of a nosey around Fort Langley, which is the cutest little town and often referred to as the "birthplace of BC". Fort Langley was a trading post of the Hudson's Bay Company in 1827 and in 1858, it became a booming town thanks to the gold rush and gold being found in the area. It's now a National Historic Site and the buildings have been preserved so it's a little bit like a time warp with all the beautiful old architecture!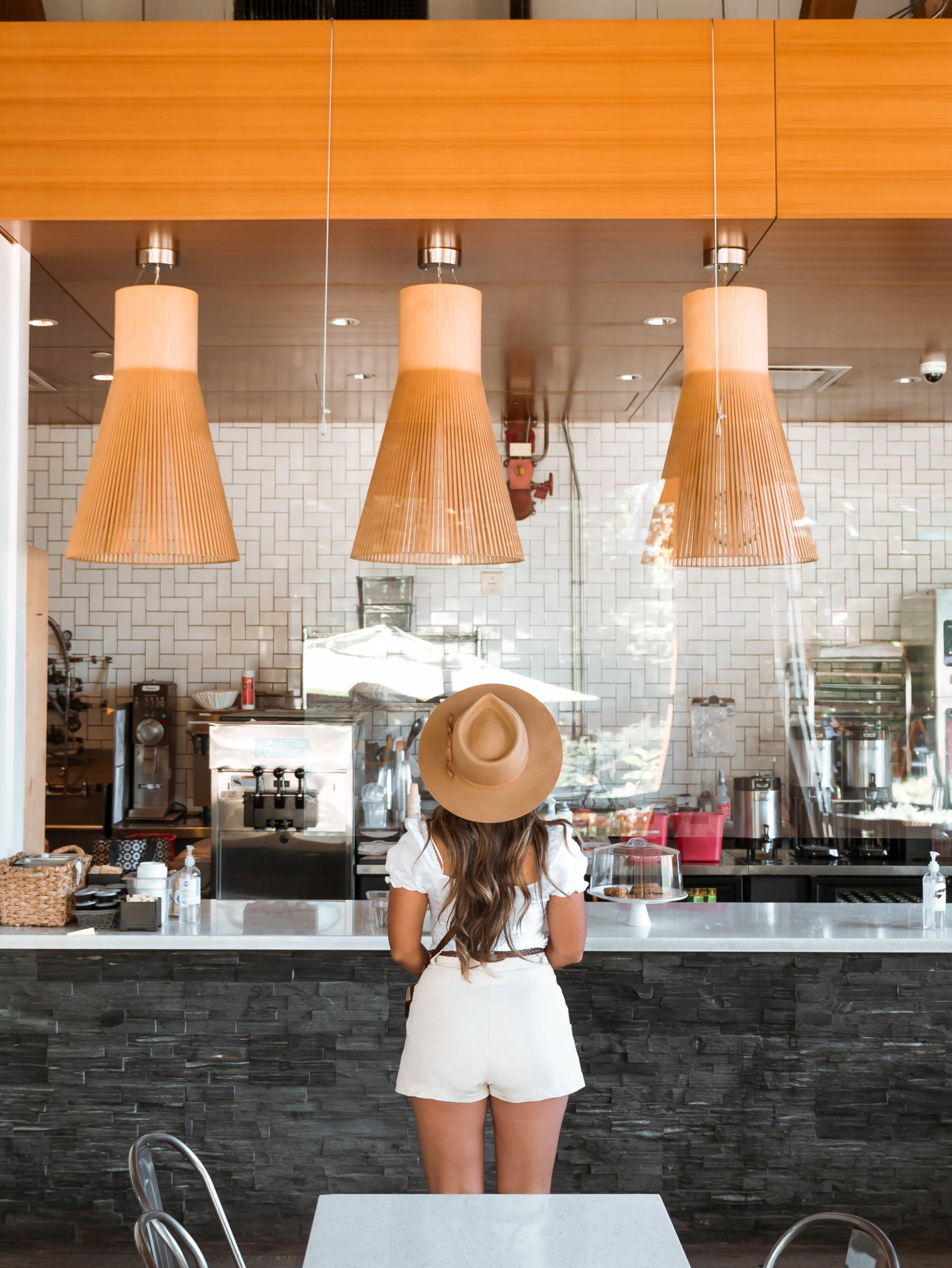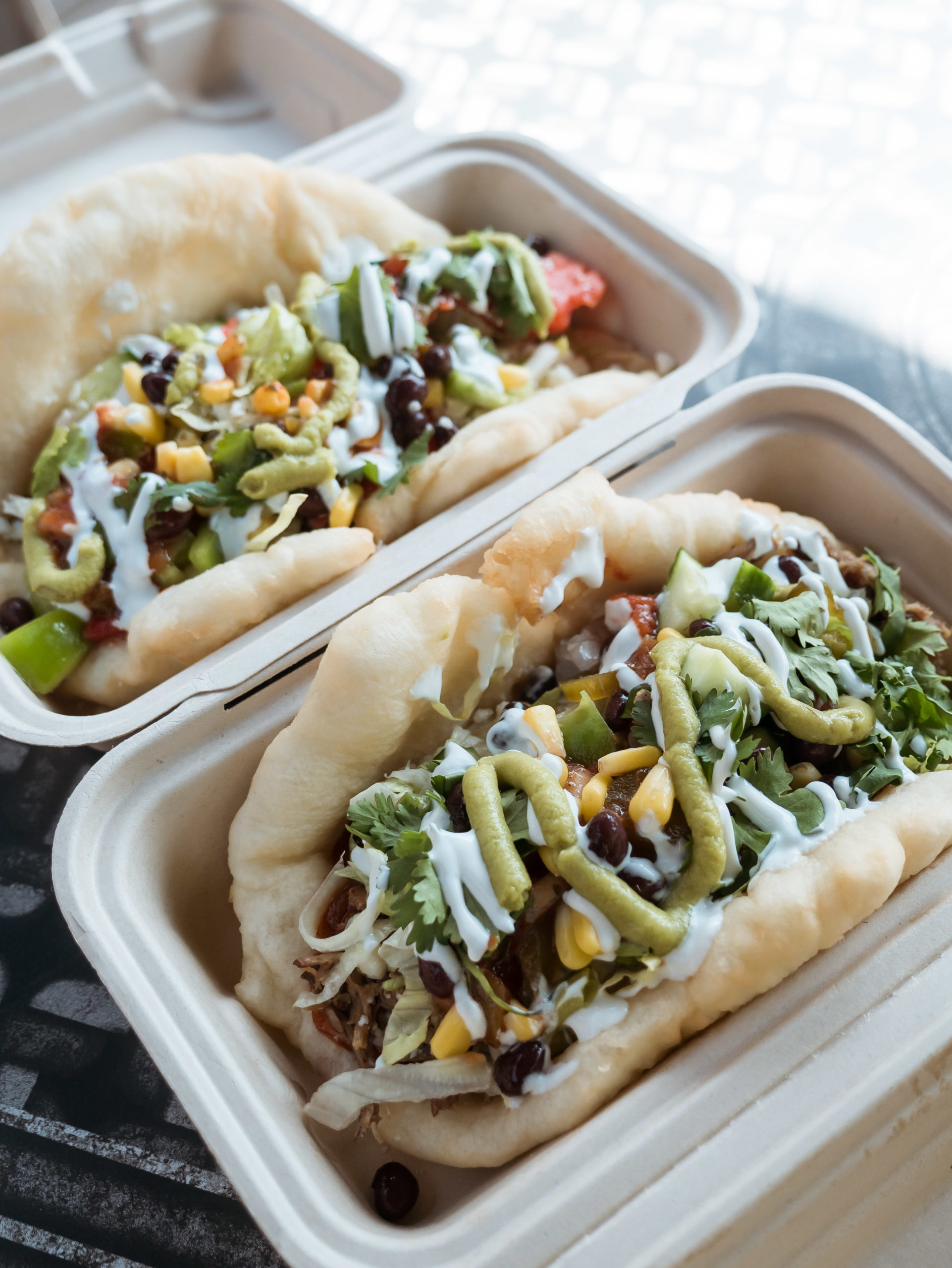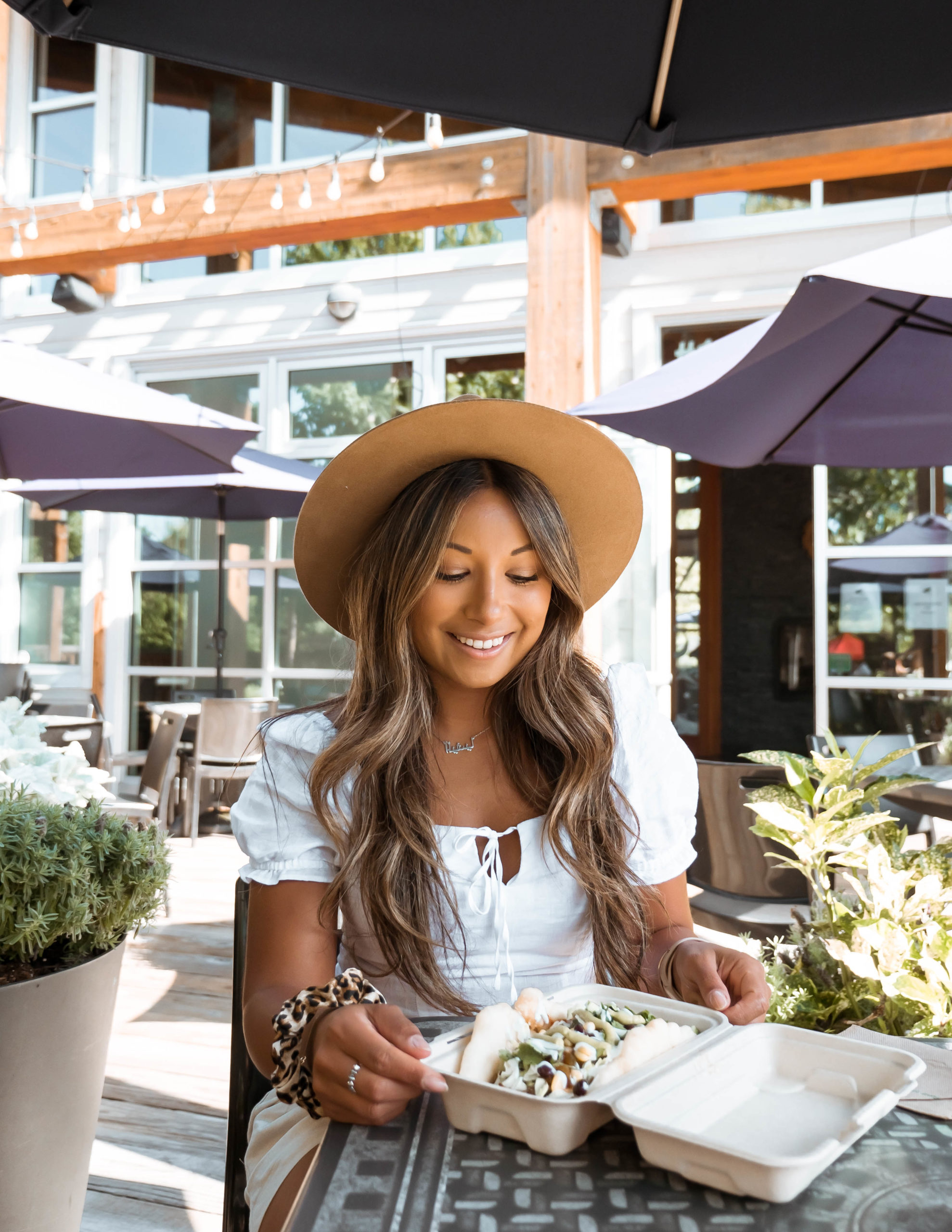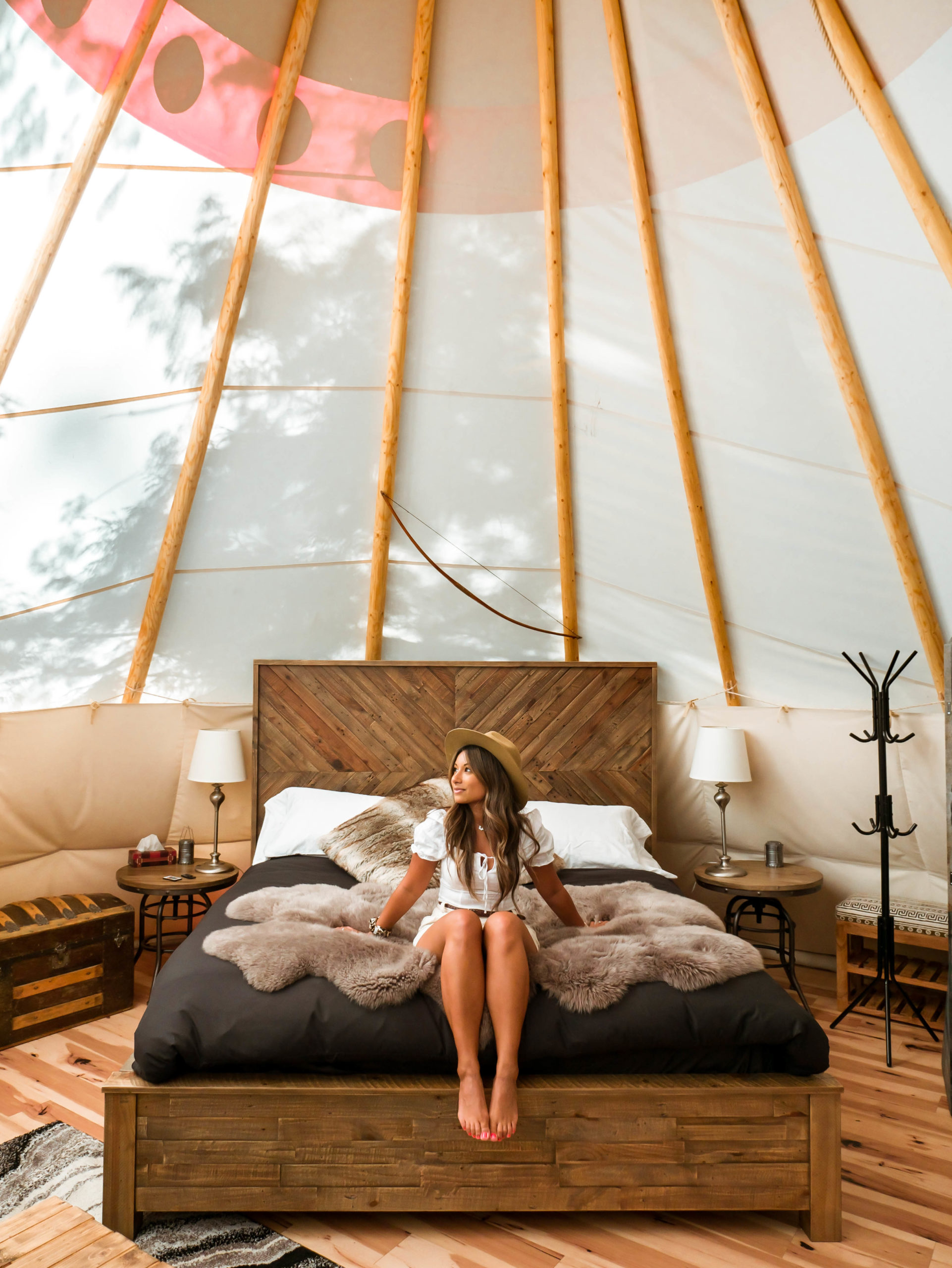 Our Teepee Escape
If you're more of a glamper than a camper or you've always wanted to stay in a teepee, the Fraser Canyon Teepee Escape is absolutely the place to stay. The teepee is Indigenous-owned and sits on the Fraser River about 15-minutes north of Hope, BC. It's nestled in the forest surrounded by the most beautiful nature and it's honestly one of the most unique places we've ever stayed!
We stayed in the 26ft teepee which is large and luxurious and sleeps 4. It has a king bed, sofa-bed, an electric fire, a full kitchen, 2 BBQs, fire pit and a big deck to enjoy. There is also another 20ft teepee on-site that sleeps 2, and is a little more rustic but perfect if you want more of an authentic teepee/camping experience. There's also a shared (proper) bathroom & hot shower just behind the teepee which is a nice luxury to have (however, because of COVID, they're not renting the teepees out to 2 parties at once so you'll have it all to yourself).
The whole vibe is cosy, luxury cabin style with beautiful hardwood furniture mixed with faux-fur pillows and unique Indigenous decor. The owner Colleen has done an amazing job with decorating and creating a unique & authentic experience. The structure of the teepee with the teepee poles & painted artwork is stunning and the sunlight creates the most striking stained-glass effect highlighting the local first nation artwork.
We spent our first day getting settled into the teepee, making a delicious BBQ & playing games on the deck. It's the perfect place to just kick back and chill, and the location with the views of the river is amazing. It was such a joy eating dinner & drinking wine with that view in sight! It's somewhere you could very comfortably stay for a few days as well, because you have all of your essentials while being totally immersed in nature.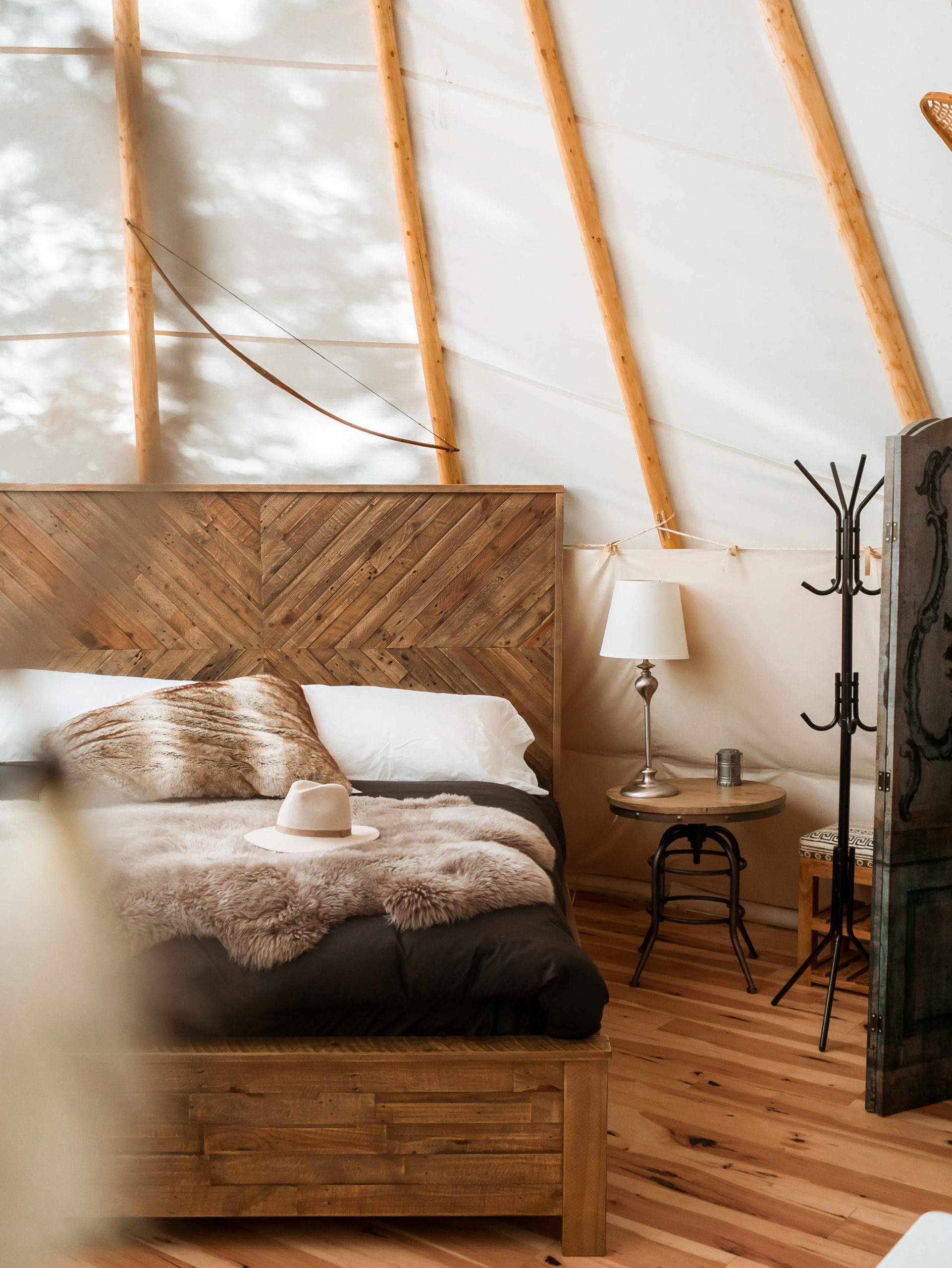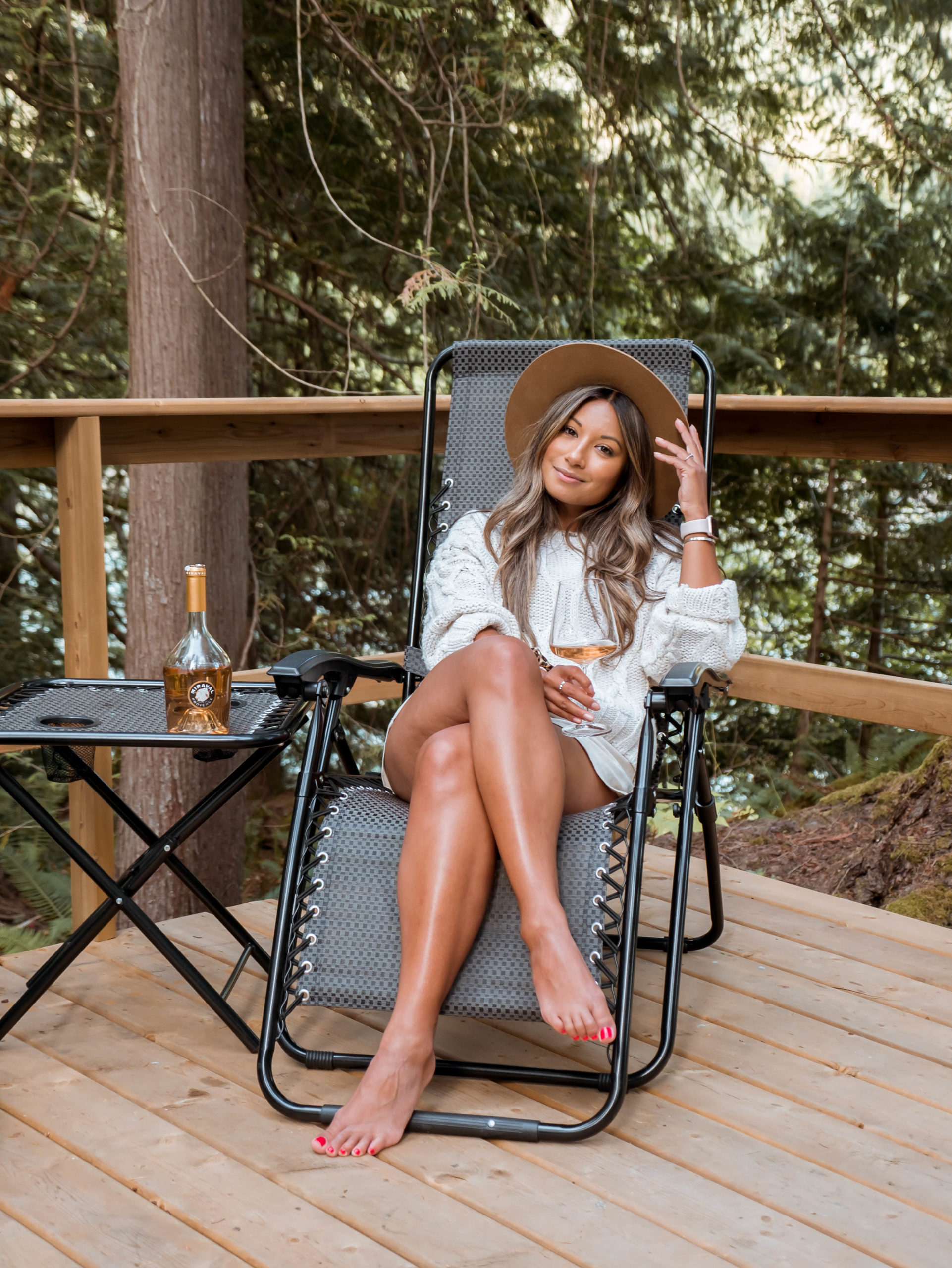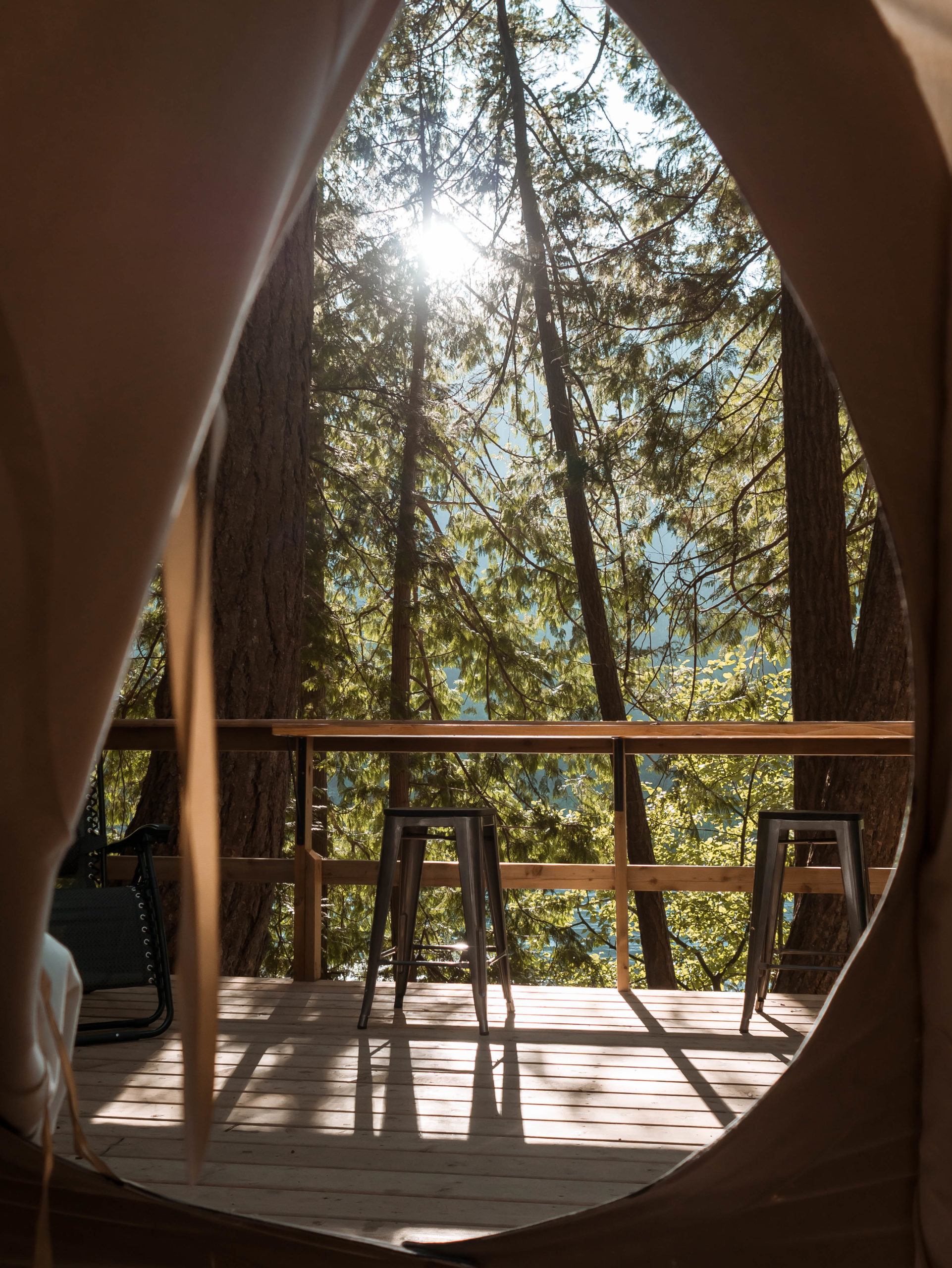 Good to know:
The 26ft teepee costs $300 per night, the 20ft costs $175 per night. Bookings can be made here.
There is electricity in the 26ft teepee and plug sockets in the bathroom.
If you're a light sleeper, you might want to take some earplugs with you as there are a couple of train tracks nearby so expect to hear quite a few trains passing in the day & early morning! Other than that, it's super quiet.
There is an electric fireplace in the teepee & the duvet is really thick and warm. However, it does get chilly at night time & in the morning when there's no sun, so make sure to take some cosy clothes.
There is a large fridge & sink in the 26ft teepee and the BBQ is huge so you can definitely get creative with what you cook! There's also a grill plate & all kitchen equipment (plates, saucepans, etc) are provided.
There is a beach spot about a 15-minute walk away through the forest, but I wouldn't recommend swimming in the river by the teepee as it's very fast-flowing & too dangerous.
The teepee closes in mid-October and reopens in spring.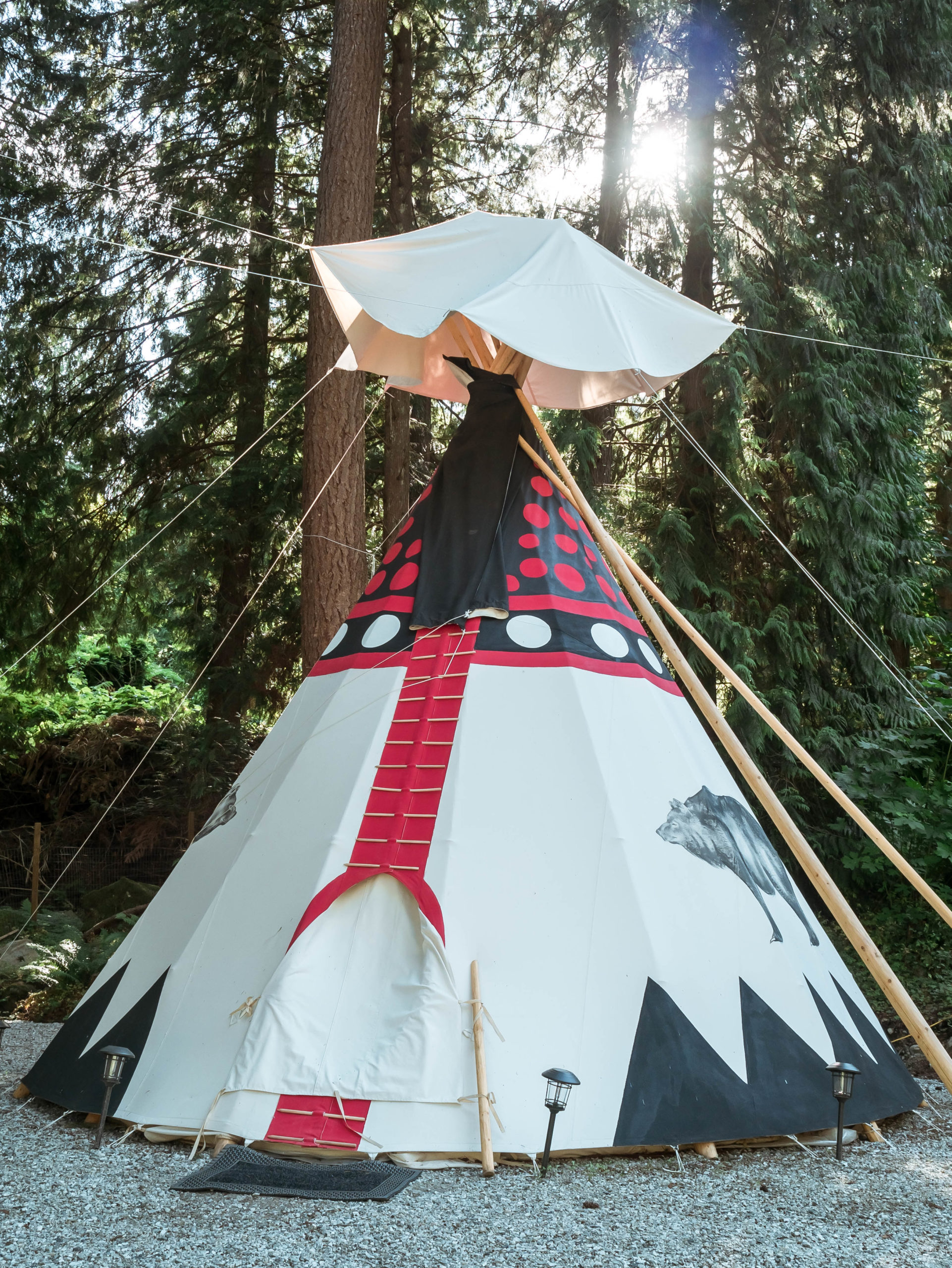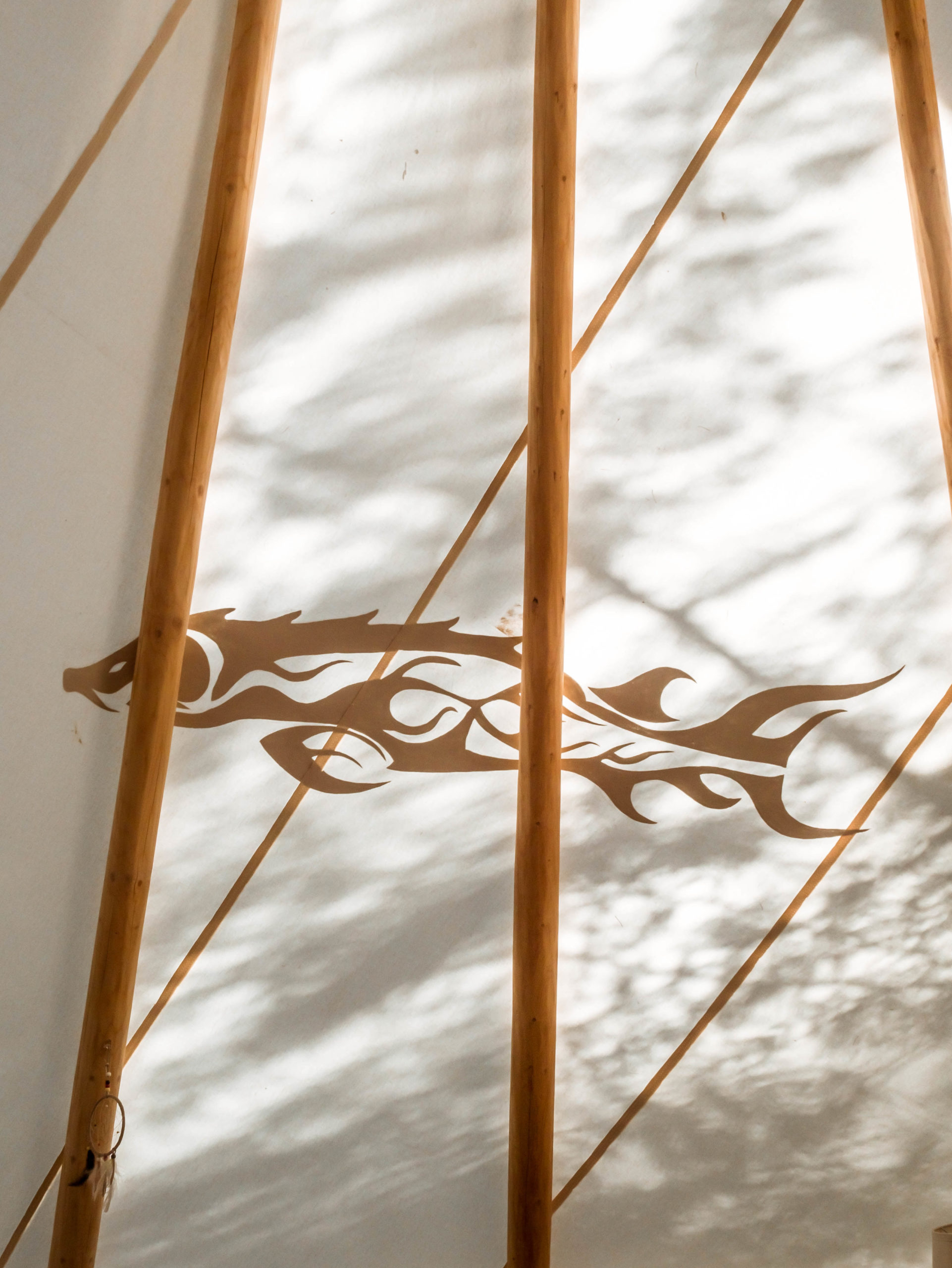 Day 2: Sturgeon Fishing
Sturgeon fishing on the Fraser River is something we've been wanting to do for a long while and it's quite the bucket list experience for many people. We headed out to the beautiful Fraser Canyon area with Great River Fishing Adventures, an Indigenous-owned fishing guiding company that has been operating for decades. This area is known for its giant White Sturgeon - some of them grow up to 20 ft long, which is crazy! They're often referred to as the dinosaurs of the river as they existed at the same time as dinosaurs (over 200 million years ago) which is absolutely incredible and they're such beautiful creatures.
We experienced the Ultimate Sturgeon Fishing tour which involved a full day out on the river and we managed to catch 5 sturgeon - with the last one being absolutely huge!! She was 9ft long and weighed around 300lbs, and it was amazing to get in the water with her and see her up close.
We had the pleasure of going out with Dean, the founder of the company, who taught us so much about the fish population in the Fraser River as well as the Indigenous history of the area. Great River Fishing Adventures is heavily involved in conservation efforts to protect the Fraser River and its wildlife, and they support the Fraser River Sturgeon Conservation Society's tagging program. For every sturgeon that we caught, we would place them in a bath on the boat and record a selection of data (such as length, width, location, health etc), and that data is then used to track the migratory patterns and growth rate of the sturgeon population.
The sturgeon are protected so you're not allowed to remove or kill them. So we'd gently release the sturgeon back into the river and it was really amazing to get so hands-on and actually catch the sturgeon myself!! If you're looking to try something new & different, or you've always wanted to try sturgeon fishing, I can't recommend Great River Fishing Adventures enough. We loved it!!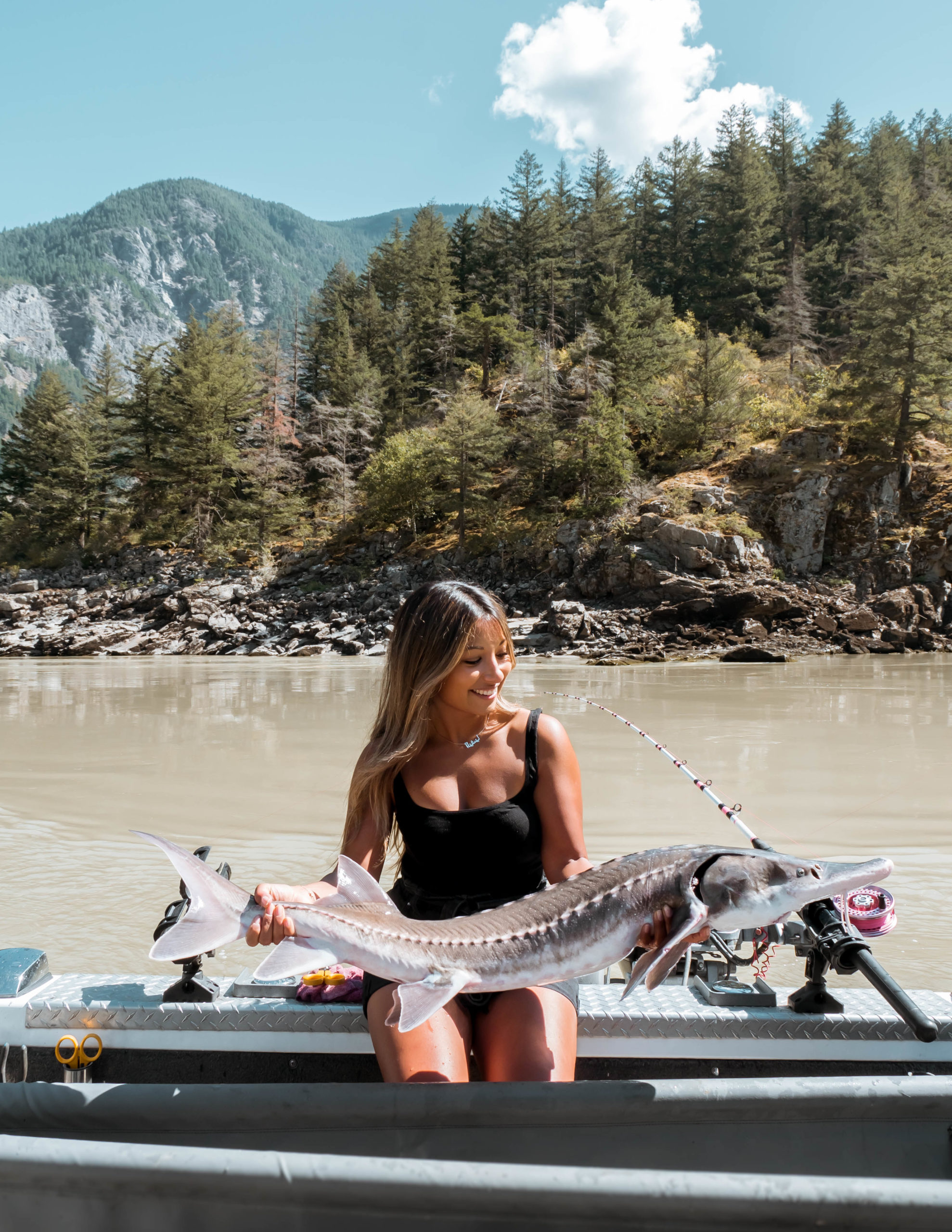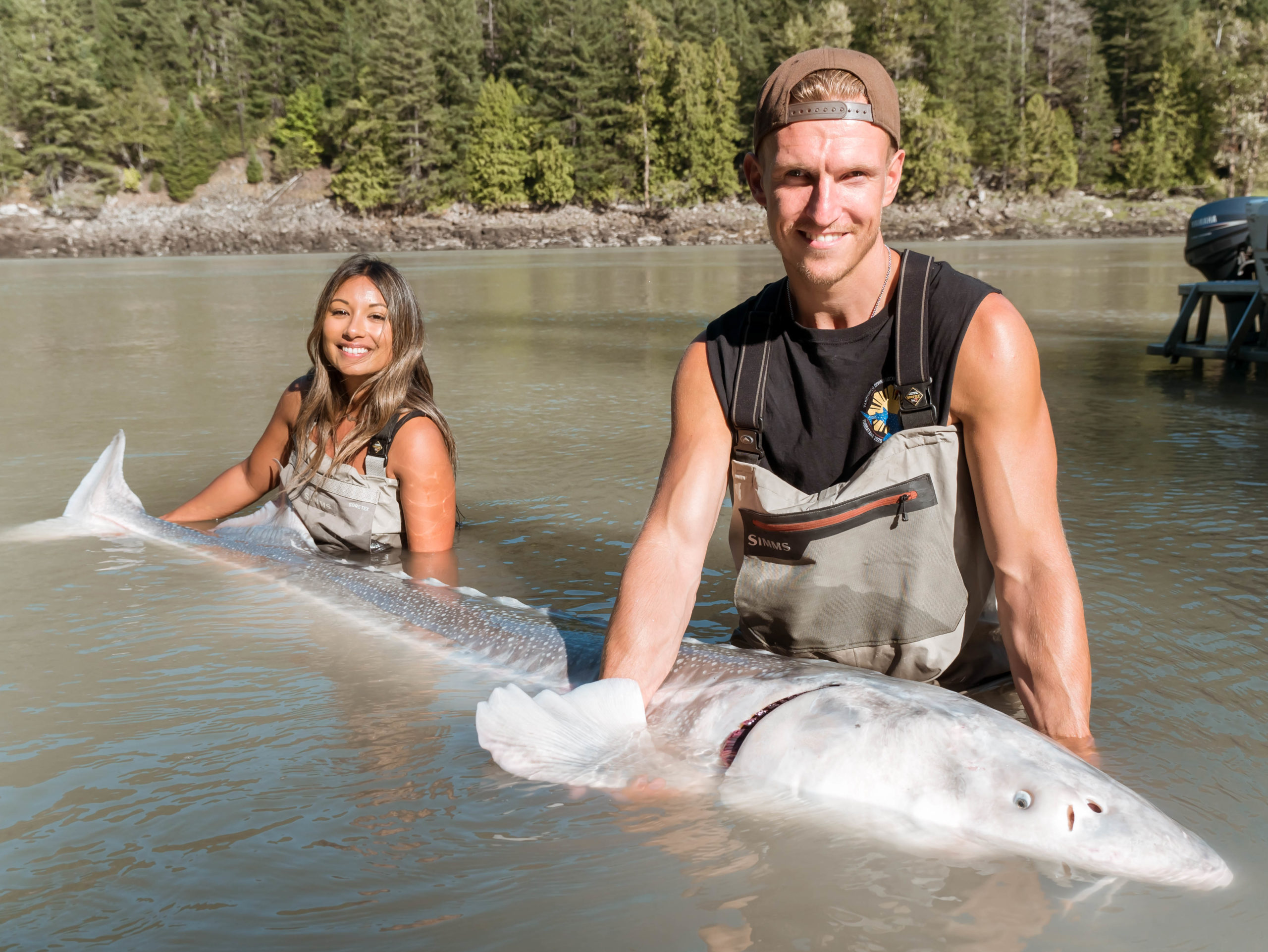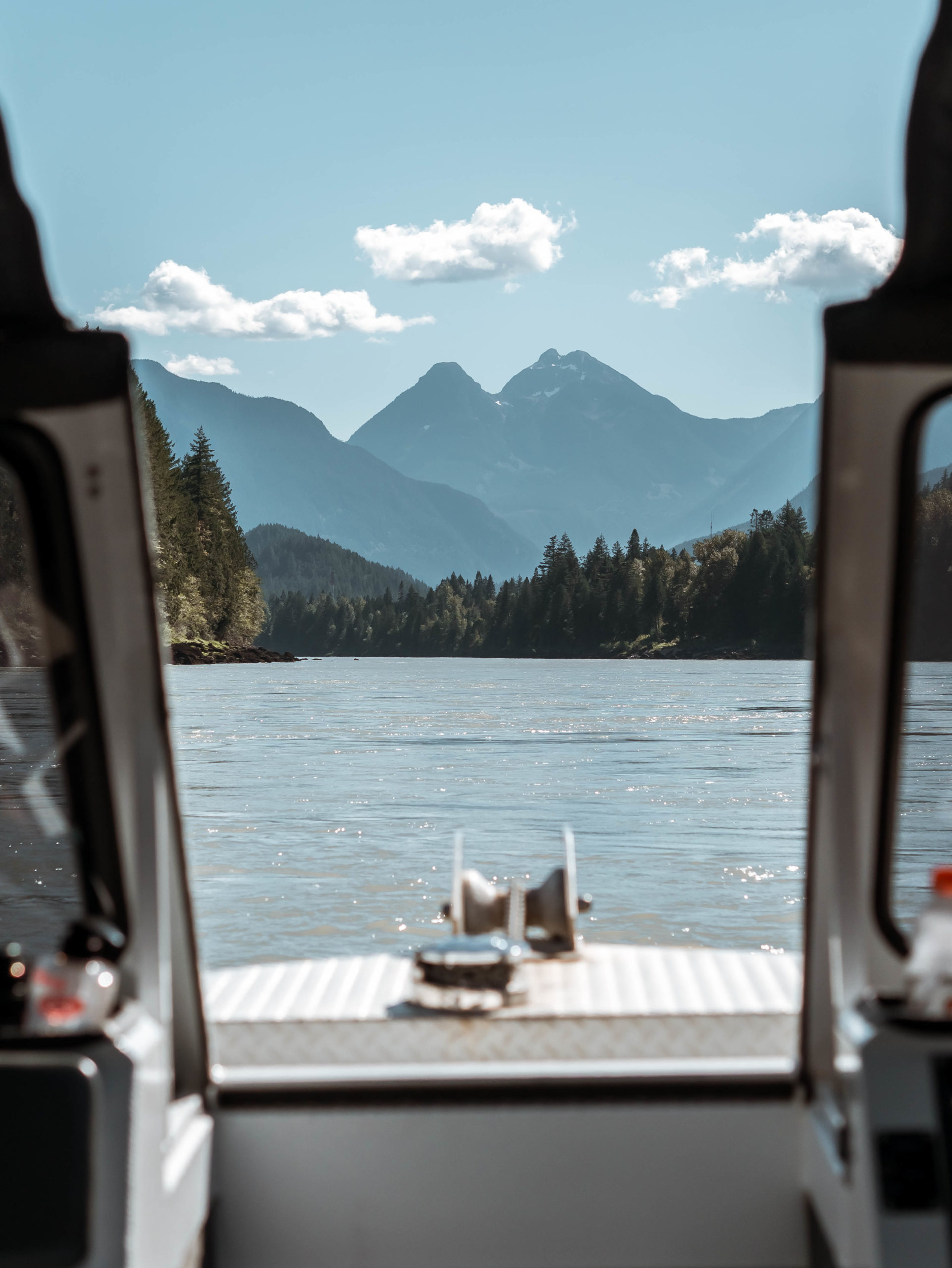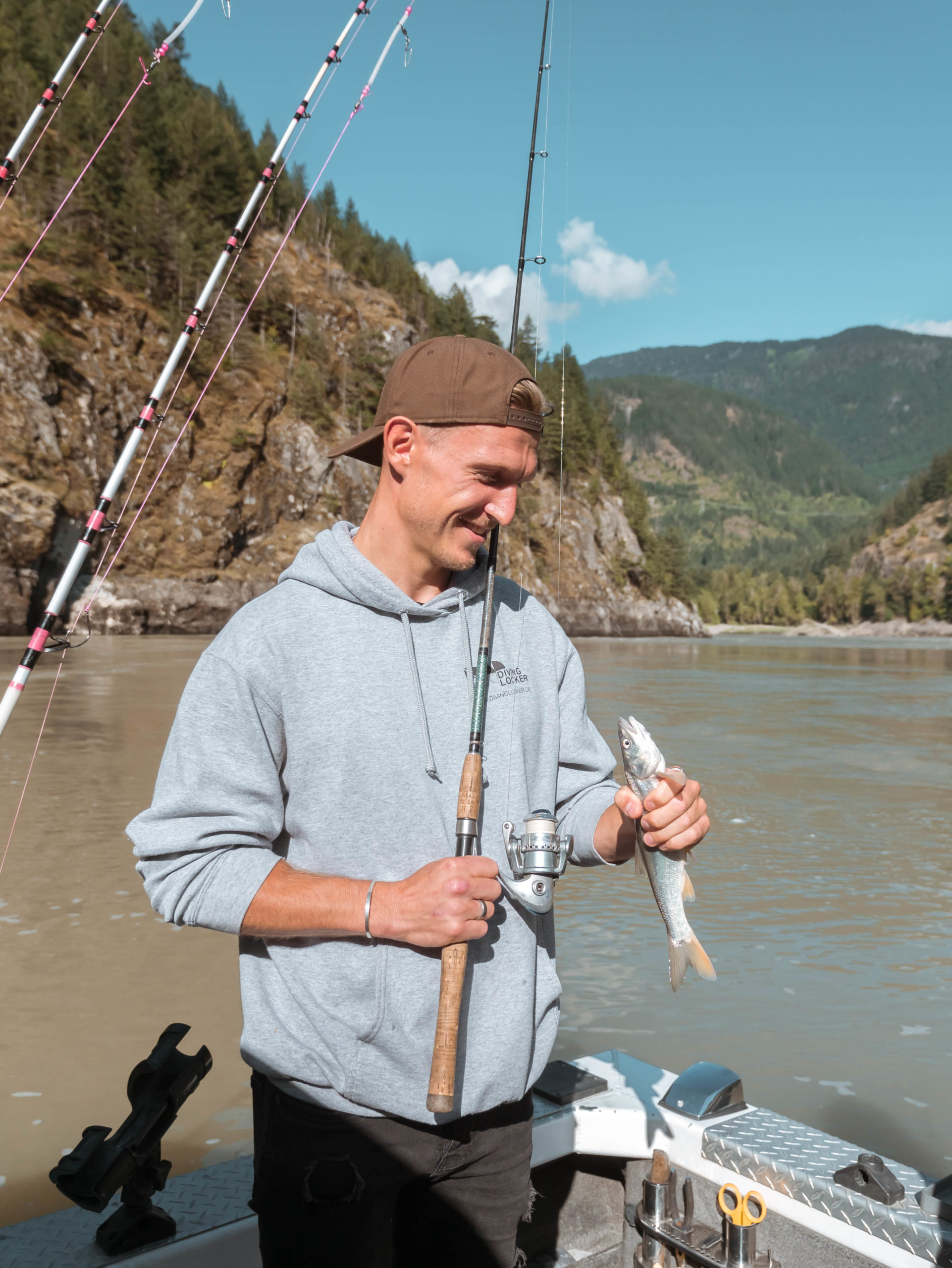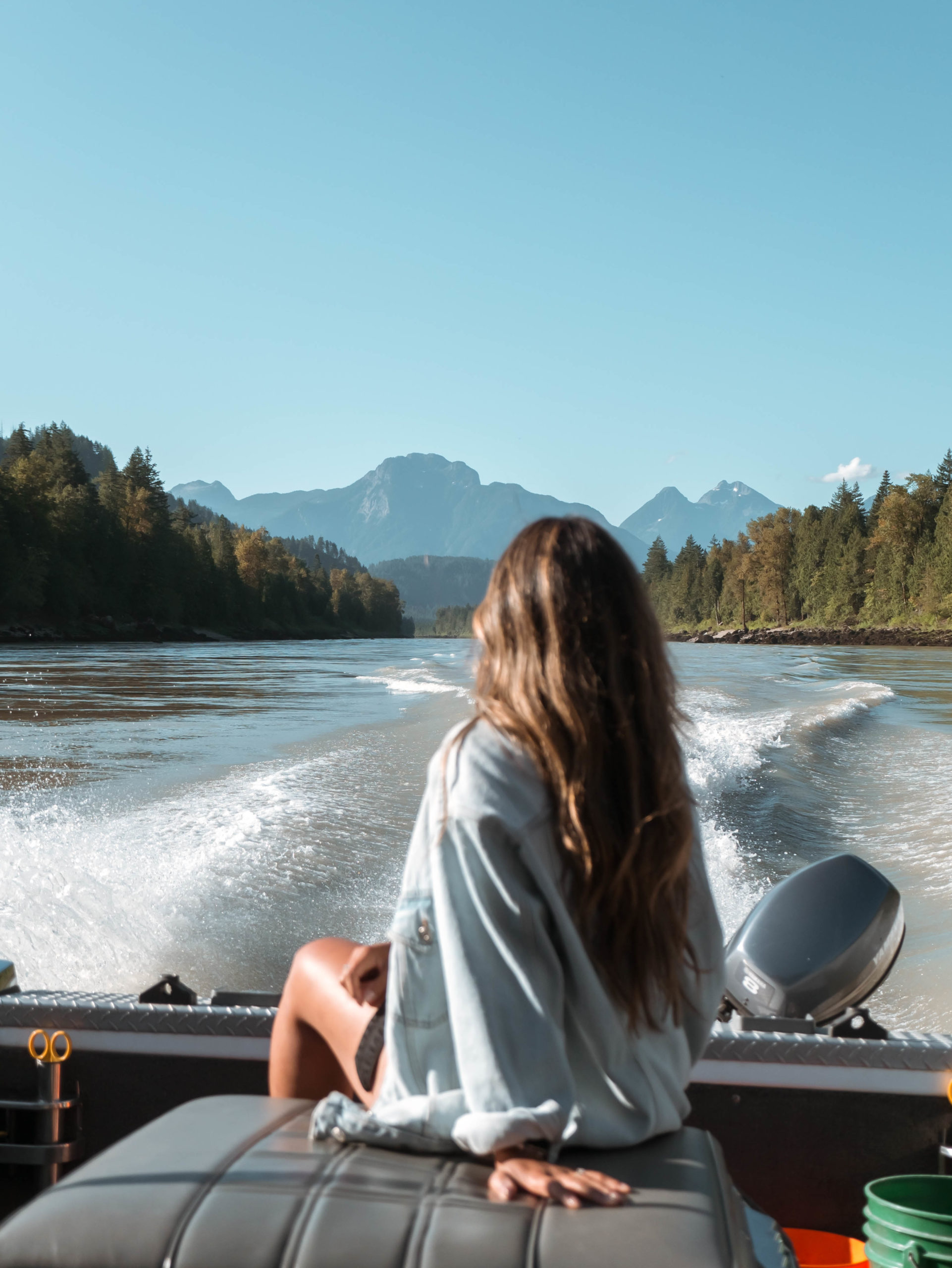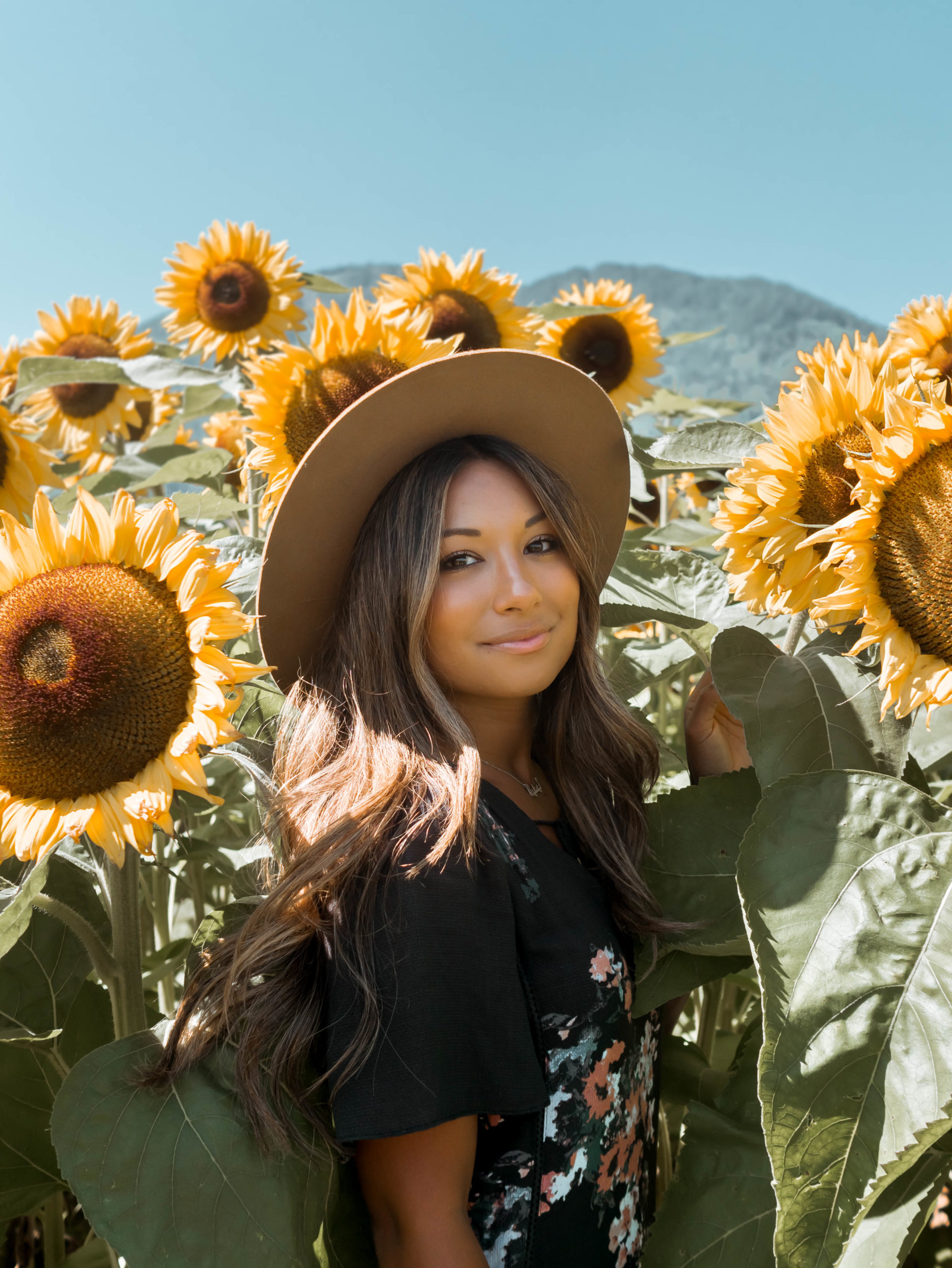 Day 3: Explore Local Gems
After checking out of our gorgeous teepee (we were very sad to leave!), we decided to spend the afternoon exploring the Fraser Valley a little more. We found a cute cafe for breakfast in Hope and then made our way over to Chilliwack to check out the Sunflower Festival which happens every August/September. I've actually never been to any of the sunflower or tulip festivals before and I was blown away by how many flowers there were!! It was so beautiful and a really cool experience - definitely recommend making a trip if you're there in the right season. It's a lovely place to spend a couple of hours and you can pick up some flowers while you're there too.
The Stó:lō Gift Shop & Interpretive Centre is another great stop especially if you want to learn more about the Indigenous culture and history around the Fraser Valley. There are some really educational exhibits and collections, as well as traditional artefacts such as cedar baskets, Sepass traditional war canoes and so much more from communities around BC. The Gift Shop carries a wonderful selection of Indigenous arts, gifts and hand-crafted pieces from local artisans and I loved learning more about the history of the land that we were exploring and the Stó:lō community.
There are also lots of cool places to visit around the area that I would suggest checking out. Bridal Veil Falls, Chilliwack Lake, Cultus Lake, the Othello Tunnels and Harrison Hot Springs are just a few of the beautiful outdoorsy spots nearby. And if you're looking for a pumpkin patch in autumn, Maan Farms has a great market as well as a petting zoo which is always good fun!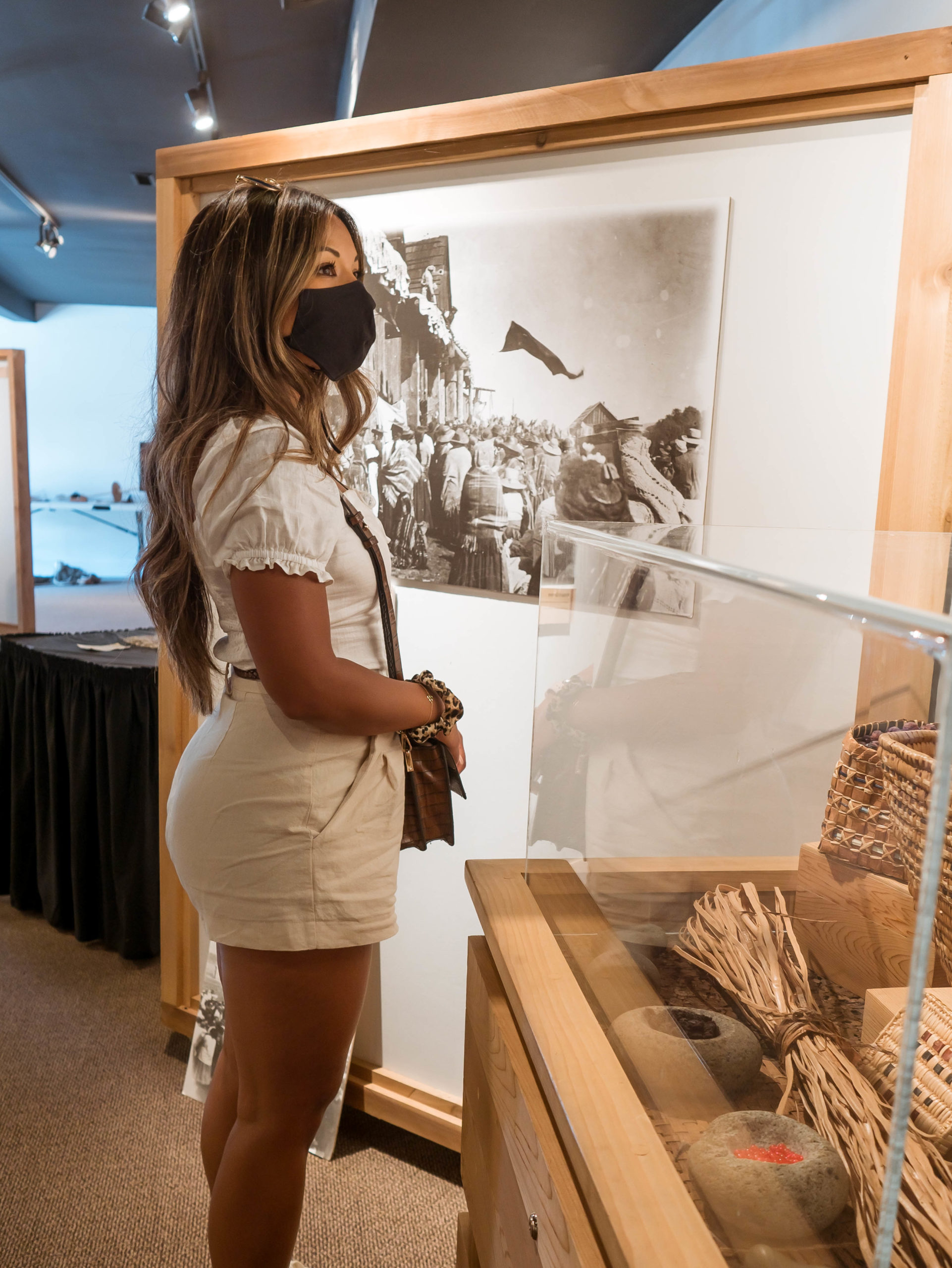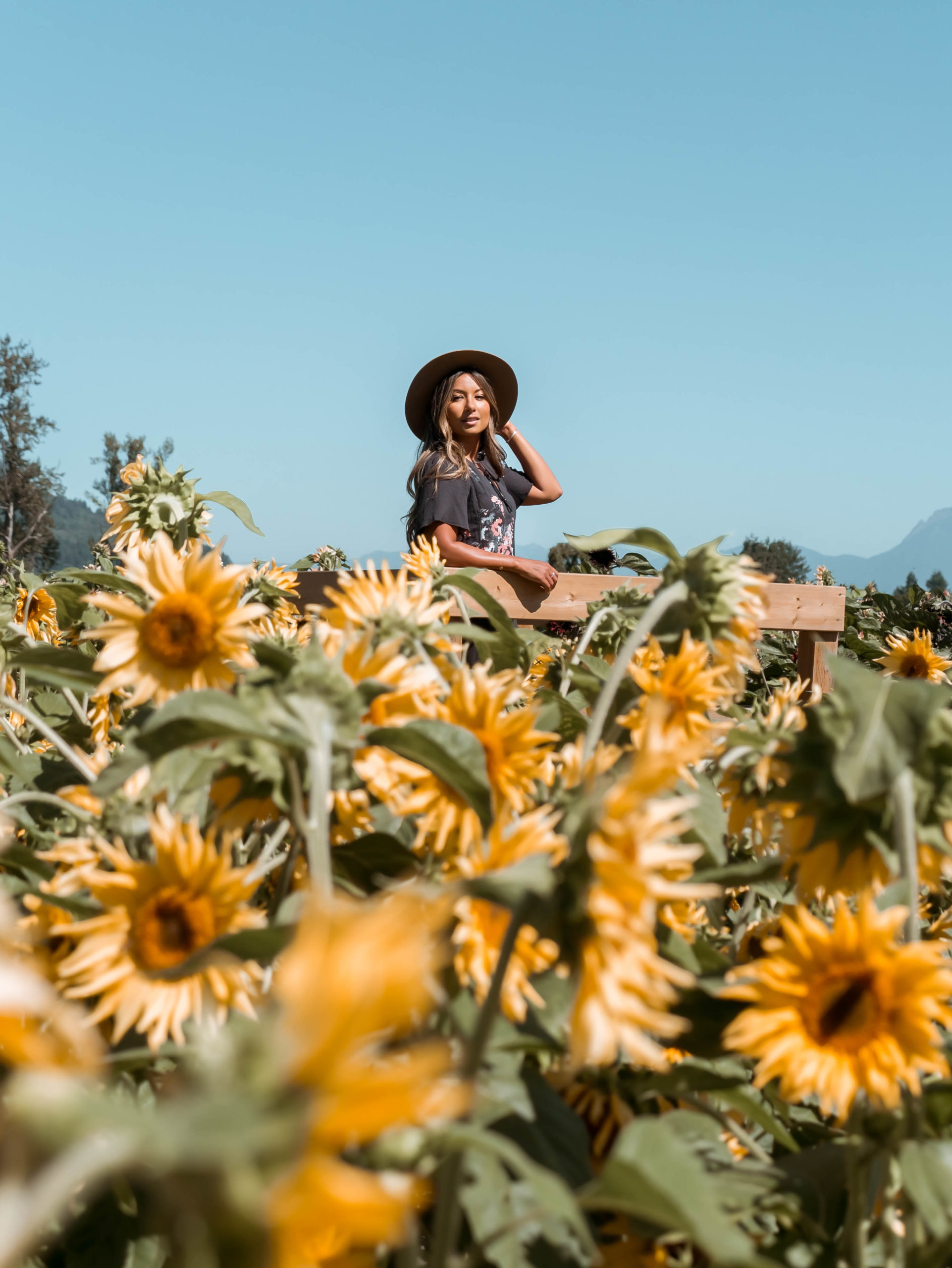 All in all, it was such a unique trip and I really loved the focus on Indigenous-owned experiences and activities. There are so many incredibly gems around the Fraser Valley and British Columbia, and I hope this might inspire you to get out and check out something new!