Summer is upon us and there's nothing I love more than enjoying Vancouver in the sunshine and getting outdoors! There's something really special about summer in this city and there are so many places to adventure right on our doorstep. Last weekend, we decided to escape to the Sunshine Coast on a last-minute trip and headed off to a gorgeous place called Saltery Bay. Matt and I both love camping, so we managed to find a campsite right by the ocean to enjoy for a couple of days and it was so lovely. I also wanted to take advantage of the beautiful weather and I'll always try to eat outdoors whenever I get the chance, so I decided to bring along a picnic that we could enjoy en plein air while we explored the coast.
As we wandered the coastline, we stumbled across a whole field full of wildflowers overlooking the ocean and it was the perfect spot for a picnic - there was even a bench placed right in the middle of the field so it was ideal!
I absolutely love dining al fresco and I always feel like we should take advantage of every minute of summer and sunshine, as we all know how rainy and miserable Vancouver can get! So, i've partnered up with President's Choice for this post to share some of my essentials for the perfect summer picnic to help you be prepared the next time you head off on a spontaneous adventure so you've got everything you need!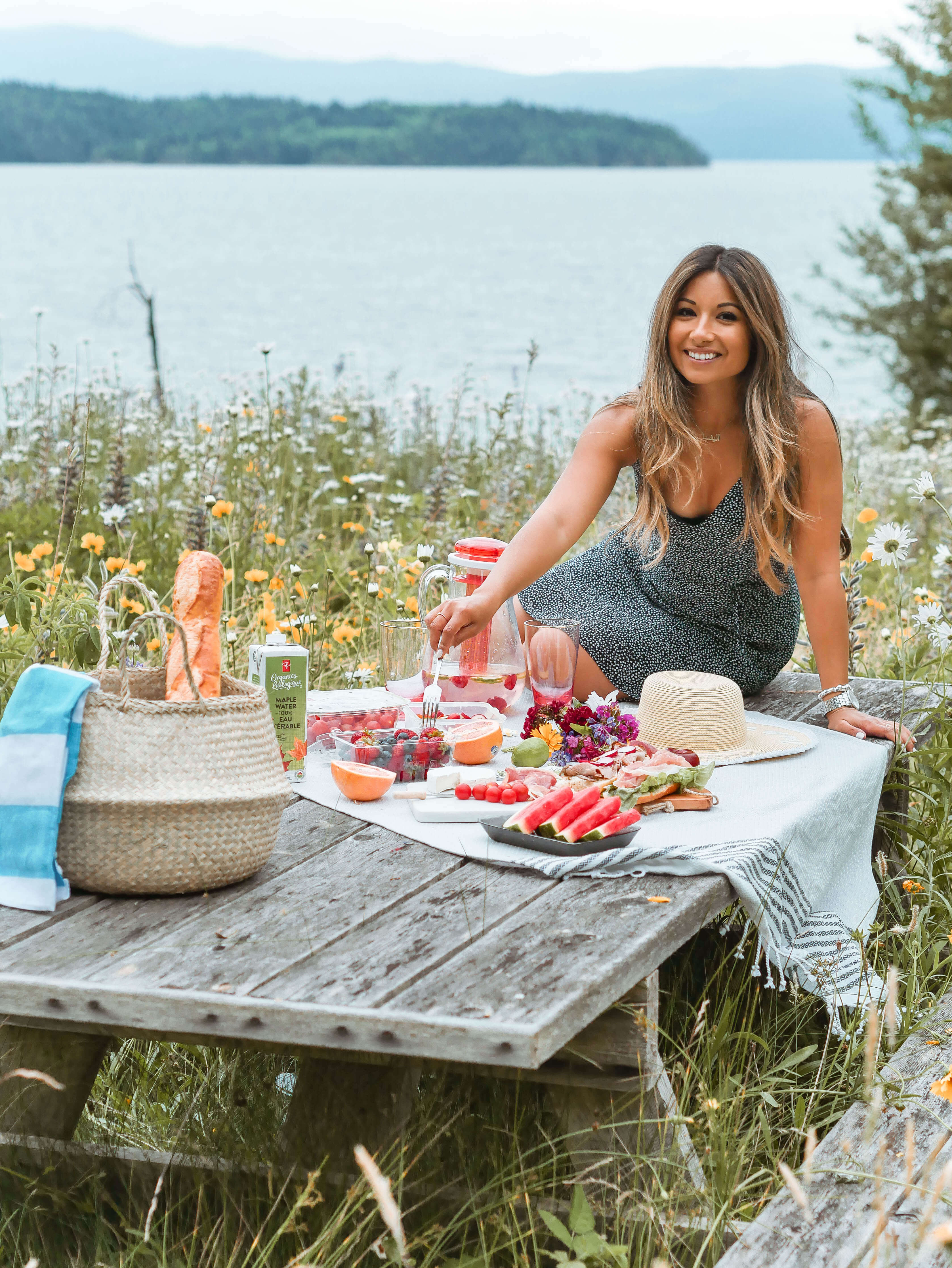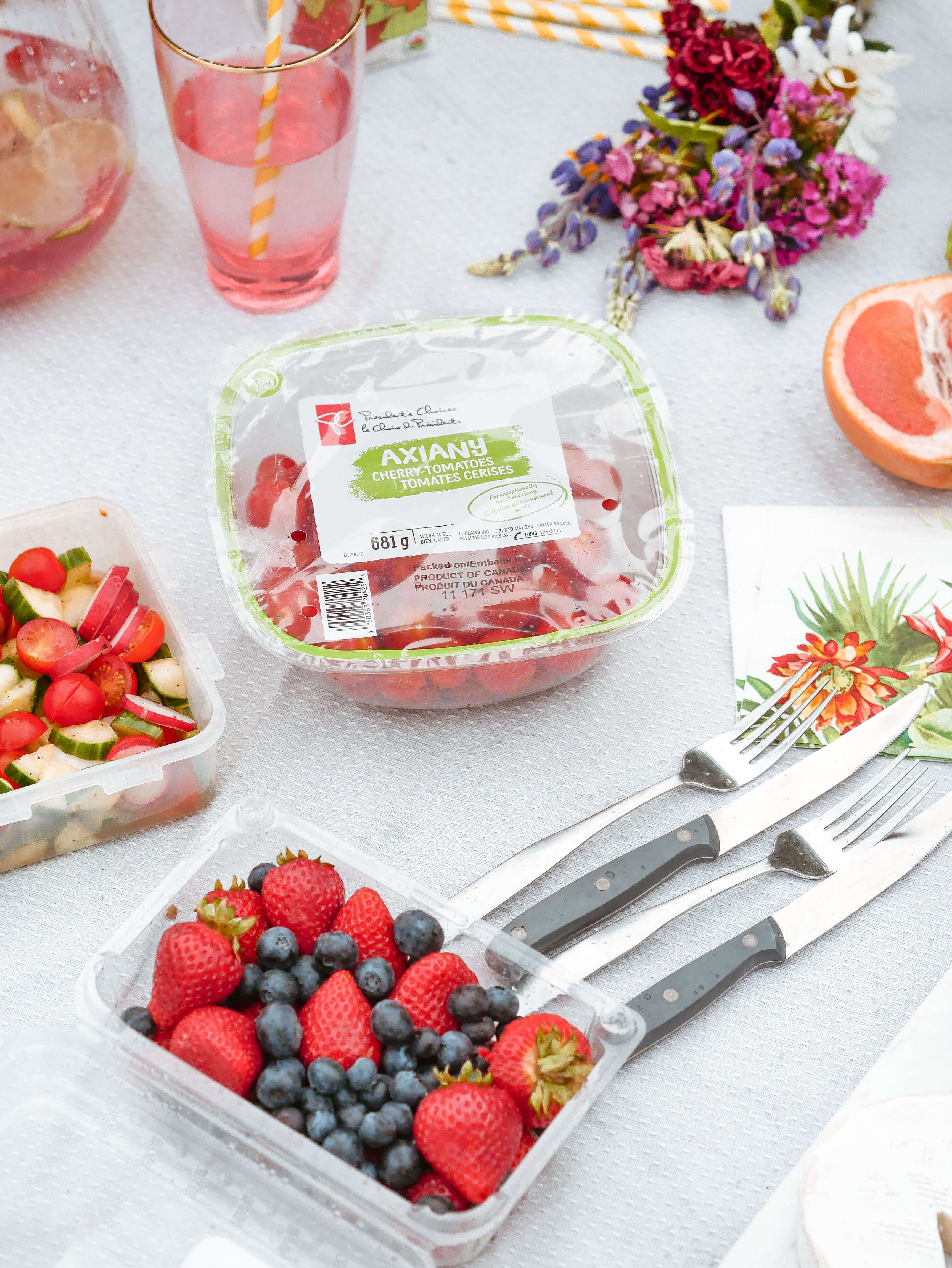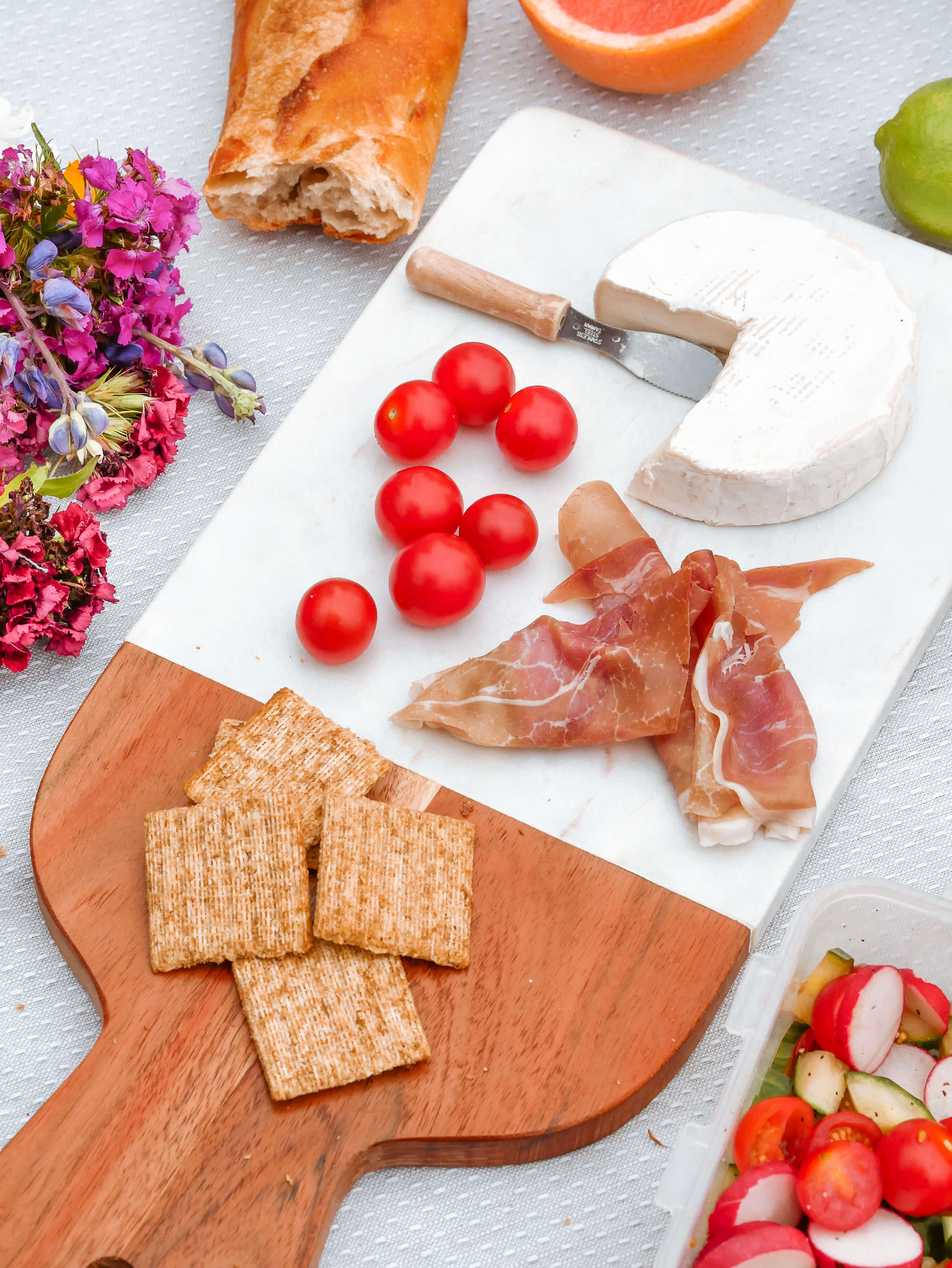 Keep It Fresh
One of the most important essentials for the perfect summer picnic is, of course, good food! There's nothing nicer than fresh fruit and veggies especially in the summer and you want everything to be easy to nibble and snack on as you enjoy the beautiful outdoors.
Our picnic included a fresh French baguette, brie cheese, fresh Axiany Cherry Tomatoes from the PC Insiders Collection, prosciutto and Asian Spiced Angus Roast Beef (which was delish), loads of fruit (strawberries, blueberries, watermelon, grapefruit, raspberries), a salad of cucumber, radish and tomatoes and more - basically just a whole load of yumminess! I wanted to keep it simple but super fresh and light, and I made sure that everything was quite portable so it was easy to carry.
We picked up all our picnic essentials from the Loblaws City Market store in Kitsilano the night before our trip. There was such a huge range of fresh produce available (we definitely went a little overboard on the fruit!) and the store is so lovely and modern. Aside from the salad that I quickly put together, everything else was ready to go which is quite important as you don't want to have to spend hours prepping and chopping your picnic foods as half the fun is being spontaneous, and the PC Insiders Collection makes this possible.
Other picnic foods that work really well are olives, chips and salsa, carrot and cucumber sticks and dips, and if you have time to prepare in advance, then a nice fresh pasta salad or some chicken skewers are great for picnics too. The key is to keep it fresh with lots of finger food that you can easily grab without needing a plate and that don't need heating up.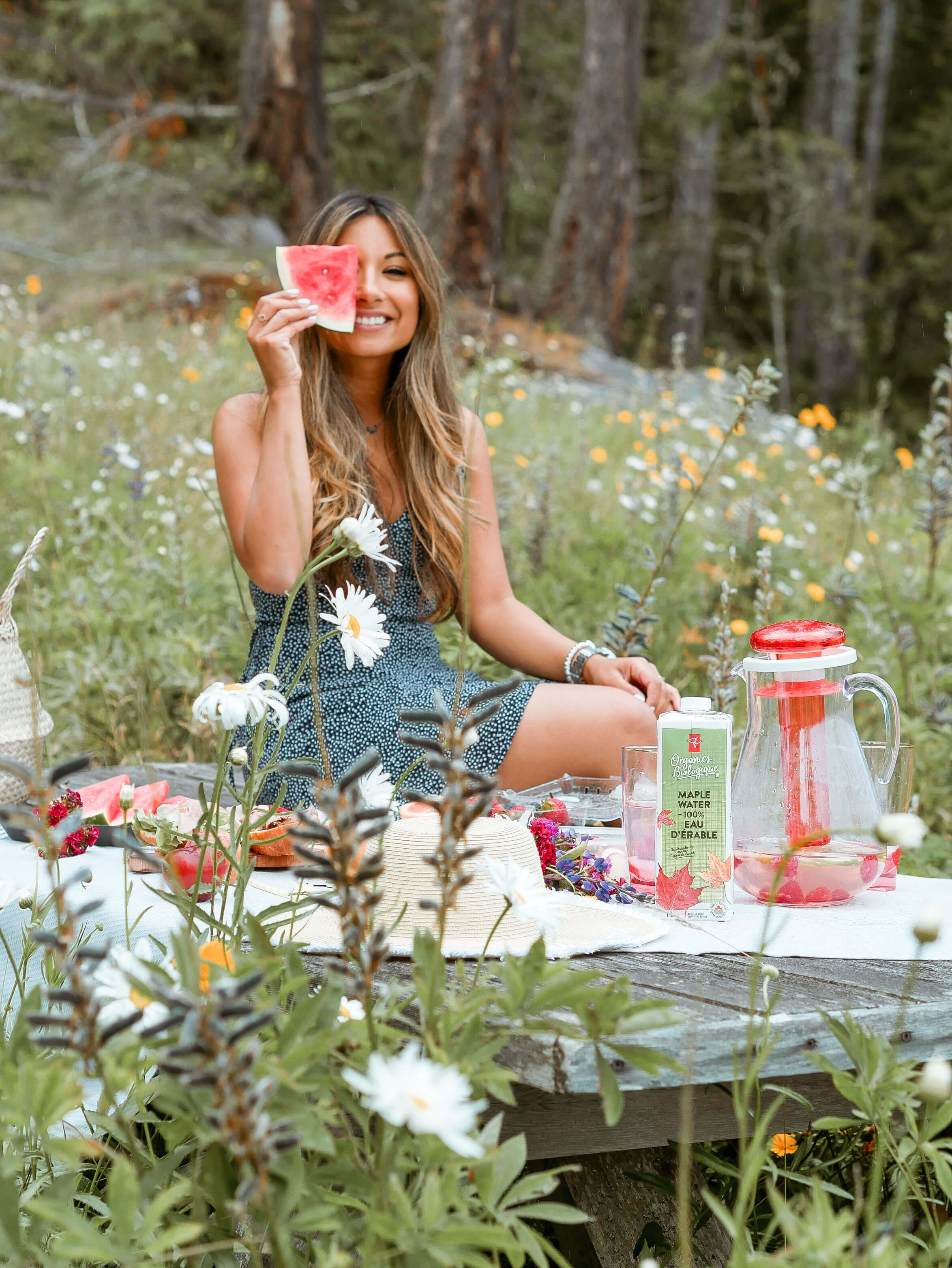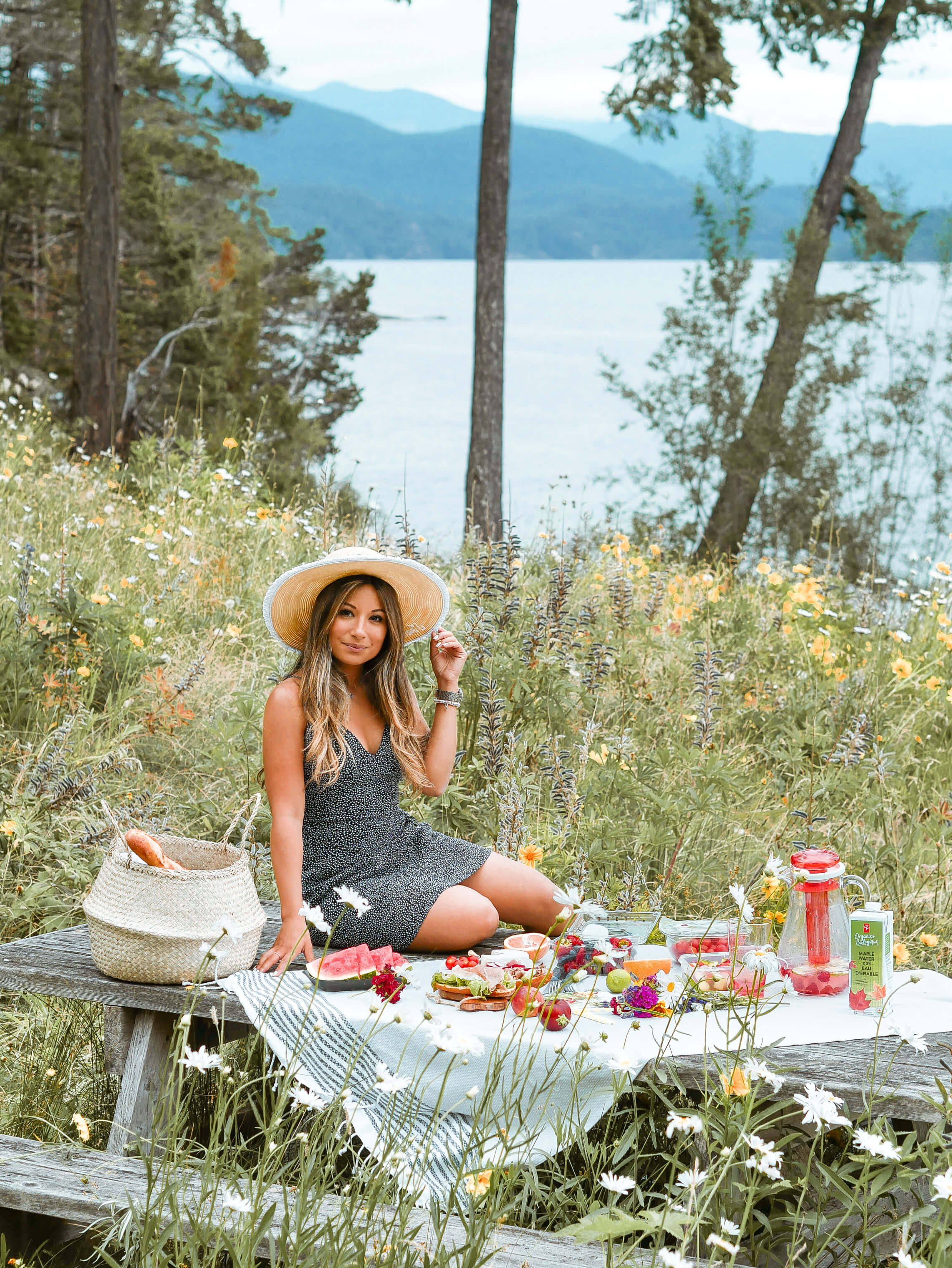 Find The Perfect Picnic Spot
Once you've gathered all the right picnic foods, the next most important task is finding the perfect picnic spot. Whether you're planning to picnic on the beach, in a field full of flowers or even in your backyard, you want to make sure your little al fresco dining spot is just right.
We stumbled across the most picturesque spot overlooking the ocean and mountains in a field full of wildflowers, and although we were planning to picnic on the beach, we found a bench that was so perfectly placed, it's as though we'd planned it all and put it there!
When finding your spot, there are a few things to think about. Look for a place with even ground so you can sit comfortably and things don't end up rolling away. If you're picnicking on the grass, look out for hidden ants nests and try to find ground that's dry unless you have a waterproof mat. We kept seeing snakes everywhere on the rocks and in the bushes, so I felt a lot better about picnicking on a bench rather than on the ground!!
If it's a really sunny day, you might want a spot under a tree so you have a bit of shade, and don't forget things like sunscreen and a portable speaker so you can listen to music.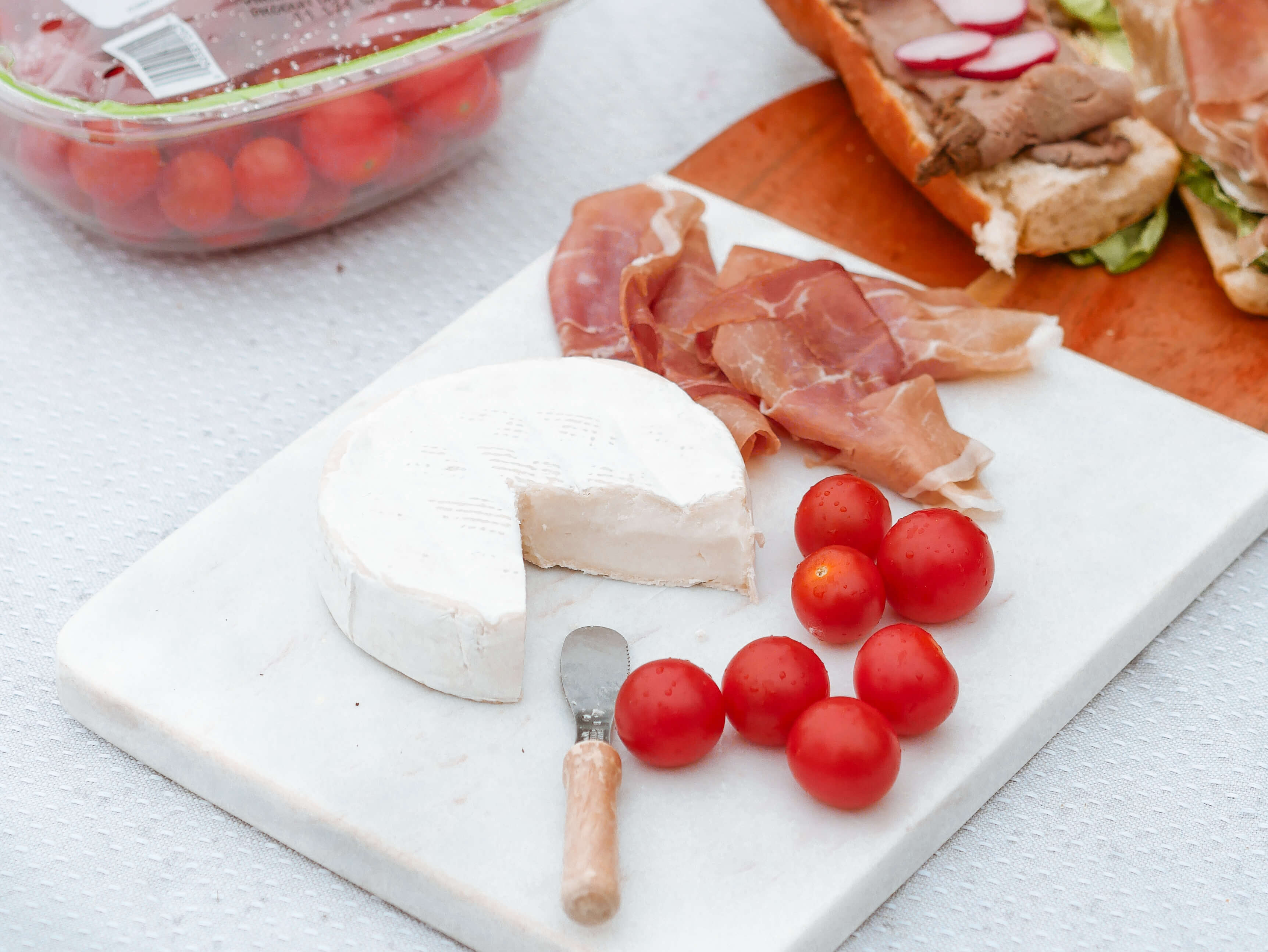 Pack everything properly
When you're picnicking it makes life so much easier if you pack everything properly. I recommend putting any watery or squishy fruits (chopped watermelon, raspberries, etc) in a sealable container as the last thing you want is for them to leak everywhere and get crushed.
Sealable containers are perfect for salads and meats, as well as opened cheeses, as it helps to keep them fresh for longer which is really useful if you're also camping like we were so we could eat our leftovers the day after and nothing was left uneaten.
Don't forget napkins and bags for your waste, and a cute picnic blanket is obviously essential! I managed to fit everything in my little woven basket and backpack, but if you're picnicking with the family and kids and you're on the move you can easily share out the items between everyone.
I also recommend taking bug spray with you - we got pestered by a few wasps who were trying to steal our prosciutto so it's worthwhile having that. If you're camping and picnicking like we were, I suggest taking a few ice packs with you so everything stays nice and chilled, especially the meat and dairy. Also, remember to pack out whatever you pack in and leave no mess or food behind (even more important if you're in the wild and there are animals and bears around).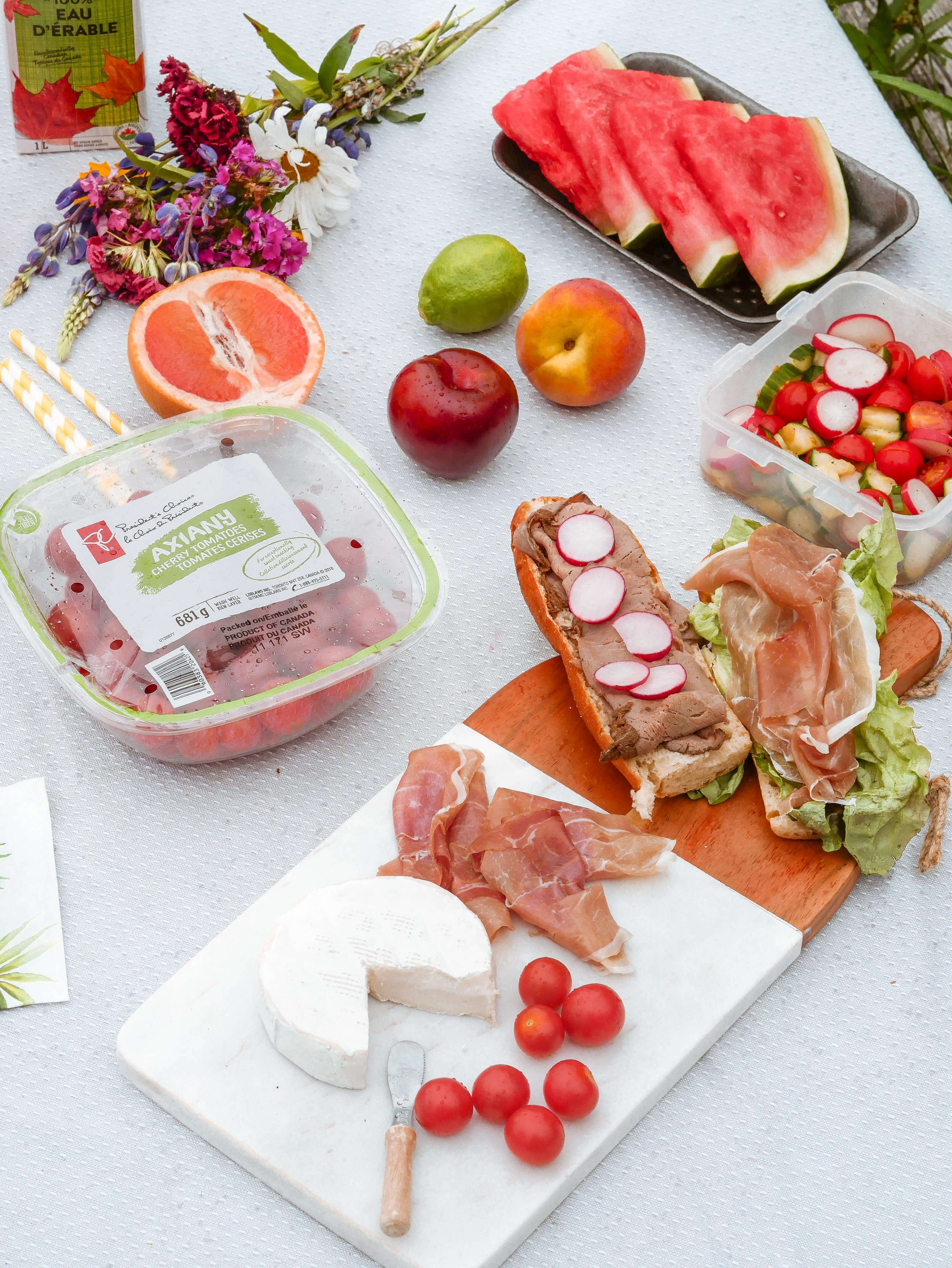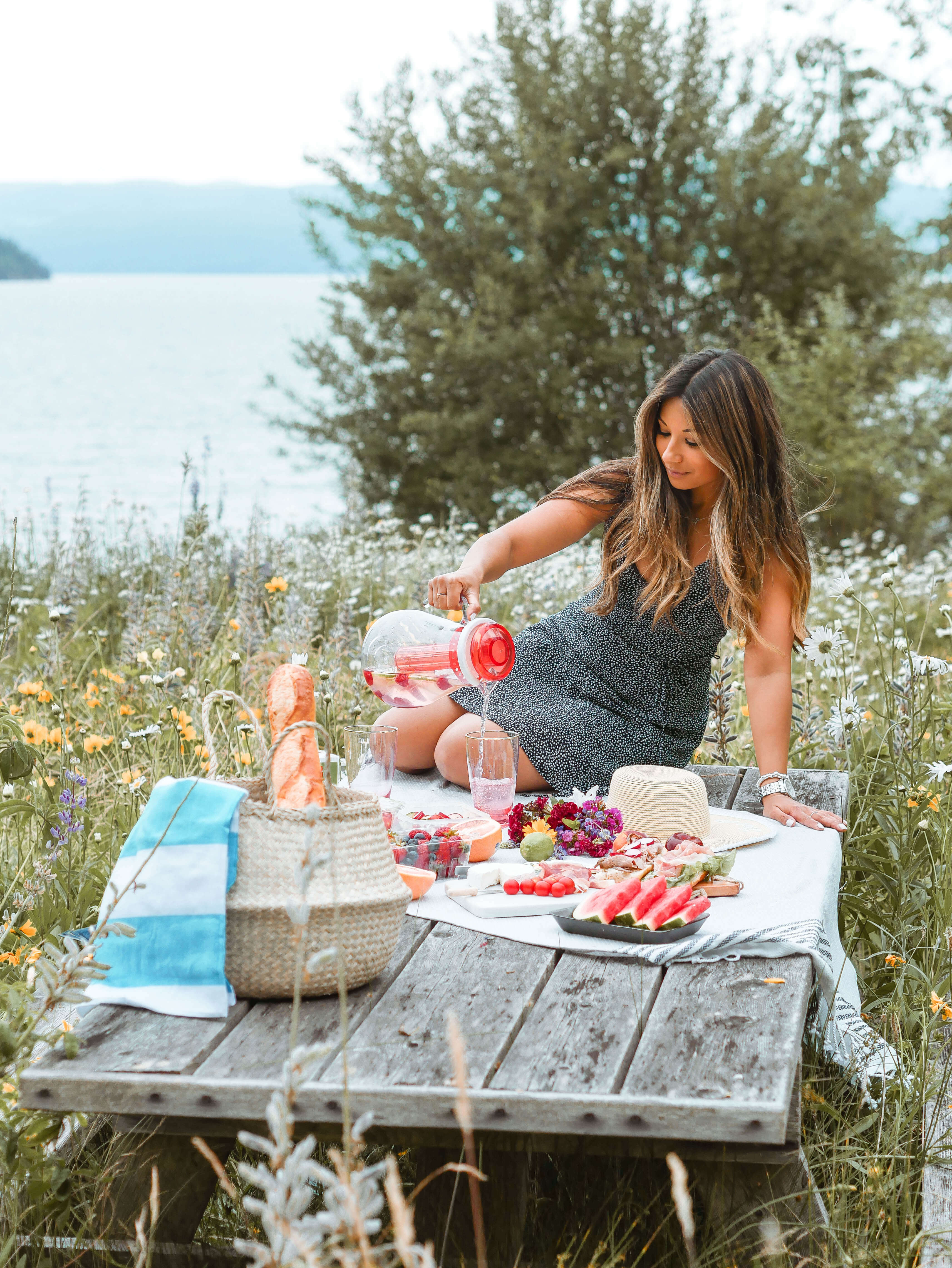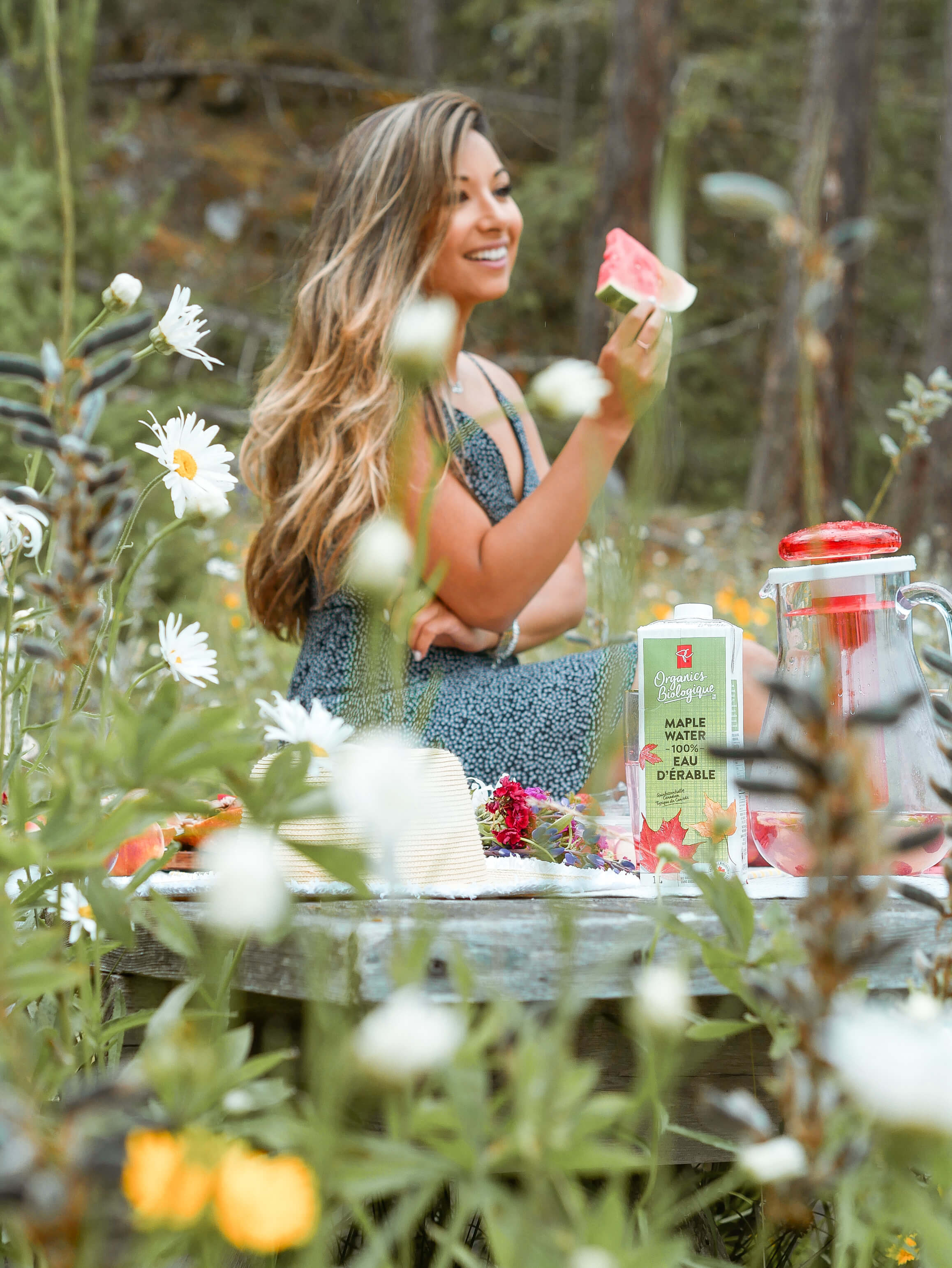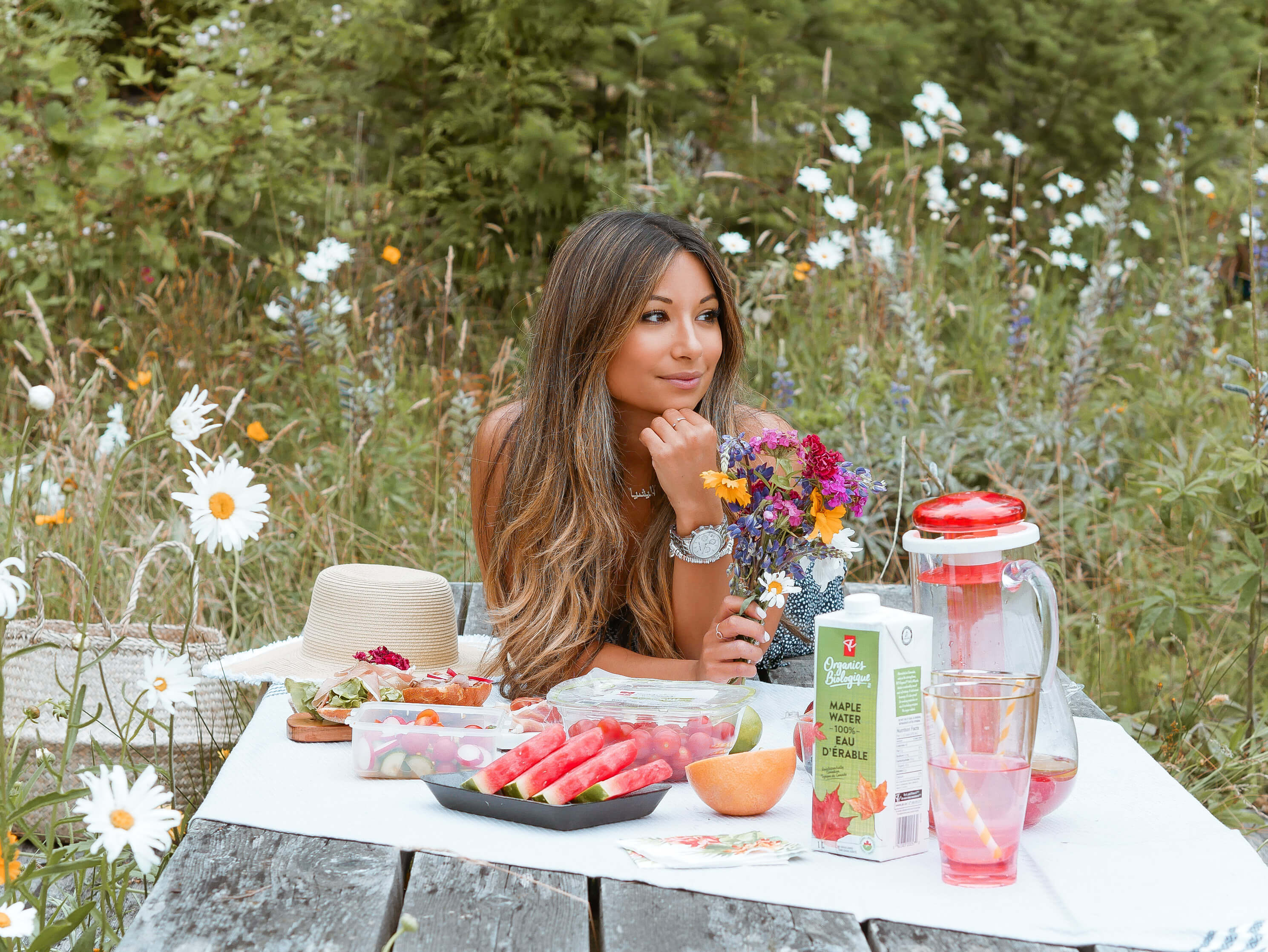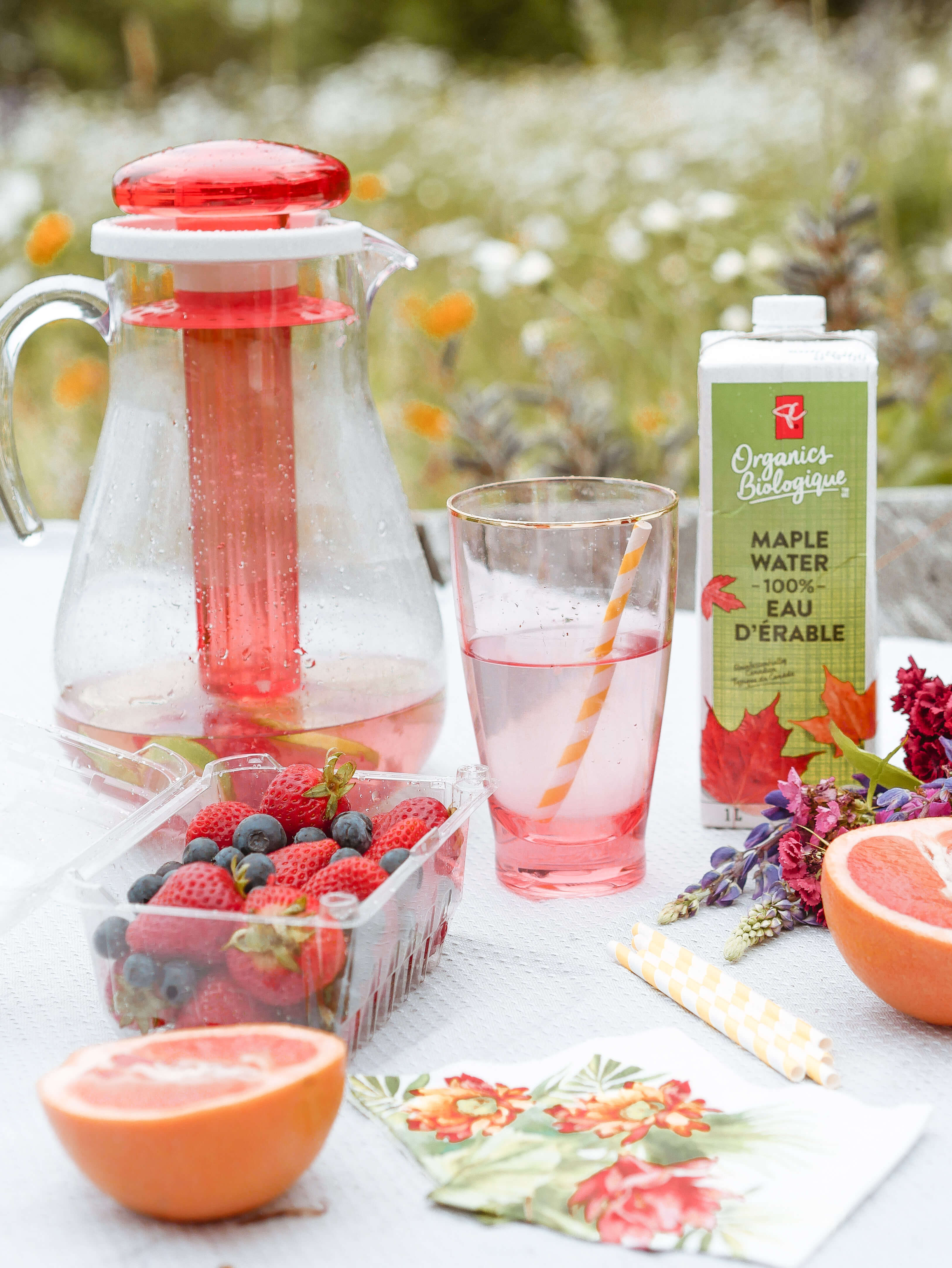 Minimize Waste
I've become a lot more conscious of minimizing waste in the last year, and it's something to remember when you're picnicking. Simple things can make a difference - separating your paper and recyclables from your non-recyclables, getting into the habit of not leaving any waste behind and avoiding single-use plastics which is actually super easy to do.
We took metal knives and forks, paper straws instead of plastic ones, and reusable plastic tumblers rather than throw-away plastic cups.
We also took our new PC Infusion Pitcher with us which I am loving at the moment. It has an ice core, so the idea is you fill it up with water, freeze it, and then it keeps your drinks cool all day long. This is really handy whether you're camping, picnicking or just chilling out in the sunshine in your back garden and you can get really creative with the drinks.
I filled it with water along with some sliced lime and raspberries for some extra tang and it has a built-in strainer so it's perfect for fruit juices or sangria. We also picked up a box of the PC Maple Water - I'd never tried it before but it was really refreshing and light and you can use it in lots of different ways (even in coffee apparently!). Also love that it's cardboard and not plastic.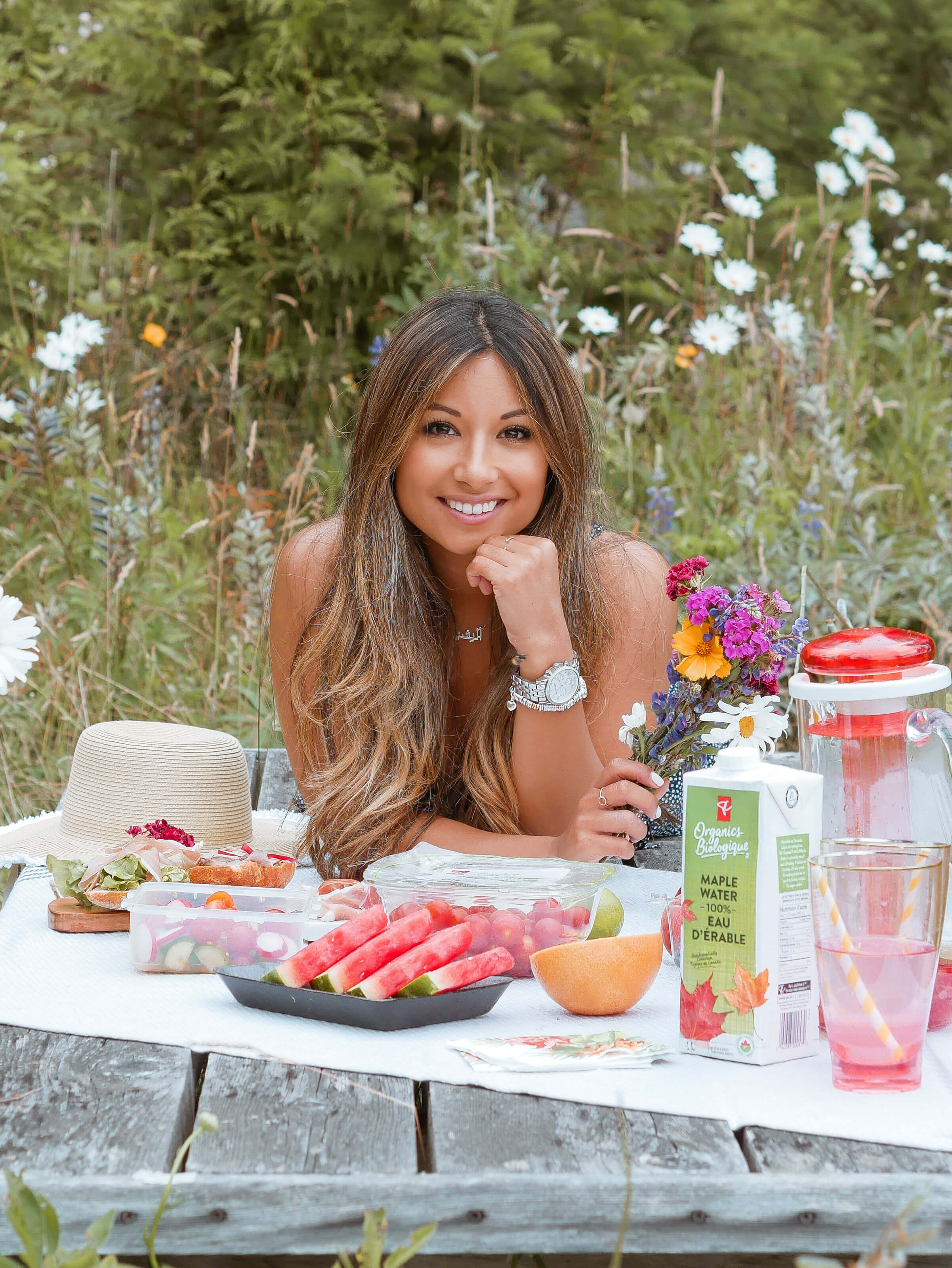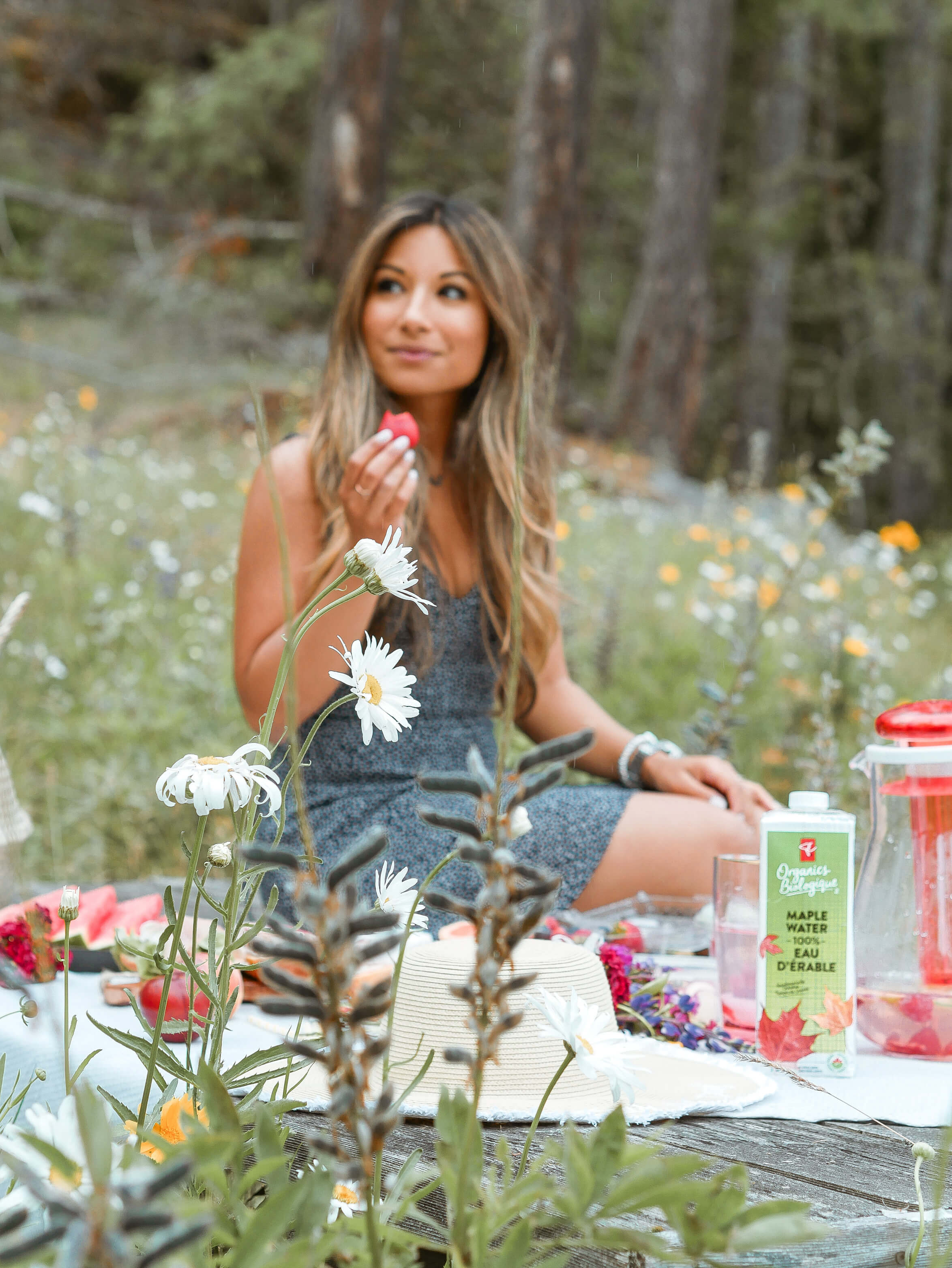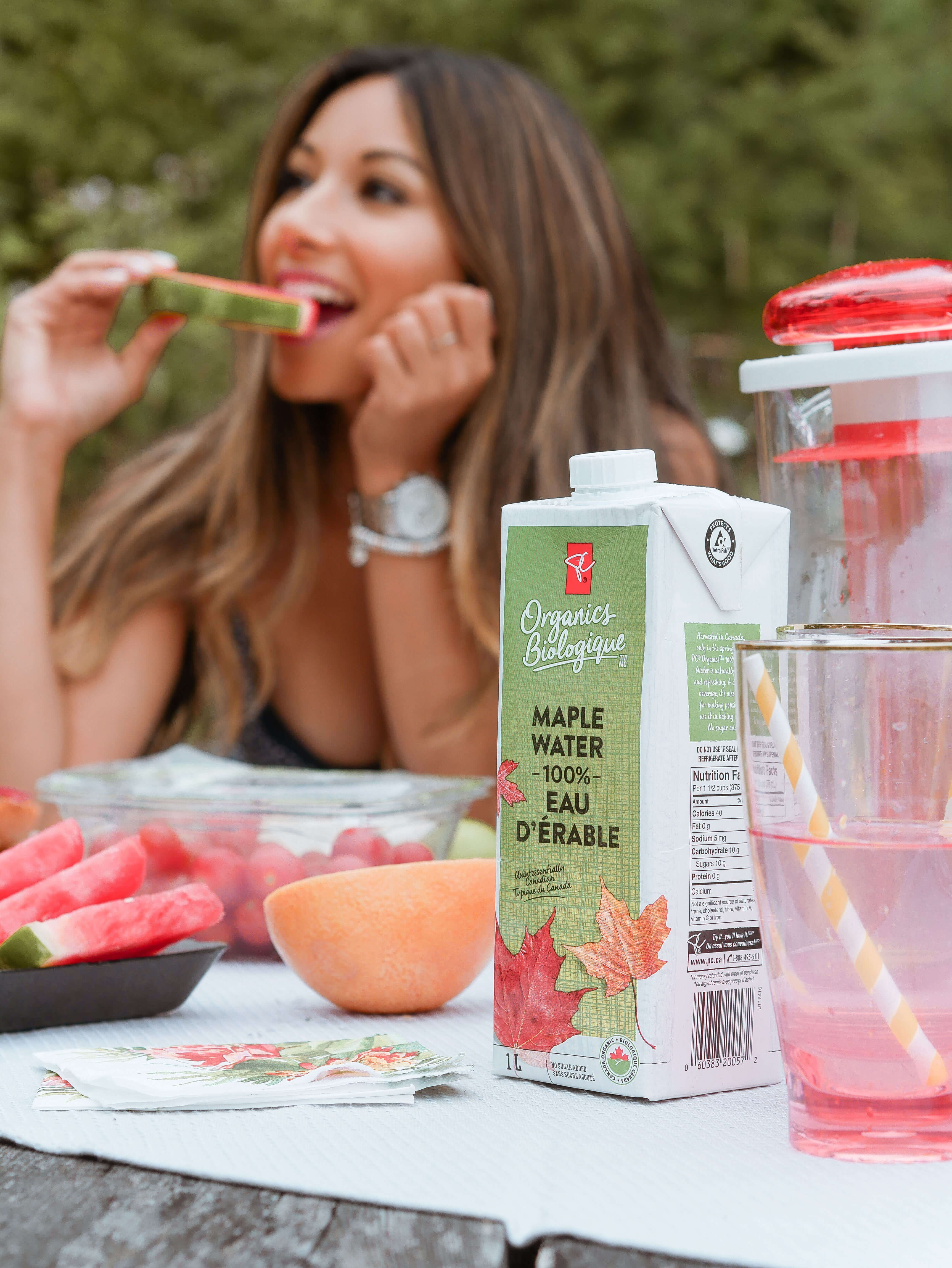 My Faves From The PC Insiders Collection
President's Choice is without a doubt one of my favourite Canadian food and homeware brands and the majority of the food and products we buy are PC branded, so it's safe to say I have a lot of PC faves.
Their foods are always such high quality and very affordable, and I love the range of items from ice creams to drinks to fresh fruit and veg to household things like detergent. It's definitely my go-to brand and so for picnics, it's no exception.
My fresh favourites from the latest PC Insiders Collection have to be the Axiany Cherry Tomatoes, which are so crisp and sweet and juicy. I actually only ever eat tomatoes in the summer (no idea why) but cherry toms are always my favourite and I love them in salads and with pasta.
The PC Rocky Road Mini Ice Cream Bars are so delicious too - more appropriate for a backyard picnic or BBQ as they melt, but I wanted to mention them as they're really good and definitely an essential whether you've got kids or you just love ice cream. I'm also a huge fan of the Infusion Pitcher which I've already mentioned and we're using it so much this summer for fruity flavoured drinks and cocktail pitchers.
If you want some picnic food inspiration there's a whole list of summer foods on the PC website that are perfect for outdoor dining, BBQs and picnics. Cheers to more summer adventures like this!!!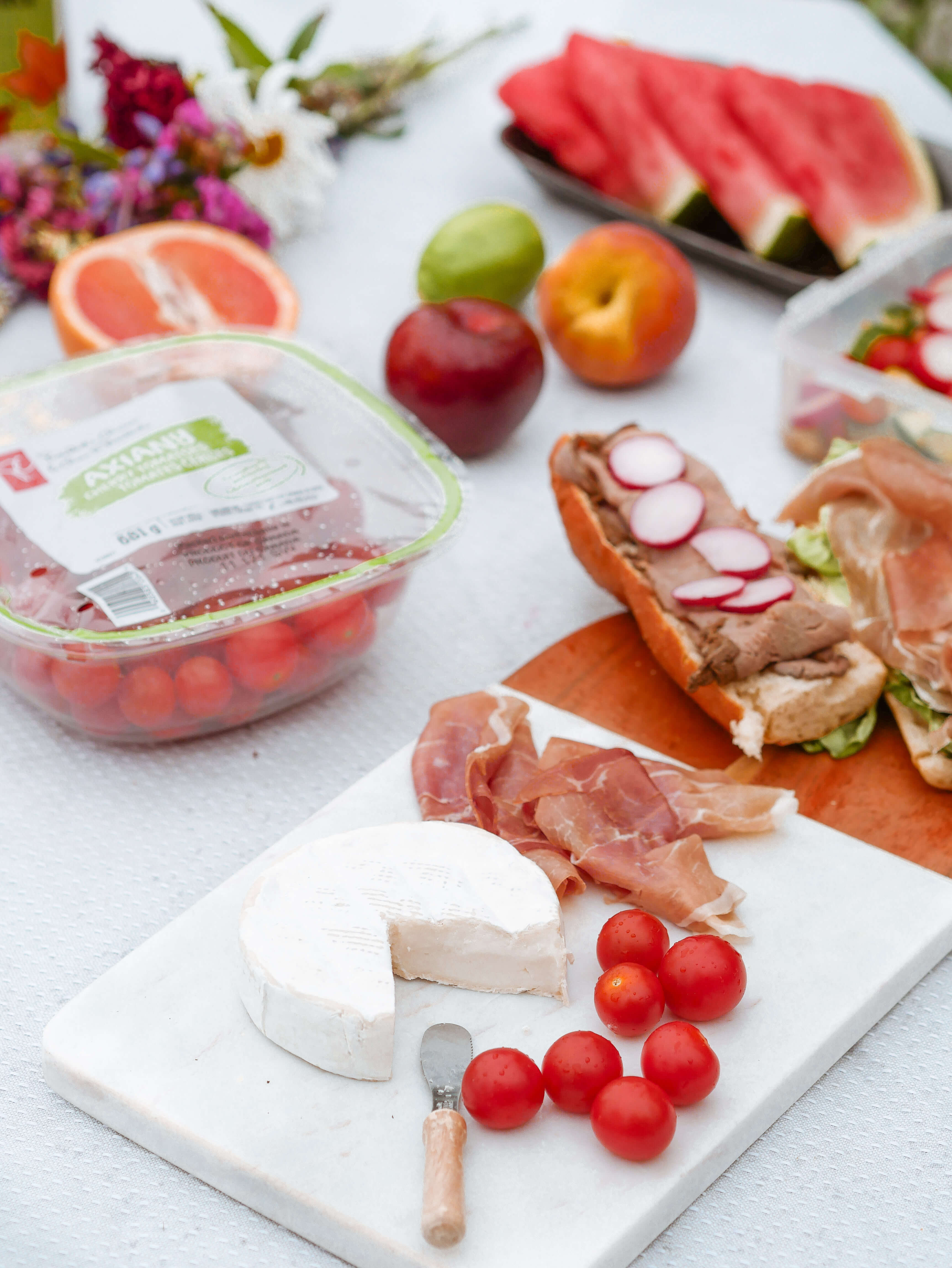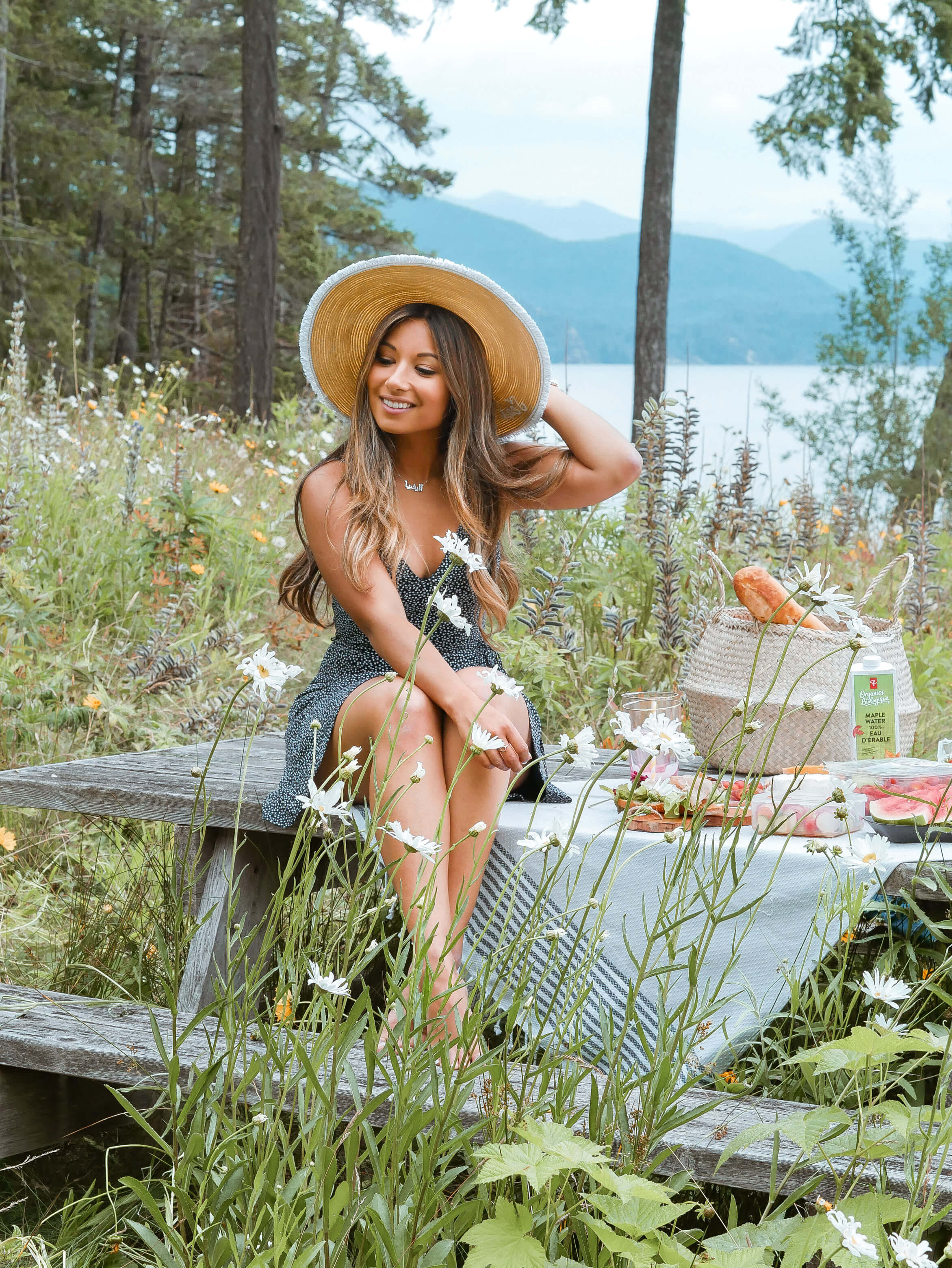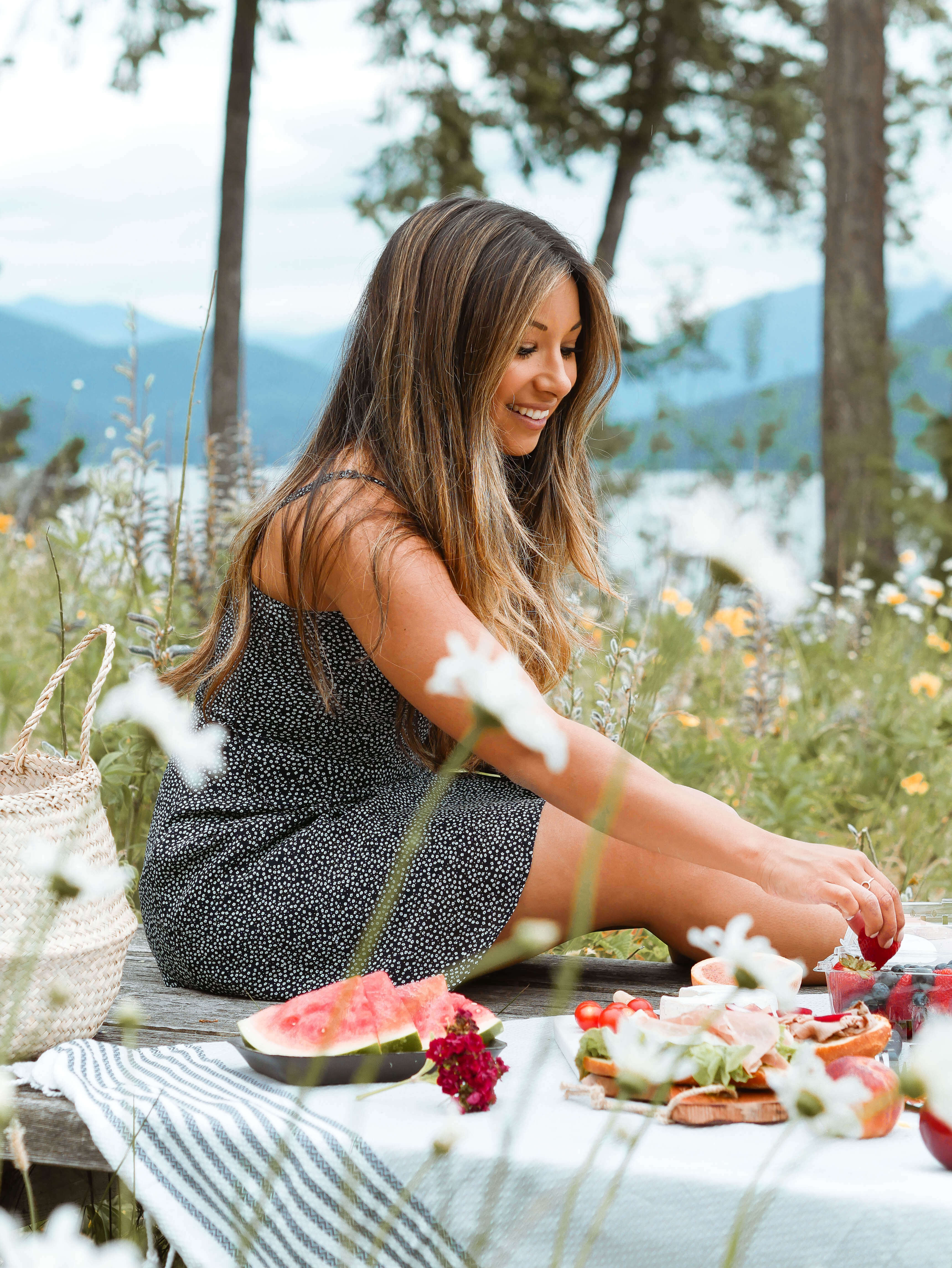 I'd love to know what your picnic essentials are and where you're planning to take your picnic this summer! Let me know in the comments!
[Disclosure: This post was created in partnership with President's Choice. All thoughts, opinions and recommendations expressed are my own. ]
Photography by Matt Hutchinson.