To celebrate my 24th birthday last week, we escaped Vancouver for the day and took a trip to the Sunshine Coast to go scuba diving.
Scuba diving on the Sunshine Coast is pretty incredible - the journey from Vancouver is so beautiful and scenic, the diving is brilliant and the Sunshine Coast definitely lives up to its name. With yellow sandy beaches, lush coastal forests, and the sunshine that literally follows the coastline, it was hard to believe we weren't someplace tropical.
Now, many of you are probably wondering how or why you'd dive in Canada, of all places! Well, I thought the same until we moved here, but I soon learned that the diving in the Pacific Northwest is in fact among the best in the world. Matt teaches diving here and I am constantly in awe of his stories and photos, so I thought it was about time that I checked out the diving for myself!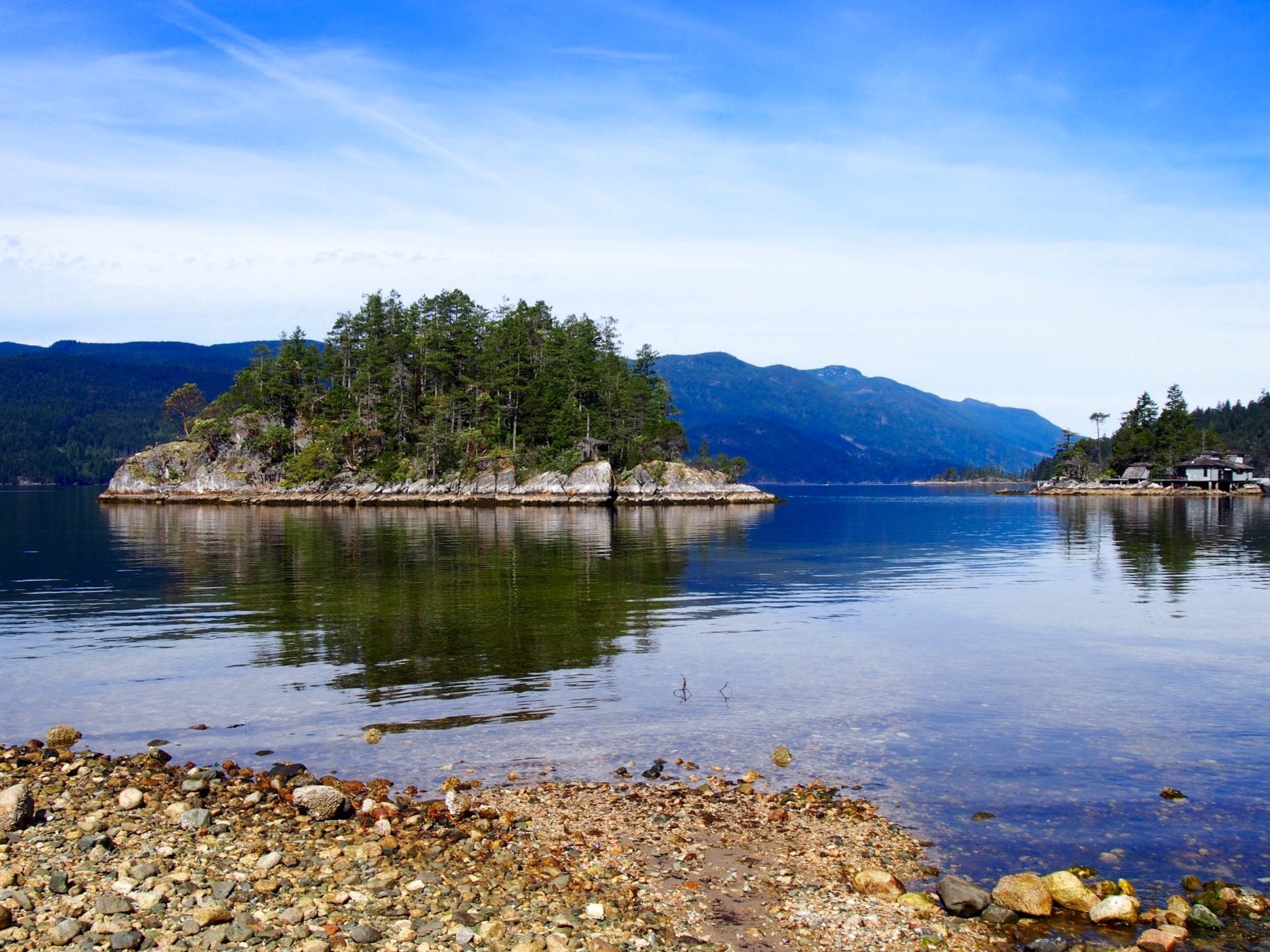 Cold-water diving is far different from anything i've experienced before. As far my diving record goes, I've been fortunate enough to dive in some pretty incredible places around the world. My favourite dive spot is Komodo in Indonesia, where there is an abundance of underwater life due to the strong currents and location. There, the water is around 27/28°C - a stark contrast to the Pacific Northwest which hovers around 8°C.
But with a big cosy drysuit - which as the name suggests, keeps you completely dry - you can layer up as much as you want and it's only your face and hair that gets wet. Your drysuit seals at the neck and wrists to prevent any leaks, and the air inside the drysuit helps to keep you warm. Plus, when you're all blacked out and geared up, you do look pretty badass.
As for the actual diving, it definitely exceeded my expectations. The surface views were incredible and the visibility underwater wasn't too bad either. The vis around the Pacific Northwest tends to be better in winter, mainly because the summer sunshine causes the algae to bloom on the surface, hindering visibility for the first 8m or so. The visibility wasn't too bad (it's pretty green, but that's why it's called the Emerald Coast!) but the algae was in full swing as it was such a sunny day.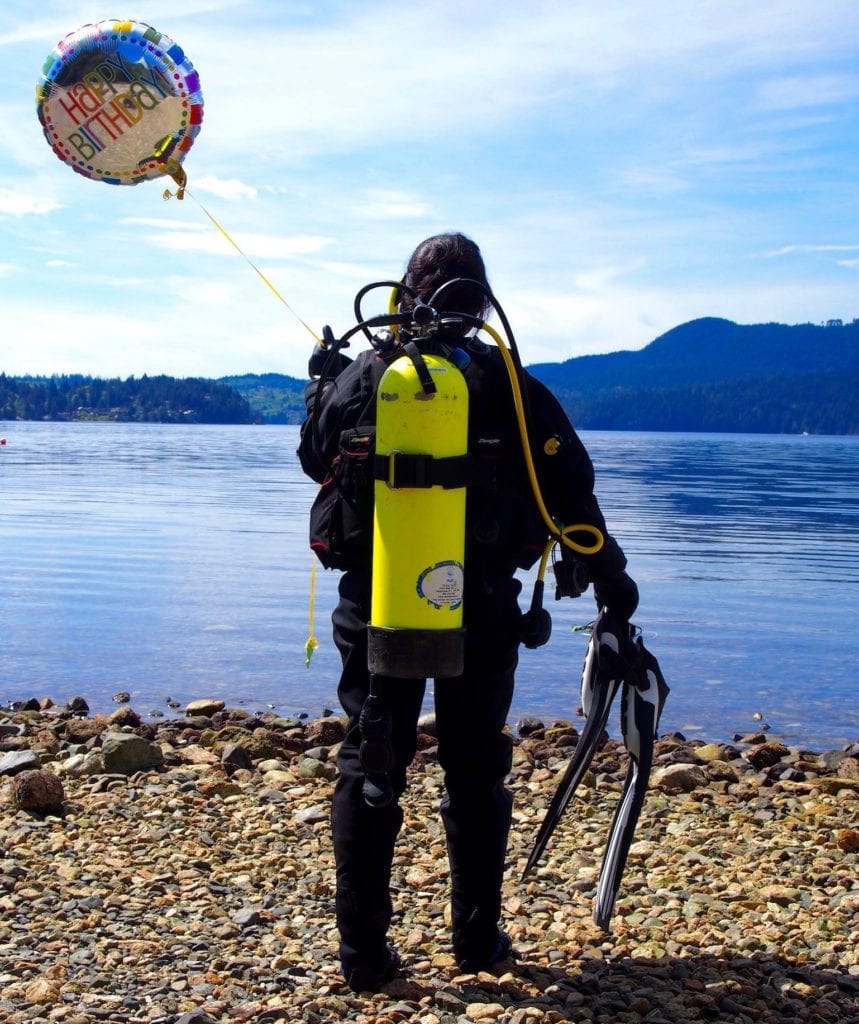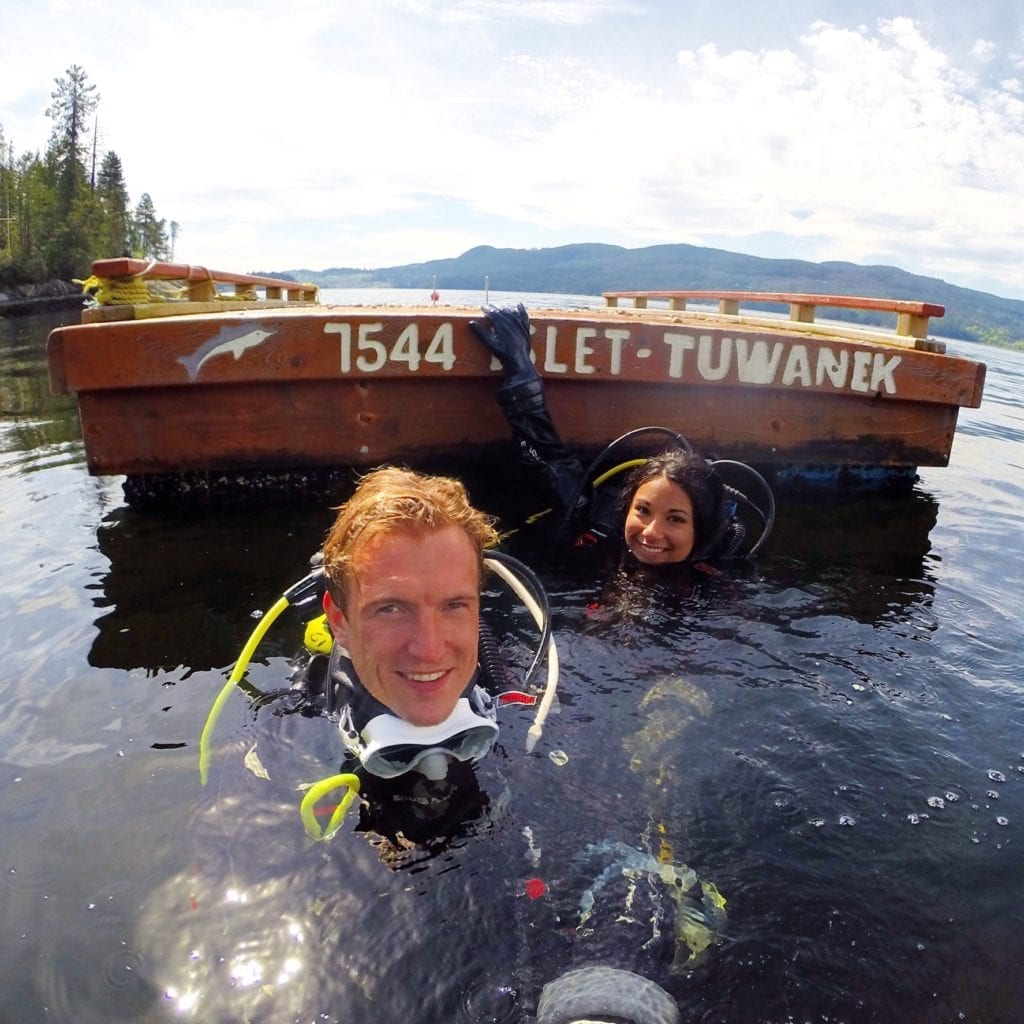 We managed to fit in 3 dives (one testOne of the most exciting parts about diving on the Sunshine Coast is the wildlife. We spotted a number of seals on the surface further away, as well as crabs, lingcod (which are huge!), sea cucumbers, starfish, and TONS of jellyfish. The jellyfish we saw were tiny and harmless, but the Pacific Northwest is also home to the Lion's Mane Jellyfish which is the largest in the world, so if you dive around here you may spot one! Matt occasionally finds sea lions where he dives around Whytecliff Park and Porteau Cove (both a short drive from Metro Vancouver), and whales and orcas are often spotted around the coastal waters so there's always a chance that you might see them too. Can you even imagine!
dive, and two dives at around 18m) and spent the rest of the day sunbathing and celebrating turning 24! I LOVE spending my birthday doing adventurous things (last year we road-tripped around Banff), so this was such a fun way to see in another year. On our way back to the terminal, we stopped off Porpoise Bay in Sechelt, and at an incredibly picturesque pier in a small coastal town called Davis Bay. It was the perfect end to our day and the views from the beach and pier were beautiful.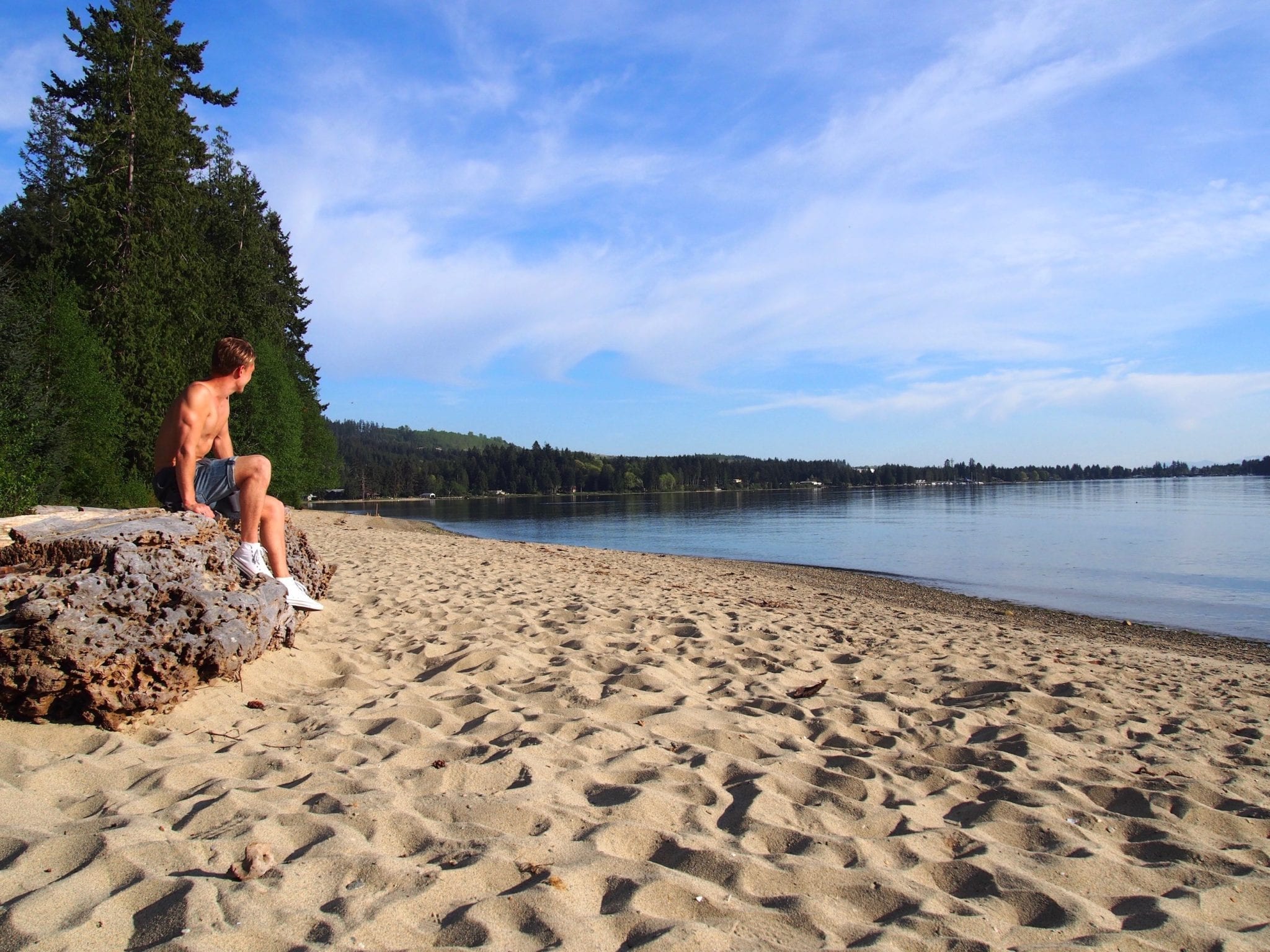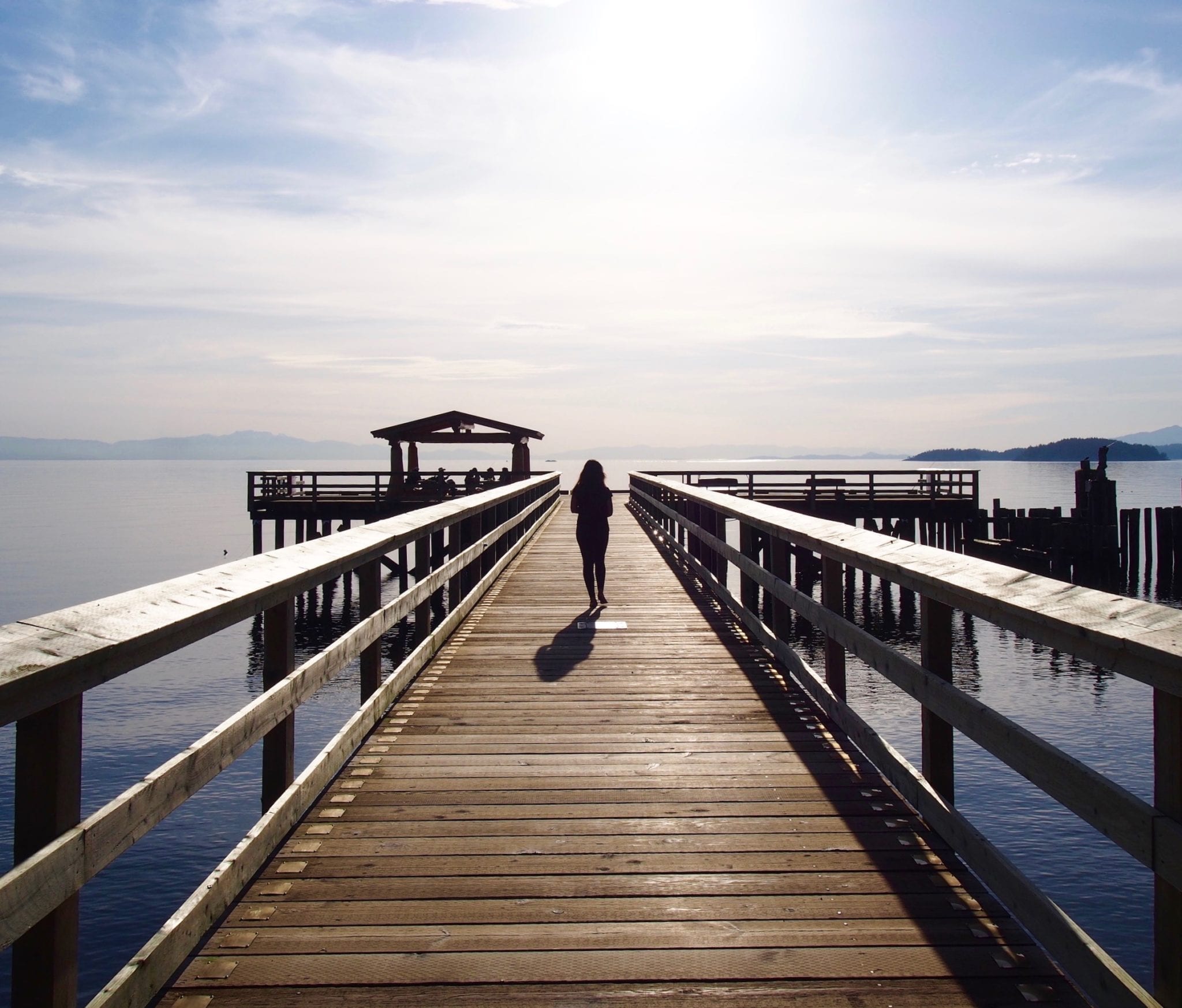 If you're considering scuba diving on the Sunshine Coast, here's a bit more information about drysuit diving, what to wear, what to expect and how to get from Vancouver to Tuwanek!
How is drysuit diving different?
There are a number of key differences between wetsuit and drysuit diving. Wetsuits are made from neoprene and are perfect for warmer waters. The thin layer of water between your skin and the neoprene helps to trap air and slow the amount of heat loss from your body. Some people do wear wetsuits here, but they're usually less than 10mm thick so don't offer much warmth. And as you can guess, you get wet wearing a wetsuit!
Drysuits, on the other hand, keep your body completely dry. You can wear tons of clothes underneath and the layer of air between your body and the suit helps to prevent heat loss and stops you from getting cold. Because of the extra air in your suit, this affects buoyancy so it does take a bit of getting used to. You need extra weights with a drysuit to get you down because the additional air inside your suit keeps you more buoyant. Personally, I found drysuit diving more physically challenging than wetsuit diving, simply because the gear is that bit heavier. It doesn't make too much difference in the water, but getting from the beach to the ocean with the extra weights (I had 16 lbs extra) was pretty taxing. Although, I was able to call birthday favours and got Matt to help me out so it wasn't too bad!
What to wear for drysuit diving
The drysuit covers your feet completely (almost like a onesie) and the wrist cuff and neck cuff seal to prevent any leaks. It's important that it seals properly and is quite tight so no water can get in. Underneath, I wore a neoprene undersuit for extra warmth, as well as leggings, jogging bottoms, thick socks, a sports top and a sports jumper. Don't wear anything with a high neck as this might interfere with the neck seal. I recommend wearing sports gear for the layer that sits against your skin, or any material that will absorb sweat without making you feel cold. You can then wear a couple of pairs of gloves under your waterproof sealed gloves, and I wore a neoprene hood too which helped to keep my head warm. The only part of you that gets wet is your face and hair, so it's not too bad.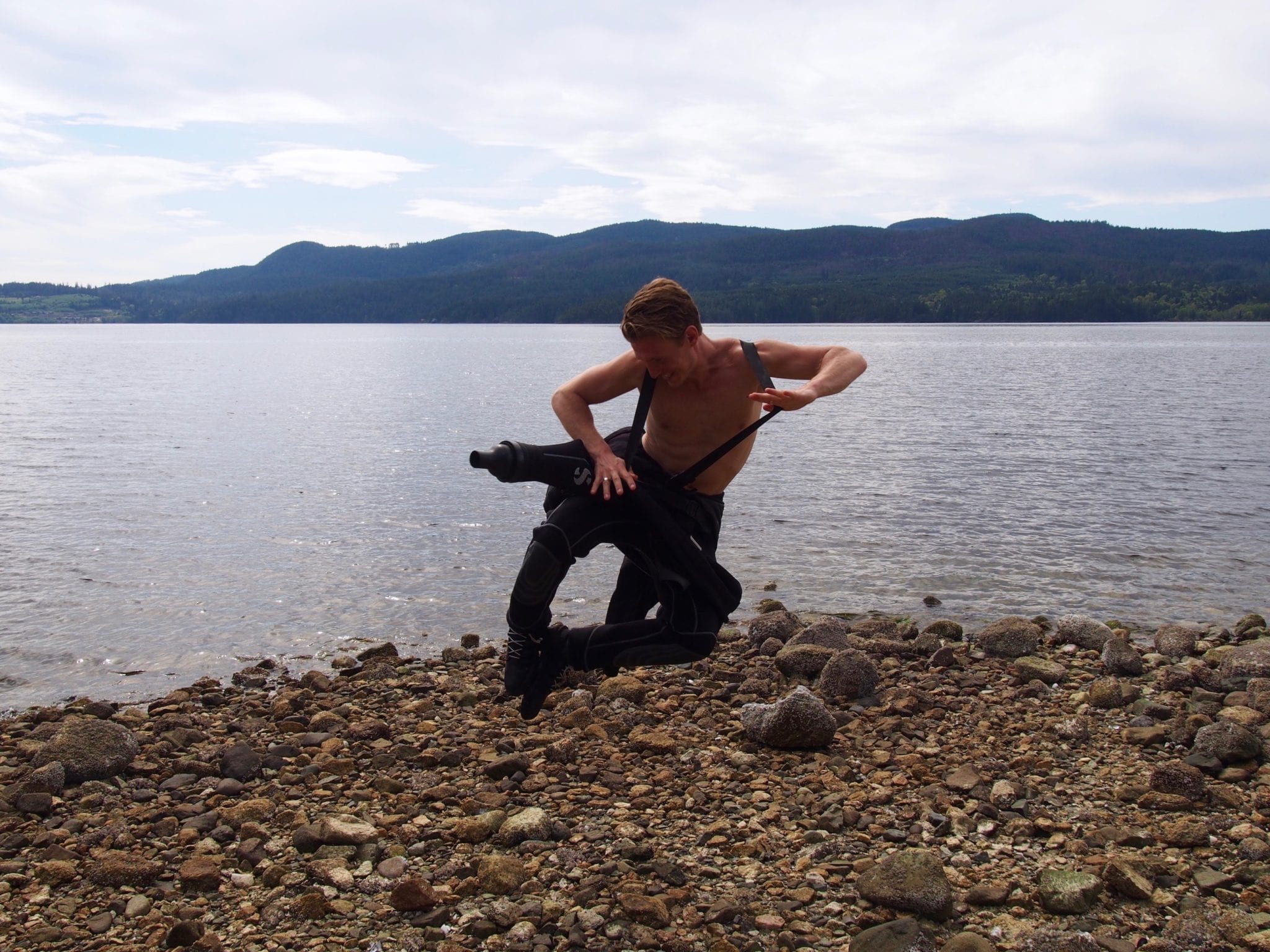 Where to hire the diving gear
We got our gear from The Diving Locker, one of Vancouver's oldest and best dive schools (it's also the school that Matt works for, so I can vouch that they're good). Unless you're an experienced diver and you've dived around the PNW before, I don't recommend that you go out to an unknown site. The Diving Locker (located in Kitsilano) offers a range of PADI courses, from beginner to professional, and they regularly run dive trips to local sites on the Sea-to-Sky and trips to the Island. You should also take a drysuit course to learn the ropes of drysuit diving to keep you safe underwater.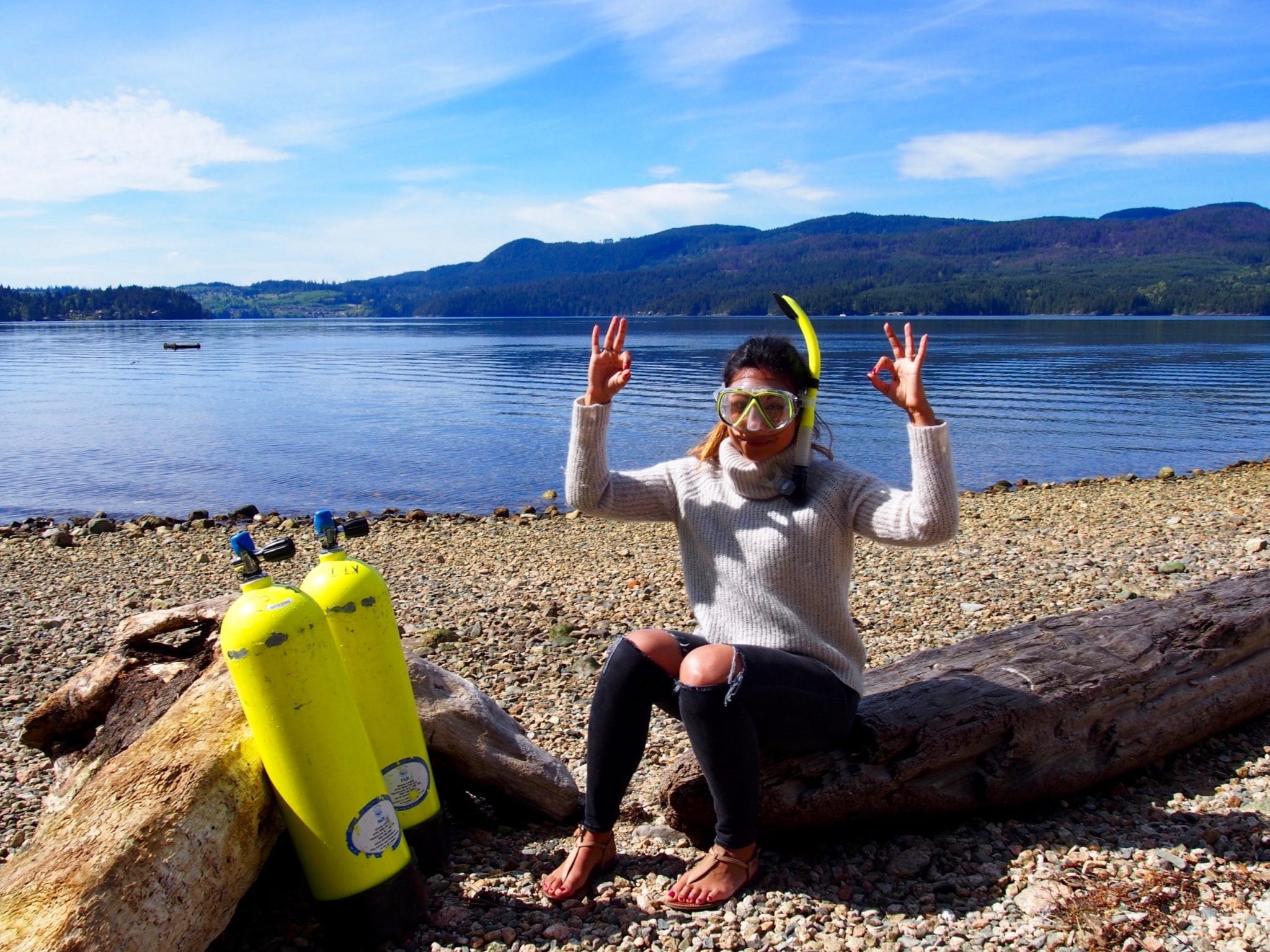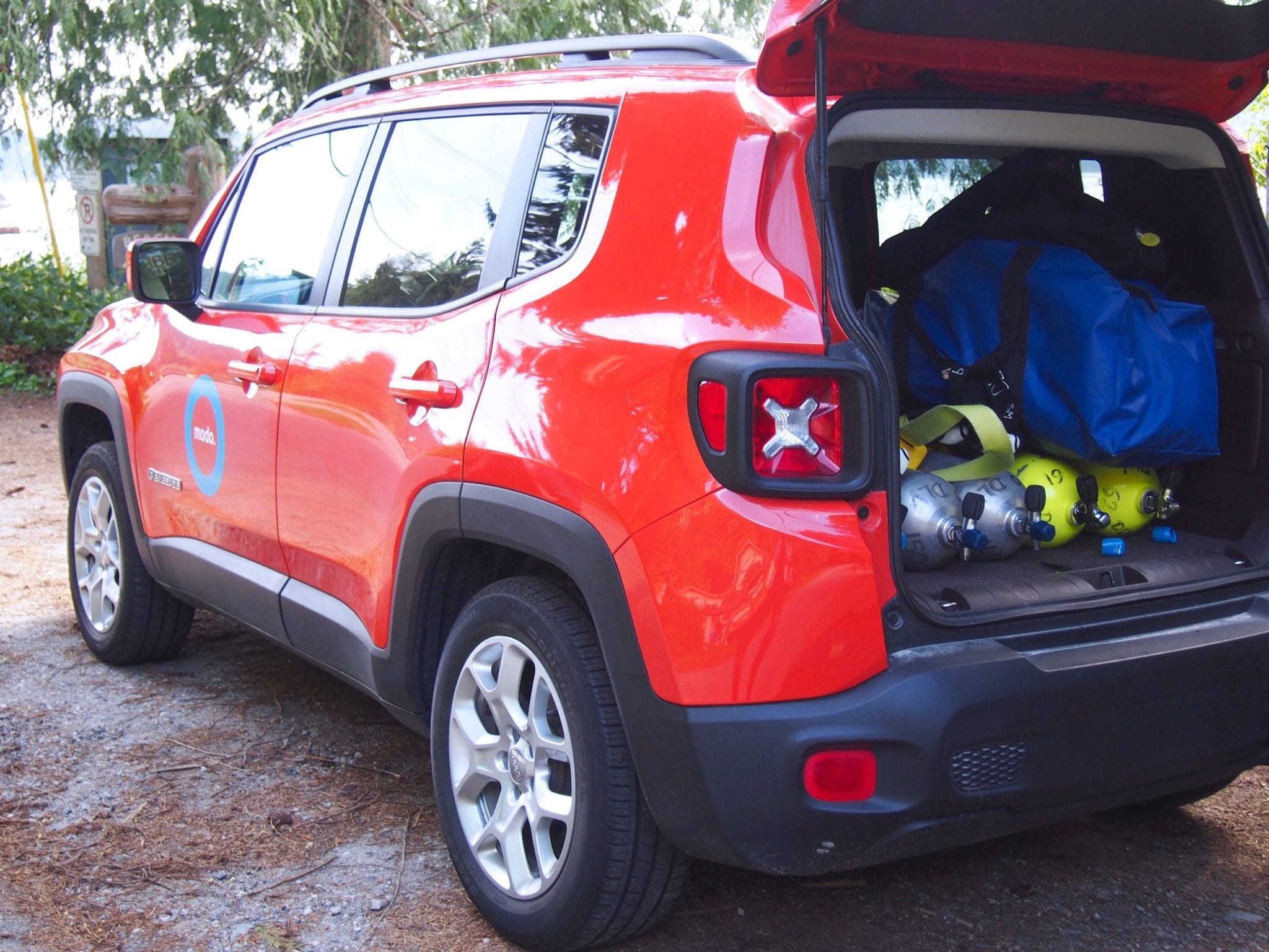 How to get from Vancouver to Tuwanek
Getting from Vancouver to Tuwanek is really easy and the journey doesn't take too long. You take the ferry from Horseshoe Bay, which is only 30 minutes from Vancouver, and cross over to Langdale on the Sunshine Coast. The crossing only takes 40 minutes and the views of the coastal mountains and ocean are incredible.
From Langdale, it's about 45 minutes to Tuwanek. It's a fairly easy coastal drive but do map the route beforehand. The dive site is located on a gorgeous pebble beach by the Tuwanek Hotel, and is a quiet and secluded spot with stunning surroundings. If you're transporting your own gear, you'll need a boot big enough to fit the tanks and the gear, and the tanks need to be secured so they don't roll around. We hired one of Modo's Jeep Renegades to get us there, which fit the tanks perfectly with the back seats folded down. Note, if you are taking tanks on the ferry, you will need to declare it and fill out a Dangerous Goods form at the port.
Have you ever thought about scuba diving in B.C? Drop me a comment below and let me know your thoughts! I'd be happy to answer any of your questions about it if you have any 🙂