I was recently asked to describe my style, which funnily enough, isn't something that i've really ever been asked to do before. I'd definitely say it's classic & minimalistic – I tend not to go crazy with colours, and I love my staples pieces and being able to style an item in different ways.
This cute outfit from Glam Sesh is no exception. It's the kind of outfit that's perfect for both day and night, depending how you style and accessorize it.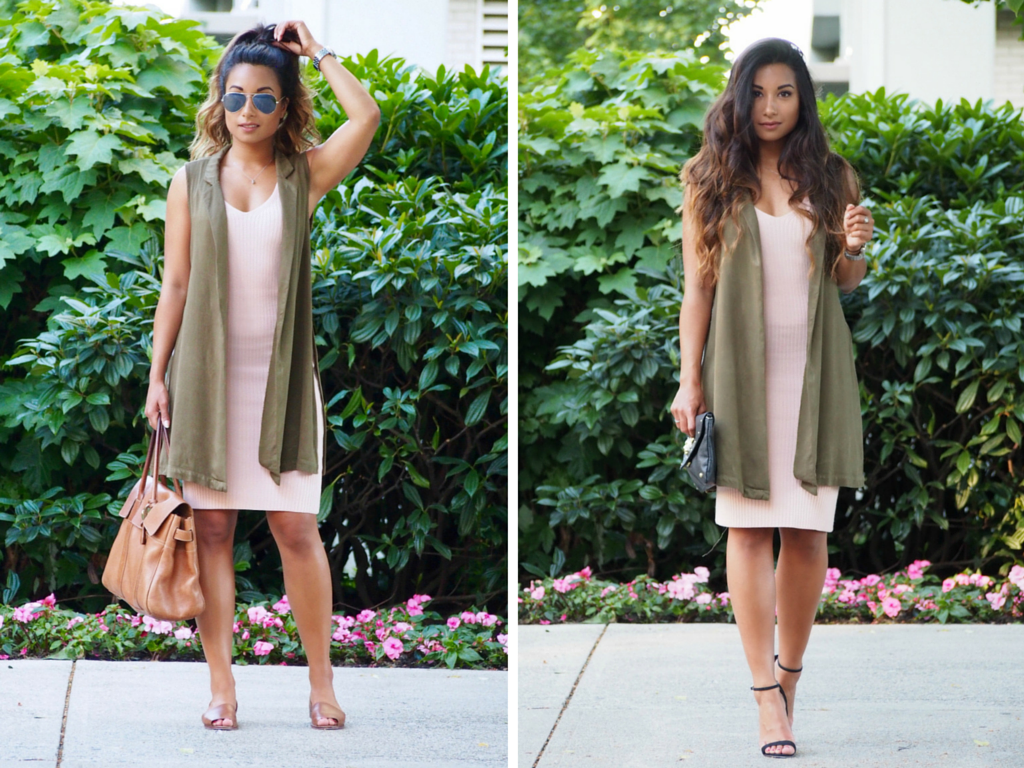 I'm pretty sure I only own one or two other pieces in this pink & khaki colour (I'm really not a girly girl when it comes to colours) but I think this outfit combo fits so well. I wear the khaki vest all the time – and I mean ALL the time – as it works so well with camis, roll necks, jeans, and shorts. The dress is really cute too and is one that you can dress up or dress down so easily, depending on the occasion.
The Daytime Look
For a simple daytime look, keep things casual with some flat shoes, easy hair, a handbag for all your essentials, and some classic aviators. I absolutely hate being uncomfortable, especially when i'm working, so unless i'm attending events all day I'll always opt for flats or some comfy wedges. I actually found these shoes in the Topshop sale last week, and I love them! 99% of the time I carry my laptop with me too, so a big, sturdy bag is a must. This is a great outfit to throw on in a morning and it'll look fab the whole day long, whatever you're doing.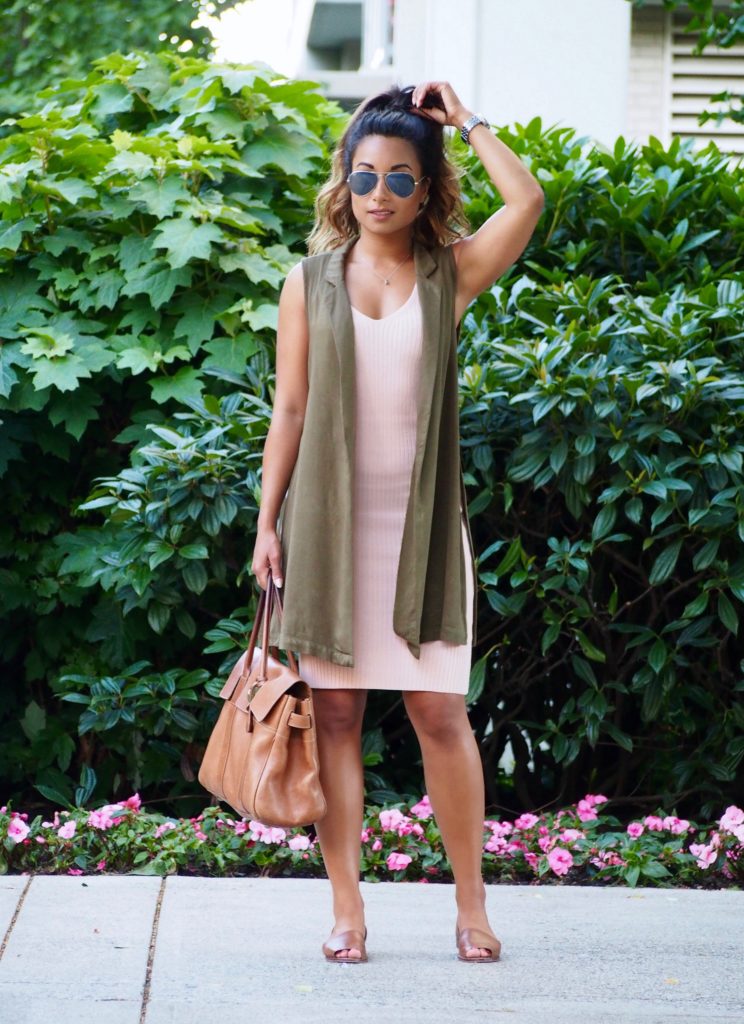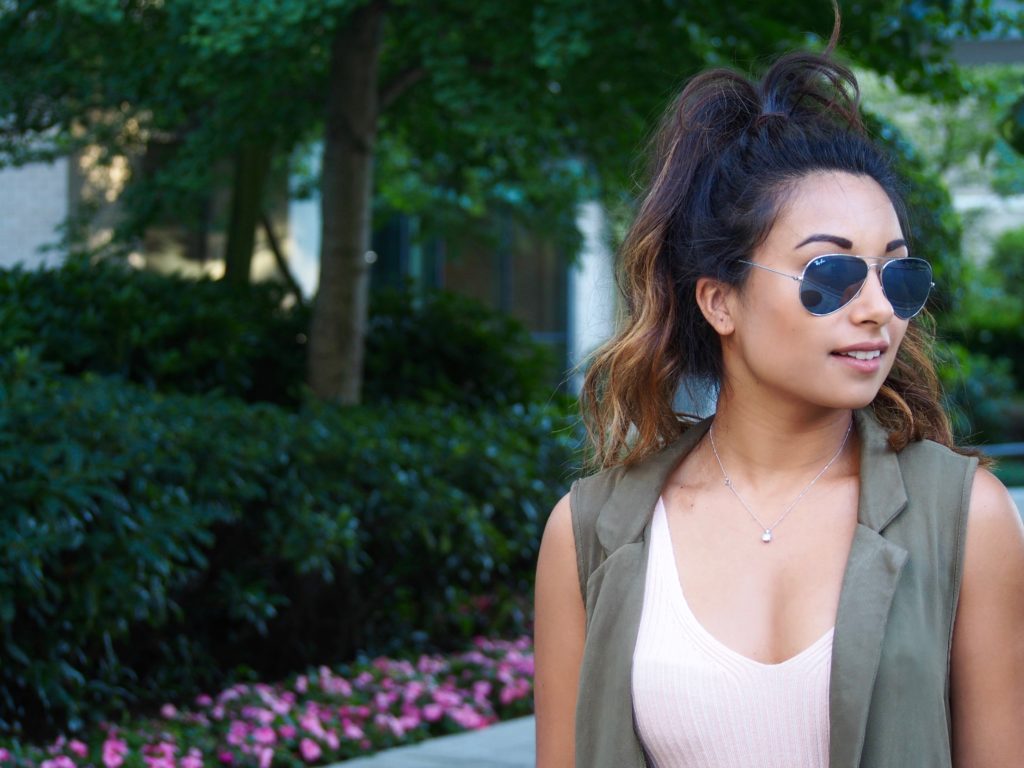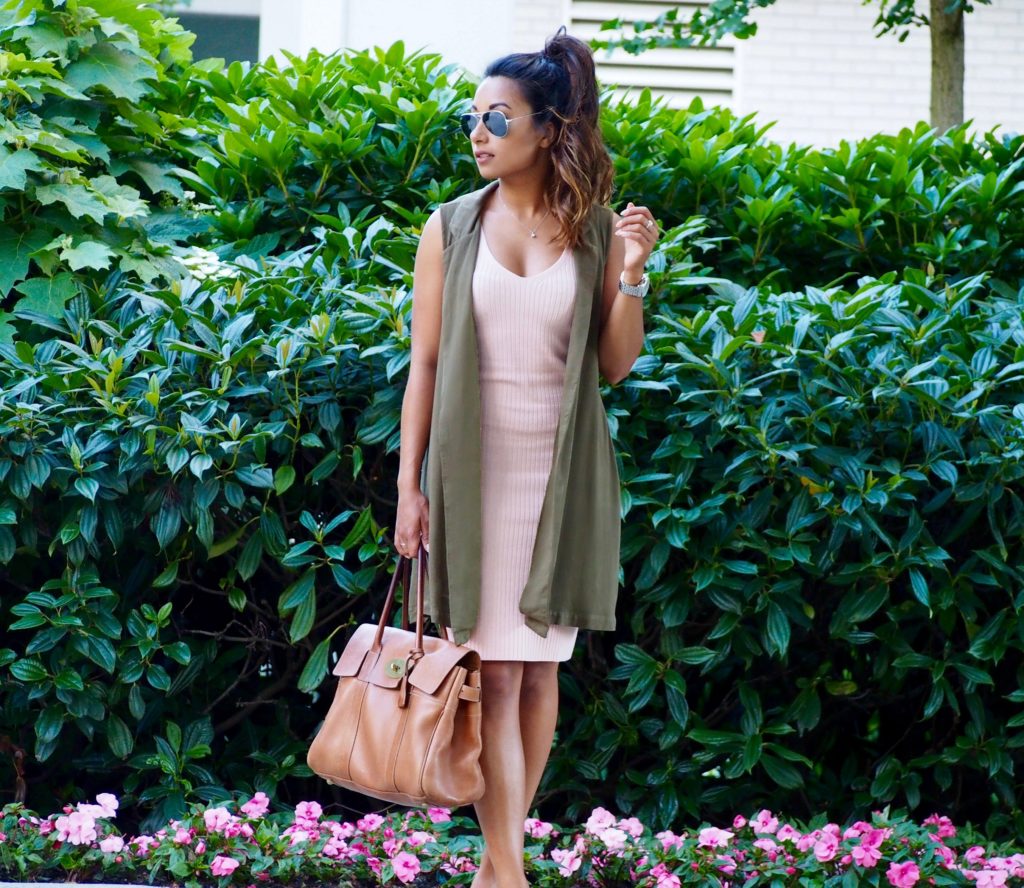 The Evening Look
For something a little more dressy, you only need to add a couple of pieces to transform this outfit from day to night. I think the dress looks beautiful on its own, but the vest gives it a really cool edge. I swapped my bag over for a cute clutch, and opted for my classic strappy heels. I do wear these heels a lot but they're so versatile and they pretty much go with everything. This is a great look for date night or cocktails with the girls, and the dress is super sexy too – it hugs all the right places 😉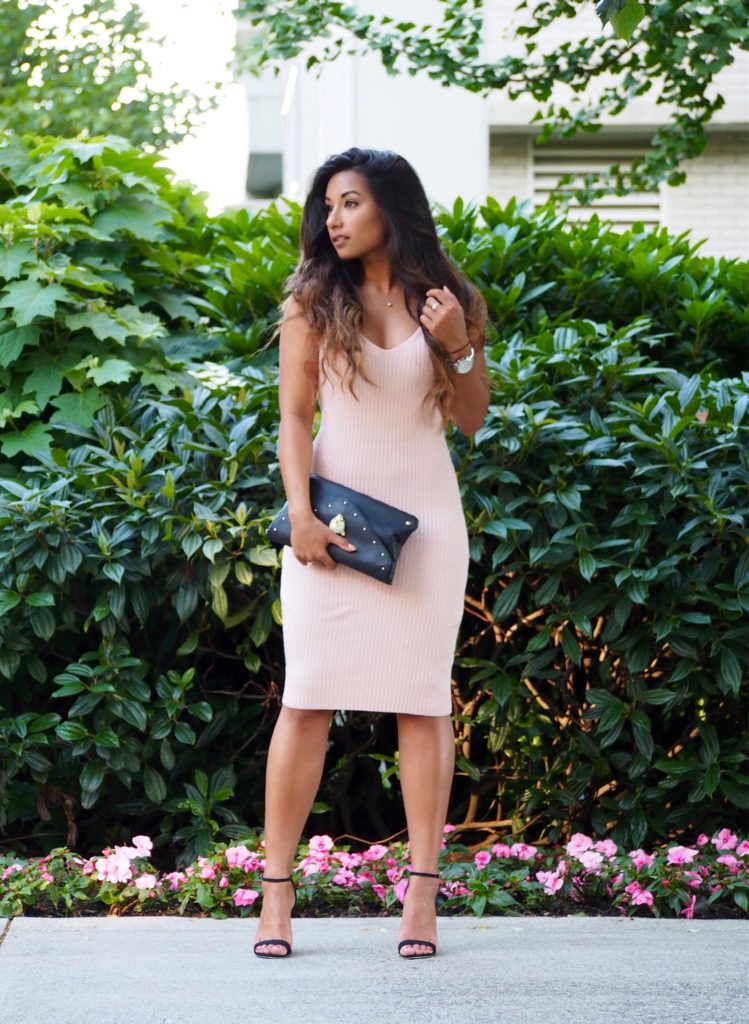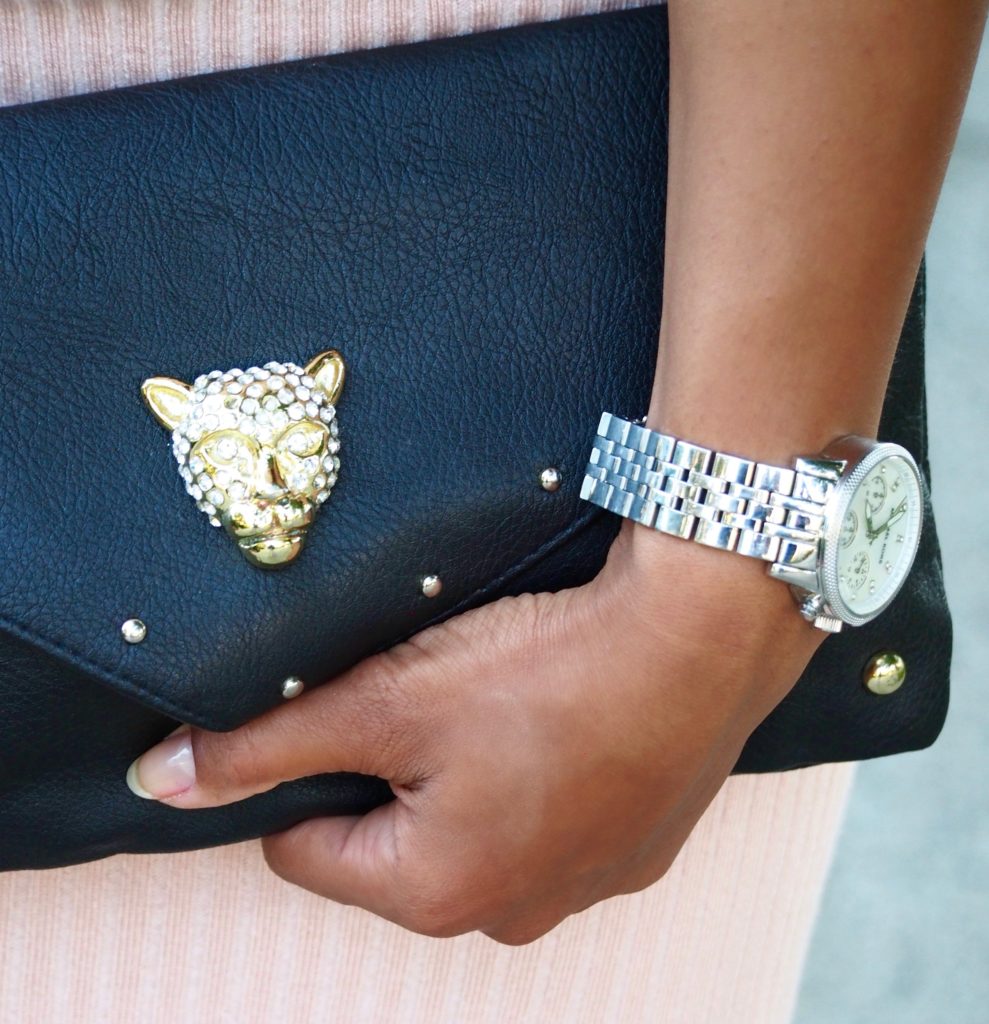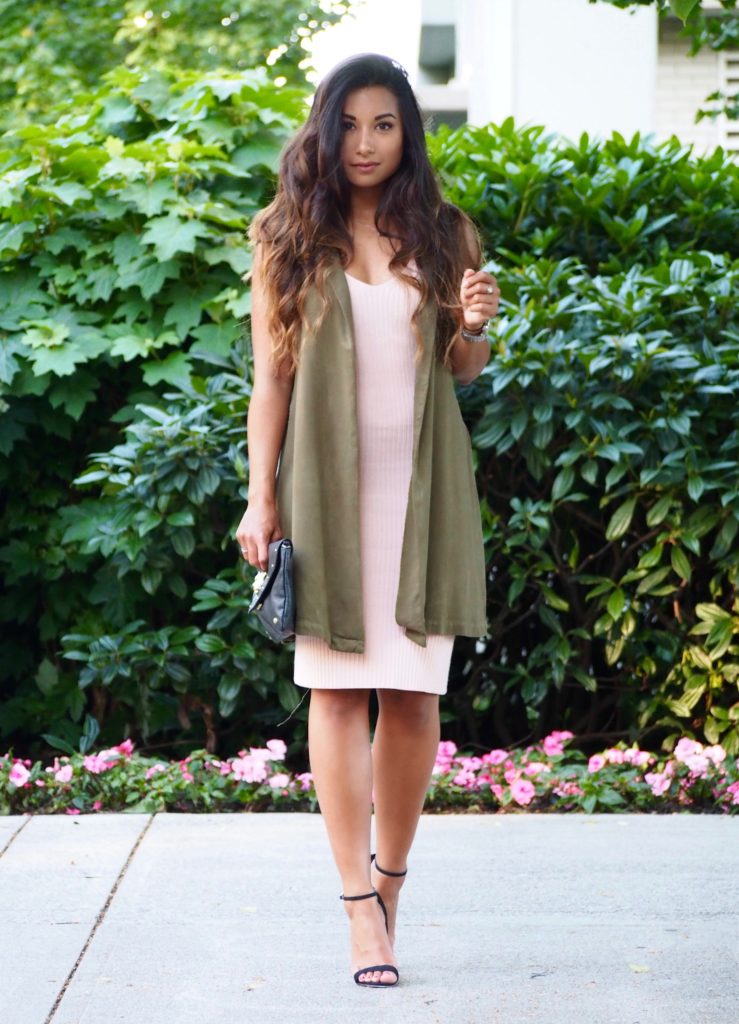 This outfit combo is perfect for summer, which we can now finally enjoy as the sun is officially back – woohoo!
What are your favourite pieces for day to night styling? Let me know in the comment box below!
---
Outfit Details
Vest: "Nico Vest" in Olive, from Glam Sesh
Dress: "The Swara Dress", from Glam Sesh
Tan Shoes: Topshop (I can only find them on Topshop Canada!)
Strappy Heels: ASOS
Bag: Mulberry Bayswater in Tan
Clutch: ASOS