So, you've finally made that bold decision to travel the world and embark on one of the greatest adventures of your life. You've got so much to plan and so much to buy, but there will probably be one burning question that you have in your mind: which rucksack should I buy?
With so many travel rucksacks to choose from nowadays, you may feel swamped for choice. It took me a good 3 months to decide which bag I wanted for our Southeast Asia adventure, but after much consideration, comparison and a few sleepless nights wondering how i'm going to fit my life into a backpack, I came to my conclusion and decided on a bag that would see my through my trip.
The two top rucksack contenders were the classic Berghaus Jalan Womens 65+15, and the modern Vango Freedom 60+20. Here are a few pointers that may help you make your huge backpack decision:
Berghaus Jalan Women's 65+15
This is a large capacity travel rucksack with a zip off daysack, adjustable back system and in-built wheels for maximum comfort and convenience.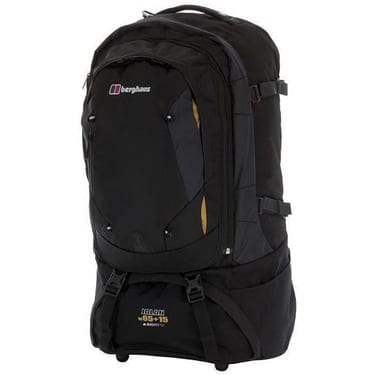 Pros:
Side-Zipped entrance – this allows for quick, easy access, which will save you loads of time when you're in a rush and you want to find your favourite bikini that's probably hiding at the bottom of the bag.
In-built wheels for ultimate versatility – perfect for travelling through airports, city centres or for those days when your shoulders need a rest.
Removable 15l day-sac with zipped pockets, chest strap and padded harness that clip to main pack – ideal if you need that extra space or if you want a handy rucksack to take on your treks. For you safety sceptics, the day sac clips and straps on to the main sac so you won't have to worry about someone quickly zipping your day sac off.
Top carry handle and removable side strap for easy portability.
Internal laptop holder to keep your laptop safe, although you may want to invest in an additional padded case for added protection as the material is only thin.
BIOFIT backsystem, which means that the bag will fit pretty much any height, and you can adjust where you want to wear it on your back.
Back strap cover to prevent damage when travelling – because the last thing you want is for the shoulder straps on your new shiny bag to get damaged during carriage.
Bottom pocket which is perfect for carrying dirty shoes, laundry or toiletries, or anything that you want to keep separate.
Cons:
It ain't that pretty, and anyone can see it's not the most glamorous bag in the world. However, when you've got something that can carry your beauty essentials, crop tops and bikinis, it's either looks or practicality that's gonna give.
The top carry handle isn't as handy as it seems. Although in theory it's a top idea, the carry handle doesn't extend, so if you're anything over 170 cm you may develop a slightly unattractive hunchback walk whilst dragging your bag through town.
It's not the lightest bag on the market, as the wheels add an extra kilo or so.
Vango Freedom 60+20 Purple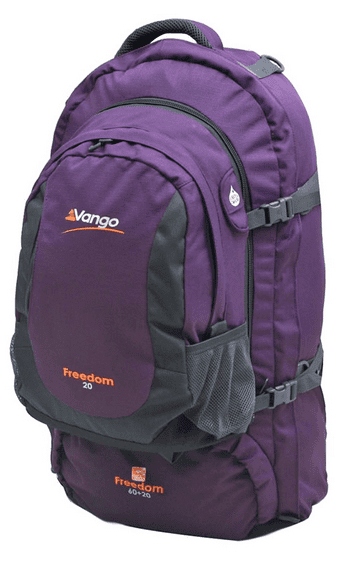 Pros:
It's a pretty pick and it's undoubtedly the prettier, girlier option of the two. When you're having to give up make-up, manicures and your sexiest pair of sling backs, it helps to have a cute bag on your shoulders.
It opens like a suitcase. This opens slightly more than the Berghaus Jalan, as the zips extend around the whole bag so it opens up like a suitcase.
The day sac is bigger than the Jalan at 20l, with a handy side pocket for carrying water, which is perfect for mountain treks.
Cons:
It's not as spacious, and although you lose only 5l in the main compartment, it does make a difference. If you want to use your day sac on a regular basis, you may find you're making up for the lack of space in the main compartment by filling the 20l day sack instead, which may become a nuisance.
It's bulky, and it may be a pretty purple colour, but when packed, the day sac sticks out like a sore thumb, and you may feel more like a turtle than a sexy traveller. The Jalan, on the other hand, is much more streamline.
The hip straps aren't comfortable, so while you may not think that they're important, you'll soon find that much of the weight is carried on the hips rather than the shoulders. The straps on the Vango aren't really padded so they might dig into your hips especially after prolonged wear. The Jalan, on the other hand, has super padded, thick straps, which carry the weight perfectly and don't cause any rubbing or friction.
Ultimately, it's for you to try both and see which suits you best. After trying both, I found the Jalan much more comfortable and in all honesty a little nicer, which is important when you're spending so much time tied to your bag. Whilst the Berghaus Jalan may set you back a little more cash, for me it ticks all my boxes, and the wheels give it that extra versatility.
All in all, these are both great travel rucksacks, so i'd say the Vango is a good pick for a 1-2 month adventure, but for anything more it's worth investing a little more in a bag that will be sure to last many adventures in the future. What are your thoughts? Drop me a comment below if you've got anything to add!