They say it's not about the destination, but about the journey. Well, I may live by this statement 95% of the time, but when it comes to this idyllic destination, that 5% definitely prevails.
Nestled within a private resort in the Riviera Maya in Mexico, The Banyan Tree Mayakoba is the definition of luxury. "Mayakoba" in fact means "village over water" in the ancient Mayan language, and the resort stays true to its name. Surrounded by a picturesque setting of mangroves, jungle and the ocean, the exquisite villas provide a truly blissful environment. Whether you're looking for relaxation by your private pool, holistic rejuvenation in a rainforest spa, an afternoon of cycling around the nature trail or the chance to release baby turtles into the ocean, this utopia has it all. While mine and Savoir There's two-day stay barely scratched the surface, it was long enough to sample a true taste of luxury and the beautiful experiences that came with it.
The Villas
I never seem to mind arriving in a destination at night. While I love heading out to explore as soon as I arrive, there's something beautiful about waking up in the morning and not having a clue about your surroundings. It's that same kind of feeling you get on Christmas morning - you run around the room scouring for goodies, gasping in excitement every time you discover something exciting. Not pictured here is the tasteful interior, the sky-high ceiling, the open-air bathtub and the outdoor terrace area - i'll leave that to your imagination.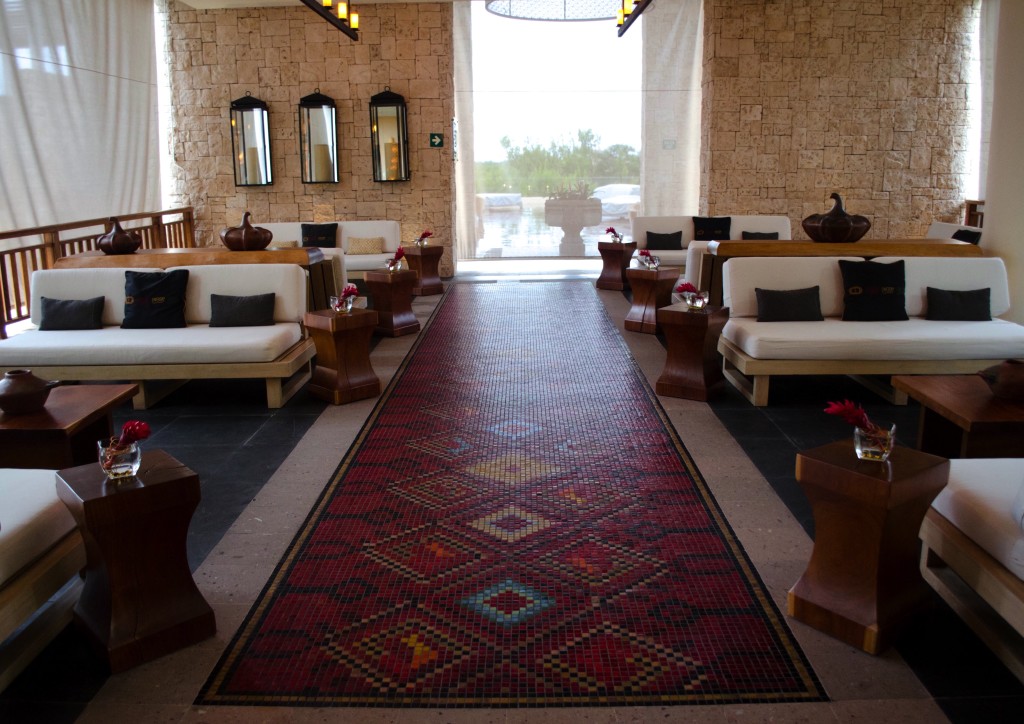 The Breakfast
A morning of relaxation and sunbathing on your private deck is hungry work, and the chefs at the Banyan Tree know that well. In fact, possibly too well. This buffet is not one to be tackled in just one serving. To experience the true BT foodie experience, you definitely need a good few days to make your way through it all. If you can manage a hand pressed juice, exotic omelette, fresh bread, smoked salmon, sushi, french pastries, handpicked fruit, a cheese board, Chilaquiles and perhaps some sweet pancakes ALL in one serving, then you are definitely one of a kind. This buffet is not one to underestimate - you've definitely got to park up early to savour the variety of food!
The Beach
With the stunning surroundings, the fun activities and the abundance of food options, it's easy to forget that there's a beach to explore as well. If the sheer white sand isn't enough to keep you occupied, there's also the beachside pool and restaurant where you can enjoy the catch of the day and a tropical cocktail. It's SO nice that you'll even enjoy it during a tropical hurricane. Now isn't that saying something?
Boasting unparalleled luxury yet without an air of pretension, The Banyan Tree Mayakoba is the perfect luxury escape whether it's for a relaxing short break or a full week of decompression and tranquility. Head to www.banyantree.com for more information on their paradise resorts.
The Activities
When I go on holiday, I personally love to do activities, and the Banyan Tree definitely offers everything you could ask for. After a hearty breakfast, you can spend your late morning cycling around the 3-mile long nature trail, take a boat tour through the Mayakoba mangroves, soak in the sun at the poolside bar or treat yourself to an afternoon of tranquility at the luxurious Spa. The Rainforest offers a complete hydrothermal experience while the heavenly massages leave you feeling completely relaxed and in a state of spiritual and mental calm.
Getting There
Getting to this beautiful destination just got that bit easier, with Southwest Airline's new international flight routes out of Houston's Hobby Airport. The airline is now offering non-stop flights to a number of destinations in Mexico (incl. Cancun, Los Cabos & Puerto Vallarta), as well as cities in Belize, Costa Rica, Jamaica and Aruba. Head to www.southwest.com to see their latest flight deals.